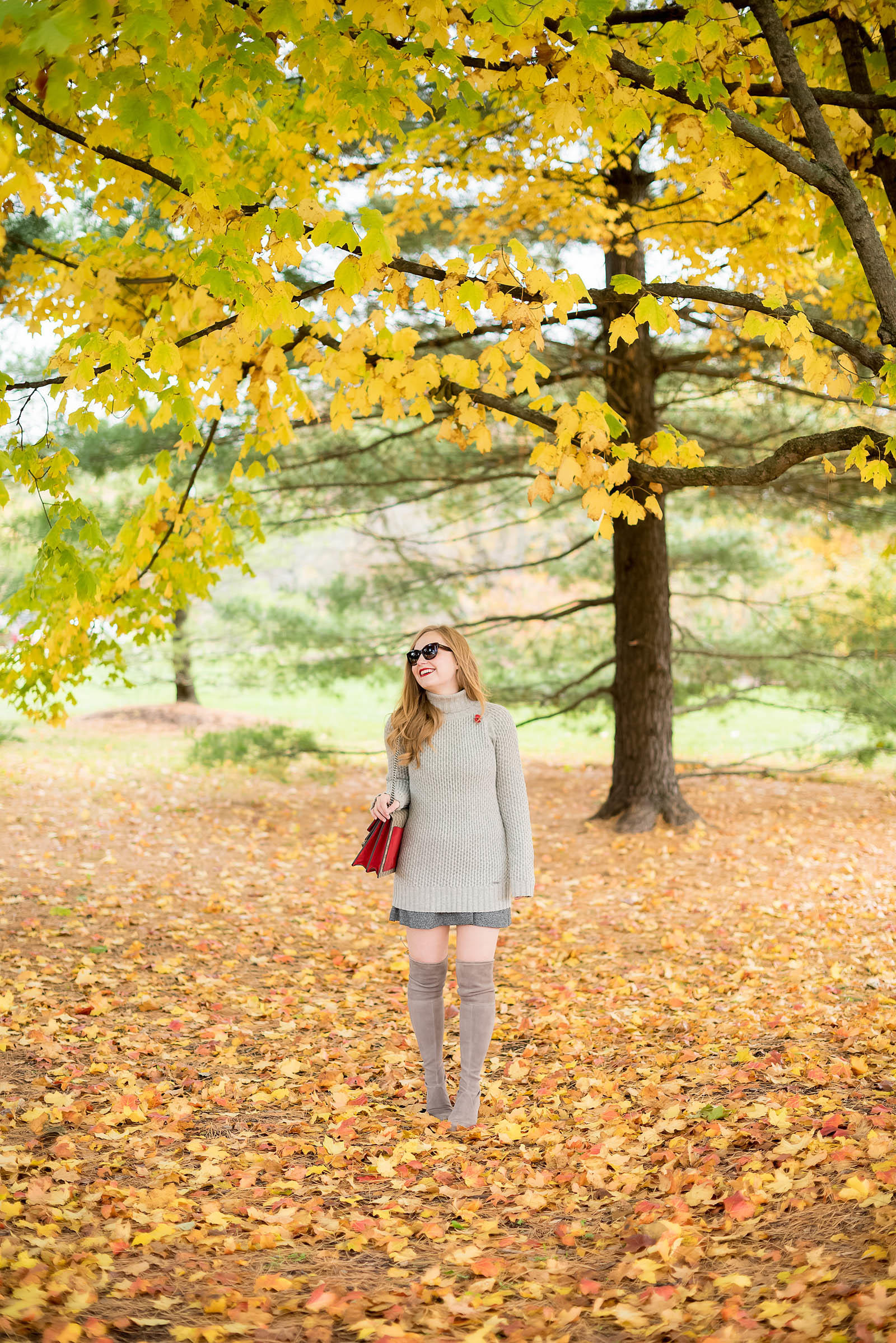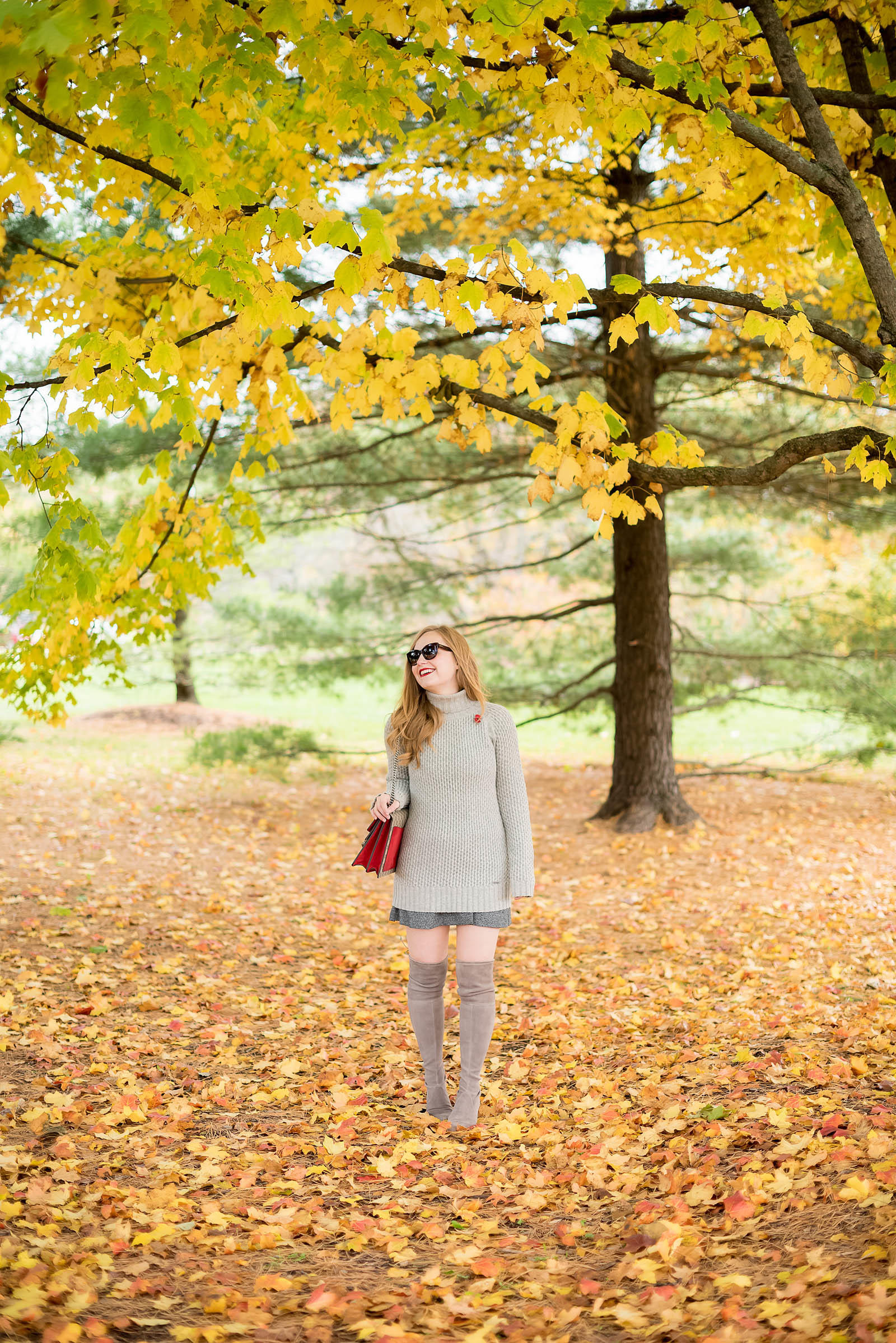 I feel so damn LUCKY to live in a place that has such an amazing fall.
Autumn in Chicago is truly a magical experience — the RIOT of color, the bustle of the harvest… oh, I live for it each and every year.
And autumn is SUCH a fun season to dress for. Plaids, warm hues, cozy knits, and plenty of lush fabrics? Yes, yes please! Autumn is the last season we have each year to really play with our wardrobe (before we hibernate for winter), so I have a tendency to go a little wild with my prints and fabrics. I mean, why not?
But autumn has its challenges too: unexpected weather, last-minute downpours, and plenty of blustery winds. Surprise frosts, even.
So my goal each autumn is to somehow infuse the most playful and fun elements of my wardrobe with chic practicality. To build chic layers that feel cozy, easy, and realistic!
14 Autumn Wardrobe Essentials01. The Transitional Jacket
We ALL need this jacket.
THAT jacket.
The one we find ourselves reaching for time and time again. The one we can overfill the pockets, traipse through mud, fortify against rain with, and generally depend on to keep us comfortable no matter WHAT the weather. The sort of jacket you can expect to last through countless different weather patterns like the true work horse it is.
Something to throw on no matter what the activity: walking the dogs, exploring Central Park, location scouting, or just to running and grabbing groceries.
Barbour makes particularly functional transitional jackets, as does Hunter, but so many retailers have great options at any price point these days! Invest in a transitional coat and watch as you wear it over and over, despite the weather or the activity.
02. Over The Knee Boots
These boots are a wardrobe miracle!
They're absolute magic, performing wardrobe tricks like transforming skirts into pants, with ease. Well, not literally. But certainly figuratively! Since these boots come up high enough on the leg they act like a cozy pair of pants that even makes a mini dress in February a possibility!.
And while there are LOADS of options on the market right now my heart will always belong to my Stuart Weitzman Lowlands. They're pretty much my perfect boot!
Light in color so they don't show scuffs too quickly. Easy to glide on and off thanks to their silk lining. And perfectly chic for all occasions, even evening cocktails or dinner! I've known multitudes of girls who have bought these boots and pretty much lived in them from that moment on. Because they are life-changing. And because they work for EVERYTHING. Absolutely everything. I hated that the summer heat made it impossible to wear these — and, believe me, I LOOKED for opportunities. And they couldn't be more comfortable — I wore mine for 40,000+ steps around New York City five days after receiving them last fall and didn't have a single problem!
Do yourself a favor this season and invest in a great pair of over-the-knee boots. They'll double the longevity of your wardrobe (yay, skirts in winter!) and last you through next spring.
03. A Wool Poncho
These have been trending for a few years now but to be honest I really hesitated on ever buying one. I'm short with a very distinctive hourglass figure — a single piece of fabric dropped over my head was bound to make me look at least 10 lbs heavier if not 9 months pregnant, right?
But I was lucky a few weeks ago when Sole Society sent me this ruana from their fall collection to try out. Something I would never have ever picked up in the store and now it's one of my favorite pieces in my closet!
So versatile, easy, and instantly chic. Also very great for early morning dog walks when I want to look polished and put together… and yet still feel like I'm somehow snuggled back in bed…
Psst… and mine is a steal at $60!
04. Burgundy Lips
Okay, not exactly a "wardrobe" essential but close enough. Any look gets an instant fall makeover when finished with burgundy lips — and the hue is so flattering on just about every skin tone (why do you think it's been so popular these last several years?).
Berries, Burgundies, Oxbloods, Plums… oh, I love them all!
They all add a distinctive touch of mystery and fall beauty to any look. Swipe on burgundy lip color and you'll feel ready to conquer the world — just be ready for the onslaught of people who will inevitably keep asking you where you found your lip color… burgundy lips are pretty irresistible!
05. Cozy Knits
To me, this is the quintessential fall wardrobe essential. Cozy knits are comfy, practical, chic, and available EVERYWHERE. Bloggers around the world are posting their favorites, stacking them up neatly in piles all because we ALL love a good, chunky knit sweater!
It's instant fall closet comfort!
I especially love ones that come in longer lengths since I have a long torso (and petite legs — try wrapping your head around that distortion) and I love when sweaters are long enough to really SNUGGLE in and possibly peek out from under a jacket or a large scarf.
06. Wellies
(Post Coming Soon!)
Truthfully, you need wellies most of the year in Chicago. Even in summer when muddy music festivals can make them the most practical footwear option.
But you REALLY need wellies in fall.
It rains constantly and leaves are falling everywhere so they stick to your shoes and muddy them all the time. Go out in suede shoes at your own risk!
Wellies keep you sane through any and all crazy bouts of weather but in a way that's classically stylish. I love when practicality meets trendy in such a timeless way!
07. A Plaid Scarf
Blanket scarves, tartan prints, plaid wool scarves… all great layering pieces that instantly elevate any look.
A plaid scarf is a classic wardrobe essential you'll have and use for years. I love my blanket scarves for throwing on when I don't have time to really pull together an "outfit" — they keep me from looking disheveled and pathetic on SO MANY occasions.
And they've been trending like crazy the last three years so there are dozens of great options available right now in any color combination you could possibly imagine:
08. The Statement Coat
Chicago is notorious for its rough winters. And often for at least two months out of the year I'm stuck in just ONE boring, plain black puffer coat. It's not fun, it's not glamorous. But if you have ever visited Chicago in winter you will quickly understand why we all schlep through the poor fashion choice that is a puffer coat: it's necessary for survival.
SO…
Fall is my last opportunity of the year to have some real fun with my outerwear. And I absolutely love a great statement coat, like this striped Burberry Prorsum one I snagged on deep discount last spring.
Find something fun, flattering, and loud but in a relatable way and watch as it elevates just about every fall look you can think of!
09. A Neutral Bag
Well, mine isn't ALL neutral but it's neutral enough to work with all sorts of different outfits and isn't that the point?
Neutral bags work particularly well in fall since they compliment all the color from the foliage so nicely. They work for everything. And help tie together your look if you're as obsessed with mixing prints in fall as I am.
Ever since investing in my Gucci Dionysus back in August, I've been toting it around everywhere this fall — from afternoon tea at Sketch in London to casual afternoon appointments — it works for EVERYTHING!
10. Leopard Booties
Leopard booties are one of the things I was most excited to wear this fall because they are just so much FUN!
I just love a good leopard bootie. They pair well with just about everything thanks to the natural, neutral-ish nature of the print itself. And it's another wardrobe saver too — throw these on and you instantly look like you at least TRIED to look chic, no matter the outfit. Trust me, you can't walk down the street in leopard booties without at least one person asking you where they can get their own.
Because nothing says fierce like an animal print bootie.
Extra plus? They are one of the best ways to wear prints to the office this fall too!
11. A Cashmere Scarf
Years ago one of my very first wardrobe investments EVER was a cashmere scarf. And I wore it to death once I got it. There's really no substitute for a real cashmere scarf. My old one lasted a good seven years before I gave it to a friend and invested in this lovely gray one from Club Monaco.
It's true what people say — once you buy cashmere it's hard to go back. It's just so lush, soft, warm, and stylish!
I find some of the best options to be at Club Monaco, Everlane, and Nordstroms.
12. The "Wear Everywhere" Cardigan
That beautiful piece of clothing that feels like a blanket but is somehow socially acceptable? Oh yes, I'm talking about you, you lovely long cardigan, you!
I wear mine at night when the house gets drafty (our home is over 100 years old!).
I wear it out as a coat or as a layer under a coat when it's cool.
I wear mine when I work at my desk.
I wear it pretty much everywhere.
Oh, I love my cardigan.
And yet I've only ever shared one outfit with it. Isn't it funny how sometimes the pieces we wear most are the ones we think about least?
Cozy, practical, and available in a multitude of colors, prints, and in a myriad of price points (mine is a $30 find from Forever 21 last fall!). This is an easy autumn wardrobe essential to rely on!
13. Something Velvet
I can't think of a more perfect fabric to transition into the holidays with!
Velvet is so lush, plush, and fuzzy! It's exactly the opposite of what I had to wear in the high-humidity of summer which is exactly the basis of its appeal. Velvet screams cool-weather luxury!
Anything from a statement skirt like this one I inherited from my Nana, to a simple ribbon tied as a choker around your neck, adds a beautiful touch of autumn luxe to your look!
14. Faux Fur
Trendy yet classic, fur will always be a great wardrobe staple come autumn and winter. But luckily now, faux furs are becoming so real, plush, and lifelike that you can hardly tell the difference!
And they come in so many prints and colors.
A faux fur coat or accessory is a great investment in autumn, you'll be able to wear it through next spring all while staying stylishly warm along the way. This leopard coat my grandmother gave me is THE most asked about thing in my entire wardrobe — it's so chic it even made the pages of this month's StyleWatch magazine!
What wardrobe essentials do you rely on every autumn?