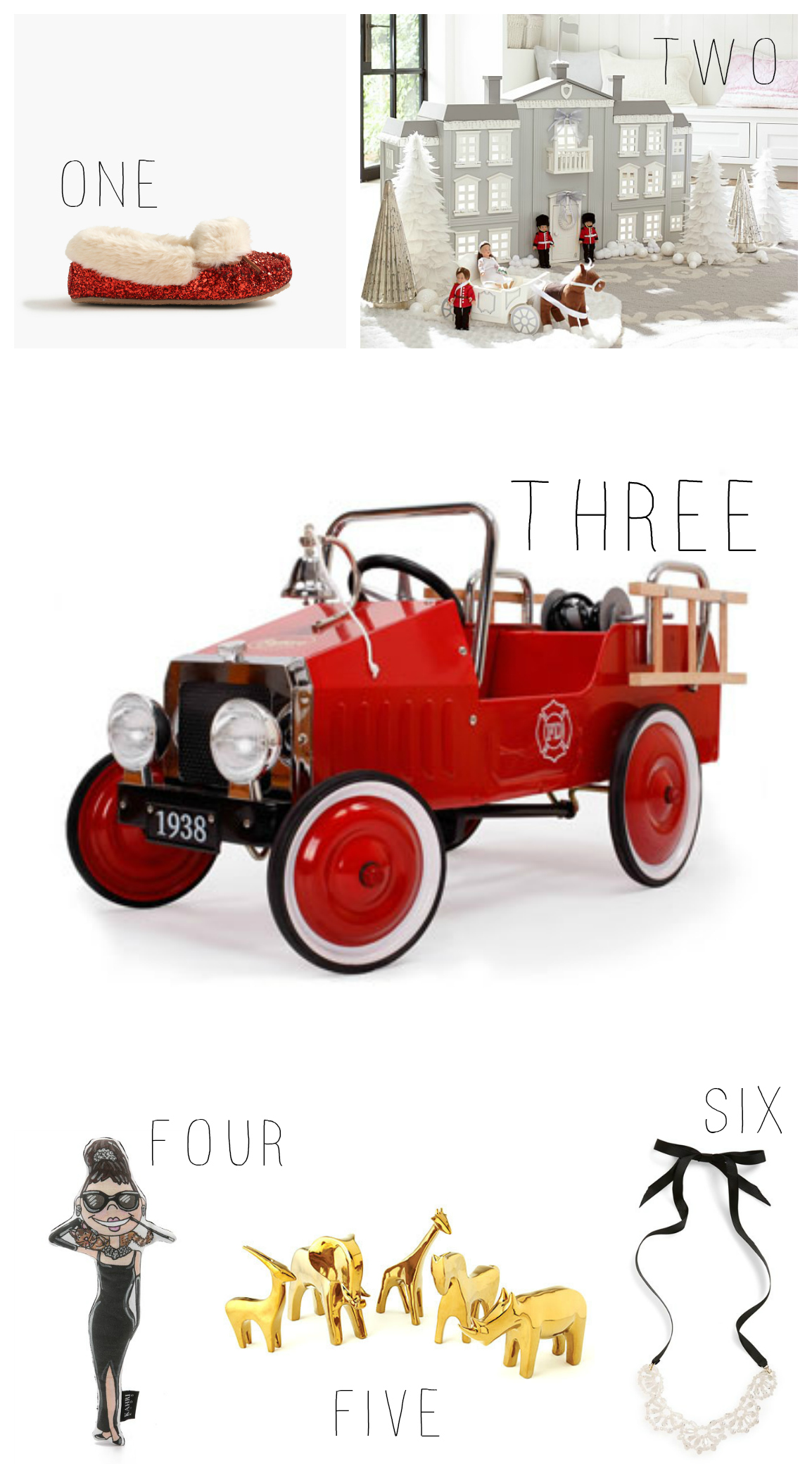 While some may feel that buying holiday gifts for children is be the easiest task on their list, I've often felt overwhelmed by the sheer number of choices. Yes, there are so many things to buy but finding the RIGHT thing is far more challenging.
When I look for children's gifts I like to find things that feels like the right balance of whimsical fun and timelessness. I hate the idea of buying a trendy "now" toy that will be forgotten within a few weeks. I love looking for the type of gift they'll enjoy now, in five years, and even possibly beyond. Here are six of my favorite gifts for the children in your life:
Gift Guide For Littles
1. J. Crew Glitter Shearling Lodge Moccasins ($45).
Fun AND practical. Cozy so their feet stay warm but chic at the same time. And the red glitter means she can live out her Dorothy in Oz daydreams right from her very own couch.
2. Royal Palace Dollhouse ($399).
I'll be honest with you — this enormous British castle is on MY Christmas List too! How can you not love this? An adorably impressive doll house with some actual history — this is the sort of gift she'll enjoy and then save for her kids to enjoy too.
3.Baghera Metal Fire Truck Petal Car ($375).
Speaking of gifts they'll save for THEIR kids, this fire truck is by far the most impressive gift on the list and the most timeless. Can't you imagine how excited they will be to have their very own car? And much like my beloved Radio Flyer wagon from childhood, this is the sort of gift that will become a family heirloom.
4. Kahri Little Audrey Doll ($30).
Nothing says chic like Audrey Hepburn in Breakfast at Tiffany's and nothing says childhood chic like an Audrey doll. This gift is the sort she'll snuggle with now and display on her bookcase in college. Because let's be honest — Audrey Hepburn never goes out of style.
5. Dwell Studio Gold Menagerie ($35).
A modern minimalistic take on one of the most traditional children's gifts of all time. Plus, gold accents are having a BIG moment right now so this adorable little menagerie is as artistic as it fun (i.e. the sort of gift the parents will enjoy too!).
6. Cara Couture Crystal Necklace ($24).
Children want to feel glamorous too! This quirky necklace feels luxurious and special but at a price that won't break the bank (especially when she inevitably loses it). The perfect gift for the little girl who likes to get fancy!