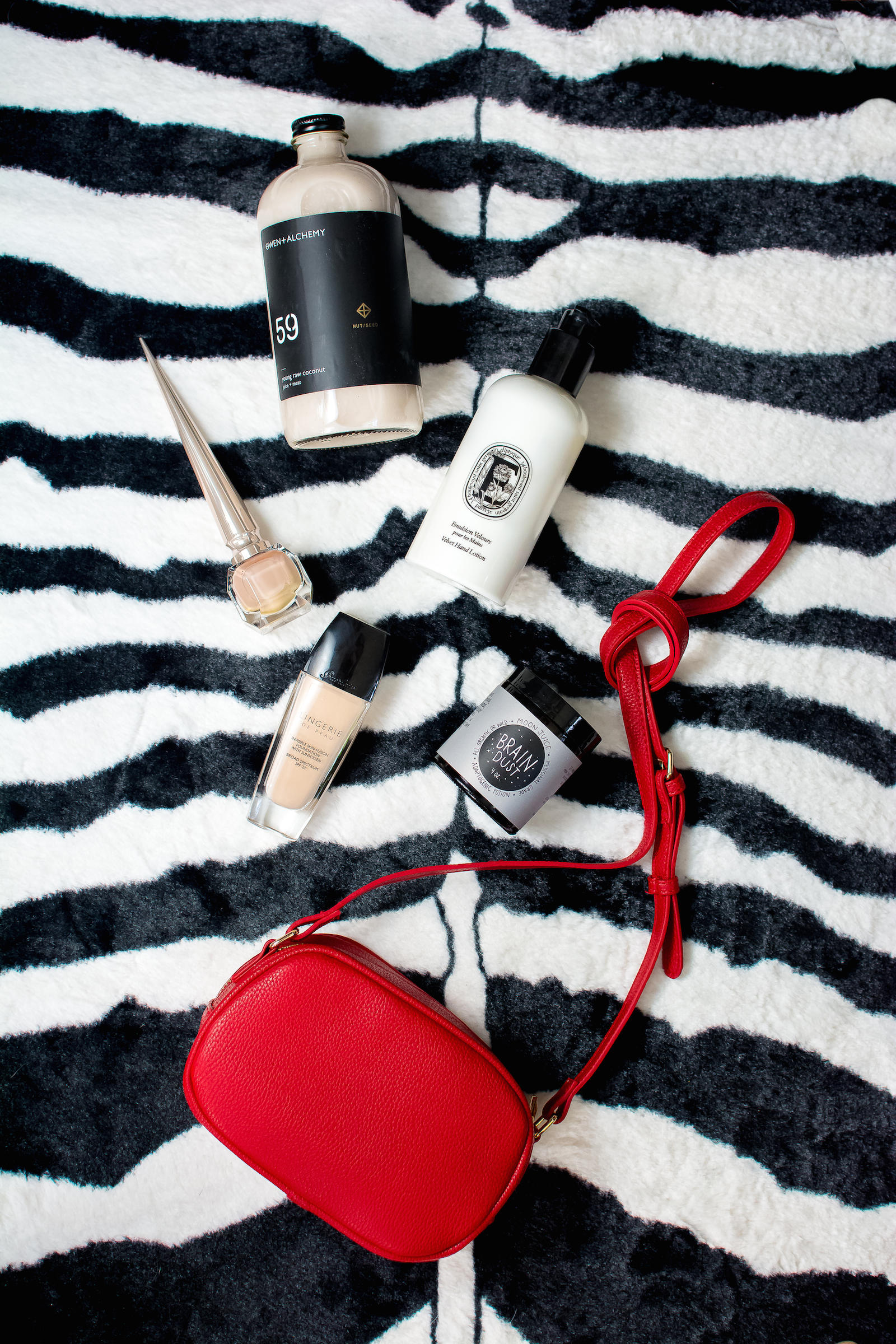 As a blogger I'd say it's decidedly in my job description to continually seek out new products, styles, and ideas to share.
I'm ruthless about what I choose to showcase — I honestly feel like I have to be. There's no way I'd ever expect you to read this blog if I was only posting about products I'd been gifted, or brands who've paid me to tell you how great they are.
Where's the originality and fun in that?
But I AM always searching for fresh new content.
Which means I stumble across a lot of really interesting / delicious / useful / beautiful things that I inevitably HAVE to share with you.
It'd be selfish of me not to, right?
So I'm starting a new series here on Sed Bona called "What I'm Into" dedicated to the weird, random, fabulous things I stumble upon. These are the things I'm loving and using behind-the-scenes, the things I turn to time and time again as a woman, not just a blogger. The things I love so much I just can't WAIT to share them with you!
So without further ado, here are the six things I'm really into this March.
What I'm Into || March 2016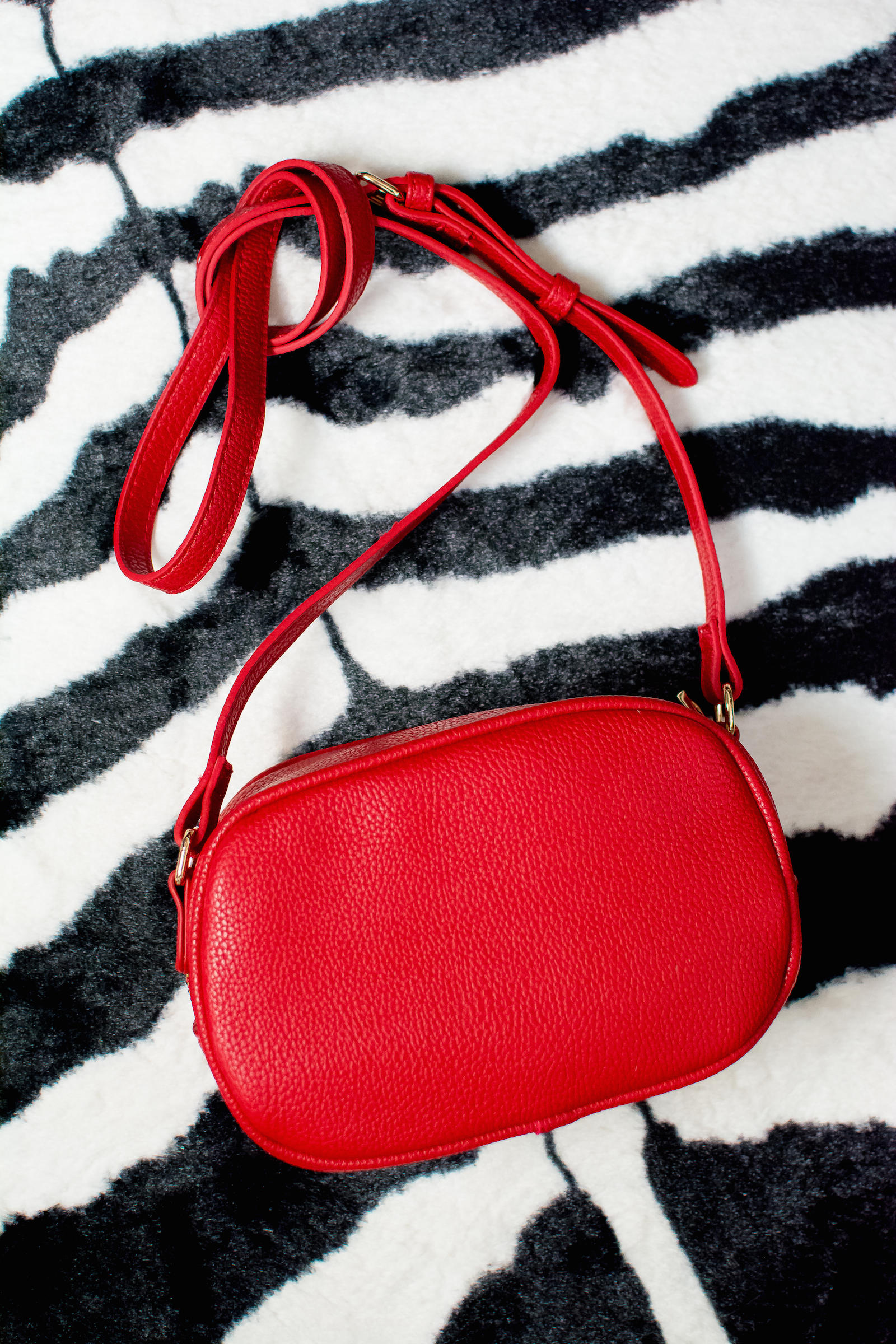 Forever 21 Crossbody Bag
Yup, I'm sharing yet ANOTHER mini crossbody bag with you. But this one costs SIGNIFICANTLY less than my Chloé Drew Bag while still managing to make me feel almost as fabulous.
I snapped this clever, luxe-looking bag from Forever 21 the moment I saw it. I'd been debating the Gucci Soho bag before ultimately opting for my Chloé Drew so I loved finding an inexpensive option for the Gucci I didn't purchase. I almost like the simplicity of this design more. And the POP of red adds a smashing element to just about any ensemble. I've been remixing this bag constantly in the few short weeks I've had it (case in point: 1 / 2) and expect to use it until it inevitably falls apart (the downside of a F21 bag).
For the price it's a great deal too — it photographs so luxuriously and is the perfect size to carry daily essentials in.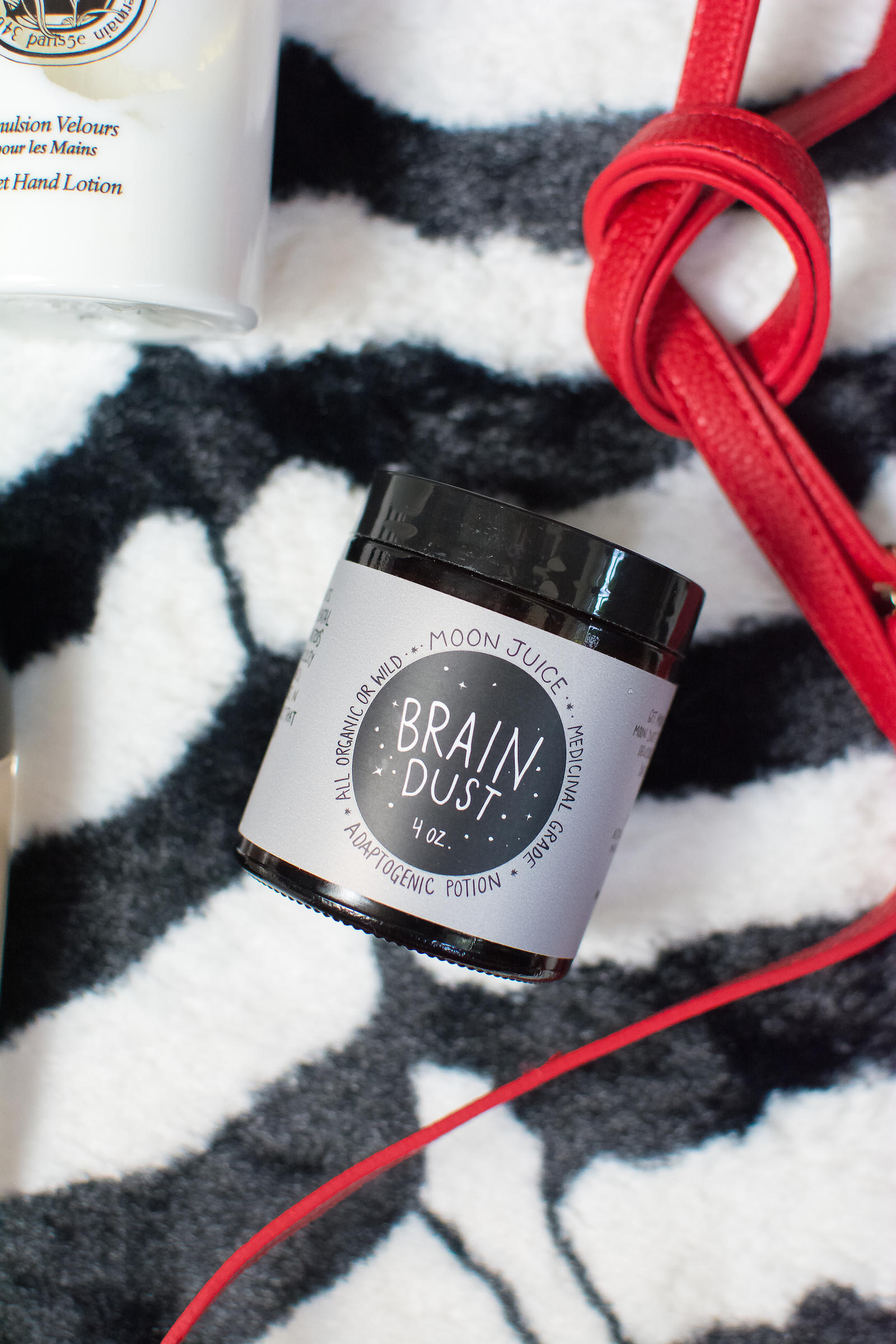 Moon Juice "Brain Dust"
Heralded on Gwenyth Paltrow's Goop site as a healthy line of brain and body boosters infused with Chinese herbal remedies, the entire Moon Juice line has always intrigued me.
I was skeptical when I first read about it on Goop but the 53 5-star reviews on Amazon ignited my curiosity and I ordered this "Brain Dust" blend intended to combat mental fogginess (something I've been particularly struggling with since my Nana passed away).
So far my experience with Brain Dust has been ridiculously positive.
First thing in the morning I'll mix it into a cup of green tea and chug it down as quickly as possible. Within 10 minutes I feel like a different person. As opposed to feeling grumpy and groggy, I feel elated, articulate, and — most importantly — FULL of creative energy. It's amazingly transformative on even the roughest of mornings!
Other highly-rated "dusts" I just can't wait to try (but will have to budget for because, wow, these blends are NOT cheap) are the Beauty Dust (purported to clear up skin), the Goodnight Dust (intended to help people like me who suffer from insomnia), and the Spirit Dust (intended to guide those who are emotionally lost). Sex Dust and Action Dust also sound VERY interesting.
I can see myself easily building a collection of these dusts… if I don't go bankrupt first!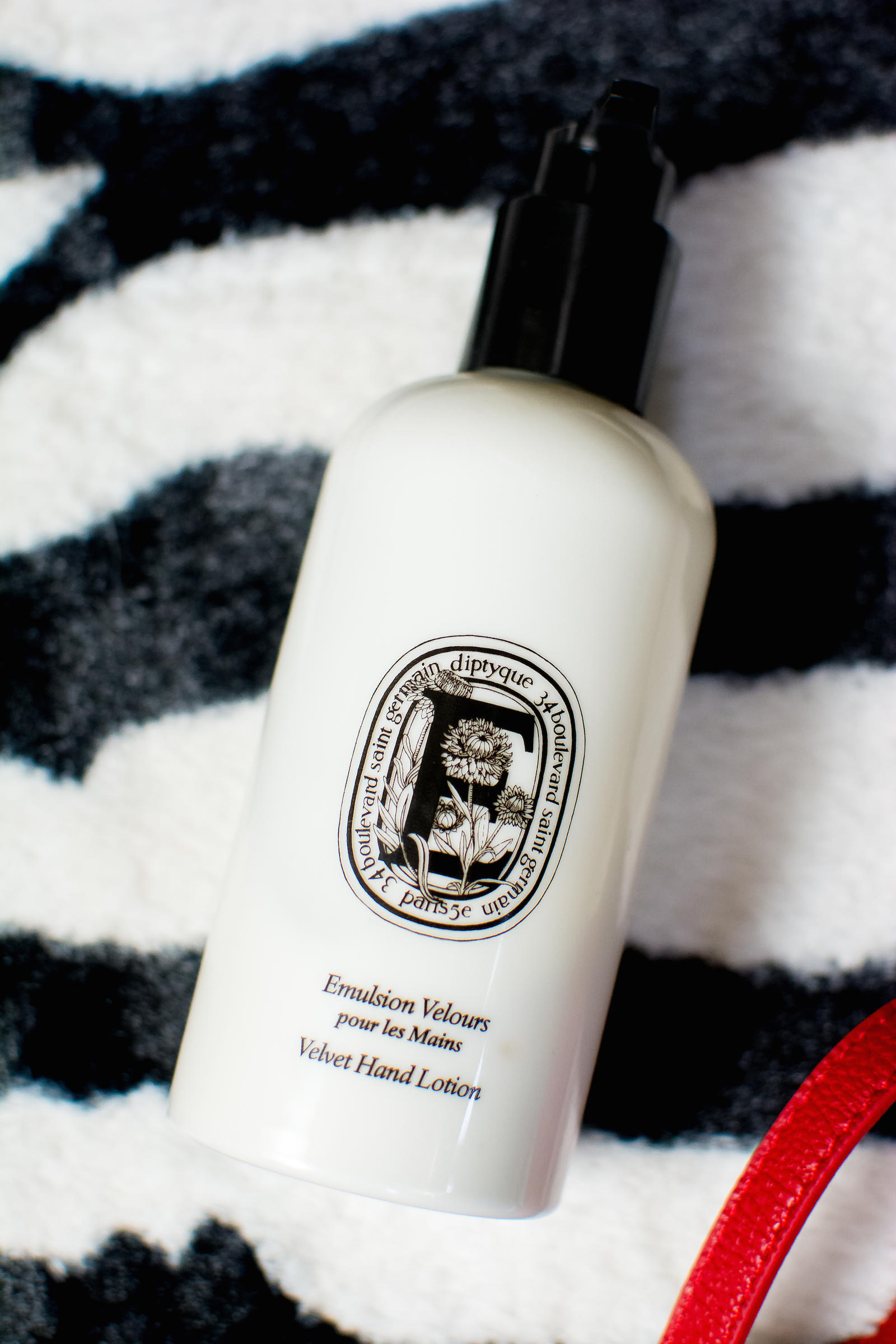 The silkiest hand lotion formula I've come across! Described as "plush, enveloping, beneficial", this moisturizer is such a divine little luxury.
I first fell in love with this formula back when Presidio stocked it in their bathrooms when they first opened. Normally I don't try a lot of new moisturizers. My skin is ridiculously picky when it comes to lotions — the littlest thing can spark my eczema. Especially thick, luxurious formulas like this one.
But this lotion glides on like magic! My skin drinks it up almost instantly, leaving my hands feeling just. like. velvet (hence the name, no doubt). It's never given me a reaction in the last five months I've been using it and it's especially been a life-saver during all of this schizophrenic spring weather we're having.
While normally my cuticles would be dry, patched scales by now, daily use of this lotion has dramatically improved the look of my hands. It's worked wonders on my dry elbows too!
If you can, try this lotion out before purchasing though. Everyone's skin is different and what my skin loves may be the exact opposite of what your skin will love. It's all about experimenting until you find something that works for YOU!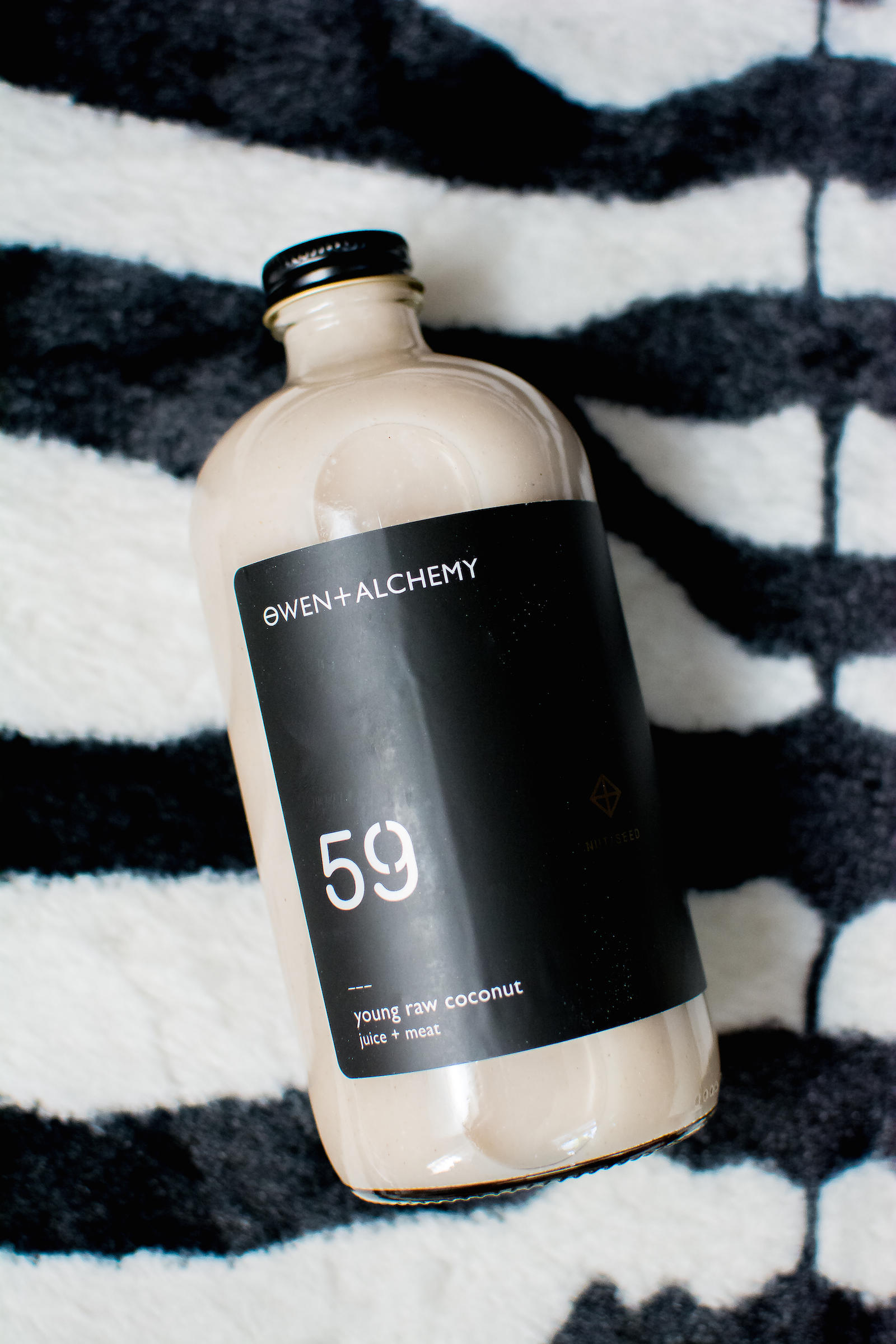 Owen + Alchemy No. 59
I've been a huge fan and supporter of Chicago's chef-driven juice apothecary, Owen + Alchemy, since their beginning. One of my very first blog posts covered opening day at Owen + Alchemy.
And I'm so ridiculously addicted to their Charcoal Lemonade that I devoted an entire outfit post to it!
But despite the many times I've sampled their juices, I never once tried No. 59 until this January.
How did I live without this miraculous blend?
I'm almost embarrassed by how long it's taken me to try this cult-favorite of young raw coconut juice & meat.
It's a divinely unique nectar for those days when I really need a boost. It's hydrating, deliciously sweet (without any added sugar), and energizing. I drink at least two bottles of this a week! And while it's not currently available outside of Chicago, I strongly suspect the success of the Owen + Alchemy brand will see them expanding outside of the Midwest soon enough. And for those of you in the Windy City who haven't tried this addictive blend yet (all four of you!), RUN, DON'T WALK!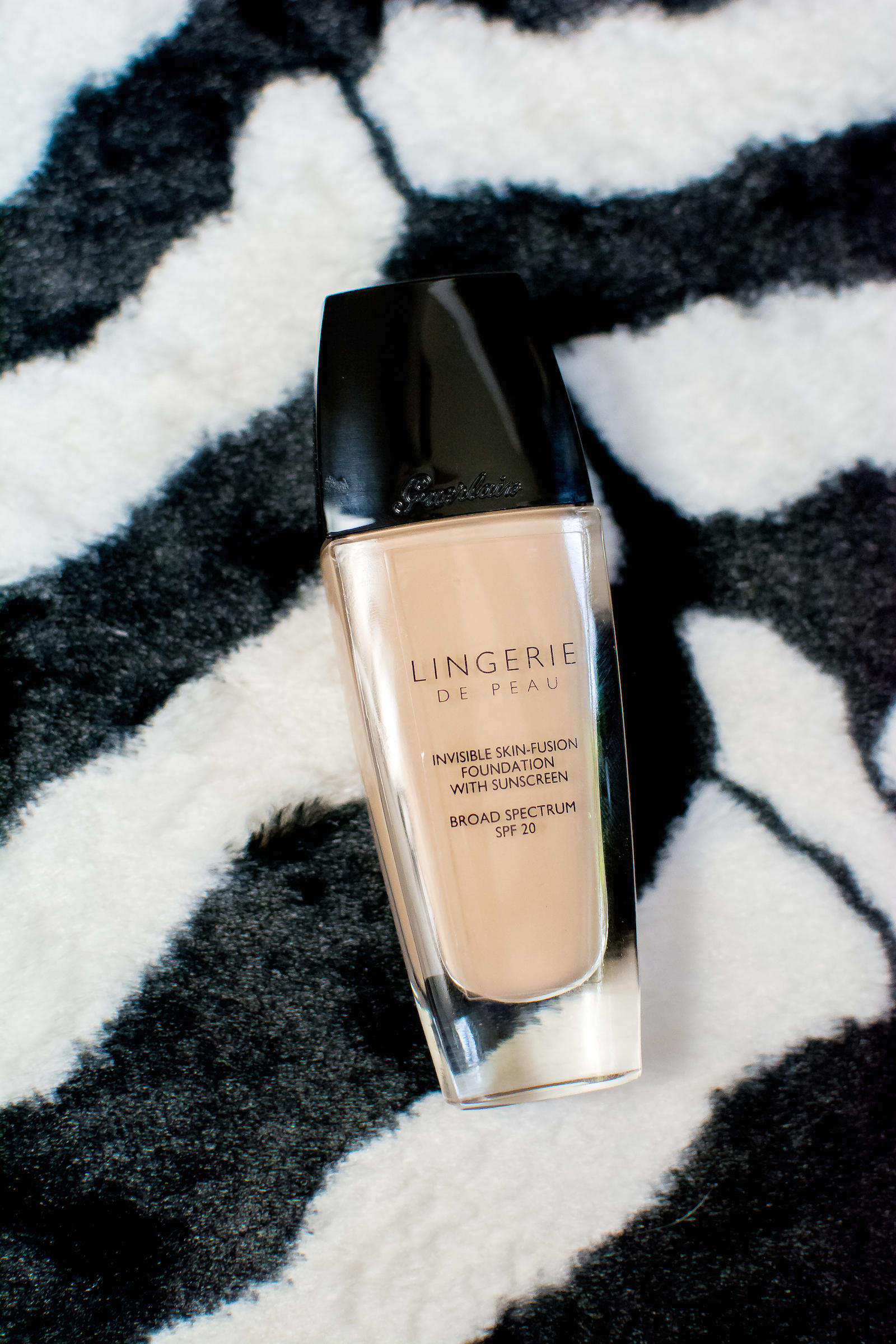 Guerlain Lingerie de Peau Foundation
After years of searching I think I may have finally found the perfect foundation for me. Nothing from the Guerlain line is cheap but absolutely everything I've tried so far has FLOORED ME. This foundation is no exception.
The name 'Lingerie de Peau' perfectly describes this formula. It's weightless on the skin, practically melting into your visage like it's a part of you. Almost like Hermione Granger waved her wand over your face and suddenly you skin tone was even, your undereye circles gone, your whole face brighter. Absolutely magical!
AND it has SPF in it (only SPF 20 but I'll take it!).
Day in and day out this is the foundation I've been using for well over six months now. EVEN THOUGH the lightest color is actually too dark for my hilariously pale skin (#proudtobepale) — luckily this formula blends so well that if I apply it with a dampened Beauty Blender it matches my skin beautifully.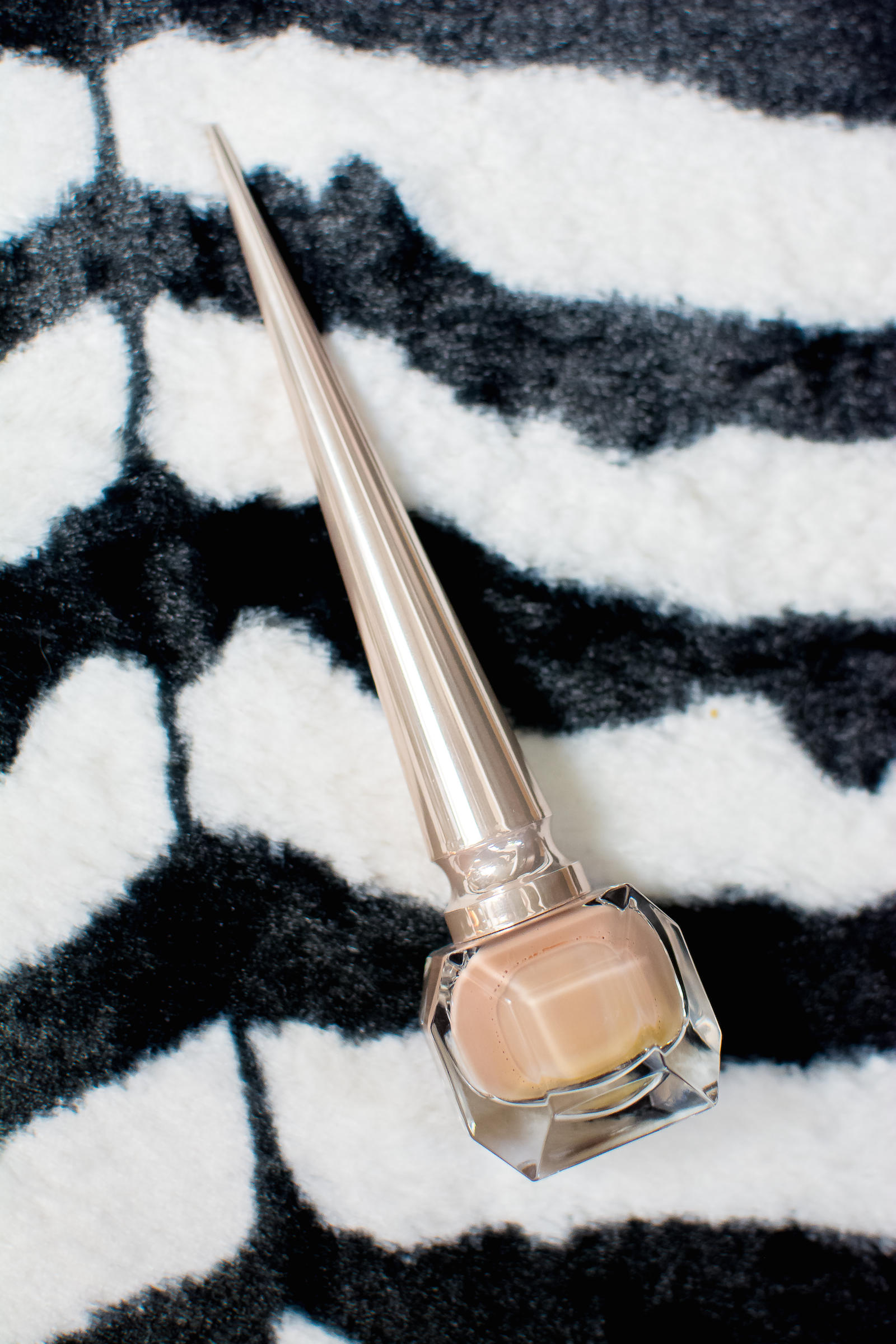 Christian Louboutin Polish in "Just Nothing"
I'd never have bought this nail polish for myself. It's SO pricey.
But after I put it on my Christmas wishlist in December, my Mom ensured that it was the first thing I saw peeking out from my Christmas stocking! And I've been seriously impressed with this color and formula since.
It's a very neutral tan-ish nude (at least on my pale skin) that works for any day, any occasion. The formula is easy enough to work with and the luxurious bottle looks so ridiculously chic on my vanity. And for the price, the bottle is quite high-quality, heavy glass.
So far this polish chips on me no faster than most of my other favorite formulas (though it doesn't last nearly as long as any of my Nails Inc. colors). What I really like about it though is the unique properties of the color — inside it almost has a peach-y undertone while outside it feels more nude.
I'd happily add this shade to the Pale Girl's Guide to Nude Nails since it's so different from my other nude favorites.

What items and products are you loving this month?