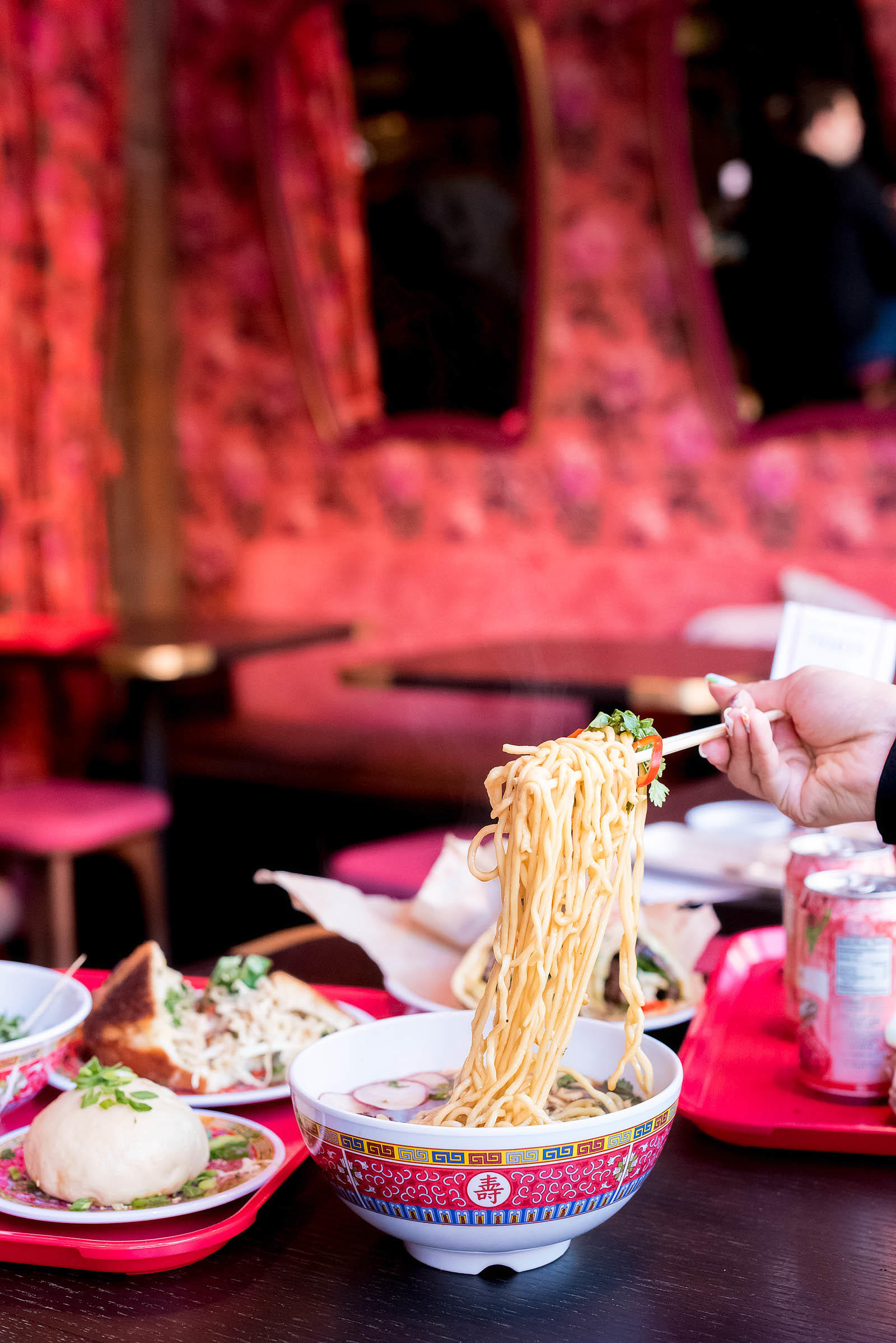 There are few things I crave more in winter than Chinese food.
And I blame my father for that entirely.
My father spent much of his career in finance working with Asian businesses. He flew to Korea, China, and Japan regularly when I was a child, always bringing my sister and I beautiful souvenirs from his travels as well as plenty of stories. And, inevitably, whenever he wasn't in Asia he was seeking out the best Asian food he could find stateside. He always wanted my sister and I to understand and appreciate Asian cultures authentically, especially Asian cuisines… particularly Chinese cuisine. He was so obsessed with "real Chinese food" as he called it that he'd regularly drive us into Chicago's Chinatown for authentic dim sum. And showed us films like Eat Drink Man Woman that truly celebrate these amazing, diverse culinary techniques (Warning: do NOT watch this scene on an empty stomach):
Here in Chicago we have an amazing selection of authentic Chinese restaurants but for many years almost ALL of them were located in Chinatown itself until just recently. And while I love Chinatown, it often feels just TOO far to go for a lunch date most days — especially during the cold winter months. Thankfully, famous chef and TV star Stephanie Izard (owner of Girl & the Goat) just recently launched her take on killer street-fare inspired Chinese food in the ever-popular West Loop district.
Say hello to Duck Duck Goat.
With a tagline of "Reasonably Authentic Chinese Food", I couldn't help but be intrigued!
And, as fate would have it, this winter they've started serving lunch too and I was lucky enough to be one of the first to try it!
Located on Fulton Market, Duck Duck Goat is just as stylized and exciting of a space as you'd expect from Chef Izard.
It has an enormous 'street food'-style bar to order at.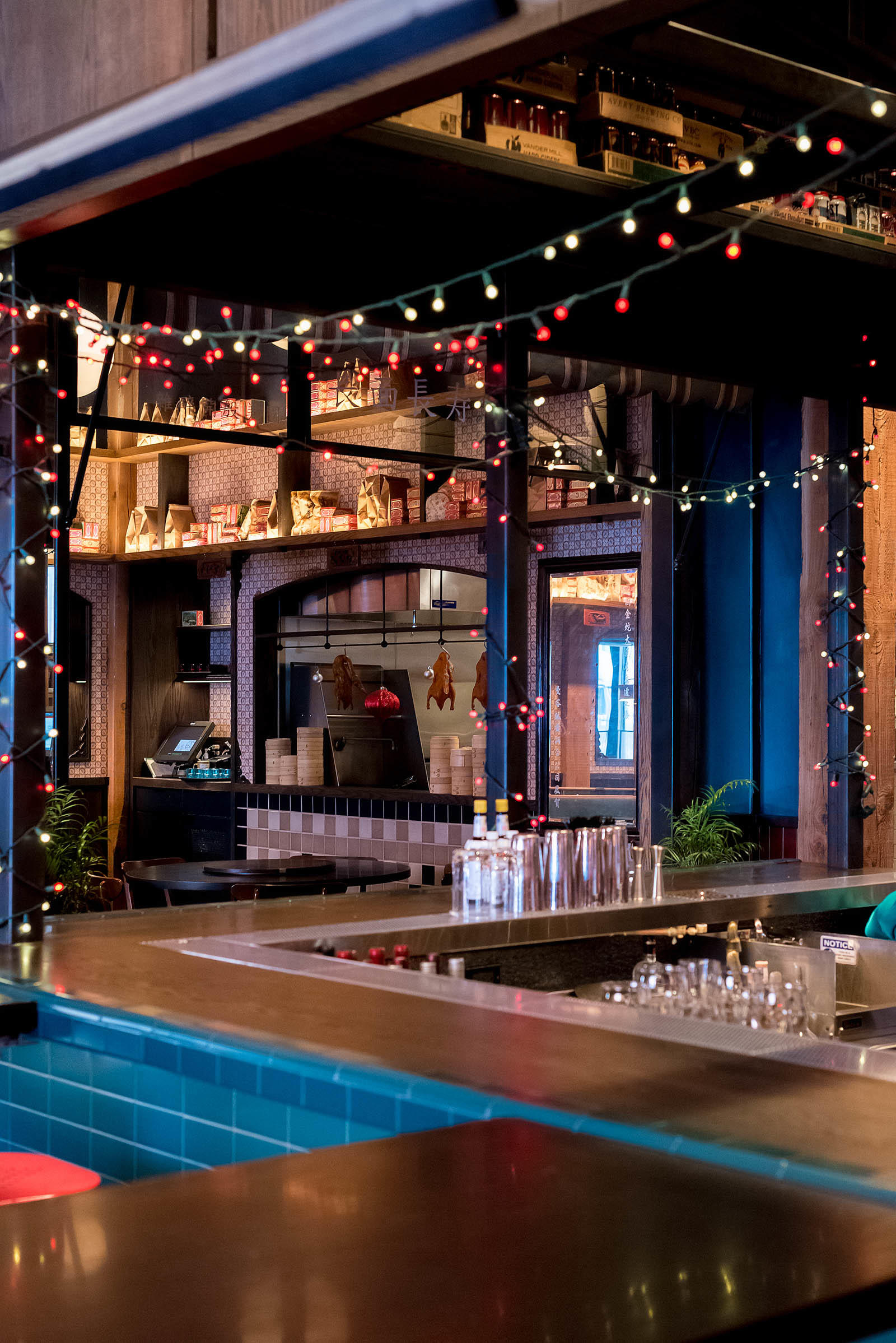 As well as plenty of stunning twinkling lights.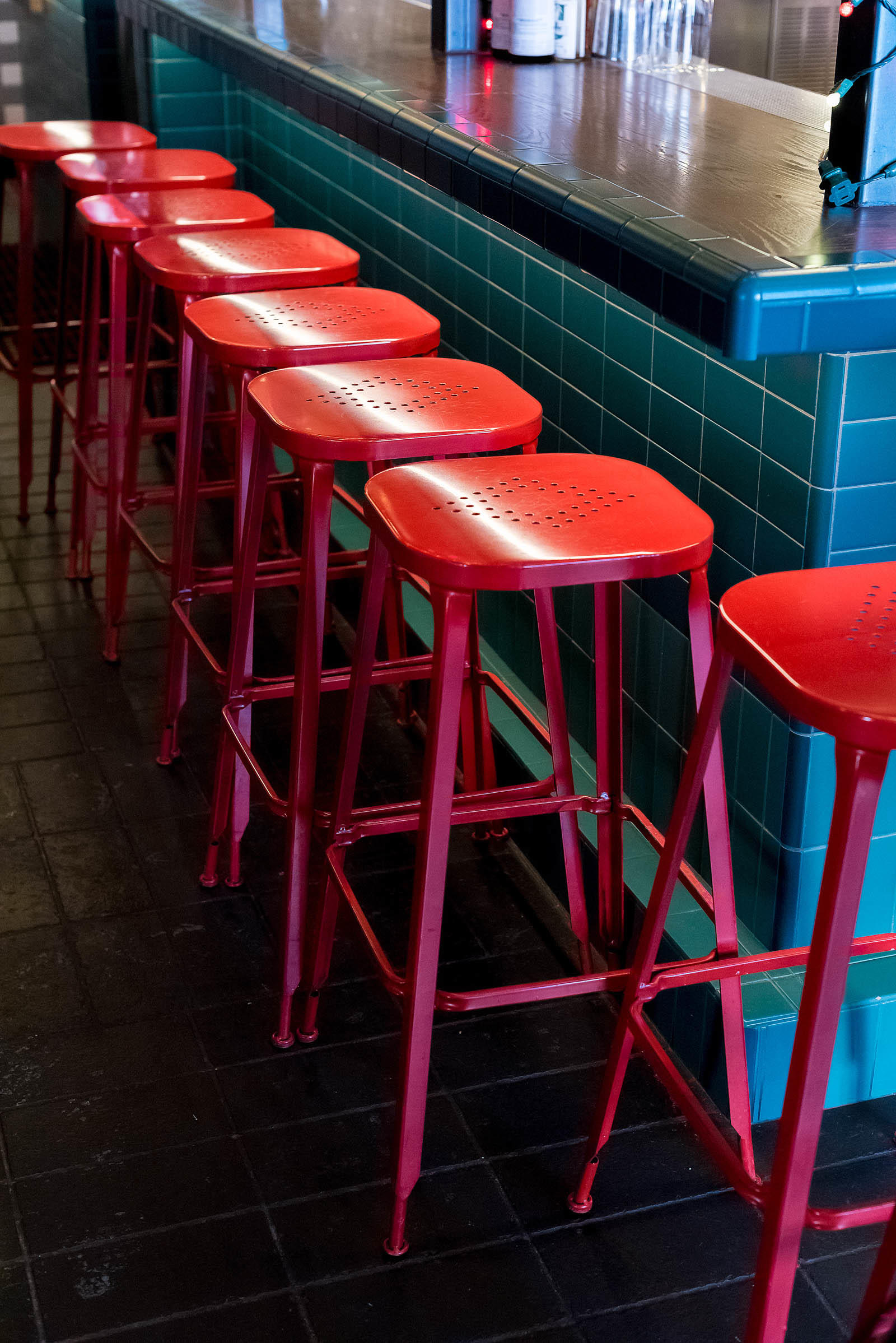 And chic red bar stools all around.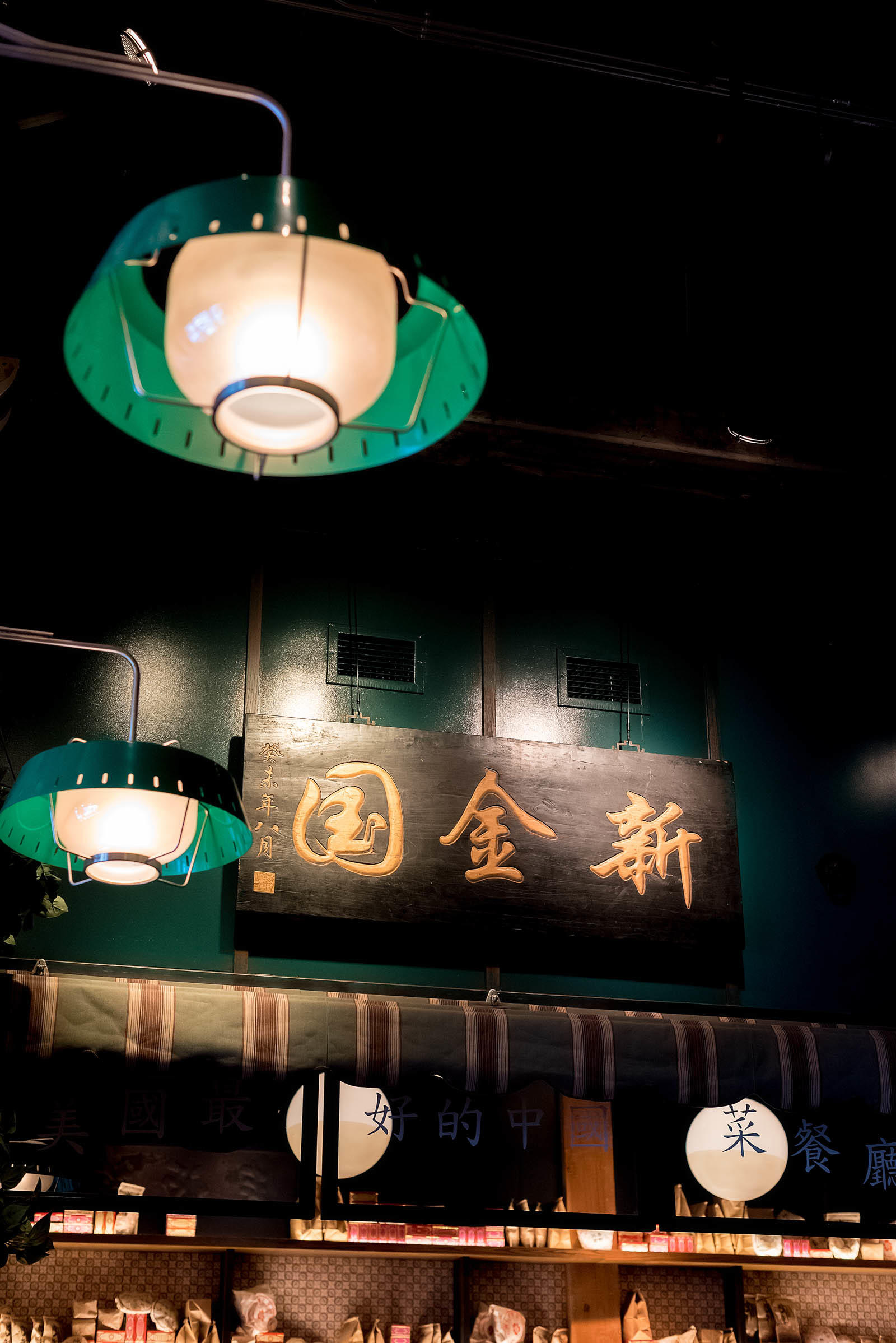 But step around this amazing restaurant and explore it before you take a seat!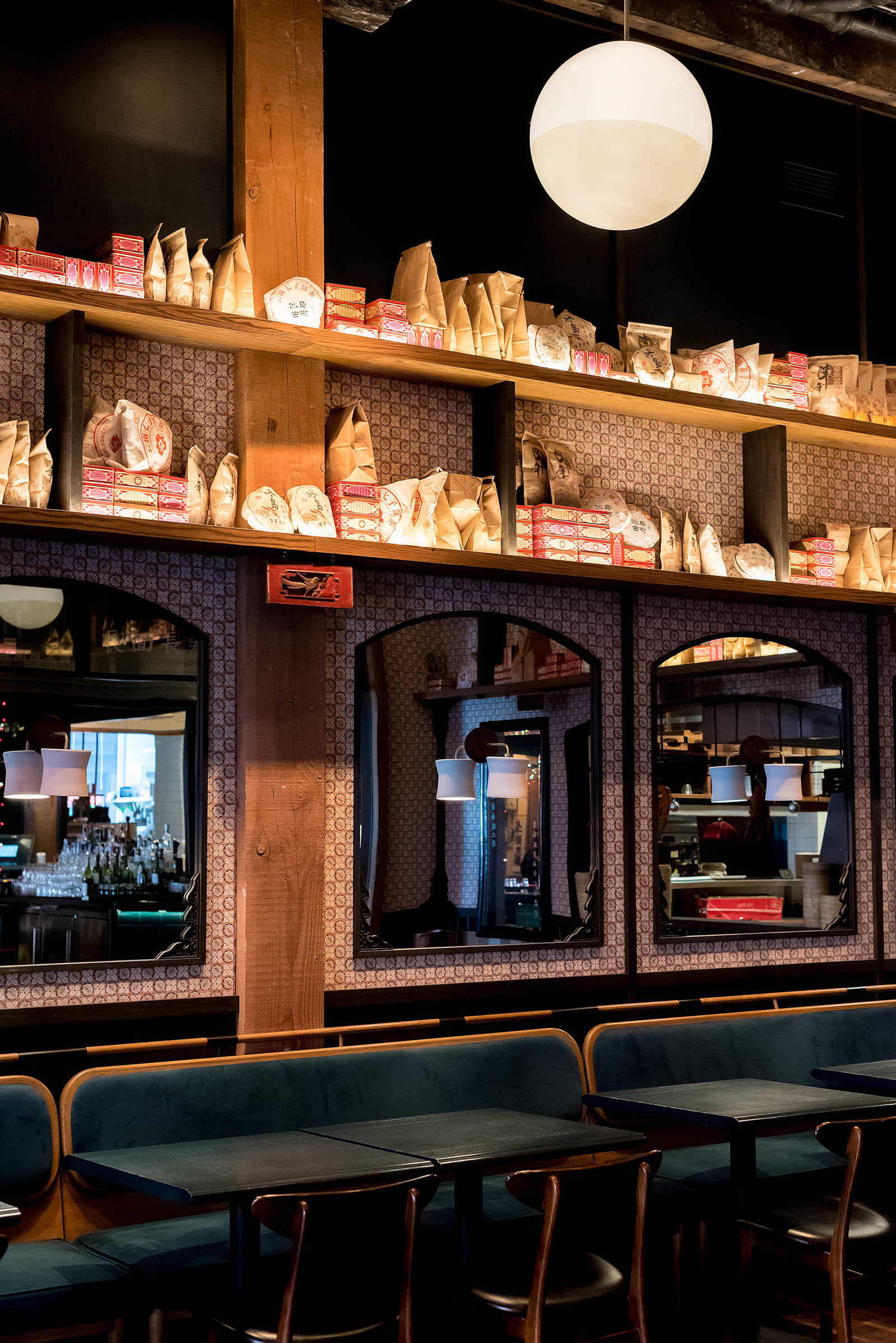 Each room has a distinctively different, funky Chinese vibe to it. Like this large, warehouse-esque room next to the kitchen.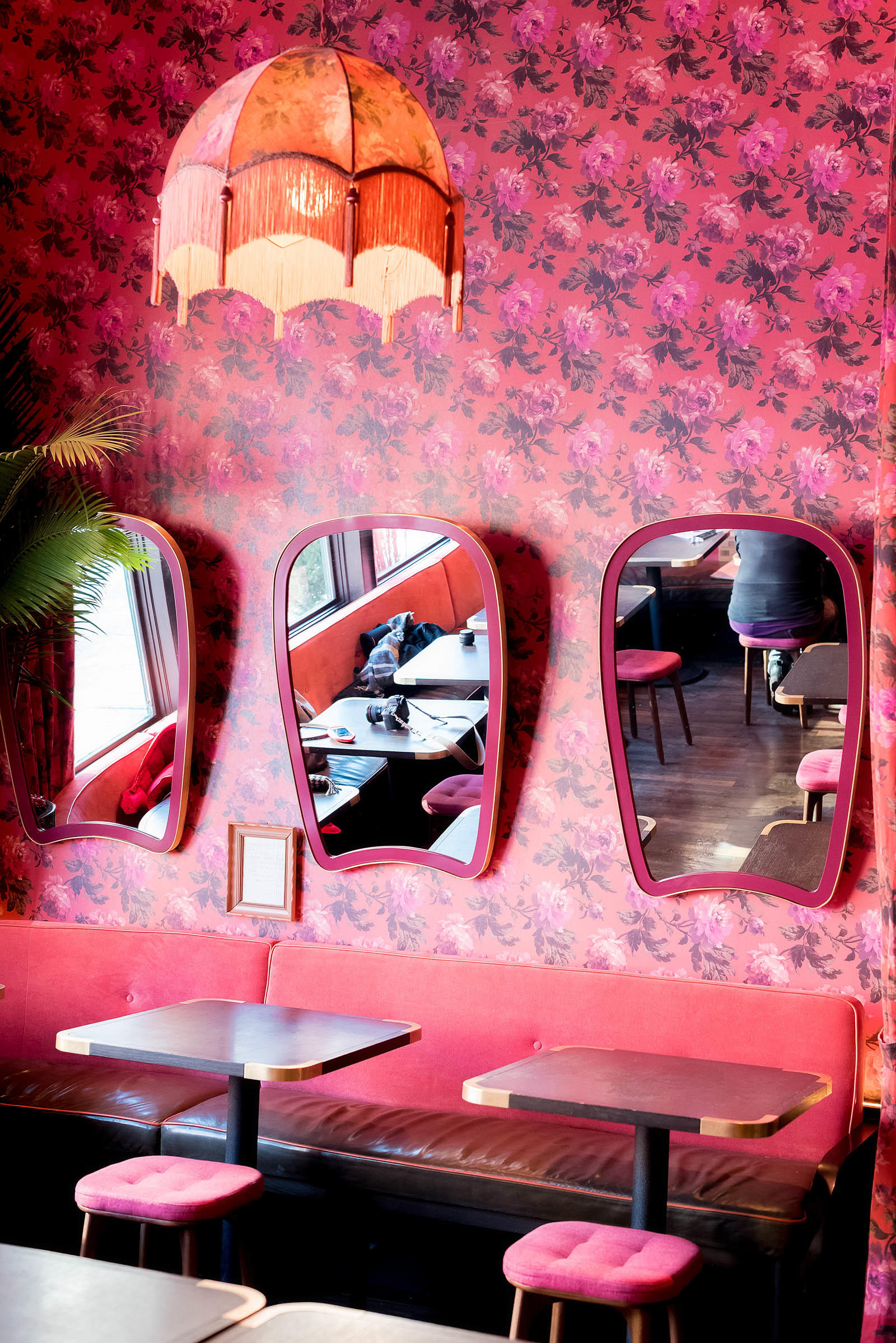 Or this stunning red room off to the left of the entrance, which is my particular favorite.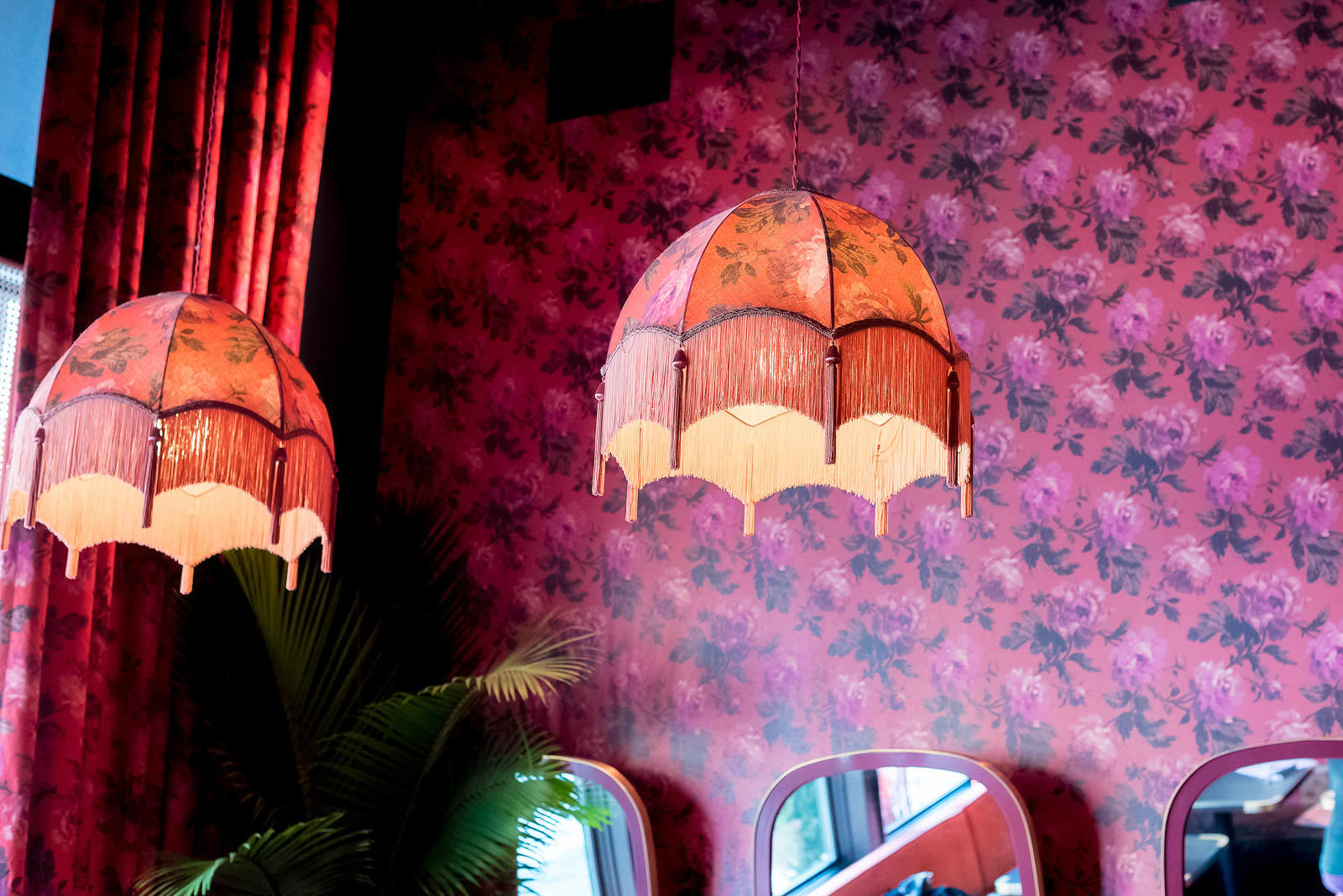 Aren't these lamps amazing?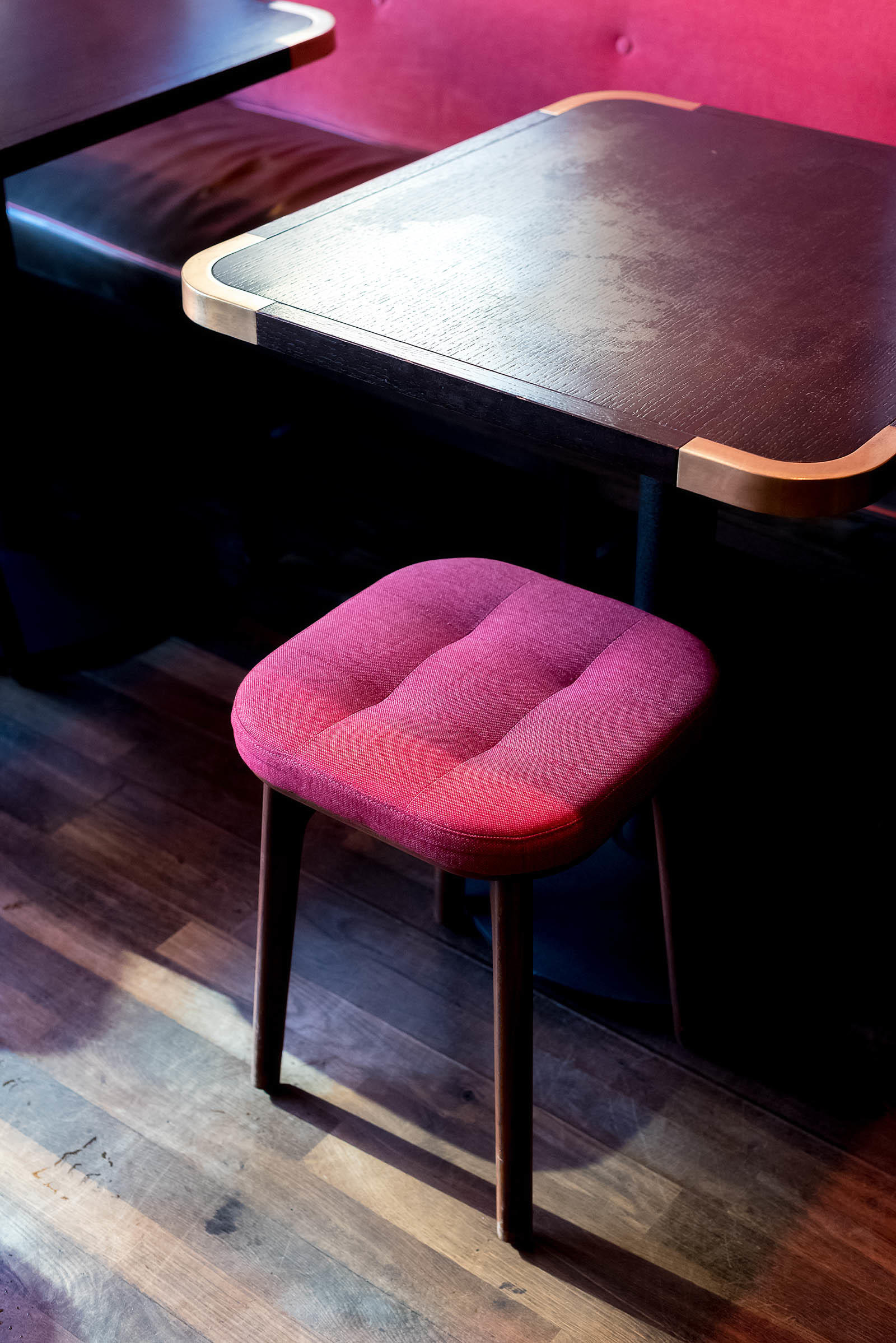 So post up to the bar, order your meal and grab a seat! Because the food at Duck Duck Goat is even more spectacular than the setting!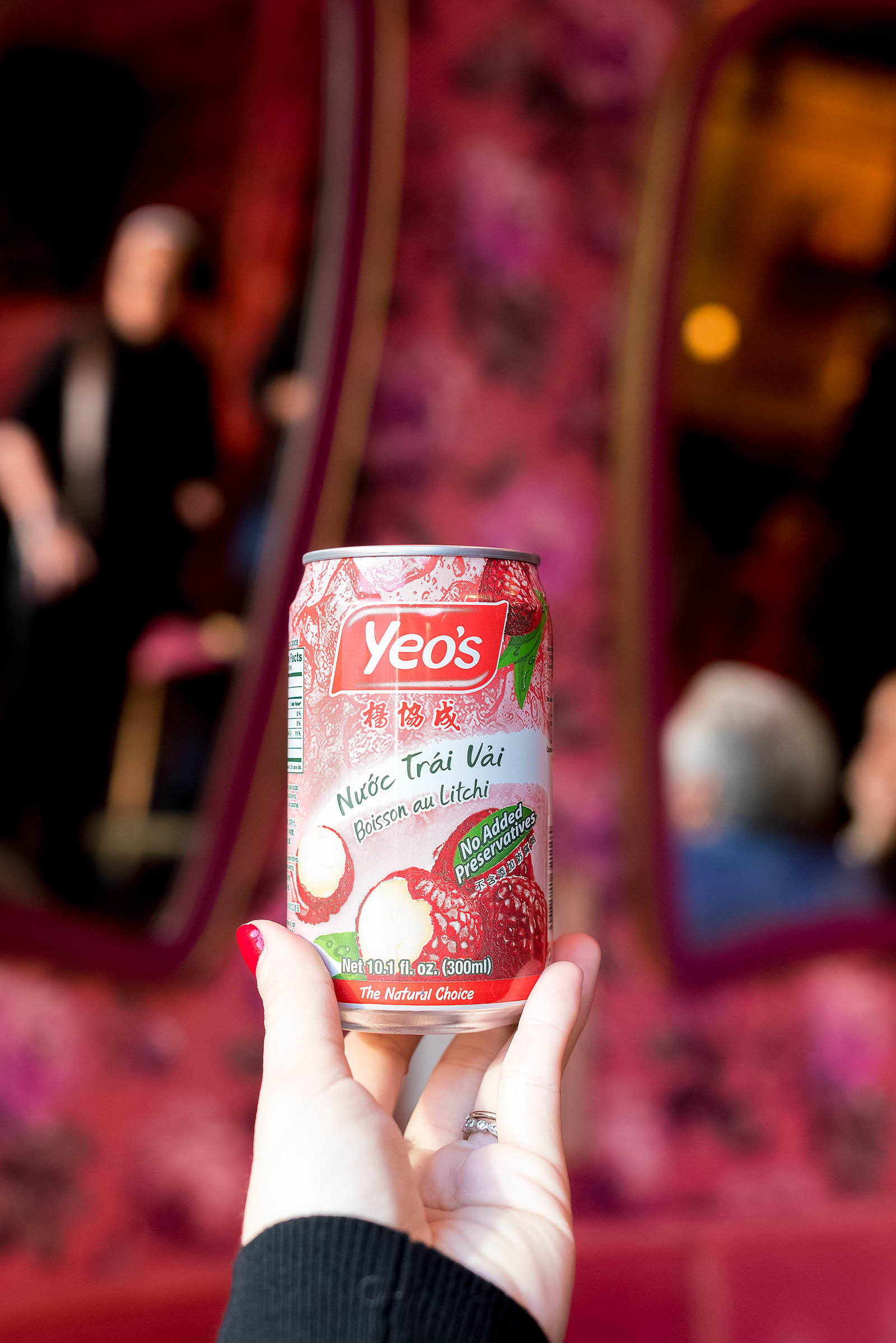 Start with some authentic soft drinks like this Lychee Soda.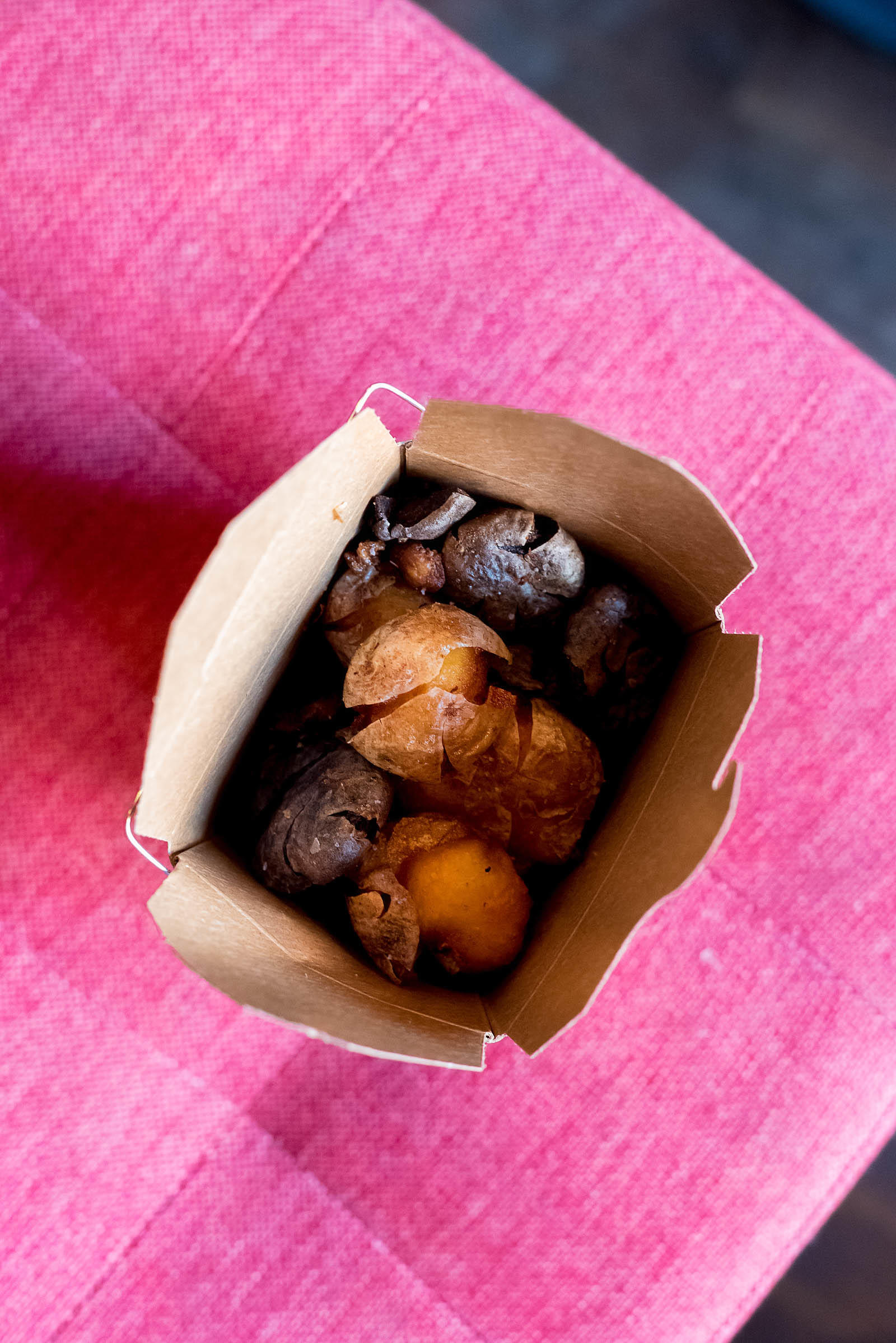 And then some nibbles to get the meal going.
I'm partial to these Sichuan Potatoes that are crispy fried and perfect with some of Duck Duck Goat's unique dipping sauces like Sesame Horseradish, Hot Mustard Aioli, or Sichuan Ranch.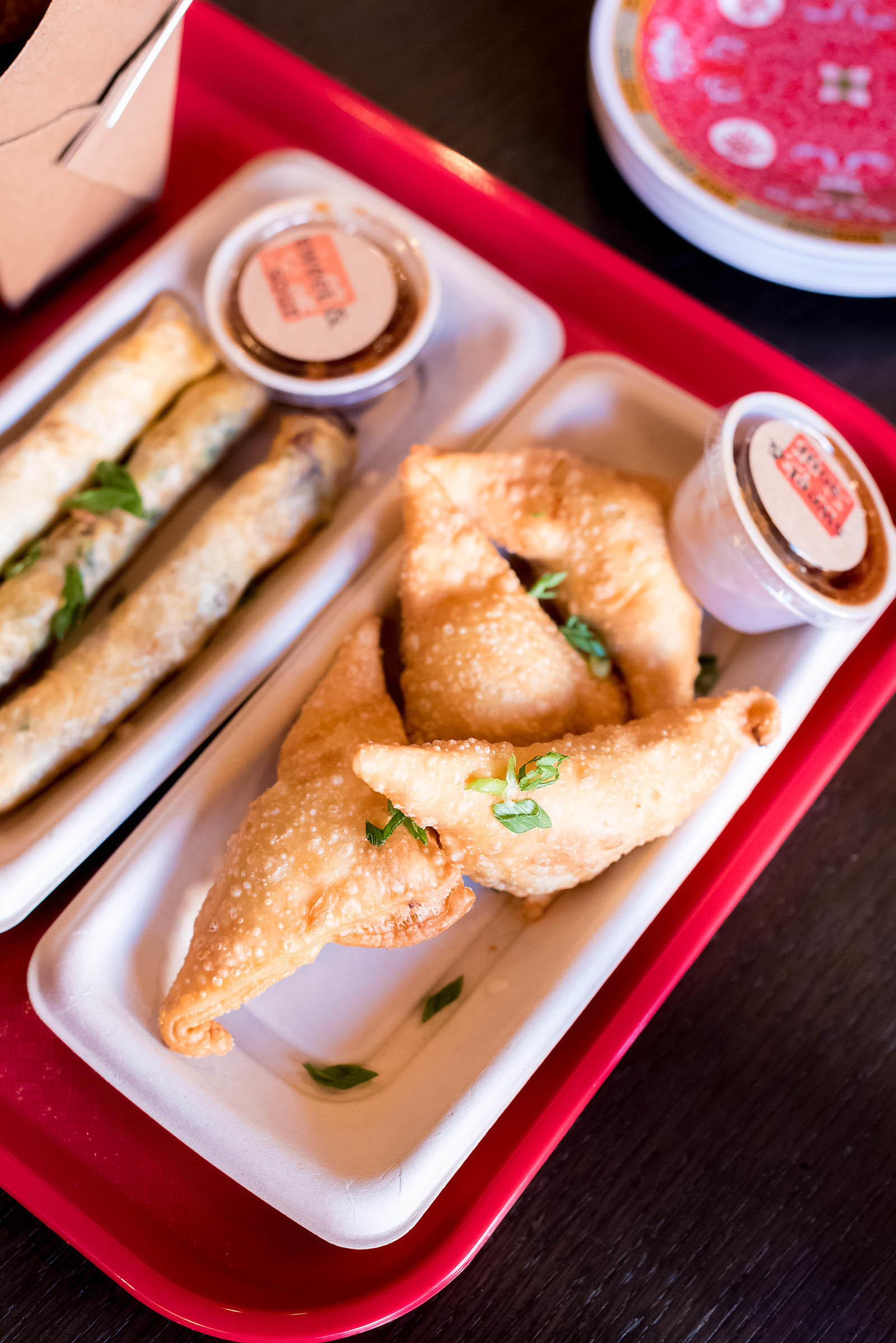 But don't forget to order these delicious Crab Rangoon with sweet & sour sauce too. They're quite addicting and best eaten hot right out of the fryer.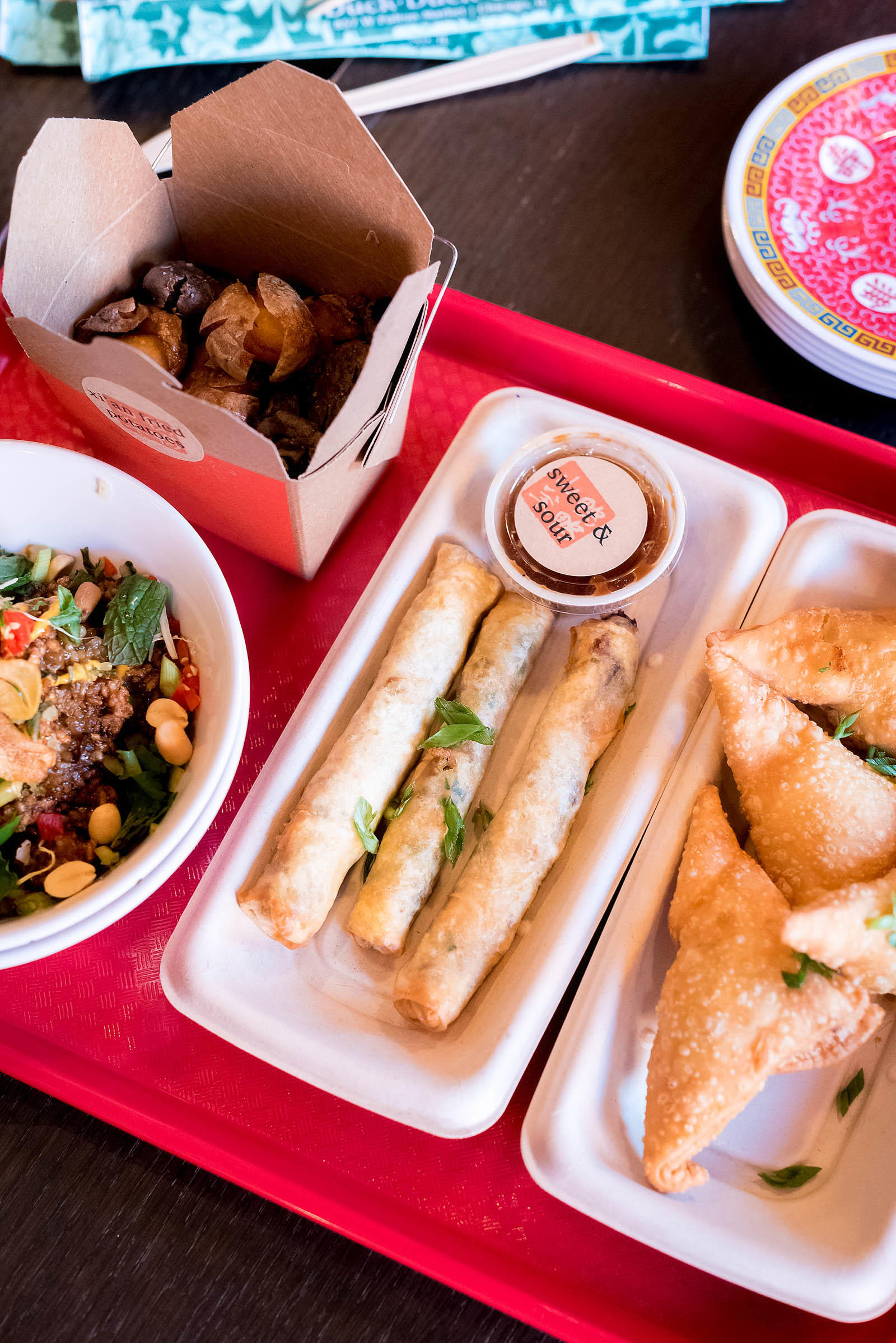 Or, for those looking for a true Izard-spin, order these crispy Goat & Duck Skin Springrolls with sweet & sour sauce.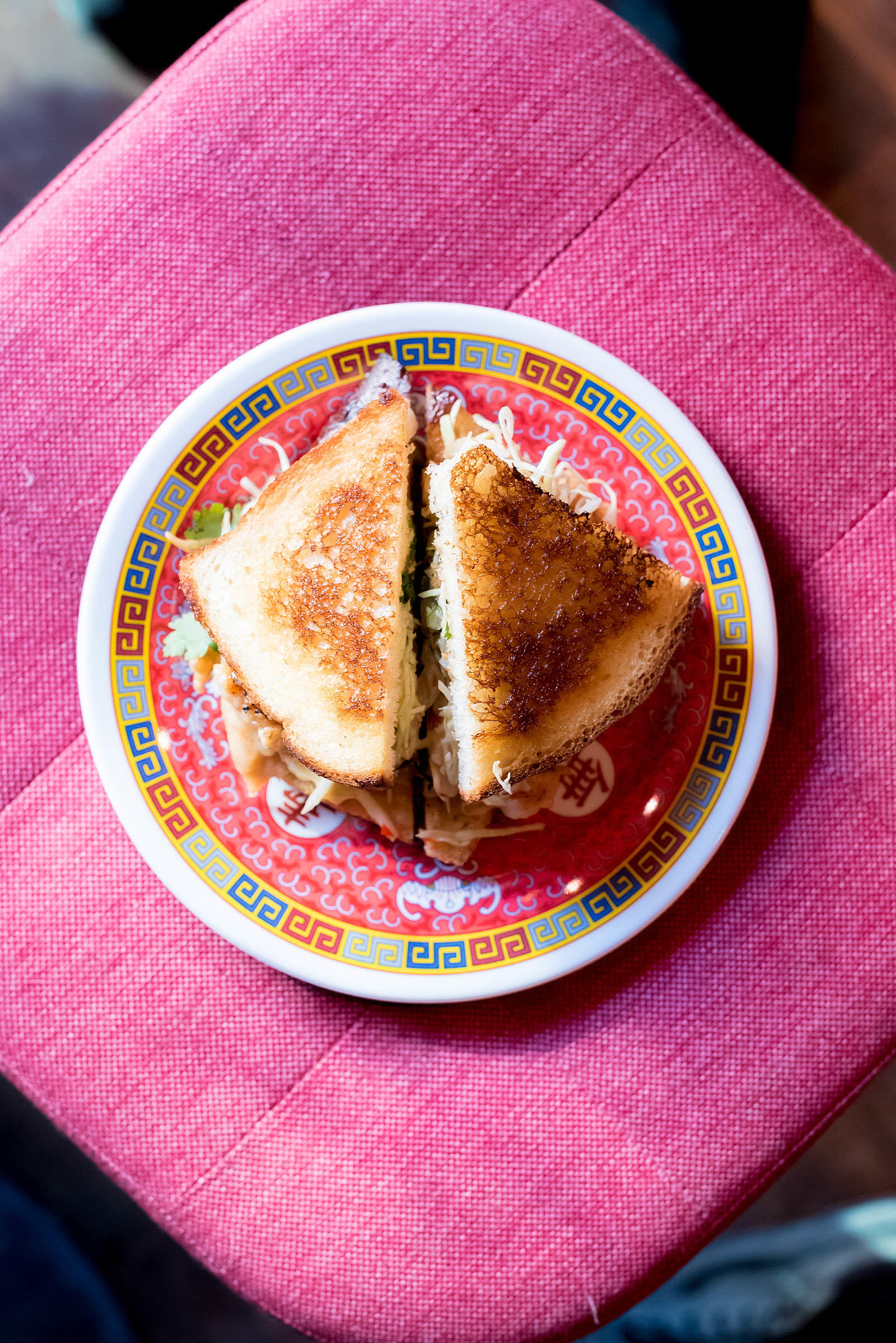 As far as "meals" go, I can almost never resist ordering this stunning Shrimp Toast Sandwich.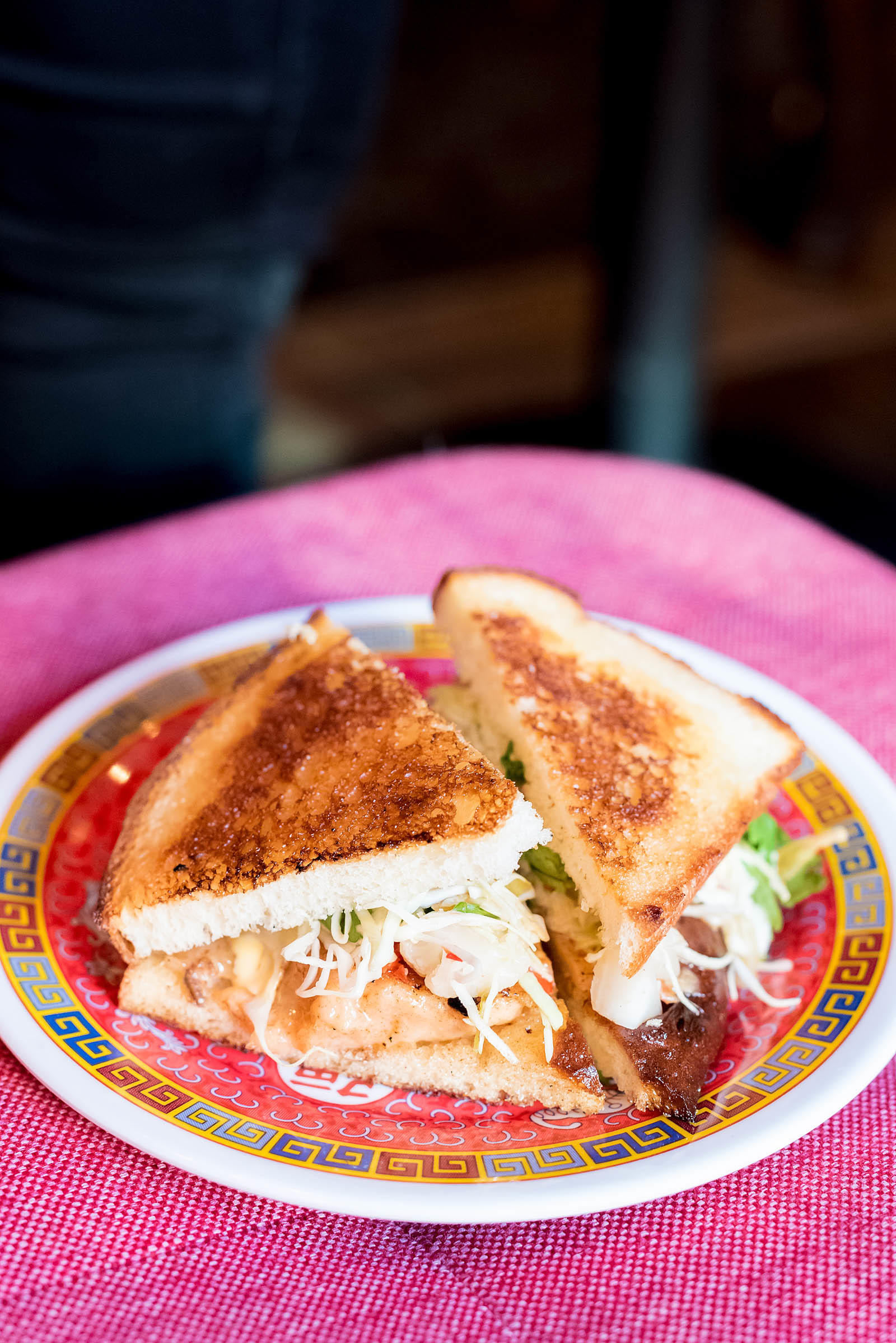 It's easily one of the most unusual dishes you'll ever try if you've never had shrimp toast!
Griddled Little Goat white bread with shrimp mousse and fermented veggies may sound intimidating to some but it's a magnificent bite!
Like a grilled cheese got a sexy Chinese makeover. And trust me, you won't even miss the cheese with all the flavor packed in there!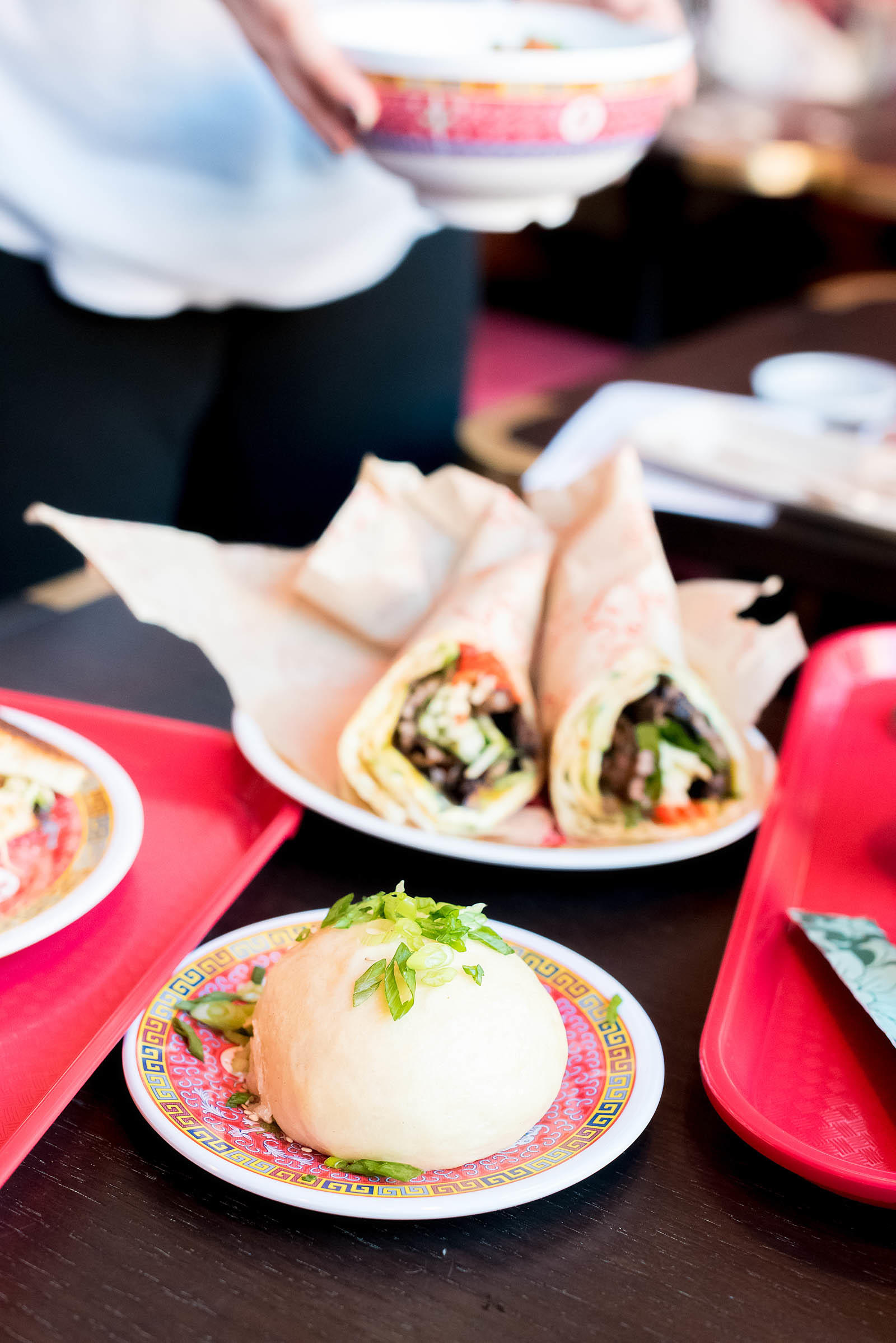 Another Duck Duck Goat classic? This Char Sui Bao a.k.a. steamed BBQ Pork Buns. Yum!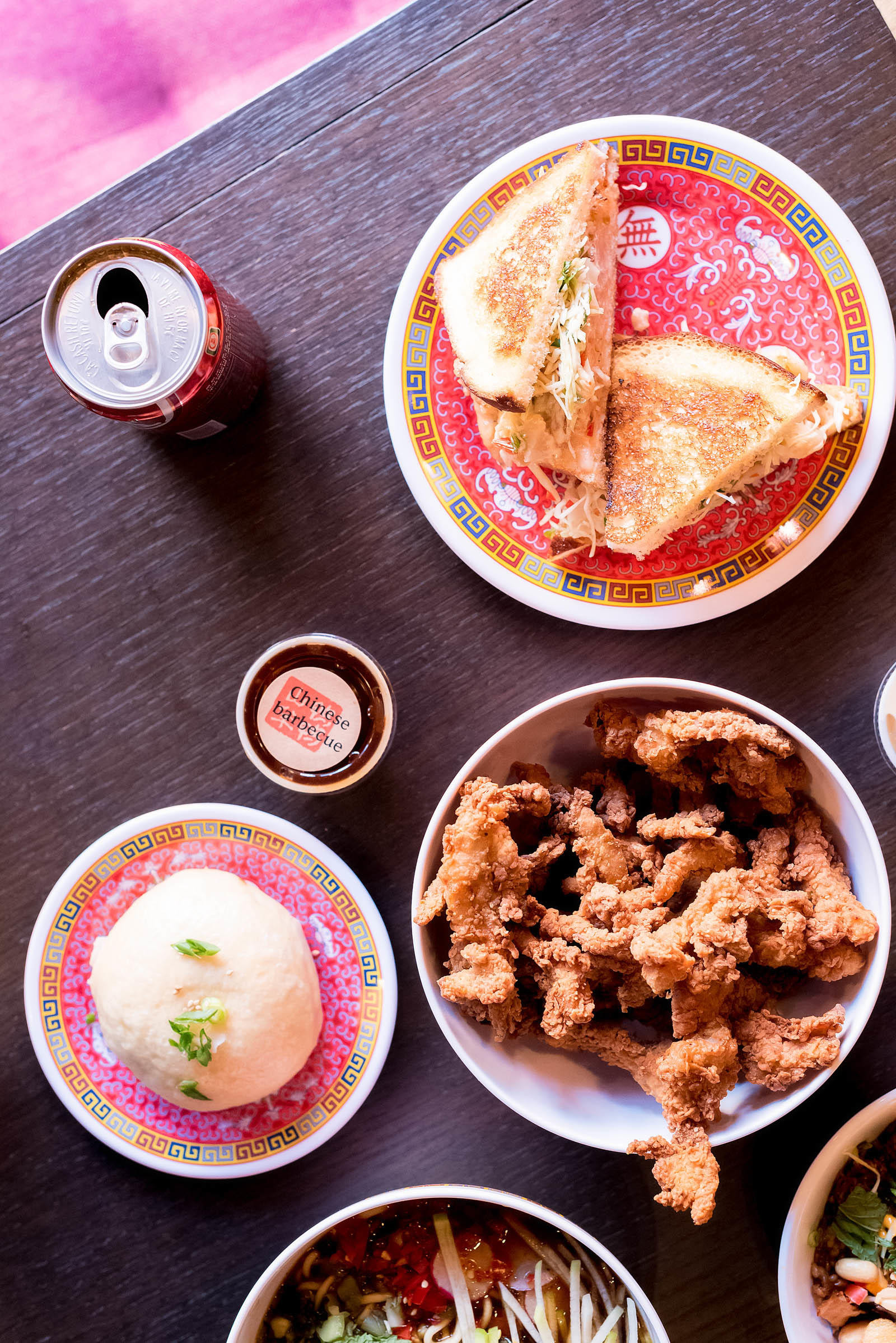 And it compliments pretty much any other dish on the menu well.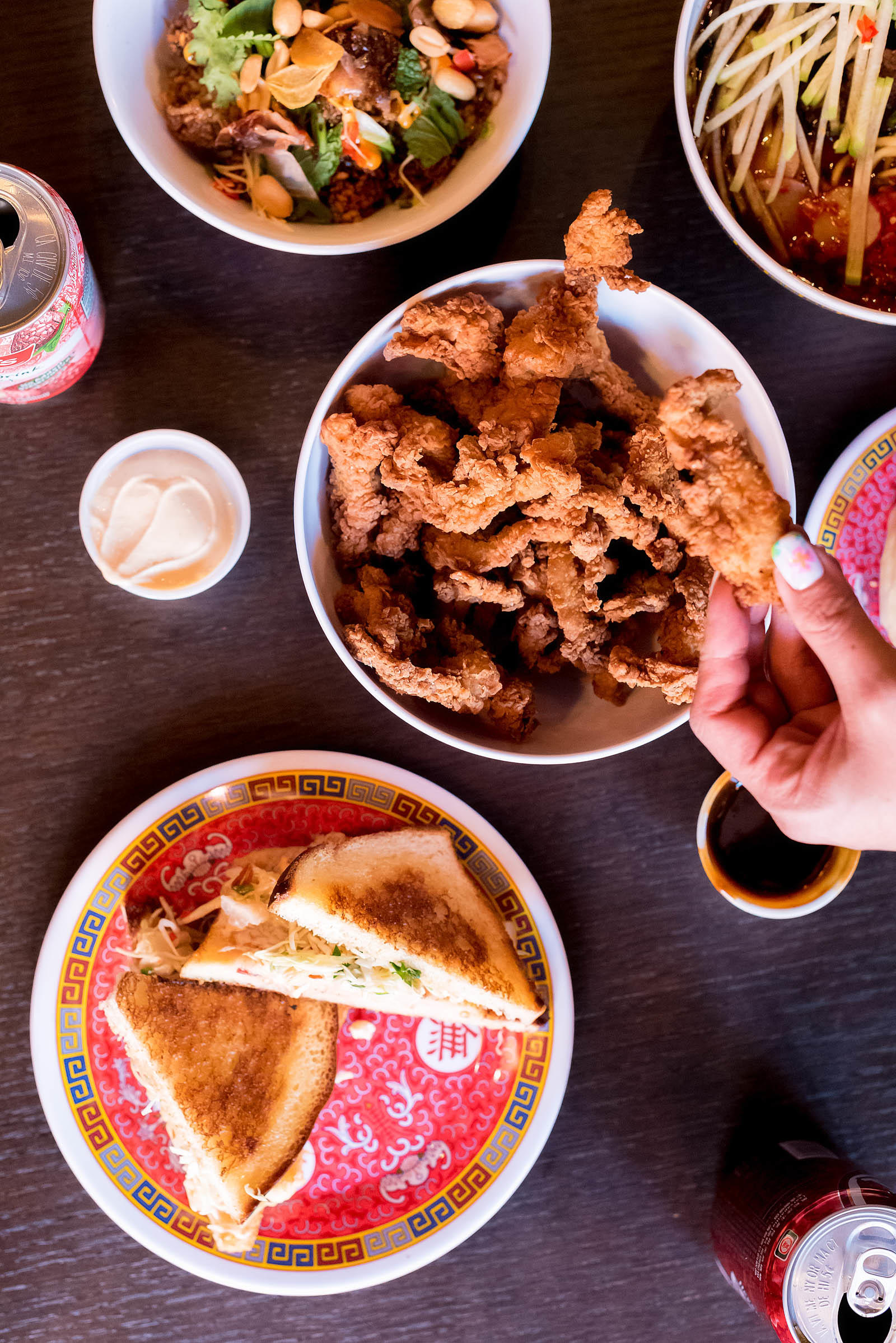 Like these Taiwanese Fried Chicken Strips.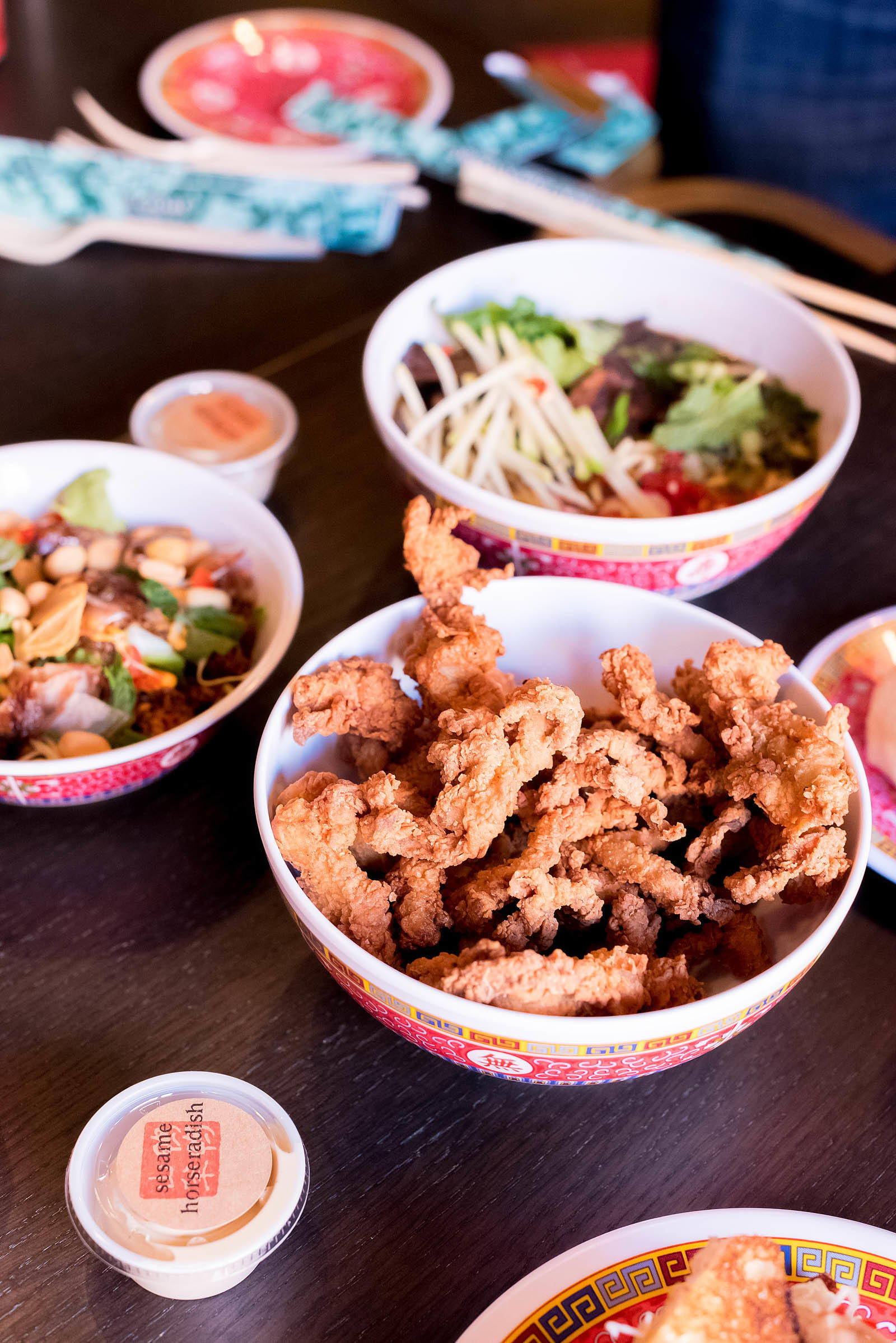 Which are, again, crispy fried to perfection and go great with all the delicious dipping sauces.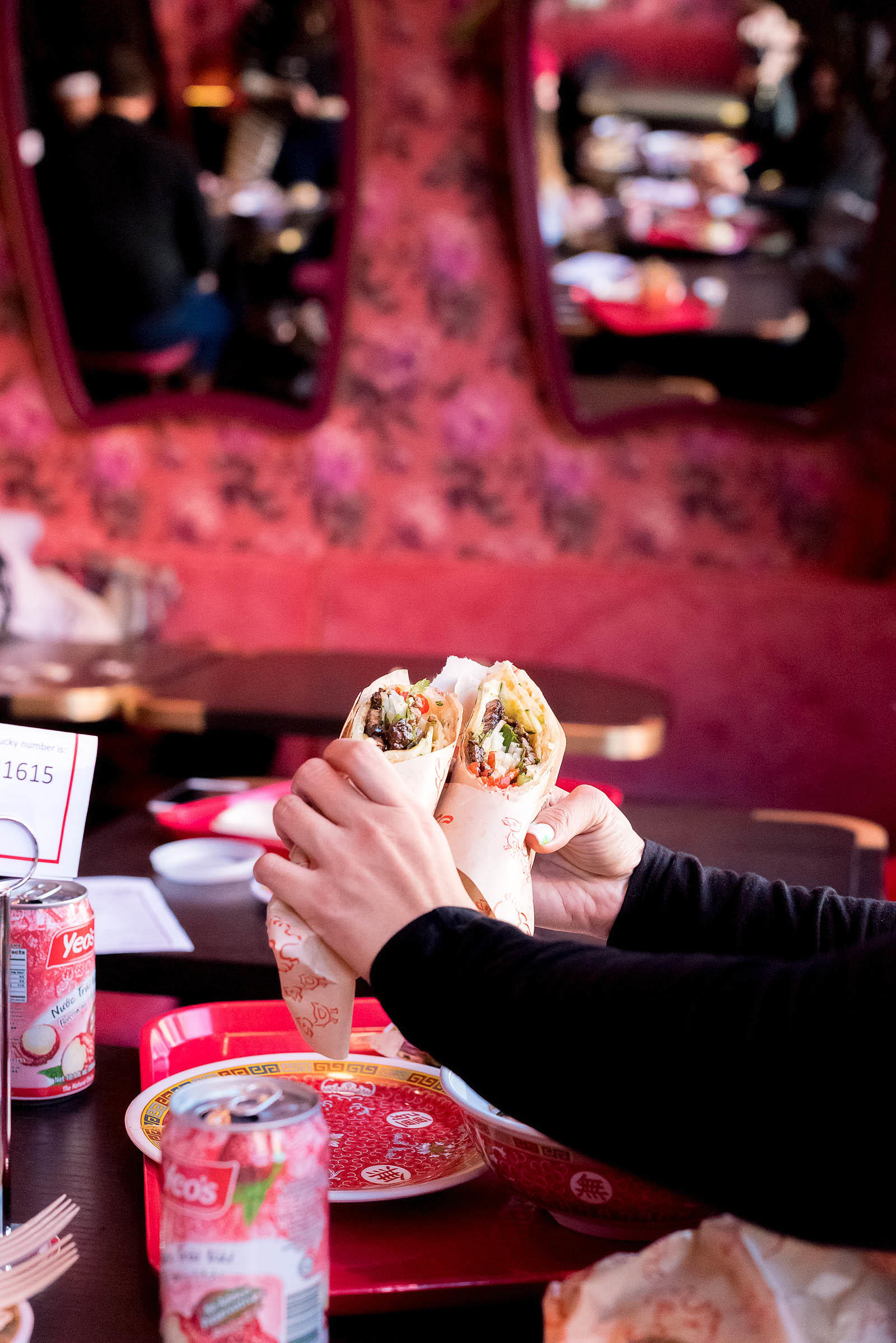 For those of you who love a wrap for lunch, Duck Duck Goat has a very delicious option for you too!
This Niu Rou Jian Bing, a scallion pancake wrap filled with marinated beef, hoision, cucumber, and frescos. Isn't it just beautiful?
Chef Izard got creative when it came to her traditional offering of "Fried Rice", too subbing in deep friend sticky rice for regular rice and topping it with house pork sausage, veggies, peanuts, and herbs.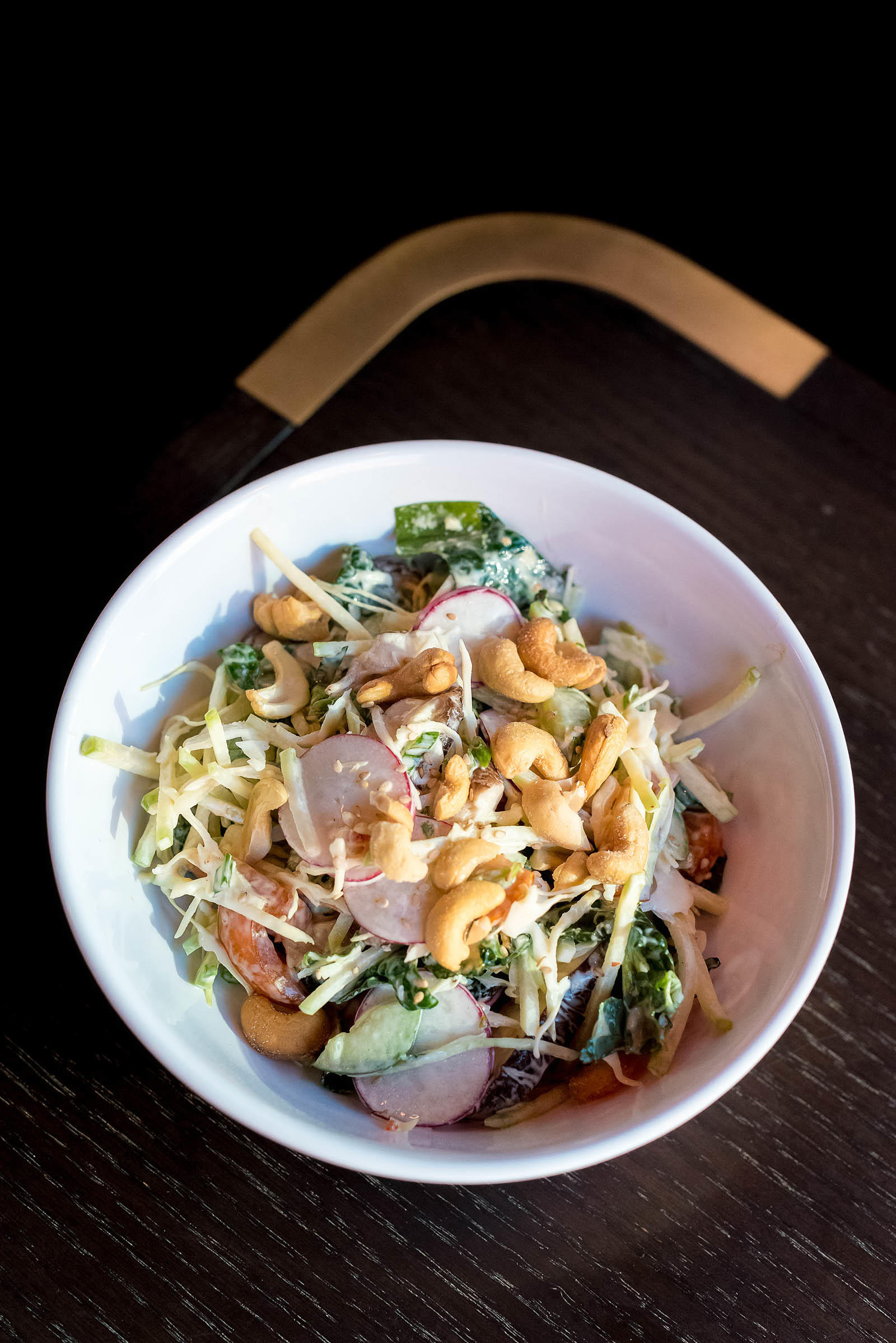 But one of the most exciting dishes on the entire menu is the one you're most likely to overlook! This delectable Duck Duck Kale Salad with cashews, pickled persimmon, shiitake, and ginger dressing.
It's hard to say why this salad is so magical. Maybe it's the uniquely creamy dressing married with the perfectly prepared shiitakes. Maybe it's the surprising crunch of the cashews or the delicate texture from the pickled persimmon.
Whatever it is, just be sure to order this salad and give it a shot! It'll be the biggest surprise of your meal!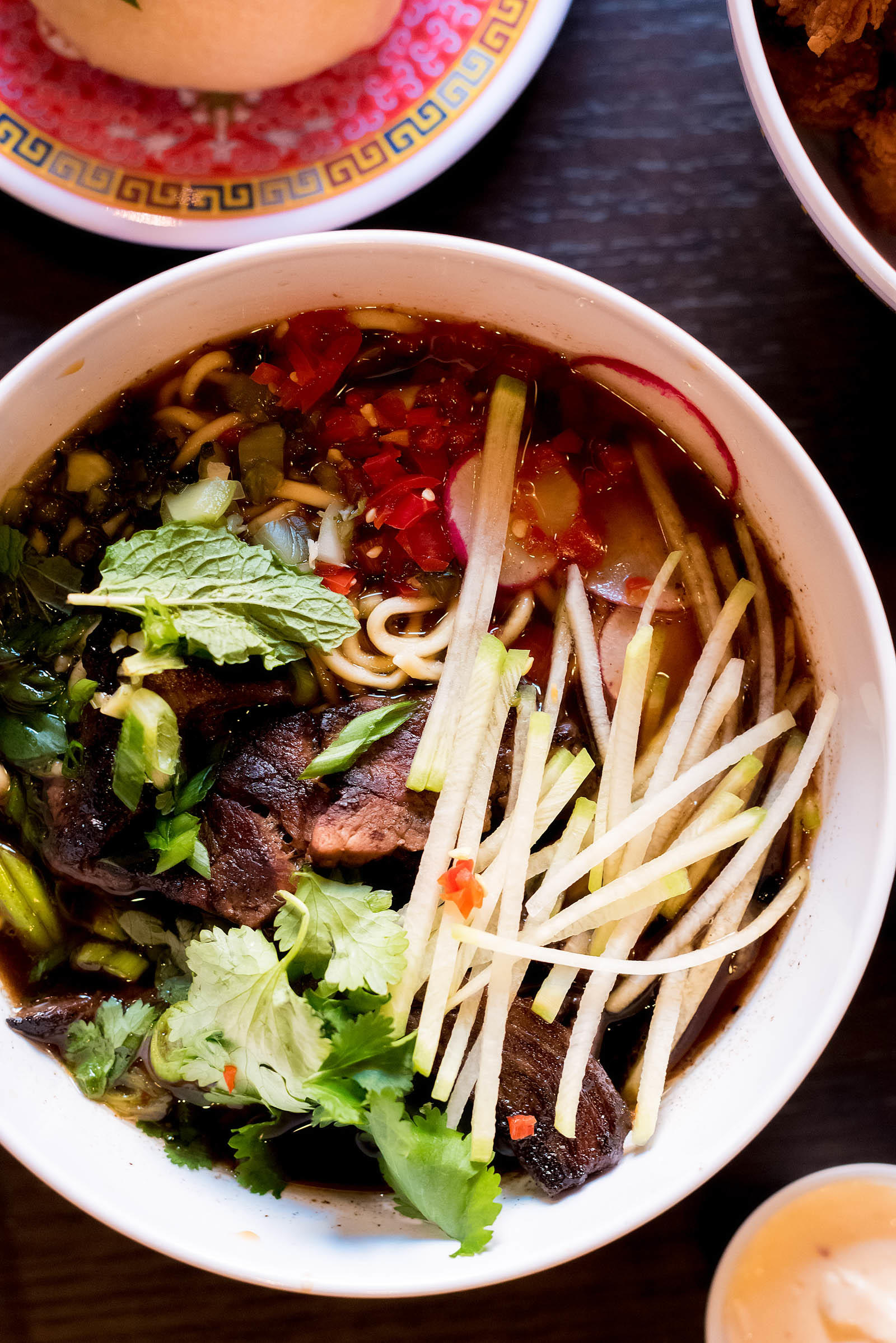 But on a cold, blustery day, make sure you order this oh-so-warming soup too.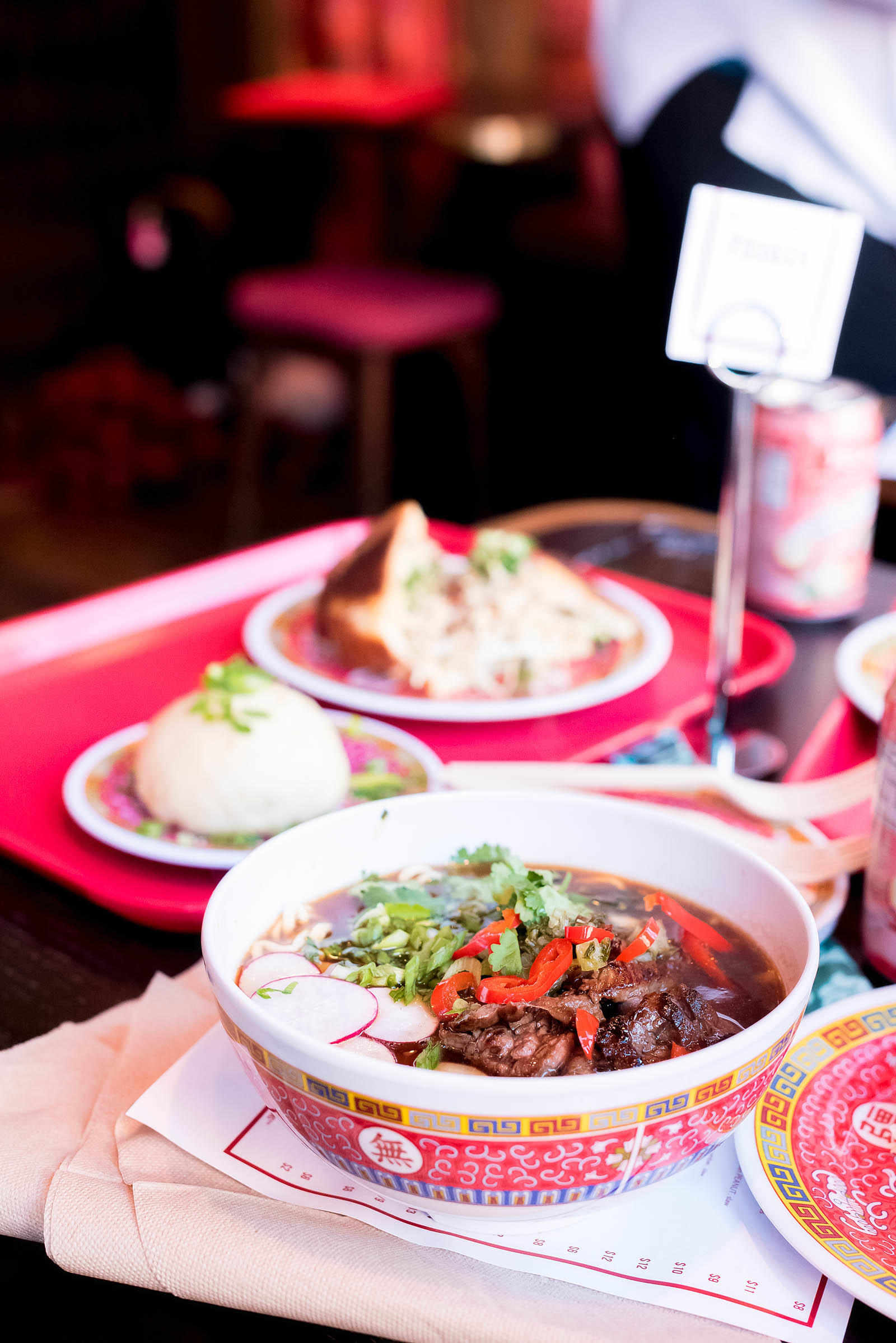 This is Duck Duck Goat's Taiwanese Beef Noodle Soup with house egg noodles, beef broth, and griddled beef.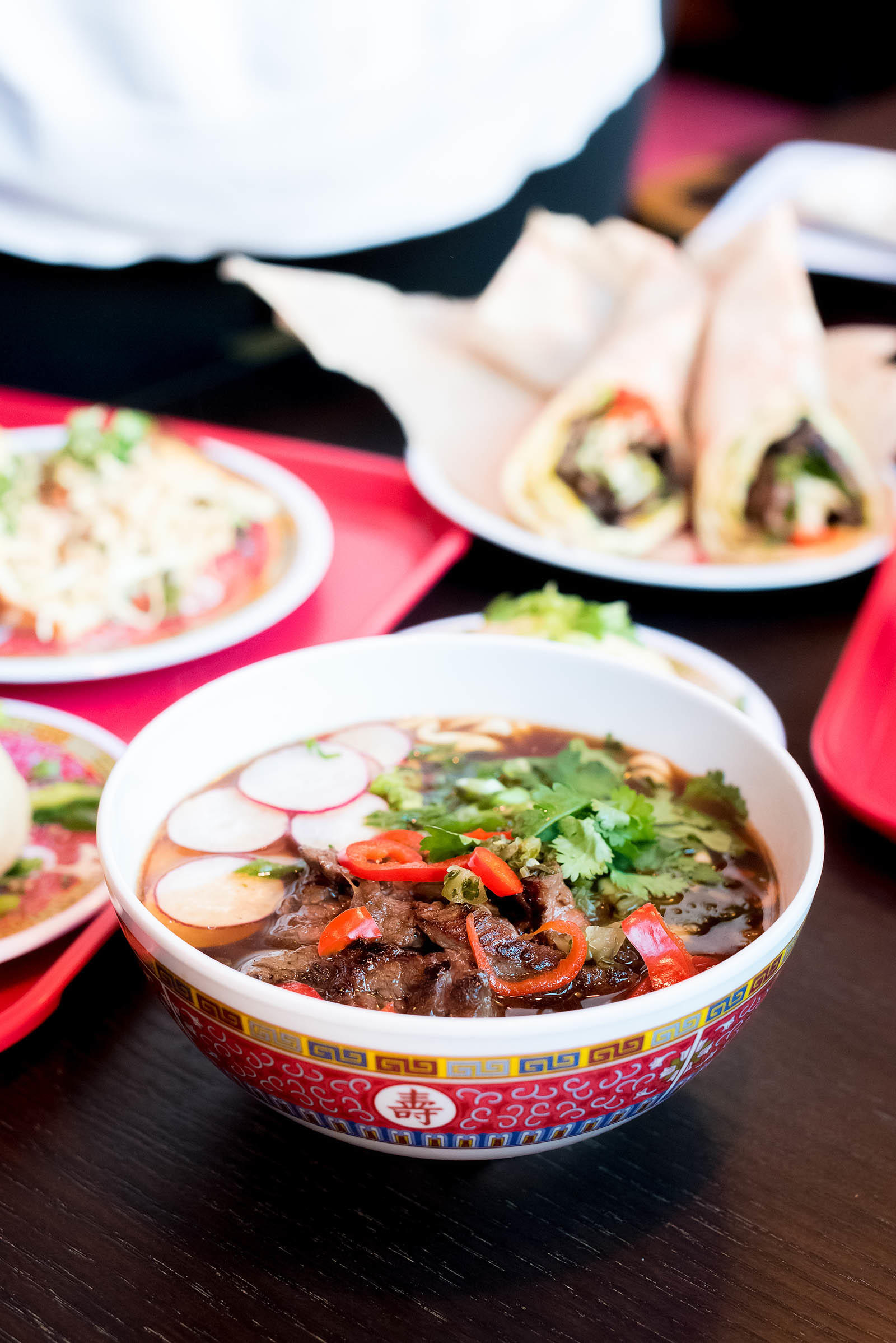 It's the kind of noodle soup my Dad would have gone crazy over.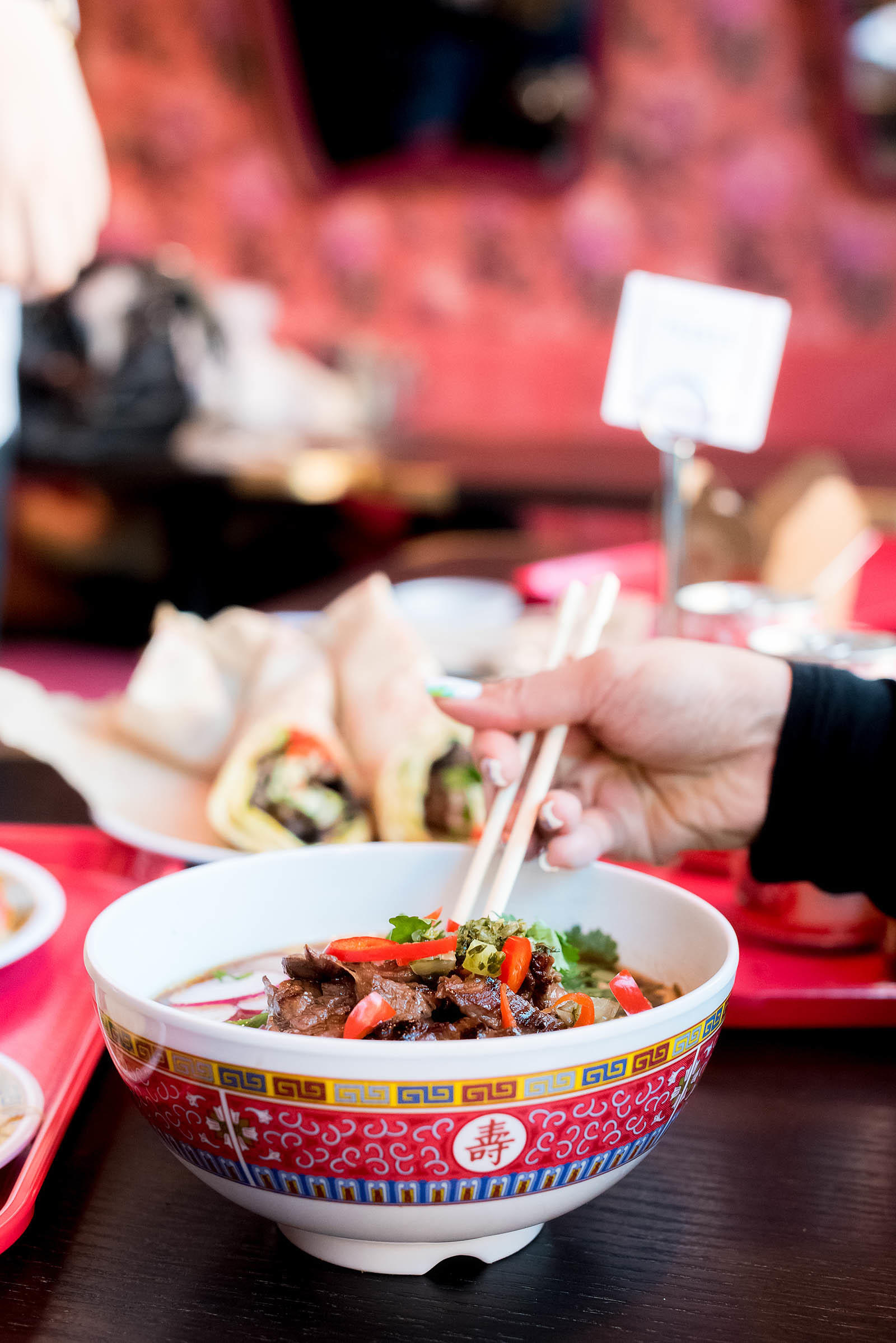 And you will too…
Once you see just how many noodles they pack into this massive bowl!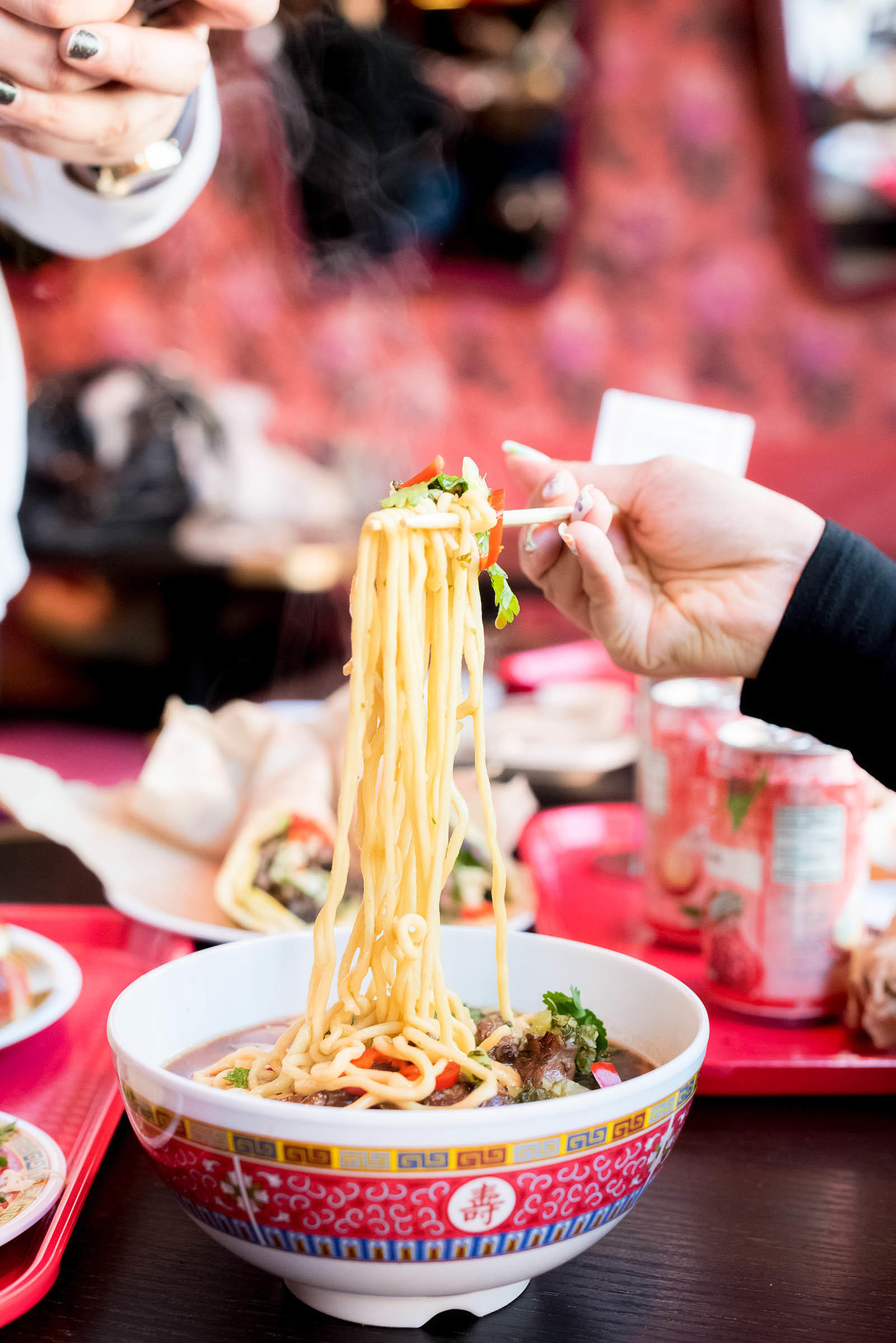 Which my foodie friend Soo of Fab Food Chicago was only too happy to demonstrate!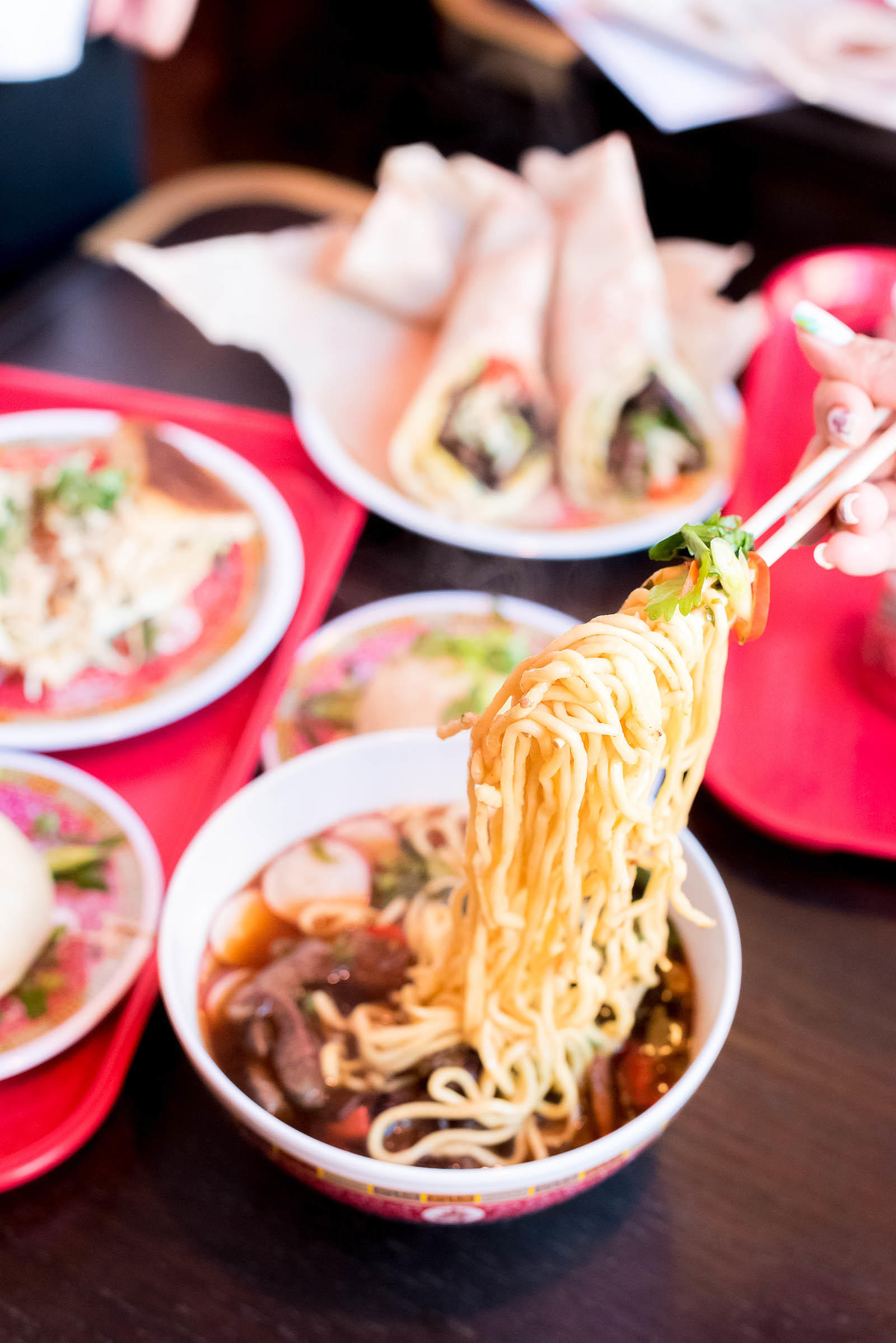 Just look at all that noodle goodness!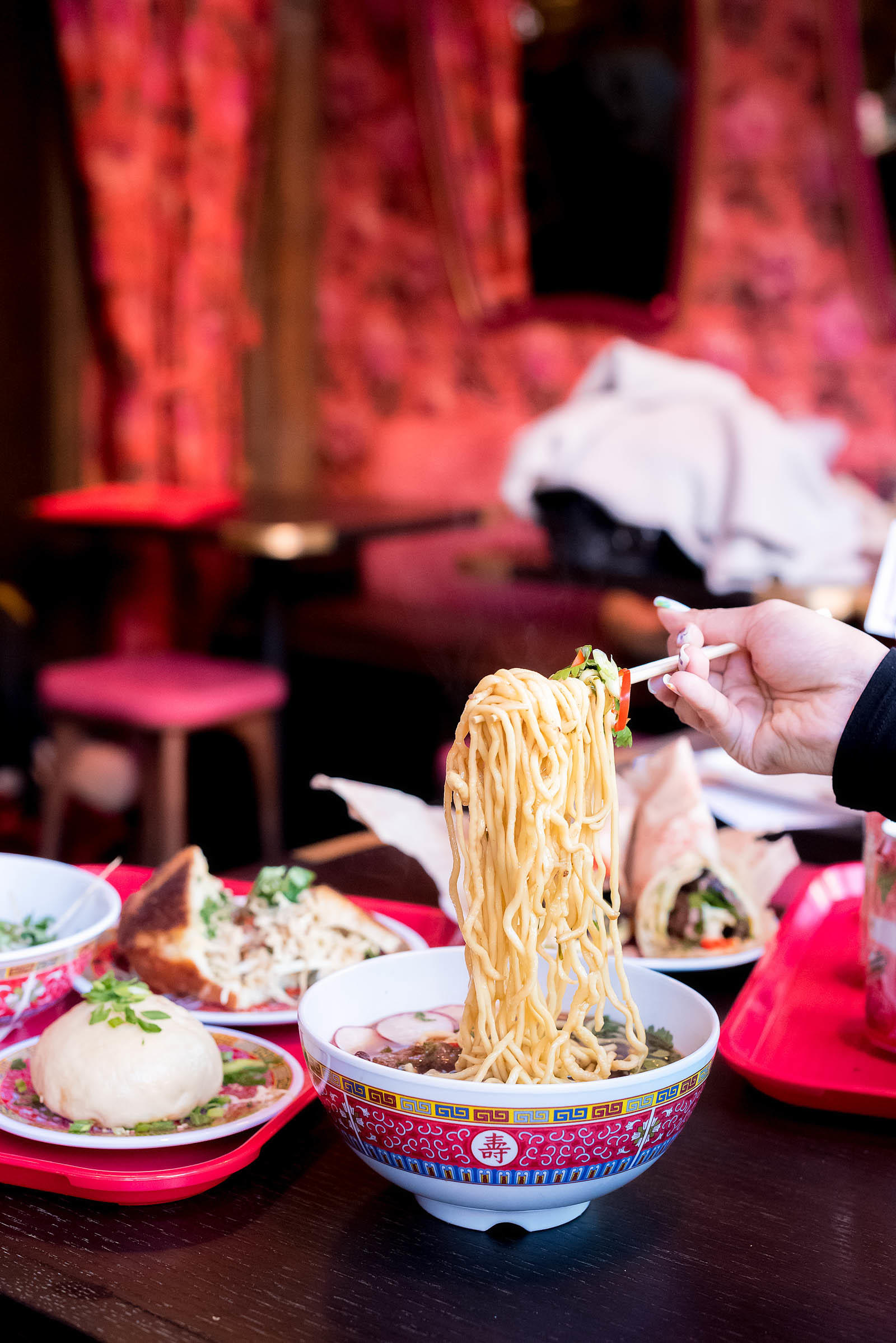 Not to mention all that steam.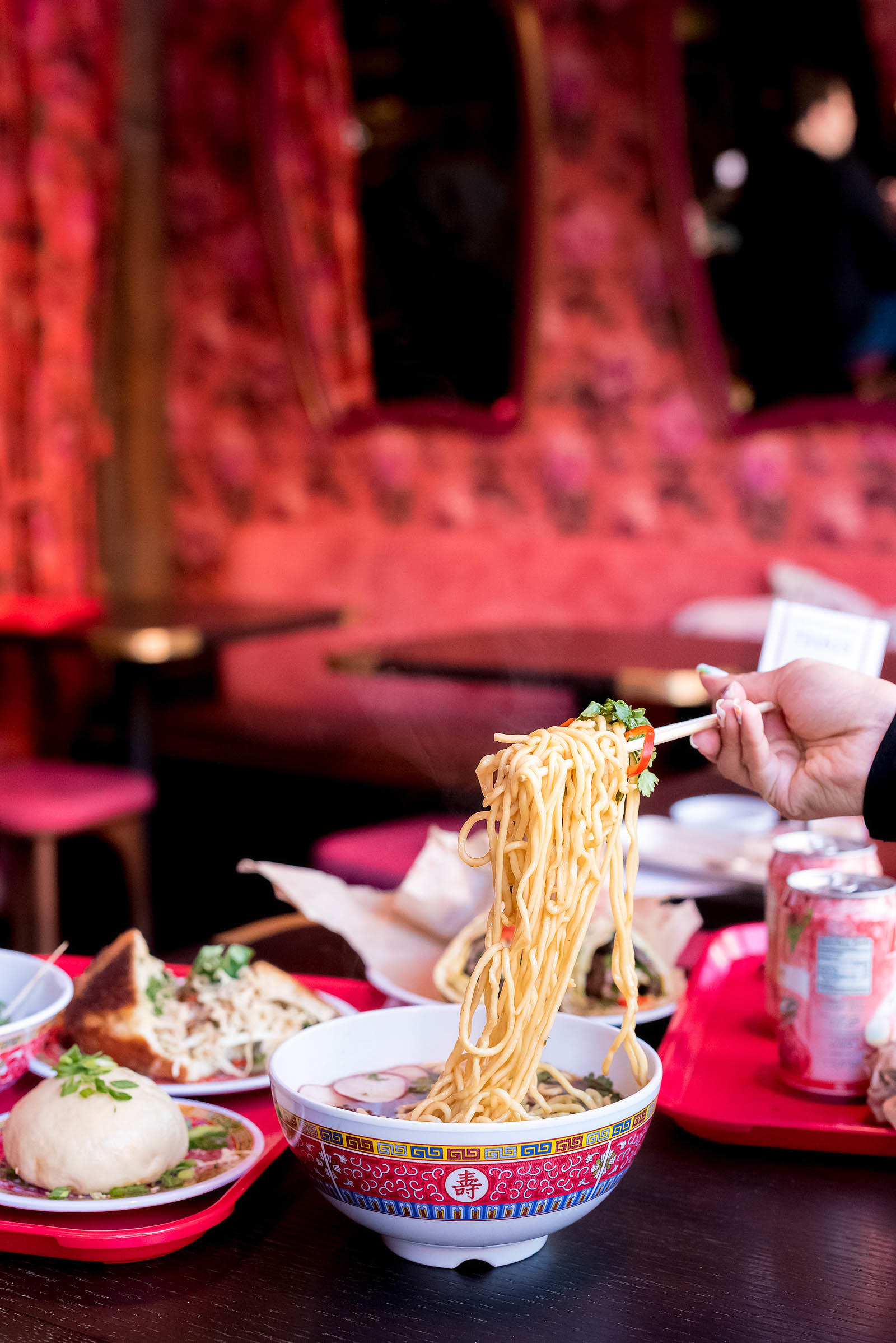 It makes for the perfect warming meal in winter.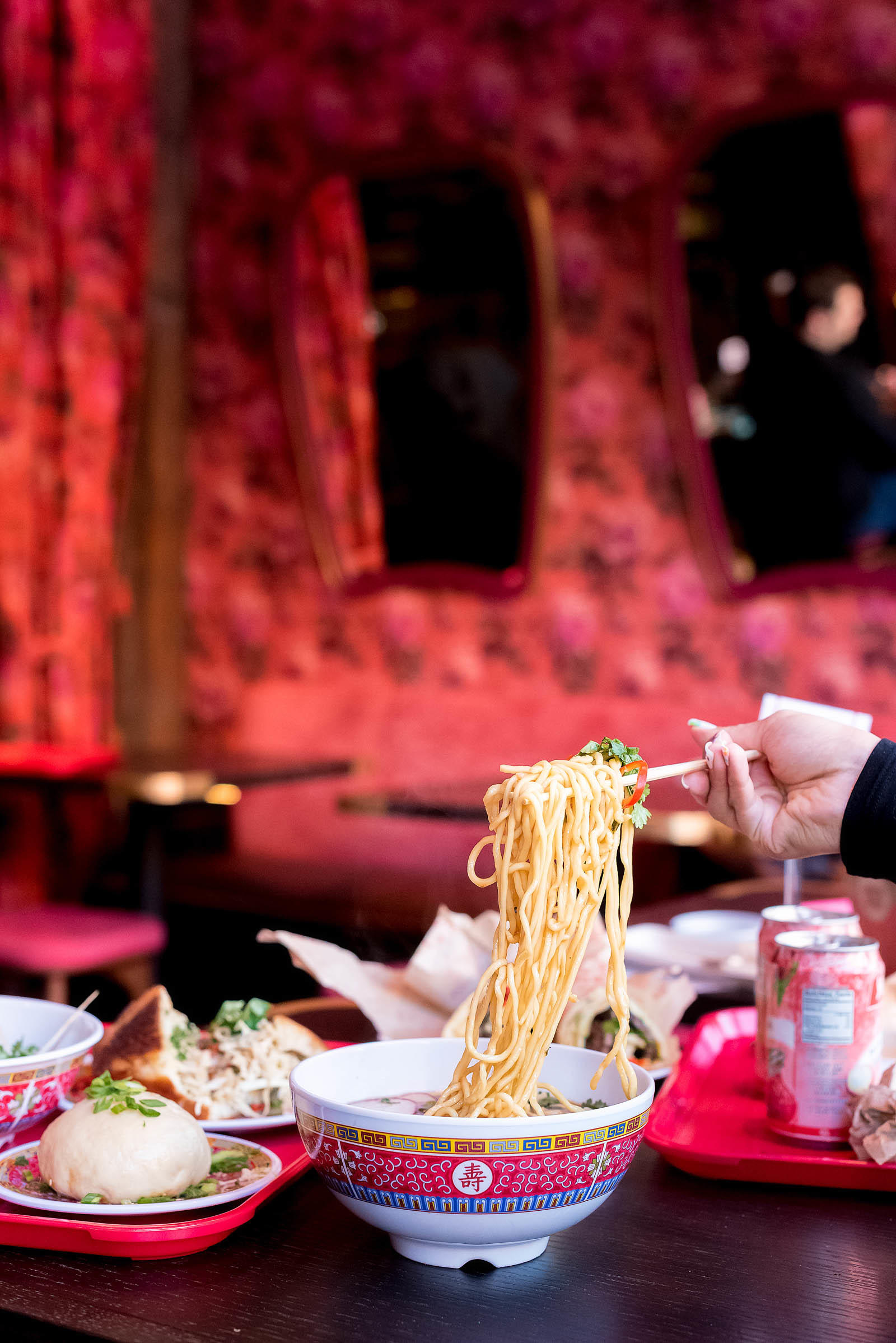 And a very epic end to a very epic meal!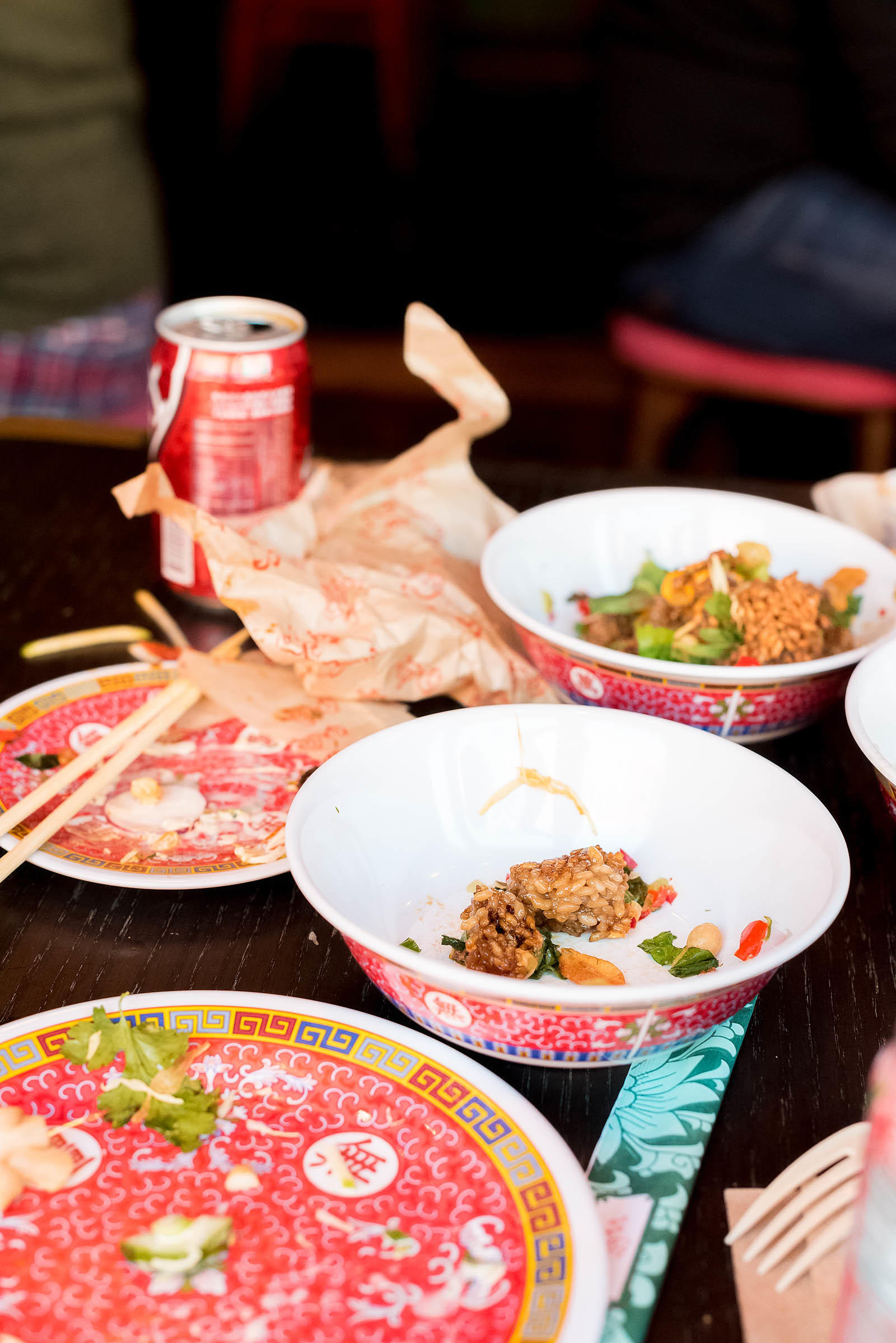 Which was devoured with gusto by us all!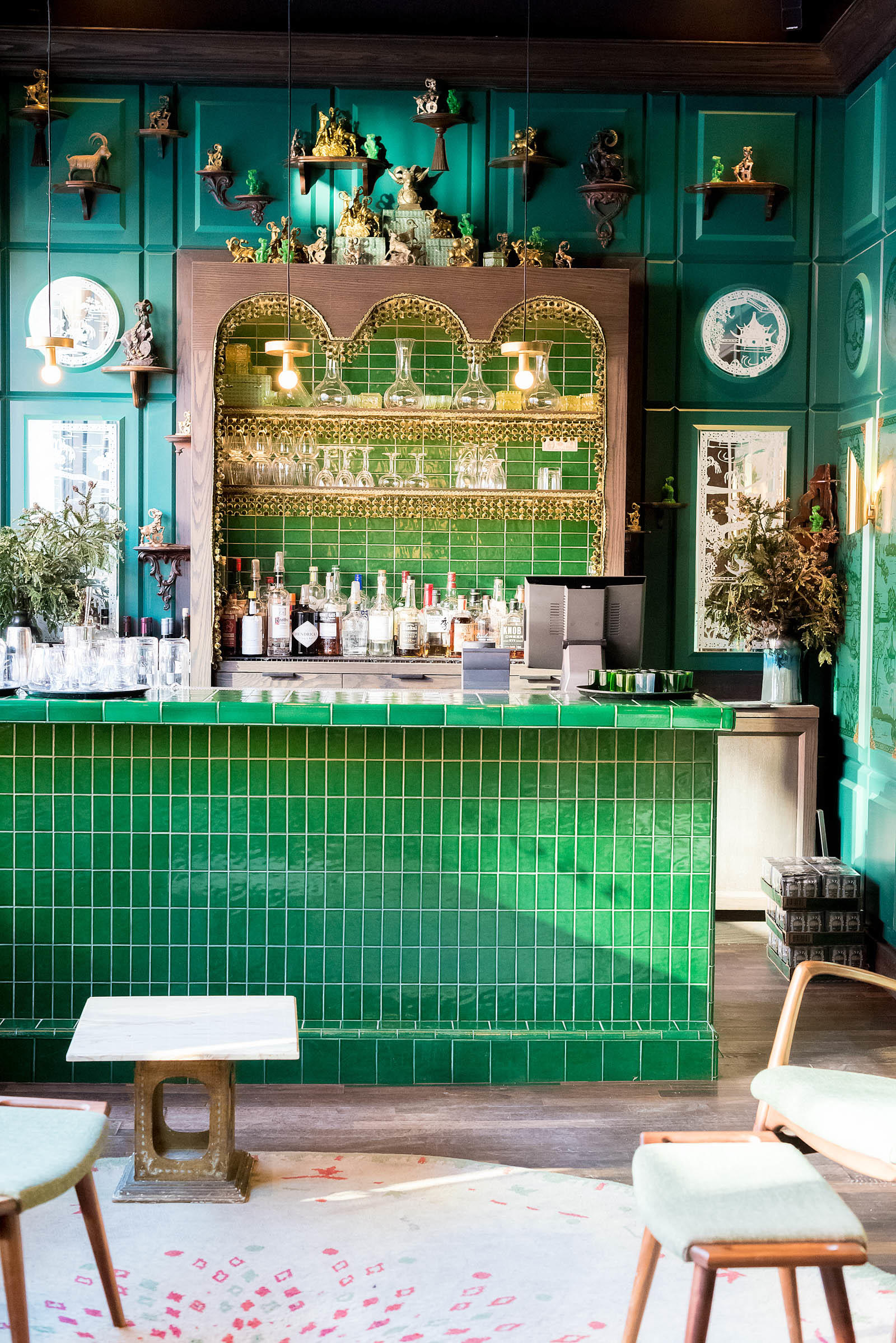 But before you leave be sure to step into Duck Duck Goat's gorgeous green bar in the back too.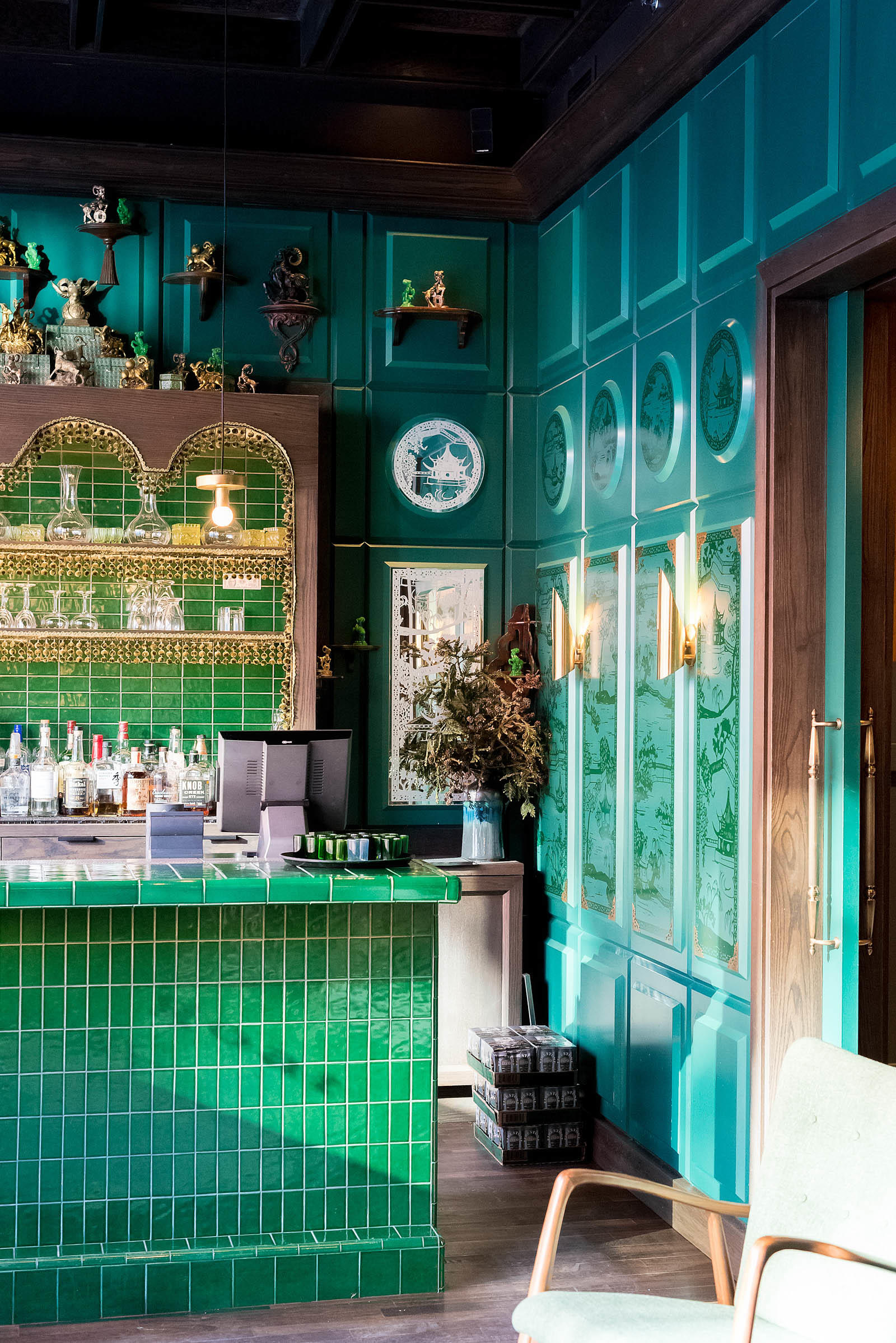 It has to be one of the single most beautiful bar spaces I've ever seen!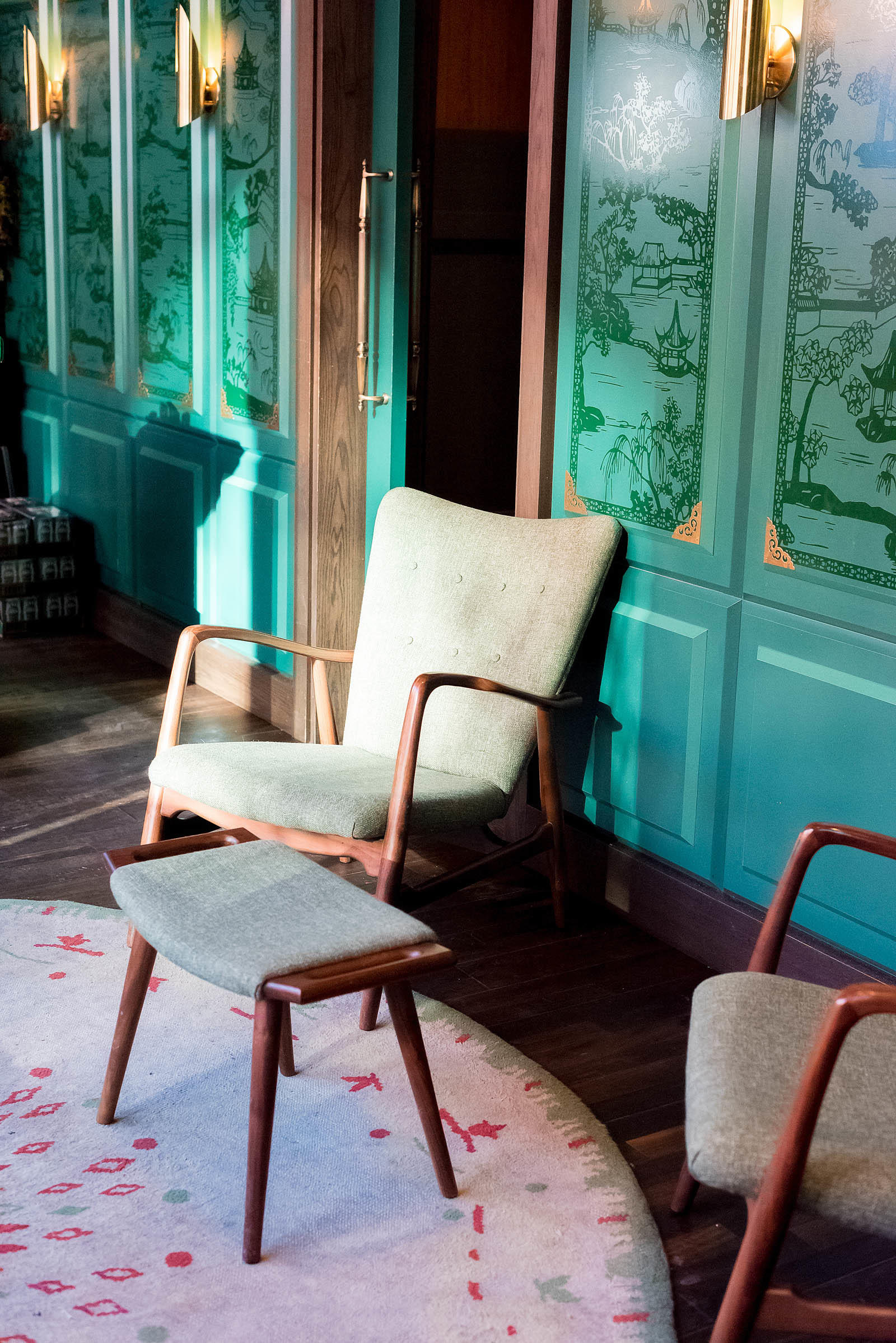 With comfy minimal chairs,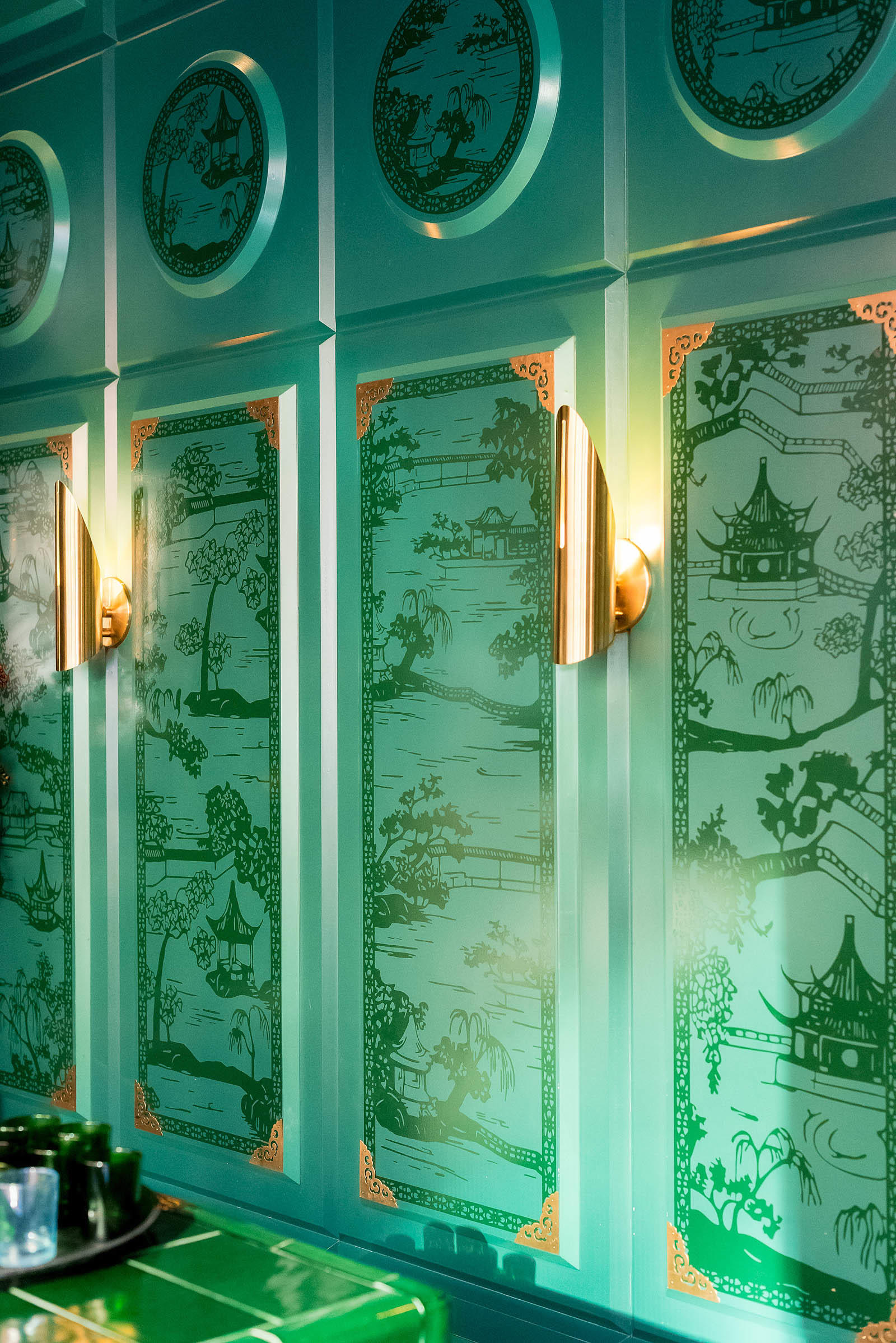 and beautiful jade green chinoiserie scenes painted onto the walls.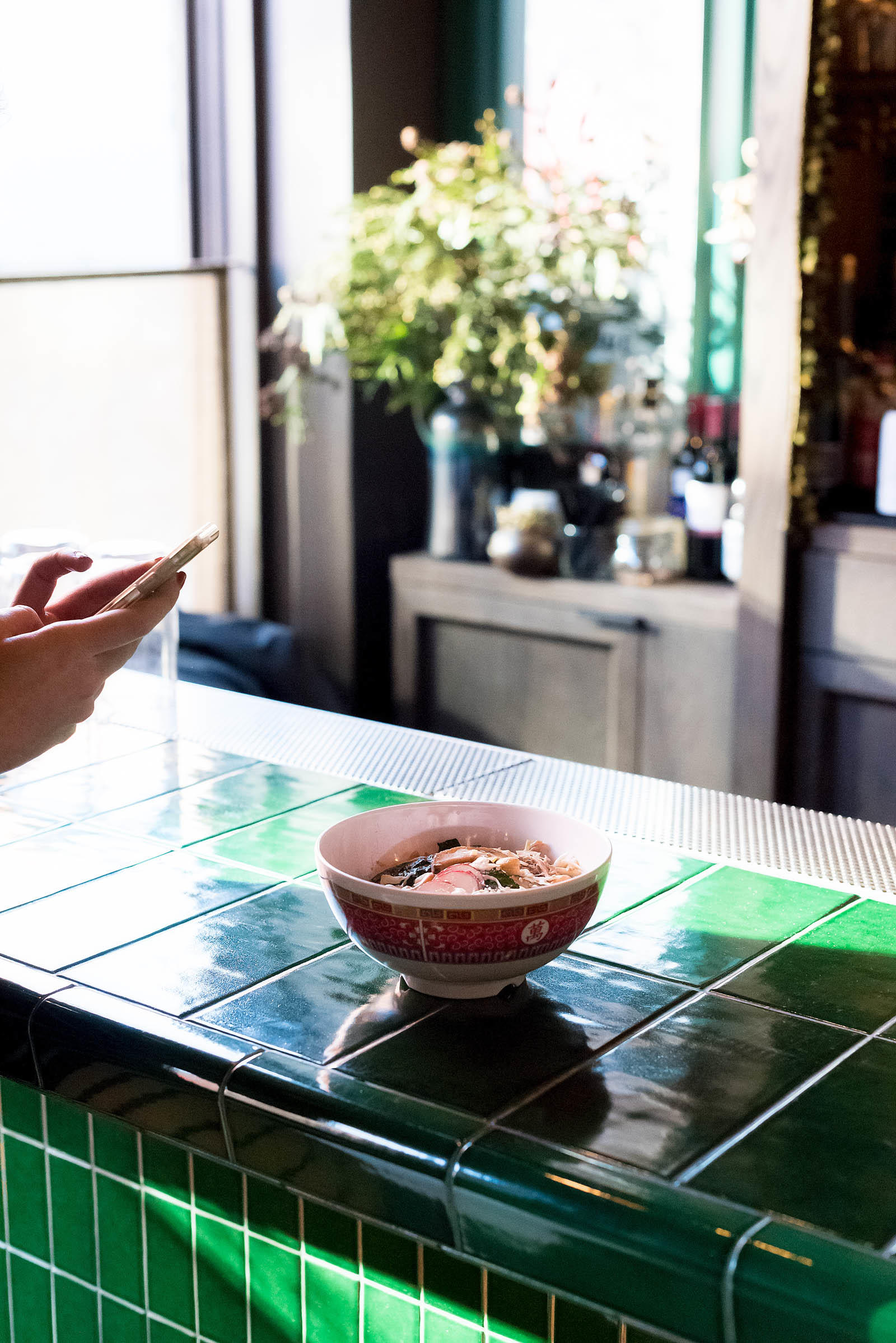 It makes for a great space to get some really beautiful food shots!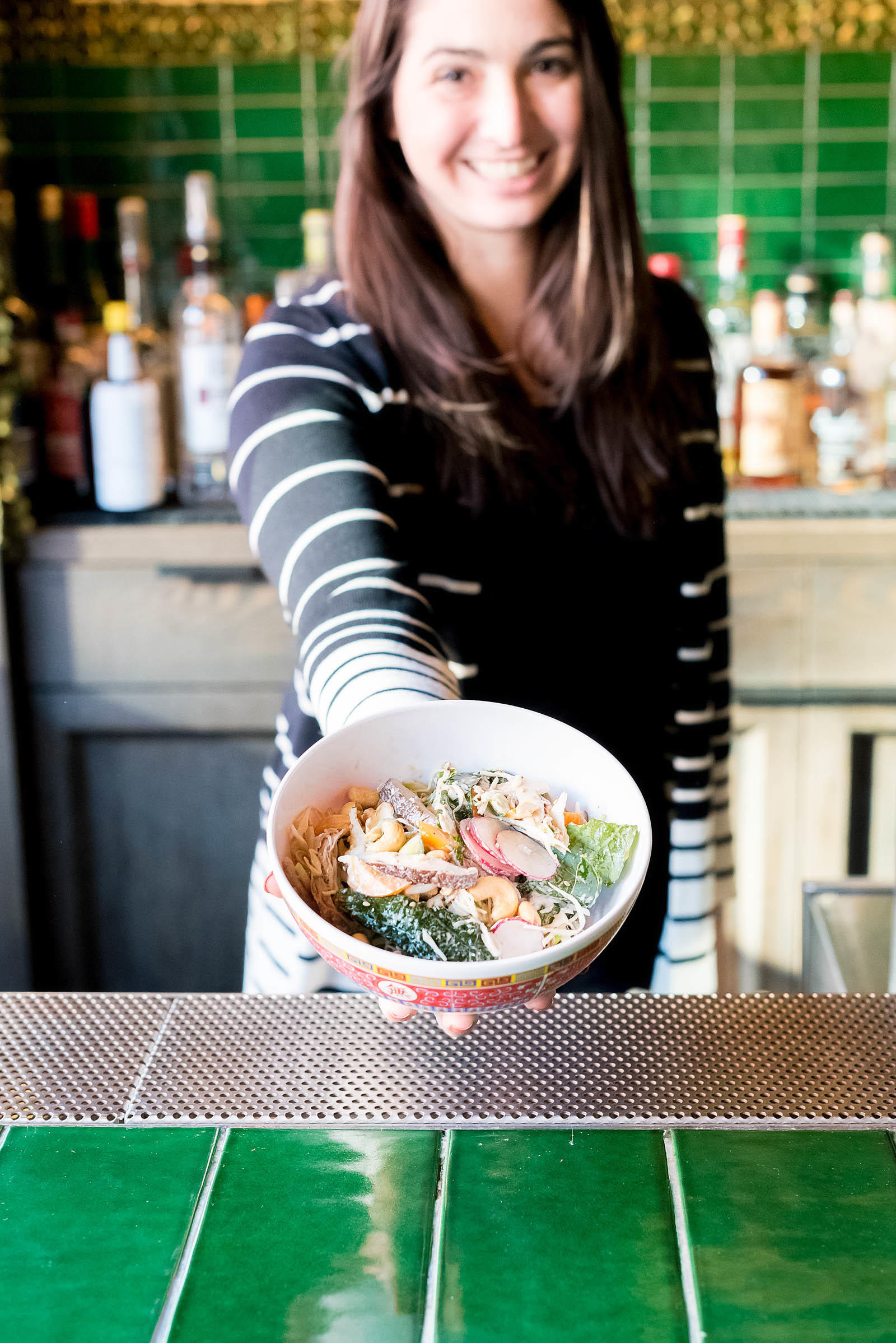 Many thanks to fellow foodie Erin of @312food for modeling the Duck Duck Kale Salad here for me!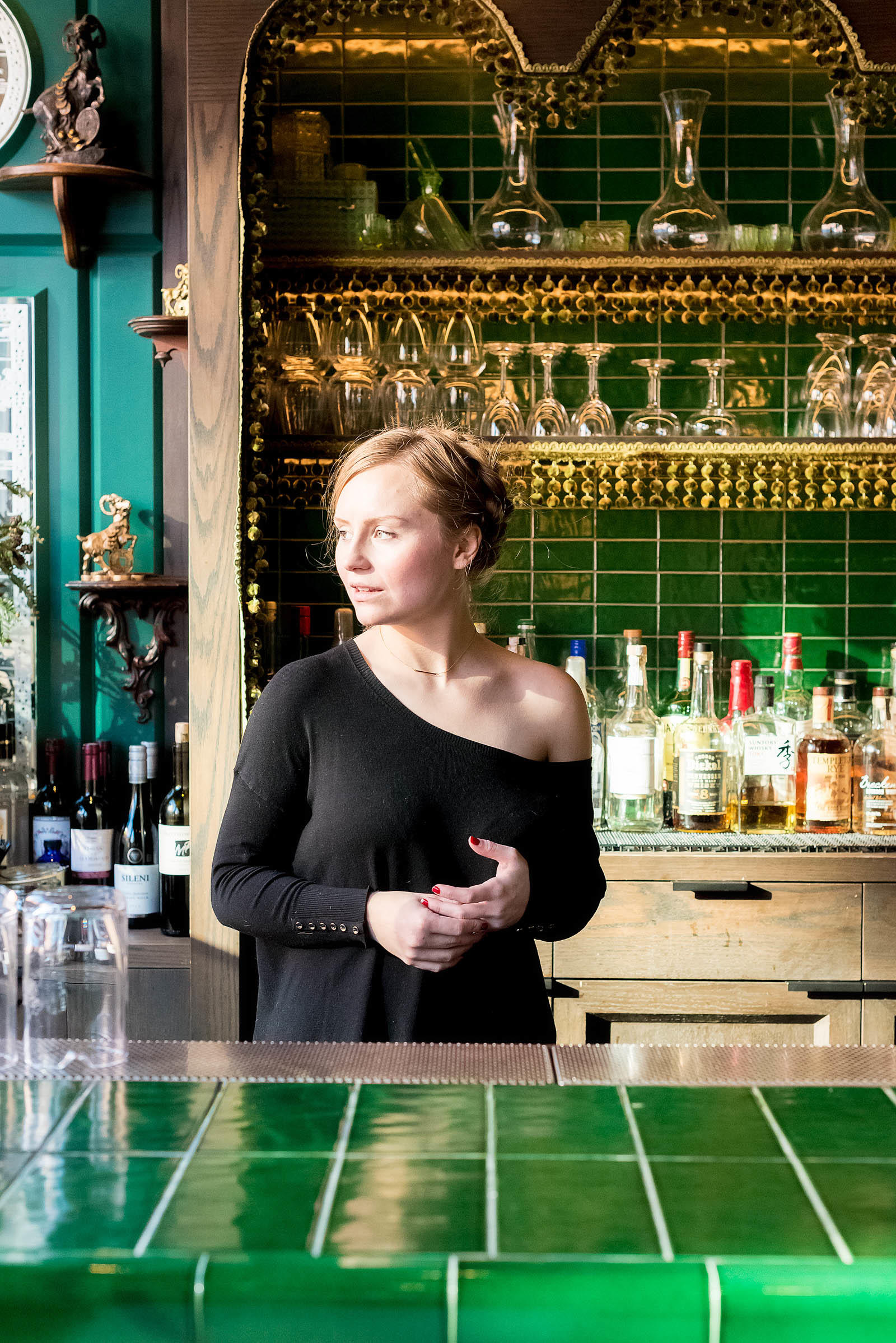 Chef Izard, can I move in here?
Pretty please??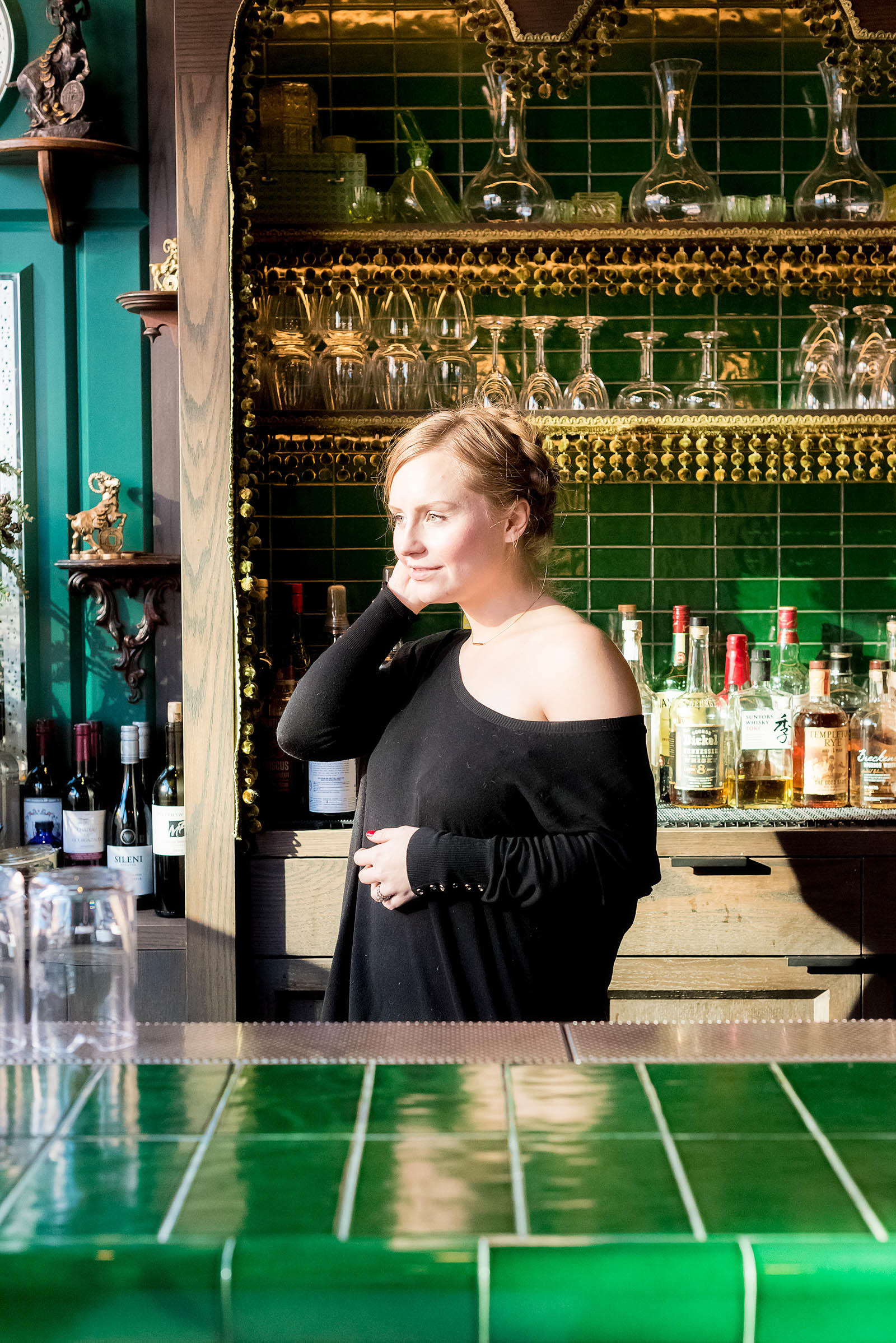 Many thanks to my boo Rachel for snapping a few photos of yours truly in this gorgeous space too!
If you're looking for an edgy, delicious Chinese lunch this winter and aren't willing to brave the trip down to Chinatown, Duck Duck Goat offers a pretty killer selection and some unique Chinese dishes you won't find anywhere else.
Just don't forget to order the Duck Duck Kale Salad!
Disclosure: I received a complimentary meal to facilitate this post. Review and all opinions are my own.