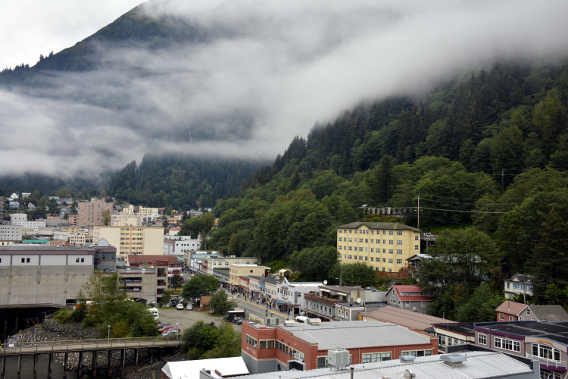 After our helicopter landings on both the Mendenhall and Herbert Glaciers, H and I wanted to explore the city of Juneau more. It's certainly very tourist-y near the port, with fur and jewelry shops lining the main street, but the city has its hidden charms including some lovely parks which narrate old native myths and stories.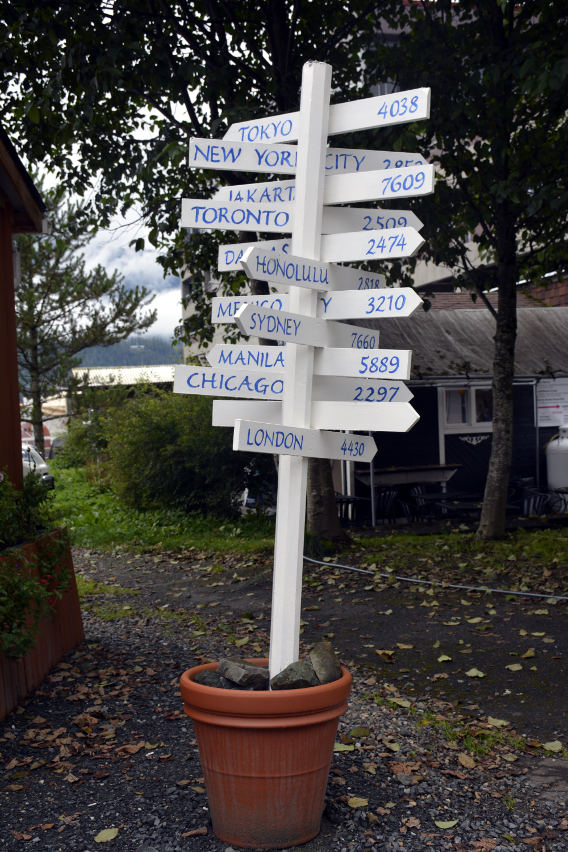 Apparently, Juneau is exactly 2297 miles from home! Or should I say 4430 miles away from my future home?
One surprise for H and I on this trip was how much we fell in love with Alaskan beers. We sampled a few at the Red Dog Saloon while we kicked around the "old-time" saw dust, and found the Alaskan Amber to be our favorite. I've been trying to get my hands on a bottle ever since we came home.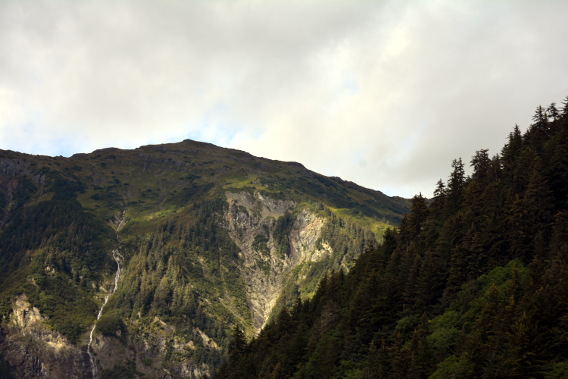 The mountains and forests surrounding Juneau are quite breath-taking themselves, especially once the morning fog cleared. H and I agreed that our next visit to Juneau would include at least one hike through the mountains.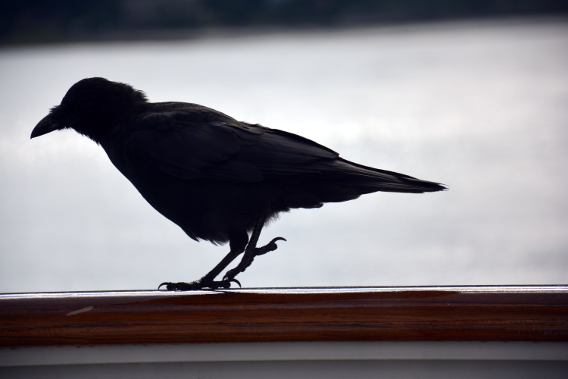 In the afternoon, we returned to the ship to relax with some champagne on our balcony only to find this gigantic raven guarding our railing.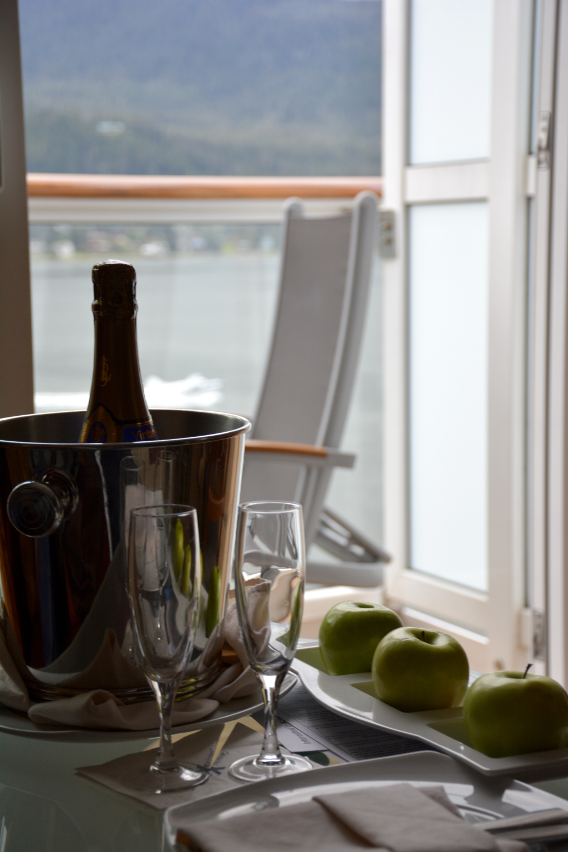 So we sipped our champagne and watched the floatplanes take off from the safety of our room. See the floatplane right behind the champagne bottle?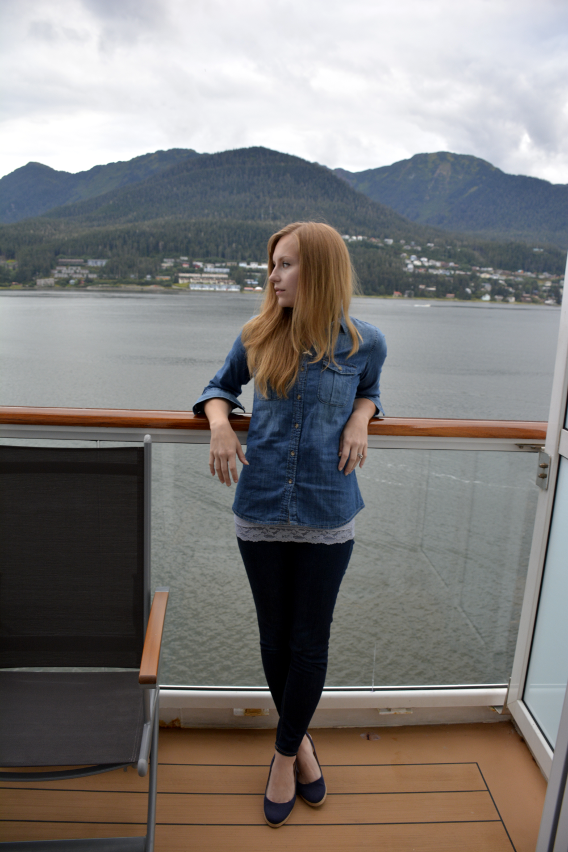 Eventually our avian friend moved on and we were able to venture onto our balcony to enjoy the beautiful weather. When I travel, I like to channel local destinations through my wardrobe — back when I lived in India in college, I was the first American in our group to brave a sari and wear camel-leather slippers. When in Rome, do as the Romans do! That's part of the fun of traveling for me. So in a not-so-subtle nod to 'local culture', I could not resist the urge to sport a Canadian Tuxedo twice on our trip. Just please, let's all ignore my circa 2002 lace-y gray camisole and pretend that never happened (I blame the champagne!). My chambray button-down is Zara (here and black-version here), my dark-wash jeans are J Brand (here) and my navy wedges are from Pied-a-Terre (here).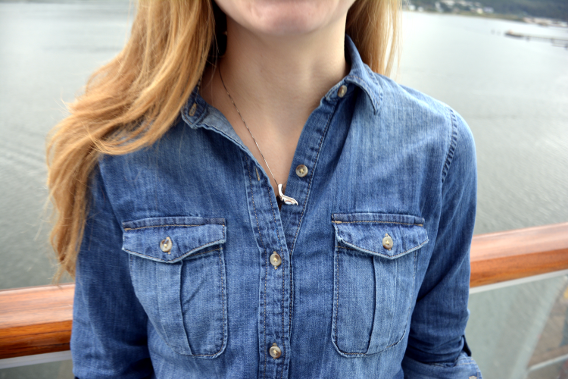 Even my jewelry coordinated with our Alaskan landscape: I wore this whale-tail necklace while whale-watching in Icy Strait earlier in the week and again in Juneau (no longer available but similar here). H gave me this necklace when we first started dating and I'm thrilled to have actually seen my first wild whales while wearing it (say that five times fast!).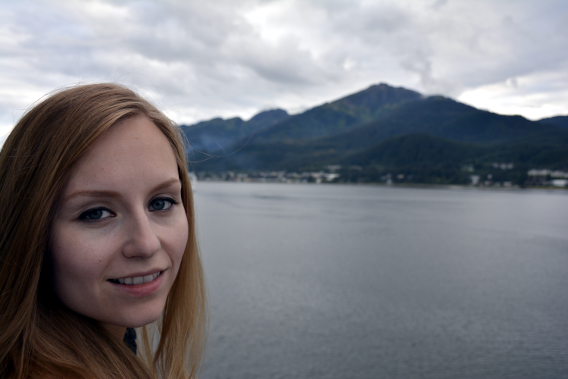 Together we enjoyed the last of our champagne as we watched the sunset from our balcony.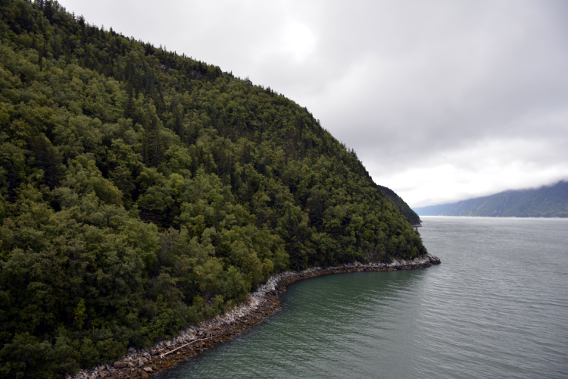 The next morning we woke to the rocky, forested mountains of Skagway, Alaska — home of the Klondike Gold Rush and some truly amusing turn-of-the-20th-century history.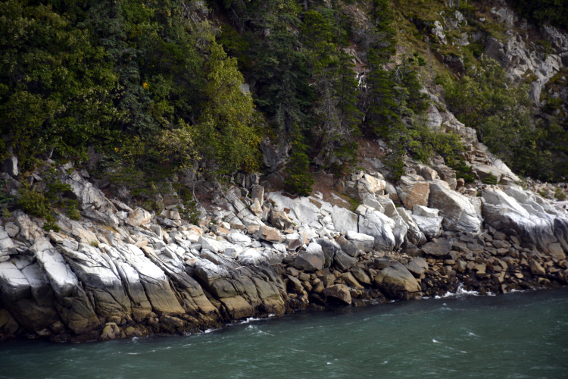 I found the painted rocks of the beach to be particularly photogenic.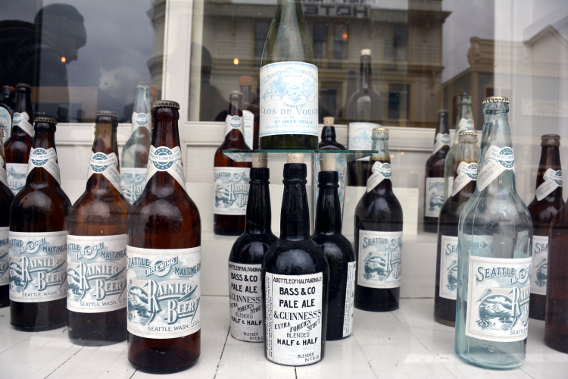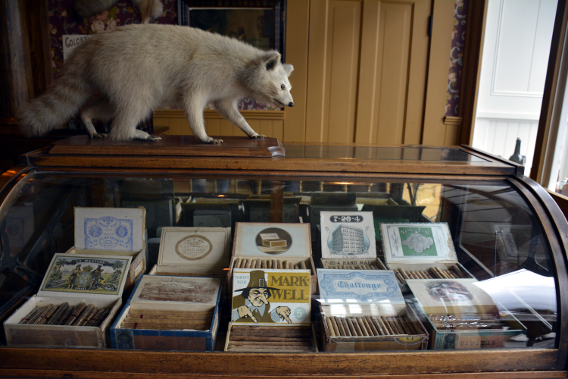 For two hours, Helen, Walter, H and I explored the old town and walked around some of the museums and historical houses. But the weather in Skagway was brutal that day, with frigid winds whipping off the ocean, giving us all icy shivers and sending us running back to the ship for some warm shelter.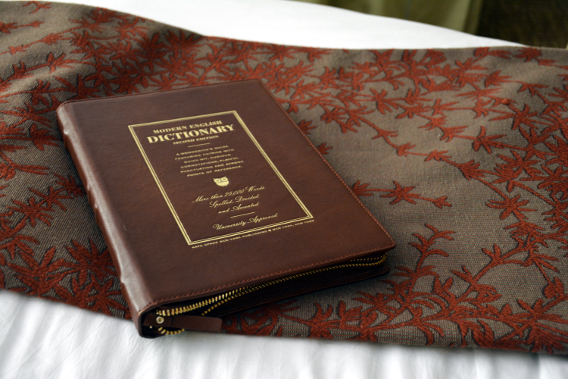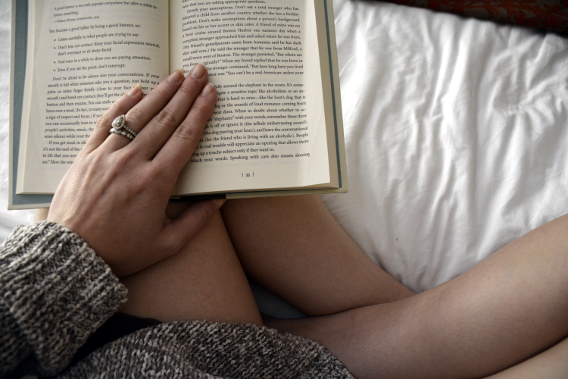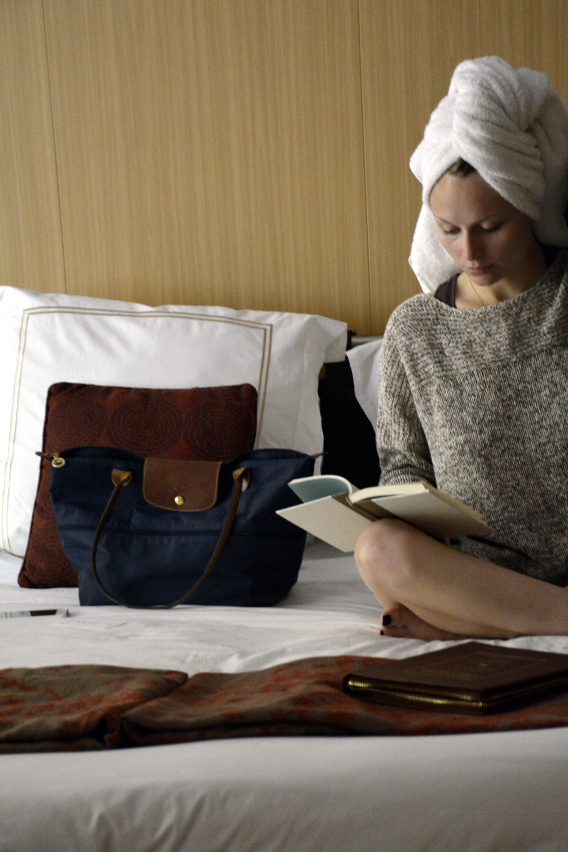 While H headed off to the turkish bath to steam up, I took a long, hot shower and then snuggled into bed to catch up on some work and do a little reading. My Dictionary iPad case is from Kate Spade (no longer available but I love this sushi option for iPad Airs) and my cozy sweater is from Hobbs (unavailable but similar on sale here). You can also get a better view of my expandable navy Longchamp tote which, as I've said before, is my favorite travel bag!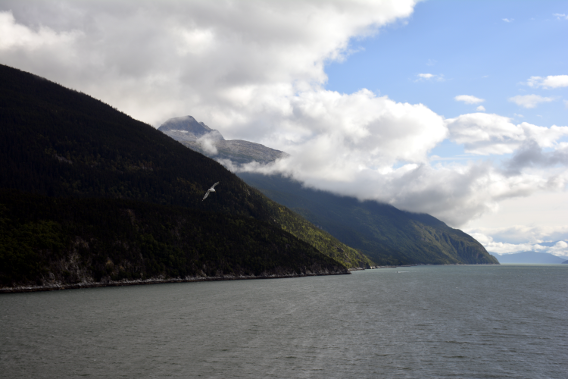 Later that afternoon we left dock and sailed further north through some of the loveliest mountains we had seen yet.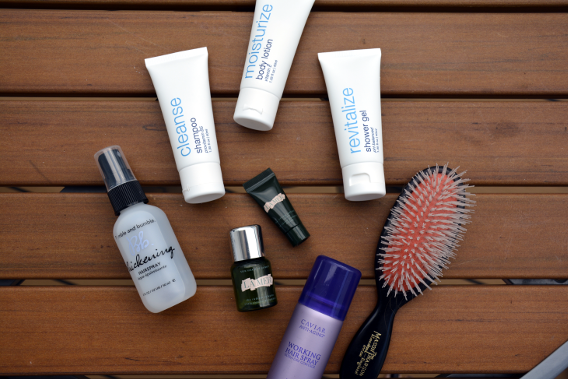 That evening was a formal night on the ship so eventually I gathered my supplies and got ready. I always love to travel with this pocket-sized Mason Pearson brush (as I mentioned in my Carry-On Packing Guide) since it turns an awful hair day into a glorious one! Just do your homework and research which bristle-type is best for your hair before purchasing.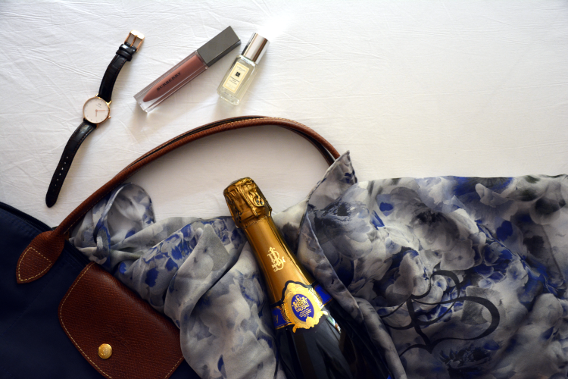 I packed my tote with yet another bottle of champagne (it was formal night after all), my Beulah scarf (here), my Classy York watch from Daniel Wellington (here), Burberry Lipgloss in Rosewood (here) and a mini Jo Malone Pomegranate Noir cologne (one of my favorite evening scents).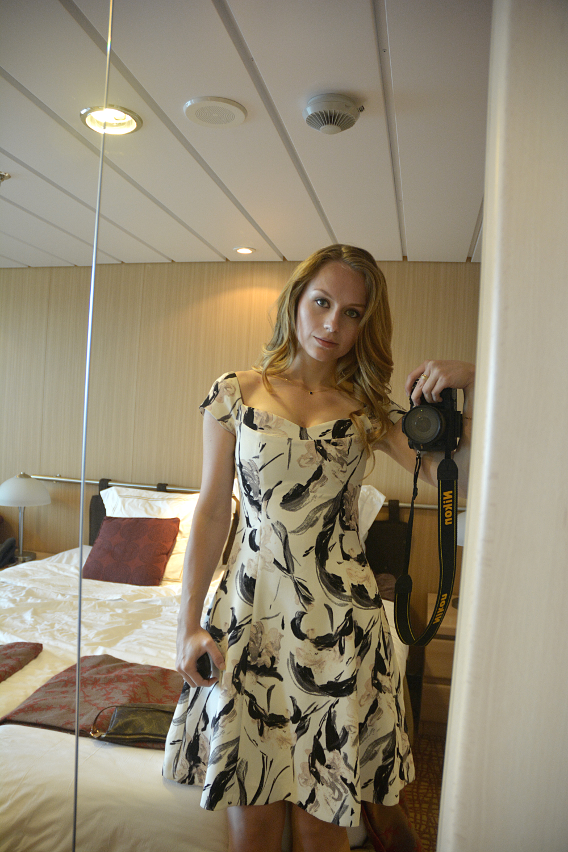 Sadly I forgot to ask Hubby to take a better photo of my dress so this is all I have to share from formal night. I bought this crepe Zara dress on a whim right before leaving on our trip and ended up wearing it four times. Because it's made from crepe, the dress packed well without wrinkles and had a lovely scalloped portrait neckline which I thought was quite unique.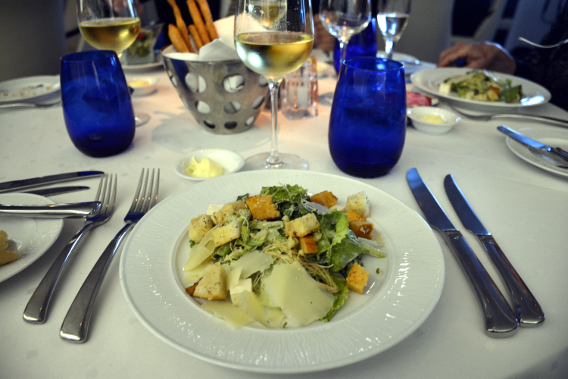 Isn't it about time I shared more food adventures with you? We started our formal dinner with classic Caesar Salads and one of my favorite white wines, Conundrum (which I was thrilled to see on the wine list that night).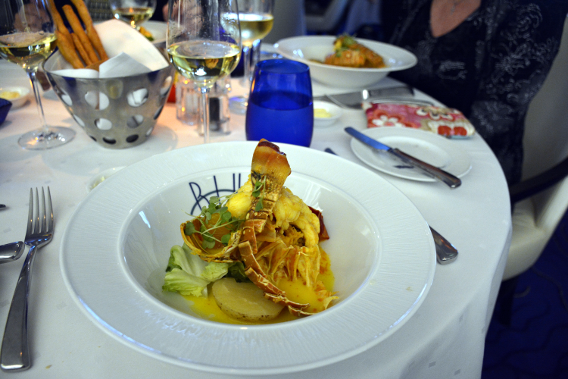 Then we moved on to an elegant lobster entrée with potatoes and a fragrant saffron broth.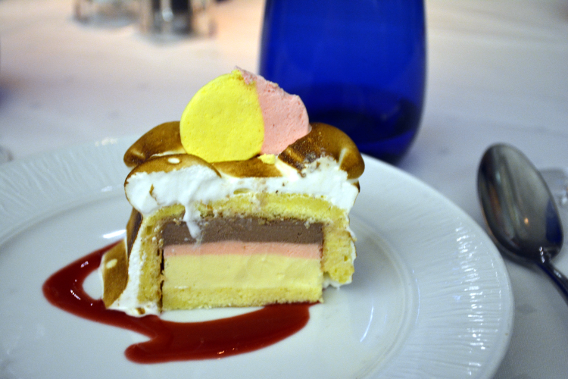 But the dessert course took the cake… pun intended! As a special treat for our last formal night, the main dessert was a sinful neapolitan-style Baked Alaska. When I ordered mine H was skeptical (he can be quite picky with food) but after one bite, he was hooked. I'm pretty sure I only got a spoonful or two of this dessert before H gobbled up the rest! I'm planning on trying my hand at making my own version in the next few weeks!
More of our Alaskan adventures can be read here:
Part One
Part Two
Part Three
Part Four
Part Five
Part Six
Part Eight