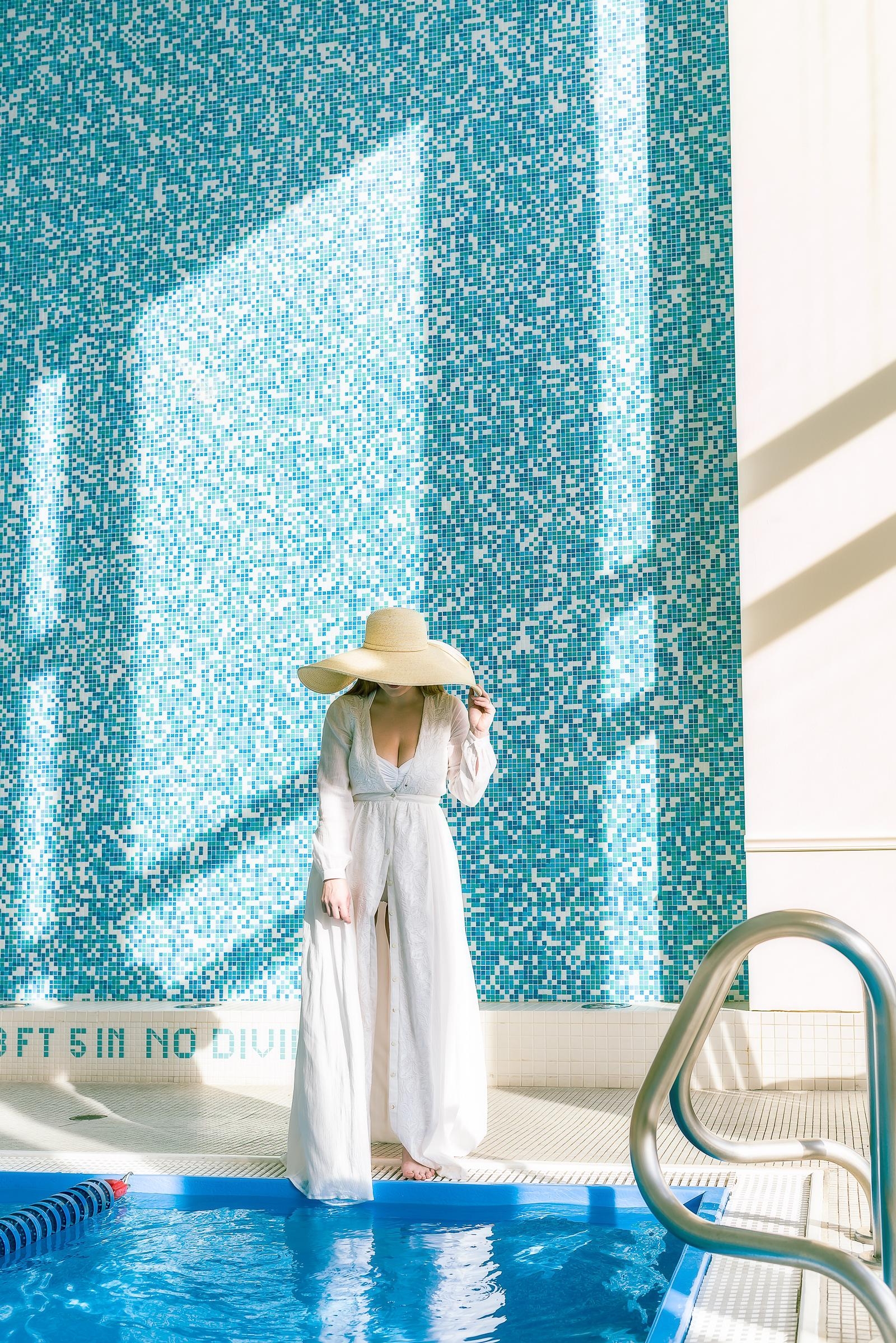 "All we need, really, is a change from a near frigid to a tropical attitude of mind."
— Marjory Stoneman Douglas
SHOP THE LOOK:
Dress – Mara Hoffman (sold out, see available options below)|| Swimsuit – Norma Kamali || Hat – San Diego Hat Co.
SHOP MARA HOFFMAN MAXI DRESSES:
---
3 Books I'm Rereading for Spring
---
1. The Hobbit by J.R.R. Tolkien
This is one of my favorite fantasy books and such a true classic. I remember my father reading it to me in elementary school and yet I haven't picked it up in YEARS.
Not only is this a triumphant tale about the strength of the spirit but a true story of adventure. No matter the mistakes you make, it's always better to make them and to learn from them than to stay at home and miss out.
Even for Hobbits!
And considering how excited I am for the Tolkien movie coming out in May, this rereading couldn't be more perfectly timed!
My most beloved Jane Austen work.
Persuasion was the last complete novel Jane Austen wrote and, in sharp comparison to her earlier novels, is a reflective and almost sombre story.
This isn't a novel of first love. It's a novel of lost love refound. It's a beautiful book to read in spring because of it's many themes of rebirth and reinvention. And always fills me with such hope and positivity by the end.
If you've never taken the time to read it, I highly recommend this Jane Austen novel over some of her more popular works (you can usually find a free audio version on spotify!). It'll haunt you for weeks after with it's subtle, sweet melody of triumph.
And contains some of my all-time favorite literary quotes like:
"I hate to hear you talk about all women as if they were fine ladies instead of rational creatures. None of us want to be in calm waters all our lives."
One of my all-time favorite books and one I pick up for a rereading at least once a year. But I especially love rereading this masterpiece in the spring.
If you work for yourself, struggle with self-esteem, are introverted, or just in need of some serious motivation — buy this book.
I've been raving about it for years because it has had such a significant impact on my life, how I run my business(es), how I view my friendships and how I approach projects.
There isn't one day that goes by now that I don't think to myself "you are a badass". And I want you to start saying that too!
What books are you rereading this spring?
Can we just take a moment to appreciate how beautiful the pool at the Peninsula is? It was the perfect place to relax with a good book during our staycation last month!
(And a great little spot for some tropical photos… I can almost pretend it wasn't 20-degrees outside looking at these!)