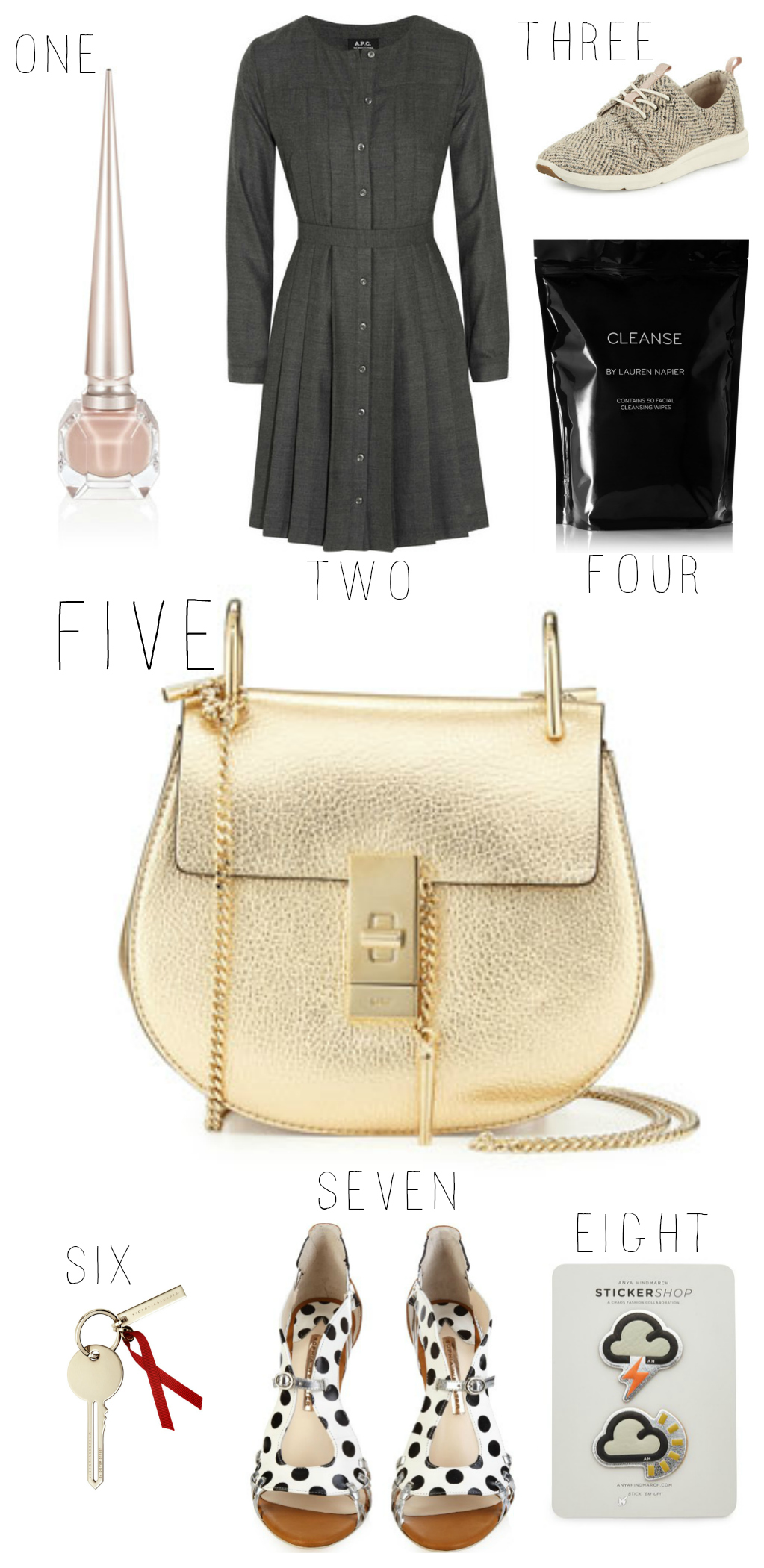 As a kid (much as I'm embarrassed to admit it), one of my favorite tasks was always writing my Christmas wishlist. While my list was usually terribly selfish and materialistic, it was always so fun to sit back and dream about the things I wanted Santa to bring me the most… if I'd been a good girl, that is!
So as I was pulling together this year's gift guides I got to wondering — if I wrote out a list for fun to Santa this year, what would I ask for? I always gravitate towards a balance of practicality, functionality, beauty, AND a dash of quirkiness so my wish list had to combine those elements in a fun and chic way.
So without further ado, here are the things I'd ask Santa to bring me this year:
My Gift Guide Edit
1. Christian Louboutin Nail Color in 'Just Nothing' ($50).
I've long held out on trying the Christian Louboutin beauty line because of the steep price. But this stunning nude polish has been calling my name regardless. It's a simple, classic nude shade that would beautifully finish any look (and would work with my pale skin). Not to mention the stunning bottle it comes in…
2. A.P.C. Pleated Wool-Flannel Dress ($560).
This dress is about as classic as they come — beautiful, pleated tailoring in a timeless hue and fabric. I love the idea of having such a feminine and tailored flannel dress and fully expect this would be one of those items I'd return to year after year.
3. TOMS Del Rey Sneakers in Boucle ($90, similar options: 1 / 2).
Besides my Nikes I don't have much in the way of casual sneakers. And after hiking through the airport last month in these booties, I realized how desperately I need a pair of attractive yet comfortable shoes for traveling. These fit the bill AND some: thanks to the TOMS One for One program, a pair of shoes are donated to someone in need for every pair of TOMS shoes sold. Win win!
4. Cleanse by Lauren Napier Wipes ($40).
I've already told you how amazing these make-up wipes are so why'd I include them in my gift guide round-up? Well… I'm almost out! I use them almost every single day and love that the moisturizing formula doesn't dry out my skin or cause acne. I stash them in my cabinets, my toiletry bags, and my purses to have on hand and while I rarely rebuy beauty products, I already know I never want to run out of these miracle wipes!
5. Chloé Mini 'Drew' Bag in Gold ($1,850).
THE most practical IT bag on the market. And while it's popularity may not last forever, after seeing and shooting Anna's black & cream version, I've been positively smitten with the design and functionality. It's a modern design but with enough timelessness to make it a good investment and the gold hardware couldn't be more luxurious. I love this pale gold color too since it gives any ensemble, day or night, a sumptuous, elegant finish. This is the sort of bag that even makes a t-shirt and jeans look couture!
6. Victoria Beckham World AIDS Day Keyring ($275).
I've long been obsessed with Victoria Beckham's designs and this minimal key ring with its poignant message is no exception. A beautiful design with an even more beautiful purpose: all the proceeds from the sale of this key ring benefit the initiatives and organizations supported by UNAIDS.
7. Sophia Webster 'Liberty' Polka Dot Sandals ($447).
I absolutely adore polka dots — they're such a quirky, feminine print that adds an interesting graphic texture to all sorts of outfits. So when I saw these sandals (ON SALE), I couldn't tear my eyes away. They're funky, fun, and yet still neutral enough to work with many different styles. I get the feeling that any day in these sandals is bound to be so much FUN!
8. Anya Hindmarch Weather Stickers ($85).
As a kid, I loved nothing more than collecting stickers. And, as I told you in my stocking stuffer guide, these gorgeous leather stickers are such a clever, grown-up play on my cherished childhood past time. I particularly adore these clever weather stickers for their quirkiness and the fact that your get two stickers to play with as opposed to one…
Now tell me — what's on your wish list this holiday season?