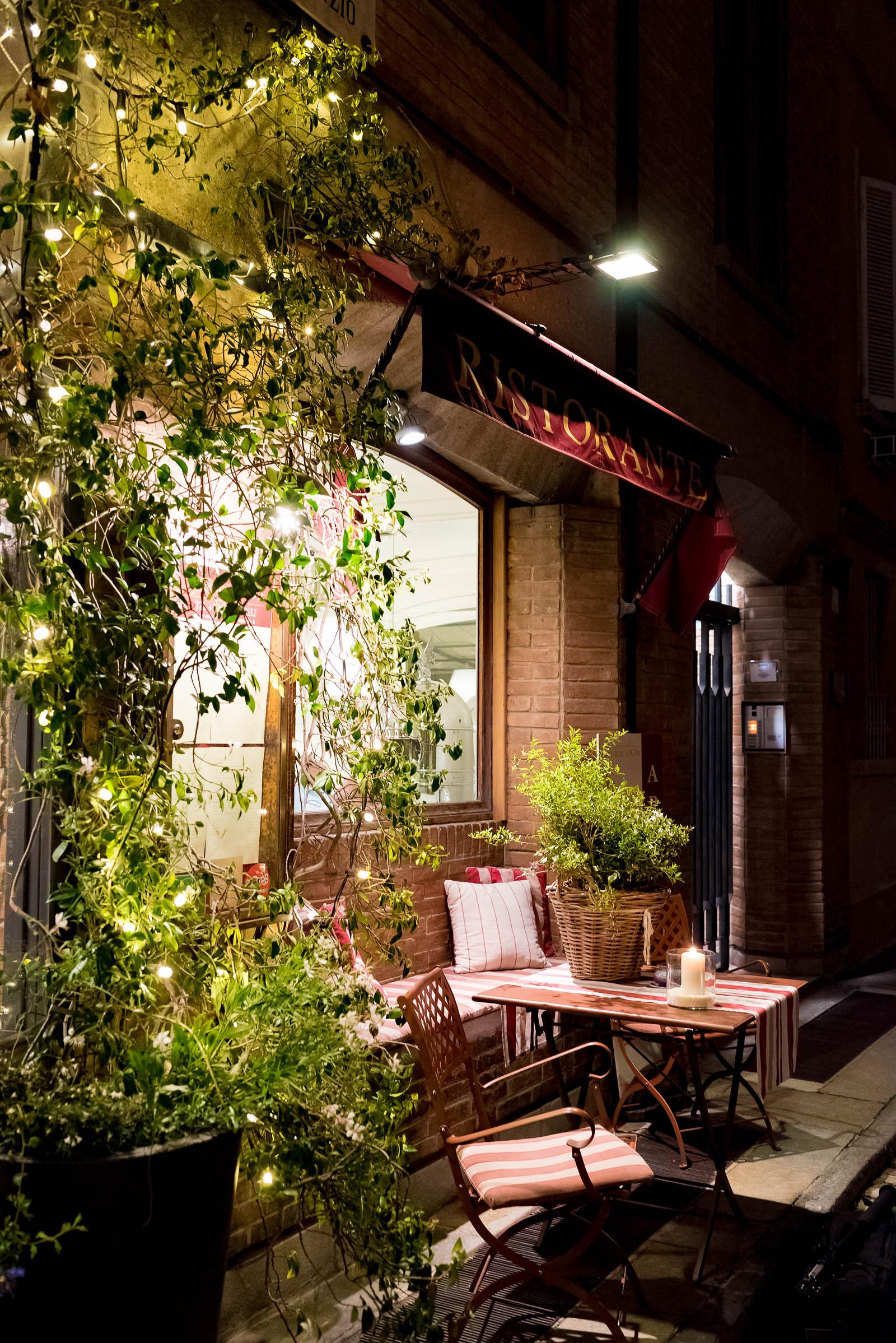 Let's be honest — at least half of the tourists to Italy travel there for the food.
Who doesn't love Italian food?
It's rich, delicious, soul-comforting, and somehow consumed by the vast majority of Italians WITHOUT an obesity epidemic. Even when most meals include AT LEAST one pasta course.
(HOW???)
Back on my first trip to Italy back in October I was astounded not only by how different true Italian food was but also by how healthy the Italians were who eat it on a daily basis.
My deepest foodie wish proved to be true! You CAN eat pasta everyday without ballooning up like Veruca Salt in Willy Wonka.
I've learned a lot of things on my travels these last few years but this one was truly a revelation!
And when I think of the BEST pasta I had on my entire trip, I instantly think of…
Ristorante Angiol d'Or in Parma, Italy.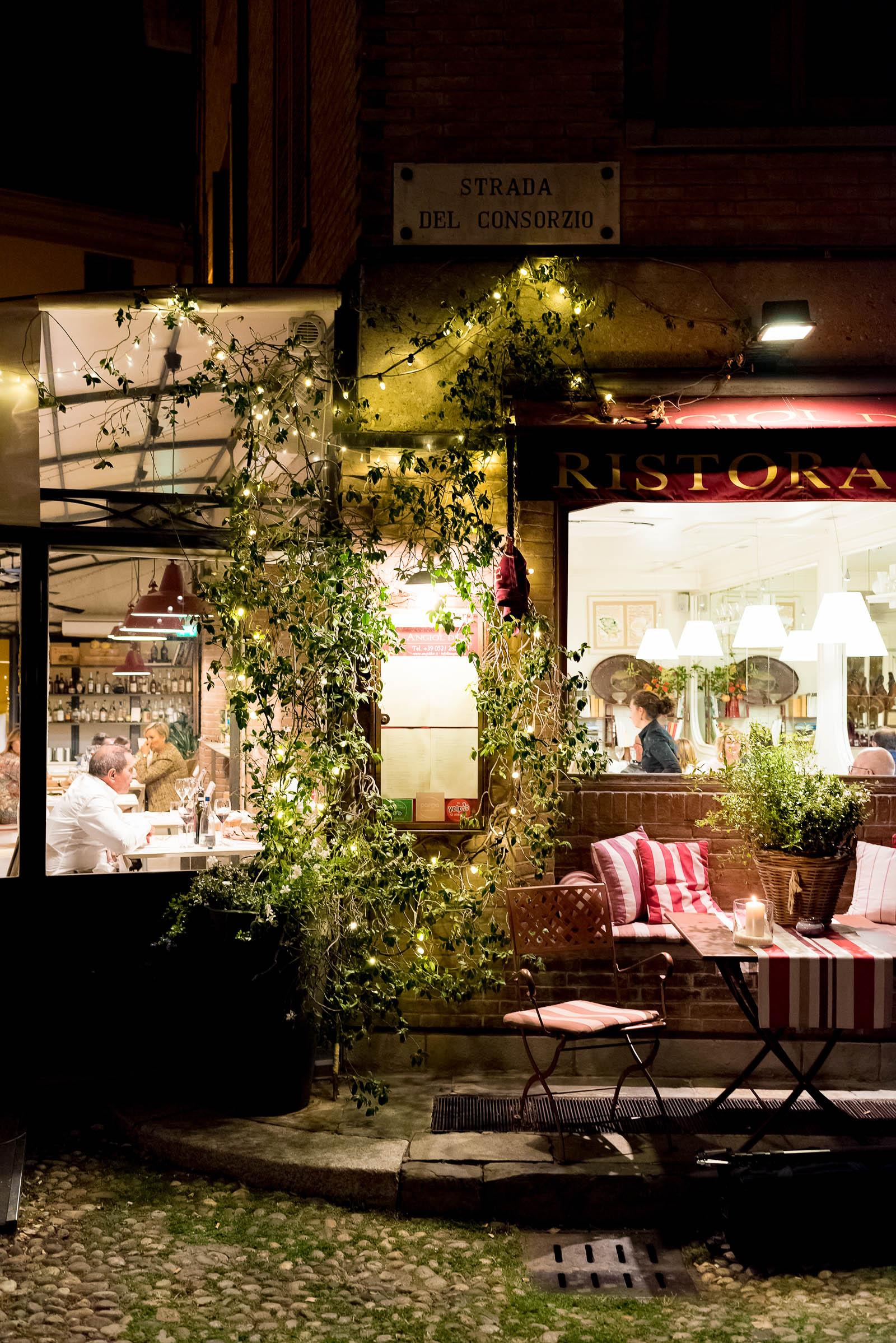 Specializing in traditional "Parmigiana" cuisine with a modern spin, you'll find Ristorante Angiol d'Or on a perfect little corner of the plaza by the Parma Cathedral.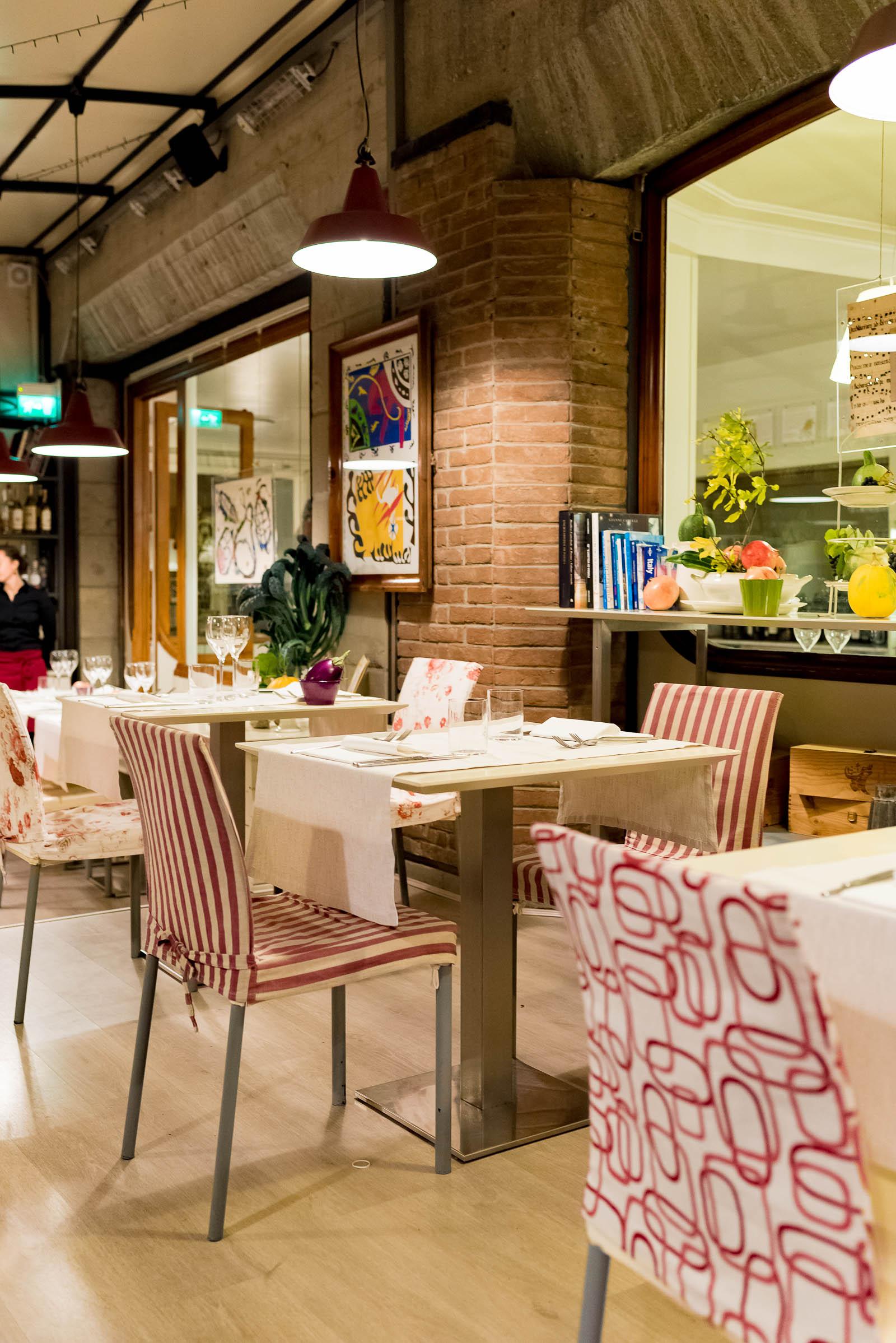 It's a small, incredibly cozy space. Unassuming and minimal in decor, just like it's cuisine.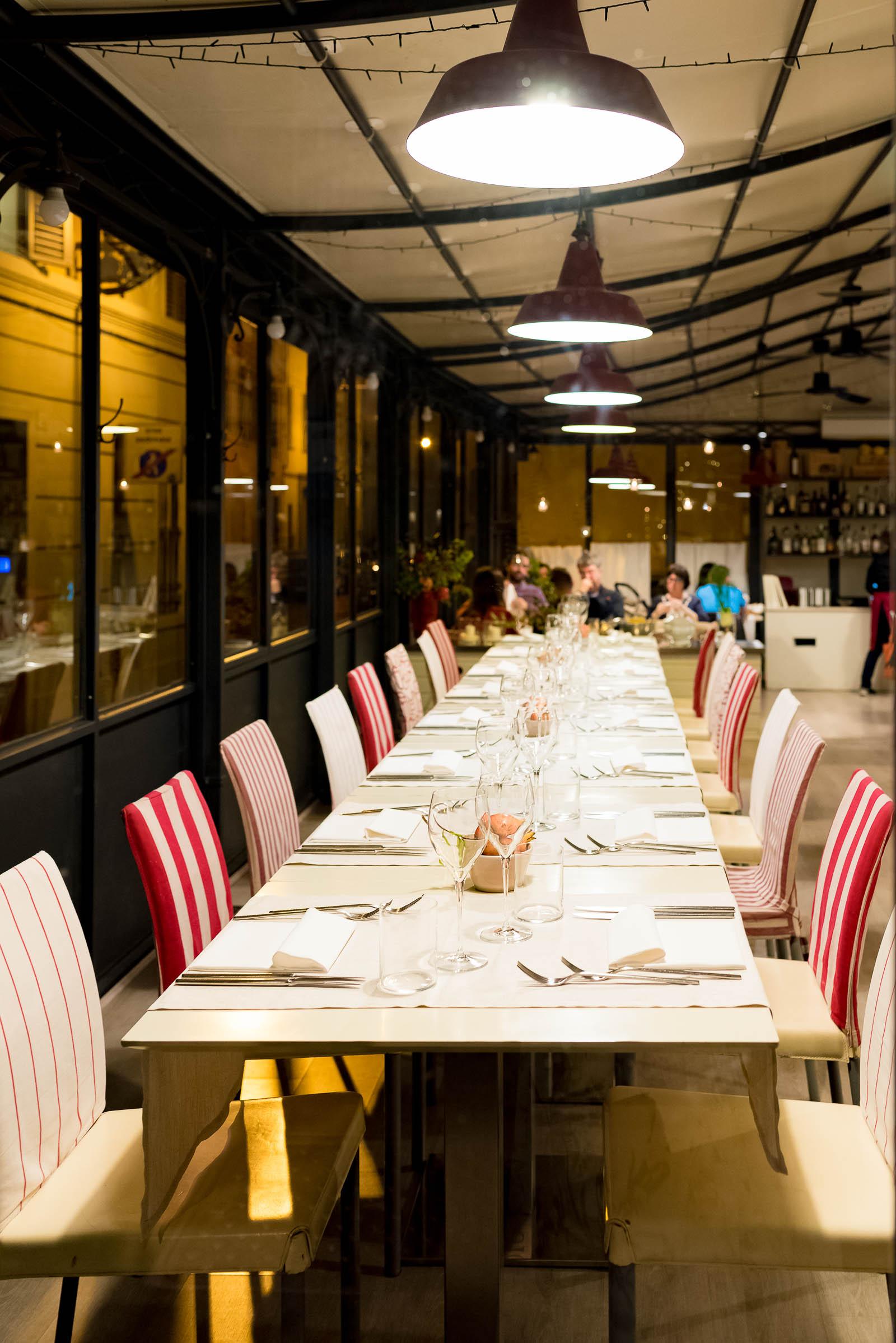 But don't be fooled, this Michelin-listed restaurant made Mario Batali's Guide to Emilia-Romagna as one of only TWO restaurants he recommends in the entire city of Parma.
Not bad for a little spot with such a no-frills approach to Italian cuisine.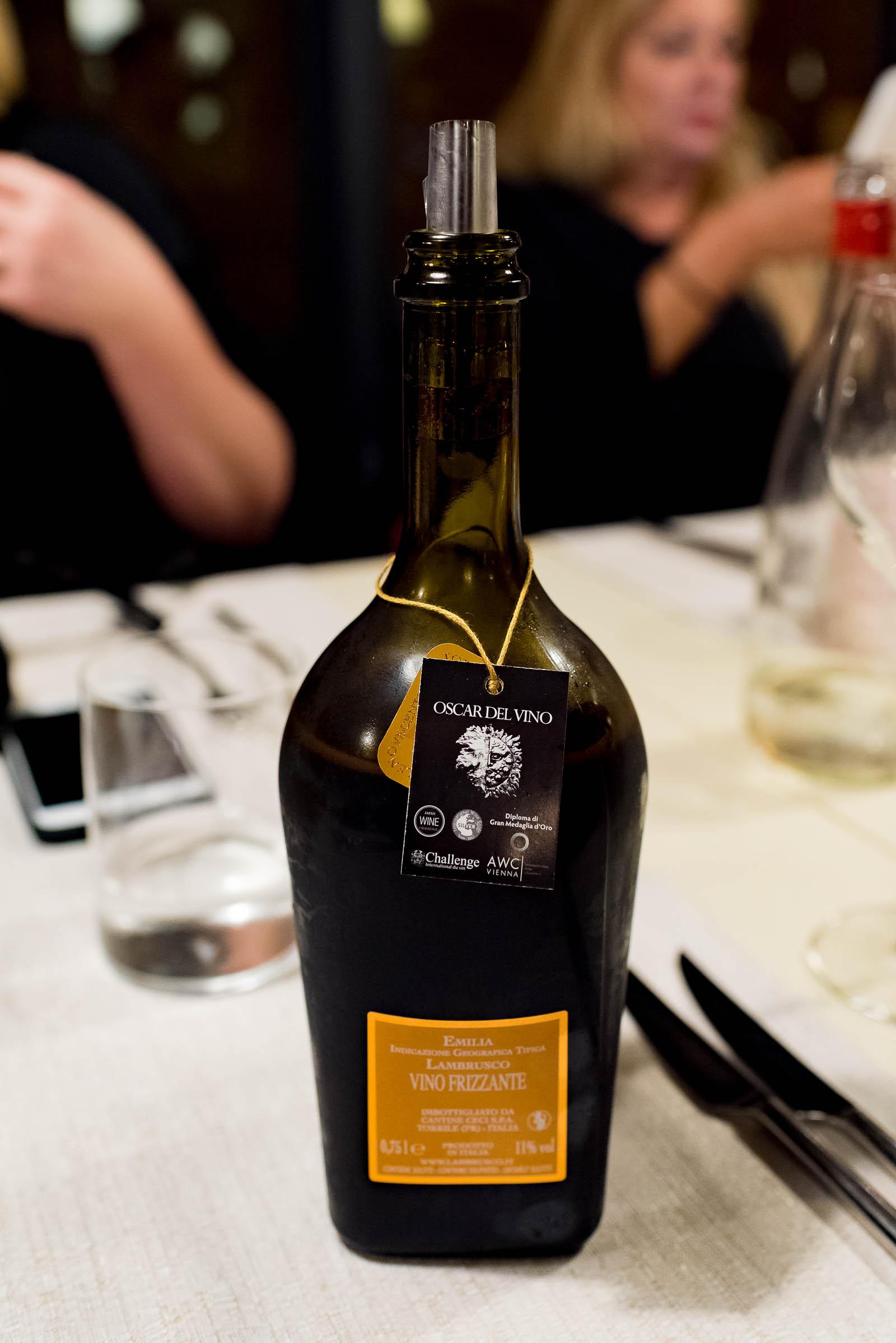 We began our spectacular meal with a Lambrusco, one of the only types of wine actually produced in the region.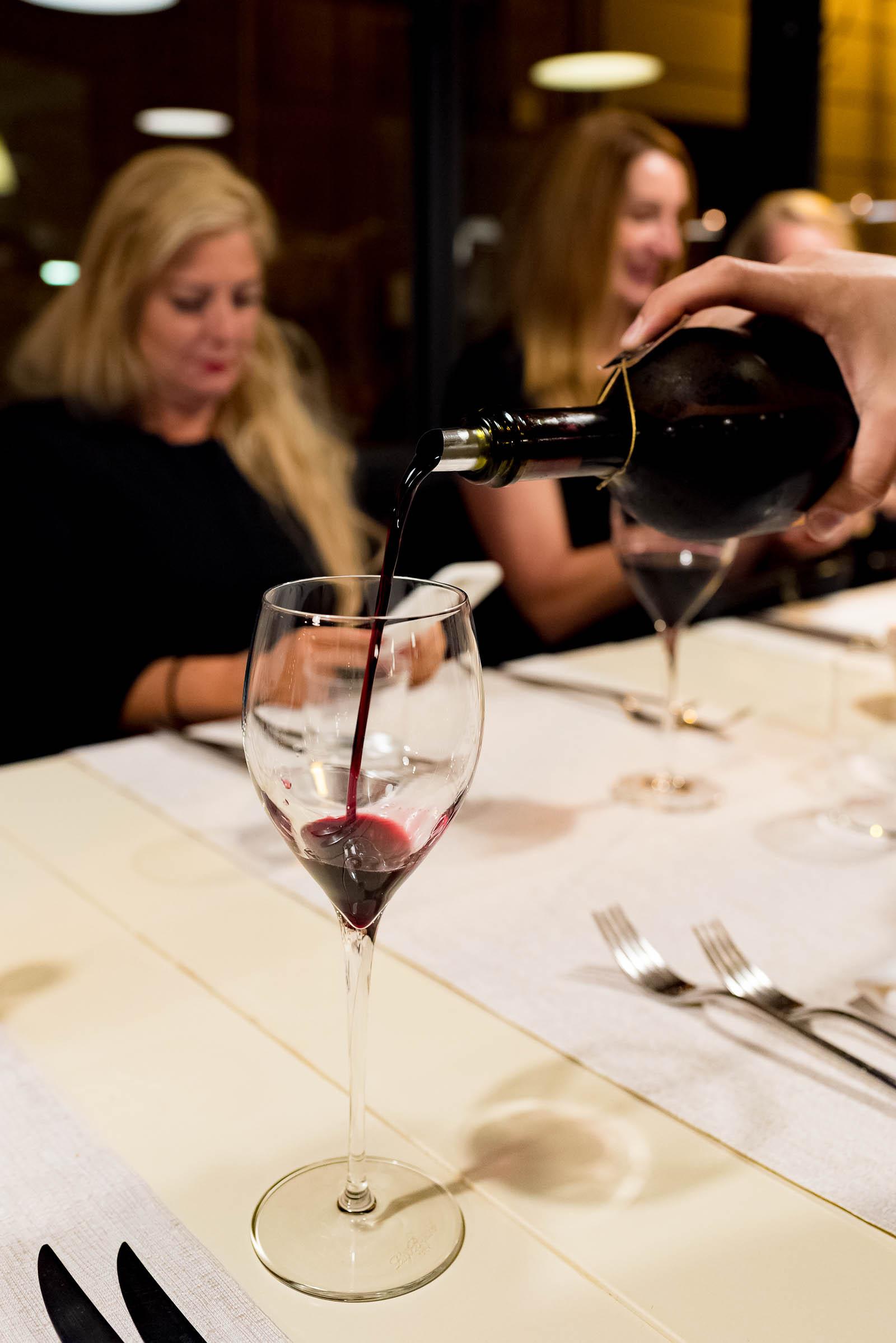 While I'm not typically a fan of Lambruscos, I found this one to be less sweet and cloying than so many I've had back home in the states, and therefore drinkable.
I won't go so far as to say my time in Emilia-Romagna gave me a passion for Lambrusco… more of a healthy respect for it.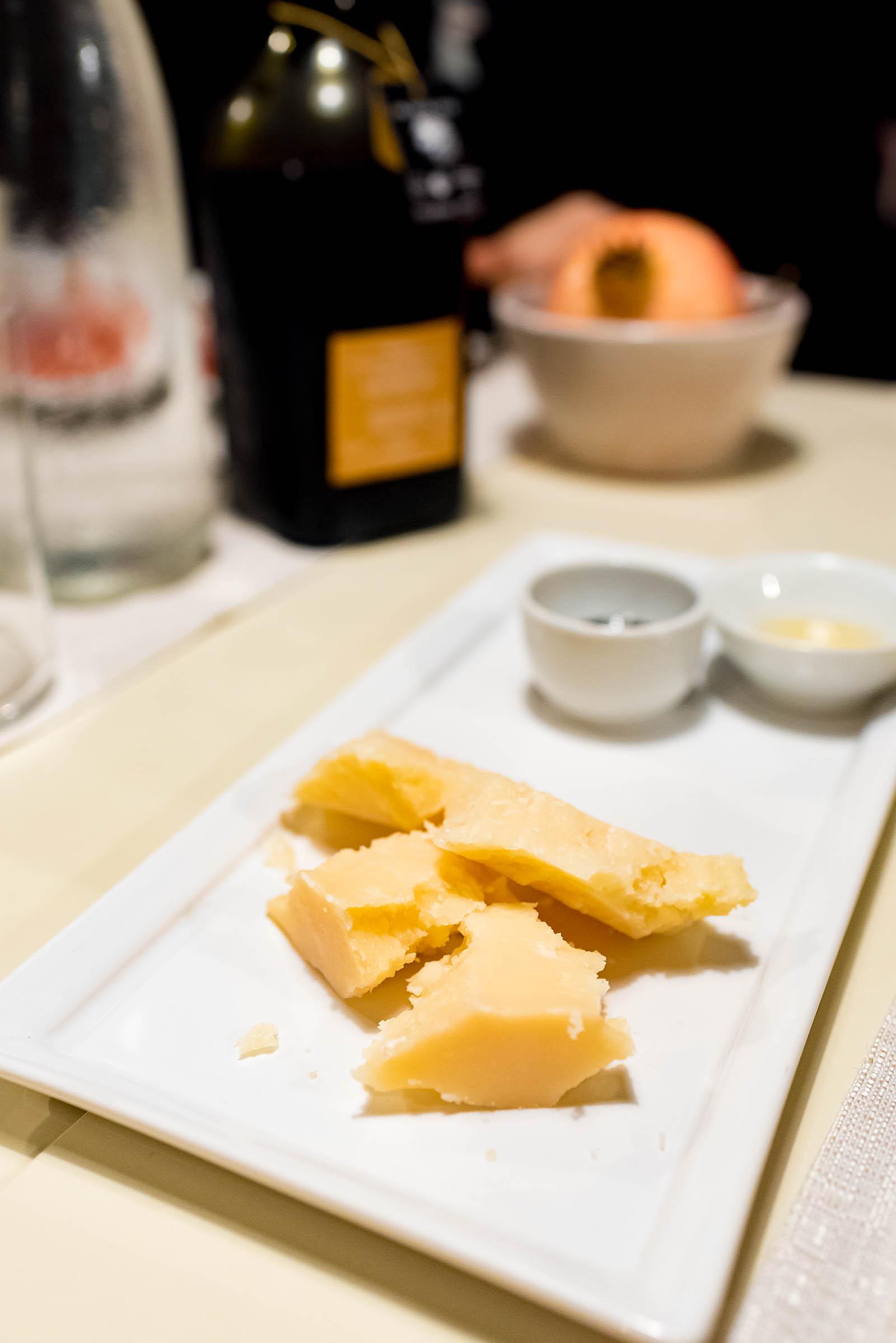 In Italy, meals aren't the quick 'dine-and-dash' affair they are in the States. They're far more civilized.
They're hefty too with multiple courses of antipasto, primi, secondi, contorni, and dolci. So don't ever overfill on any particular course because you may regret it three courses later!
As is traditional (and very necessary) in Parma, we began our meal with beautiful chunks of fresh parmigiano-reggiano produced right in town.
Loving parmesan cheese the way I do, you can imagine how quickly I scarfed down these morsels of umami heaven!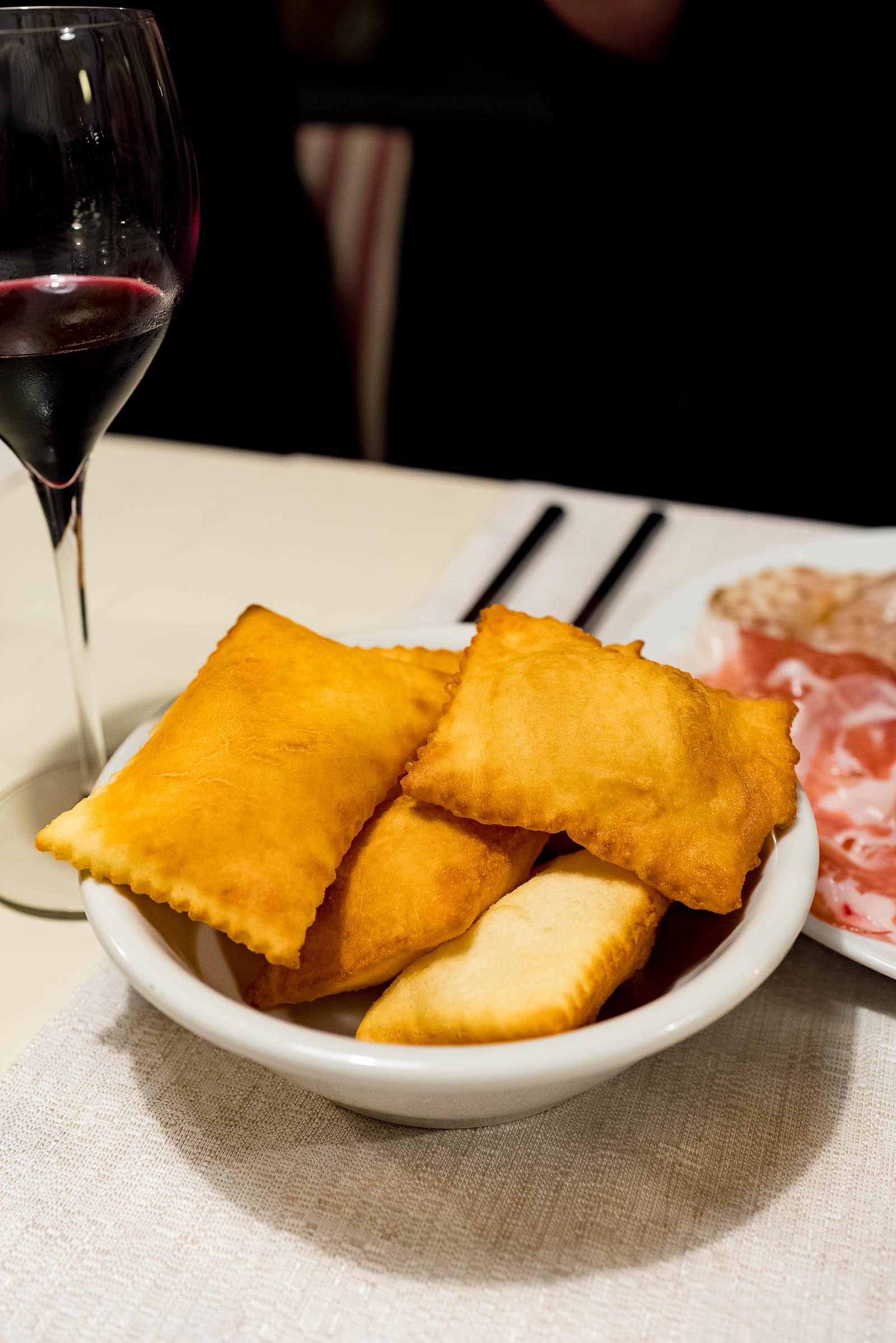 They were also served with another Parma favorite, Torta fritta (traditional bread).
These fried dough pockets are light and flaky with almost no grease. And — MY! — are they scrumptious!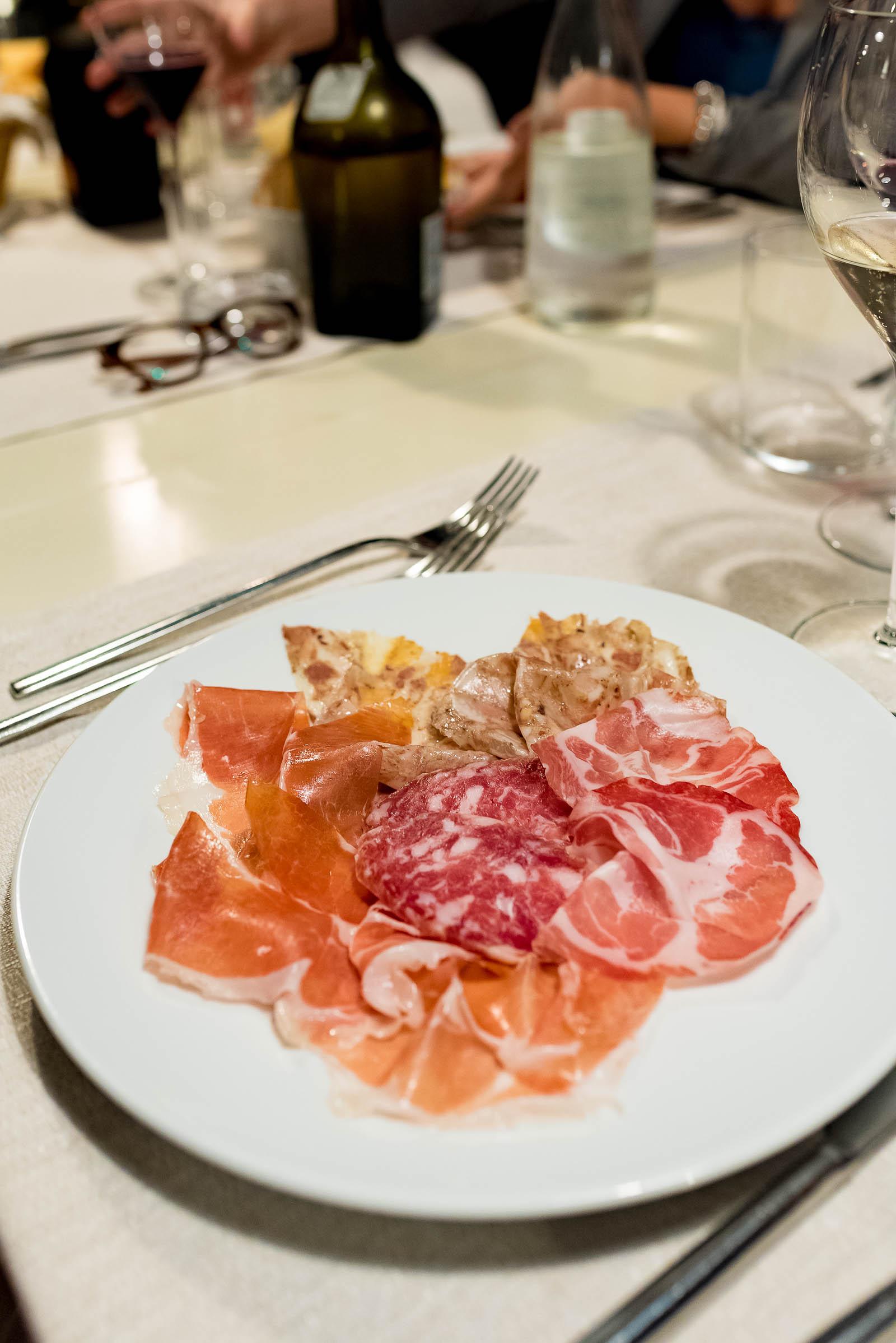 Then our first courses arrived.
Plates of assorted cured meats including Raw Parma Ham aged 30 months, salame di Felino, and Coppa di Parma for the meat-eaters.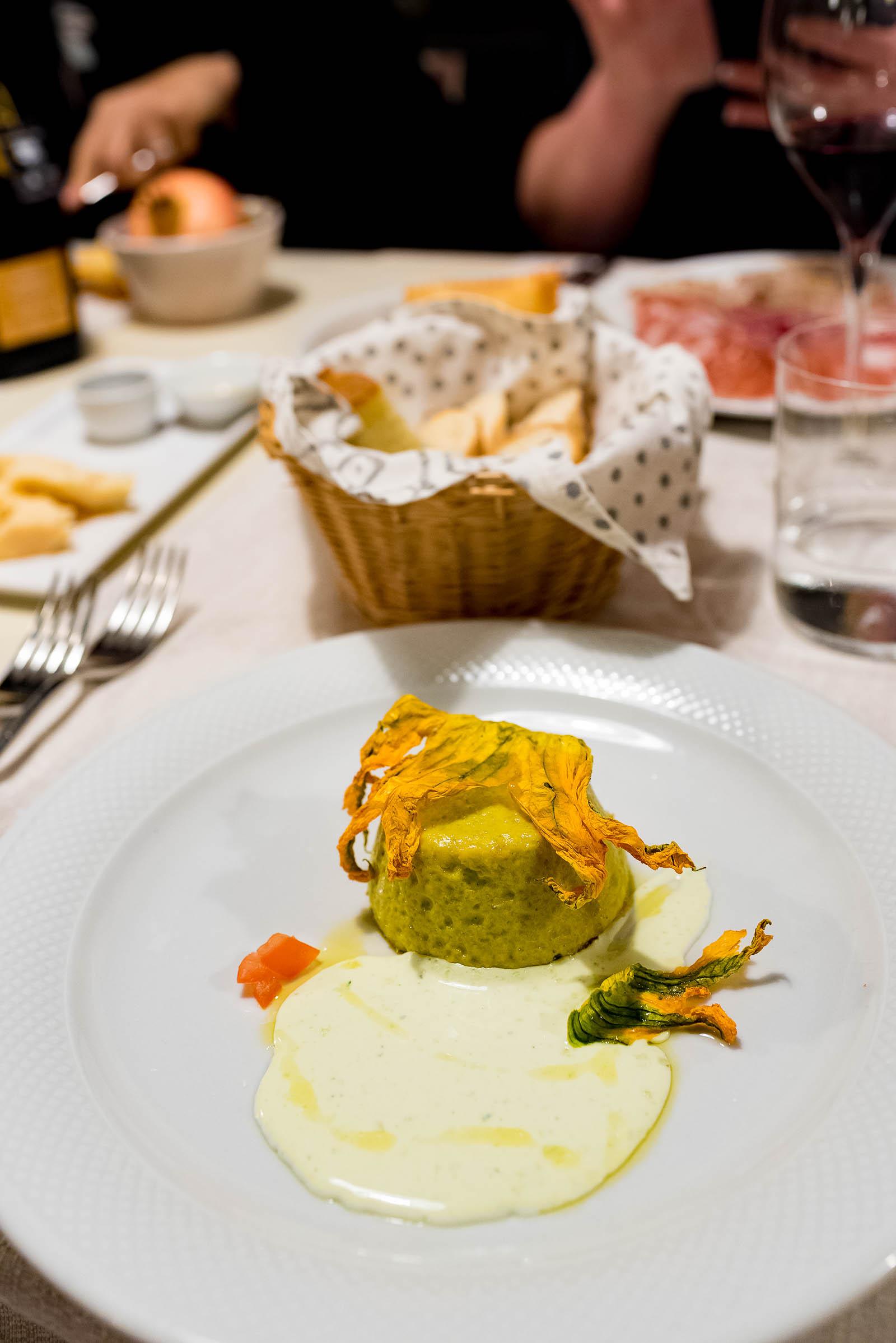 And a beautifully fluffy Zucchini Flan for the vegetarians.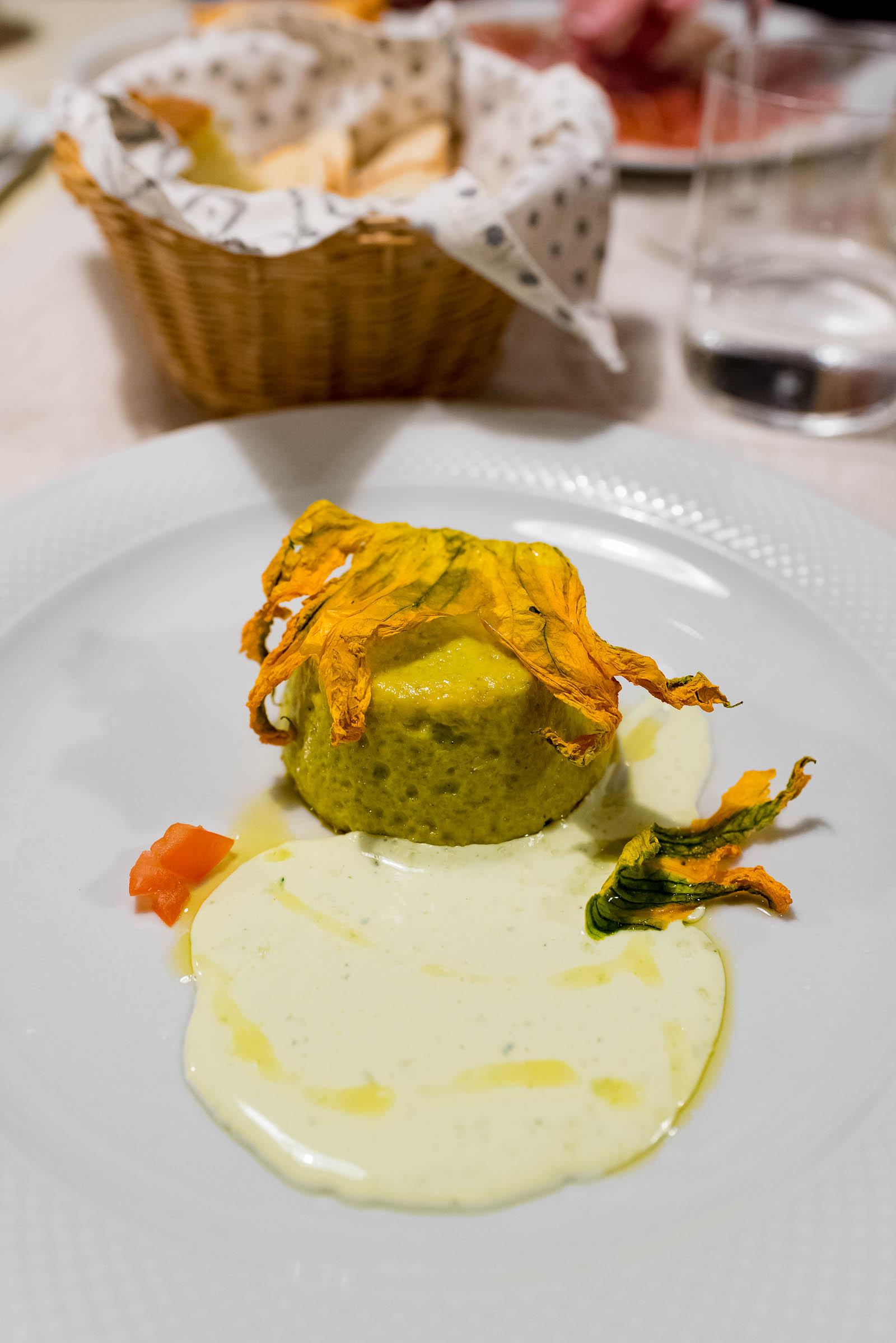 Which came swimming in a silky cream sauce I would have happily poured straight into my mouth if they'd let me.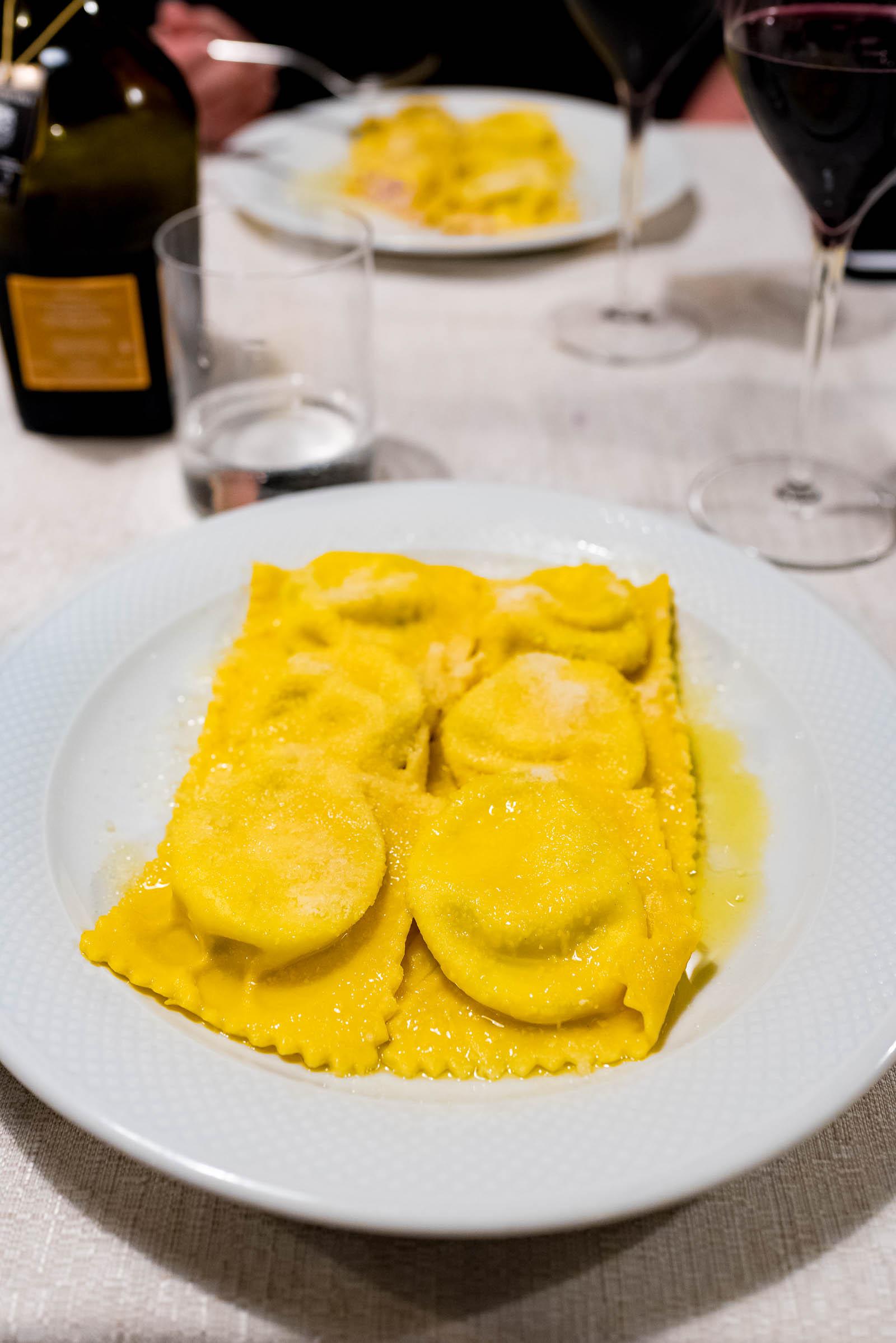 But then our second course arrived.
Otherwise known as the best pasta I had on my entire trip.
Otherwise otherwise known as sex on a plate.
Ristorante Angiol d'Or's Tortelli of herbs, butter and Parmesan cheese.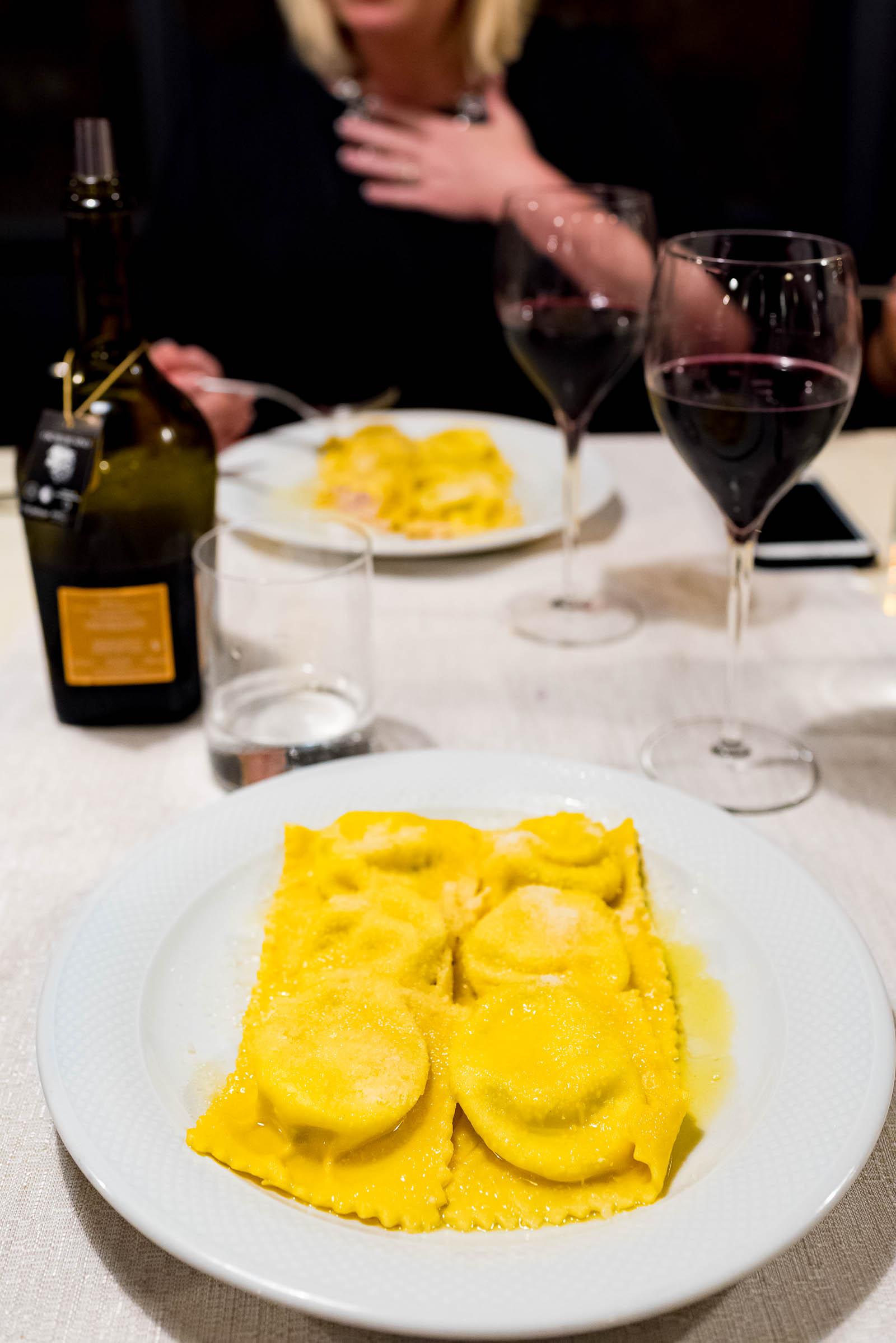 Before I tried this dish, I "thought" I knew what pasta was. But after this dish most pastas have just been a sad echo of its magnificence for me.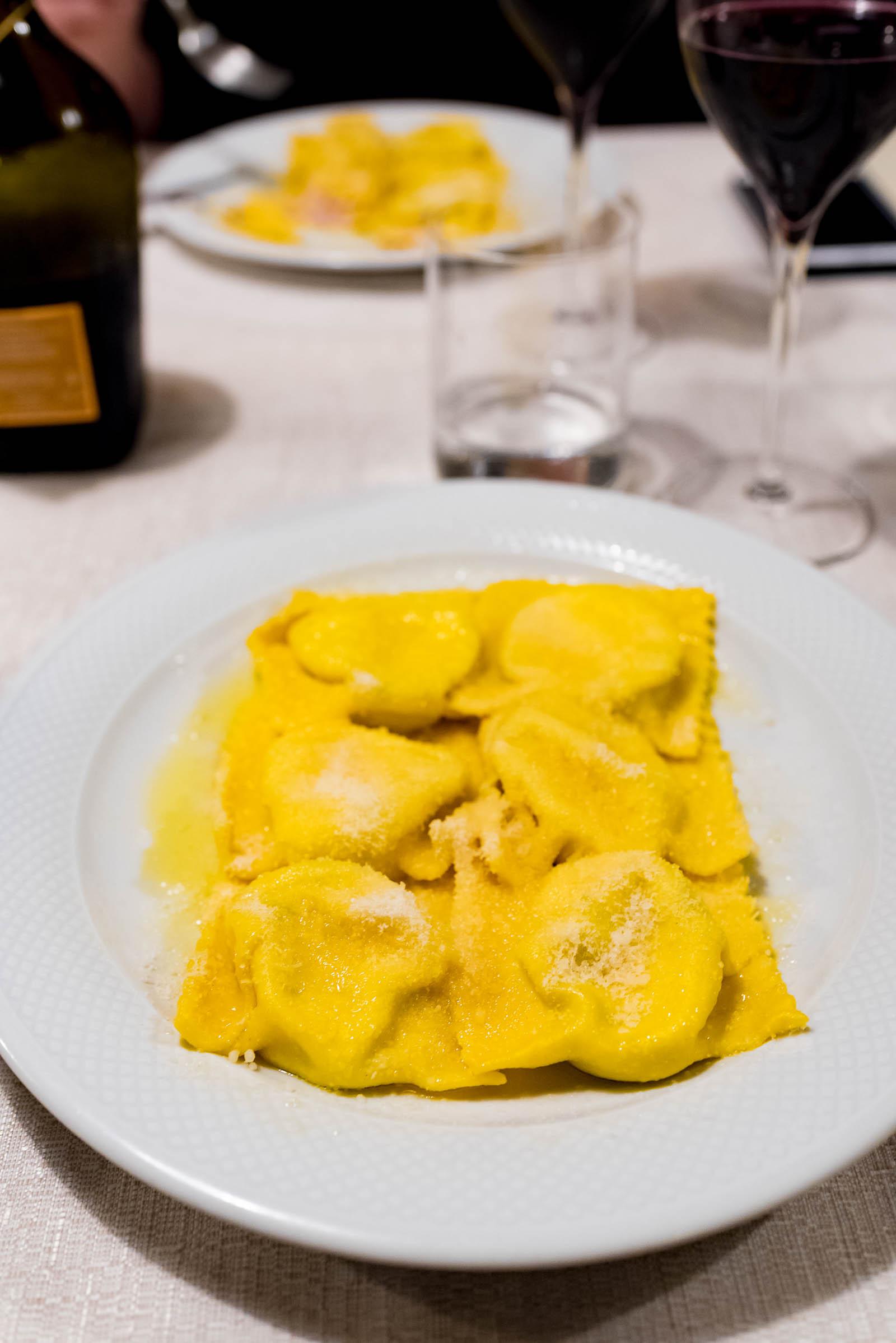 It really was one of the freshest, most delicious dishes I've ever had in my entire life.
And the fresh parmesan cheese inside just added to the magnificence…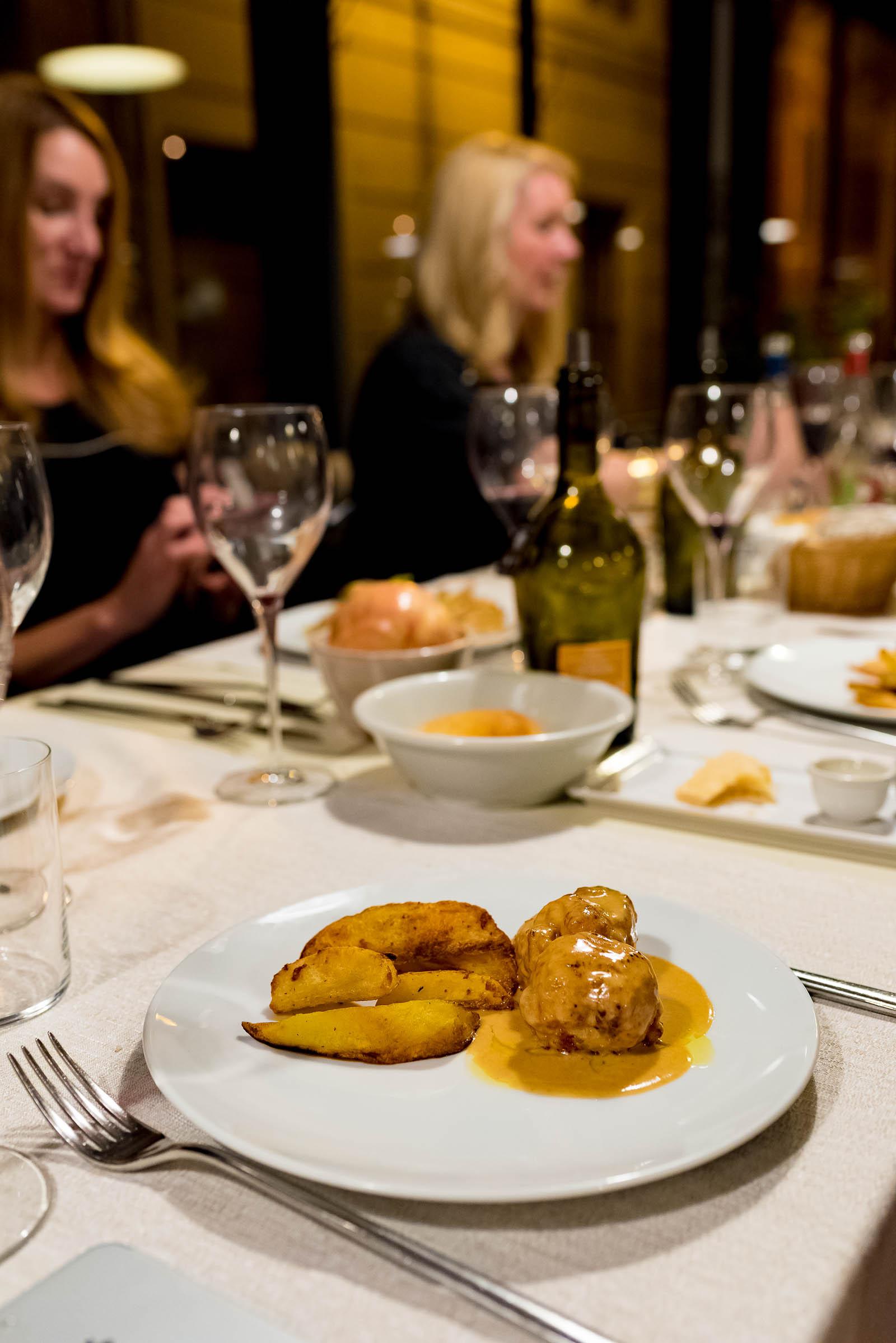 Our next course consisted of meatballs and potatoes for the meat-eaters…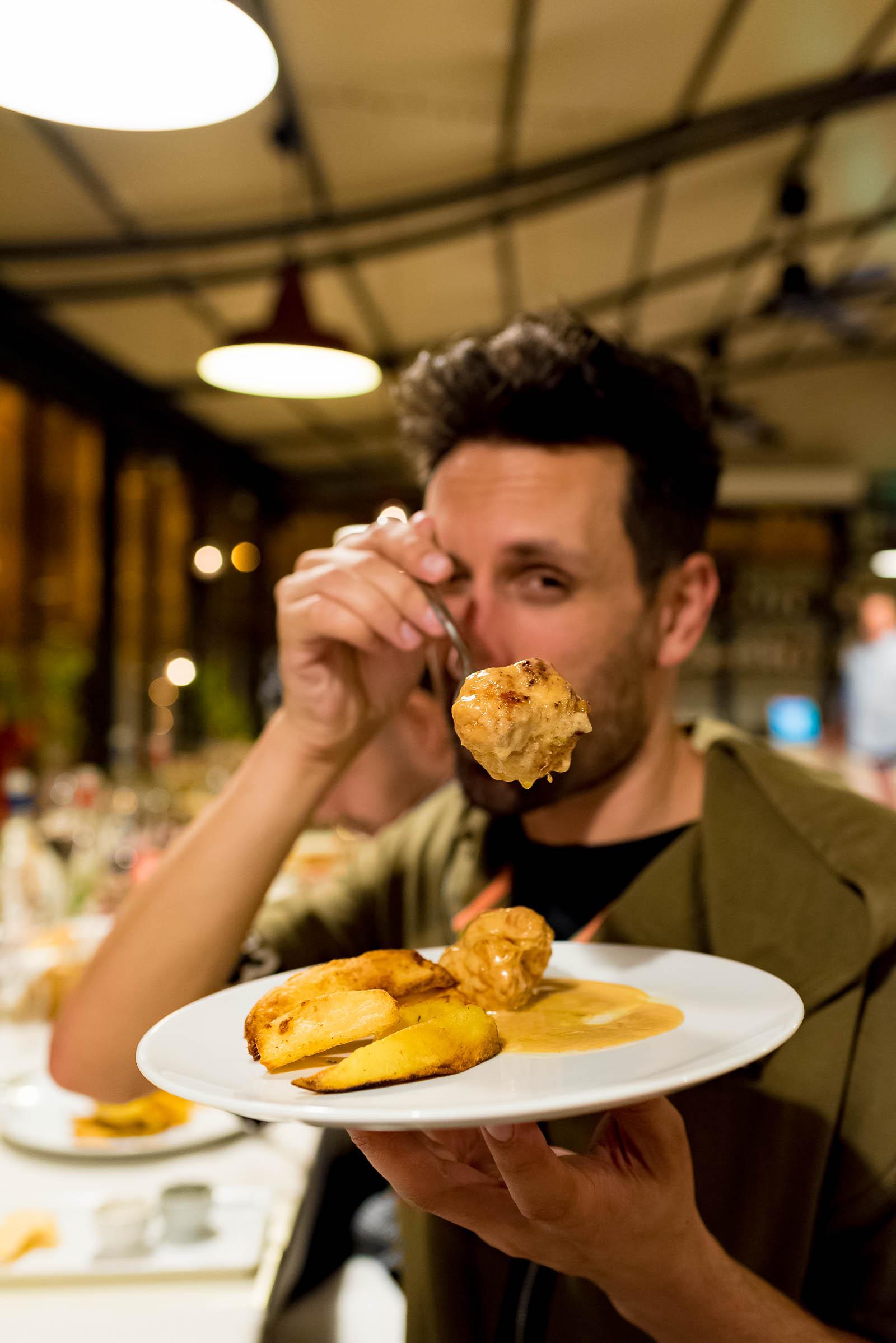 (isn't NYC foodie Jared the cutest food model? Be sure to follow him on Instagram if you aren't already!)…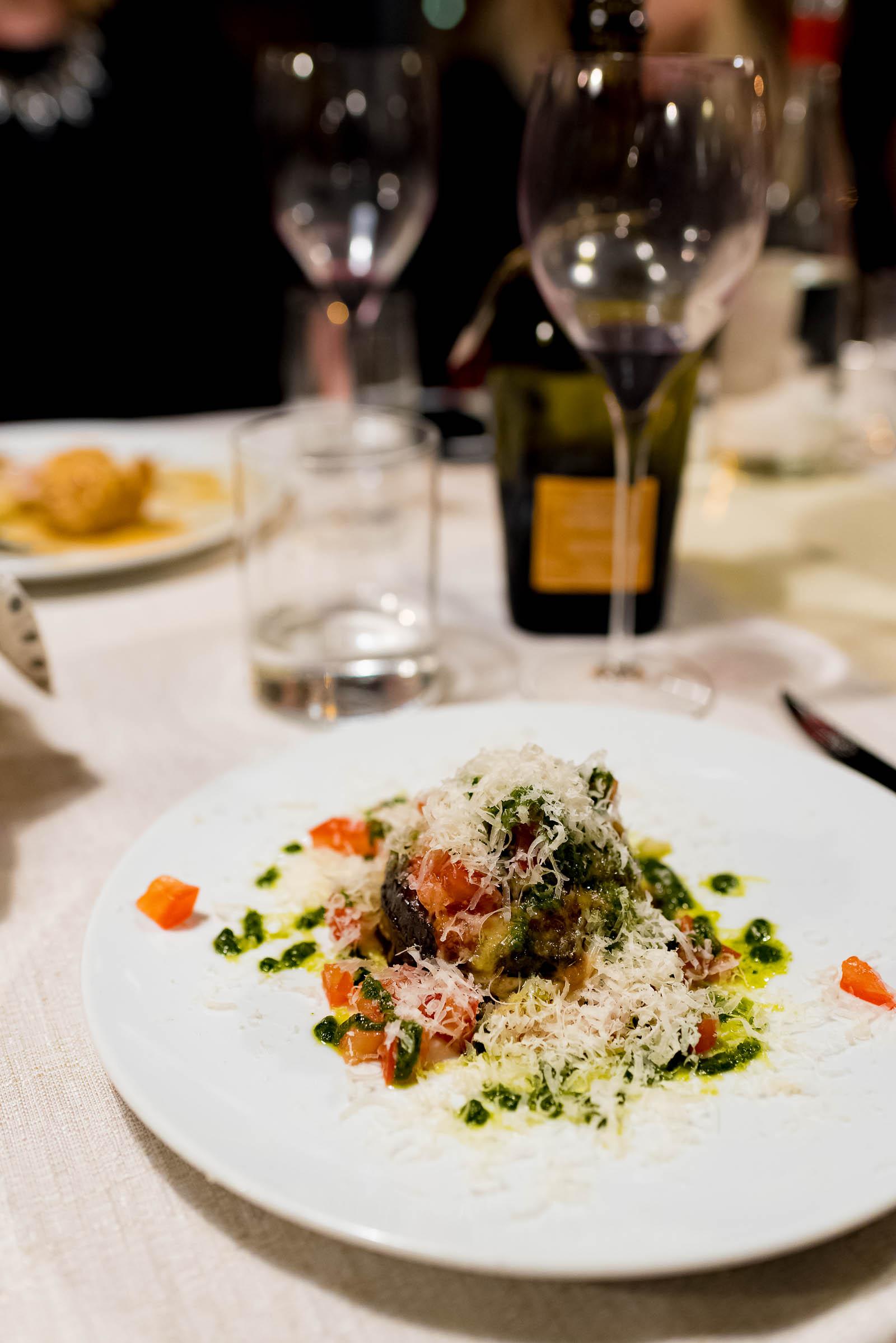 And Eggplant "Parmesan Style" for the vegetarians. Both of which were absolutely delicious (though no match for that incredible pasta course).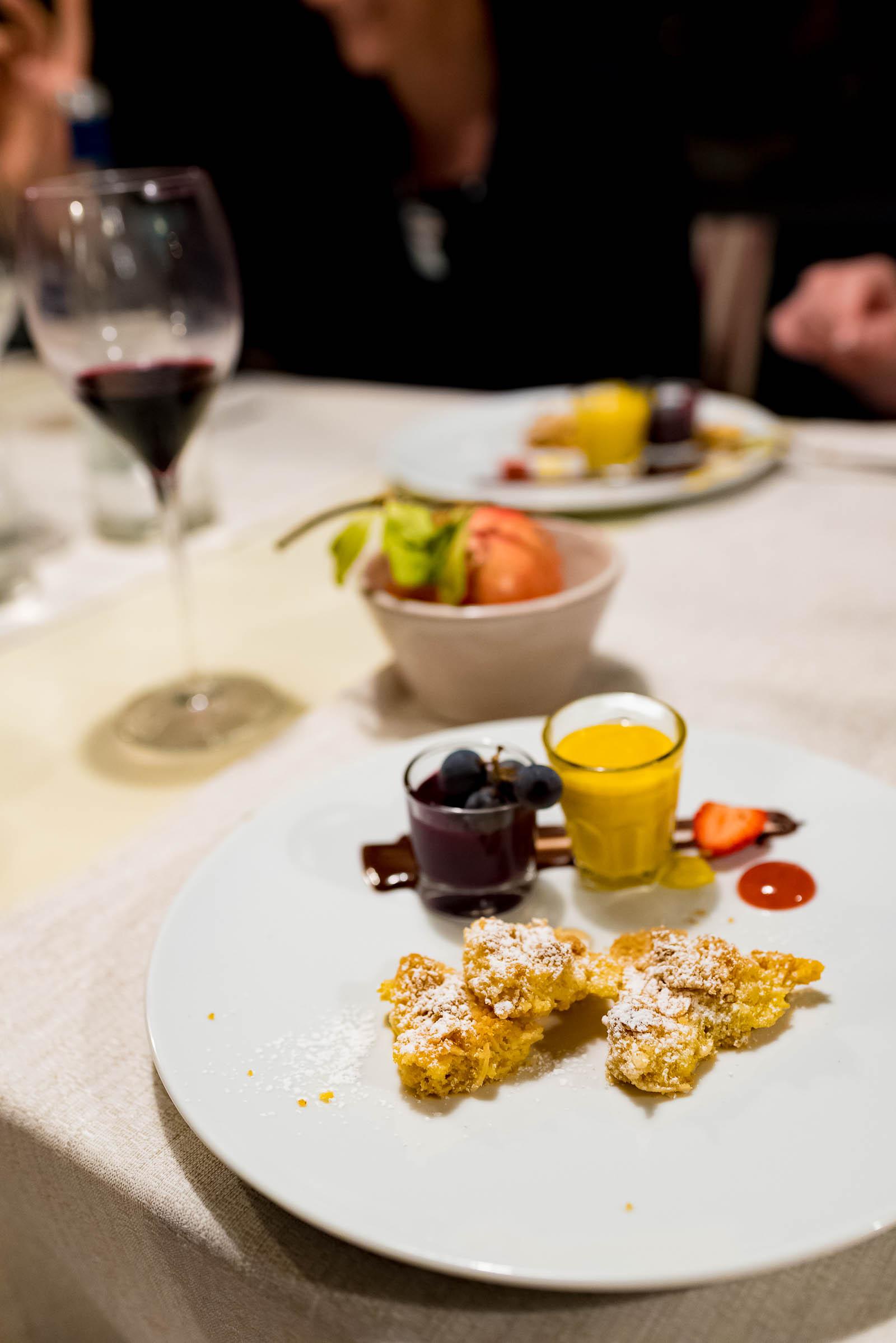 And for dessert we finished our meal with "Sbrisolona" cake with zabaione.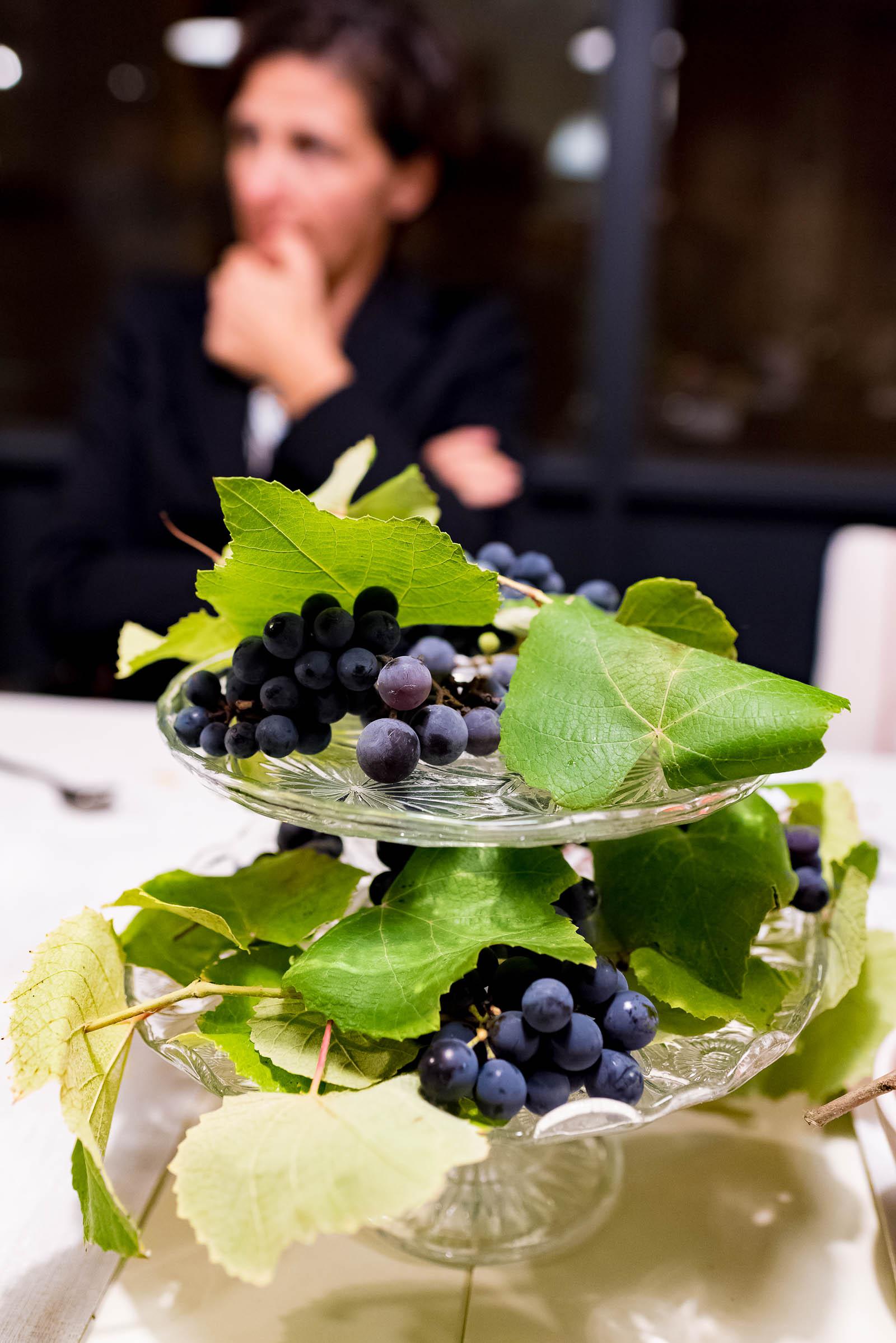 And a local variety of grapes which had multiple seeds in them similar to concord grapes.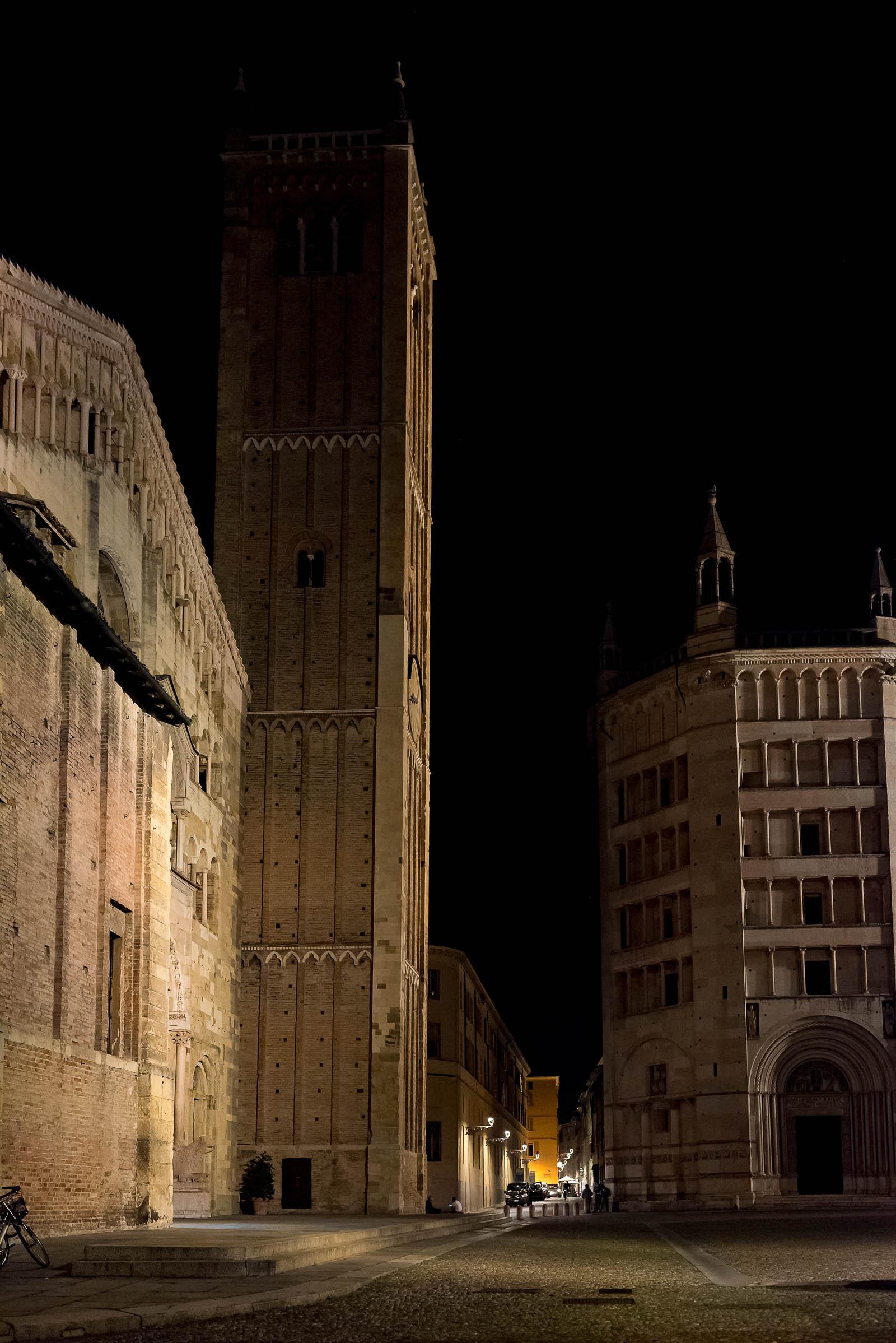 After our ENORMOUS meal, we took the opportunity to wander through the streets of Parma.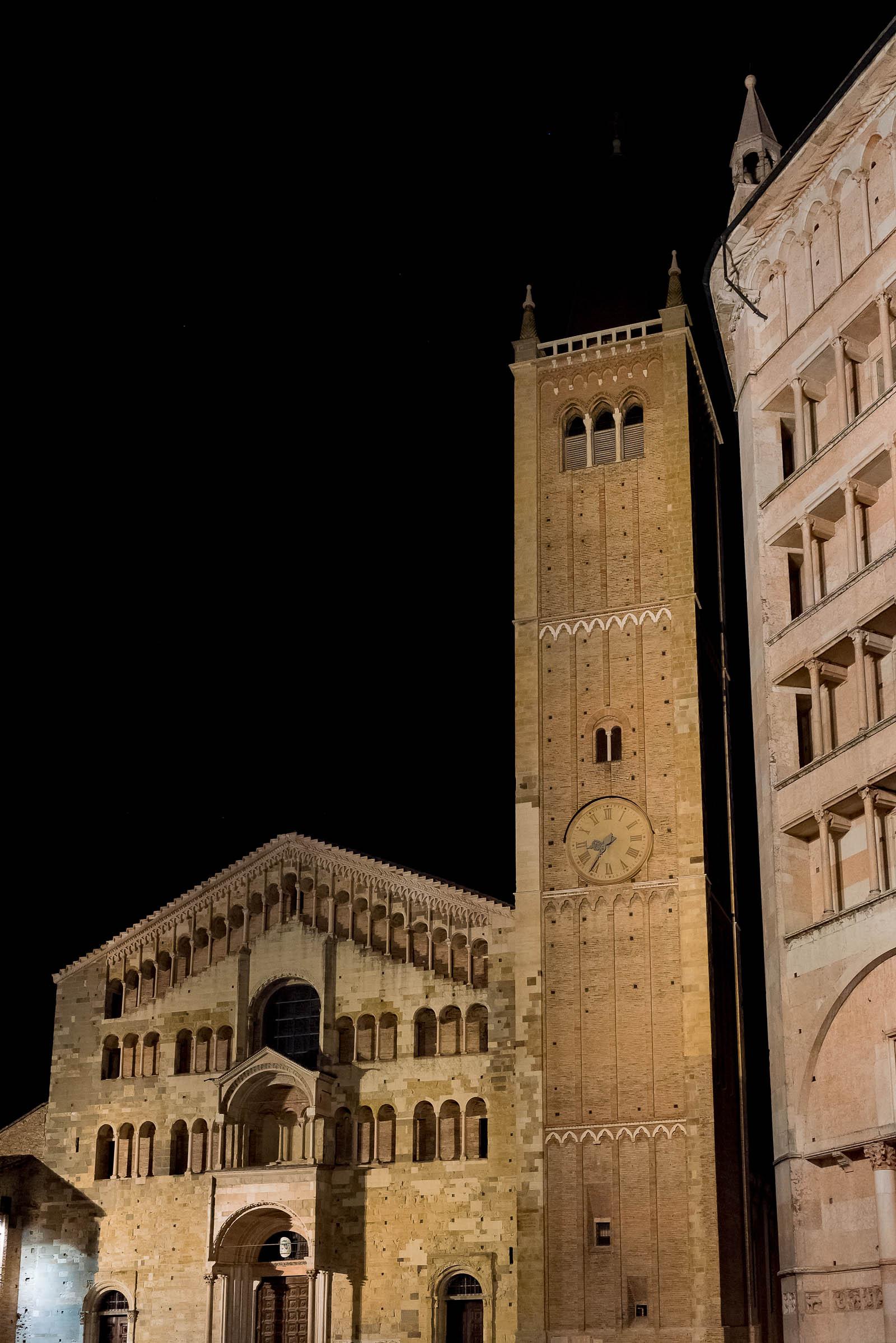 We walked past the great Cathedral,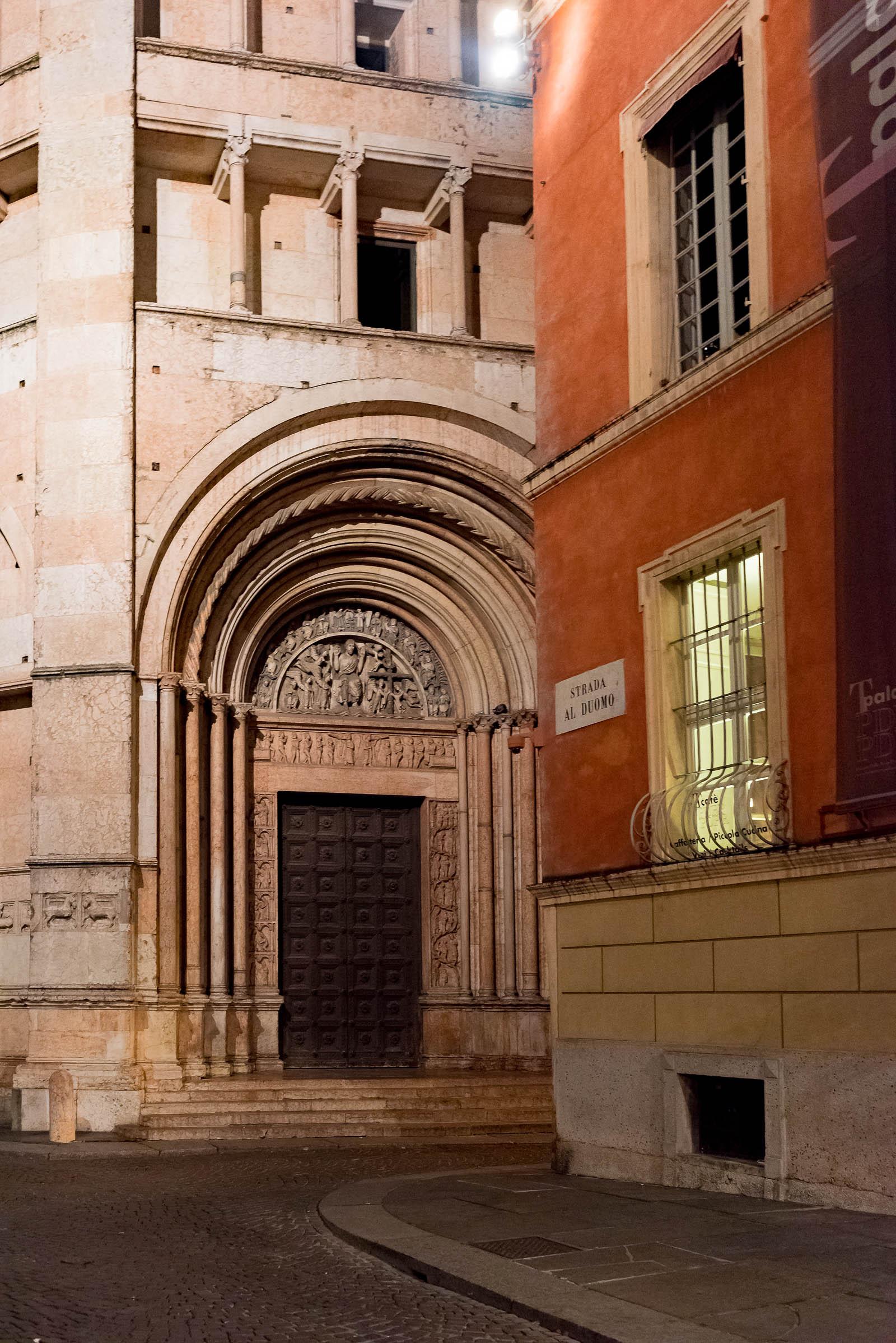 with all its magnificent detail work…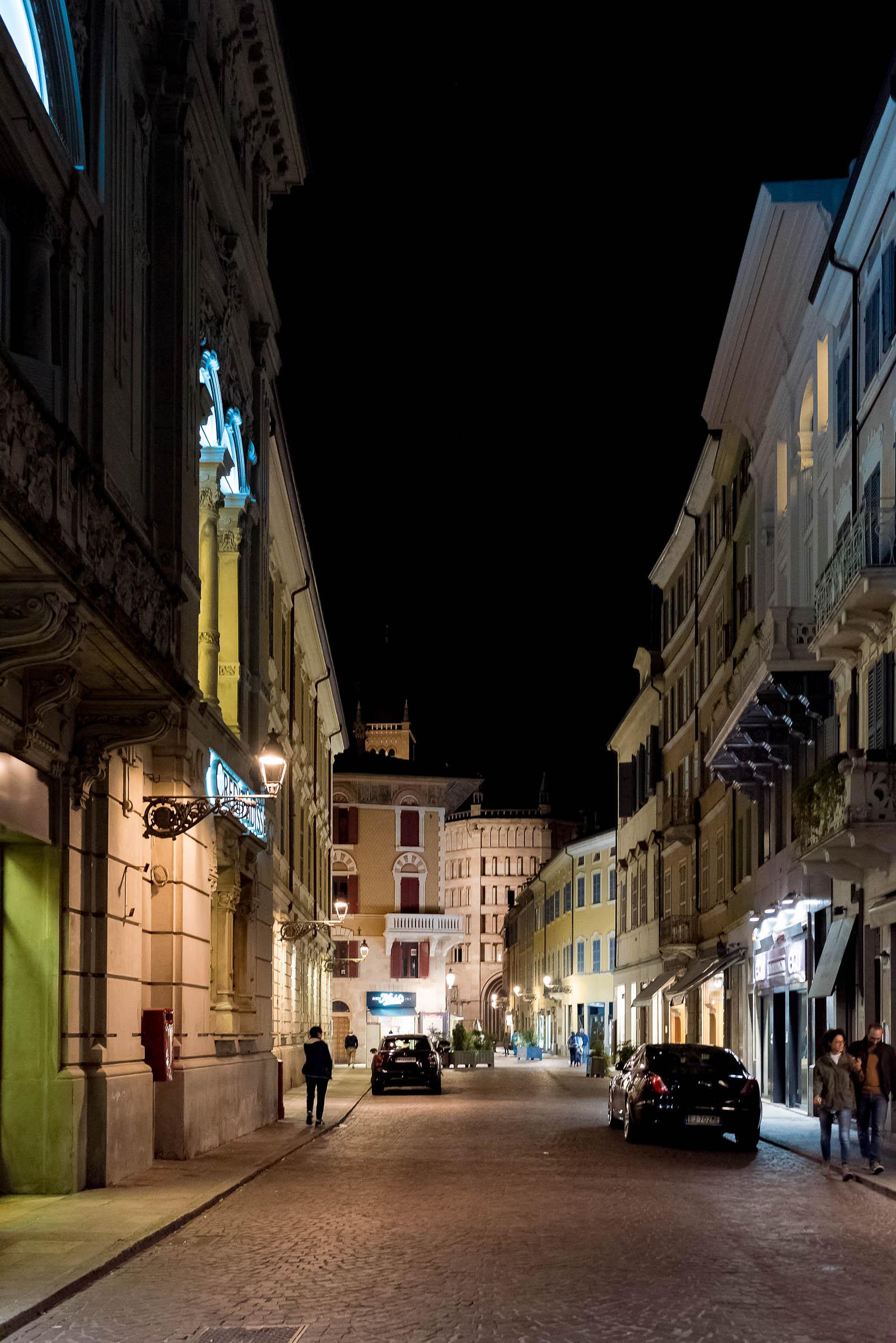 and through the bustling center of town.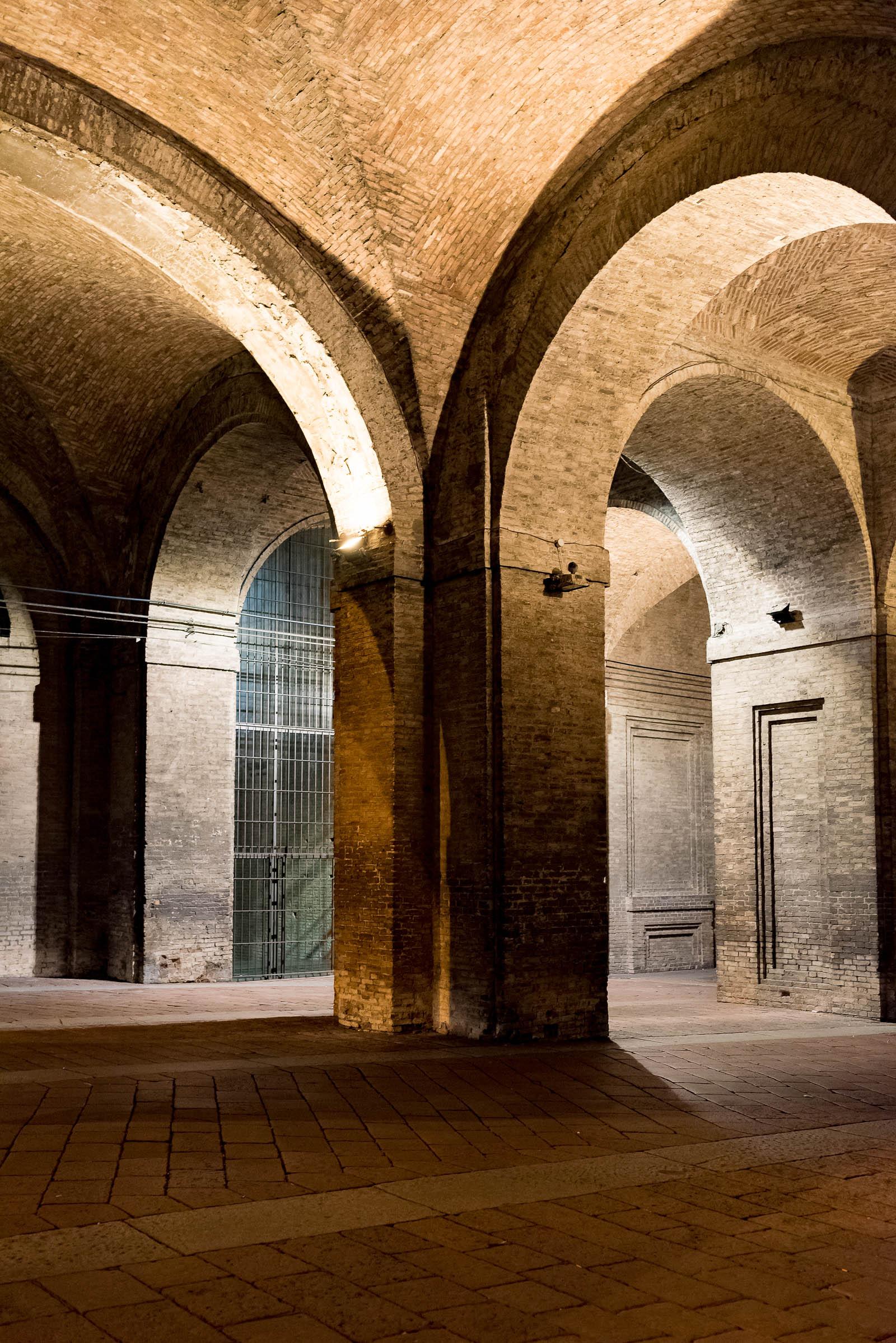 Parma is a beautiful city of old and new, like so many ancient cities of Europe.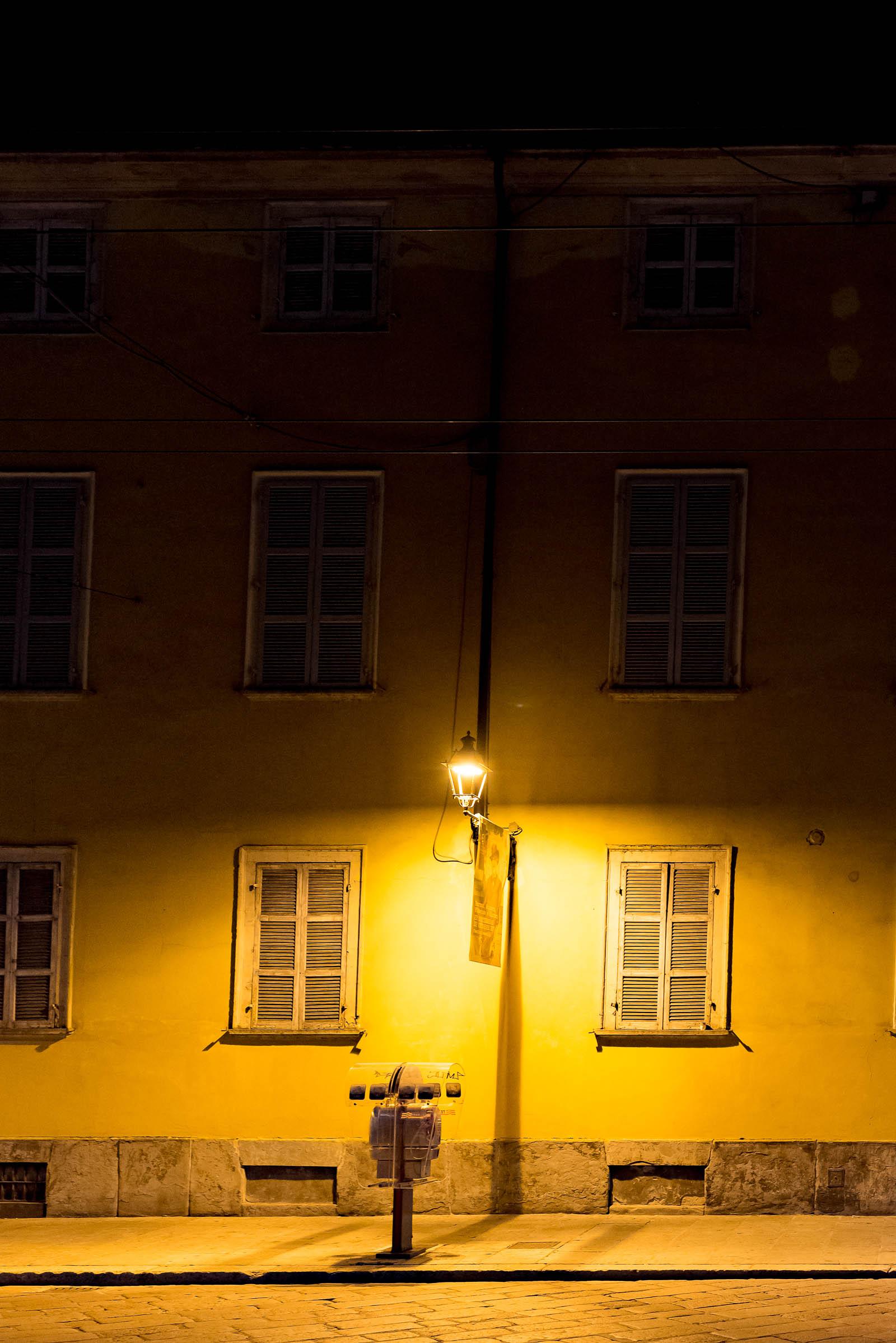 And at night the city truly feels almost magical (though do be careful where you wander!).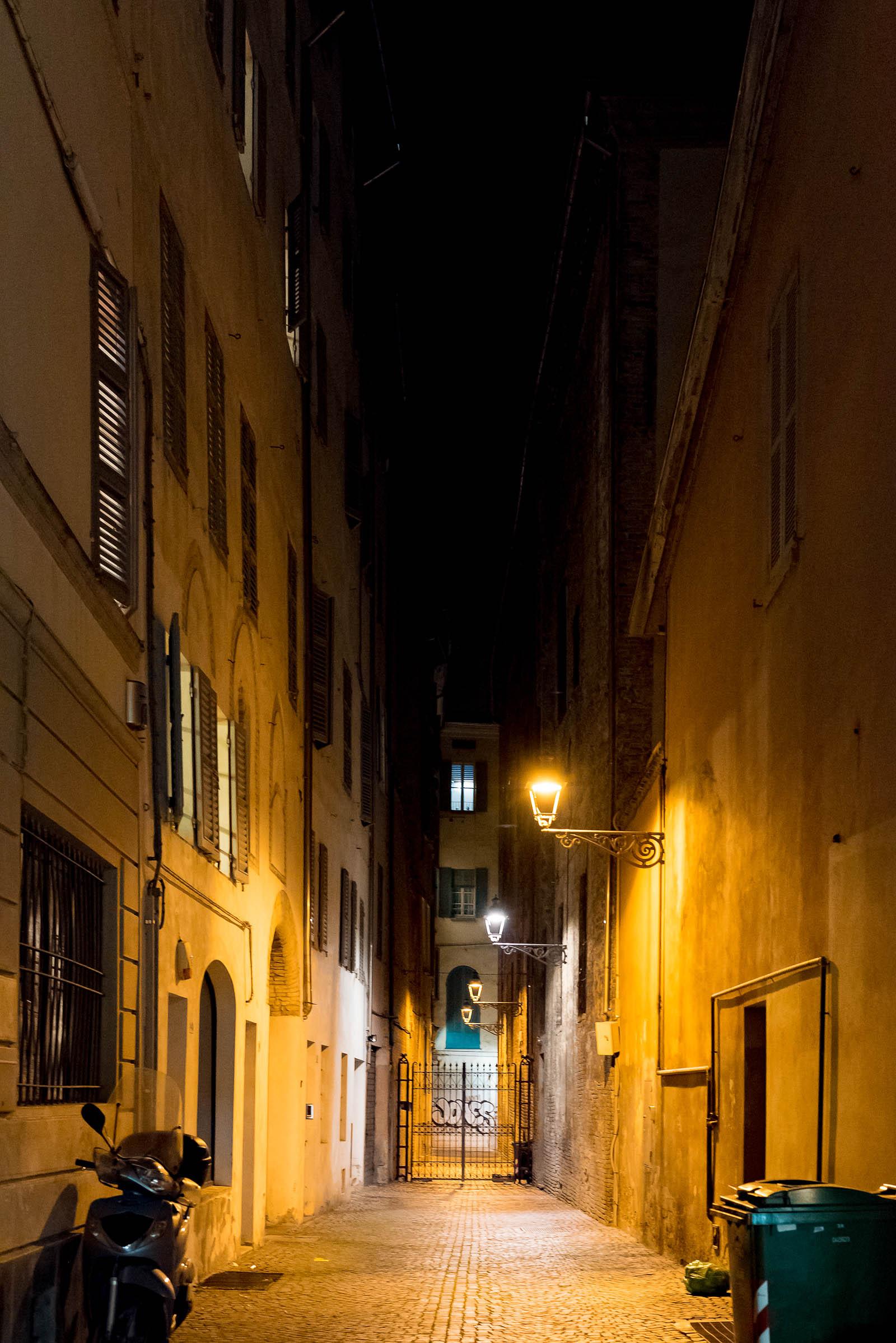 But all the empty alleys and streets made it one of the best opportunities I've ever had for night photography, and I loved every minute of this walk!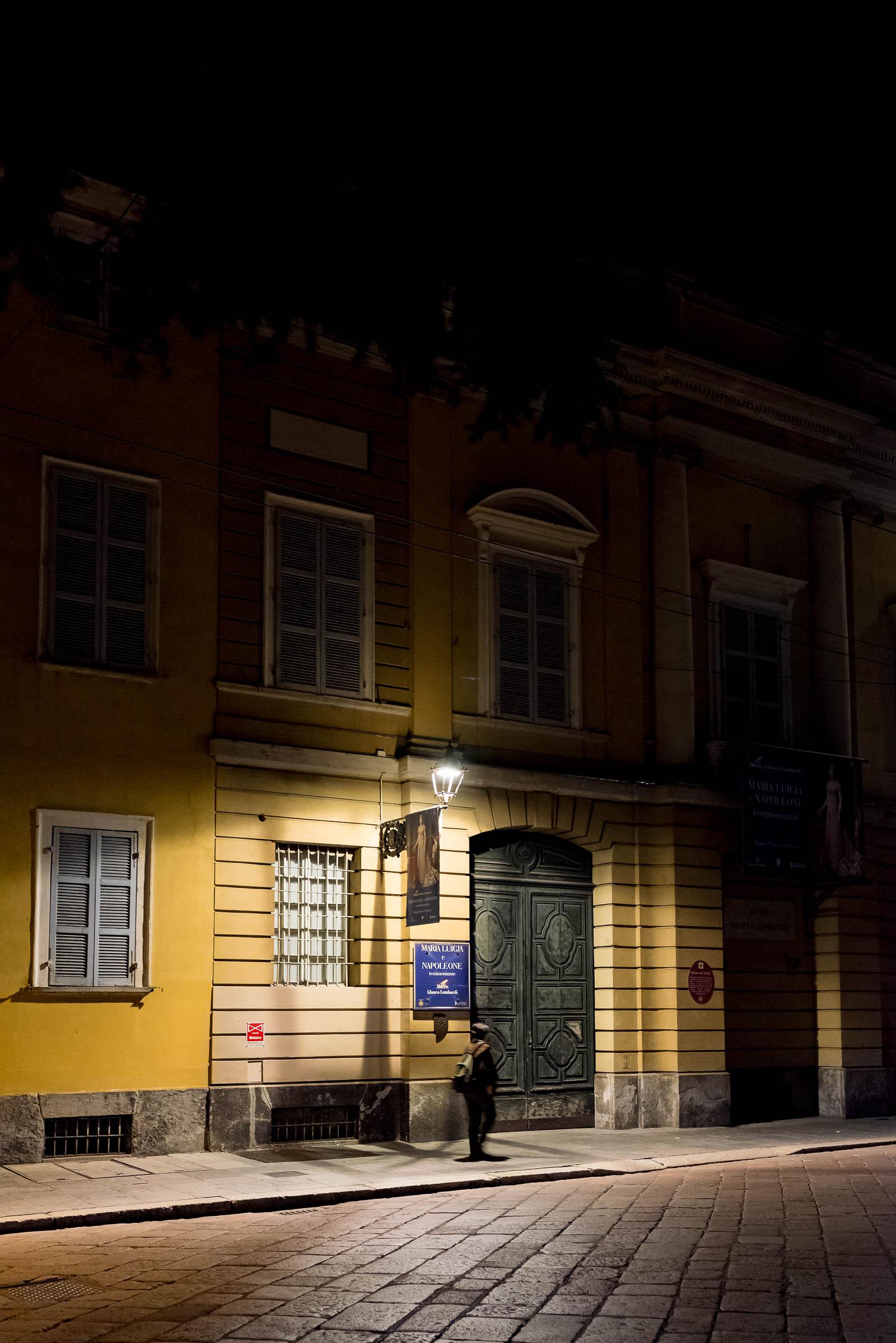 Can you see why?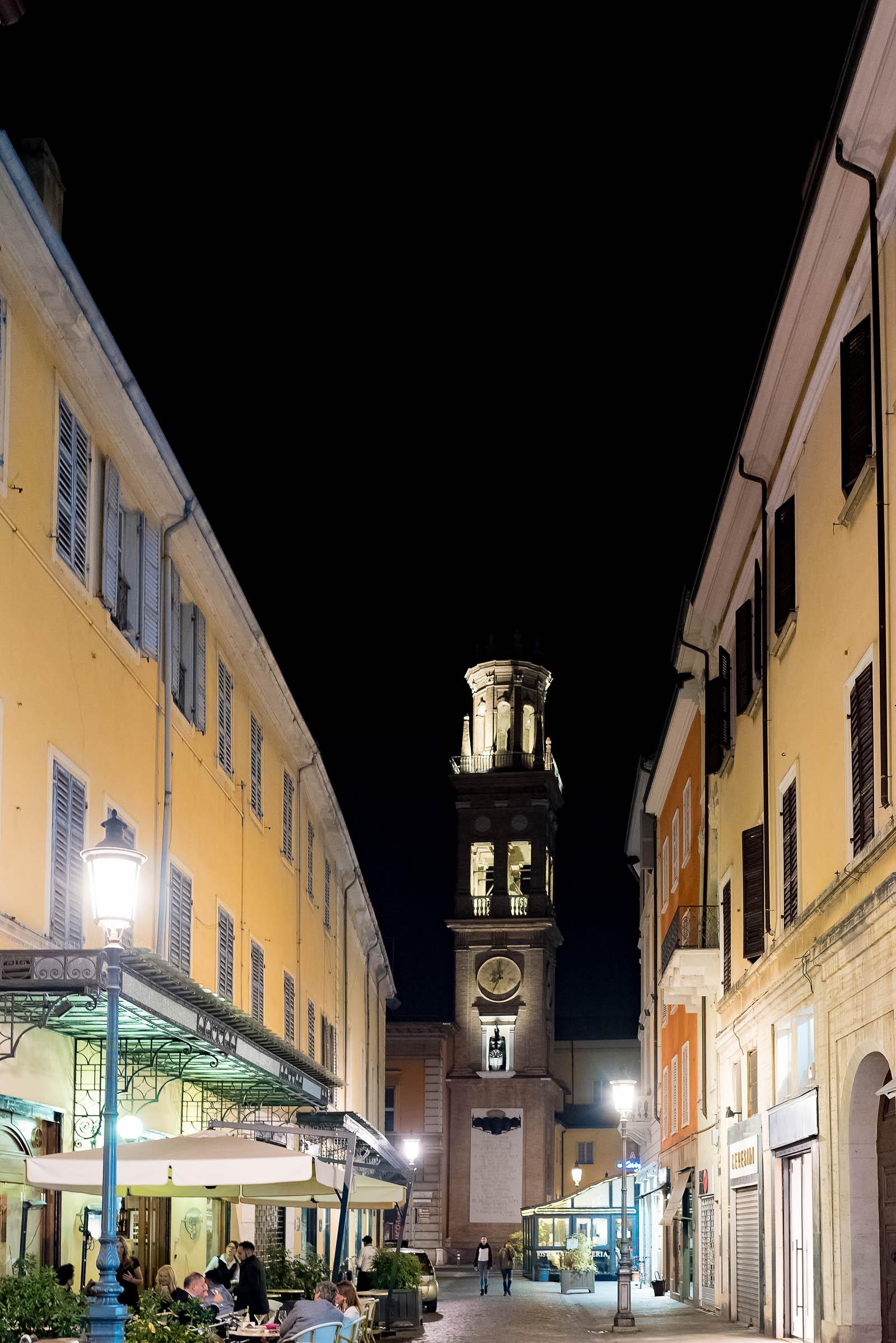 I'll remember my trip to Parma and — more specifically — my trip to Ristorante Angiol d'Or for a long time.
Well, I'll likely remember it FOREVER.
Because let's be honest — you NEVER forget your first perfect pasta dish in Italy. NEVER. Your life is basically broken into two parts — the part before fresh pasta in Italy and the part AFTER.
And I am so grateful to be living in the after, evermore.
Disclosure: I received a complimentary meal at Ristorante Angiol d'Or to facilitate this post. Review and all opinions are ALWAYS my own.