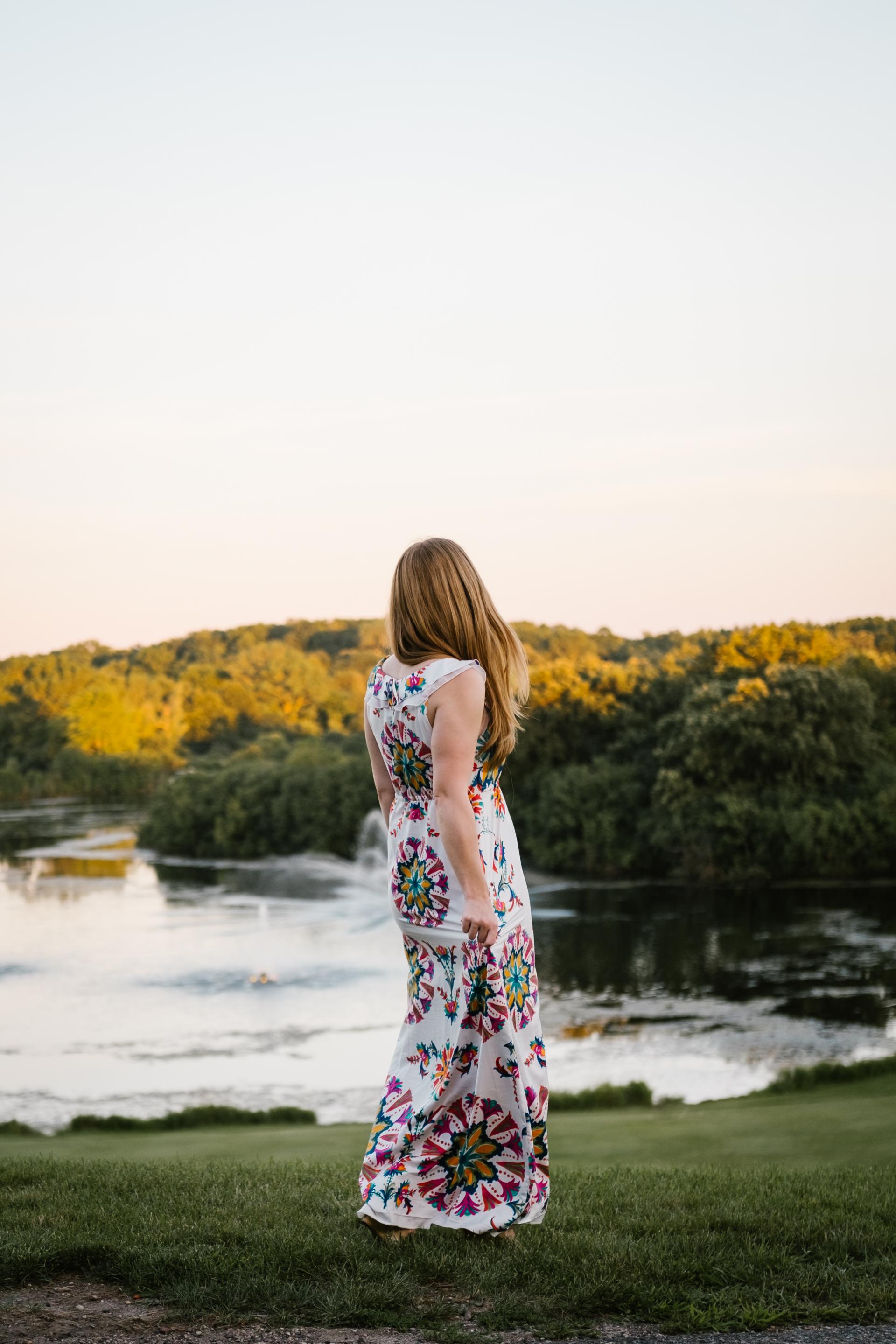 Photo Credit || Ryan Rivas
Last month, just before leaving on my family trip to Amsterdam, I had a quick mini getaway with a few fellow bloggers at the amazing Grand Geneva Resort in Wisconsin.
Yes, that Grand Geneva. The most luxurious resort in Lake Geneva and the preferred rural retreat for all Chicagoans come winter OR summer.
This was my first trip ever to Grand Geneva and let me tell you just how many people came out of the woodwork when I told them I was going to say "my family goes there every summer" and "it's our favorite place to spend the holidays".
I had absolutely NO idea just how famous this former Playboy resort is amongst Chicagoans! And by the time we arrived, I was itching to explore all Grand Geneva had to offer.
For journalistic purposes, obviously…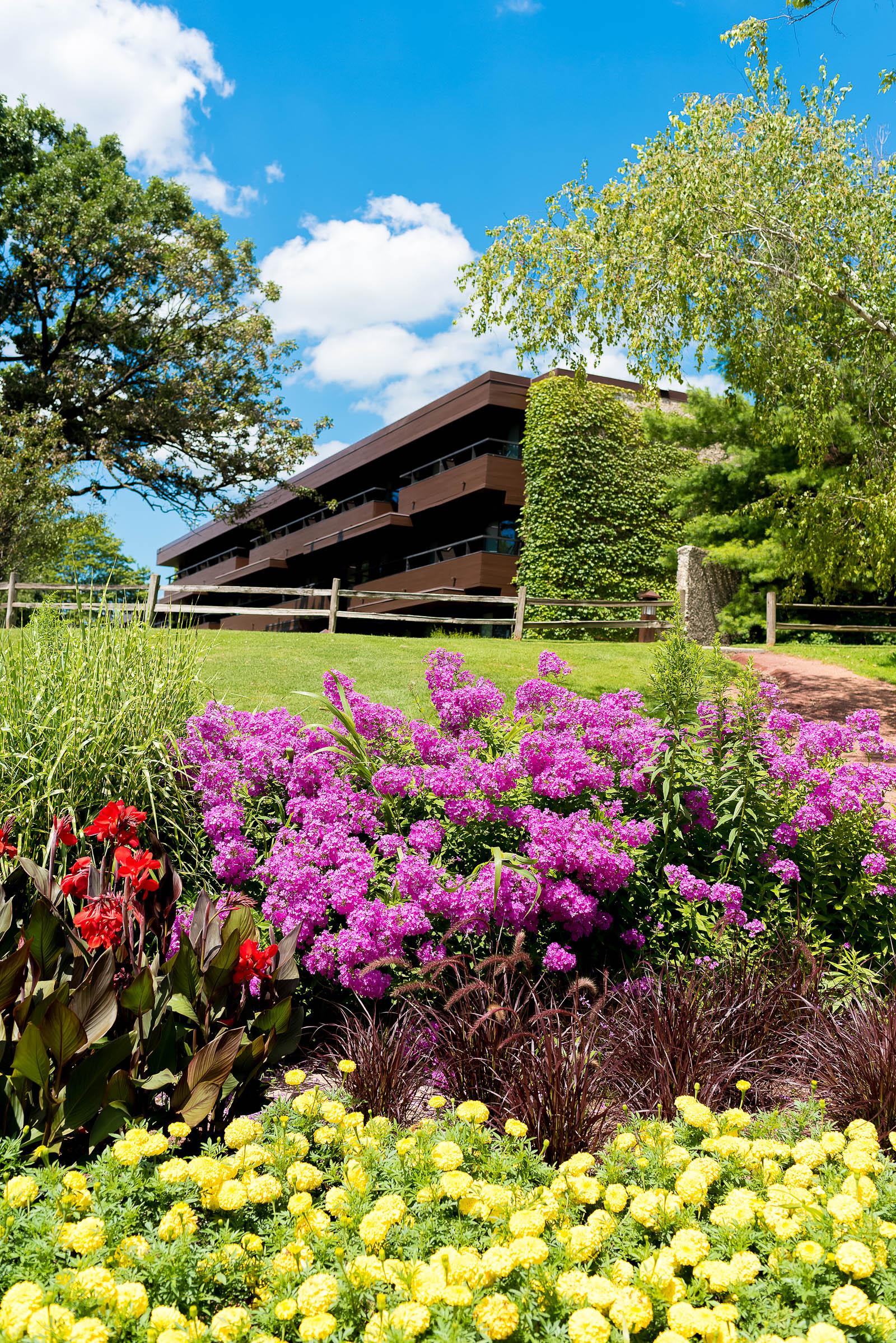 Located on acres and acres of rolling hills, beautifully manicured lawns, and sprawling golf courses, Grand Geneva is one of only 5 AAA Four-Diamond resorts in Wisconsin.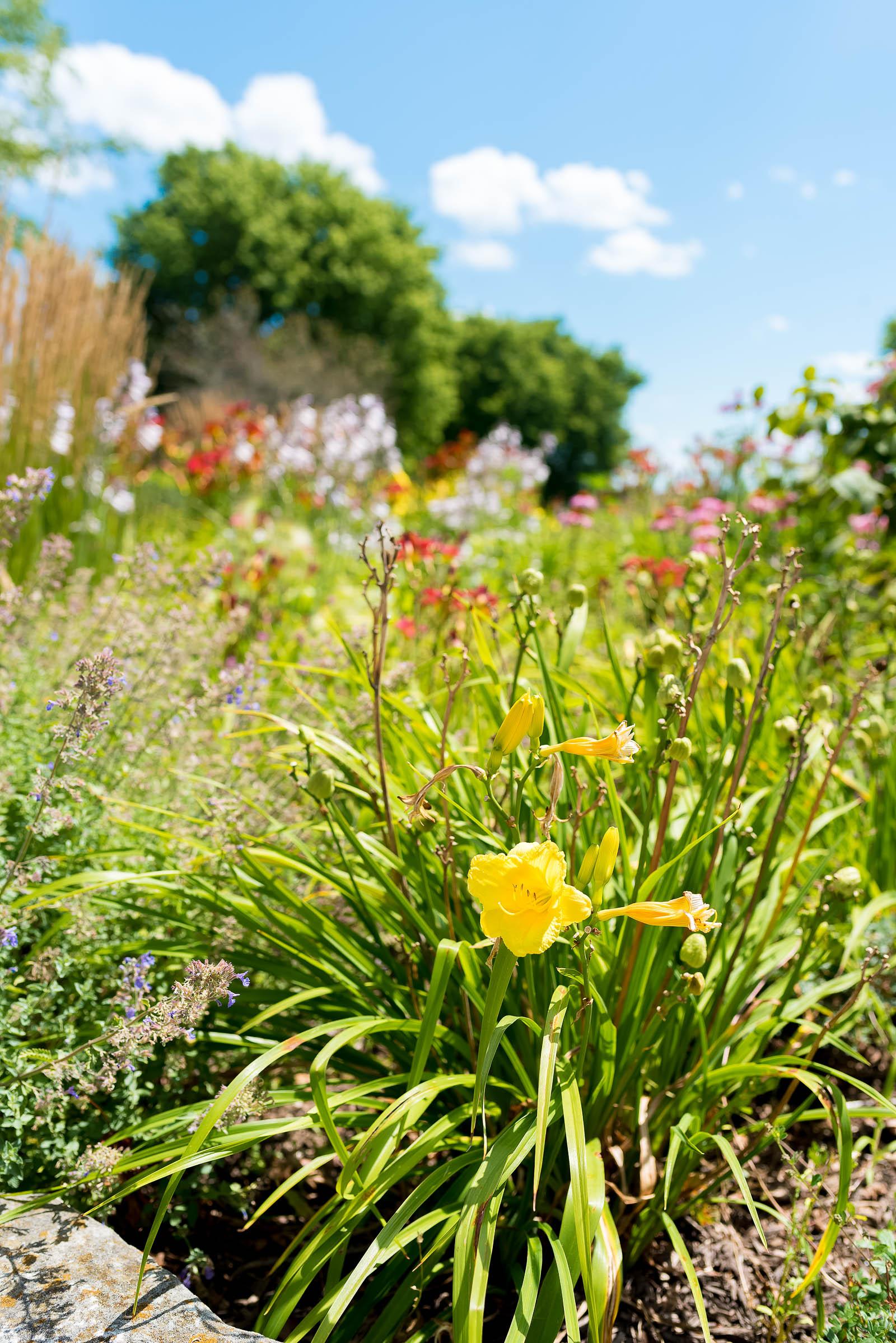 And just a short walk around the grounds will quickly tell you why.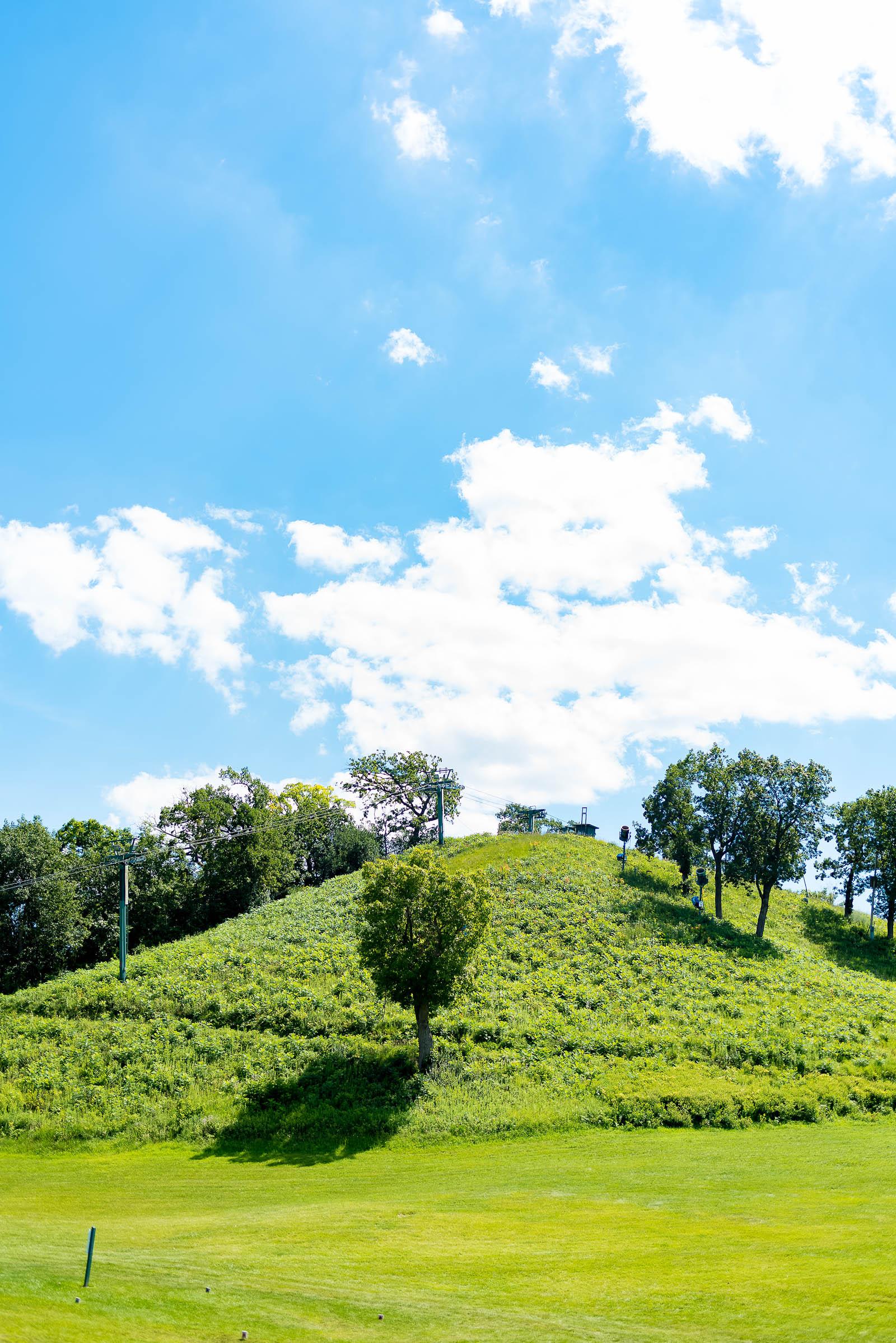 If their lovely ski slopes and endless fields of flowers don't make you swoon, I don't know what will!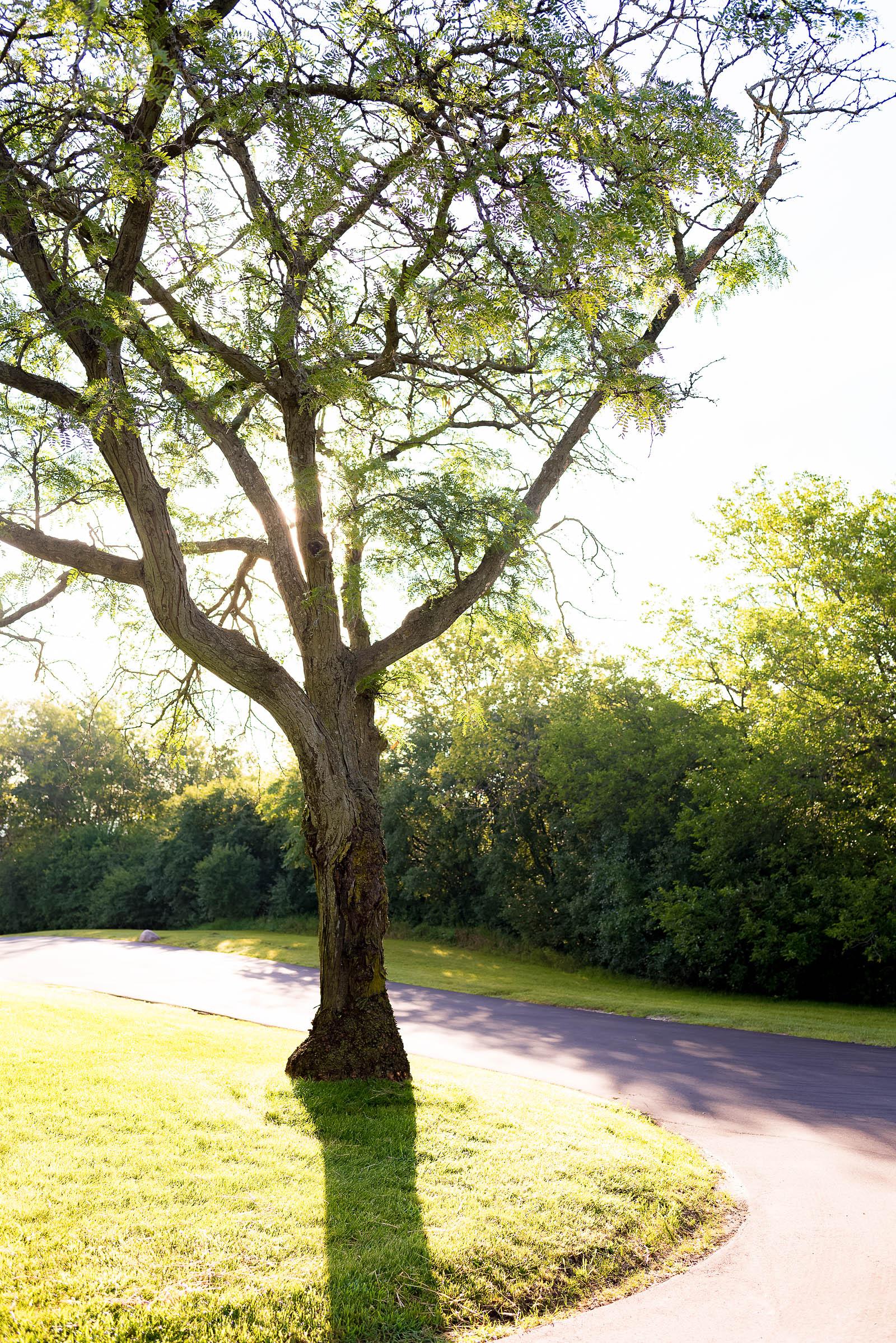 The Villas
---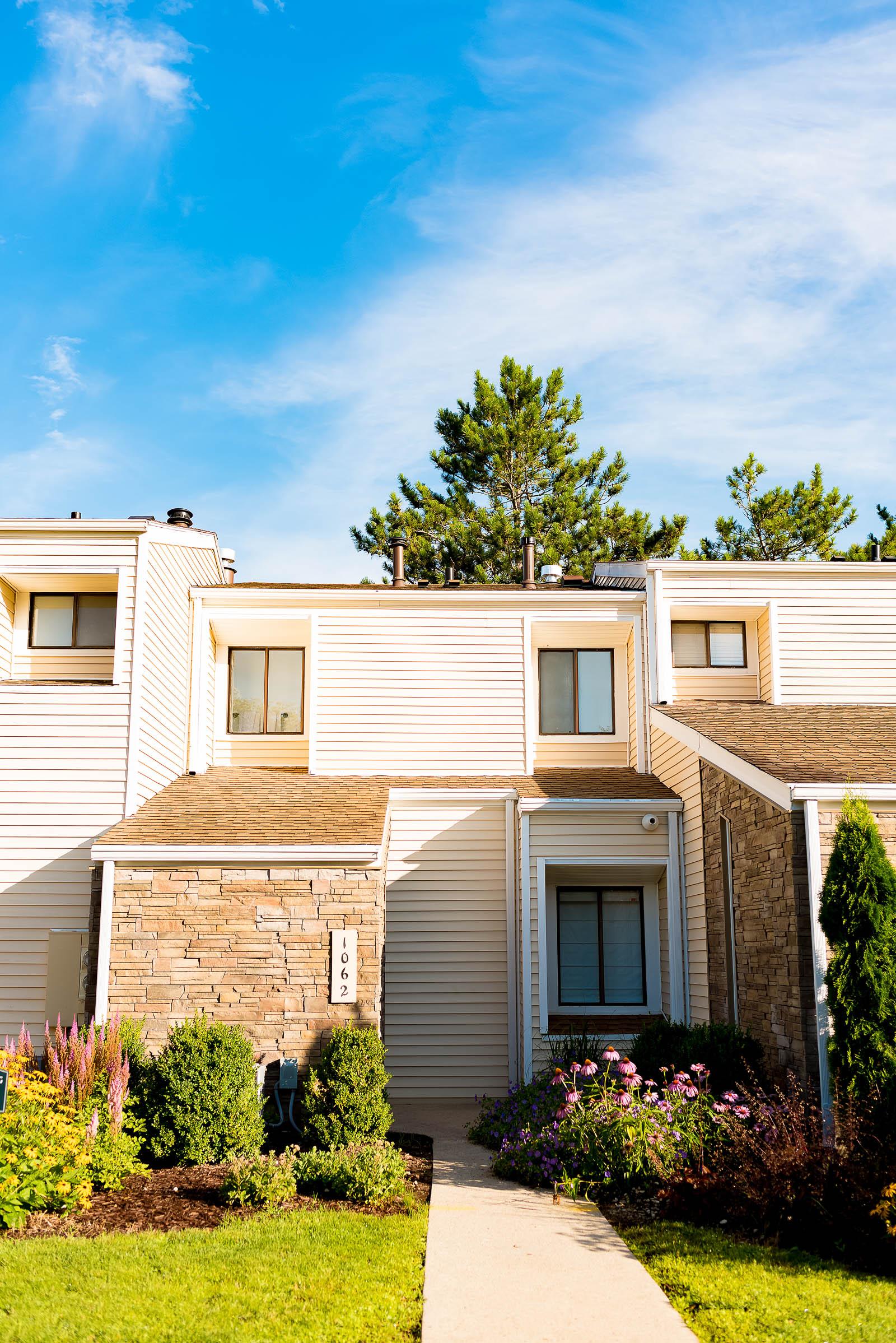 Grand Geneva has just opened a new line of luxury villas and we were so excited to check out the amazing spaces (and to dive right into their famously comfortable beds).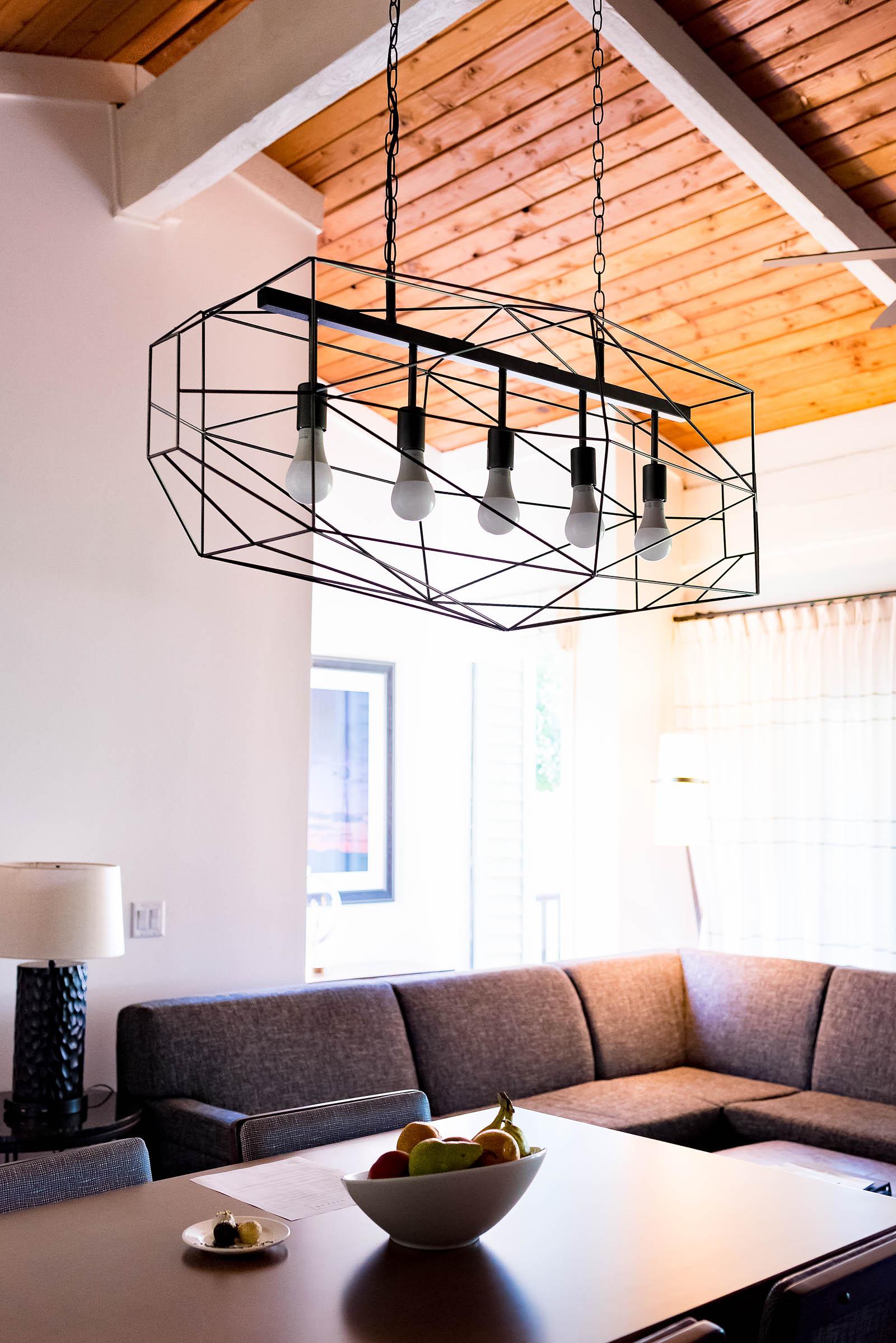 Each villa is like its own home — complete with a living room, fully functional kitchen (we're talking grilling utensils, wine bottle openers, can openers, coffee machines, blenders… everything you could possibly need!), and balcony all newly appointed.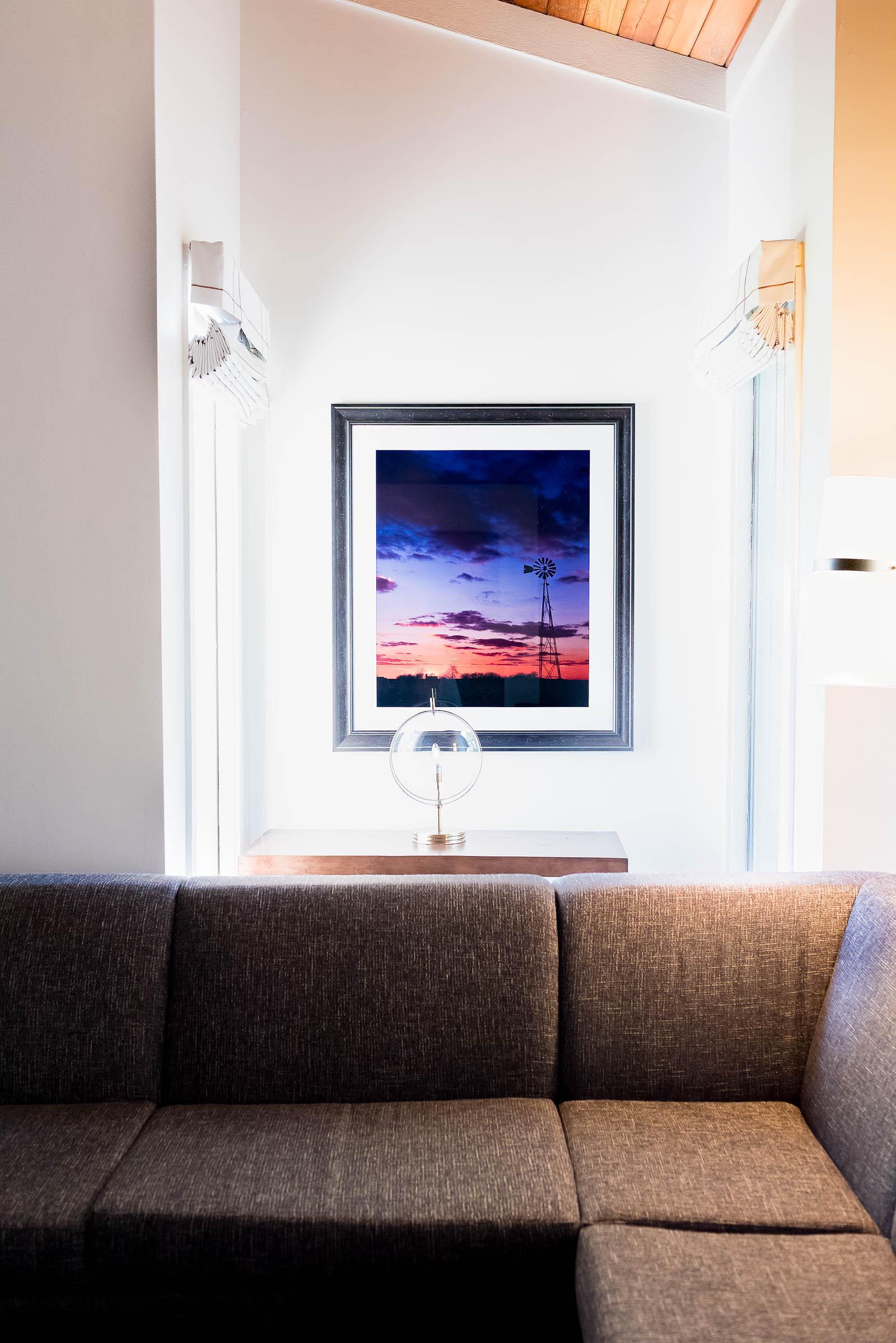 And just lovely to stay in!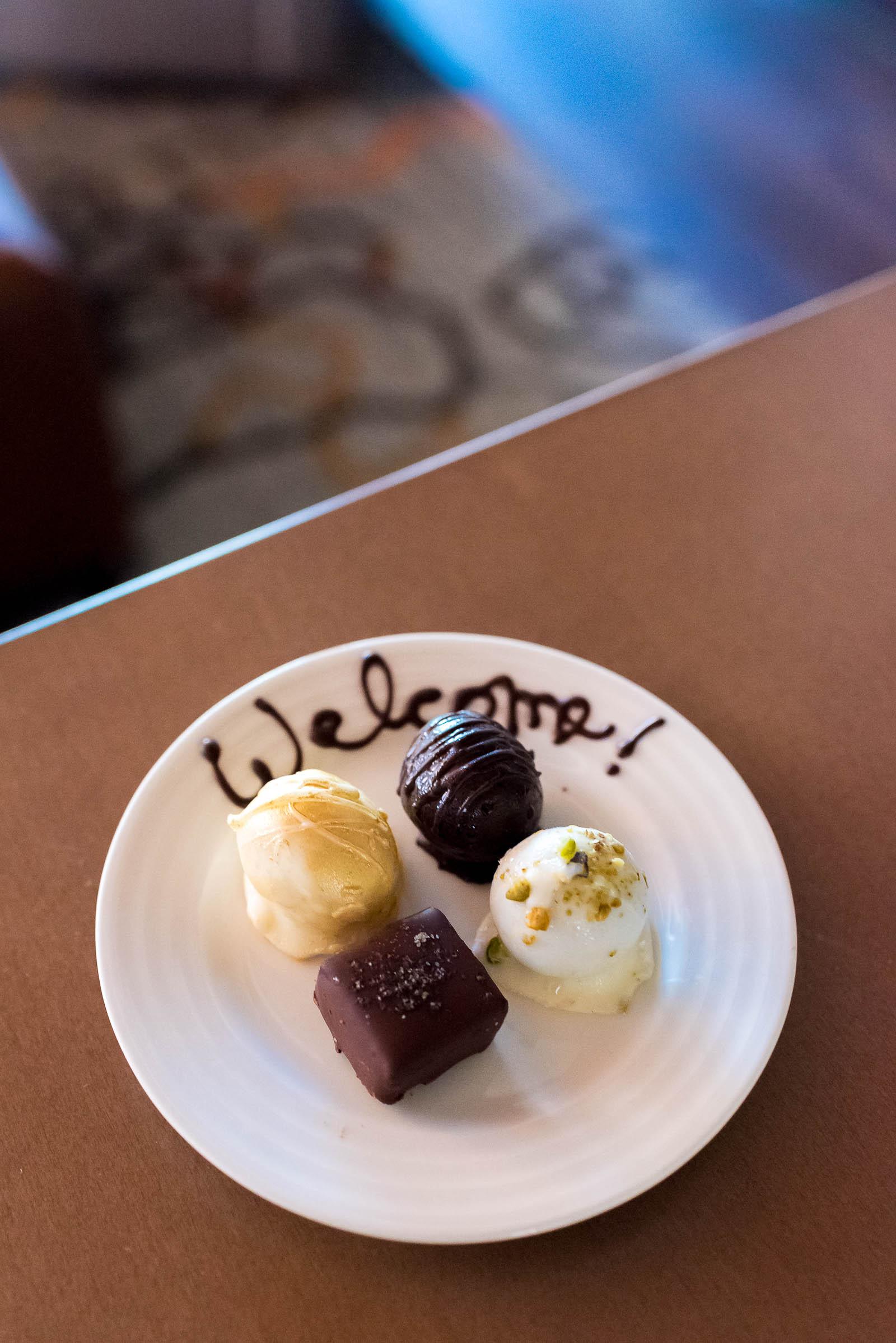 Especially when welcomed by some lovely chocolate truffles in the kitchen!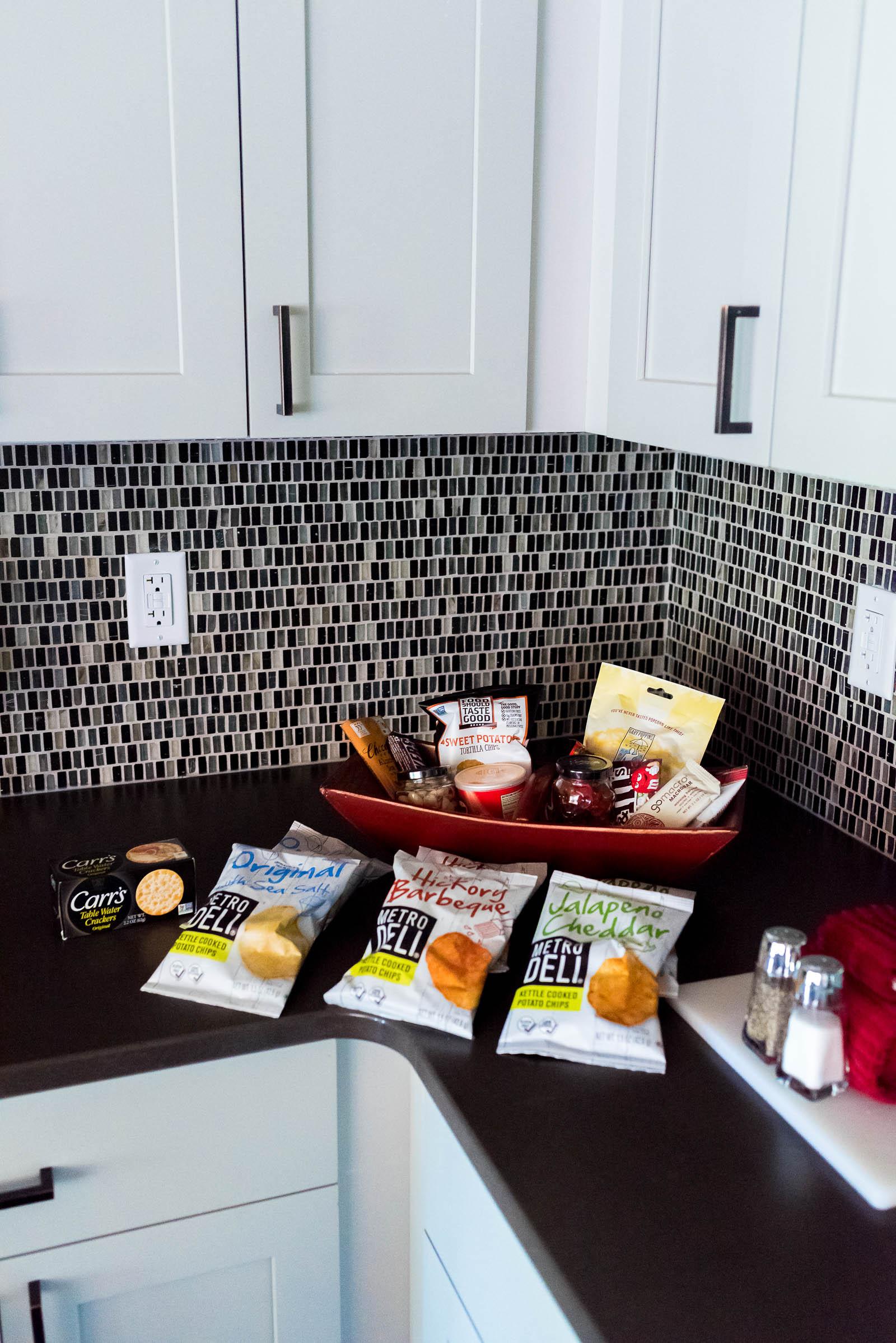 And a whole array of snacks and groceries (Grand Geneva will gladly drop off any groceries you need right to your villa!).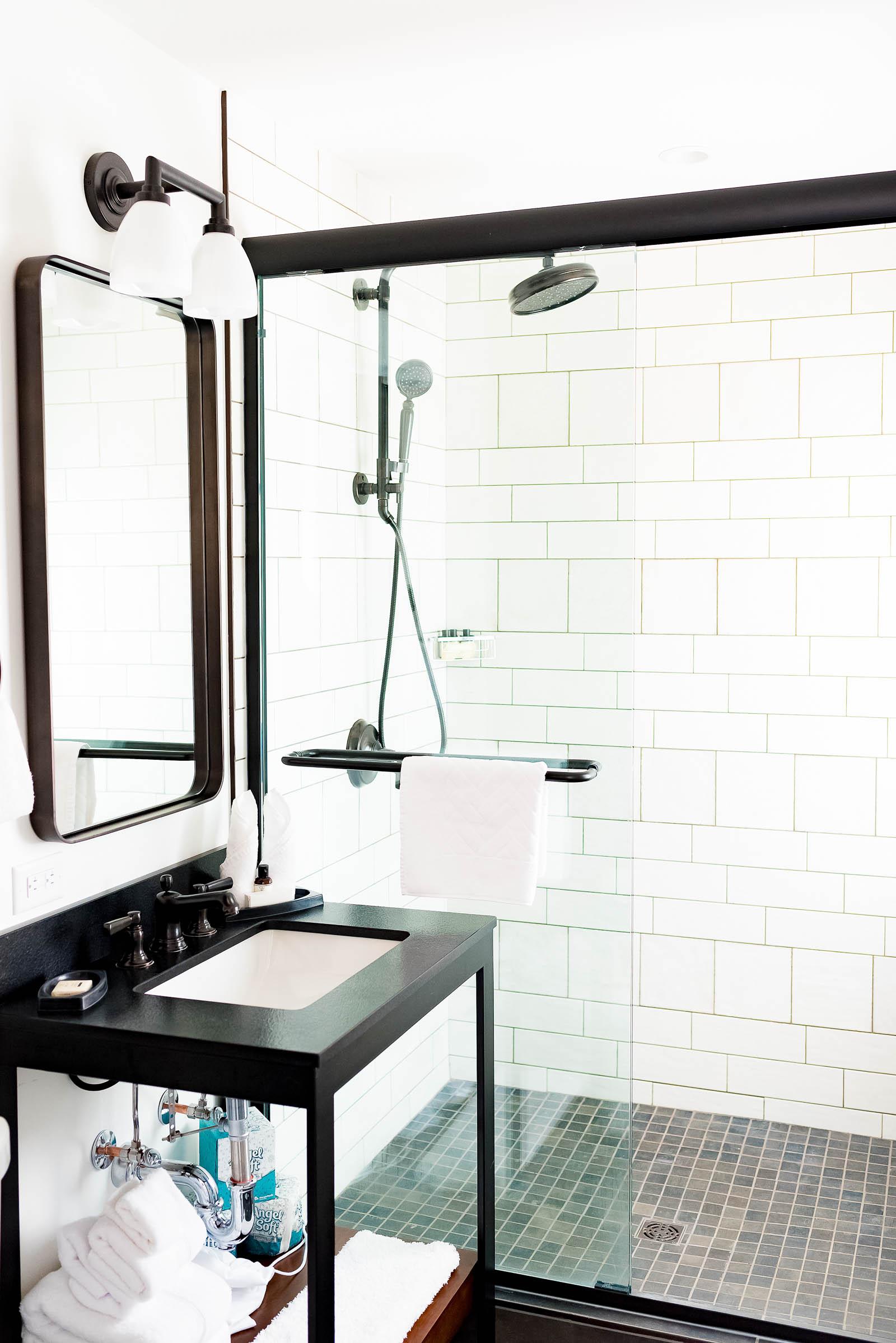 The two bathrooms in our villa were absolutely beautiful too.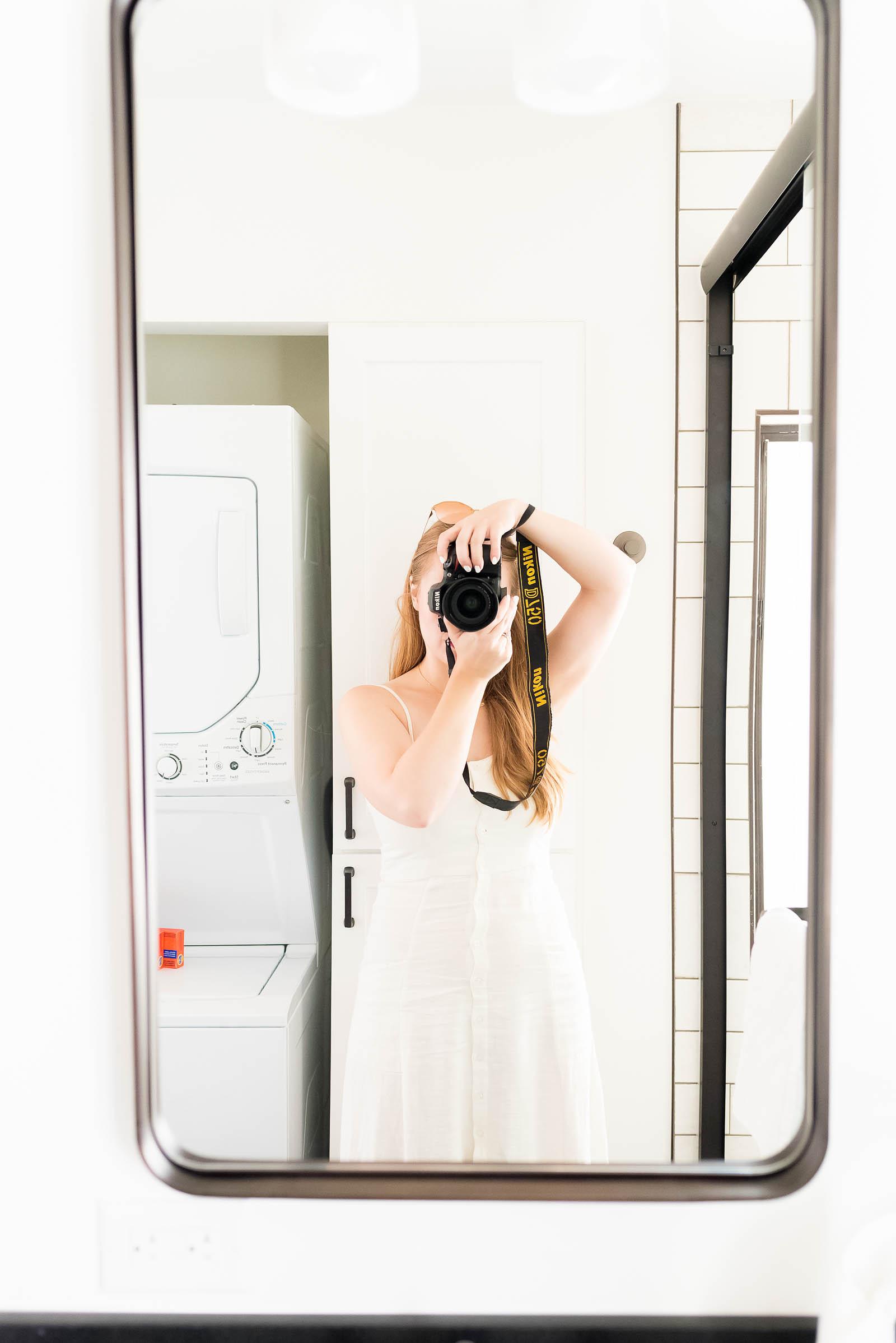 But I am a sucker for nicely tiled bathrooms…
And mirror-selfies in nicely tiled bathrooms…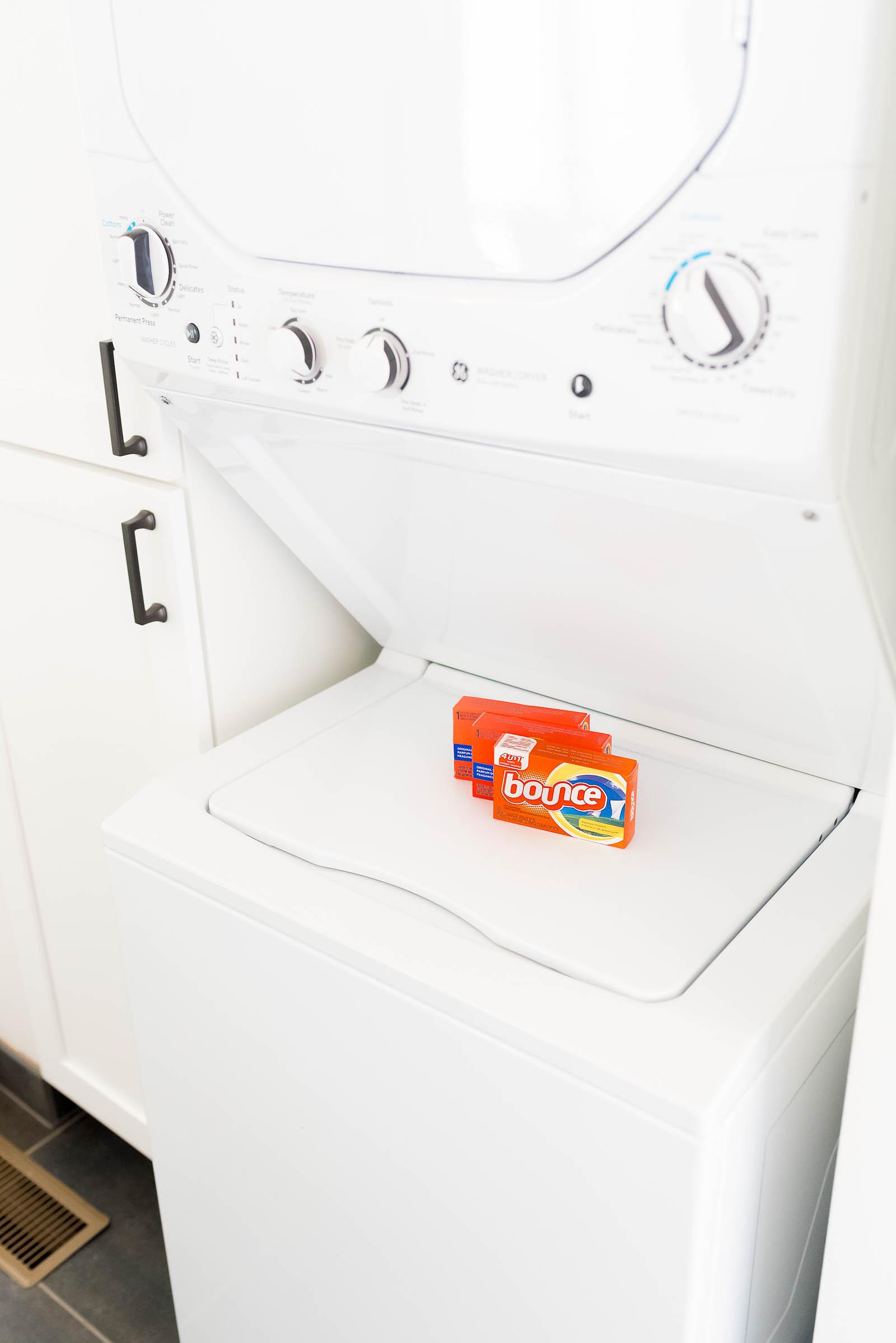 The best part though is that the villas are essentially a whole apartment, complete with a washer and dryer, not to mention detergent!
If you're as klutzy as my family, this is a huge selling point — each of us undoubtedly spills all over themselves at least once every vacation and a washer would come in SERIOUS handy with all the stains we accrue.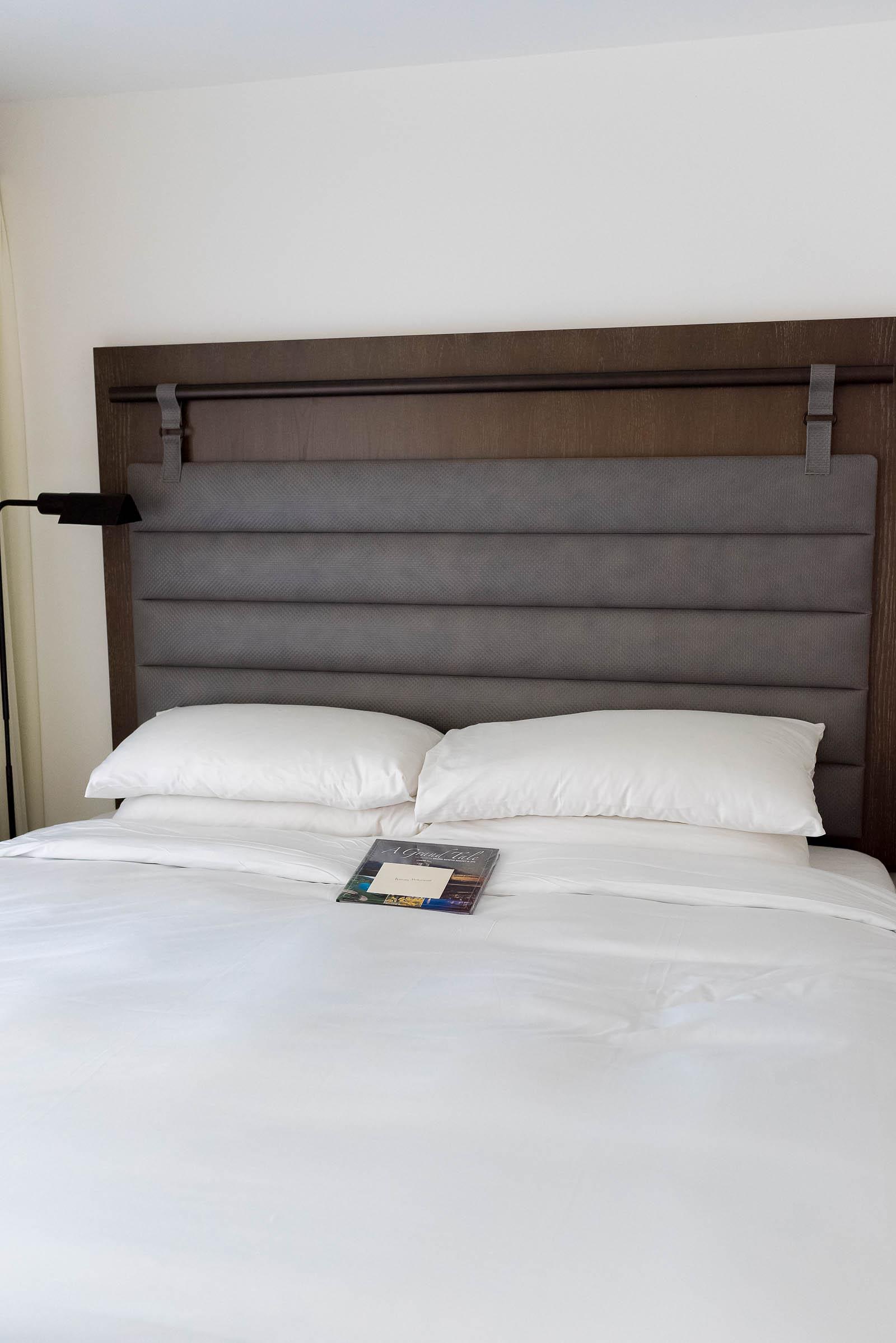 The bedrooms themselves are also lovely though ours were on the first floor so I wasn't able to do them justice in the photos (too dark).
But I cannot say enough about how comfortable this bed was — all fluffy and cozy like all good resort beds should be.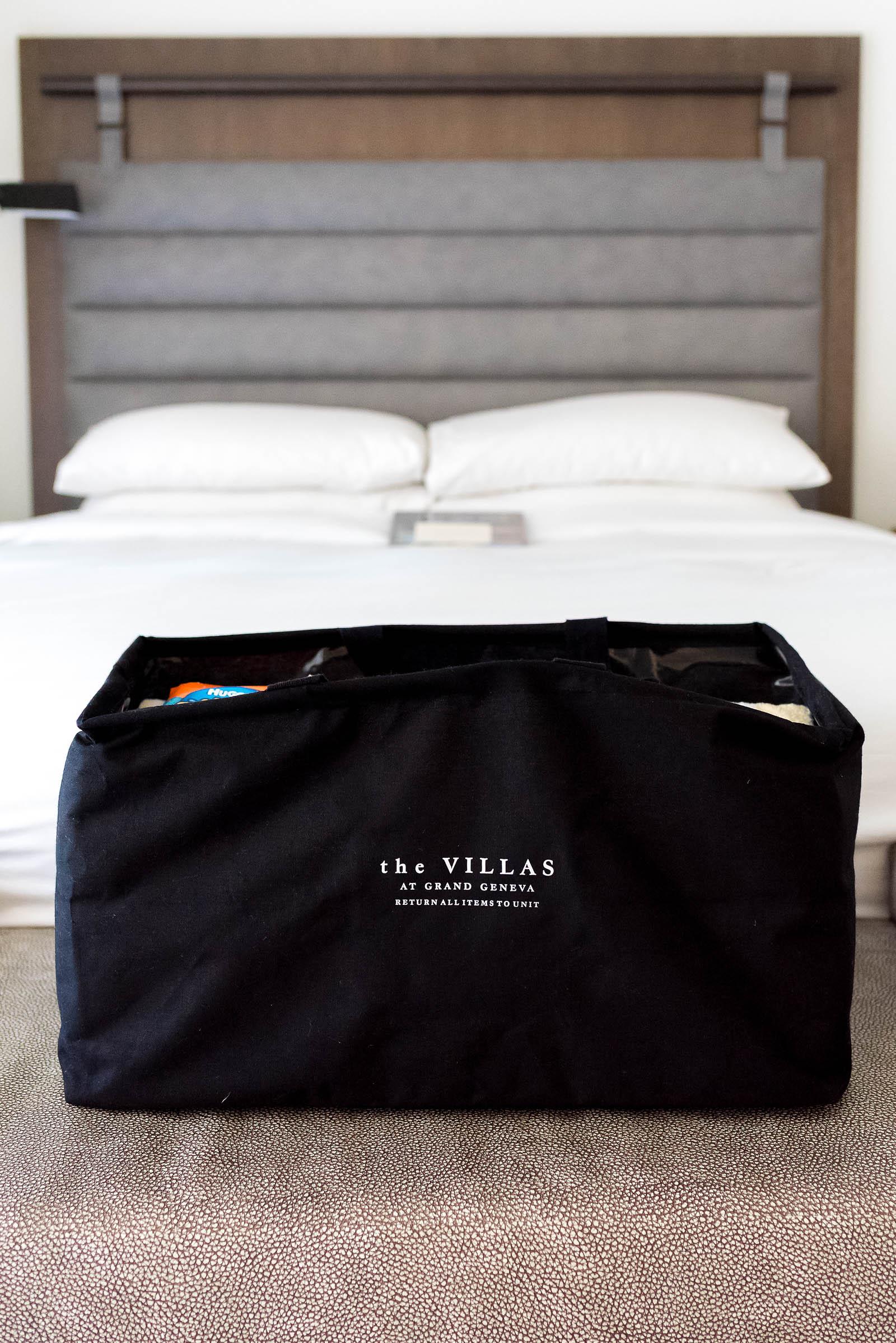 And we were also supplied with a great villa pool tote…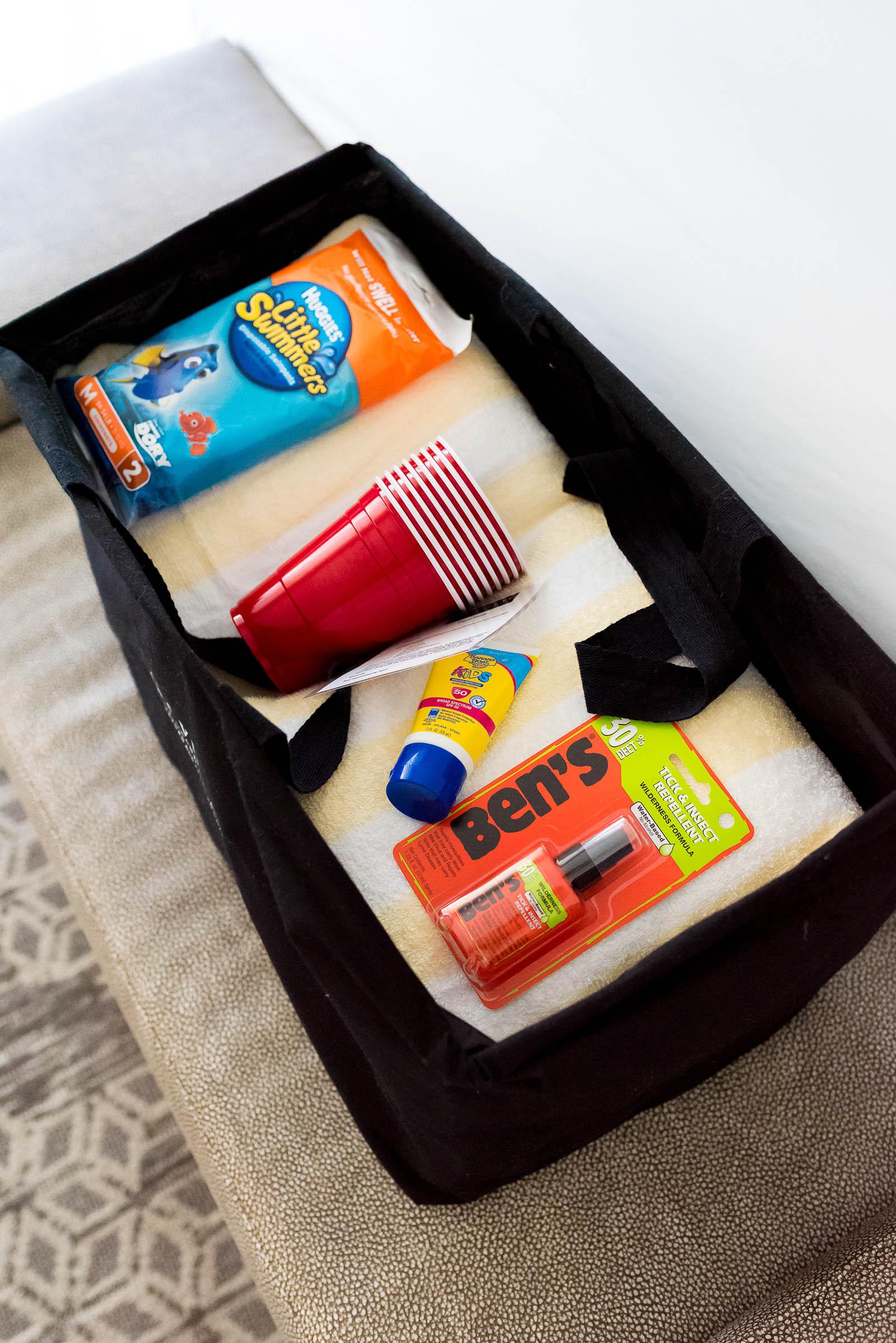 complete with bug spray, sunscreen, towels, solo cups, and waterproof diapers… you know, all the essentials for a really awesome Wisconsin weekend!
Personally I think a pair of Finding Dory Little Swimmers would kill it in an outfit post, don't you?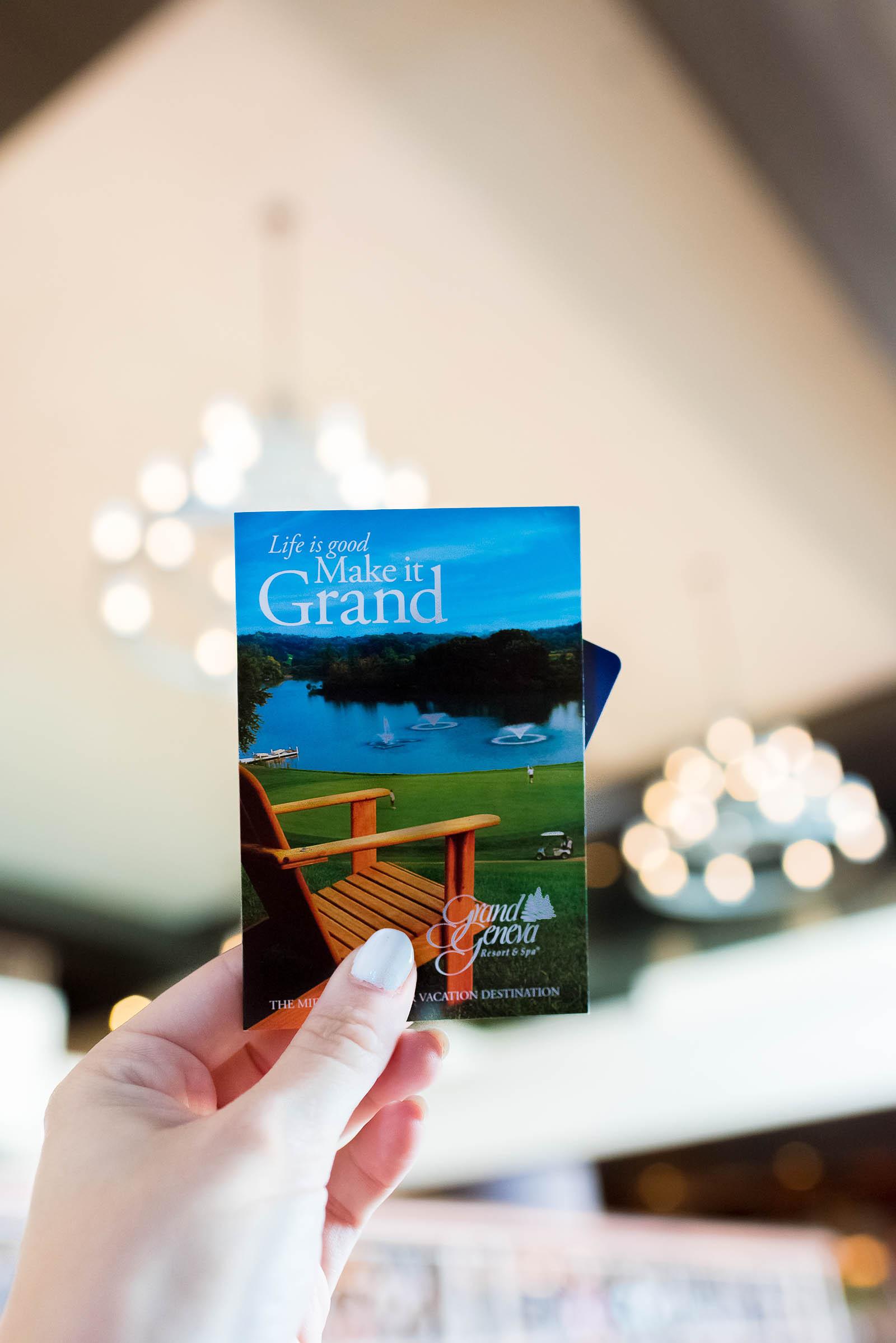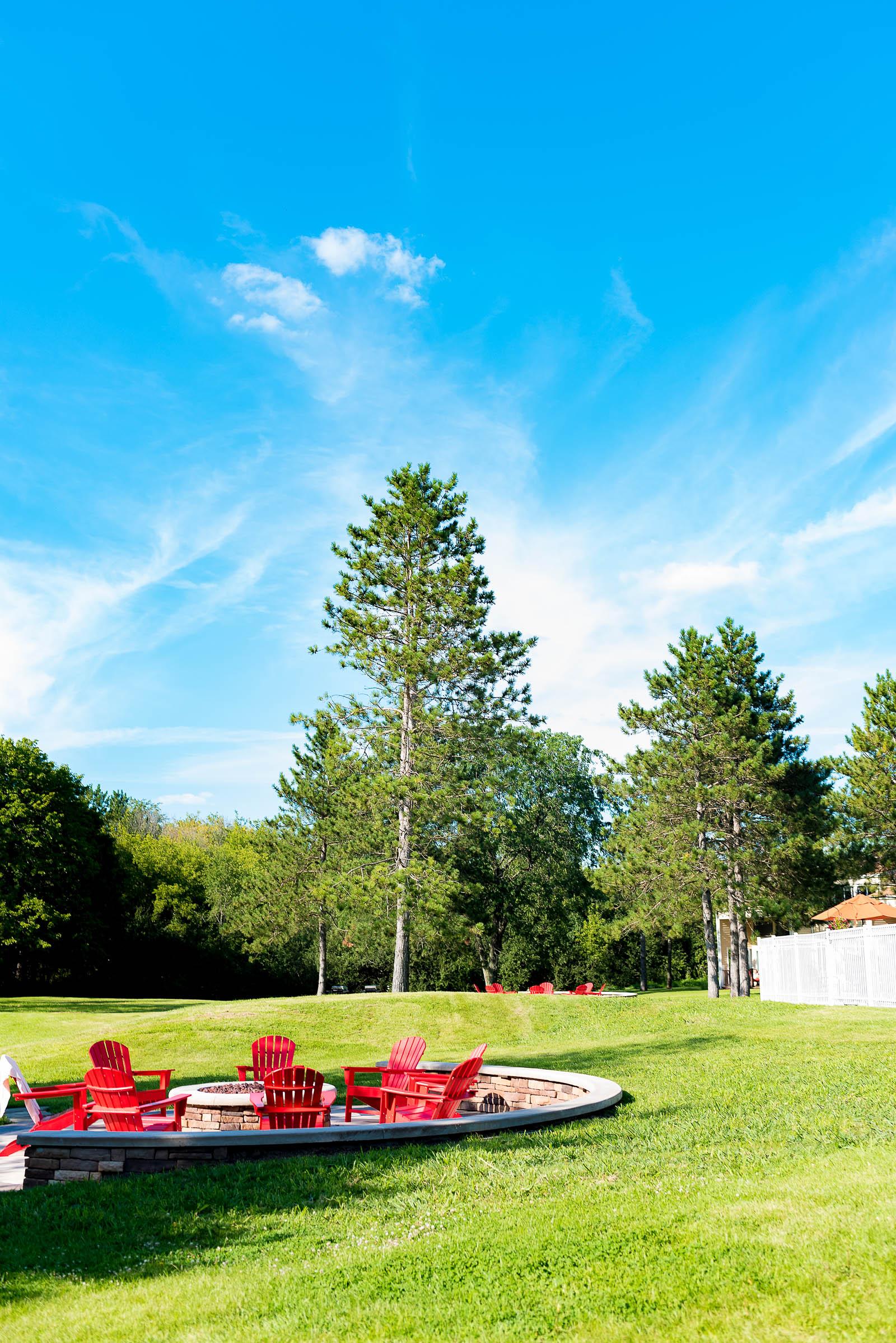 Villas also have one of the best benefits you can get at the Grand Geneva — a private pool and lawn area complete with fire pit!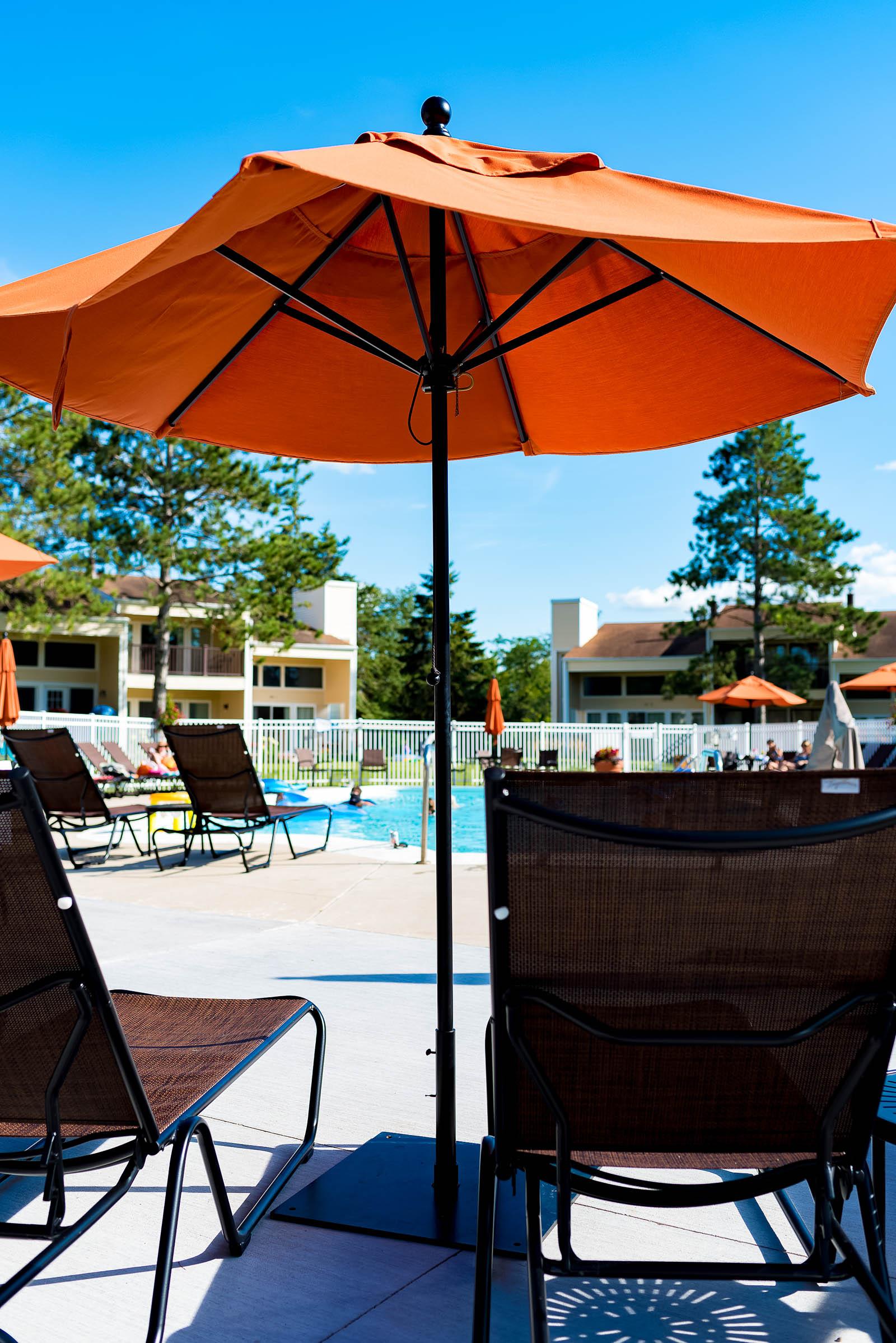 Naturally being bloggers we couldn't resist the private pool…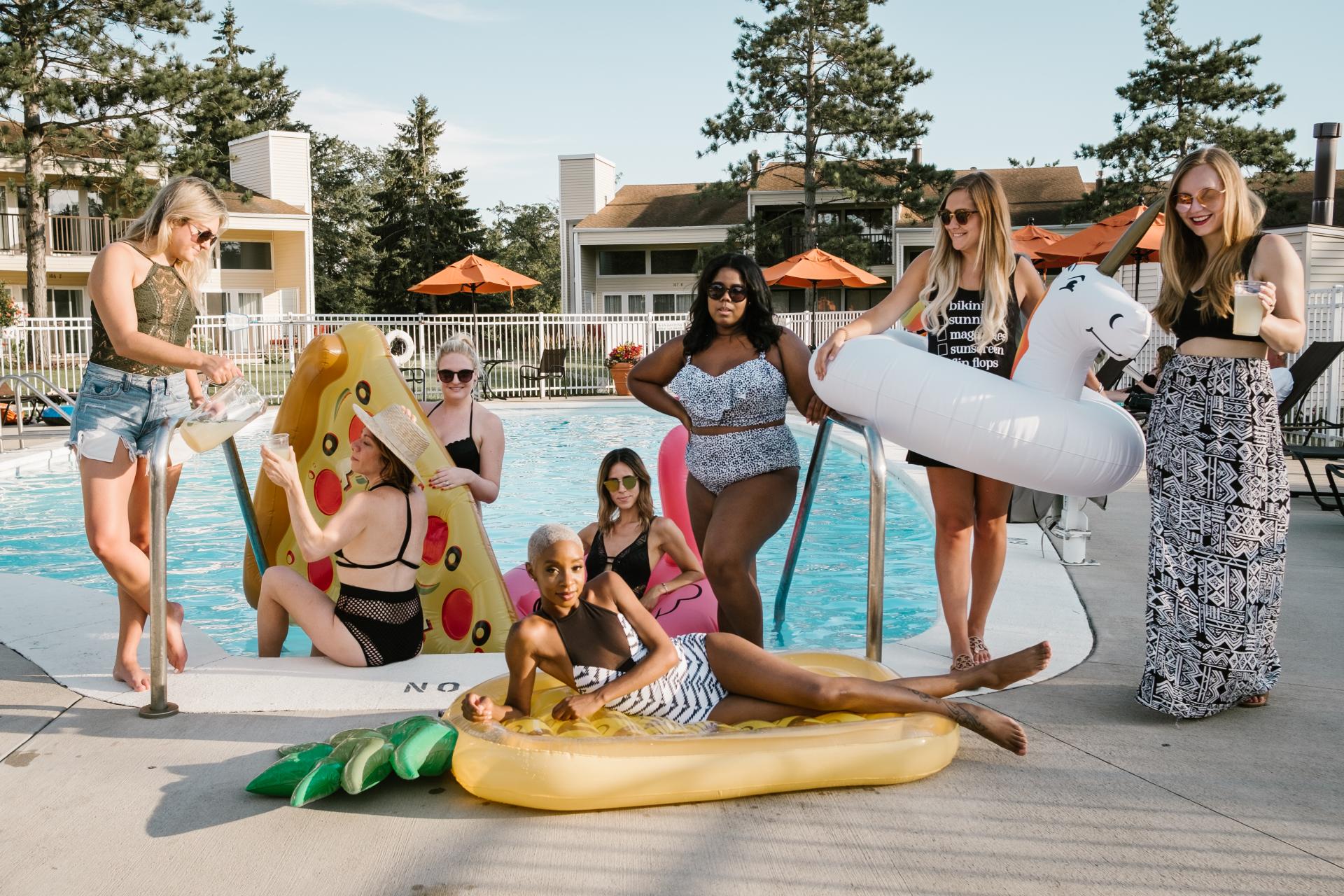 Photo Credit || Ryan Rivas
Which we promptly took-over in all our photo-ready glory!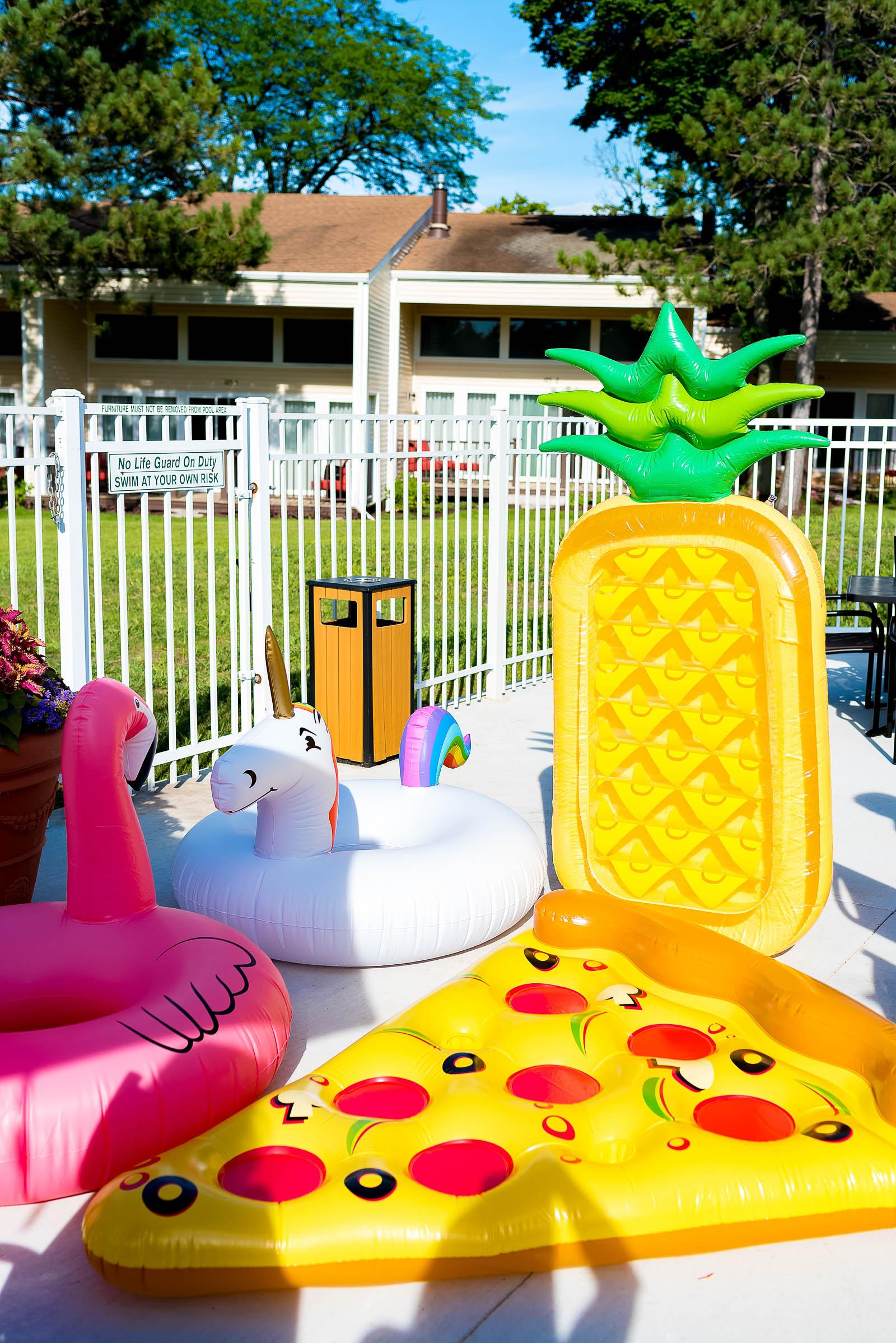 Complete with a few fun inflatable props…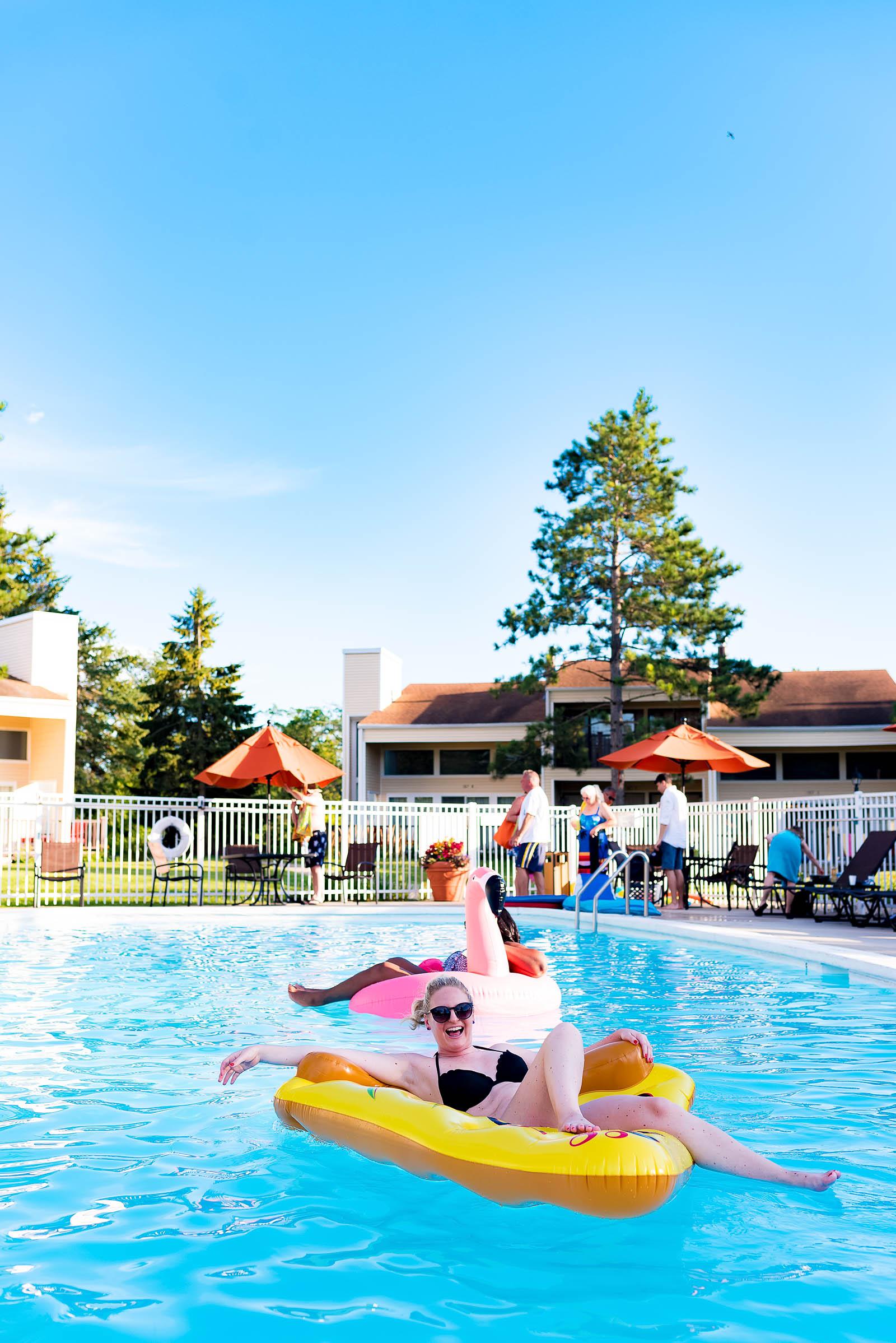 Oh, hey there, Kit!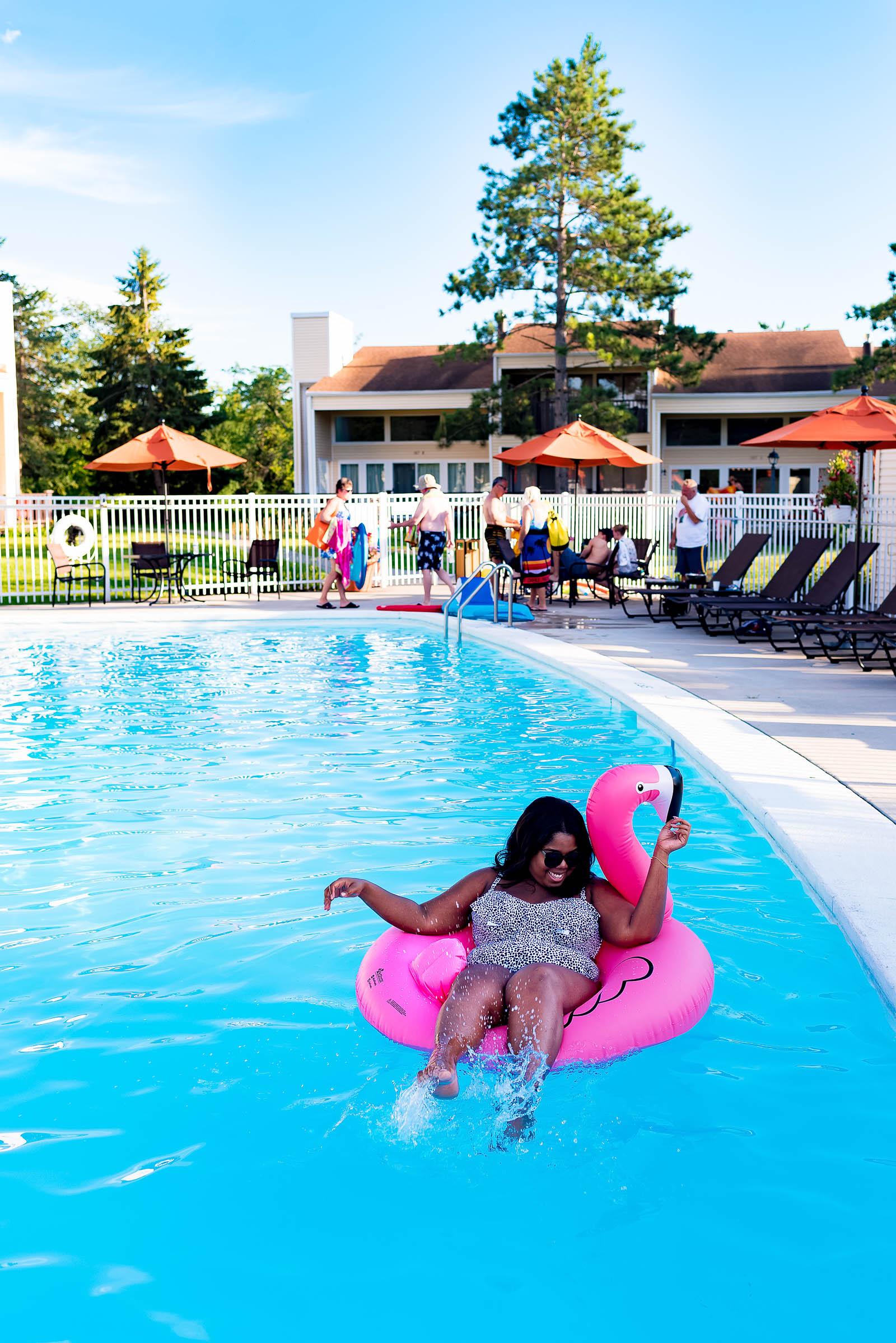 And Hayet!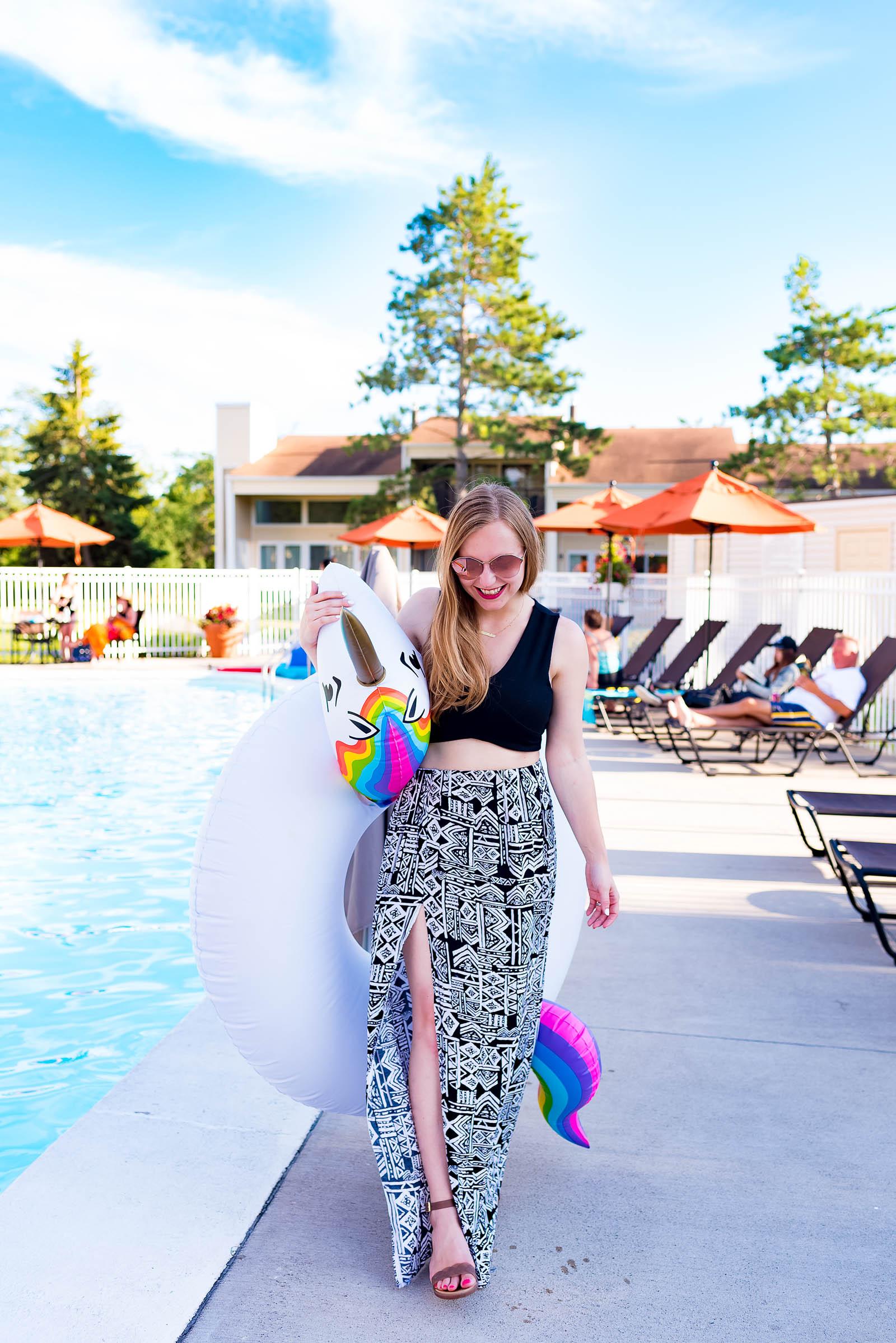 Naturally I couldn't resist the allure of this rainbow unicorn float.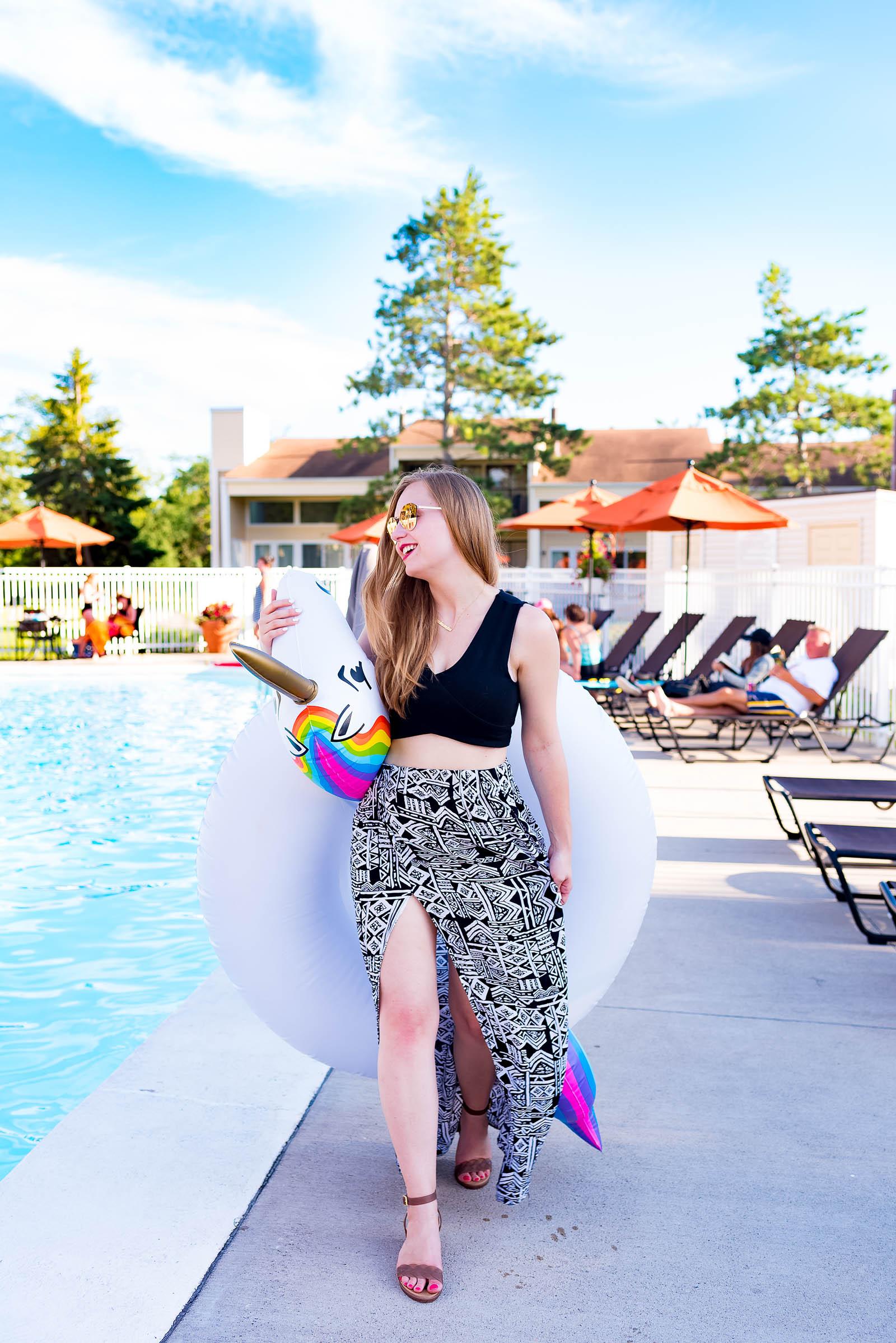 Which may be my favorite outfit accessory TO DATE.
Obviously…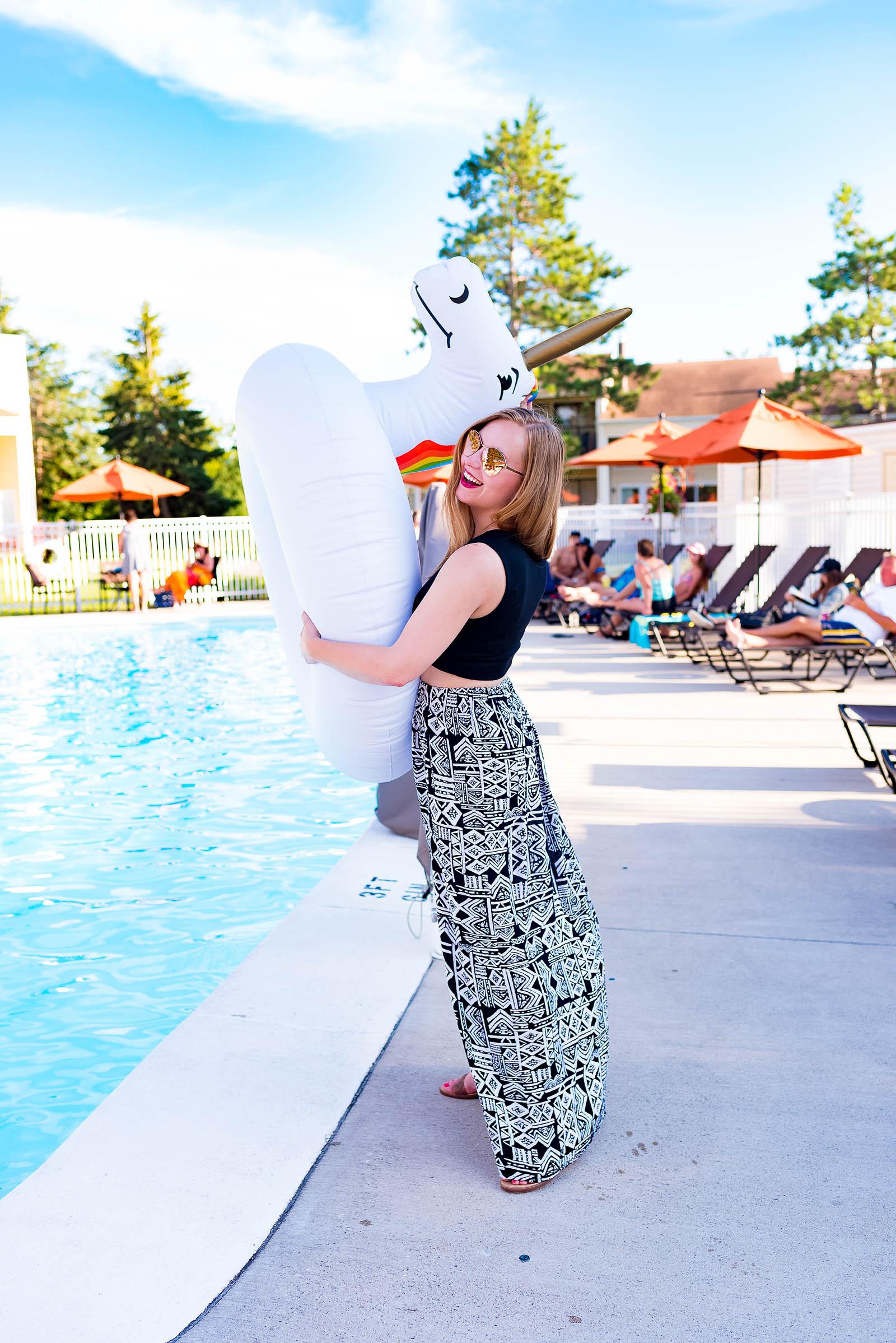 SHOP THE LOOK:
Skirt – Sewn by My Sister (similar) || Top – Old (similar) || Sandals – Crocs || Sunglasses – Prada || Necklace – Etsy || Lips – c/o Burberry Lip Velvet in No. 49 'Intense Plum'
Pool Photos courtesy of Cara of Marvelous in the Midwest
THE FOOD
---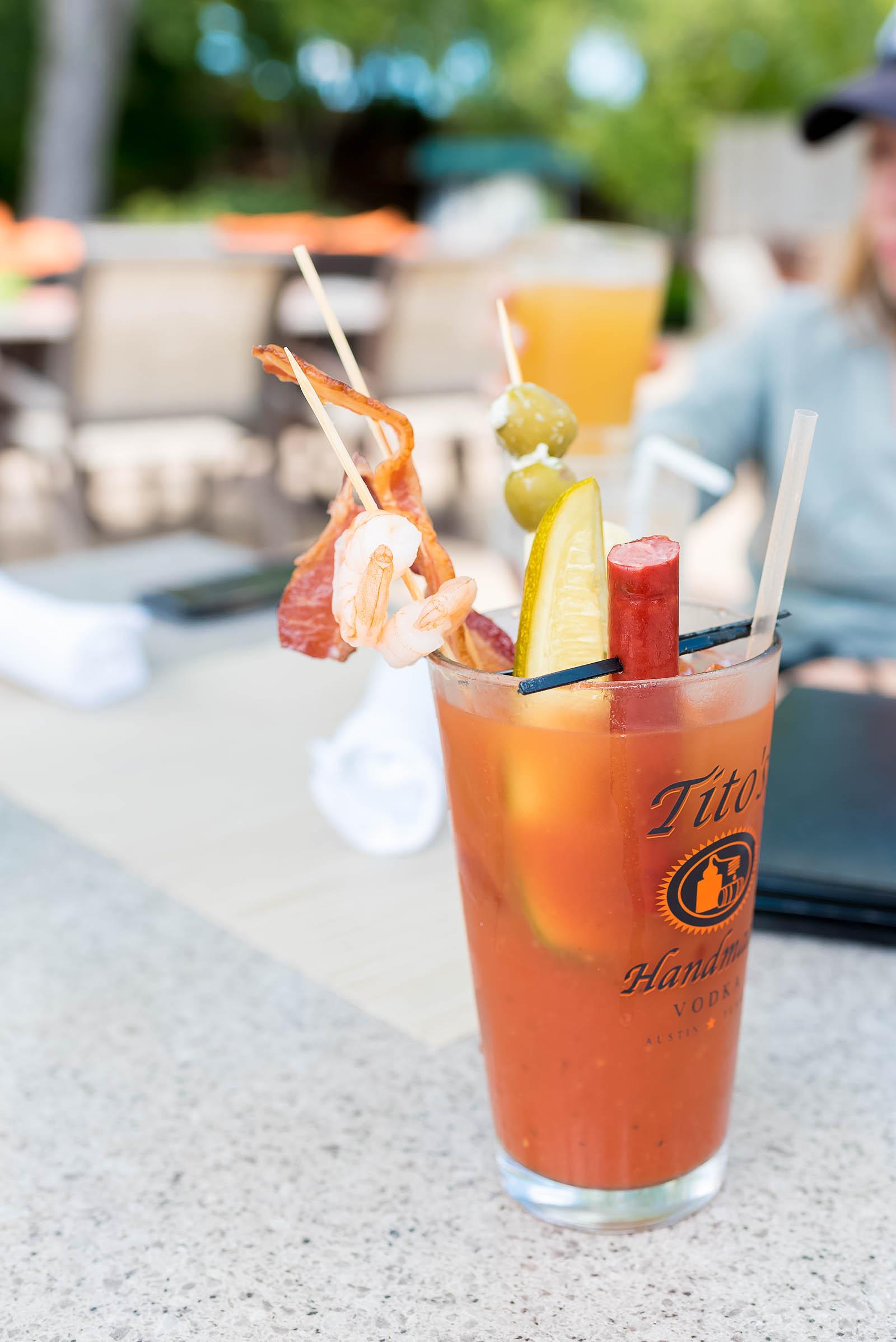 Grand Geneva has quite a few dining options available (perfect for those NOT staying in their own villas) with some delicious options to try.
Like the amazing Bloody Mary Bar at the Links Bar & Grill.
Which also has some AH-MAZING cheese curds.
Which you should absolutely order because you're in Wisconsin and that's just what. you. do.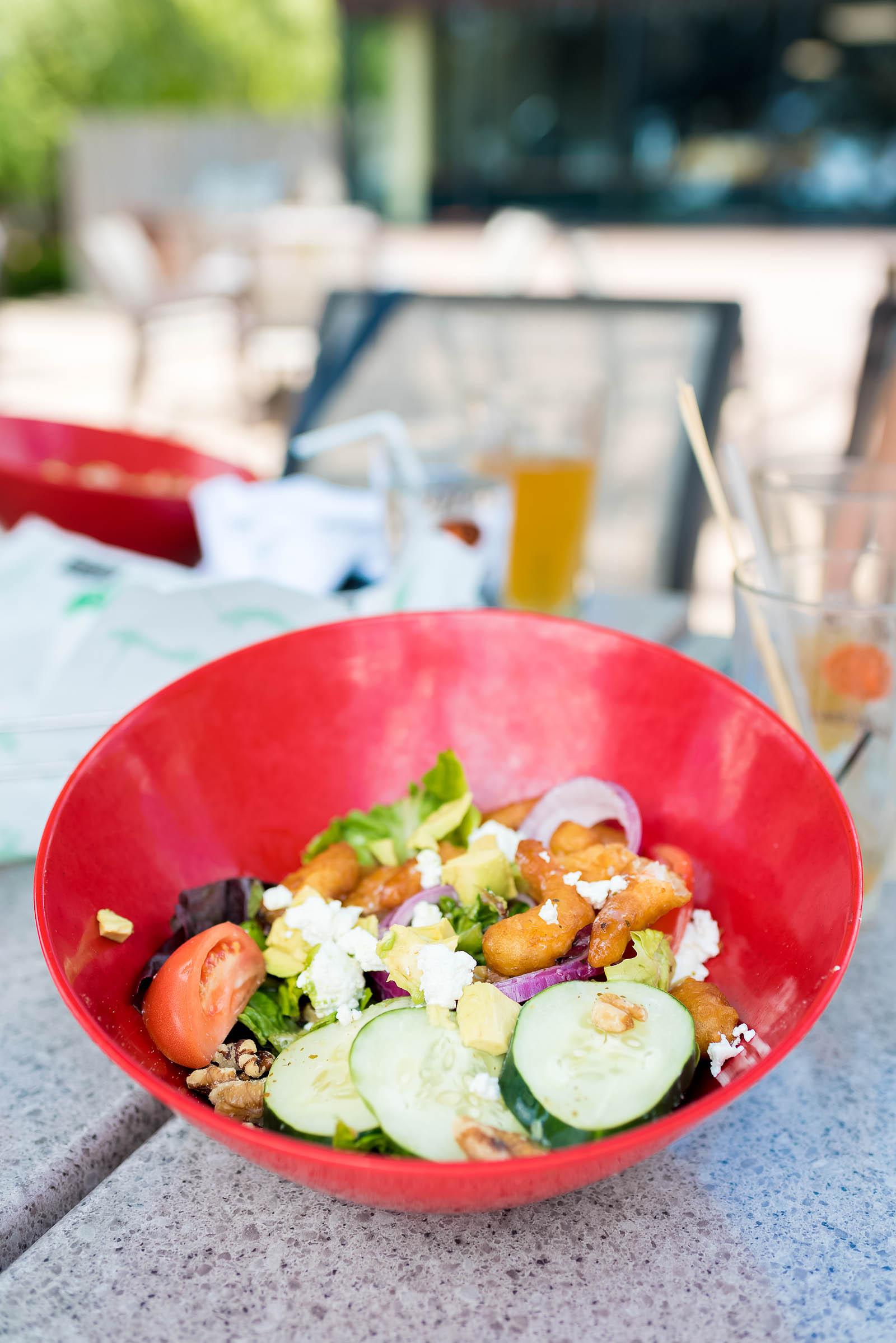 But their salads are also delicious — and help to balance out the pounds of cheese curds you'll undoubtedly be consuming.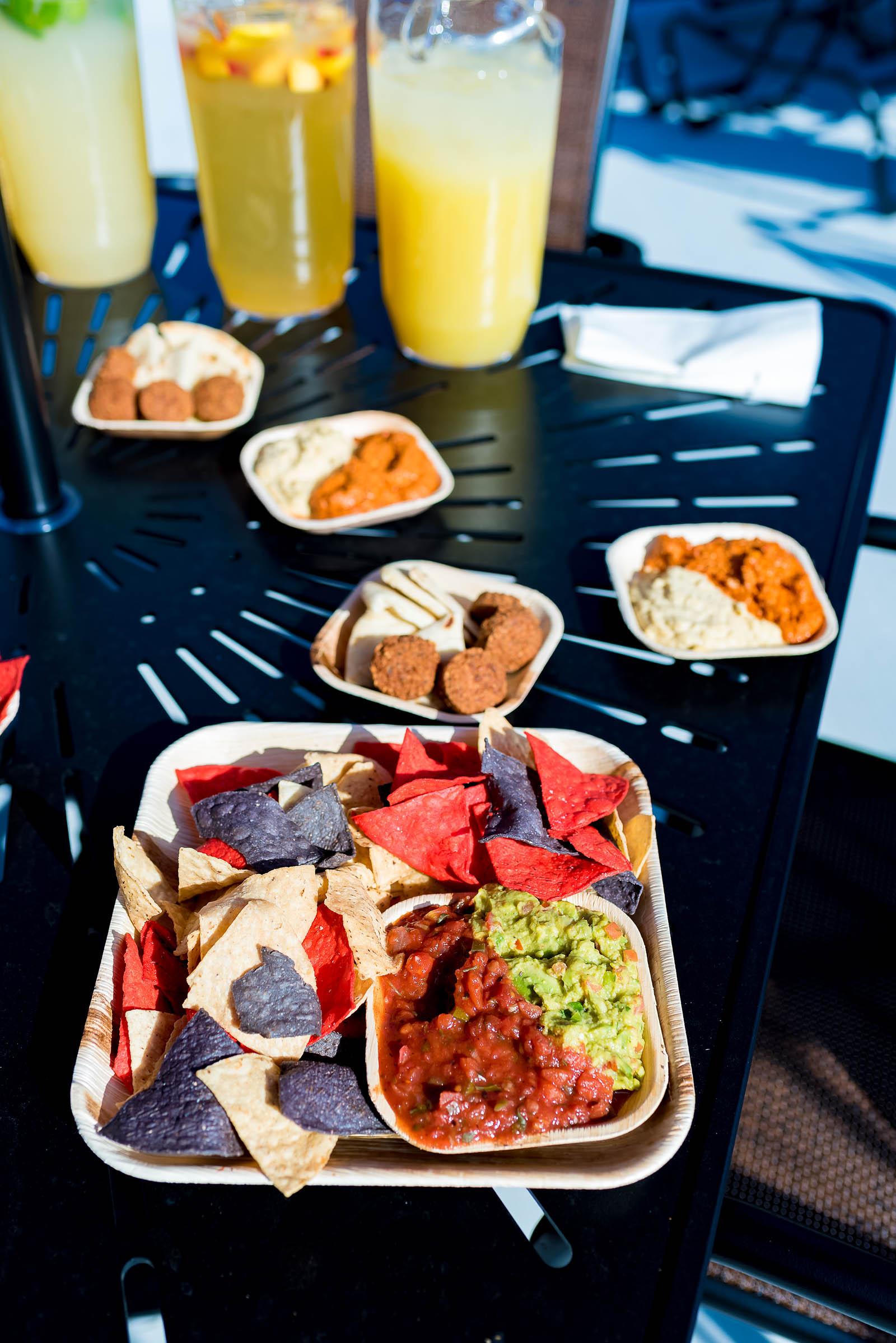 The private villa pool also offers a great selection of nibbles like chips & guac and falafel & hummus.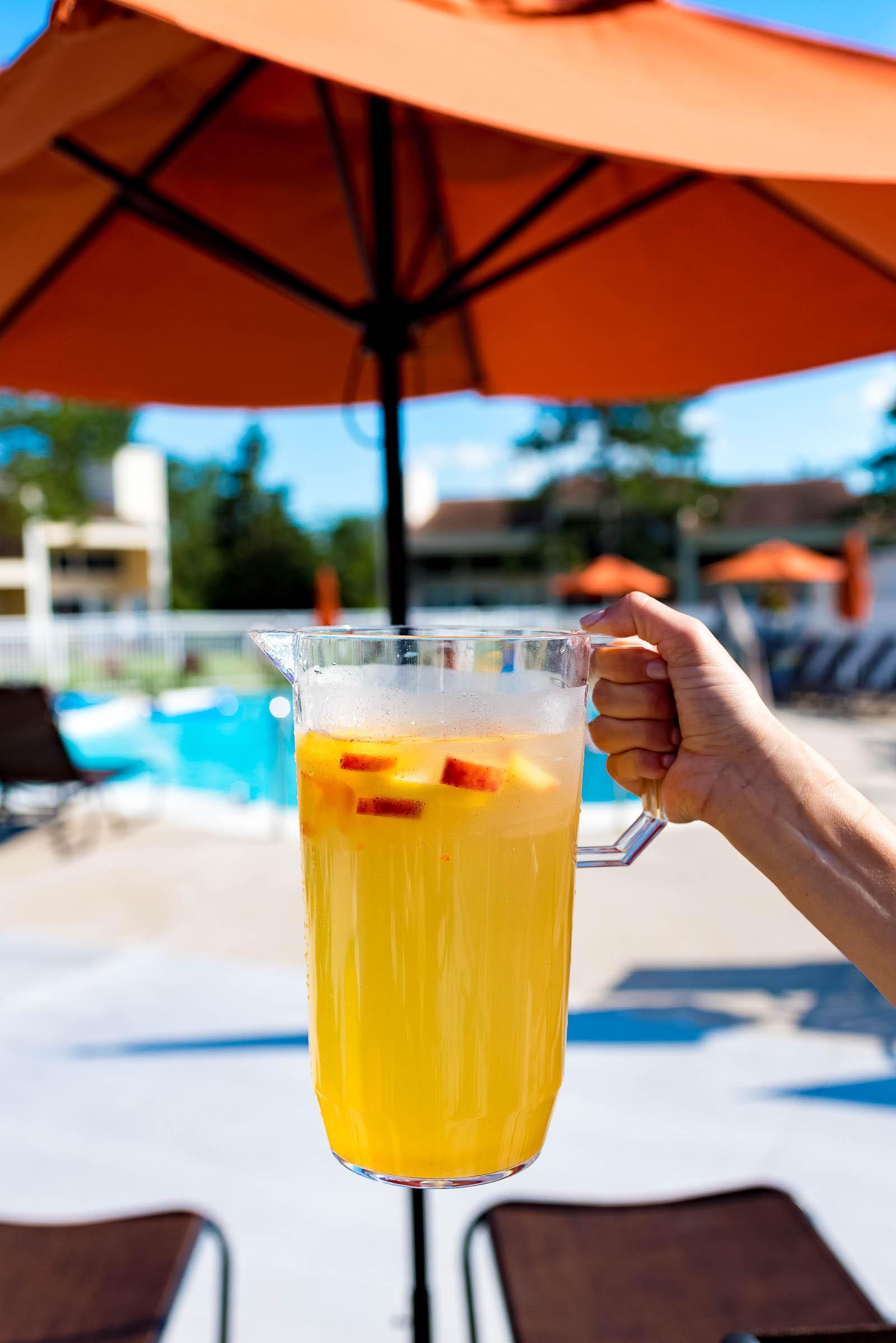 As well as some seriously delicious pitchers of sangria, margaritas, and mojitos!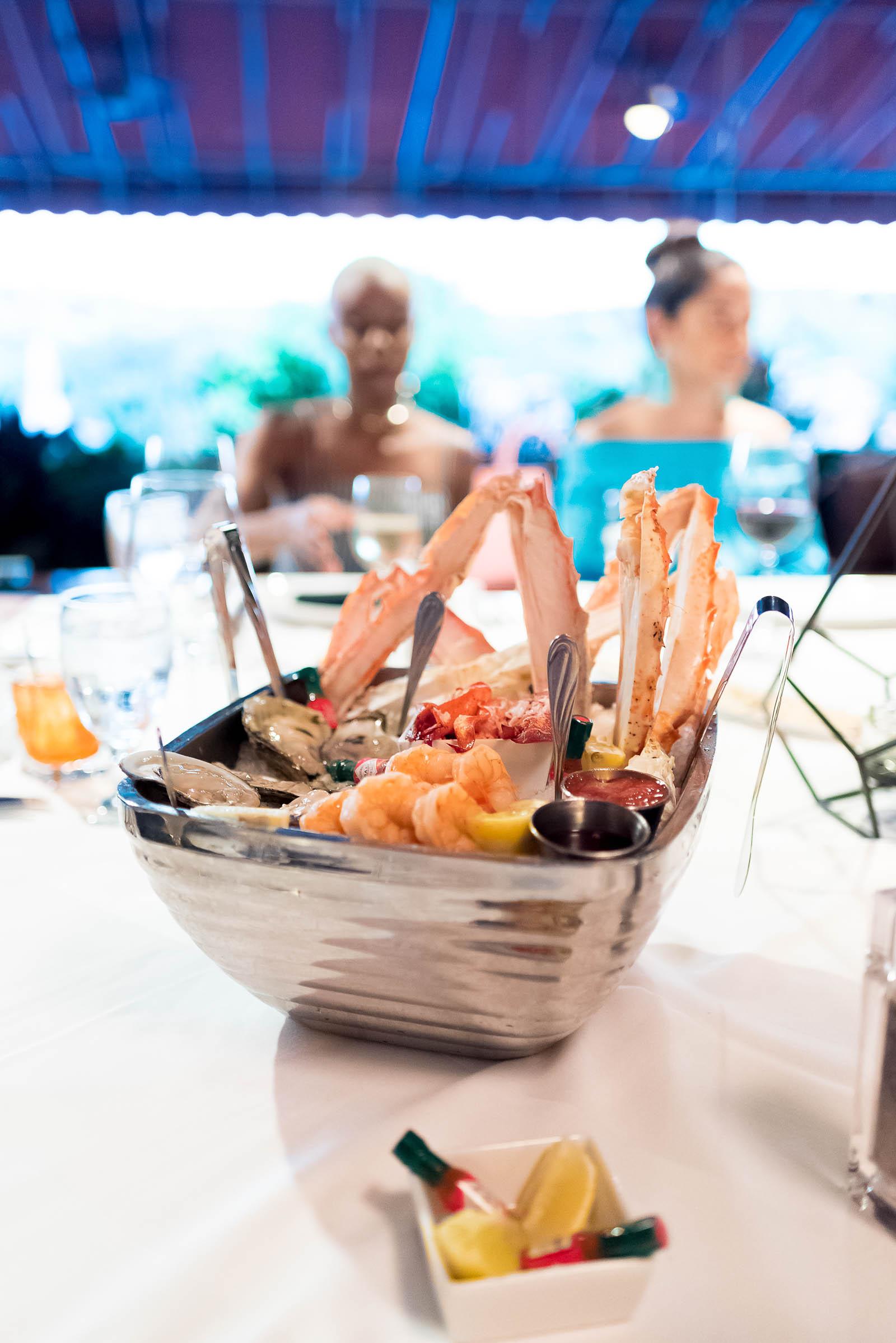 But if you're interested in fine dining there's no better place to try than the Geneva ChopHouse.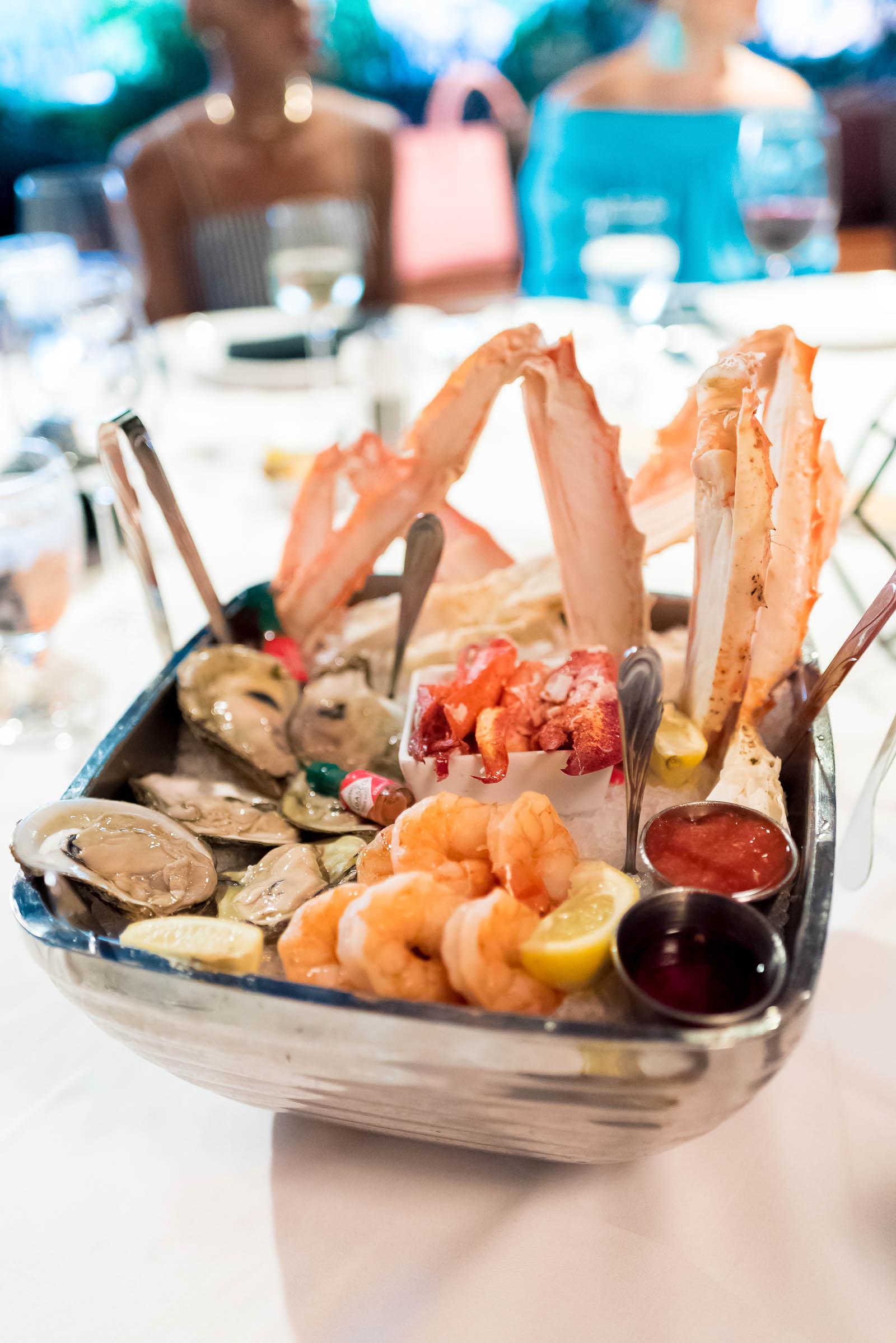 Their seafood platter alone is worth the drive!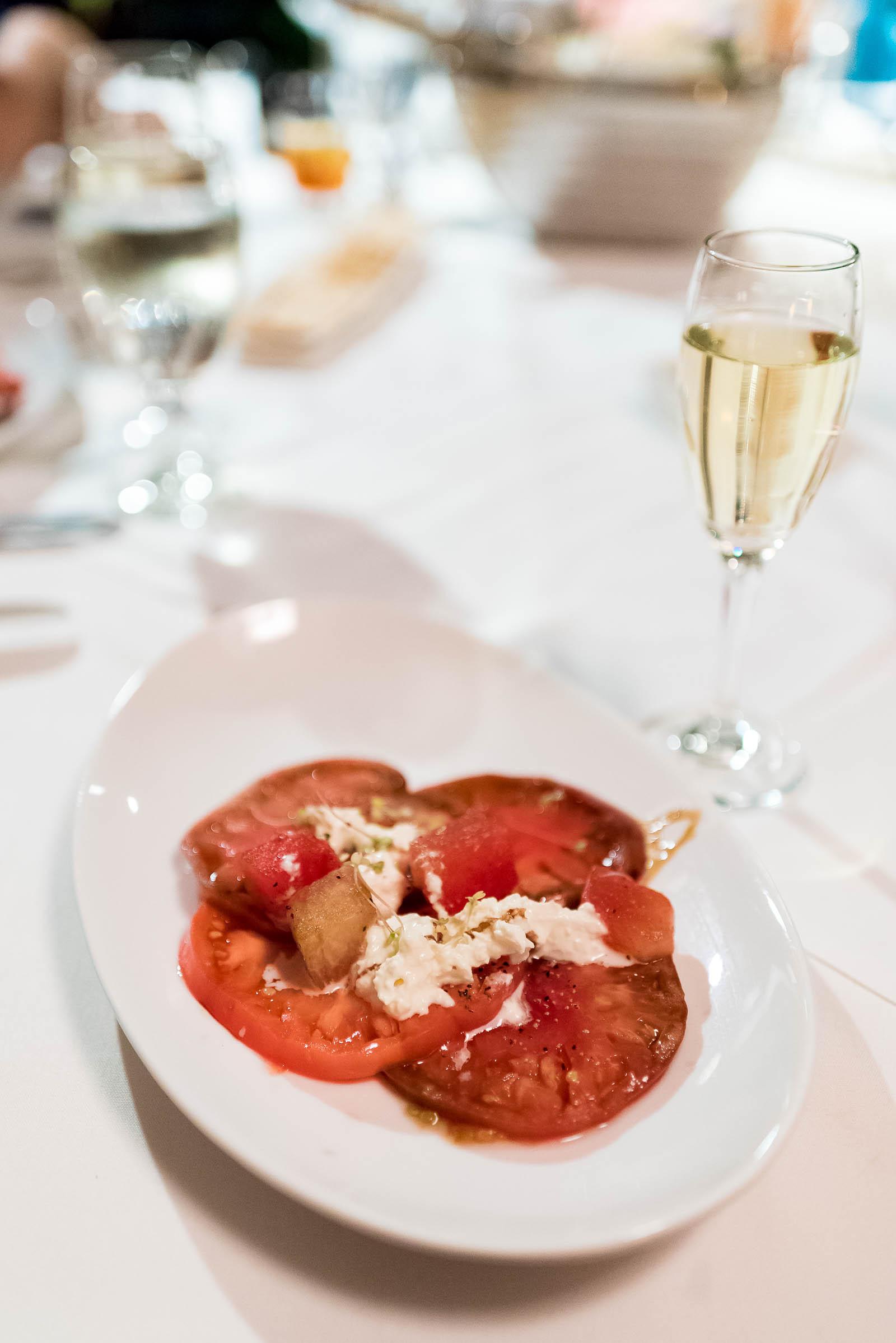 I also cannot recommend enough that you try the heirloom tomato, watermelon and burrata salad,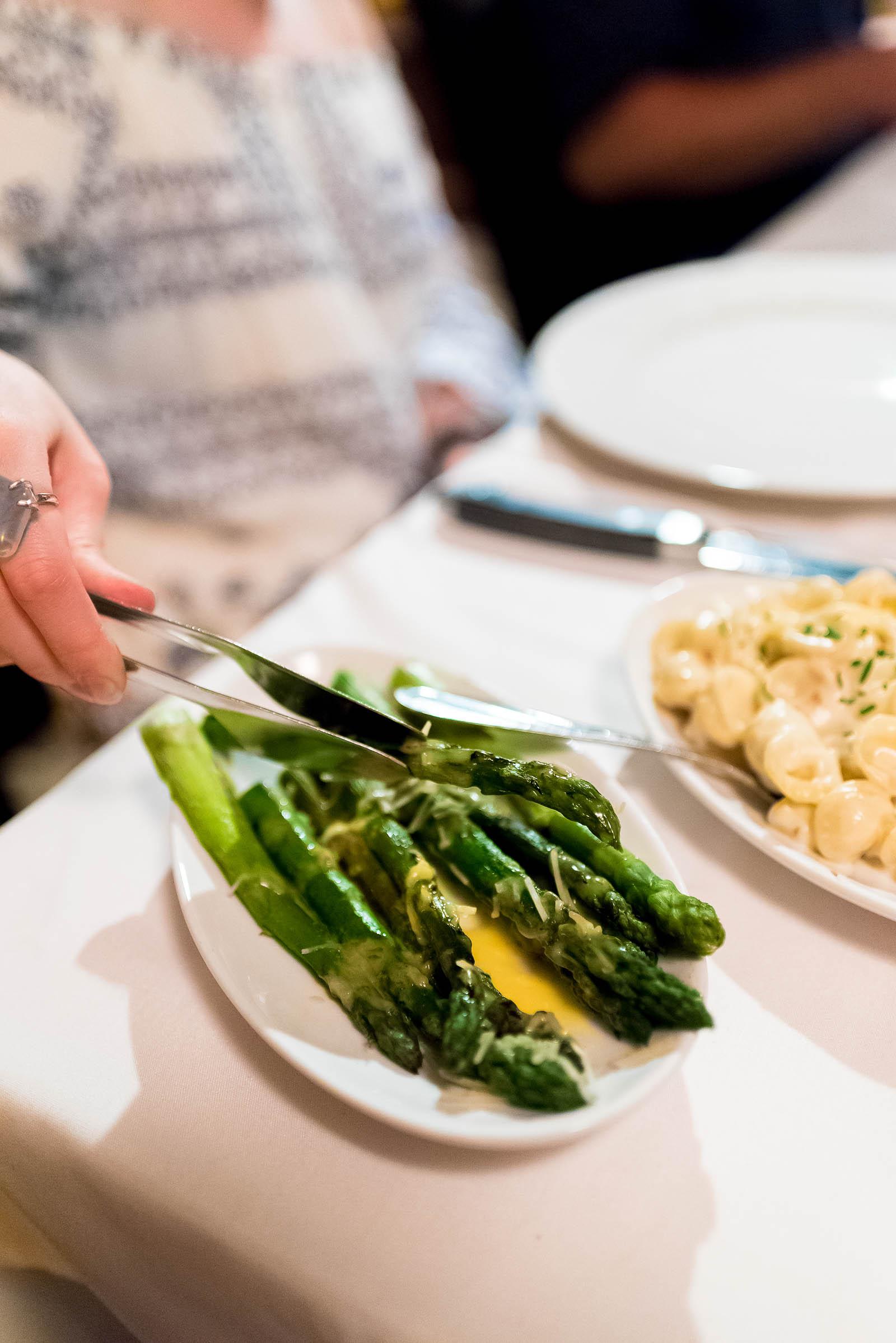 the poached asparagus side,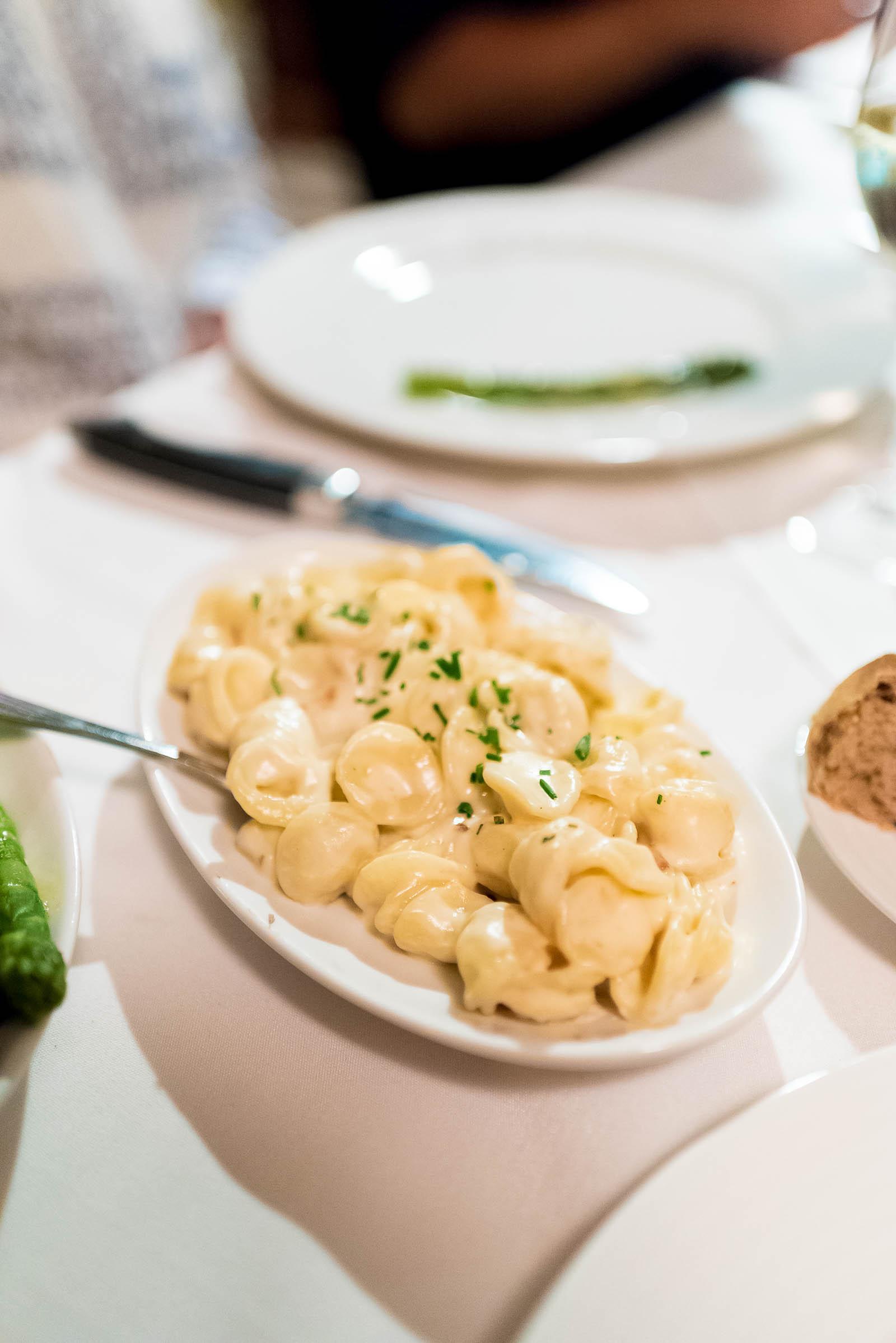 and the house-made mac 'n cheese which you can get with or without lobster.
(Anyone else always find themselves ordering only side dishes at a steakhouse? Is it just me?)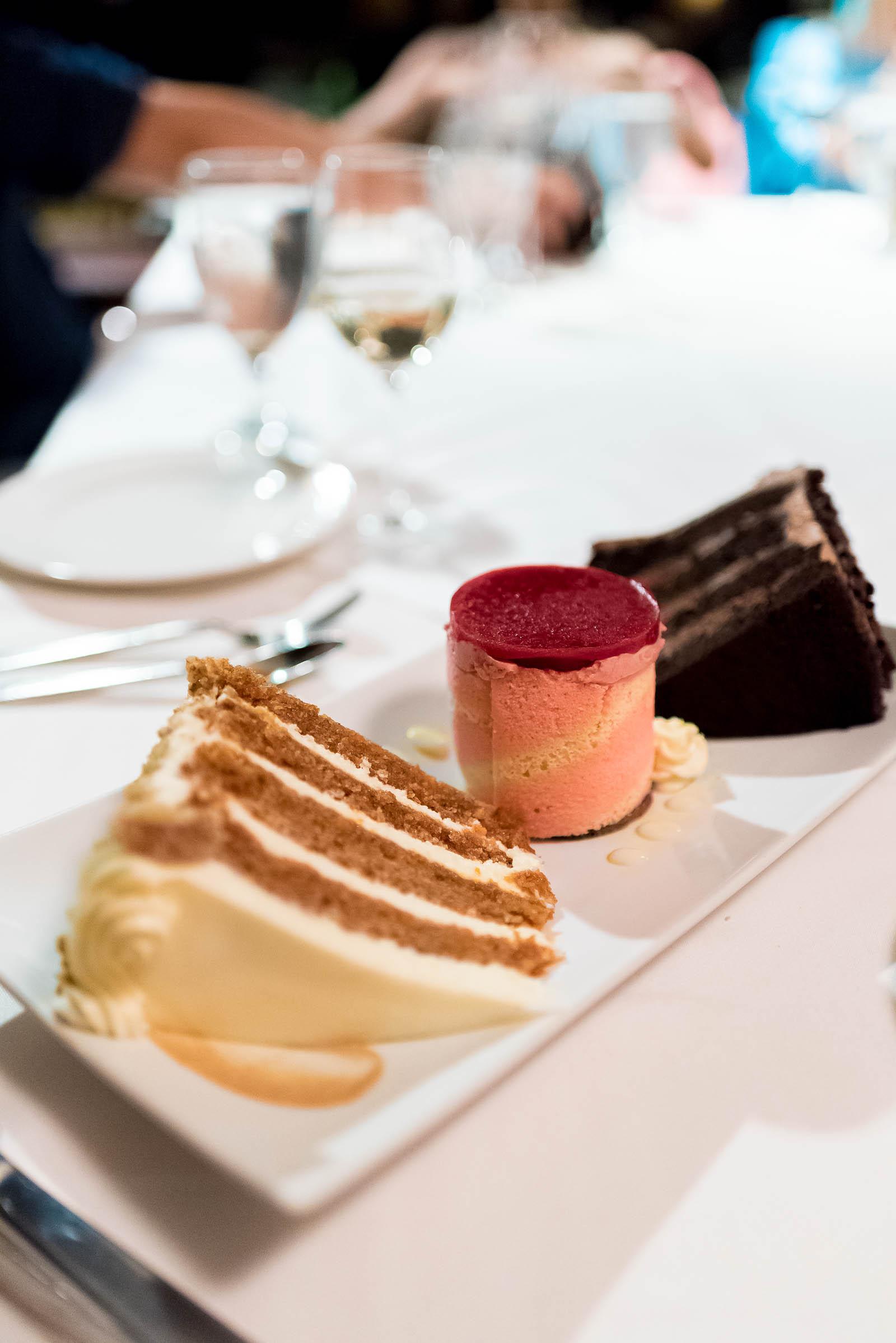 Make sure to save room for their drool-worthy dessert selections too!
We were also lucky enough to have a gourmet breakfast delivered to us the next morning which I immediately set up on the balcony and enjoyed slowly while listening to the birds chirping in the trees beyond.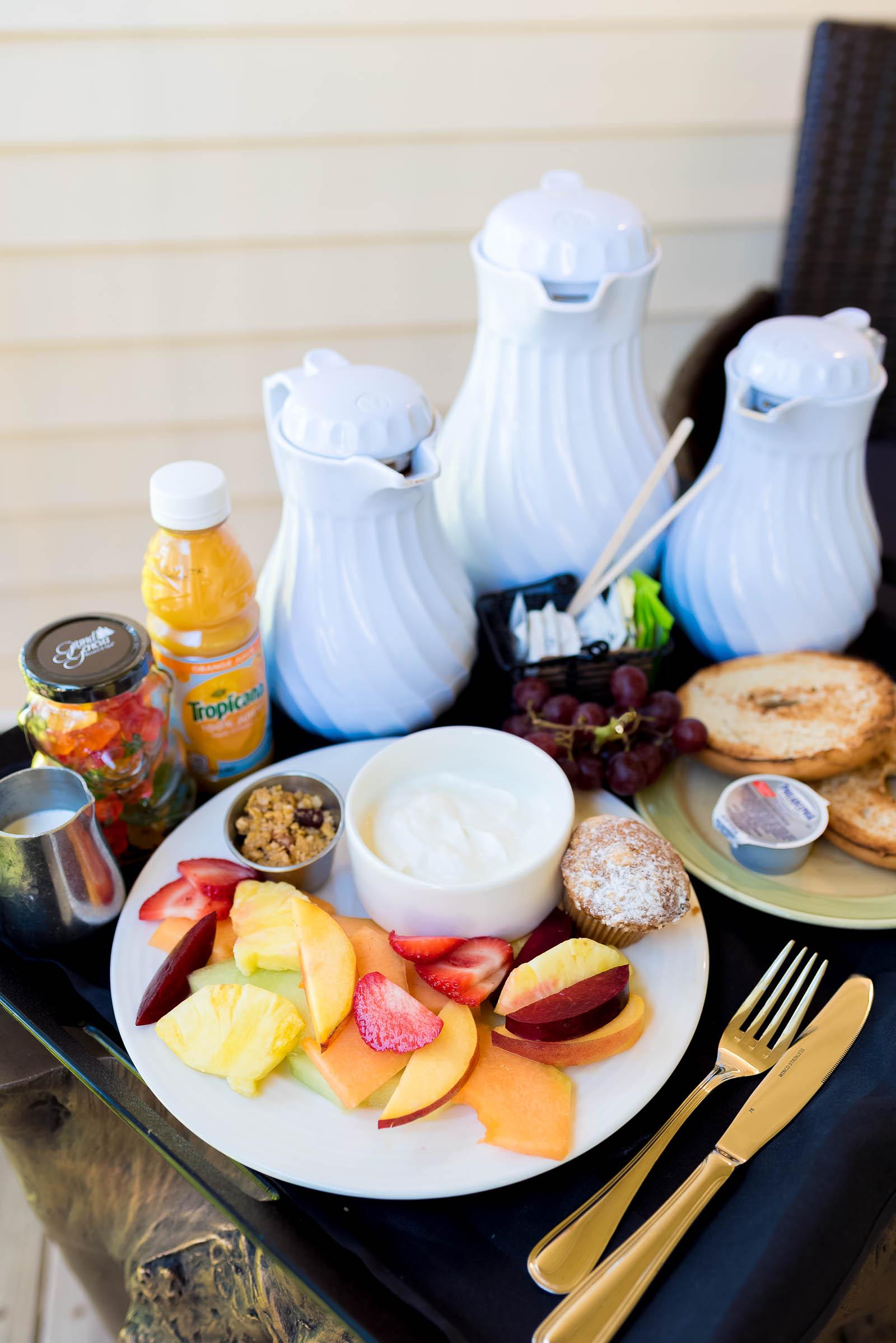 Maybe it's just because I'm a city girl who doesn't get to enjoy breakfast al fresco very often but I found it to be wonderfully relaxing, shmearing cream cheese on my morning bagel outside without abandon or judgement.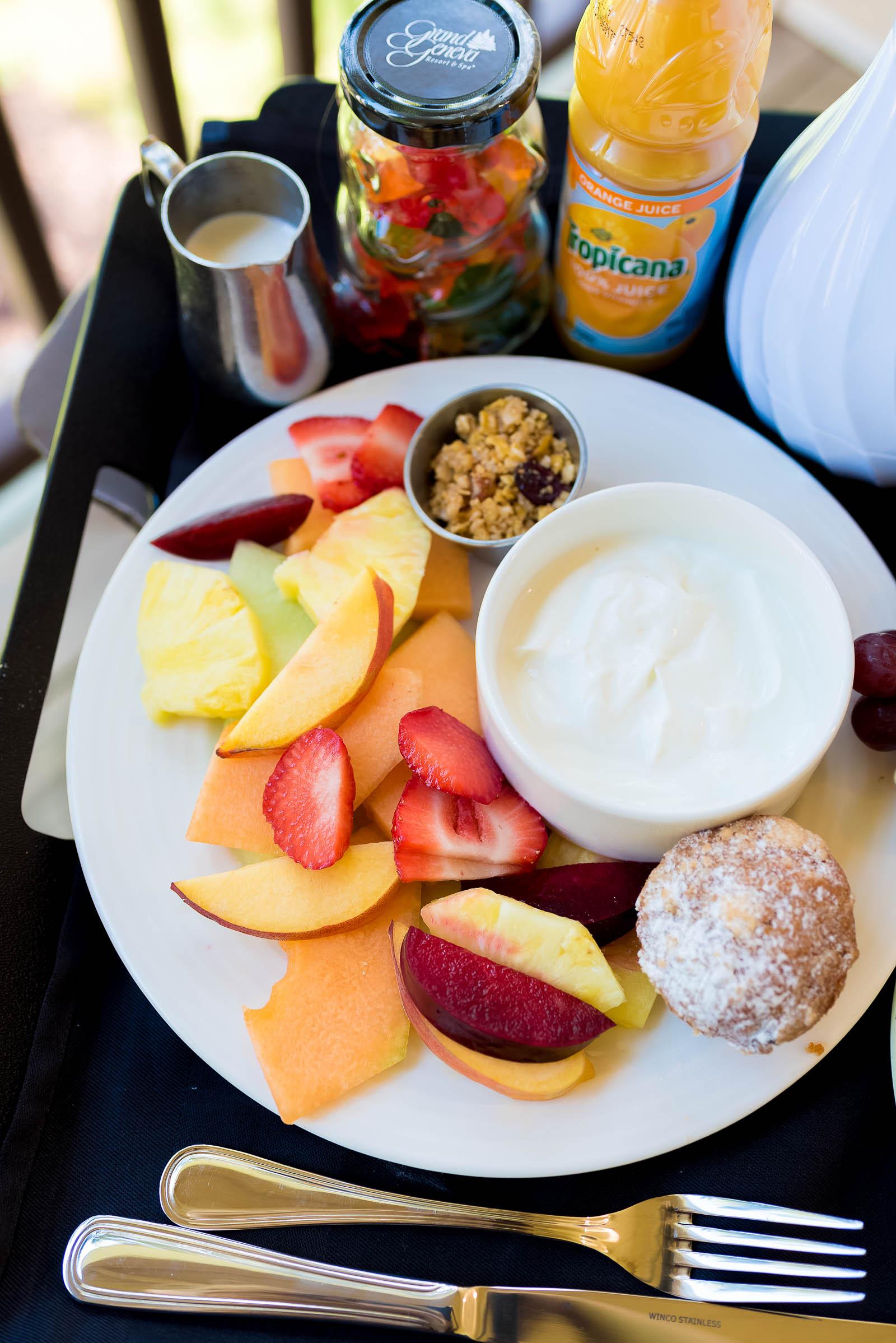 In my pjs no less!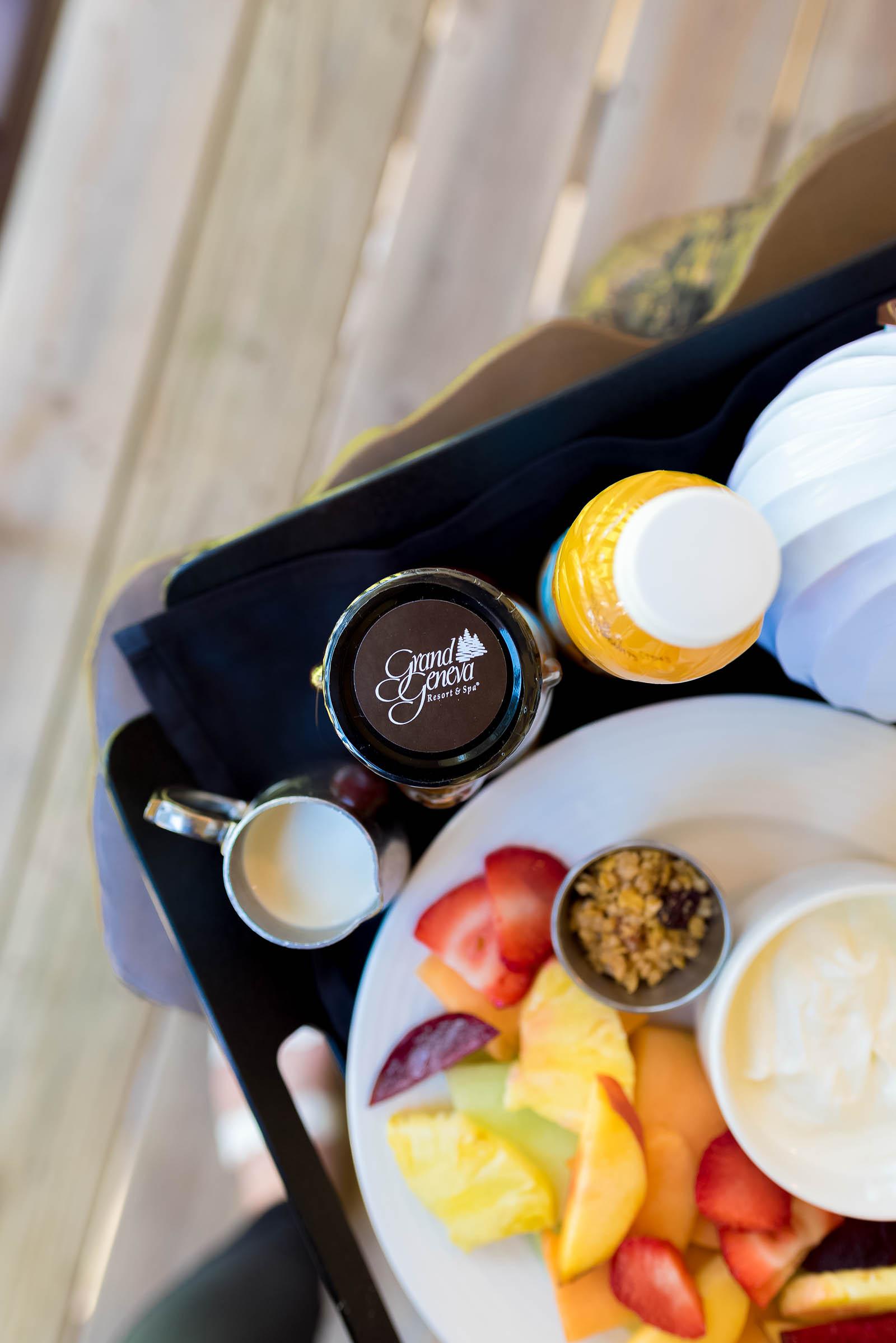 Amenities
---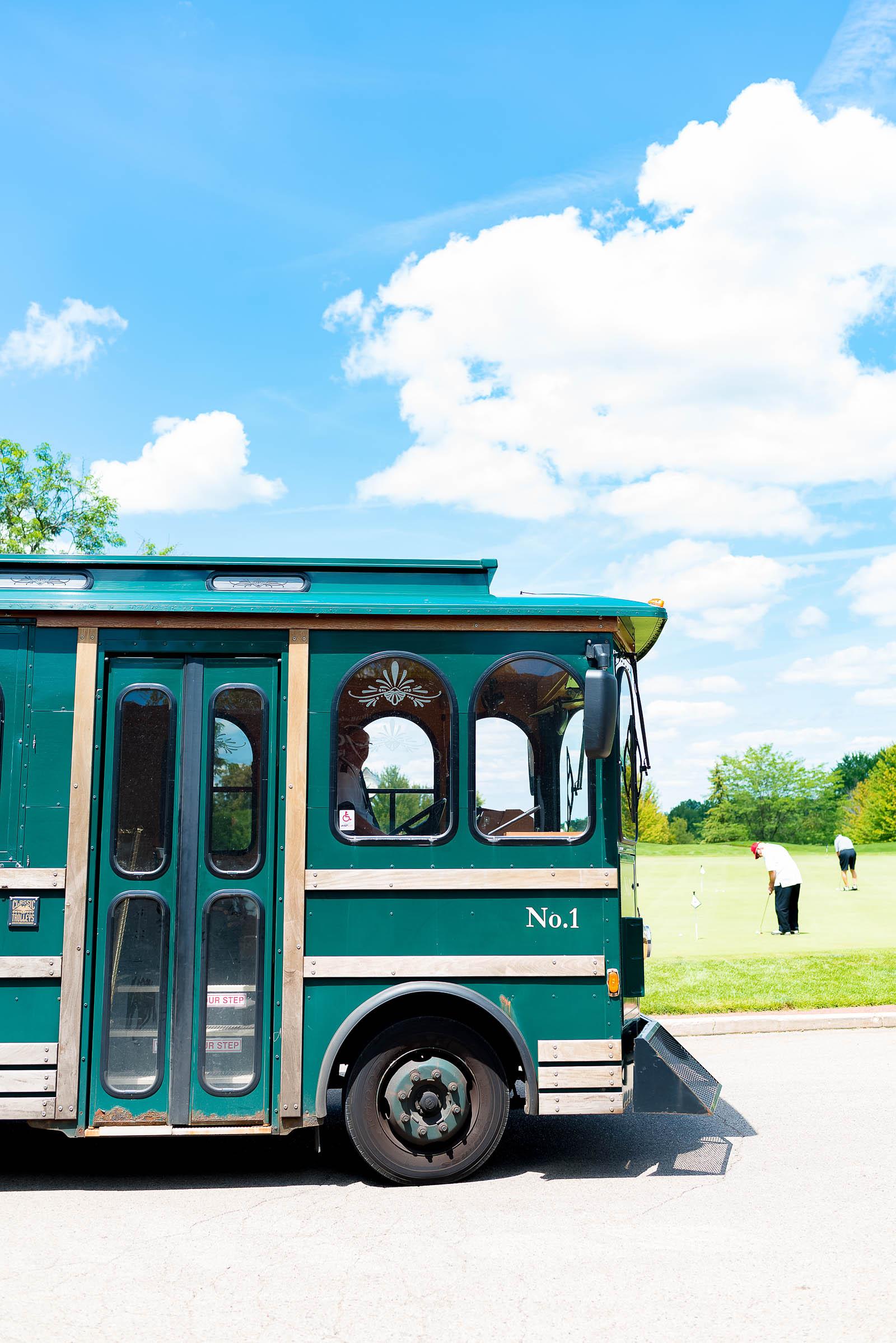 First of all, you DON'T need a car to get around Grand Geneva. They offer a complimentary Trolley for all guests which stops at the adventure center, the spa, the main hotel, the golf center, and the villas!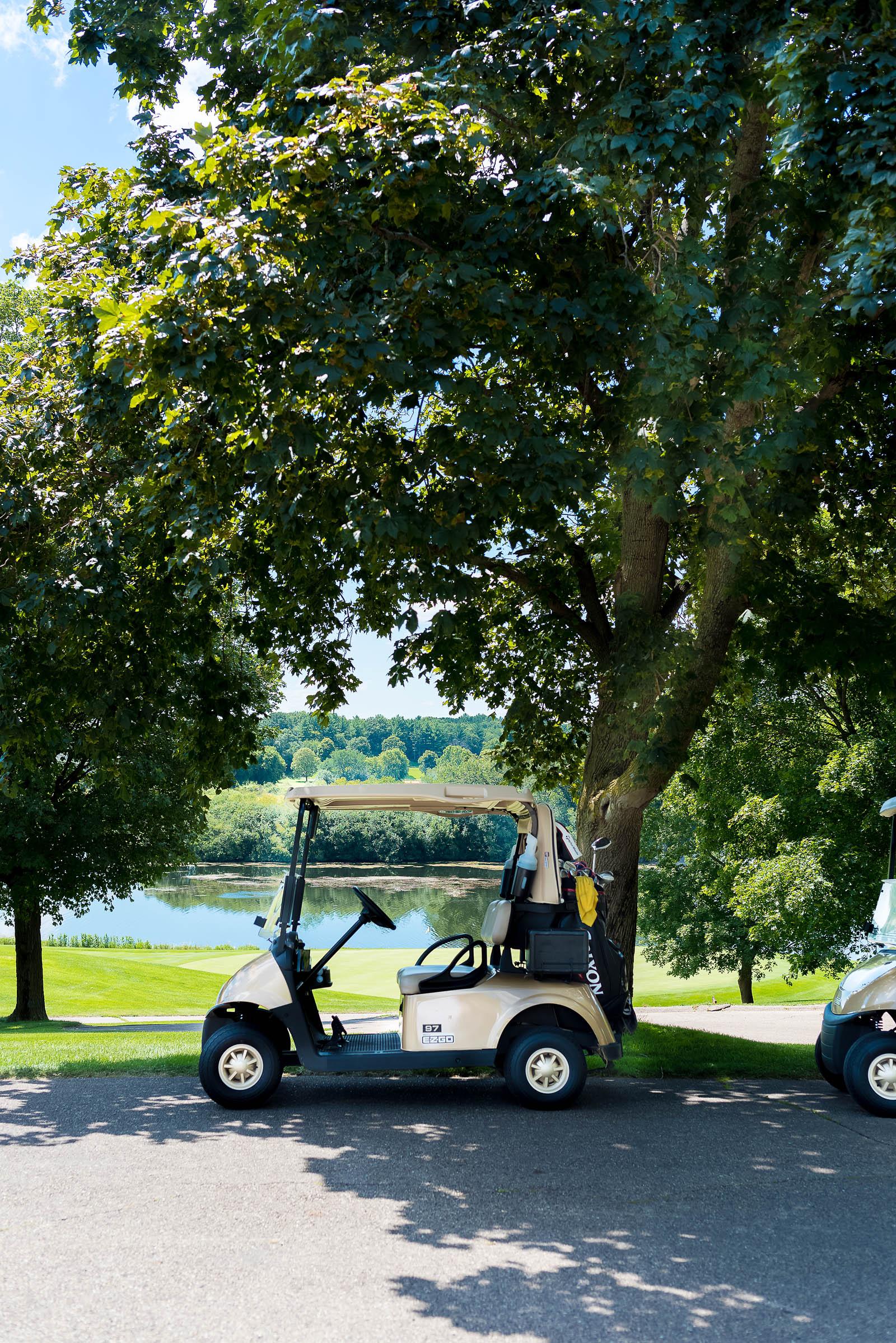 Obviously there's also A LOT of golfing at Grand Geneva too. While skiing is most certainly their most popular activity in winter, golfing is the most popular option in summer.
And can you imagine more beautiful grounds to go golfing around on?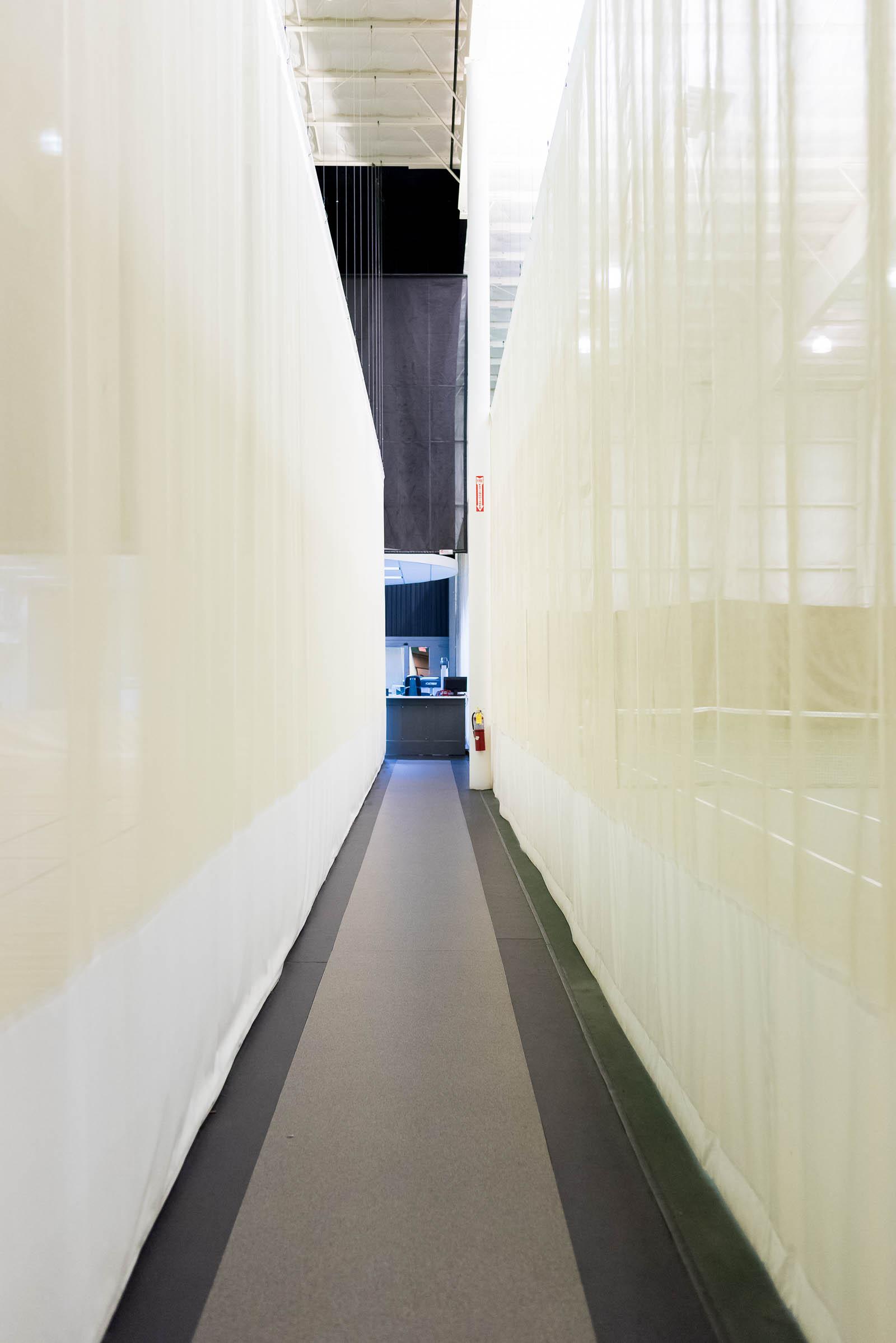 There's also a large gym available to all guests which includes indoor tennis courts,
and a wide array of fitness equipment to use.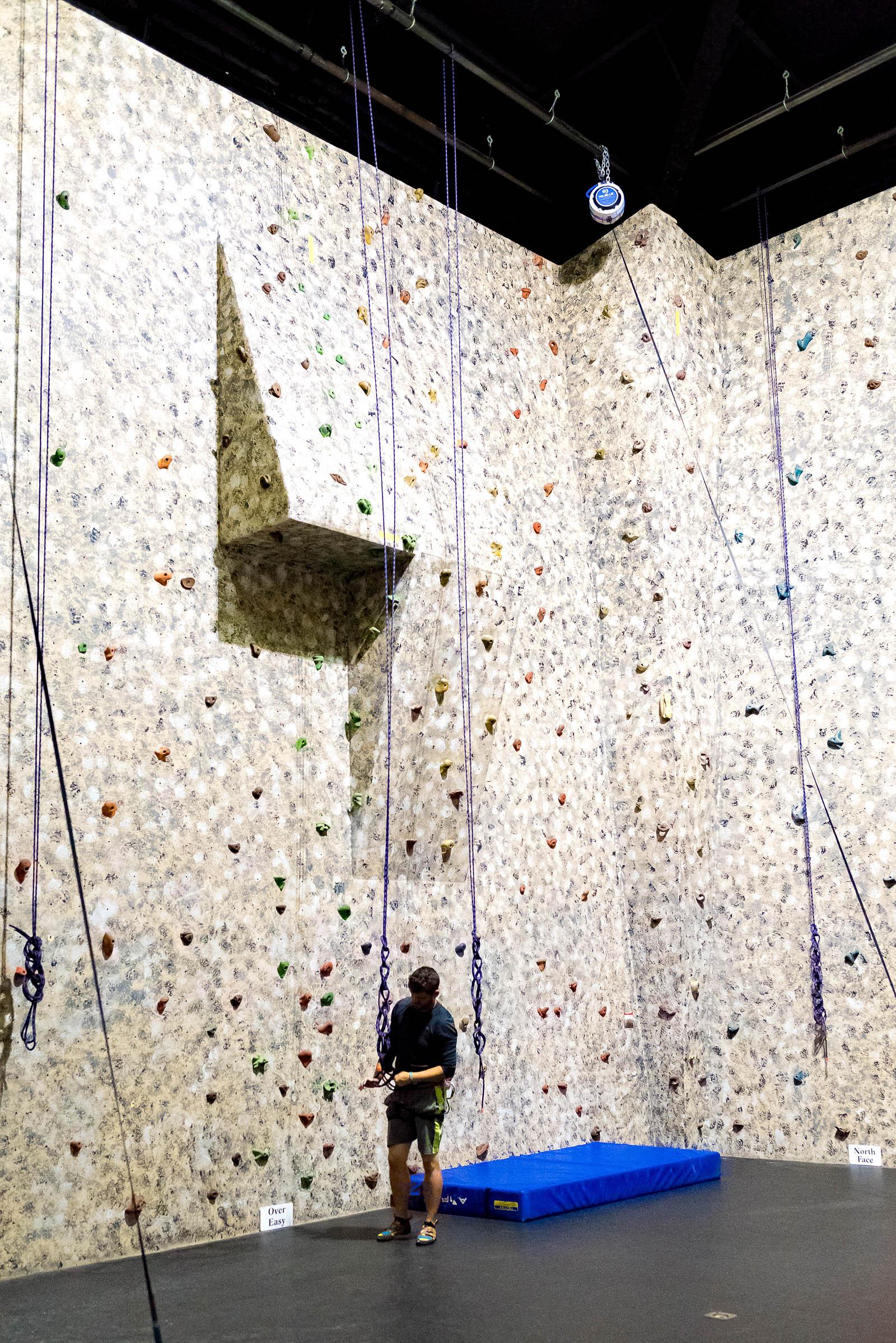 And there's even an indoor rock-climbing wall!!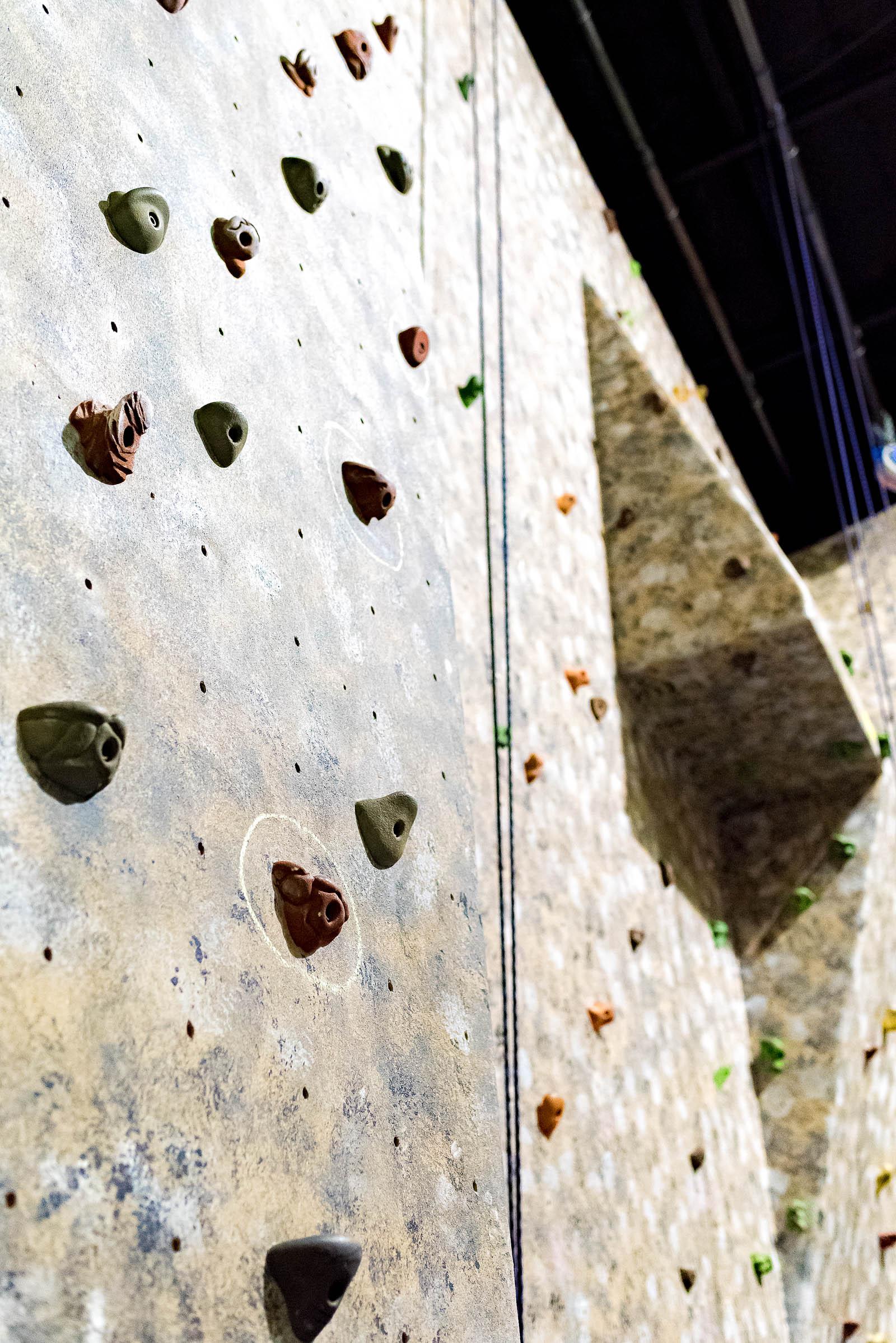 If we hadn't just had lunch before previewing it, you have to know we'd all have been attempting to climb this in a heartbeat!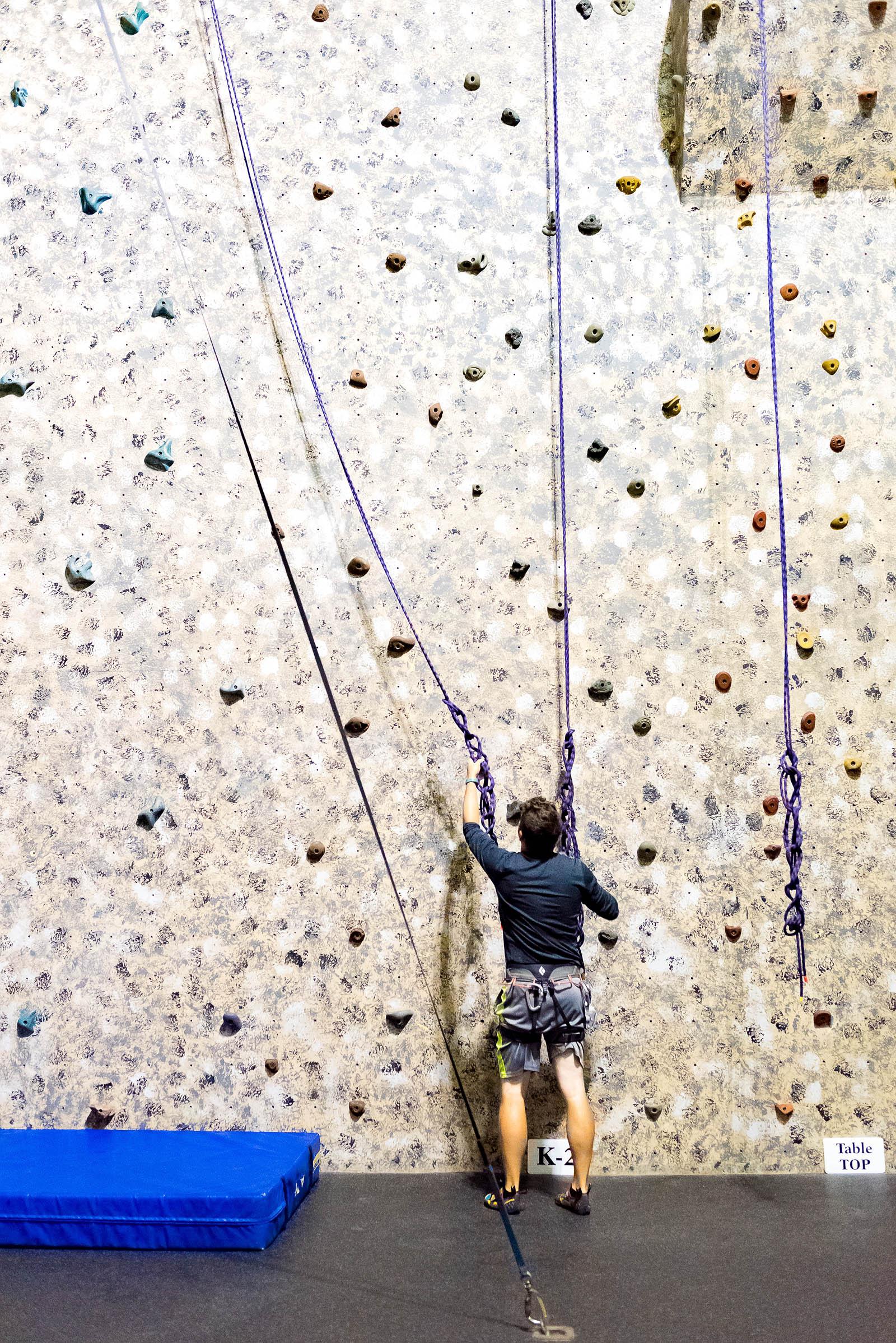 Next time, right?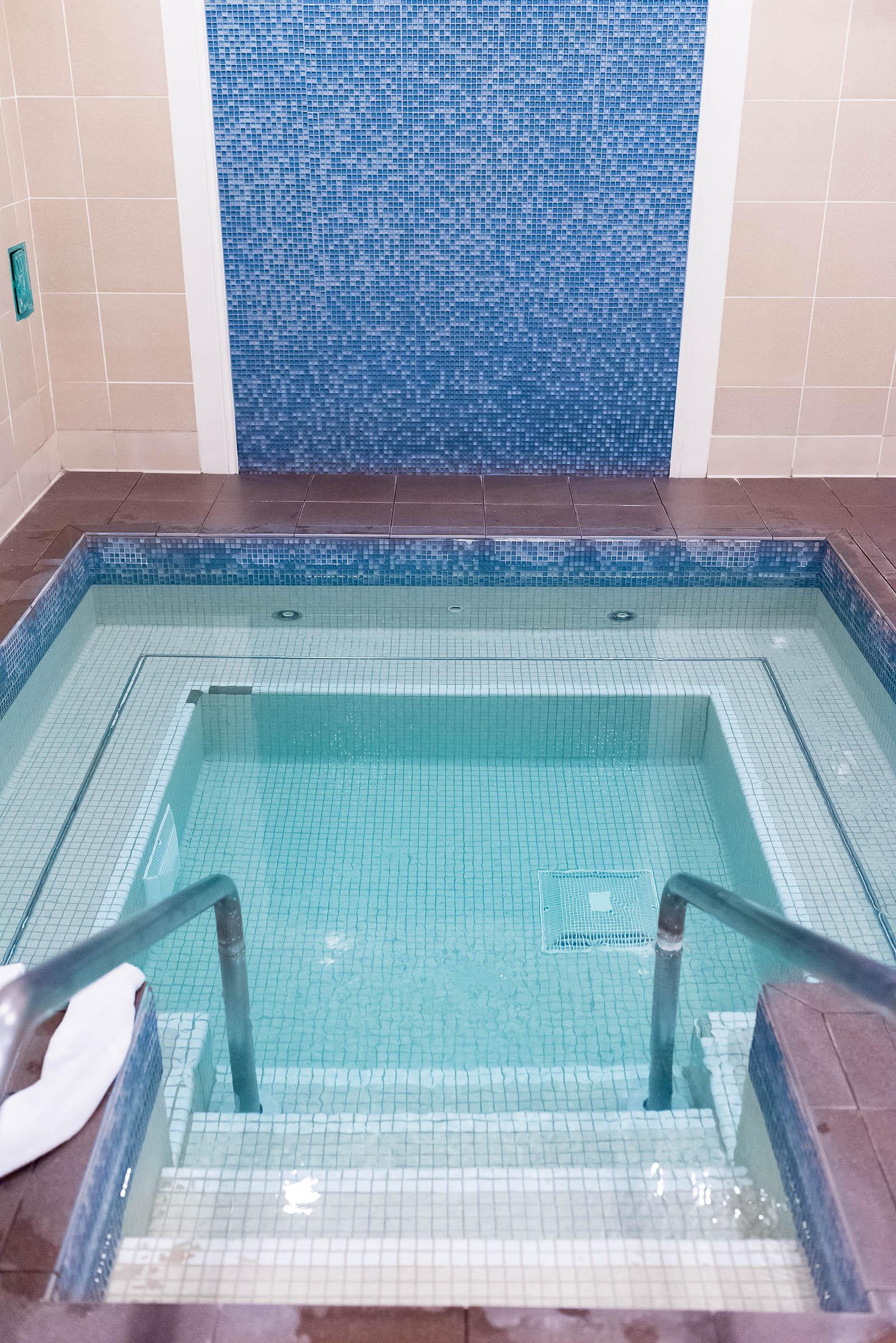 Adjoining the fitness center is the Grand Geneva Spa which is a lovely, relaxing paradise packed with pampering amenities. Like this whirlpool spa, several steam rooms, and vast showers and toiletries to use.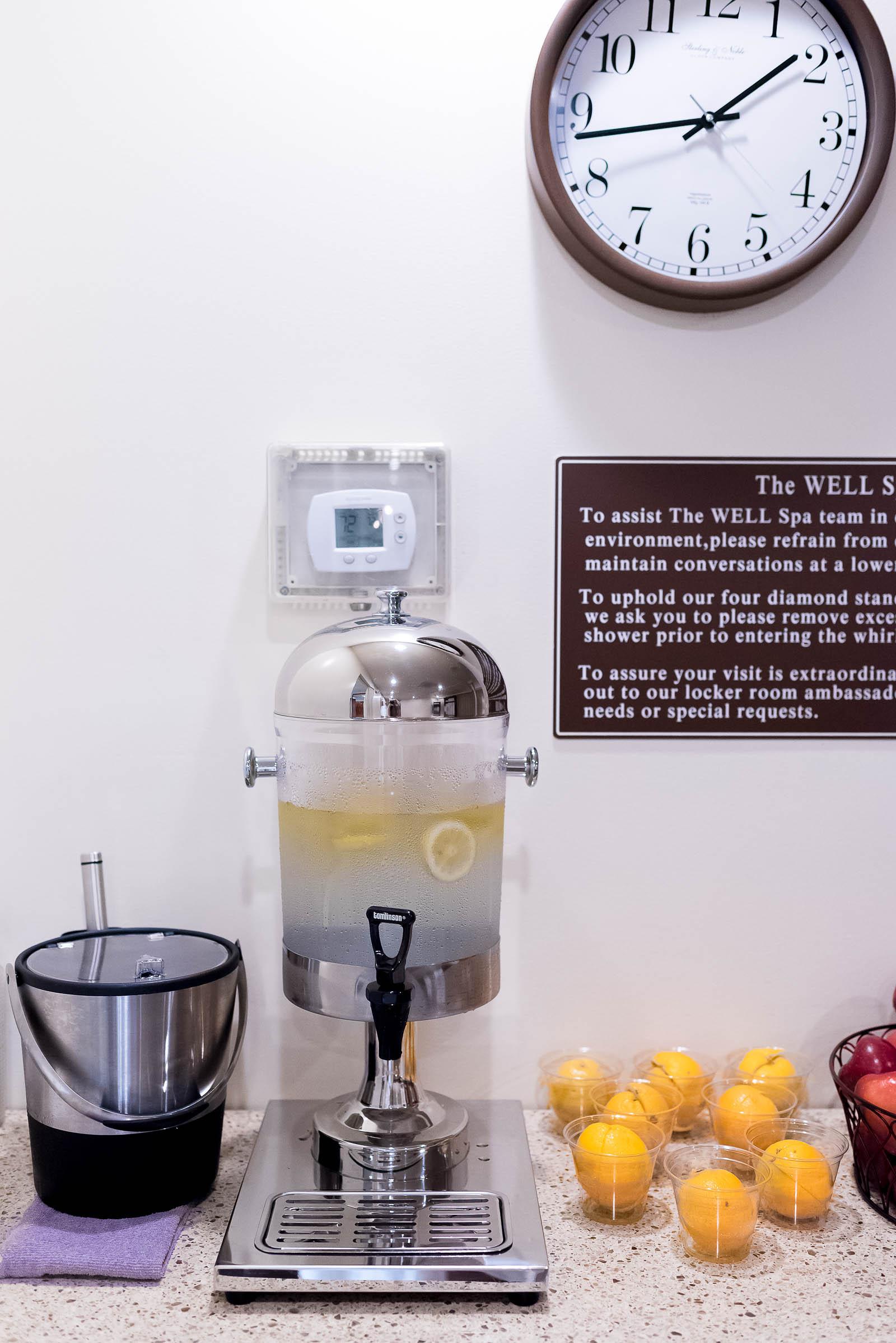 Not to mention some healthy snacks and infused water to sip on while you wait for your service!
We were all allowed to choose one service for our trip and I immediately jumped on the 60-minute massage. My masseuse Kelly was AH-MAZING, she worked out YEARS of tension in my shoulders from carrying around too much camera gear.
I wouldn't say I'm a connoisseur of massages, getting them as infrequently as I do, but I have to say this was the BEST massage I've had to date. It was undoubtedly my favorite component of our entire trip!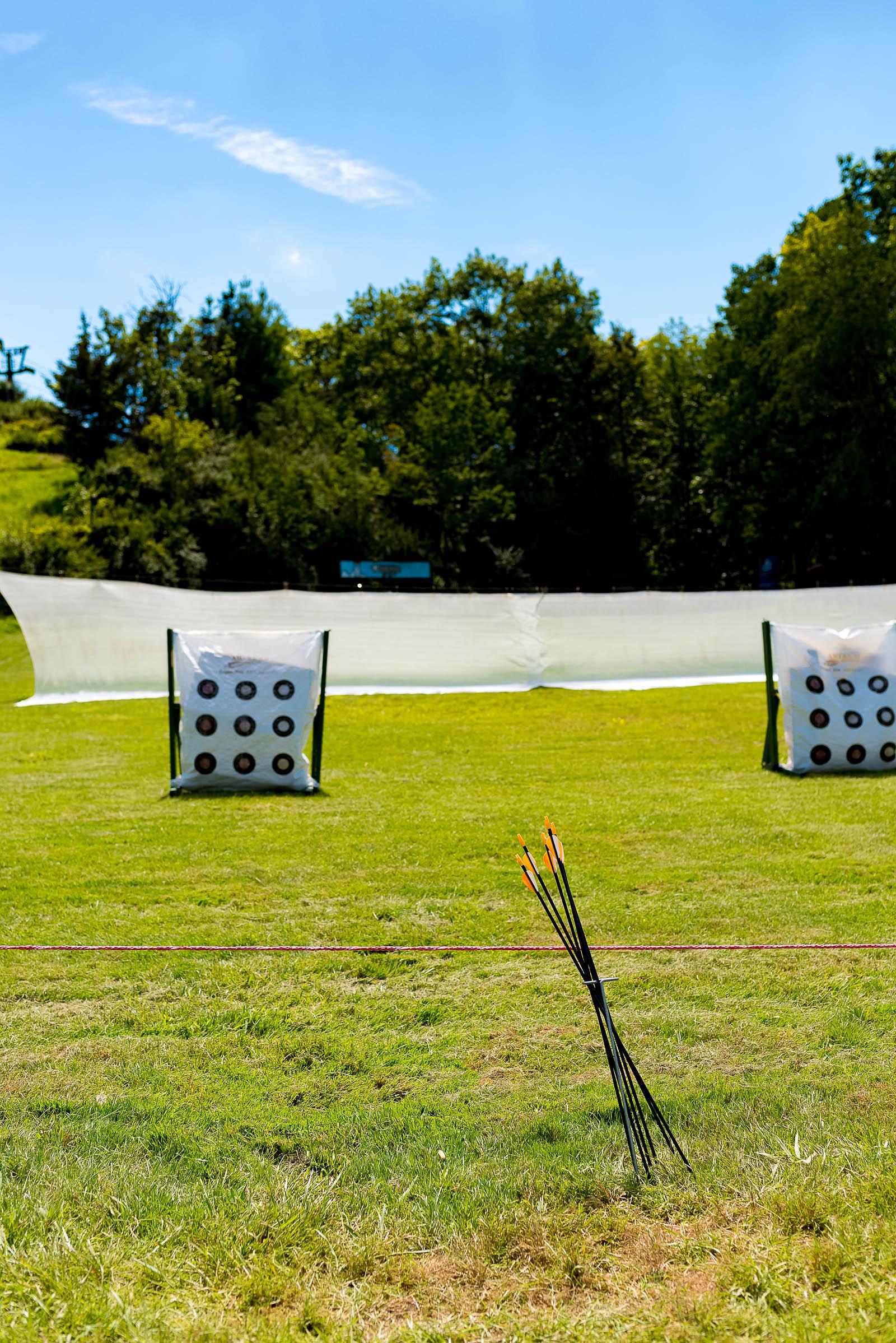 While in winter, Grand Geneva is a premier skiing destination (those hills are MASSIVE by Midwestern standards), in summer the adventure center hosts oodles of fun outdoor activities as well.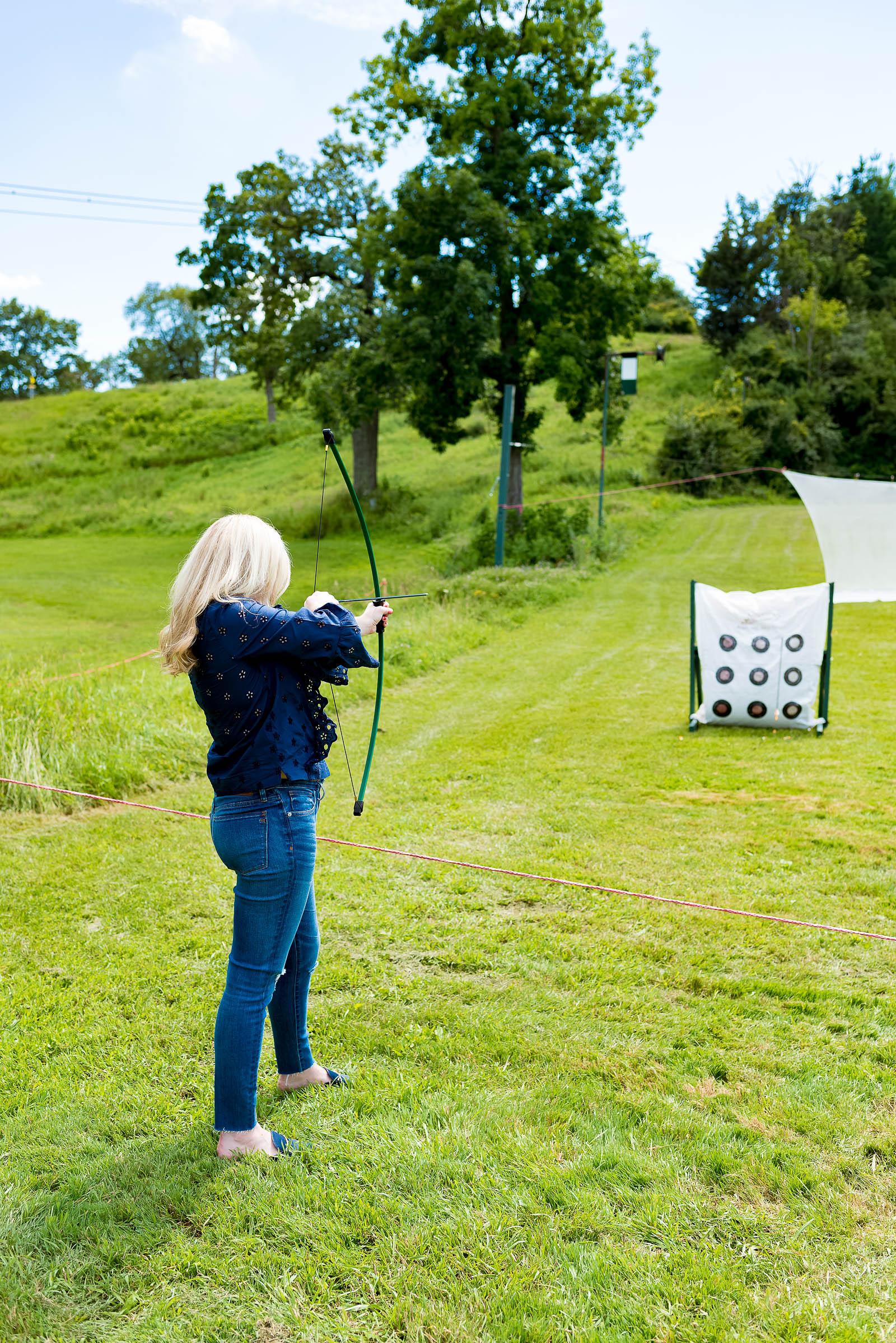 We chose to try our aim at archery which was so much fun, even if we were all rather wretched at shooting.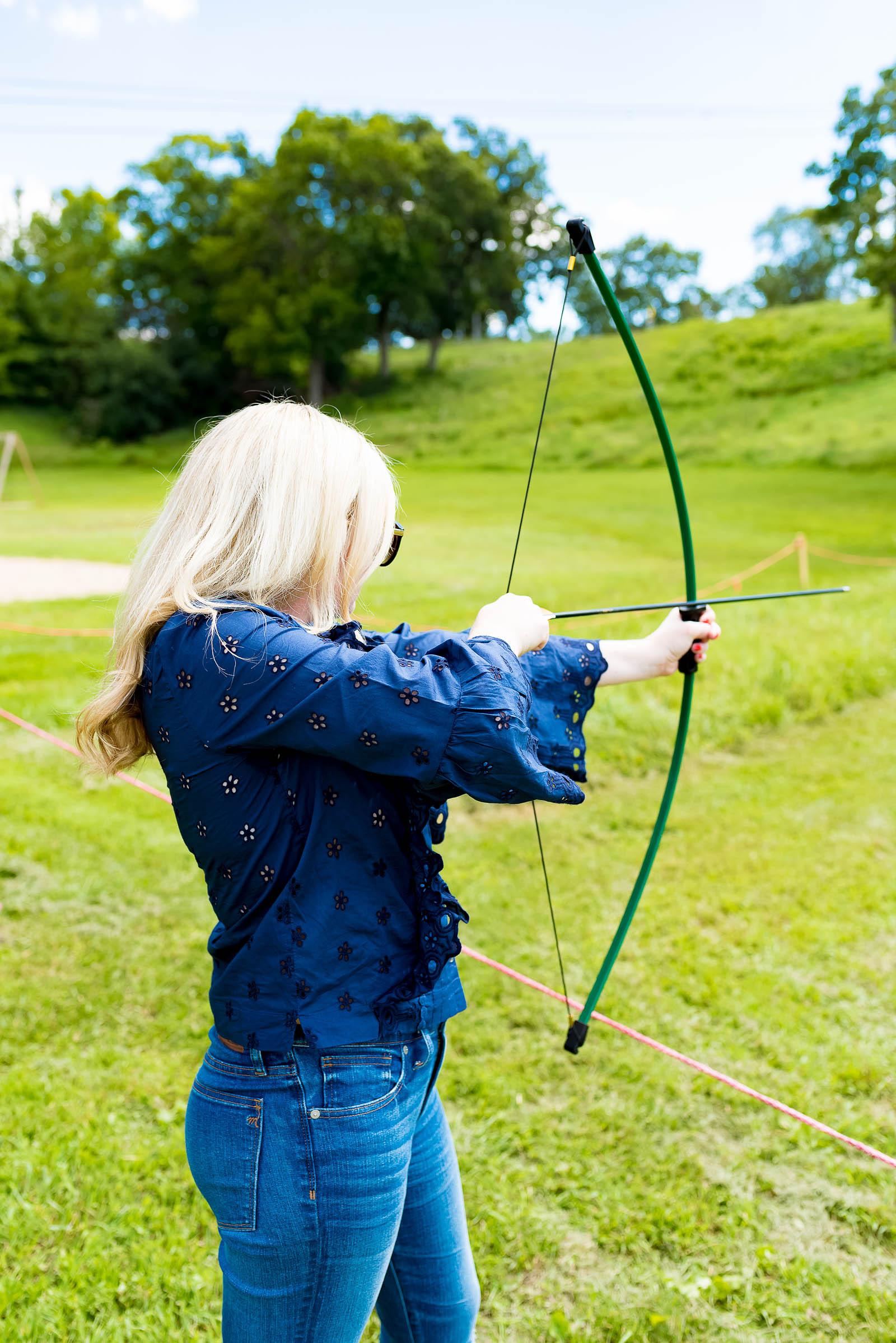 Kit taking aim!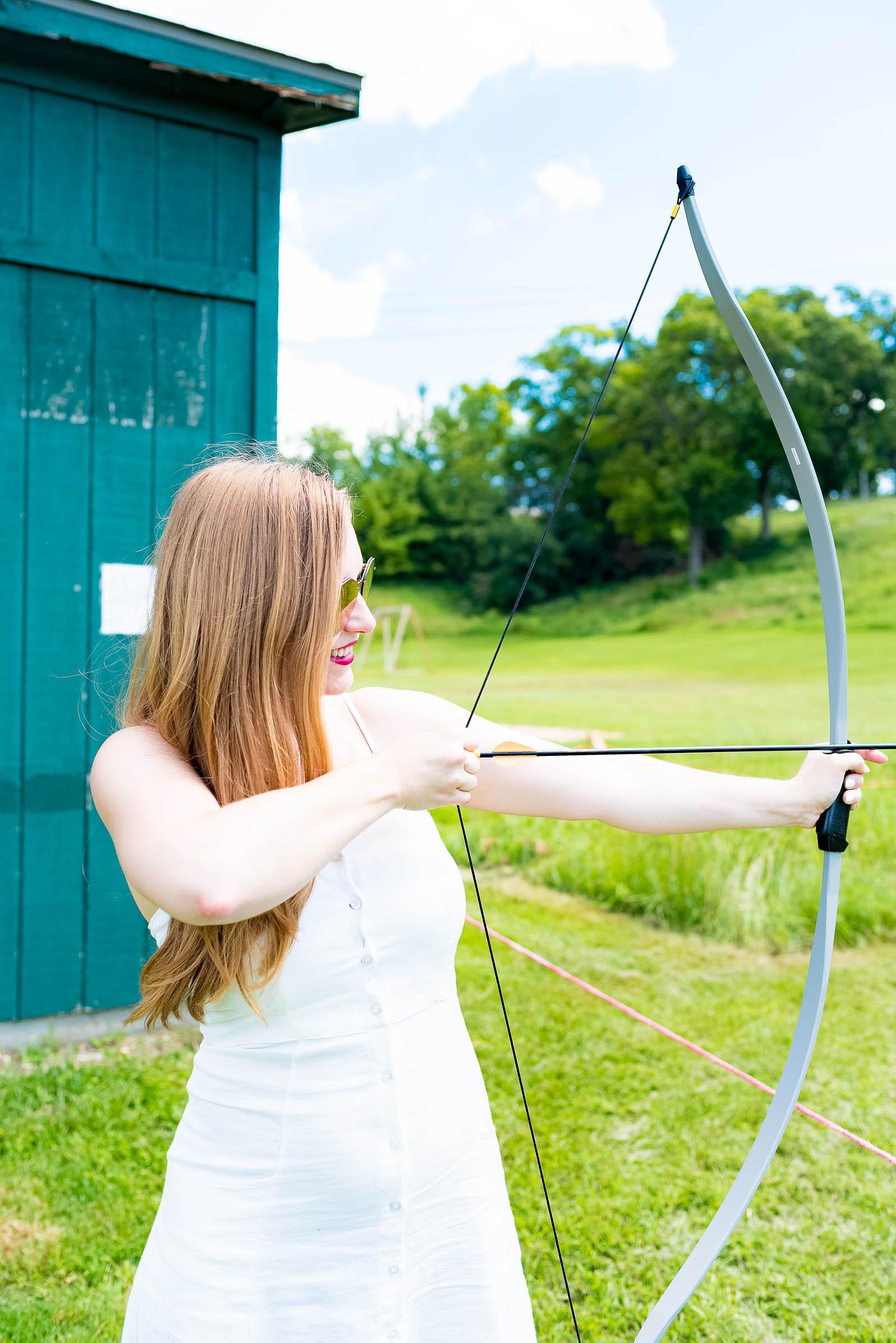 I'm proud of the fact that when it finally came time for me to shoot, I managed to hit the target a fair number of times (does bouncing off count too?).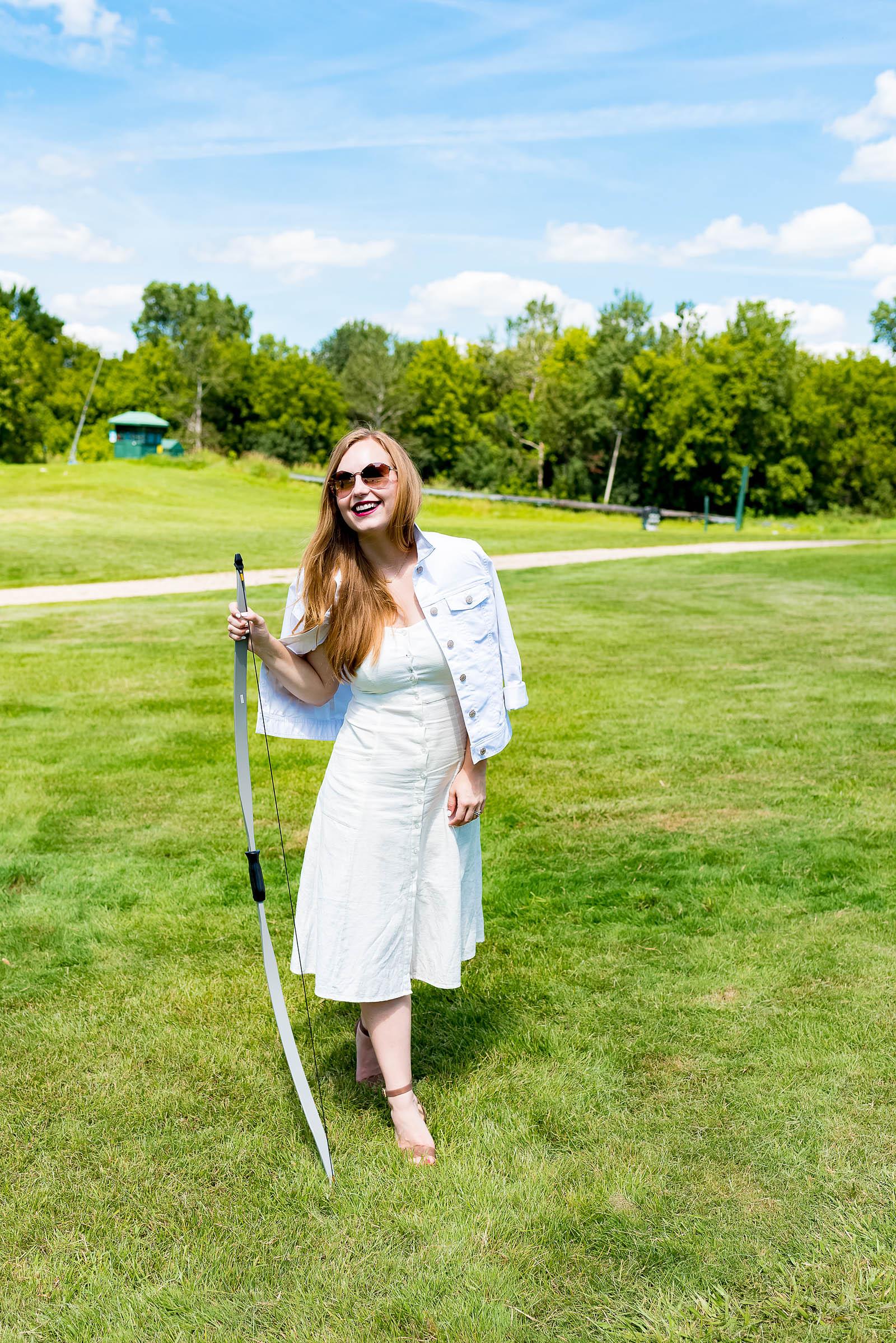 SHOP THE LOOK:
Dress – Mango (similar) || Jacket – Old Navy || Sandals – Crocs || Sunglasses – Prada || Necklace – Etsy || Lips – c/o Burberry Lip Velvet in No. 49 'Intense Plum'
Archery Photos Courtesy of Hayet of Hayet Rida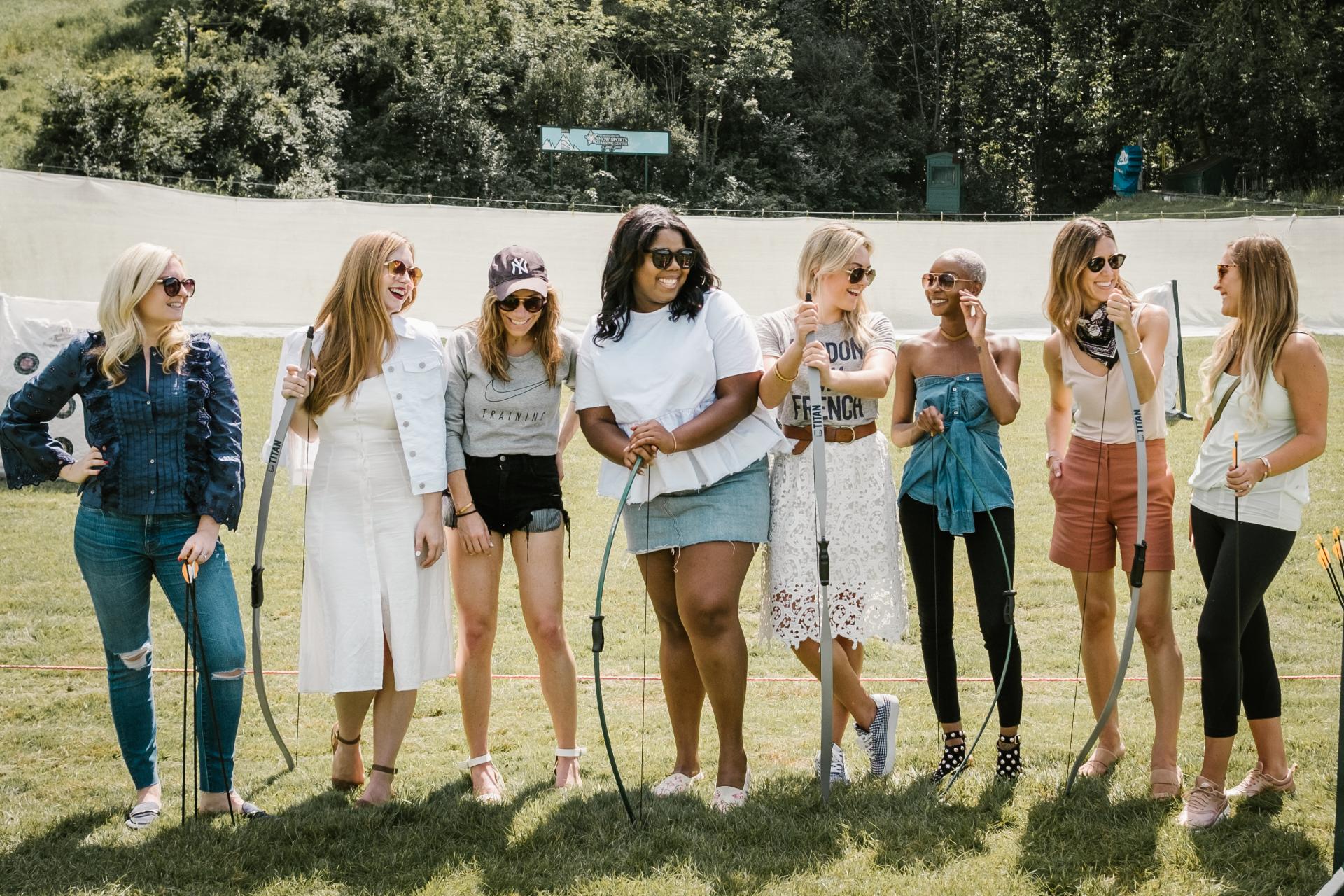 Photo Credit || Ryan Rivas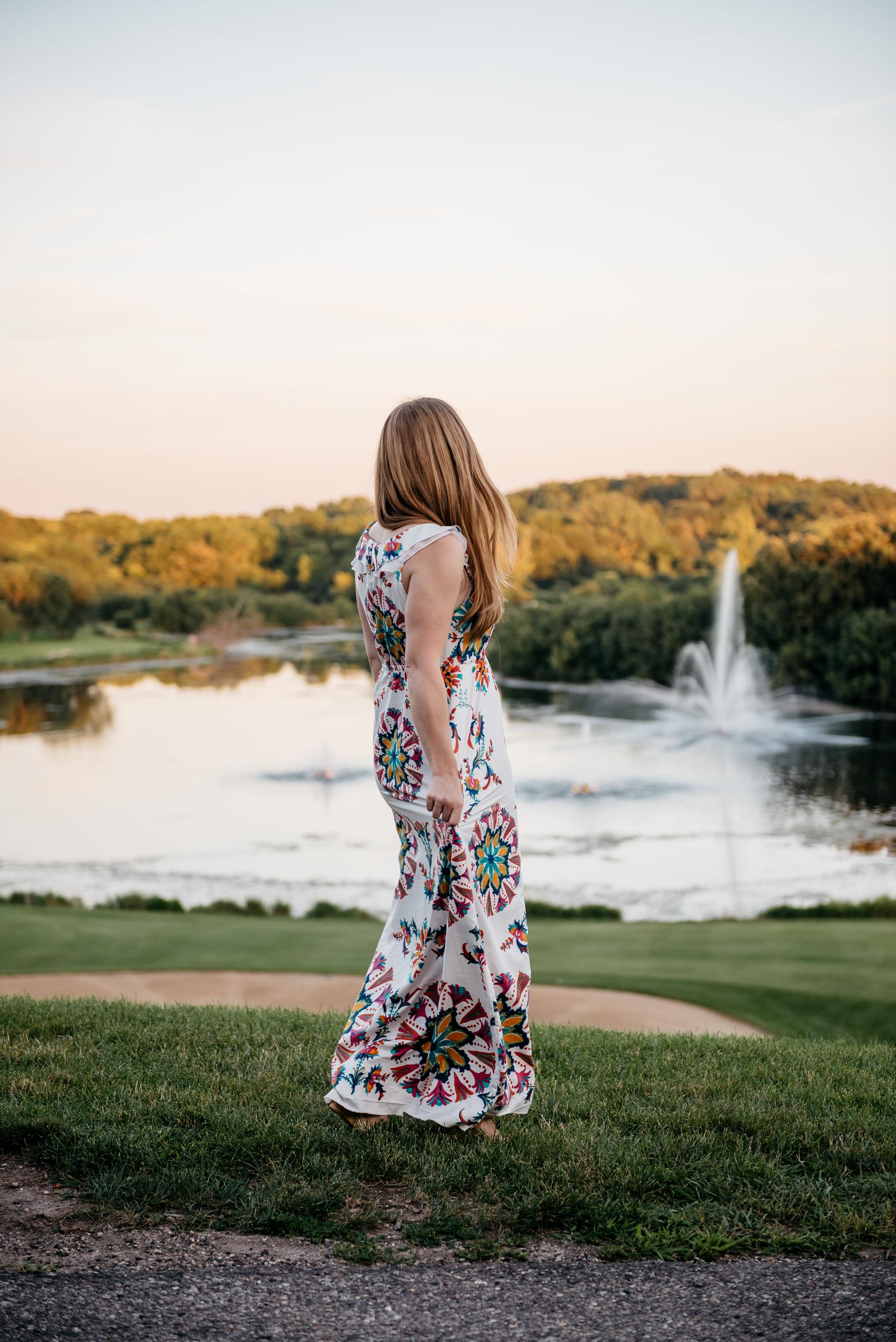 Later that evening we changed for dinner at the ChopHouse and shot a few quick outfit photos beforehand too — isn't this view overlooking the main lake just beautiful at sunset?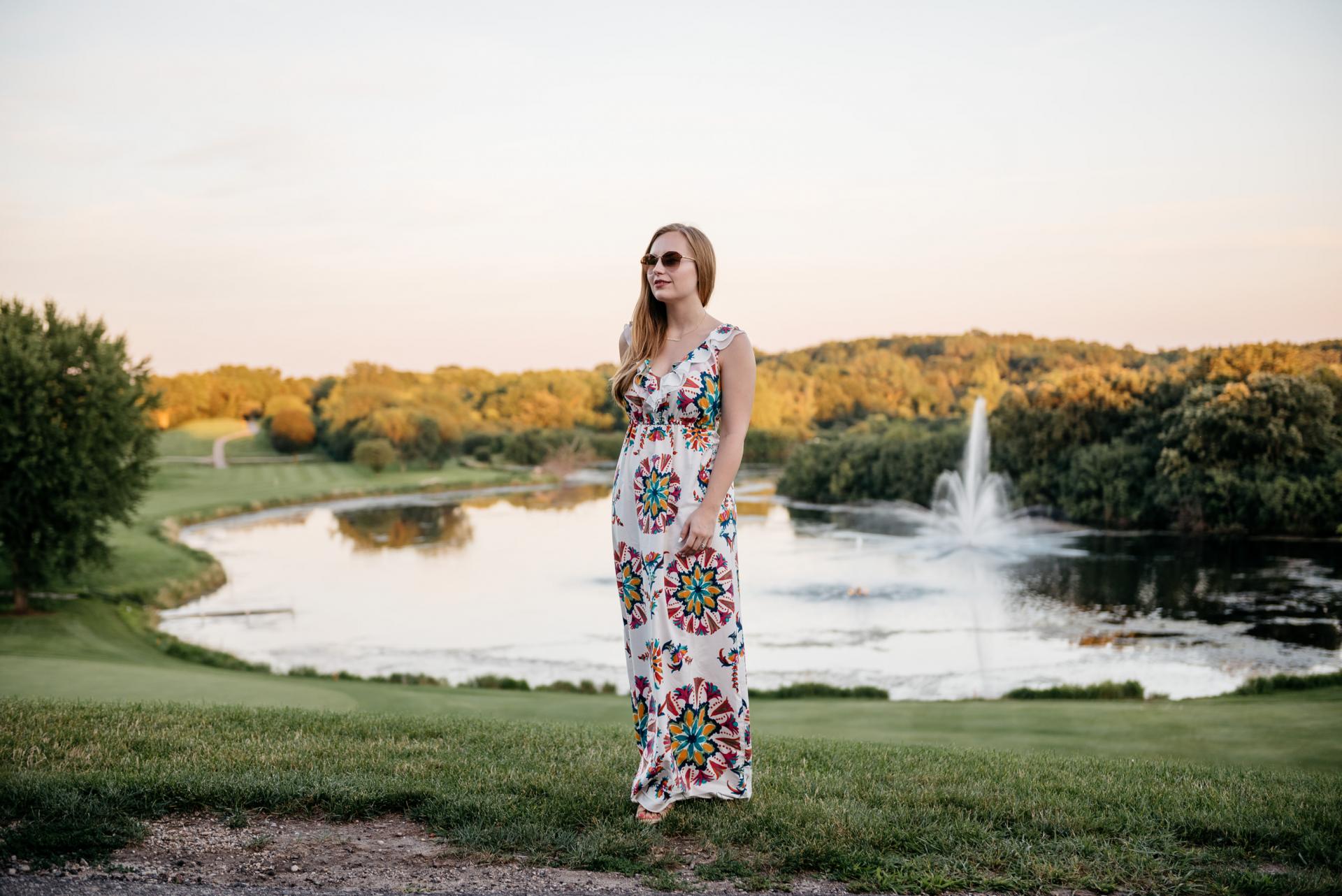 SHOP THE LOOK:
Dress – Old (similar) || Wedges – Aquazzura || Sunglasses – Prada || Necklace – Etsy || Lips – c/o Burberry Lip Velvet in No. 49 'Intense Plum'
Photos courtesy of Melissa of Iron & Honey
The Flowers
---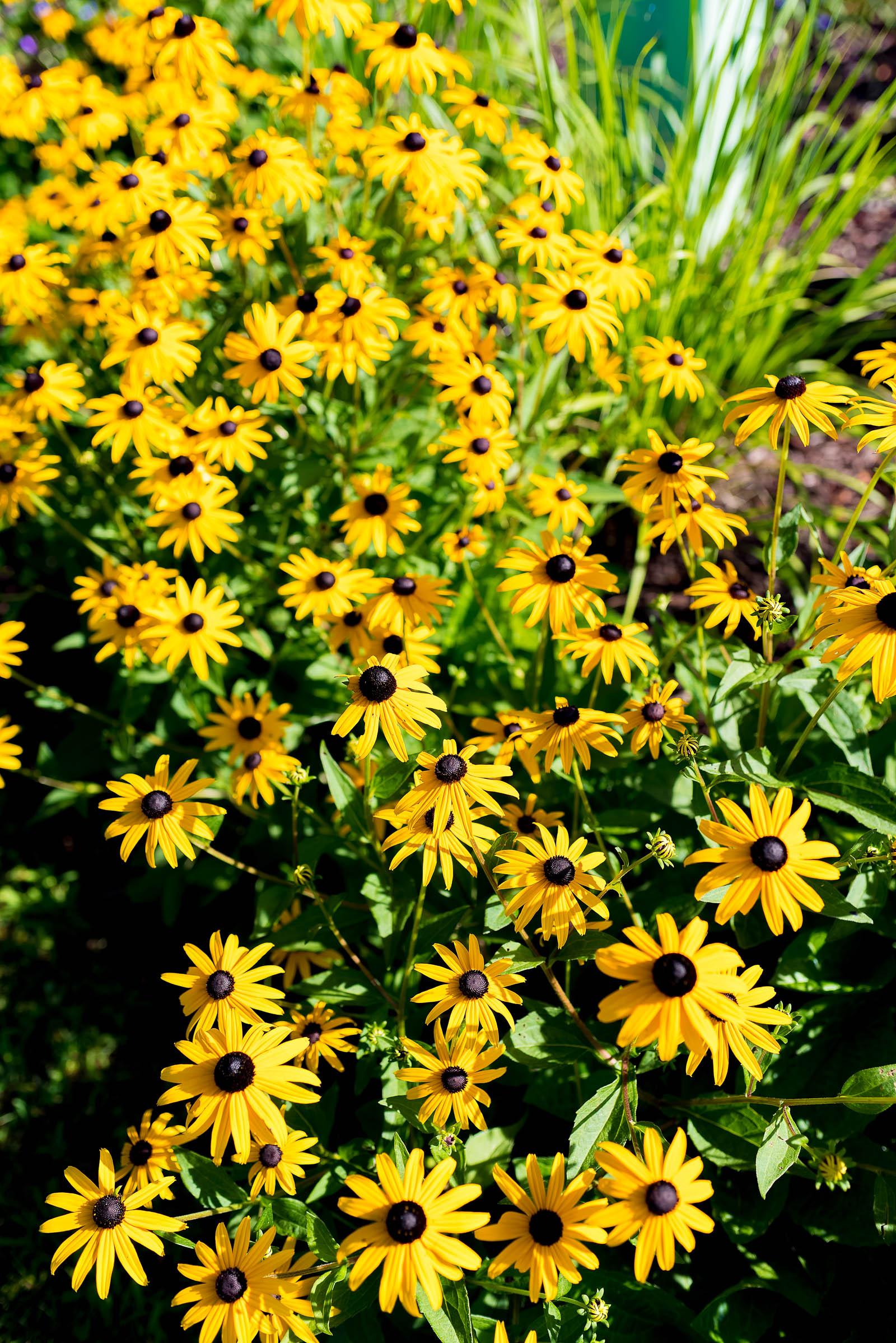 Okay, I know this must be weird but I just had to include a devoted section to the flowers at Grand Geneva in this post too.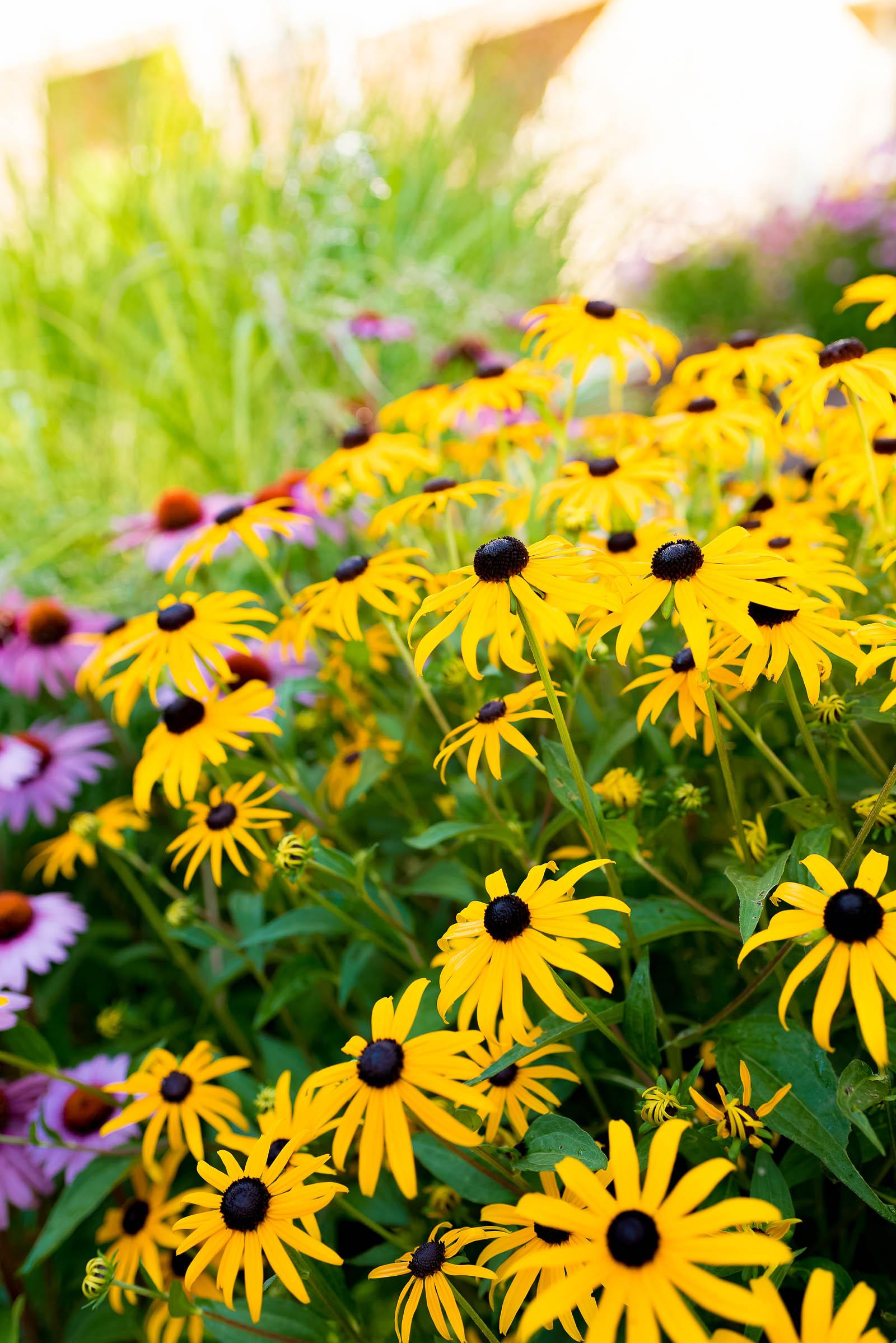 Because they were — in a word — magnificent.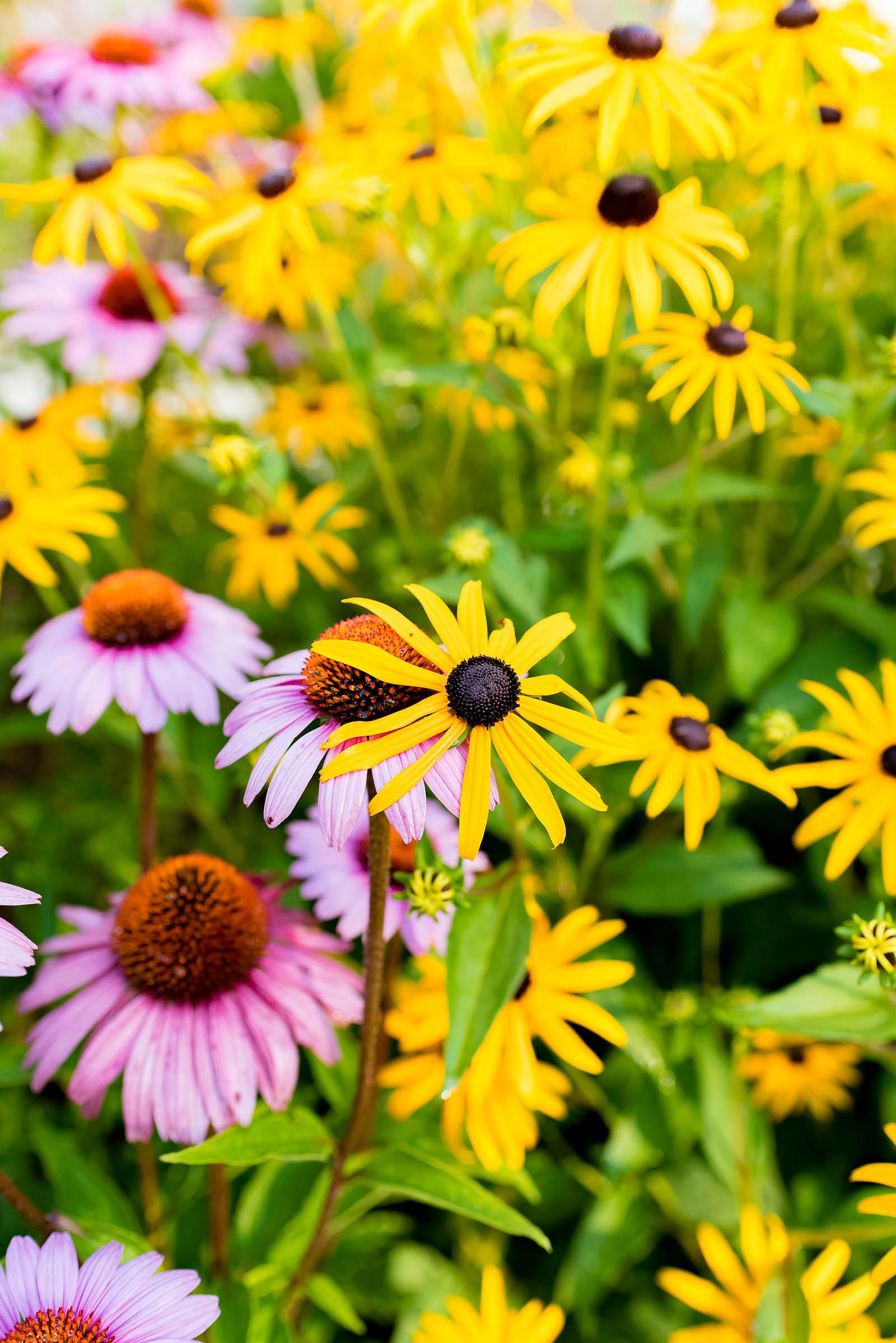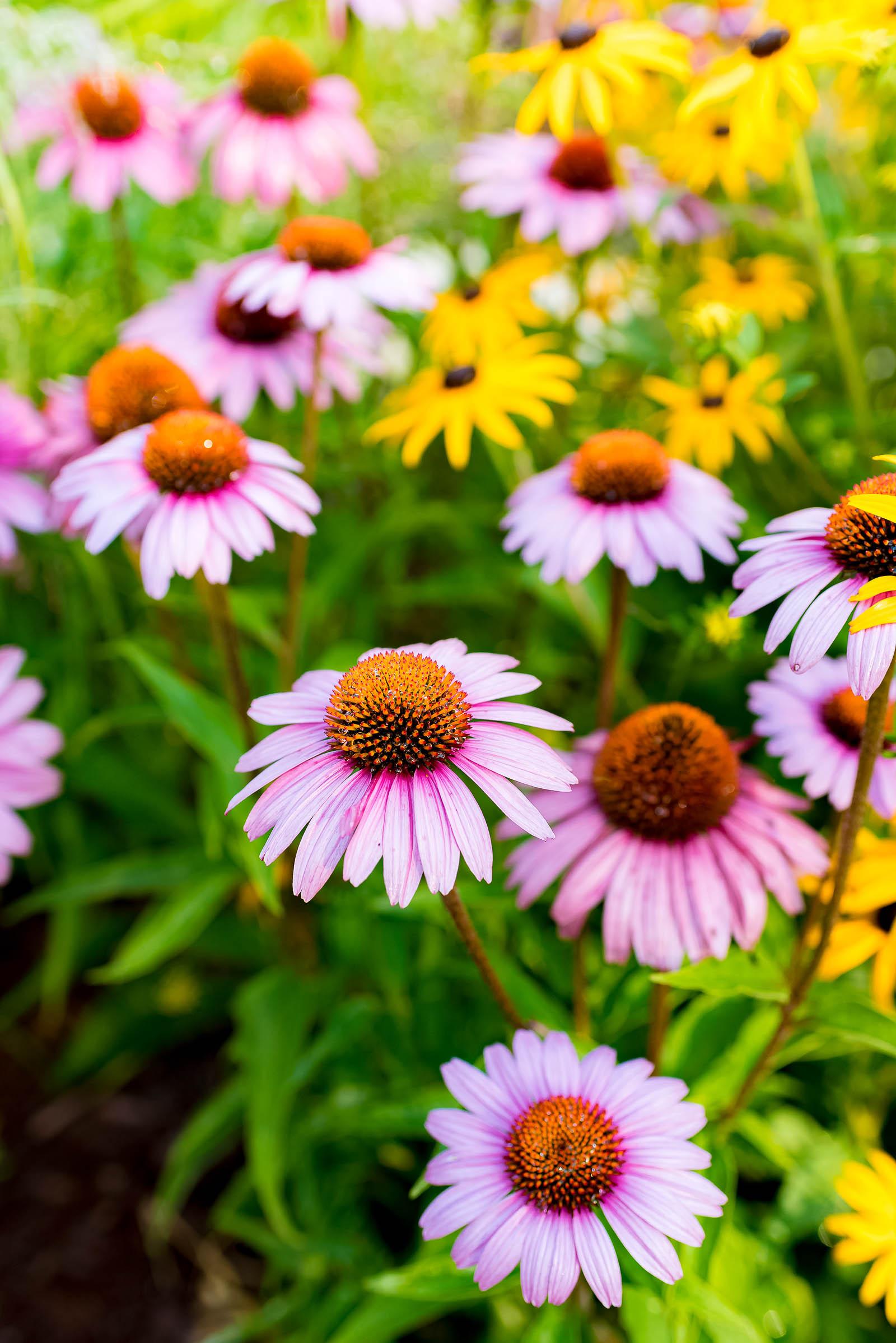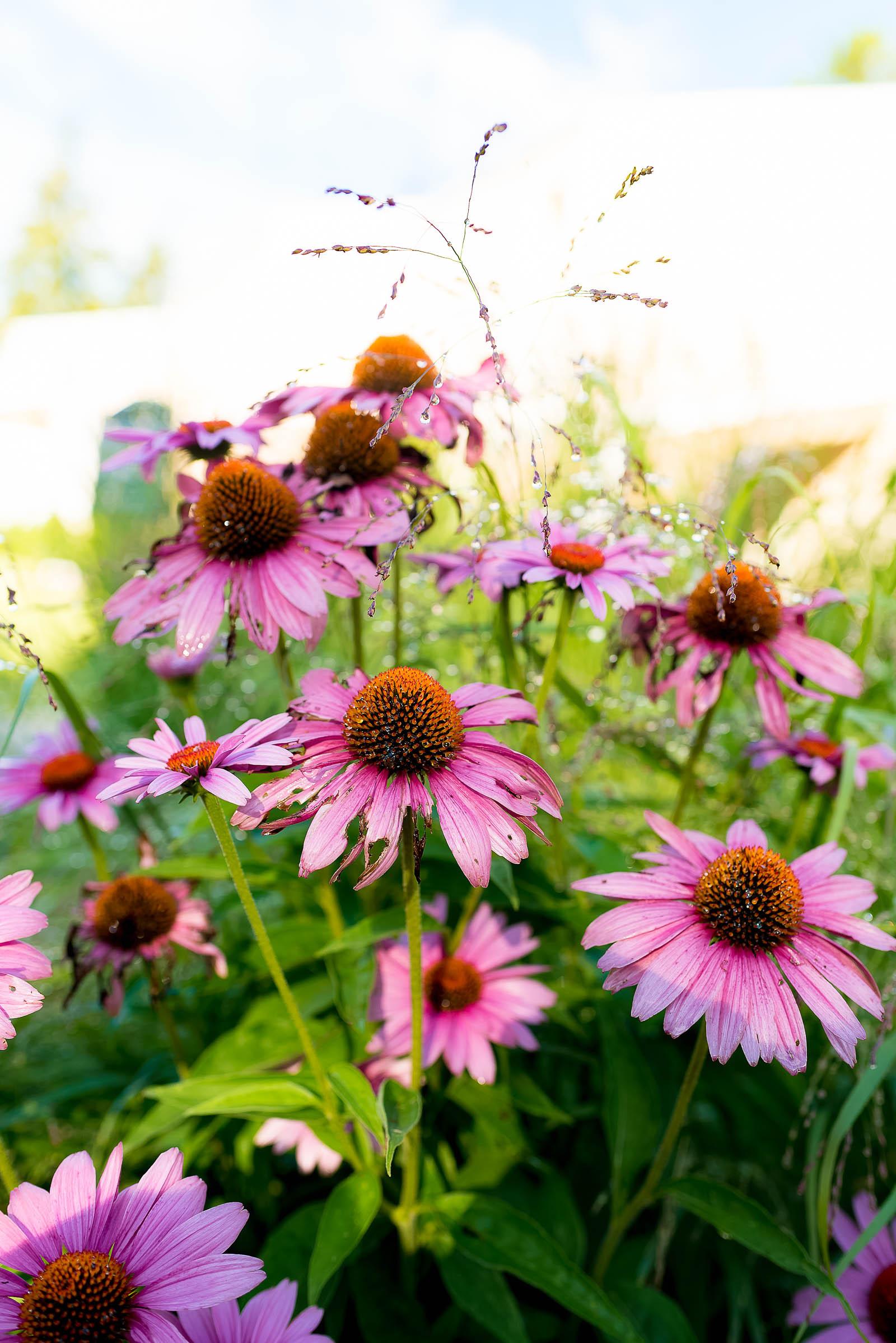 Especially in all their dewy morning glory in summer.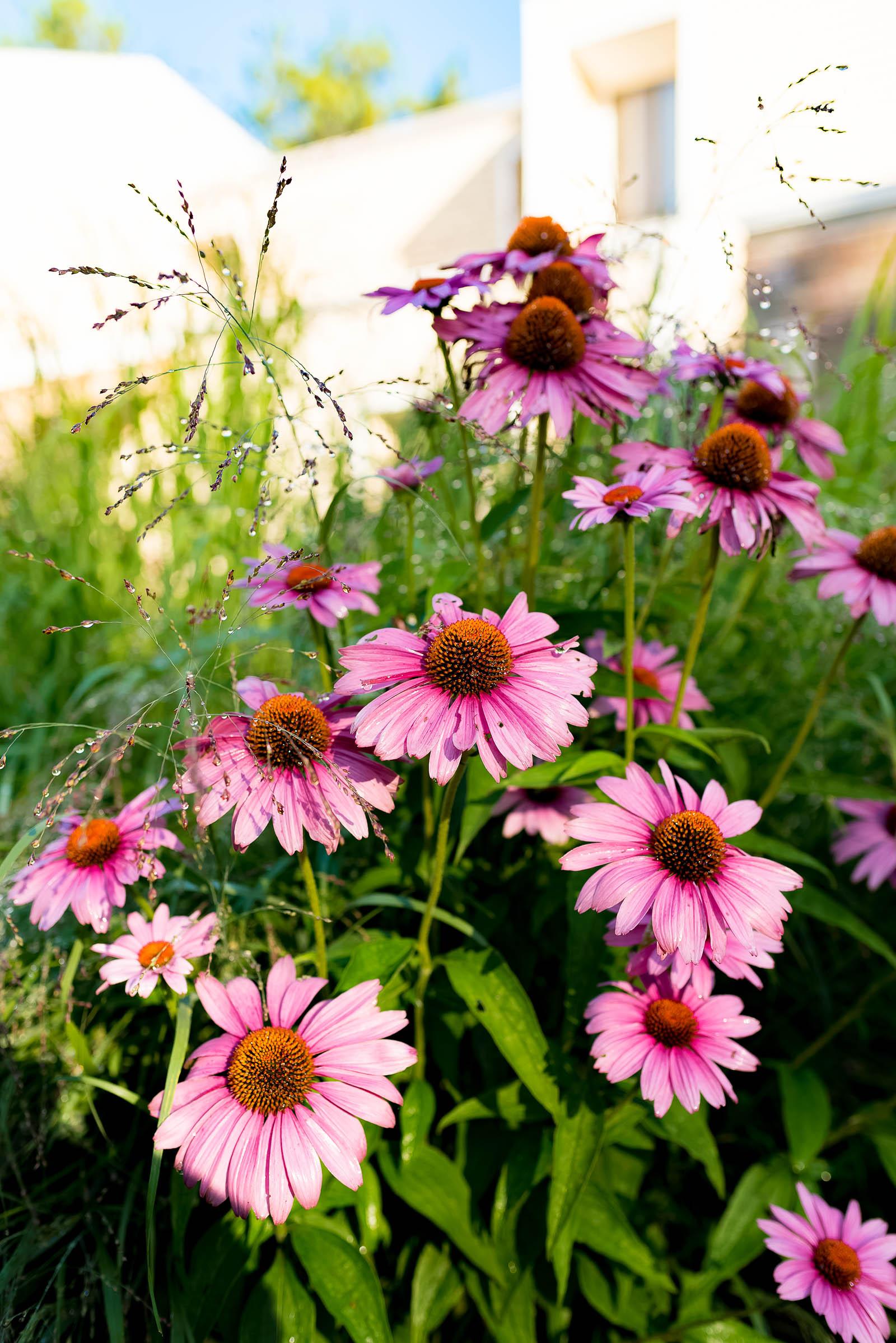 Okay, okay, It seems unfair of me to brag constantly about this amazing place and not offer anything to you in return, right?
Because you're probably itching to bail on work and head north to Lake Geneva now, obviously.
So the Grand Geneva and I have partnered up to give you a HUGE discount on a luxury villa of your own!
Book a villa here with the code SEDBONA (or with my direct link HERE) for 30% off now through December 31, 2017 (blackout dates apply).
You can experience all the amazing amenities for yourself (make sure to book a massage!) and possibly even host a more EPIC pool party than we did at the private pool!
Just be sure to order the pitcher of sangria and leave one bedroom open for me to crash in, mmmk?
Disclosure: This post was produced in partnership with the Grand Geneva Resort. Review and all opinions are ALWAYS my own. All photos are mine unless otherwise noted.