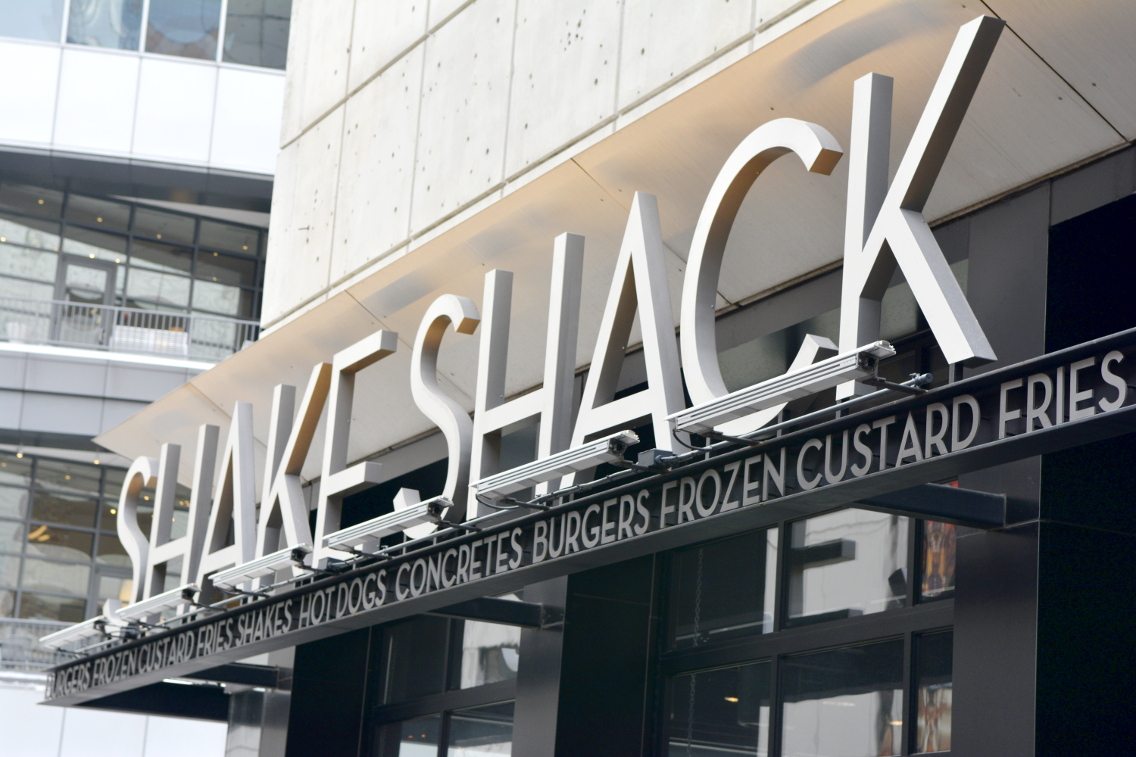 In November, the corner of Ohio & Rush was suddenly abuzz… NYC's legendary Shake Shack finally made it to the Windy City! Dubbed a modern-day "roadside" burger stand, this luxe fast-food joint has taken NYC, most of the World, and finally Chicago, by STORM!
Are you ready for the #foodporn onslaught??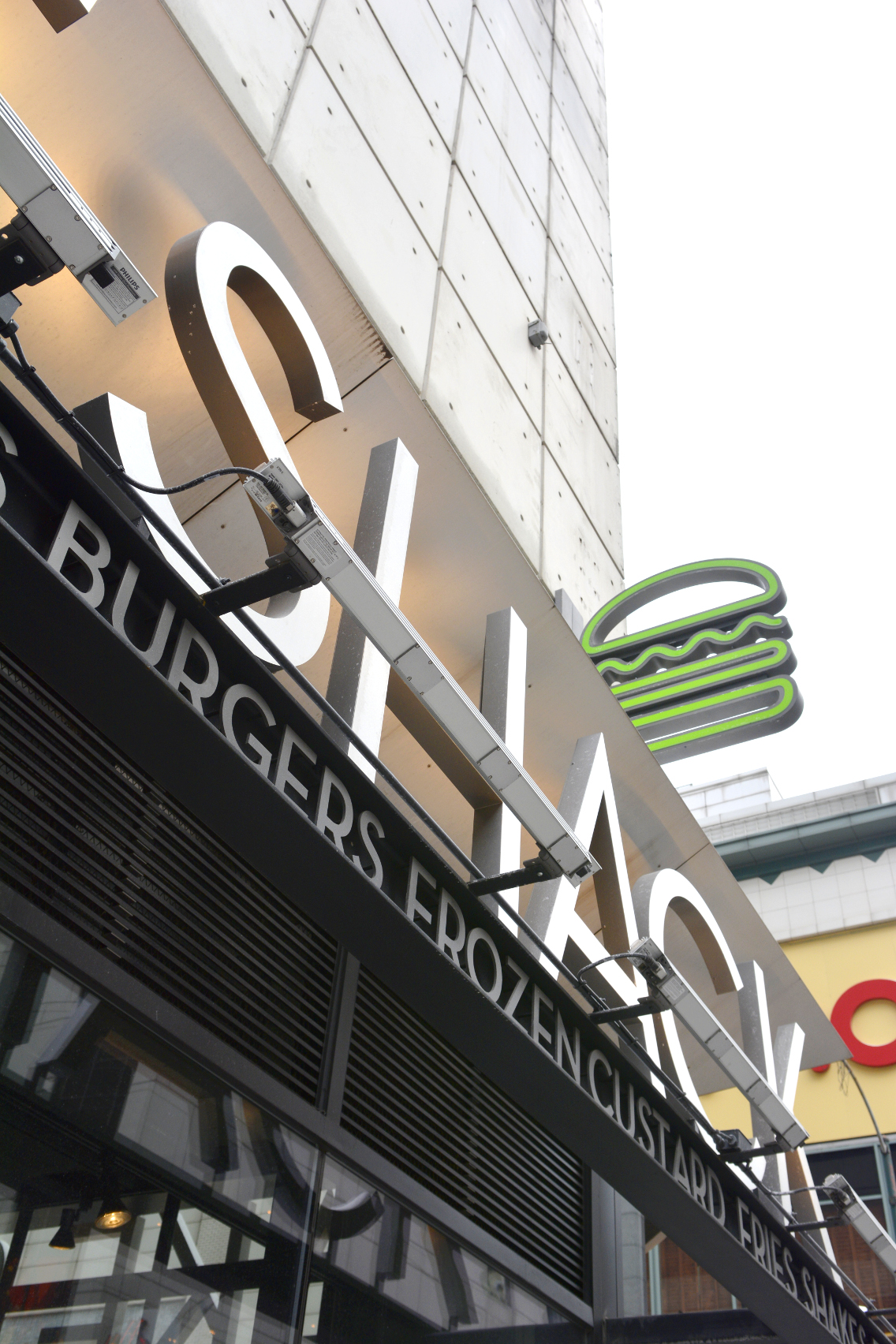 It took two months and change to finally make it to Chicago's Shake Shack! I met Starr of Chicago Foodie Girl for a Wednesday lunch and lined-up about ten minutes before opening (because we're committed to bringing our readers the very best in Chicago #foodporn offerings, obviously).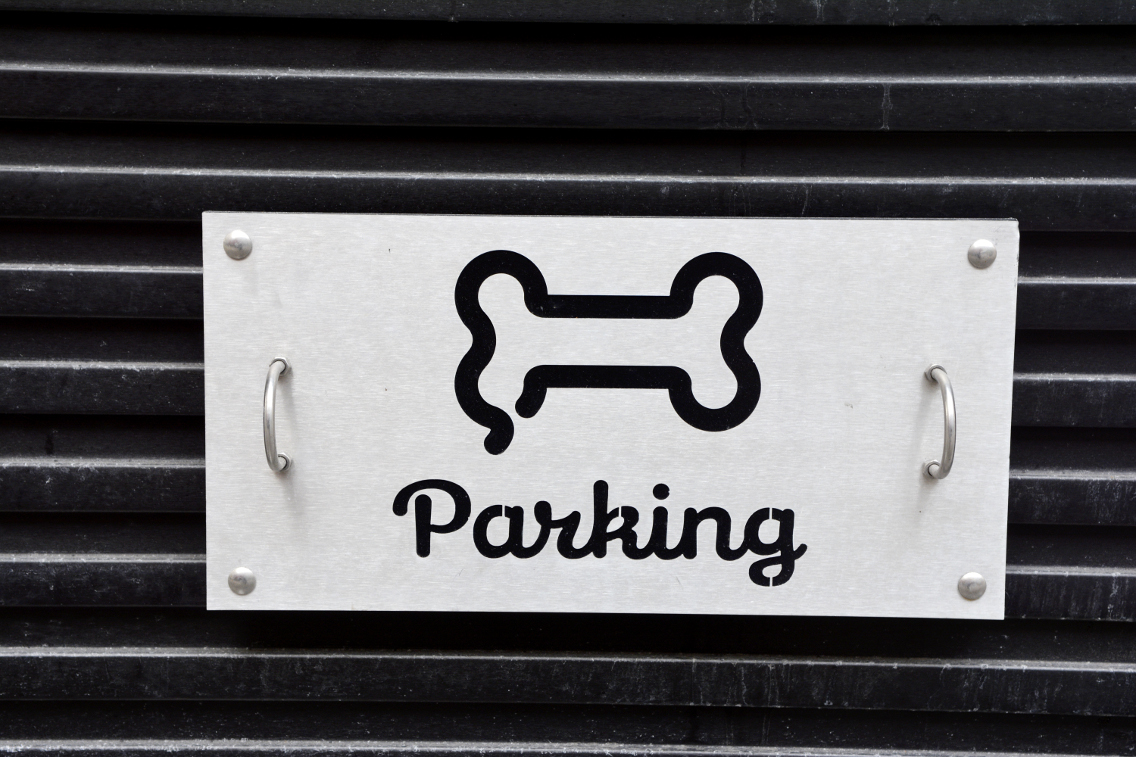 Outside they have a "dog" parking station (not to mention a few pup-friendly menu options).
I love a place that remembers our furry friends and I know Apollo and Johnny do too!
Every Shake Shack takes advantage of its location, incorporating local artisan ingredients in their menu offerings.
Here in Chicago they offer some pretty stellar specials, including their Da S'mores and Salted Carame'L' Concretes. Taking advantage of one of Chicago's best pie shops and one of the city's most delicious donut spots for concrete mix-ins was a brilliant move and Shake Shack's menu had me drooling before I even entered the place!

The atmosphere is very nouveau modern, juxtaposing large industrial garage doors with walls of rich woods and warm lighting.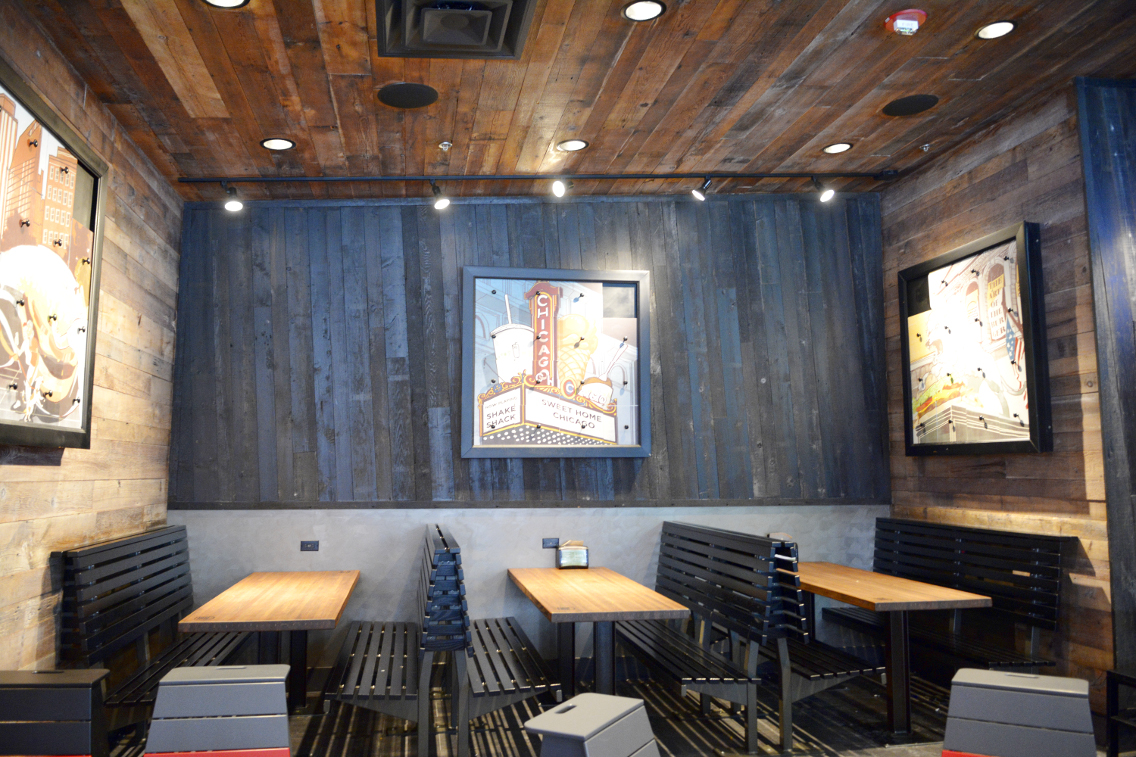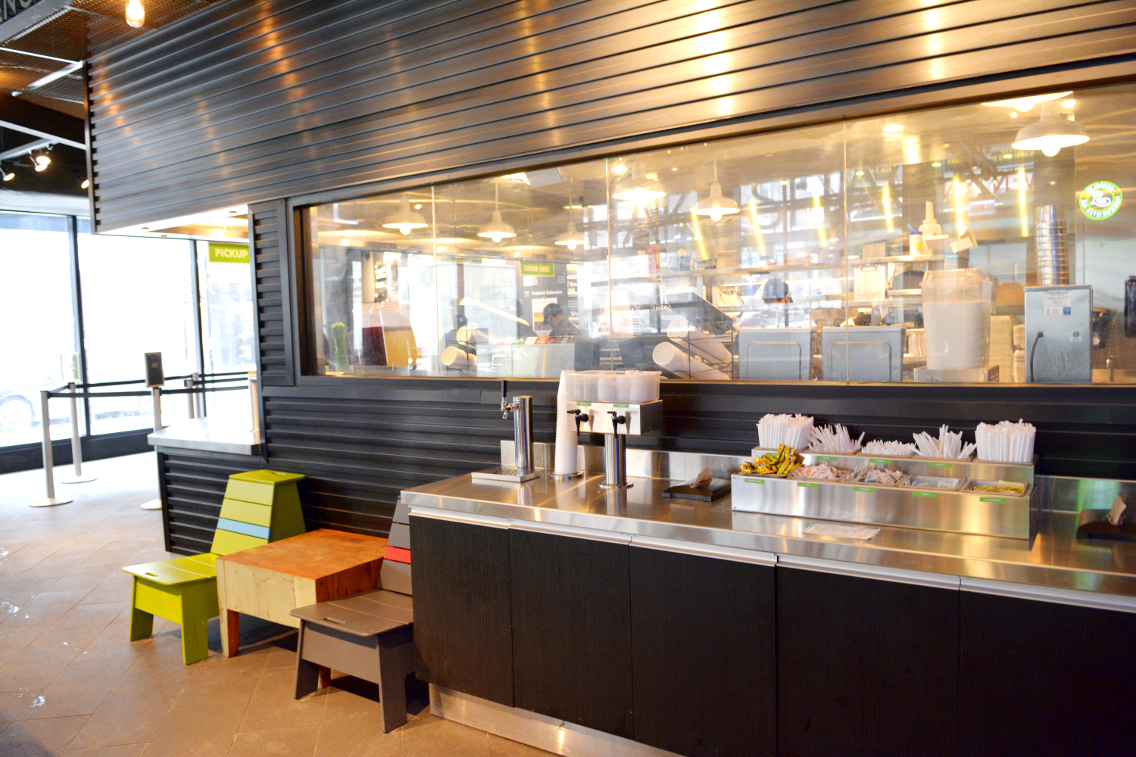 The effect is both modern and welcoming, and WAYYYY swankier than your typical fast food joint.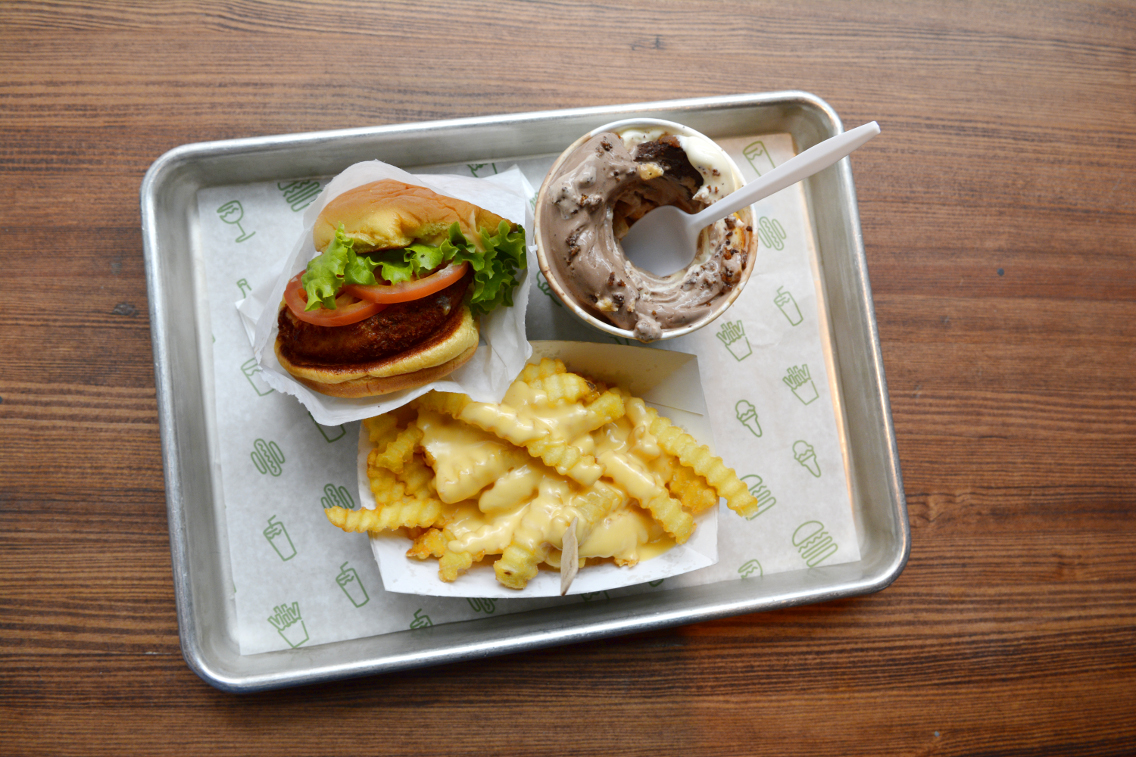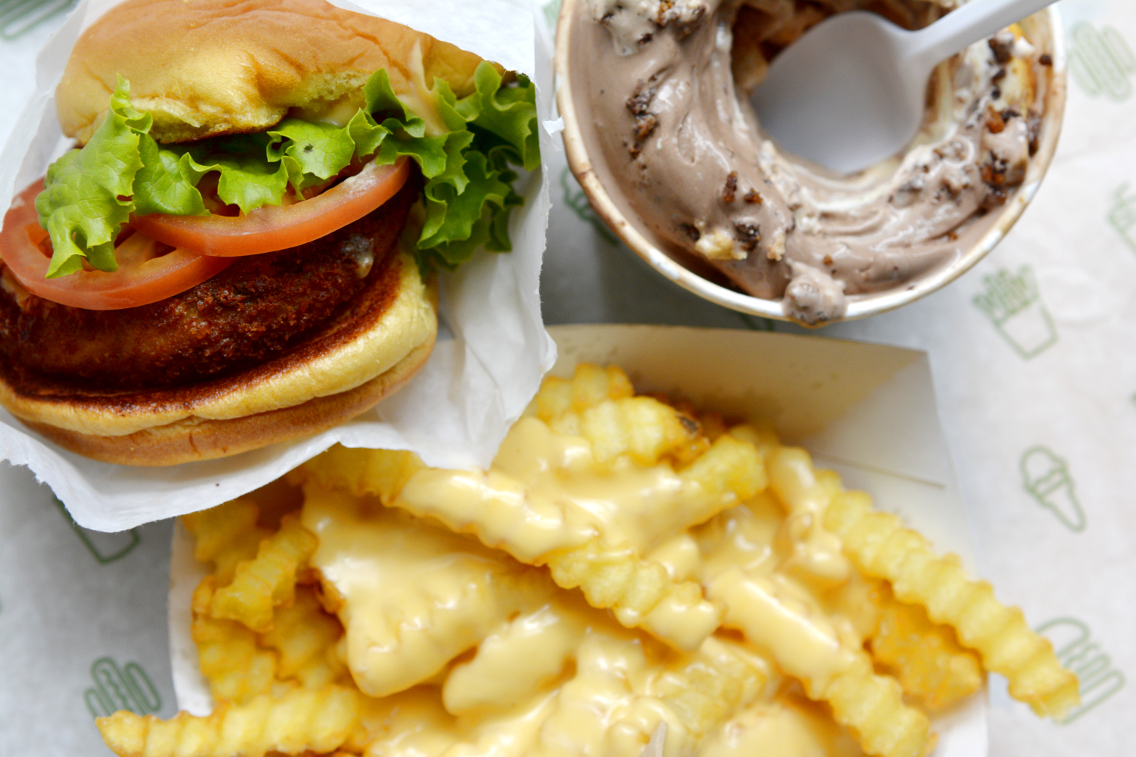 My first Shake Shack order: Shack's 'Shroom Burger, Crispy Crinkle Cheese Fries and Da S'mores concrete.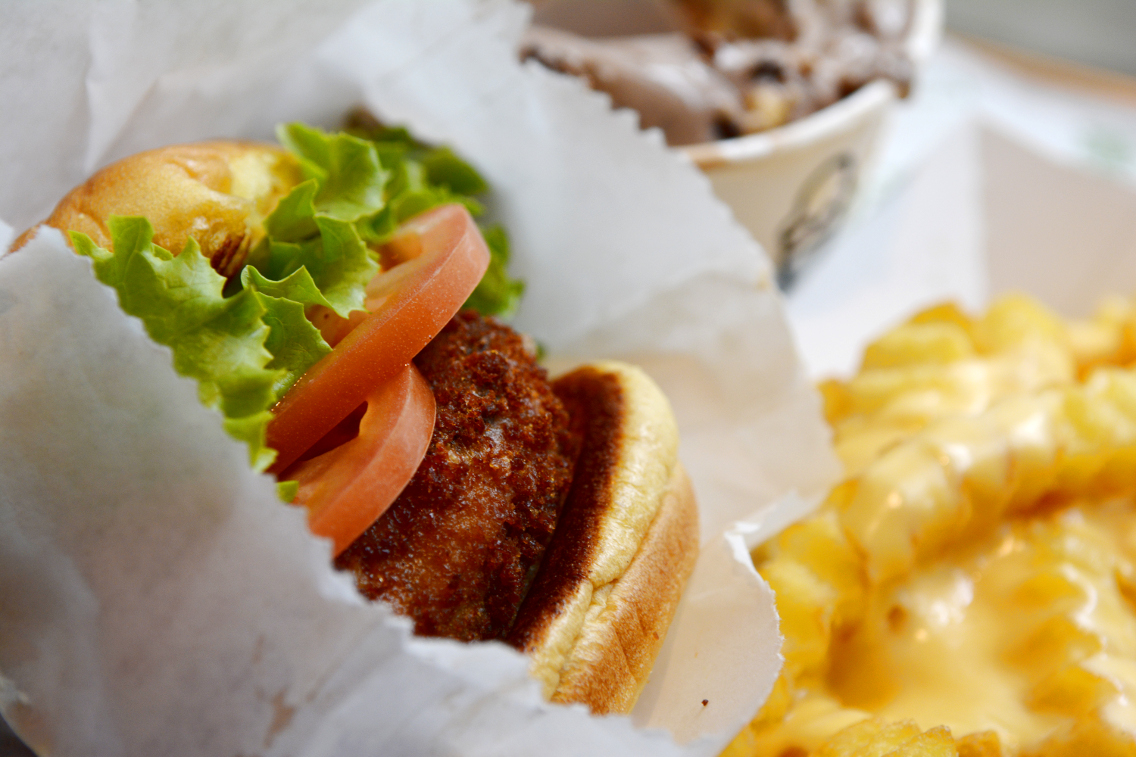 The burger…
A vegetarian crisp-friend portobello mushroom burger filled to the brim with melted munster and cheddar cheeses and topped with the Shack's famous Shack Sauce.
As far as satisfyingly naughty vegetarian burgers go, this one is a serious winner!! I mean, the world of vegetarian burgers can sometimes feel suffocatingly healthy and sometimes I'm just down-right ready to eat something seriously sinful, sans cow! I mean you knew I was going to like this 'Shroom burger… I am MushroomStew on Instagram after all!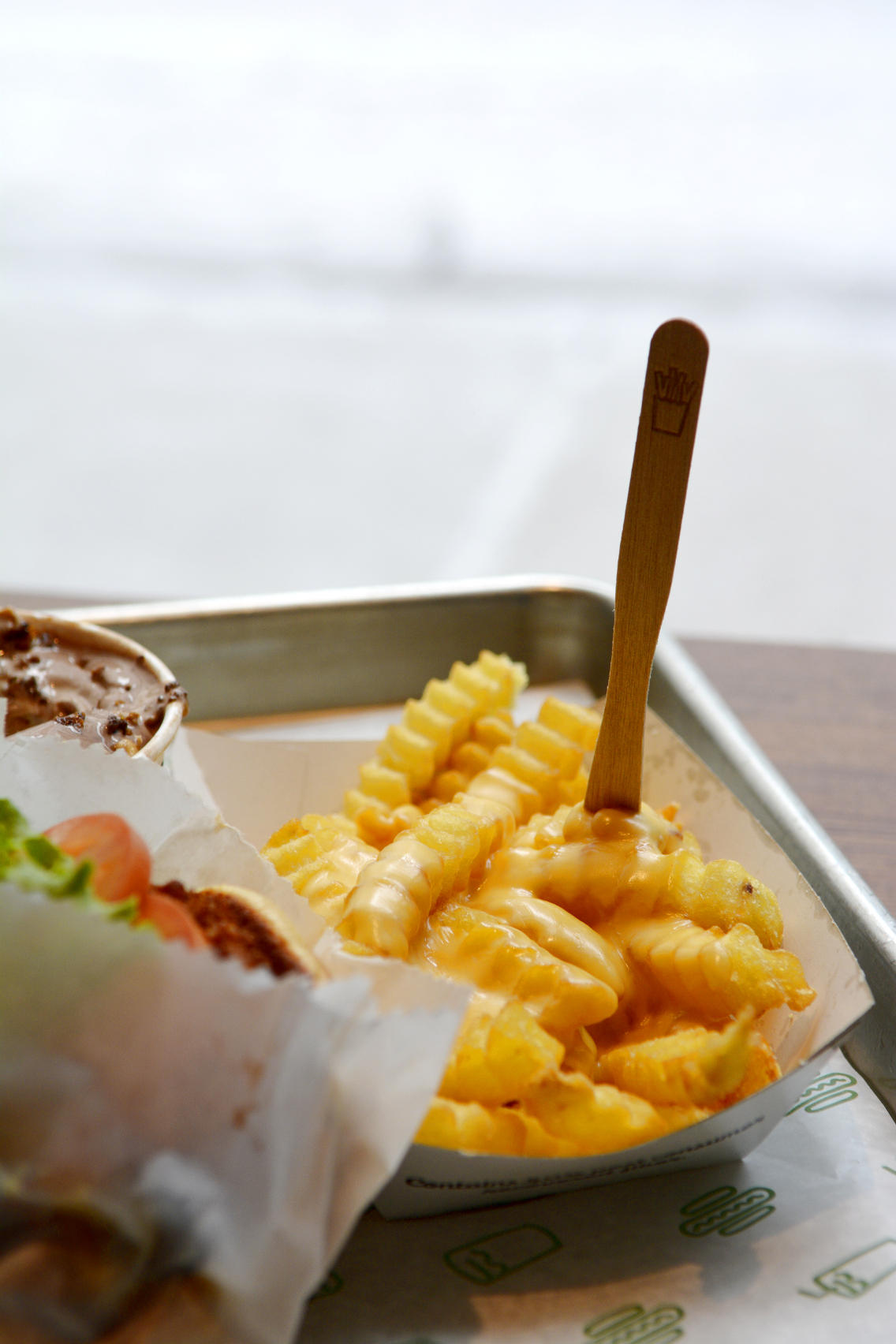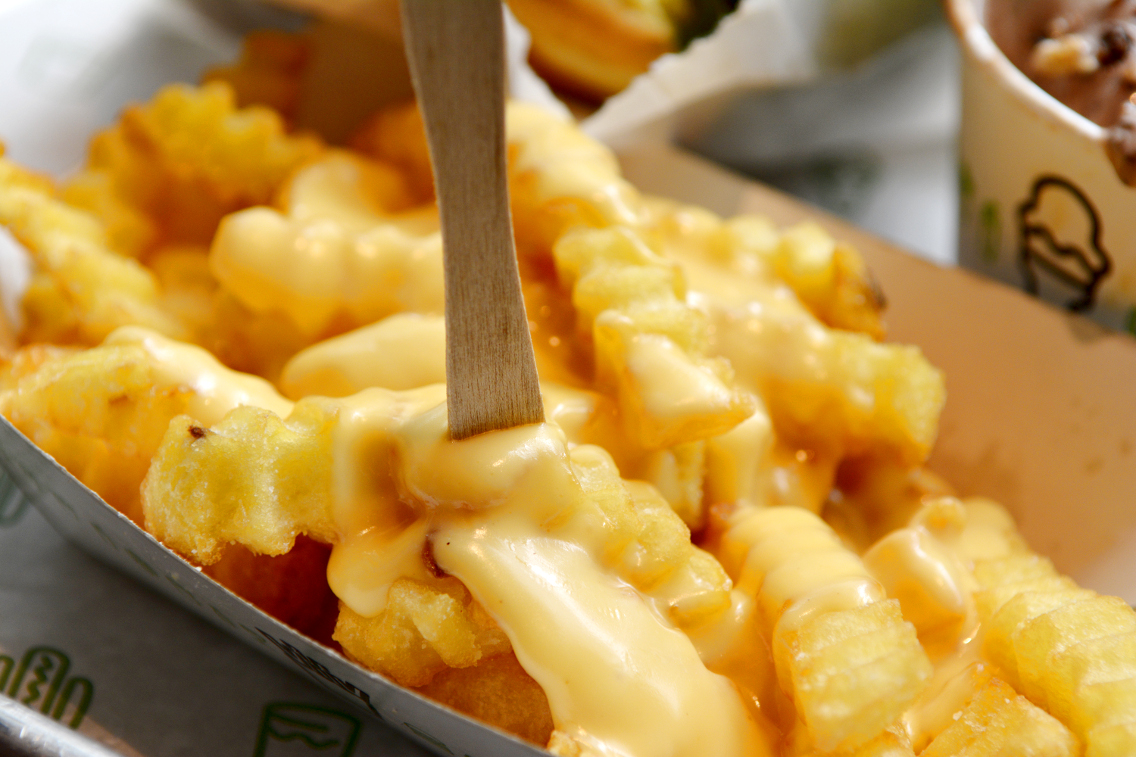 The Fries…
The Crispy Crinkle Cut Cheese Fries are topped with REAL cheese. None of that orange, plastic-looking "velveeta" that induces synthetic food panic in modern man (well, ok it has American cheese but still…). We're talking the REAL DEAL: Cheddar and American cheese married together into a divine and complex cheese sauce that spells doom for even the most diligent dieter.
I can certainly testify that these fries will prevent you from losing those post-holiday pounds…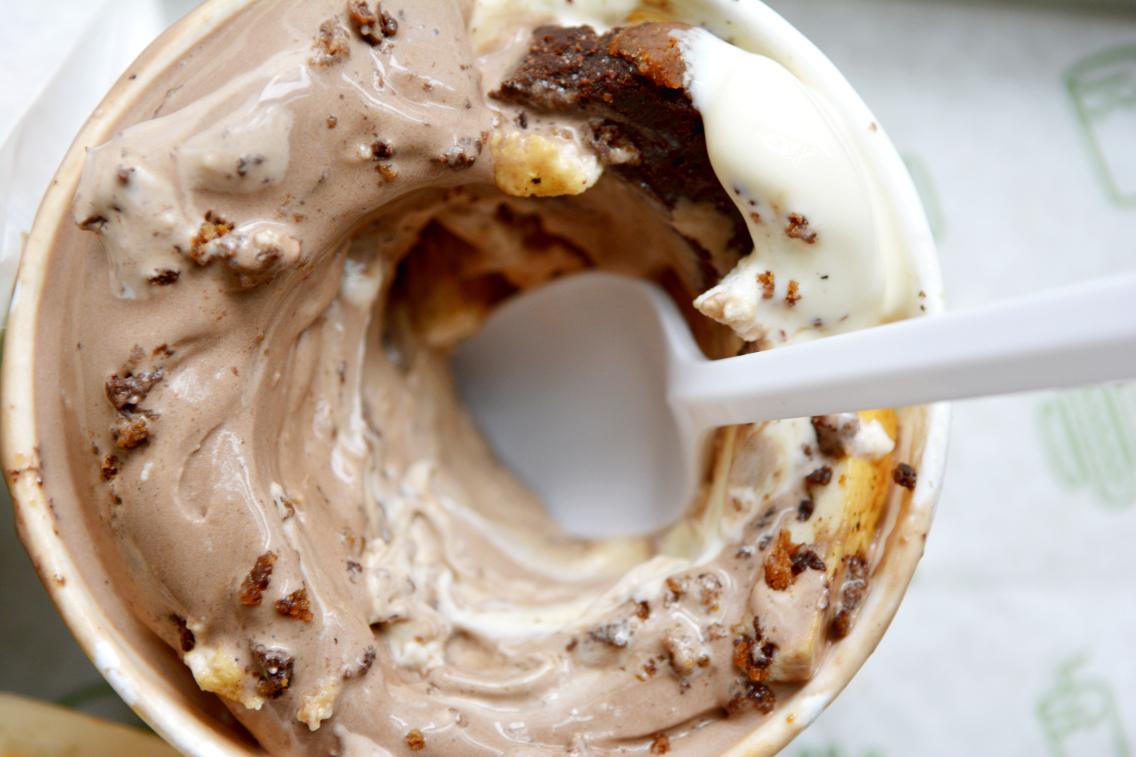 The Da S'mores Concrete…
Now I love Bang Bang Pie. Gigi and I discovered it this summer and I practically lived on their patio after that. So when I saw that Shake Shack had paired with Bang Bang on their s'mores-flavored concrete, complete with EPIC chunks of ooey, gooey marshmellow and chocolate cake, I knew I was a goner.
An absolute goner.
Again this post is only case-in-point why my holiday weight has begrudgingly stuck around…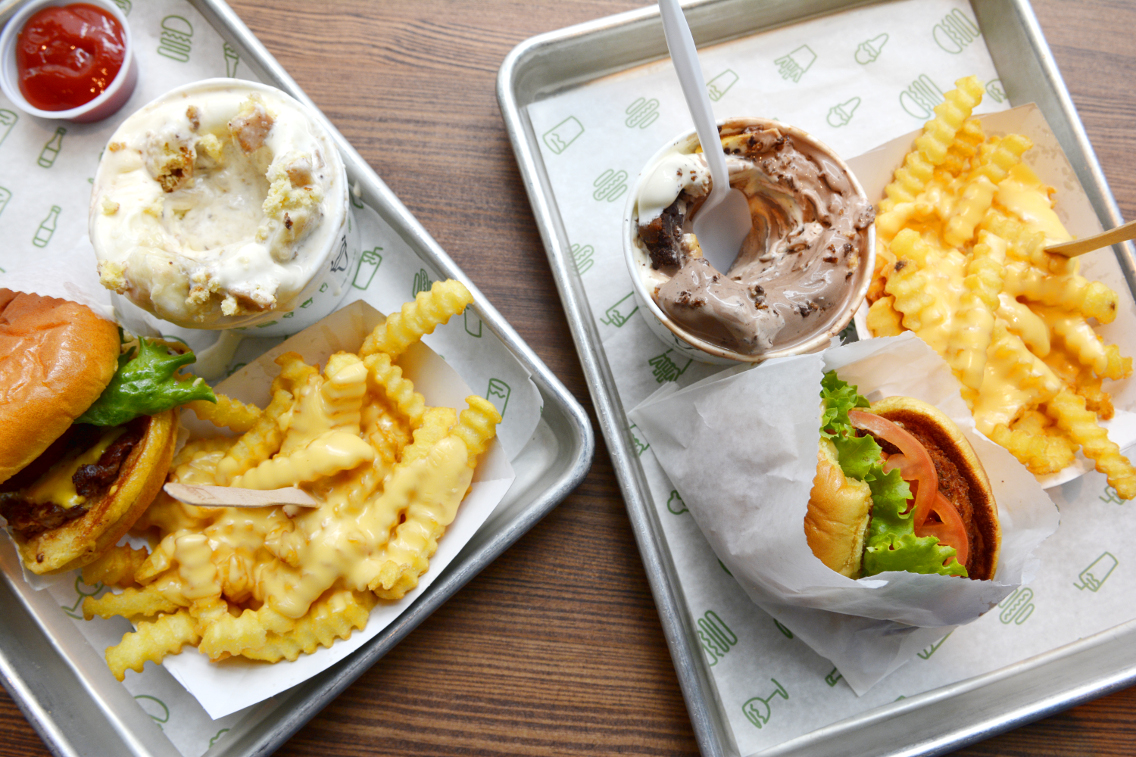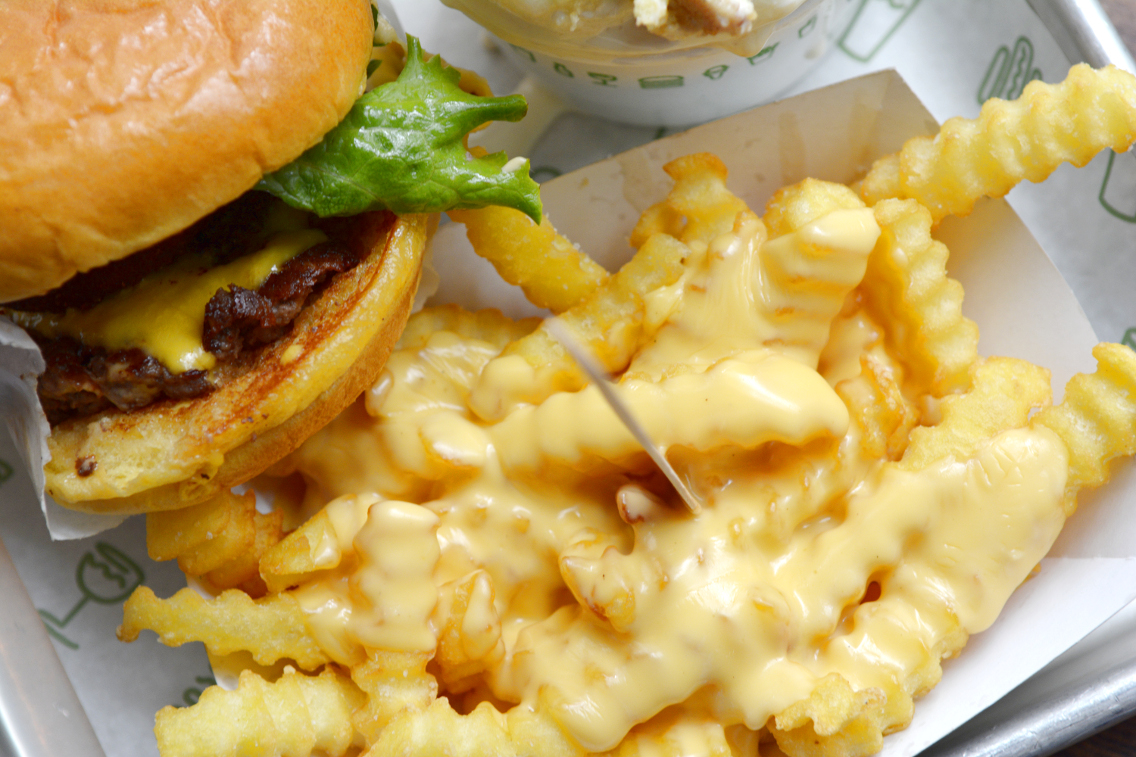 Starr opted for the Shack Stack: a cheeseburger topped with a 'shroom patty (the same in my vegetarian burger), crispy cheese fries (duh!) and Salted Carame'L' concrete. This special Chicago concrete contains vanilla custard, bananas, Glazed & Infused Salted Caramel Old-Fashioned Donut pieces, and MAGIC! A heavenly blend of banana, salted caramel and donut AND 5% of all Salted Carame'L' concrete sales benefit the Greater Chicago Food Depository, making this concrete even more delicious!
It never hurts to enjoy good food while sharing the love with those in need!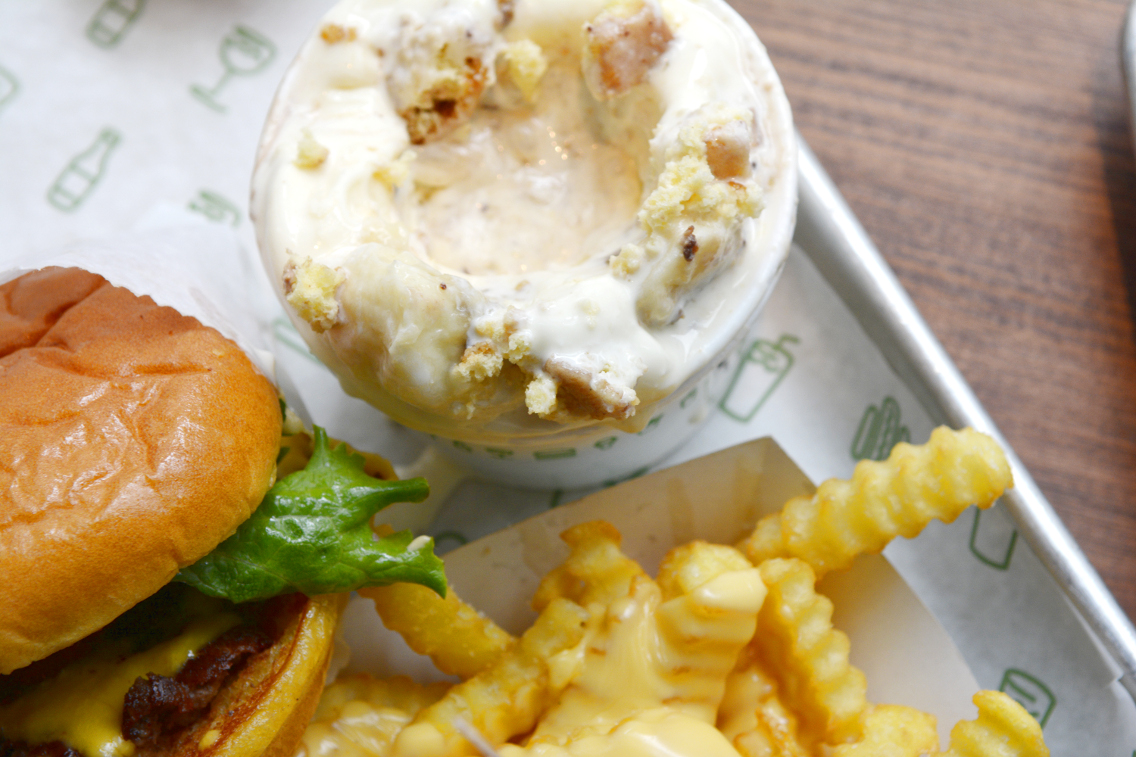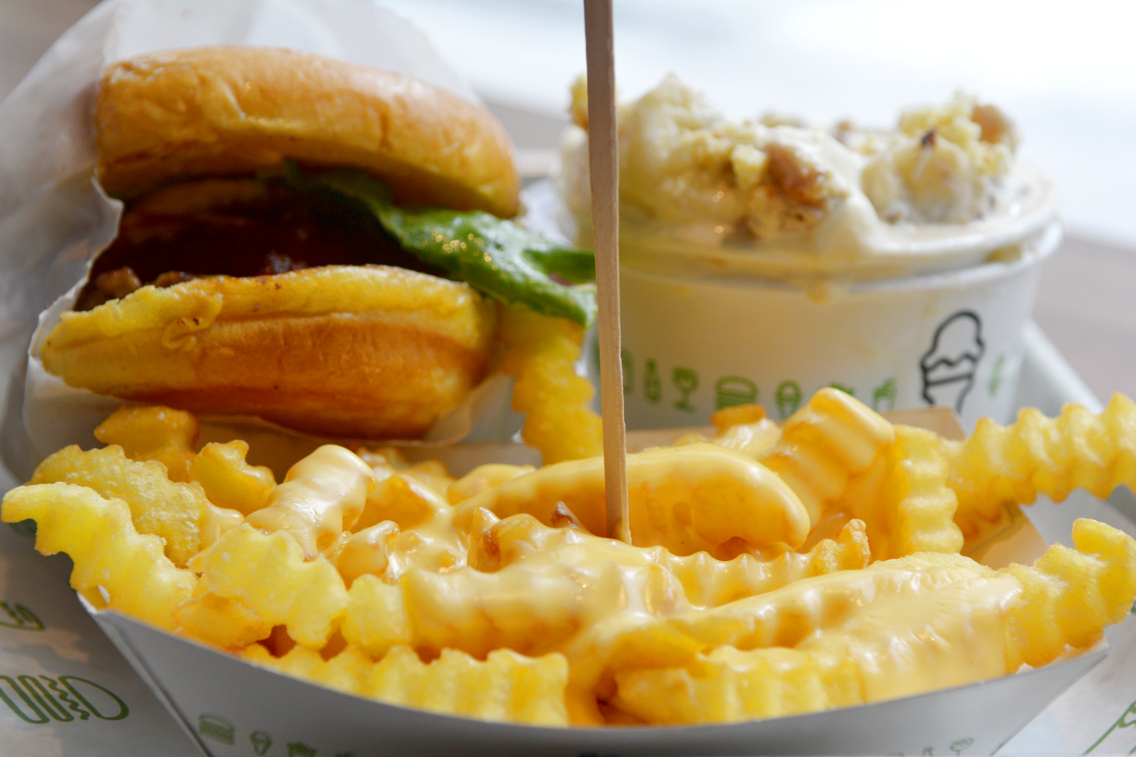 #DROOL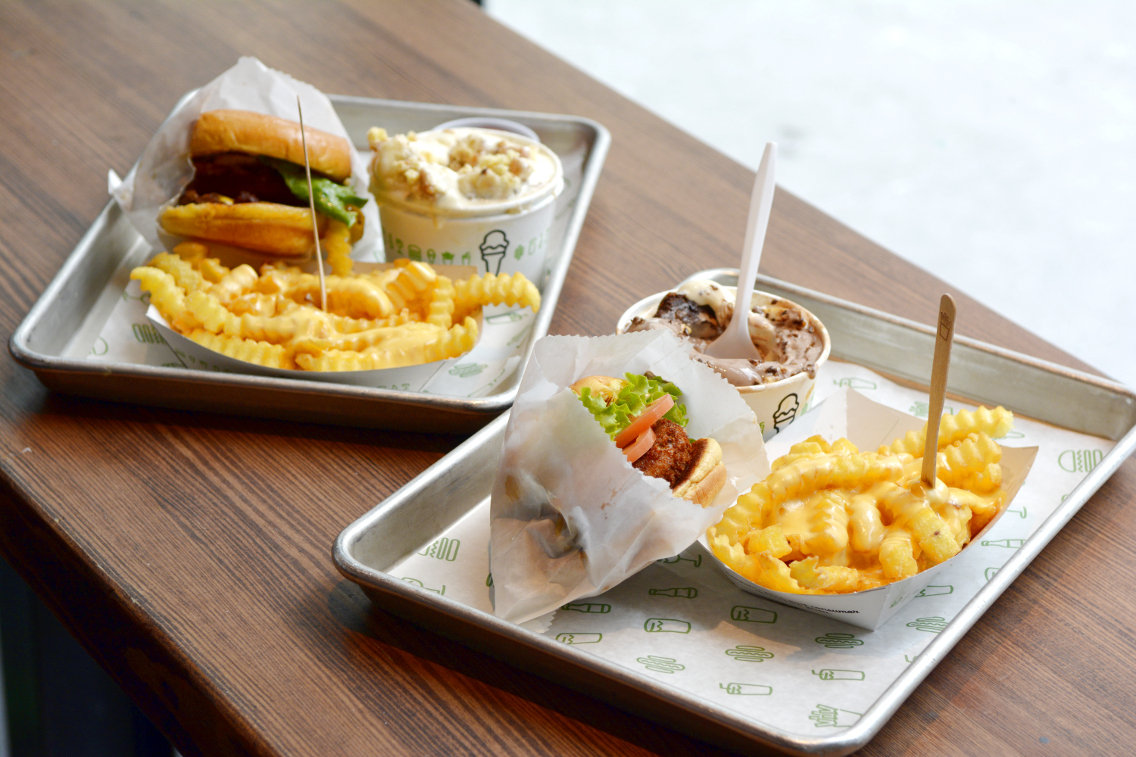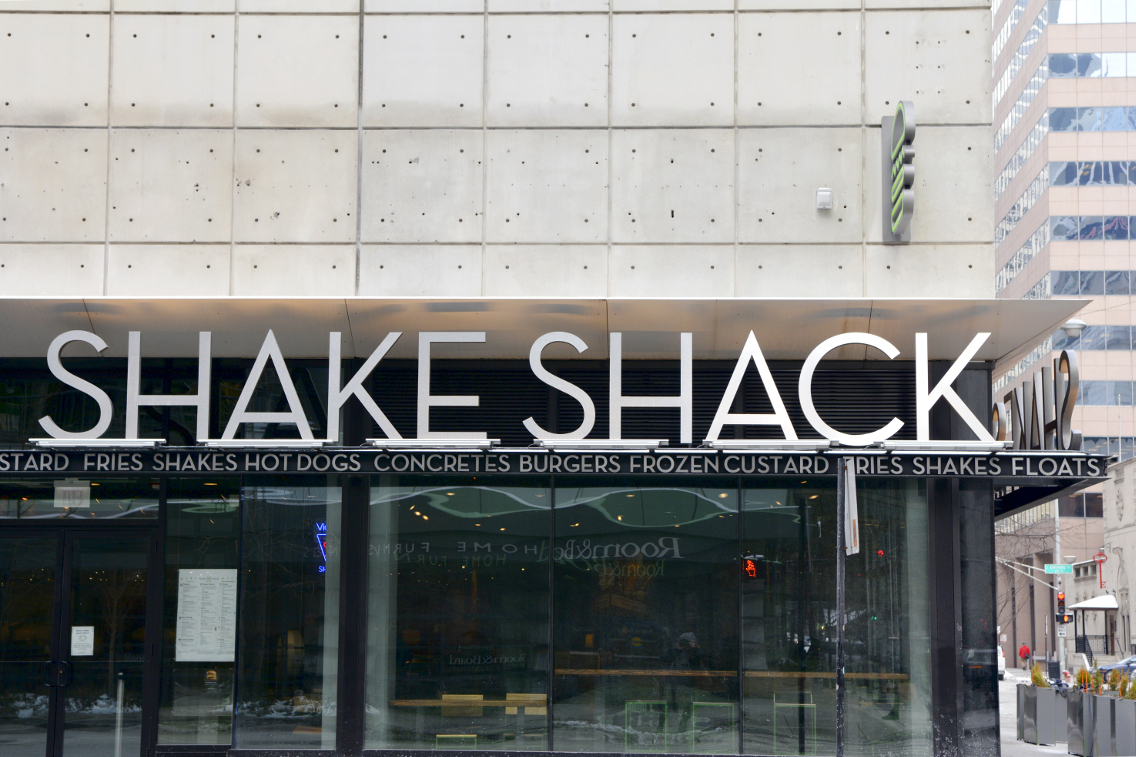 [A seriously belated] Welcome to the Windy City, Shake Shack! I've heard a rumor that their special edition concrete right now involves red velvet cake from Bang Bang Pie so no doubt I'll be back VERY soon!
I mean, I've only dreamed about this meal three thousand times since having it for the first time exactly two weeks ago today….
#ShackFan for Life!