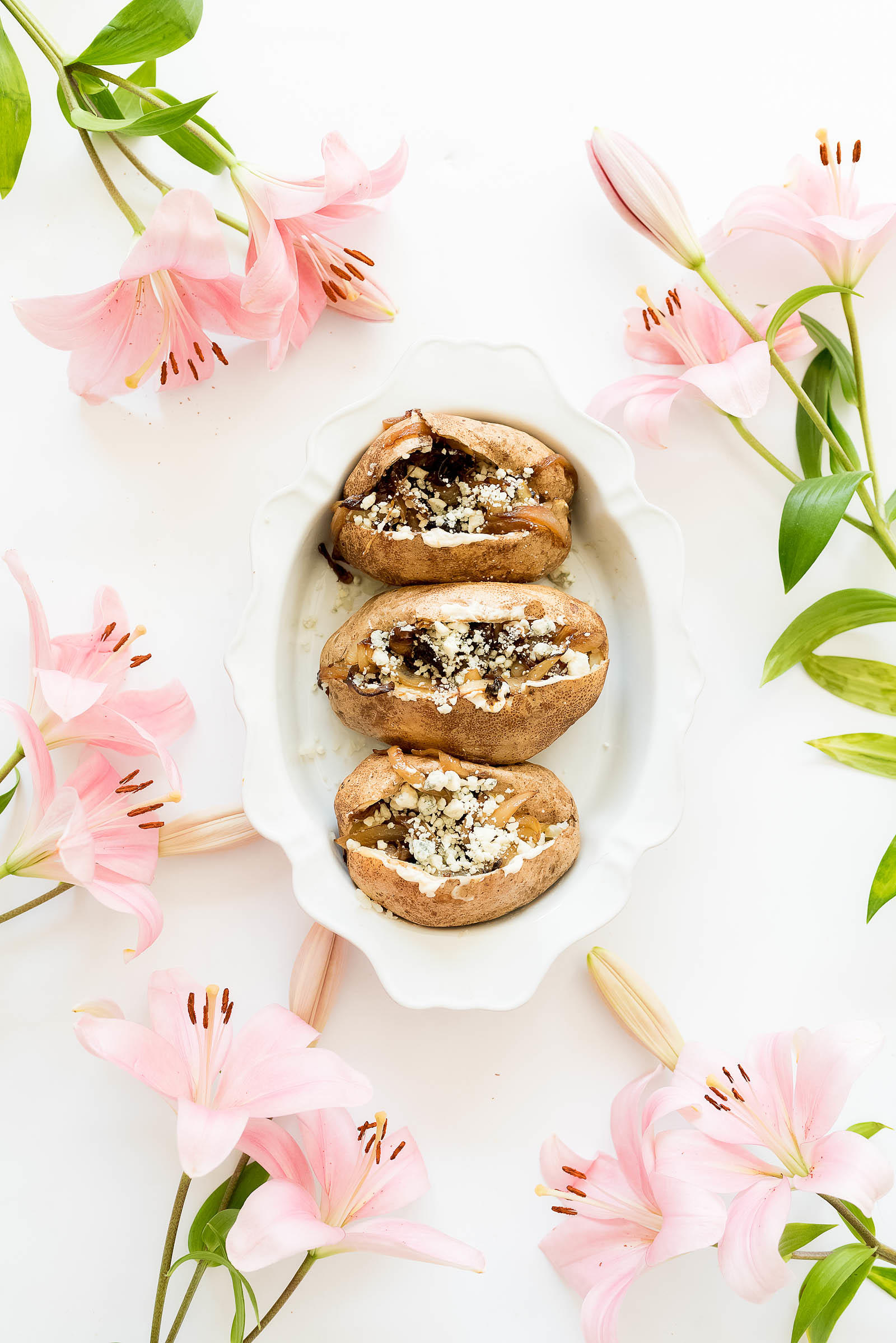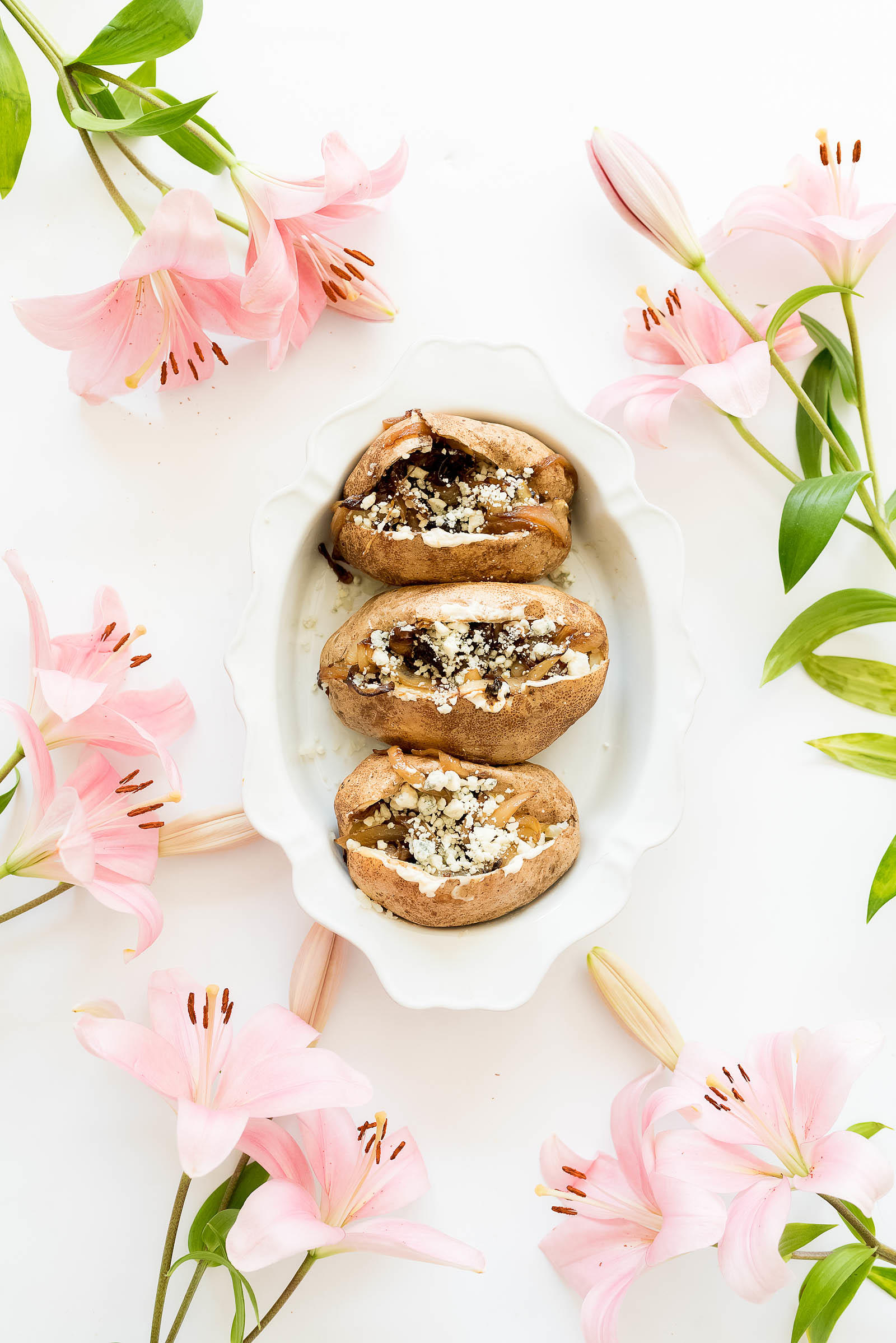 Before you immediately exit out of your browser let me BEG you to give today's recipe a chance.
Undoubtedly it's one of the ugliest recipes I've ever posted — baked potatoes smothered in brown and white toppings have got to be one of the hardest things to make look appetizing. Ever!
But believe me when I say this recipe is one of my absolute favorites and is well worth the time involved in making it.
See St. Patrick's Day, at least as it's celebrated here in Chicago, comes with some quintessential dishes: corned beef and cabbage, pea soup, Shepherd's Pie, homemade Shamrock Shakes…
All of which are delicious!
But there are plenty of Irish-inspired dishes that are a bit more off the beaten track too and that's where today's recipe comes into play. See there used to be an old Irish pub in my hometown that served their version of an Irish Baked Potato. It was made for the American palette, to be sure, but inspired by the flavors you'd find in Ireland.
And SO ADDICTIVE to eat.
So today's I've reinvented their recipe to share with those of you looking for something a little more unique to whip up for St. Patrick's Day this week.
Okay, I hear you asking…
What exactly is an Irish Baked Potato?
Essentially it's a baked potato smothered in caramelized onions, mayonnaise, and stilton blue cheese. Simple to whip up, simple to eat. And holy potatoes, is the combination amazing!
One of my favorite things to eat when I head over the Europe is a cone of piping hot french fries doused in creamy mayonnaise. It's the original french fry condiment (sorry, ketchup-lovers… mayo is THE french fry dipping sauce of choice abroad) and there's something about the creamy, slightly sweet-sour combination that I find positively addicting. It's like potatoes and mayo were born to be together. It's such a magnificent pairing!
So today's recipe plays off this tradition in a very Irish way, mingling all sorts of unusual flavors into a mixture you'll quickly find yourself addicted to too! So what are we waiting for? Let's get baking!
Irish Baked Potatoes for St. Patrick's Day

Yields 1 Baked Potato
1 Baking Potato
1 Tbsp Mayonnaise
1 – 2 Sweet Onions, Sliced
1 – 2 Tbsp Stilton Cheese*
1 Tbsp Olive Oil
Preheat oven to 425°F. Scrub and wash potato thoroughly, then rub olive oil all over. Prick a few holes with a fork to release air. Place directly on oven rack and bake for 50 – 60 minutes, rotating every 20 minutes or so.
While potatoes are cooking, add olive oil to a sauce pan over medium high heat. Add onion slices, stir to coat in olive oil, and let caramelize, stirring occasionally. This process takes a while, often 40 minutes or so, but is completely worth the trouble! I often make a big batch of caramelized onions all at once and keep them on-hand in the refrigerator to top soups, burgers, and tartines with!
Remove potatoes from oven once baked through. Set aside to cool.
Once potatoes are cooled, slice lengthwise and scoop out a tablespoon or so of potato filling. Spread mayonnaise inside baked potatoes. Top with caramelized onions and stilton cheese.
Serve and be sure to enjoy with a large Irish beer!
* I must confess I used blue cheese in today's recipe. Regular old blue cheese. Not beautiful stilton. But believe me I tried. To me, there is no substitute for actual stilton cheese. But I went to four grocery stores before giving up — all four of which used to carry stilton! I've been distraught ever since… where will I get my stilton fix now? Guess I'll just have to move to London already…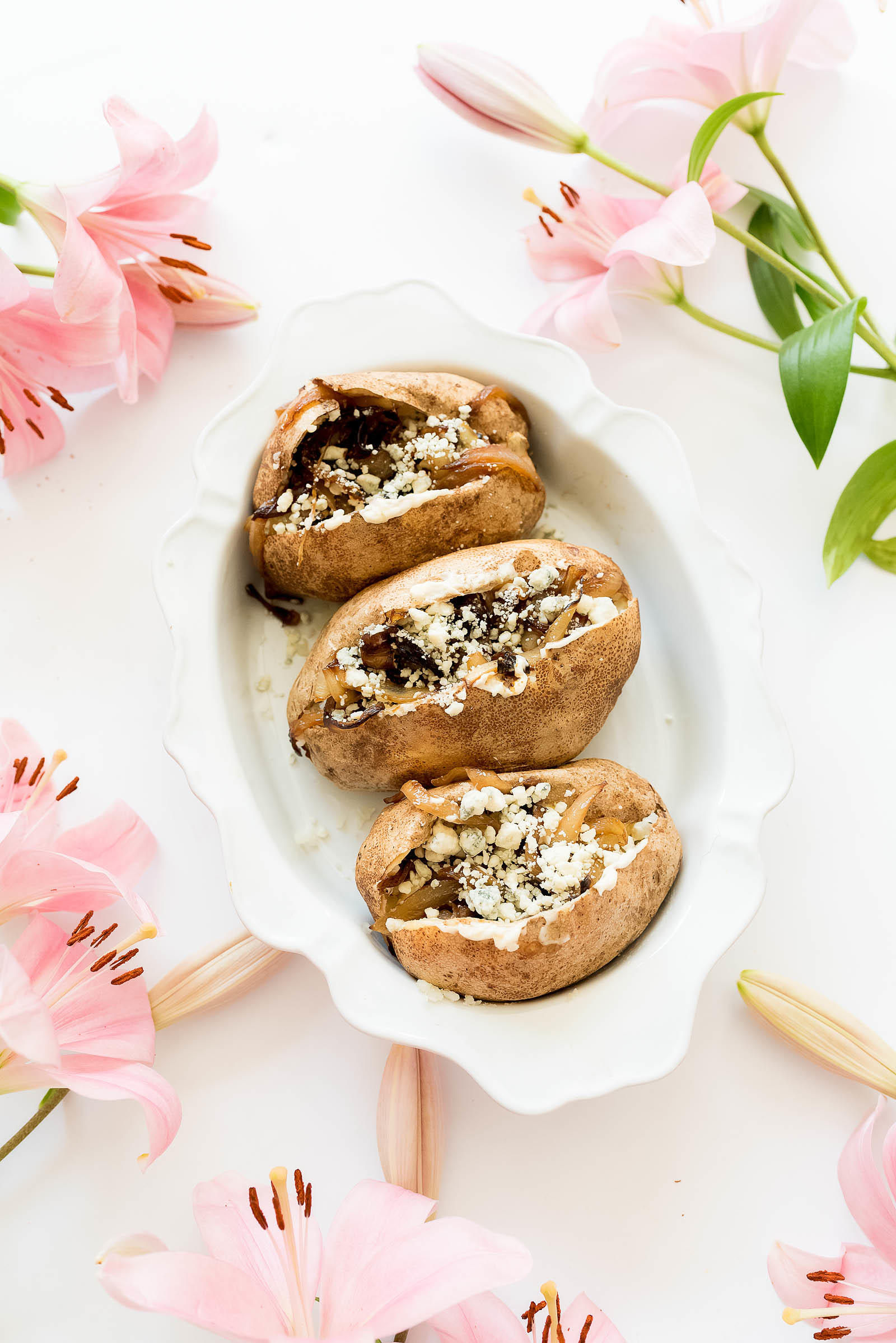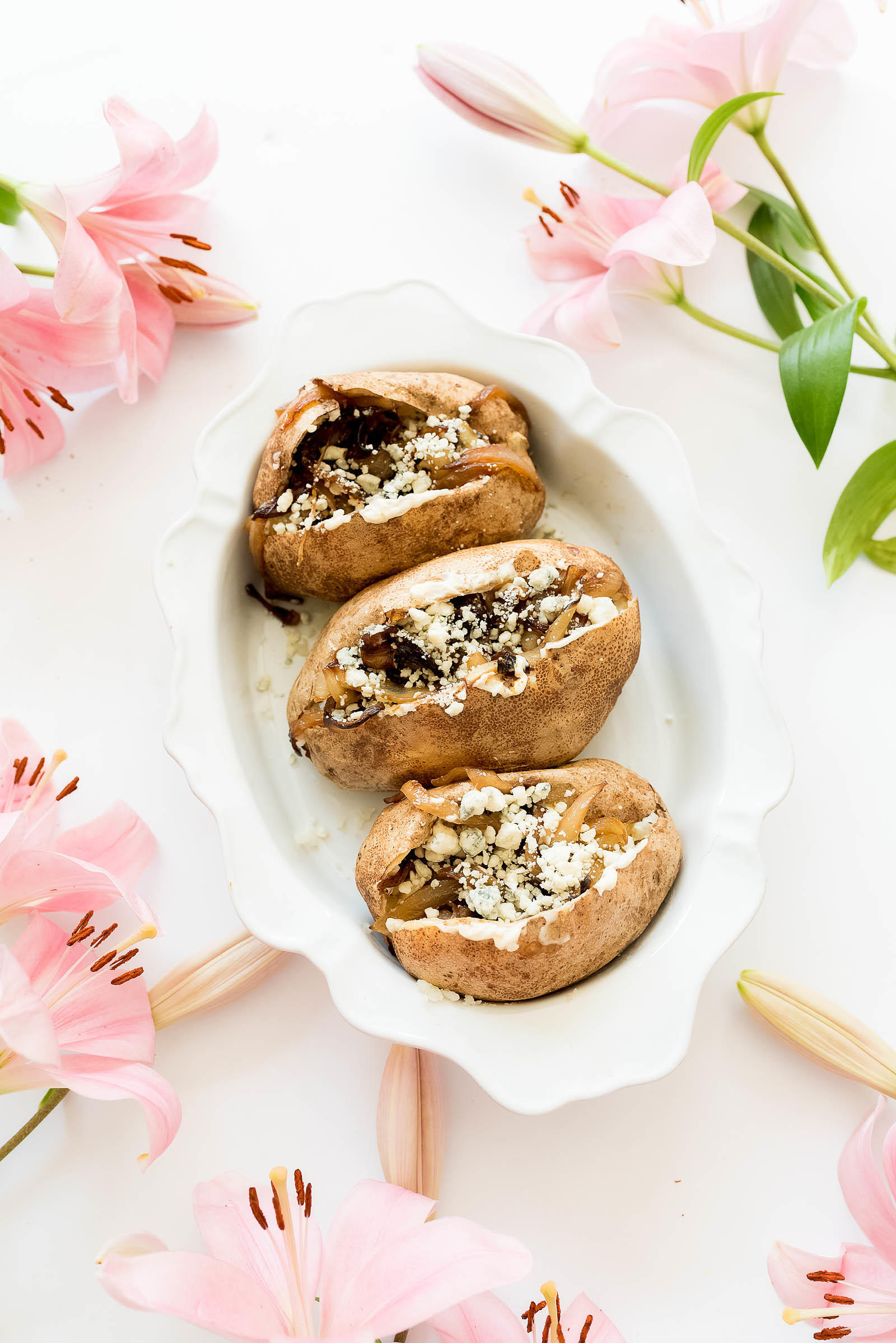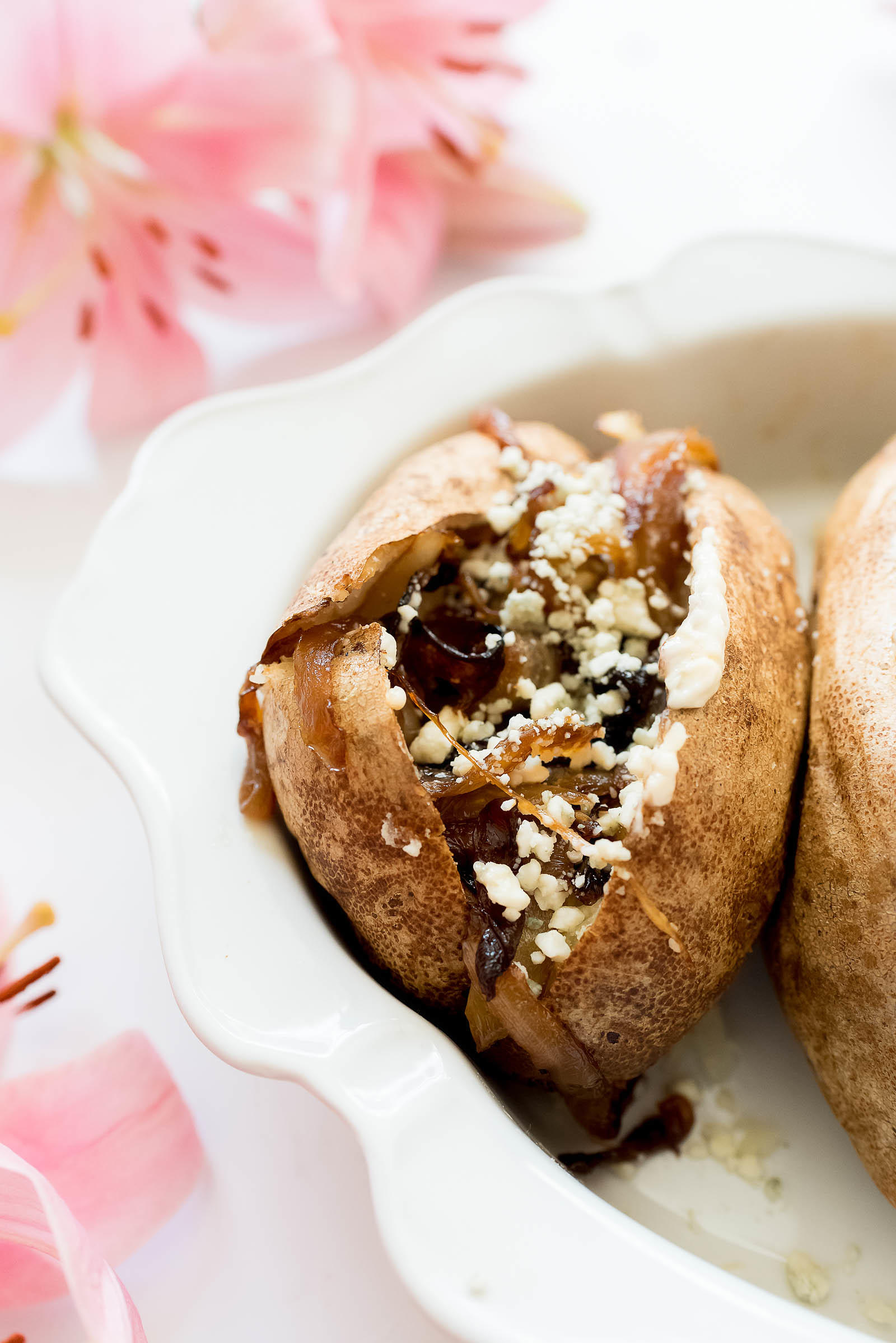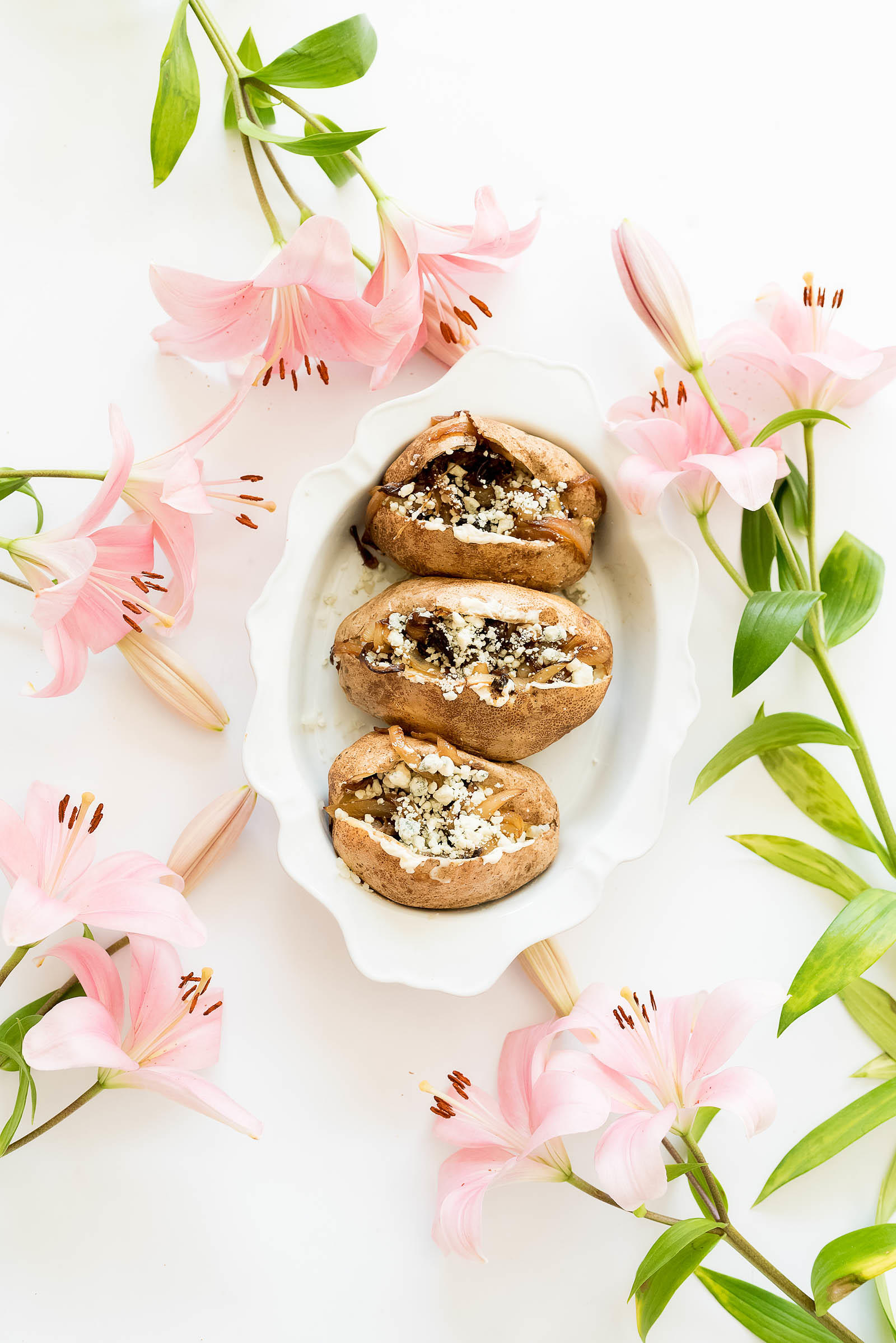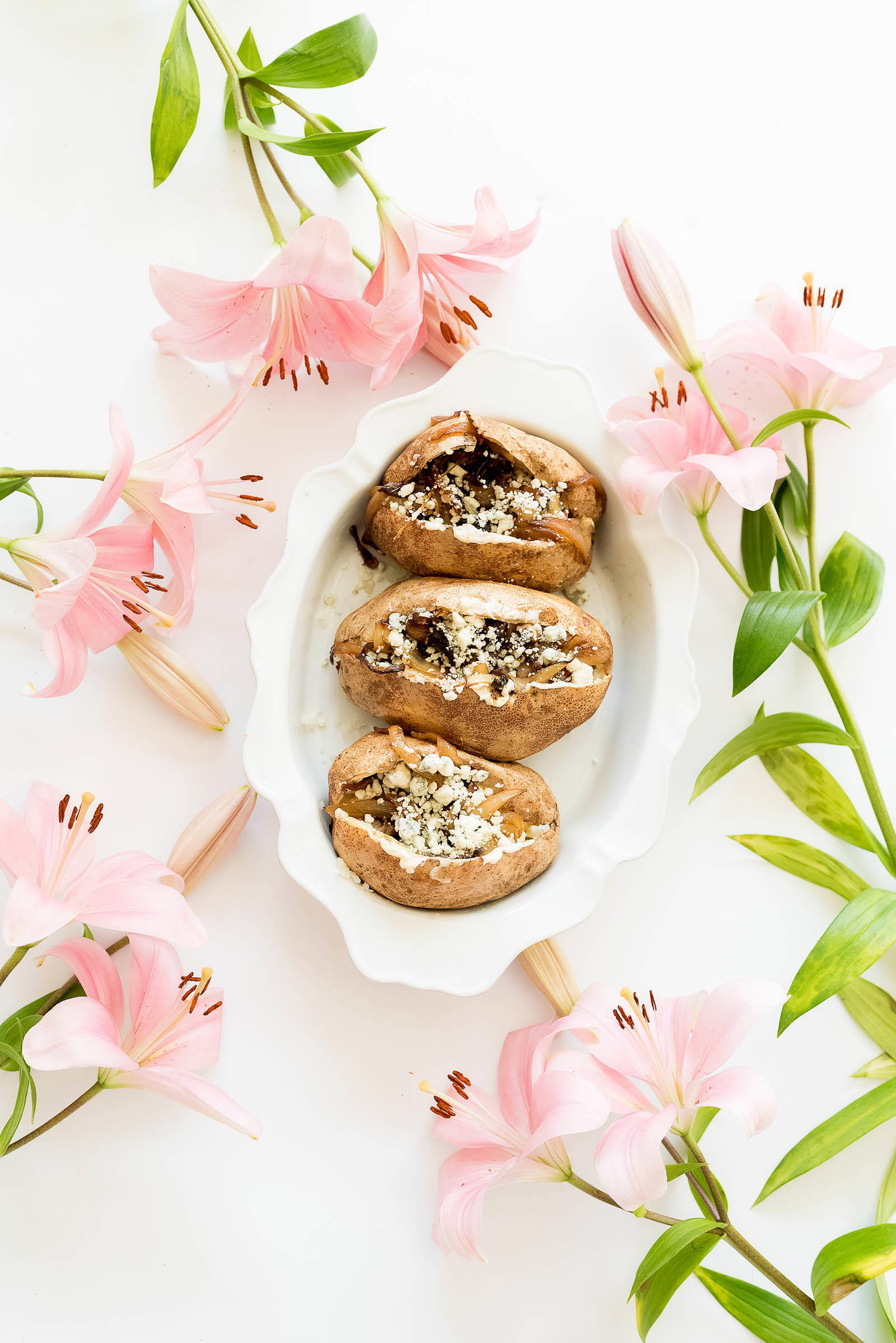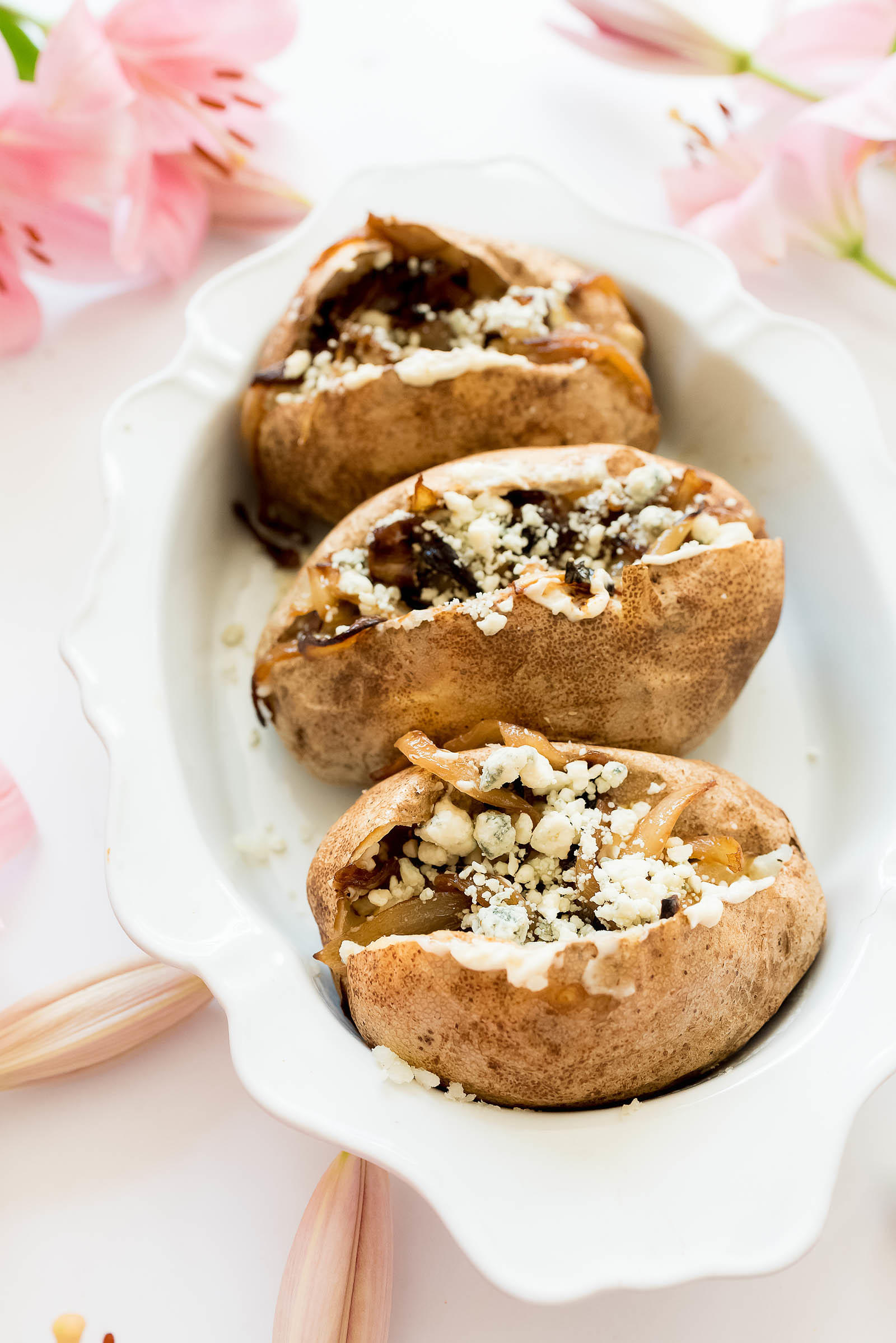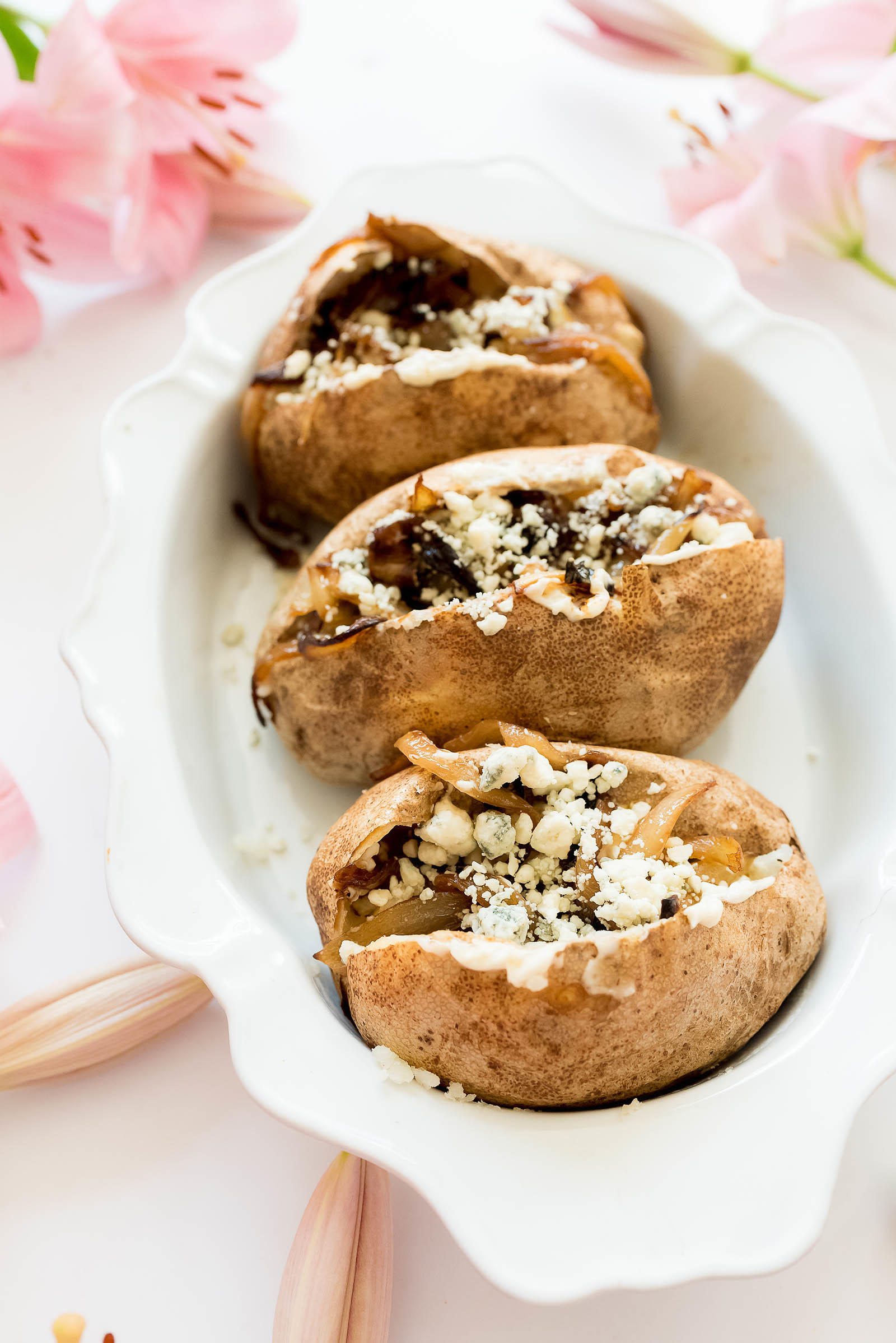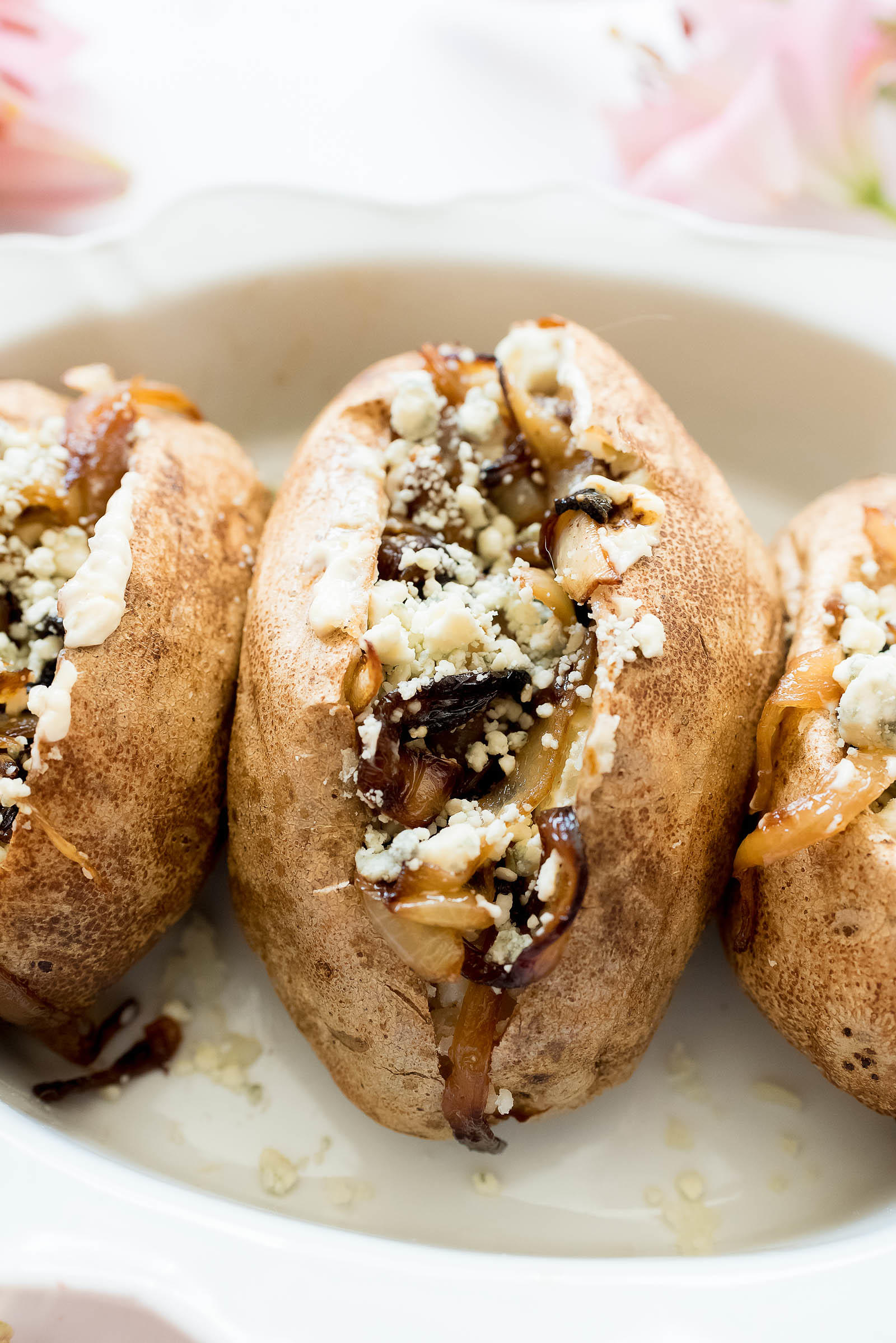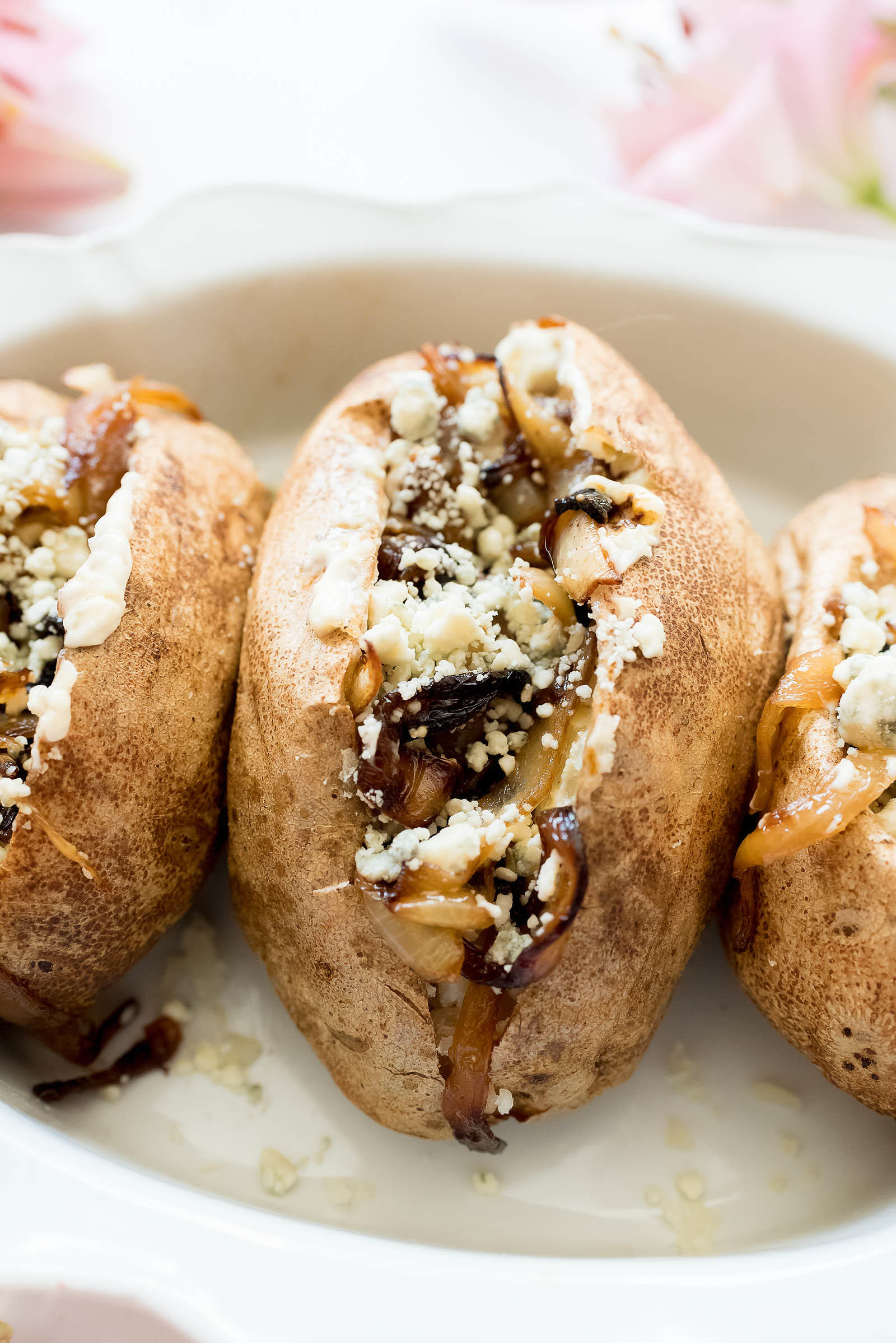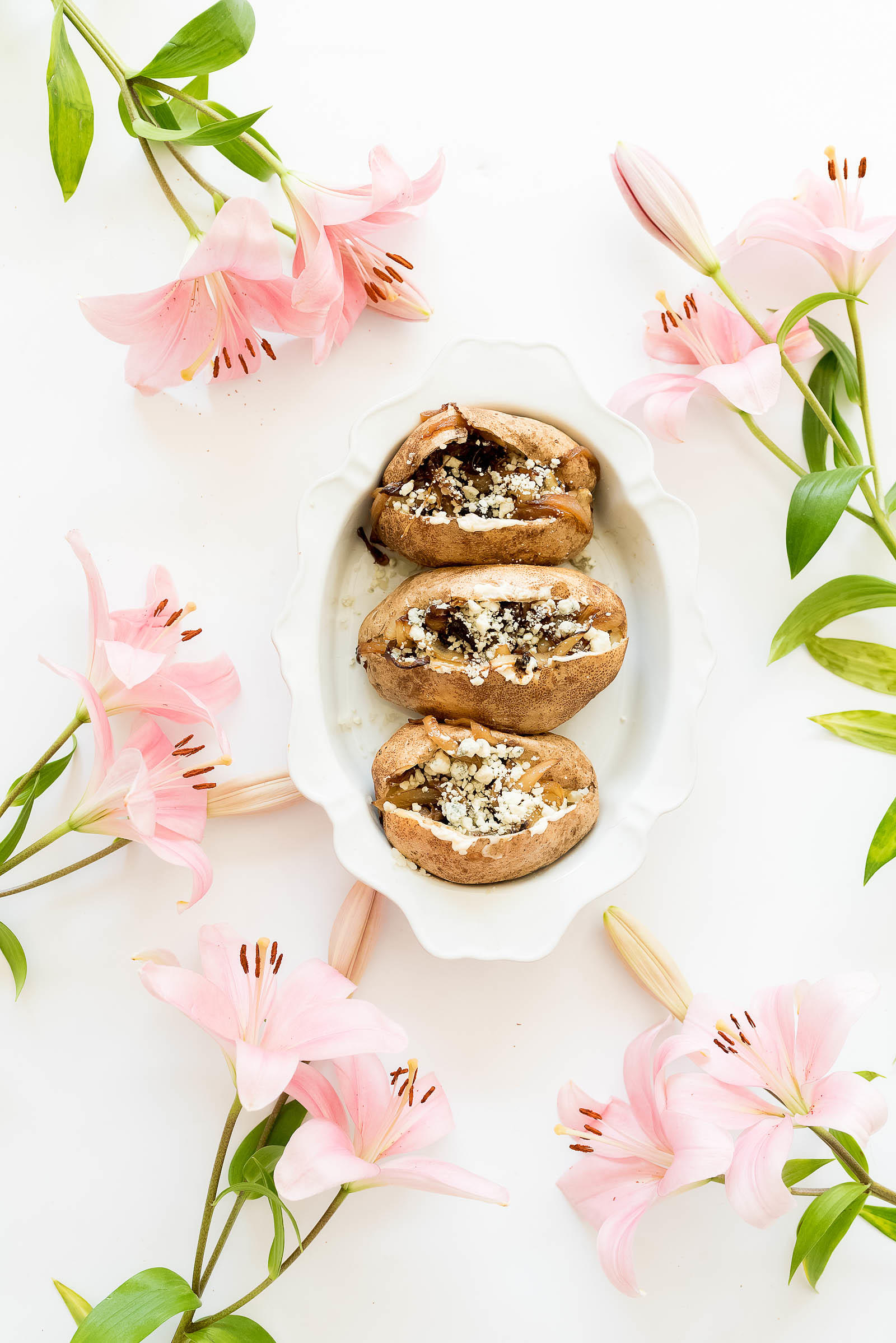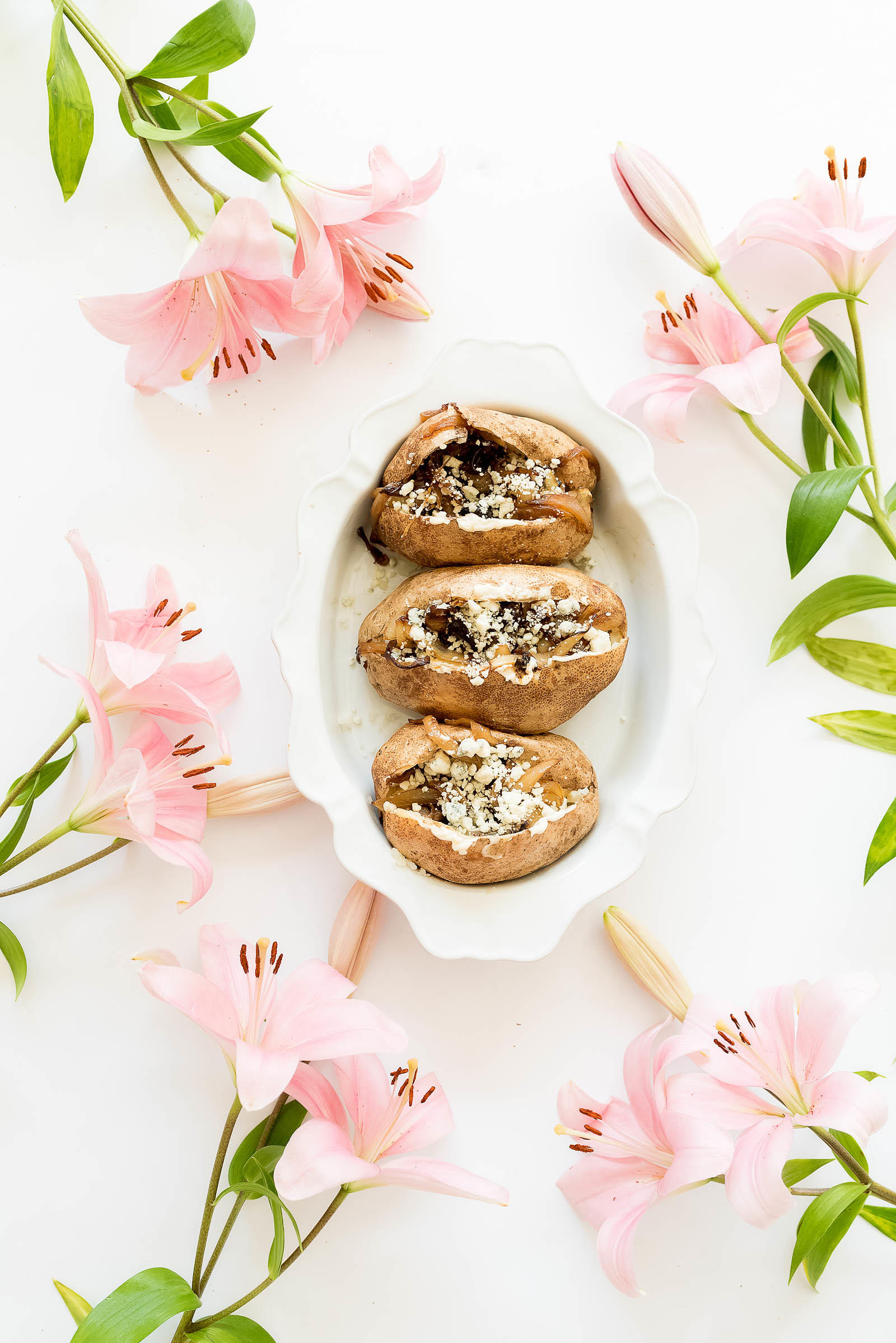 Don't forget to share your Irish Baked Potato photos with the #SedBona tag on Instagram and Twitter!