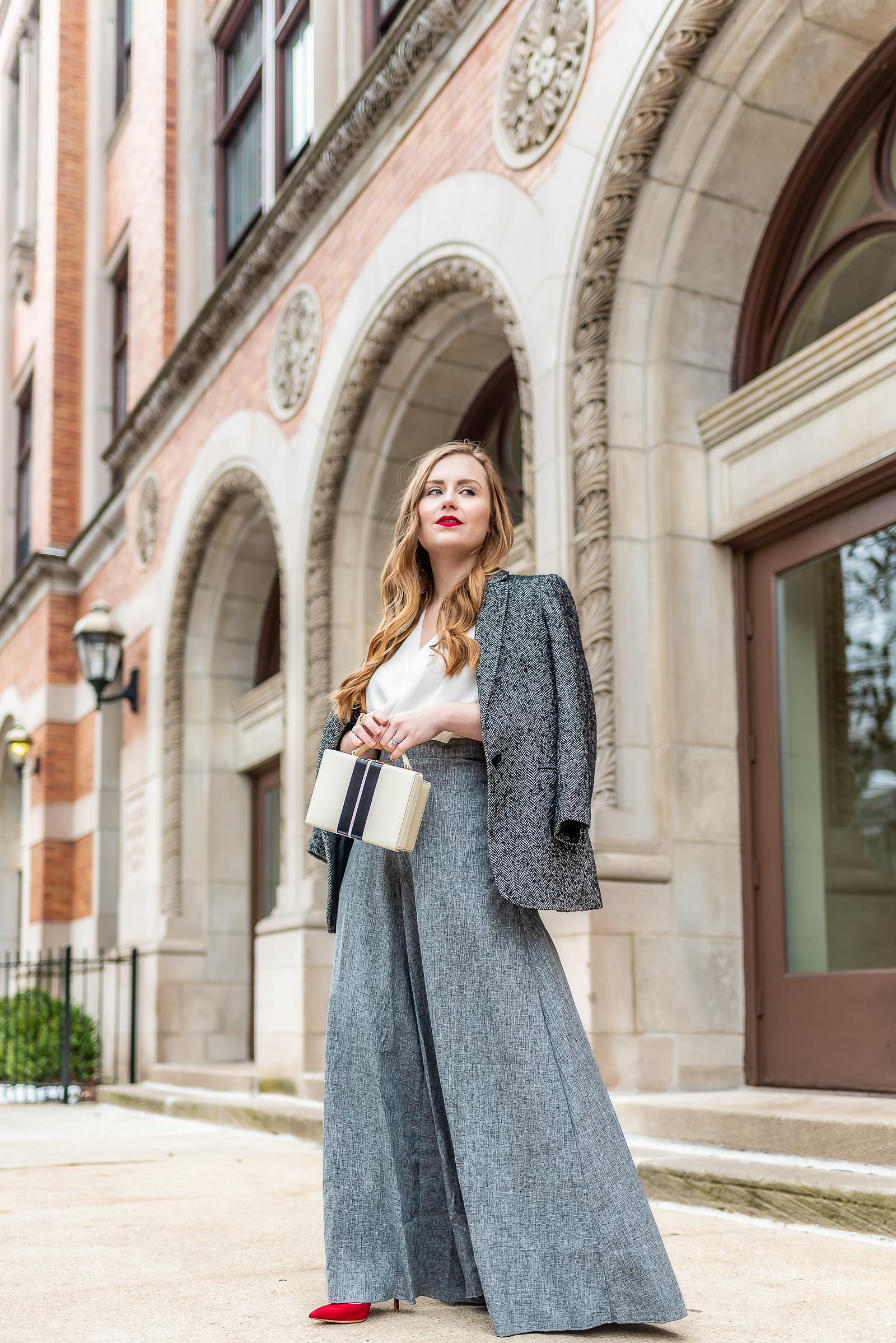 "A few things make a person stylish: honesty, imagination with a sprinkling of humor. I still keep an eye on trends, but I don't follow them any more."
— Maxine Peake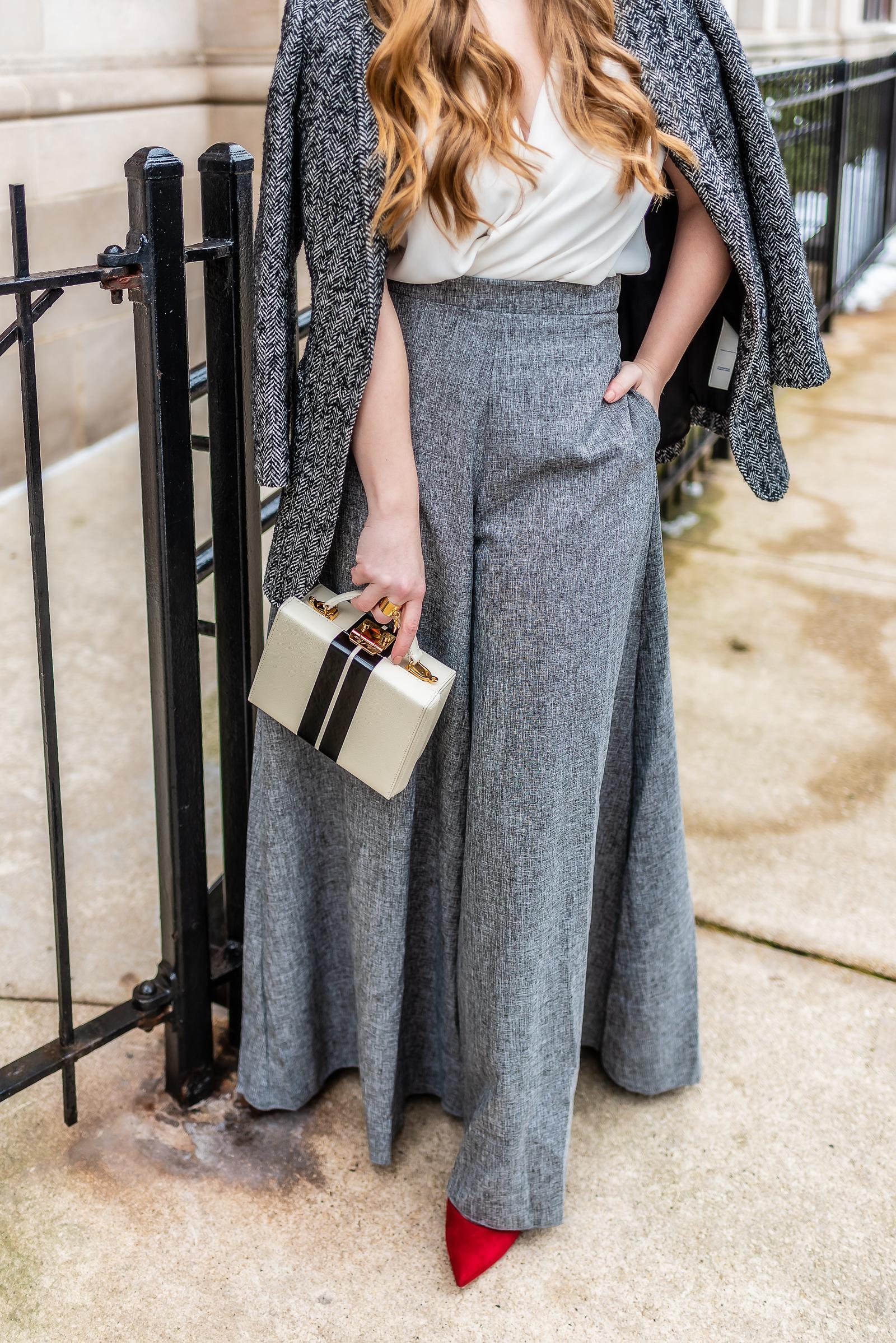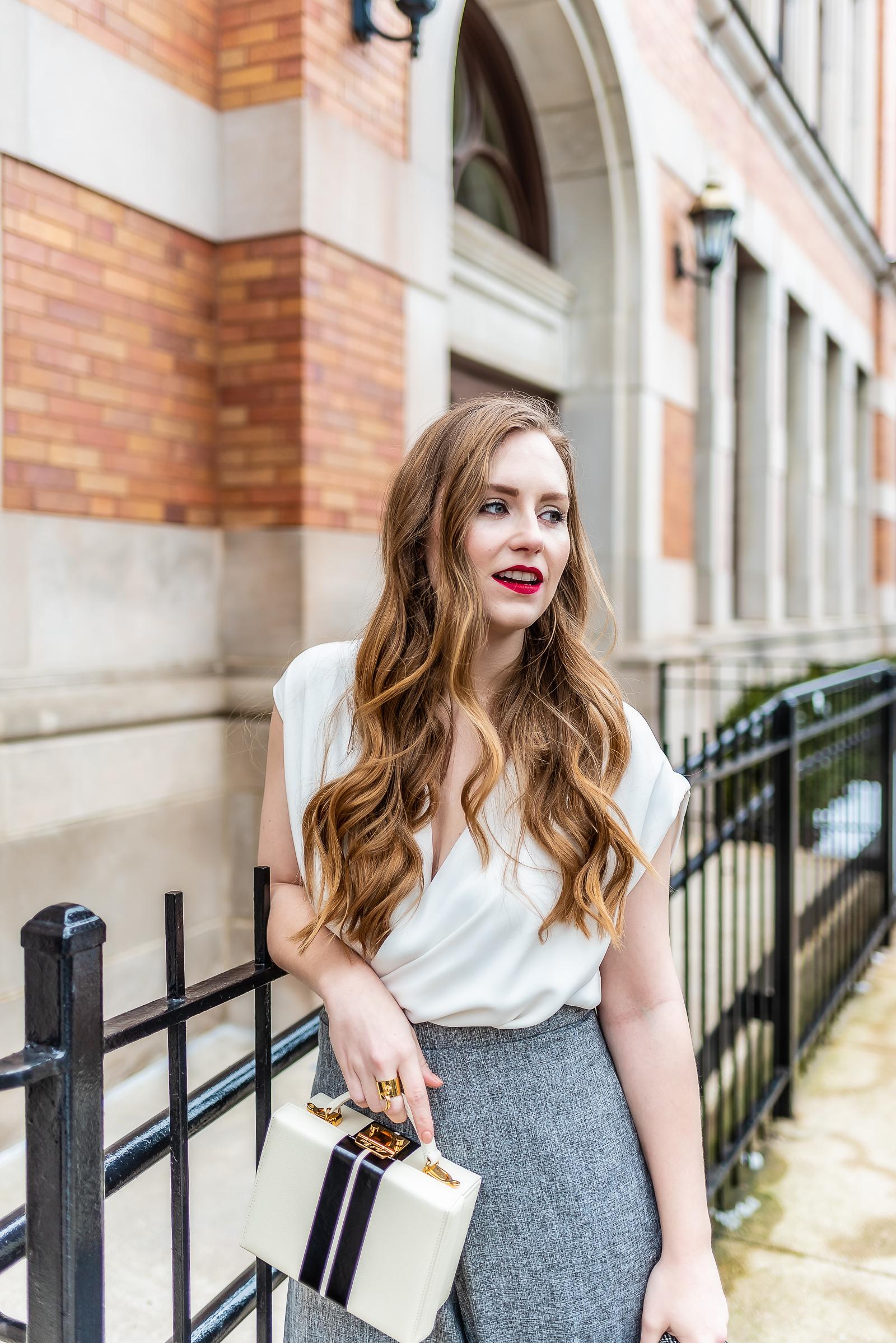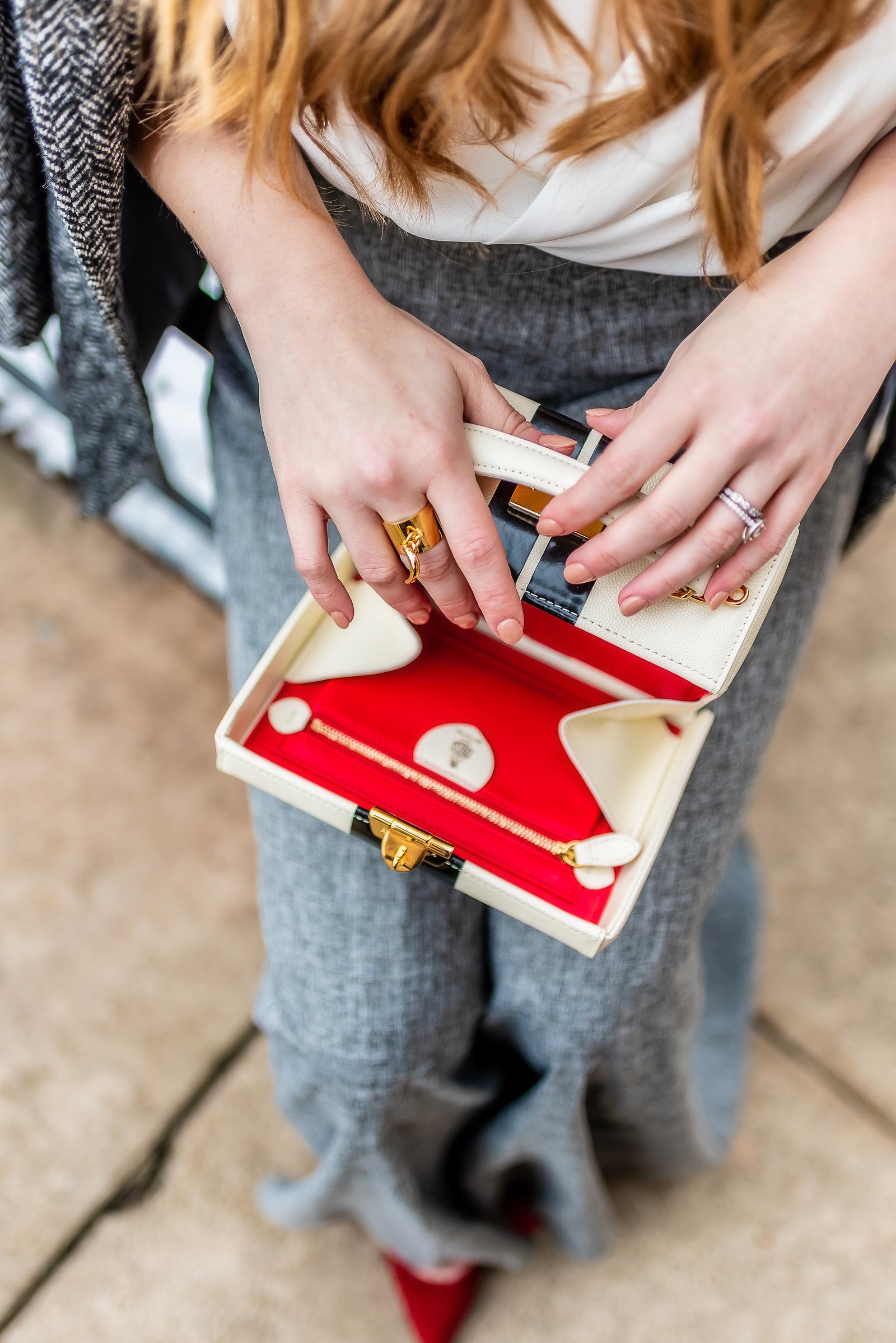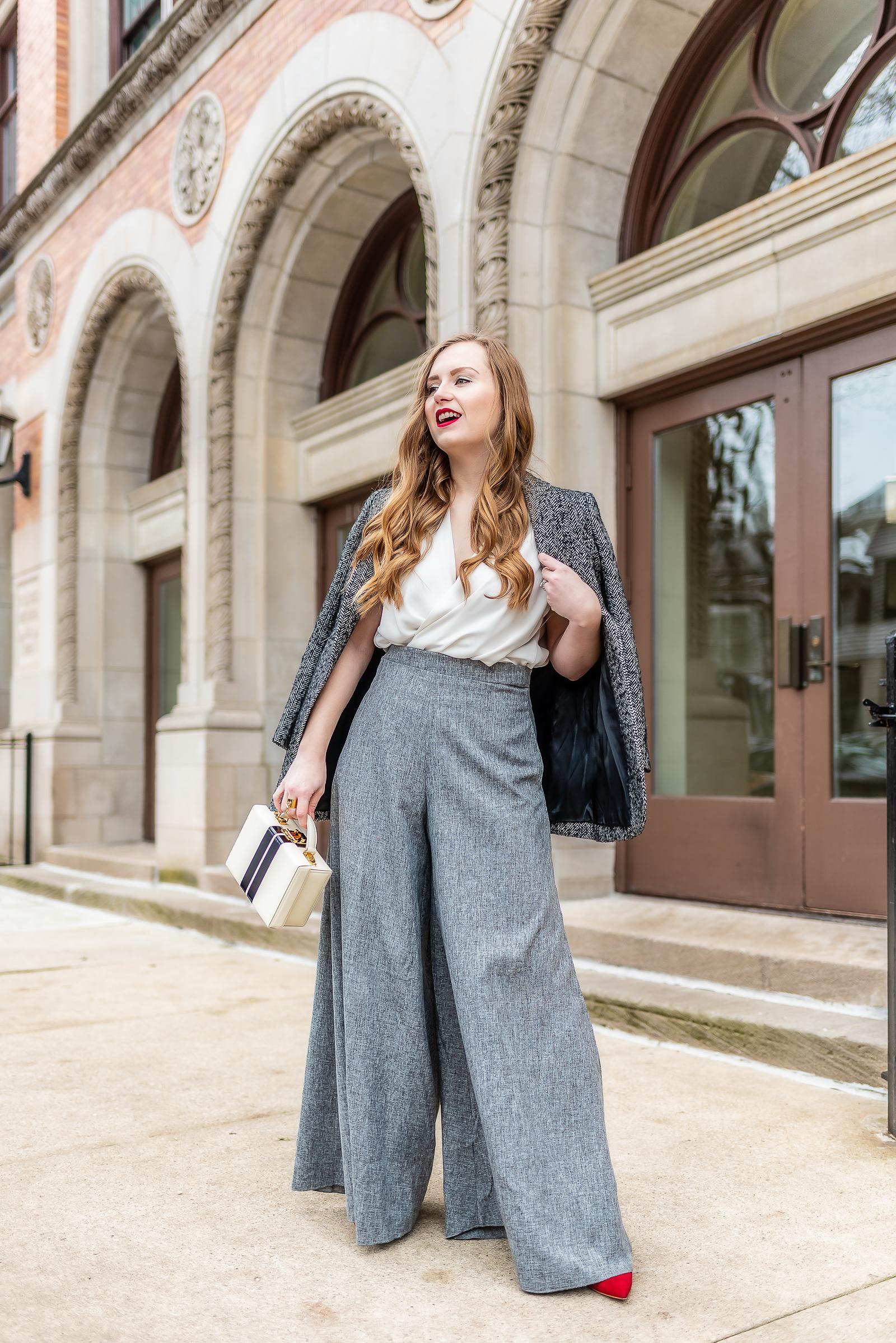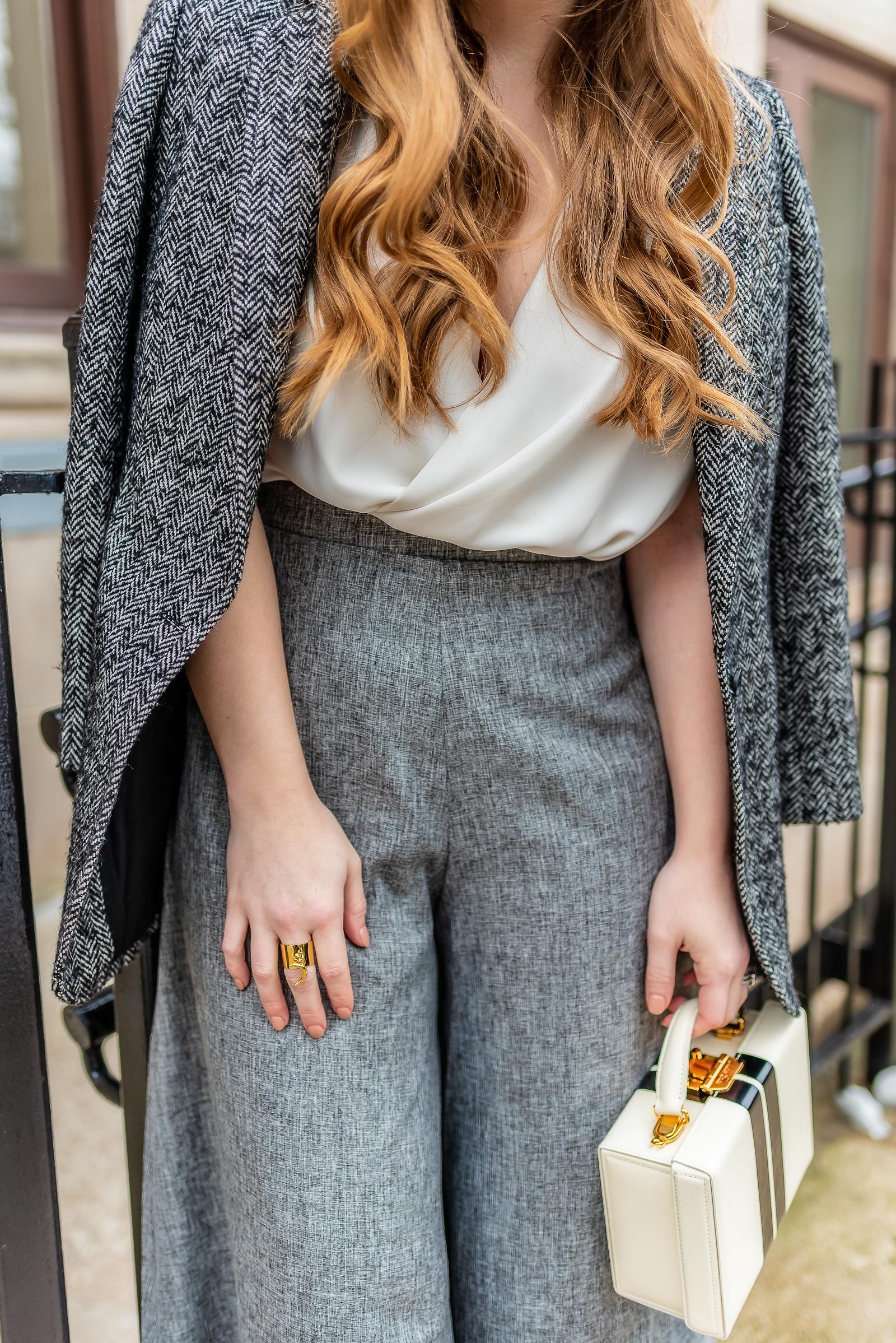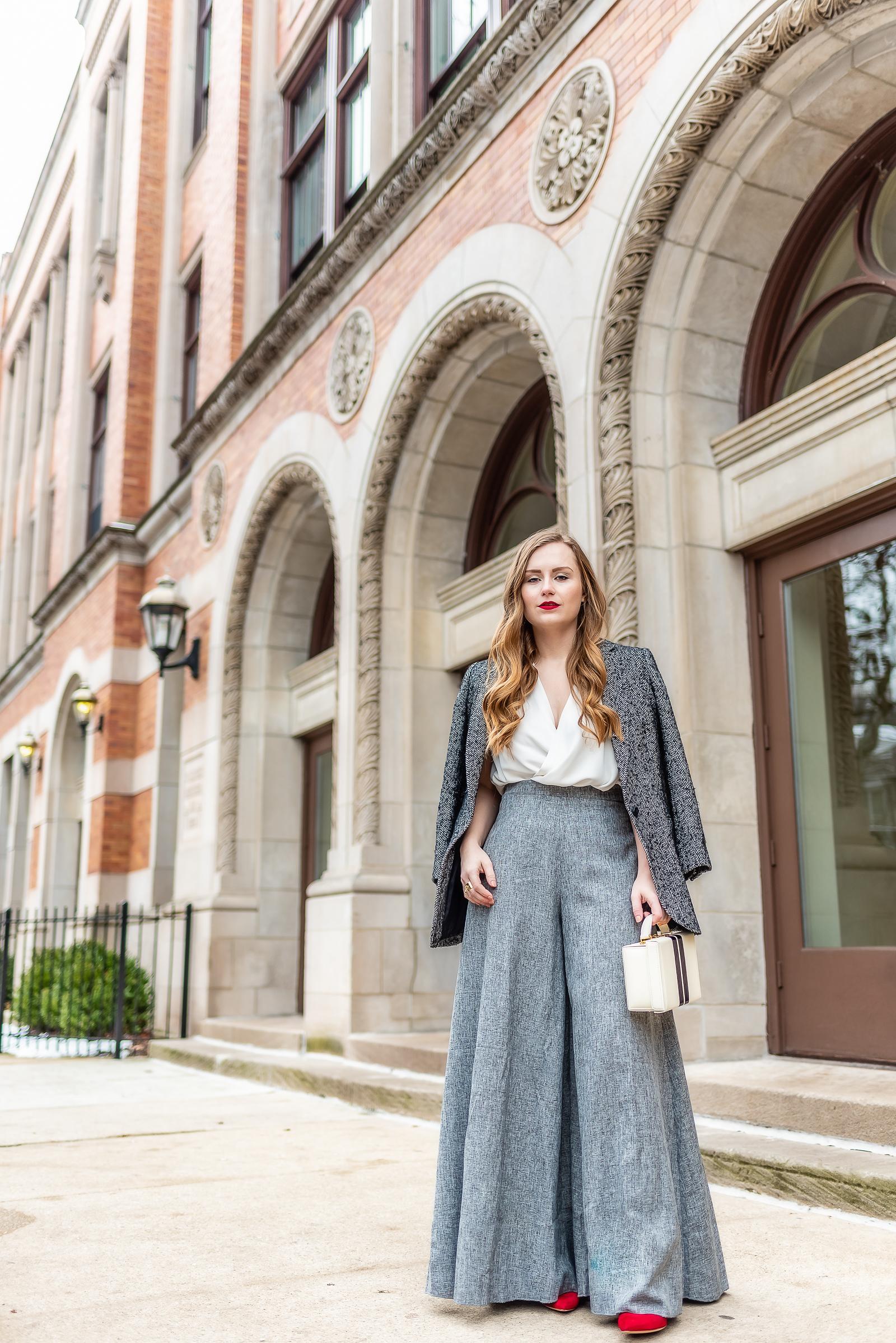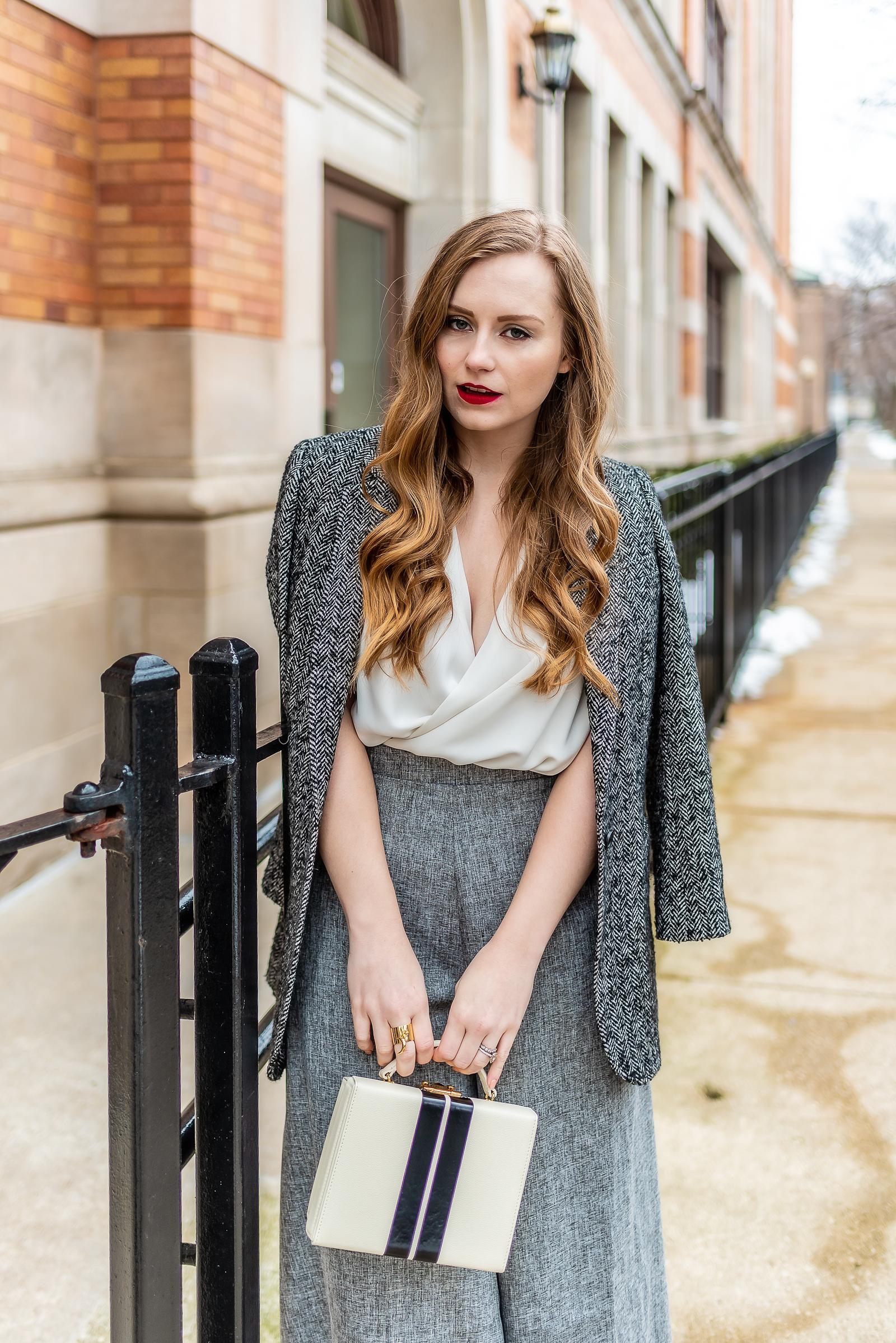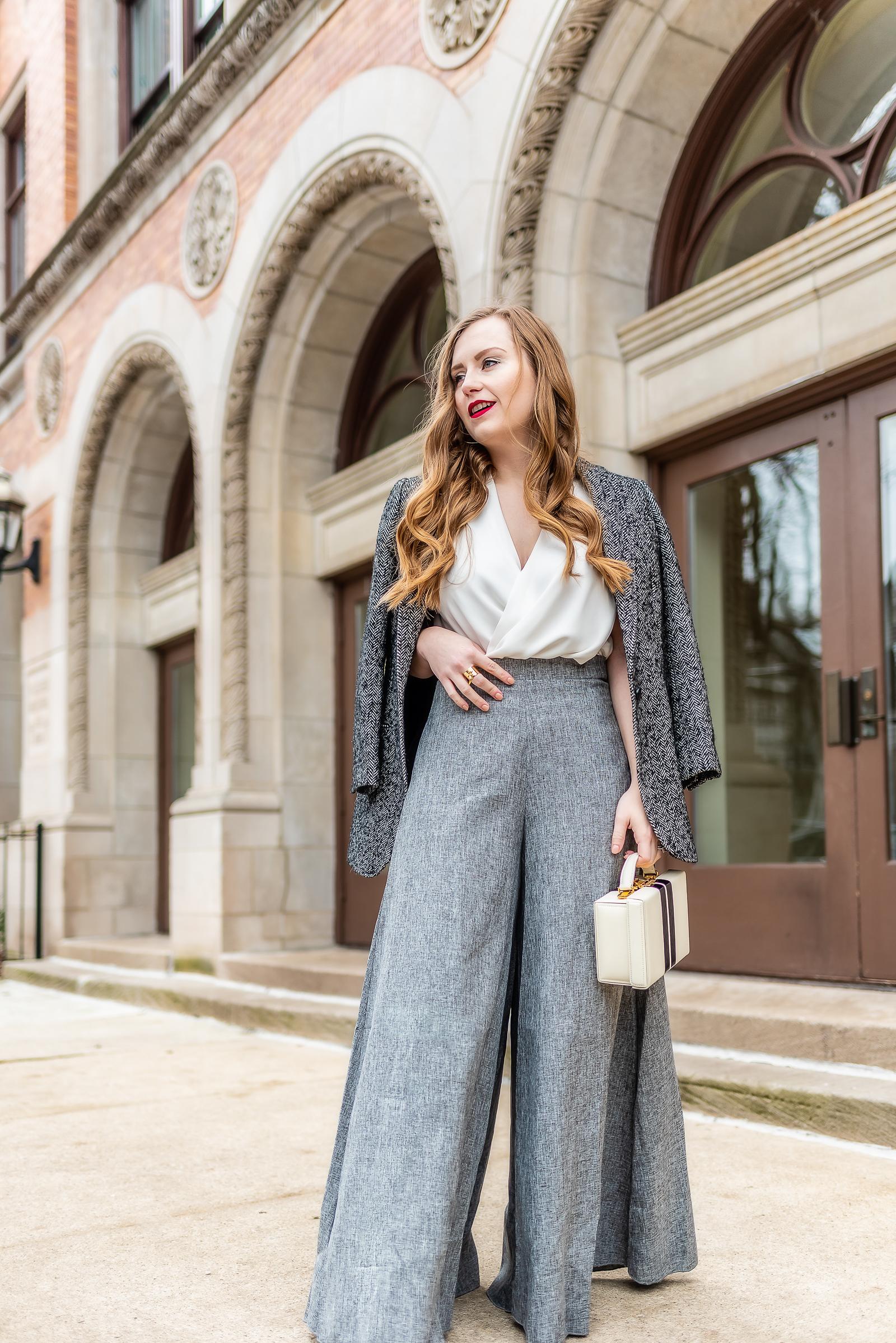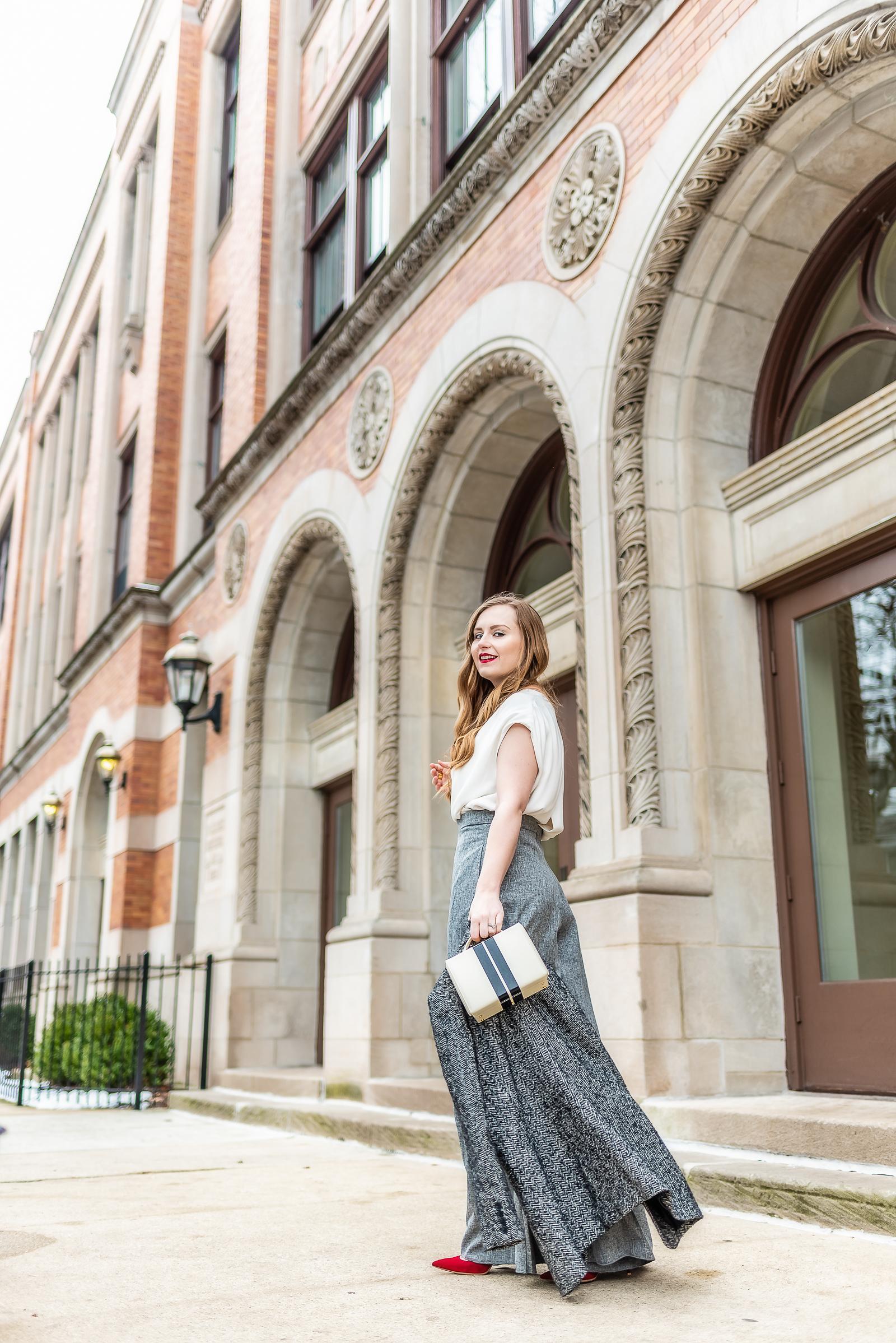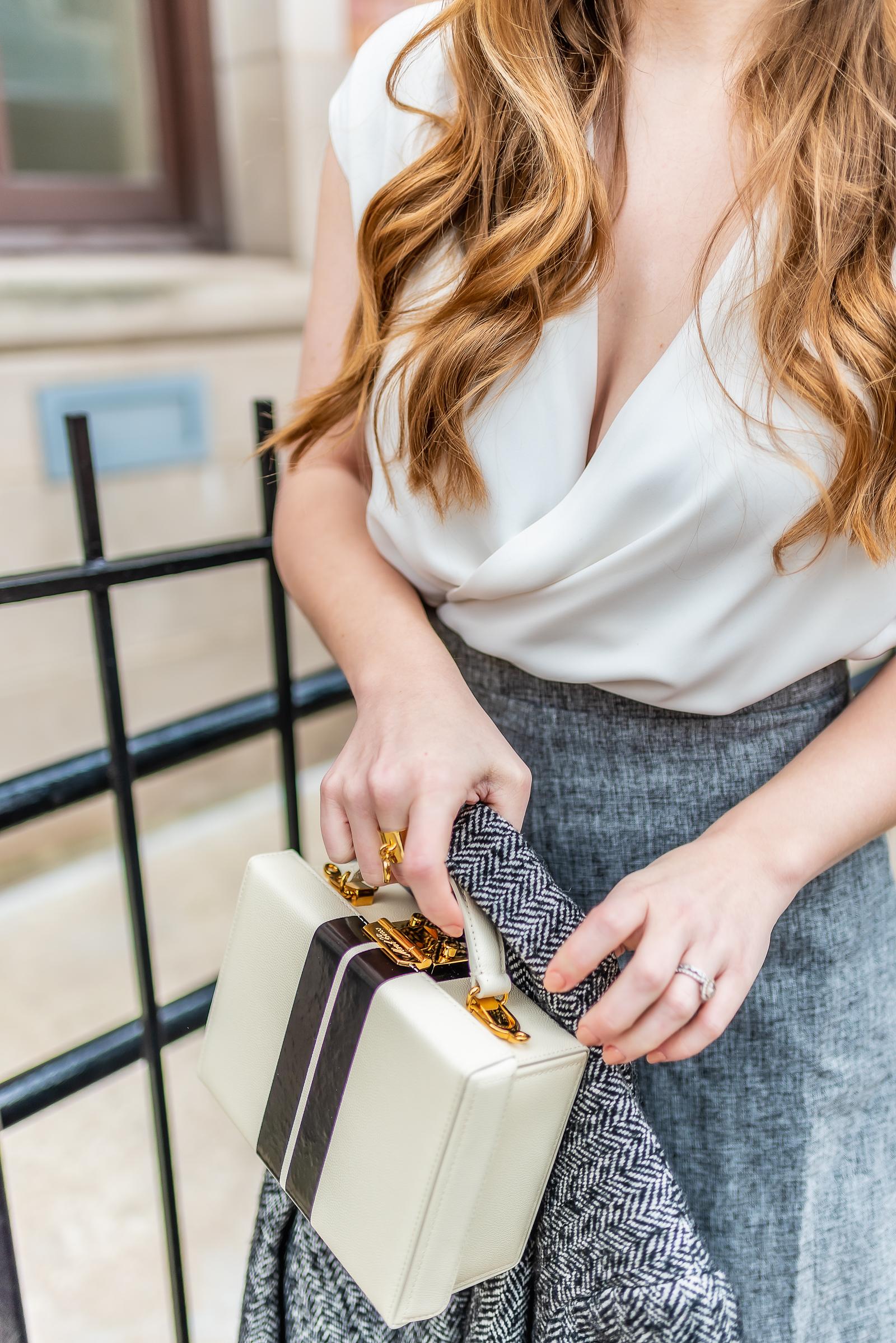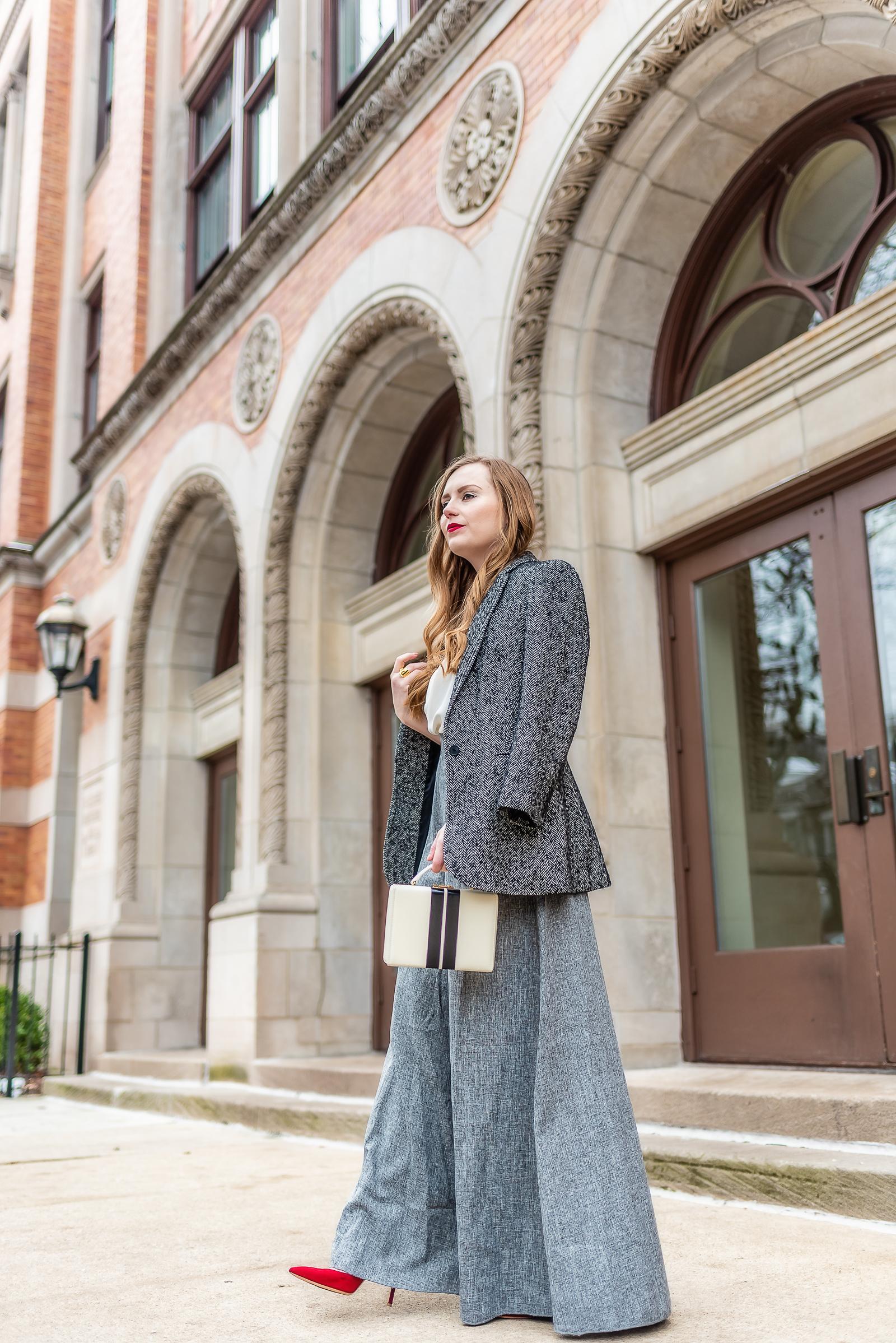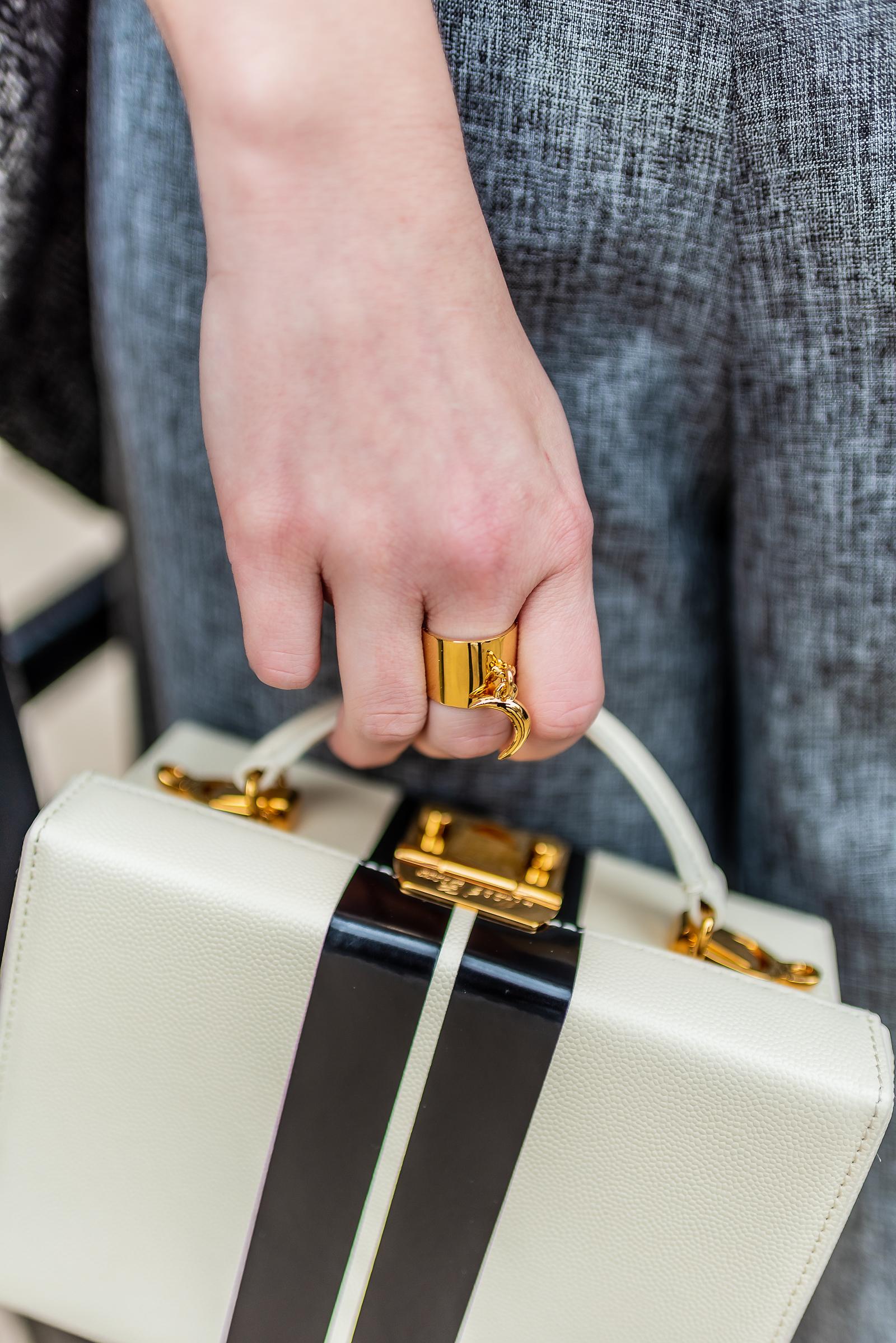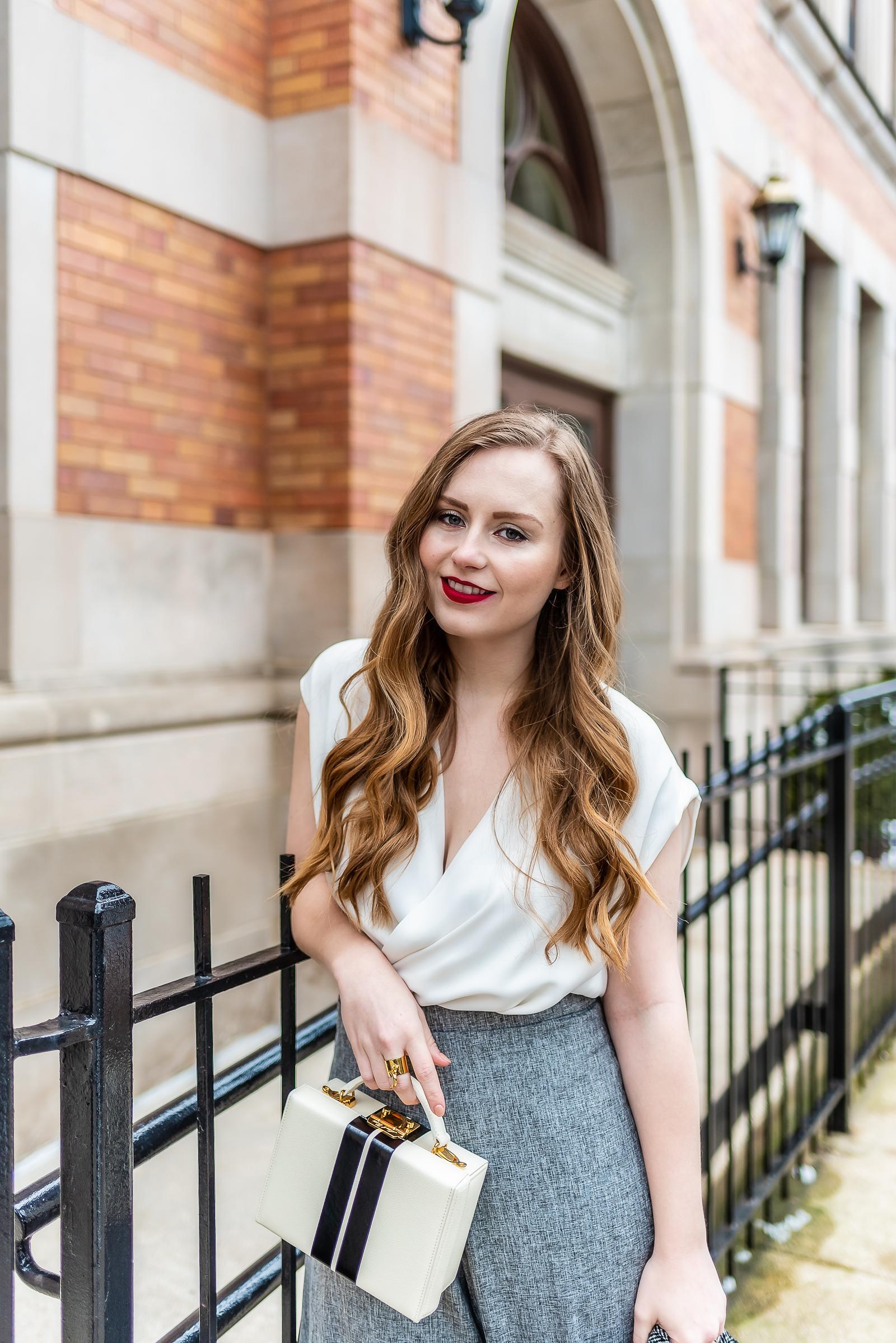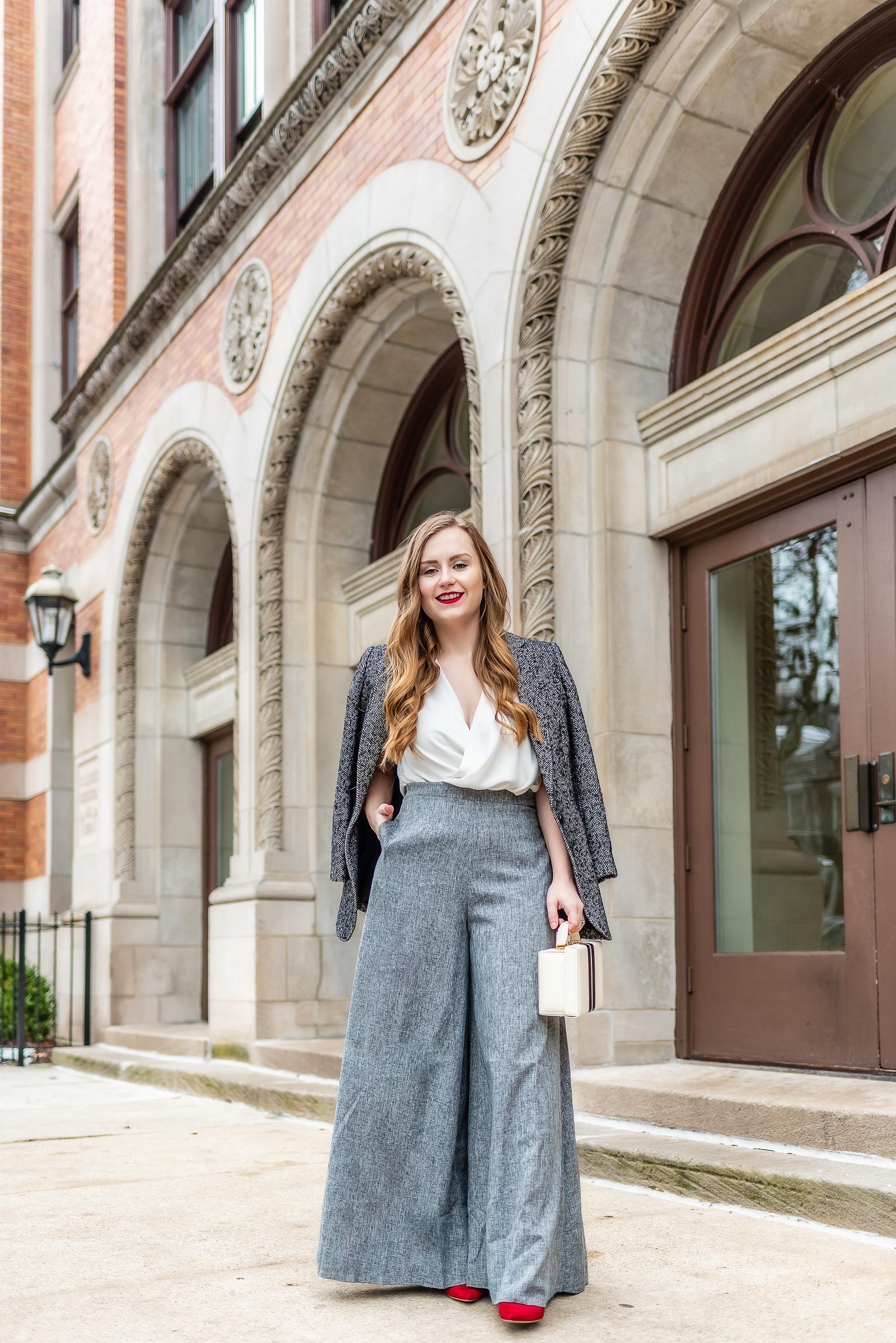 SHOP THE LOOK:
Blazer – Rebecca Minkoff (similar) || Blouse – L'Agence || Pants – c/o SheIn || Bag – Mark Cross (similar) || Pumps – Gianvito Rossi || Ring – Victoria Haynes || Lips – Stila in 'Beso'
Good morning, Readers! How I've missed you and this blog!
I didn't intend to start the year so quietly (at least here on the blog — three posts in a month isn't my usual schedule, after all). But Netflix and the organizing genius of Marie Kondo had different plans…
Have you watched 'Tidying Up' on Netflix yet? It's a brilliant original Netflix series starring Japanese organization expert Marie Kondo who goes into American homes to help them learn to organize and clear out their clutter THEMSELVES (no, this isn't one of those shows with an entire makeover crew standing right behind the camera).
You have to do the work yourself!
Needless to say, I binged the ENTIRE show on January 2nd and by January 3rd EVERY. SINGLE. PIECE of clothing I owned was piled diligently on my bed in a terrifying mountain (you can see the pile in my Tidying highlight on Instagram Stories). Using Marie Kondo's konimari organization strategy I went slowly through every single piece in my wardrobe to determine whether or not I'd like to take that piece with me into my future.
(Haven't heard of the konimari method or watched 'Tidying Up' on Netflix? Here's a brief explanation of Marie's method or you can read each step in-depth in her amazing book up on Amazon. Her general premise is that we should only keep things in our life that truly bring us joy and let the rest go.)
Slowly going through every piece of clothing I owned was one of the most daunting tasks I've ever undertaken. Not only do I LOVE clothes (as evidenced by the years of outfits I've shared here) but since I work in fashion, much of my closet is filled with media samples and various pieces I purchased for specific photoshoots.
READ: The sheer volume of my wardrobe FLOORED me. I couldn't believe the mountain I had amassed over the years as a blogger.
Here I am writing a blog based on the Latin phrase for 'quality over quantity' ("Pauca Sed Bona"), and yet my closet was anything but.
It was time to PURGE.
I was brutal. I began by hanging up each of my absolute favorite pieces — the ones I wouldn't EVER consider parting with. Like this blouse, this bag and these jeans.
Then it was time to really chip away. Since I live in a small, city apartment, I can only properly store a certain amount of clothing. So, instead of stuffing/jamming clothing back into my closets in order to fit everything, I had to downsize substantially.
So I did.
I got rid of over 60% of my wardrobe (which I'm selling on Poshmark if you're interested!).
I really can't believe how much I let go of.
I have to admit, the process became very contagious for me. And has truly sparked joy in all areas of my life. Getting dressed in the morning, even with less clothing, somehow feels easier. And opening my closets to see neat, color-coordinated frocks with space between each piece gives me a peace of mind I never thought I'd have.
(Matching velvet hangers don't hurt either…)
It's positively addicting! And now I've spent the last two weeks knee-deep in the rest of our house, purging, tidying, and organizing our life. And it feels SO. GOOD.
I promise to share more about my experience with the whole process once I'm finished (wow, does it take a long time to go through even our small apartment!) but today I wanted to share…
5 Wardrobe Trends I'm Obsessed With for 2019
---
Now I know this is a somewhat hypocritical post given that the konimari process is focused on living with less but I have found, as I've gone through this process with my wardrobe, that intense downsizing develops a razor-sharp idea of what I want my wardrobe to look like going forward.
I made lists of my favorite pieces, my favorite details, and my favorite style icons. I built a 2019 Lookbook board on Pinterest and pulled photos from all different styles and eras. And I built myself style guidelines based off the pieces I didn't keep in my closet (for example, I now only buy high-waisted jeans since they're more flattering on my petite frame so my guideline is: only jeans with rises of at least 10″).
It's given me a clear, direct vision of what I want to wear and why.
And it's given me a VERY clear vision of what styles I'm obsessed with and want to invest in more:
---
1. White Everything
After purging my wardrobe and keeping only the pieces that bring me joy, one color now DOMINATES my closet. A solid 50% of the blouses and dresses I kept were white, cream, or ivory. As soon as I organized my closet by color, you could CLEARLY see this was my hue of choice.
Perhaps it's because it's so universally flattering. Or so crisp and relatively easy to maintain (with a steady stream of bleach that is). But whatever the reason, I plan on investing in more pieces in my favorite hue:
---
2. Stripes
Of all the prints I own, my striped pieces are by FAR my favorites. I wear stripes of all shapes and sizes from graphic prints to breton stripes to subtler prints. And I wear them to EVERYTHING. So I plan on continuing to invest in my favorite print season after season:
---
3. Feminine Sleeves & Cuffs
Feminine, dramatic sleeves are one of my favorite closet details — at least half of the blouses I kept fell into this category. I love a fluted cuff, gentle pleating, or a large billow-y sleeve to flutter in the breeze.
They make for the easiest outfits too: just add jeans, a chic flat and you're out the door!
---
4. Midi Dresses
Are midi dresses trending per se? Perhaps not. But they're EVERYWHERE right now and I LOVE it. Almost every dress I kept during my wardrobe purge was a midi dress. And with good reason — they're so flattering and perfect to wear just about anywhere.
I remember about 10 years ago you couldn't find a decent midi-length dress to save your life. Now they're available at just about any price point… Needless to say I'll be stocking up now so I can survive the next mini-skirt craze stylishly.
---
5. High-Waisted Trousers
When I look at the styles that inspire my wardrobe the most, 40's era fashion plays a big role. I love feminine touches mixed with masculine, wide-led trousers.
And yet I only have one good pair of high-waisted trousers! I wear them TO DEATH though (at least once a month for 2.5 years now). I love how comfortable they are and versatile: they can easily be dressed down for brunch or dressed up for the evening. So this year I hope to invest in another, more neutral pair in navy or tan to mix it up.
What wardrobe trends are you most obsessed with this year?