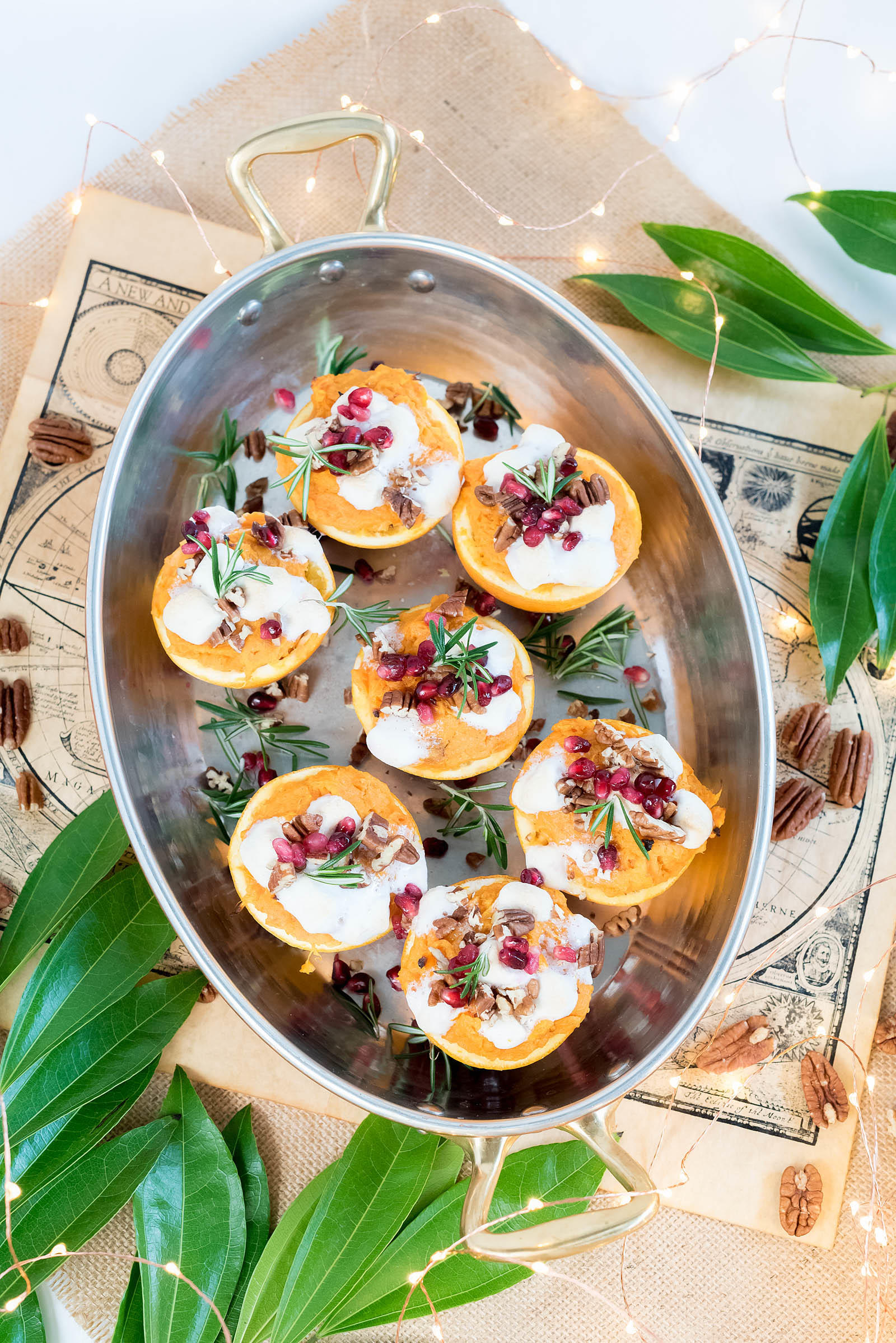 Of all the family recipes I grew up with, today's orange cups, along with my Mom's Potato Pancakes, are the most nostalgic for me.
I don't ever remember a Thanksgiving without these lovely little orange cups.
EVERY SINGLE THANKSGIVING my father would make us them for us. Not once in all the years he was alive did we forget them! And wow do they make the house truly smell like Thanksgiving…
Never heard of an orange cup? Most people haven't!
But be prepared to have your Thanksgiving table turned upside down by this sexy, citrus spin on the classic thanksgiving side dish of sweet potato casserole.
These are easy to make, great for kids (they can hold the orange cup like a bowl!), and add such a fresh, bright flavor to any Thanksgiving spread. Especially when you top them with toasted pecans, pomegranate seeds, and marshmallows!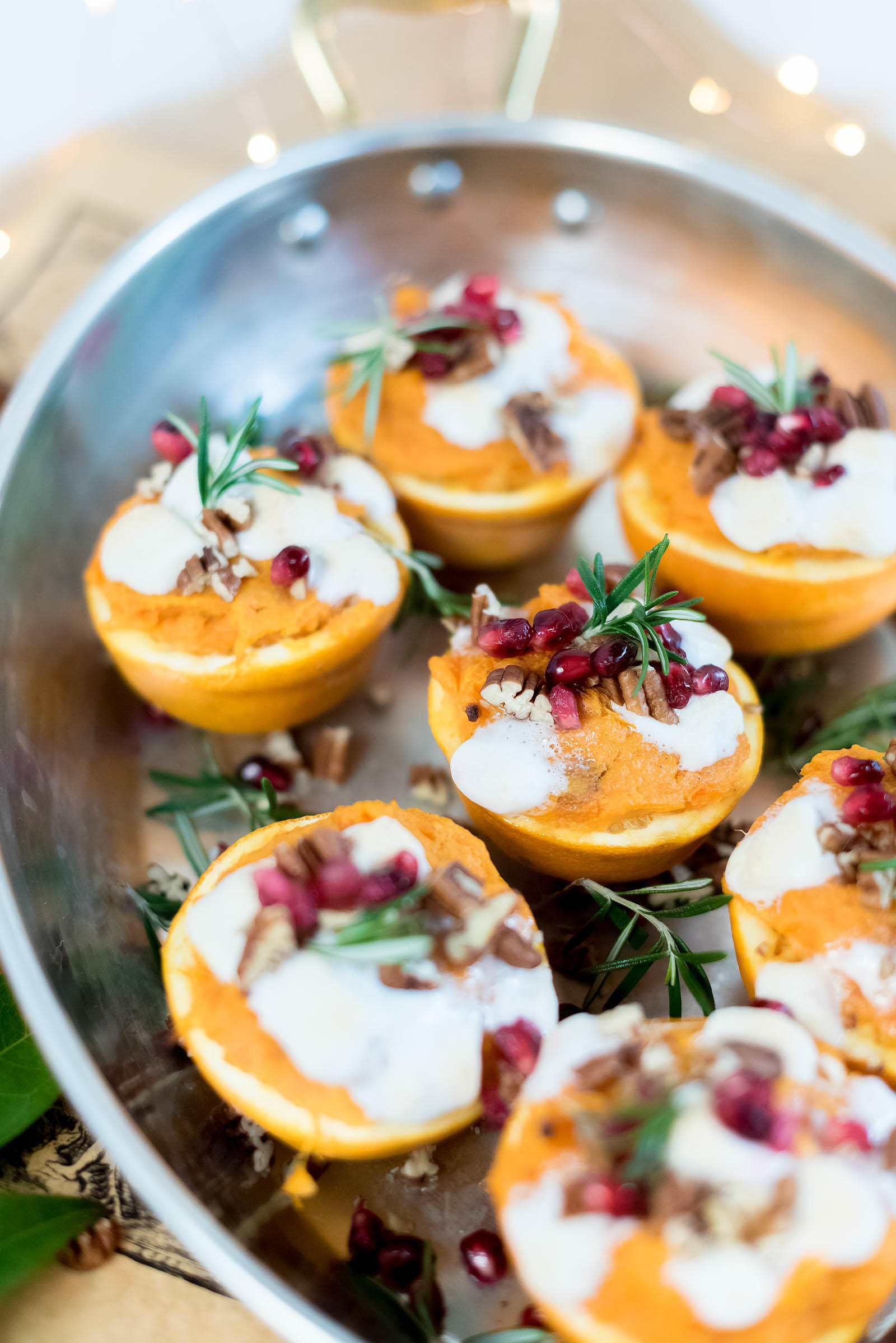 Ohhhh, my mouth is watering just thinking about them…
This recipe is undoubtedly my father's truest Thanksgiving legacy, his little "touch of southern gentility" for the Midwest Thanksgiving Table. Something I know I'll be making each and every year without fail in memory of him.
So what are we waiting for?? Let's get cooking!
Sweet Potato Orange Cups

Yields 12 1-Cup Servings
6 Oranges*
2 Sweet Potatoes
1 Stick of Butter
Sugar
1 Egg, Beaten Well
Vanilla Bean Paste**
Lemon Extract
Fresh Rosemary
Pomegranate Seeds
Marshmallows
Pecans
First, cook your sweet potatoes. You can boil or bake them but personally I prefer to use the microwave (using this technique). *SIDE NOTE* if you boil the potatoes, add some cooking oil to the water to prevent discoloration!
Once the sweet potatoes are cooked until tender, peel the skin off and mash well in a large bowl. Add butter, sugar, vanilla bean paste, and extract. Mix well together. Taste and adjust seasoning and sweetness as desired.
From here the mixture can be refrigerated up to a day in advance.
Once you're ready to assemble and bake, preheat your oven to 350 degrees Fahrenheit.
Cut your oranges in half, scooping out most but not all of the pulp. Place them cut-side up in a muffin tin (it's ok if they don't fit exactly, this just stabilizes them so they're easier to get in and out of the oven — photographed below).
Add the beaten egg to the sweet potato mixture then scoop into halved oranges. Bake for 20 – 25 minutes until brown on top. Remove and top with pecans and marshmallows. Toast in the oven for an additional 5 – 10 minutes until marshmallows are browned.
To serve, sprinkle chopped rosemary and pomegranate seeds on top.
*"ALWAYS USE FLORIDA ORANGES!" I remember my father reminding us of this rule every year at the grocery store when we picked up thanksgiving ingredients. While Florida oranges are smaller and humbler in appearance than California oranges, the wet nature of the Florida climate means Florida oranges have a thinner rind and juicier, sweeter flavor. So, if you CAN find them, use Florida oranges over California oranges!
**Long-time readers of this blog know I use vanilla bean paste in place of vanilla extract in my recipes. It adds a richer flavor and beautiful vanilla bean flecks to any batter but feel free to use vanilla extract instead if you can't find the paste!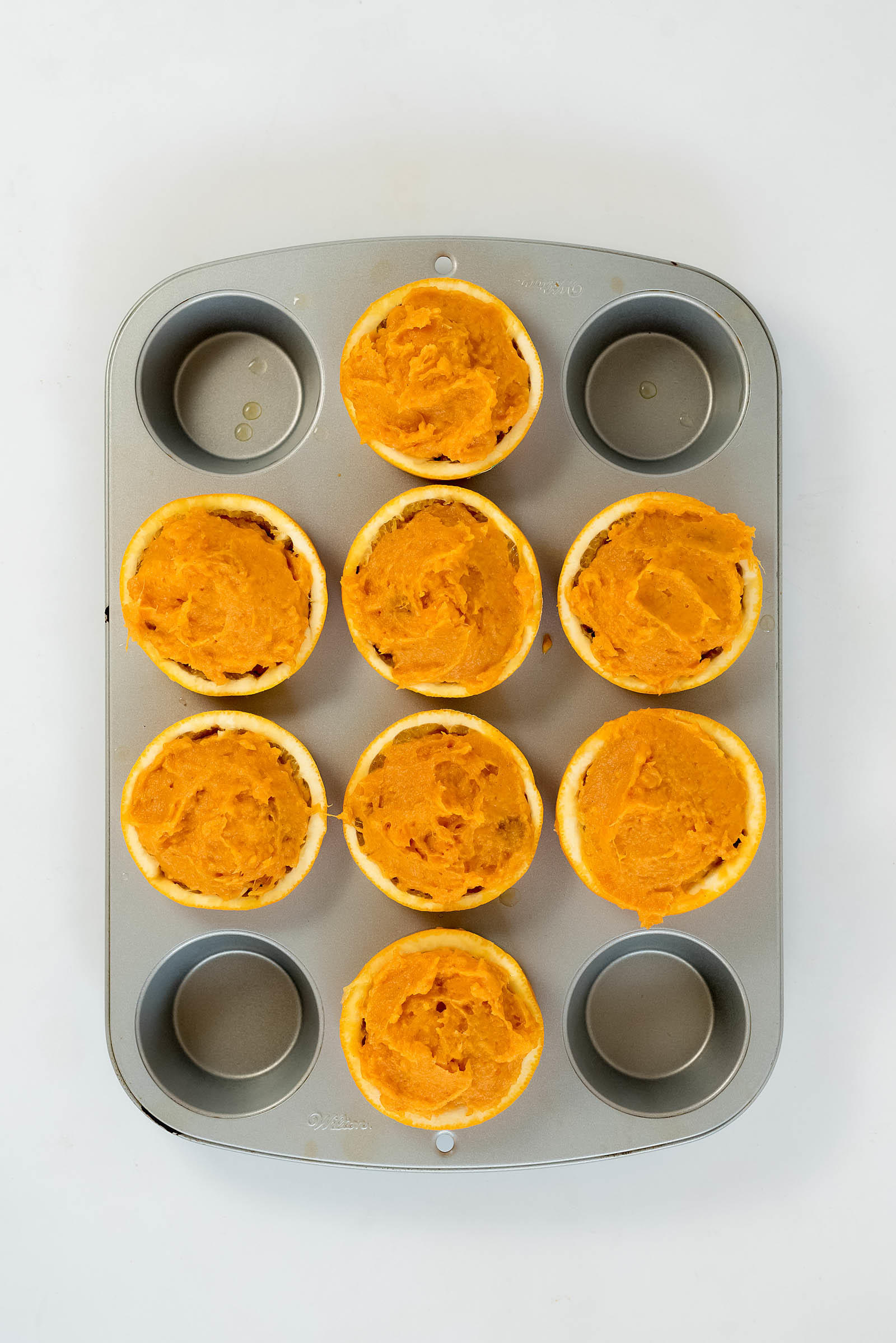 Before baking…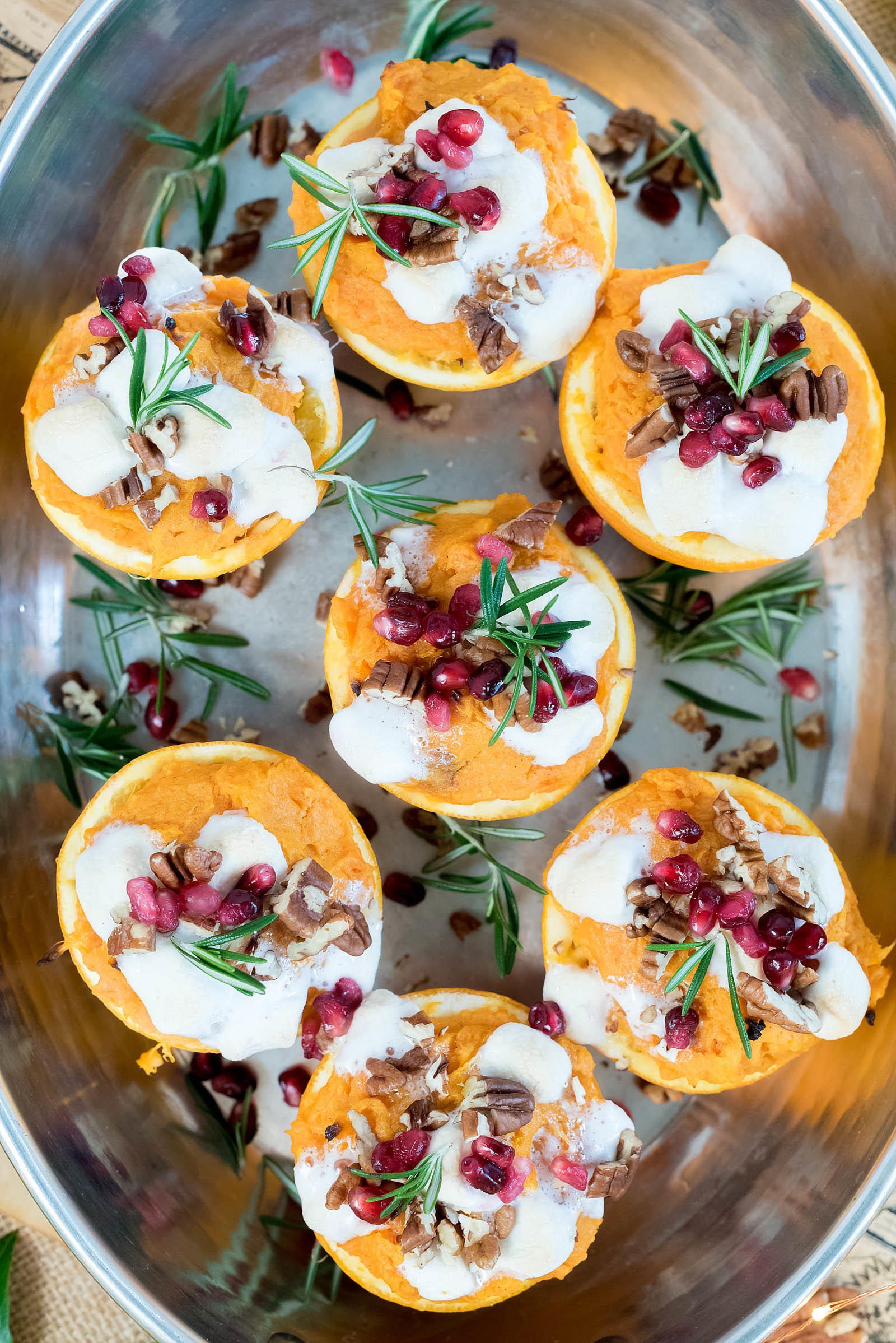 And after!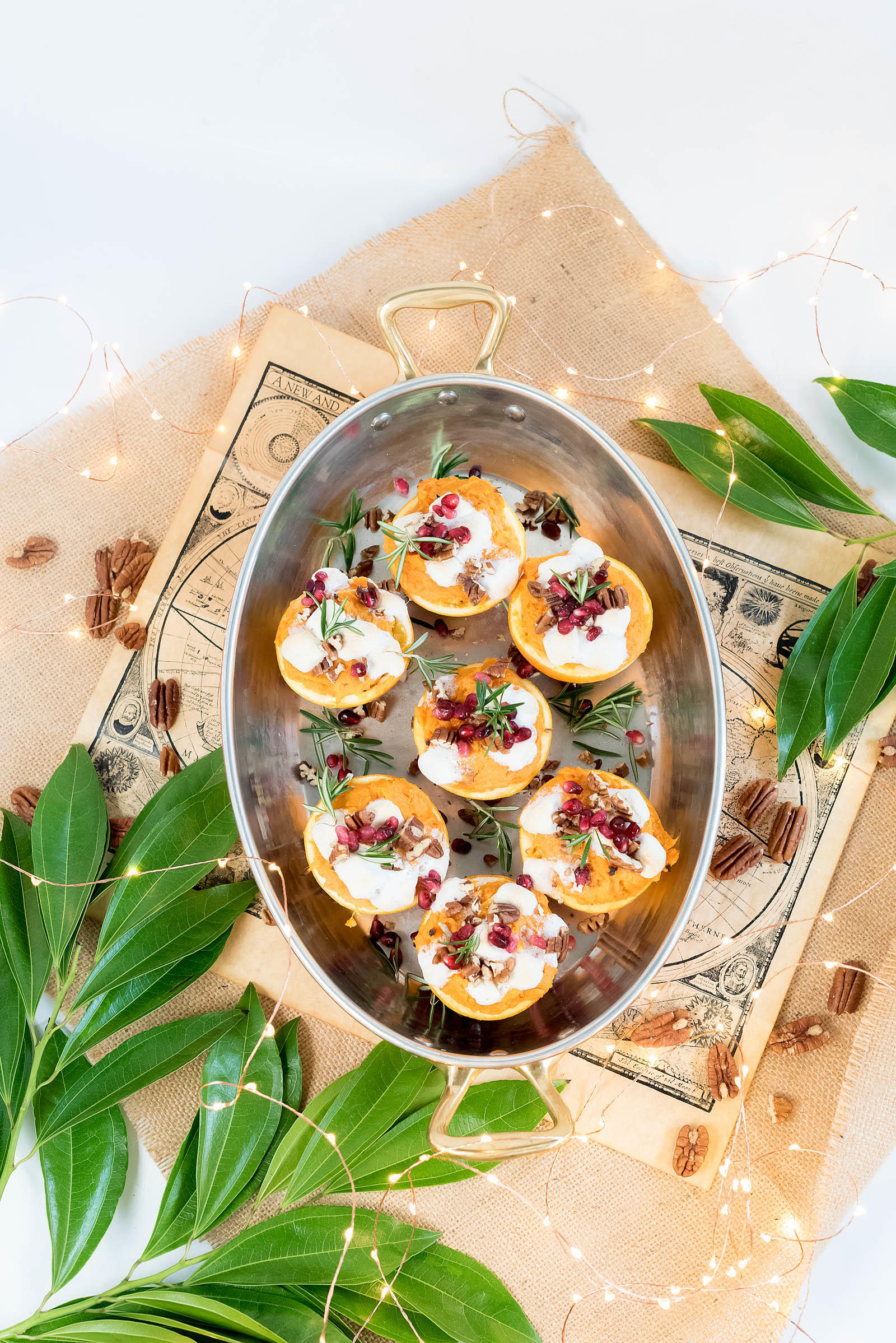 Traditionally my family topped our orange cups with just marshmallows and pecans but I wanted to bring a touch of modern flavor to this old family favorite. Feel free to omit the rosemary and pomegranate seeds if you want a more traditional orange cup.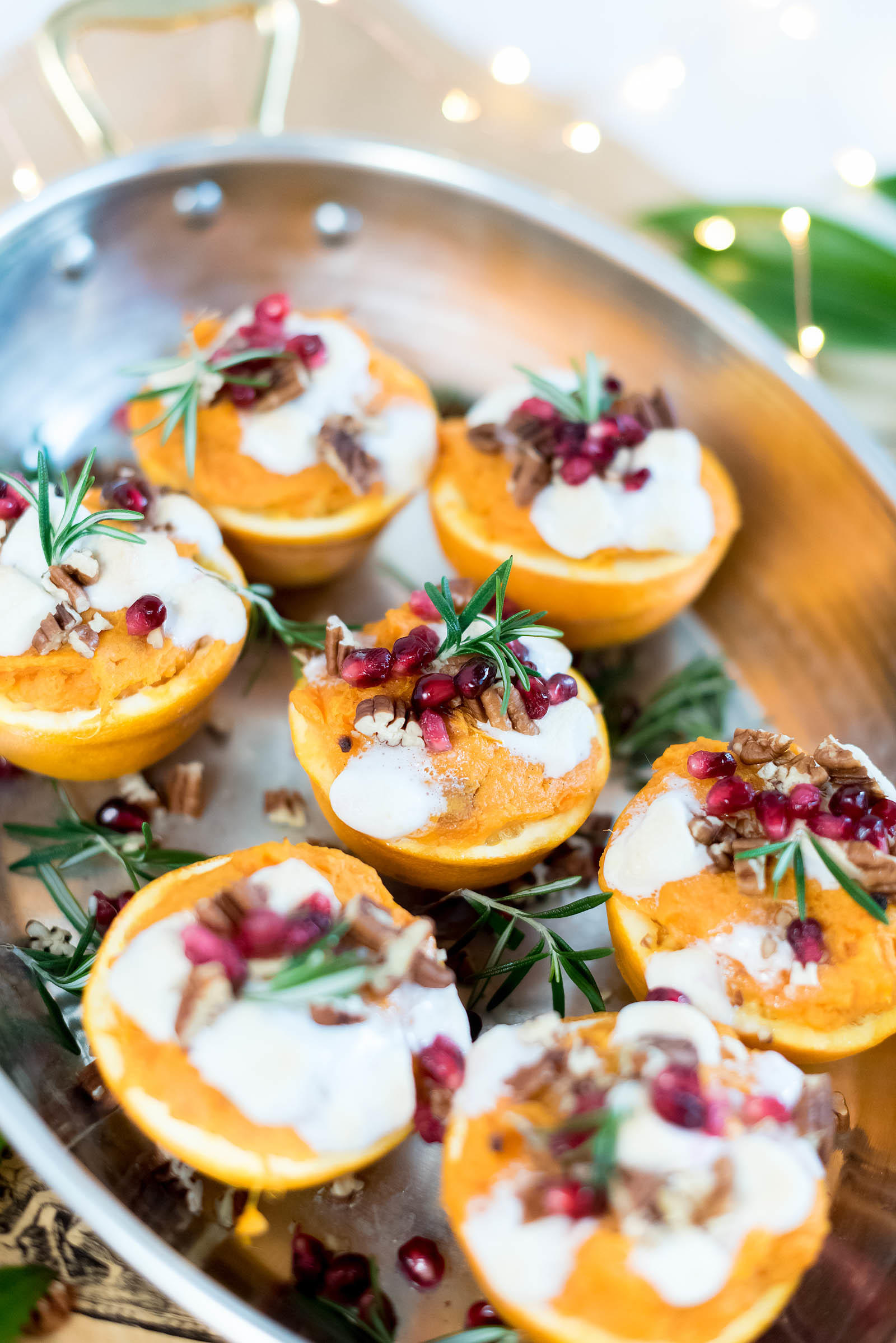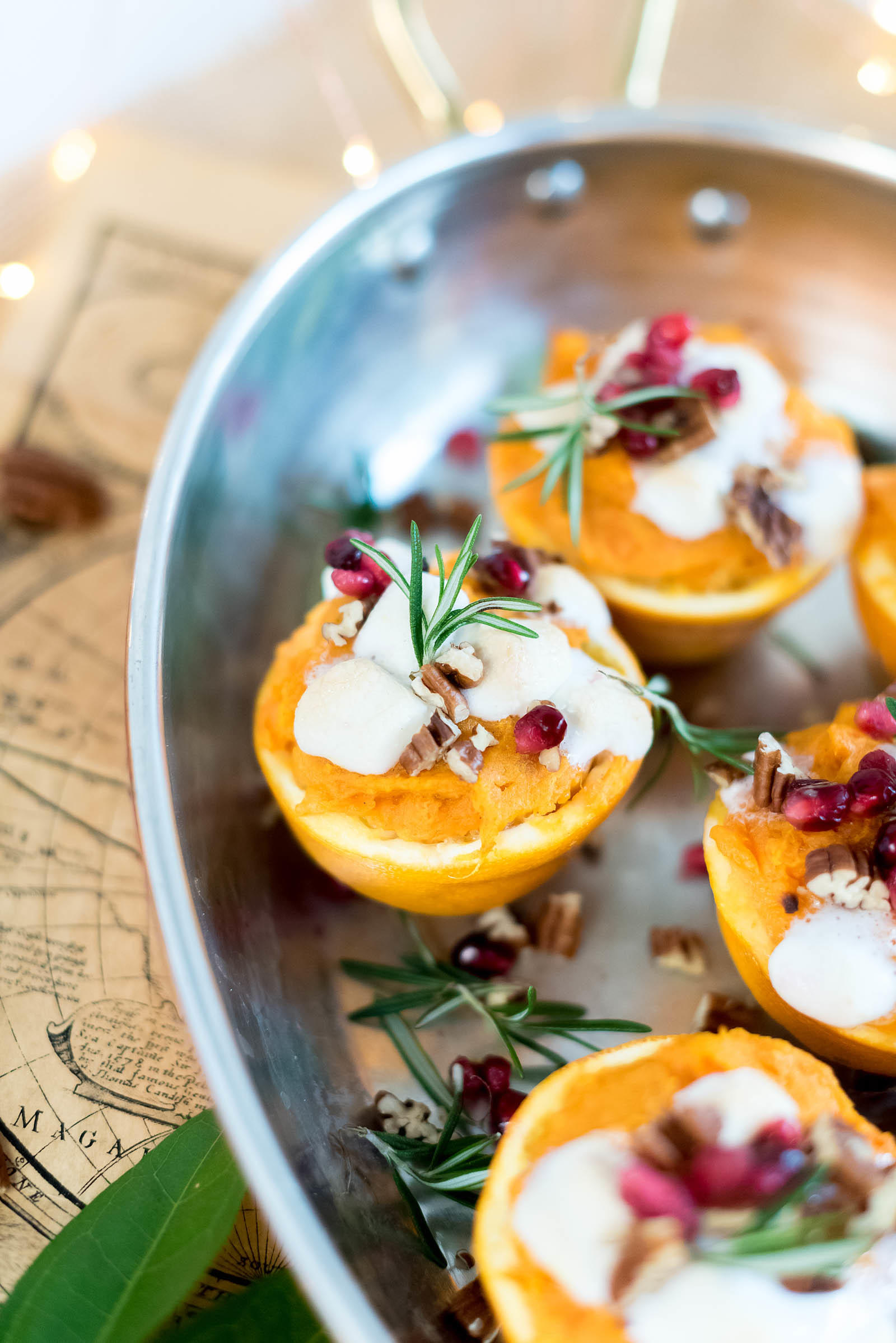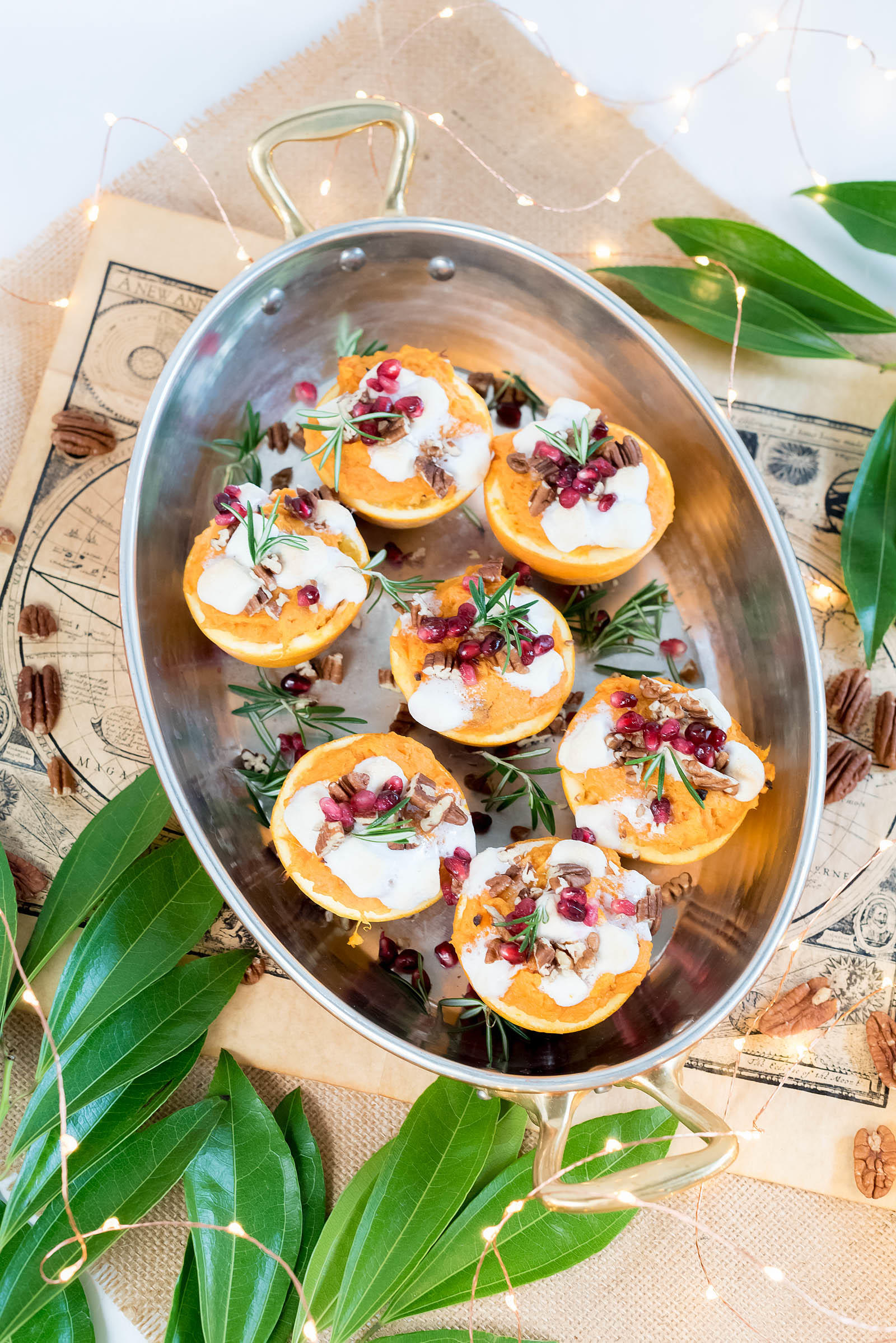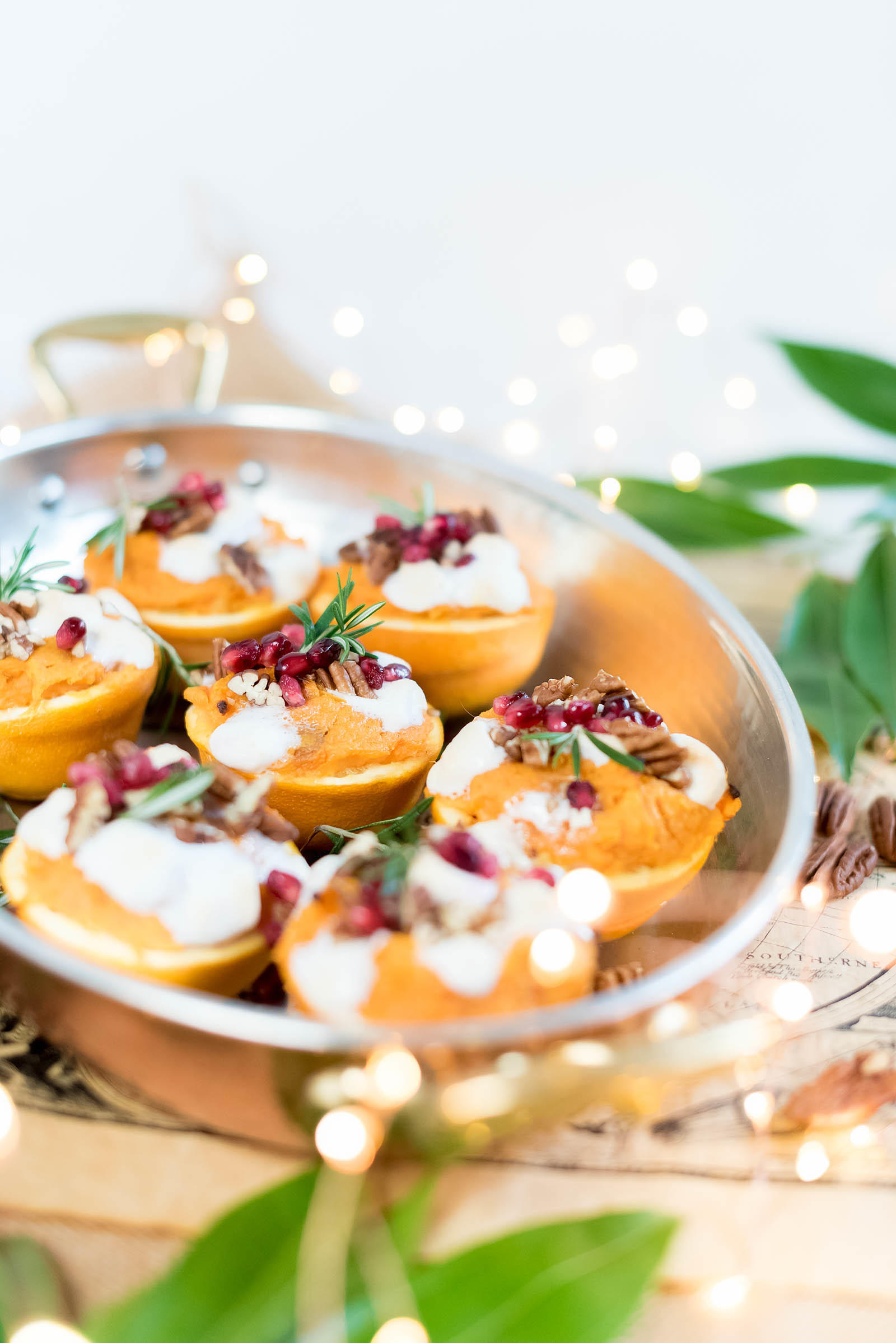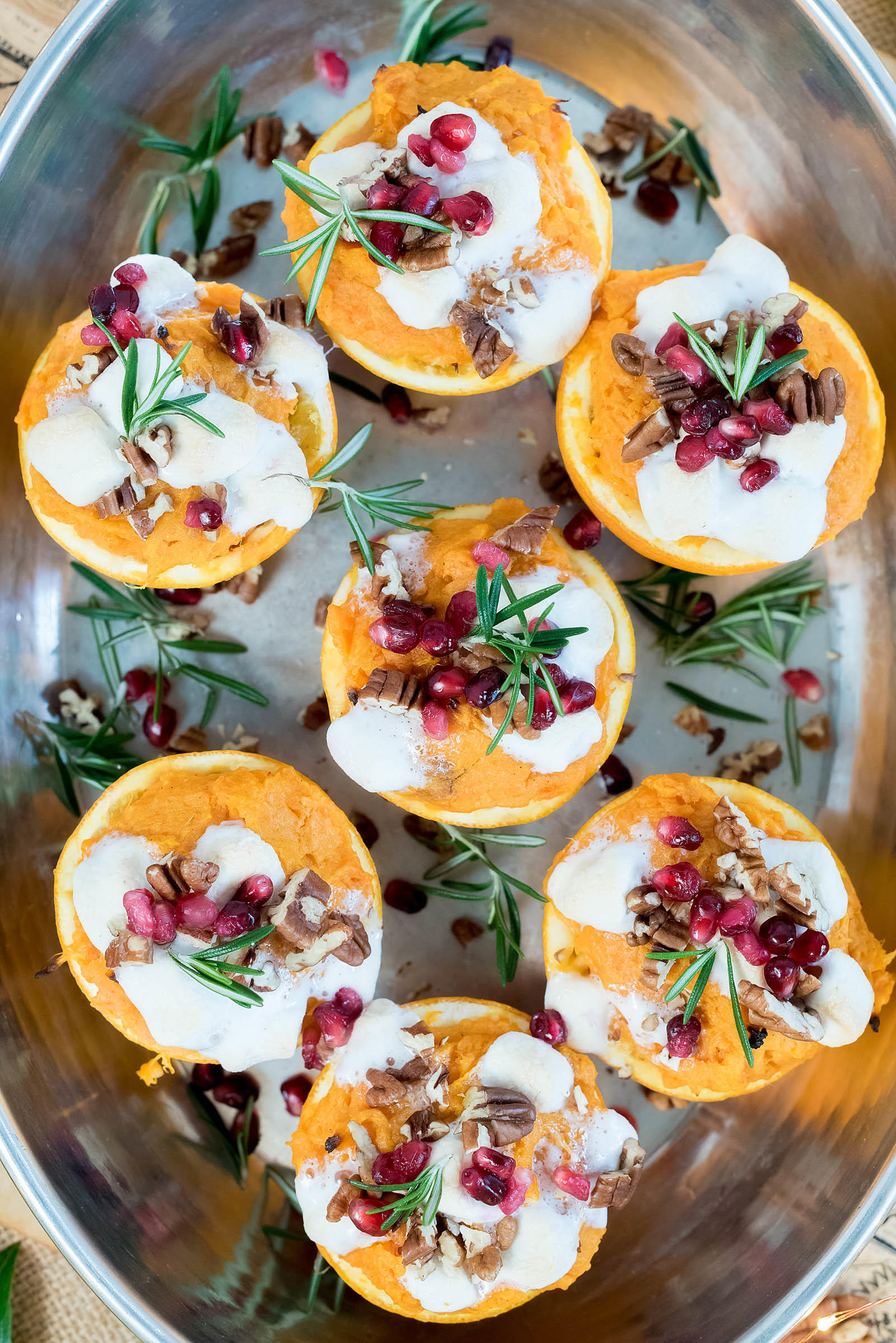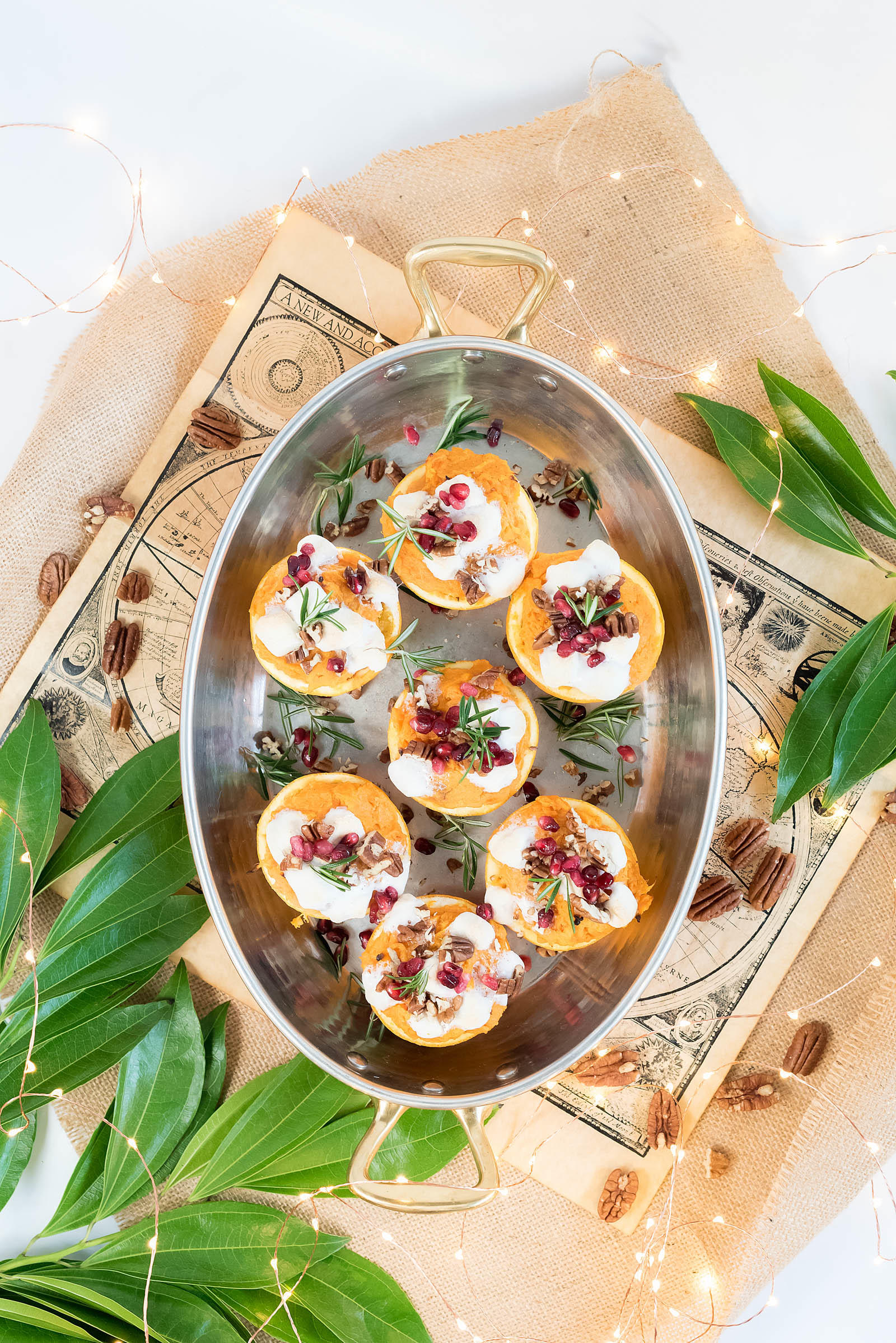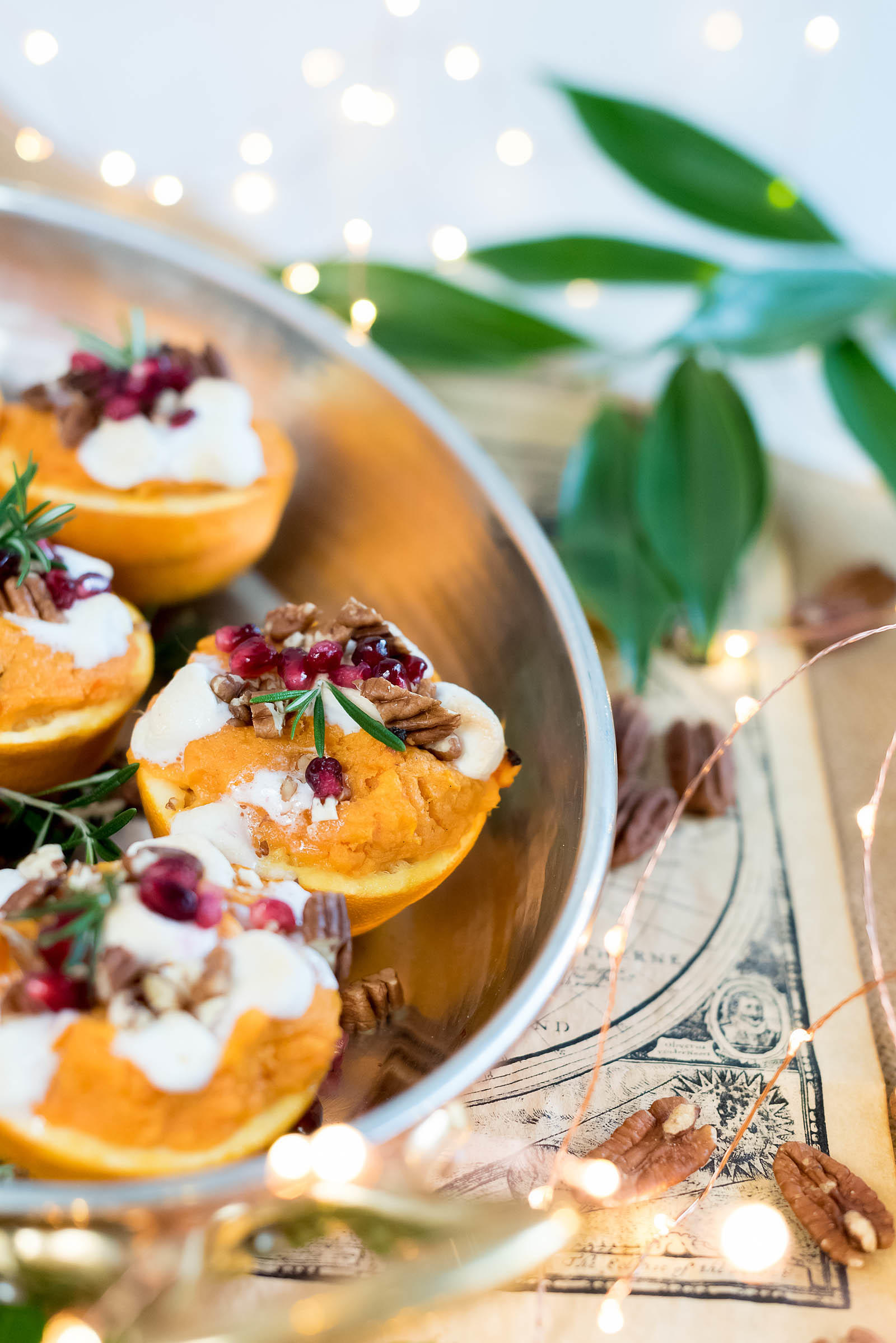 Don't forget to share your Sweet Potato Orange Cup photos with the #SedBona tag on Instagram and Twitter!