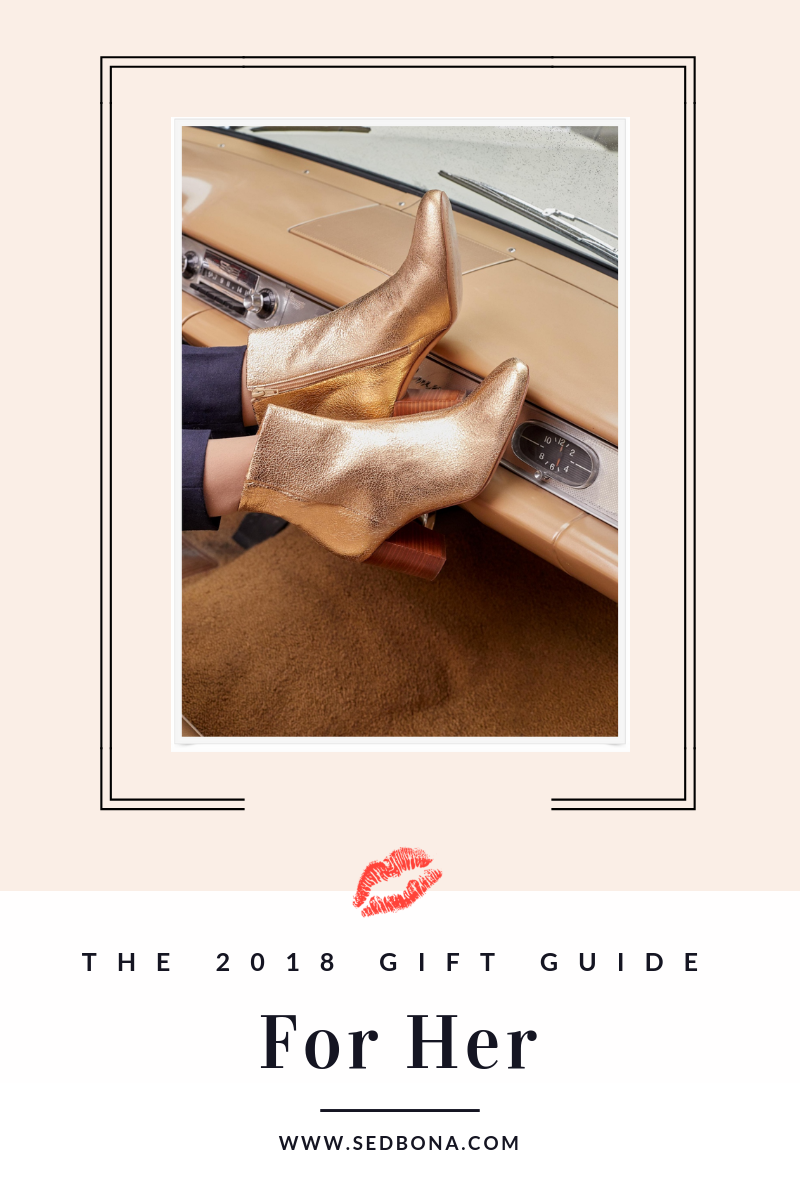 With Thanksgiving around the corner (and Black Friday just after!), I think we're all starting to have that "oh crap, it's the holidays… I need to buy gifts!" feeling.
I know I am!
And while retailers and brands are PUMPING out ads and products faster than we can keep up, giving the right gift isn't just a matter of price or aesthetic.
It's a vast combination of research, vetting, and usefulness. Something I take VERY seriously.
I believe giving the right gift is a slow process — one that shouldn't be rushed.
But who has the time to VET every single holiday gift they buy?
I don't. But this year I MADE time just for you. I set aside the last week to not only vet the Christmas gifts I'm gifting this year, but the vet them for you as well!
EVERY product in this gift guide is something I'm proud of (and a lot of the products I already own and love). Each product is something I would be happy to gift to my closest relations and would earnestly spend my hard-earned money on. Every single product is something special, practical, useful, thoughtful, or truly beautiful. And every single product is on this list will hopefully make her (whether it be your friend, girl friend, wife, mother, aunt, or co-worker) holiday feel even more MAGICAL…
The 2018 Gift Guide || For Her
---
The best flats I've ever found. I own at least six pairs (often snagged on sale during Black Friday) and have worn them for countless trips abroad. I love that they pack up quite compactly too, making them easy to throw in my purse for whenever I need a chic, comfortable shoe.
Every girl needs a beautiful notebook to jot down daily thoughts and a closet of velvet hangers to keep all her clothes pristine.
The perfect, unexpected button-down and gold booties to go EVERYWHERE in.
Leopard flats for day-to-night and a timeless tote she'll use for years.
A classic bracelet to start a charm collection with and a cozy beanie to take her through winter.
A chic, Parisian pouch and the loveliest French undergarments.
The chicest house slipper ever created and the perfect wear-everywhere sunnies from one of my all-time favorite brands.
The perfect little crossbody and a gorgeous vintage-inspired scarf for year-round.
An astrological constellation necklace (such a great talking piece!) and the perfect use-everyday-for-everything leather pouch.
Chic, practical snow boots that'll last a decade and a cozy blanket scarf to snuggle in at home.
A timeless, minimal gold bracelet (for a great price!) and the most luxurious silk boxers.
A cashmere scarf to bundle in and a cozy cable fisherman's sweater for nights by the fire.
The fiercest pajamas and a shockingly affordable cream satchel.
The most incredible home candle (this smell will literally haunt you for days) and a pink fur coat by one of my all-time favorite brands.
The perfect $5 packable tote (with cheek!) and lush velvet loafers without the shocking price tag.
A simple golden bracelet designed to be stacked and a cozy pink scarf that'll have her seeing the world through rose-colored glasses.
Beauty
Everyone raves about how healthy sleeping on silk pillowcases are (and what great gifts they make!) but they're HUGELY impractical if you have pets who sleep in your bed (guilty!) or occasionally forget to take your make-up off before bed (also guilty…).
I'd spend a fortune on dry cleaning if I bought a silk pillowcase — I'd be cleaning it every week!
But with my incredibly fragile long hair, I need to protect my hair while I sleep (since it breaks as I change positions), so these silk sleep turbans have been a life-saver this past year. I bought one just after Christmas last year and now have FOUR. I never sleep without them. While they don't necessarily "style" my hair as I sleep as some reviews claim, they definitely leave my hair softer, less frizzy, and shinier every morning. I can see a noticeable difference on nights I forget to wear mine.
Forgo the silk pillowcase for the far more practical (and portable) silk turban. It's a great, product-free way to promote healthier hair!
The best travel make-up removing wipes EVER (I've used them for 2 years now) and the best hair brush on the market. Just be sure to buy the right brush for her hair type (which you can figure out here)!
The most luxurious manicure kit and the chicest bath salts.
The most fashionable and luxurious hand sanitizer on the market and the very best hand cream.
A splurge-worthy botanical serum that'll give her an other-wordly glow and a lush face cream from a renowned Parisian brand.
My favorite night serum (I've used it for two years now!) and the best (and most Instagrammable) gold sheet mask.
The only make-up setting spray I use and my favorite lipstick formula in beautiful gold packaging.
My all-time favorite curling iron and an inexpensive ice roller to reduce facial puffiness instantly!
Game-changing gold eye masks and the best eyeshadow palette (I use mine every week).
Travel
Okay, okay I cheated. I've put this tote on many gift guide lists over the years.
And for good reason.
It's one of the best purchases I've ever made. I bought my first one on a trip to Paris in January 2010 and my second in July 2014 before my trip to Alaska. I use both religiously and regularly and they both have worn so well. I can't tell you how many times I have jammed these bags under airline seats, used them as a pillow during long road trips, shoved through countless airport security x-rays… And they still look fantastic.
If you're looking for something she'll truly use, get wear out of, and rely on year after year, this is THE gift for your traveler.
An innovative way to experience aromatherapy on the go and a collapsible canvas suitcase.
The perfect carry-on (with an easy access laptop pouch!) and a scarf to make far-off destinations cozier.
The softest travel blanket and eye mask in the perfect Americana print and the best EVER carry-all (from one of my all-time favorite brands)
The cutest emergency travel kit and a beautiful leather weekender (I have one in canvas and love it to pieces!).
Luxe city guides and the heartiest (and most wallet-friendly) travel pouches for organizing all the essentials.
Luxe
I have been lucky enough to own a Chloé Drew for two years now and it's one of the best wardrobe investments I've ever made.
This bag goes with absolutely EVERYTHING, feels classic yet modern, and fits all my daily essentials. It's so swoon-worthy, I devoted an entire blog post to it.
If you're looking for a splurge-worthy gift that she'll use year after year obsessively, look no further than this magnificent little bag.
An edgier crossbody bag and an essential black moto jacket.
The best over-the-knee boots she'll ever own (no others on the market compare!) and a Jenny Packham dress fit for a royal gala.
The most perfect pom pumps (I own them in pink and ADORE how flirty they are) and a luxurious velvet satchel.
A bag straight out of a fairy tale and a dreamy robe to give her luxurious evenings at home.
Our generation's wear-everywhere pump and a quirky studded wallet.
A soft Gucci scarf and a timeless YSL bag.
Gucci's soon-to-be "it bag" of the season and a classic trench coat to last a lifetime.
Stay tuned for more gift guides all week!