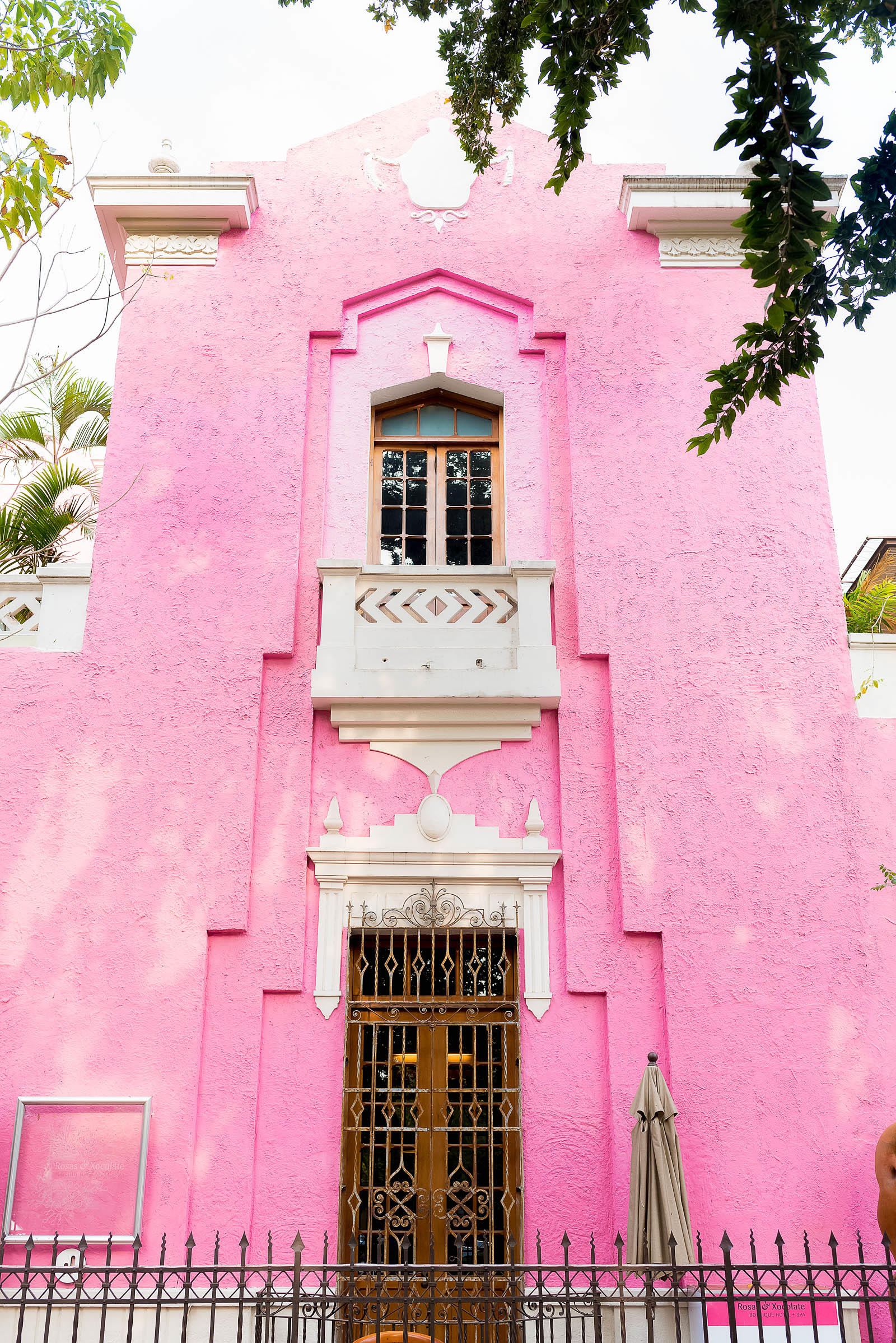 A little over two weeks ago I found myself in the heart of the Yucatán peninsula of Mexico with some of Chicago's most well-known creatives, discovering the Mexico OUTSIDE resort hotel gates. The REAL Mexico — a world of rich history and cultural life.
Vibrant colors and people everywhere you looked. It was a true feast for the eyes AND soul!
Mexico really is a perfect destination for those looking to whet their creative appetites.
And no place we visited screamed vibrant color and Yucatán soul food more so than Rosas & Xocolate.
Located in the heart of the Yucatán's capital city of Mérida, a stunning European-inspired colonial city, Rosas y Xocolate is hard to miss thanks to its massive bright pink facade and stunning imposing architecture.
But it's the inside that'll really take your breath away.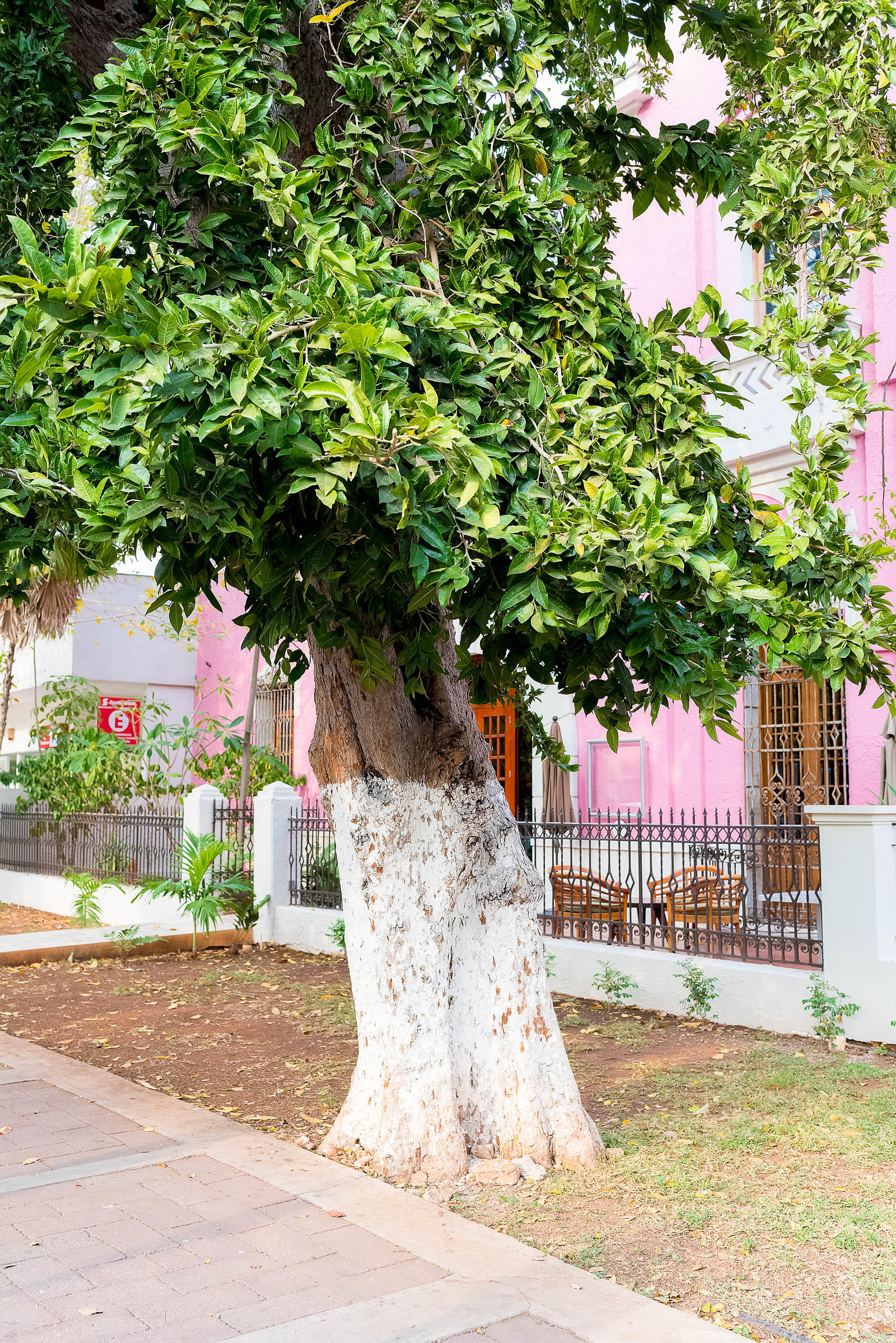 The building itself is an award-winning design combining two abandoned 19th century mansions into one seriously drool-worthy hotel. Located on the prestigious avenue of Paseo de Montejo which was modeled after the Champs-Élysées in Paris, this 17-room hotel is truly one of the most unique places you'll ever hope to visit.
It even won Architectural Digest's "Icon of Design 2011" award.
Step inside and you'll instantly understand why.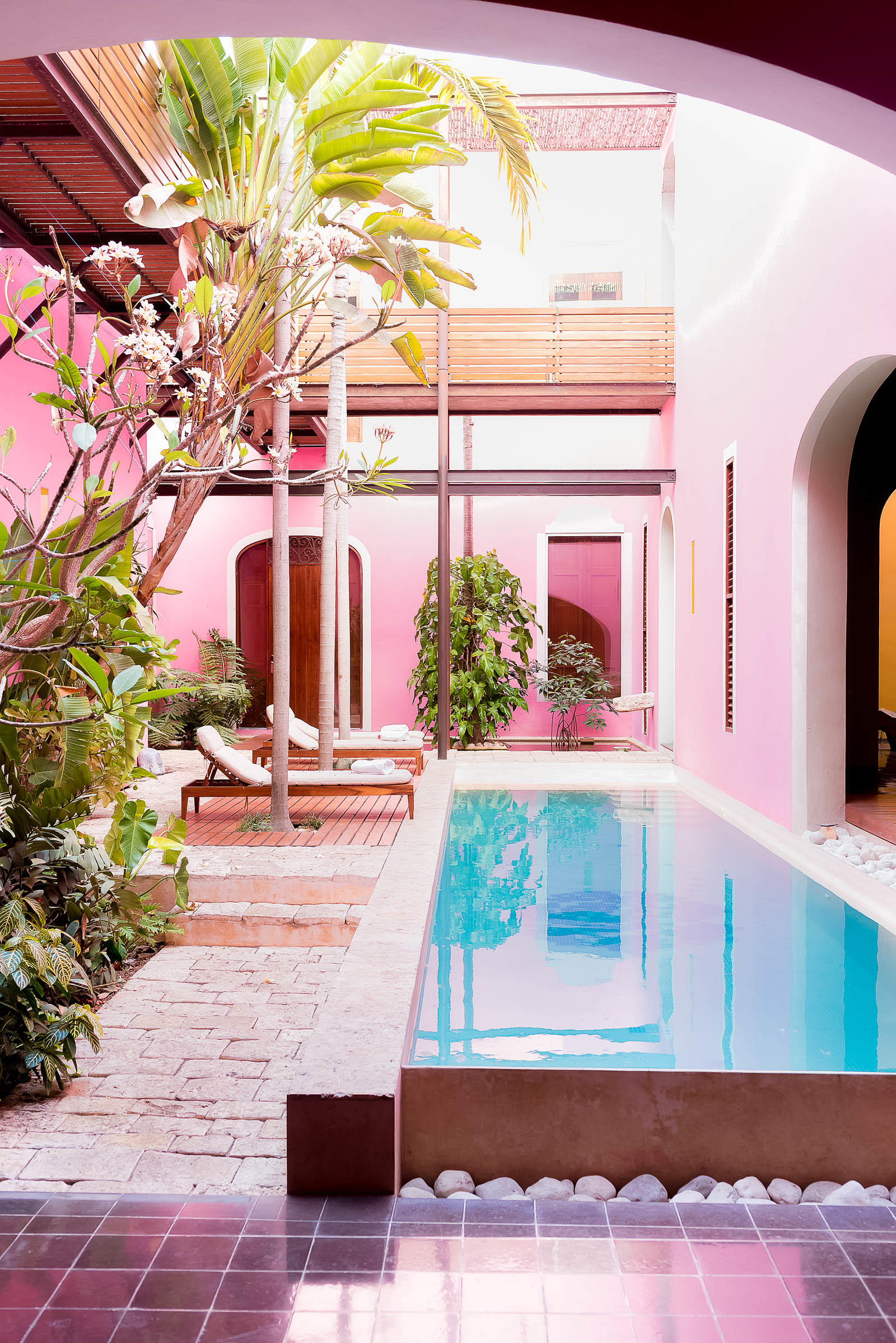 The entire hotel, inside and out, is hot pink. It's vibrant. It's striking. And it's seriously photogenic.
If you do nothing but stop by for a cocktail and an Instagram shot, you'll be thrilled.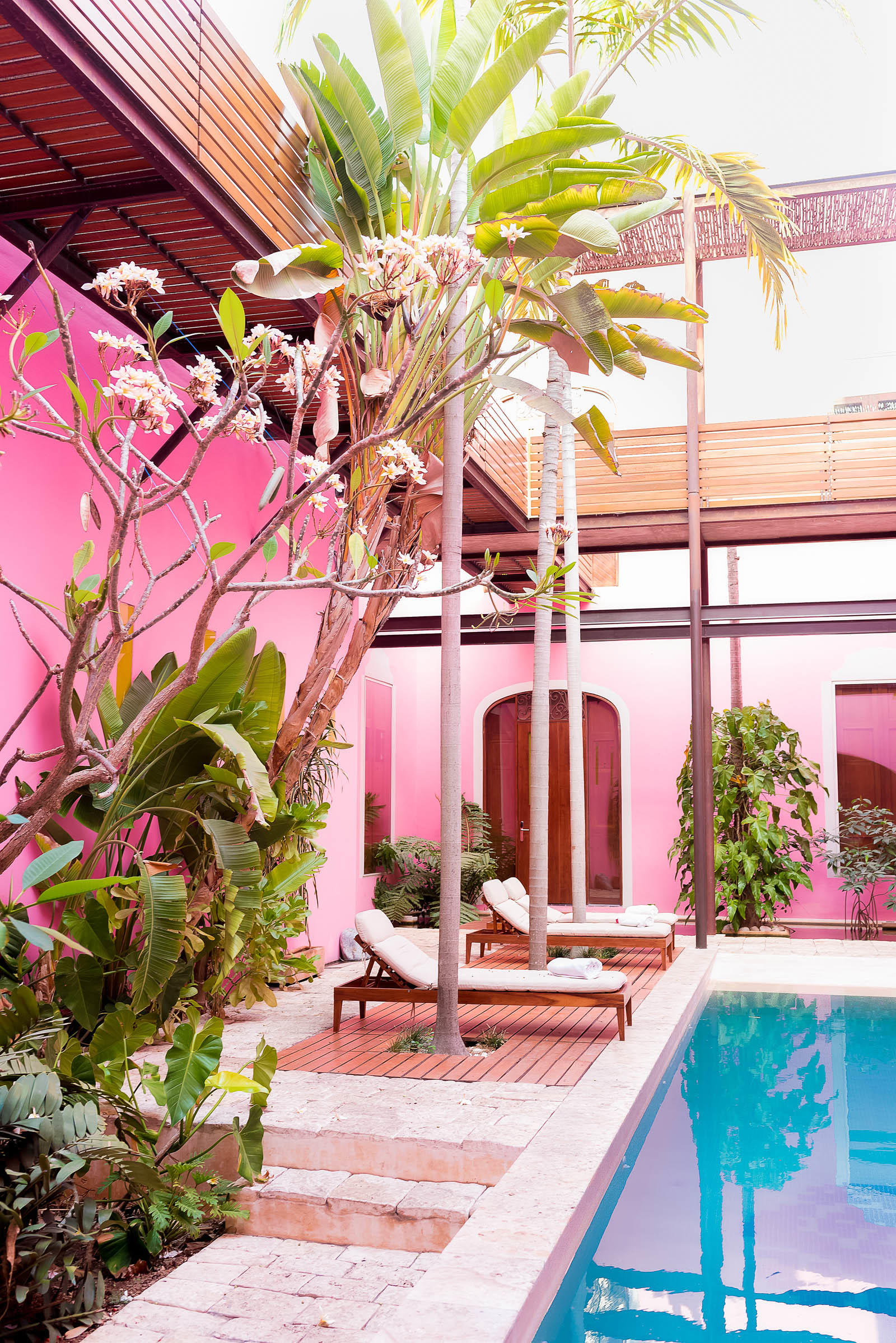 Especially once you fix your eyes on their stunning pool!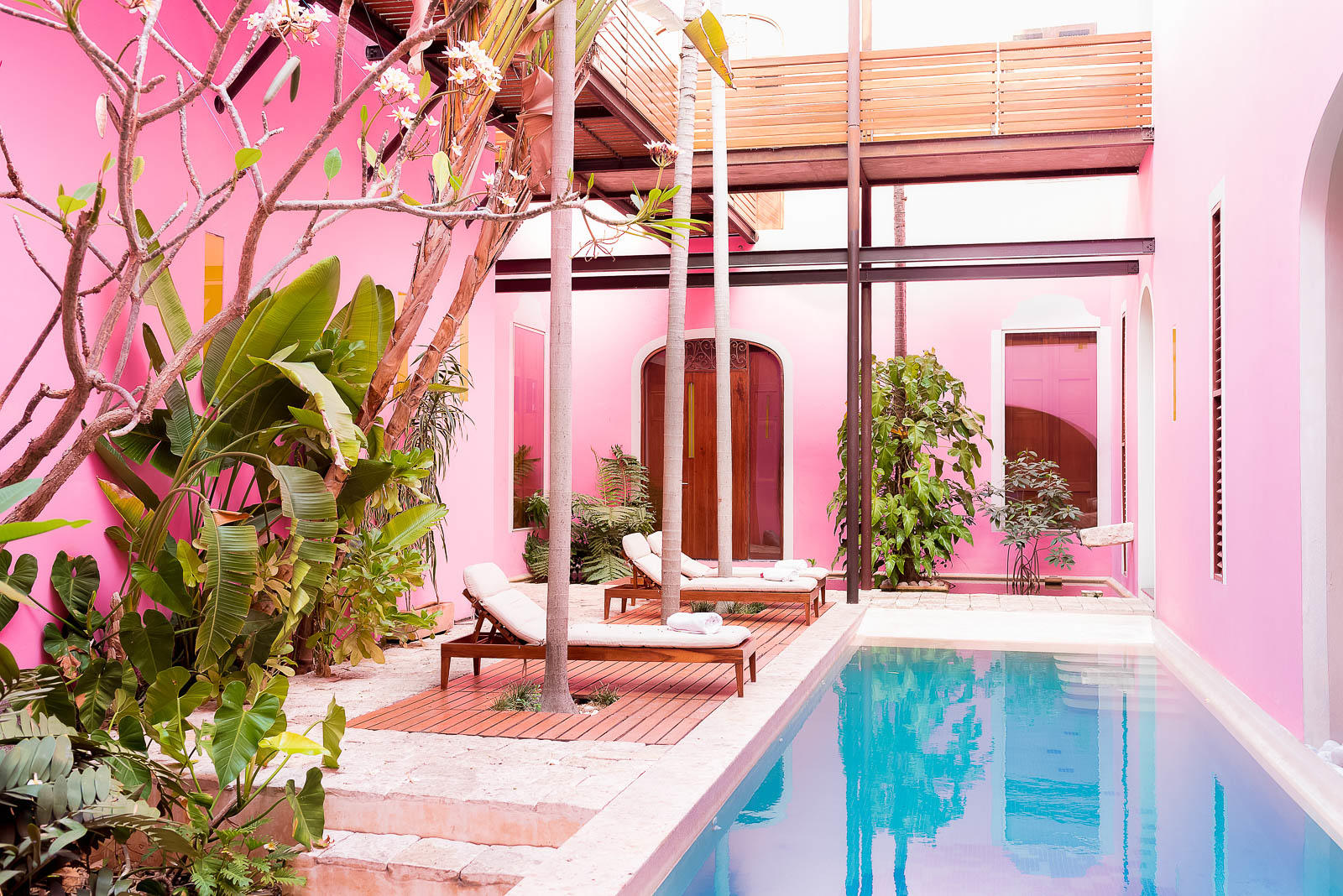 I could easily see myself lounging around here all day every day. Especially in the notorious Yucatán heat.
Michelada in hand, obviously.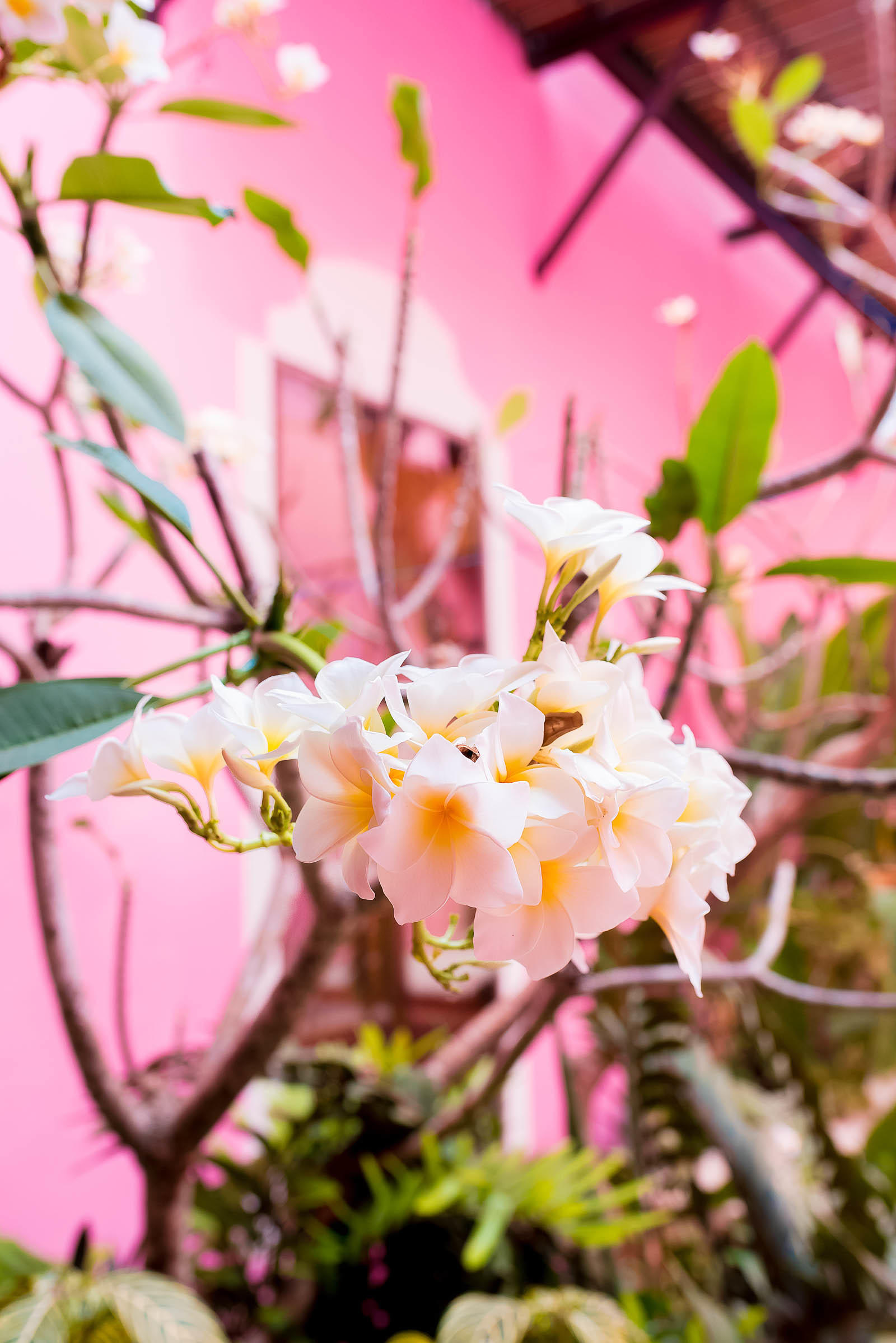 Isn't this space truly magical?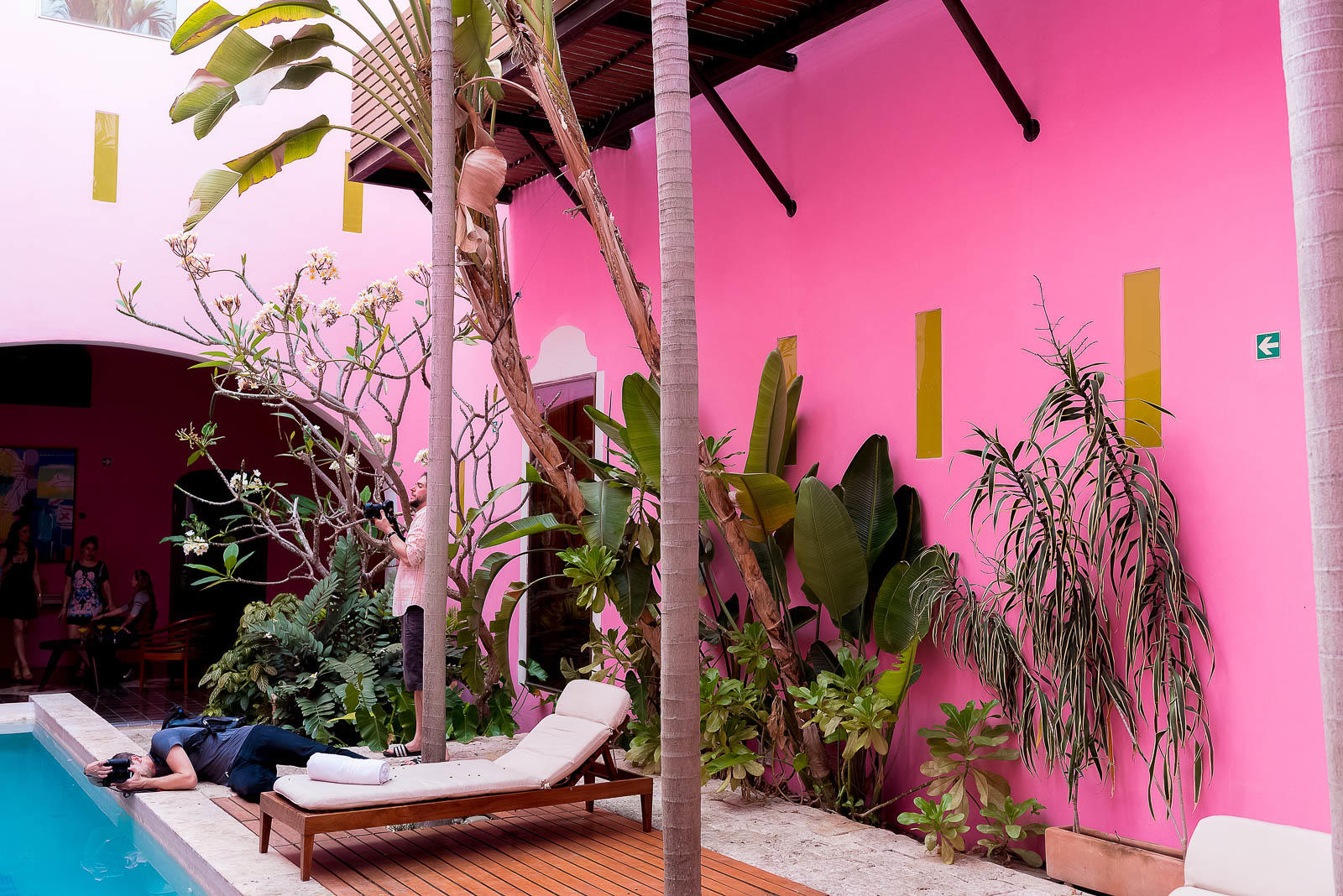 And oooooh so photogenic (spy Simeon Pratt belly diving for the shot next to Graham Chapman in the foliage?).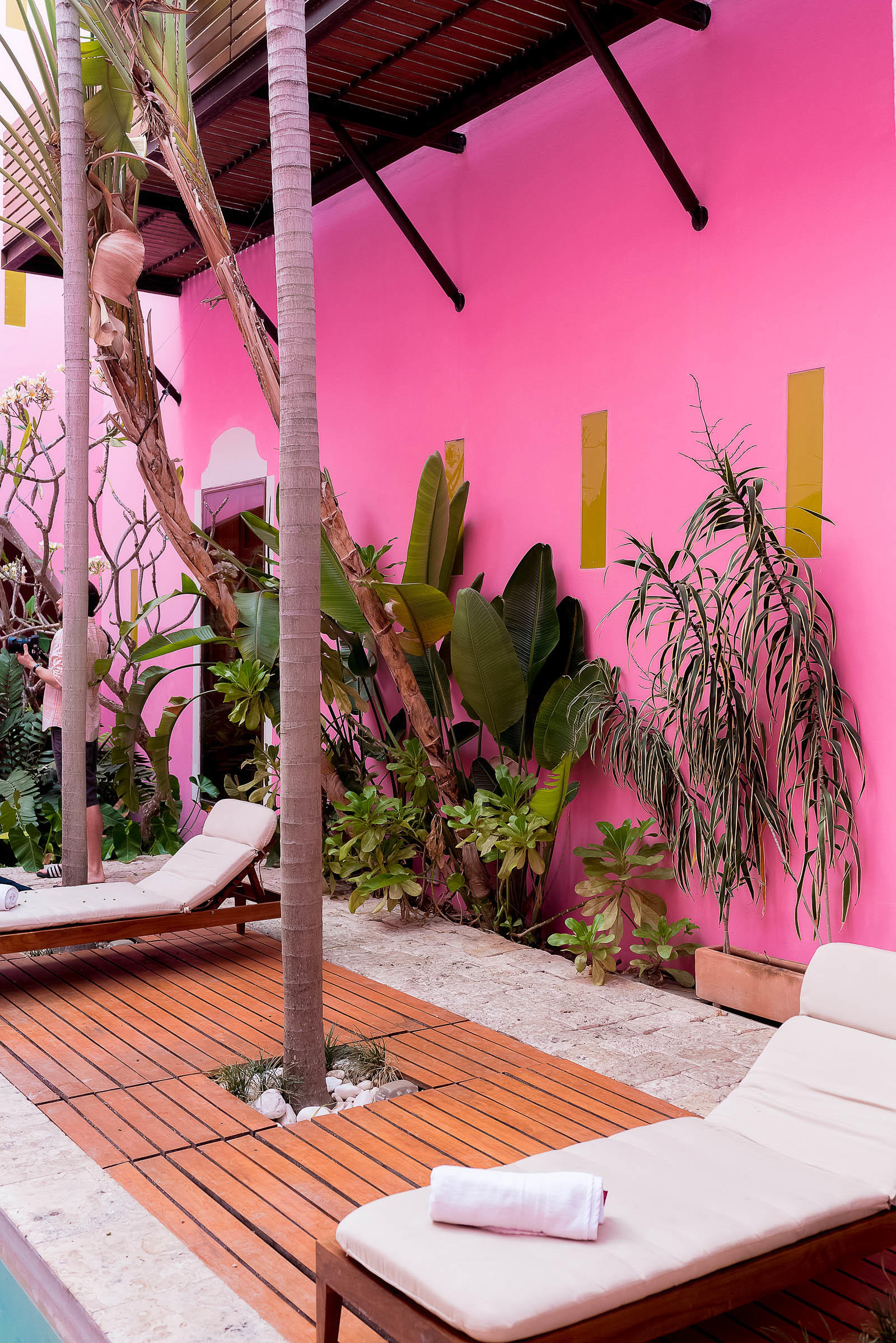 But given the beauty of this space, can you blame them?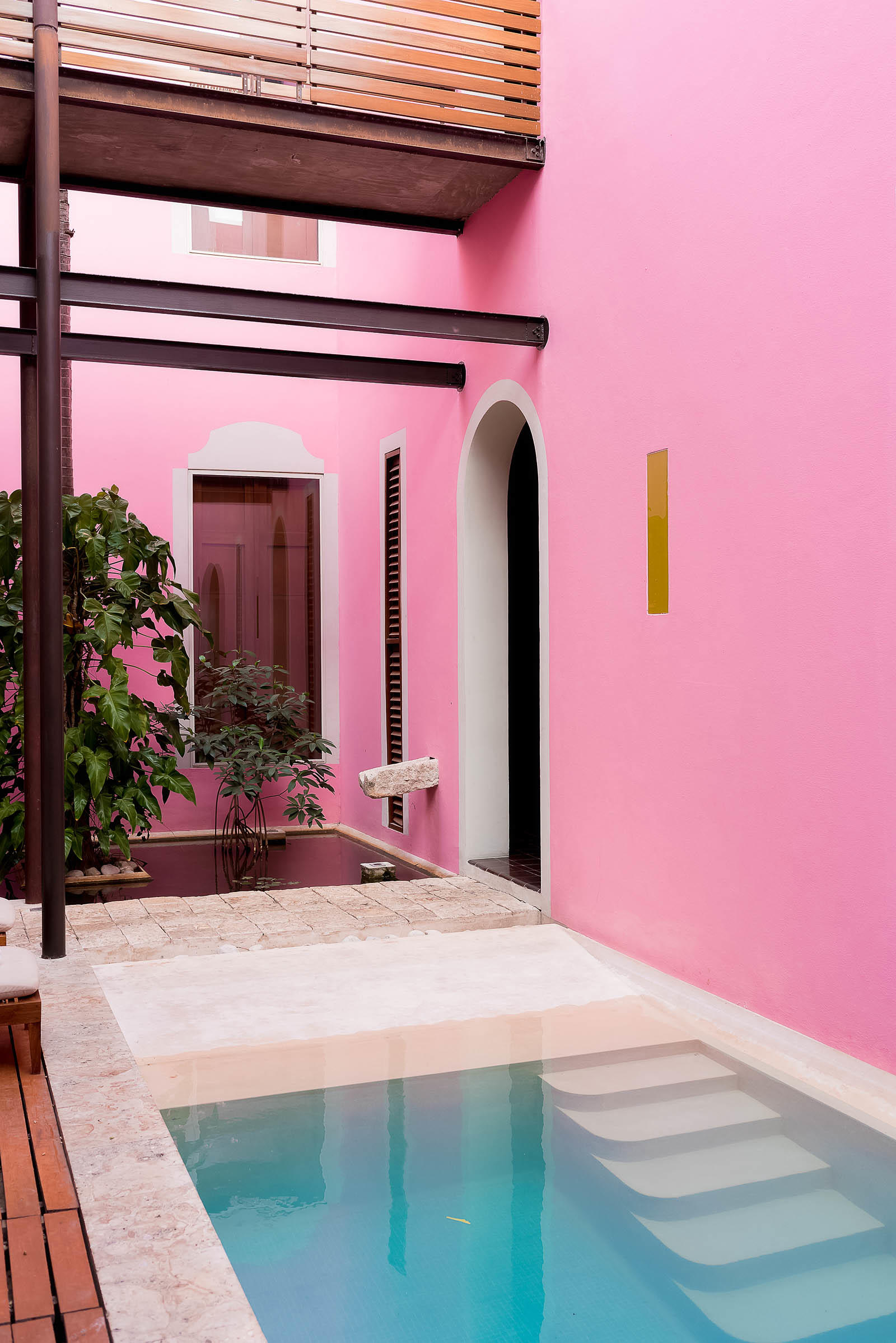 I could easily have spent days here in just this pool area and STILL not have gotten all the shots I wanted.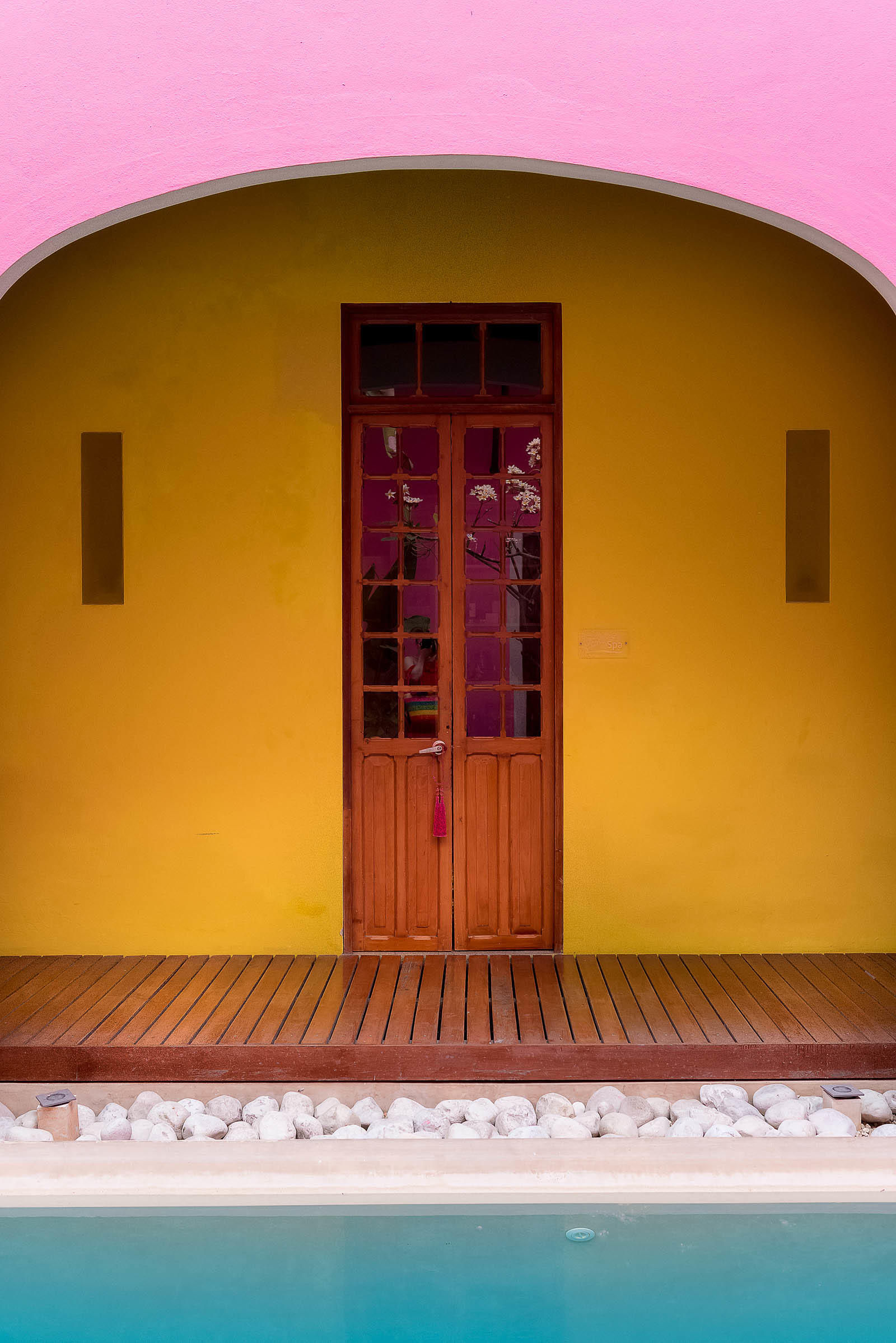 The vibrant colors really do take your breath away.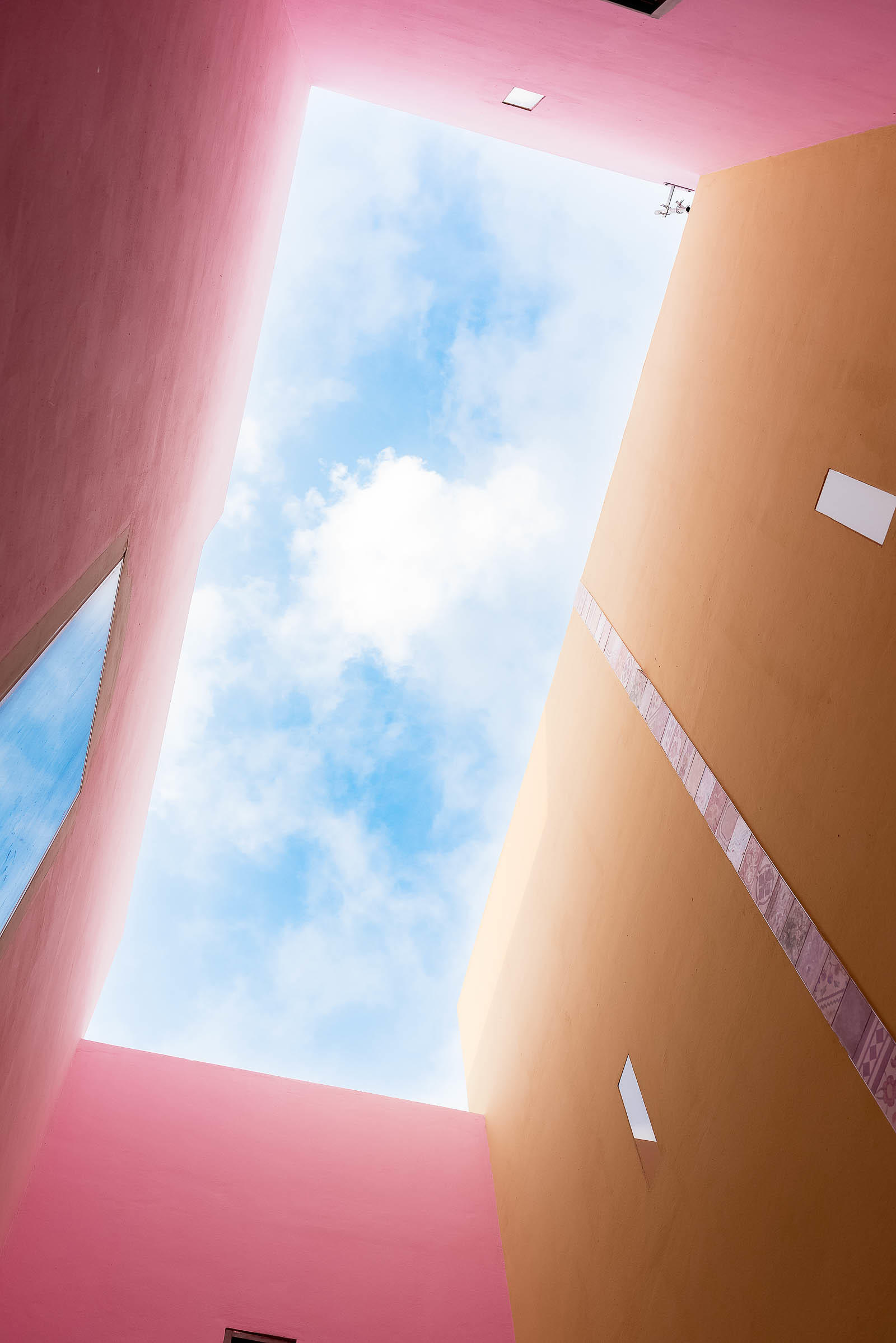 Especially on a sunny, tropical evening!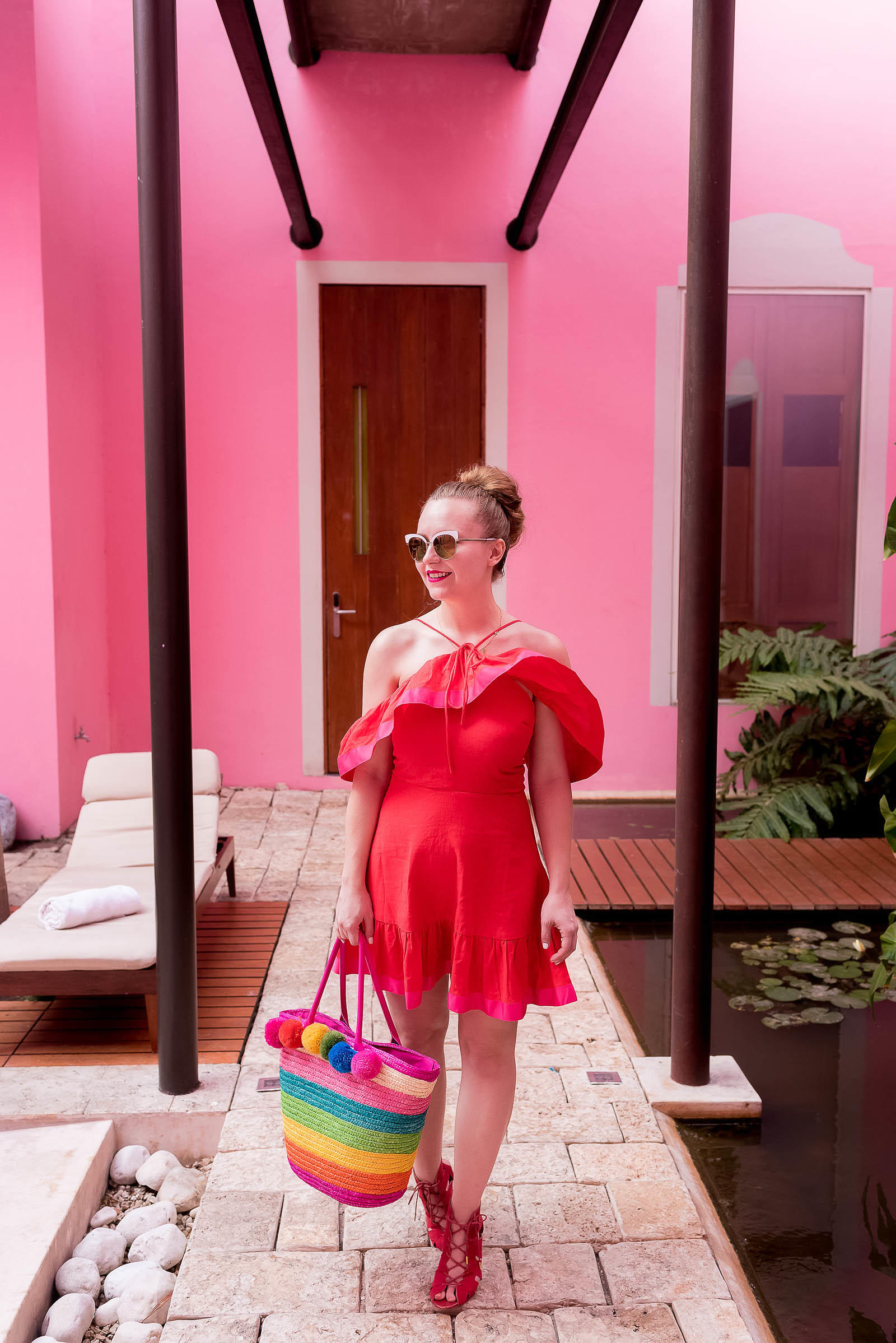 Naturally I wore my most colorful outfit to such a colorful destination. Can you believe this dress is under $60? Since it's a linen-blend it was perfect in the hot, humidity and so much fun to wear!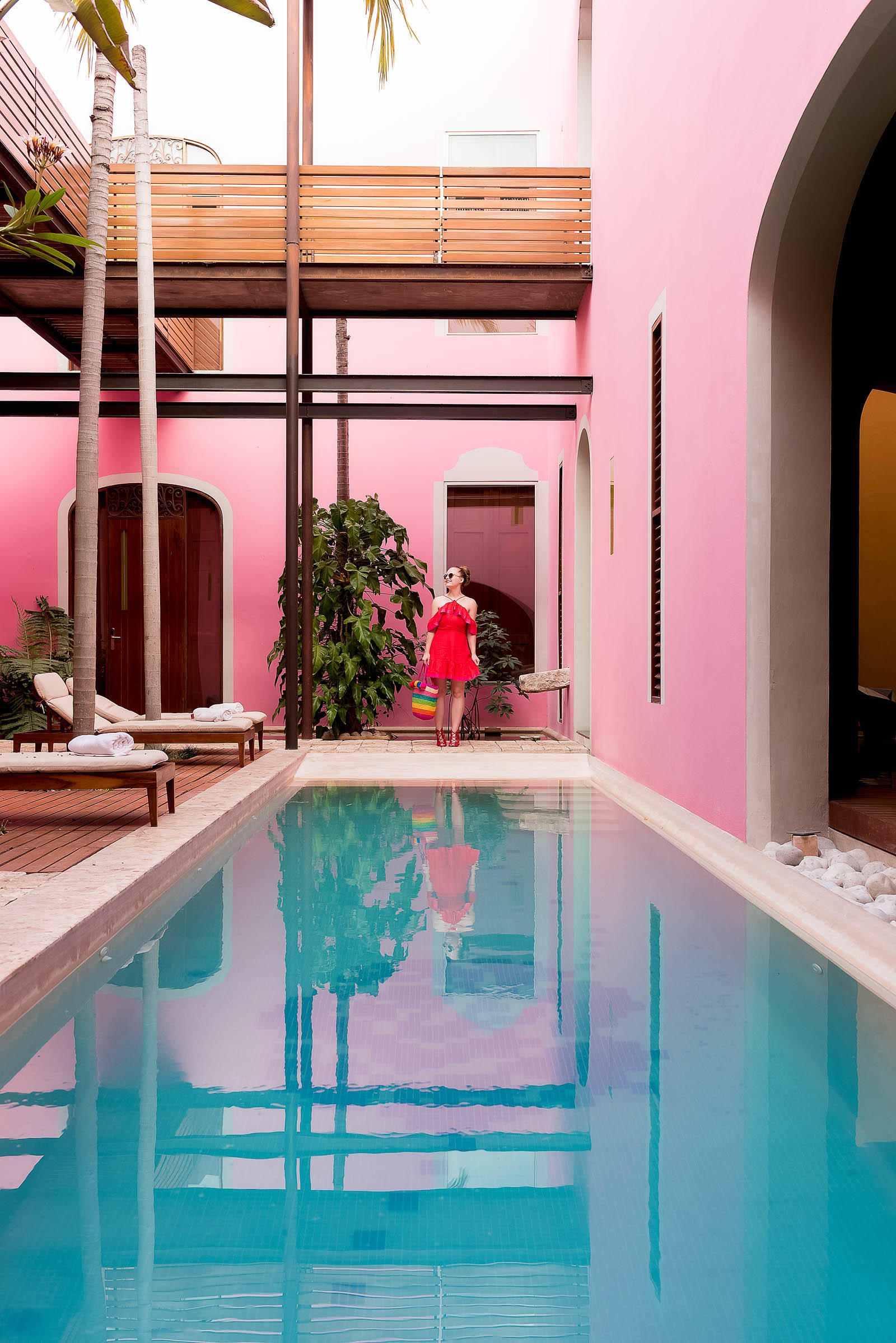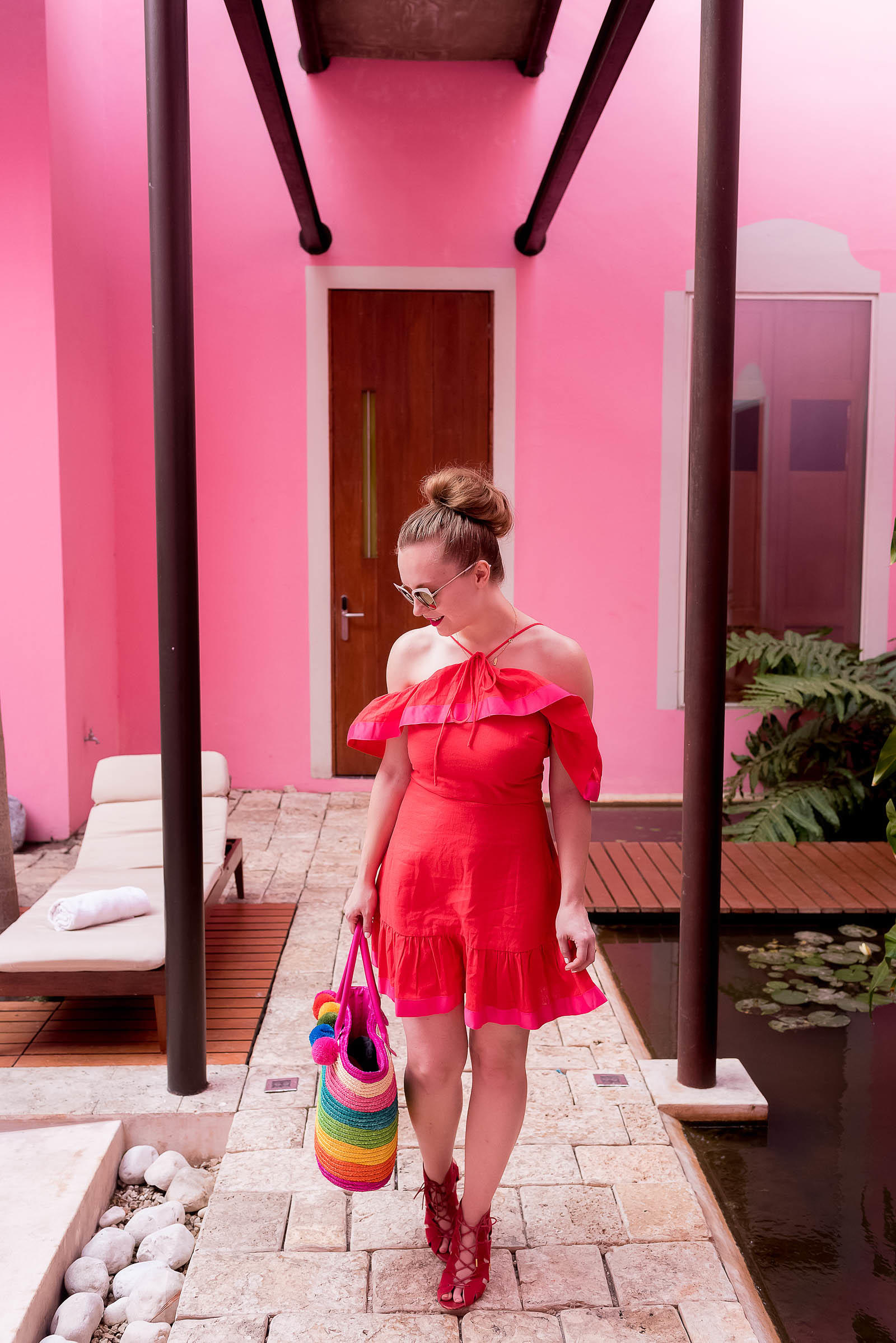 SHOP THE LOOK:
Dress – Asos || Shoes – Joie (similar) || Bag – c/o T & J Designs || Sunglasses – BP
A huge thank you to Erin for shooting this photos of me!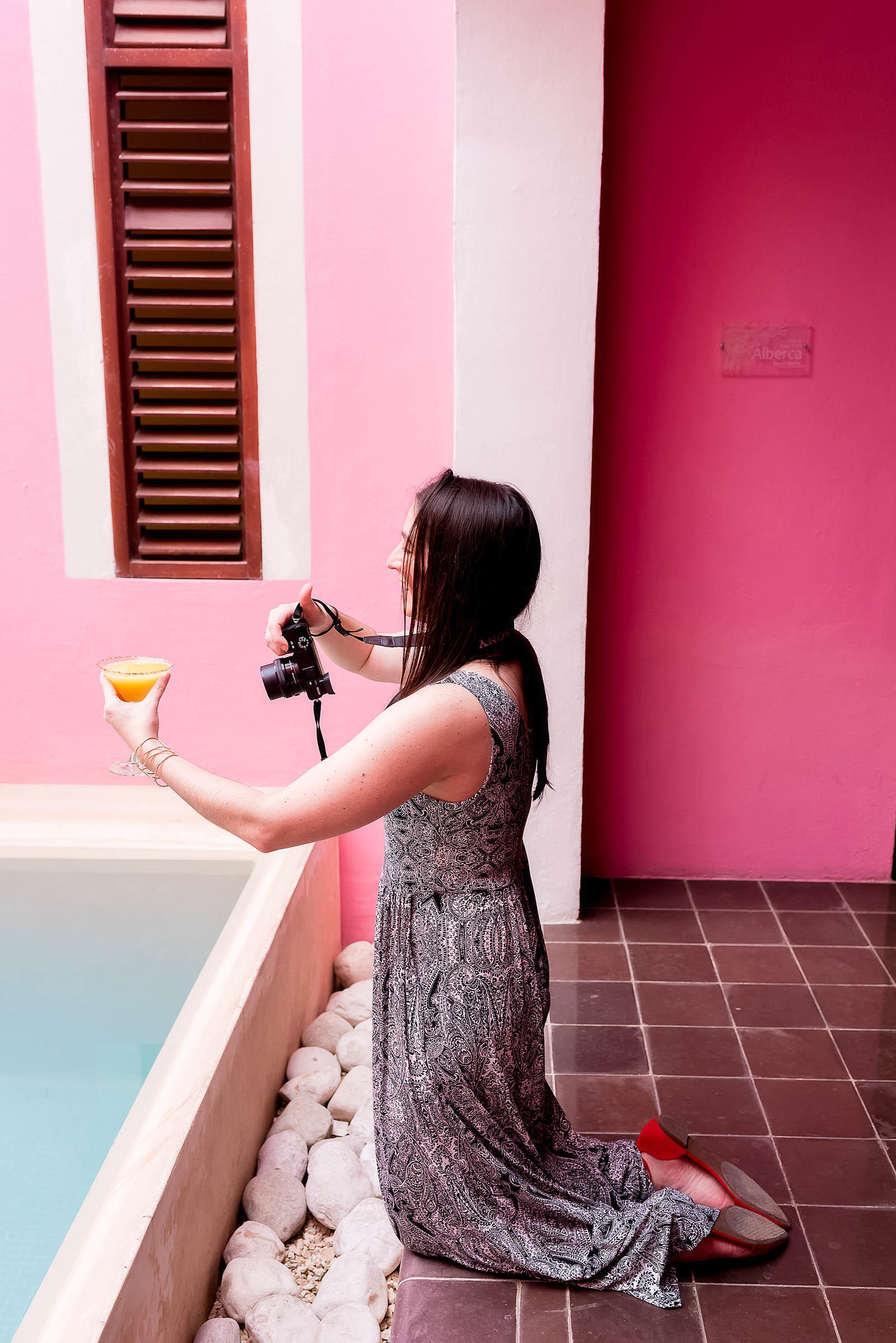 A sneak peek behind the scenes of Erin's cocktail photoshoot:
Isn't that shot stunning? Erin continues to impress me time and time again with her gorgeous, innovative food shots!

Speaking of food, I'd be remiss if I didn't take you inside Rosas & Xocolate's restaurant. Because when I say their restaurant is well worth a visit what I really mean is the food is epically delicious and you'd seriously be missing out if you DIDN'T stop by to check it out.
The restaurant decor has a cool, moody vibe complete with innovative celebrity art and plenty of signature hot pink touches.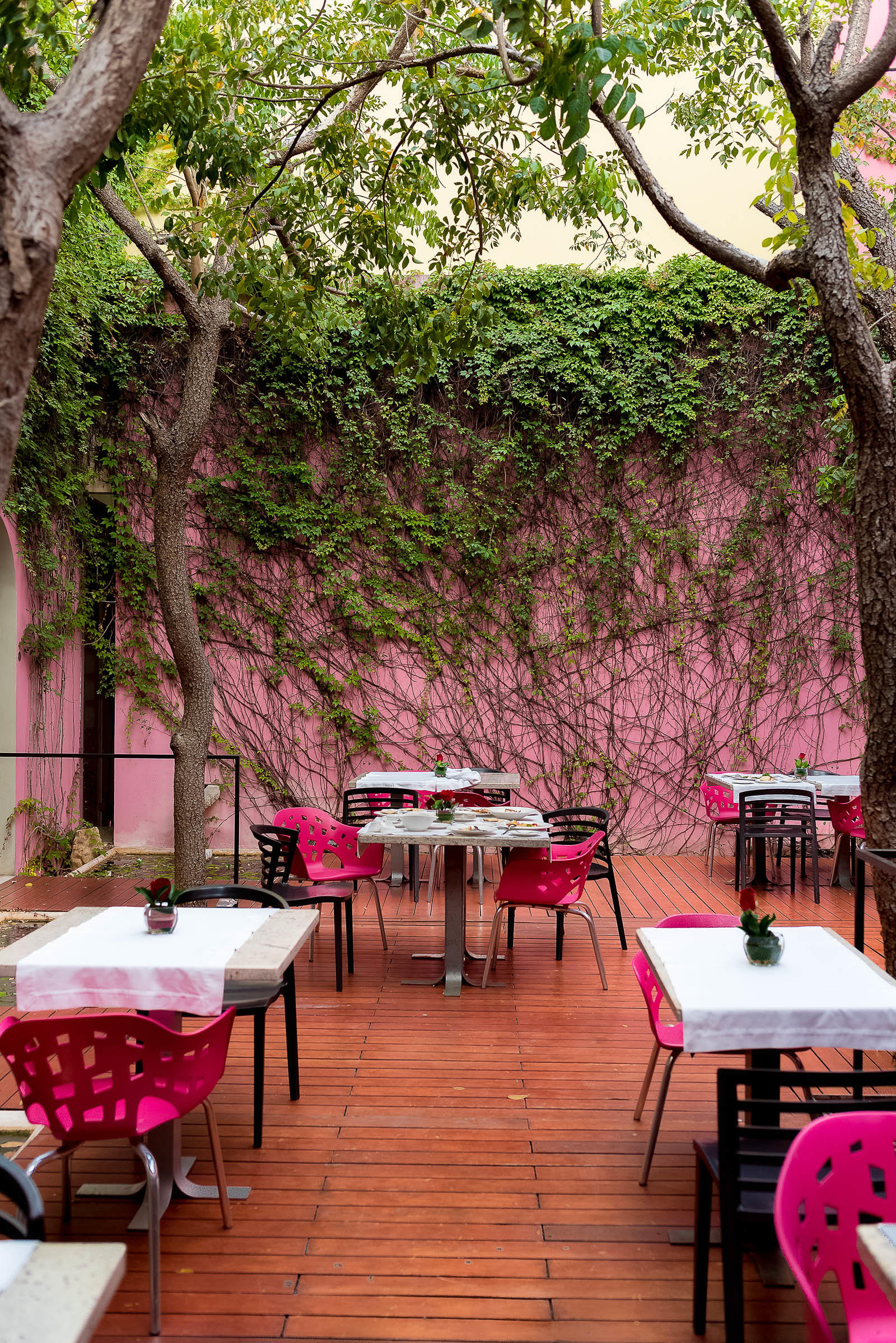 But if the weather cooperates, I highly recommend snagging a table on their outdoor patio!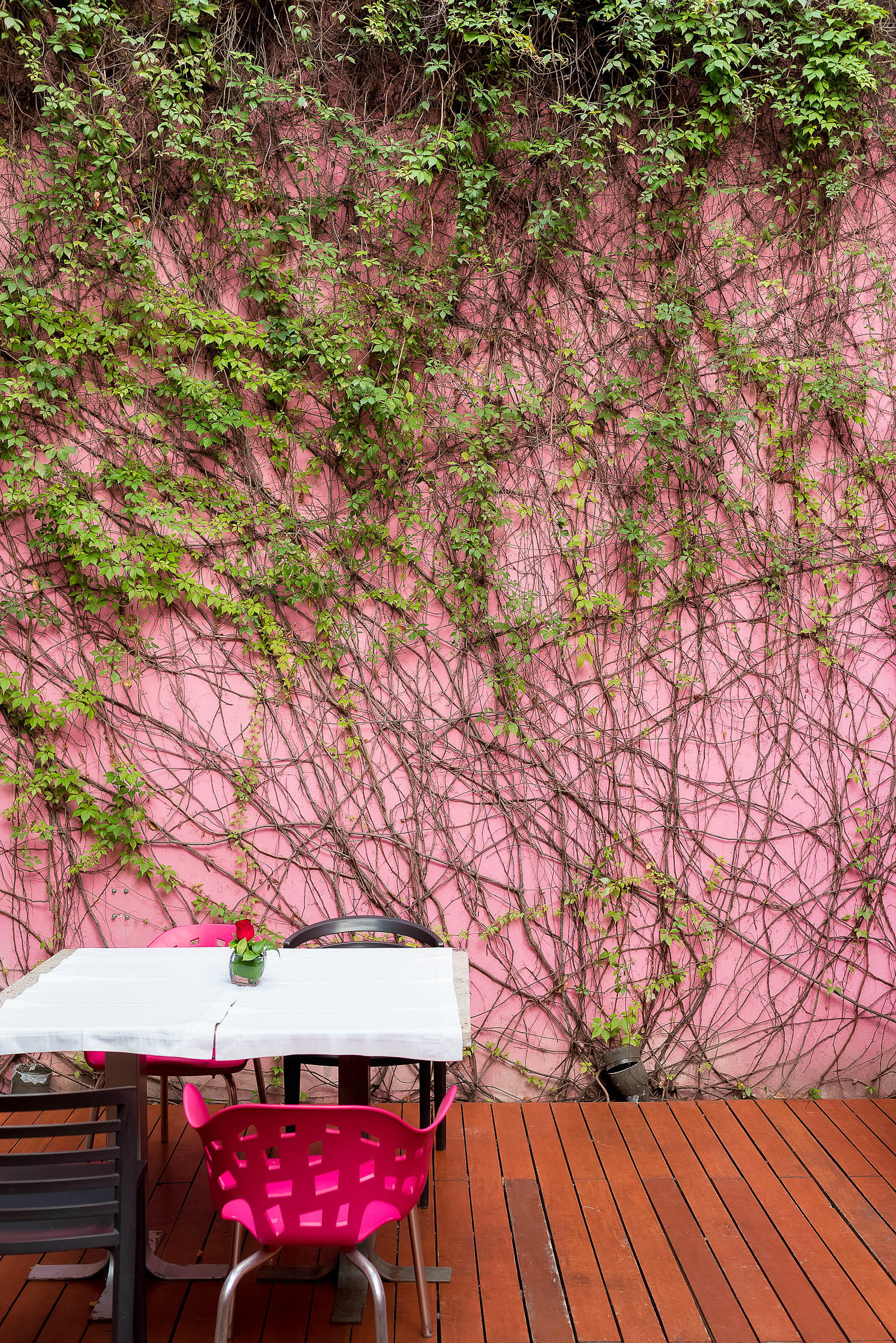 It's a stunning space to enjoy a delicious meal at.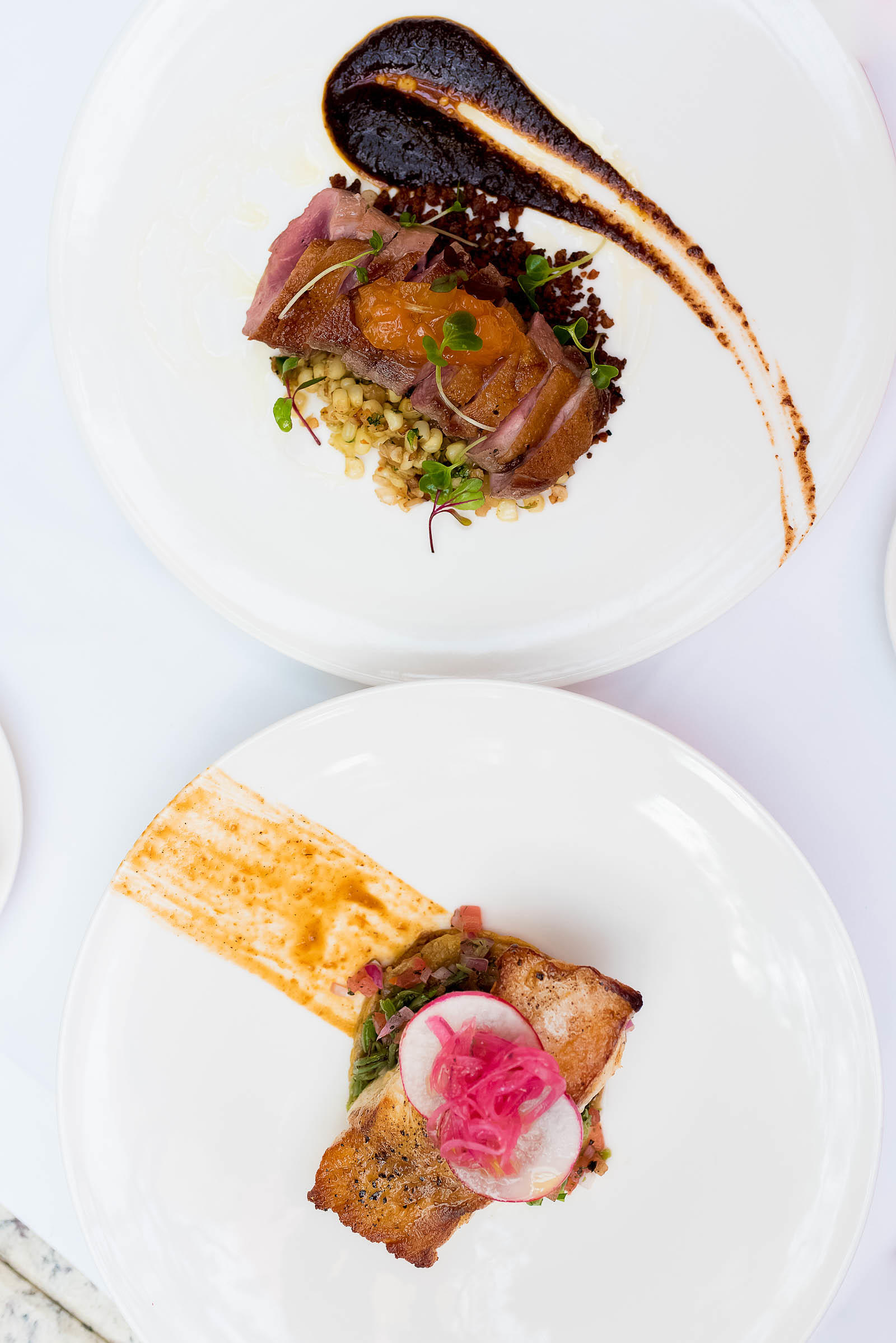 And Rosas & Xocolate has some seriously delicious dishes to choose from!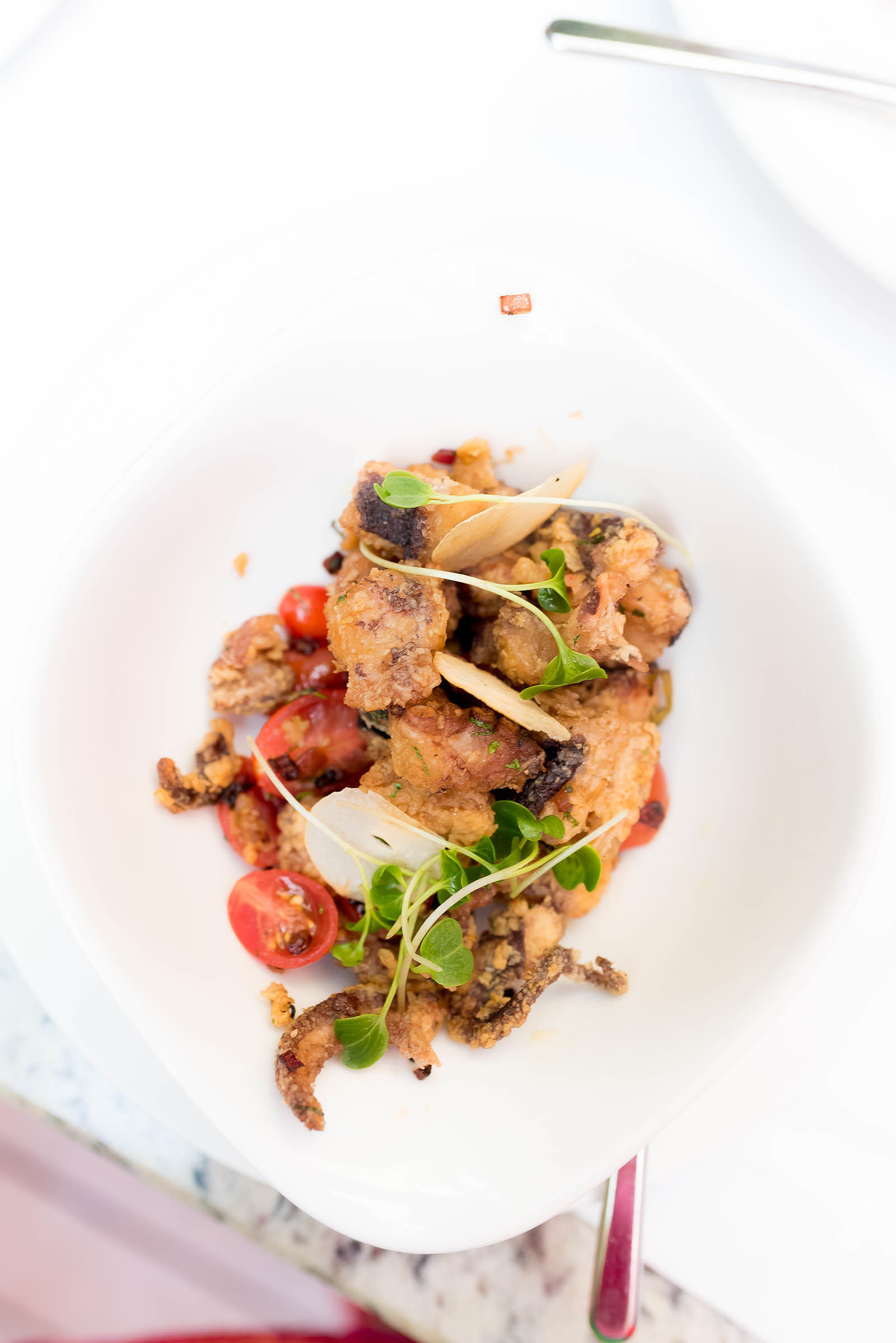 Like this delicious pile of fried octopus (my favorite!).
Or a stunning crab cake-style salad.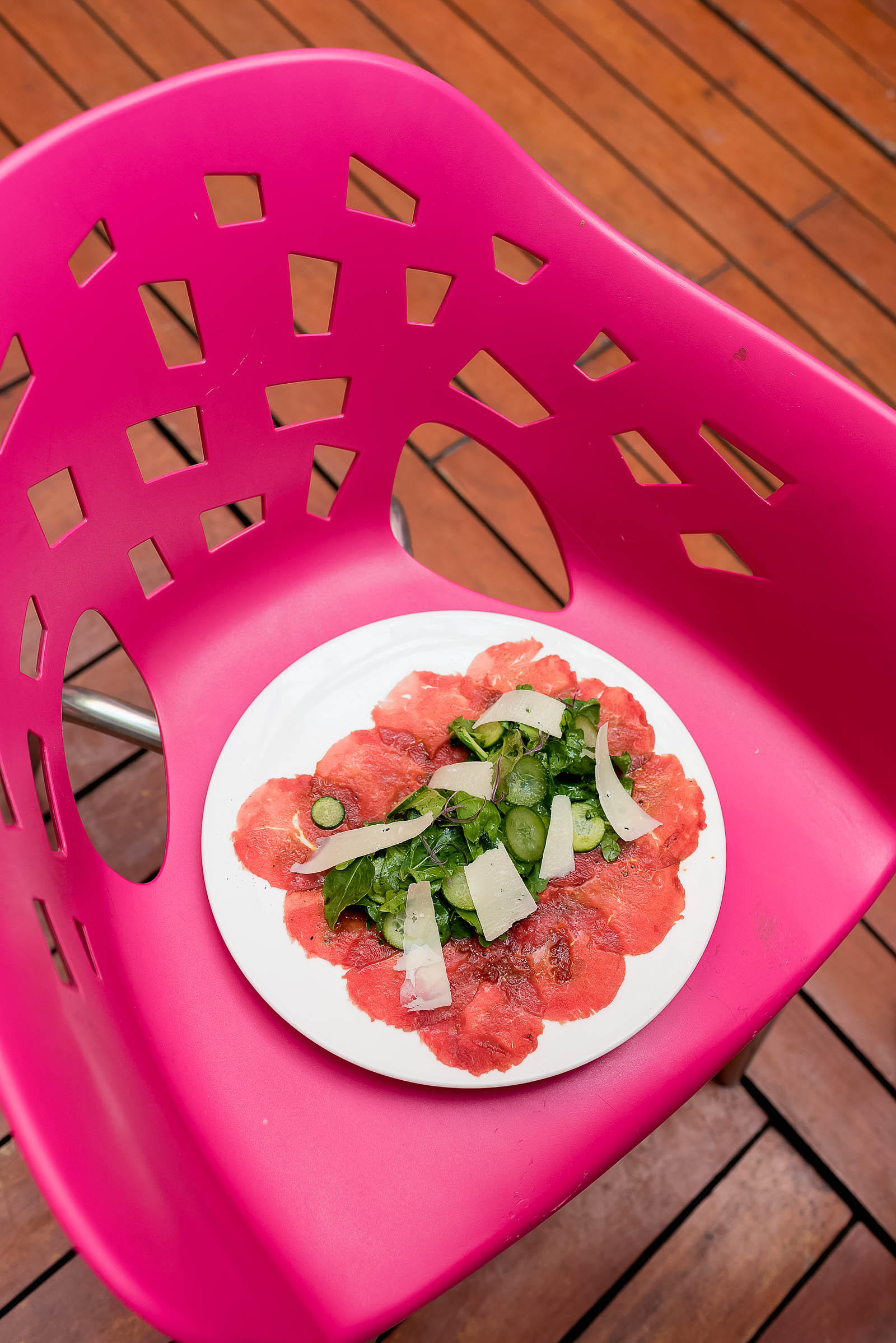 Or thinly sliced beef carpaccio.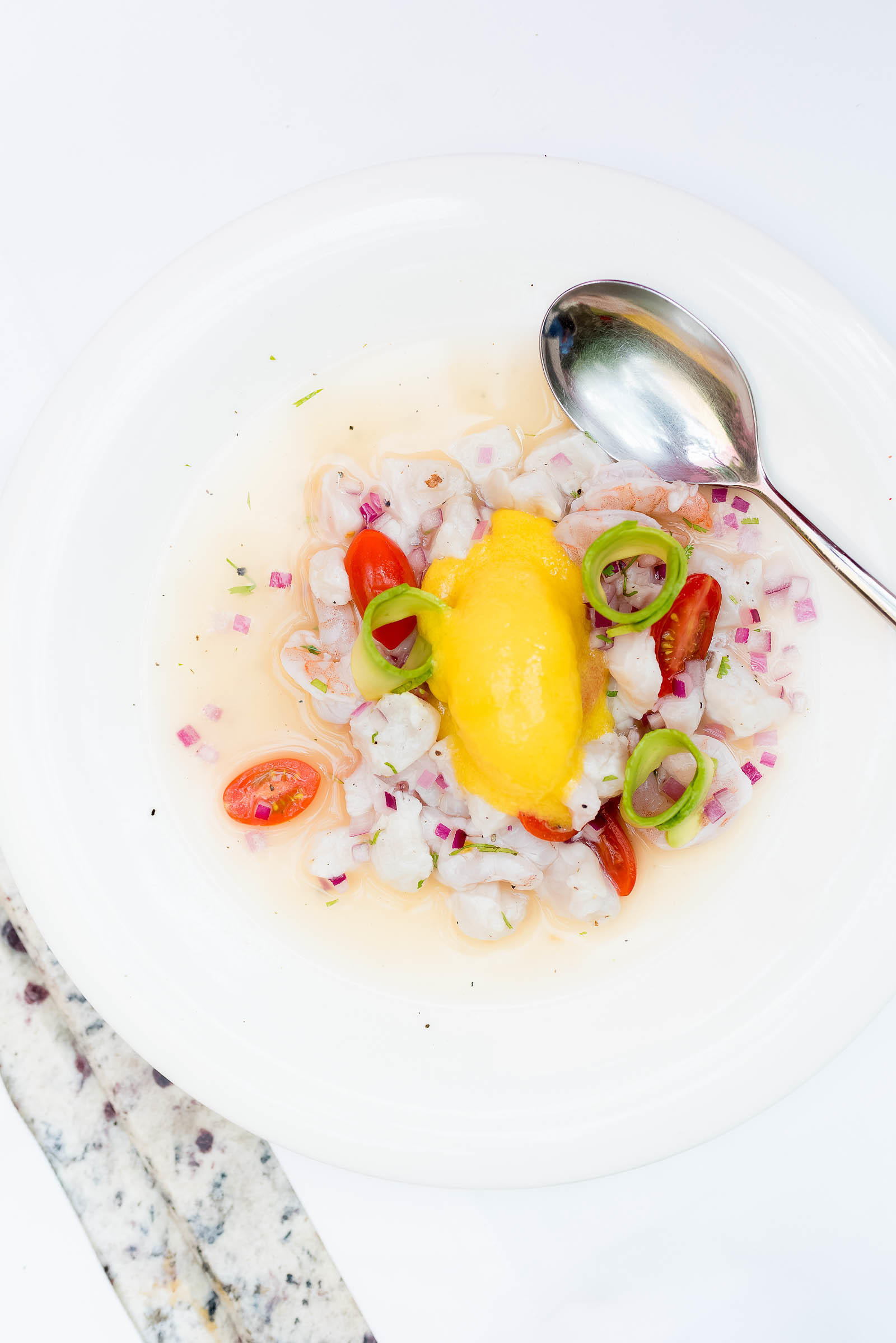 Or one gloriously colorful plate of ceviche (my other favorite on the menu).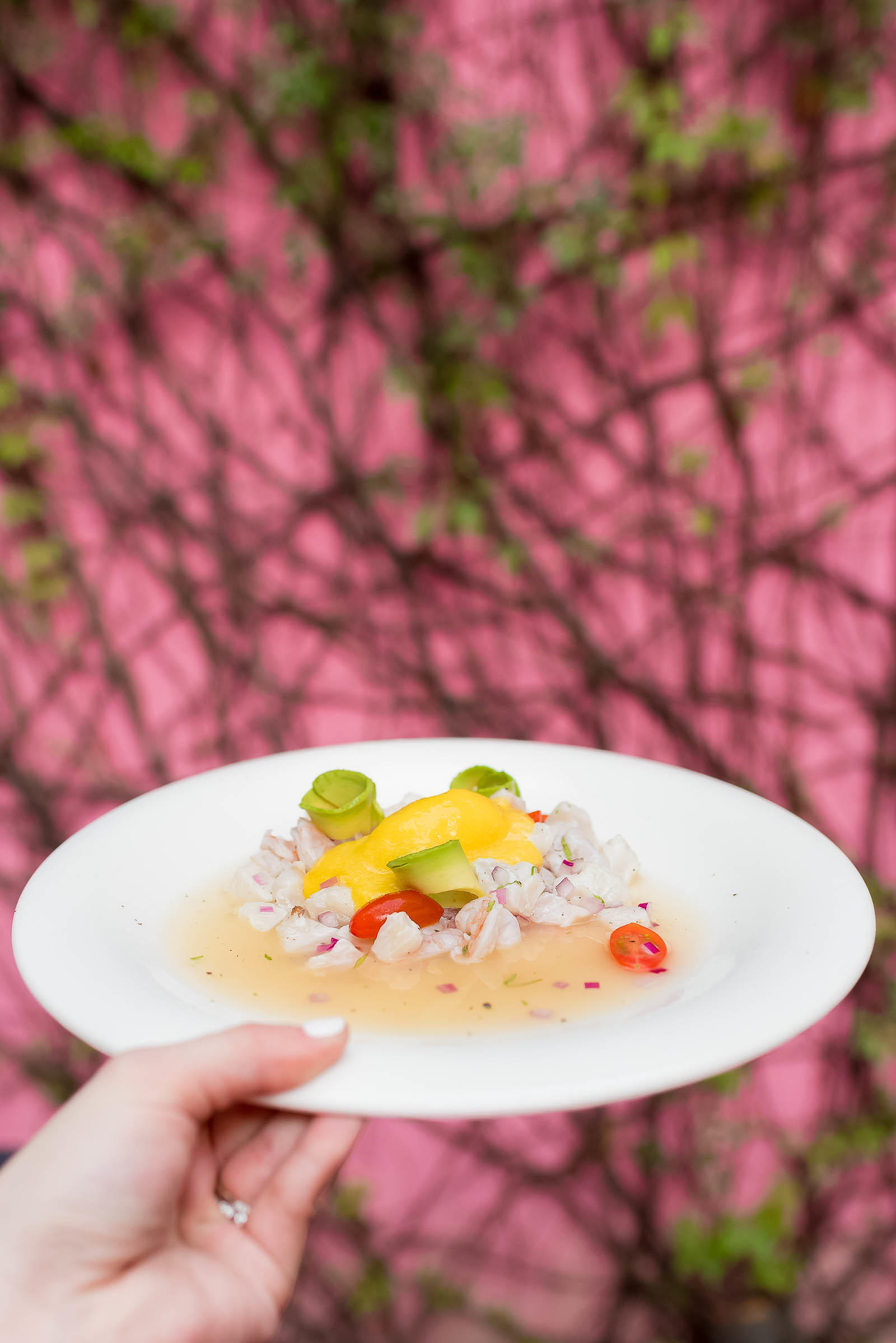 Which I could easily eat each and every day for the rest of my life happily.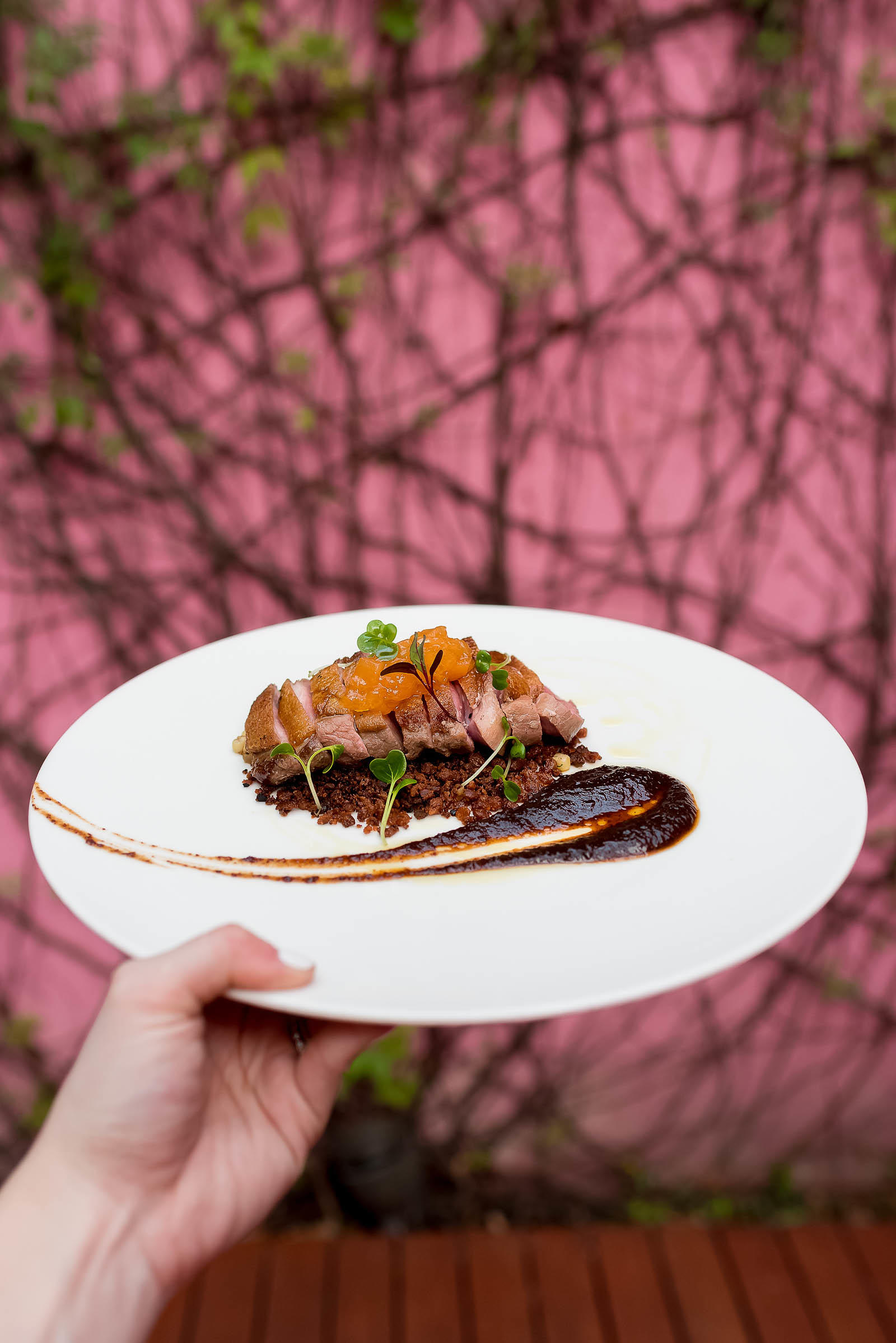 There's also a beautiful seared duck breast entrée that's as delicious as it is photogenic.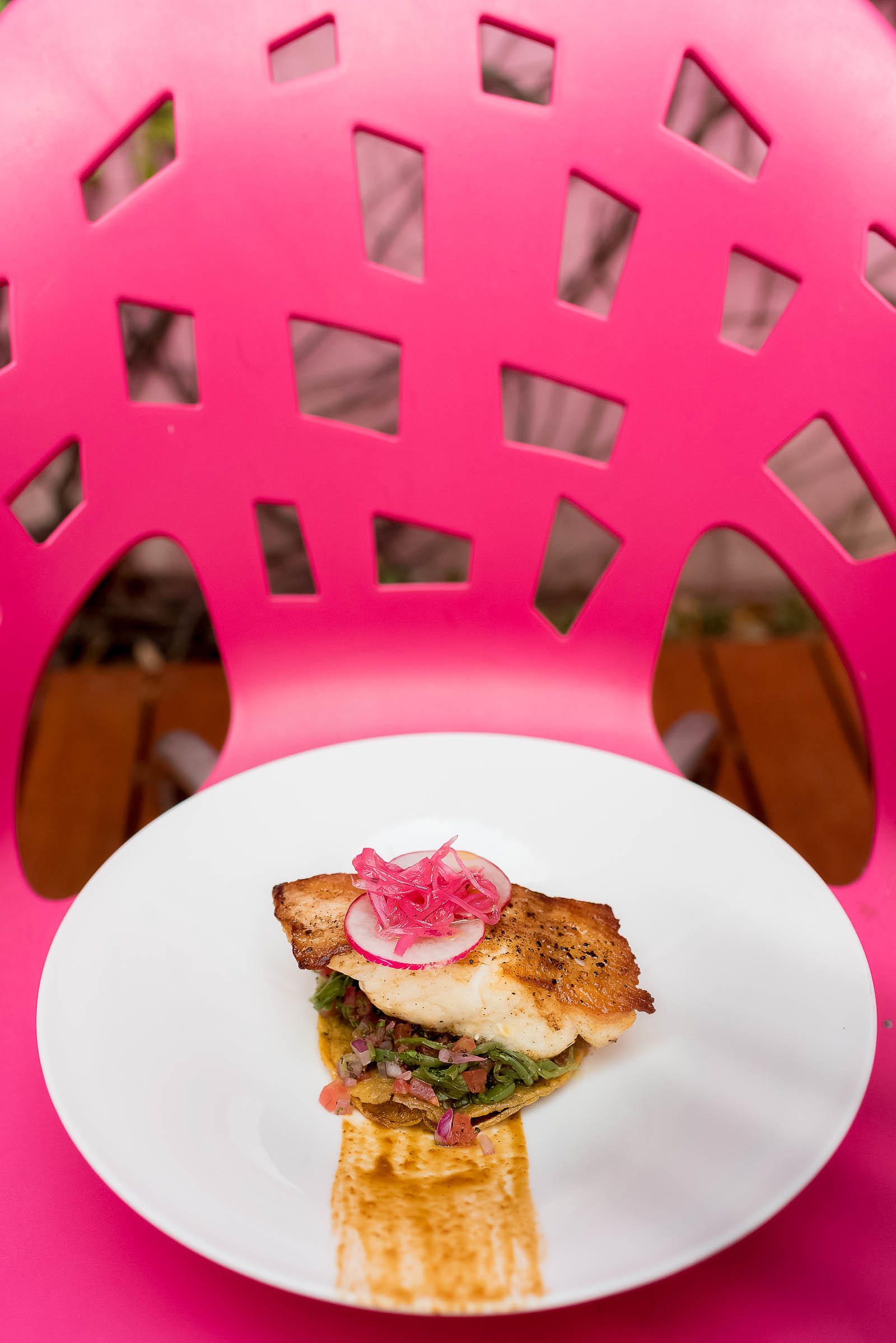 And some colorful fish entrées that rotate seasonally too.

And are always worth a try!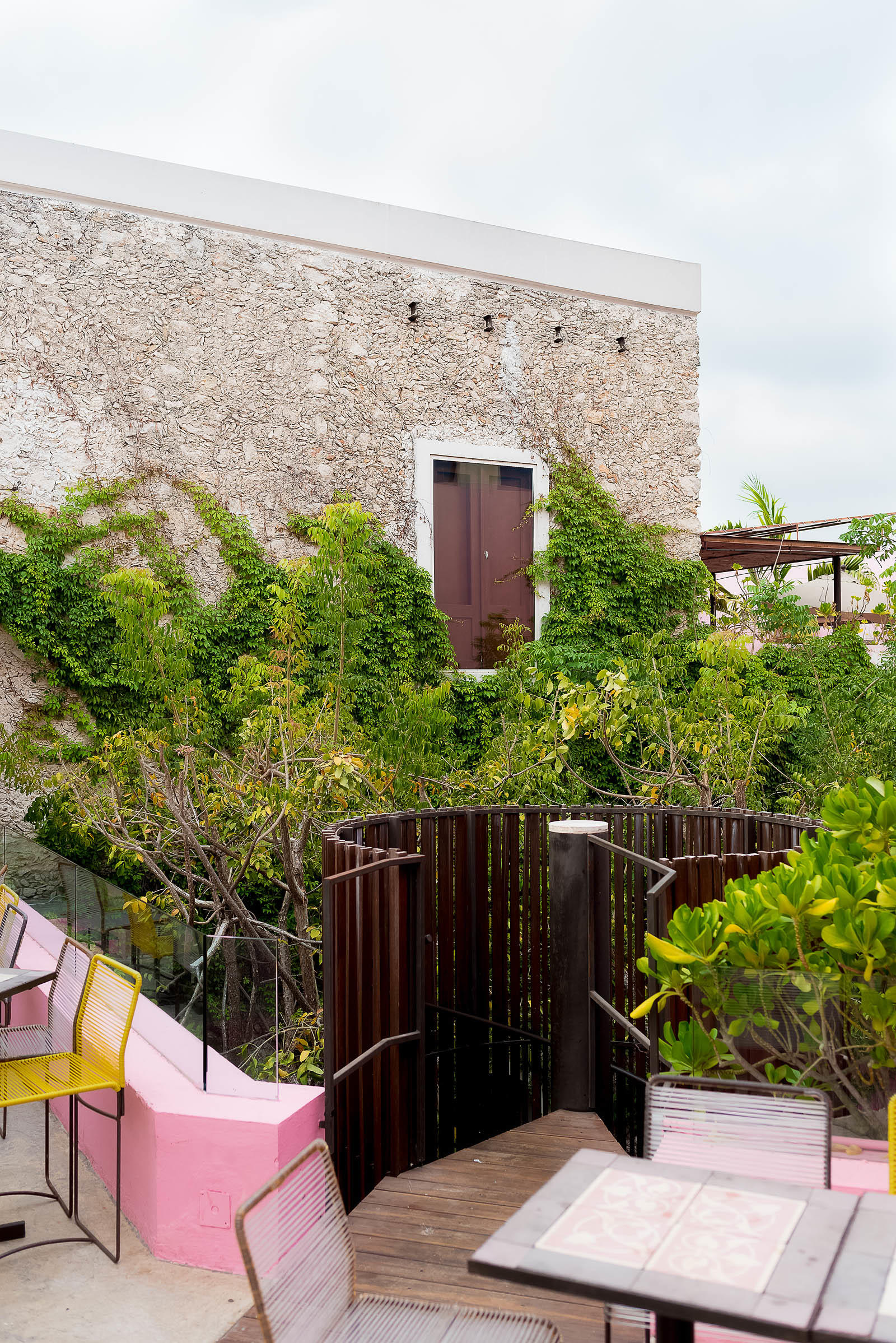 Upstairs above the restaurant patio you'll find the Rosas & Xocolate rooftop bar oasis.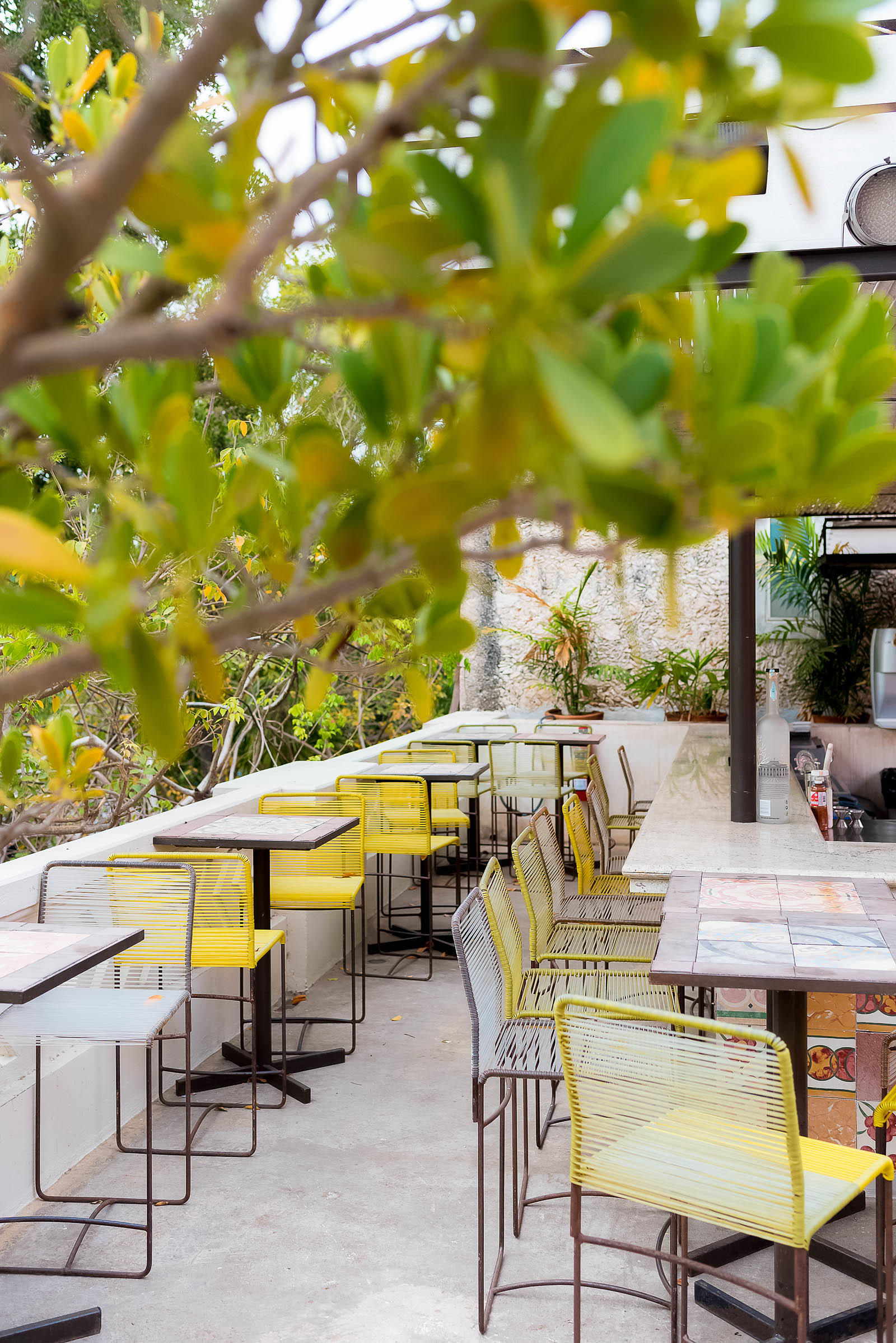 It's a wonderfully relaxing space to listen to live music and enjoy a cocktail at!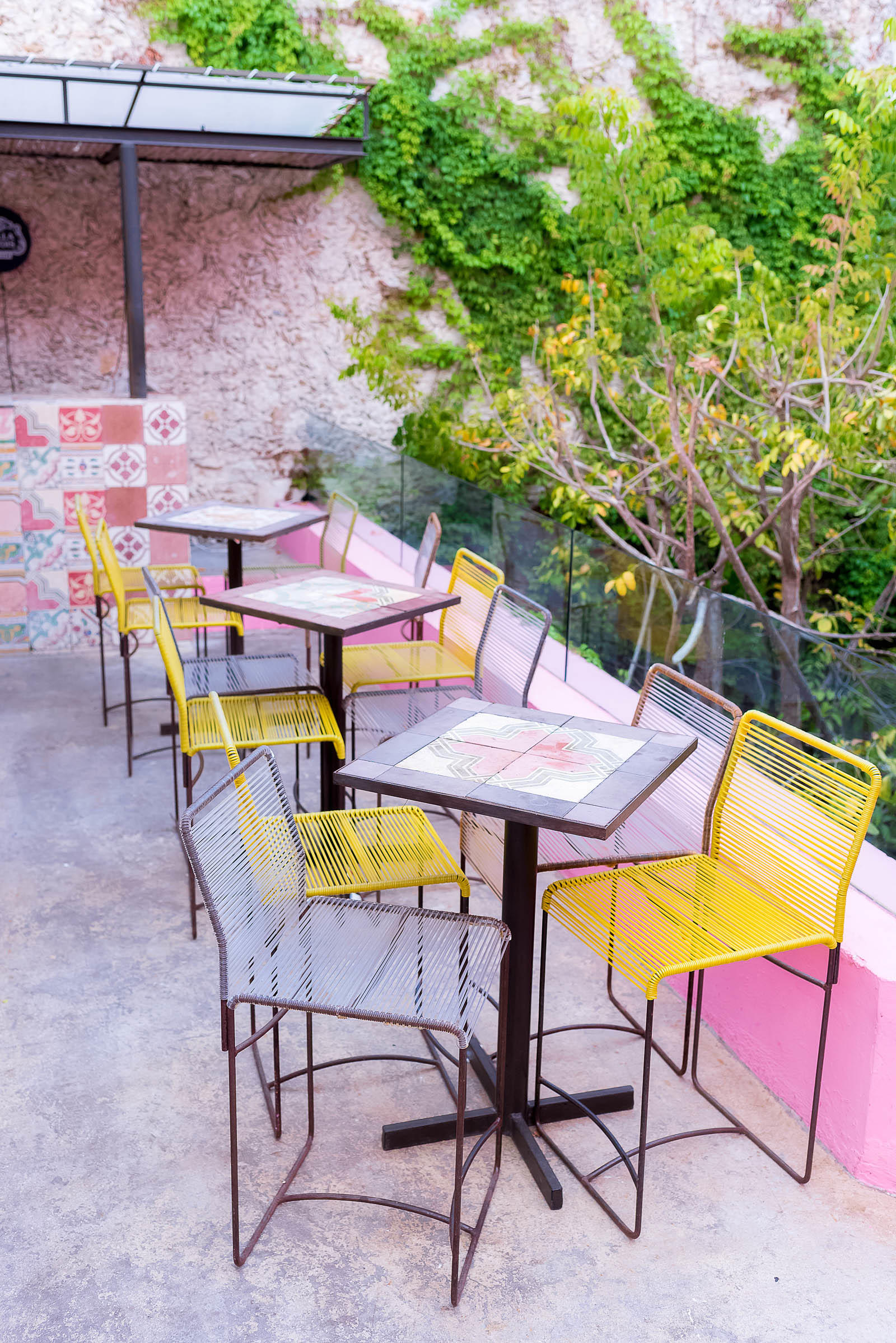 And naturally has signature hot pink touches all around.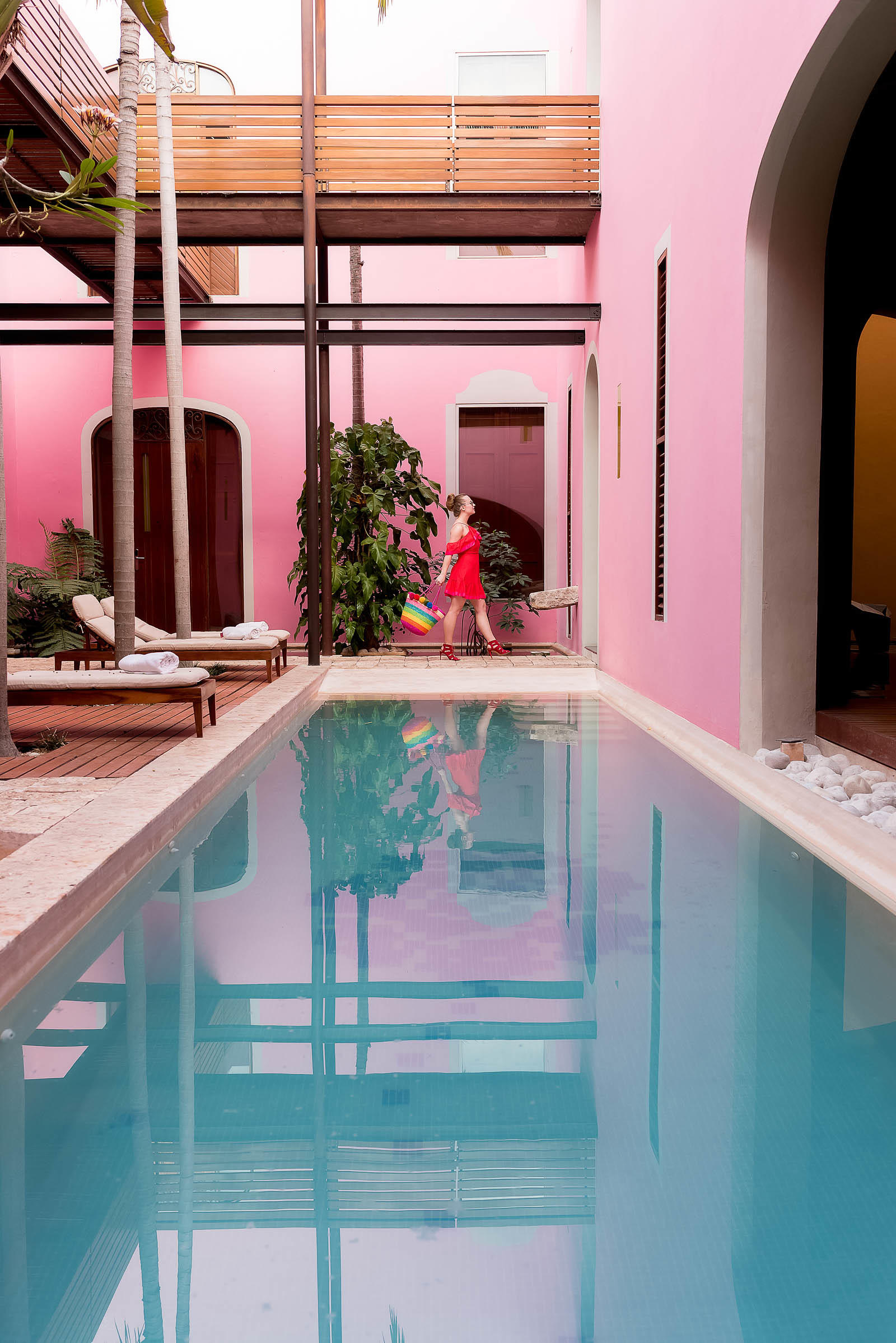 Every place we visited in the Yucatán opened my eyes to a whole new world of vibrancy and life but none so much as the hot pink hotel that is Rosas & Xocolate.
I'd go so far as to say it has to be one of the most Instagram-worthy hotels in all of Mexico. And certainly worth a visit on your next trip. Oh, and don't forget to order the octopus!
Disclosure: I received a complimentary visit to Rosas y Xocolate to facilitate this post. Review and all opinions are ALWAYS my own.