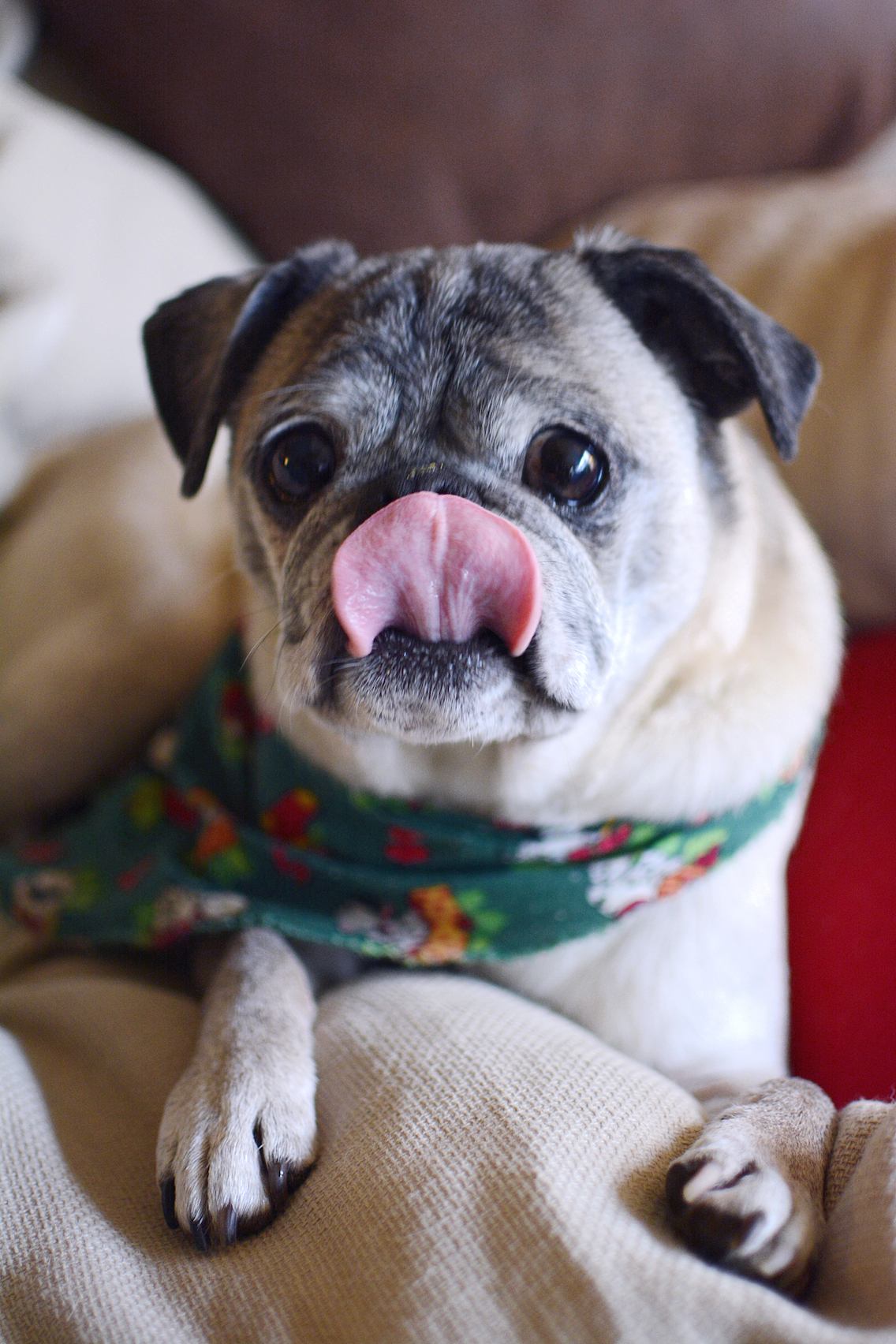 With the holidays fast approaching, it's the time of year when I can't help but step back and give thanks for all the wonderful and incredible things in my life. It's the time of year when my heart, even during times of loss, swells with happiness at all of the genuine love I am surrounded with daily.
Where would we all be without our loved ones, after all?
And since this is the season of giving, nothing makes me happier than giving back to those who give the most throughout the year. And while our loved ones do so much for us no creatures give Hubby and I more unconditional love and affection than our two pugs Apollo & Johnny. I've said it before and I'll say it again: Life really is better with a pug!
So this December Hubby and I are making a donation to Northern Illinois Pug Rescue & Adoption (NIPRA) in Johnny's honor. We adopted him through the rescue in 2012 when we decided that Apollo was ready for a sibling and NIPRA could not have been more incredible to work with. Their ultimate goal is to ensure that their rescue pugs find their FUR-ever homes and they go to great lengths to match and place every dog in their care — they came out to our home to meet Apollo and conducted plenty of interviews before matching us with Johnny.
Since adopting Johnny our little family has truly felt complete and we are forever grateful that his path found ours. And because it wouldn't have been possible without NIPRA, Hubby and I both felt that our holiday donation this year should deservedly go the organization responsible for so much of our day-to-day happiness.
Interested in giving back and supporting NIPRA yourself? You can donate here, see the list of available pug adoptions here, sign-up to volunteer or foster here, shop on NIPRA's behalf here, OR set your Amazon Smile account to donate a portion of your Amazon purchases to NIPRA every time you shop!
Nothing makes the holidays more special than GIVING to those in need.
A few more ideas for giving back (that don't involve pugs):
1. Make homemade holiday cards for the elderly who never get mail.
I organized this project for my sorority in college — we all sat around and made sparkly, nondenominational cards filled with inspirational sayings. Then I packaged them up and delivered them to a convalescent center near where I grew up. When I dropped them off the receptionist at the center began crying, saying that most of the residents never got mail of any kind. Be a hero this holiday and remind someone that they haven't been forgotten. This is also a great reason to get together and organize a holiday card party with friends!
2. Visit your loved ones.
With my grandfather's passing this week I'm reminded of how short our time here in Earth is. It's important to spend our precious little time with those we care about most. Surprise a relative who's been sick or give them a call instead of sending a card. Reach out to someone you haven't seen in a while — you never know how a surprise visit can mean.
3. Volunteer at a soup kitchen.
Nothing reminds you of how much you have more than helping those who have so little. The gift of a meal can mean so much, especially when given with a kind smile. Everyone deserves to be well-fed and remembered throughout the year but the holidays can be an especially rough time for many and a good meal takes on special meaning. Be sure to participate in any food drives you see too!