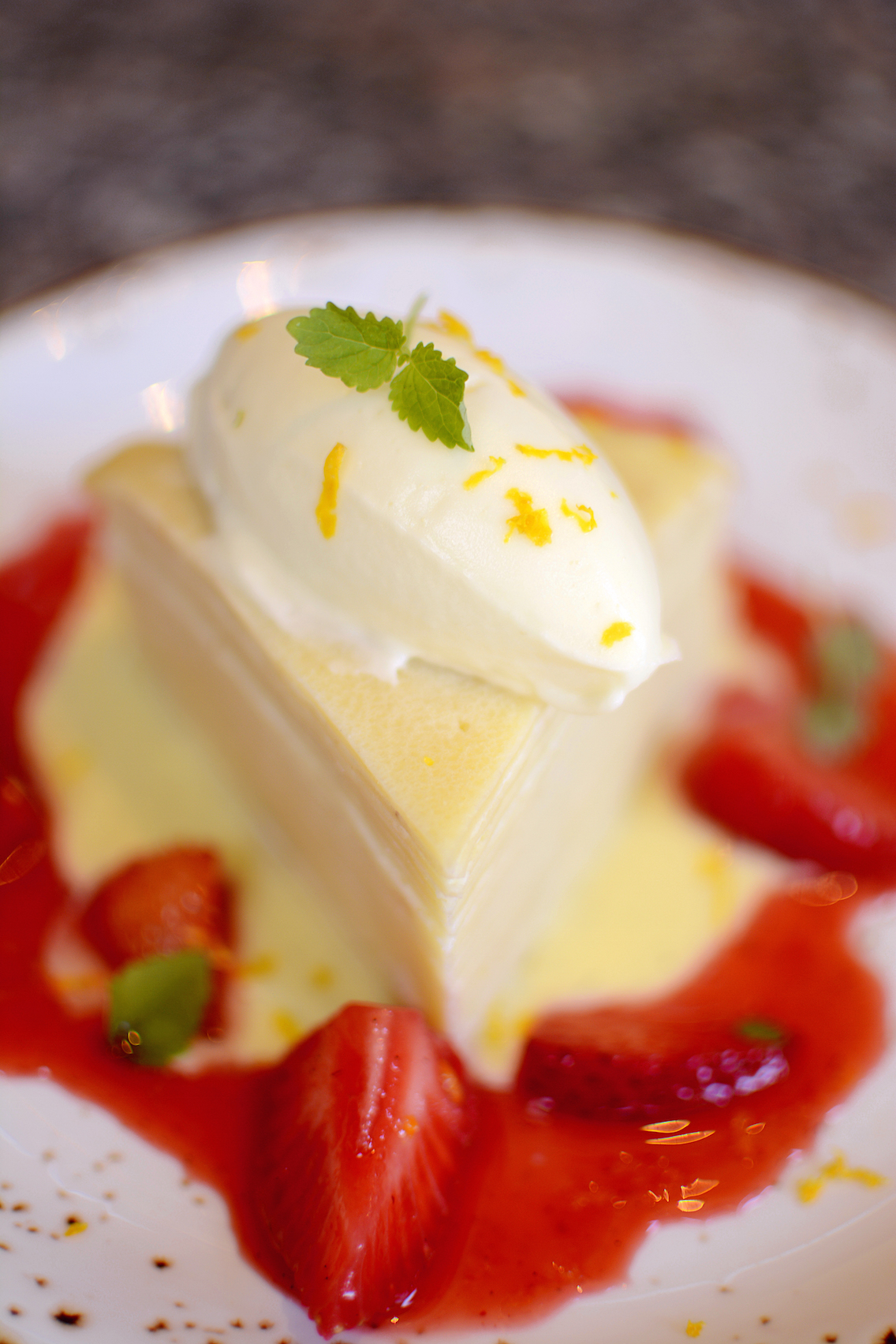 Confession: I almost feel guilty publishing this post.
It's not because I don't want to share this amazing meal with you.
Because, believe me, I do.
But many of the dishes you're about to drool over are no longer available.
Quelle Horreur!!
But trust me when I say today's post is worth the read because it was honestly one of the best meals I've had all summer. And you should know by now, I don't say that lightly.
I've mentioned my love for Chicago's Peninsula Hotel before — it exudes class, refinement, and a playful french charm that truly feels Parisienne in nature. So you had to know they'd celebrate Bastille Day (July 14th, French Independence Day) with a gourmet flourish so luxuriously memorable and delicious that it would practically put Chicago's 4th of July celebrations to shame.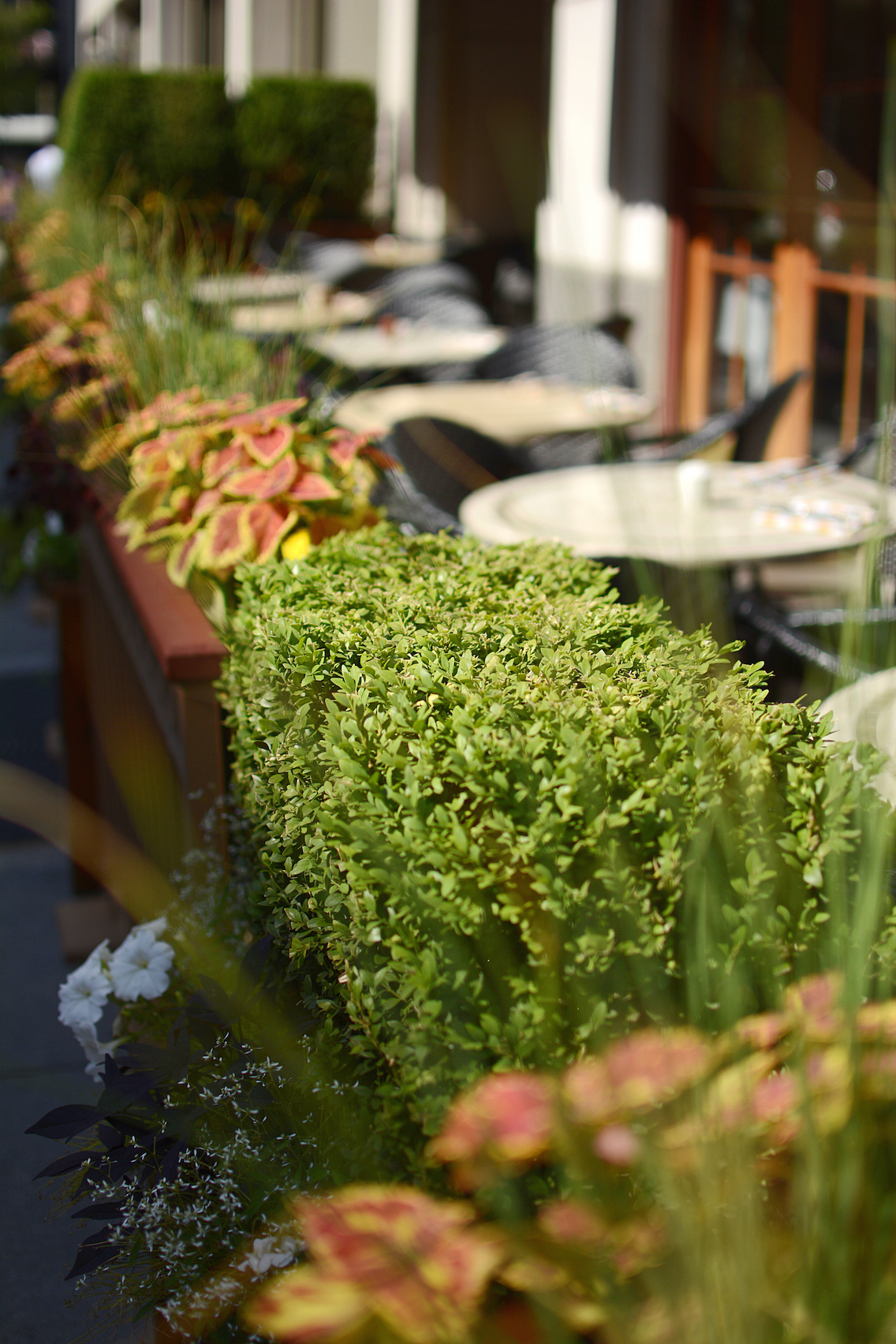 Starr and I met up on a HOT summer day just before July 14th to try out Pierrot's special Bastille Day menu (and a few staple menu items always available). Designed to feel like a true French café, Pierrot Gourmet is comfortably situated on the ground floor of the sprawling hotel on a particularly sunny corner.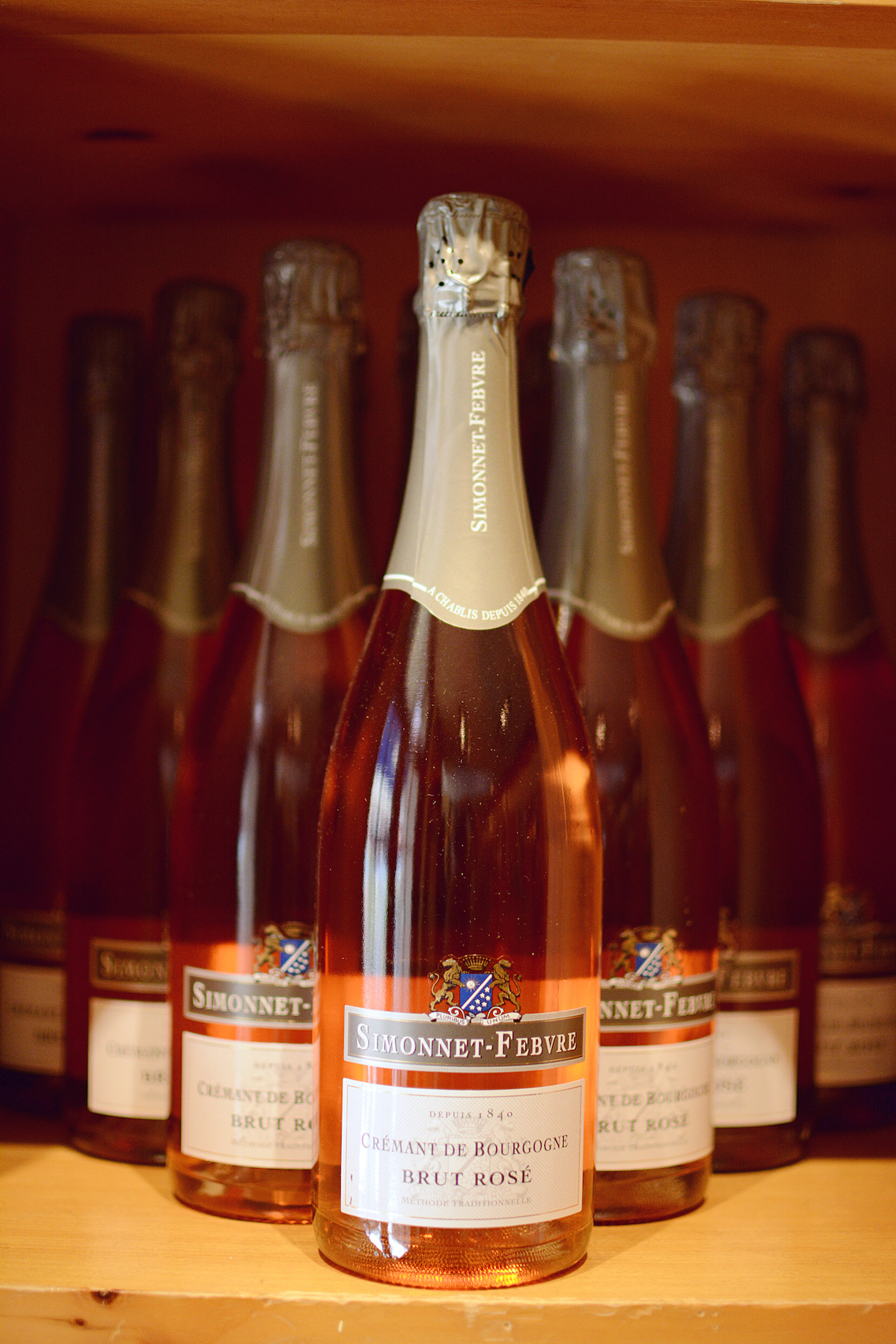 There are shelves of delicious pastries and bottles of every type of wine you can imagine tucked in the shelves around the tables.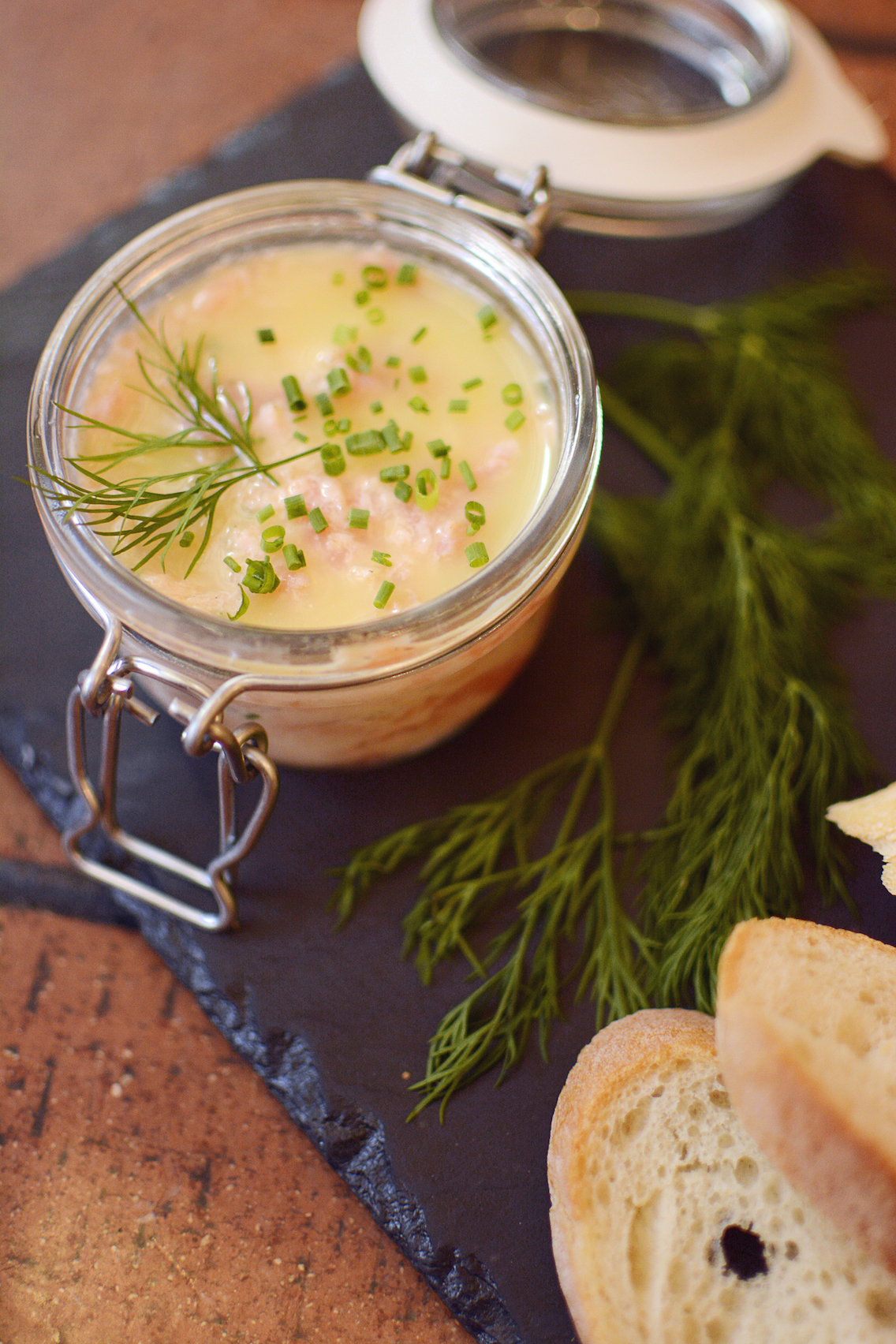 We began the Bastille Day menu with this Salmon Rillette served with baguette slices.
Don't be fooled by the unassuming appearance of this humble little crock!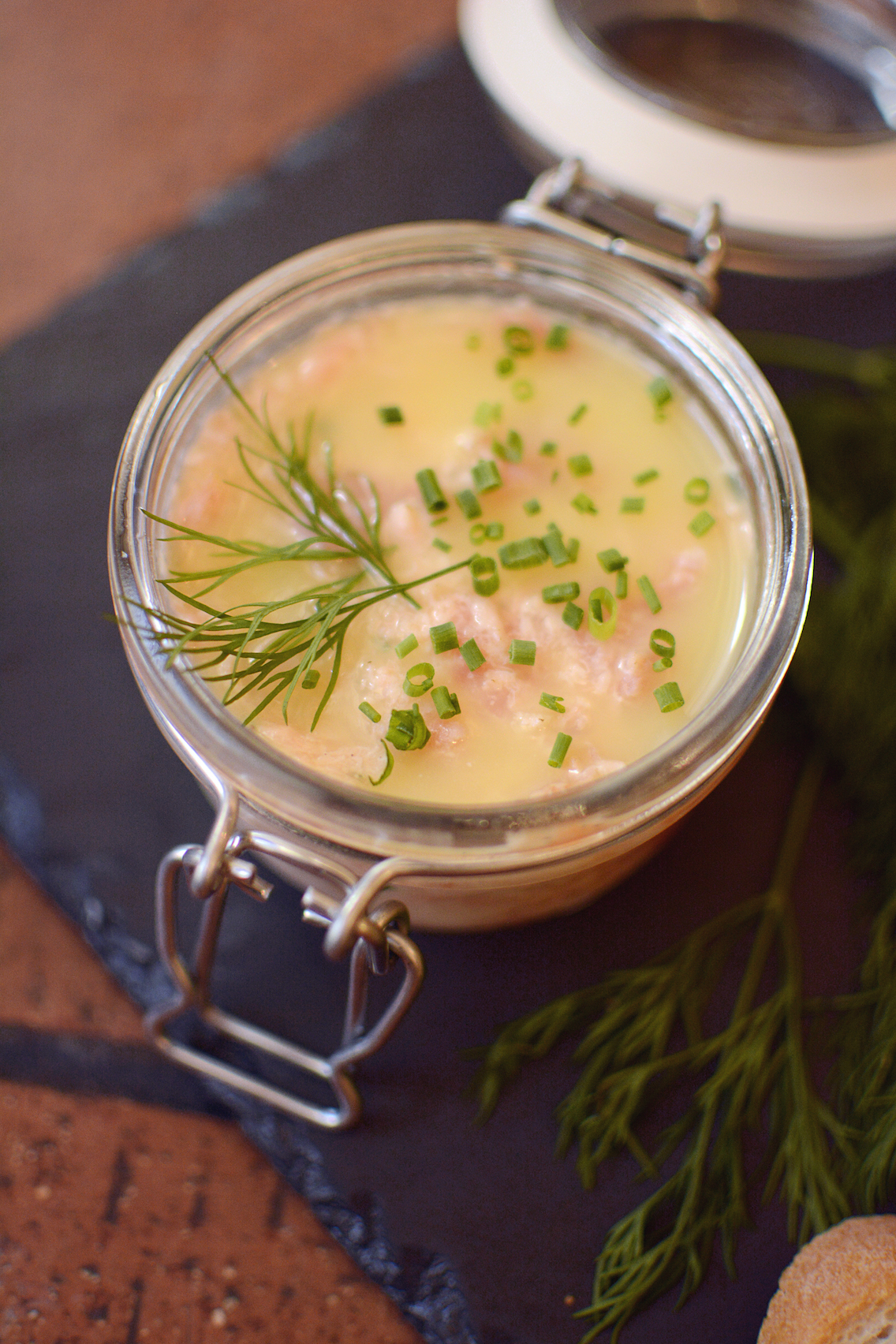 It's contents were incredible!
One of the richest, warmest salmon spreads I've ever had, INCLUDING all the salmon spreads I tried in Alaska last September. Notes of garlic and thyme beautifully balance out the fish and make for the most scrumptious and addicting spread.
I loved it so much I'm hoping to recreate my own in the kitchen to share with all of you — it really was THAT good.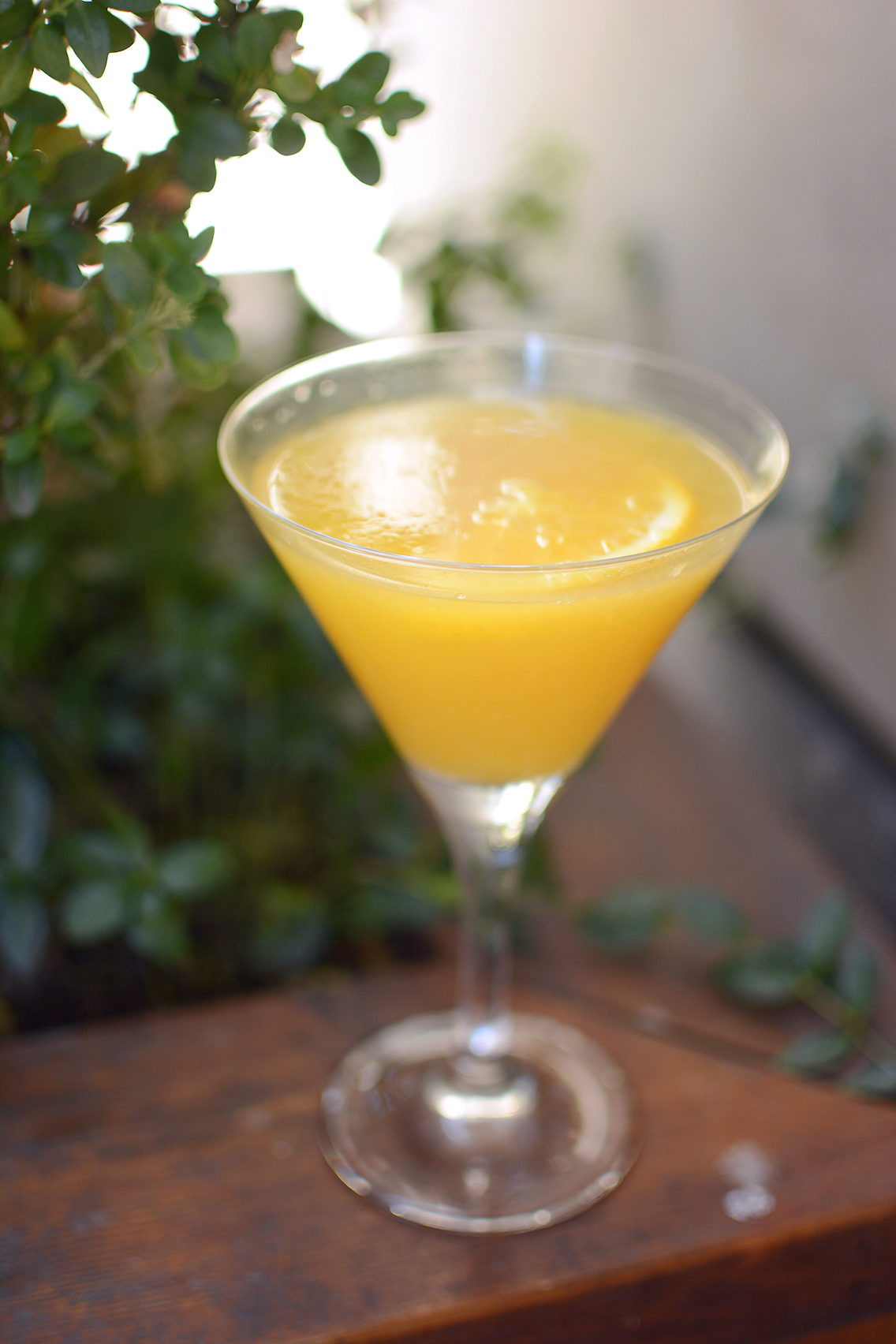 We also ordered a few cocktails…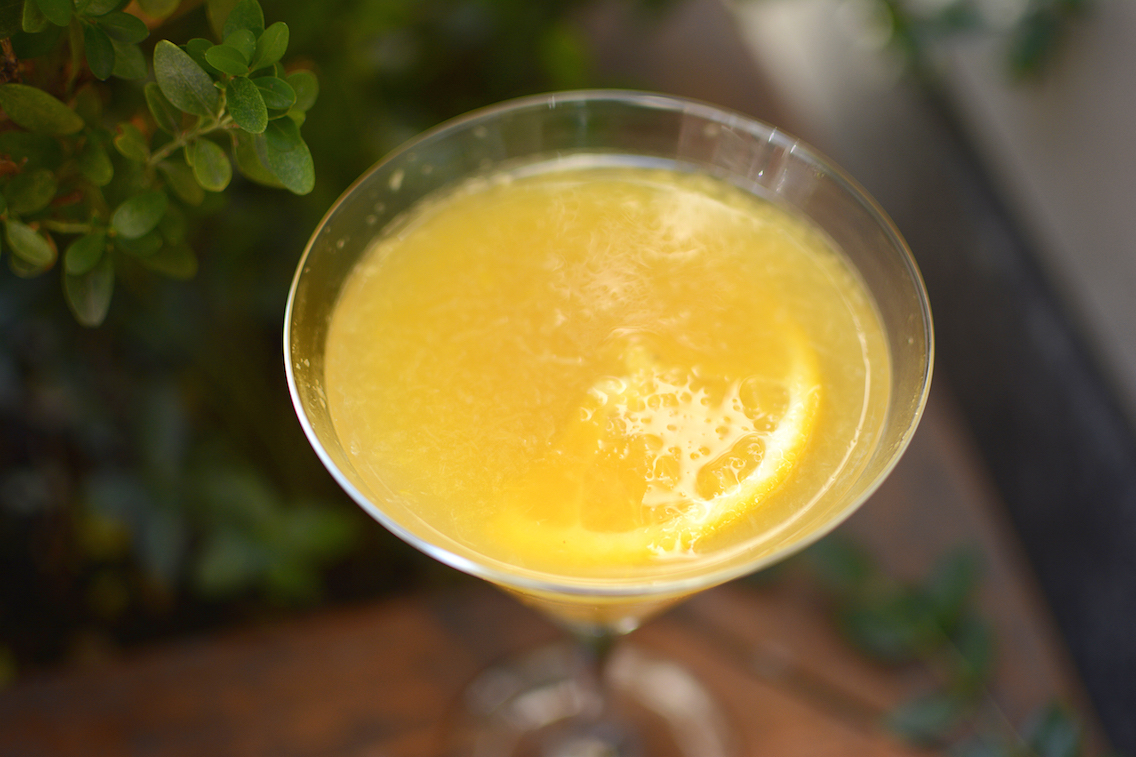 Including this appropriately named Sunshine Martini: citron vodka, grand marniere, orange, basil syrup and sunshine bitters. Delightfully fresh on one of the hottest days we had all July.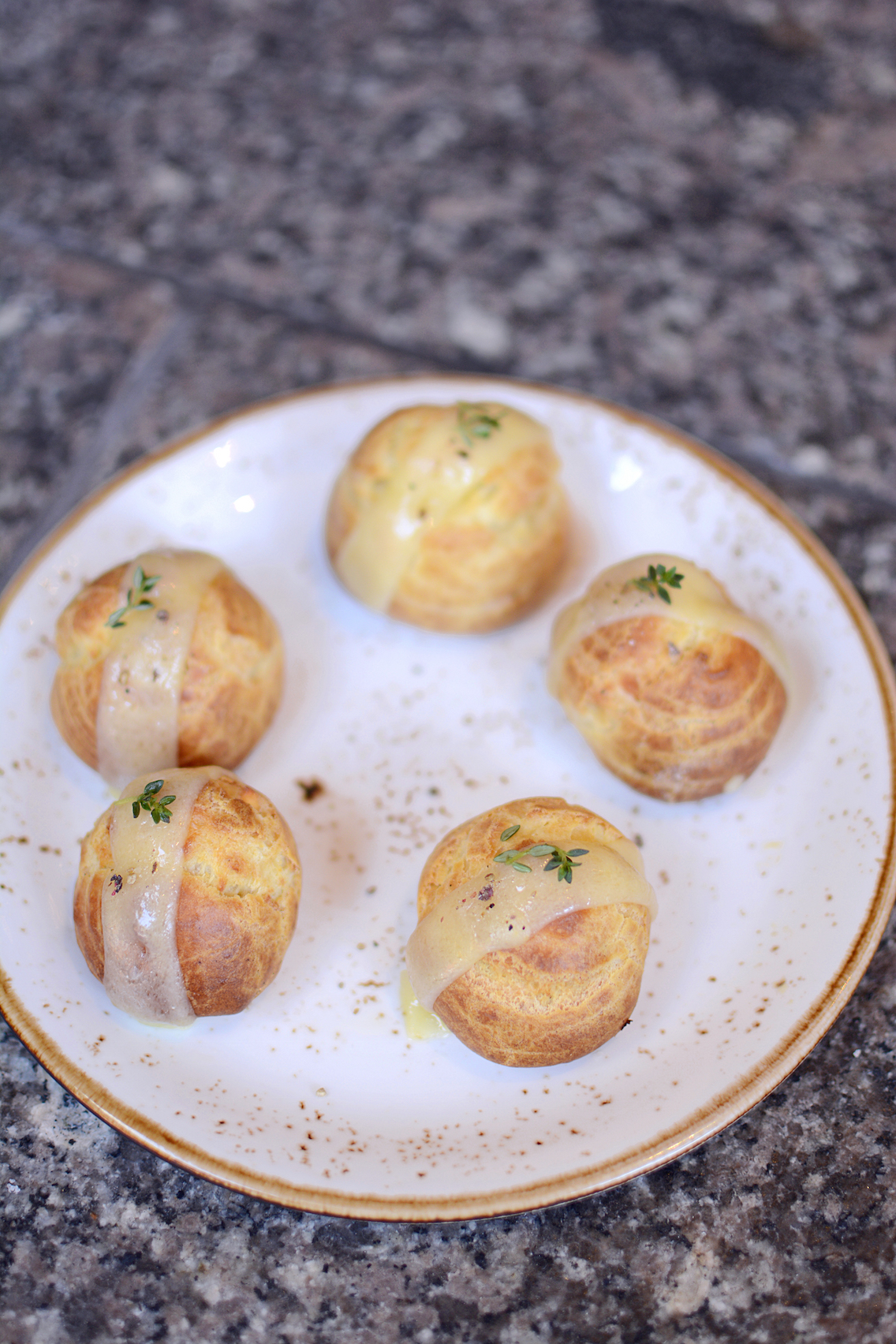 Our hands down favorite from the entire meal were these sublime Gruyère Gougères.
They're just a simple pate aux choux stuffed with gruyère but wow did these have an intensely rich flavor. The cheese was beautifully balanced with the delicate puff and just oozed out as you bit in.
If cheese and bread are your two of your favorite foods, than make it a mission to return for these at Pierrot next July. That or we can all start a campaign to petition Pierrot to keep these on as a regular menu item.
Because if they did, I'd probably be eating these every. single. day.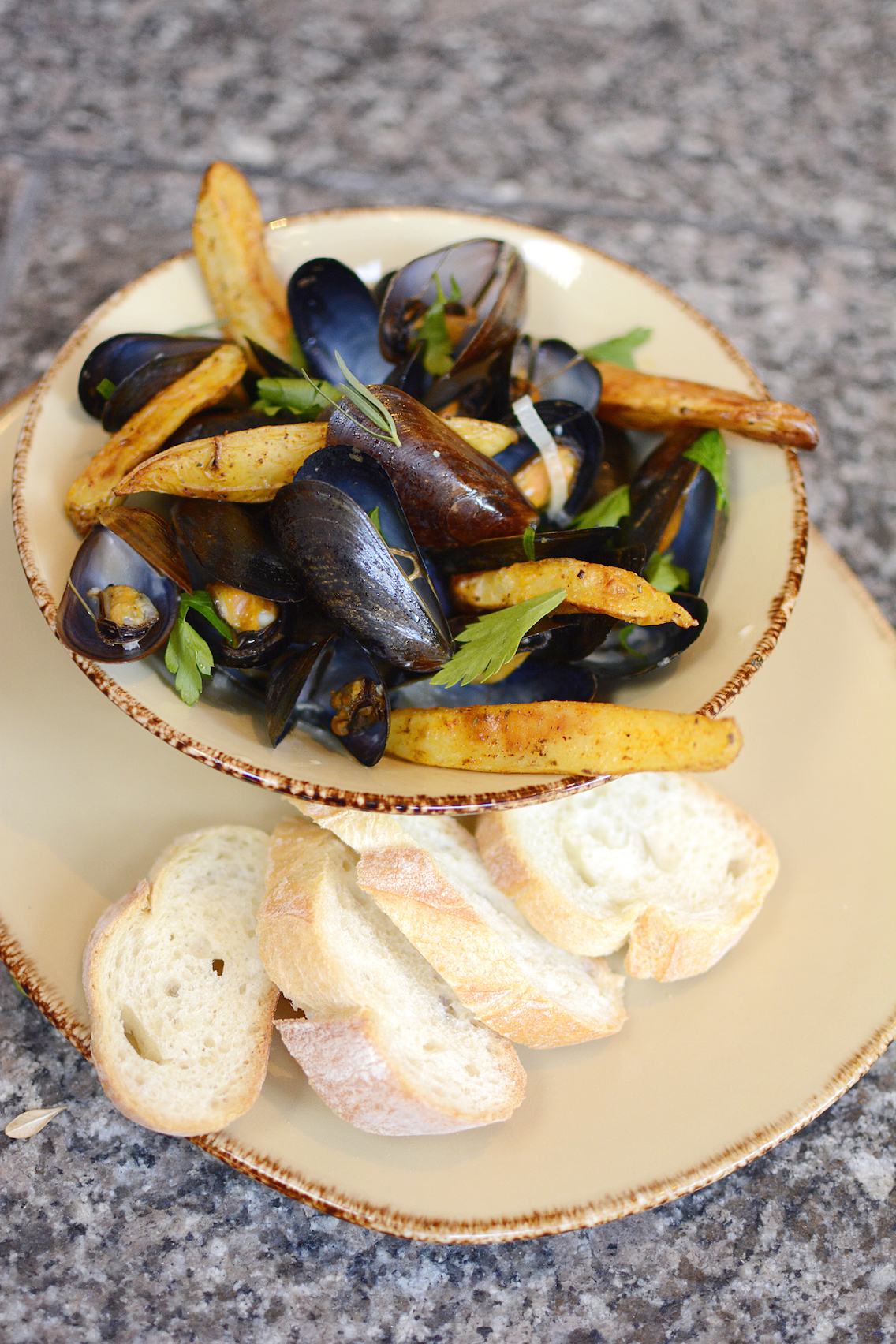 After drifting into a happy state of Gruyère Gougères-induced bliss, we eventually moved on to these Bouchot Mussels.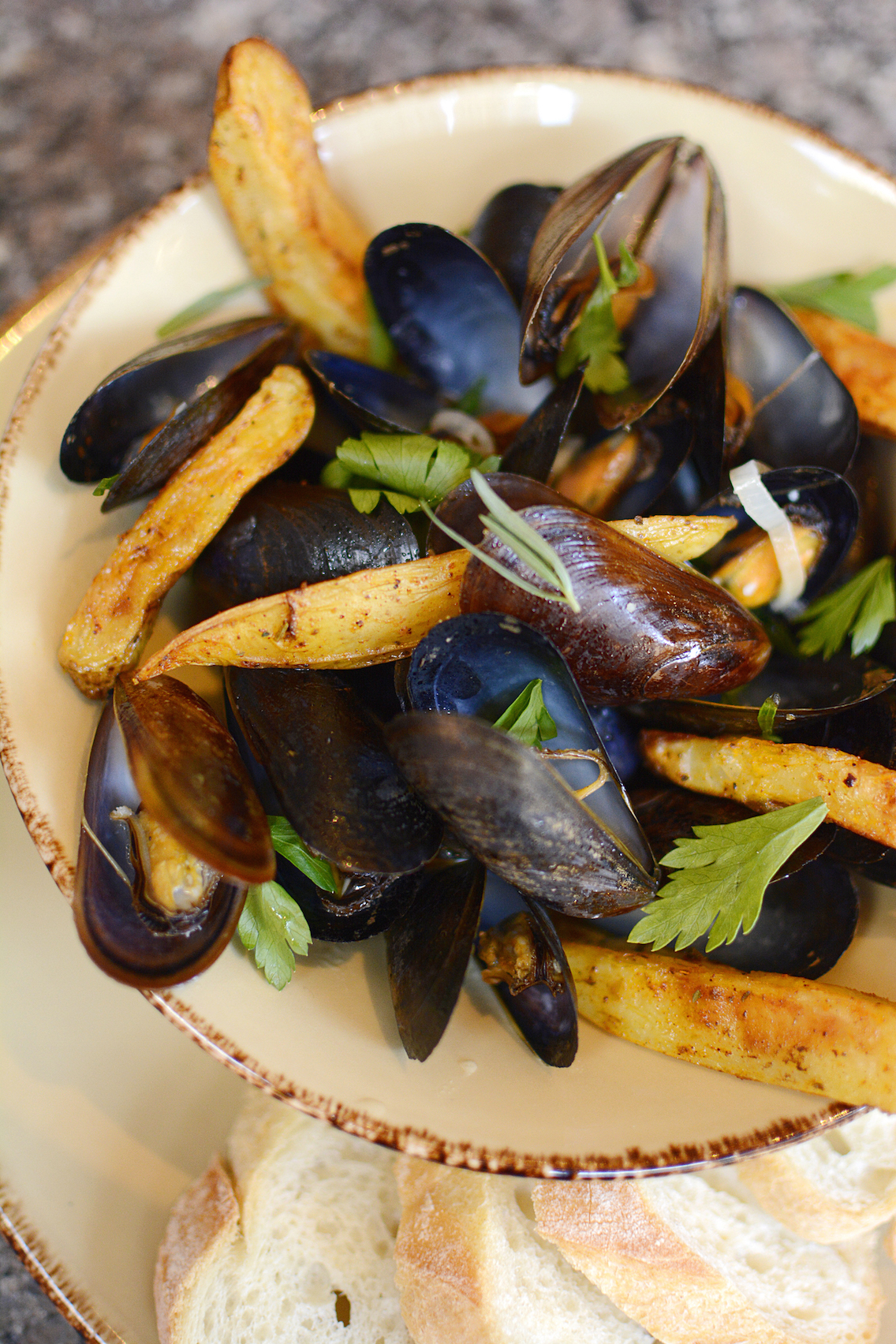 Finished with pernod, fennel, fine herbs and served with plenty of crusty country bread to mop up all of the delicious juices below, these were perfectly flavored for such a hot summer day.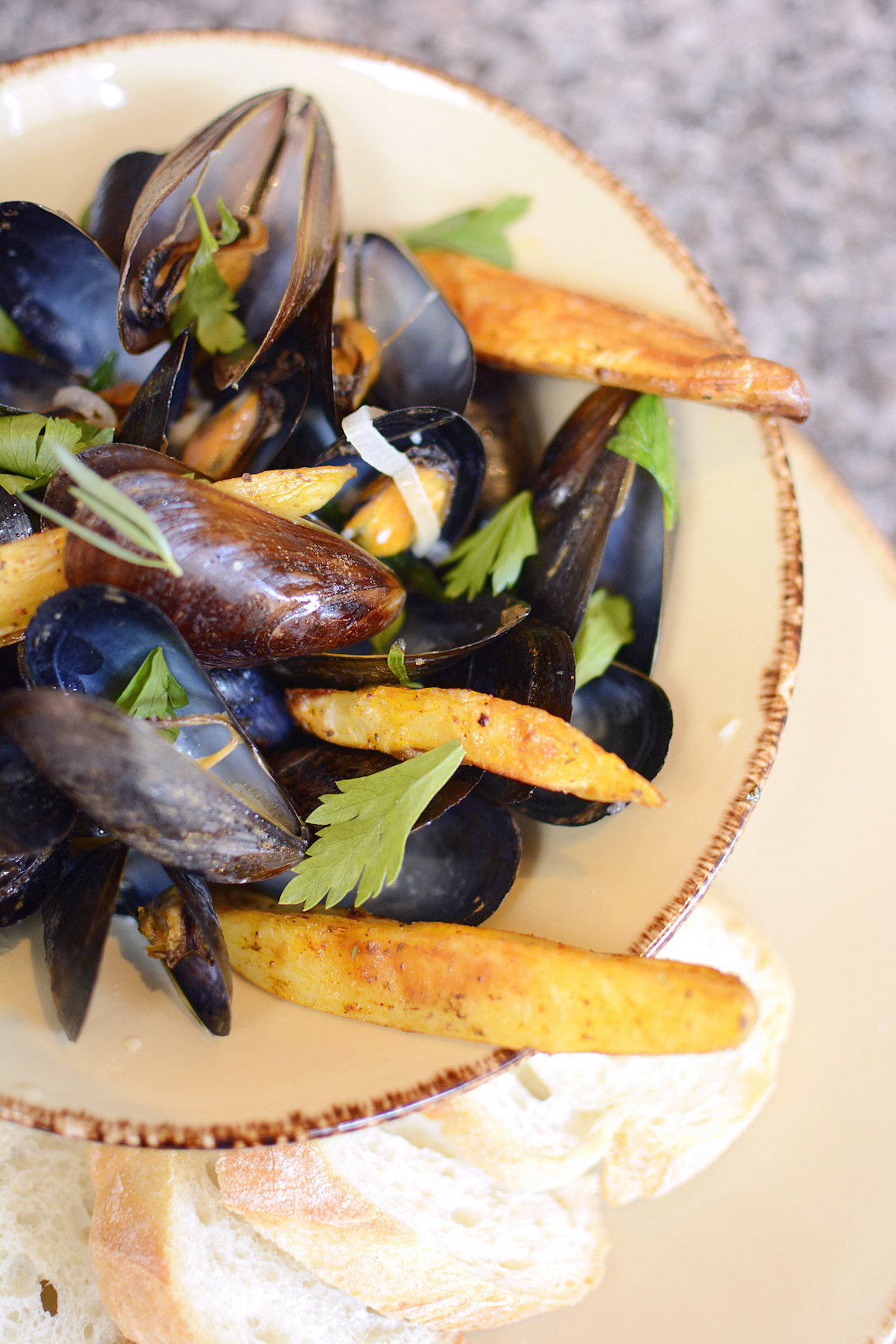 What do sexy seafood lovers wear? Mussel-tees!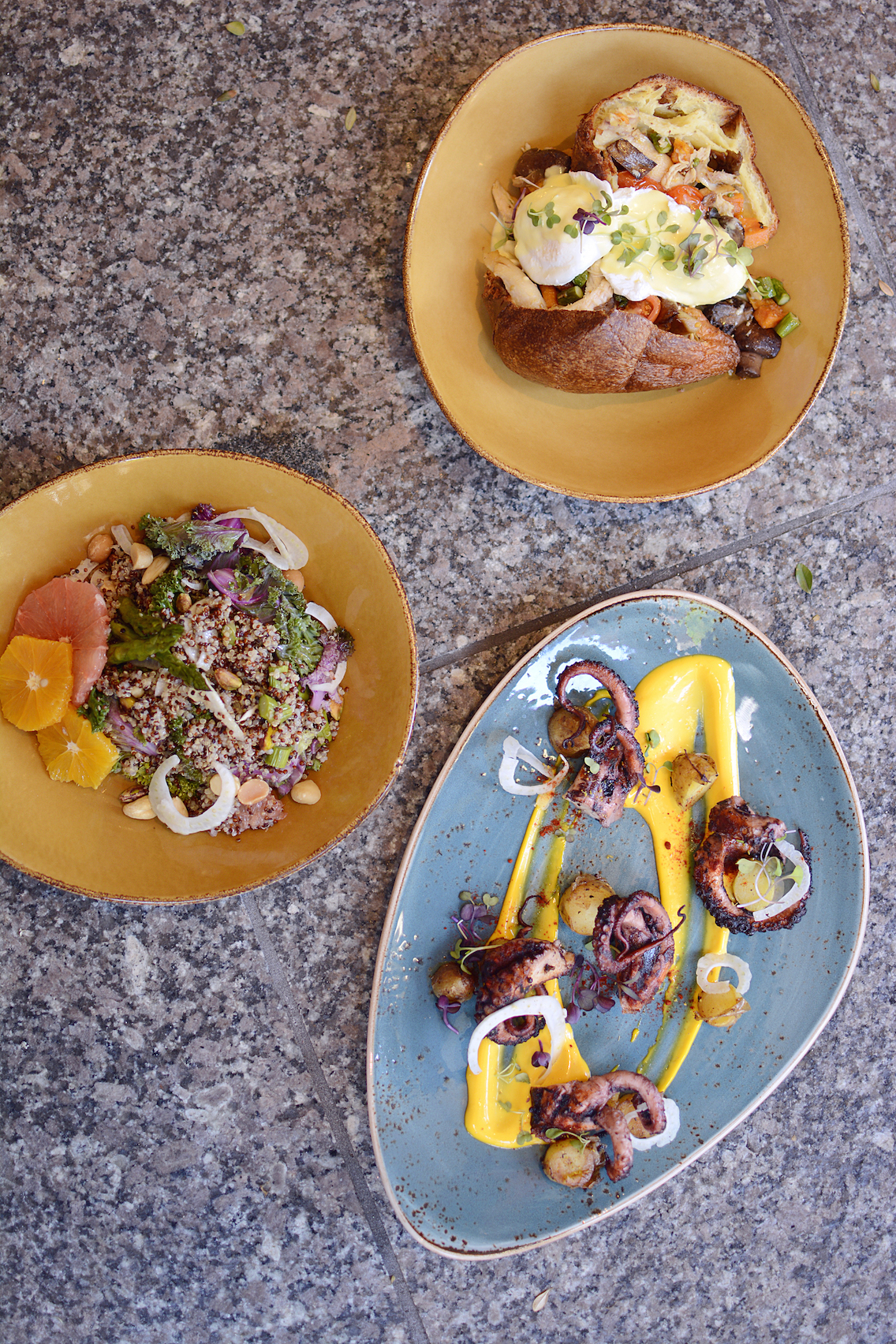 Then our stunning array of entrées arrived.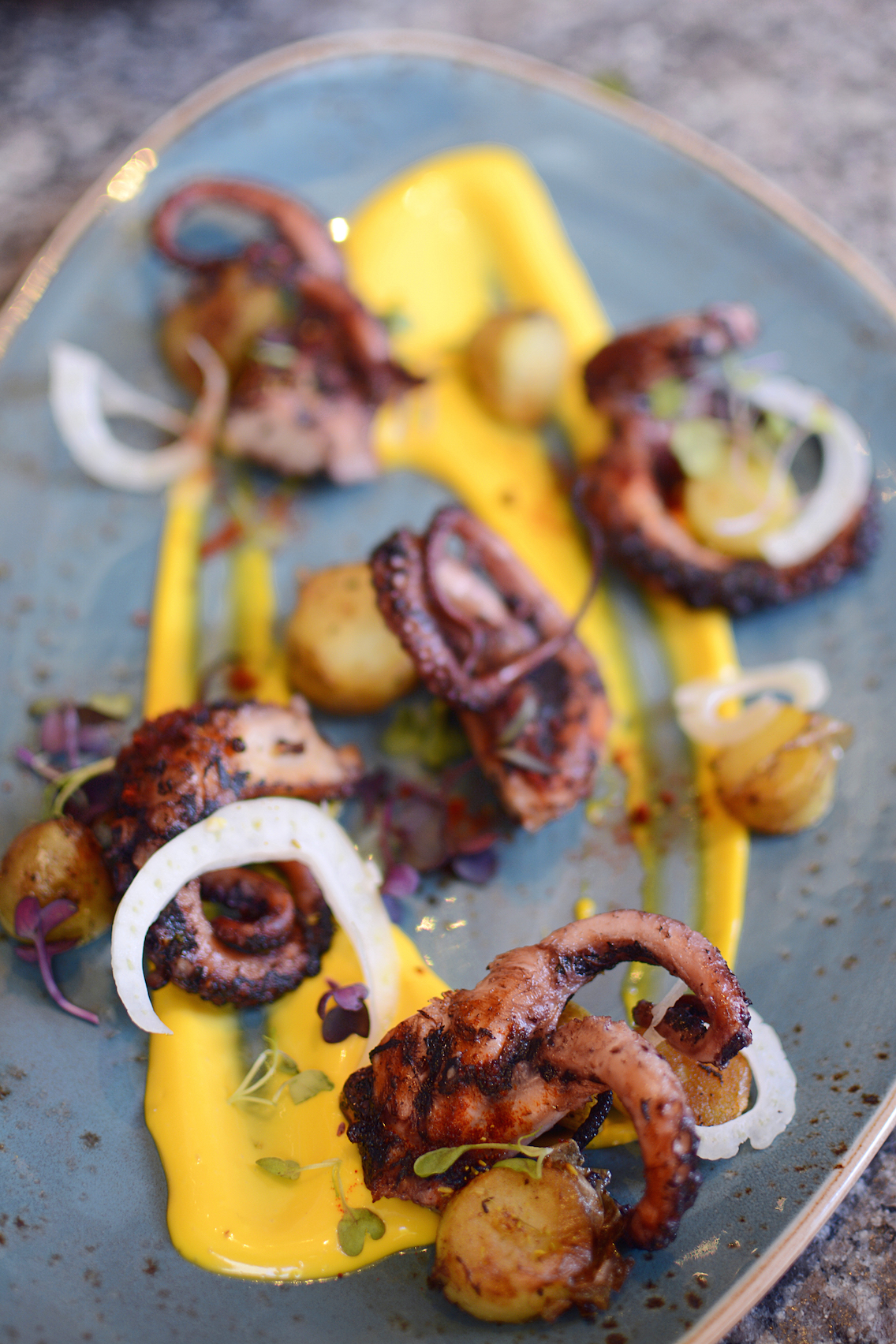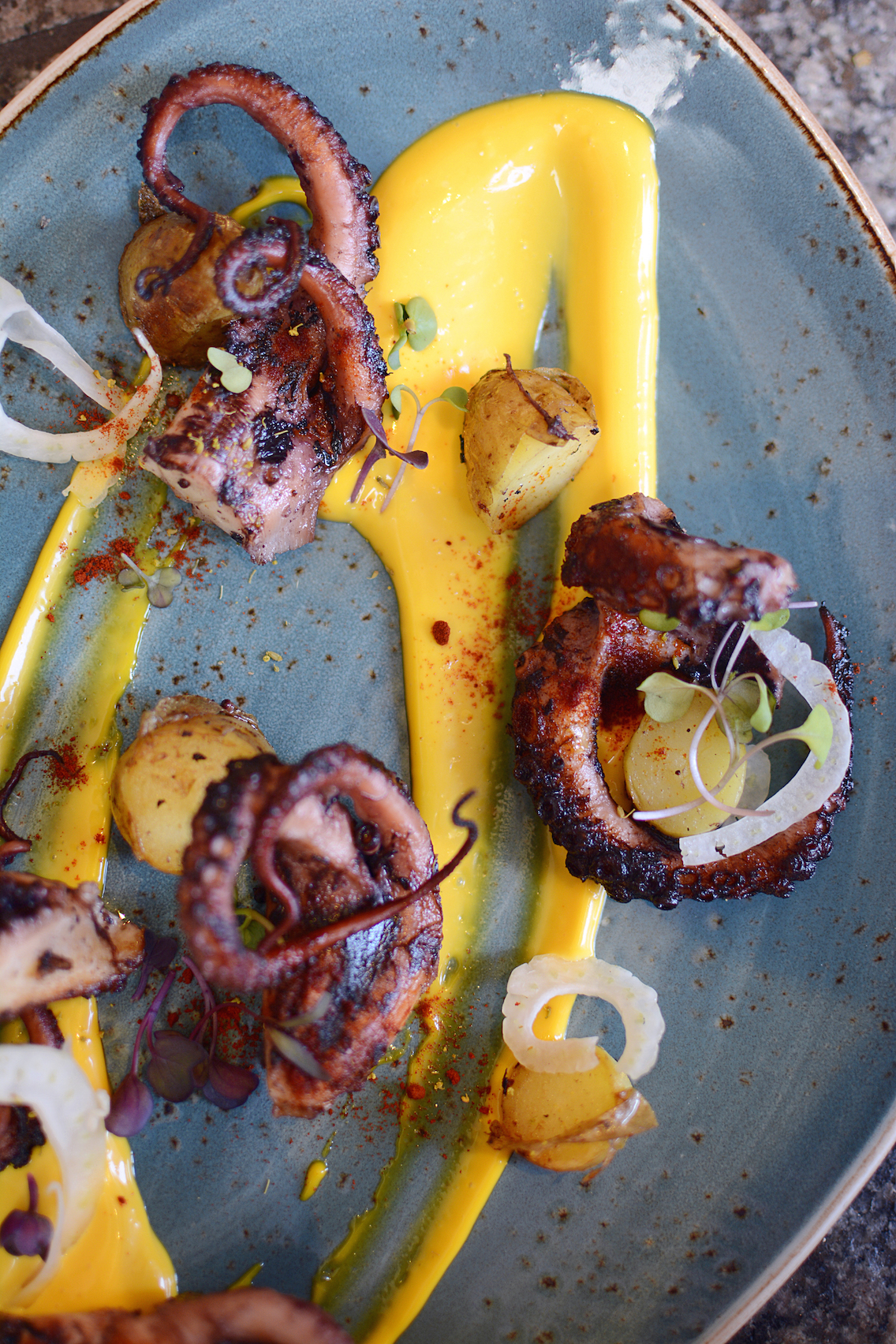 Beginning with this exquisite presentation of octopus.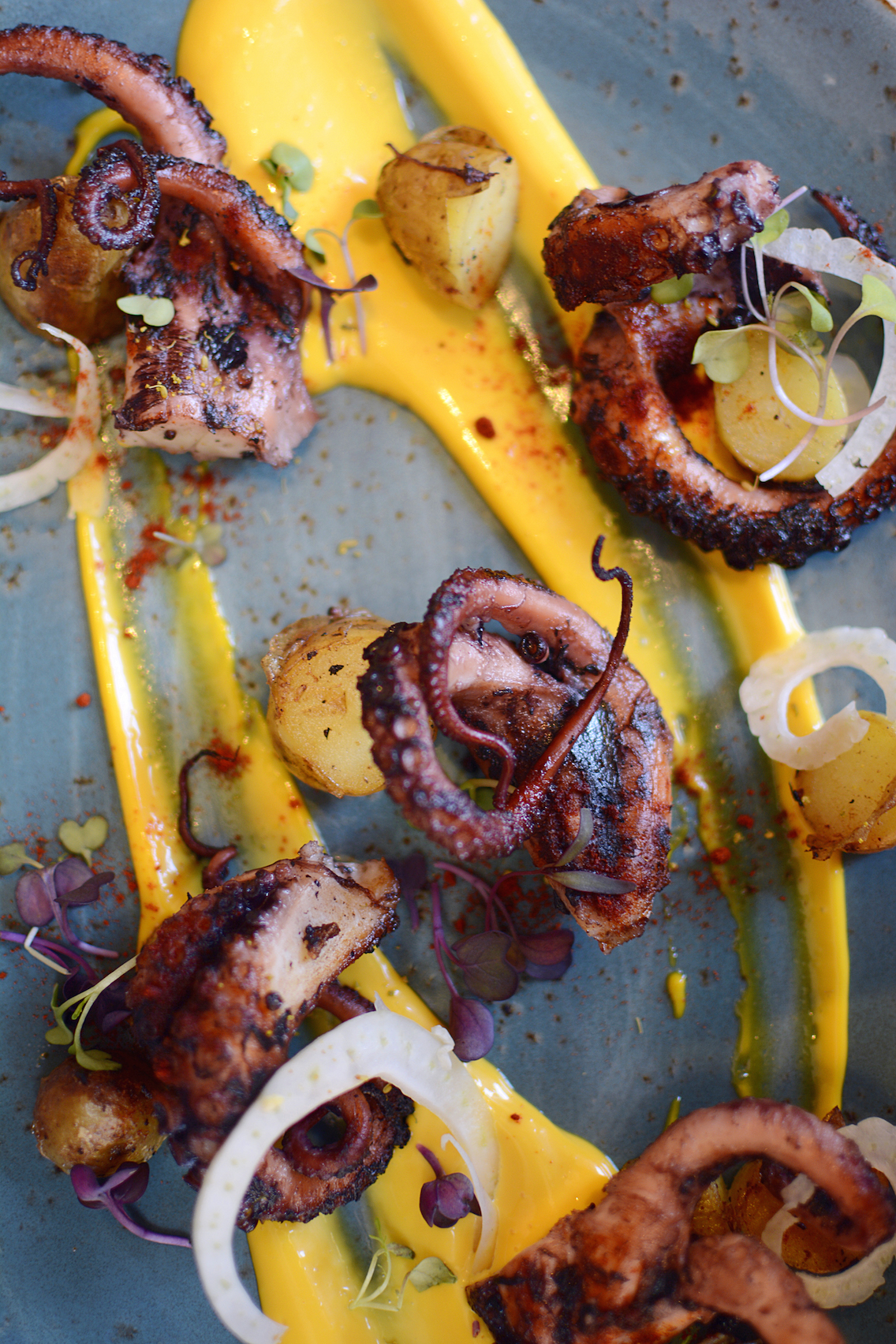 Seared Octopus with fennel pollen, smoked paprika, and the brightest, prettiest sunshine sauce. The sweet flavors from the sauce not only compliment the complex flavors from the octopus but enhance them. The combination is beautifully balanced!
And… drum roll, please… this dish is on Pierrot's regular menu!
And believe me when I say this is another run, don't walk dish. I could honestly eat that sunshine sauce everyday.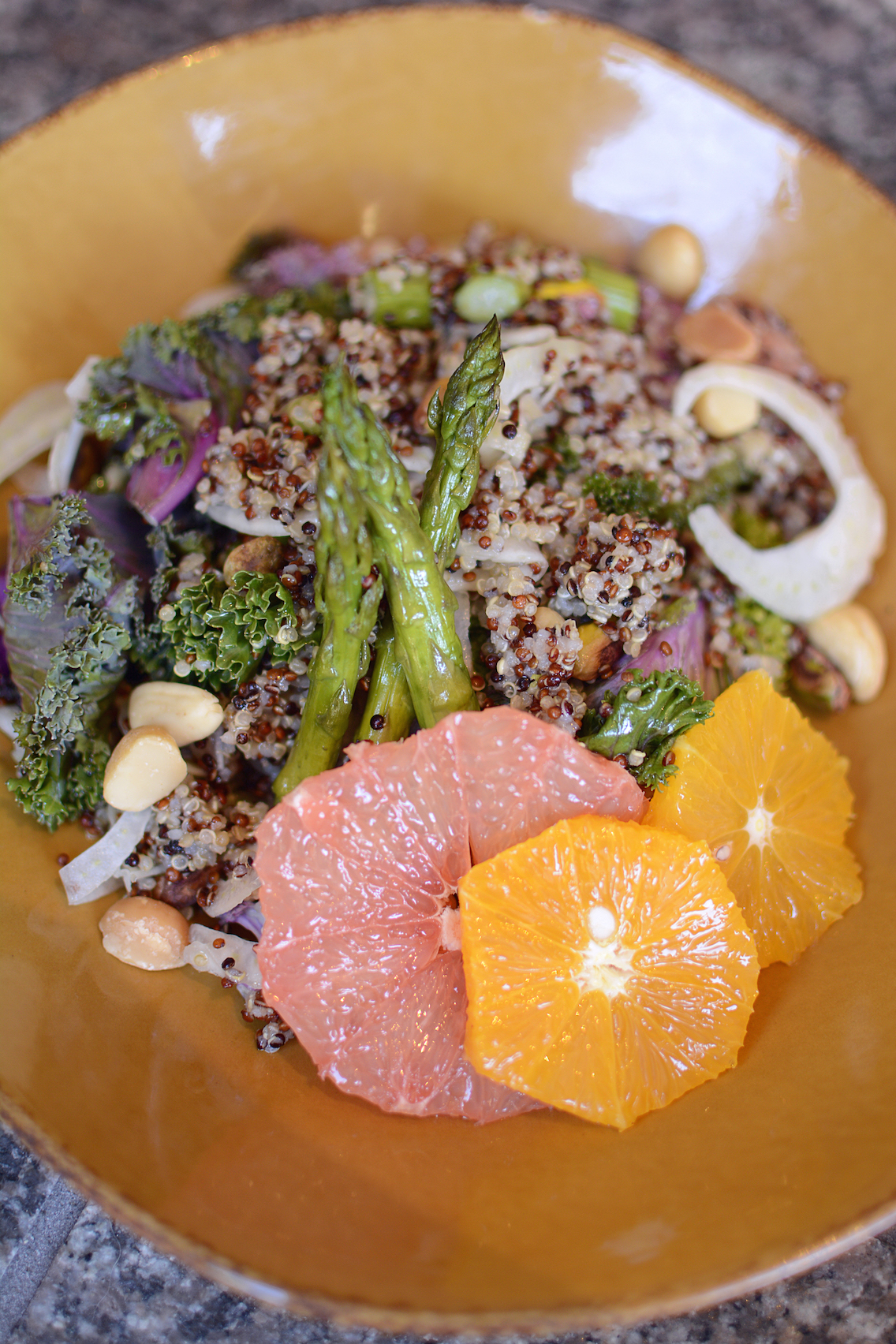 We also tried this brilliantly fresh Quinoa Asparagus Salad with citrus, kale, and roasted nuts all drizzled in lemon vinaigrette. Such a surprisingly gourmet combination!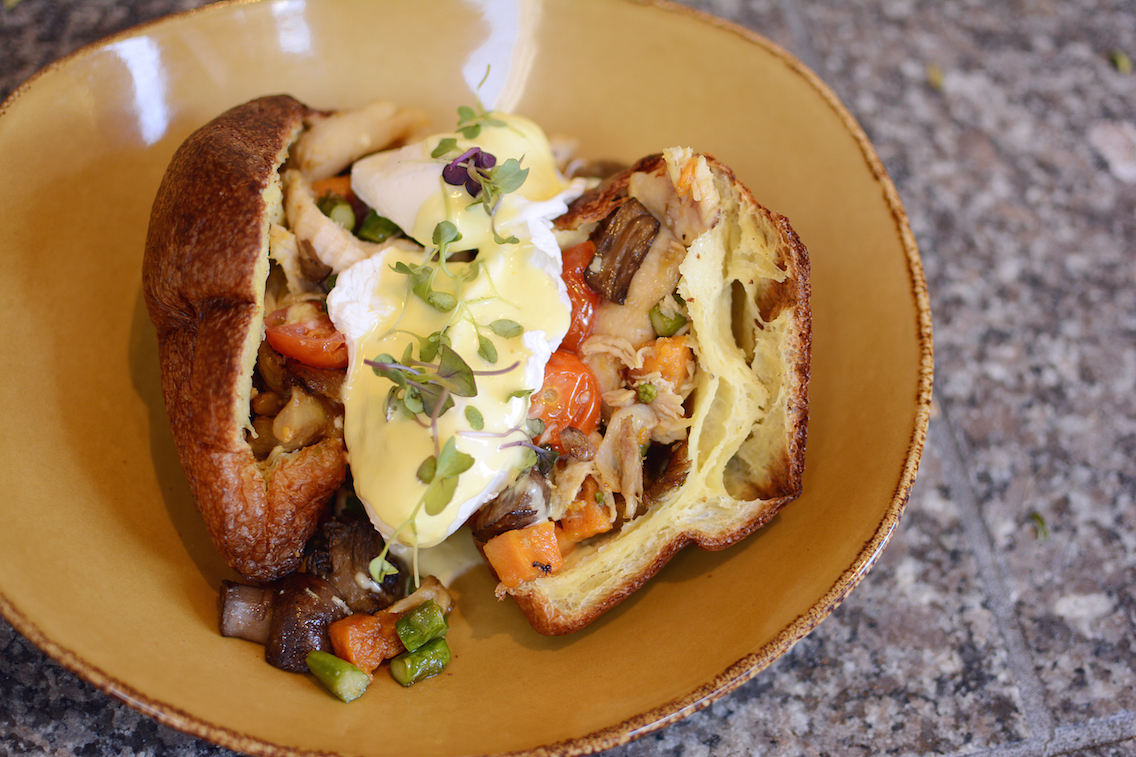 As well as Pierrot's most popular brunch dish…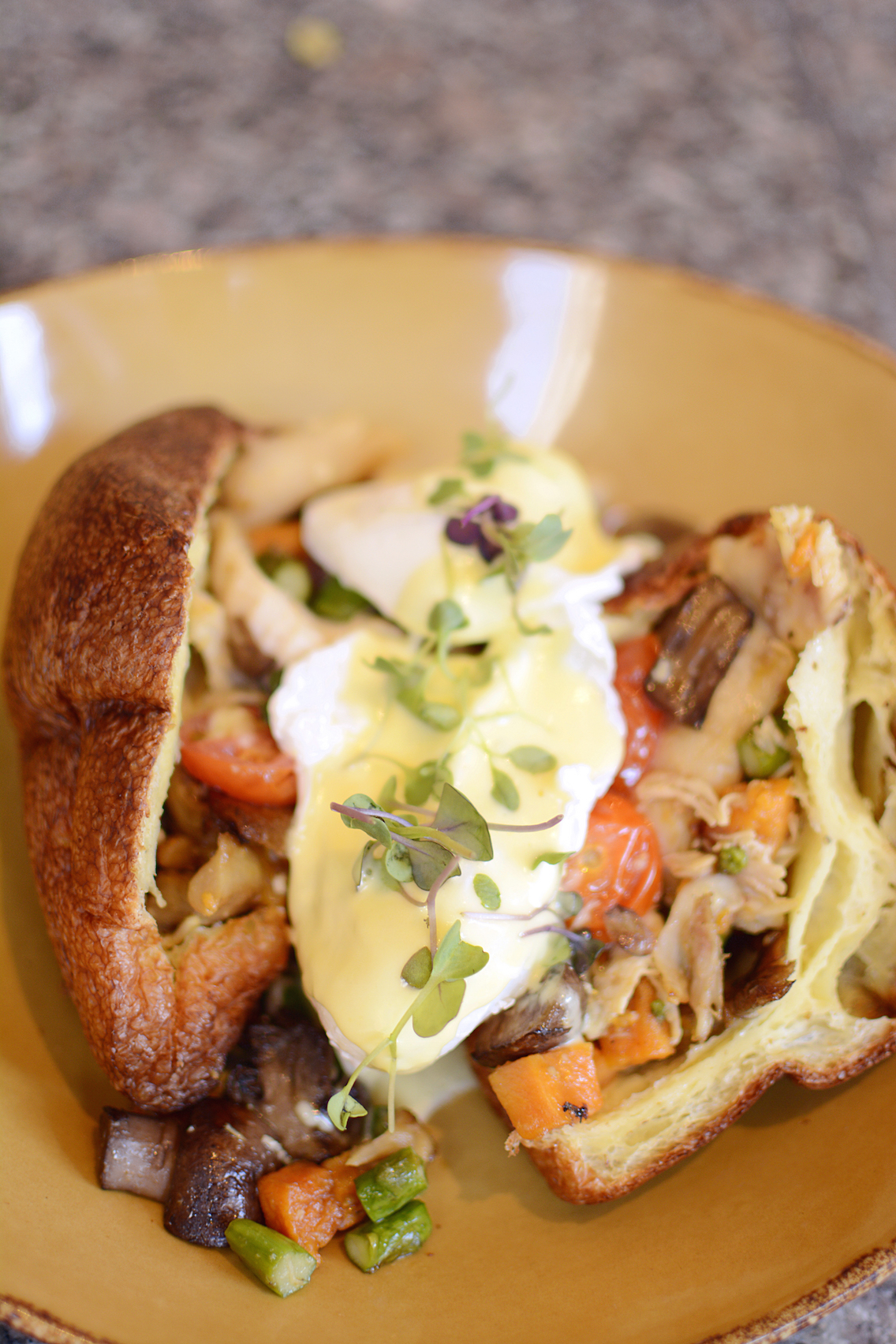 Their Popover With Chicken & Sweet Potato Hash: tomato, asparagus, mushrooms, poached eggs, and mustard mousseline.
Light, airy and yet still rich — I can't wait to come back and try more of Pierrot's brunch items!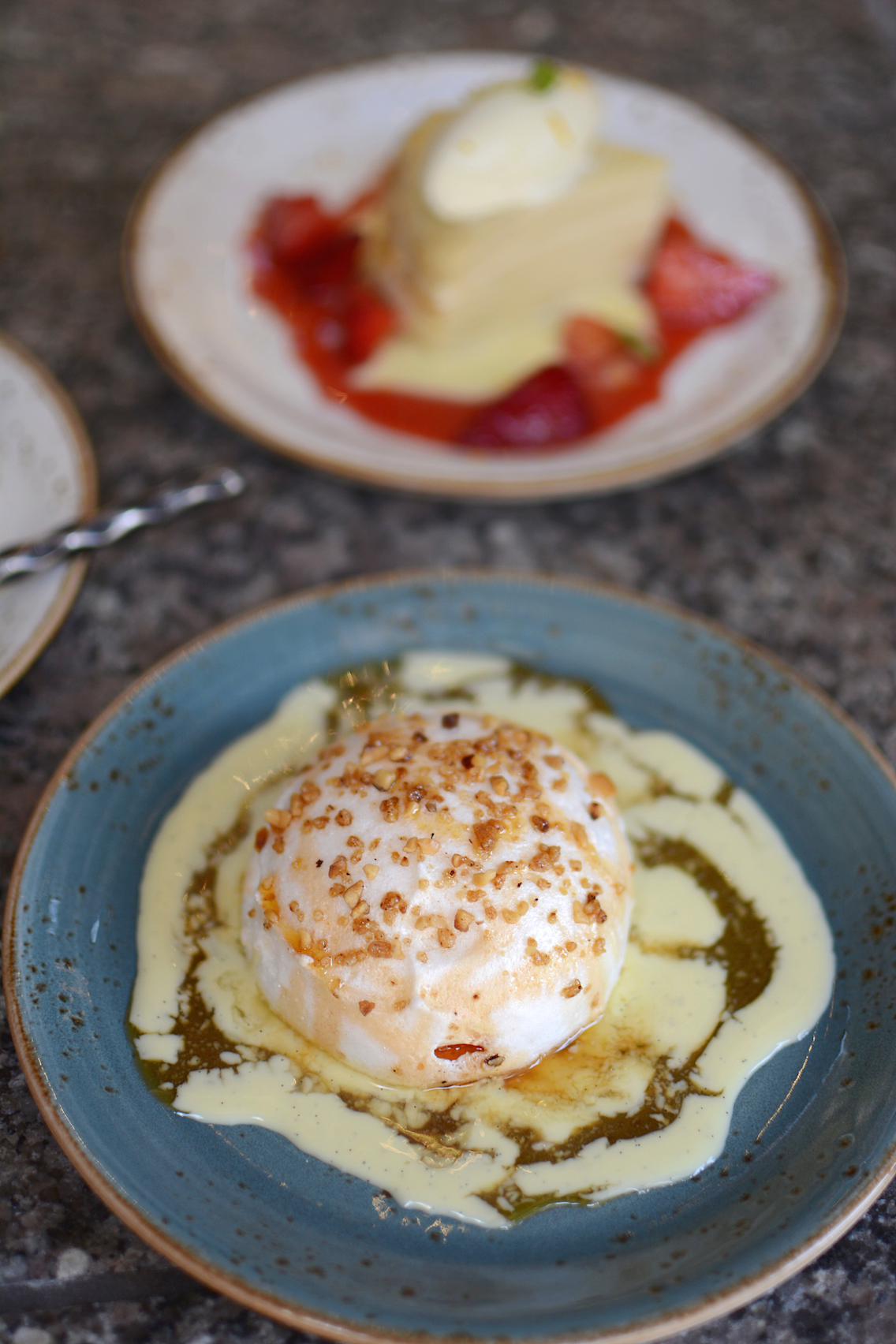 Now, any self-respecting French café better have a superb selection of desserts and Pierrot wouldn't dare disappoint!
First we sampled three of the special Bastille Day desserts including…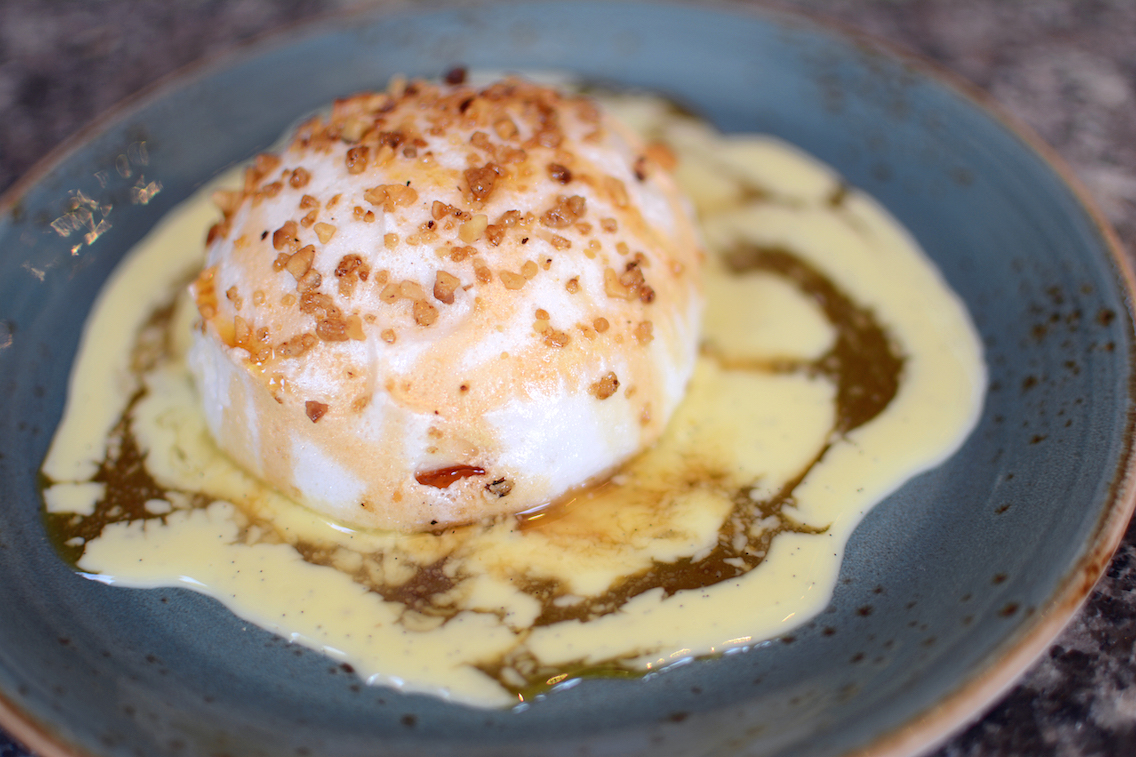 this heavenly Floating Island Dessert: poached meringue, vanilla anglaise, caramel sauce, caramelized hazelnuts.
The flavors and textures were totally unexpected — I'd never even had poached meringue until this dish! The meringue just melted in your mouth and the vanilla anglaise was so rich and smooth it made the perfect saucy compliment. And the crunch from the hazelnuts lent just the right amount of texture.
Yet another dish from Pierrot's Bastille Day menu that I'll be petitioning to have made a menu staple.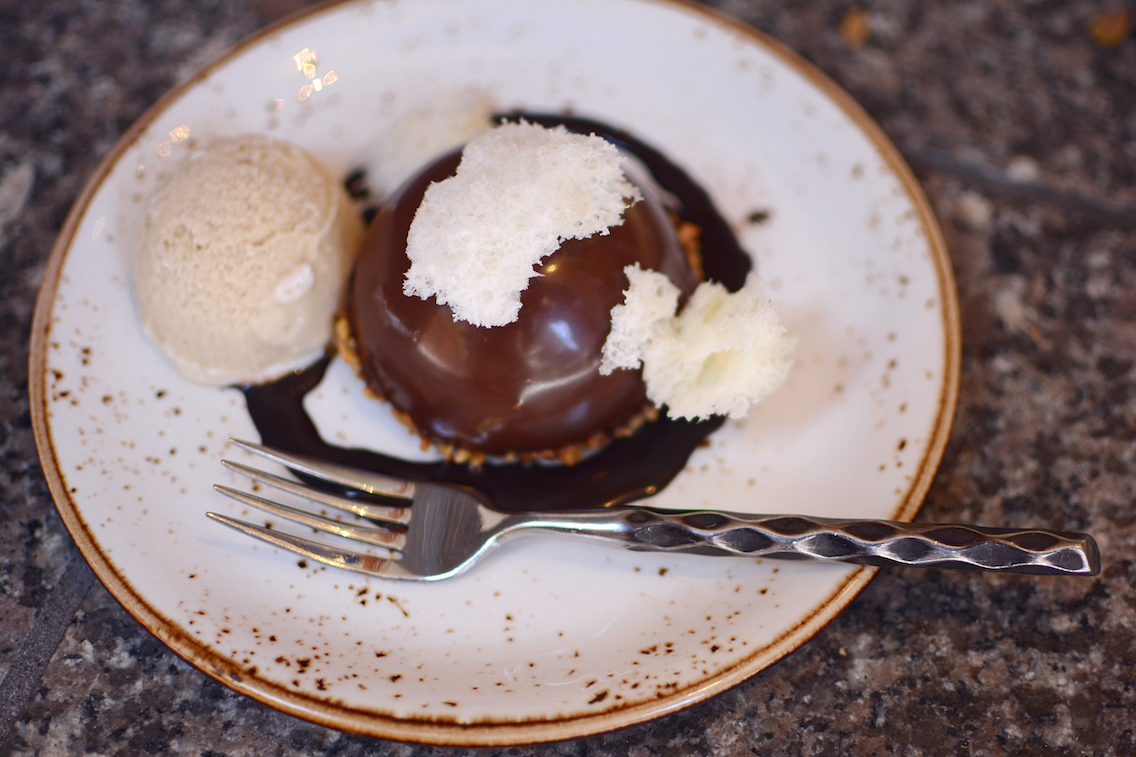 We also sampled this sinful Chocolate Royal: chocolate mousse, vanilla crème, hazelnut sponge, hazelnut crisp, and coffee ice cream.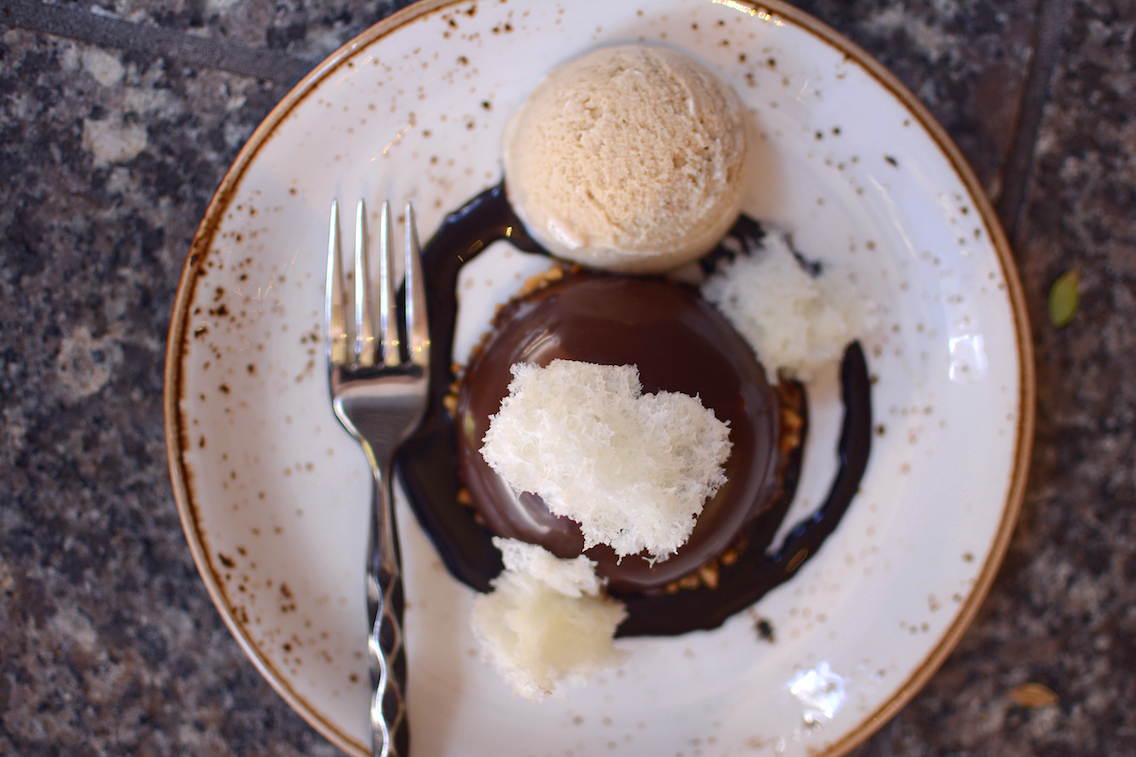 Rich, decadent, and yet complex (as all French chocolate desserts are).
And finally most important of French desserts, the Mille Crêpe Cake: macerated strawberries, grand marnier crepe cake, and vanilla bean chantilly.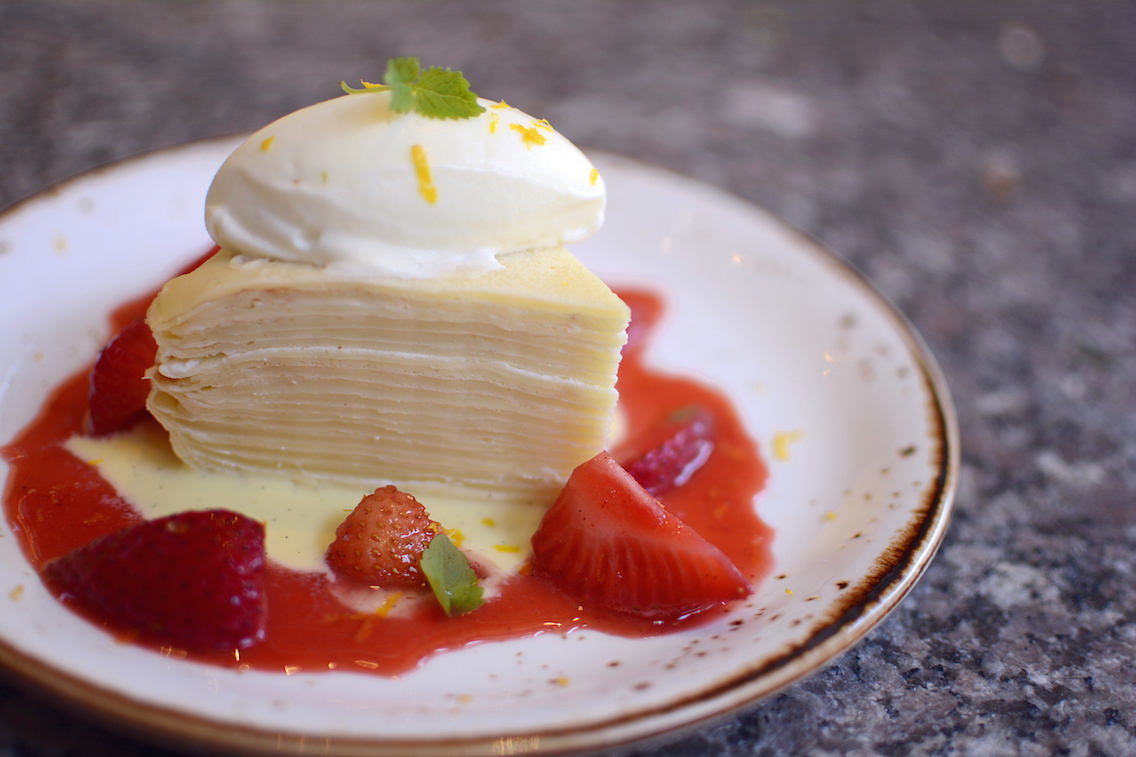 It's a stunning presentation (not to mention an impressive amount of work) and so perfect for summer, thanks especially to the beautiful strawberry sauce.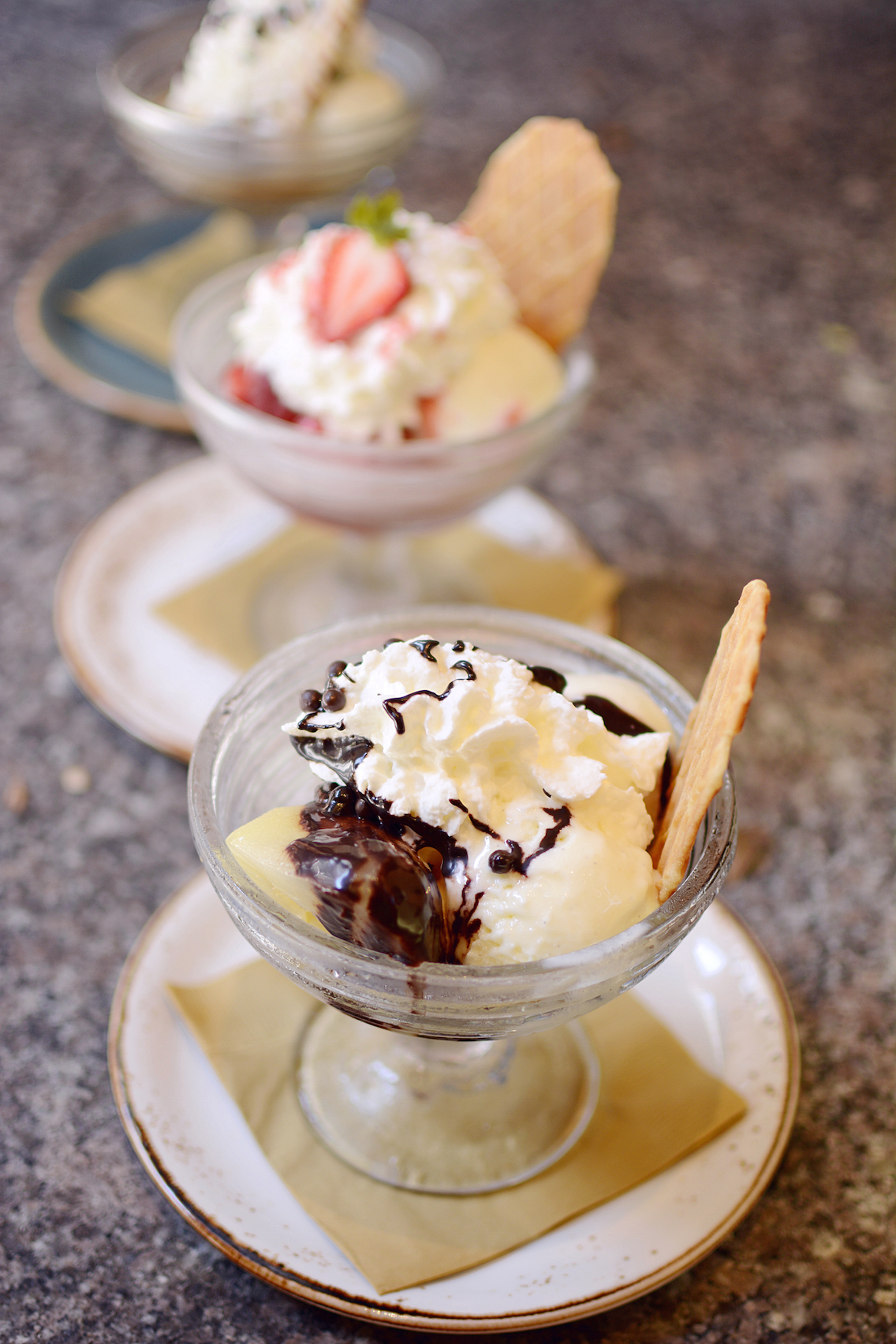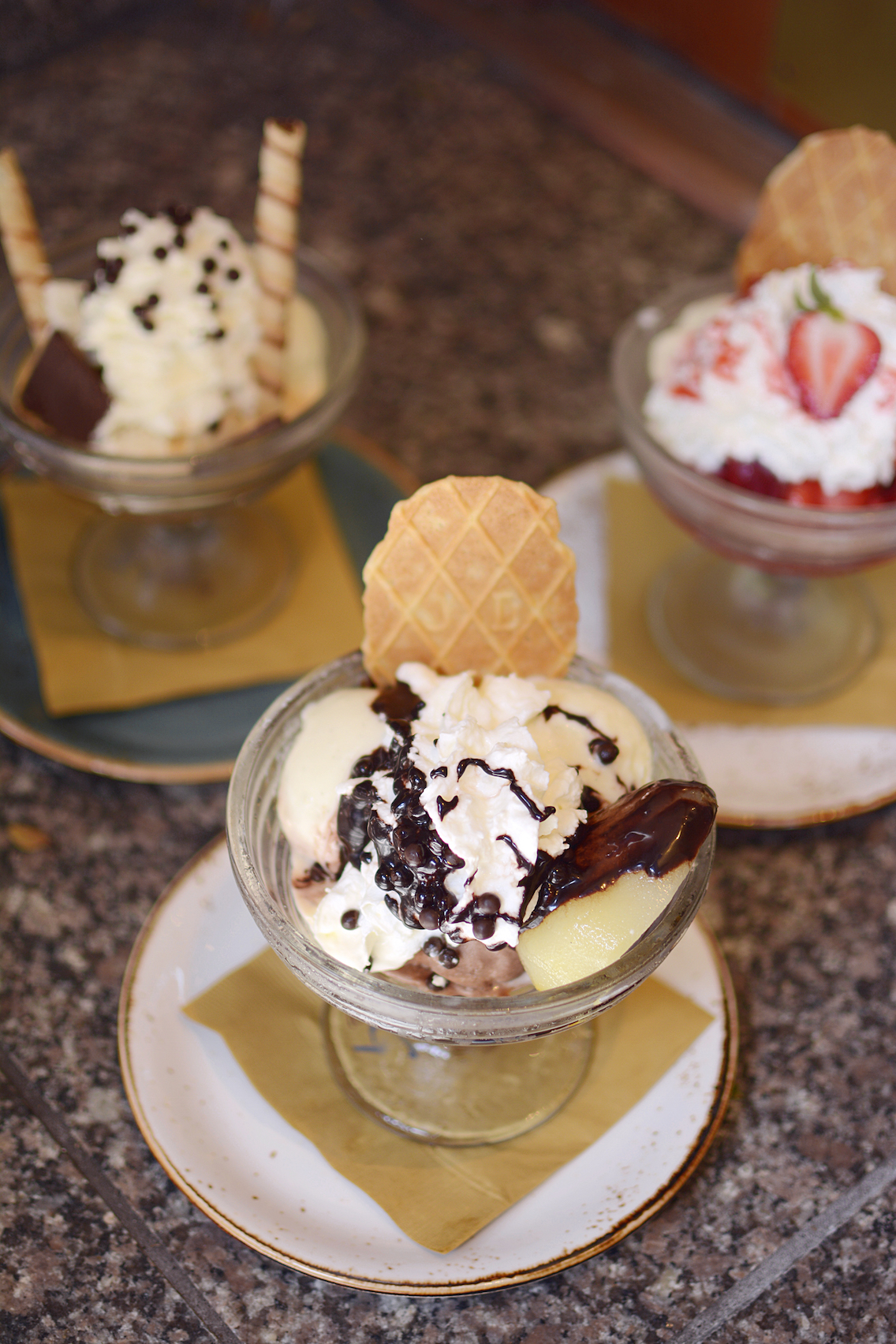 But three desserts couldn't possible be enough!
How about three more?
How about this sinful trio of Pierrot's incredible ice creams? Only available from June – September, these beautiful sundae pedestals are as delicious as they are beautiful.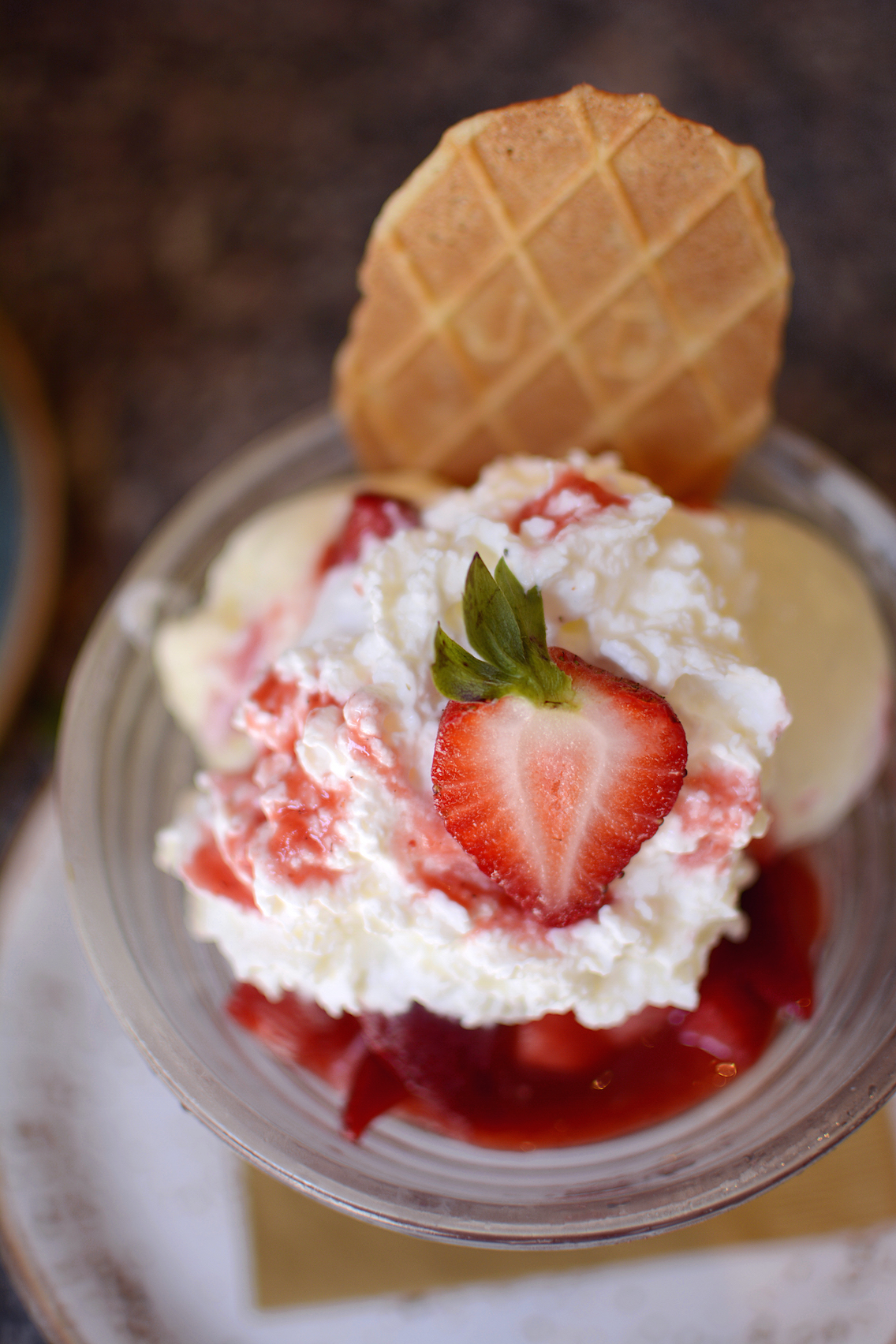 The Strawberry Romanoff: fresh strawberries macerated in grand marnier, vanilla bean ice cream, and topped with a generous amount of whipped cream.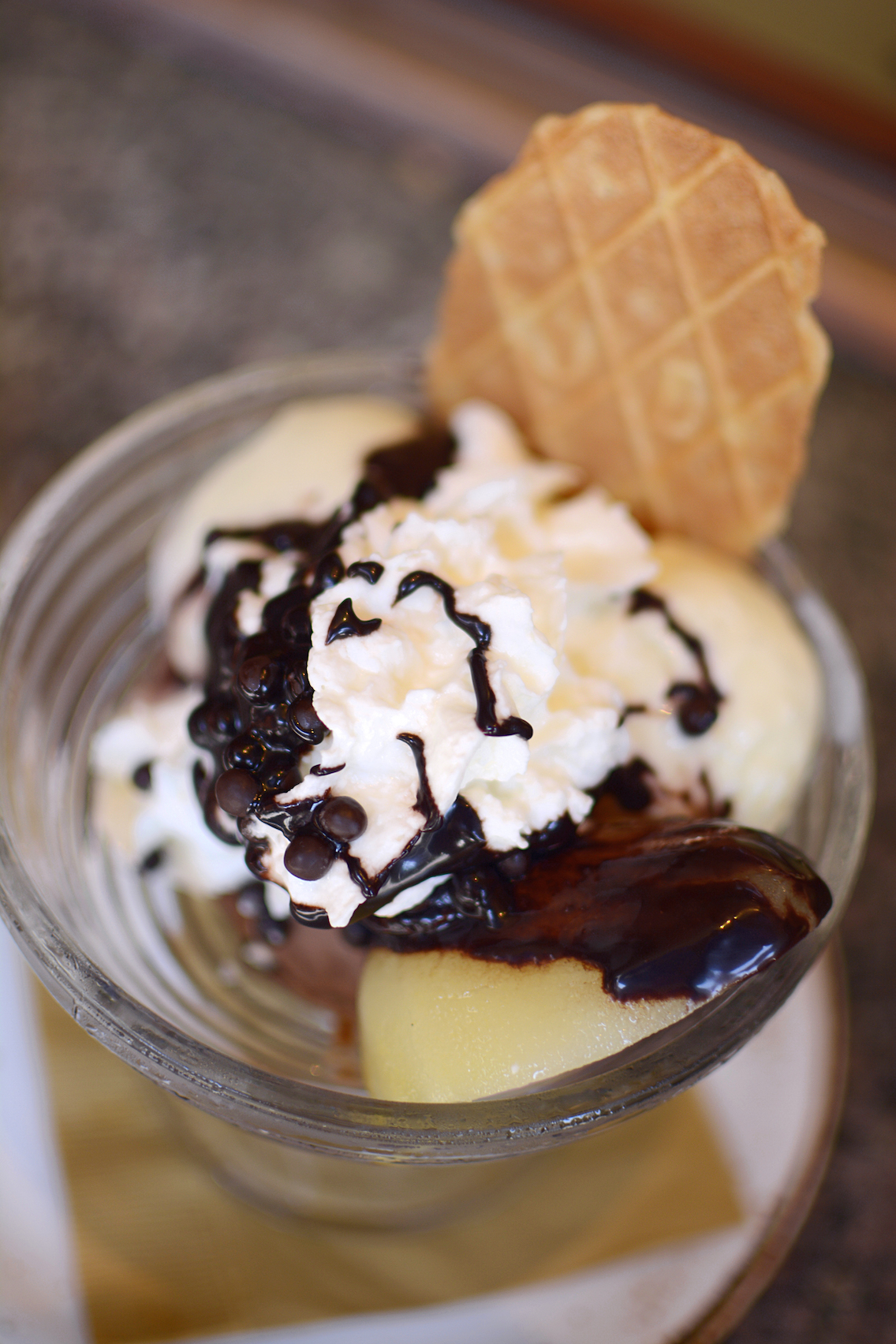 The Poirebelle Hélène: poached pears, vanilla bean & chocolate ice cream, all drenched in hot chocolate sauce.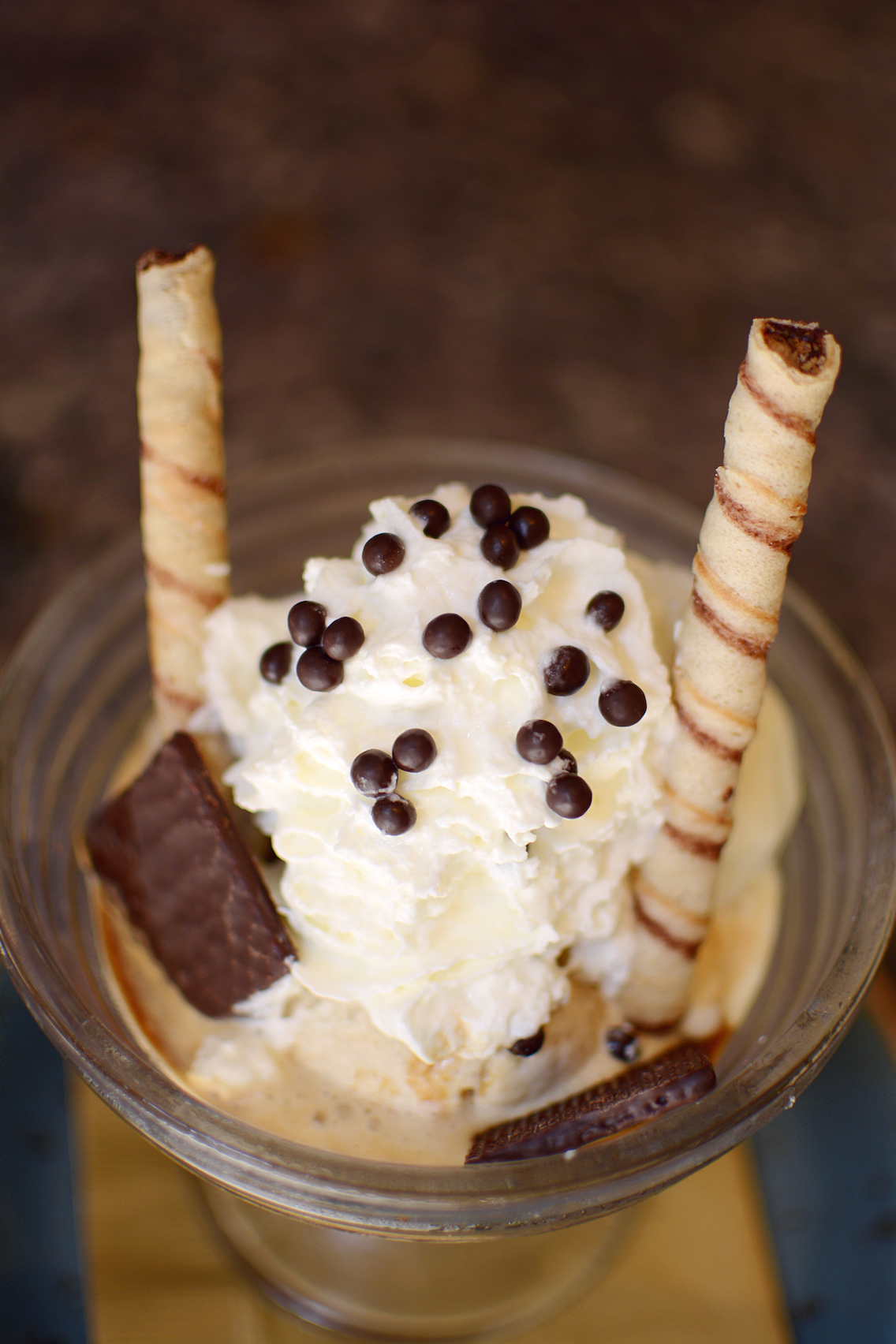 And the Café Liégeois: coffee ice cream and whipped cream that is served at your table with a shot of espresso poured over! Be still my heart.

Our entire meal at Pierrot was incredible — I was a fan long before I tried their Bastille Day menu but now I'm downright obsessed. If you're looking for easy French flavors served by some of the sweetest and kindest staff I've ever met, Pierrot will be your newest obsession too.
P.s. don't forget to try the macarons!
Disclosure: I received a complimentary meal to facilitate this post. Review and all opinions are my own.