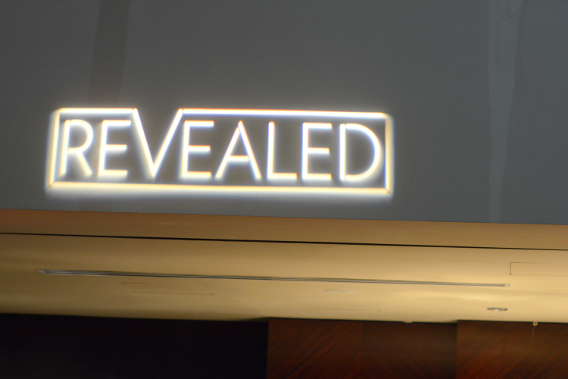 Last week H and I braved the freezing cold to attend the 'Revealed' exhibition launch at Sofitel Chicago. The event, curated by Pablo Picasso's grandson Olivier Widmaier Picasso, was intended to showcase the artistic process and personal workspaces of some of the world's most celebrated modern artists. As someone who has her own "makeshift" studio, I was really eager to see the workspaces behind some of the most famous painters of the 20th century. This was our first visit to the Sofitel (although Café des Architectes has been on my "must try" list for FOREVER) and the cool, French charm of the hotel oozed over every detail of the party.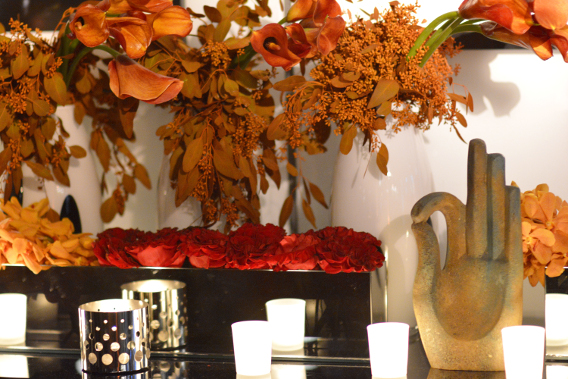 As a self-proclaimed international ambassador for French elegance, Sofitel has a strong history of collaborating and working with artists to promote cultural expression and dialogue. So an exhibit revealing the private studio spaces of some of the 20th century's greatest artists was the perfect event for the luxury hotel and a chance to really launch a dialogue surrounding the creative process.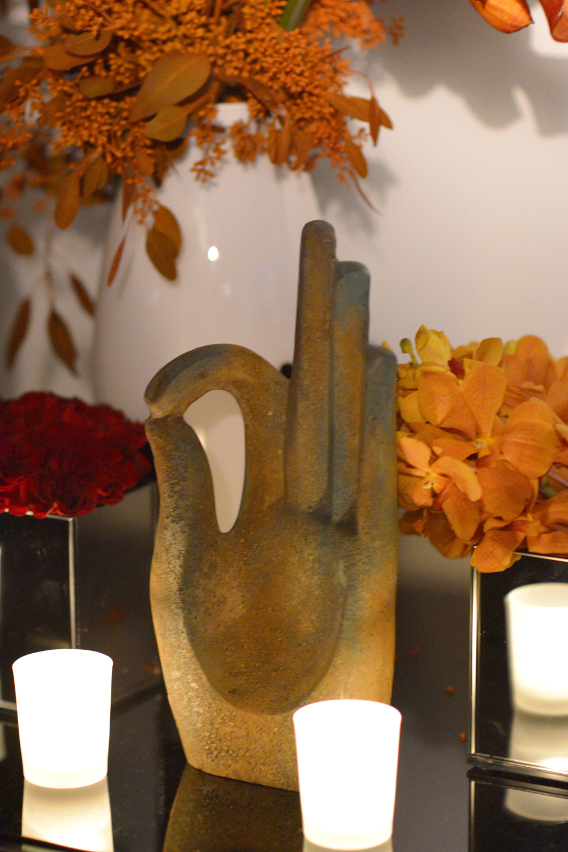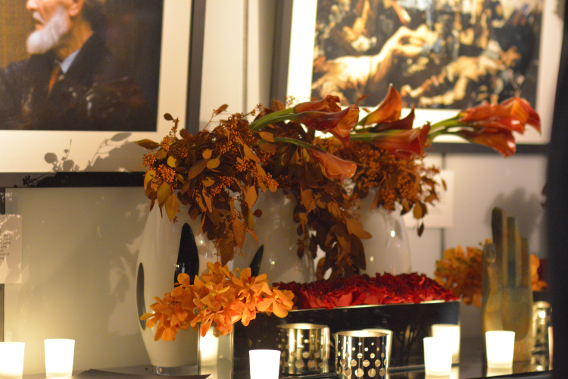 Even the floral arrangements drew their inspiration from the event — artistic and architectural arrangements that reminded me of splashes of paint leaping wildly from the vases.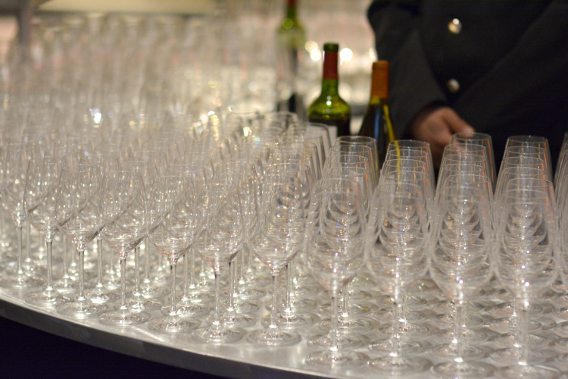 If there's a hotel in Chicago that can transform its lobby into a gallery — it's Sofitel! The French luxury hotel knows how to impress, down to the very last detail!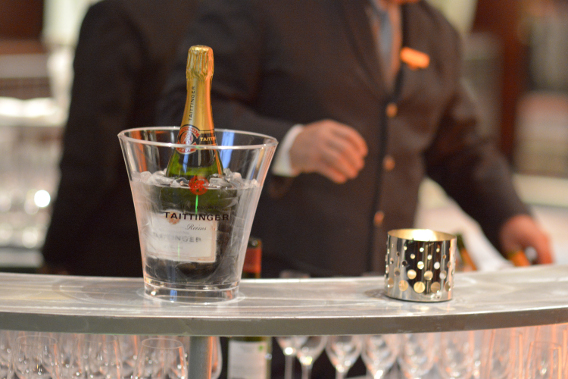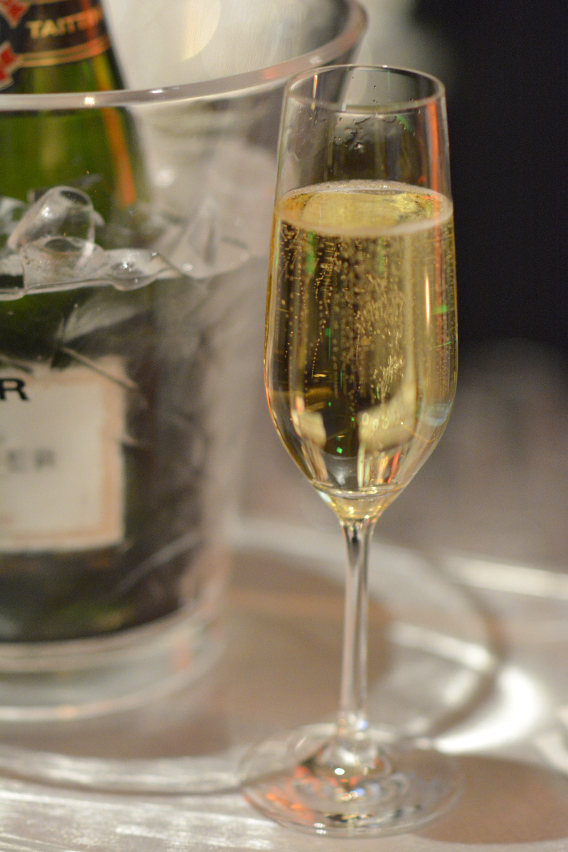 We started our evening off with a glass of bubbly and began to walk around and explore the exhibit.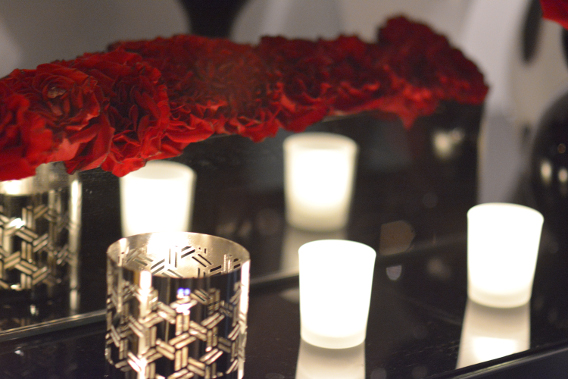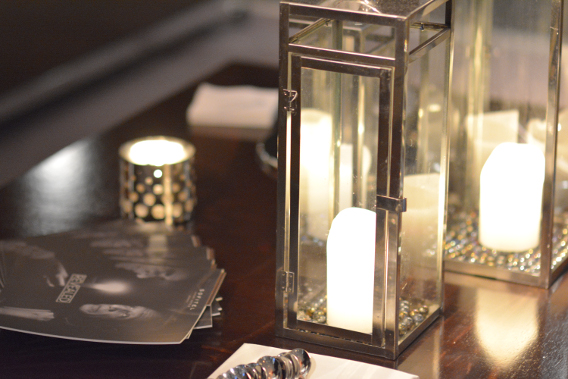 The decor was sleek, sexy and colorful. The silver touches paired with red, gold and orange flowers created a truly beautiful juxtaposition between refined and wild.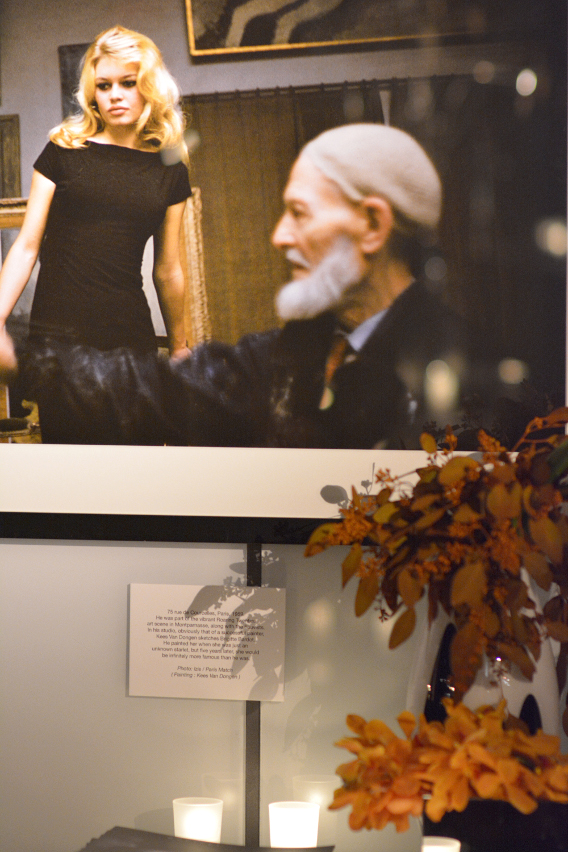 Brigitte Bardot even made an appearance!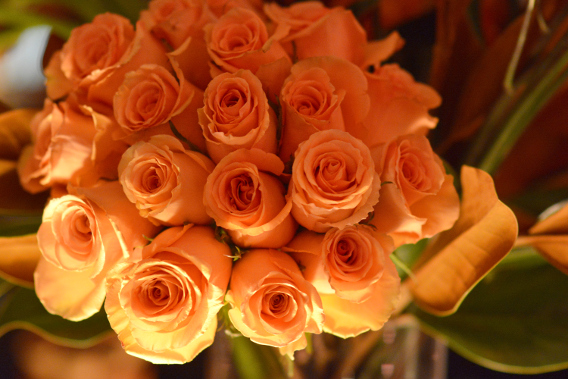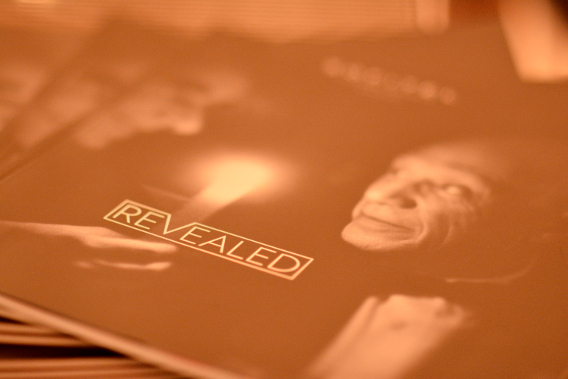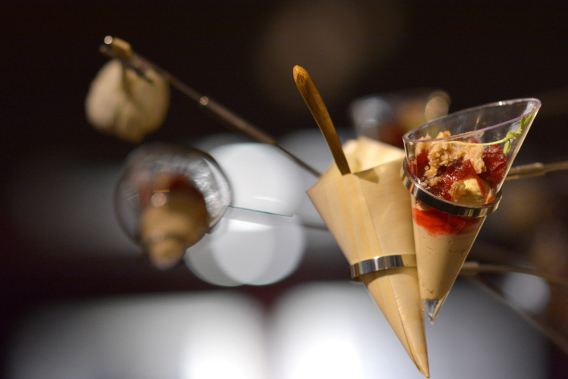 In the middle of the exhibit large dessert and appetizer wire trees were set up, allowing guests to "pluck" their nibbles like apples out of a real tree. The effect was surrealistic, allowing guests to choose with their food as creatively as possible.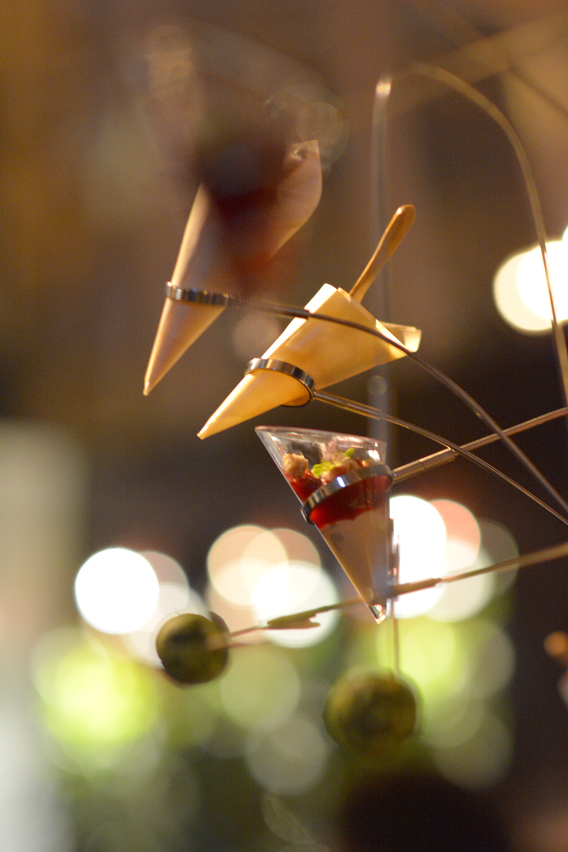 How gorgeous were the wild patterns created by these appetizer trees? I really appreciated that Sofitel took the time to make the exhibit a truly interactive one, encouraging guests to be a part of the experience through their own creative participation.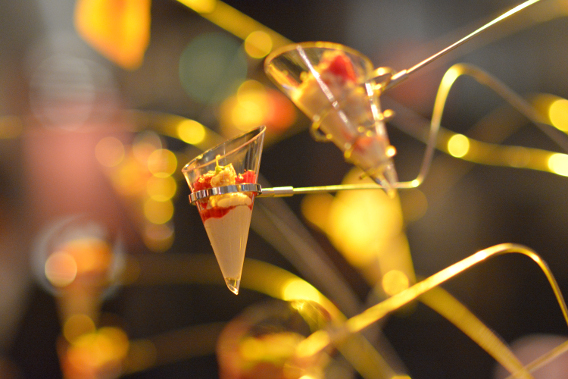 And is there anything better than a mixture of creative experience and food? I think not!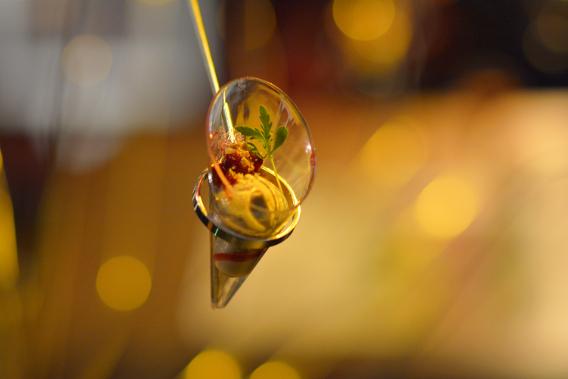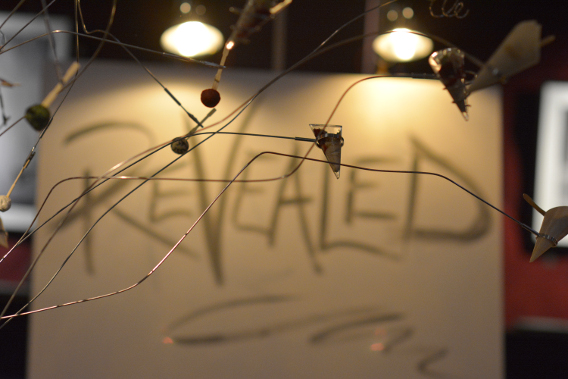 In the center of the exhibit and between all of the wire trees, a large canvas was set up on a platform…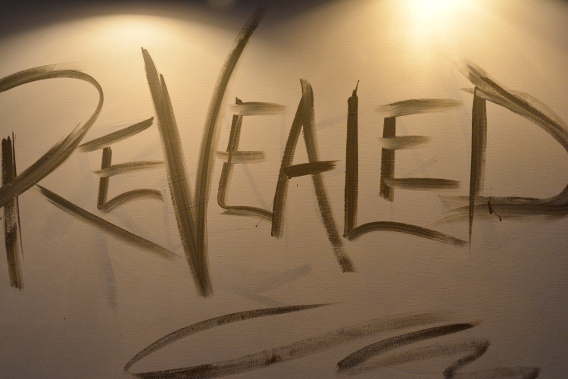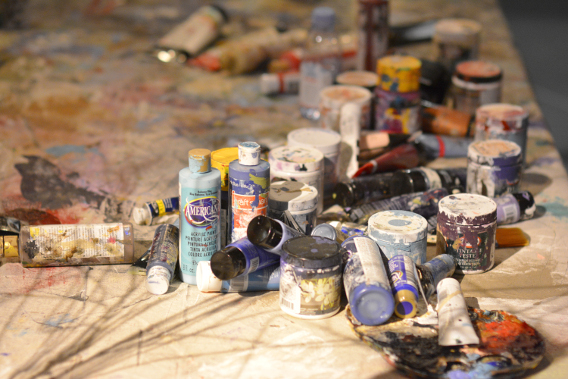 surrounded by hundreds of paints and brushes… At first we weren't sure what to expect but we soon figured out that Sofitel had in store for its guests…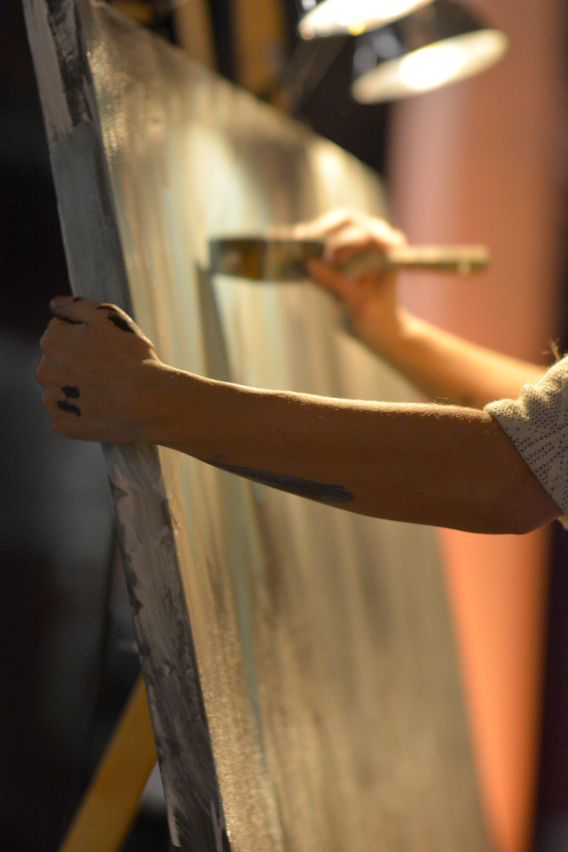 Paint Your Event spent the evening creating an original impressionist painting of the photo exhibition itself and the guests for the launch. It was such a unique experience watching as the artist, Heidi Schwartz, built layers and layers of color over her original scribble "Revealed" and a fitting tribute to the evening's theme of revealing the artist in their workspace.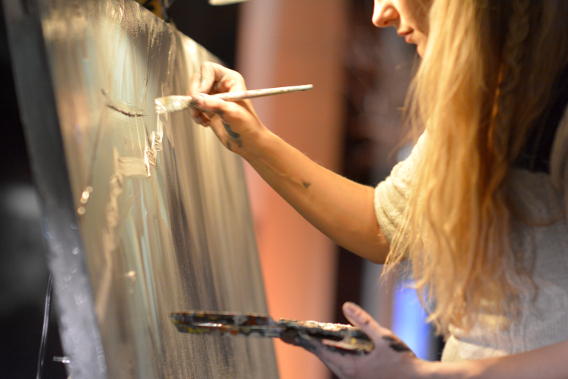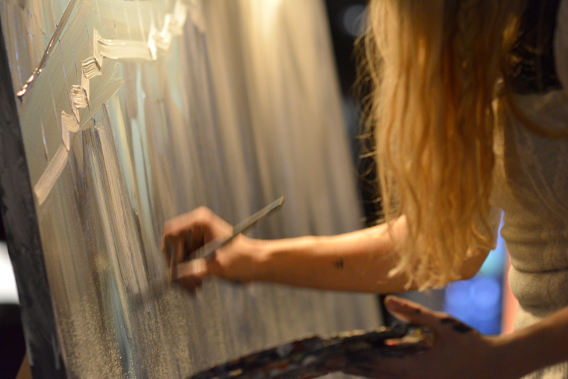 I loved how all the guests were allowed to mingle around the painting as Heidi worked her magic.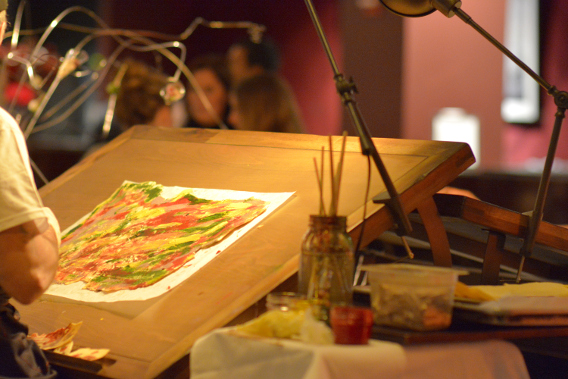 To encourage further artistic expression and creation, Sofitel chefs and kitchen staff took turns making art on side easels out of only edible materials.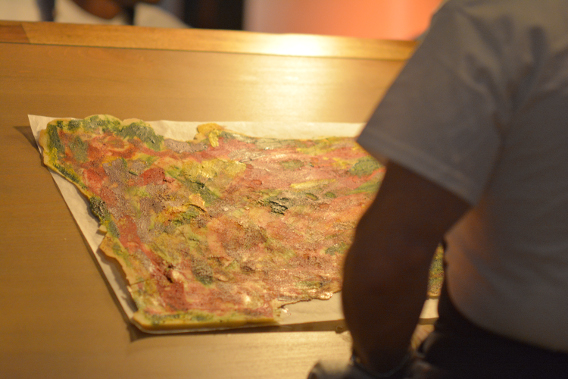 What I want to know is did you get to eat your edible creation after you made it?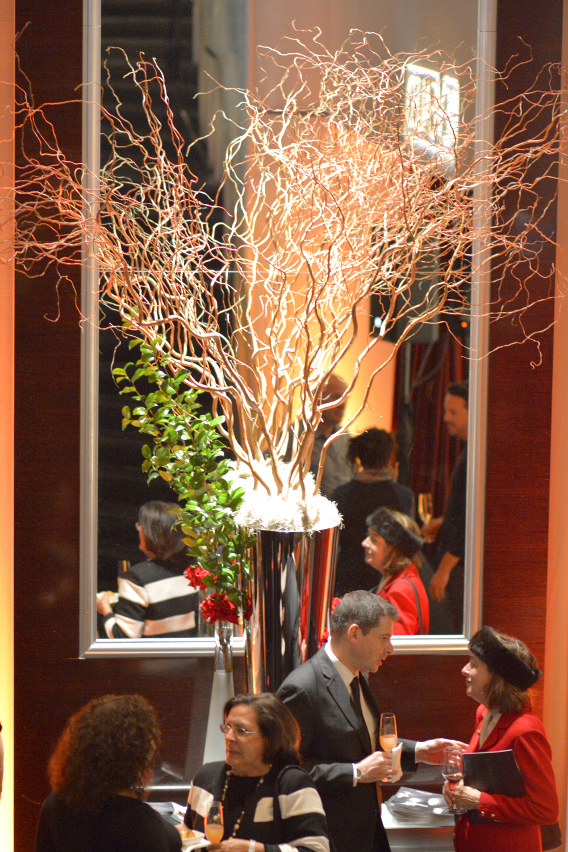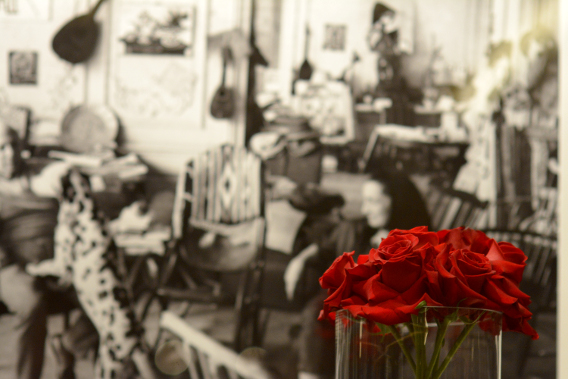 "An artist's studio is a reflection of his soul. A sacred, secret place where his talent is expressed and genius revealed" — Olivier Widmaier Picasso on 'Revealed'.
The exhibit itself naturally proved to be the evening's highlight with large splashing vases of colorful roses set around the large prints.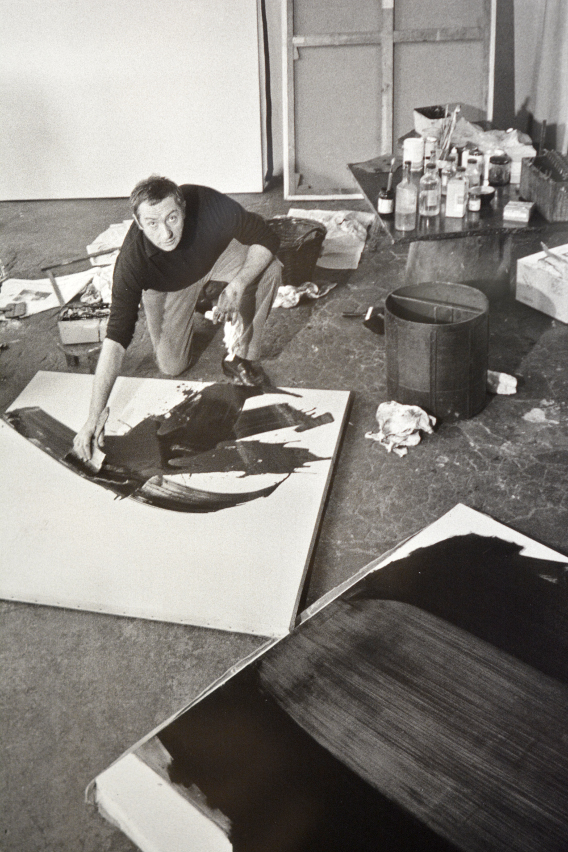 Pierre Soulages, 1967. Photo by Manuel Litran.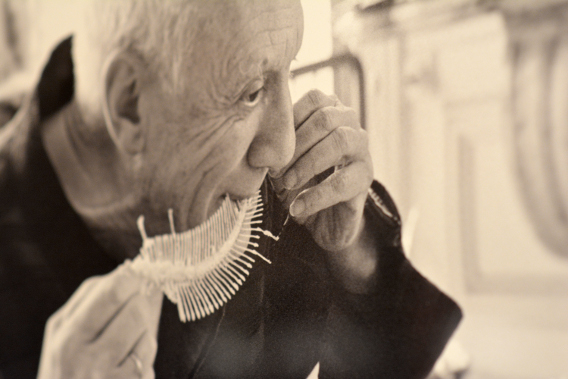 Pablo Picasso, 1957 devouring a sole that he would later turn into a clay sculpture. Photo by David Douglas Duncan. "My studio is wherever I am", said Pablo Picasso. He would become one the world's most photographed man, ahead of Einstein and Gandhi.
Magritte and His Candelabra, 1965. Photo by Christian Gibey.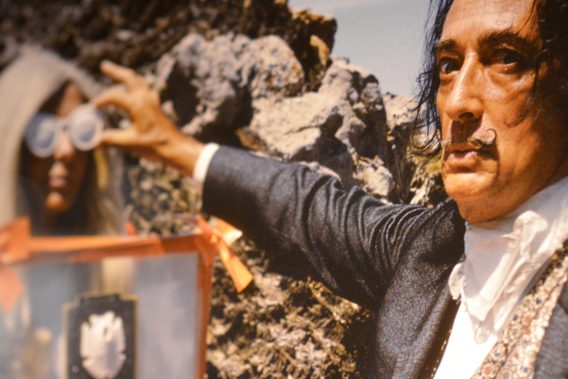 Salvador Dalí posing with Frédéricka, the "Queen of Venus", in 1965. Photo by Toni Saulnier.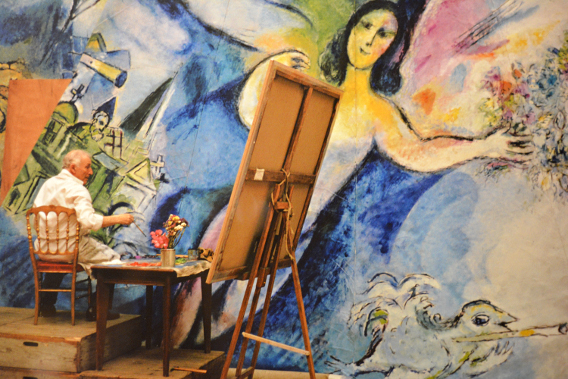 Chagall painting Mozart's Angel in 1964. Photo by Izis. Chagall always set a bouquet of wildflowers next to his canvas to ensure the painting could stand up to the beauty of nature.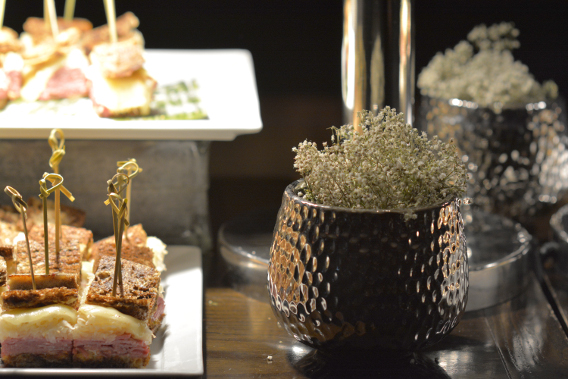 Sofitel set out an array of artistic snacks and bites to enjoy throughout the exhibition including…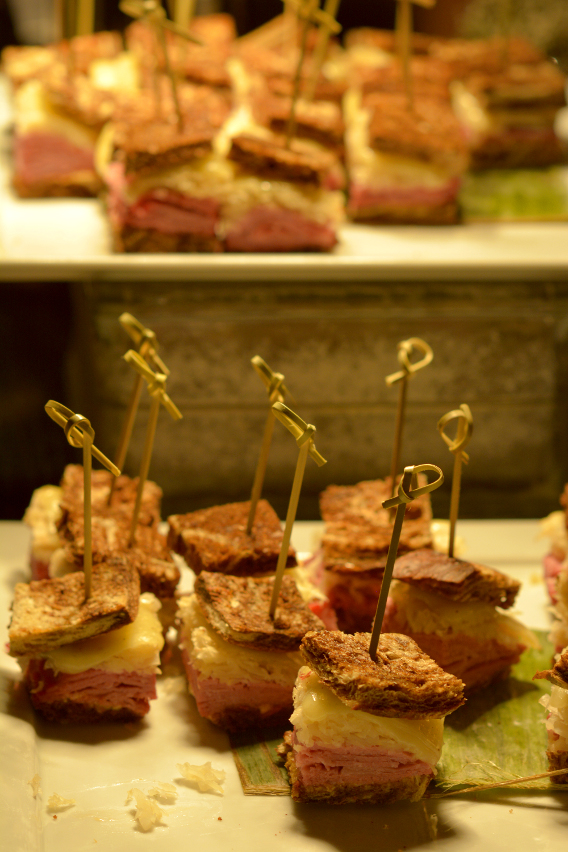 Mini Reubens with Thousand Island Dressing…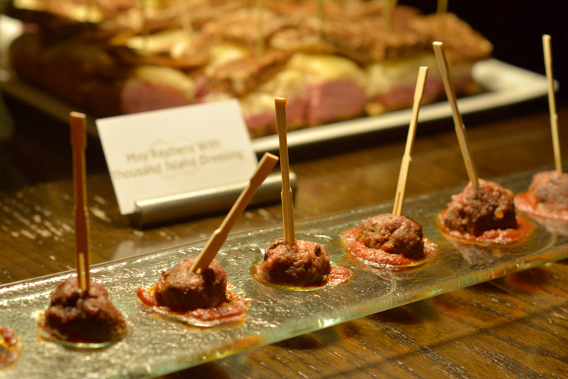 Turkey Meatballs in Marinara…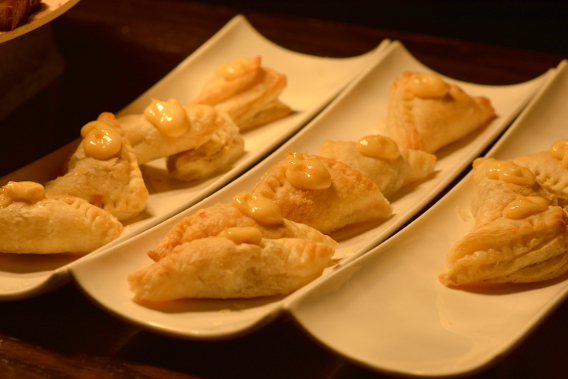 Chicken Empanadas served with Lime Espelette Aioli…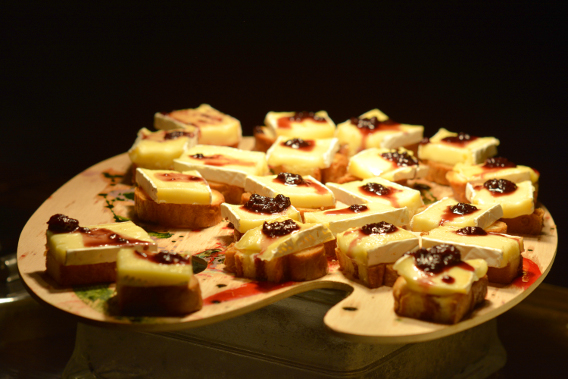 and Warm Brie Crostini with Chestnut Provisions Jam. This was hands-down my favorite appetizer, especially because of its thematic presentation — the illusion created with the crostini as drops of paint on a painter's palette was a truly innovative touch.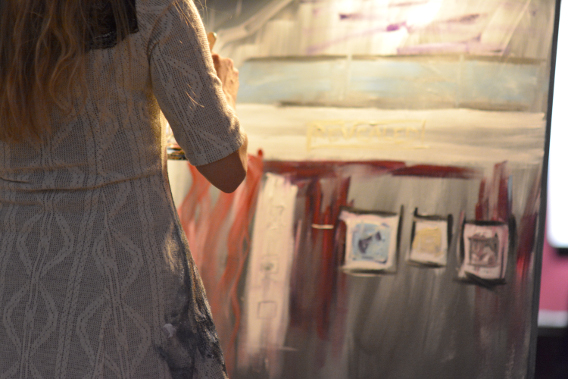 Throughout the evening, guests would continually return to the central canvas and watch as the 'Revealed' painting began to take shape.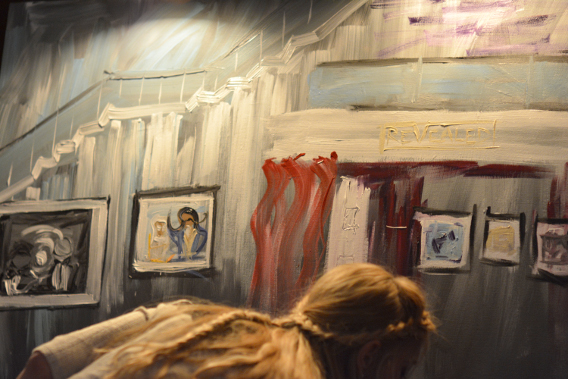 Naturally some of the exhibit's highlights were present — there's Salvador Dalí in the second painting on the left!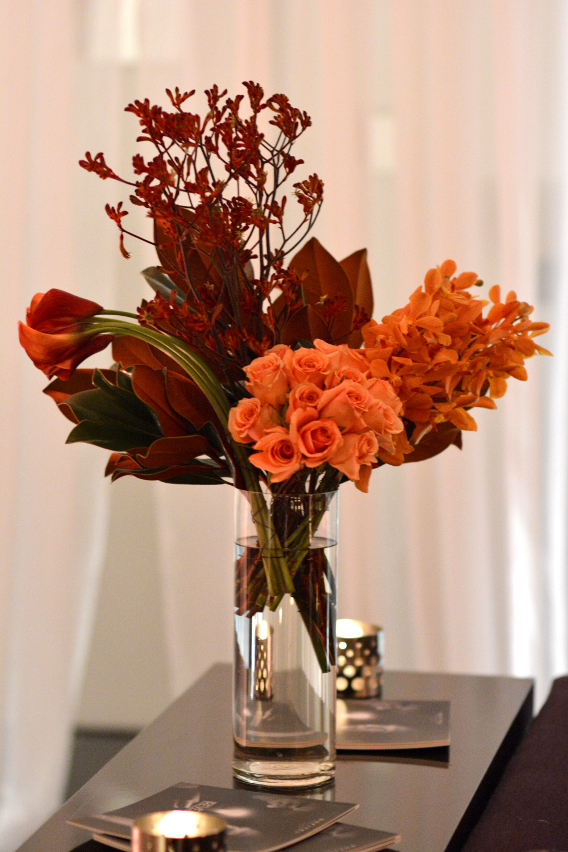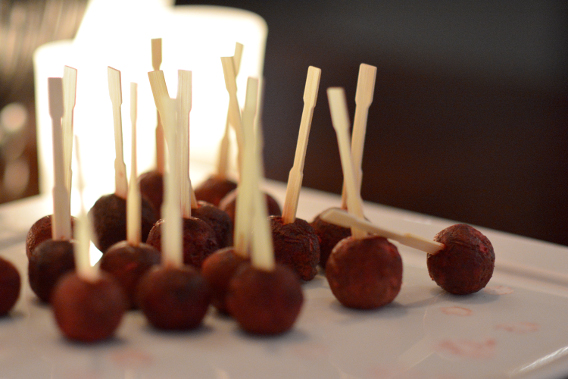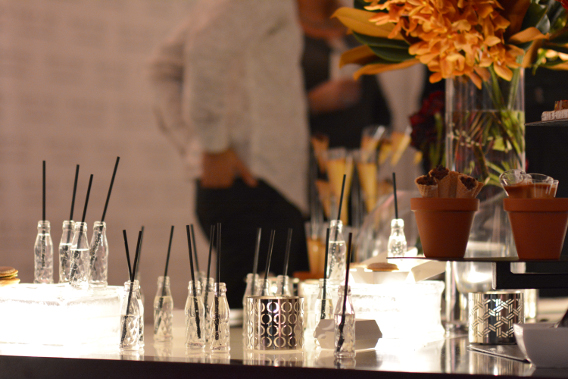 Sofitel set up an additional room for lounging surrounding a truly EPIC dessert bar — another creative element to the evening's soirée.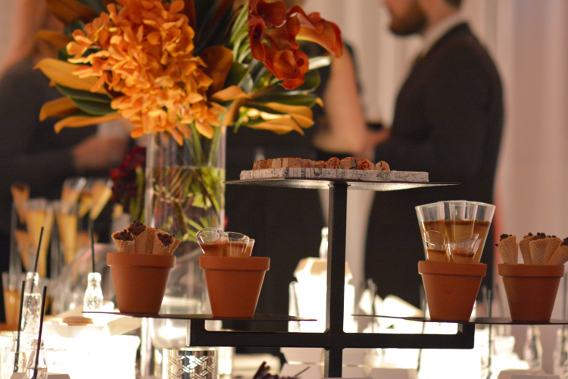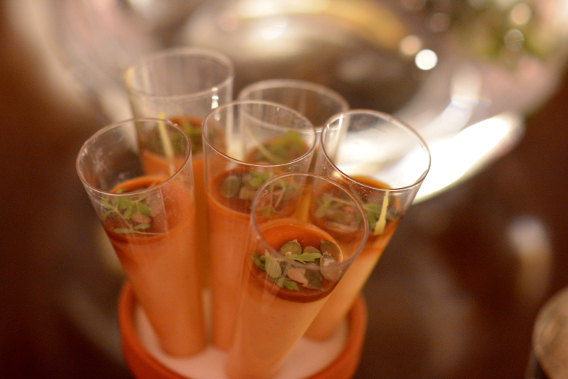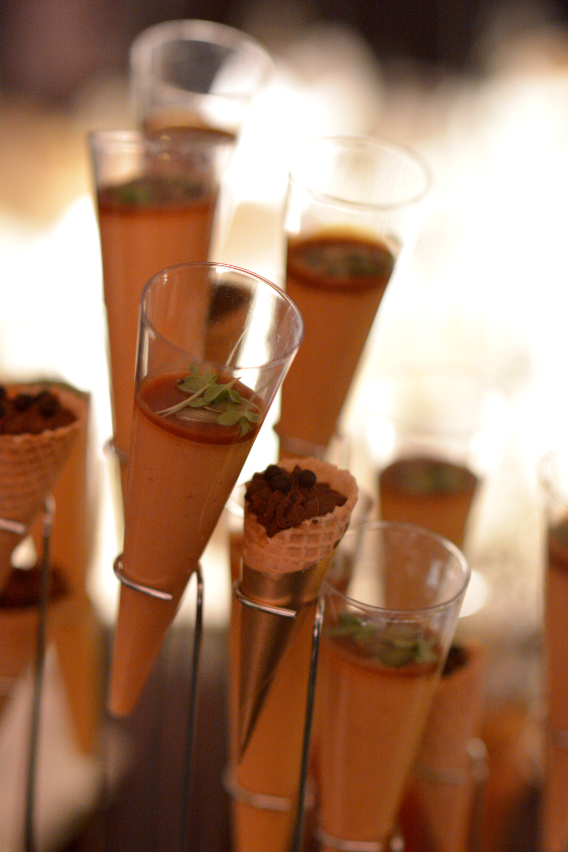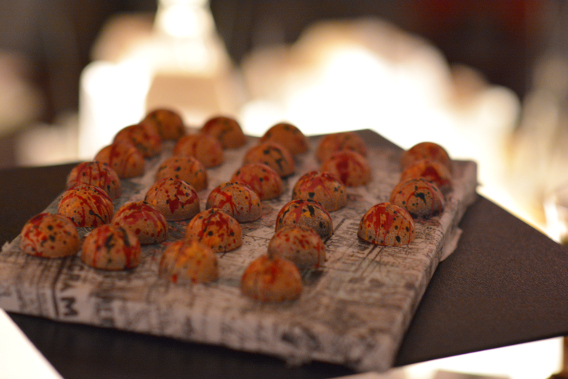 These salted caramels were DIVINE and yet another nod to the occasion with their modernistic "paint" splatter designs.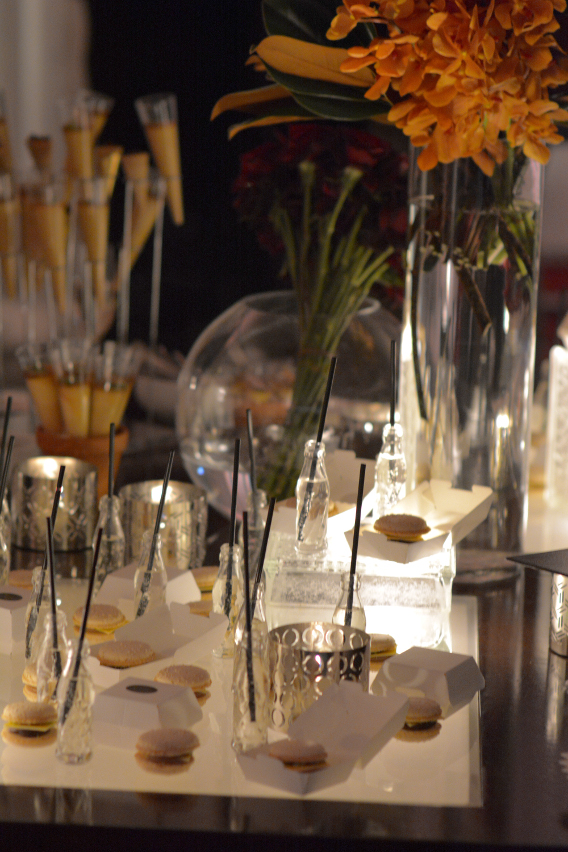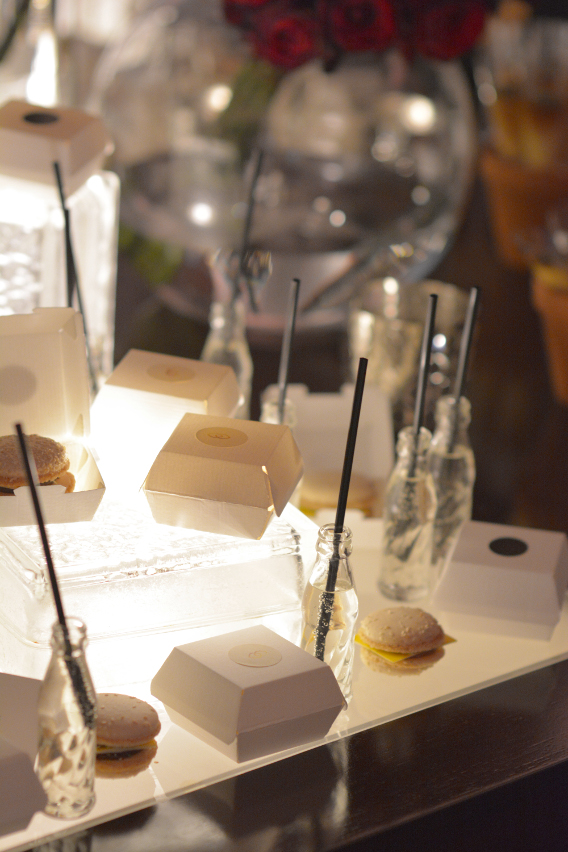 But of all the desserts, it was the mini cream sodas and "cheeseburger" macarons that were the most fun! Talk about refined childhood nostalgia!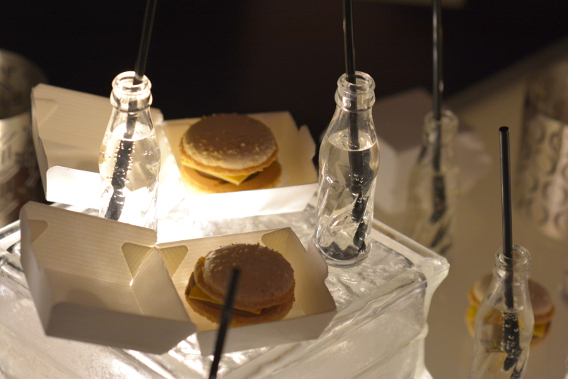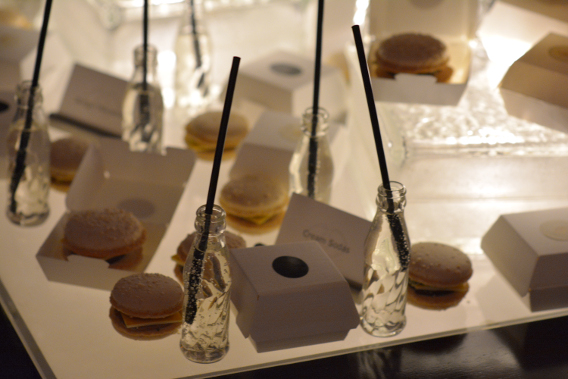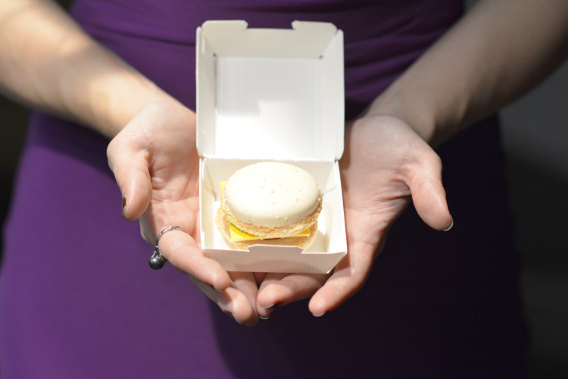 I loved that these were served in a mini takeout box — an American classic "frenchified".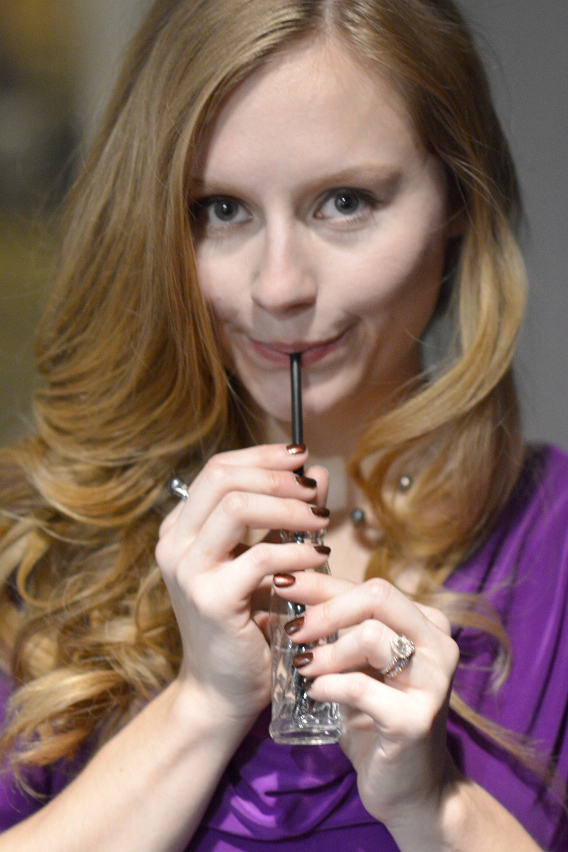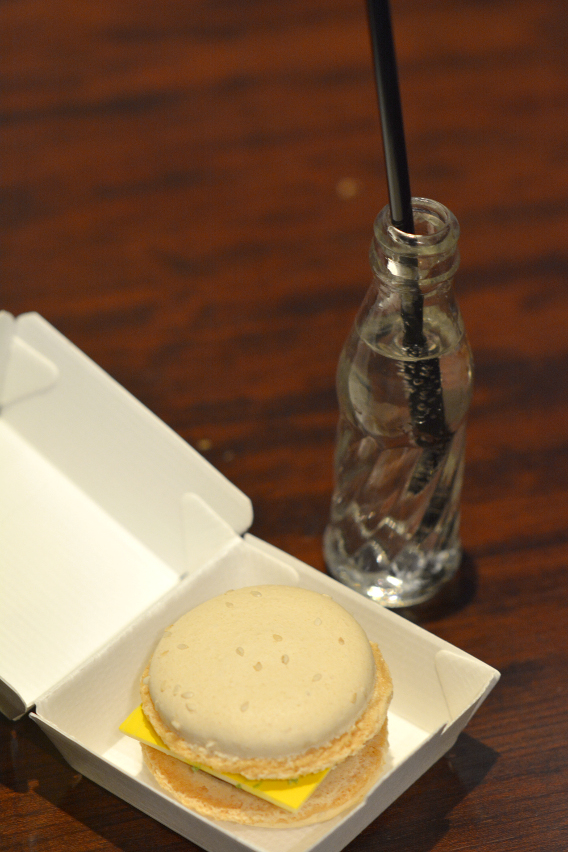 "Hello, yes, I would like to order a cheeseburger macaron and miniature cream soda, please!"
We returned again and again to the exhibit's central platform where Heidi furiously continued to paint her masterpiece. It was such a great tribute for an exhibit commemorating the artistic process to be memorialized with its own original piece of artwork.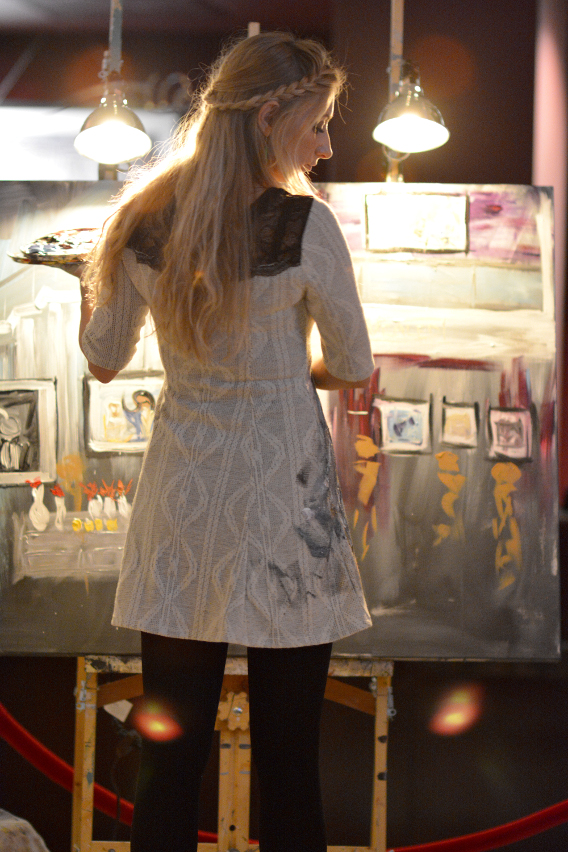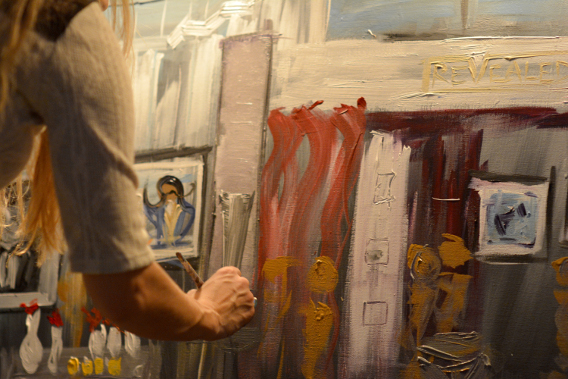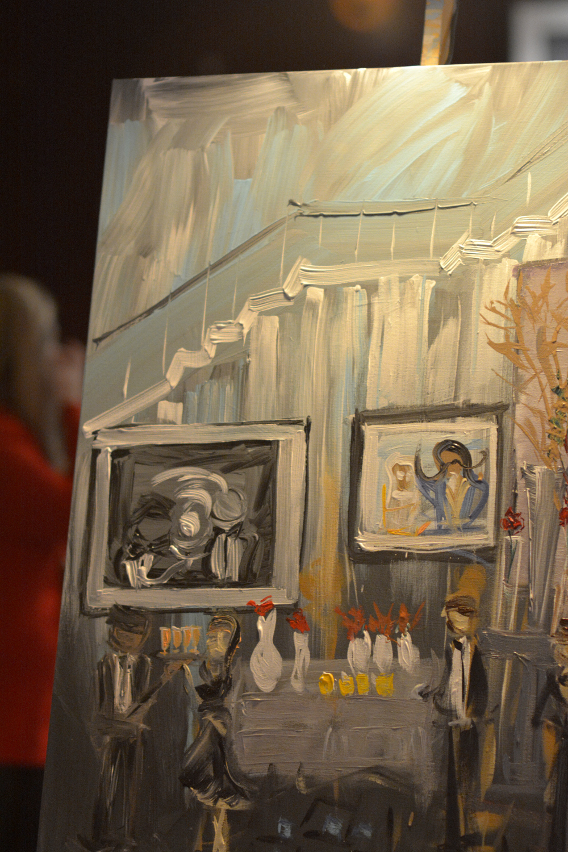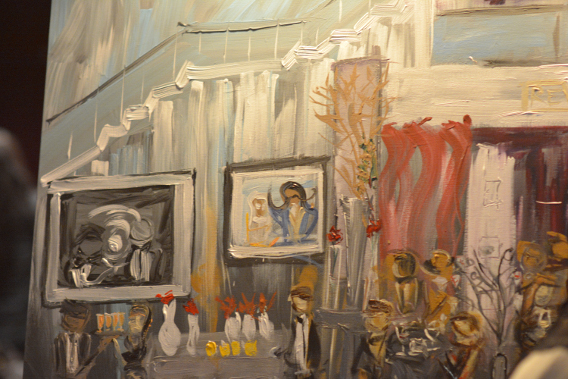 The finished piece truly was a divine and creative representation of the evening's soirée and a brilliant tribute to the pith behind the exhibit. As an event both revealing and celebrating the workspaces of these famous artists, it was made even more memorable through the encouragement of further artistic expressions from both the performing artists and the guests themselves. It was an evening I know I will draw inspiration from for a long time to come!