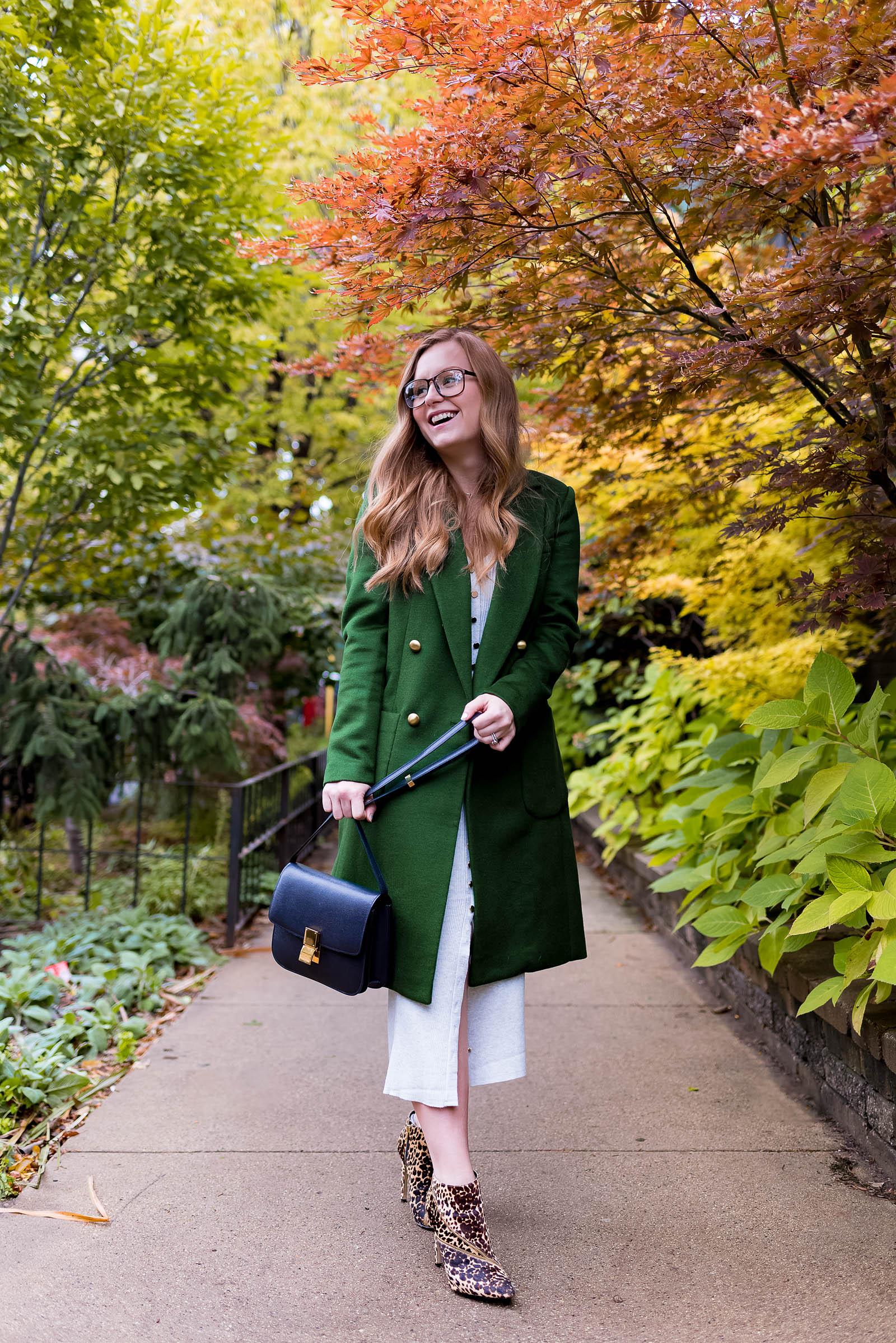 It's finally (and OFFICIALLY!) Fall -- my favorite season.
I love all the seasons, don't get me wrong. But I adore the colors and crispness of fall the most.
And while it's certainly the coziest season (at least for me), it also tends to be my most stylish too. I love layering up after the heat of summer! I've suddenly begun playing with wild prints again and lots of rich colors. It makes my heart flutter just thinking about it!
So without further ado, here are the pieces and trends I'll be wearing on repeat all autumn long...
1. Plaid Coats
Plaid: the perennial fall print.
The one we turn to each and every year as the leaves get crisp.
From buffalo checks to western plaids, this print works with so many looks it's easy to see why we love it so much. And, more importantly, it's FLATTERING on just about every one.
And while I do love all things plaid, I've especially developed a soft spot for plaid coats in fall.
They're versatile, generally very neutral (or with enough colors to match dozens of looks), and -- in a lot of cases -- shockingly inexpensive. I've amassed quite a collection these last few years and always turn to them first when I'm having a "what should I wear?" moment.
I've even been known to cinch the waist of my plaid coats with a belt and wear it as a dress.
Want to get even more avant-garde? Why not layer a plaid coat with a plaid shirt? Just be sure the prints are different proportions so you give the look depth, not monotony!
2. Animal Print
First of all, who doesn't love an animal print year-round?
Fierceness meets practicality. All in a neutral, easy-to-wear print.
But they're the quintessential fall print for those of us who love to wear warm colors this time of year.
(And a great print to mask any hitchhiking pug fur I've picked up during the day... #pugmom)
I currently only have a few pieces of animal print but the beauty of this print is that you don't need much. Even a cheetah-print belt or leopard bootie can give a look so much warm dimension without being overwhelming.
That said, I've been seeing a lot of midi and maxi animal print dresses this season and I'm LOVING them too.
I suppose it just depends on how fierce you're feeling that day.
3. Over the Knee Boots
Each and every year I come back to my over-the-knee boots like Old Faithful.
I invested in a pair of Stuart Weitzman Lowlands in October 2015 and they've been one of the very best wardrobe purchases I've ever made. Not only does the long length of the boot keep you cozy in the cold but it's also very lengthening and flattering (especially on us petite girls). While the price is steep, I've brutalized my pair, stuffing them into countless carry-ons and wearing them for marathon rounds of walking, and they've come out looking downright pristine. I've been so impressed with their wear that last October I invested in the slightly higher heeled Midland too.
There are plenty of inexpensive options out there but if you have the means, invest in just one high-quality pair. It'll take you through countless falls and winters stylishly yet practically.
4. Green
Green has always been one of my absolute favorite colors -- at my wedding my bridesmaids wore forest green!
So I love to wear it year-round.
But last fall I truly fell in love with wearing green during the autumn months. I think it was when I wore this outfit. Between the golden leaves and the beautiful bottle green of my coat, it's STILL one of my favorite shoots to date (and one of my most popular looks on Pinterest).
And I never forgot it.
So this fall I'll be sporting rich greens without abandon.
And you should too! It's such a soothing, natural color. And one that juxtaposes beautifully with the yellowing trees of fall.
5. Cozy Sweaters
The ultimate fall necessity. Everyone needs at least one cozy sweater to swallow them in warmth for fall.
It's one of life's simple pleasures -- sitting by a fire on a crisp fall night, sipping cider and snuggling into a cable knit. I love nothing better!
Generally though, because I have pugs who snag their nails in my sweaters, I steer clear of expensive sweaters.
There's nothing like the heartache of a hole in a new sweater!
Every cashmere sweater I've ever bought I've managed to find on sale for less than $100. And cable knits? I refuse to spend more than that too. That way, when they inevitably get unraveled and destroyed by my pups, I don't lose my cool.
My favorite inexpensive sweaters are from H&M, SheIn, and Madewell.
6. Graphic Stripes
Who am I kidding, I wear graphic stripes ALL year round.
(Like so many of the trends in this post.)
But maybe it's the Beetlejuice vibe (I just paid homage to this in my last outfit post), or it's the fact that graphic stripes just POP against fall foliage. Or maybe it's how flattering they are.
Whatever it is, I love graphic stripes and generally find myself wearing more in fall than any other season.
Last fall I purchased a pair of striped trousers before NYFW and they have quickly become one of the best wardrobe investments I've ever made. Remember when I shot them on the Brooklyn Bridge at sunrise?
I've been wearing them non-stop since and fully expect my cleaning lady to laugh at how many times I bring these in for a dry cleaning next month...
7. Polka Dots
I've never thought of wearing polka dots in fall until last year.
To me they've always seemed like such a spring print.
But I wore them to NYFW last September, as did my friend Ali and lord knows HOW many bloggers on the streets. They were everywhere!
And from that moment I was hooked.
Of all the trends on this list, I think polka dots are having the BIGGEST moment. There are so many gorgeous, spotty pieces available right now.
I especially love the idea of mixing large polka dots in layers with petite ones. I also can't wait to try more polka dot looks paired with my favorite pair of polka dot tights!