"Life is all about evolution.
What looks like a mistake to others has been a milestone in my life. Even if people have betrayed me, even if my heart was broken, even if people misunderstood or judged me, I have learned from these incidents.
We are human and we make mistakes, but learning from them is what makes the difference."
— Amisha Patel
SHOP THE LOOK:
Coat – c/o SheIn || Sweater – c/o Show Me Your Mumu || Jeans – Burberry (similar) || Pumps – Aquazzura || Bag – Mulberry || Scarf – Zara (similar) || Gloves – Sandro (similar) || Lips – Huda in 'Showgirl'
Photos courtesy of my sister Emily
I feel like this is one of the weirdest times of year.
Mid-December.
It's still technically autumn for more than another week.
And yet holiday decorations are everywhere. Christmas tunes blasting in every store.
And it snowed last weekend. Enough to stick. A sure sign of winter's arrival. Oh, and the windchill Chicago was in subzero temperatures yesterday. And yet this weekend will be in the balmy 40s.
Quite a weird time of year…
So I'm sharing one of my last fall-inspired outfits today before I dive head-first into the frost-bitten world of winter style. And perpetually live in socks for three months straight…
Lately if I haven't been wearing green and stripes, it's been a combination of this super-soft grid coat and cuddly blanket scarf. It's a cozy enough combination for the weird, not-quite-autumn-not-quite-winter weather we're having AND allows me to go around WITHOUT socks.
Gotta embrace these last frost-free moments while you can!
BUT since winter is just around the corner, I've launched my WINTER SHOP today for those of you wanting to get a head-start on the chilliest season! Here are a few of my favorite pieces in the shop: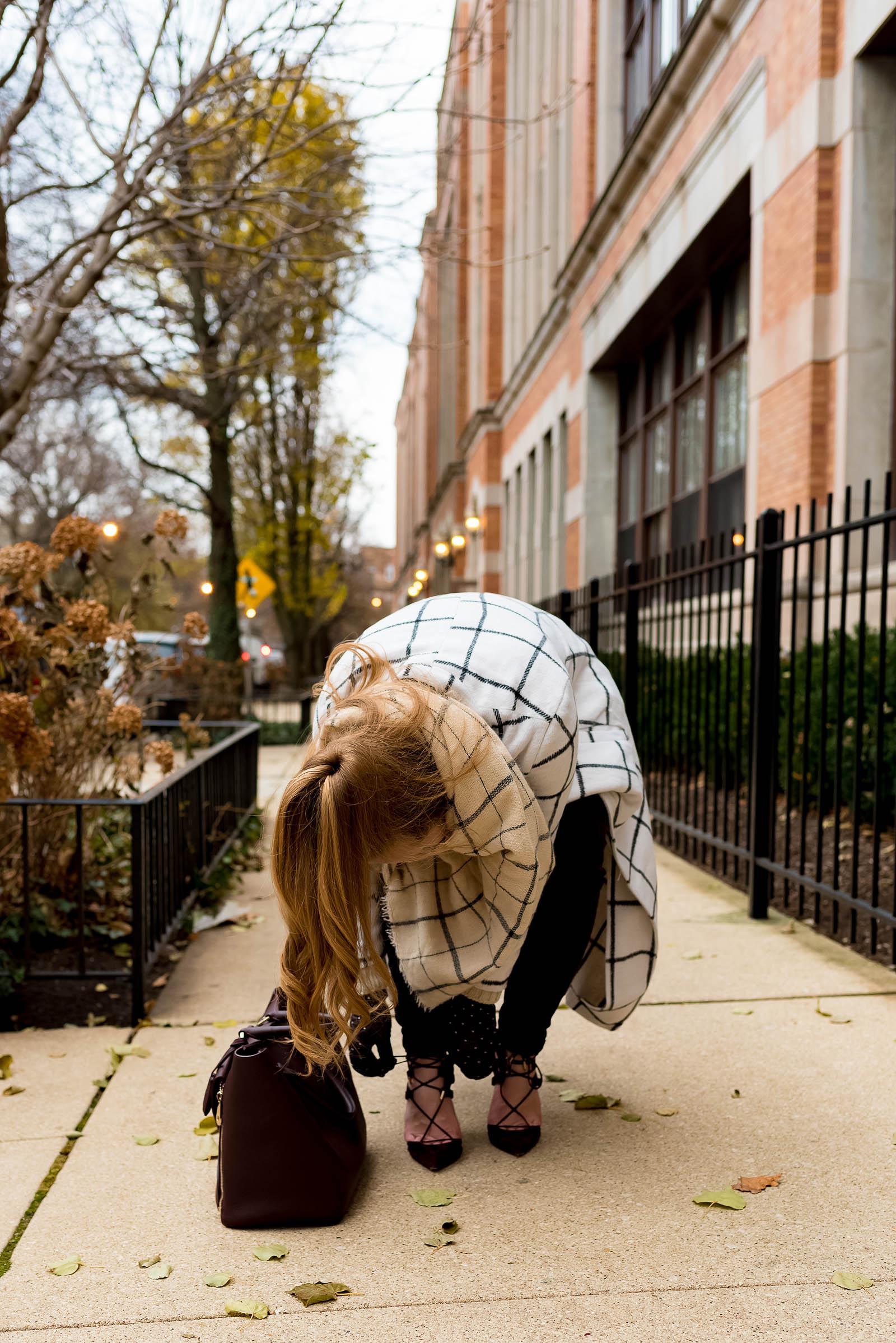 (P.s. Here's my favorite blooper to end today's post on!)