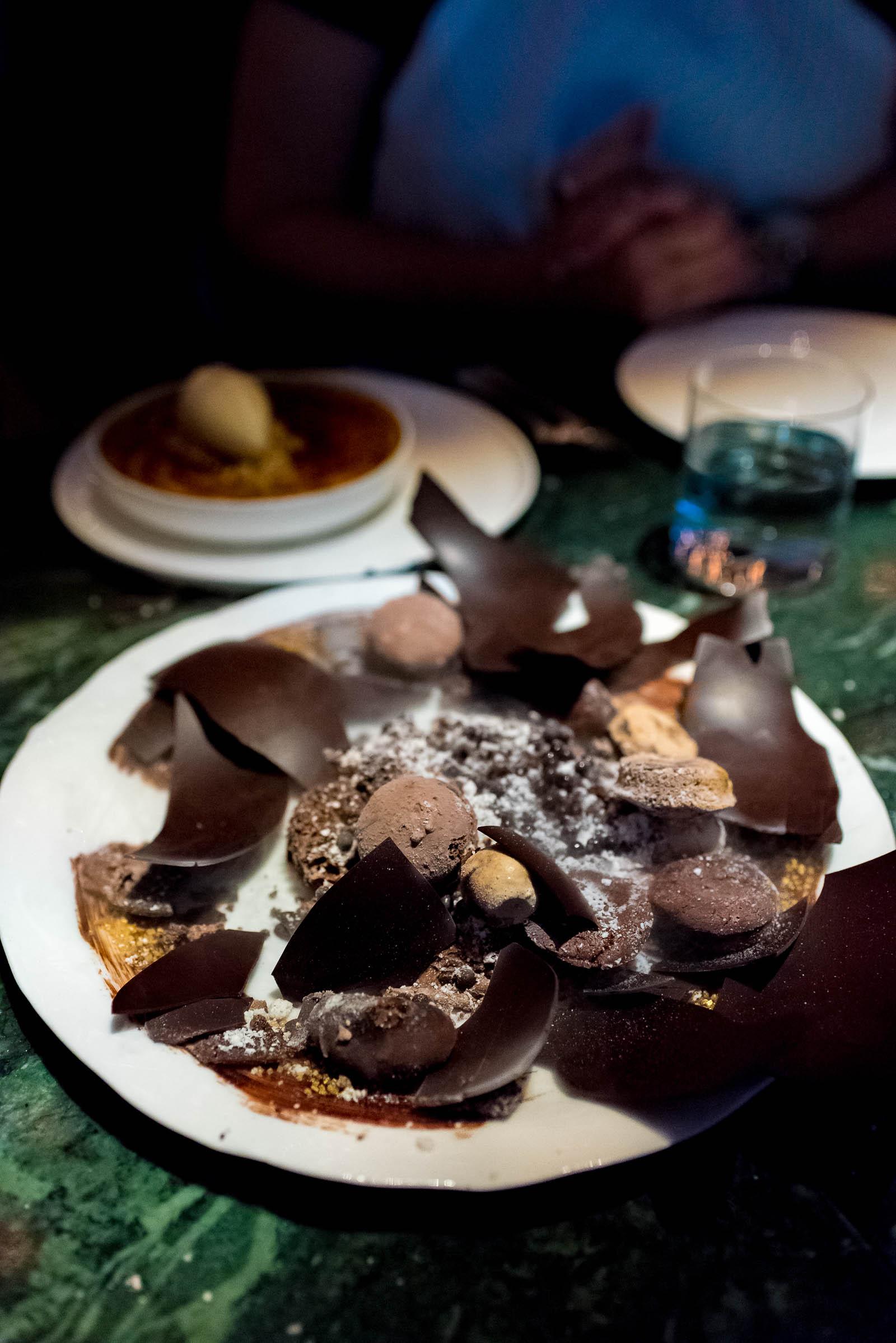 After publishing last month's Amsterdam Travel Guide (my most shared travel guide to date — thank you!), I've been dreaming a lot about my favorite city across the pond. And — more specifically — my favorite restaurants there. Especially today's. It was easily one of the best meals I had last summer and, indeed, all year.
And if you're looking for ONE splurge-worthy meal that won't completely break the bank in Amsterdam, I can't think of a better spot…
Than dinner at The Duchess in Amsterdam.
My family and I loved our meal there so much we actually went back TWICE during our ten-day stay.
Because when you find a meal this magnificent, you don't go just ONCE.
At least you don't if you love good food as much as my family!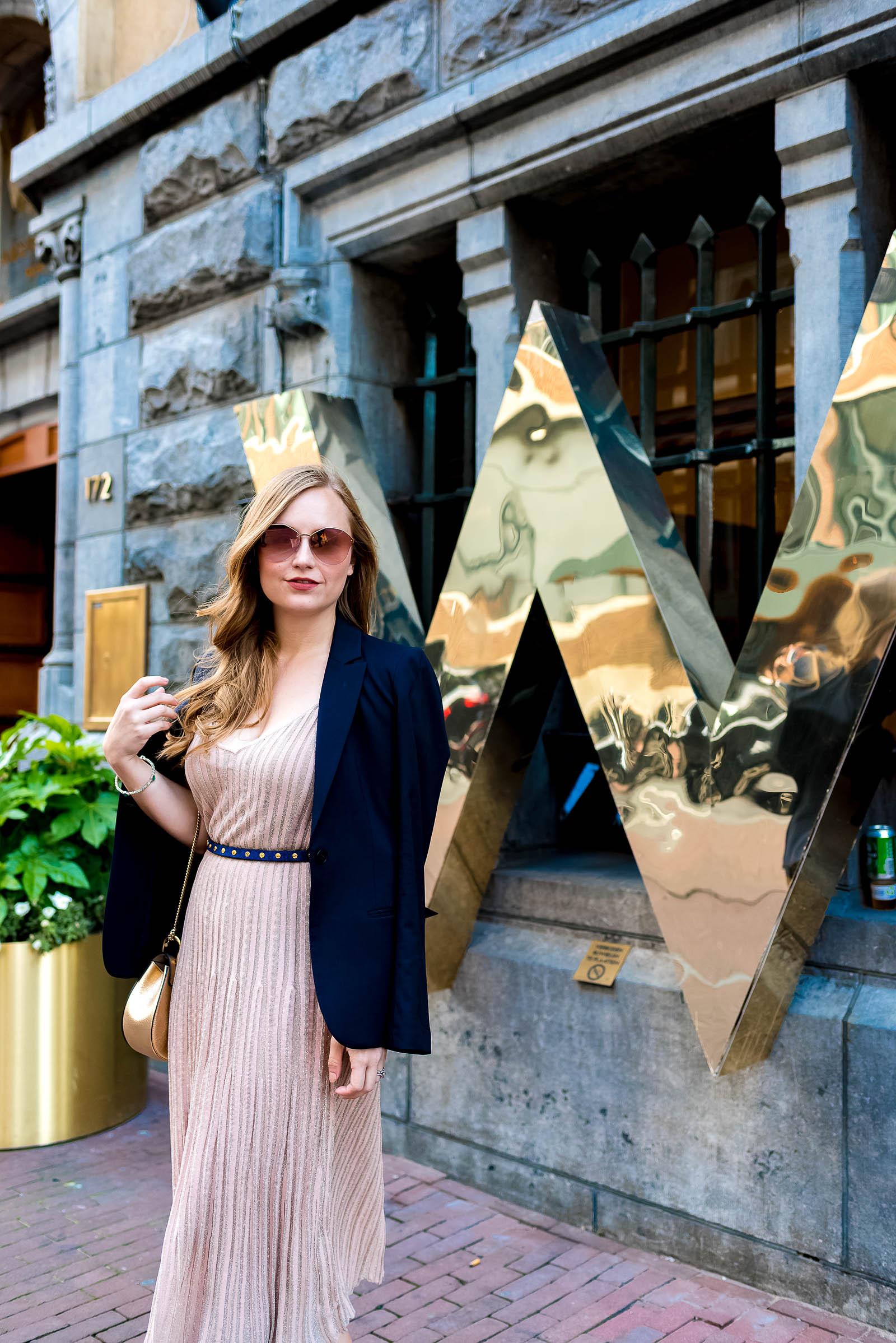 The Duchess is located in the W Hotel right in the center of Amsterdam.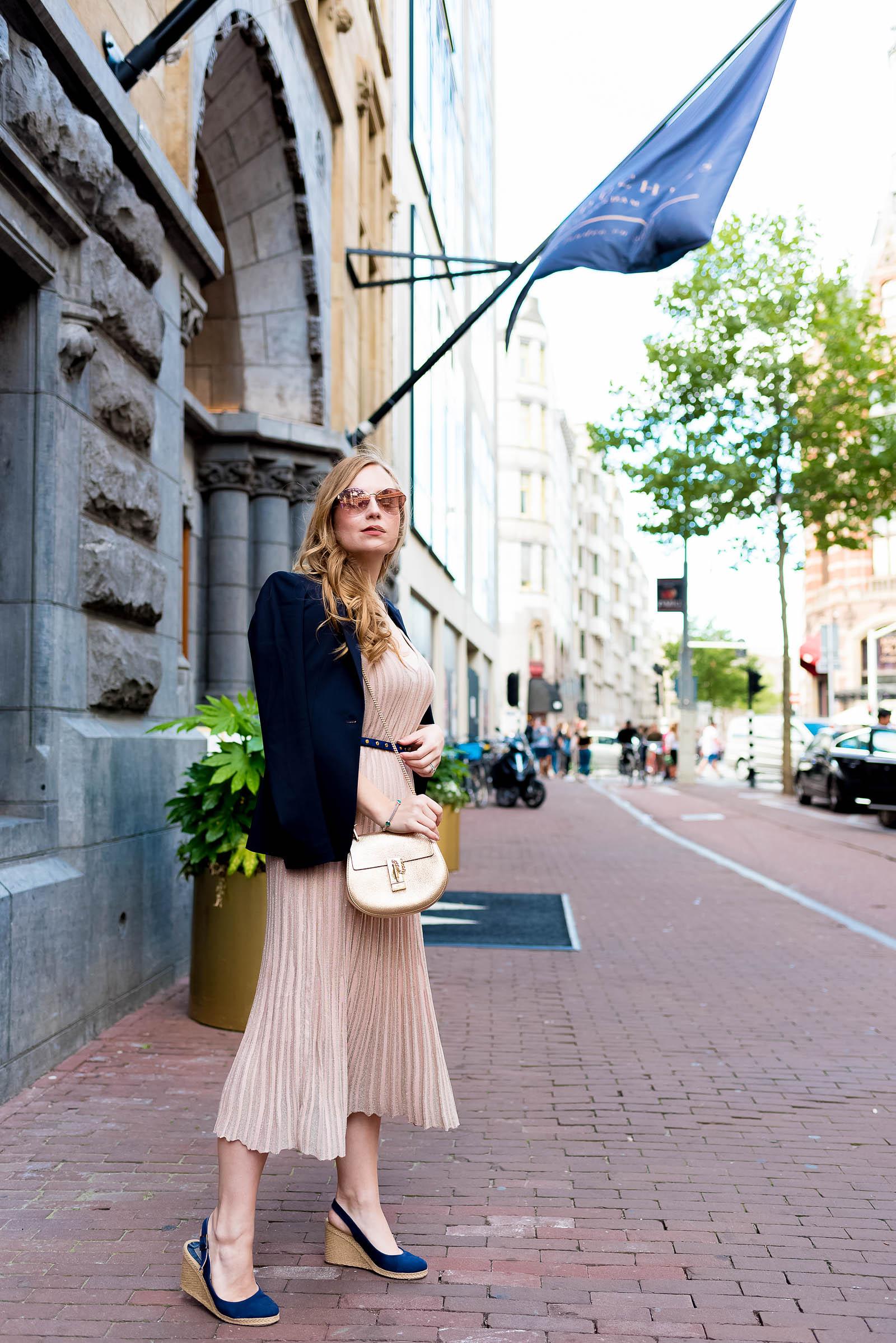 Like most spots in Amsterdam it's on a charming street where you're more likely to hear the bicycle bells than car horns.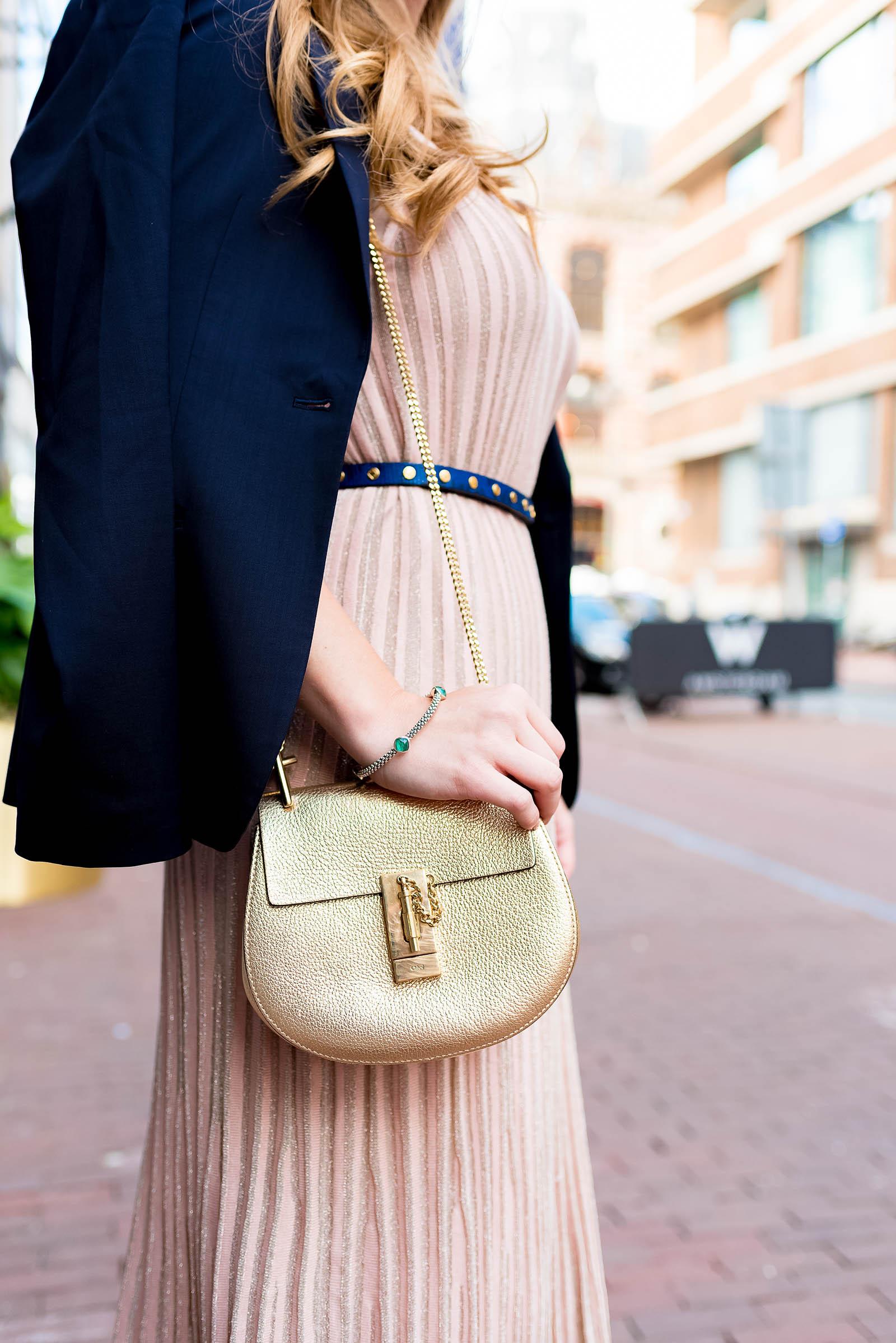 Since we were trying The Duchess for my birthday dinner, I couldn't resist the urge to shoot my outfit beforehand.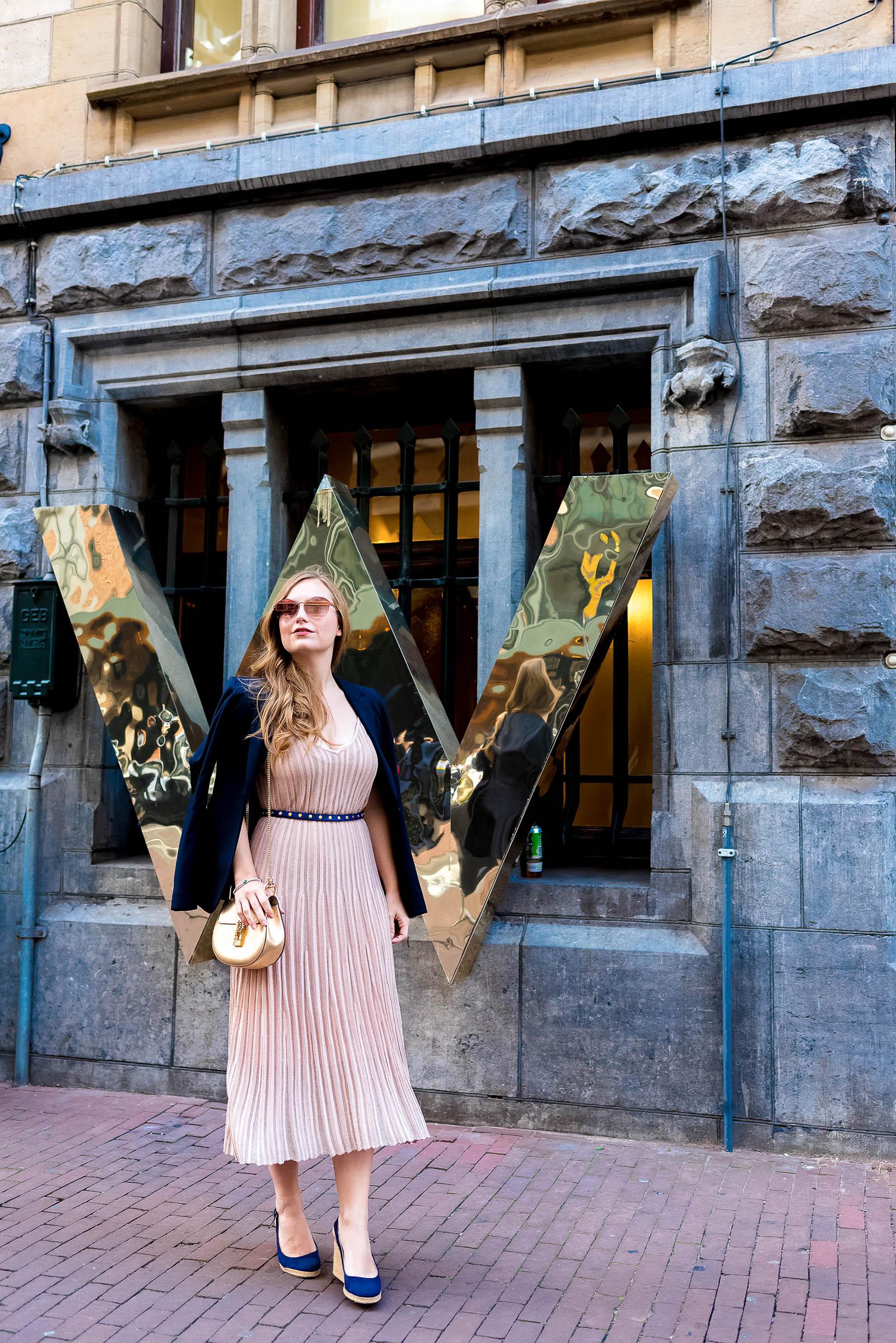 All-in-all I think this outfit pretty much sums up my style: midi dress, pleats, wedges, and an obsession-worthy bag.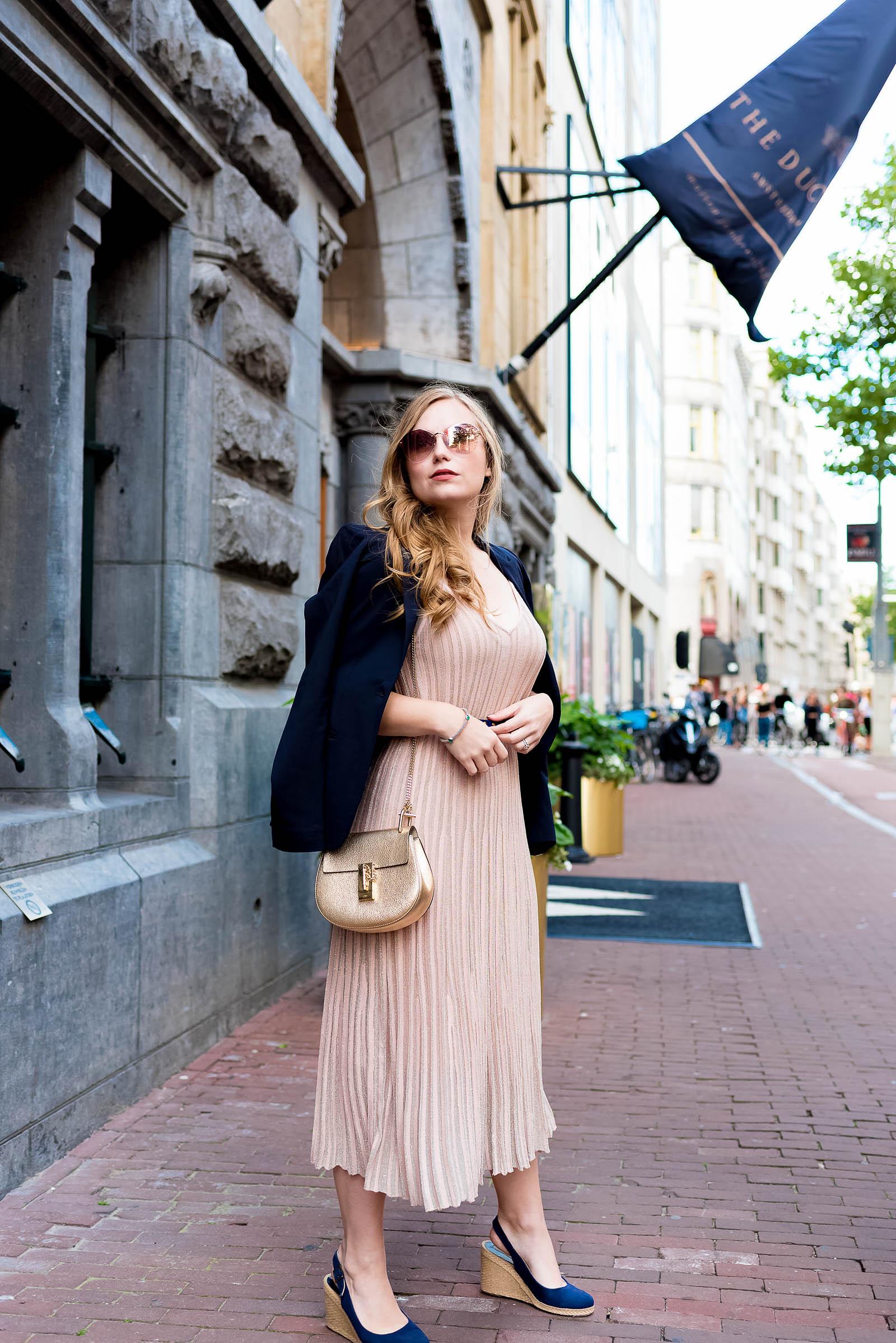 Comfortable yet chic.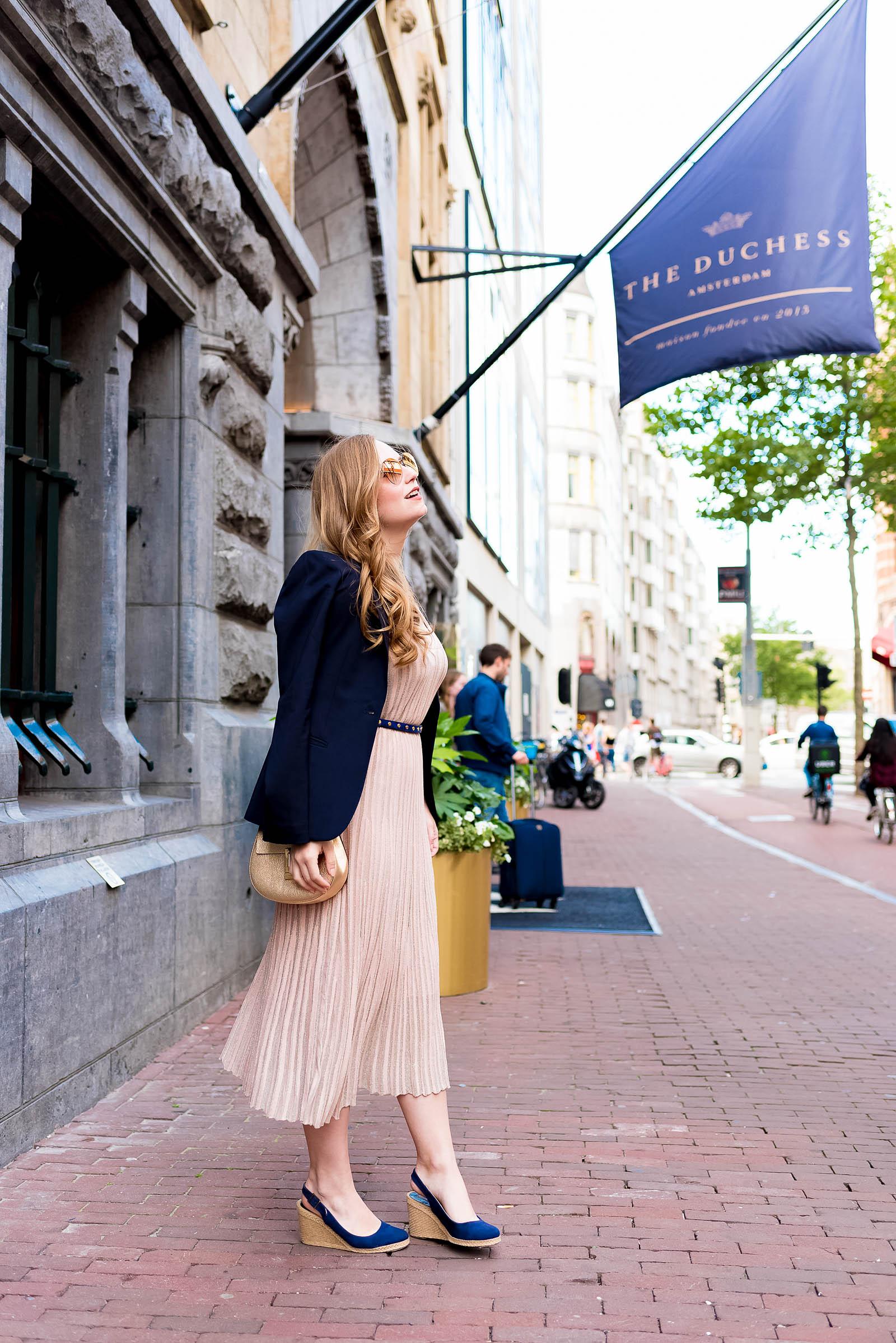 SHOP THE LOOK:
Blazer – Theory || Dress – H&M || Wedges – Pied A Terre (similar) || Bag – Chloe || Sunglasses – Prada || Belt – Ada (similar) || Bracelet – Lagos (a birthday present from my Mom: similar)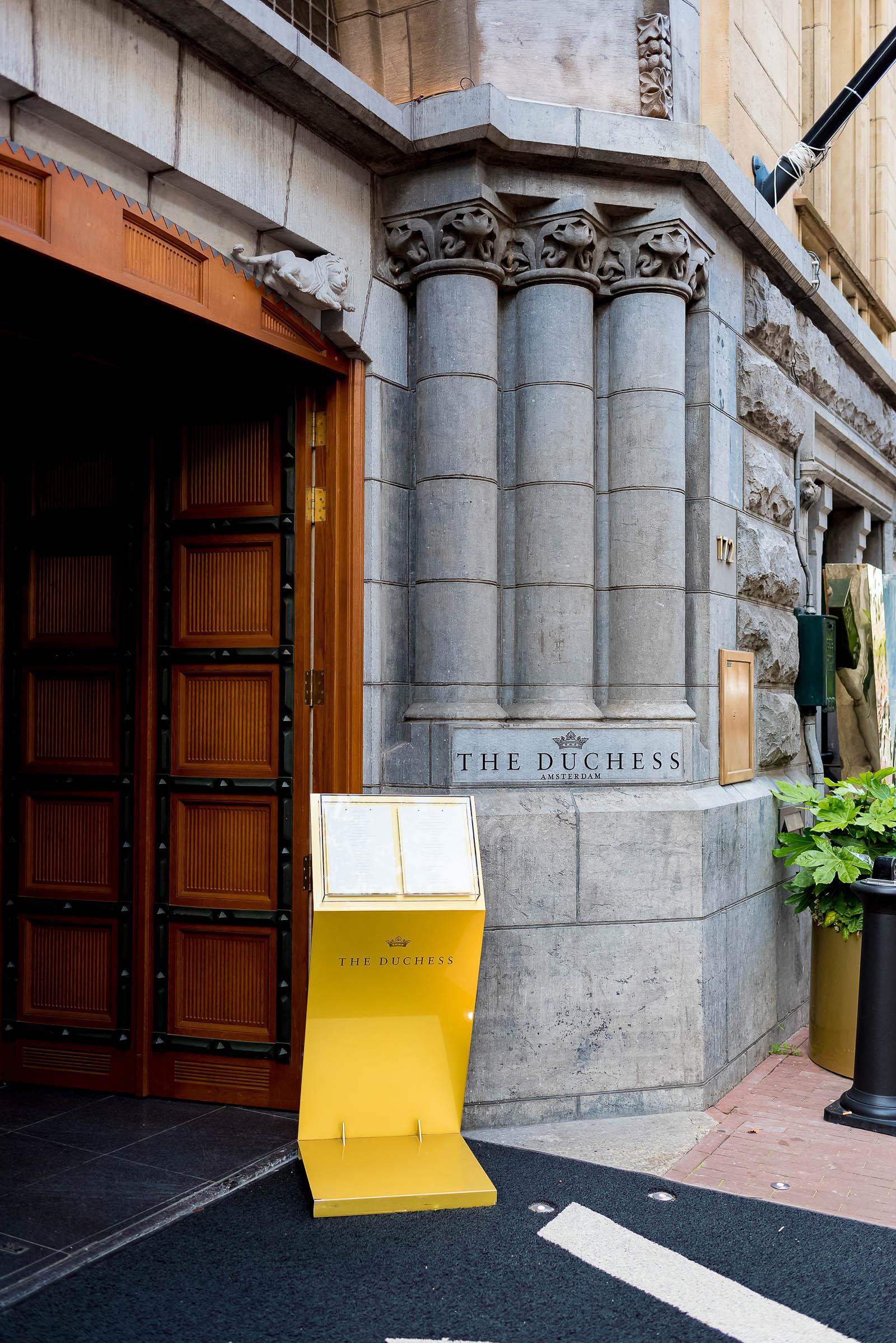 But we're here to talk about The Duchess, right?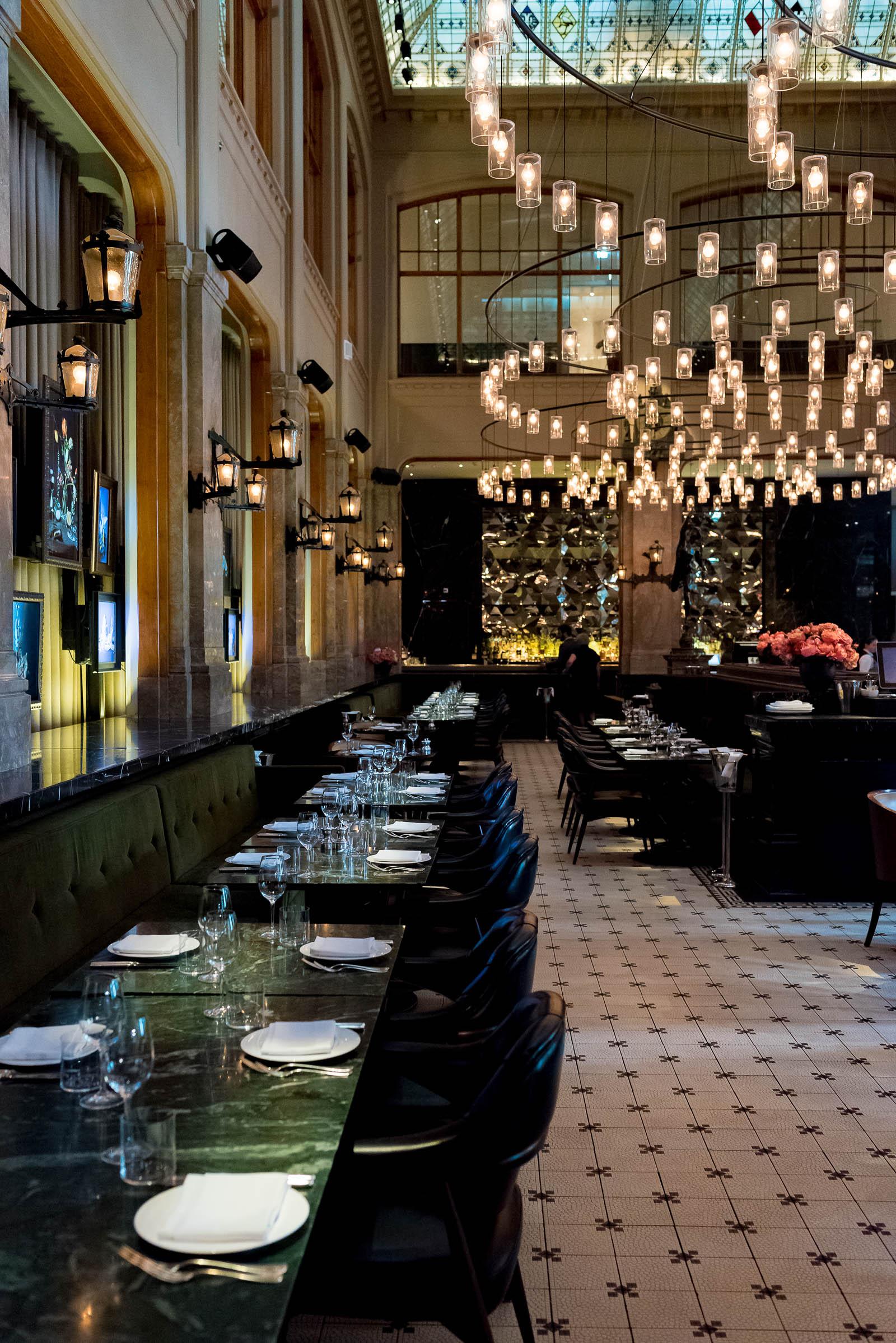 And wow is it a space worth talking about.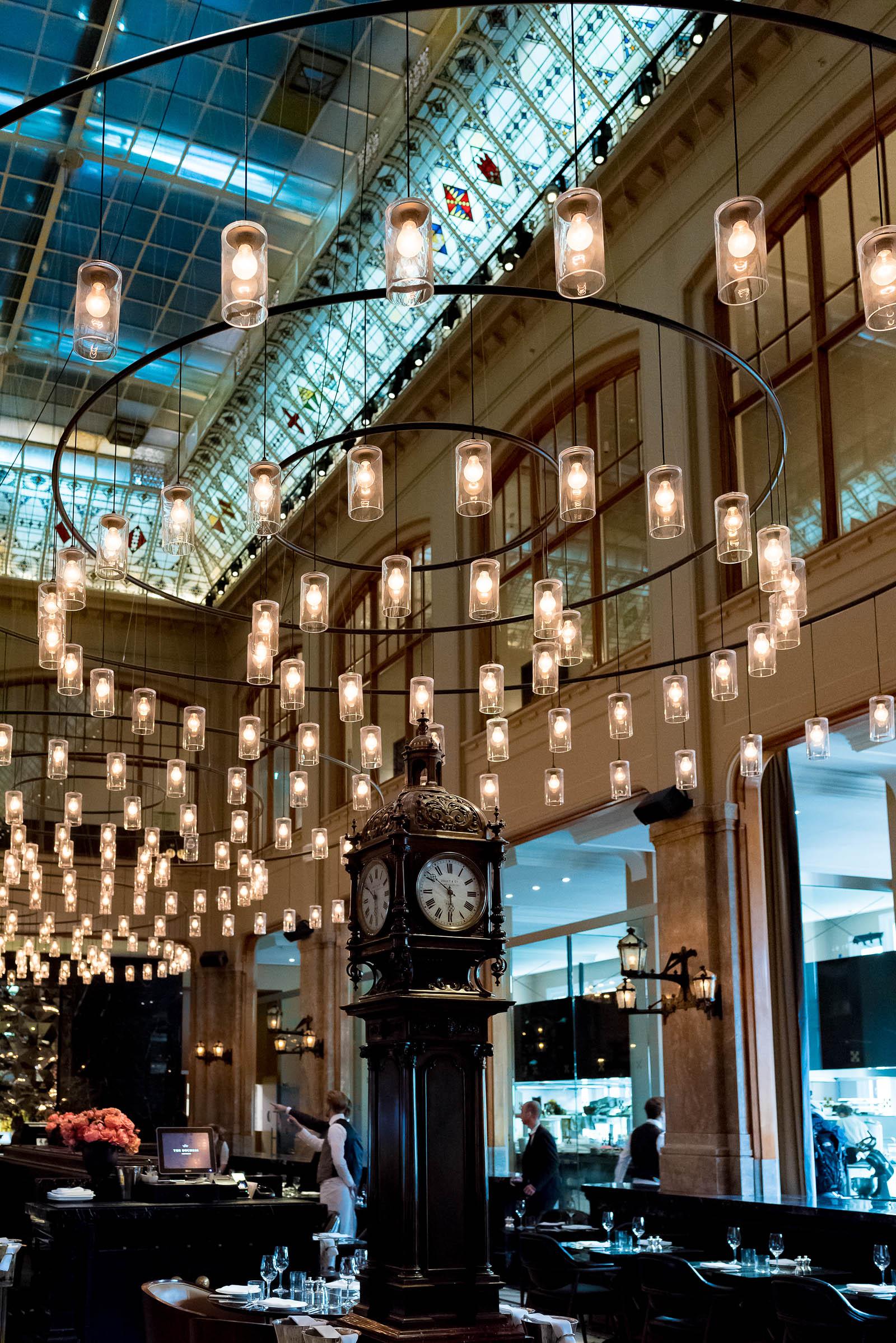 Built in the former KAS Bank building, the entire restaurant is encased in a stain glass ceiling and panels and panels of windows.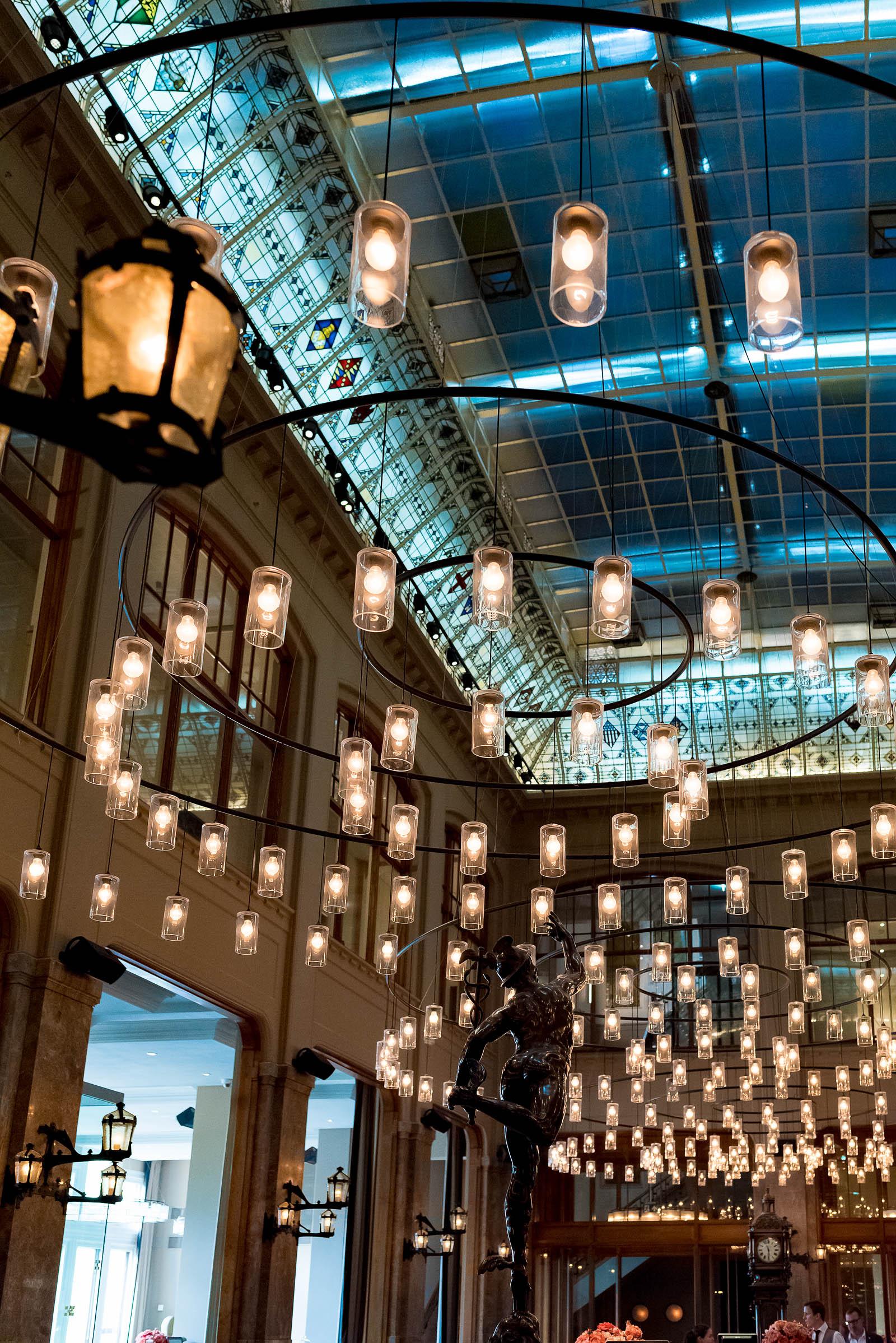 Not to mention the stunning, modern chandeliers hanging above too.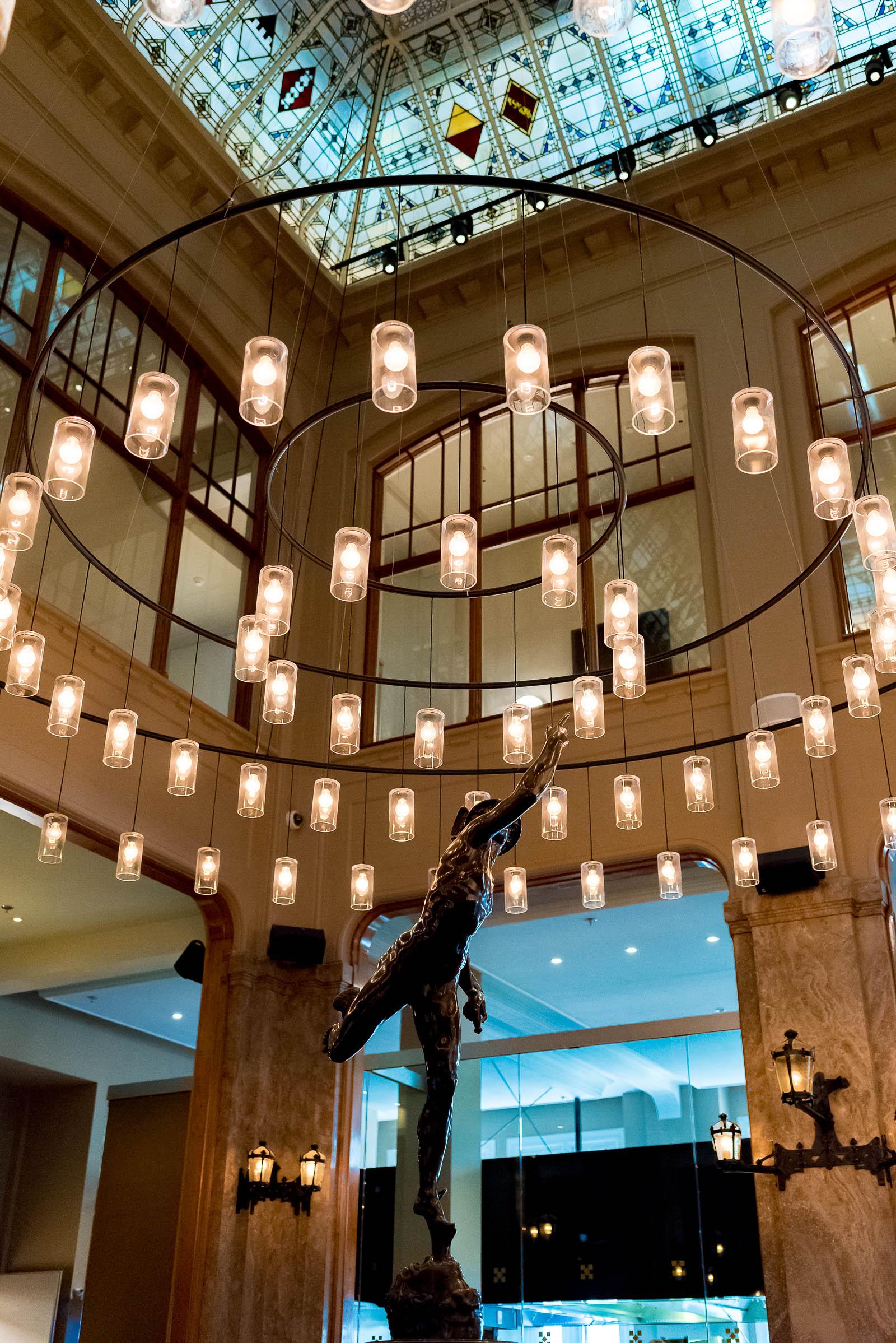 It's truly one of the most romantic dinner settings!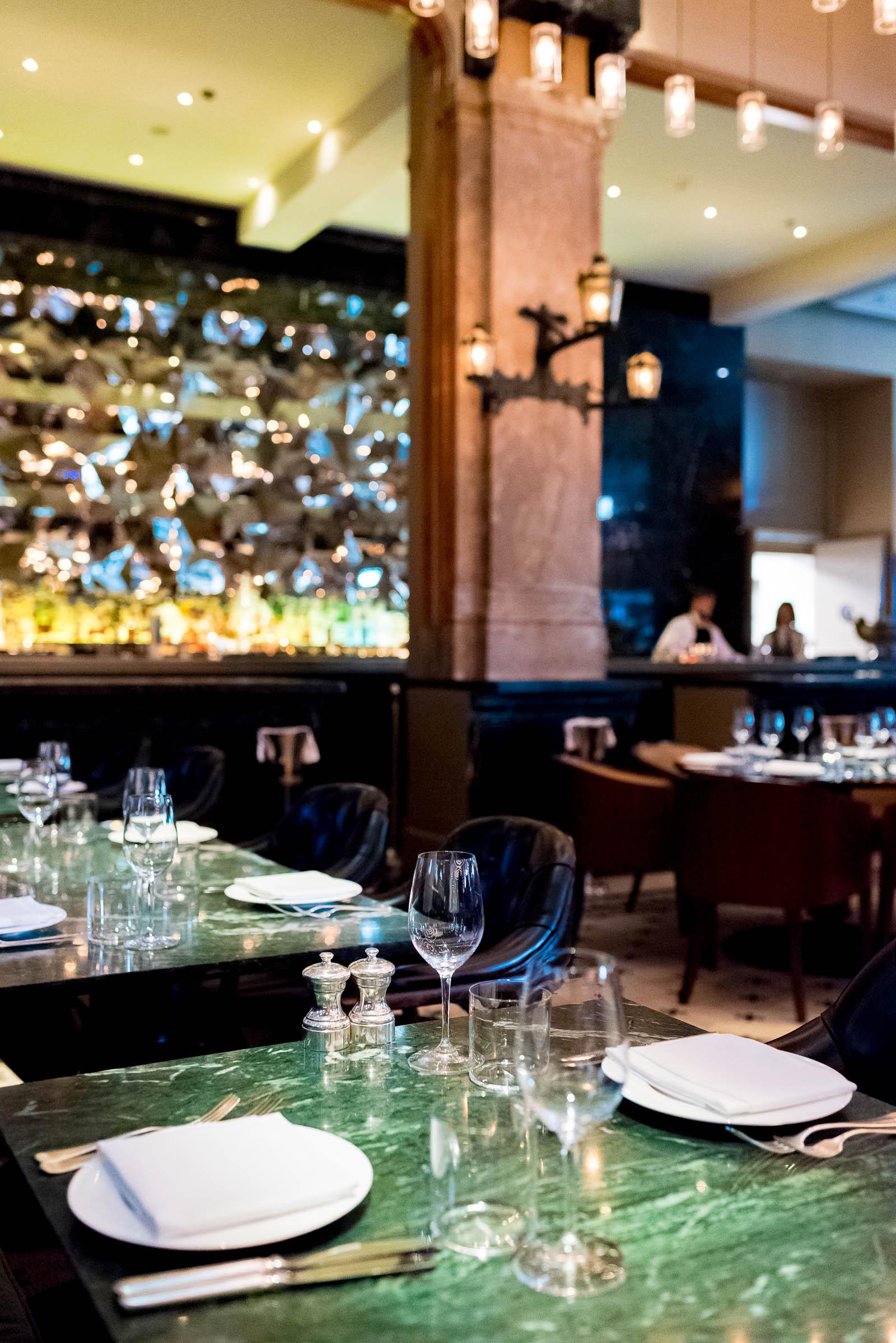 I was positively smitten with the green marble tables,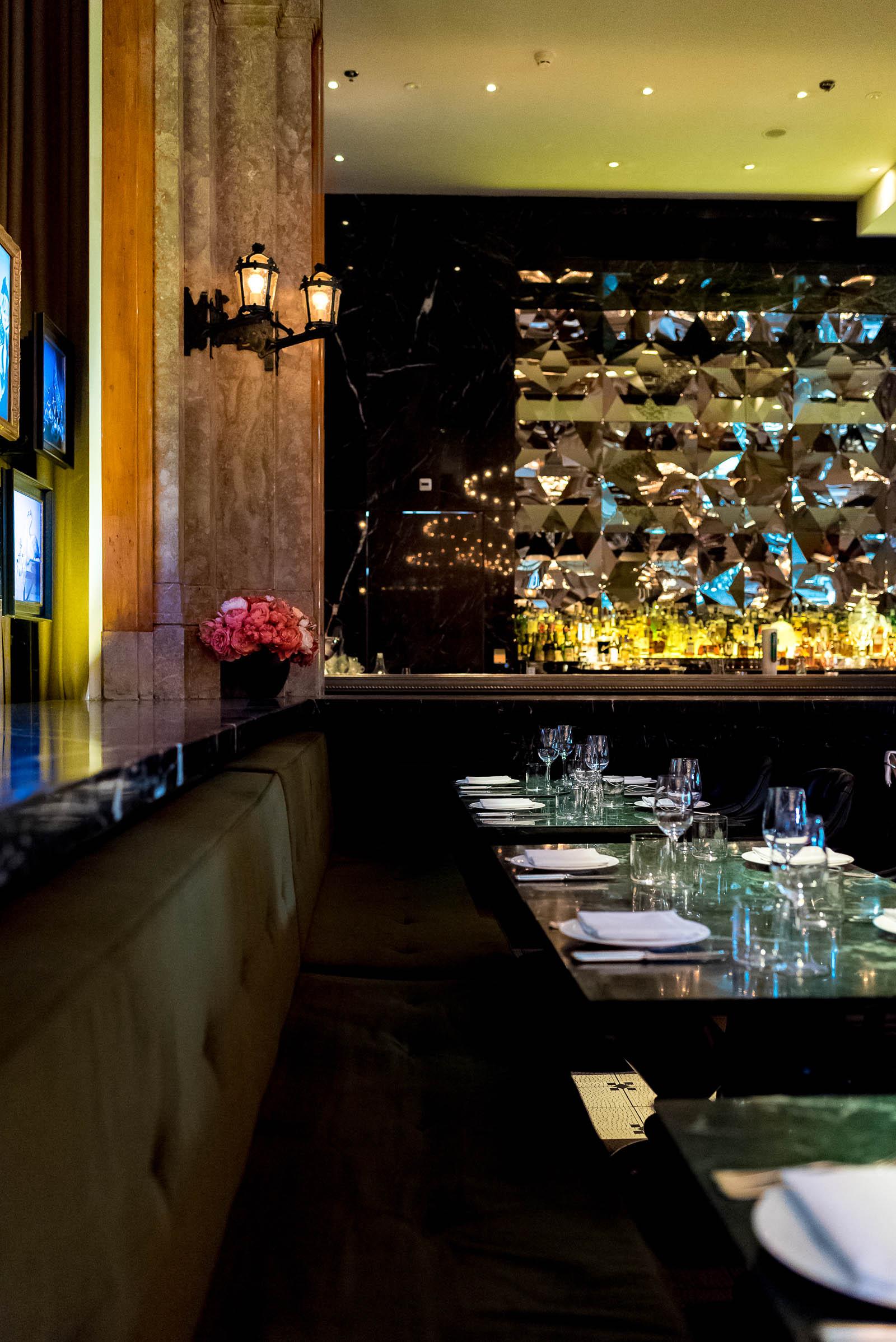 and the rows of green velvet booths,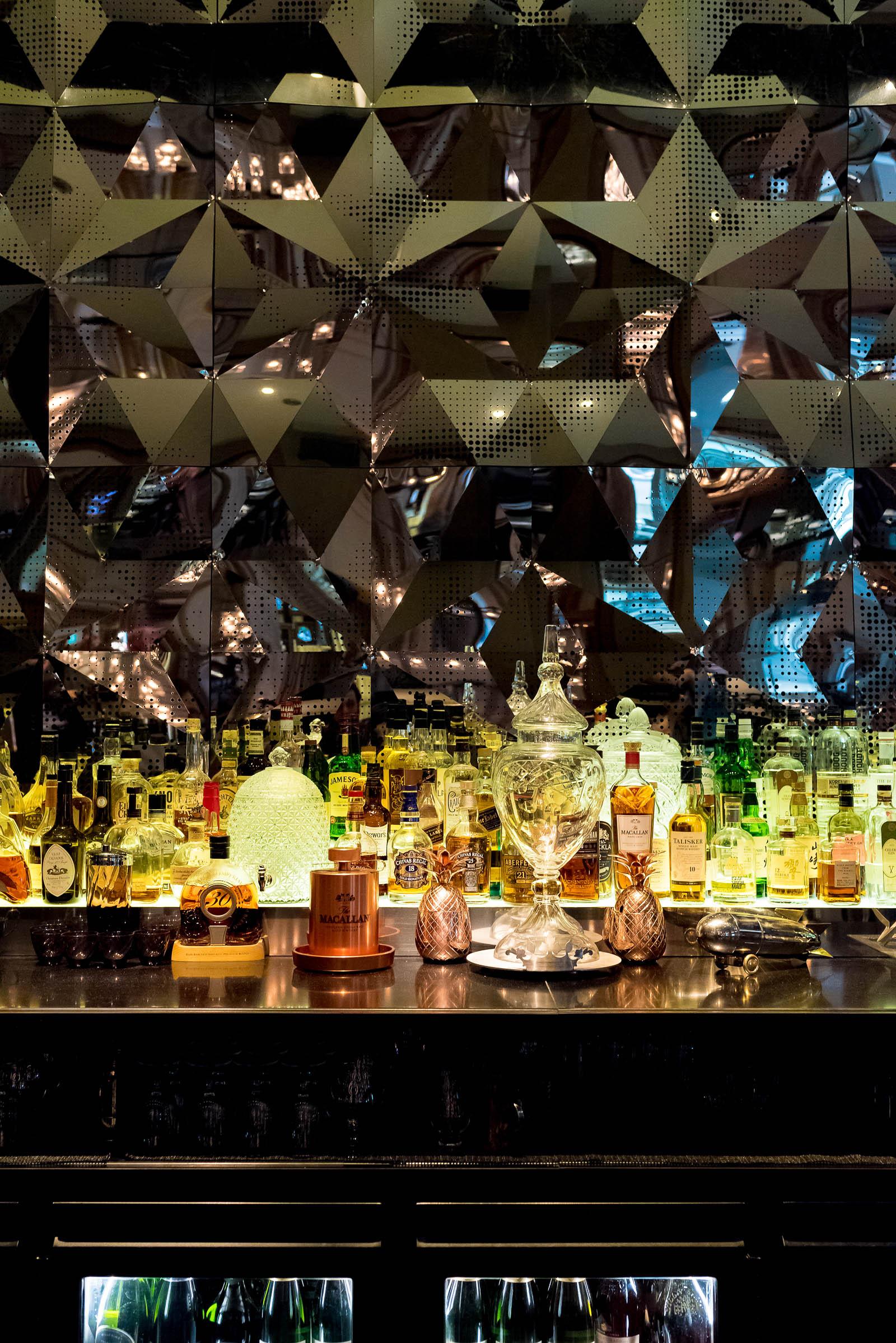 but it's the glistening bar at The Duchess that really steals the show (and not just because they make the best gimlet I've ever had the pleasure of trying!).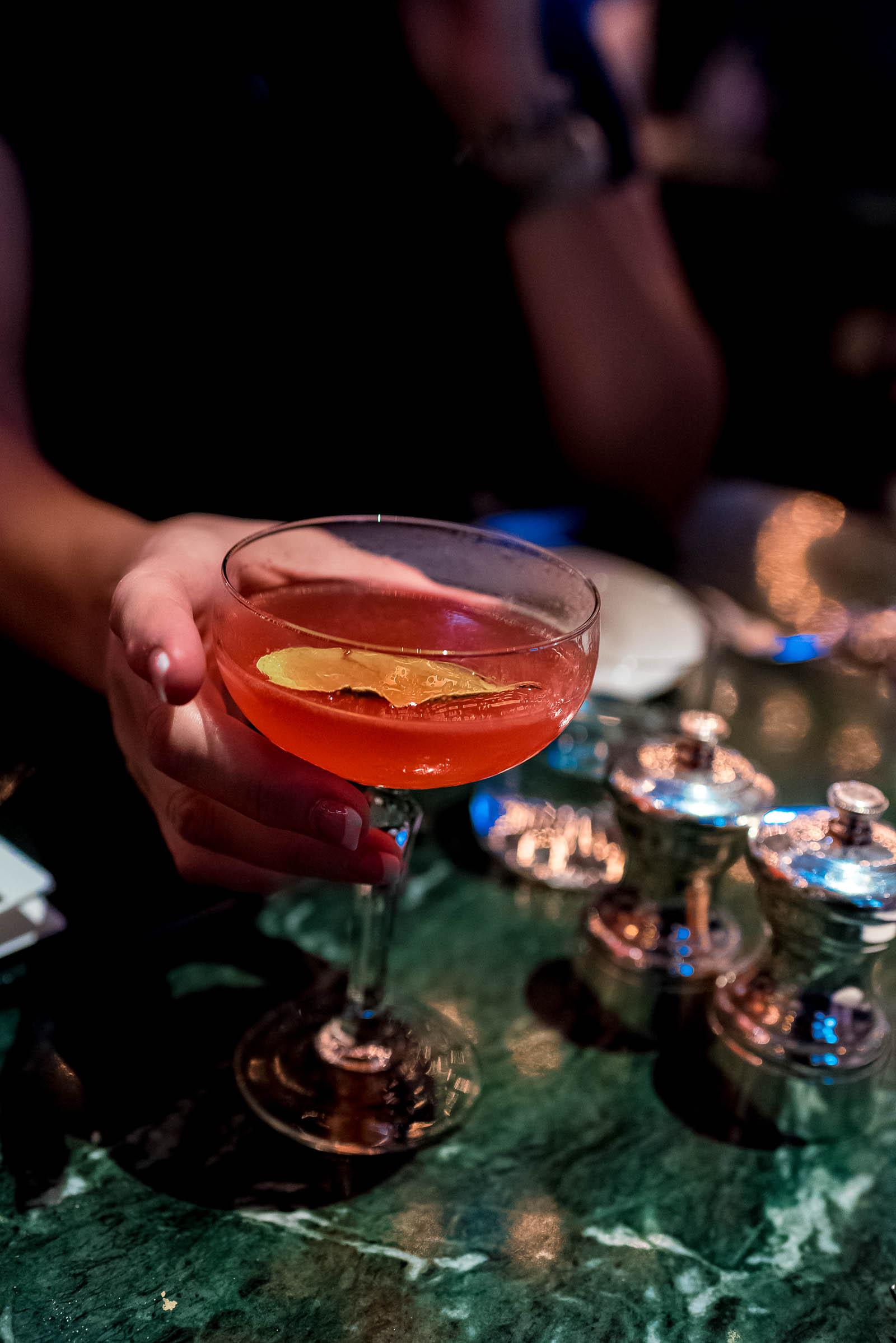 First you must start with a round of cocktails… with a bar that beautiful, it would be sacrilegious to not sample from it.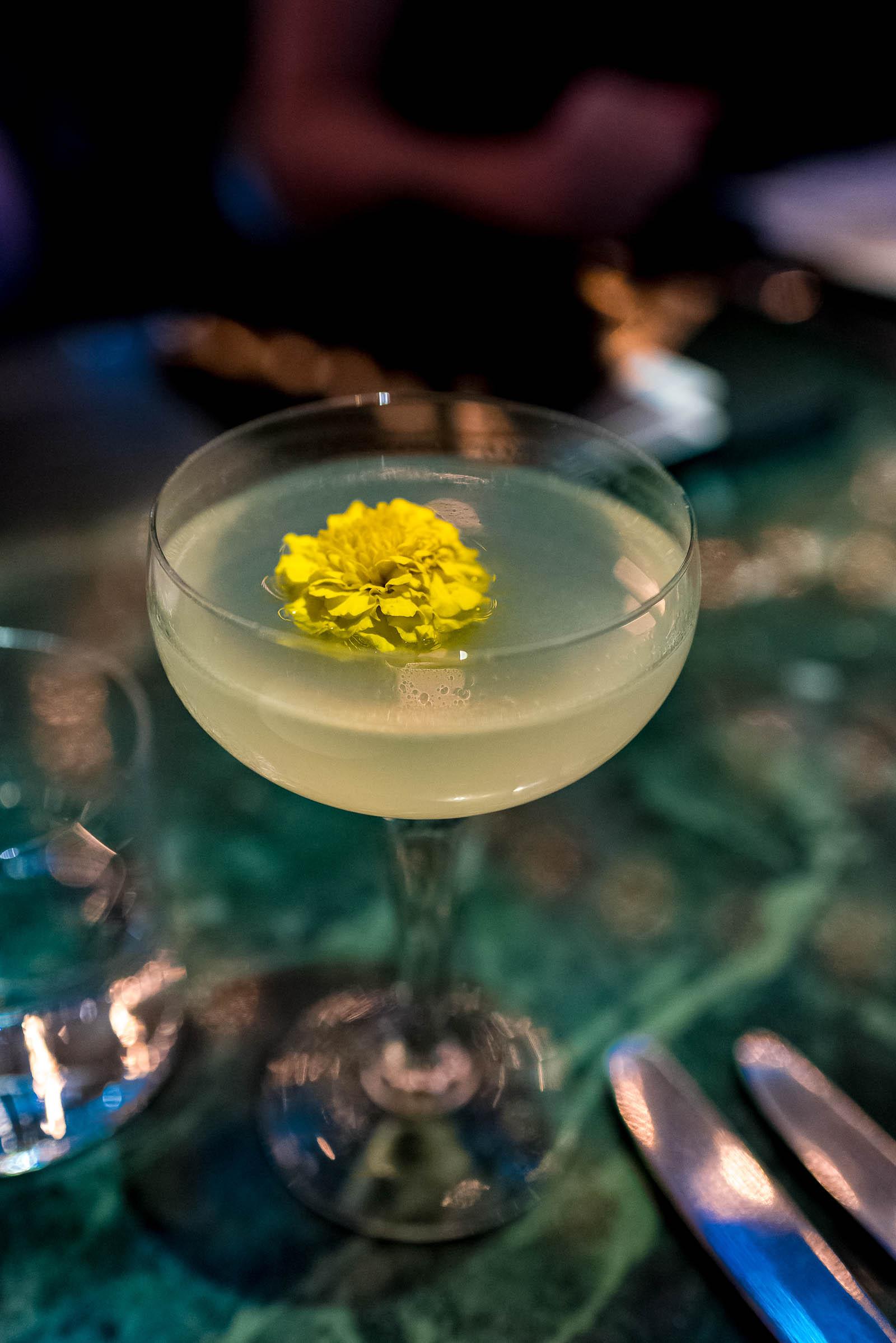 Over our two dinners at The Duchess we tried quite a few of their rotating, seasonal cocktails.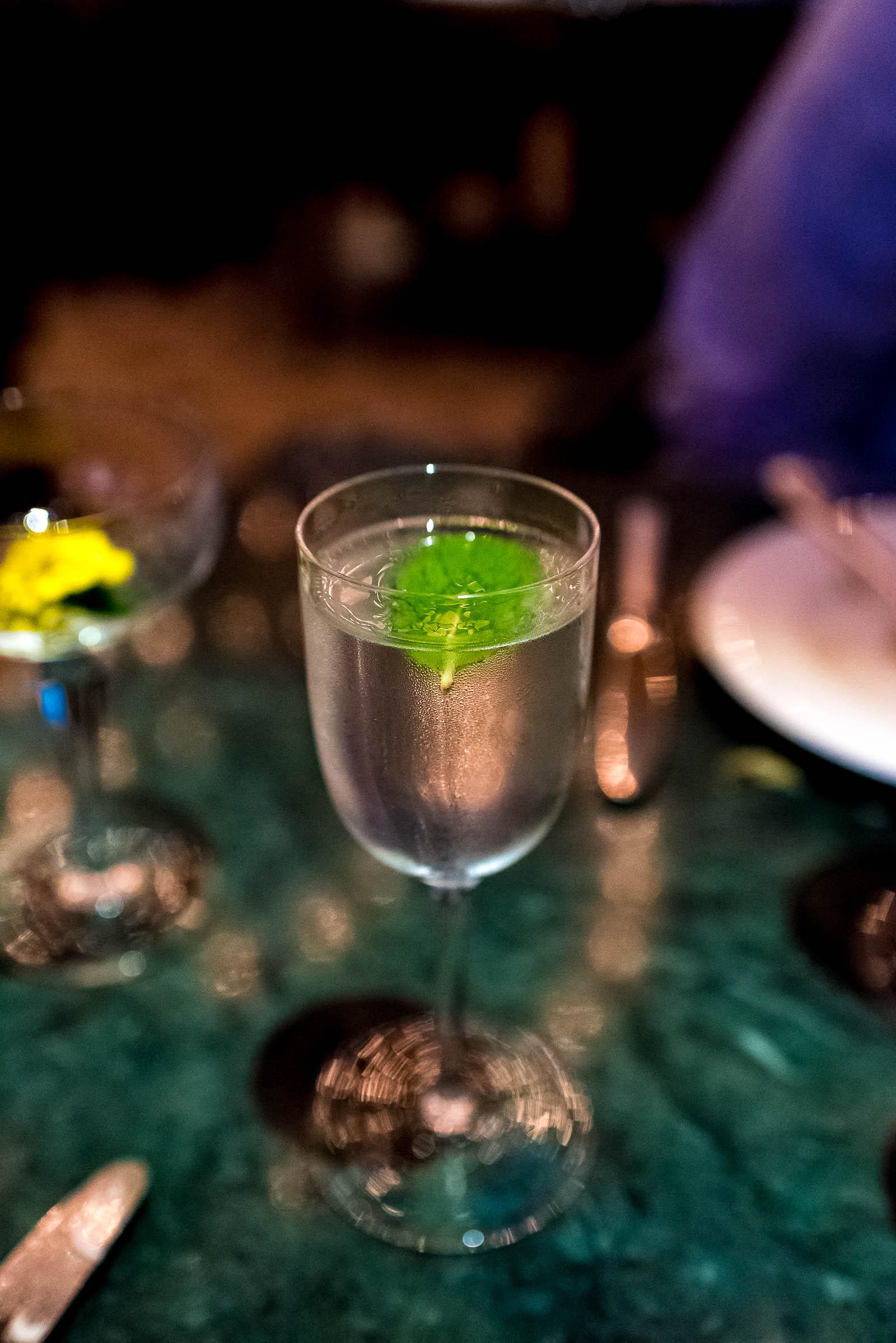 But the one that stood out for me and shone above all the rest was hands-down their gimlet. Just a simple mixture of limes, gin, and soda all topped with a kefir lime leaf that beautifully balanced the juniper notes.
Once I discovered this cocktail, I was hooked. It's one of those cocktails that so magnificent in its simplicity that you can't help but fall in love.
At least if you're a gin-lover like me!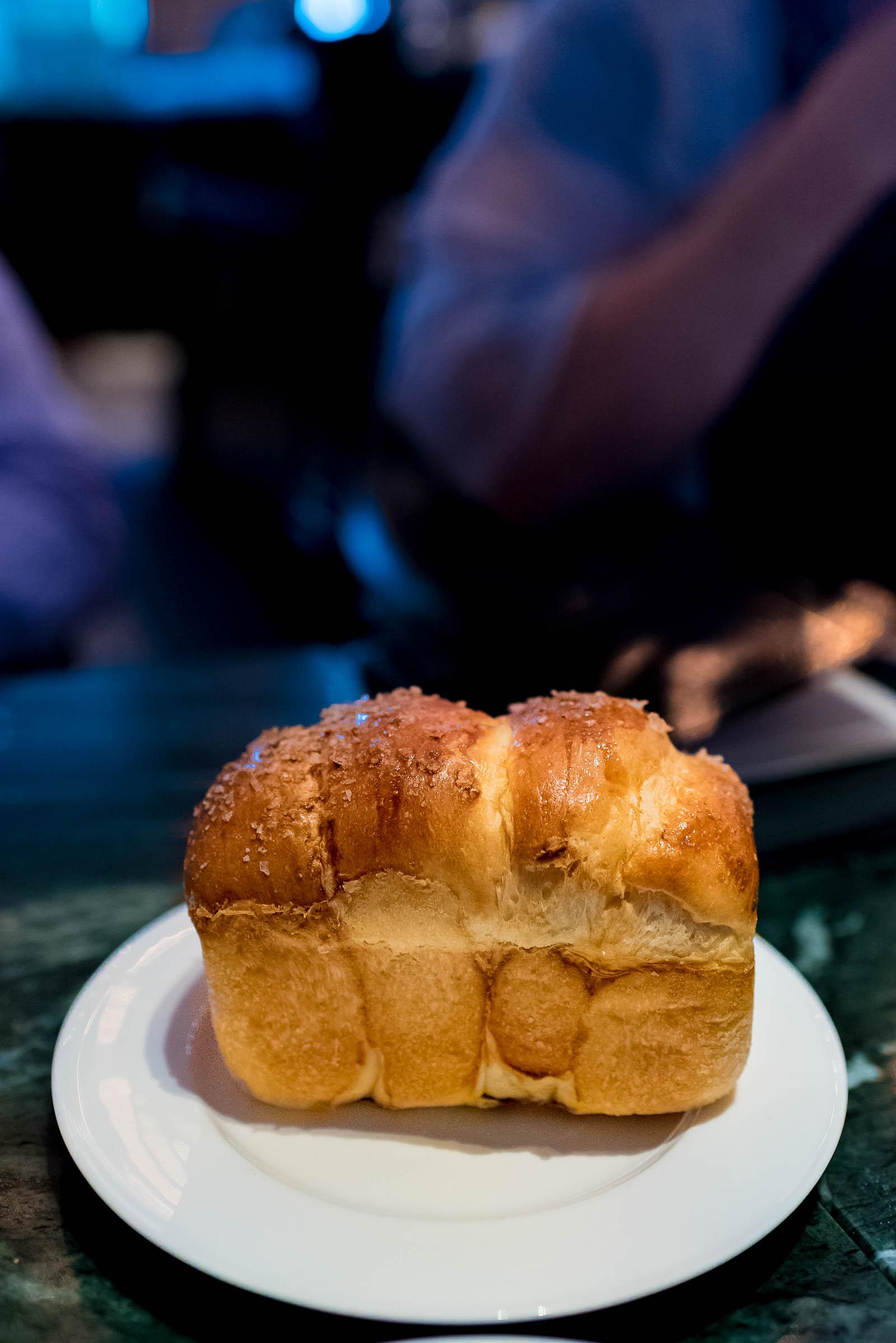 Now all meals at The Duchess begin with some freshly baked bread…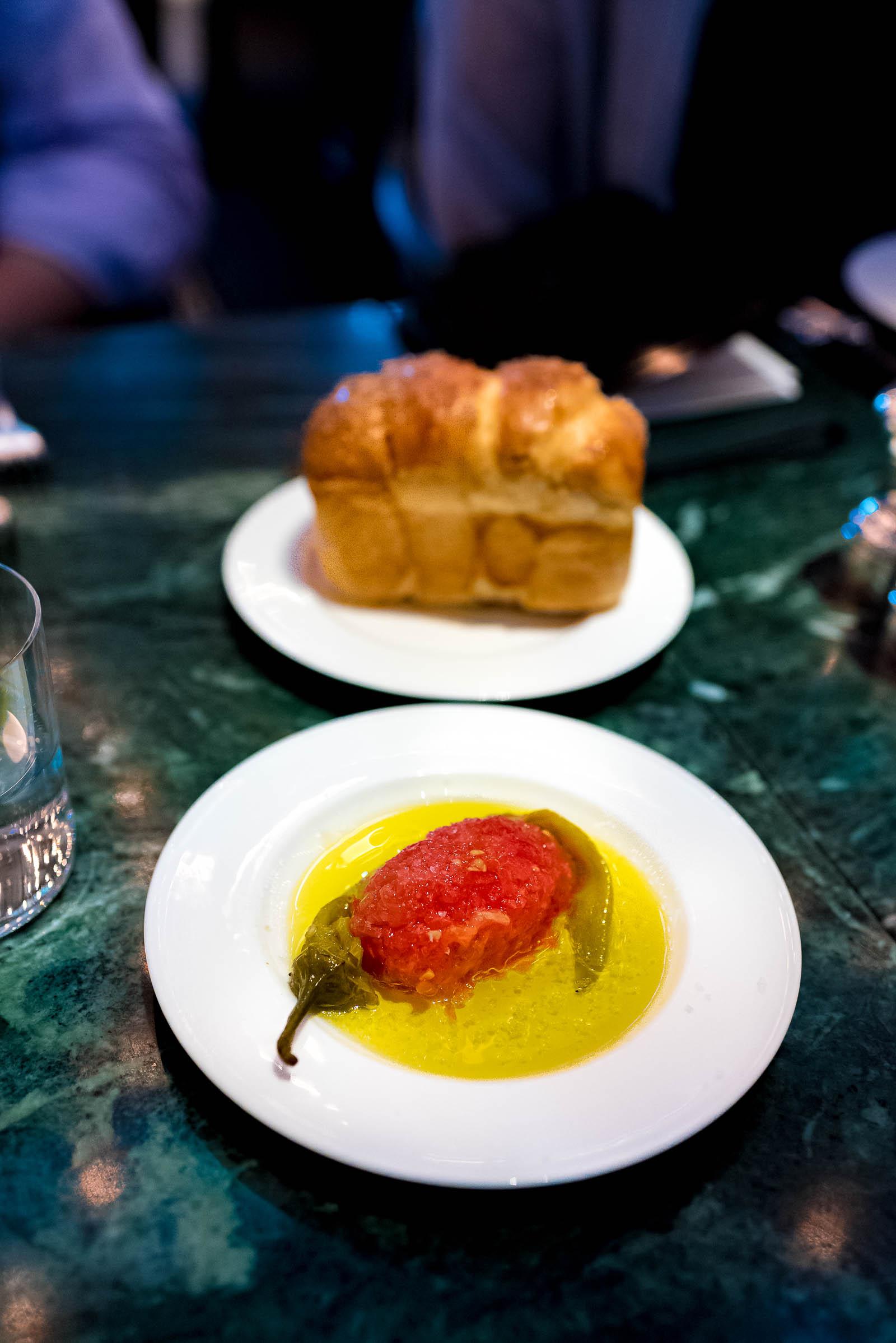 which is served with a tomato confit and oil dipping sauce finished with sea salt… and, quite possibly, crack. I don't know how else to explain just how delicious this simple bread and oil combination is… it's just crack.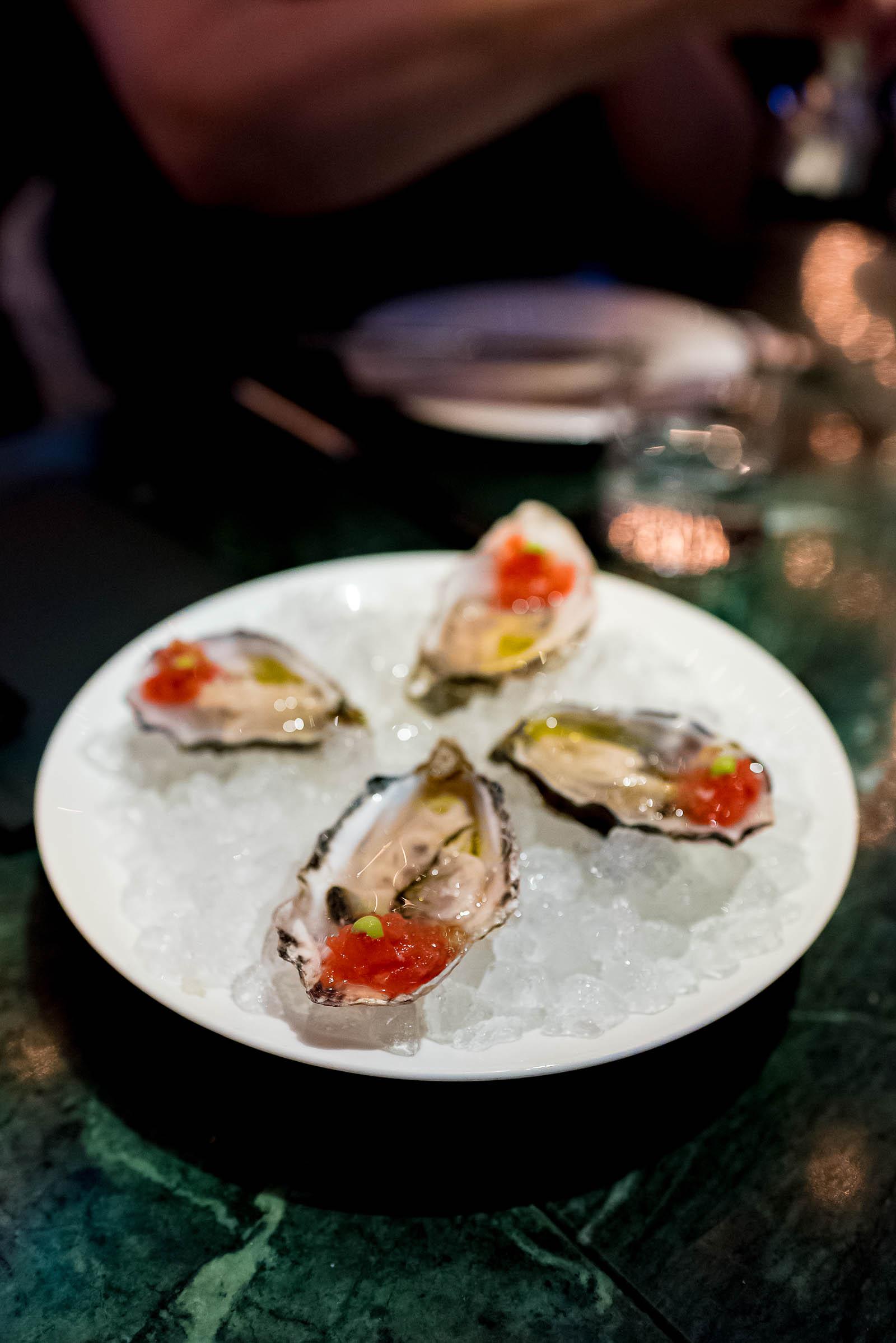 Without a doubt one of the most delicious dishes we tried were the fresh oysters. I love to order oysters like crazy when I'm in Amsterdam — they're so fresh and delicious!
The Duchess changes their preparations month-to-month but we were lucky enough to get to try their "bloody mary" oysters which were topped with a zingy tomato compote with a tiny hint of heat.
They were… in a word… perfection.
I love bloody marys and I love oysters. And I never realized until this dish how often I enjoy the two together. But morph them into a single bite? Holy foodie heaven… this dish has me convinced that bloody mary-inspired oysters should be the newest food trend in Chicago.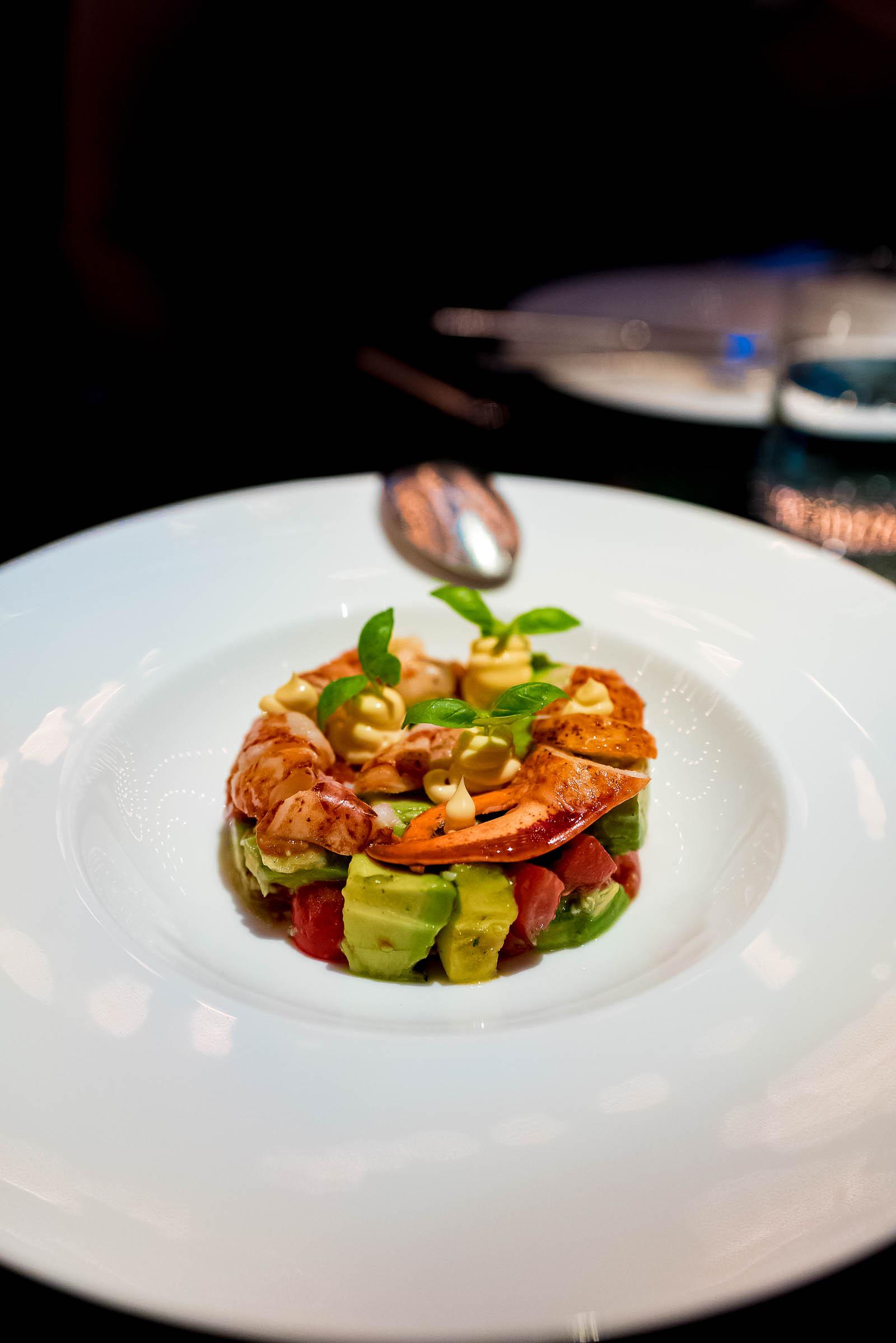 On both our visits we ordered this lobster and crab salad. Everything was so fresh (and the avocado so creamy!) that we couldn't stop ourselves from ordering it a second time.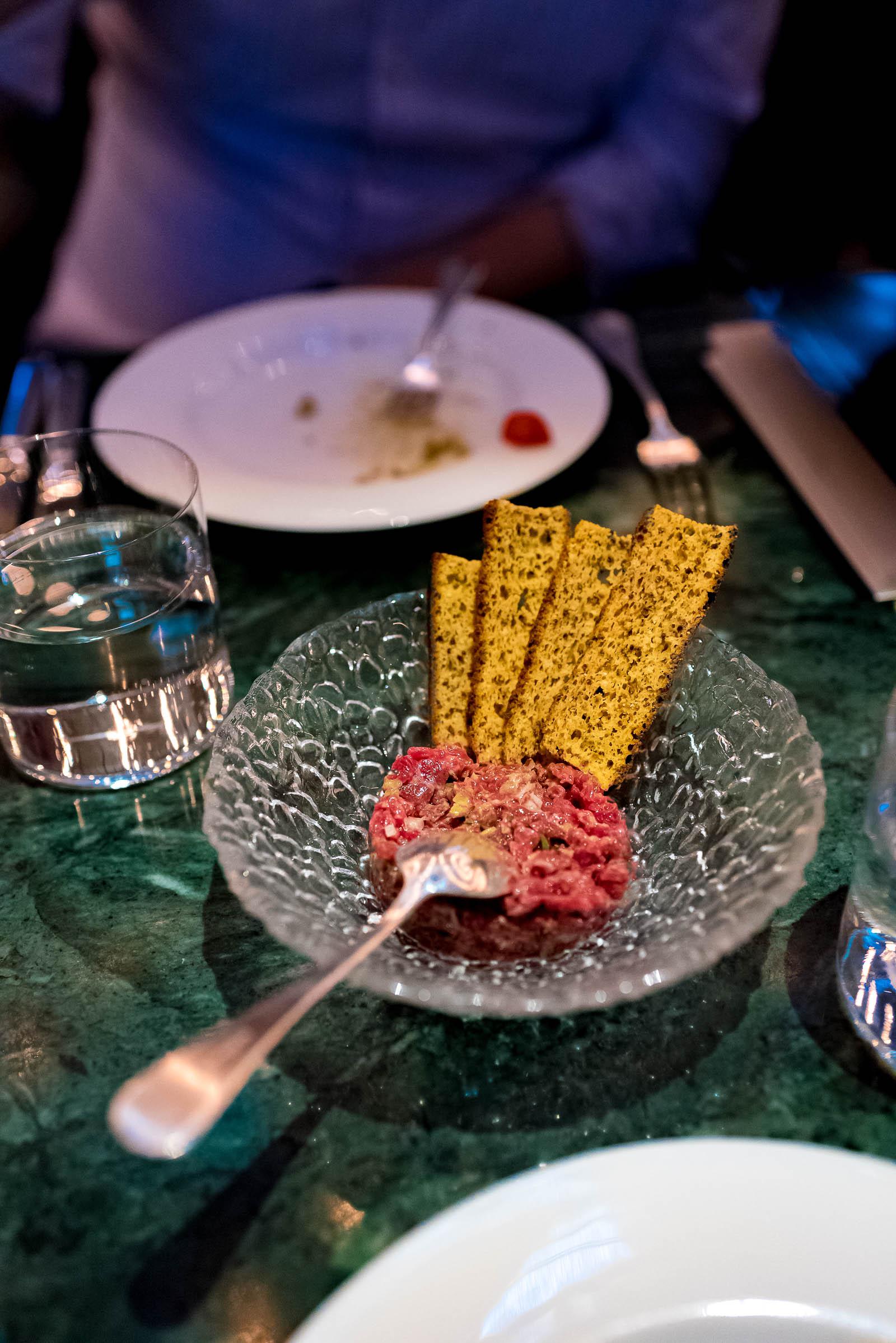 Then there was this silky beef tartare (Hubby's favorite!),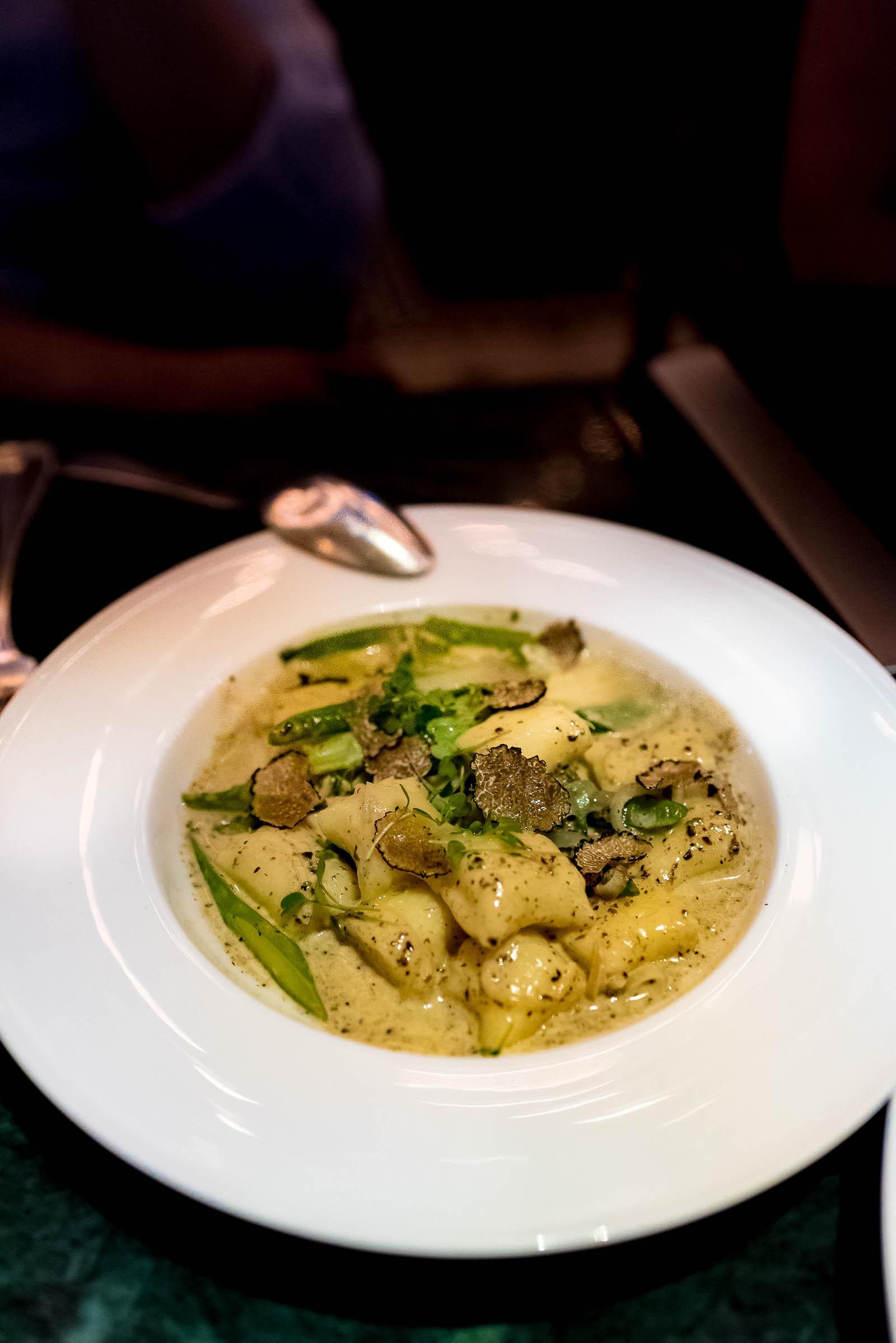 and this pillowy pile of truffled gnocchi which has us ALL fighting over the plate.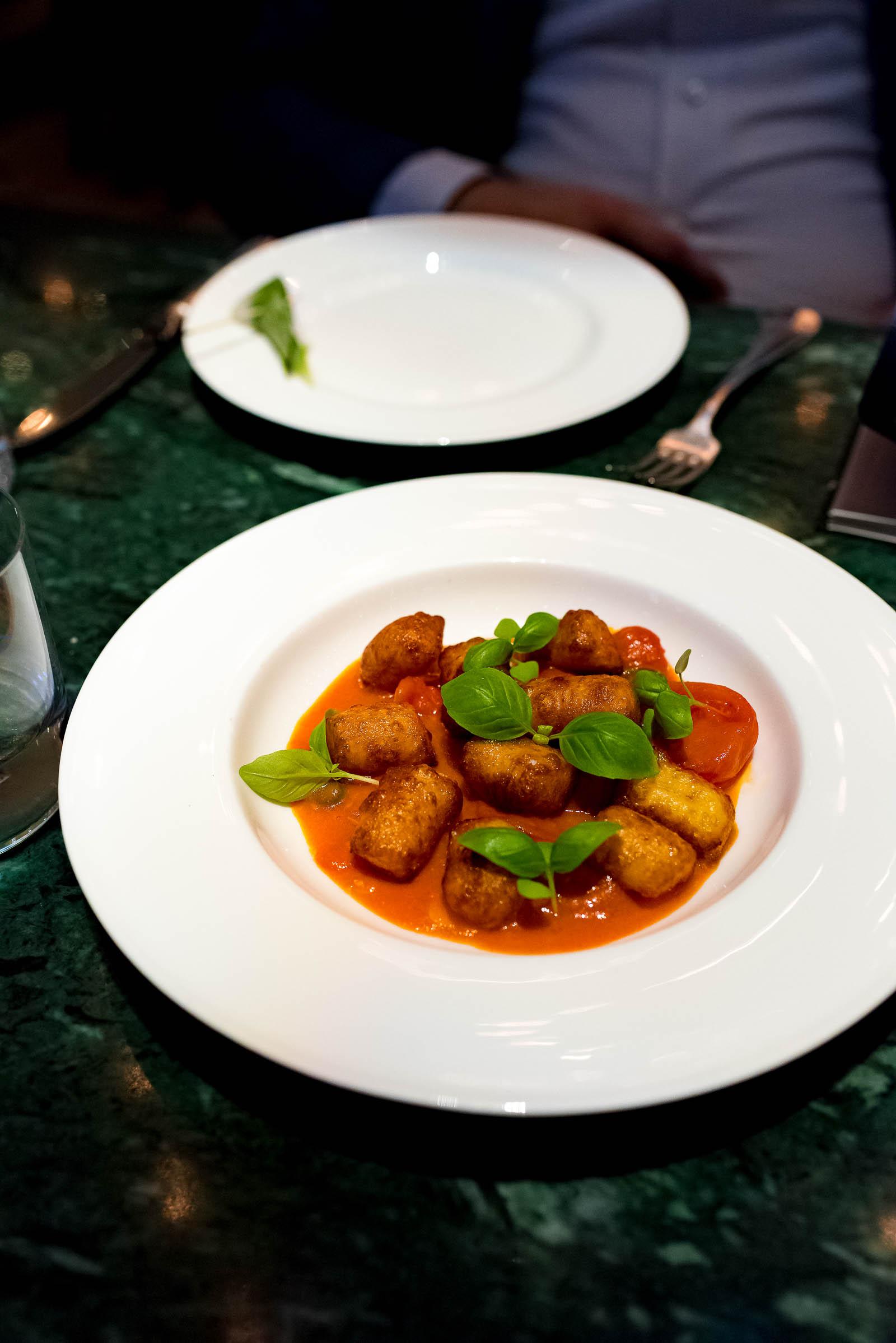 We also tried their fried gnocchi pomodoro which was really interesting with the crunchy texture.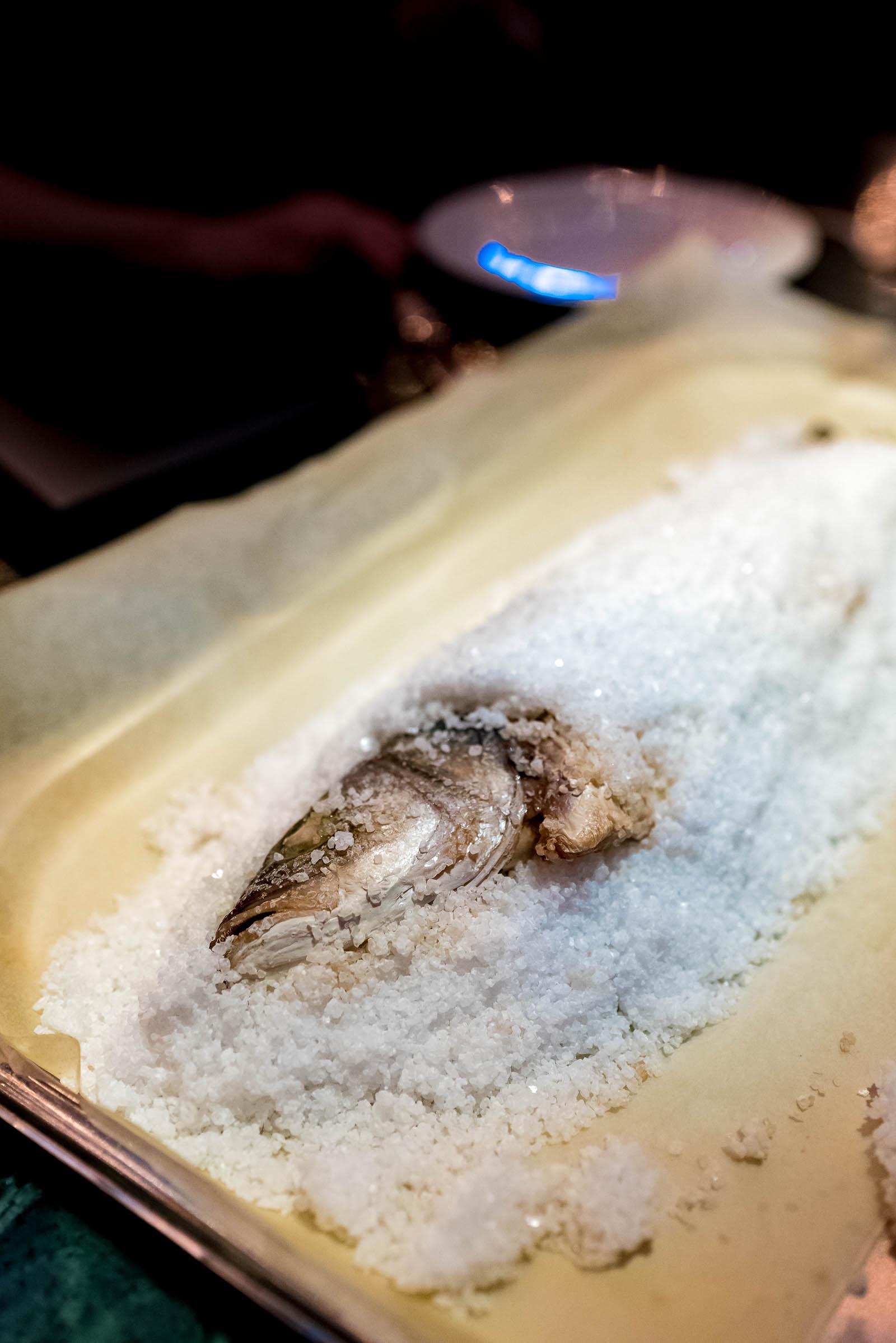 My sister and I fell head-over-heels for the salt-baked sea bass.
Which they present to the table in its salt crust before it hits the oven…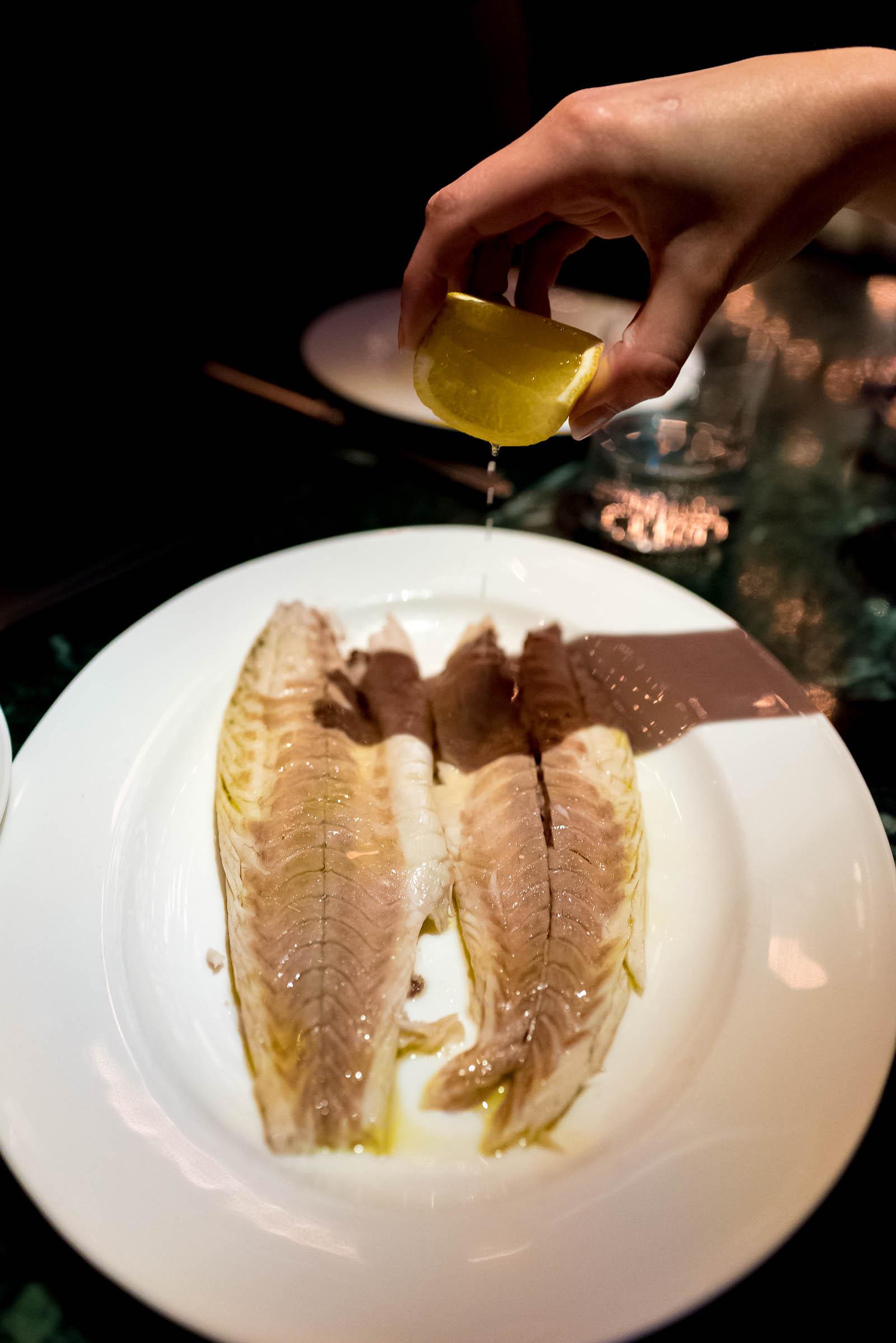 Then fileted and presented again as your dinner twenty minutes later.
With a generous squeeze of lemon on top, this dish just SINGS. It's easily one of the best sea bass dishes I've ever had. The salt crust traps so much moisture and flavor in the fish!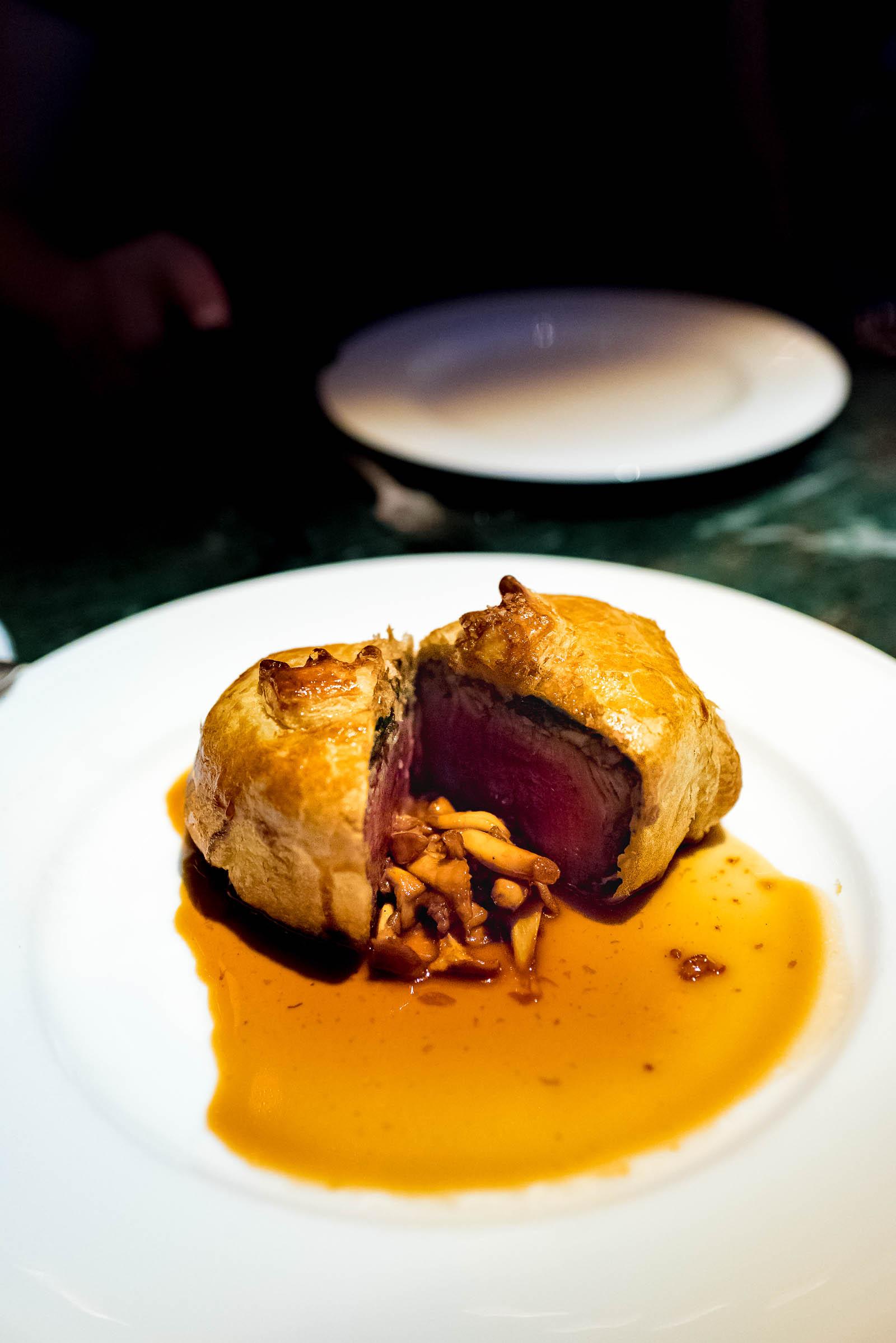 My Mom also fell for the Beef Wellington which is prepared with a beautiful puff pastry crust and served with mushrooms.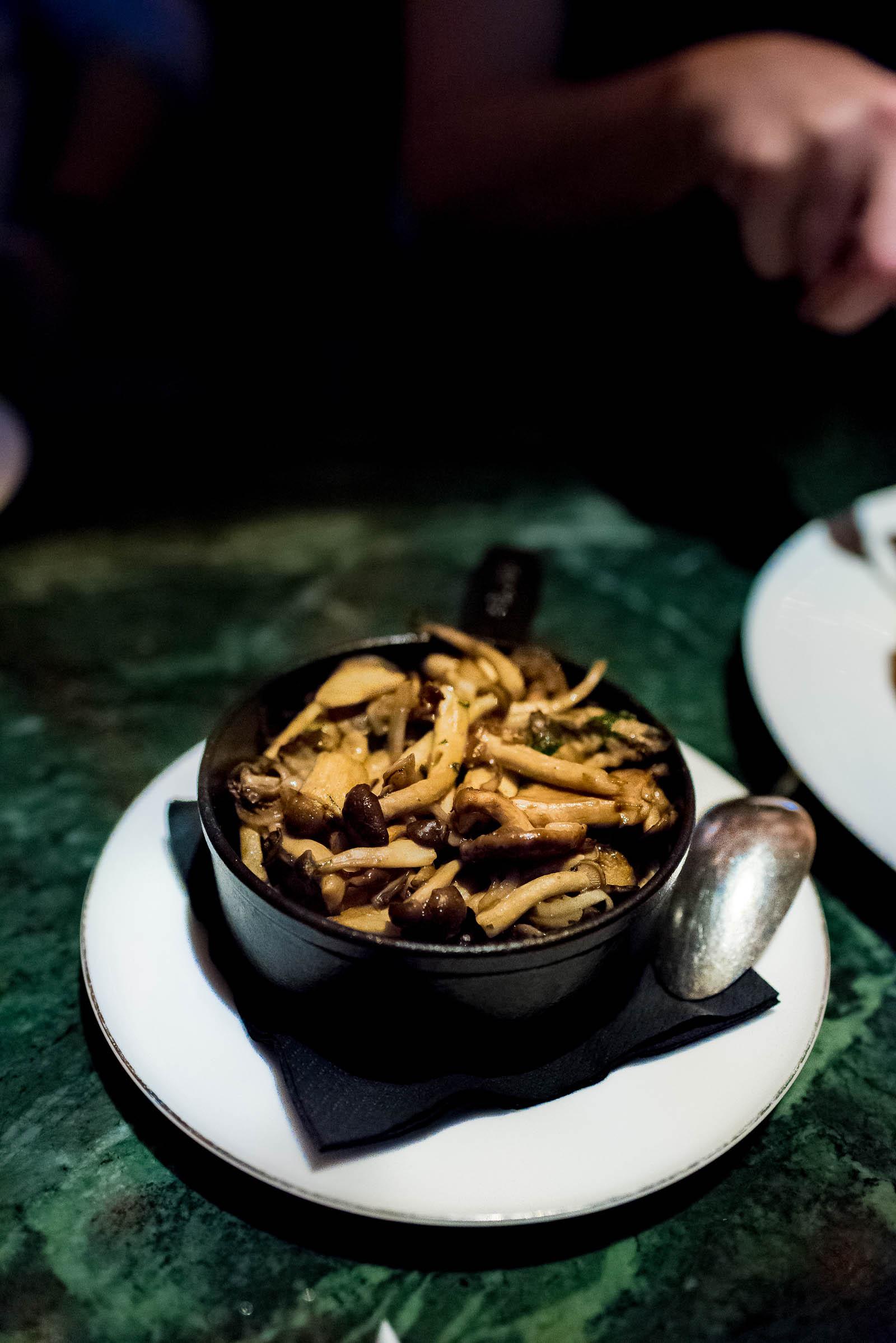 Which we naturally ordered an extra side dish of — my family can never have enough mushrooms!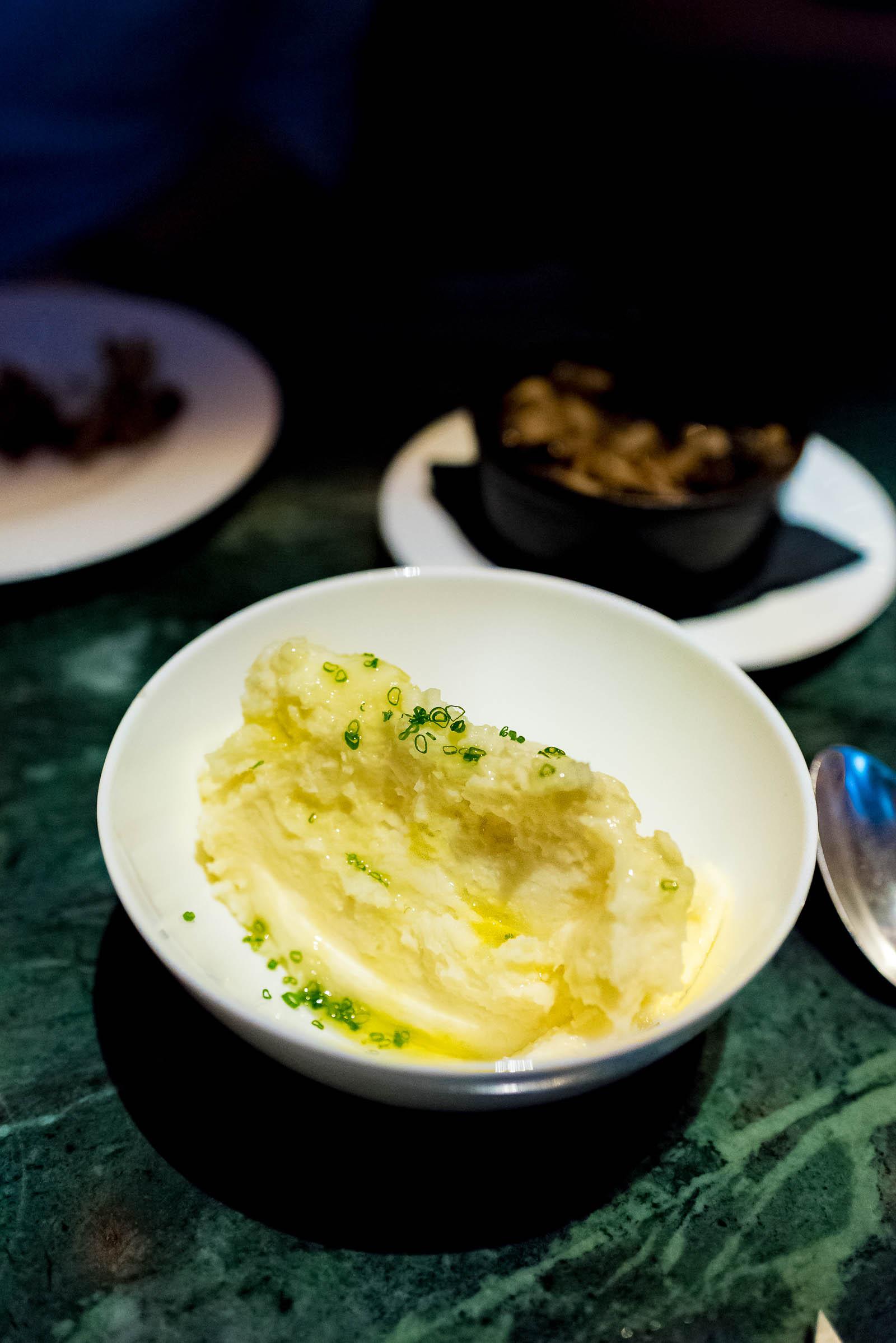 We also enjoyed the whipped potatoes,

and roasted broccoli.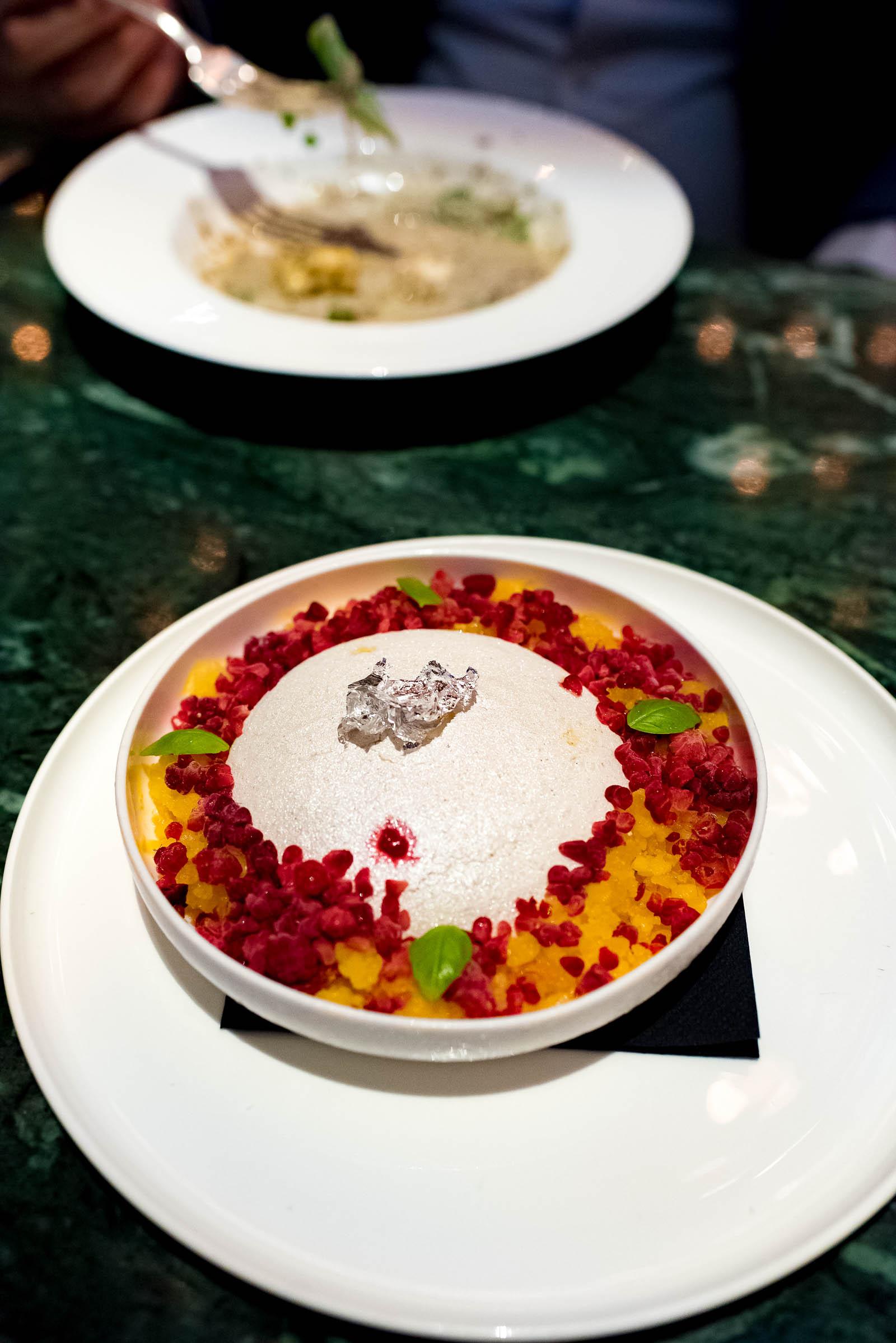 But it's the desserts at The Duchess that really make it's dinner so special.
My favorite ended up being the dish I expected to like the least: the pavlova! This vanilla & cream meringue is served with passionfruit snow and raspberry pearls that burst in your mouth as you eat.
It's a stunning dance of textures, sharp flavors, and airy, creamy meringue.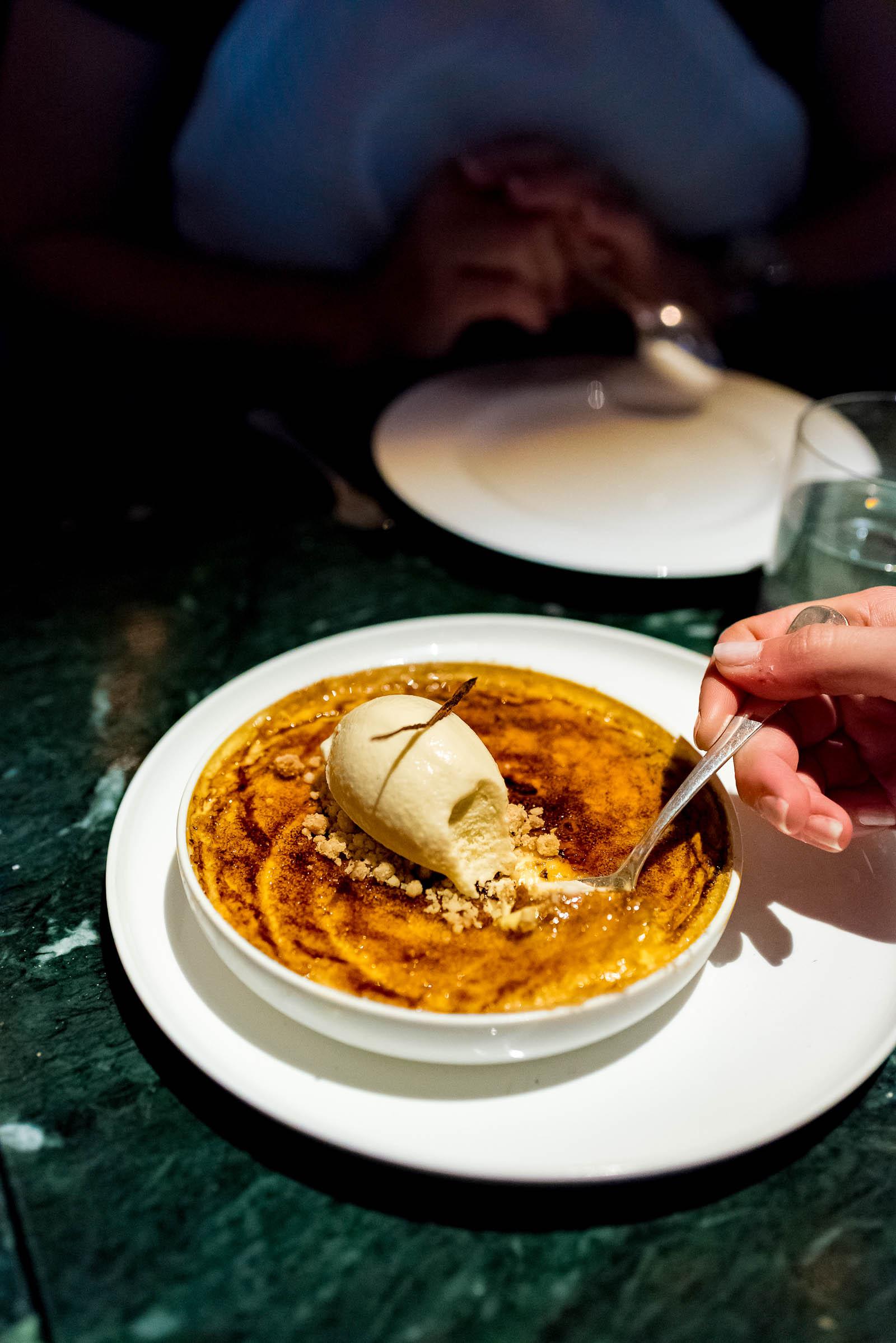 My Mom and sister both swooned heavily for this crème brûlée which we all agreed was the best we'd EVER had.
Hands down.
When it comes to good crème brûlée (which only has four ingredients), your ingredients need to be fresh. This one stole the show with its insanely creamy finish and vanilla bean flecks!
And the ice cream on top is…mmmmmmmmmmm, delectable.
But THIS is the dessert The Duchess is the most famous for…
THIS is their Chocolate Explosion…
A huge frozen chocolate shell containing candies, macarons, and caramels that is literally SMASHED onto your dinner table like a piñata!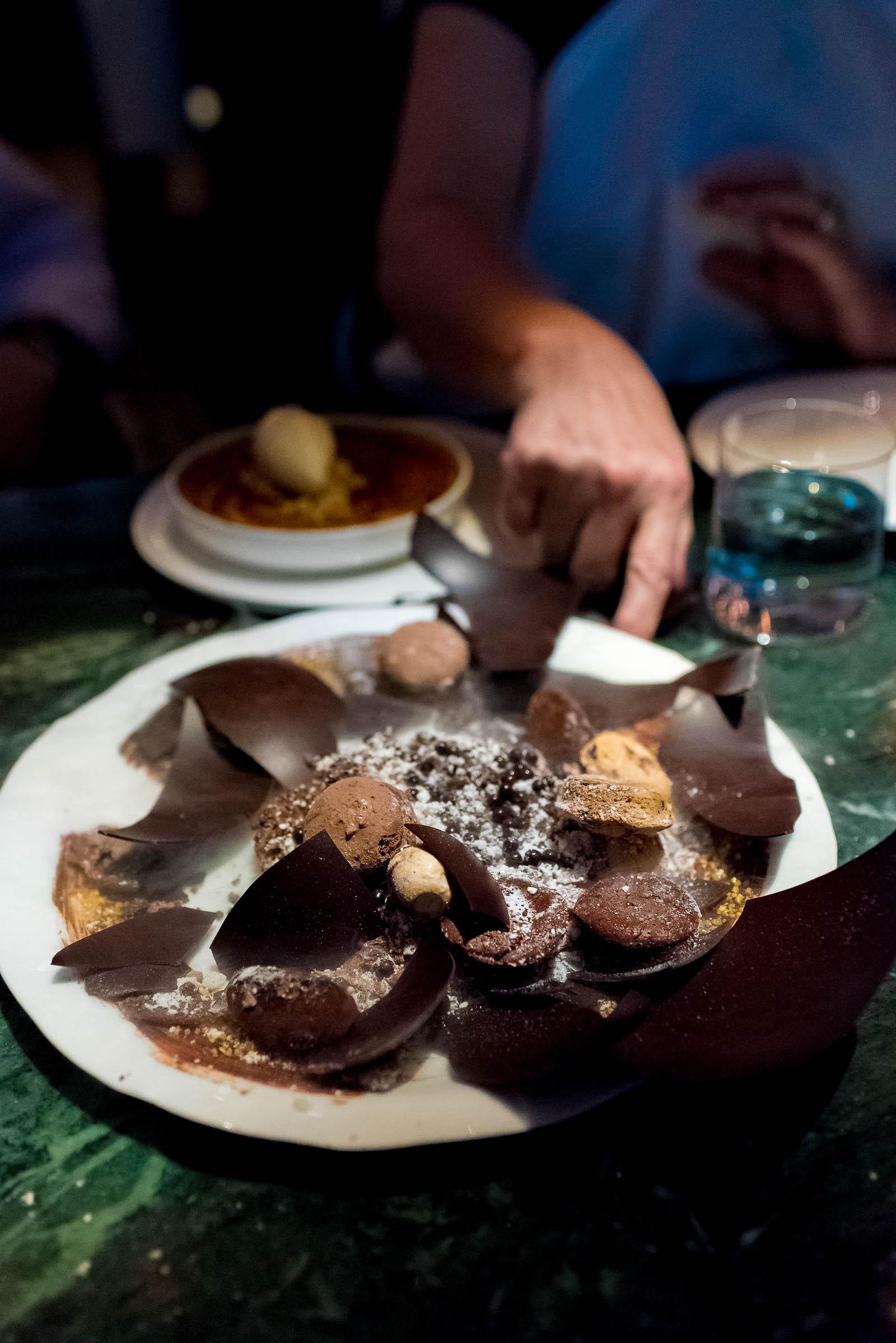 Revealing its delicious, delicious center…
I know of few restaurants that have wowed me more on my travels (Bob Bob Ricard in London will always be my #1 though!). Everything from the space to the incredibly knowledgable servers to the beautiful food centered on fresh, local flavors hits your heart-strings.
It's a splurge-worthy dinner that's worth repeating… sometimes even twice in a single week!