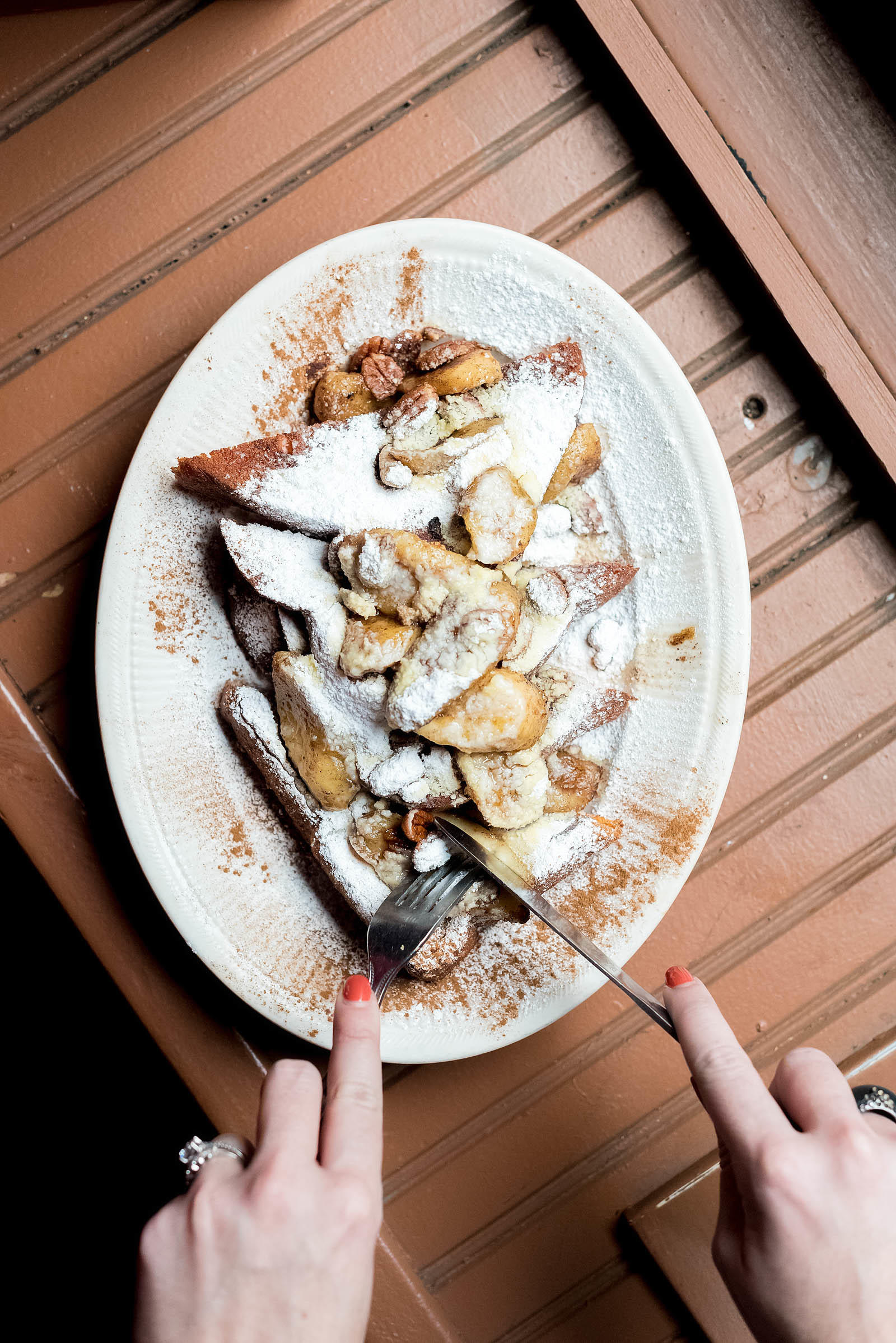 When it comes to nostalgic Chicago restaurants, Heaven on Seven is the very FIRST that comes to my mind.
My husband and I had one of our very first dates here — back when we were both still working in finance and desperate to find a great Loop restaurant we could meet at for lunch dates. Hubby quickly learned my taste for all Southern cuisine, especially my love, admiration, and obsession with fried green tomatoes and brought me here as a surprise, telling me "you're going to LOVE this place".
And from the moment they dropped the cast iron skillet of golden fried green tomatoes onto the table, I fell madly in love.
Living in Chicago can make finding decent fried green tomatoes a serious endeavor and for years I'd searched for anything even remotely close to what my southern grandmother had made me as a child. Most options around the city are usually bland, super-gooey fried messes with little flavor and certainly no soul. But after Hubby brought me to Heaven on Seven, I'd finally found one spot I could turn to time and time again for my fix. They make some of the best fried green tomatoes I've had on either side of the Mason-Dixon line, honestly.
And today I'm thrilled to finally be sharing this special hidden gem with you too.
The best way I can describe Heaven on Seven is by saying it's an explosion of creole flavors. An EXPLOSION! All things delicious, flavorful, and distinctly Southern can be found at this Louisiana-esque oasis.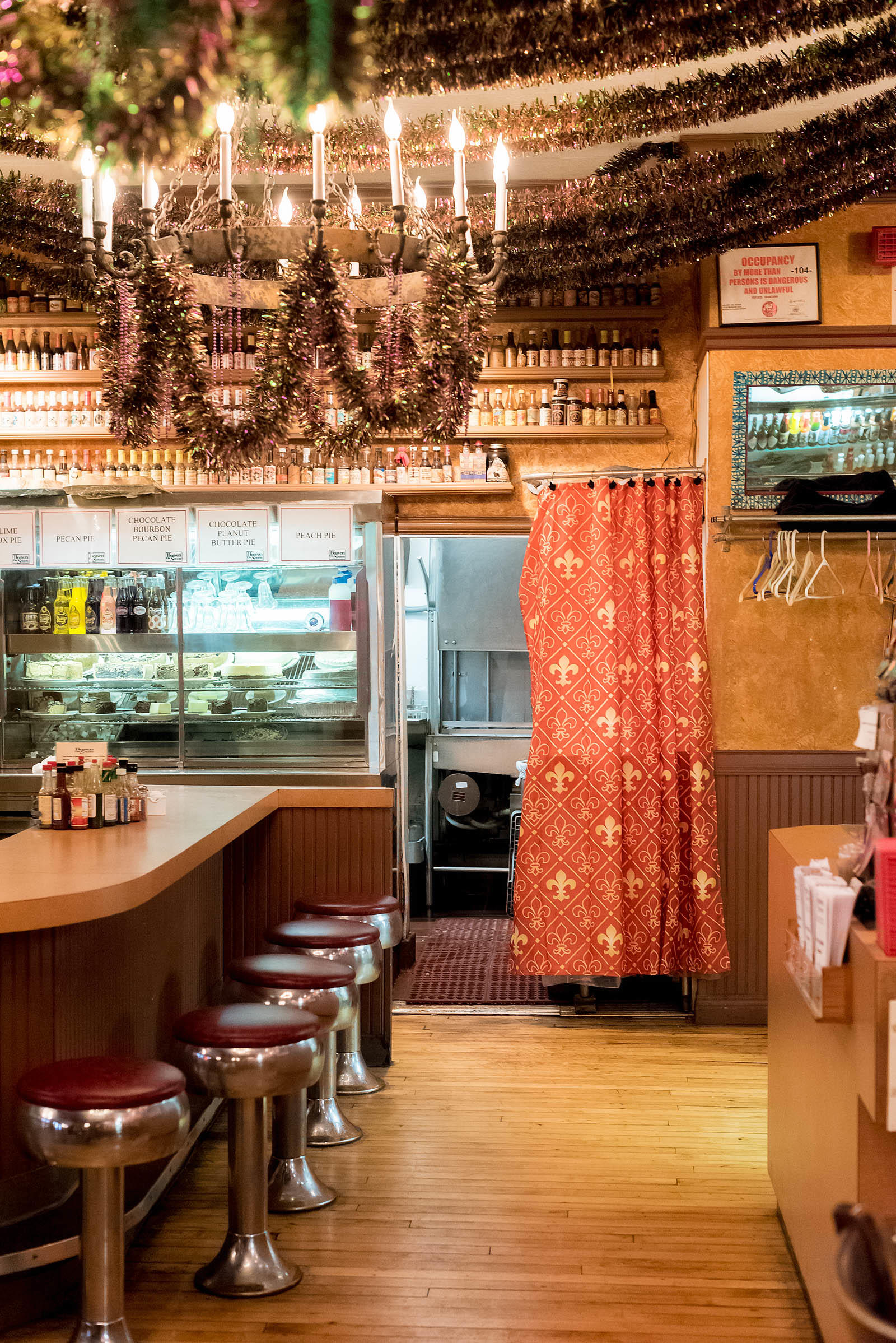 Everything about Heaven on Seven is explosive when I think about it, really. Everything starting with the no-frills "local diner" attitude…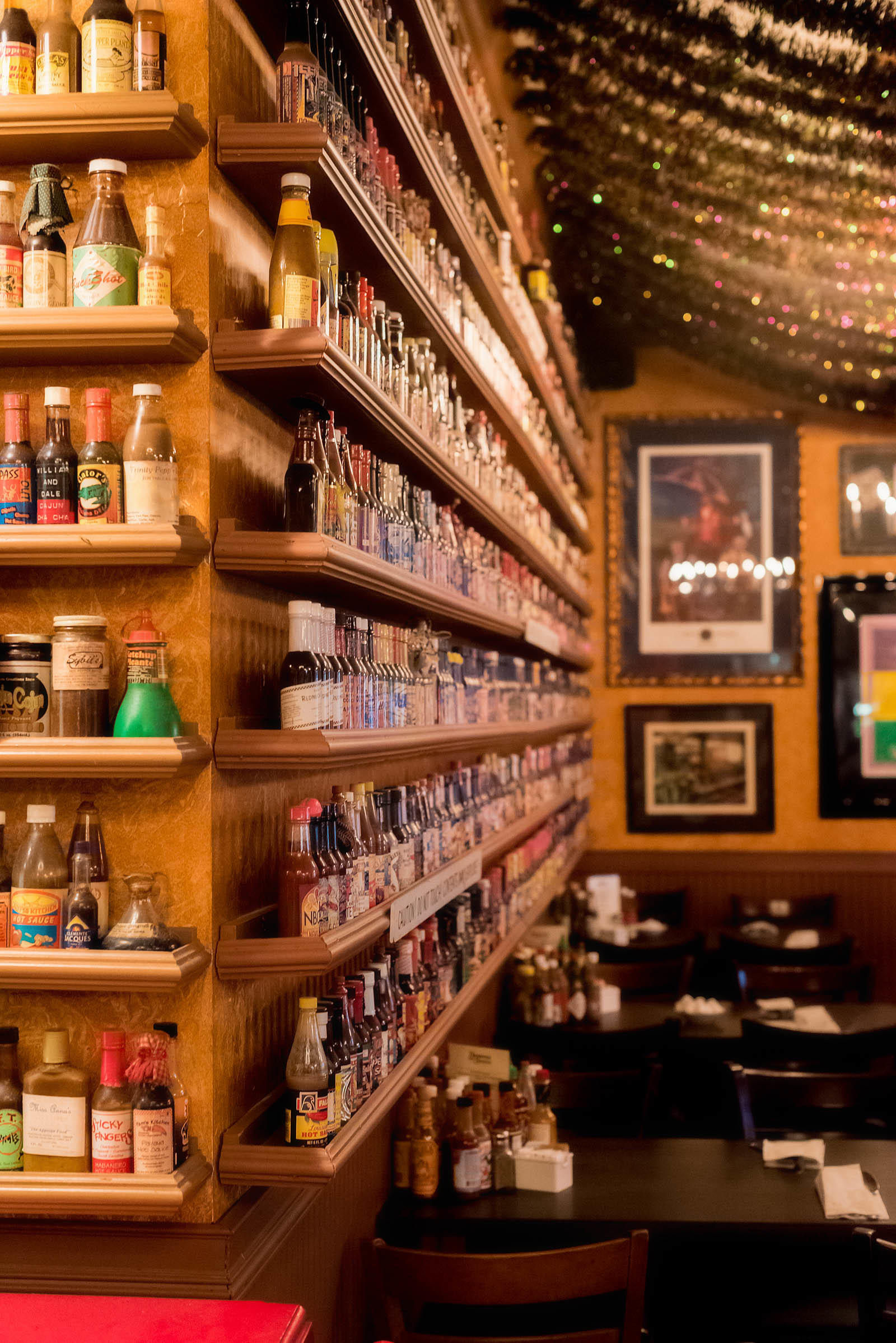 to their famous walls of hot sauce (absolutely no duplicate bottles on these walls… isn't that nuts?),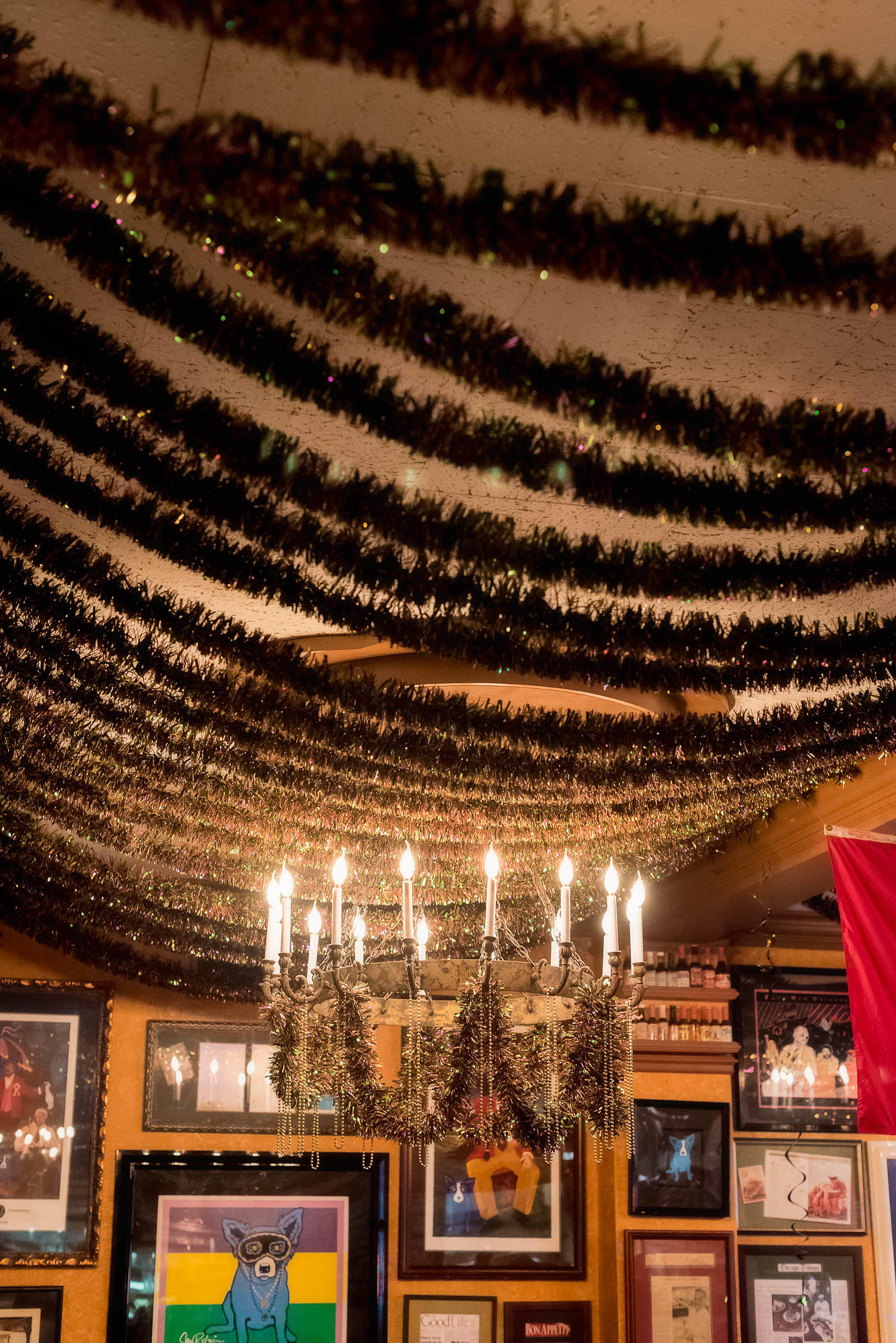 to the "always Mardi Gras here" decor.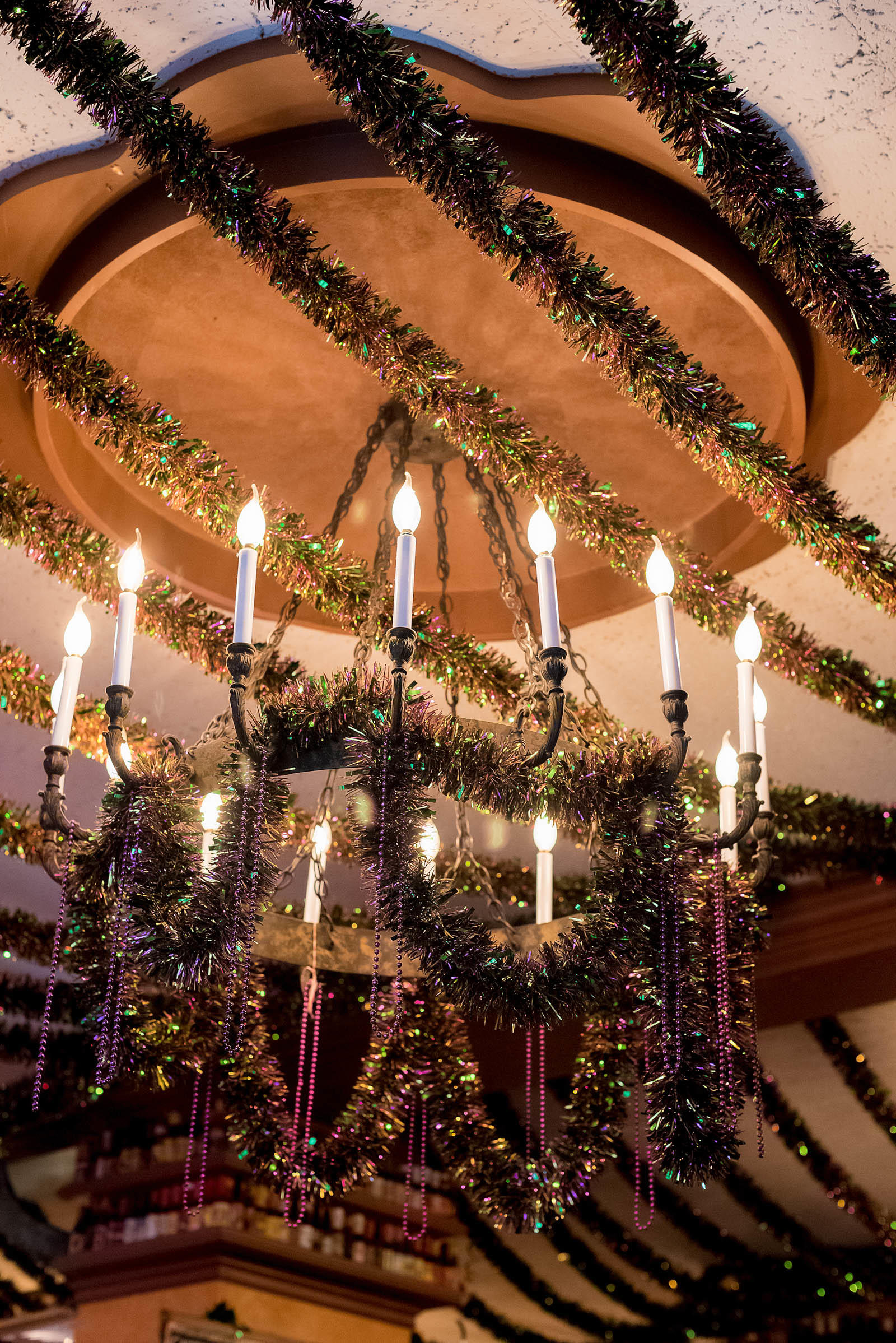 Which makes for such a fun atmosphere to eat at — especially in the cold winter months!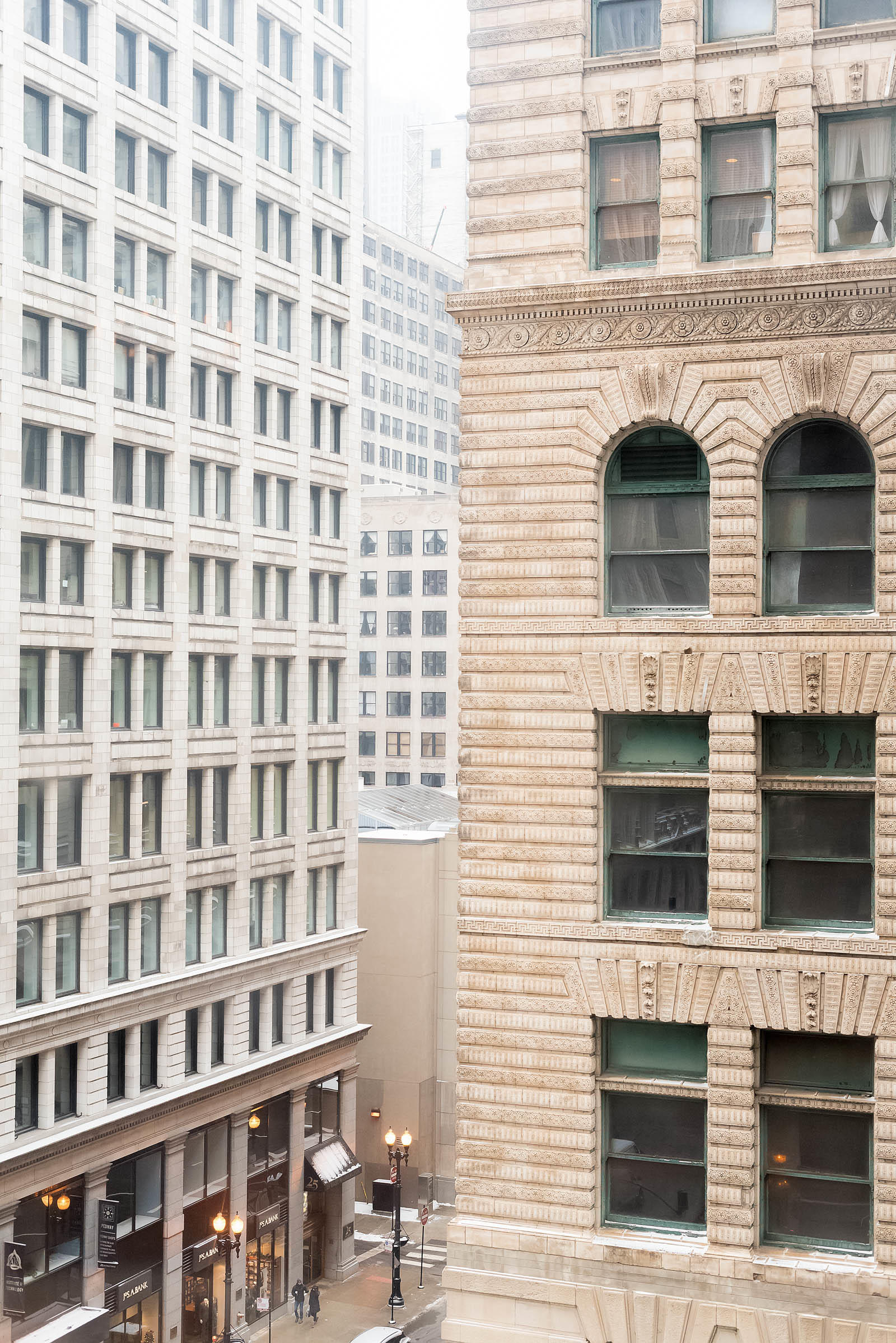 Heaven on Seven gets its name from its location — it's on the seventh floor of an office building located right off Wabash. If you can, try to snag a window view to watch the bustling streets below!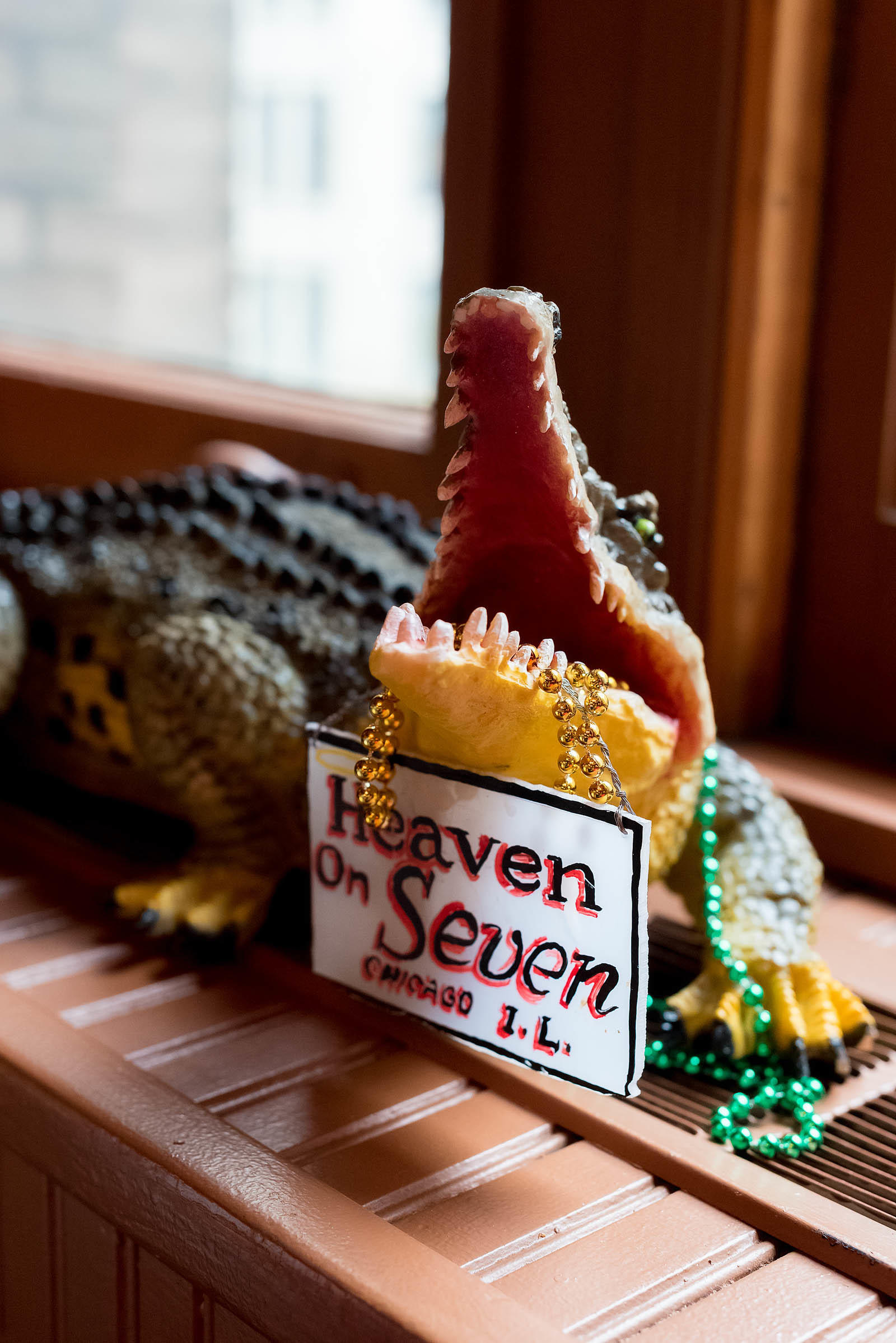 You may even meet a few friends along the window sill.
But it's the hot sauces along the walls and covering each of the tables that make up the bulk of the decor. Each table in Heaven on Seven is JAMMED with options for you to smother your food in.

Everything from the super mild, to the super hot… the super common place to the hard-to-find.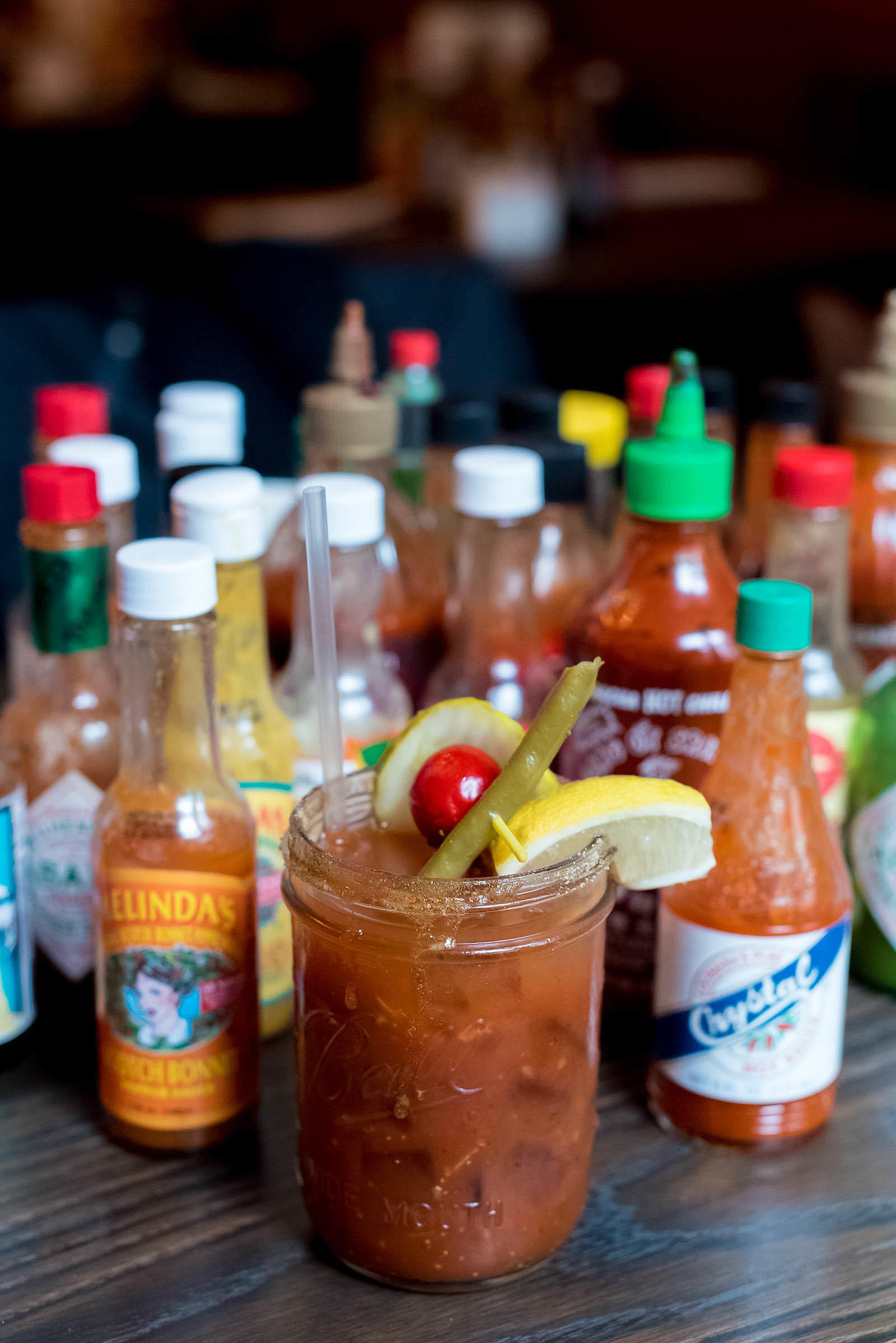 Now, if you come on the weekends, you MUST start your meal out with one of Heaven's killer bloody marys.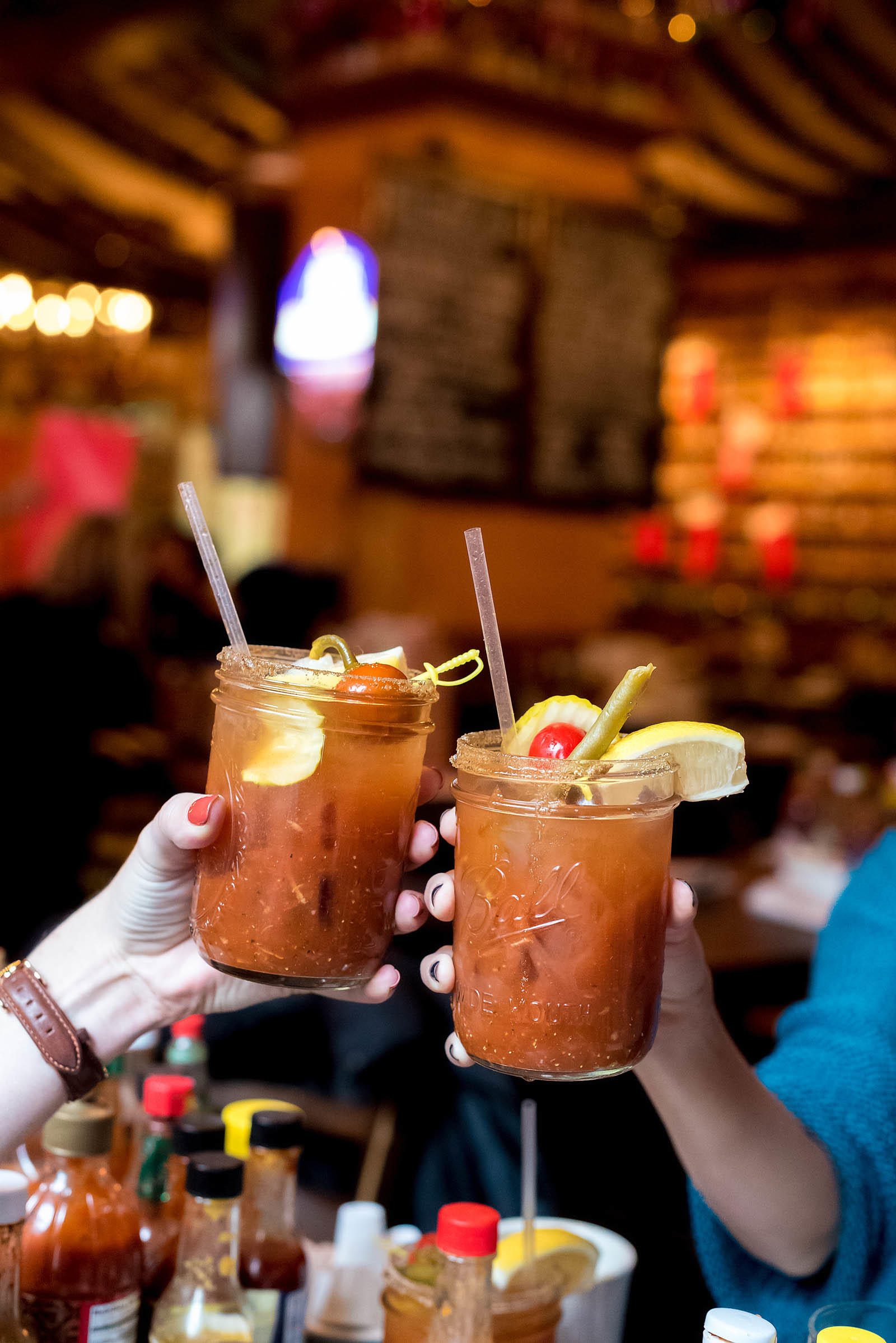 Delicious, robust, and not too overwhelming (anyone else floored by the huge size of bloody marys at some restaurants these days? I love a good Bloody Mary but can rarely finish one larger than this).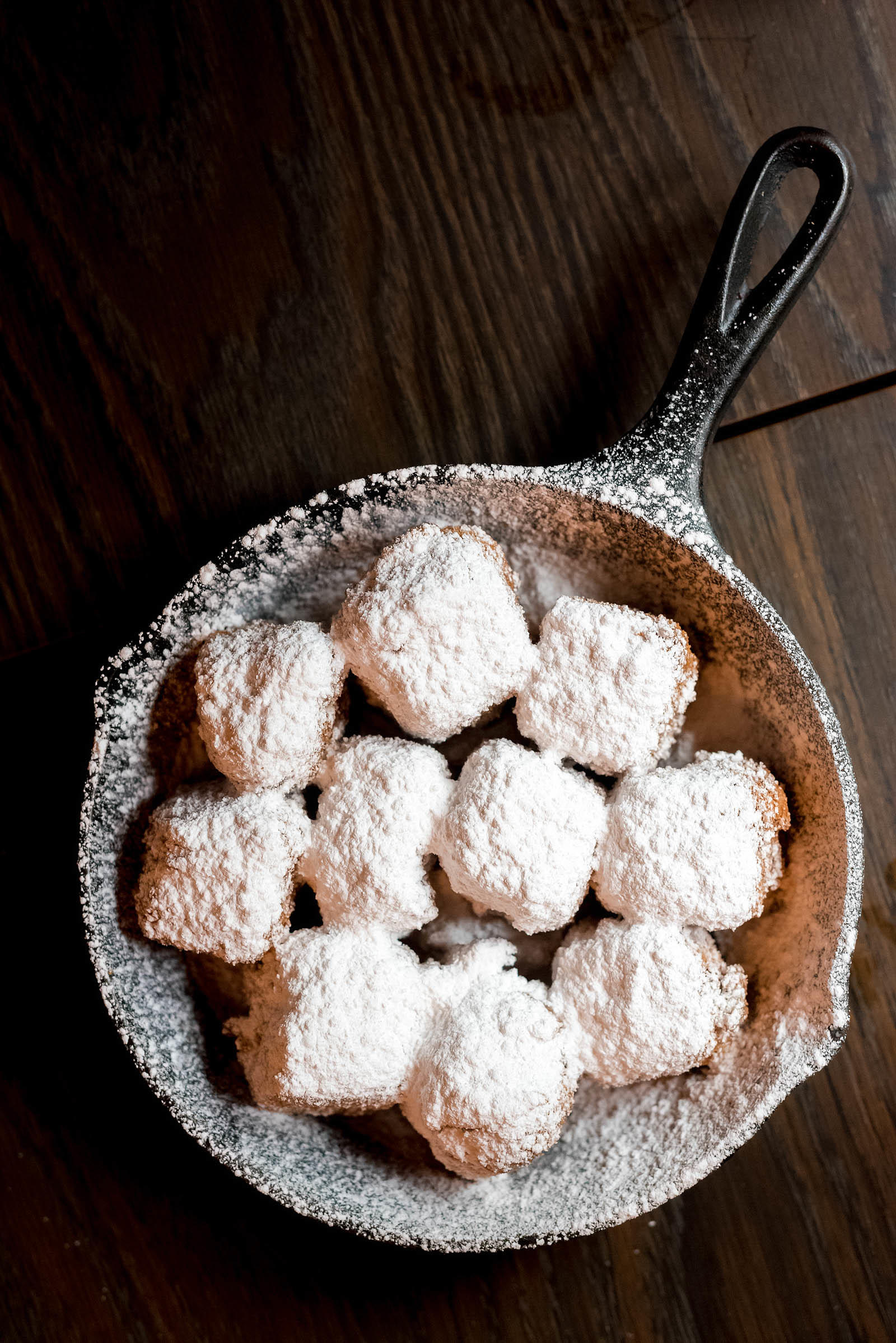 Then go ahead and order these Blueberry Bayou Blasters. They're a unique-to-Heaven-on-Seven cross between a donut, hush puppy, corn muffin AND a blueberry muffin.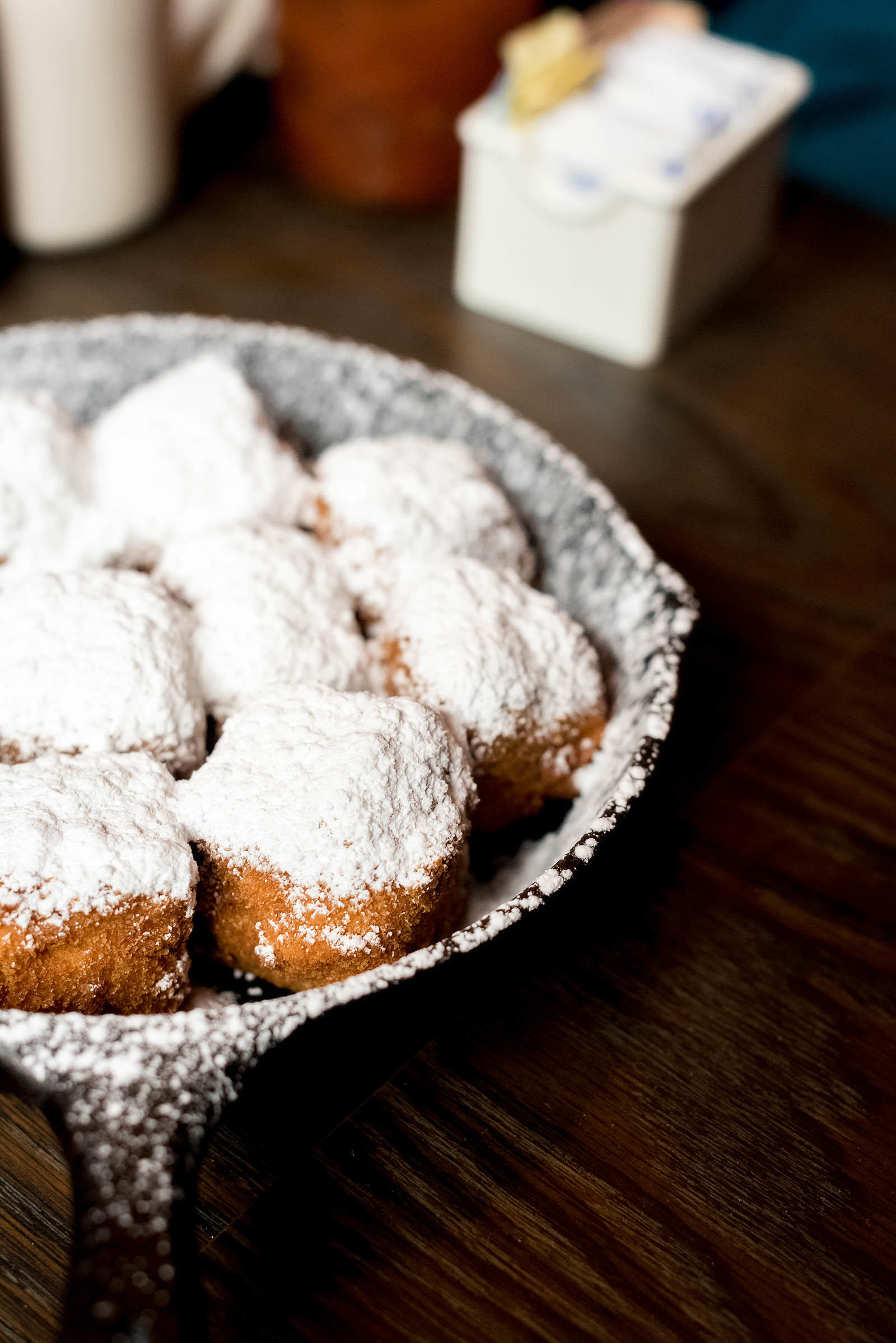 All drenched in powdered sugar.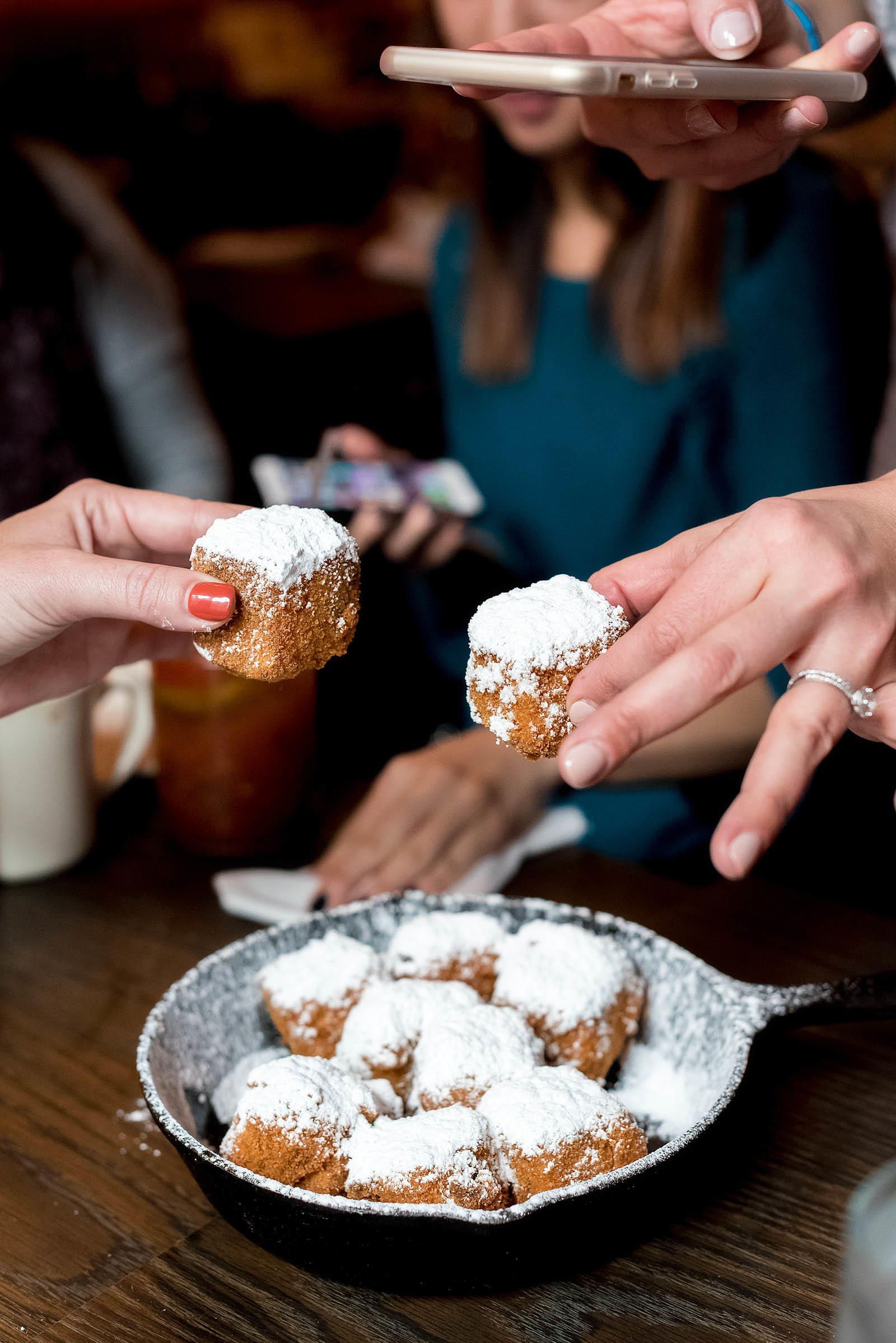 The golden crust on these delicious, breakfast-flavored bites is perfection.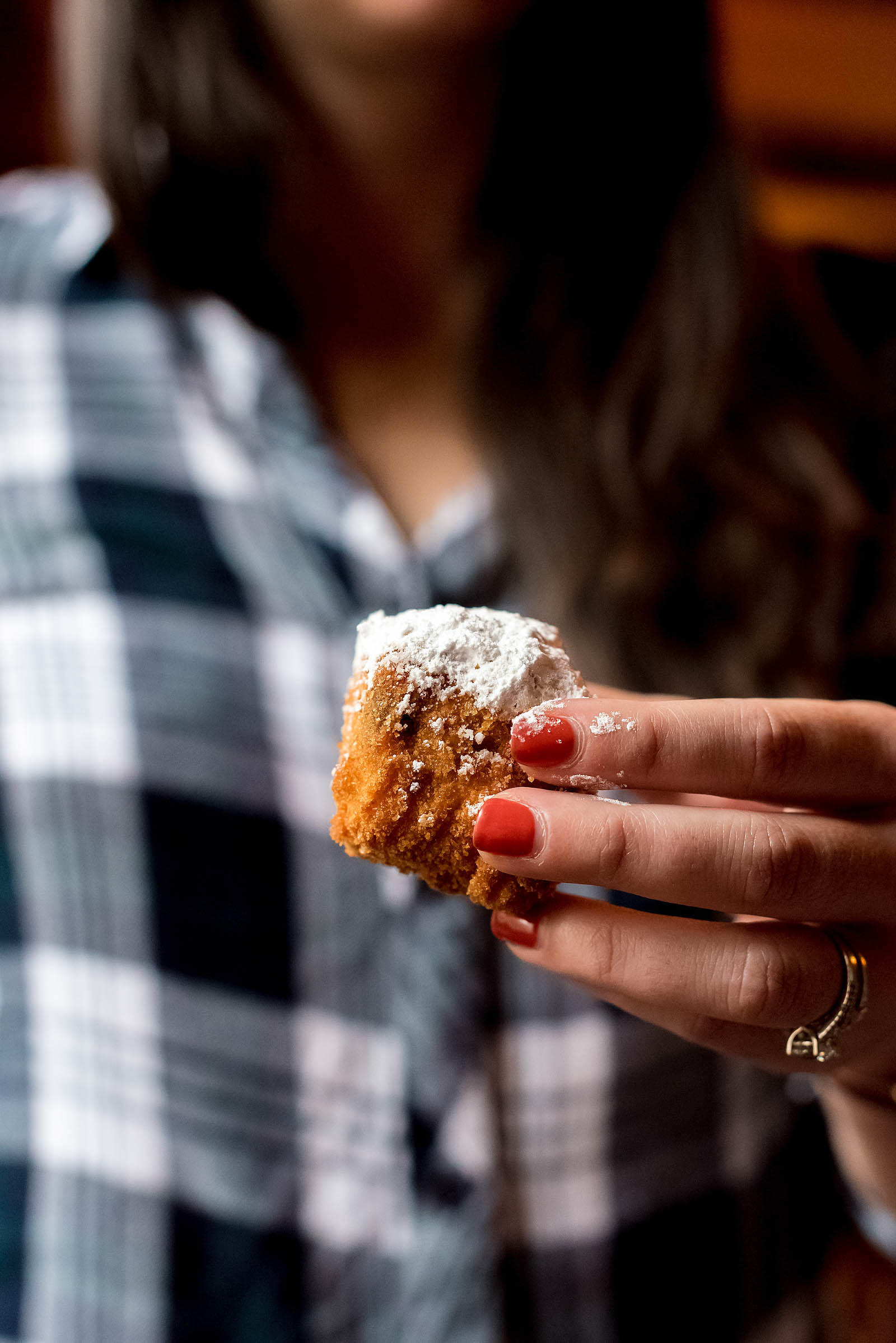 Not to mention addicting, all drenched in that powdered sugar.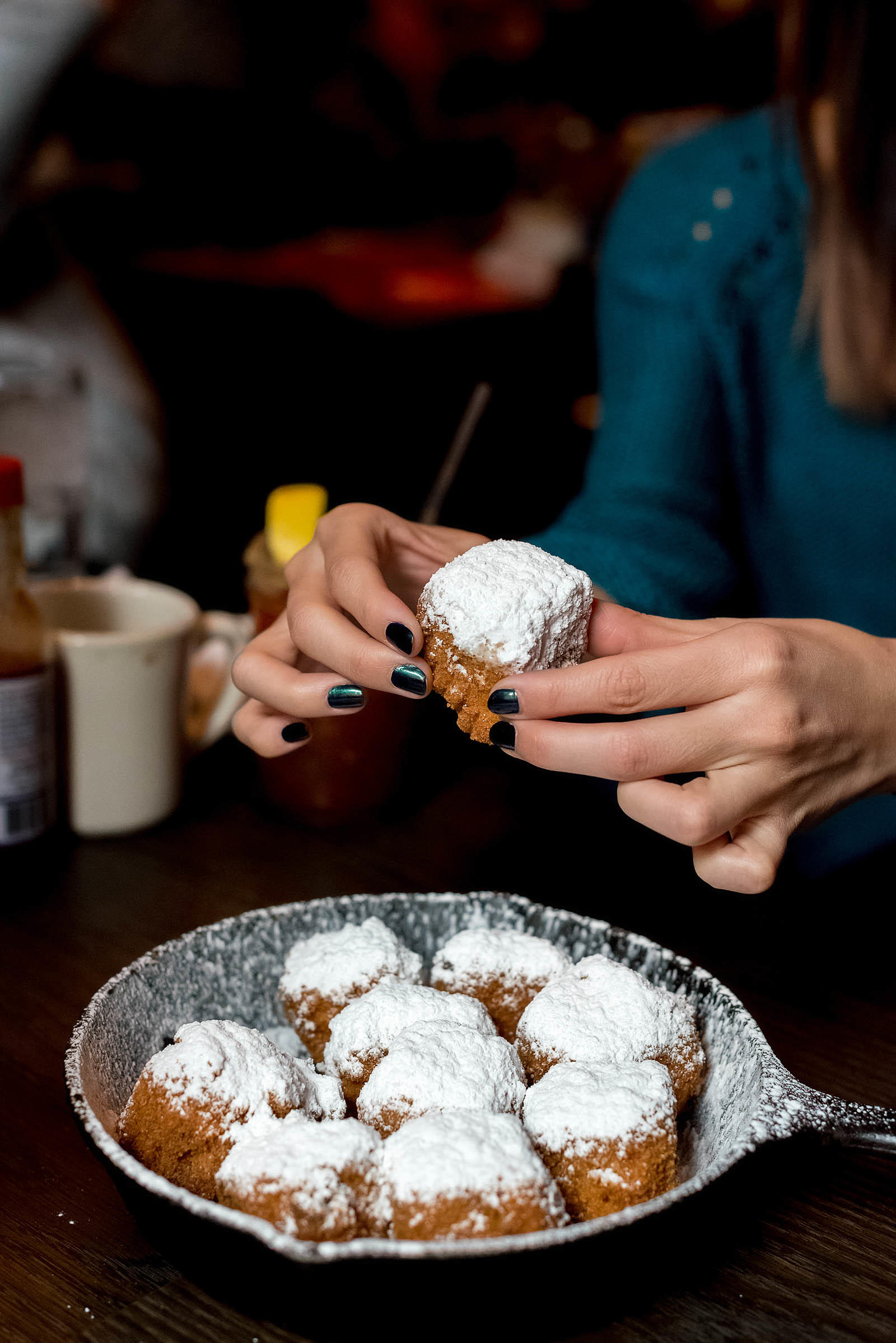 But it's not until you look inside that you really begin to understand what these unique, one-of-a-kind bites are all about.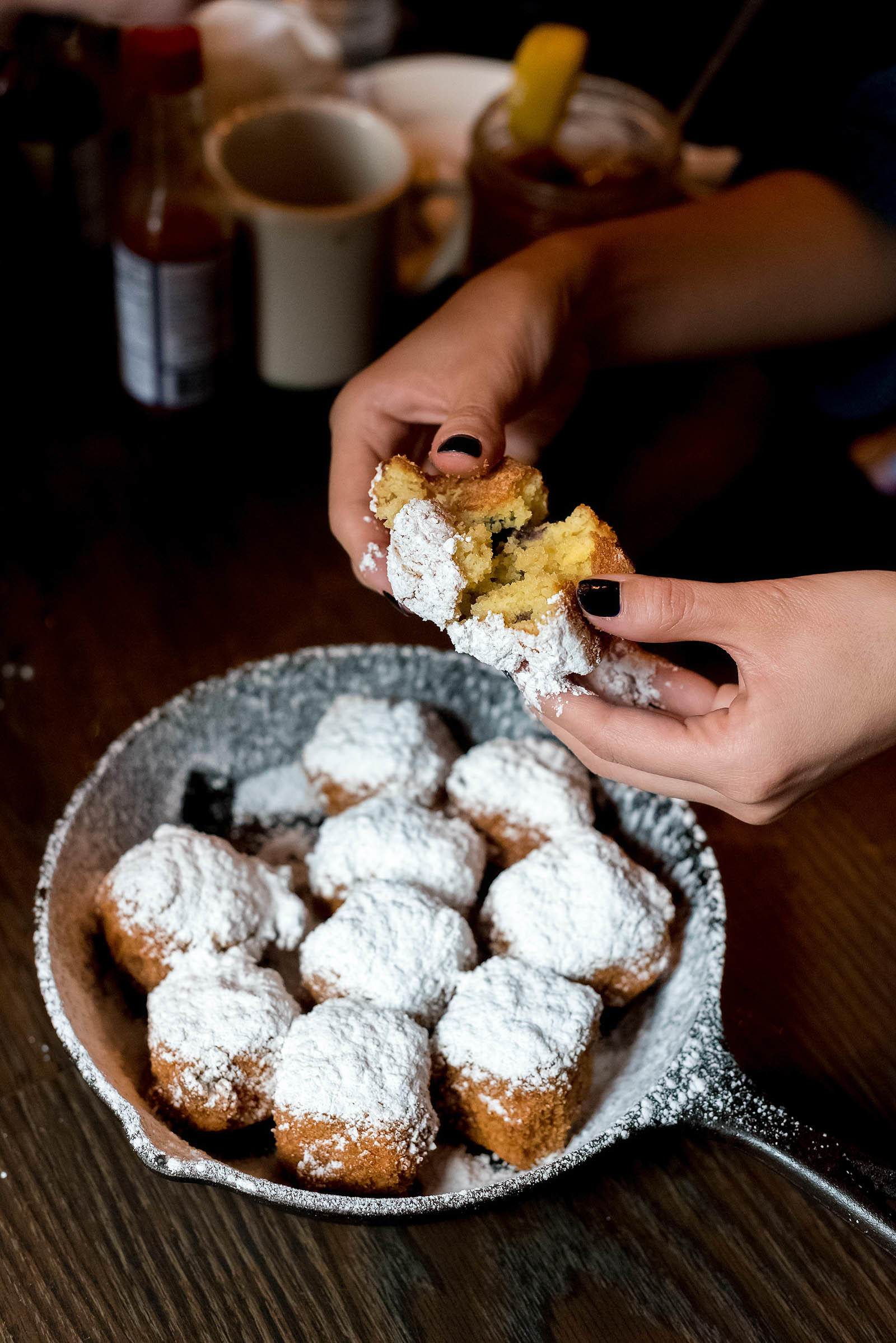 See the blueberries??? Ok, now my mouth is watering like crazy…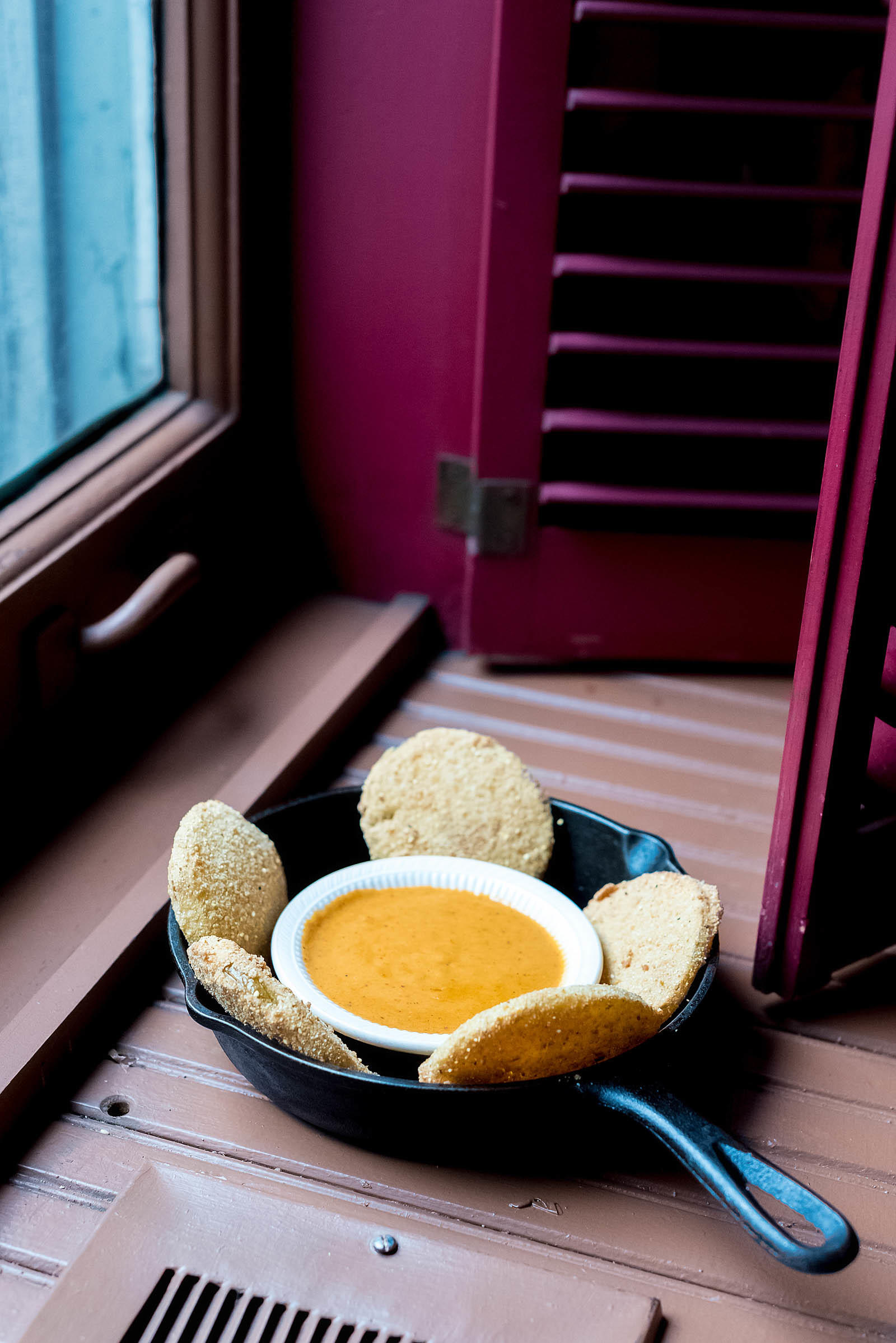 But in case sweets aren't your thing, there's always this delicious classic of Fried Green Tomatoes with warm remoulade. My favorite!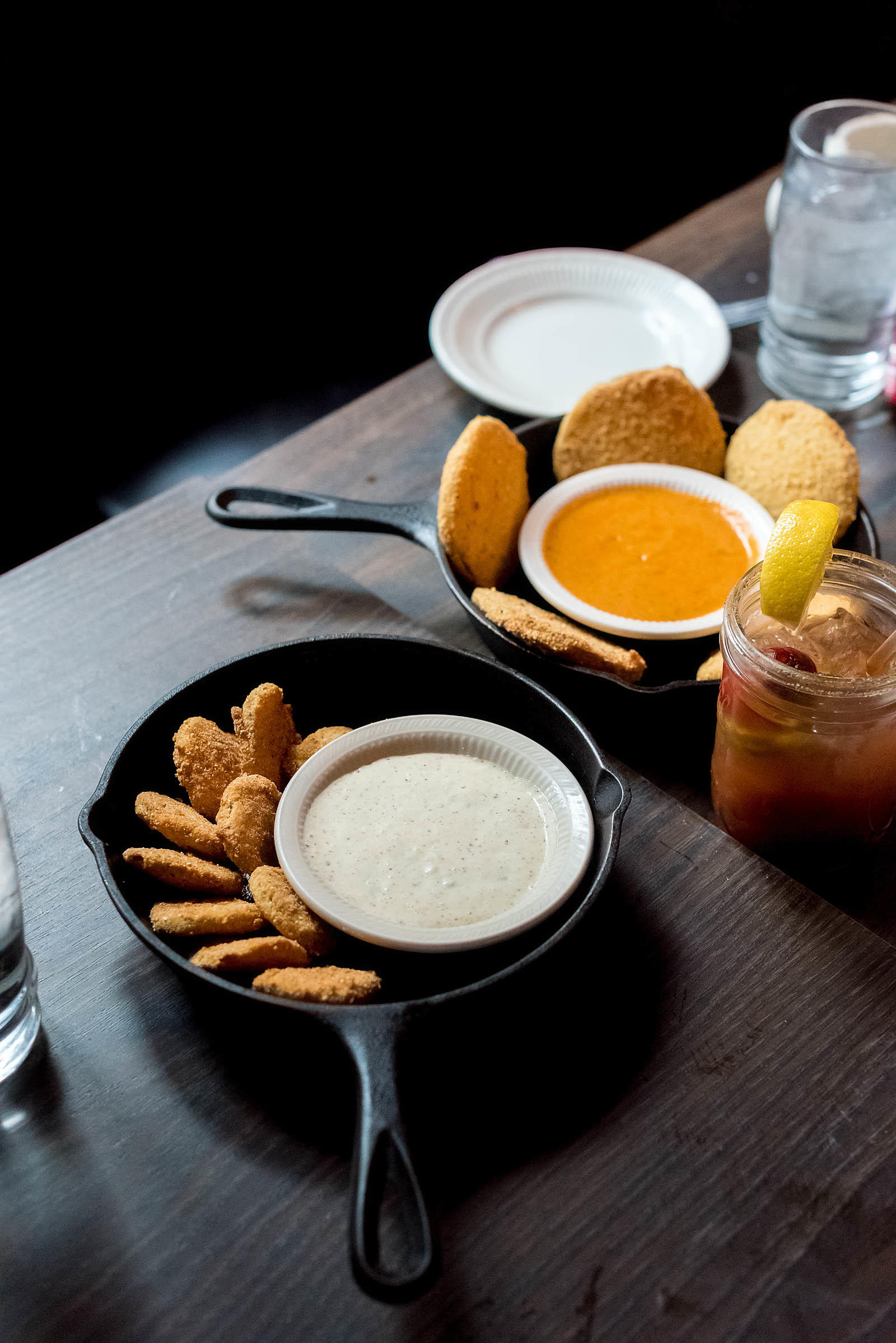 Or perhaps some golden Mississippi fried pickles with white remoulade (Hubby's favorite!).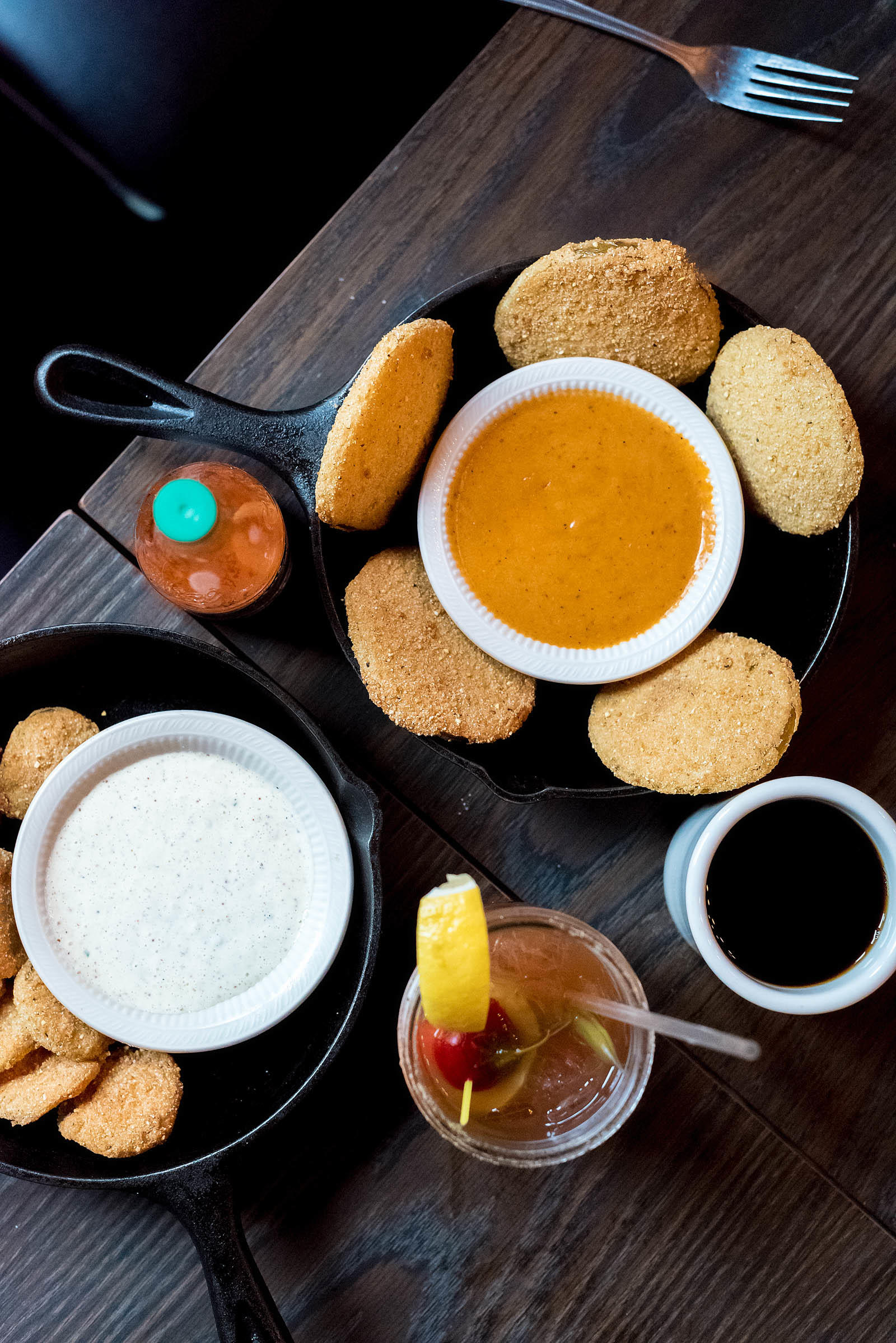 Okay my mouth is seriously watering now and I haven't even gotten to the entrées…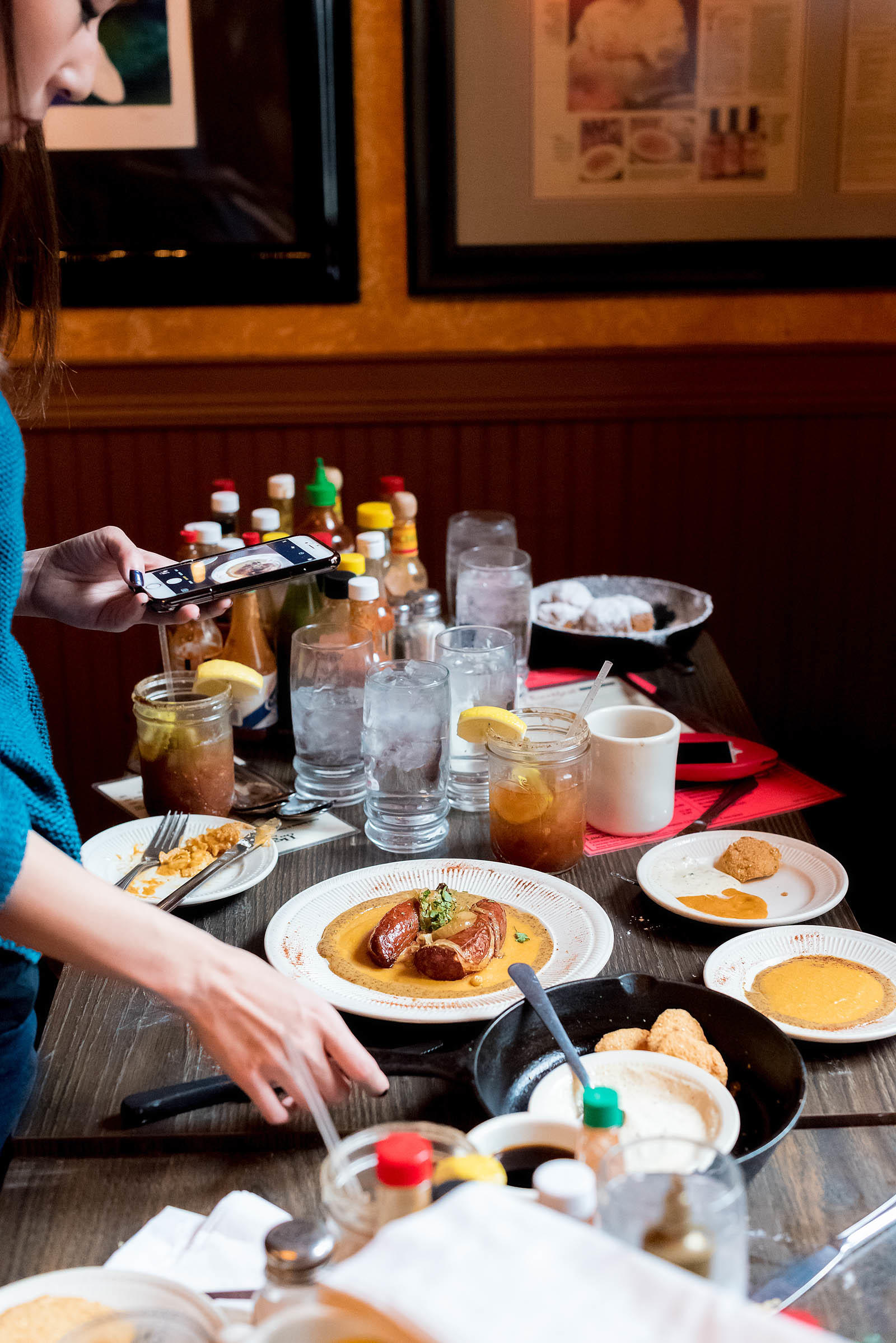 Which are just as delicious as the appetizers (not to mention Instagram-worthy — hi, Melissa!).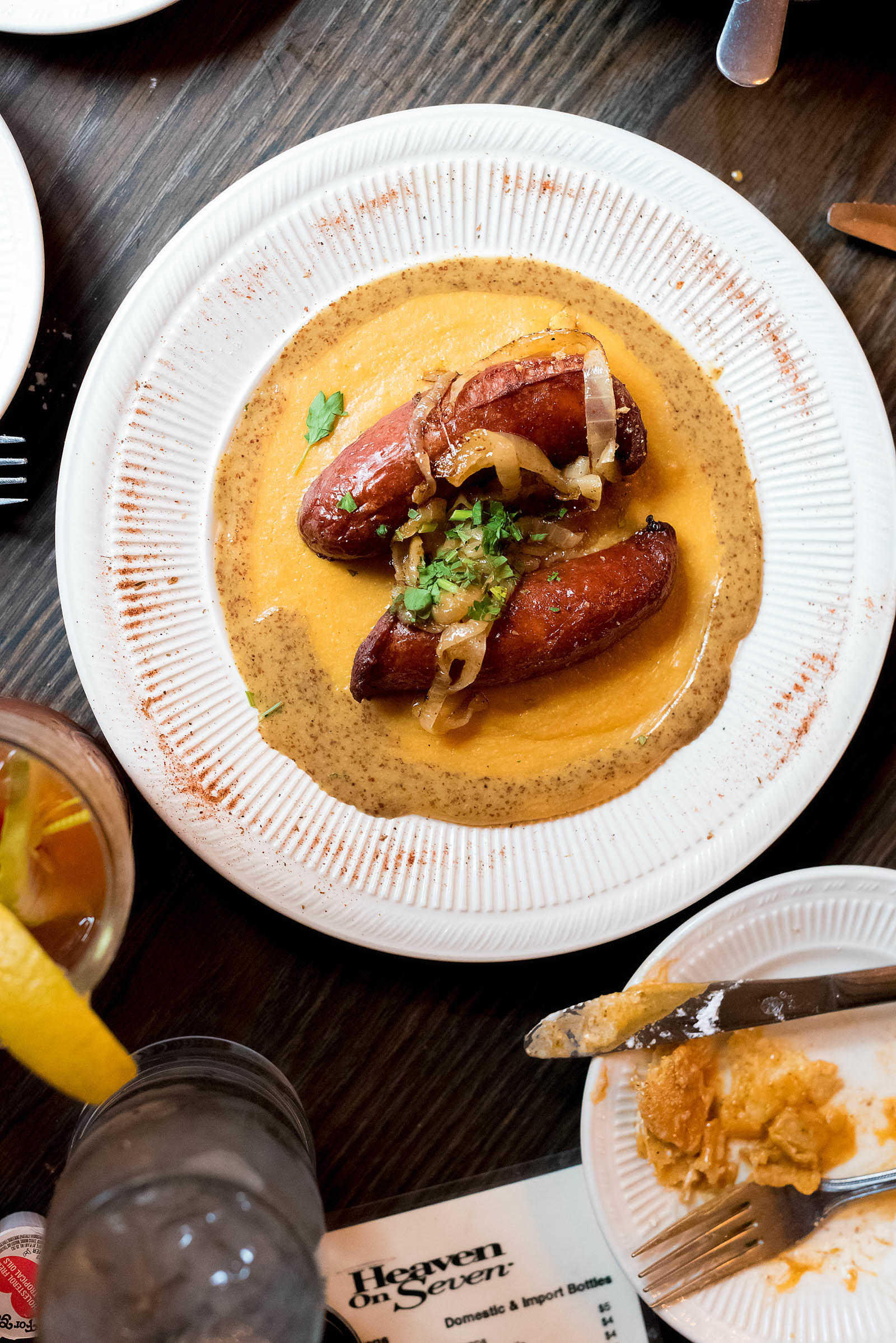 Just look at this Grilled Andouille Sausage with sweet potato polenta (what a game-changer!), honey creole mustard and grilled onions. It was seriously one of the coolest, tastiest dishes I've tried! And now has me craving sweet potato polenta all. the. time.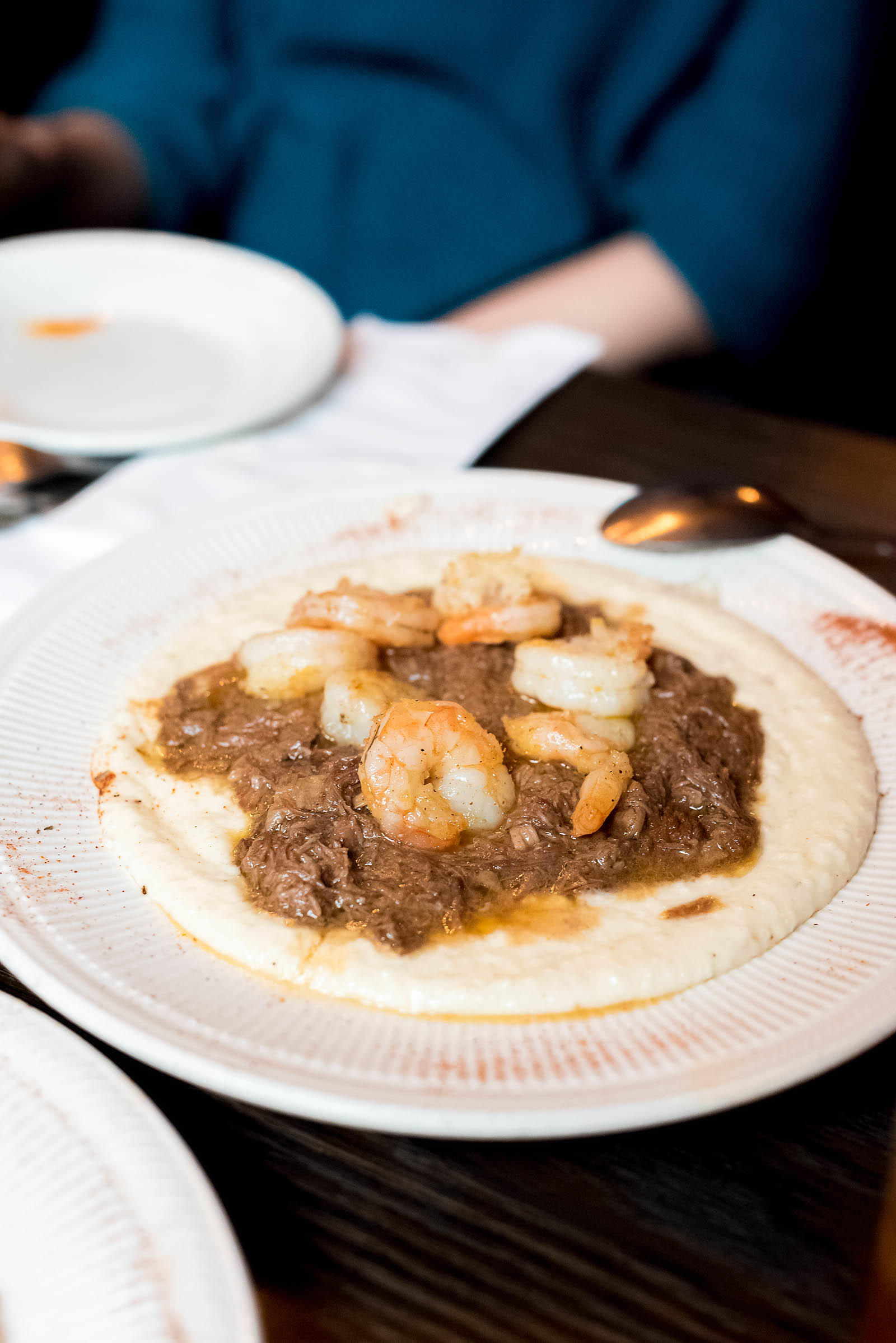 Or how about the southern classic of shrimp and grits? Served with shredded beef or…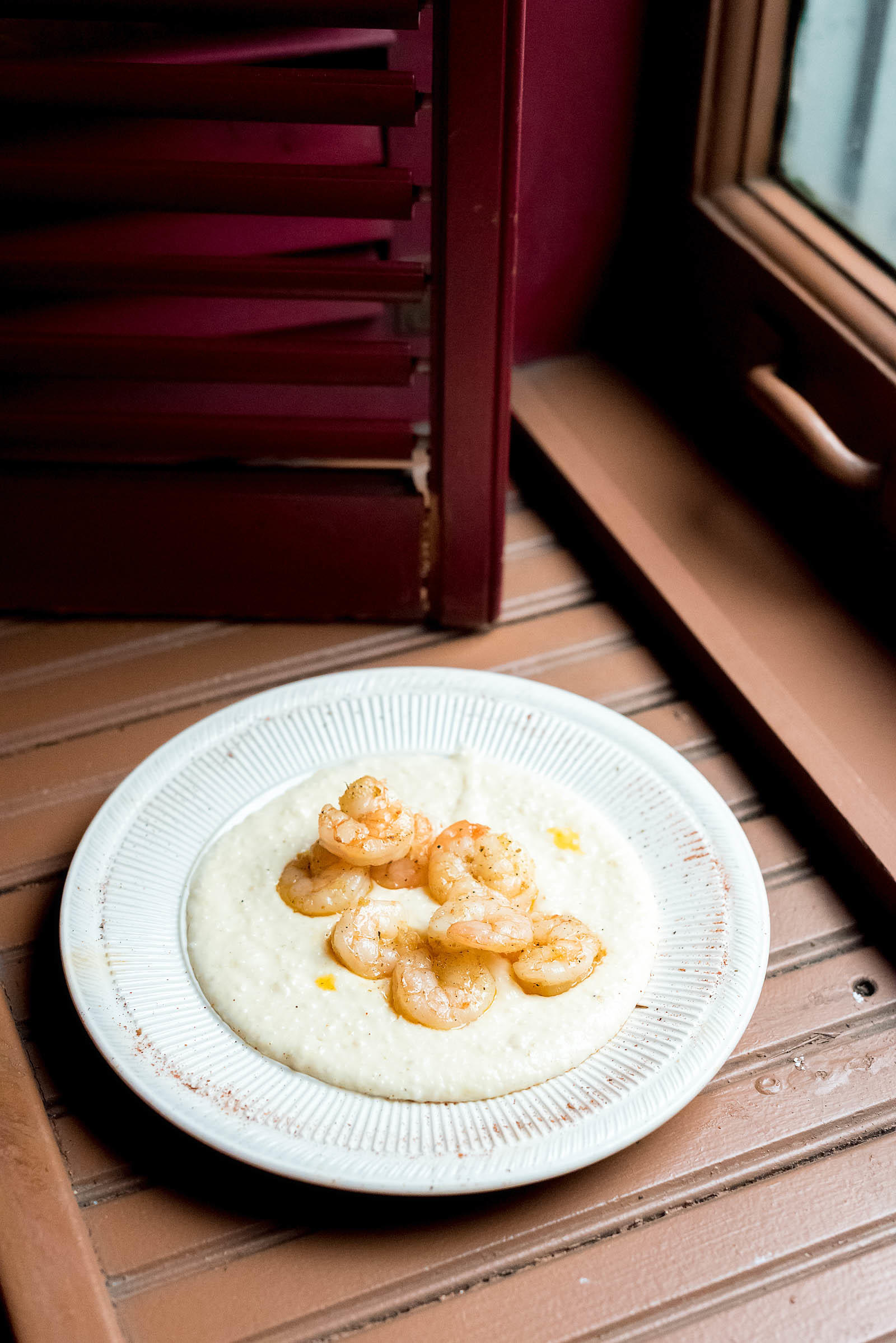 solo with just shrimp and grits.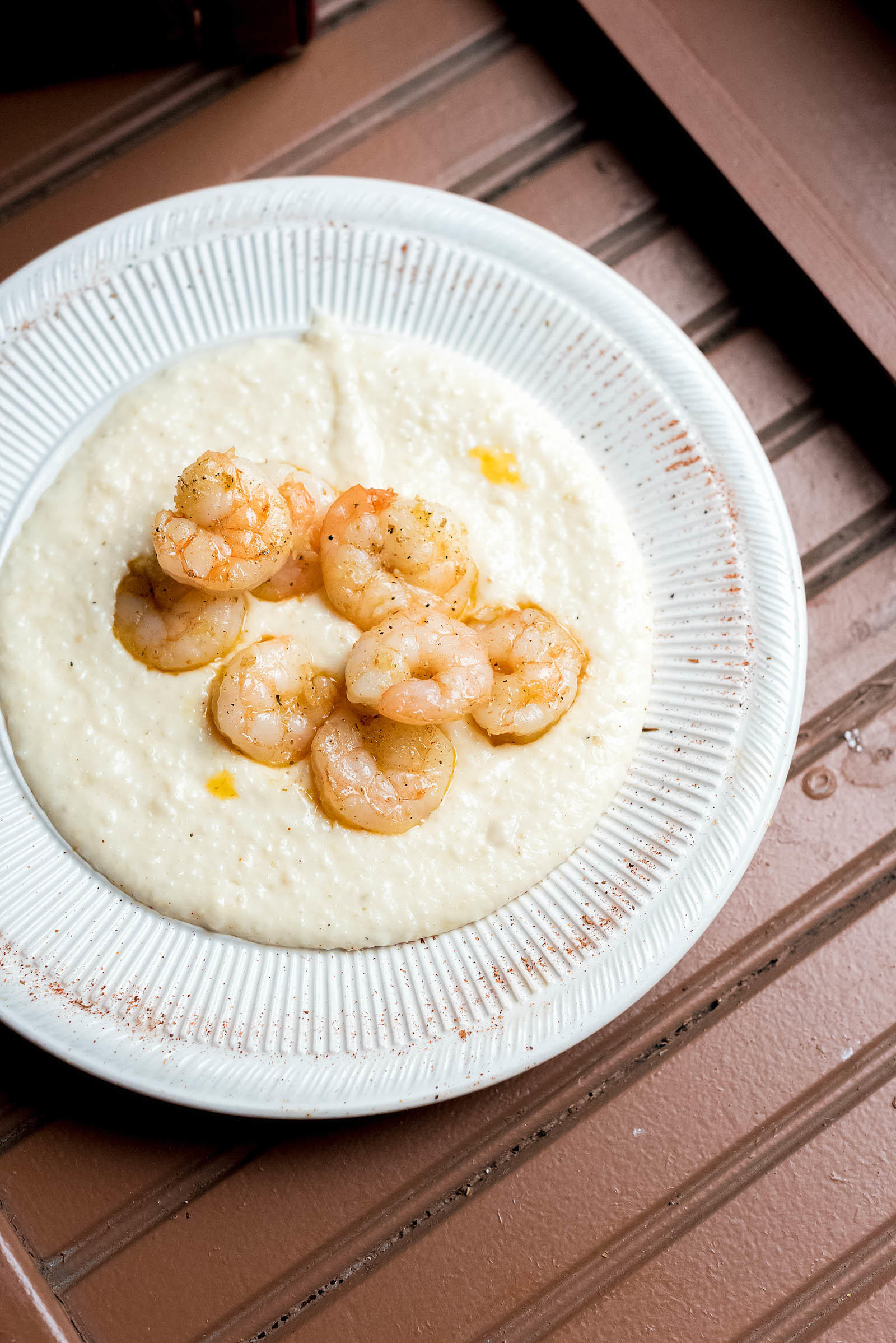 Since I was raised by a southern father, this really is my own definition of comfort food, being creamy, spiced and packed with protein to boot.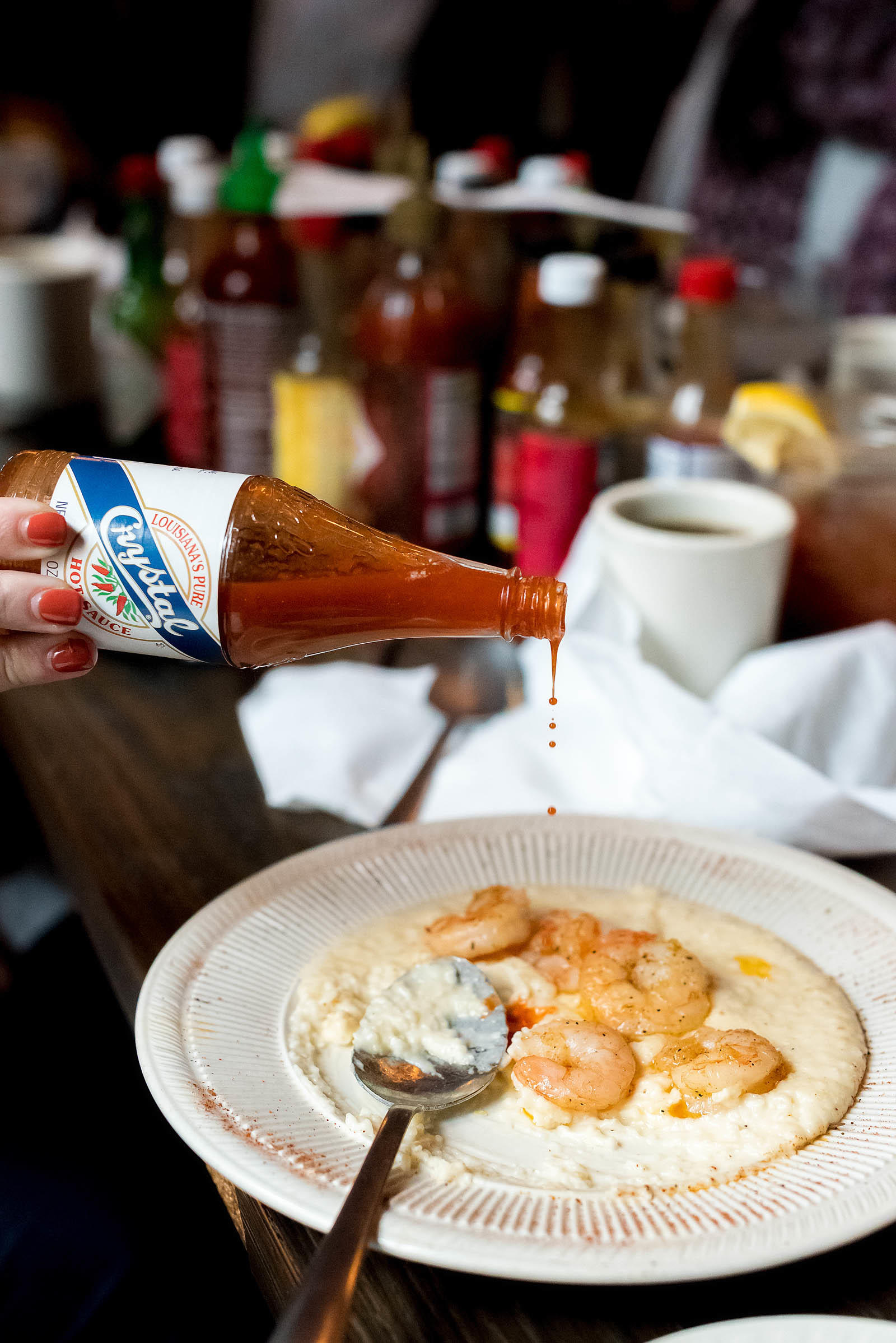 Just make sure you add plenty of hot sauce (my favorite is Crystal — a true Southern classic!).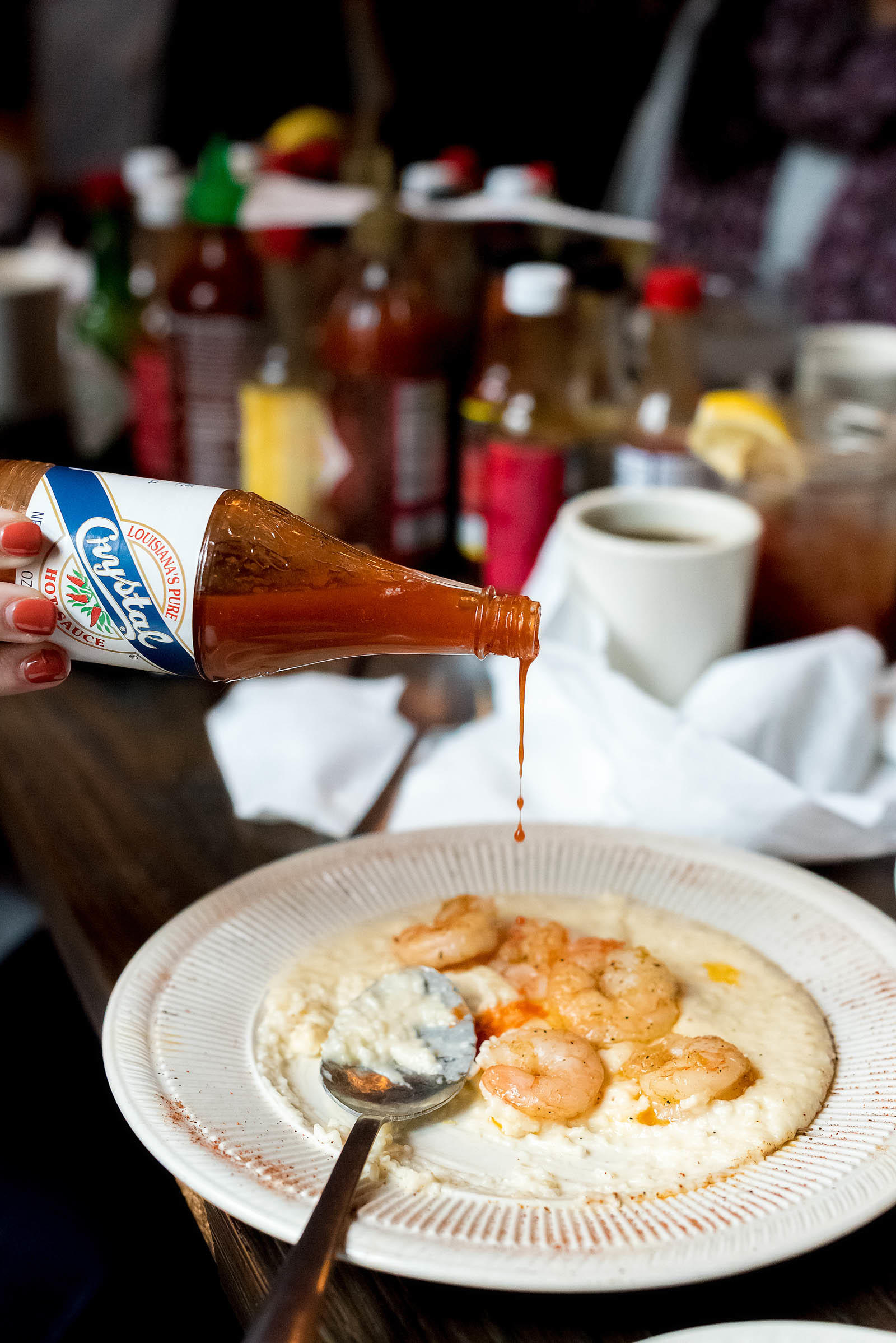 Drip, drip, drip.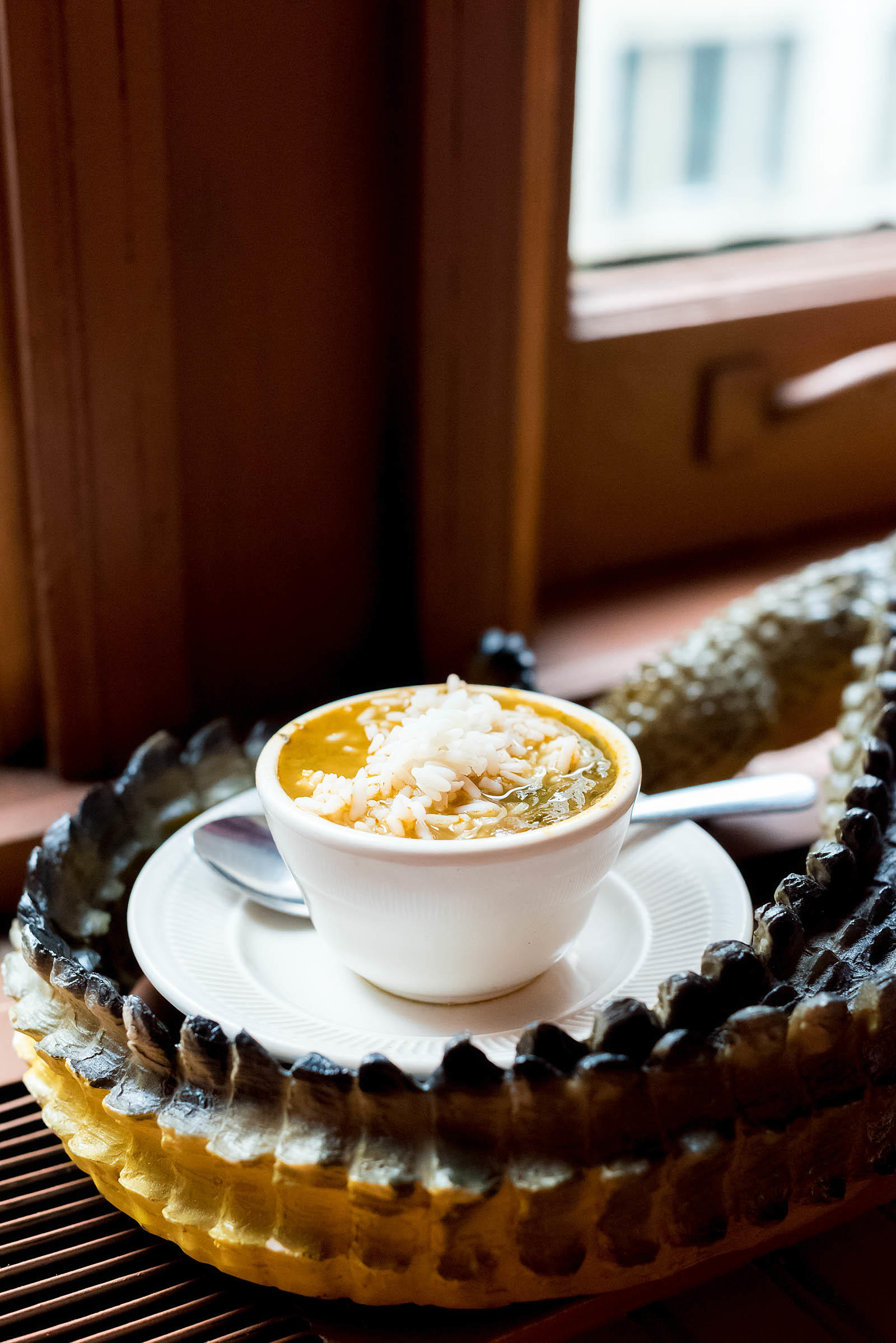 But it's Heaven on Seven's famous gumbo that's absolutely necessary no matter what you end up ordering. It's legendary, robust, delicious, and can be done entirely vegan! How cool is that?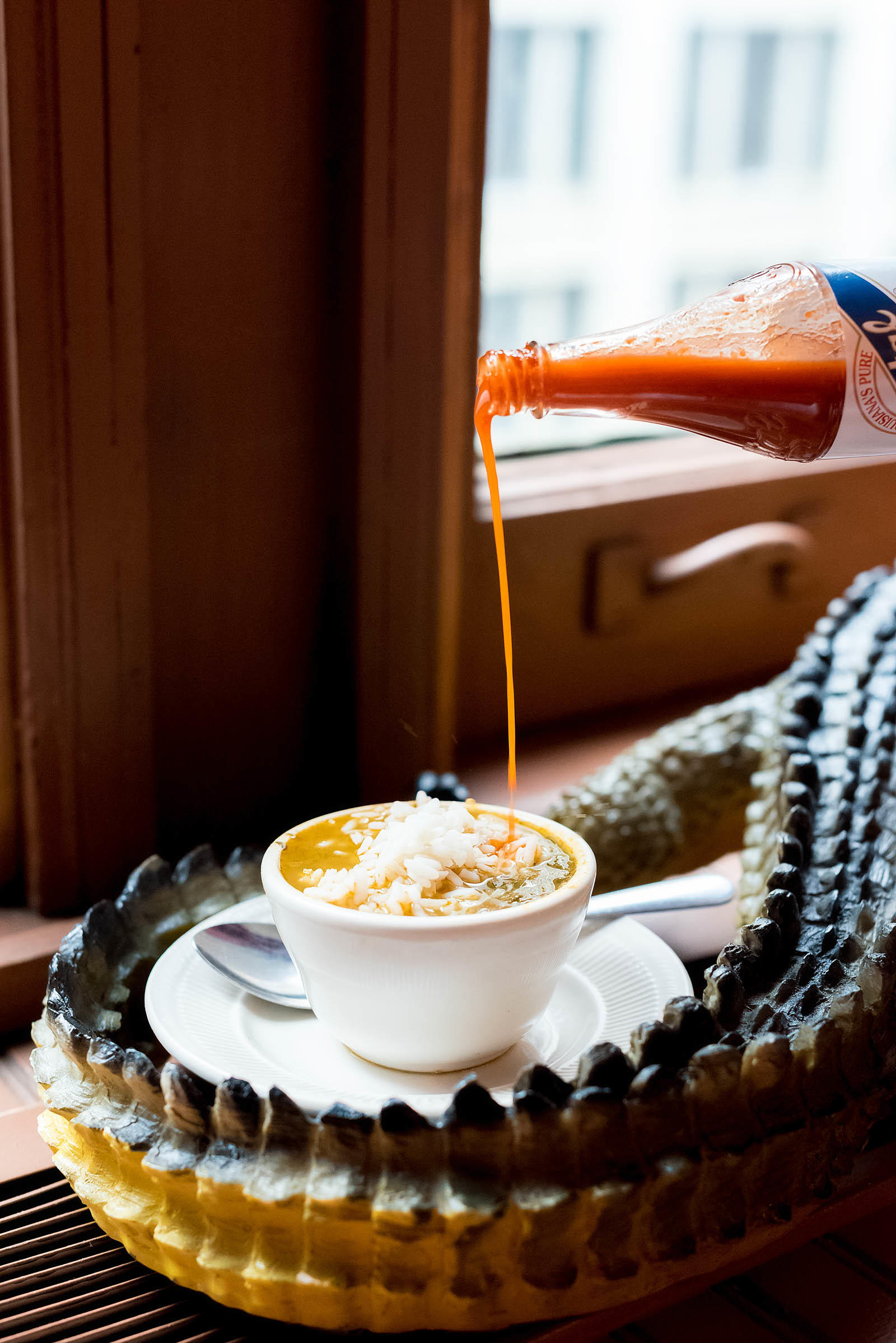 Considering that Heaven on Seven is rooted in southern cuisine, I've been shocked to learn just how vegetarian-friendly it is too. Many of the dishes can be adjusted for all sorts of dietary needs so even my vegetarian friends like Sapna leave completely full and satisfied!
Oh and don't forget to crumble one of these insanely addictive corn muffins onto your gumbo too!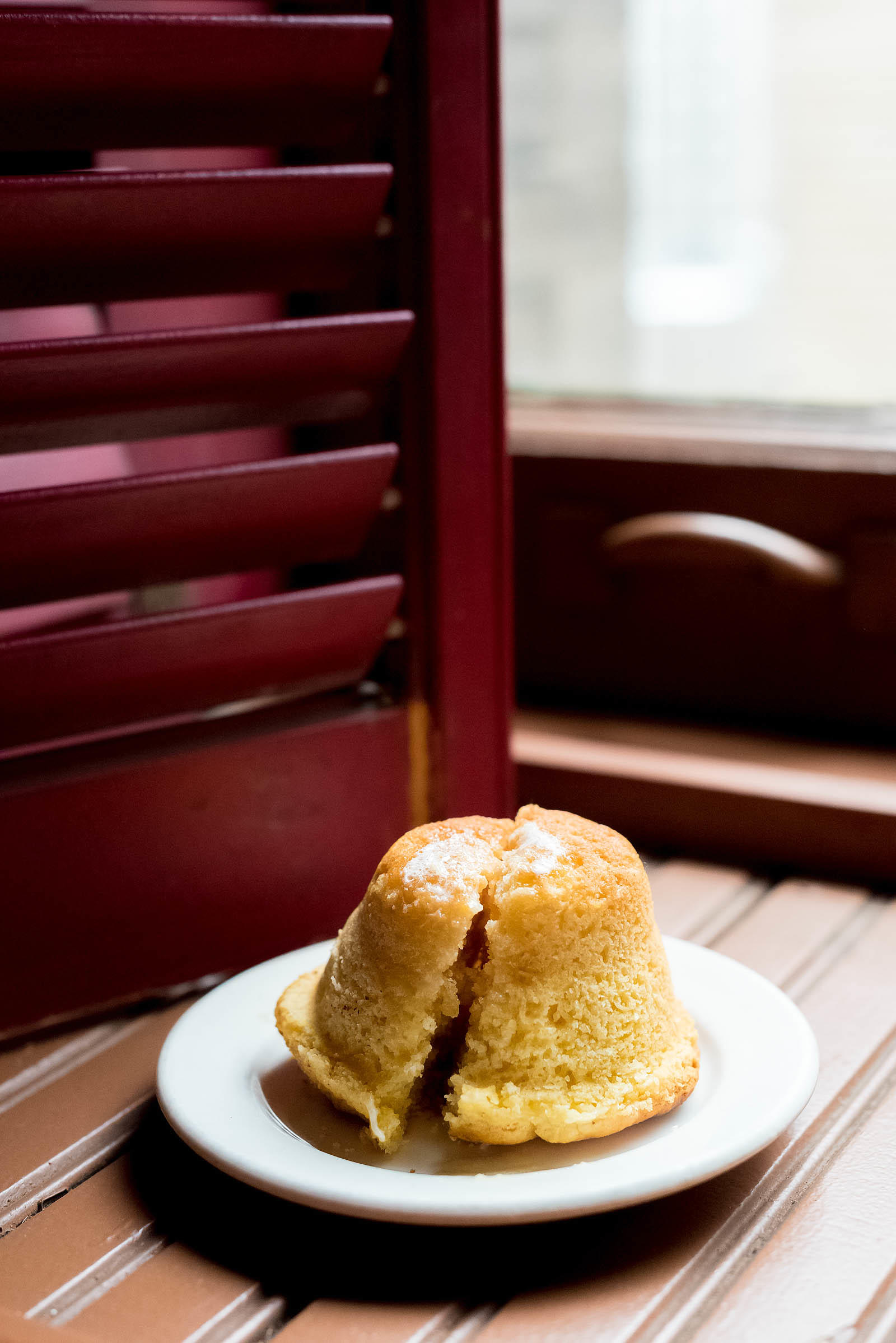 I could easily eat a dozen of these in one sitting and not feel even an ounce of remorse. They're THAT good.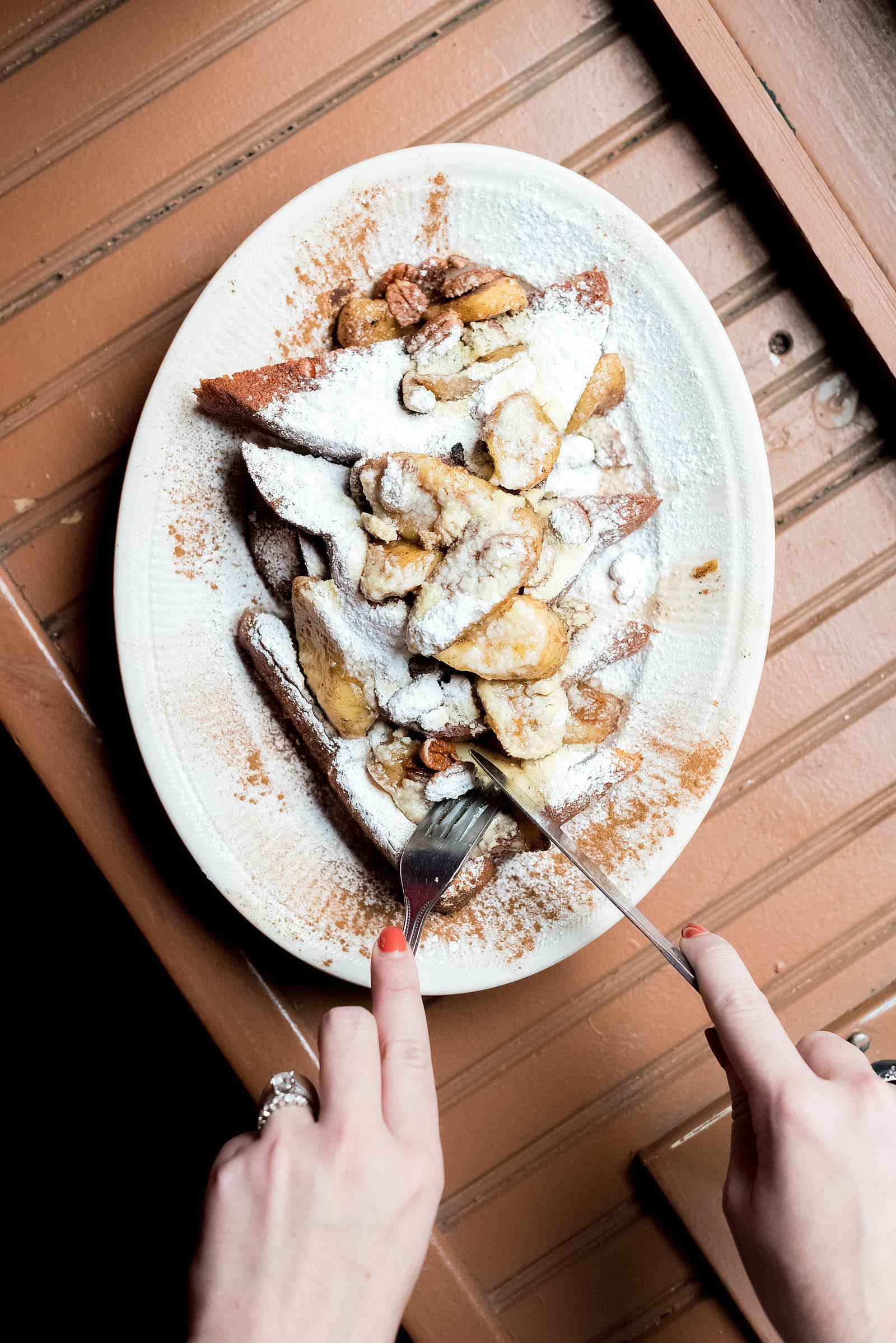 And, in case you really want to indulge, there's always this breakfast classic too!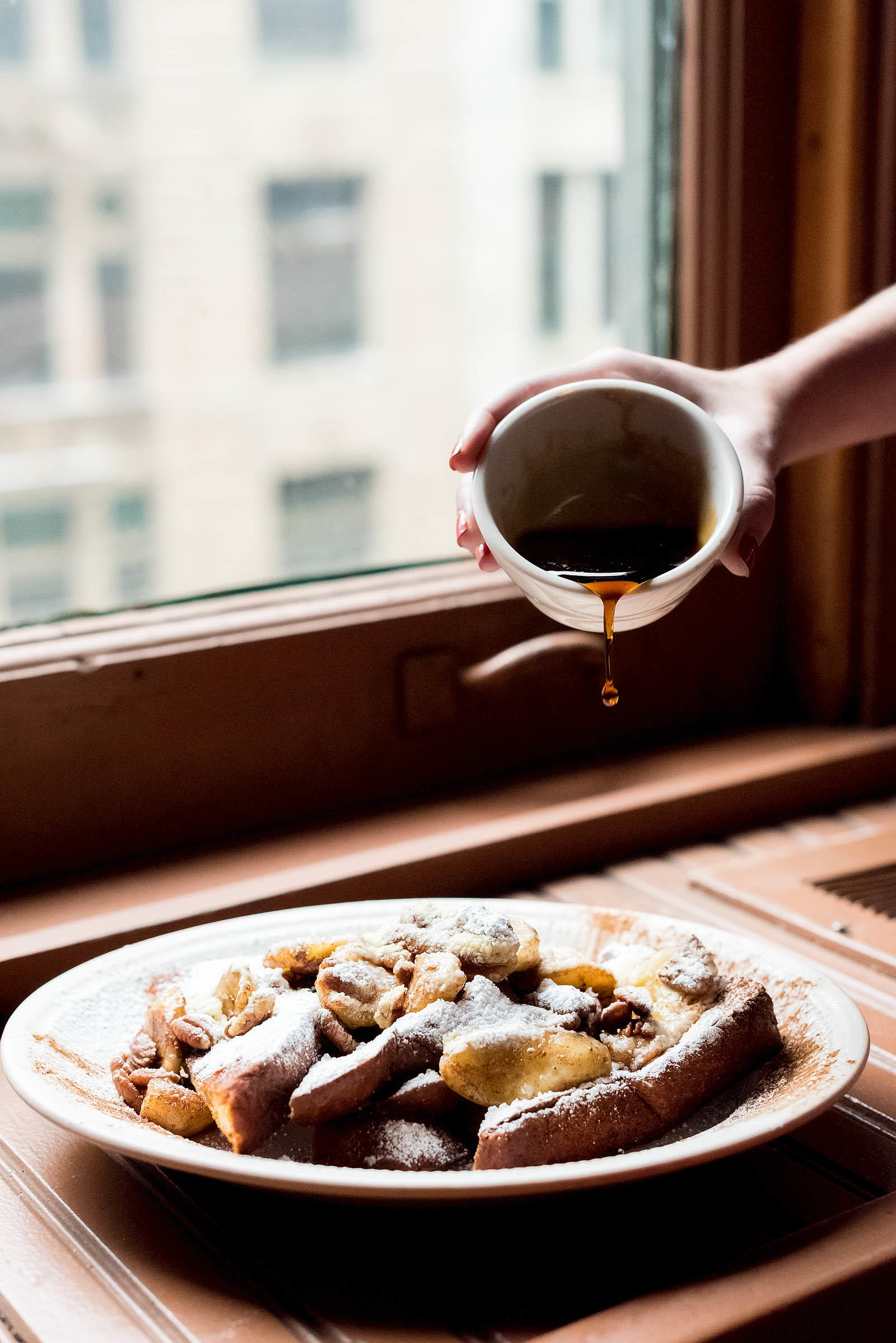 Housemade Bananas Foster Pecan French Toast! Doused in lots of syrup…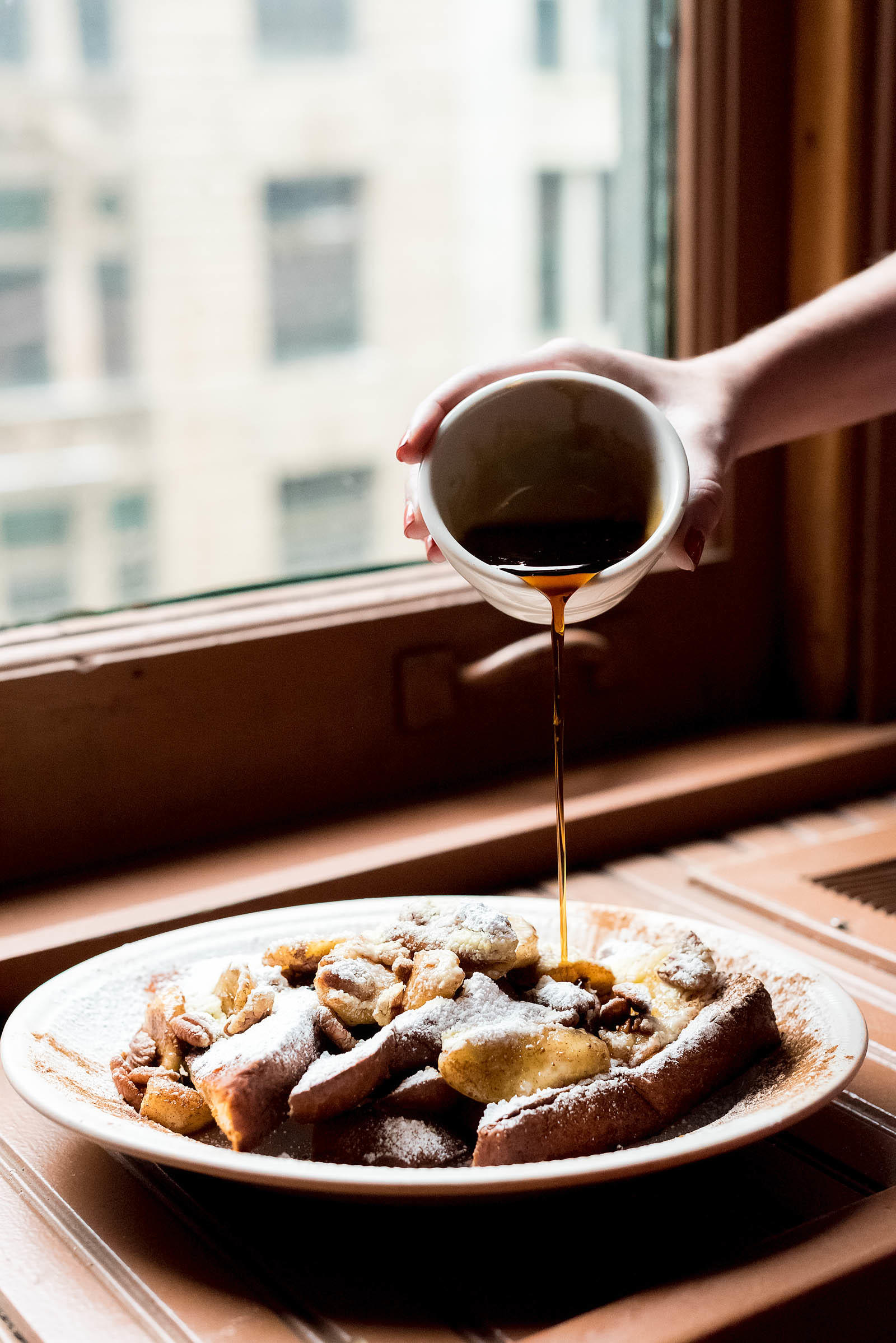 Lots of Syrup.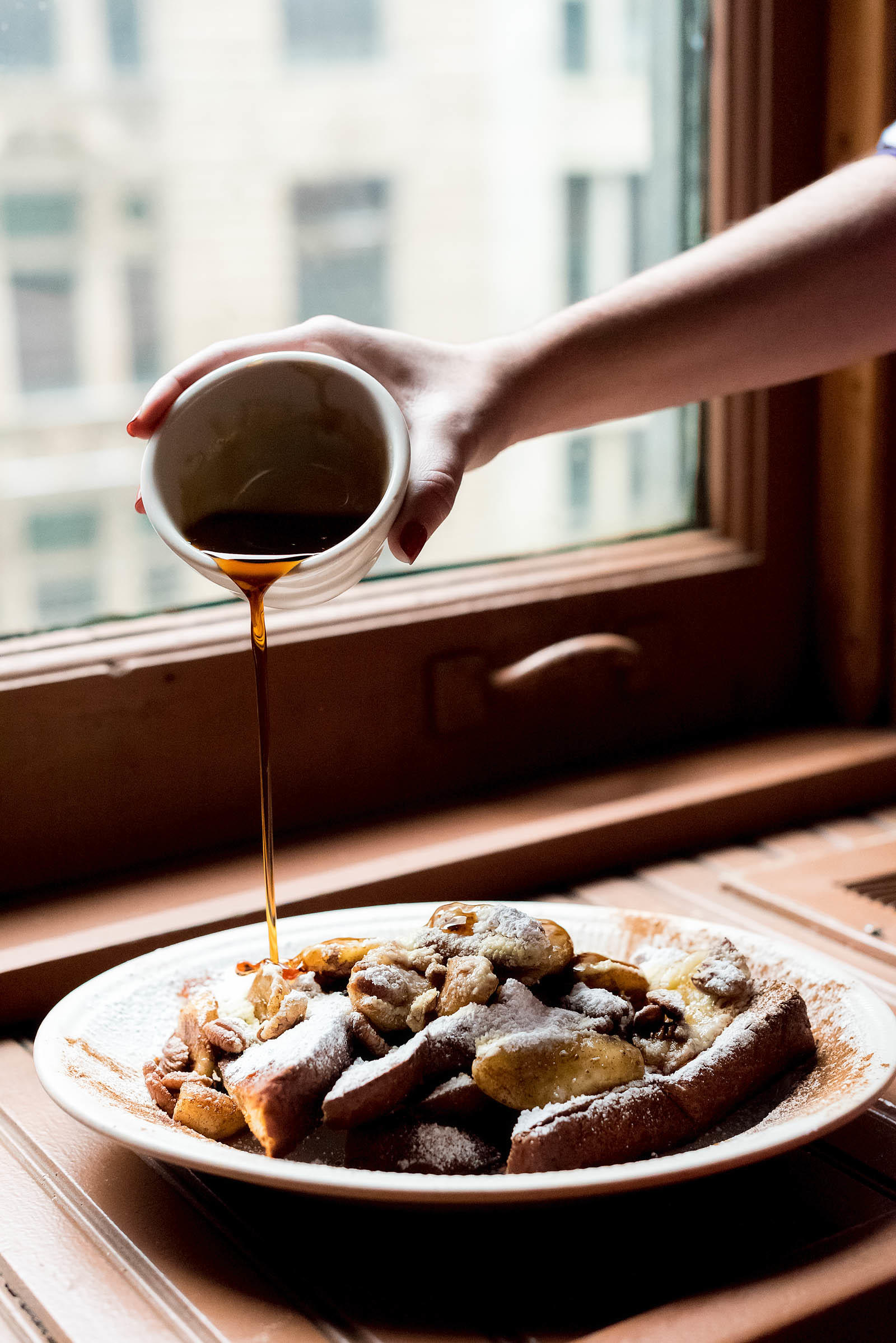 Obviously.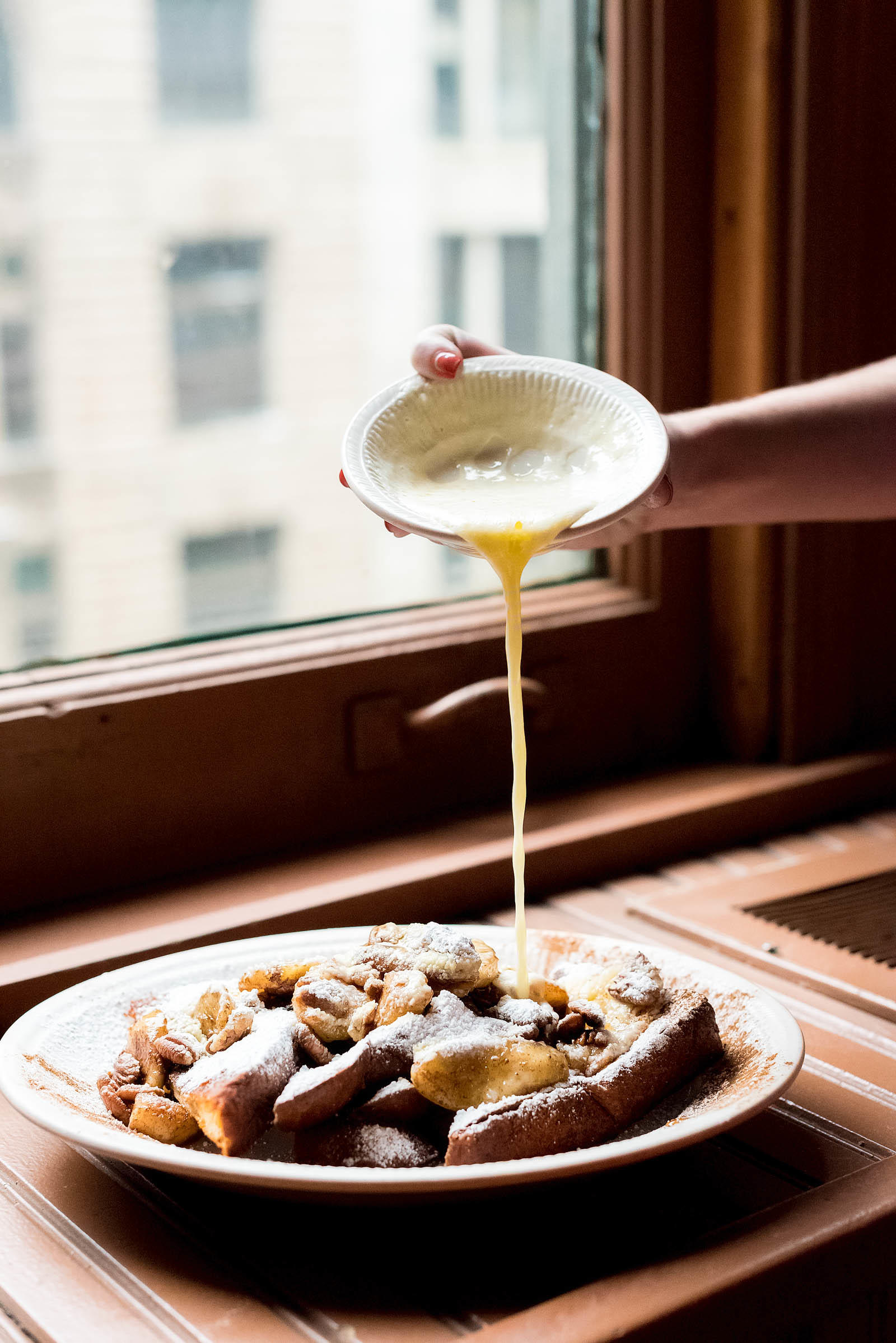 And if you want to be extra-indulgent (not to mention VERY southern), you add a healthy pour of melted butter on top for good measure too.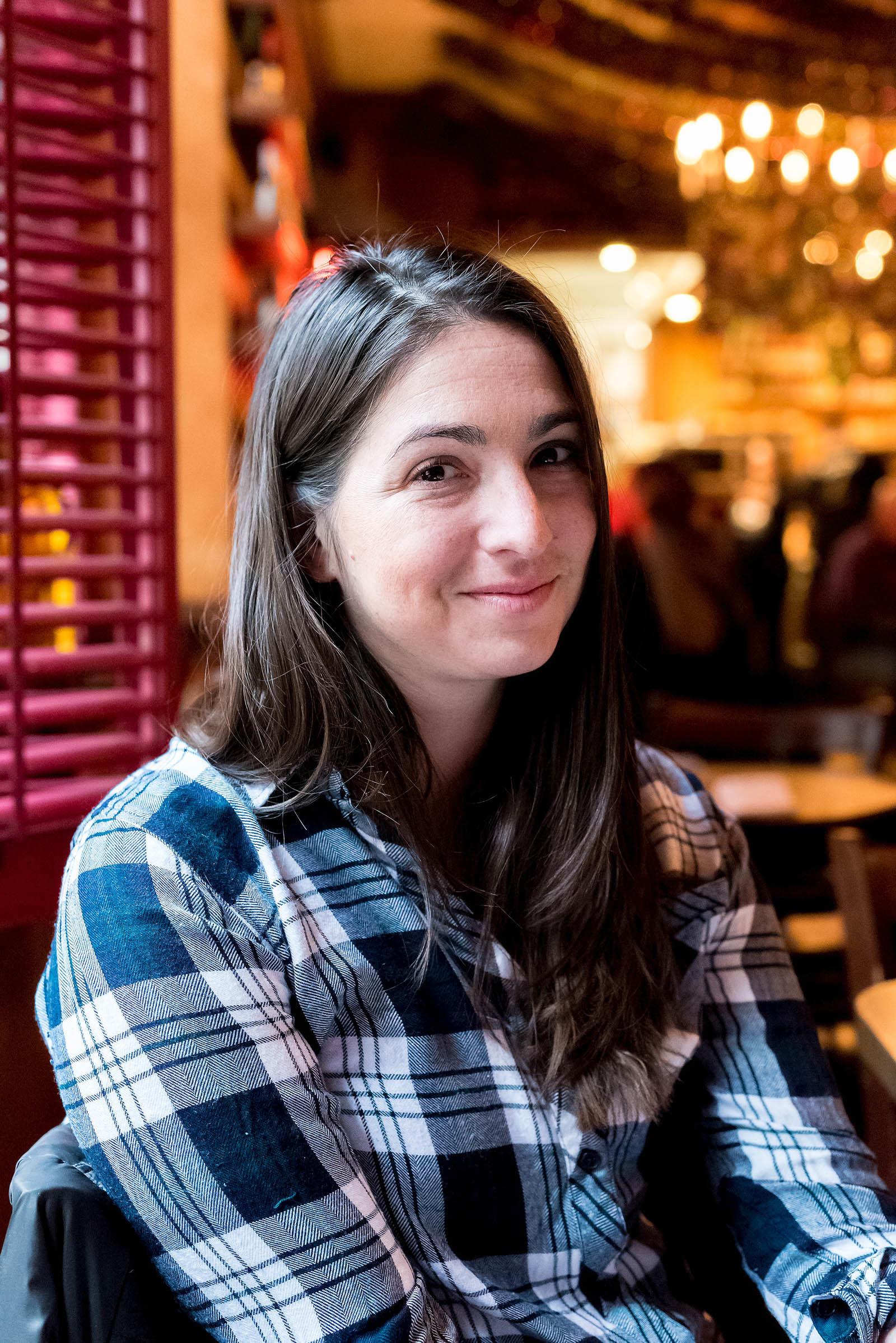 Many thanks to my close friend Erin for arranging for us Heaven on Seven foodie fans to get a chance to try SO many of their delicious dishes and to talk with awesome owner and head-chef Jimmy too!
If you're looking for a Chicago classic that's been around for decades and that'll satisfy just about any southern food craving you can think of, look no further than this hidden gem spot in the Loop!
Disclosure: I received a complimentary meal to facilitate this post. Review and all opinions are my own.