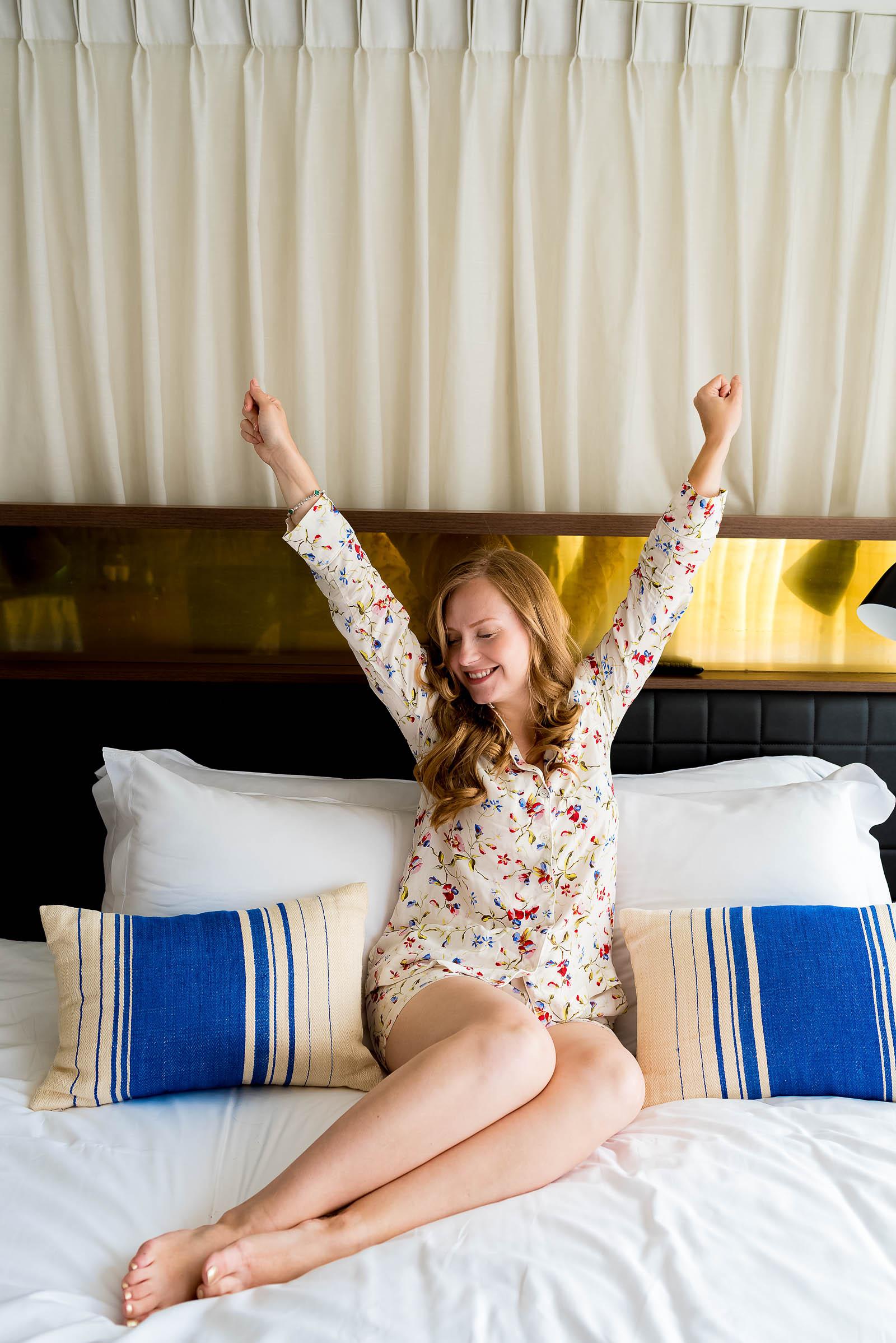 It's hard to think it's been three months since my family's trip to Amsterdam for my 30th birthday.
It was easily one of the most incredible trips of my life.
I'd always wanted to spend at least one birthday abroad but spending it abroad in my favorite European city made it THAT much more incredible.
I like to think I'll be living on the memories for at least the next decade. And one of the best memories from the trip? Our stay at the artsy Ink Hotel.
When it came to choosing a hotel for our trip, we had TONS of options to choose from. Amsterdam really does have some incredible hotels!
But after our amazing stay at the Sofitel St. James in London last year, we couldn't help but want to explore their Amsterdam options as well and that's how we discovered INK.
It's technically considered an "M Gallery" property by Sofitel — meant for an edgier, younger crowd — but with all the luxe amenities and amazing features you'd expect from a Sofitel property.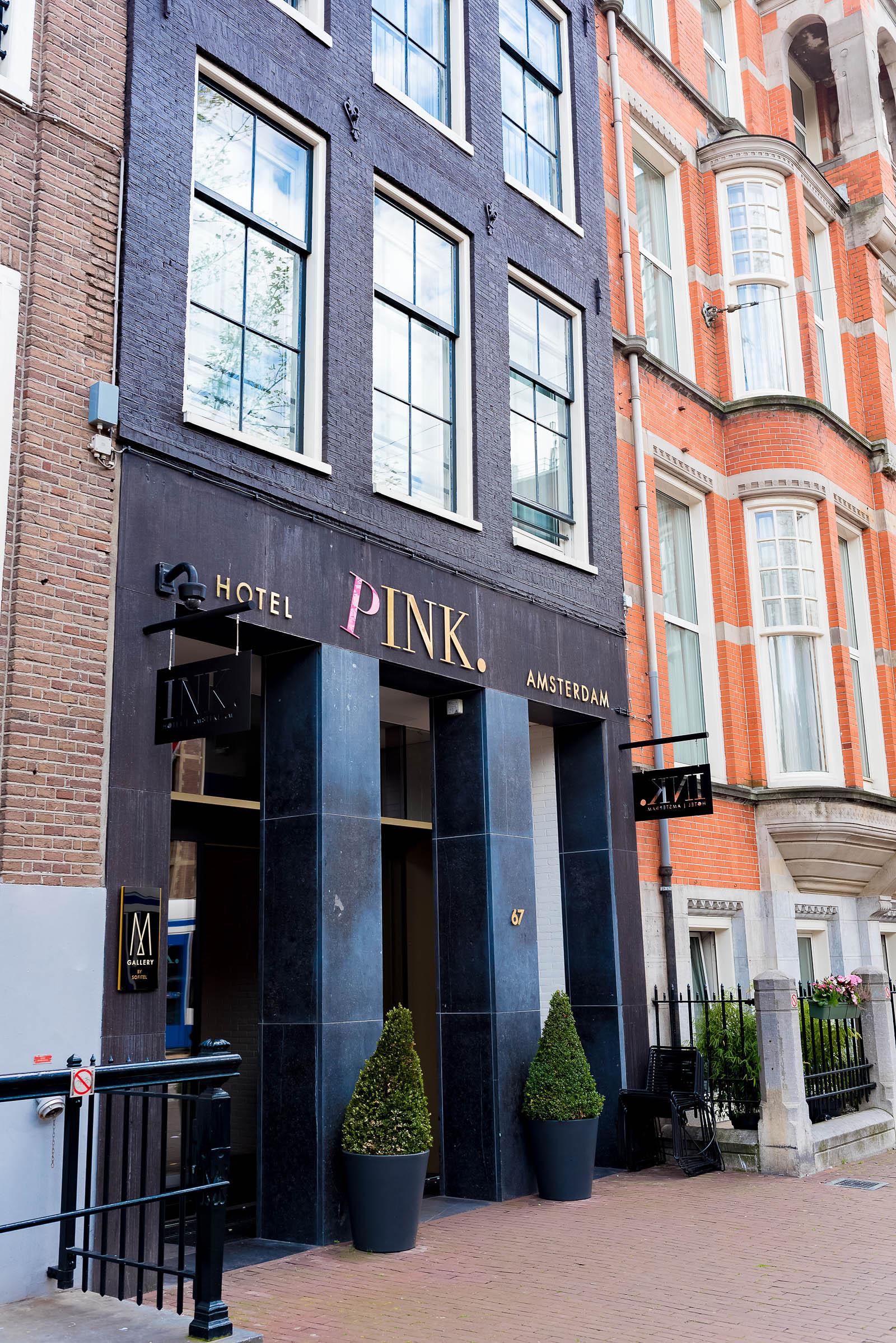 And from the moment we stepped through the front doors, it was home.
The Hotel
INK is located right in the heart of central Amsterdam and just a short walk from Centraal Station. It's near just about EVERYTHING (except the Rijksmuseum which is down near Vondelpark)… the Red Light District, the enchanting Jordaan neighborhood, the Anne Frank House… EVERYTHING.
And since we planned on walking everywhere in Amsterdam, this location was clutch. We didn't have to take a taxi once!
INK is an incredibly innovative hotel, being located in the former newspaper 'De Tijd' printing work building. There are clever little nods to the hotel's journalistic past all over the place!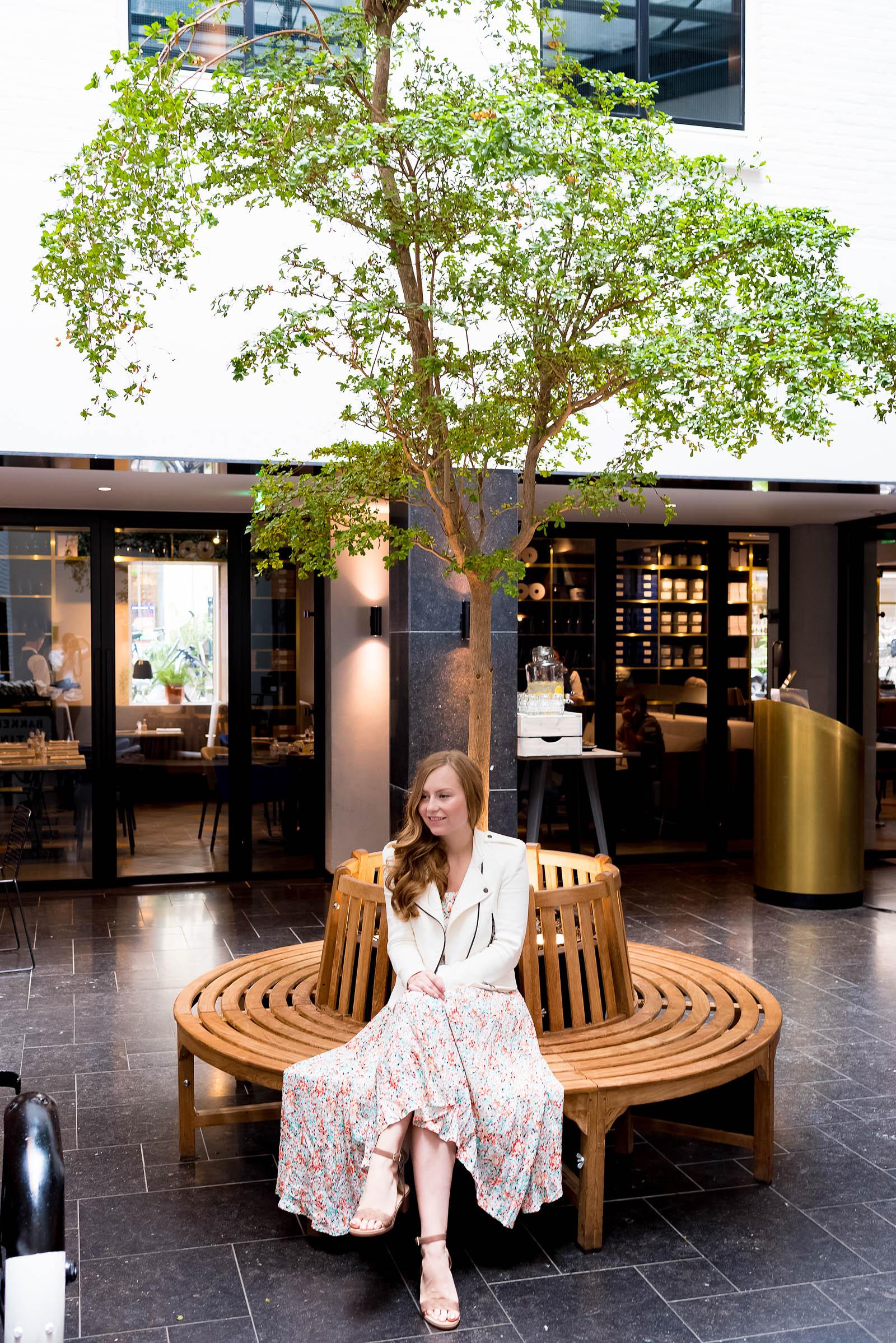 But my favorite part is certainly their beautiful open atrium right in the lobby — there's even a tree inside!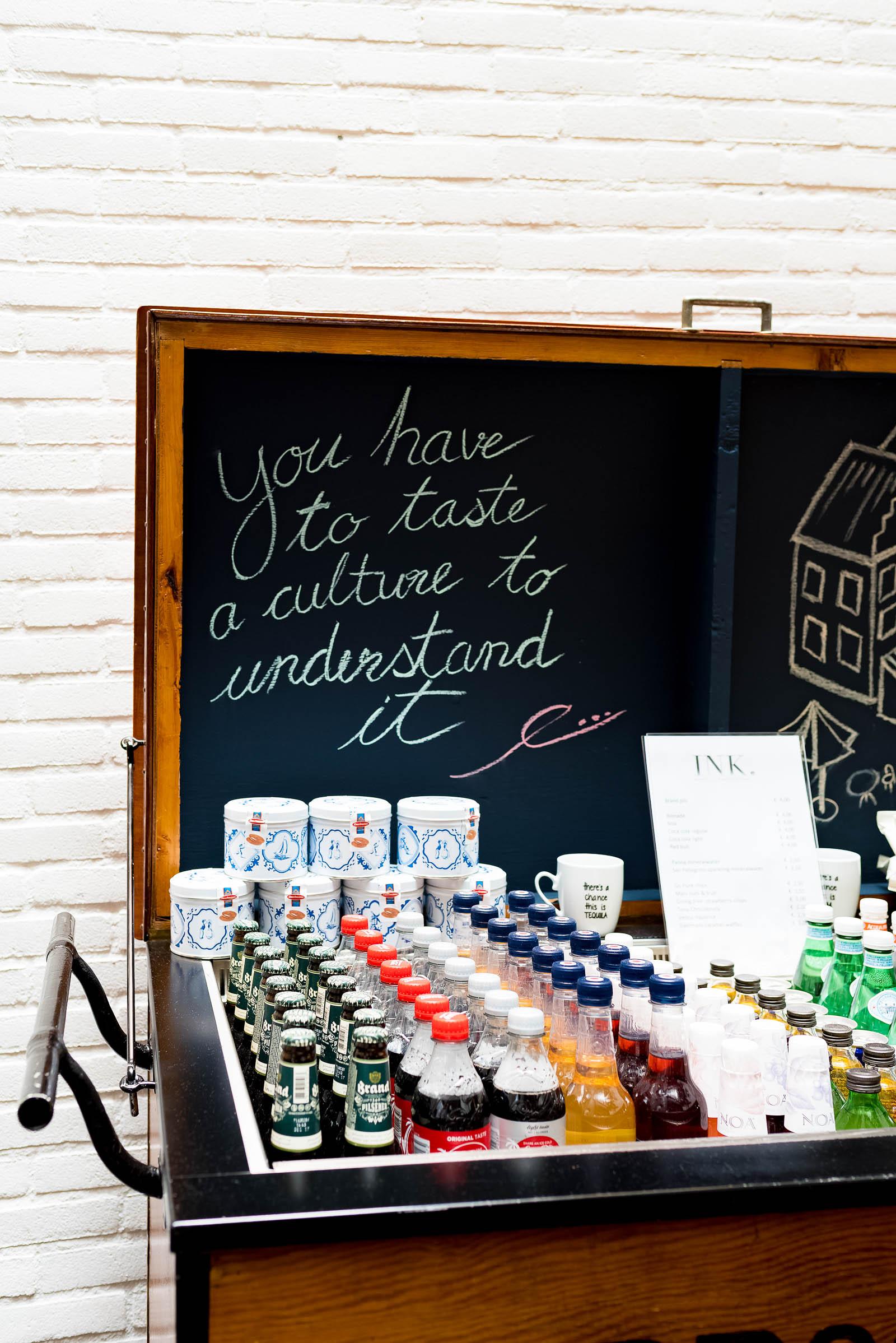 Not to mention a delicious, Dutch snack station.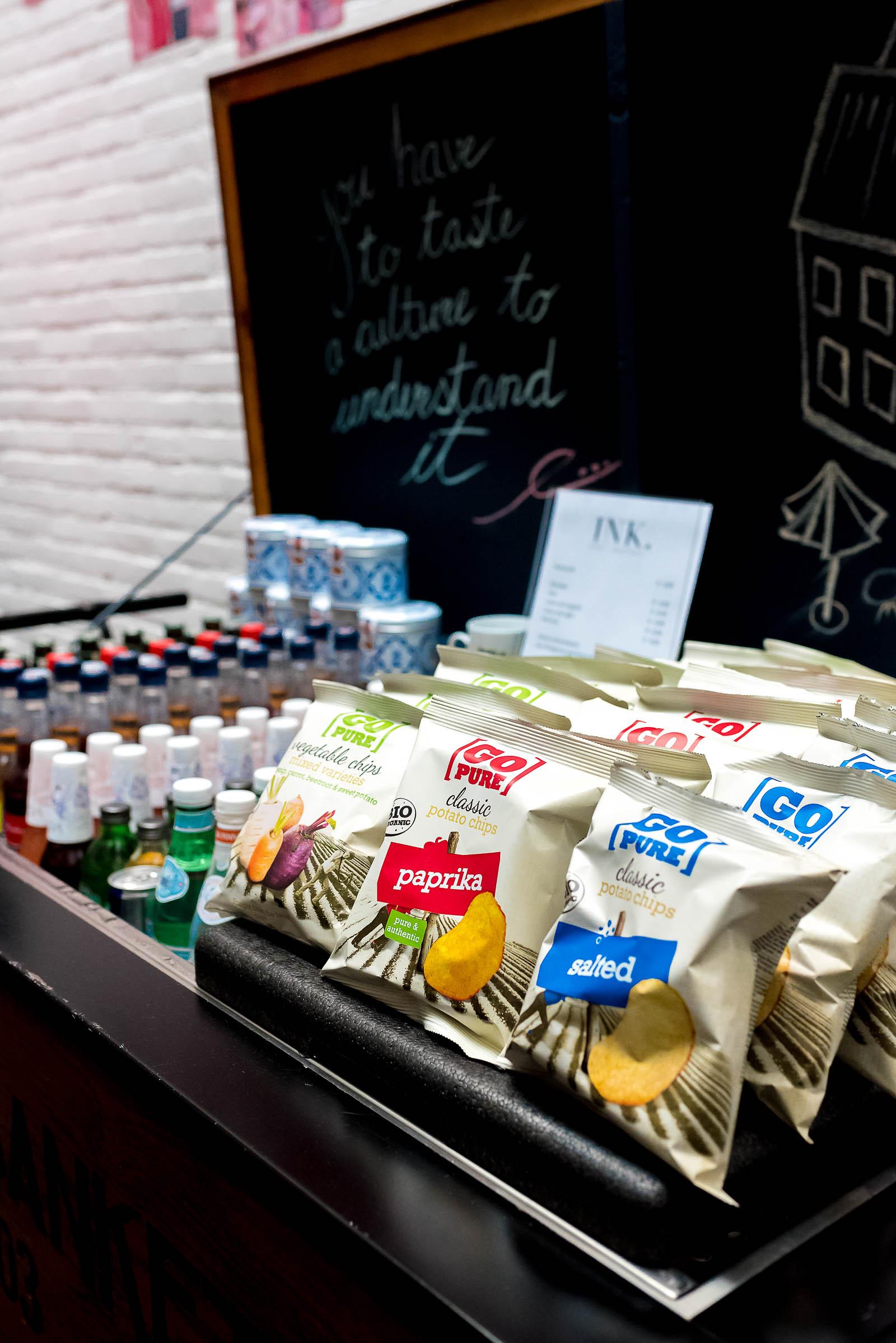 Complete with my favorite chip flavor from the Netherlands… Paprika.
Try them for a zingy, addicting surprise!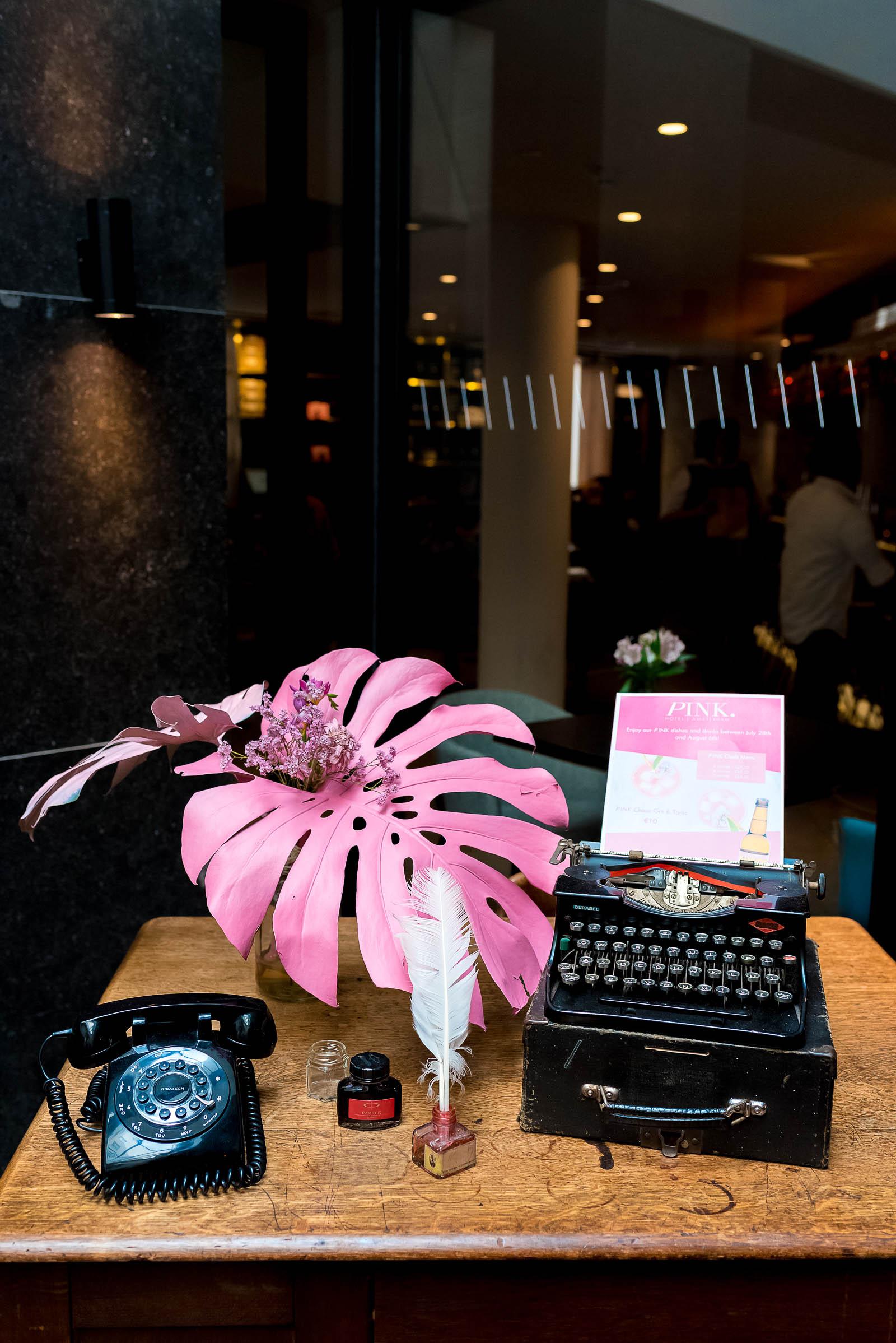 INK's literary past is evident all throughout the hotel with plenty of vintage typewriters and old-school journalistic finishes around every corner.
And right off the center atrium you'll find the Pressroom, INK's in-house restaurant, bar, and coffee shop.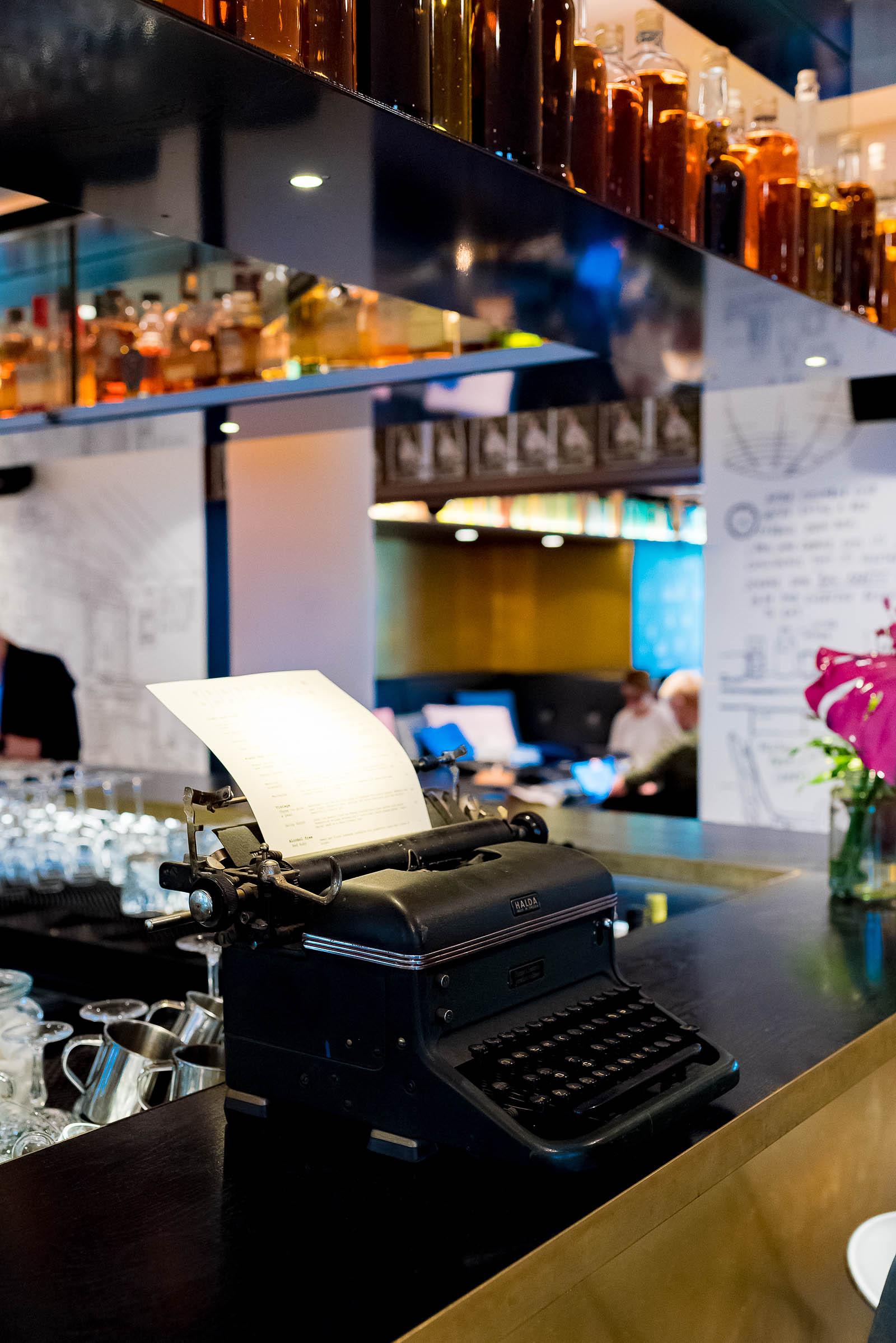 Complete with its own typewriter too!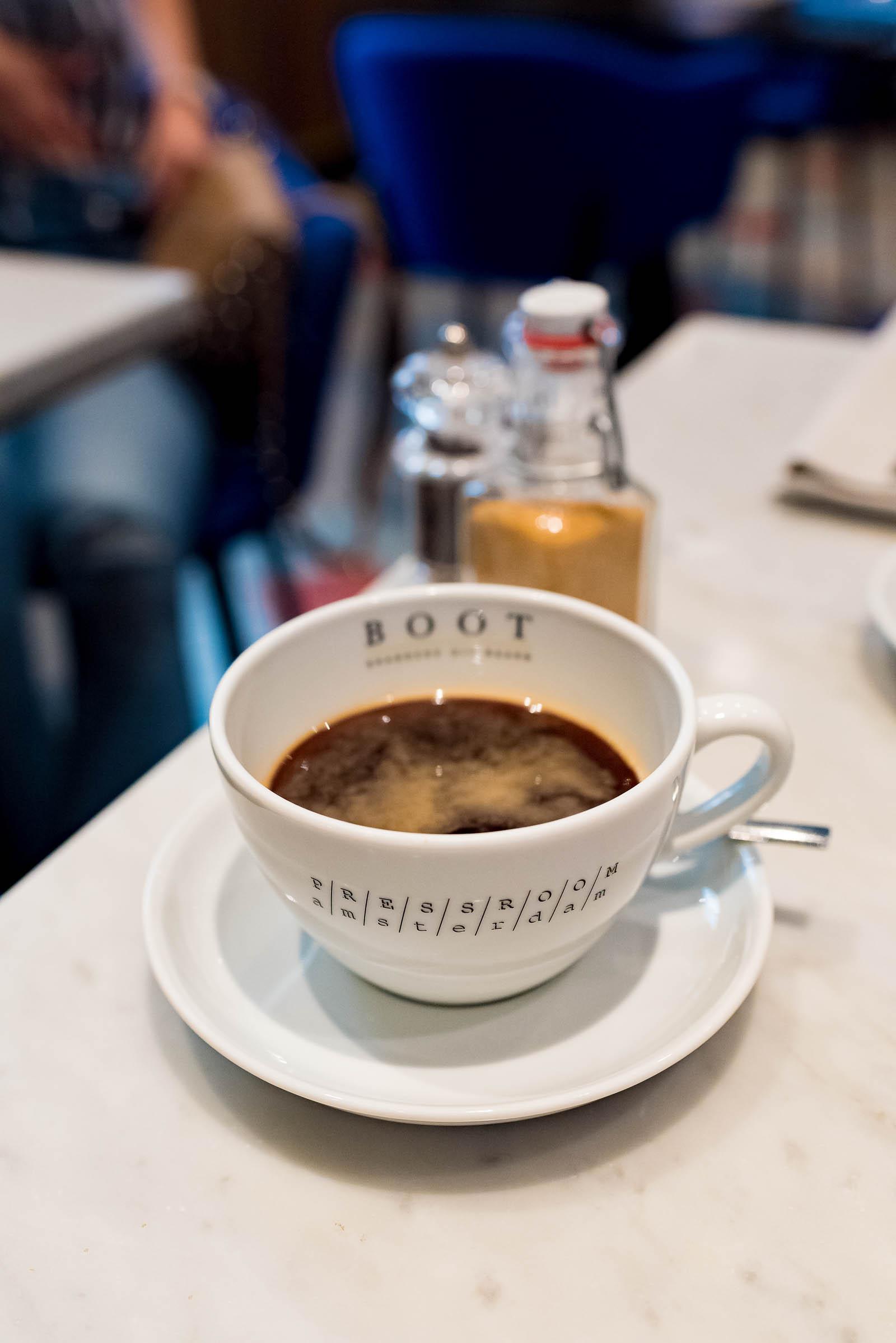 And some of the best coffee I've yet found in Amsterdam. But maybe that was just the jet-lag talking…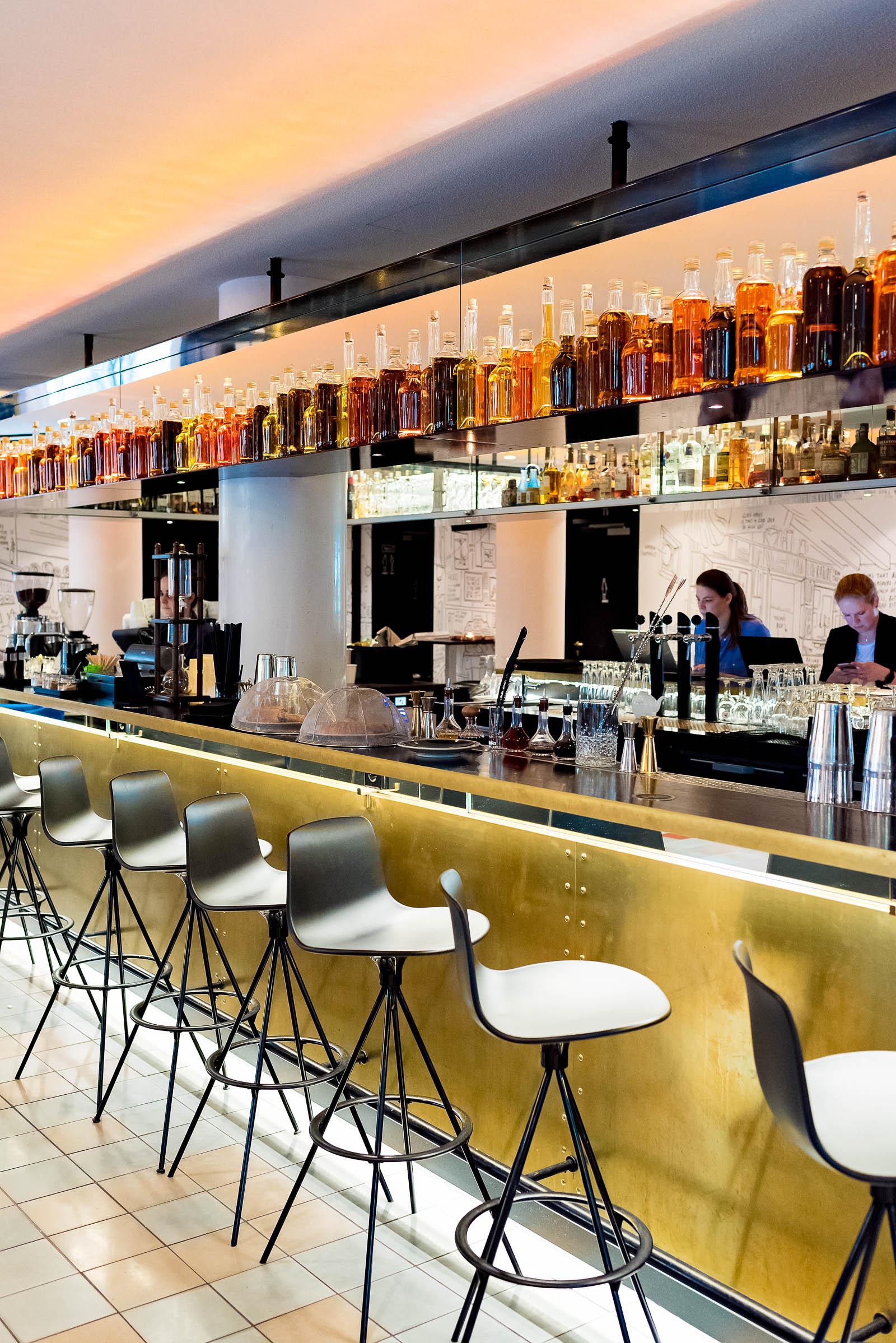 The bar itself is a wonderful space with an INCREDIBLE bartending staff.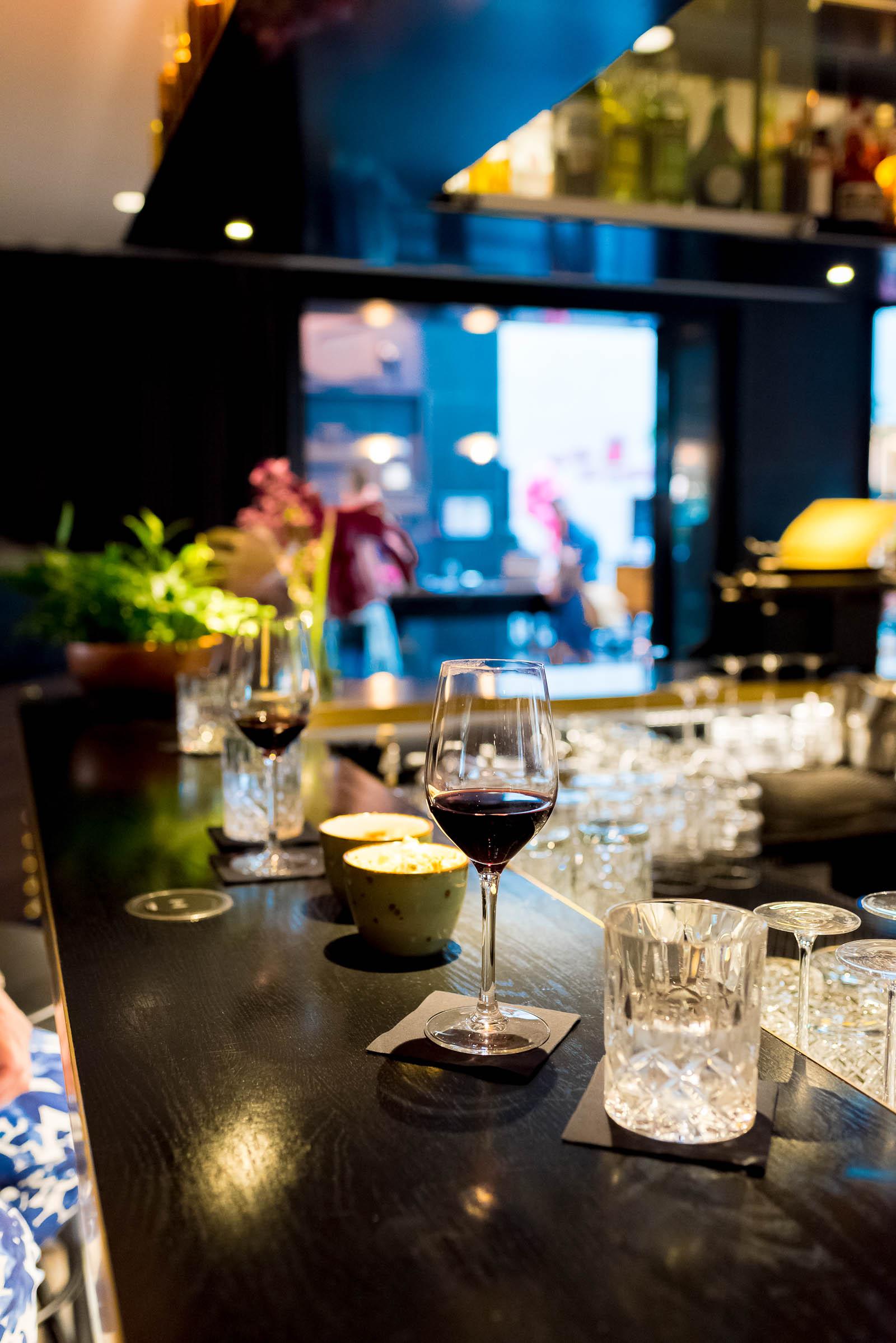 Multiple times during our stay they recommended several outstanding, new-to-us wines and liquors.
Not to mention plenty of great recommendations around the city as well!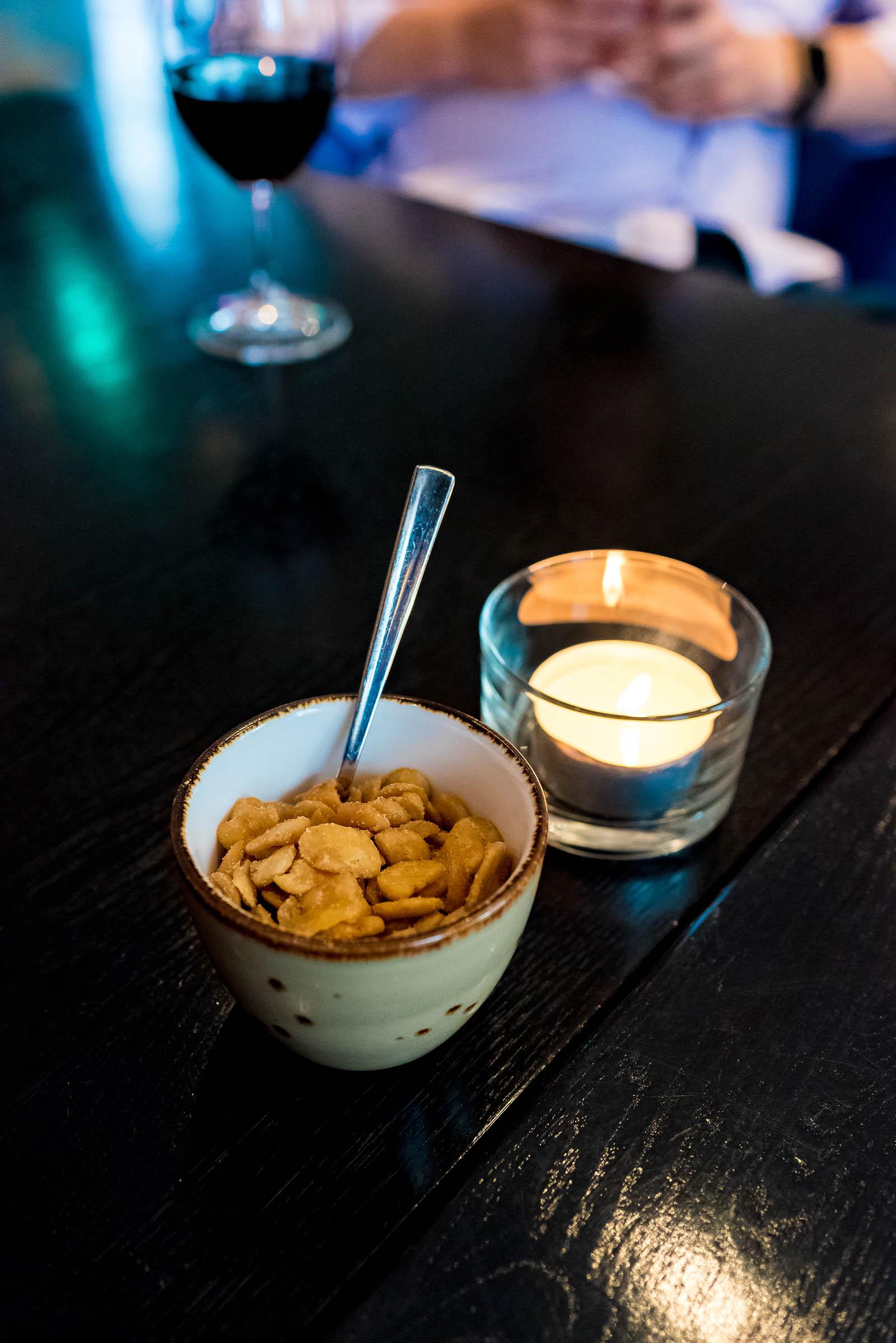 (And the bar snacks are unbeatable! These fried beans were seriously addicting…)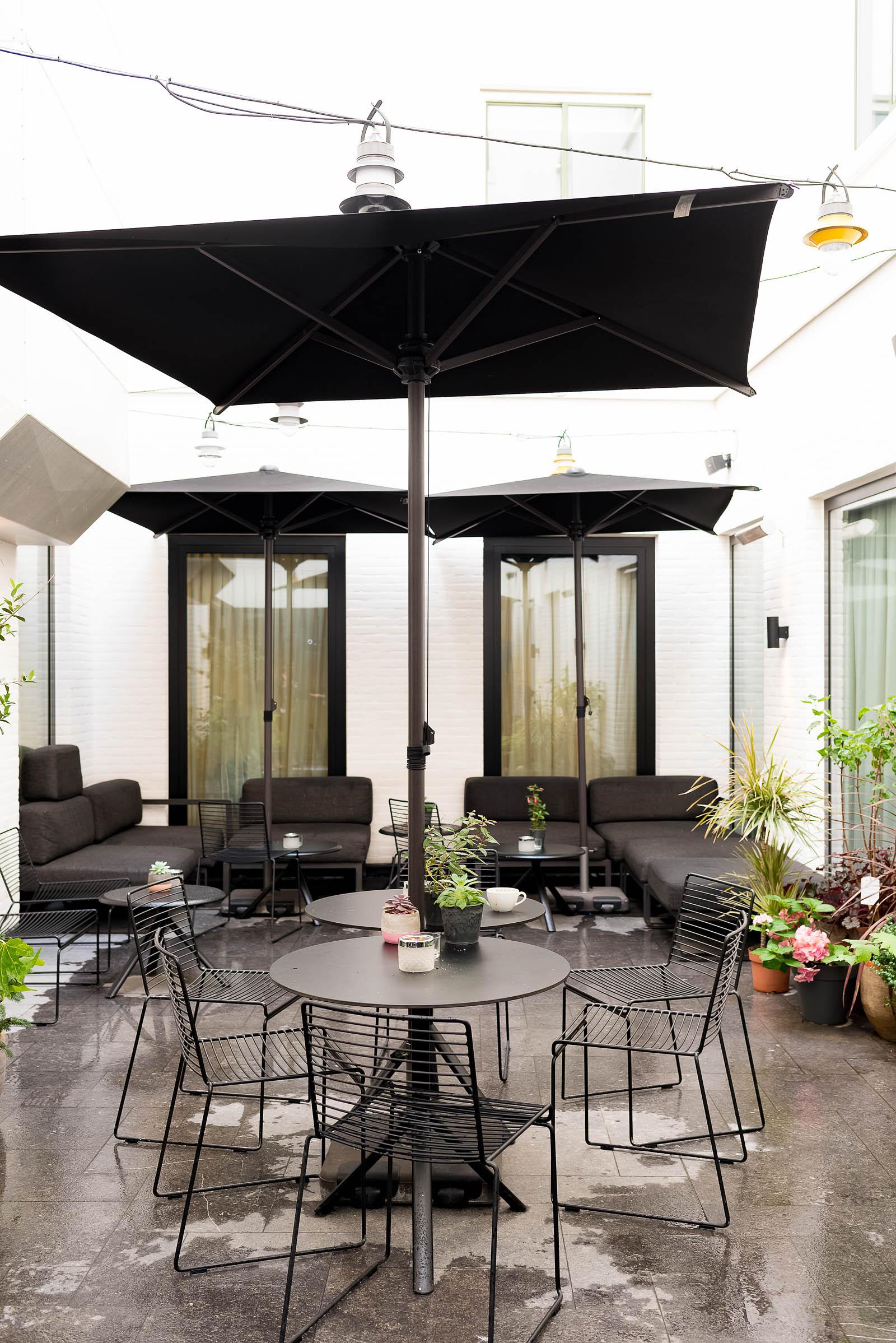 There's also a lovely patio just outside of Pressroom where you can eat when the weather is nice.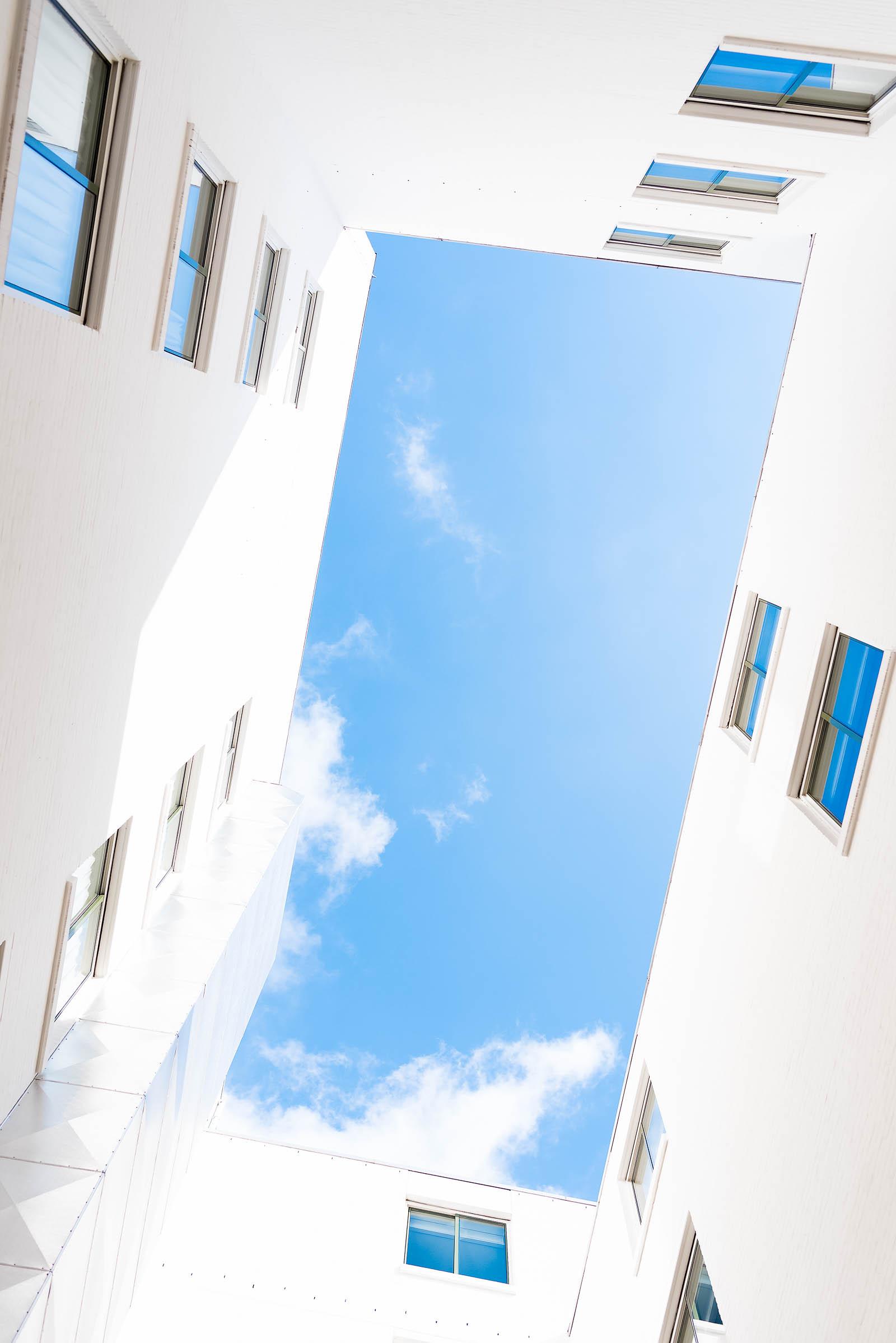 And enjoy on any sunny day!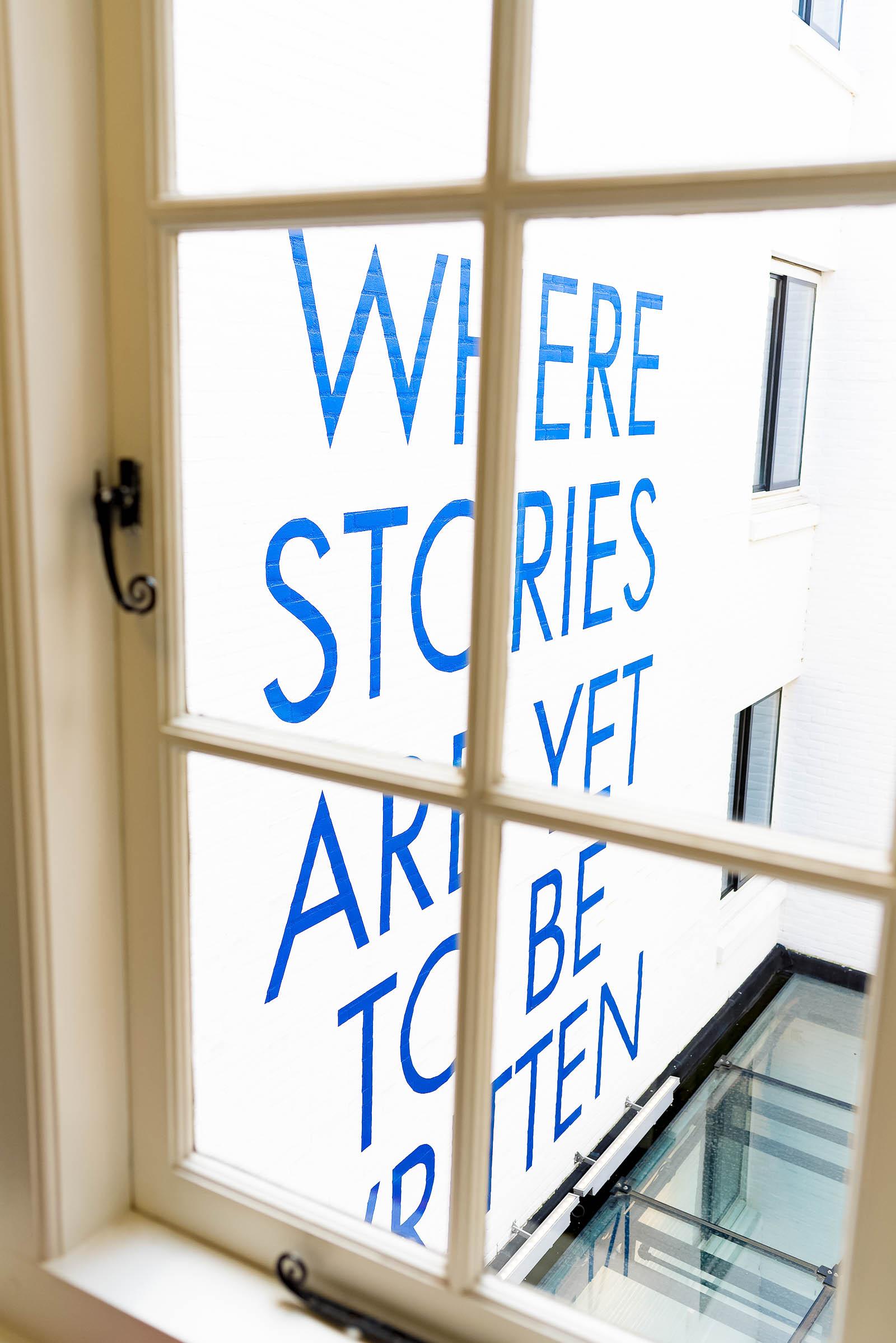 But one of the coolest touches isn't immediately noticeable above the glass atrium but you see it as you ascend the stairs to your room (you'll miss it if you take the elevator!)…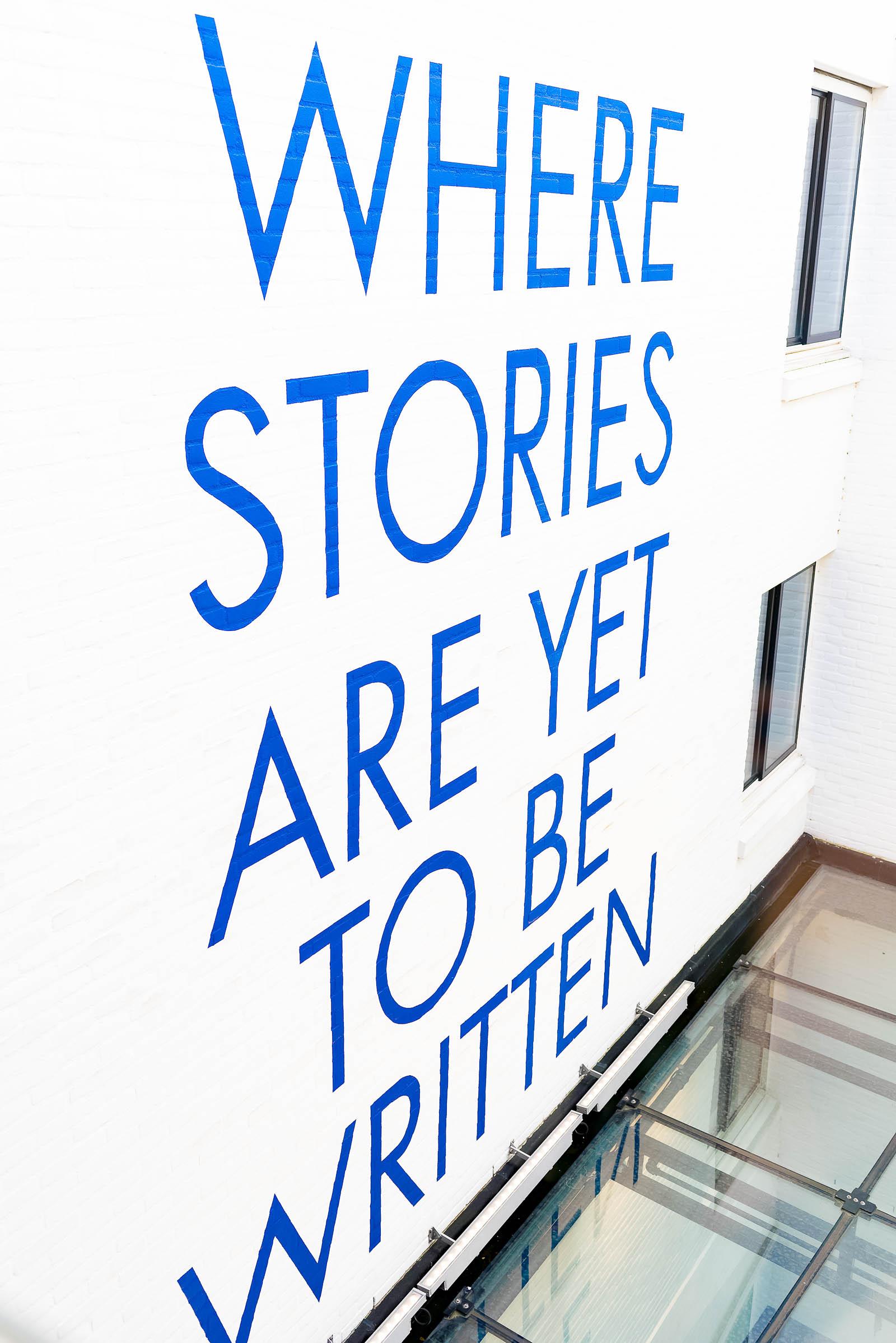 Ink's most prominent homage to its newspaper birthright — a huge, multi-story mural stating the hotel's motto: "Where Stories Are Yet to Be Written".
How cool is that? And what a tagline for a hotel with this history, right?
The Rooms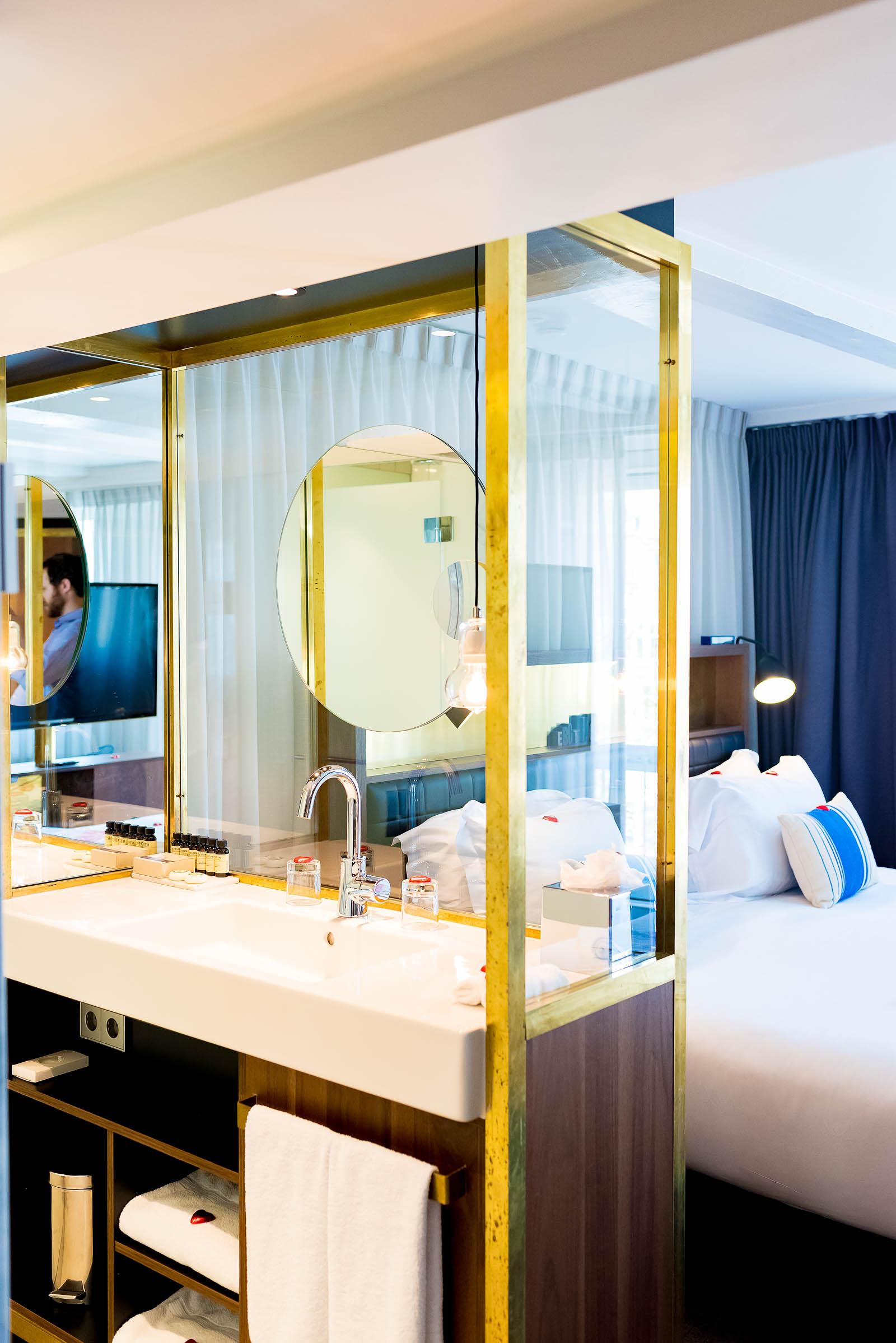 INK's hotel rooms are all as unique as their lobby! We were lucky enough to snag one of INK's Executive Rooms overlooking the main road.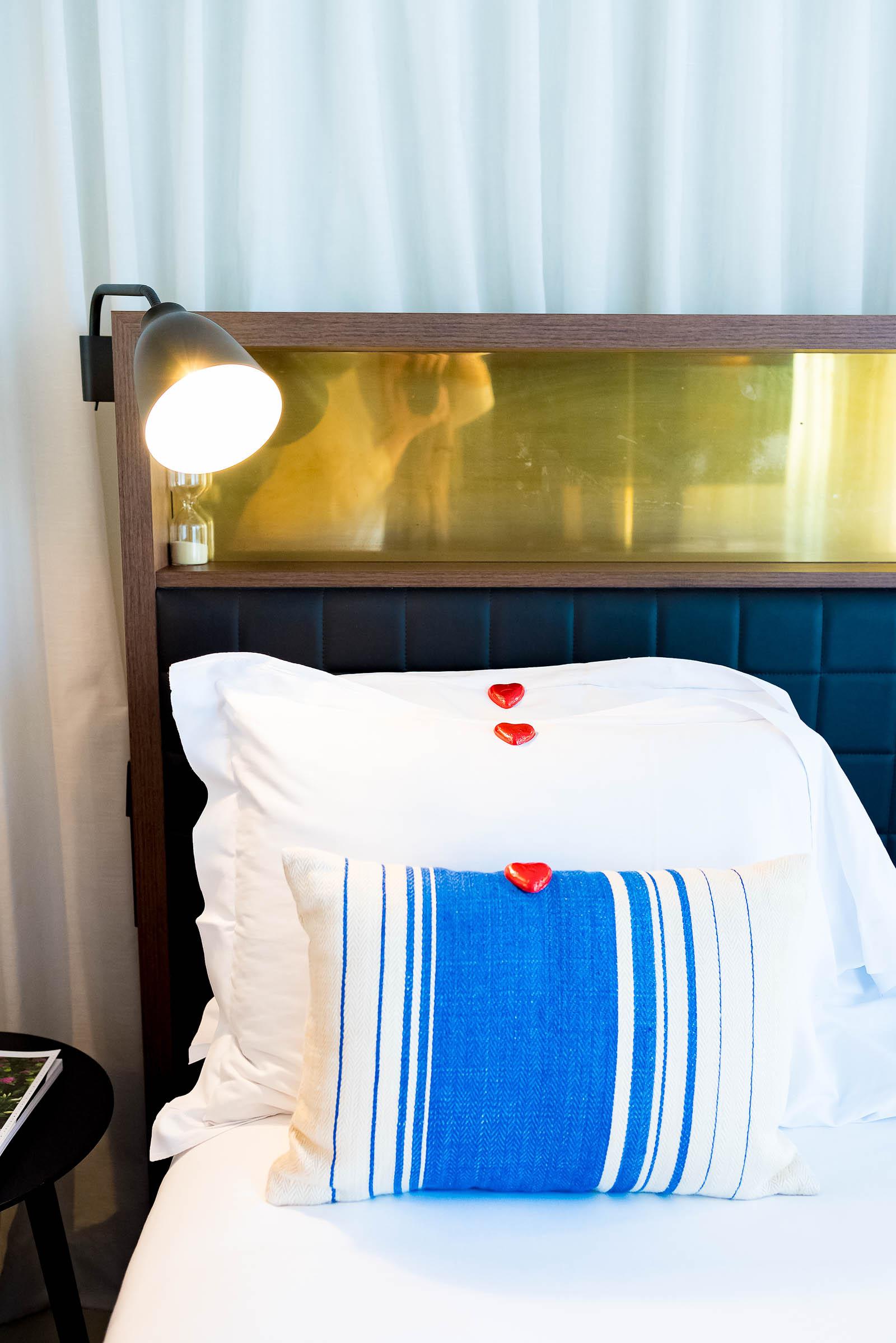 The beds were incredibly comfortable (all Sofitel beds are!) and so chic. Don't you just love the blue, white, and gold palette?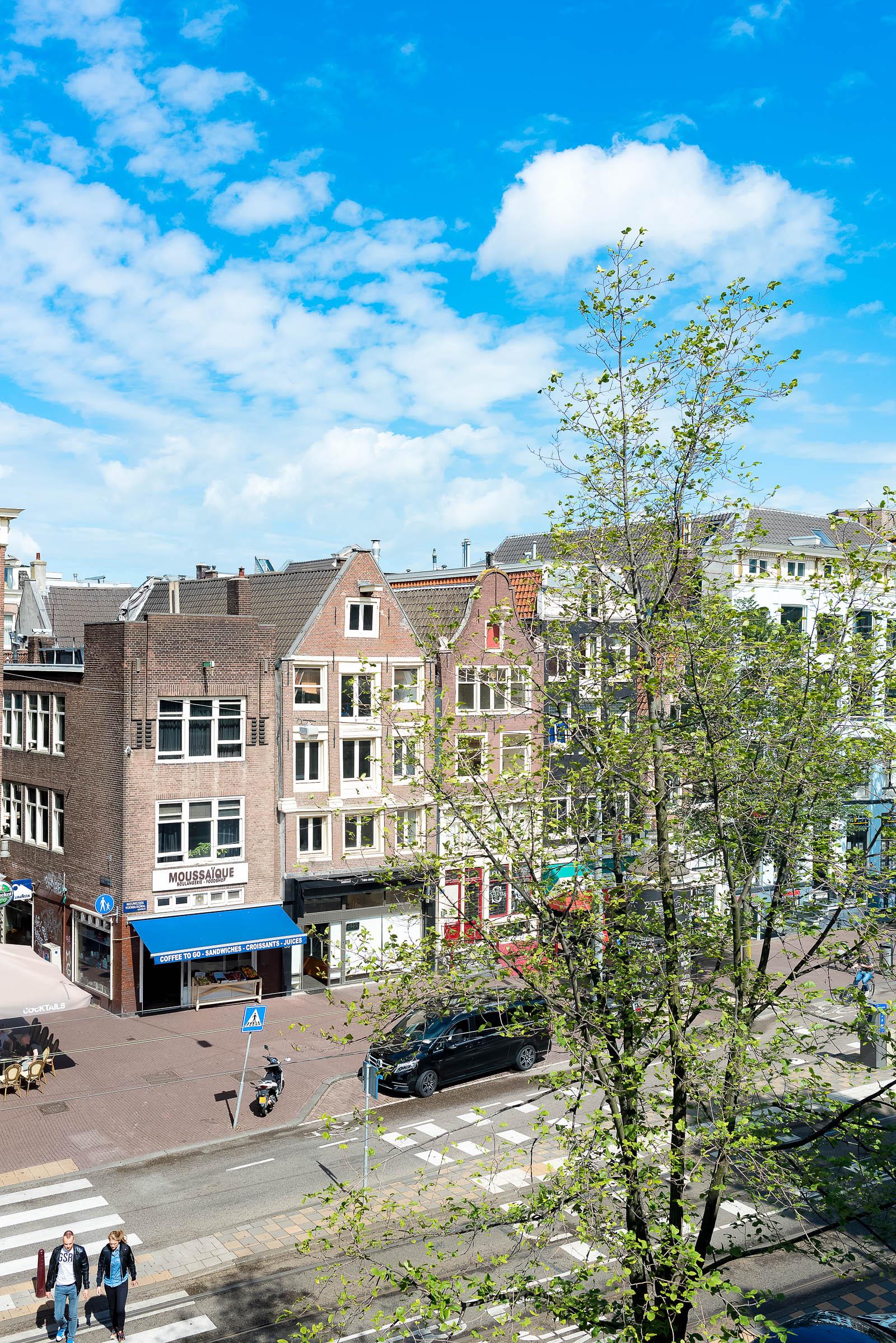 Our view was stunning too. And, despite being on one of Amsterdam's busiest roads, we didn't have a single issue with outside noise during our 8-night stay.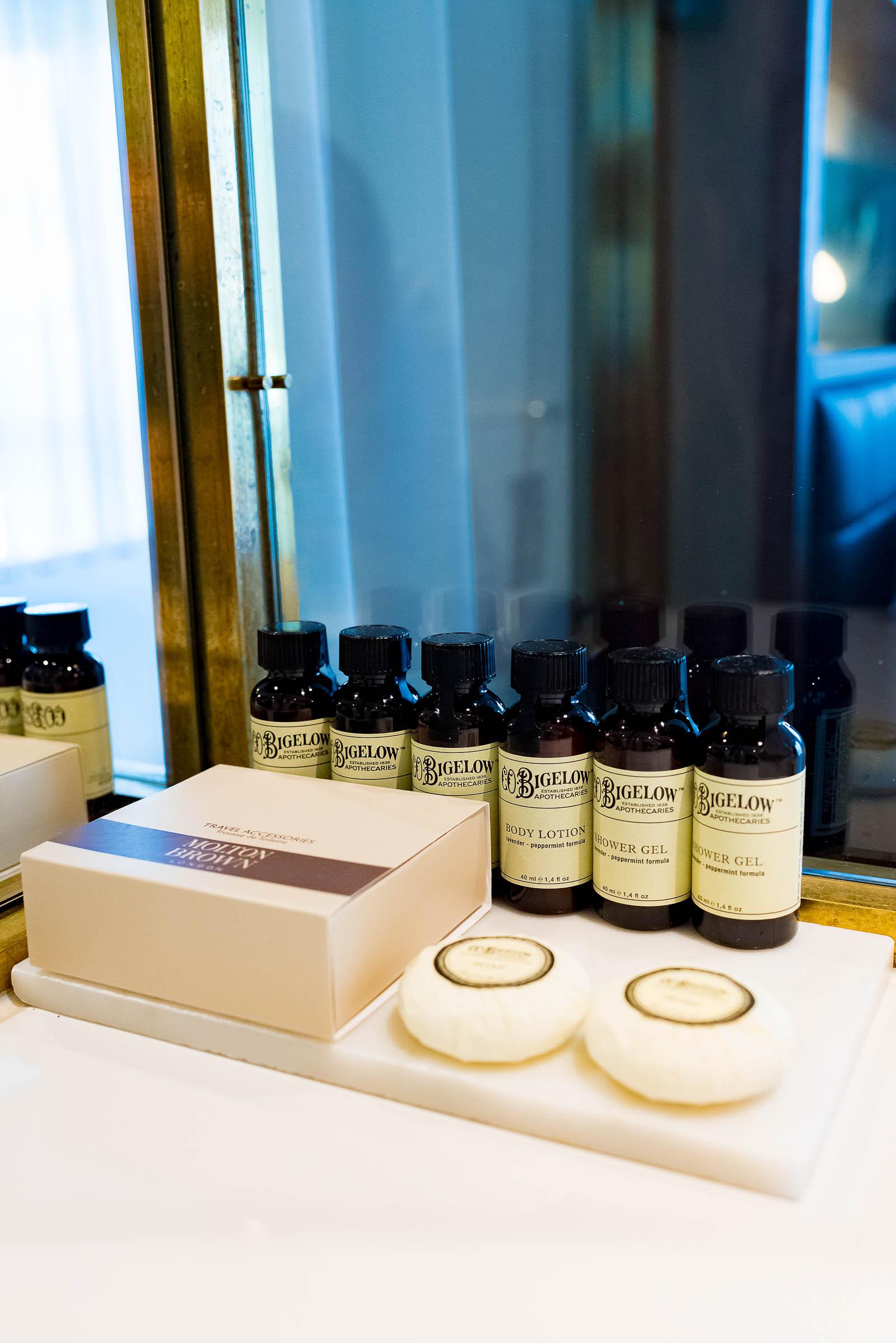 EXTRA PERK: INK offers C.O. Bigelow toiletries — a huge plus when you travel in a carry-on like I do and want to forgo the weight and space toiletries take up.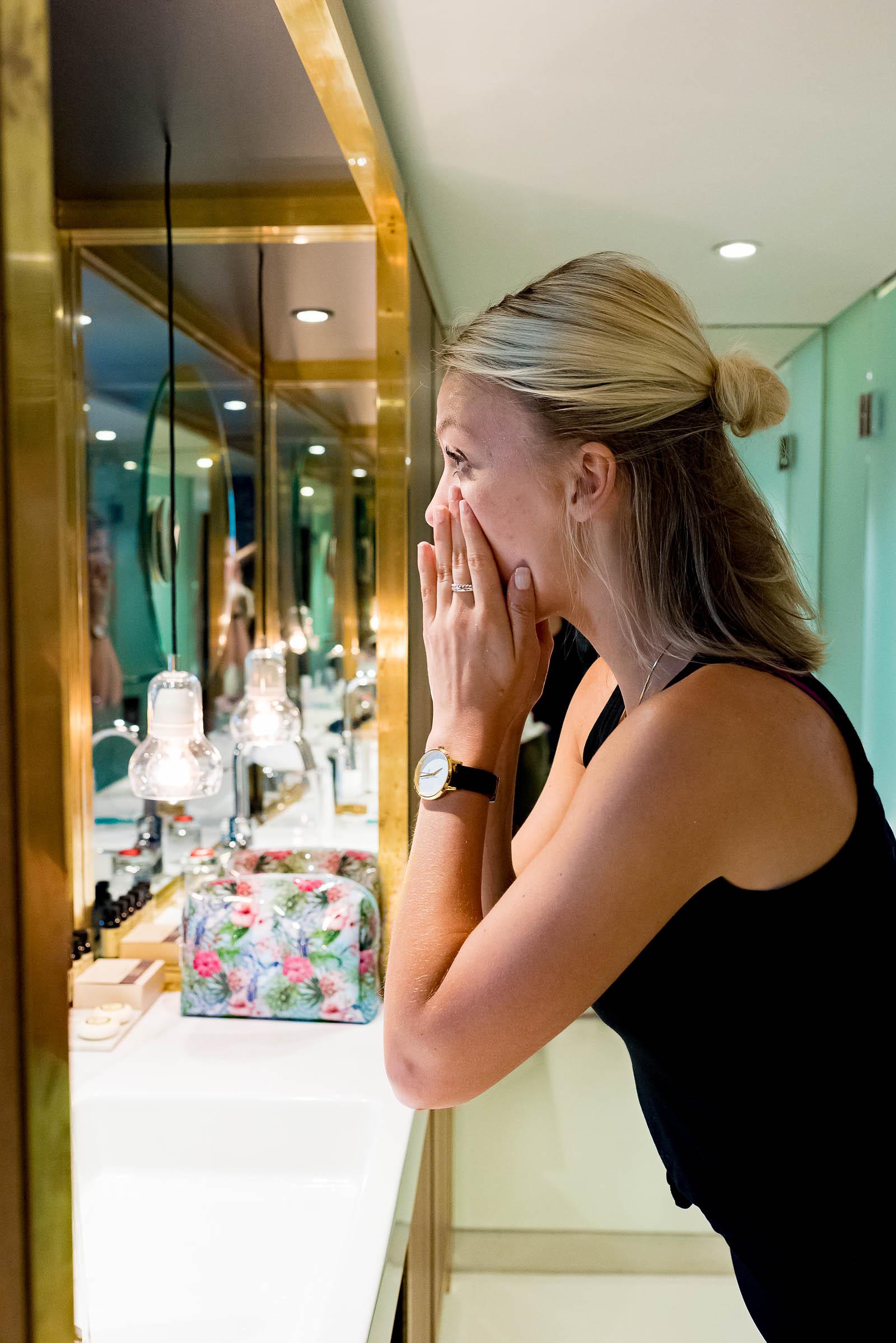 Needless to say we immediately settled into our new home happily!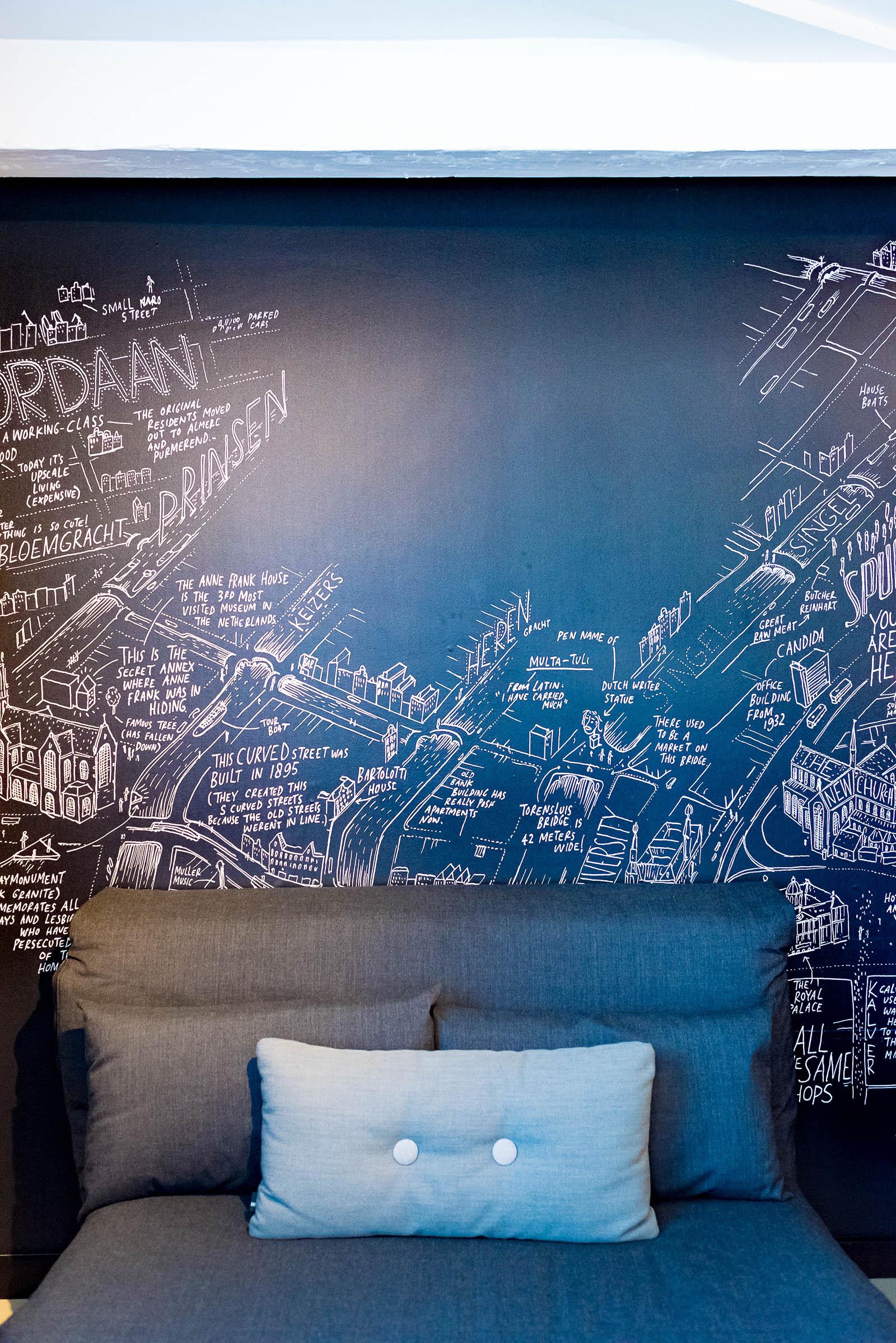 But one of the coolest features of our room was actually the wall decor.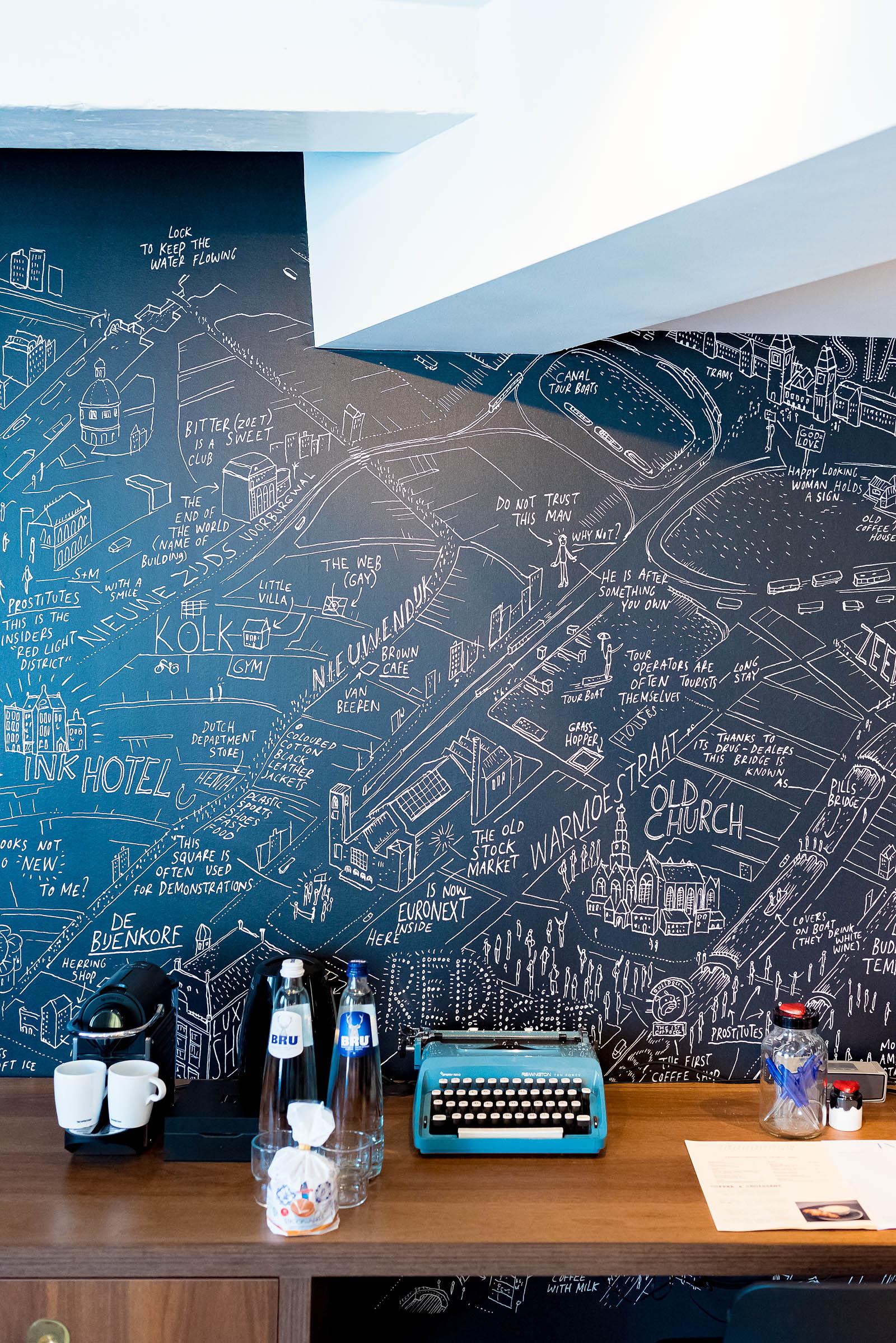 A huge wall-length "chalkboard-esque" mural of downtown Amsterdam.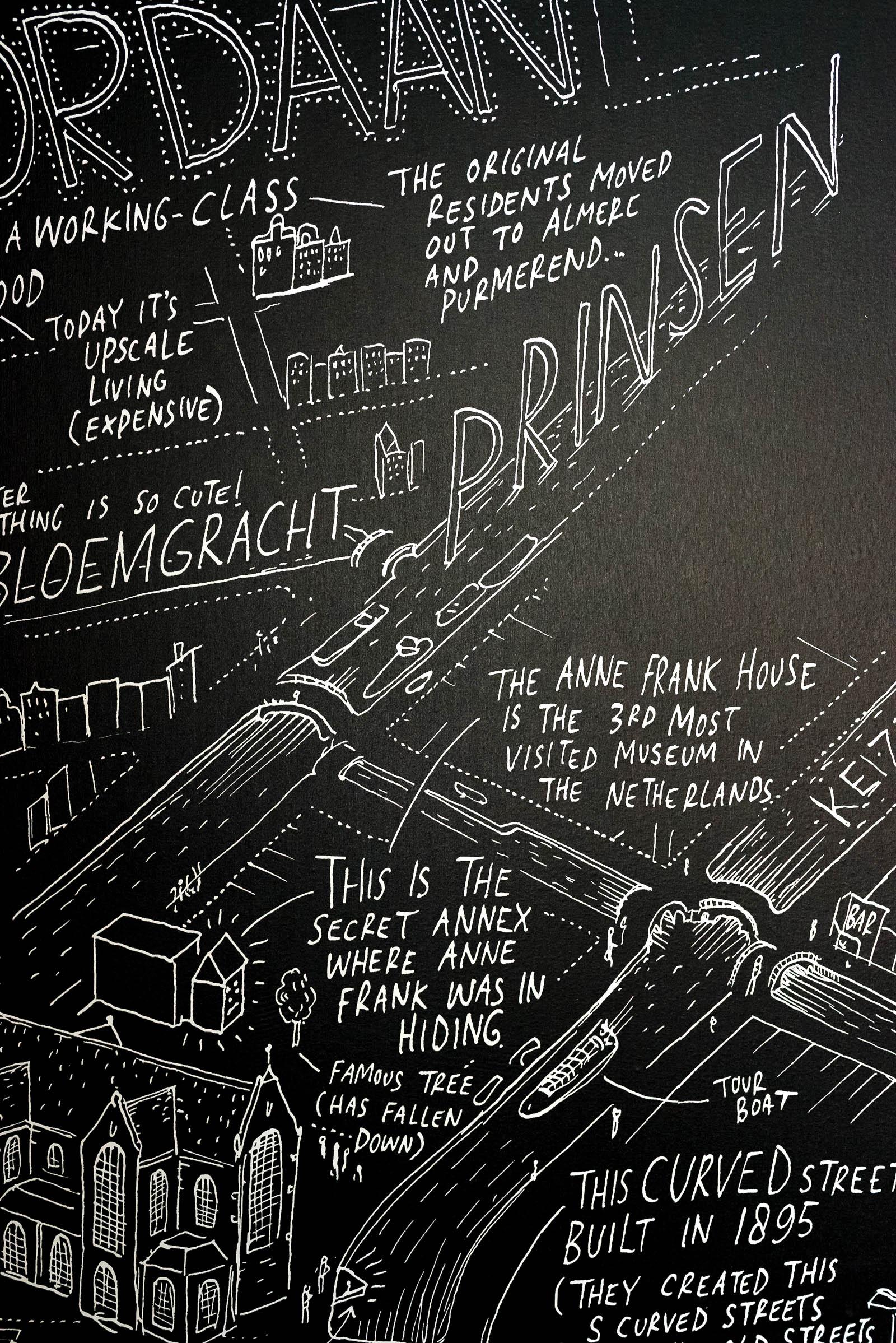 It's shockingly accurate (you could actually walk the city with just a photo of this mural).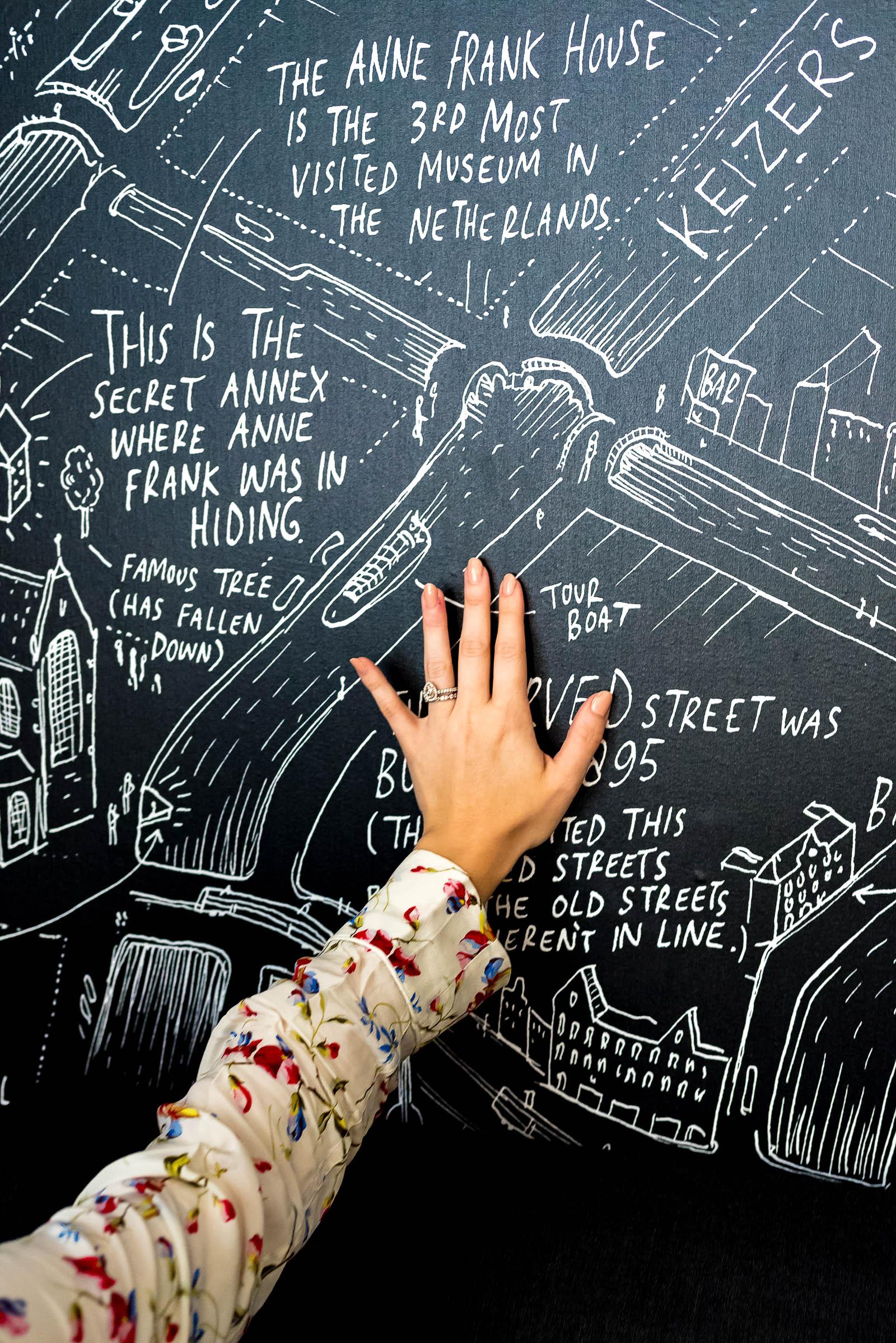 And incredibly witty and interesting. You could seriously read our map for HOURS and not make it through all the little puns and jokes!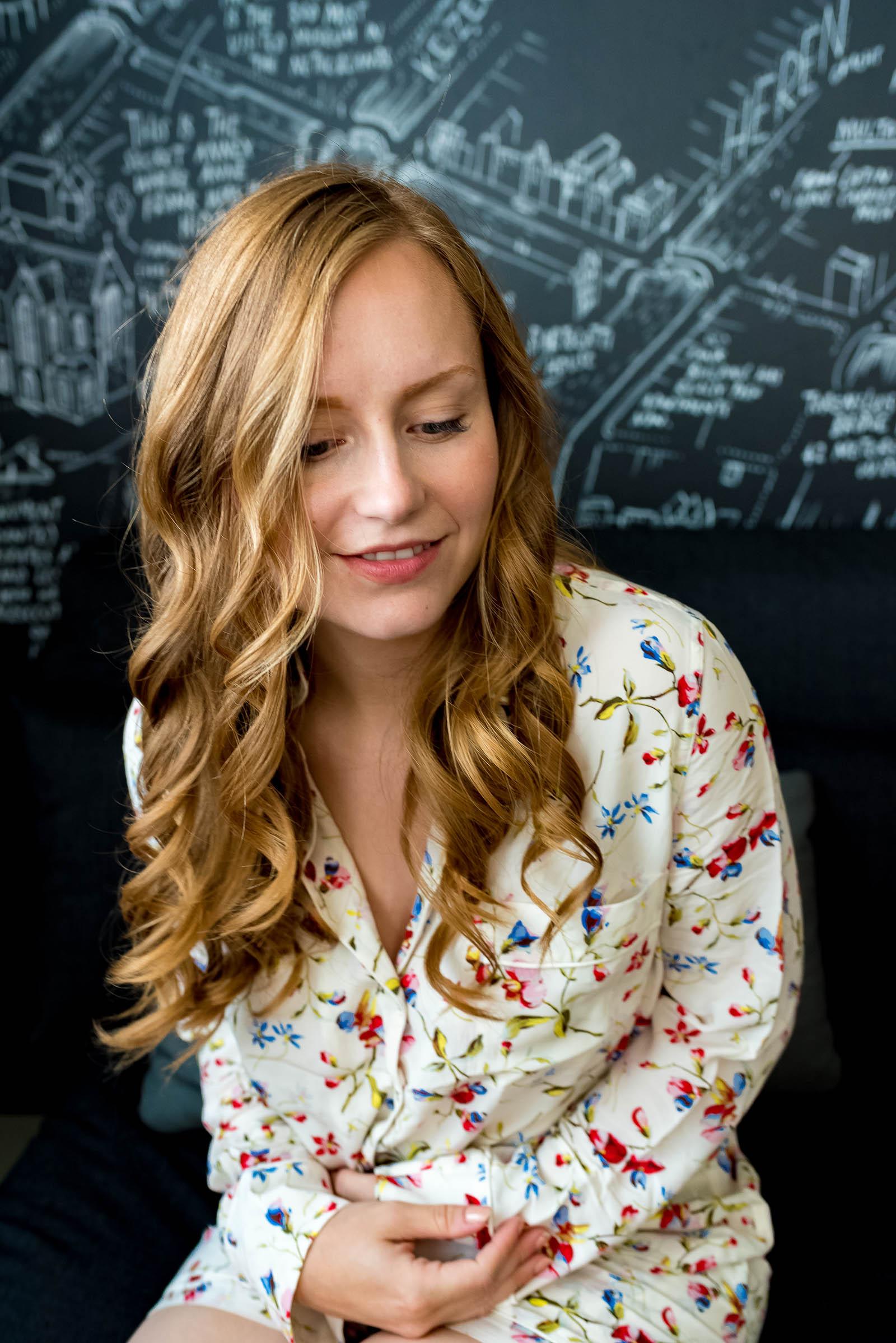 Needless to say we found the Executive Rooms to be an incredible home-away-from-home during our stay. I still dream of that ultra-cozy bed regularly…
The Restaurant
INK's restaurant Pressroom (aptly named, eh?) quickly became my family and I's favorite restaurant over our 9-day stay.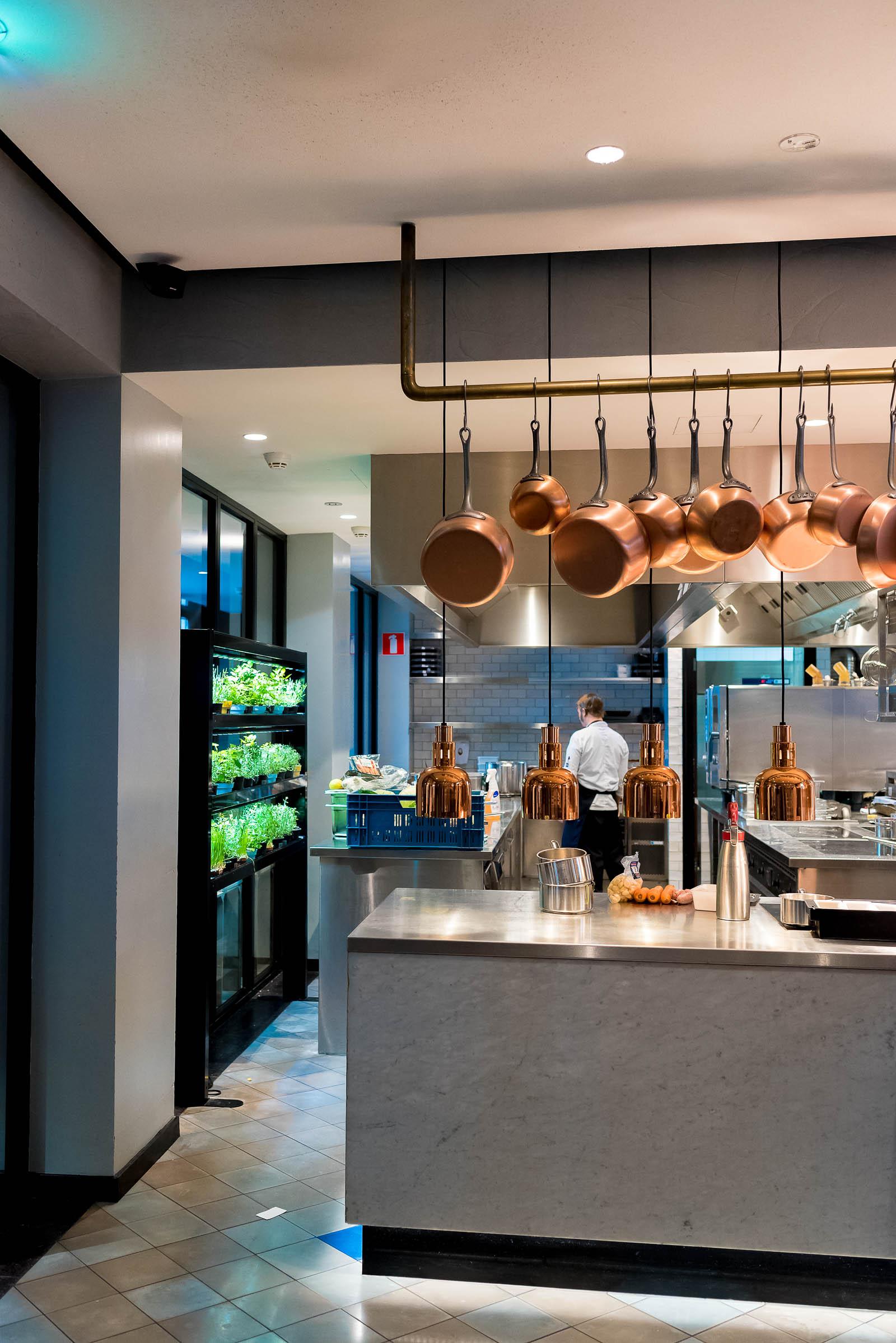 We ate here at least three times for breakfast and at least three times for dinner.
THAT'S how much we loved it.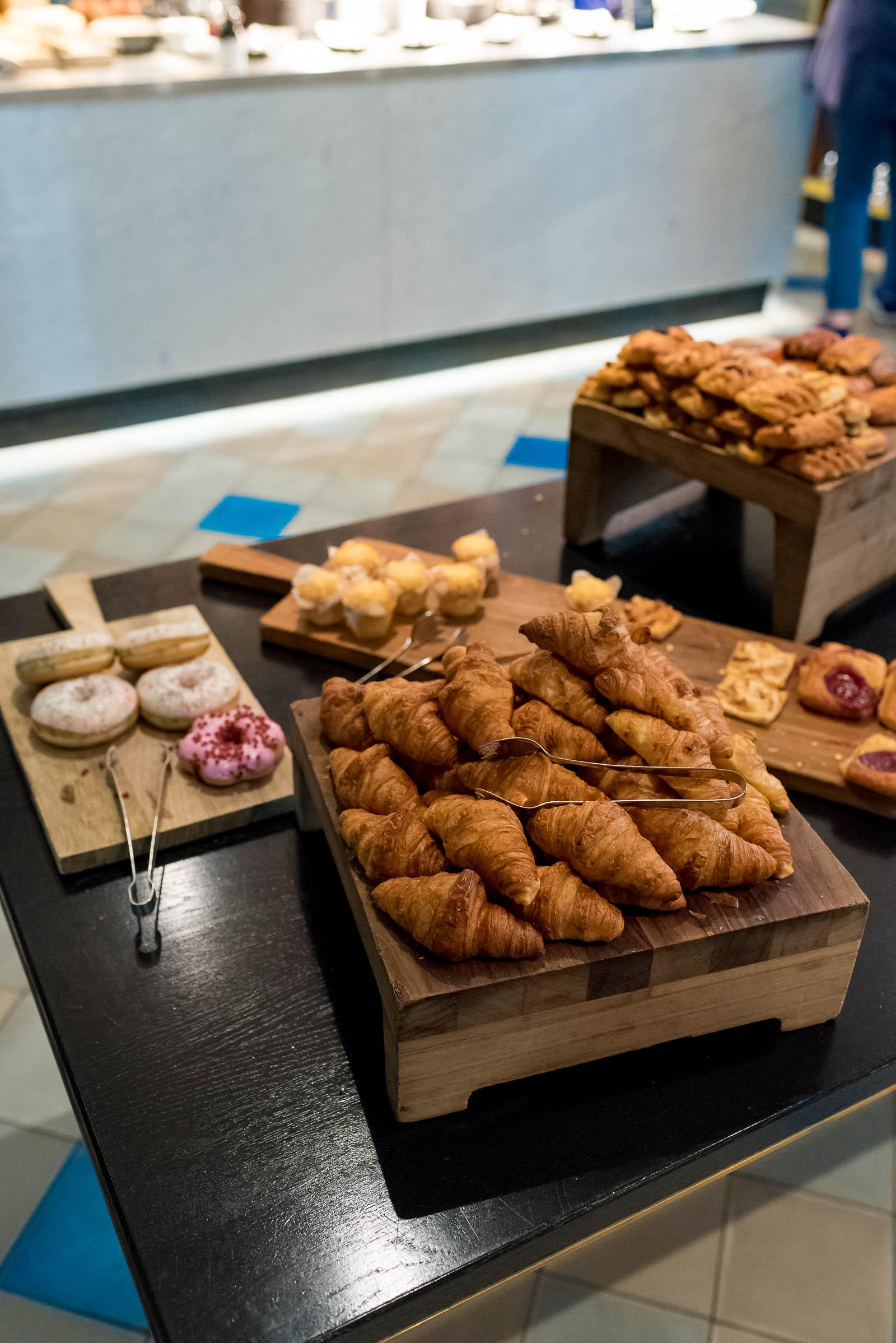 Their breakfast spread is quite extensive (care for a colorful donut?).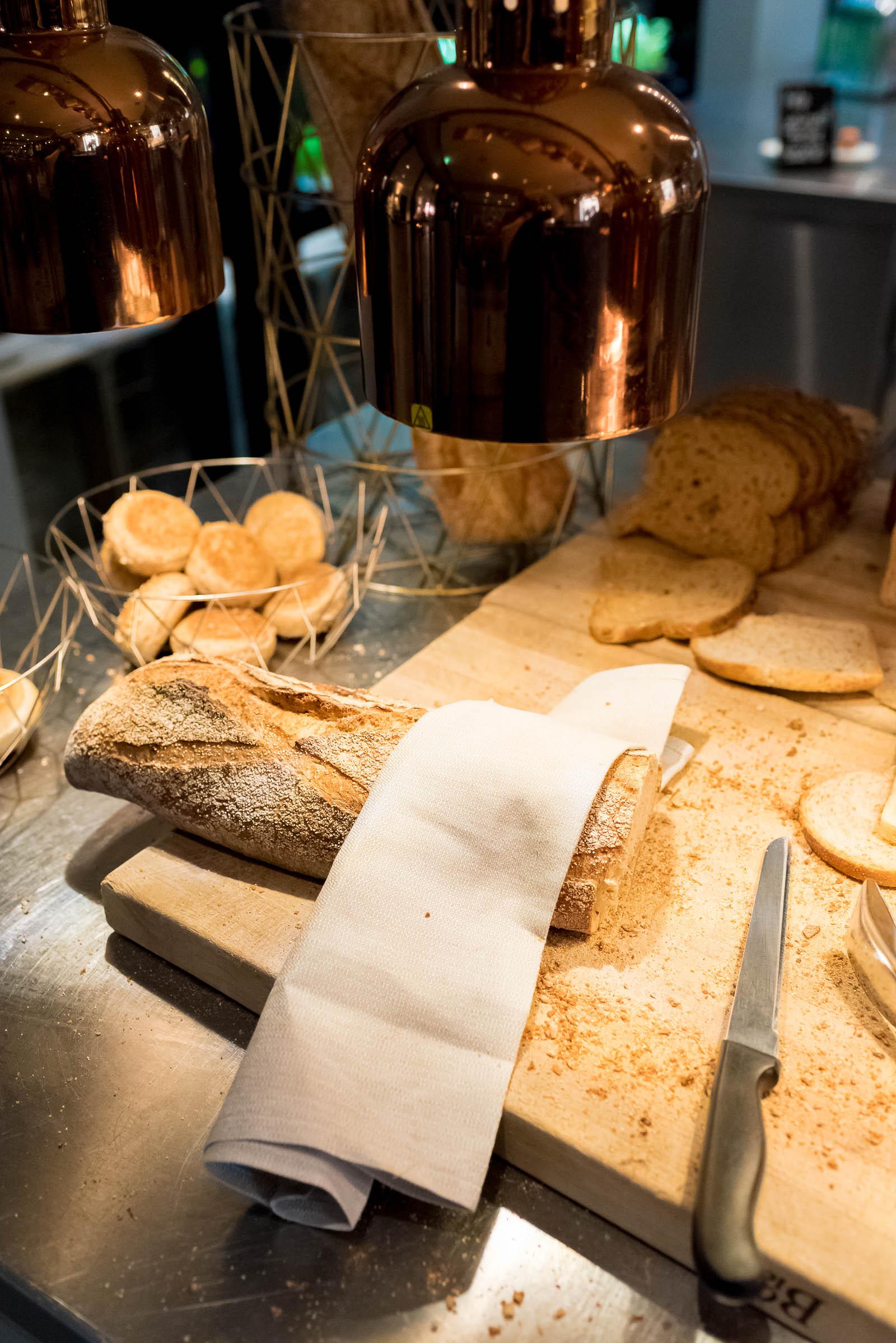 With plenty of breads and pastries,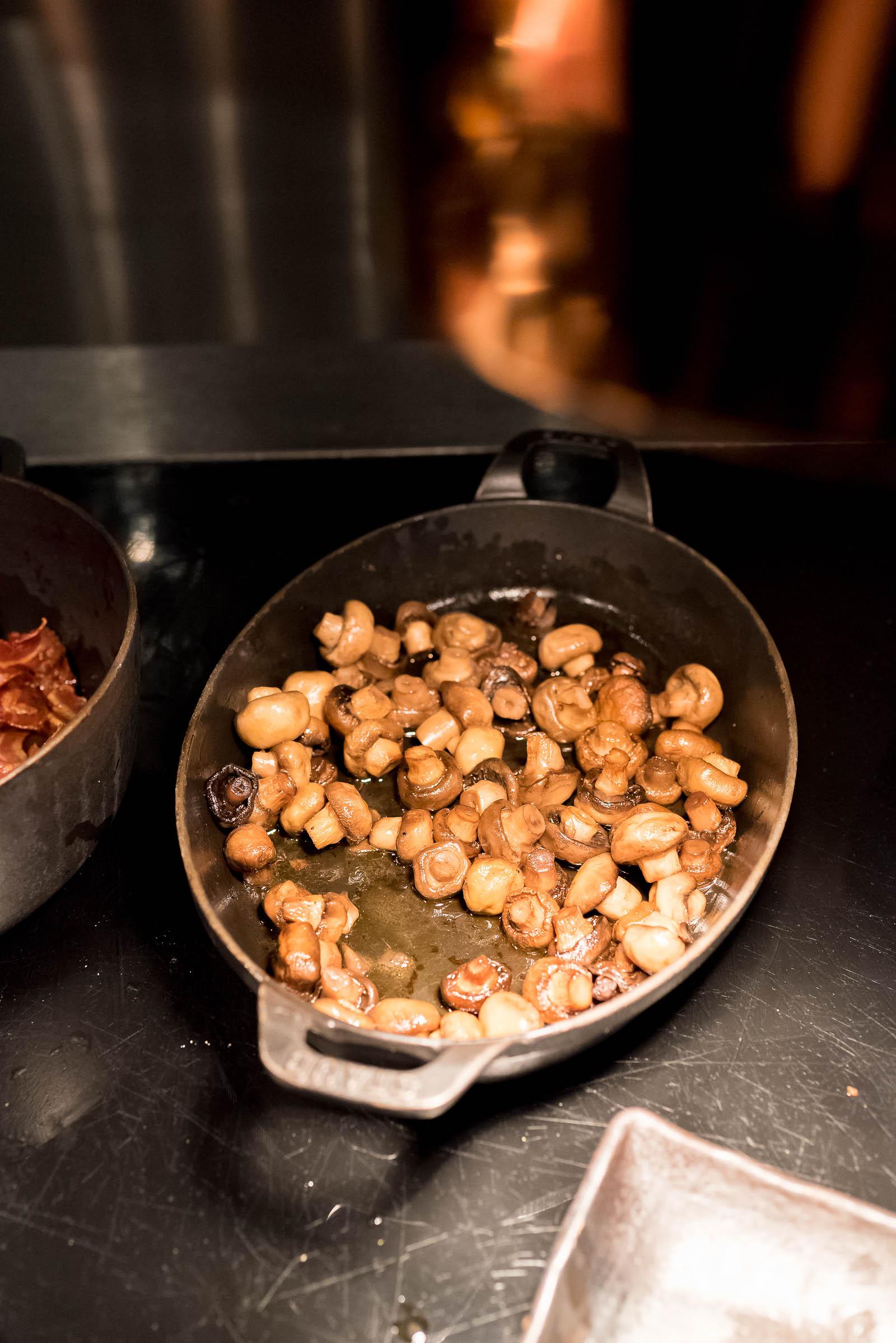 As well as plenty of hot breakfast dishes like these beautifully roasted mushrooms, cold sides (like lox and cheese), as well as fruits and vegetables.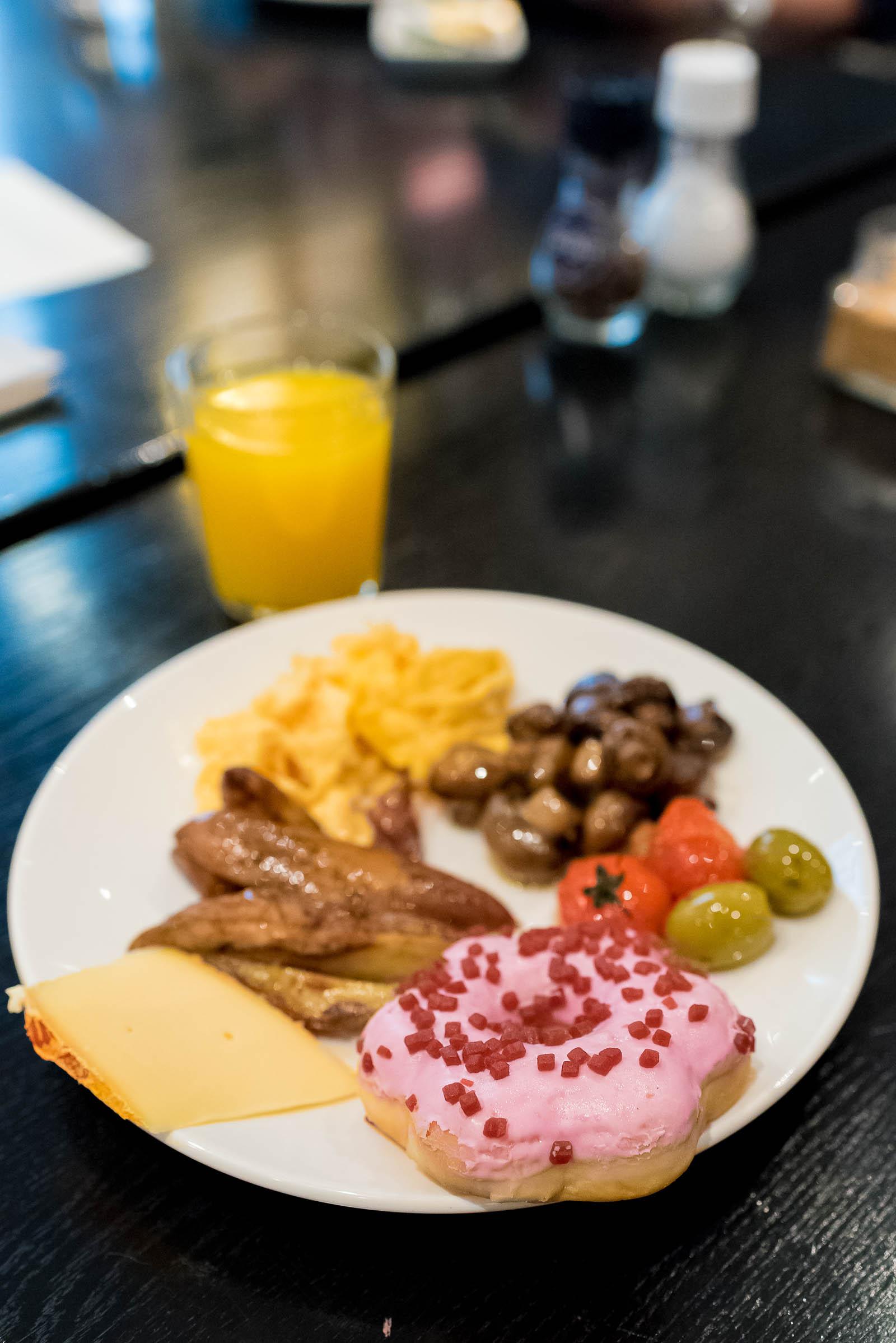 It reminded us all so much of our beloved breakfasts at the Sofitel St. James last year!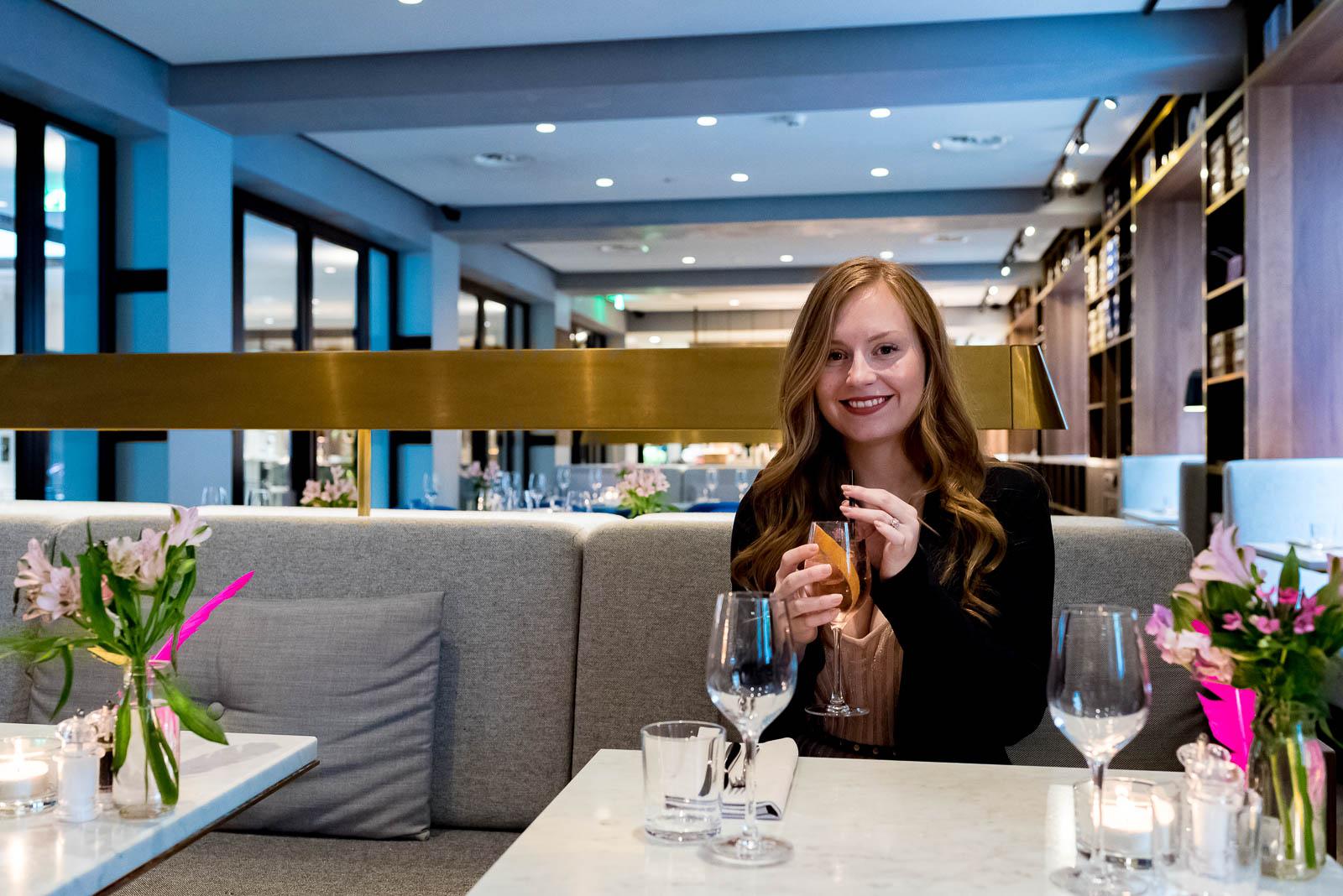 But their dinner is really where Pressroom shines.
We were lucky enough to try Pressroom's innovative "Pink" menu in honor of Amsterdam Pride Weekend while we were there and let me tell you, it was one of the best meals I've had this year.
HANDS DOWN!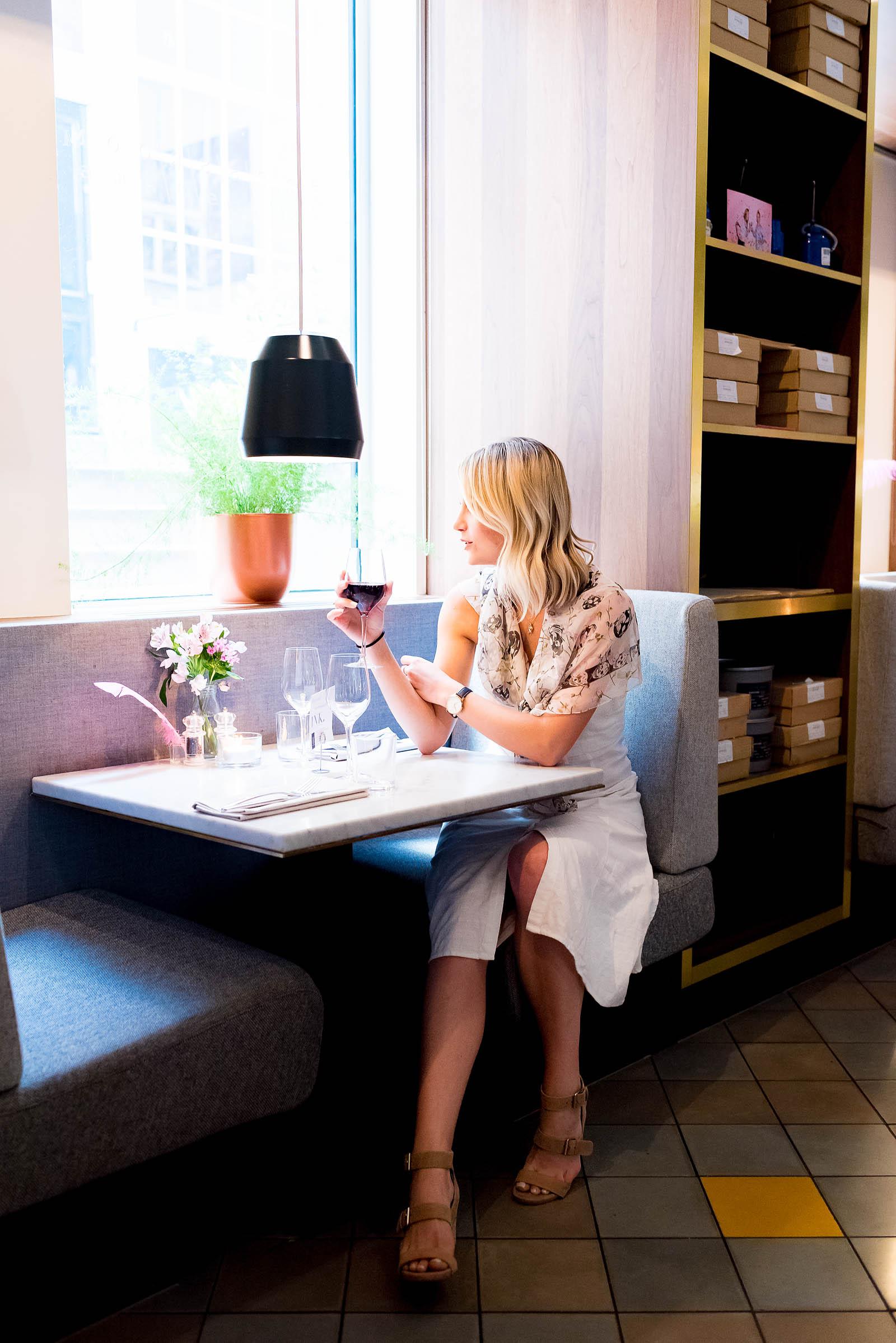 We started off with some wine (recognize this dress my sister is wearing? She let me borrow it when I went to Lake Geneva this summer!).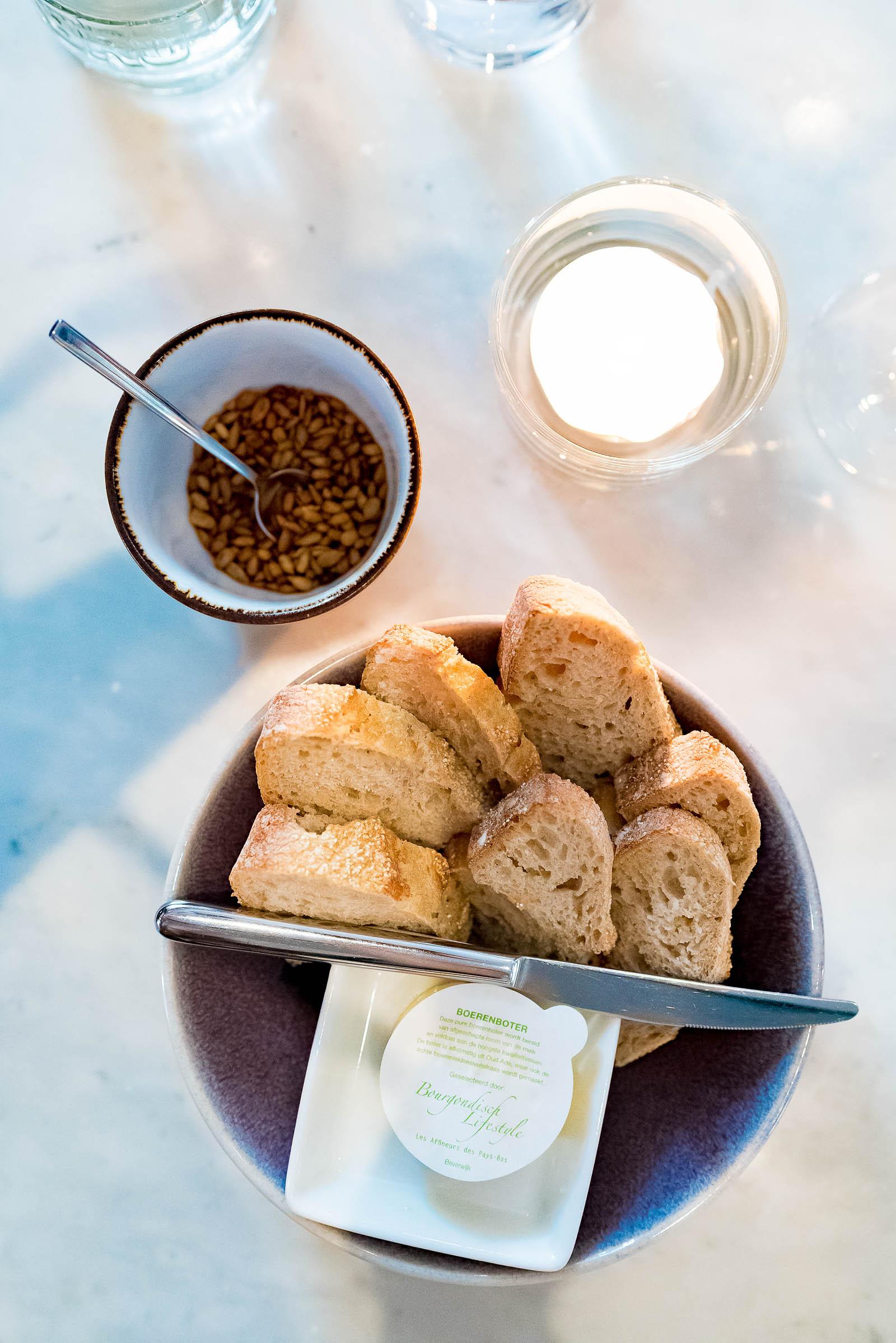 First we began with some lovely bread served with butter and toasted pine nuts (such a lovely added crunch!).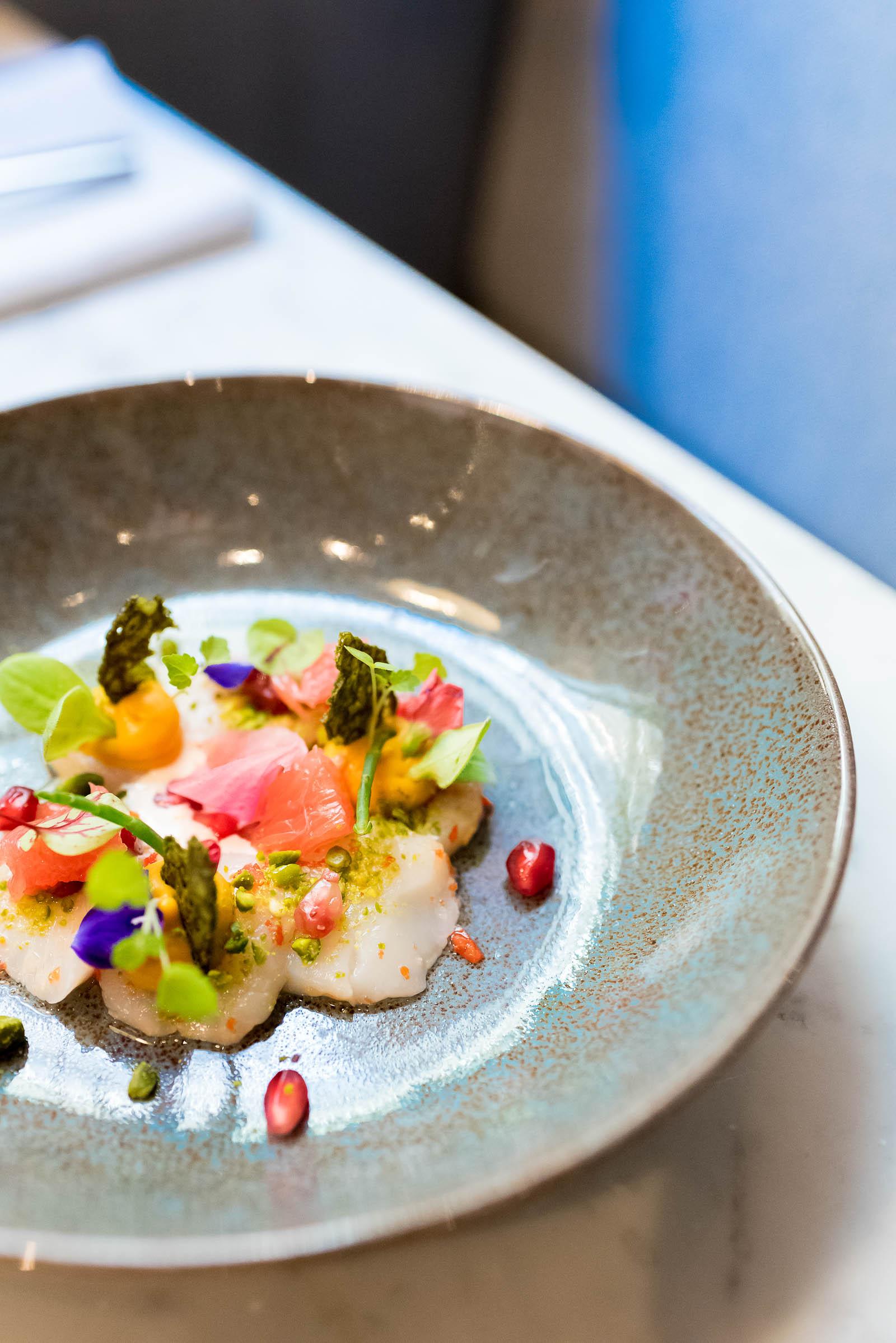 Then our first course arrived!
A lovely ceviche of scallop with candied beetroot and red grapefruit. It was fresh, crunchy (thanks to the pomegranate seeds) and beautifully cured.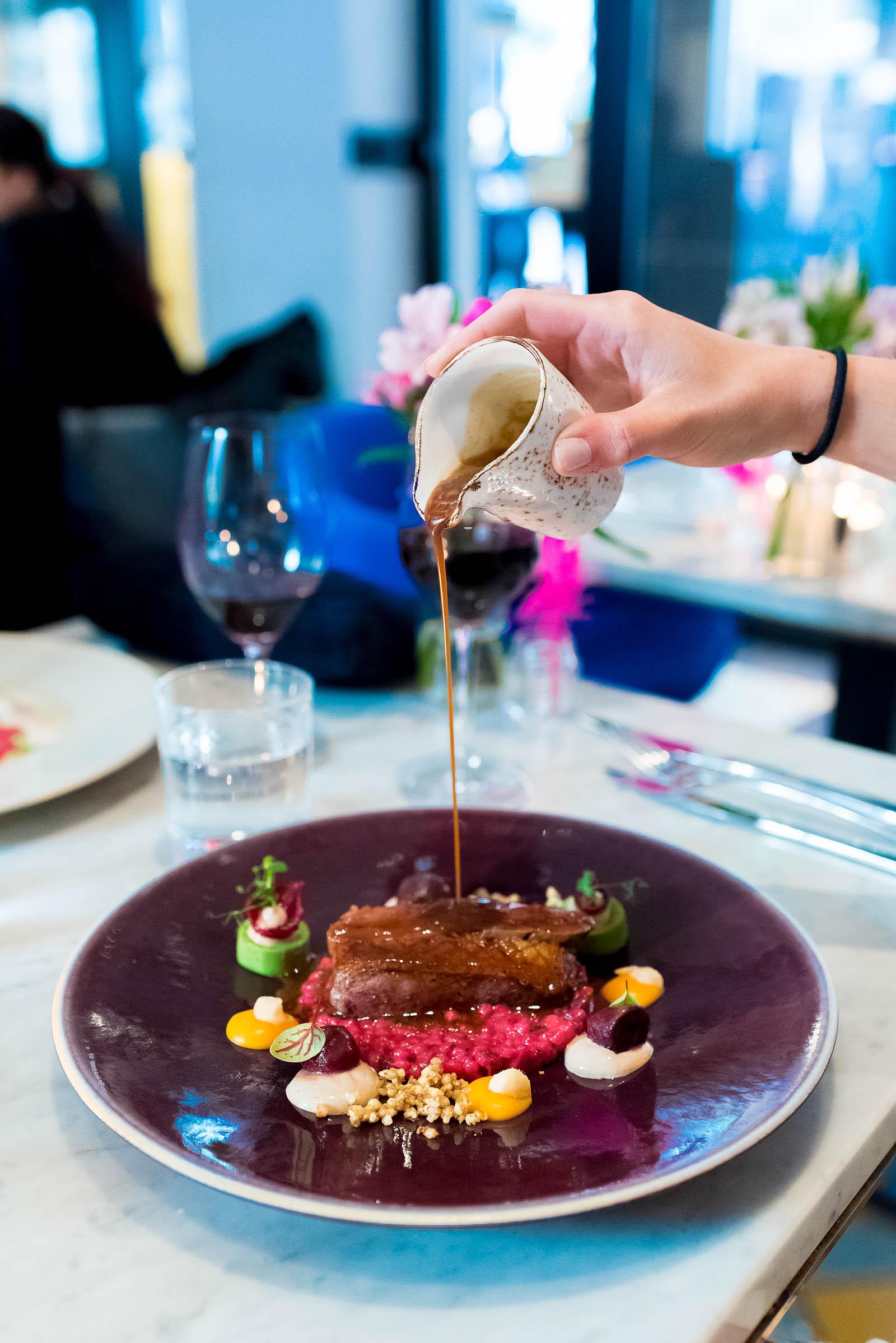 Then came our entrées!
My sister, mother, and husband all opted for the Glazed Duck Breast served atop pearl couscous and risotto and drizzled in a pomegranate sauce.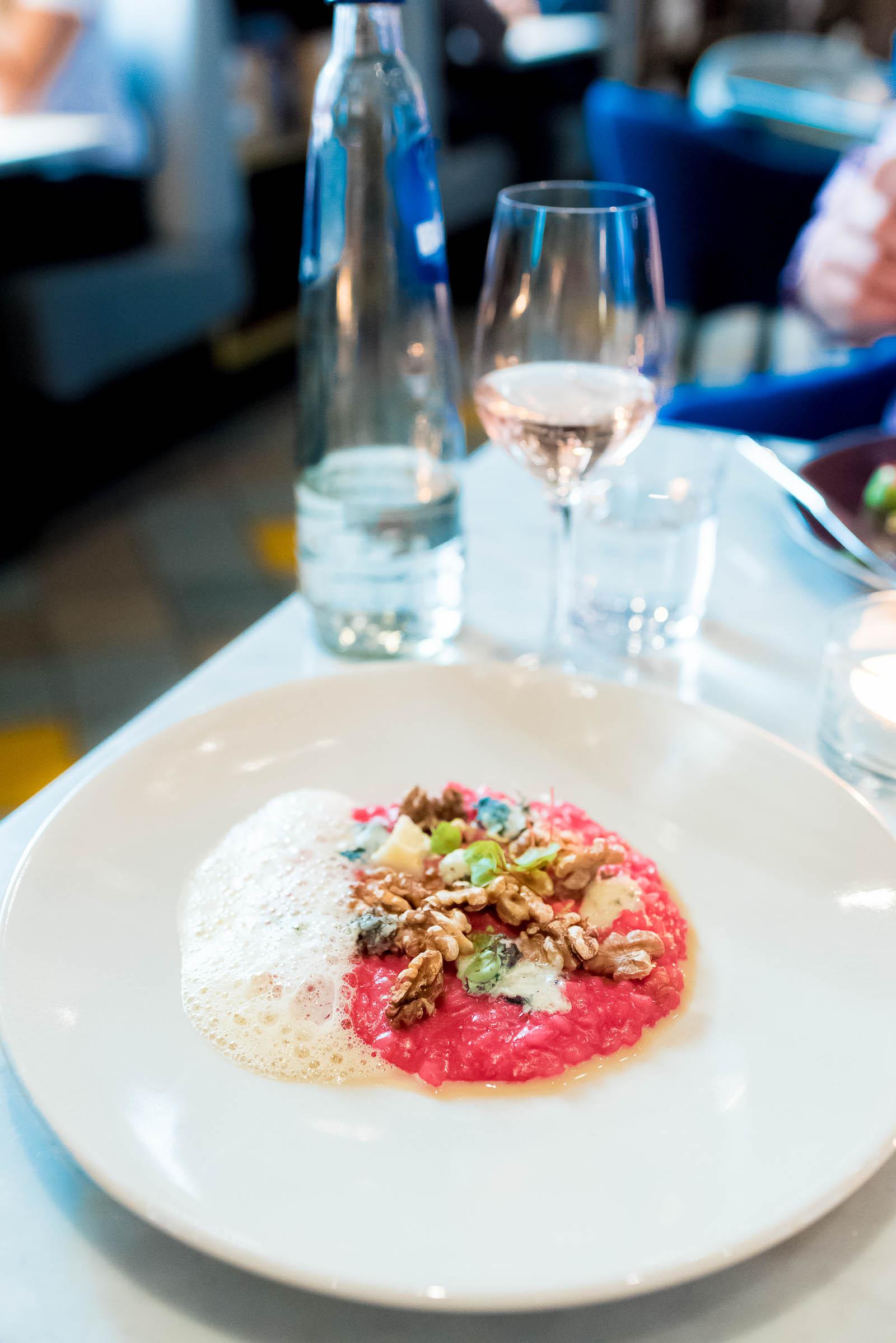 While I — being the risotto lover I am — opted for this vegetarian "Pink" Risotto of beetroot risotto, roasted walnuts, apples, and blue cheese.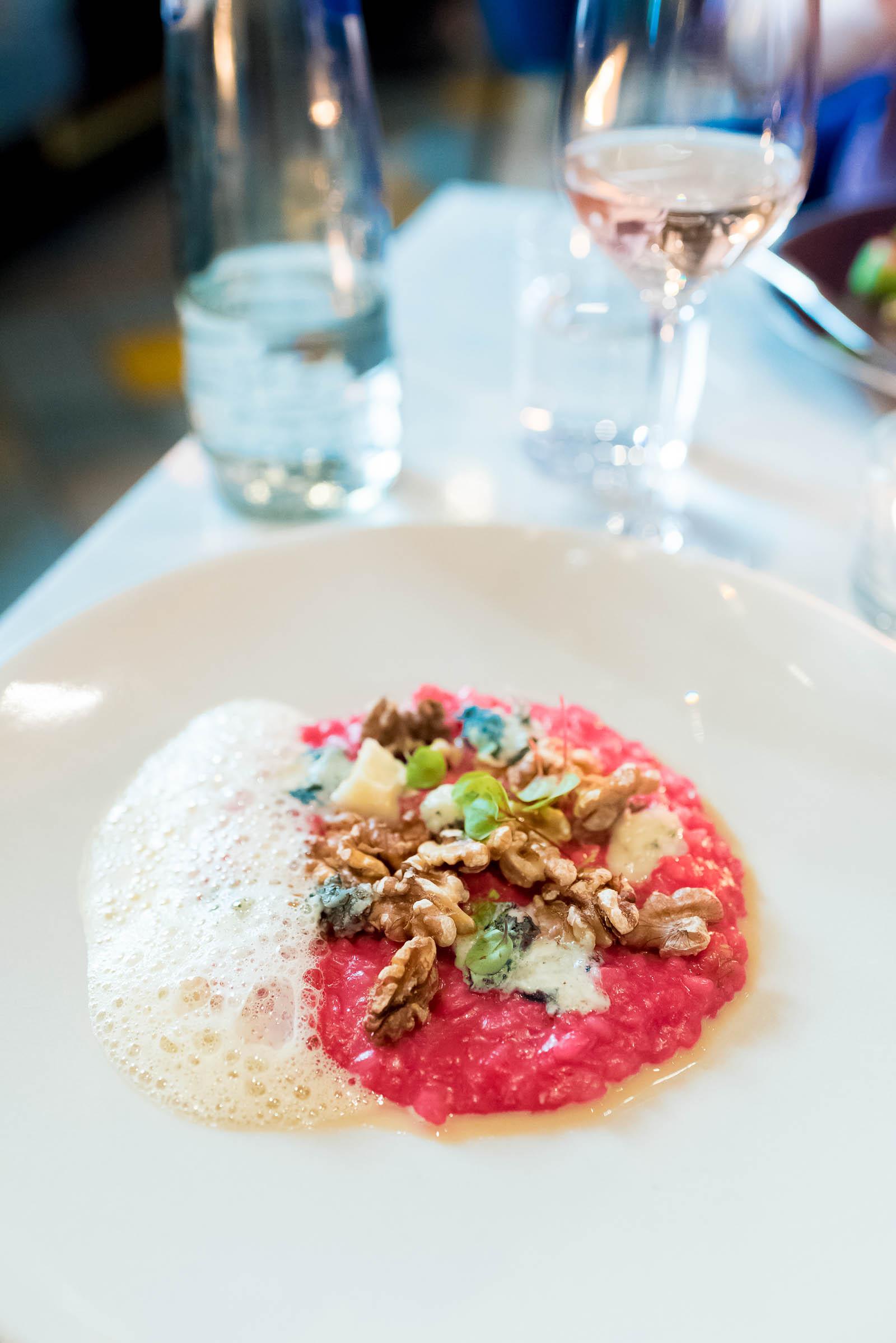 Which was — quite honestly — the highlight of my entire meal. It was so rich yet light, flavorful yet balanced. The combination of the beet flavor with the walnuts and blue cheese just SINGS.
Not to mention I've been using this dish as the inspiration behind so many of the dishes I've been cooking up since I got home too.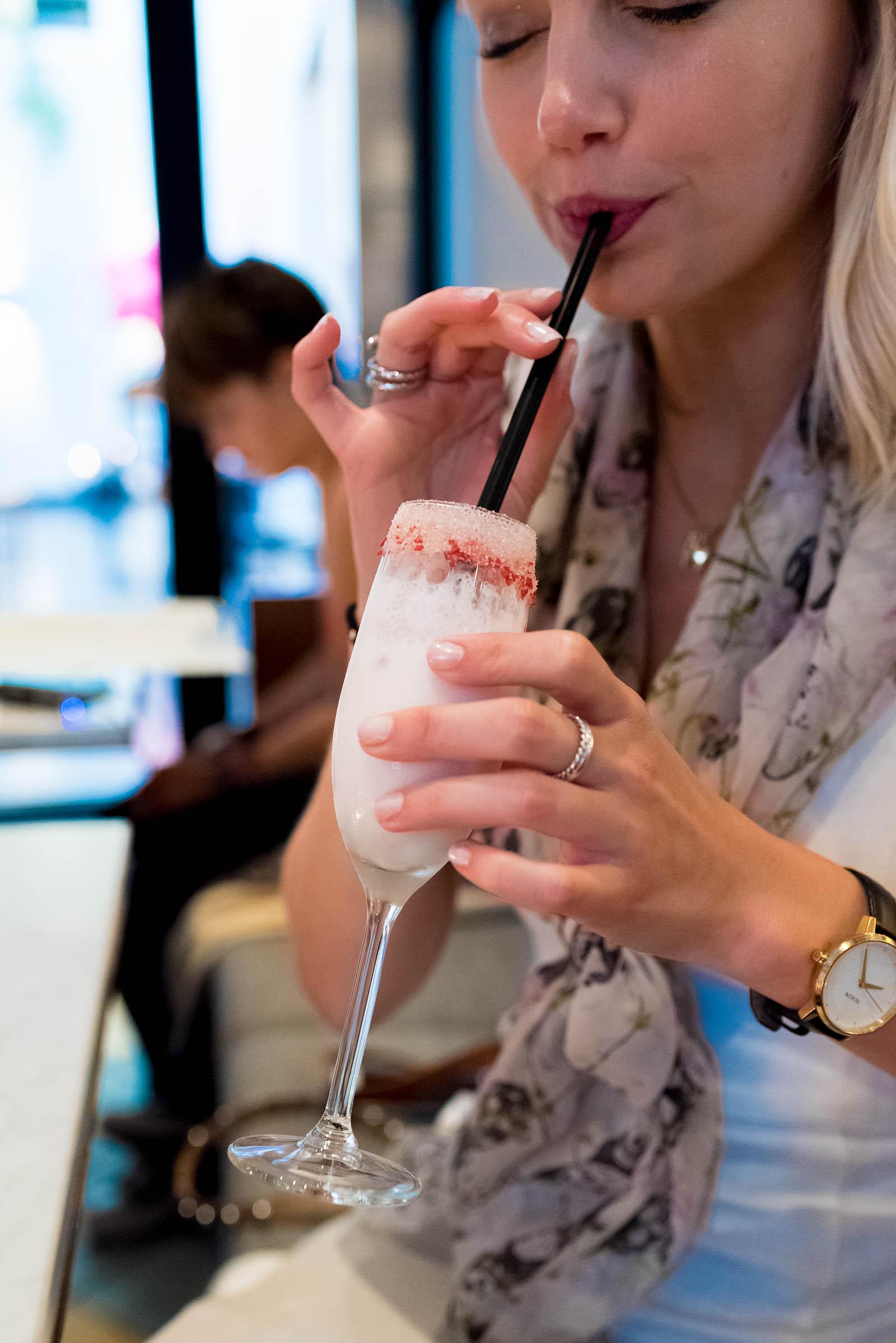 For dessert we tried BOTH the Pink menu options.
First we slurped down these Scroppinos — similar to boozy milkshakes — made of vodka, prosecco, yoghurt ice cream and amarena cherries.
Oh they were HEAVENLY!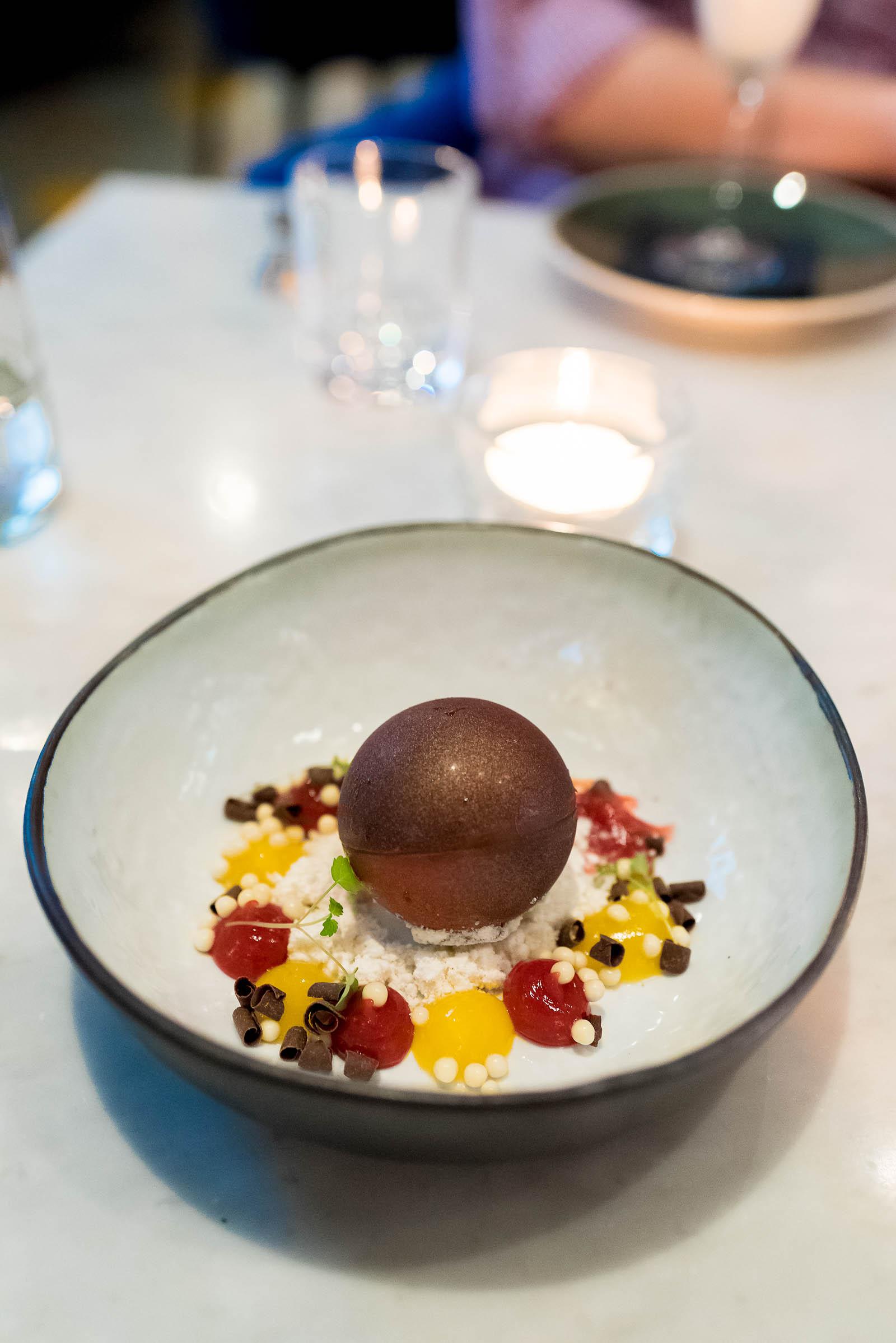 And then we dove into this delicious little number (that reminded us so much of the dessert we had in London's Bob Bob Ricard last year for my sister's birthday).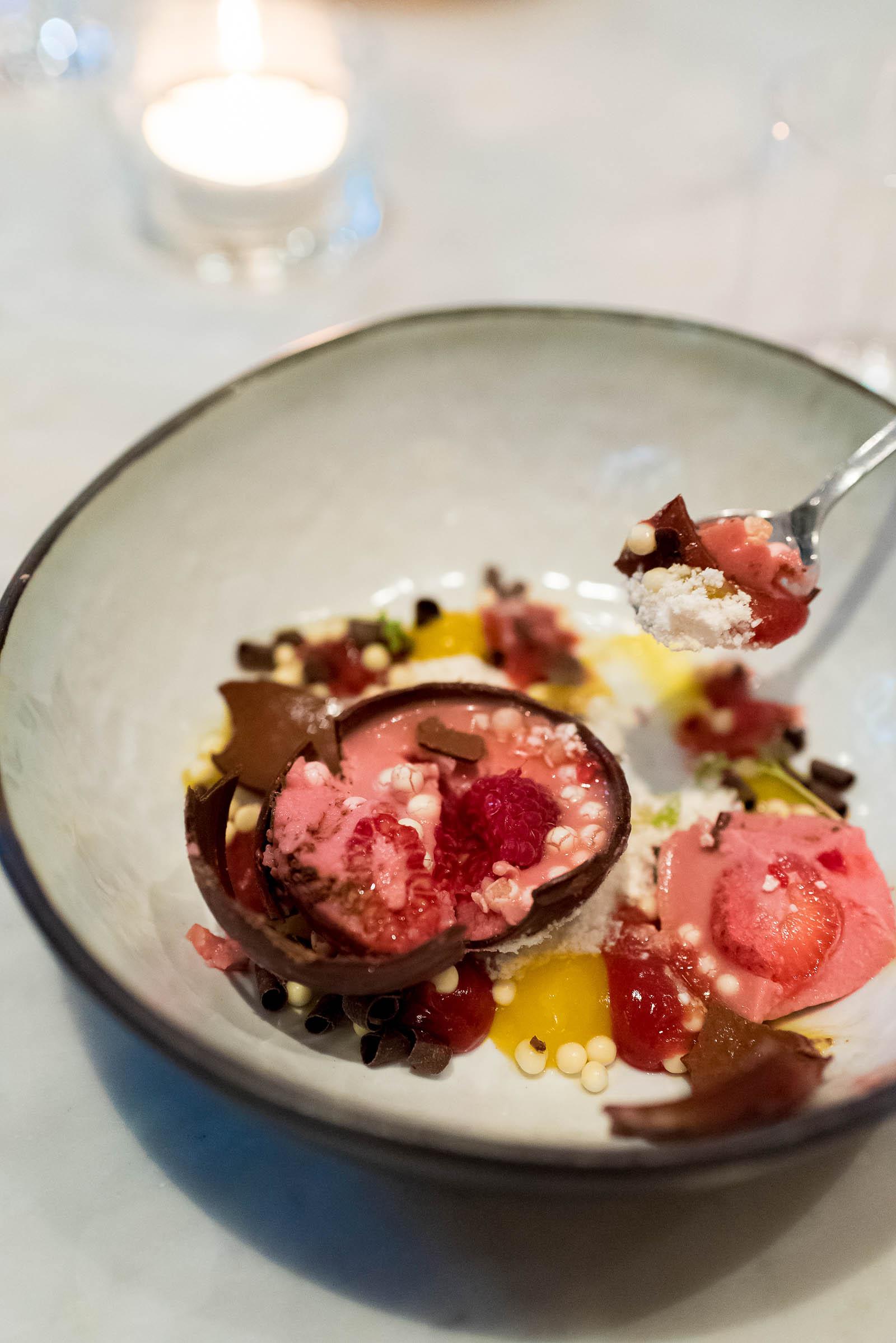 A chocolate sphere filled with pink panna cotta, red fruits, and a crumble of dark chocolate.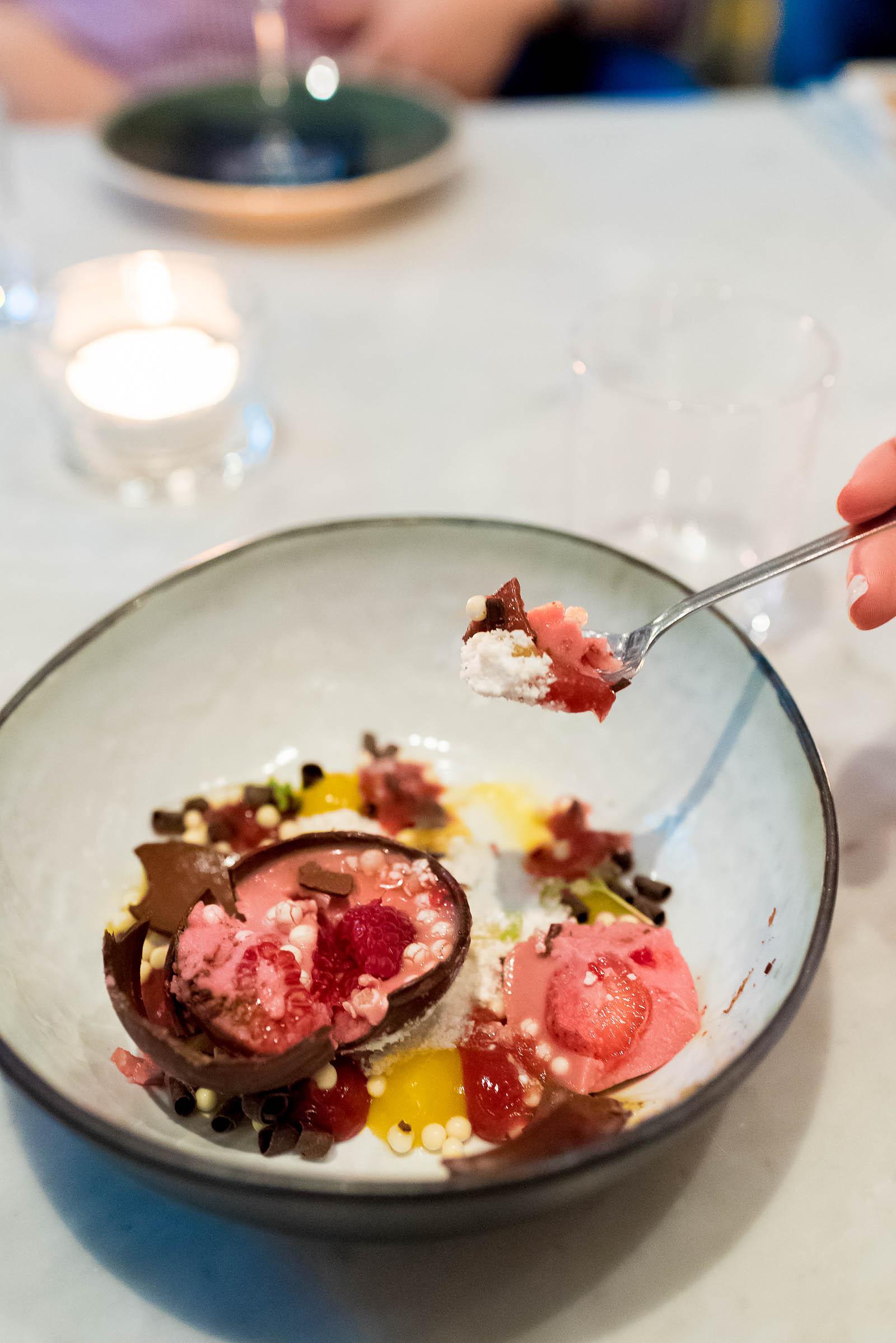 To say this dessert was good would be a tragic understatement.
This dessert was SPECTACULAR. So many textures (some airy, some crunchy, some silky) all mingling together to form what can only be deemed the perfect dessert.
And that's coming from a girl who typically doesn't eat panna cottas.

I'd happily eat dozens more meals at Pressroom — it's easily one of the coolest hidden gems you'll find in Amsterdam! And certainly one of the most delicious!
The Staff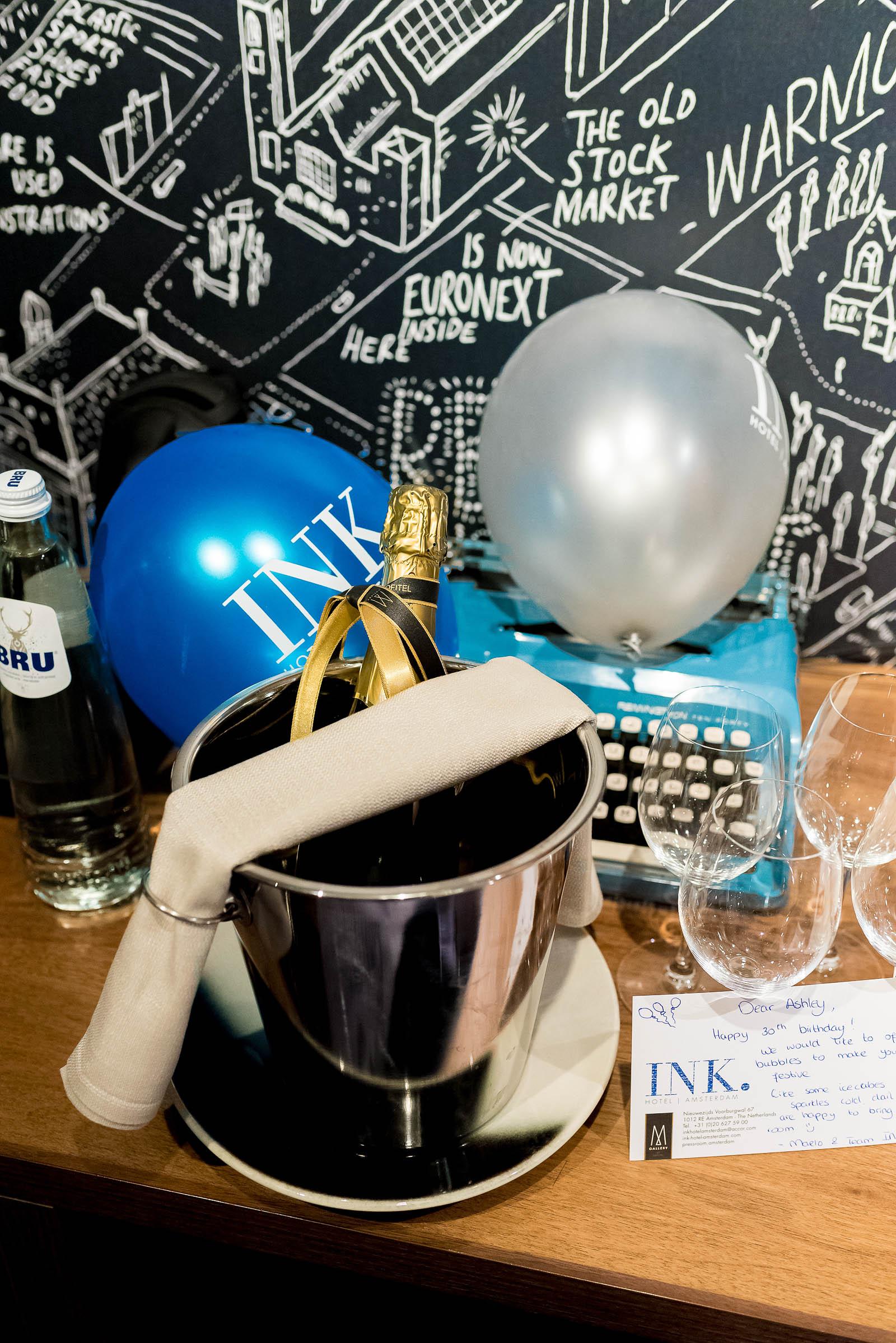 I'd be remiss in this review if I didn't take a minute to talk about one of the most important aspects of our stay at INK — the staff.
I've been to many hotels in my time and met some truly wonderful staff. But the staff at the INK were the best we've encountered in years. Despite being a small boutique hotel, they made us feel like we had all the amenities and comforts of a massive, 5-star resort.
And they were kind enough to leave me one sparkling bottle of bubbly the night of my 30th birthday too! How did they know my favorite birthday gift?
Truly the INK staff made our stay special.
Not only did we appreciate the staff during our stay (all their kindness, recommendations, and assistance were unparalleled) but we truly felt like we became friends and part of the INK family by the time we checked out. We were hugging Pressroom staff and Lobby personnel the whole walk out the front doors.
There are very few hotels in the world I can truly say that about. And if you ever find yourself in Amsterdam looking for a home away from home, consider booking a stay at the INK. You won't regret it!