Last week I was honored to be invited to one of the sexiest dinner parties I've ever attended: the Virgin Hotels Chicago Peep Show! It was a truly exciting event packed with influencers from all around Chicago (not to mention delicious food). But first let's get those necessary outfit details out of the way…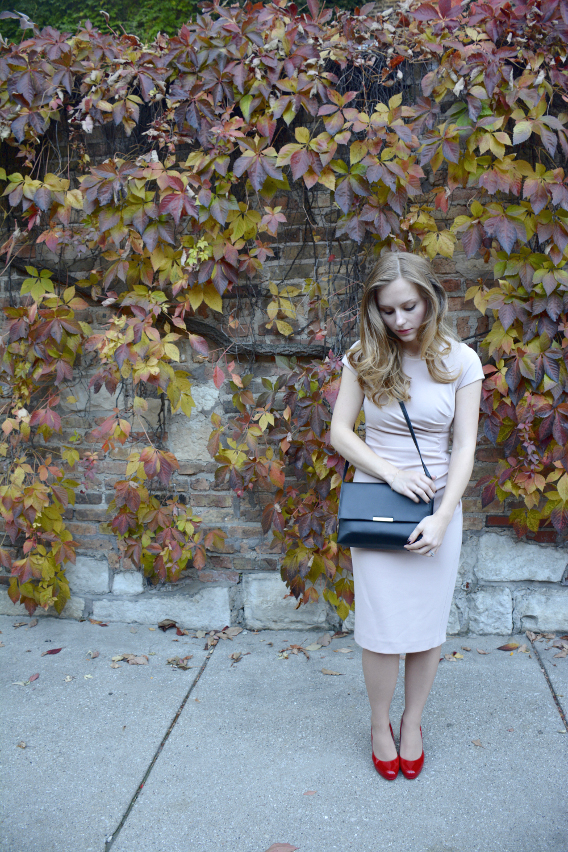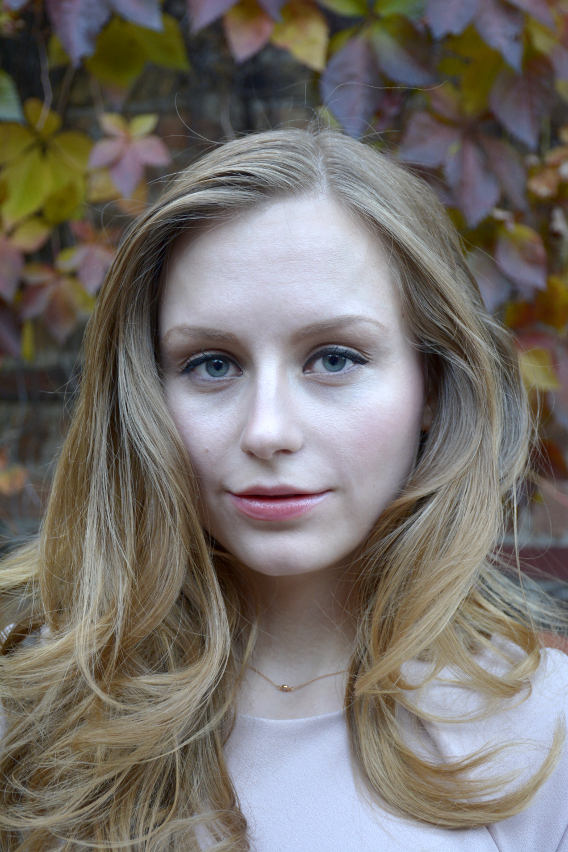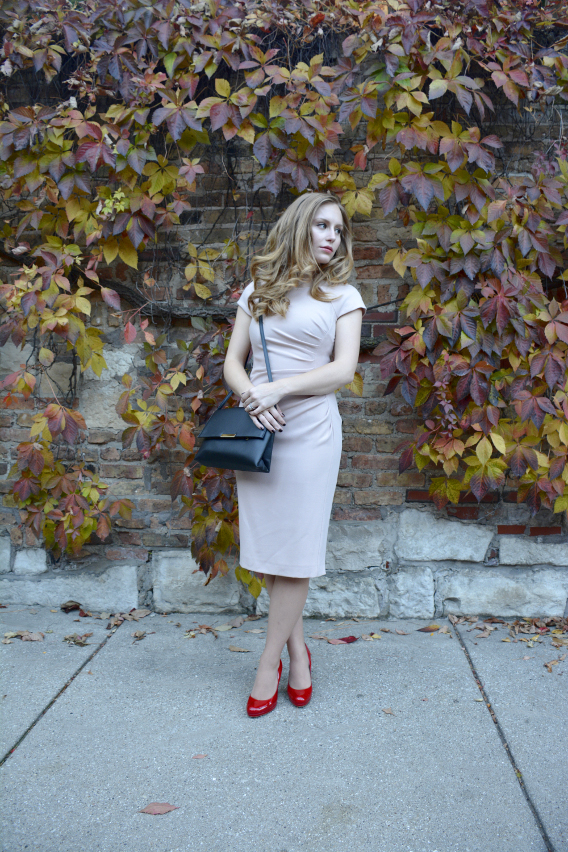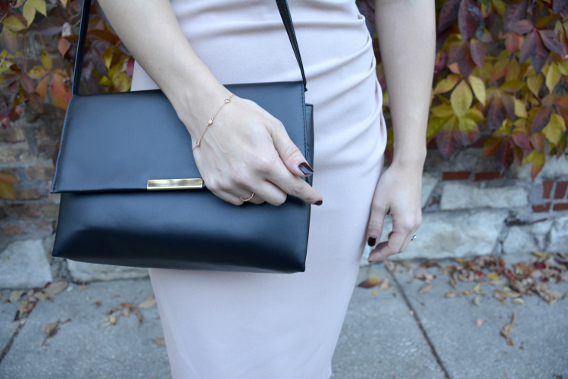 Dress – L.K. Bennett 'Marina' (also comes in a gorgeous red, here)
Pumps – L.K. Bennett 'Sledge' (sold out, black and nude versions here and similar red pump here)*
Purse – H&M (a STEAL at $17.95, here)
Necklace – Tiffany & Co (3-Diamond version currently unavailable but 11-diamond version here)
Bracelet – Tiffany & Co (here)
Ring – Tiffany & Co (here)
Nails – Chanel 'Rouge Noir' (I've gushed about this color before, found here)
*I'm always a fan of dressing to the occasion so naturally I wanted to include Virgin's signature red color in my outfit. These pumps were the shoes I wore on my wedding day and are the most comfortable heels I own (thanks to three weeks straight of walking around the house in thick socks breaking them in). They seemed like the perfect nod to our hosts that evening.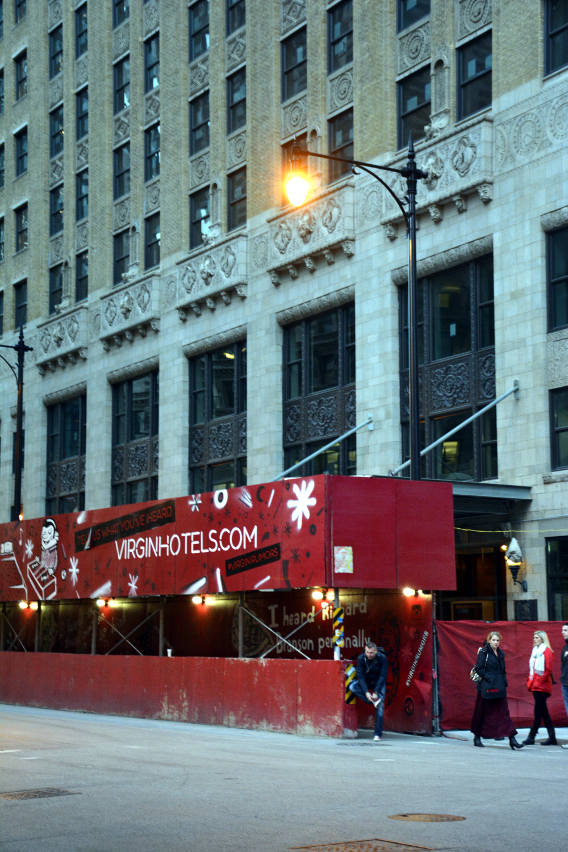 Now, on to our dinner! If you live in Chicago, and especially if you work in the Loop, you've probably seen this red construction wall lurking on Wabash. Virgin Hotels bought the Old Dearborn Bank Building for its first U.S. hotel due to its stunning architecture and stellar central location. And it's poised to be one of the biggest brand launches the Windy City has ever seen!
My Mom was especially thrilled after watching this promo video because ***drum roll, please*** the hotel features dog beds! As a family filled with dog-owners who often can't travel with their furry companions, this particular perk has us all ECSTATIC!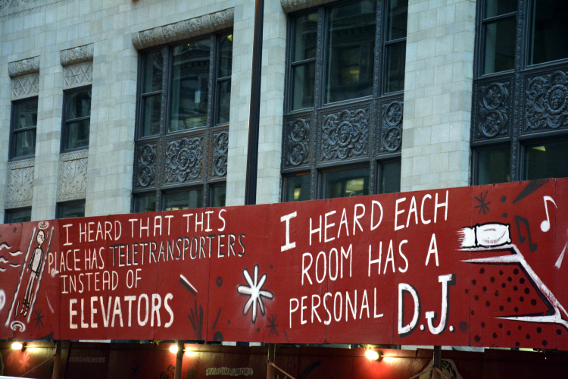 Nothing Sir Richard Branson does is underwhelming and the campaign surrounding Virgin's first hotel is one of the most playful to ever hit the Second City. After the hotel's announcement last year, Virgin played off the hush-hush yet wild hype surrounding their new project brilliantly. It all started with their hashtag #VirginRumors, where they encouraged Chicagoans to contribute their most exotic and epic rumors surrounding the hotel's launch. My particular favorites include "I heard their faucets have three settings: hot, cold, and champagne", "I heard Richard Branson personally tucks you in every night" and "I heard the showers sing to you". On-site, Virgin used a renowned local street artist to play on the rumors campaign by creating one-of-a-kind artwork featuring the best #VirginRumors.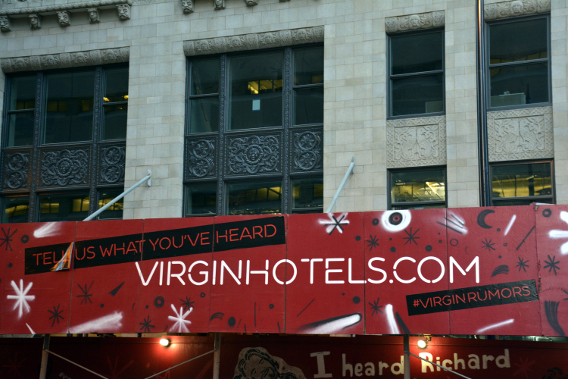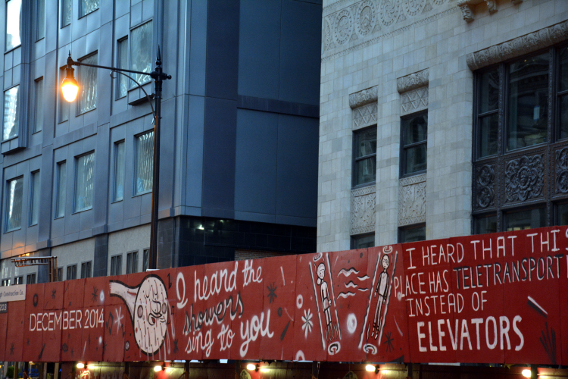 With the hotel still under construction (I'm fairly certain the entire city is holding its breath for the launch in December), our evening "peep show" dinner was held on a rooftop directly across the street.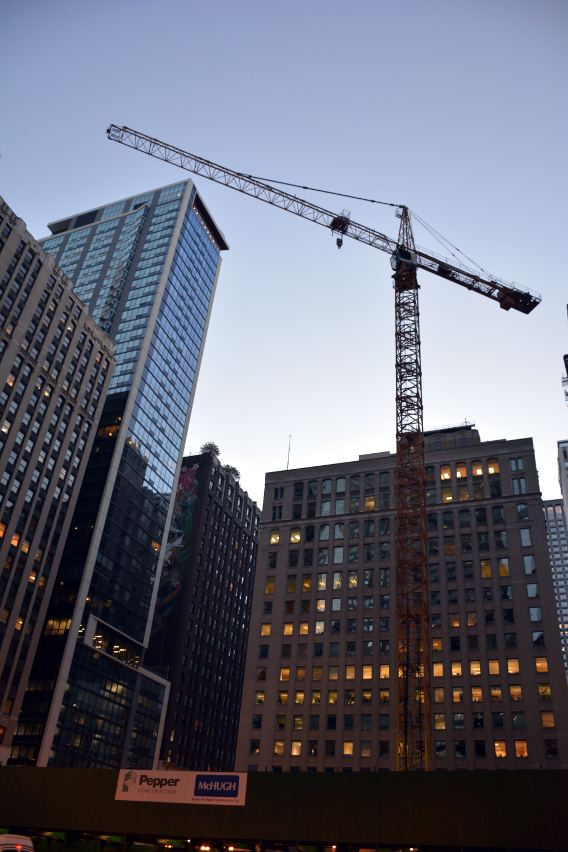 The Peep Show was held on that tree-lined rooftop off to the left.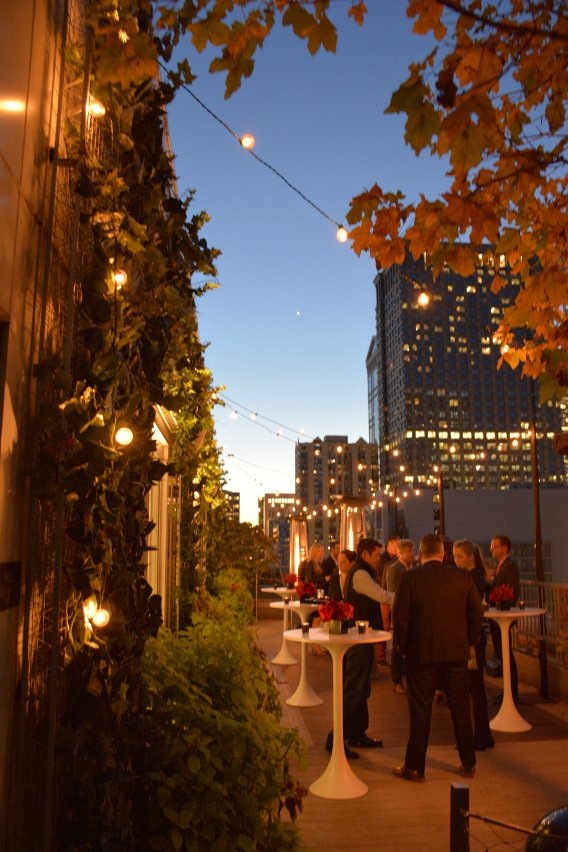 Once I arrived, the Virgin tagline of "exclusivity for everyone" was overwhelmingly evident. The rooftop cocktail hour began at dusk with champagne and hors d'oeuvres presented on silver platters as we were surrounded by the gorgeous lights of the city skyline.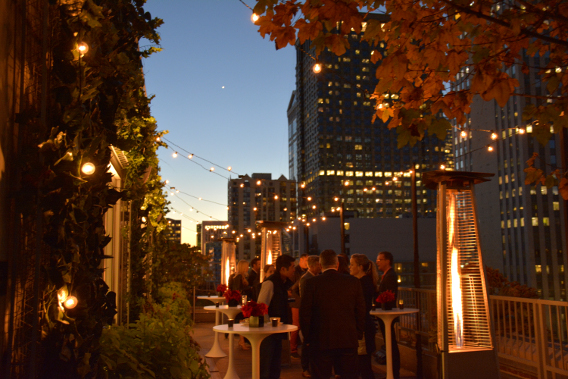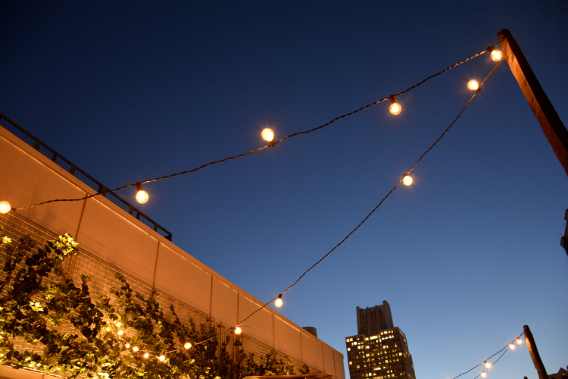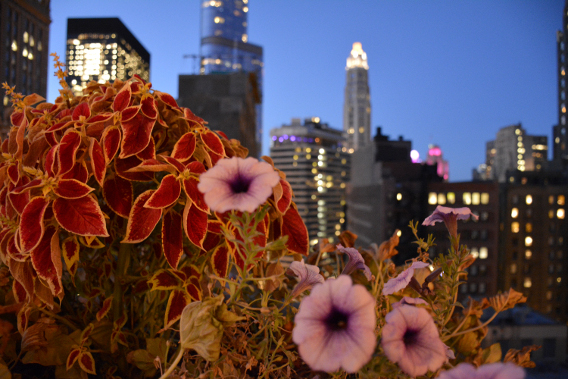 The view was quite spectacular: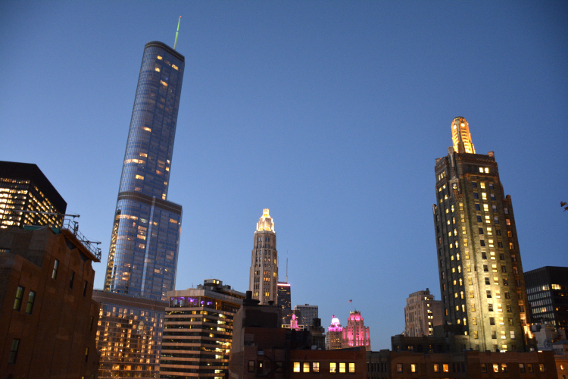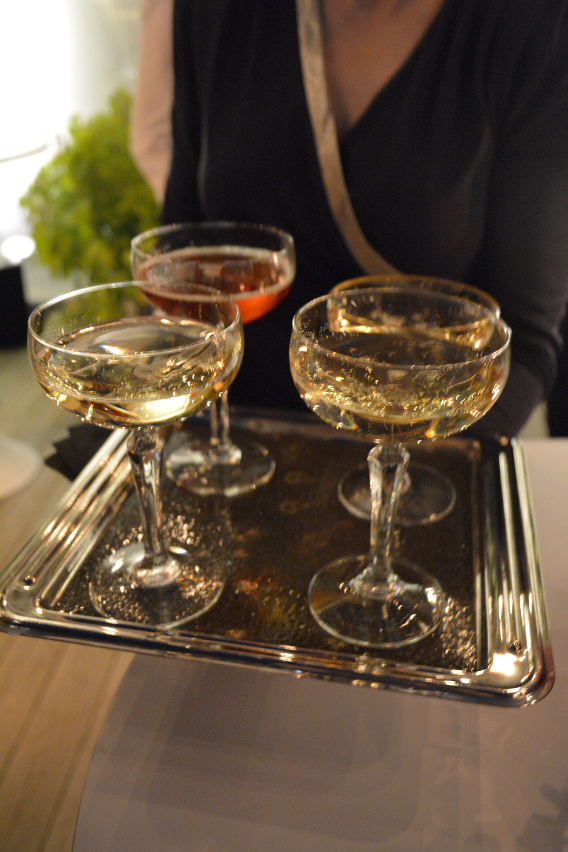 But the drinks were even better! A glass of bubbly makes any dinner a party, don't you think?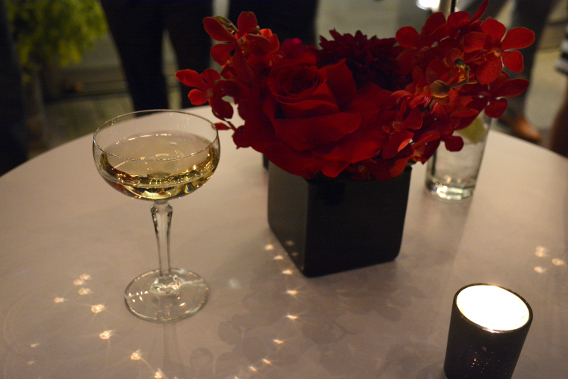 Before retiring inside for our seated dinner, Virgin had a small surprise across the street: a dance and light show! Dancers inside the "under construction" hotel swayed and spun for us as lights danced around, playing up Virgin's signature red color. It was a subtly sexy show that set the tone for the sensual dinner of sharing plates which followed.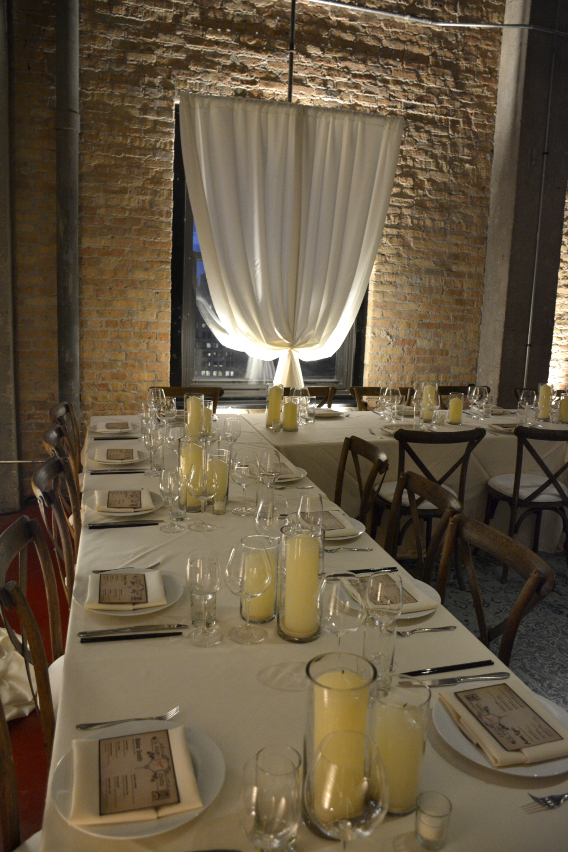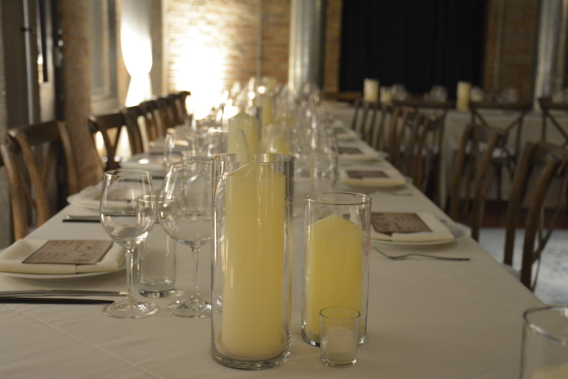 The dining space was clean and elegant, creating a cozy atmosphere with the tables wrapped around a central fireplace.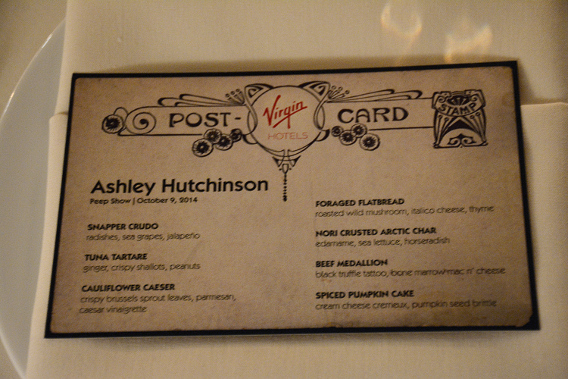 The moment I saw the menu, I was thrilled! I love all fish, but especially tuna tartare.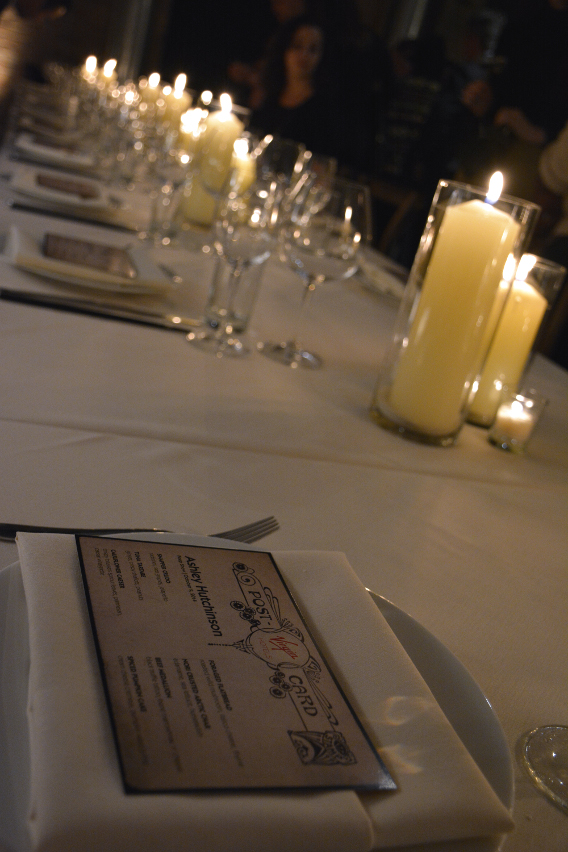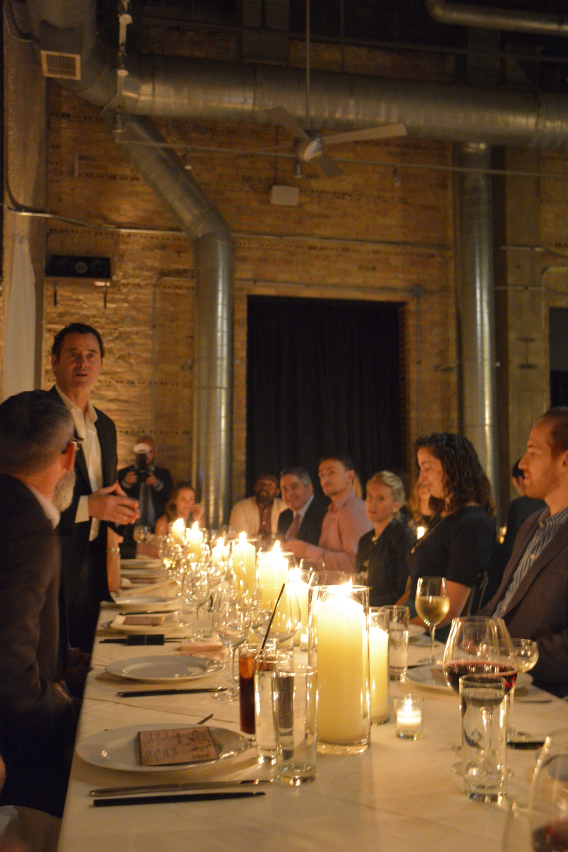 Before eating, Virgin Hotels' CEO Raul Leal whetted our appetite with a hilarious short video shot in the still-under-construction hotel, highlighting its unique and exciting features. As part of Branson's empire of "fun", Virgin Hotels seeks to encourage socialization (preferably with libation in hand) amongst its patrons. The Virgin Hotel's primary social club, the Commons Club, will feature little plates designed to promote engagement with others. When searching for an executive chef, Virgin Hotels enlisted Chef Rick Gresh, formerly of David Burke's Primehouse, to create his own distinct menu for each of the hotel's restaurants. Given creative freedom, Mr. Gresh brought his farm-to-table skills and local knowledge to every menu, including the one we sampled that evening.
The hotel will be about service in a far more unique way than many of the hotels already here in Chicago. As a Chicagoan, I was excited to hear that Virgin Hotels plans to do their part in encouraging and support local businesses here. It's great to see a hotel that wants to be an active part of our Windy City community as opposed to just another place to sleep.
Once he finished his speech, Raul explained that Virgin's workplace environment matches the vibe they want to capture in their hotel (remember, exclusivity for everyone and brilliant attention to detail) so instead of applause he said they always say "you are so GOOD LOOKING"!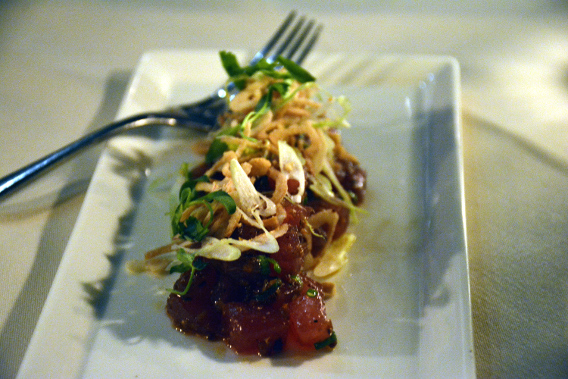 Then our "small plates" dinner began. First up — Chef Gresh's Tuna Tartare with ginger, crispy shallots, and peanuts.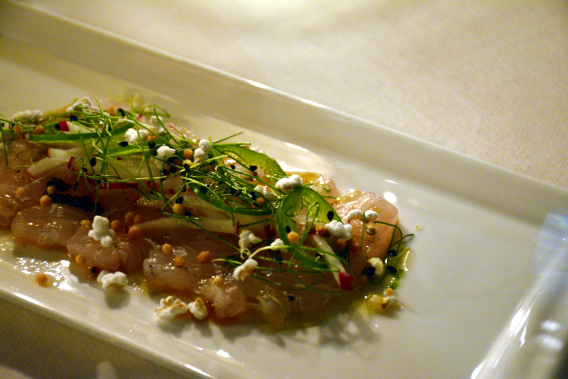 Then Snapper Crudo with radishes, sea grapes and jalapeno.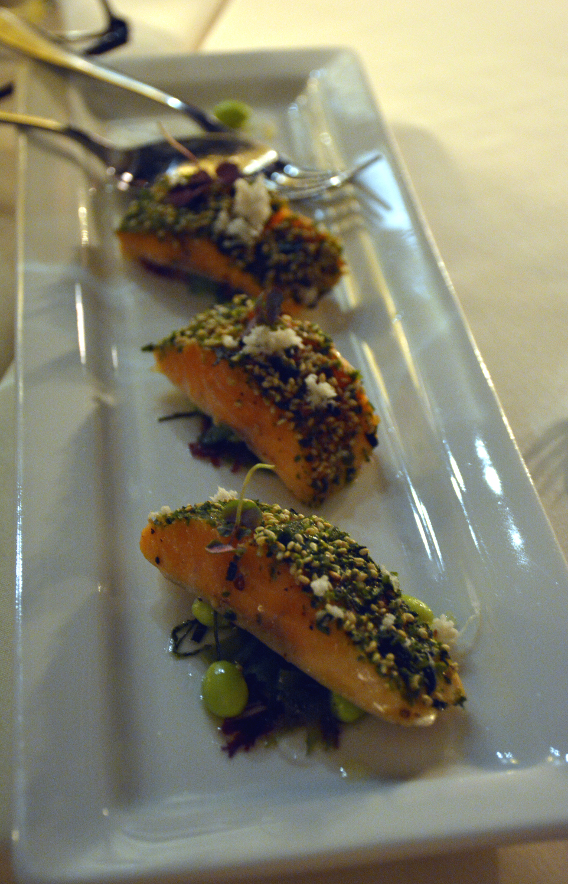 But the clear winner for my pescetarian palette was this perfectly butter-y Nori Crusted Arctic Char with edamame, sea lettuce, and horseradish. I could have eaten an entire platter of these! The crust was delicately salty and the fish perfectly rare.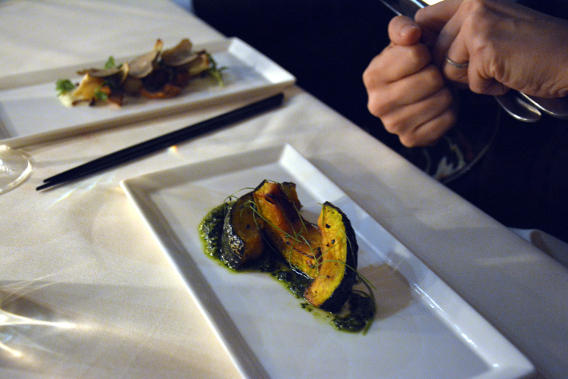 The vegan options were scrumptious too! I had the good fortune that evening of being seated next to Jessica Murnane, of One Part Plant, and we saw the extent to which Virgin Hotel's will go to make us feel "exclusive". Chef Gresh and his team created an entire menu of plant-based options for Jessica that included these Kobocha Squash Wedges! It's the mark of an excellent chef when they can creatively and deliciously interpret dietary restrictions while still staying true to the tone of the entire dinner. Kudos, Chef Gresh, kudos. Oh, and be sure to check out Jessica's brilliant interview podcasts!!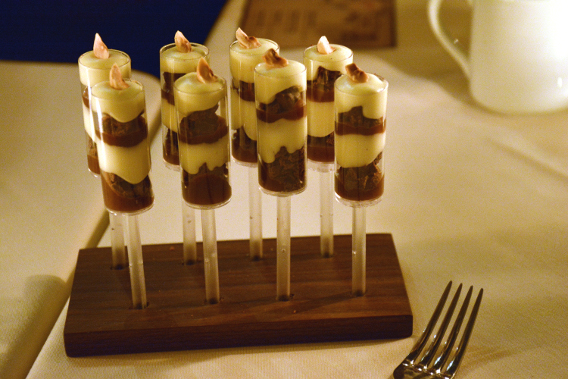 Then came the most important course: DESSERT! I believe these pops are miniature versions of our plated dessert but whatever they were, they were GOOD — the perfect "shot" of sweet delicious!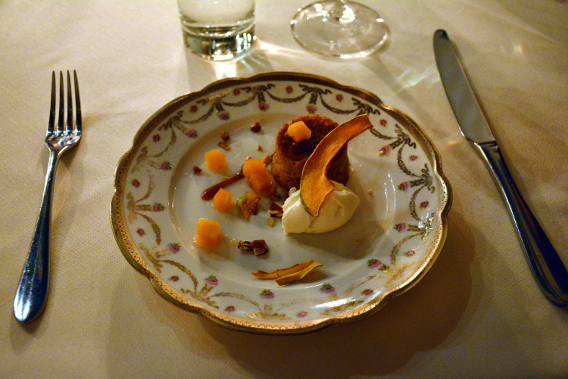 Our plated dessert of Spiced Pumpkin Cake with cream cheese cremeux and pumpkin seed brittle — a heavenly spiced dessert that was perfect for our mid-October meal.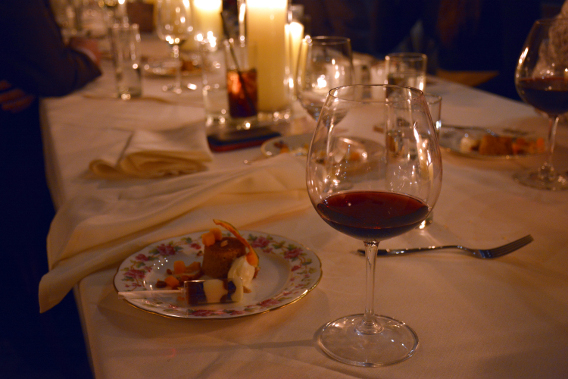 Gooey push-pops, cake and wine, who doesn't love a dinner which ends with these?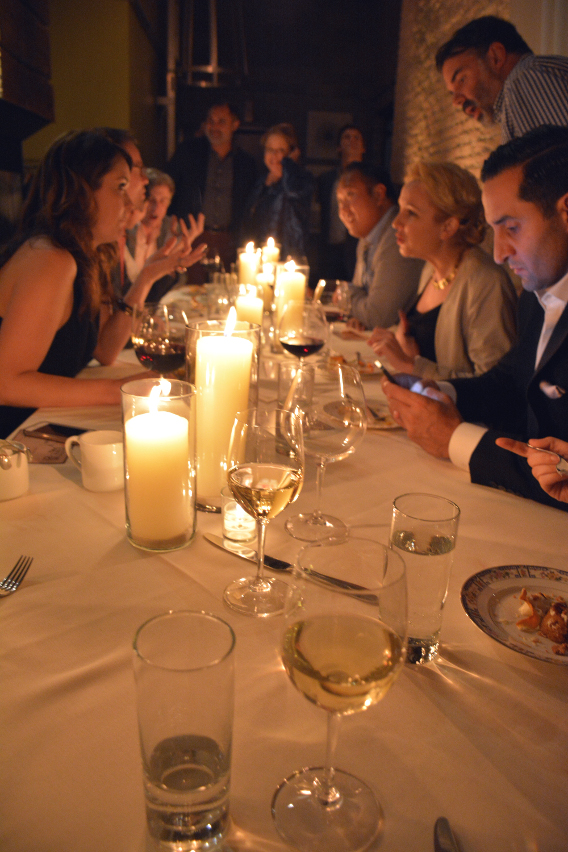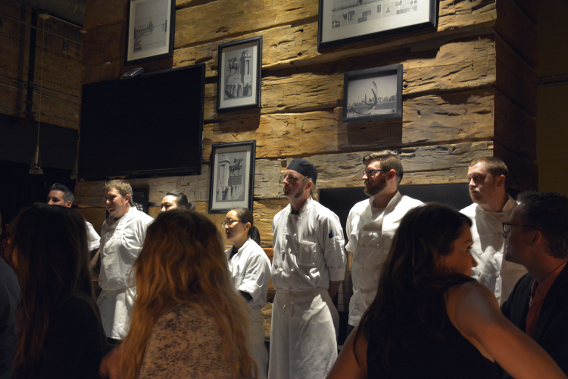 Executive Chef Rick Gresh (hidden all the way on the far left) and his team introduced themselves after our dinner. These chefs worked to prepare our meal in a pop-up kitchen for the Peep Show but there's no way you would have ever known they didn't prepare the meal on their home turf. After this evening;s preview, I can't wait to nibble more of Mr. Gresh's Virgin creations.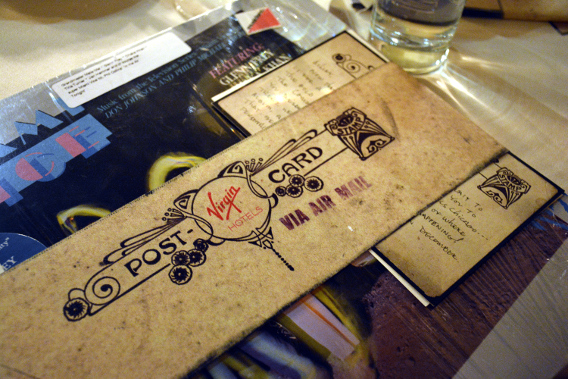 I know I've said this before but Virgin Hotels really is about service and attention to detail. And in case any of us attendees forgot that after a few glasses of wine, we were instantly reminded at the end of the evening when we were each presented with a personalized gift: a music record based on our individual tastes and interests. Yes, you read that right: Virgin's insanely smart team went to this here blog and to my Pinterest page and picked out a record based on their "research". I know I've mentioned before about how much I wish more businesses would write handwritten notes but a hand-picked, personally curated gift?! Holy crap, Virgin do you ever define the word 'pamper'!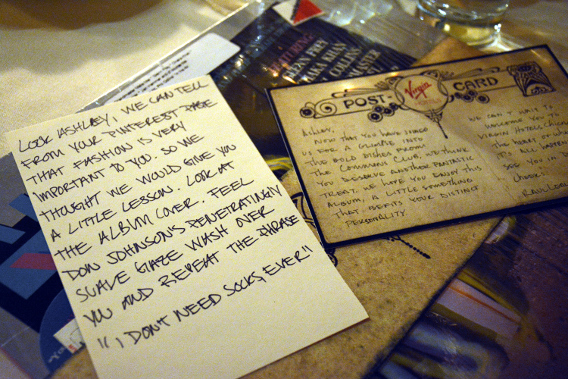 My love of fashion inspired my gift of the 'Miami Vice' record and I have to admit, the final tagline of "I don't need socks ever" had me laughing so hard I was in tears.
After a Peep Show like this, I really can't wait to see what other surprises and personalized touches Virgin Hotels has coming…
Virgin Hotels, you really are "so good-looking"!