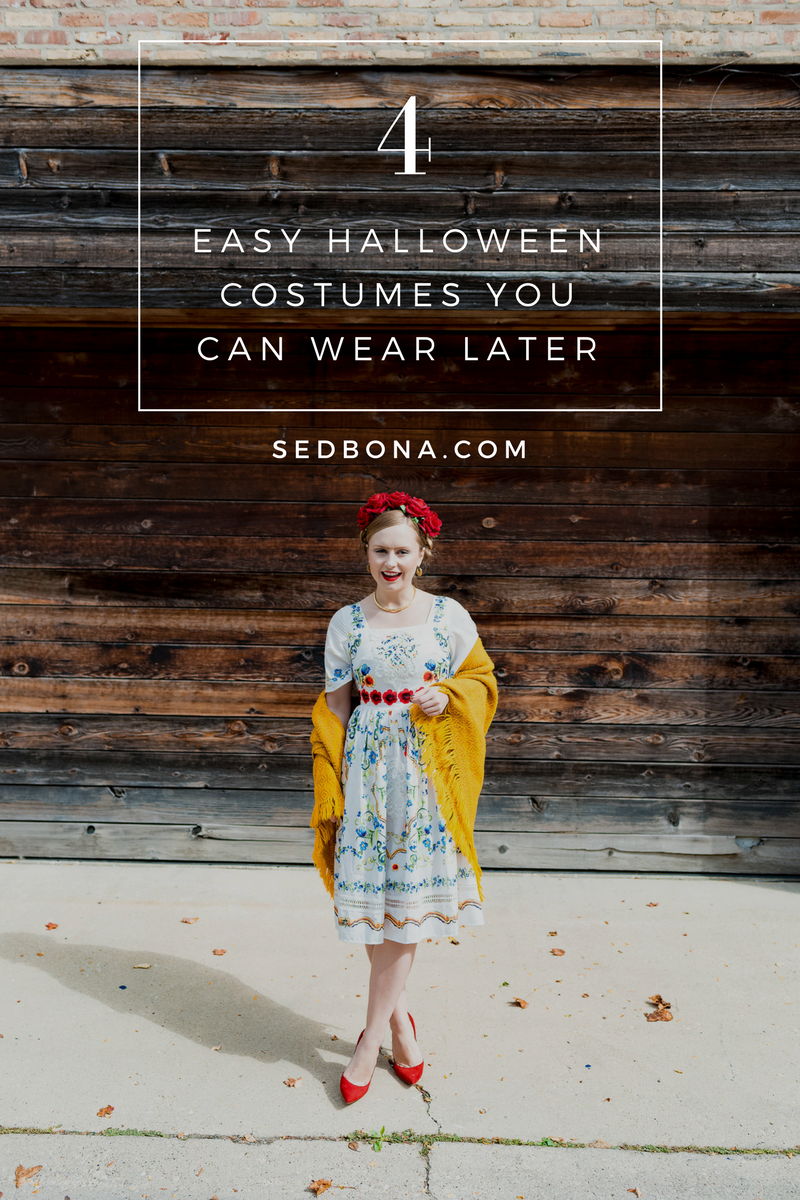 Halloween is coming!
The holiday I look forward to for weeks in advance. The holiday that's always the most FUN.
Ever since I can remember, I've just loved Halloween!
Maybe it's because I love to dress up and put on wild make-up. Maybe it's because faux-gory decorations just crack me up. Or maybe it's because once a year I love to see my house covered in bats, spider webs, and skeletons. You know — just for the fun of it. But either way I'm ridiculously excited to see this spooky holiday creeping close on the calendar.
But I won't lie. Even though I always try to plan my Halloween costume in advance, I always find myself panicking last-minute come the end of October. So this year I've not only figured out my Halloween costumes (we're going to a few parties this year), I've rounded them together for you too.
Four Halloween costumes you can easily wear now AND later (or at least morph into next year's costume too).
The best part?
They're almost all available on Amazon (nothing like Prime shipping to save you from a last-minute costume panic), AND all should cost less than $60 to put together!
So what are we waiting for? Let's get trick-or-treating!
4 Halloween Costumes You Can Wear Later
---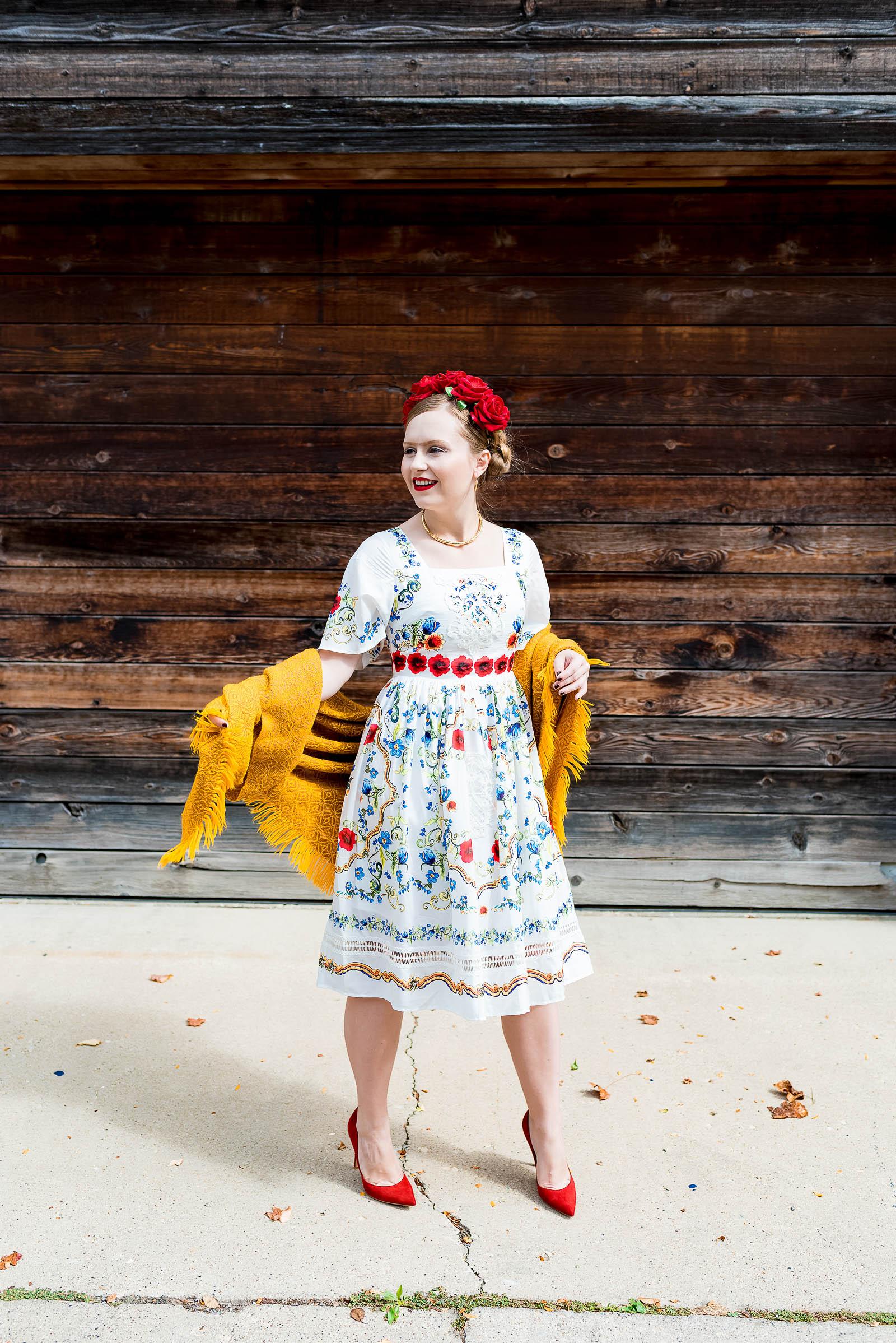 1. Frida Kahlo
Frida Kahlo was one of the most ground-breaking and intelligent painters of her time. She was a female powerhouse of surreal expression and honest portrayals (and always included her famous 'unibrow' in her self-portraits).
While a Frida Kahlo costume isn't necessarily the most original — there are so many great ideas already out there — I just had to pull one together with this dress I wore to Mexico in April. It's one of my absolute favorite dresses and I love that I can turn it into a killer Halloween costume too. Just add a floral crown and Kahlo's famous unibrow and you're set to go!
SHOP THE LOOK:
Dress – Amazon || Shawl – Vintage (similar) || Pumps – Gianvito Rossi || Floral Crown – Amazon || Earrings – Met Museum || Necklace – J. Crew || Lips – Stila in 'Beso'
Photos courtesy of Ali of Those White Walls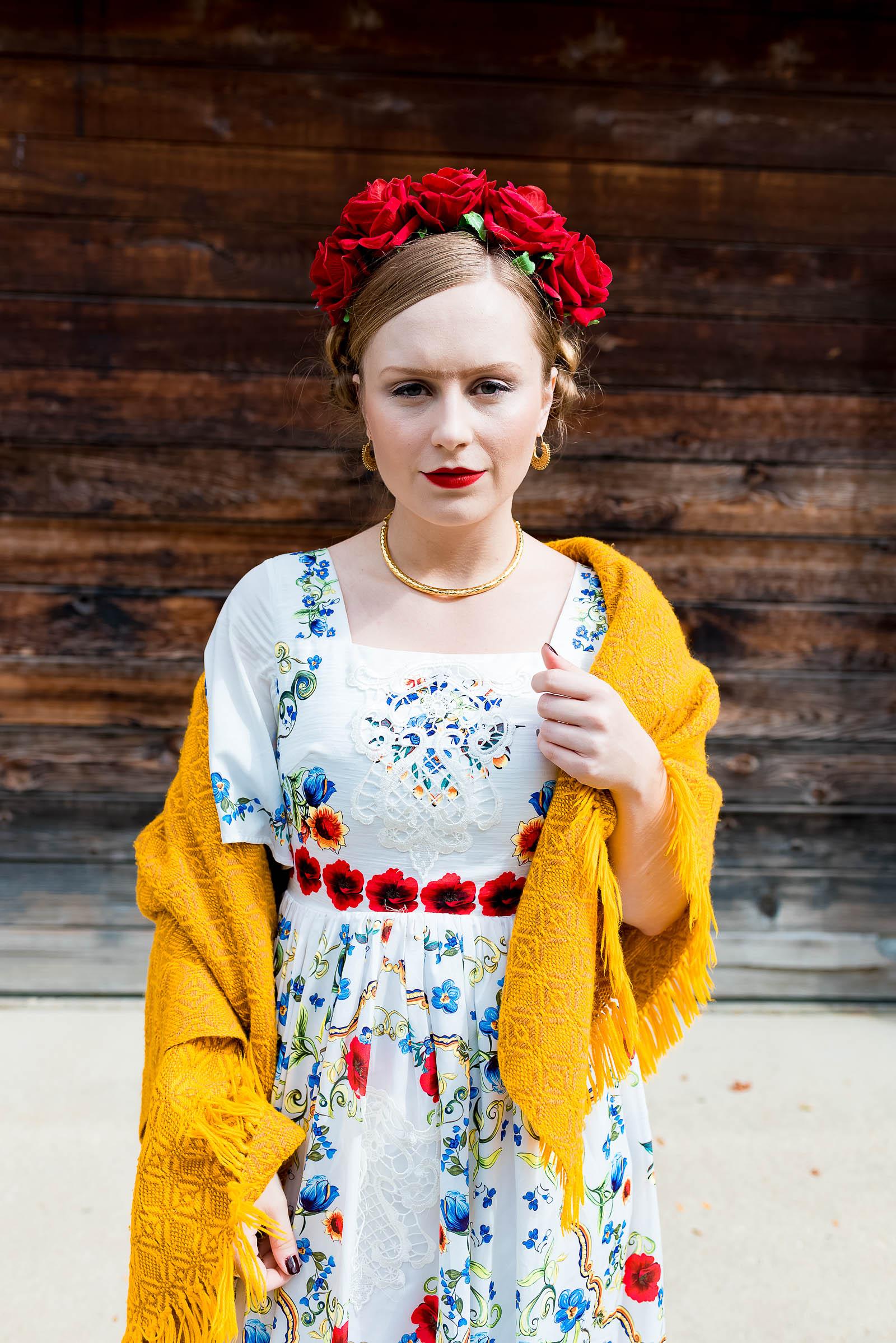 For Make-Up: Go as simple or as artsy as you'd like with your Frida make-up. I opted for a bold red lip and a little smokiness to my eyes for drama. To recreate Kahlo's famous unibrow, I first penciled in the unibrow with my usual eyebrow pencil. Then taking a similar colored eyebrow mascara, I lightly added "hair" strokes to make the unibrow more natural.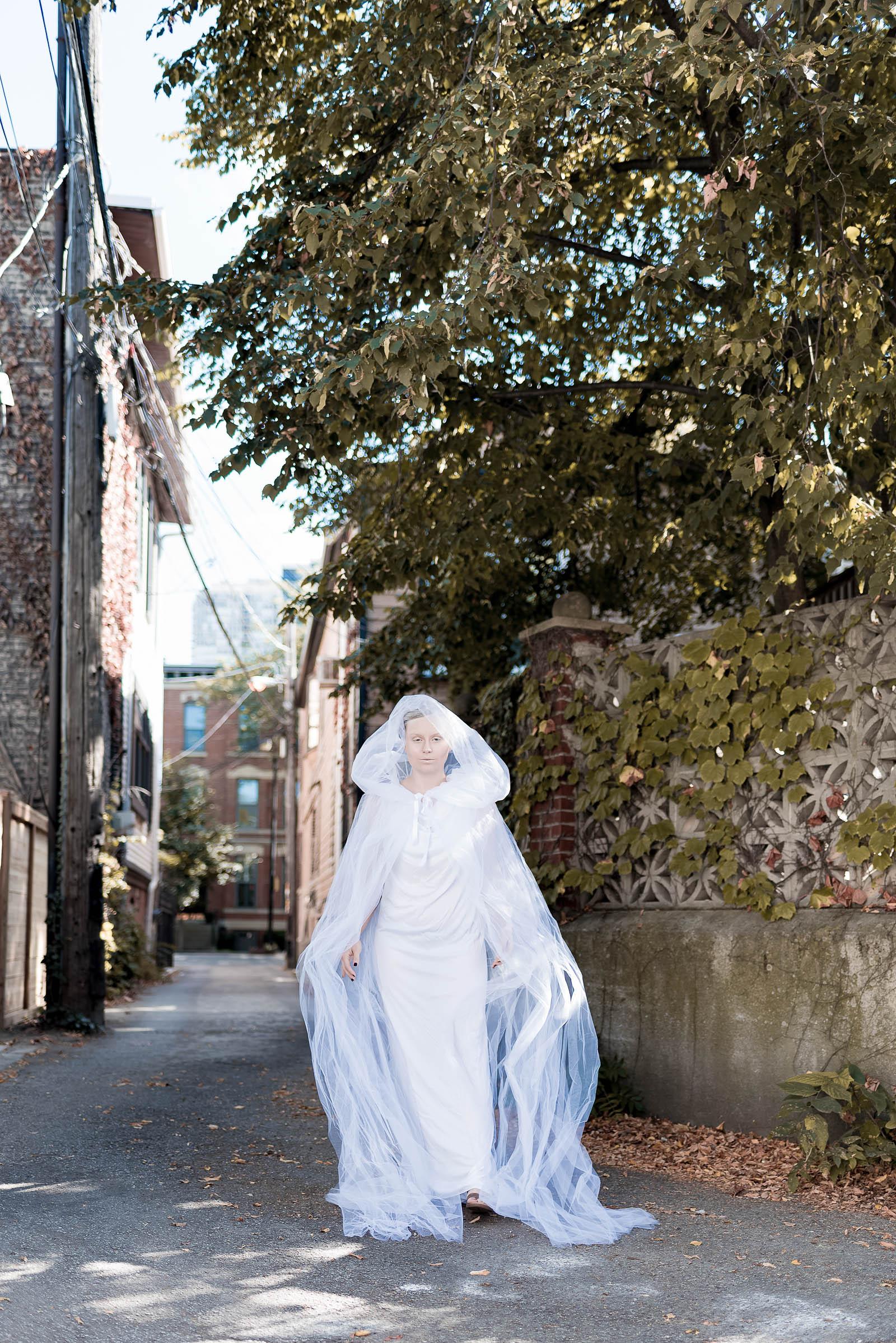 2. Ghost
Ghosts are one of the most classic halloween costumes and one of the most inexpensive to pull off! Just cut eye holes in a sheet and you're DONE.
But if you're looking for something a little more glamorous, you can inexpensively recreate my look too. I found this ghost kit on Amazon for $33 and paired it with ghostly make-up and white hair spray to finish the look.
And while I don't actually expect to be wearing this costume out later in "real life", I fully expect to morph this into future Halloween costumes. The under dress can be used as a grecian goddess costume for example, or I could use it as an entirely different ghost costume by layering a different dress underneath the cape. Like a victorian gown (so then I could be a ghost from Titanic) or my medieval dress from high school. I love the versatility this ghostly cape allows so much that I just had to include it in this post!
SHOP THE LOOK:
Ghost Costume – Amazon || Hair Color – Amazon || Eyeliner – NYX || White Eyeliner – NYX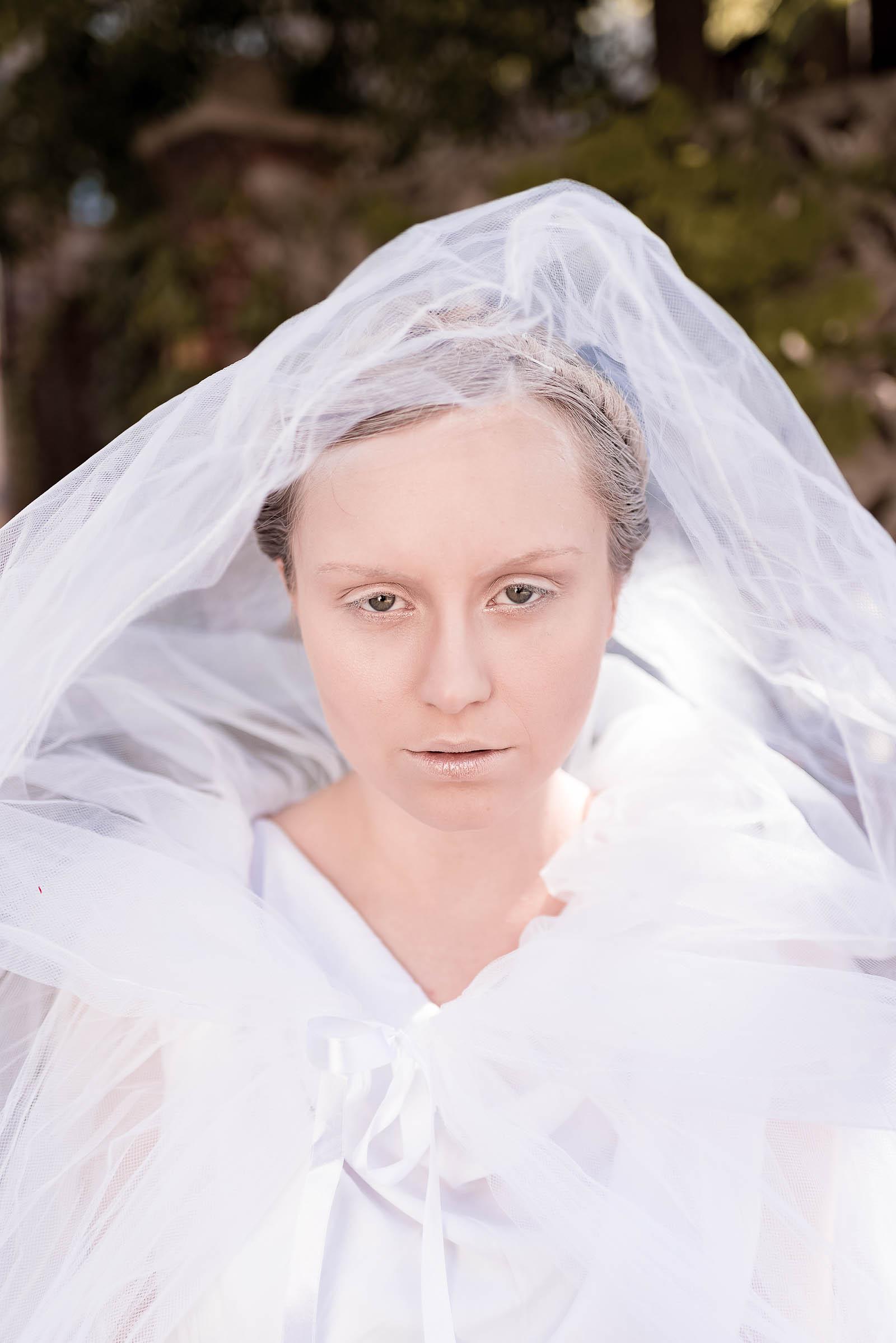 For Make-Up: I first covered my whole face in my lightest foundation. I brushed it over my eyebrows, eyelashes, and lips too.
Then I took a light powder and applied it all over, followed by a rose gold highlighter on my cheeks and eyelids. I next added strong contouring to my cheeks for a more ghastly appearance.
Then I applied a smoky hue to just above my eyelid crease to help it appear more 'sunken', and, using a white eye pencil, I "drew" in a more ghostly eyebrow. For the finishing touch I took a nude metallic eyeliner that's easily smudgable and applied to just under my bottom lashes and in a large dot at the center of my lips.
Finally I twisted my hair into my favorite summer hairstyle and sprayed on the white color.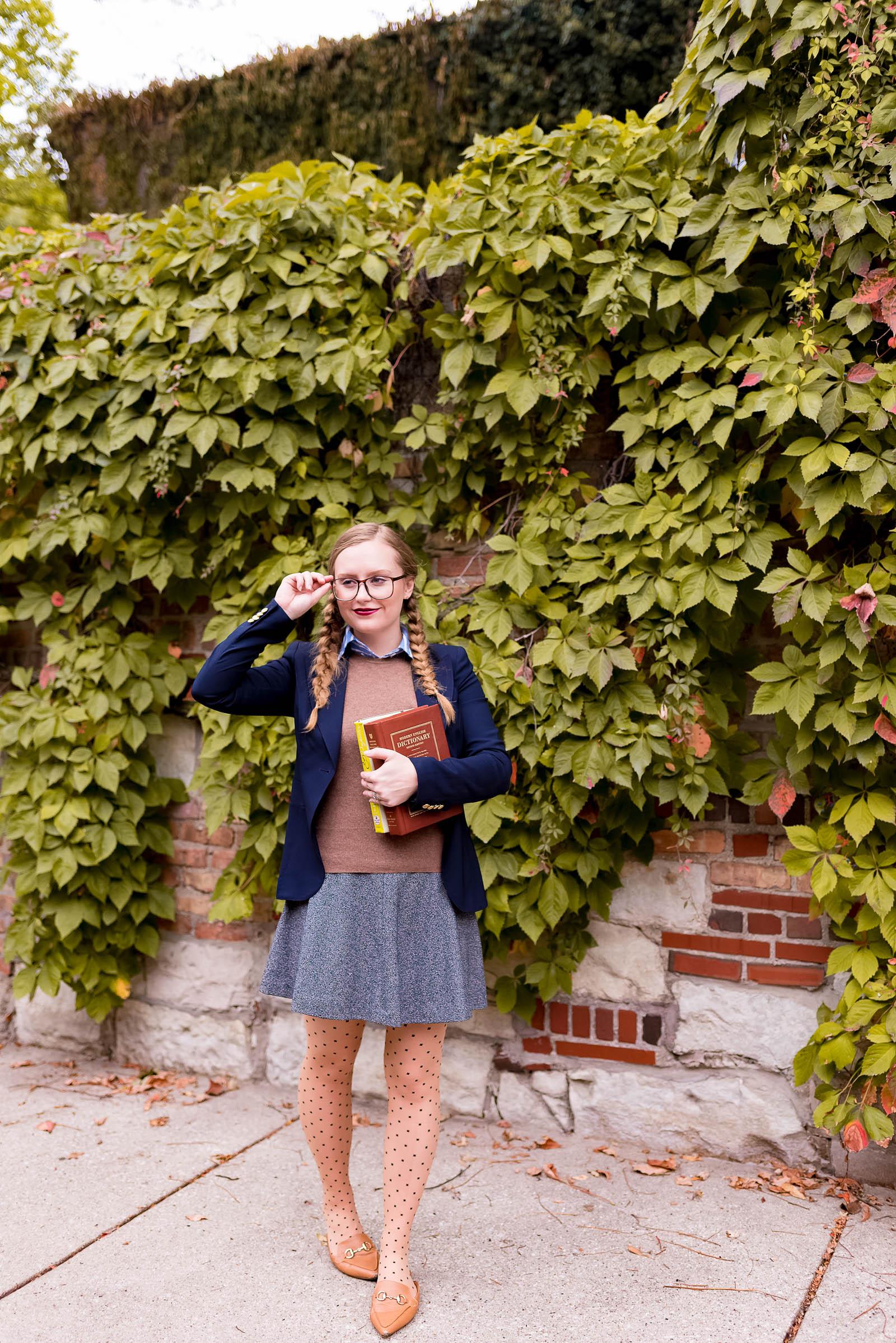 3. The Nerd
Being a huge nerd underneath it all, I always love a good nerd costume.
And they're often surprisingly easy to throw together with things you already have in your closet: a preppy blazer, an oxford shirt, and some books (or book clutches if you want to be a little more glamorous). Add a pair of massive glasses and you're ready to go!
Want to take the look one step further? Add some faux blood and go as a nerdy zombie!
SHOP THE LOOK:
Blazer – Smythe || Vest – Brooks Brothers (similar) || Shirt – c/o SheIn || Skirt – Banana Republic (similar) || Loafers – SheIn || Clutches – Kate Spade "Books" (similar) || Tights – Wolford (similar) || Glasses – Amazon || Lips – Huda in 'Showgirl' (a new favorite!)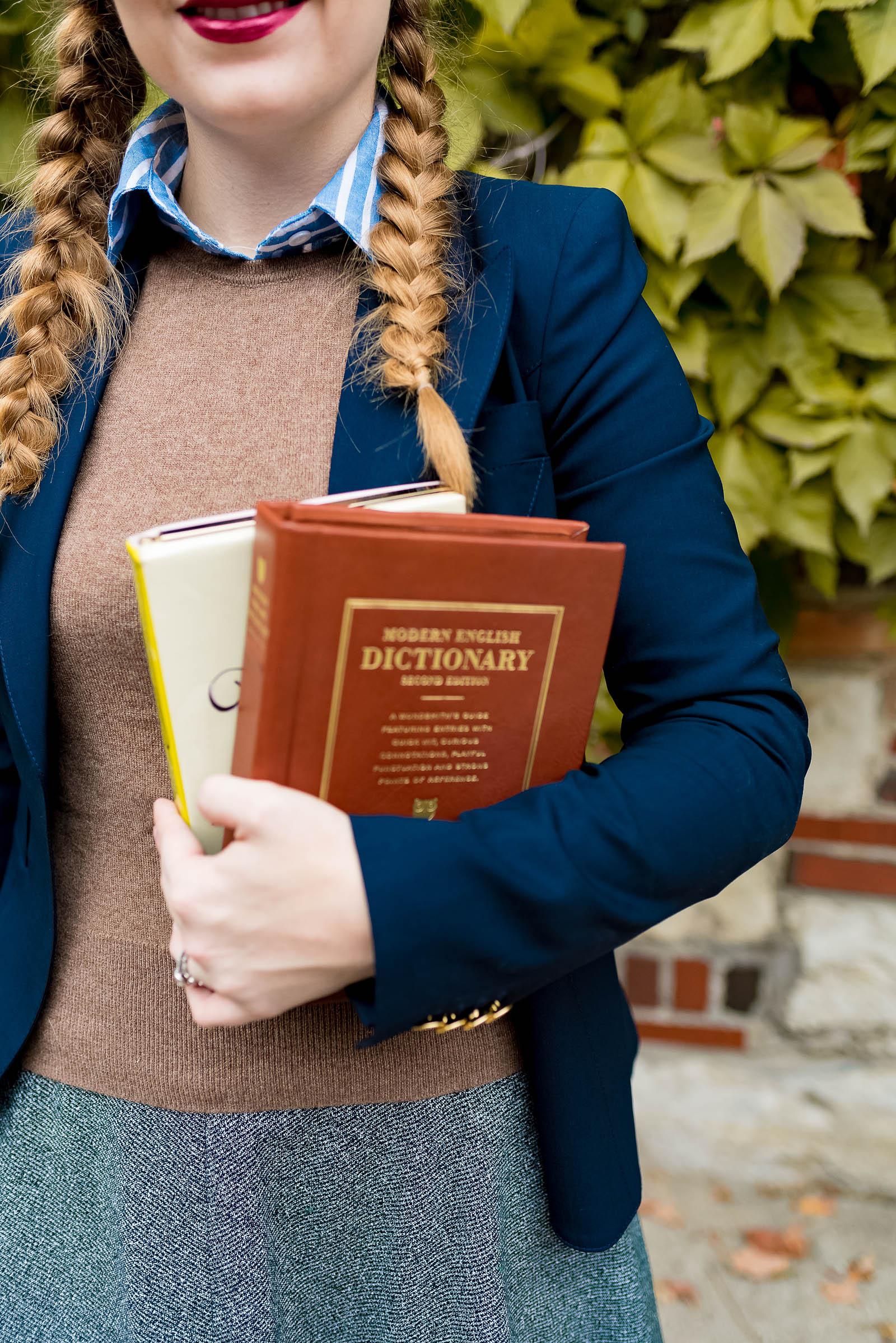 For Make-Up: Nerdy costumes work best with dark lipstick and/or minimalistic make-up. Choose a practical hairstyle (something you can study in) and you're all set!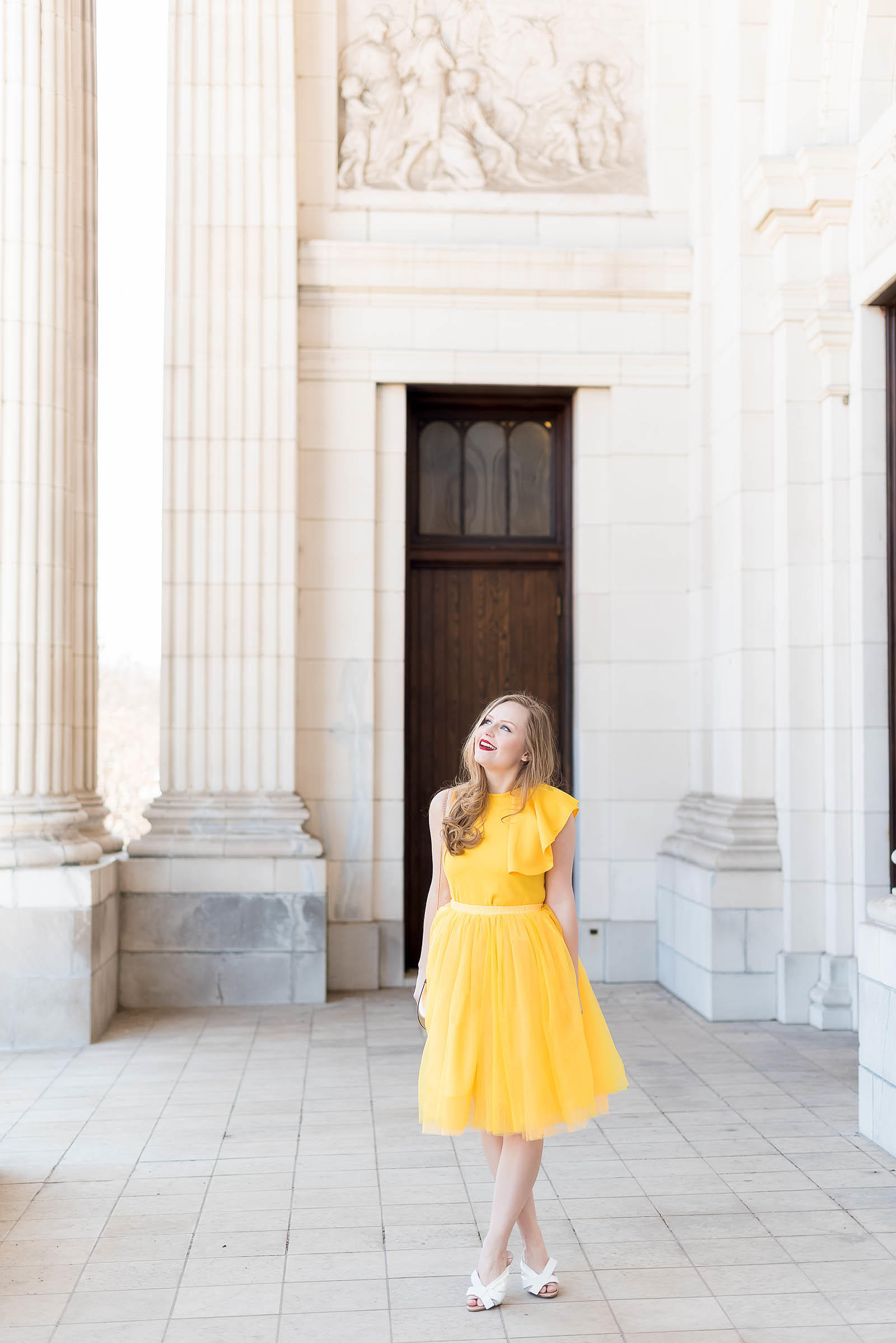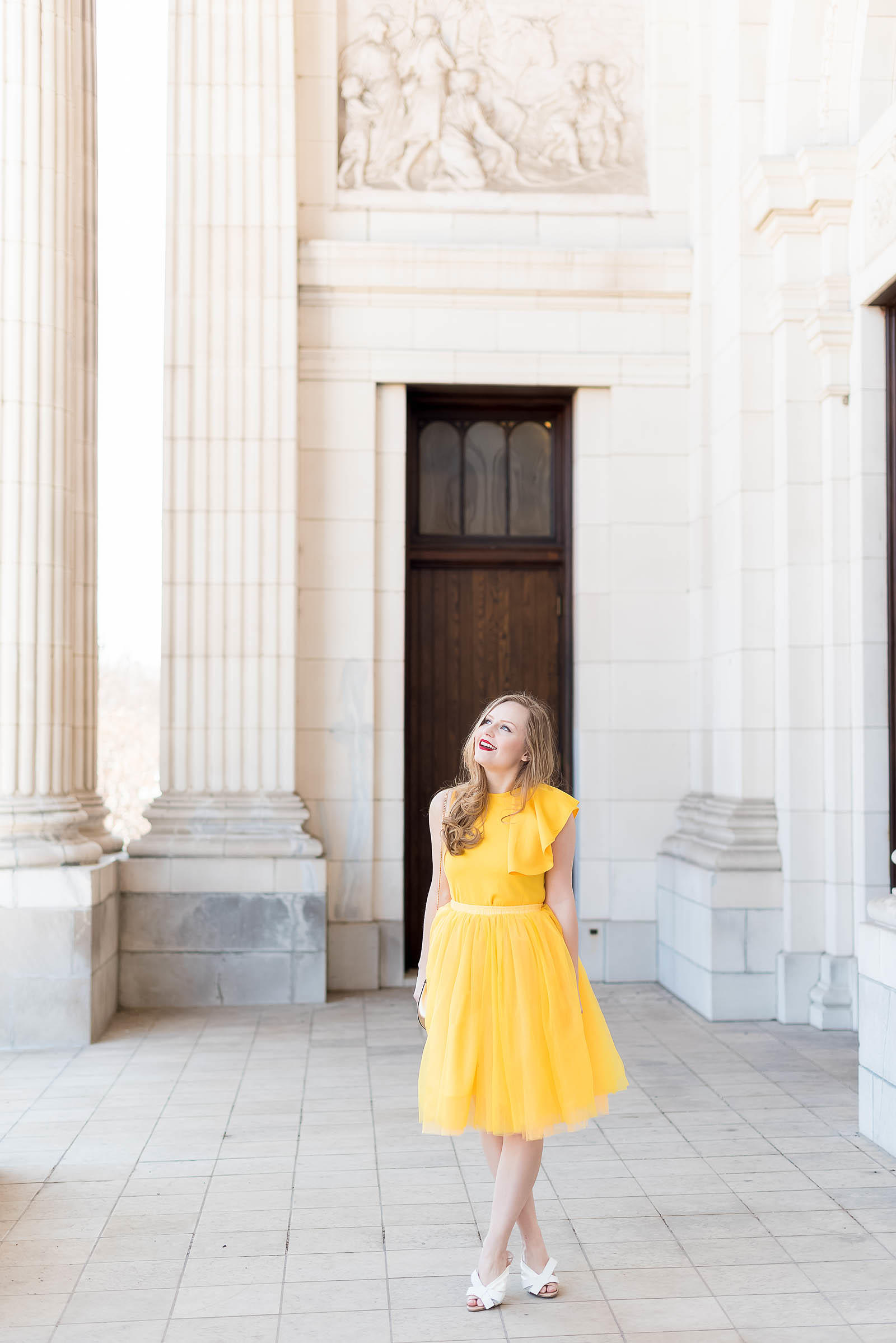 4. Belle from 'Beauty and the Beast'
Alright, I'm cheating a little with this costume because I've already shared it here on the blog. Except I didn't shoot it as a costume — more as a look inspired by one of my favorite Disney films, Beauty & the Beast.
As an outfit OR a costume, this lovely yellow look is incredibly inexpensive to pull together (especially when you compare it to the price of "official" Belle costumes), and you can wear both the top and skirt later in different looks and costumes too. Win win!
SHOP THE LOOK:
Top – Amazon || Skirt – Amazon || Mules – Miu Miu (similar) || Bag – Chloé Mini Drew (obsessed) || Lips – Stila in 'Beso'
Photos courtesy of Heidi of Wishes & Reality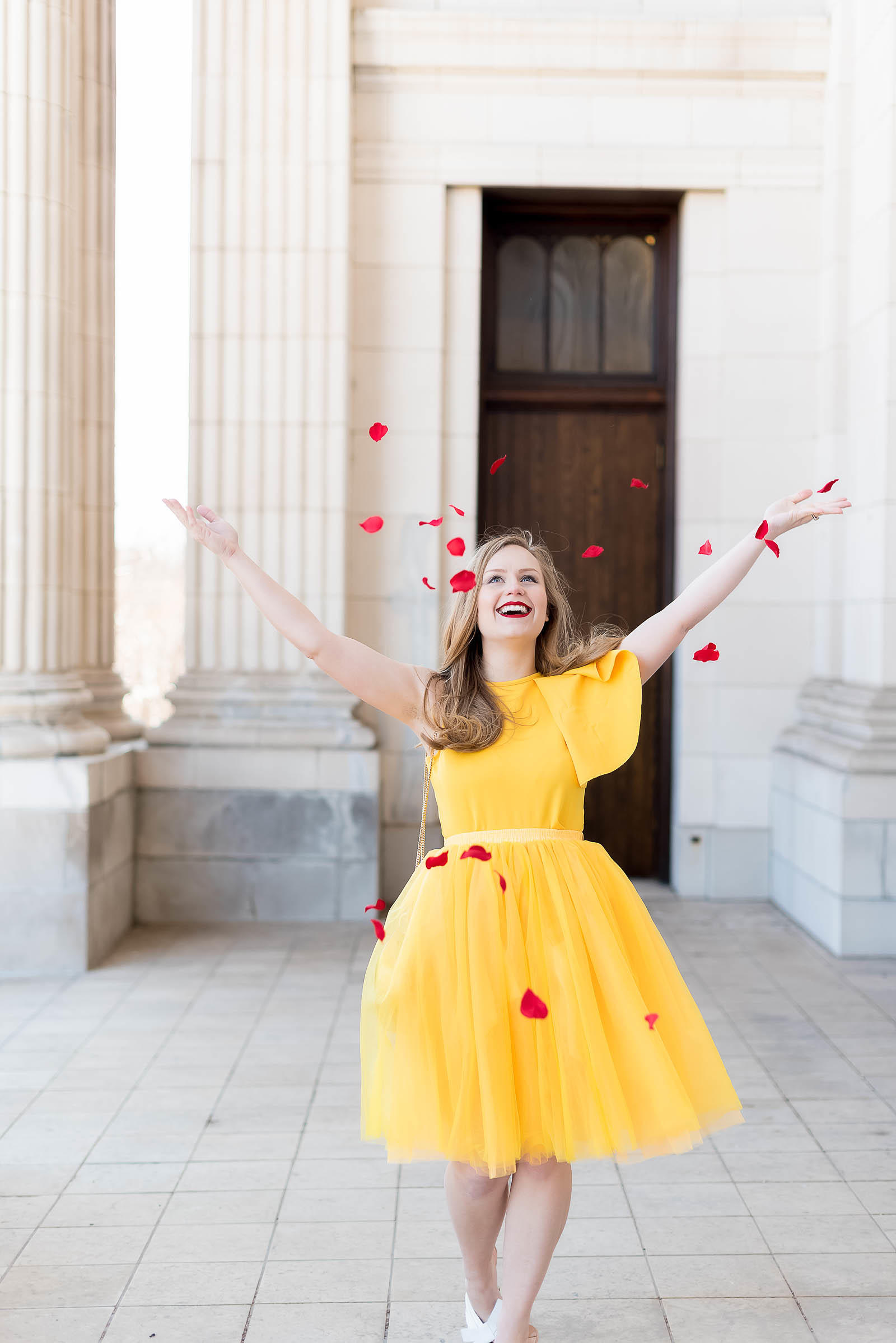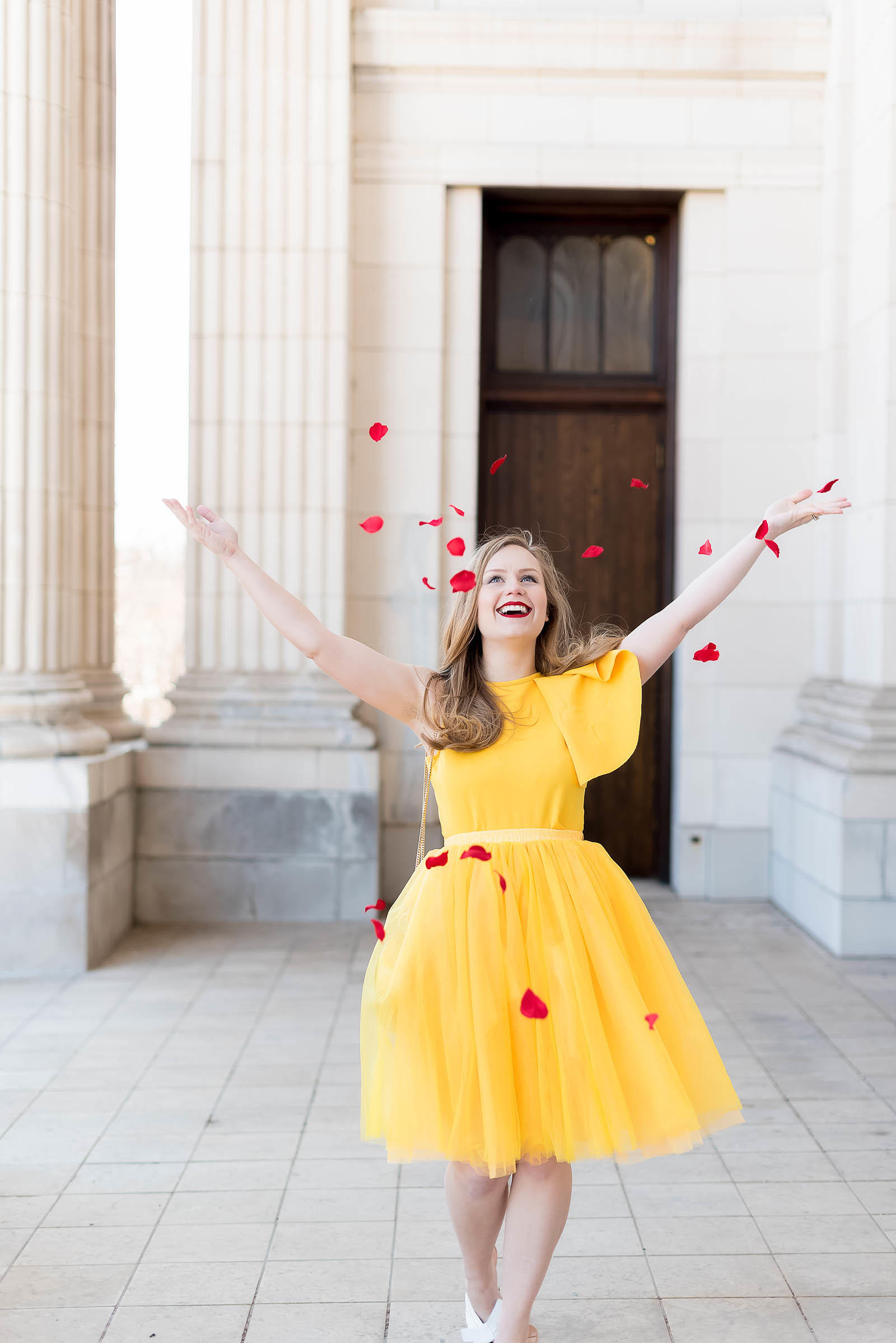 For Make-Up: I kept the makeup simple since Belle is such a nerdy princess but added a bold lip for a little Halloween drama.
---
And, because I can't help but get in the Halloween spirit at home too, here are a few of my favorite Halloween decor finds:
Happy Hauntings!