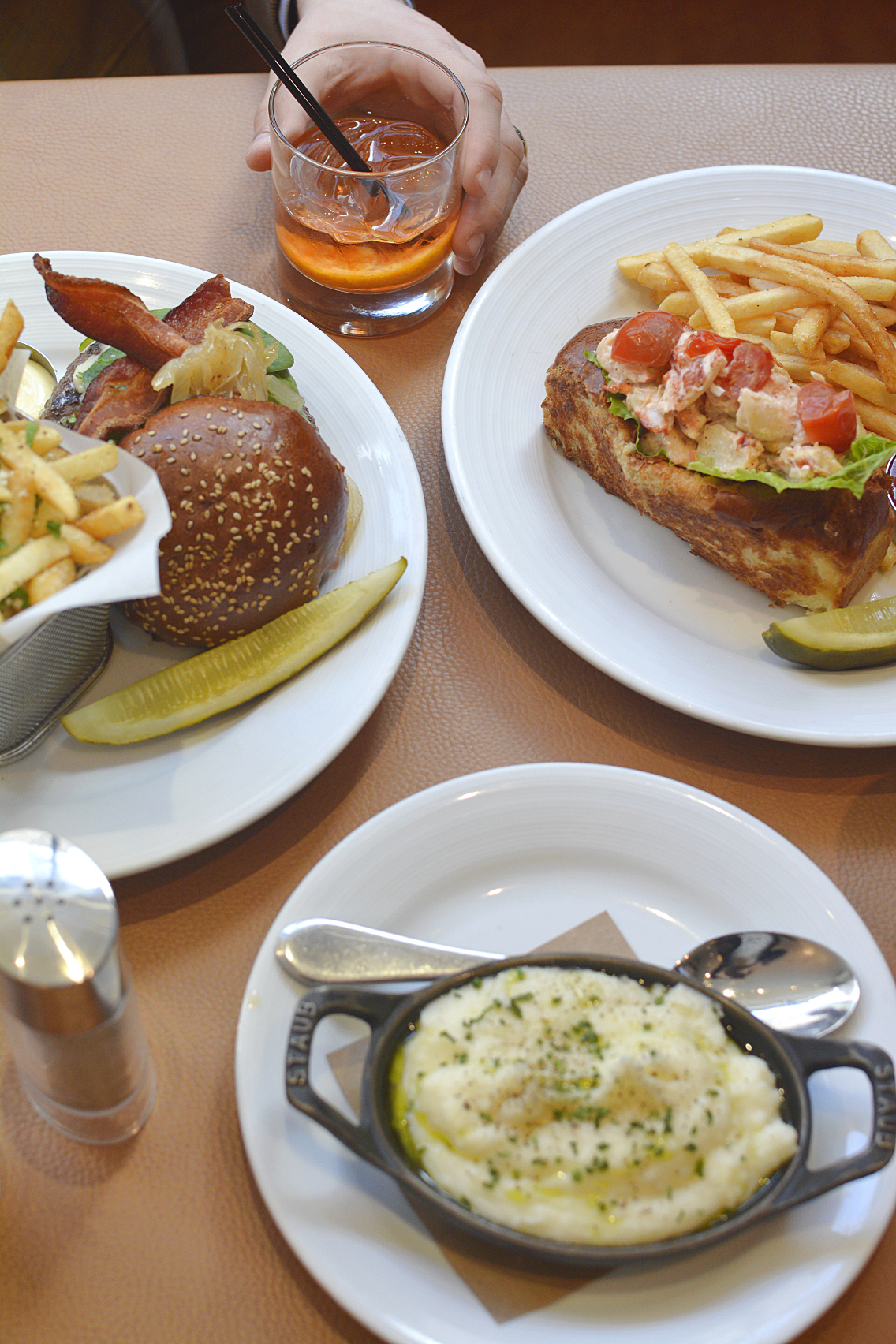 There's an art to doing lunch in Chicago. We have many award-winning options to fit any budget, any taste, any crowd. But finding the sort of spot that feels luxuriously delicious while still remaining accessible can be a challenge.
Luckily just a hop-skip-and-a-jump away from my favorite fast food lunch spot, Shake Shack, is one of my favorite spots to grab a good cocktail and an even better meal, David Burke's Primehouse. An elegant den of divine flavors, sprawling leather-covered tables and cozy chairs, this is the sort of swanky space you take visiting friends and family for lunch before plunging headfirst into the shopping mecca of the Magnificent Mile, conveniently located just a block away.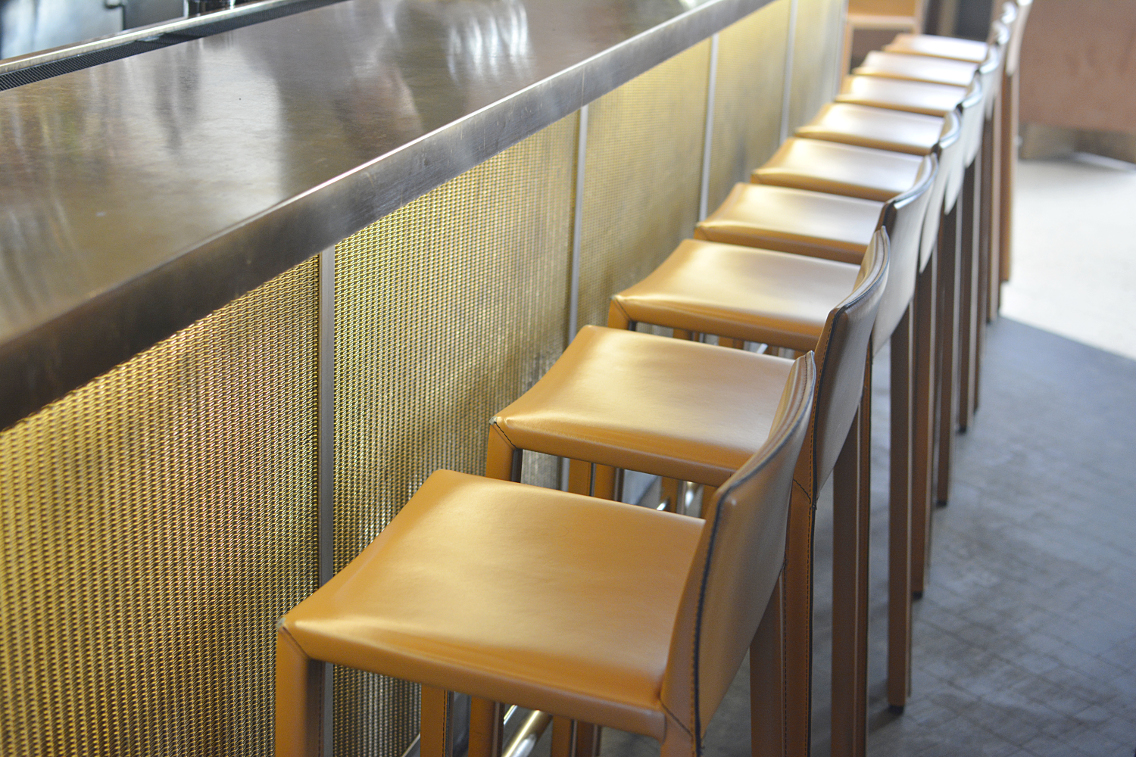 I mentioned that this space is like a den because… well, it is! It's a dark, cozy spot (but with ample windows) all furnished in rich leathers and raw materials.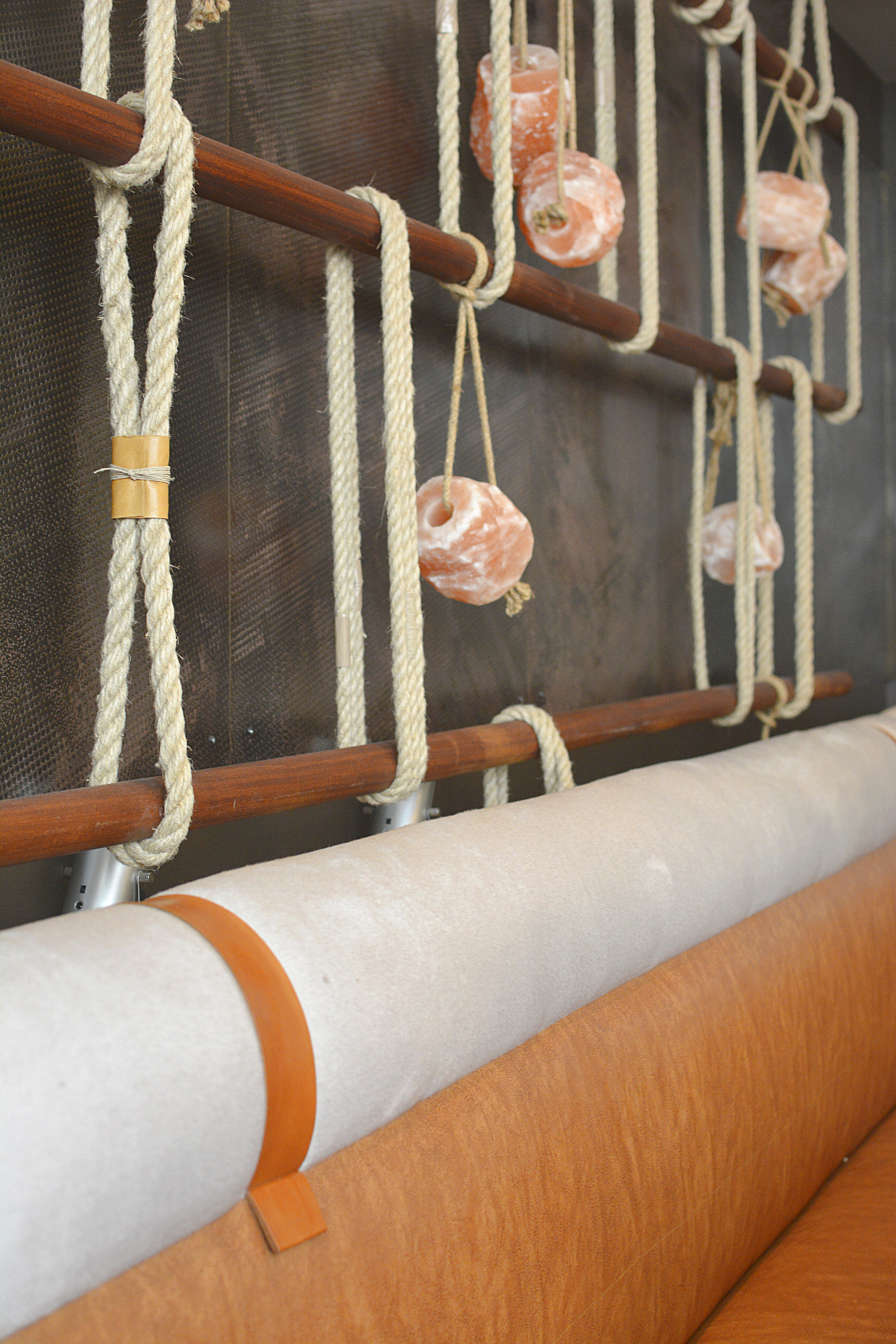 Primehouse's is most famous for their fresh cuts of beef which are dry-aged on site for an average of 28 to 30 days in a Himalayan salt-tiled aging room. So naturally the decor nods to this Himalayan salt tradition with large pink salt rocks hanging behind the booths. The 'salty' aesthetic compliments the natural leather-donned space with thick nautical ropes and beautiful metallic lamps in a uniquely luxurious but raw way.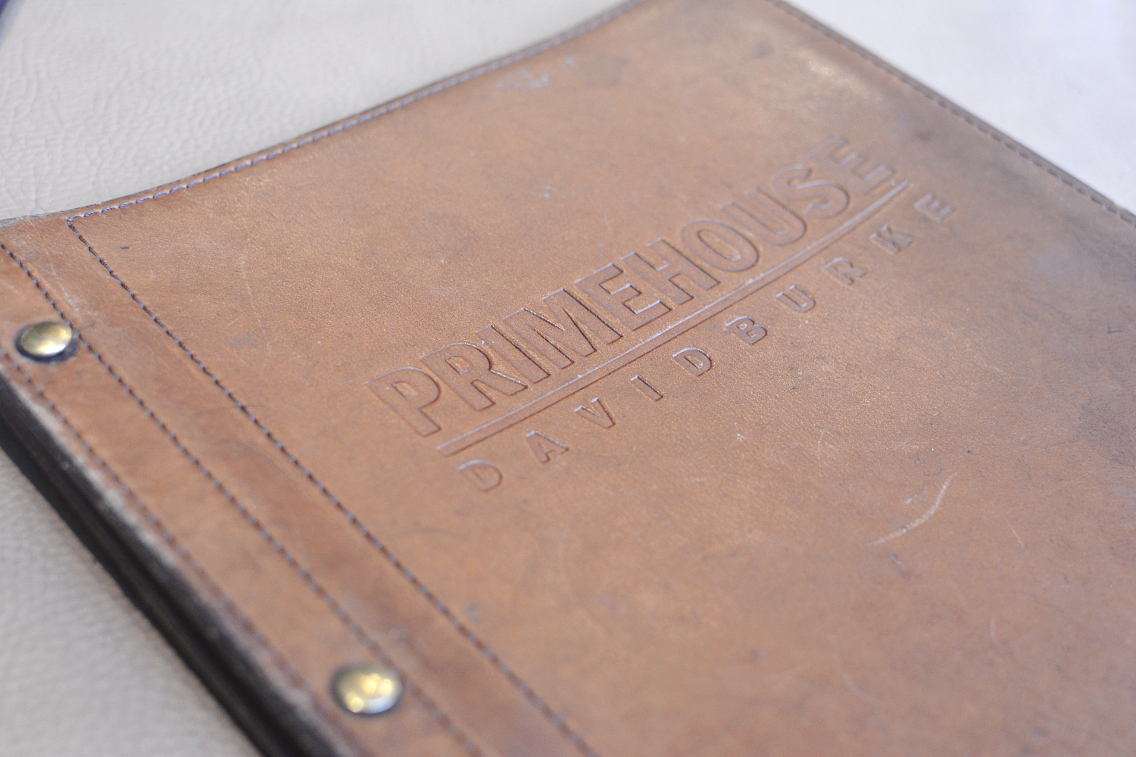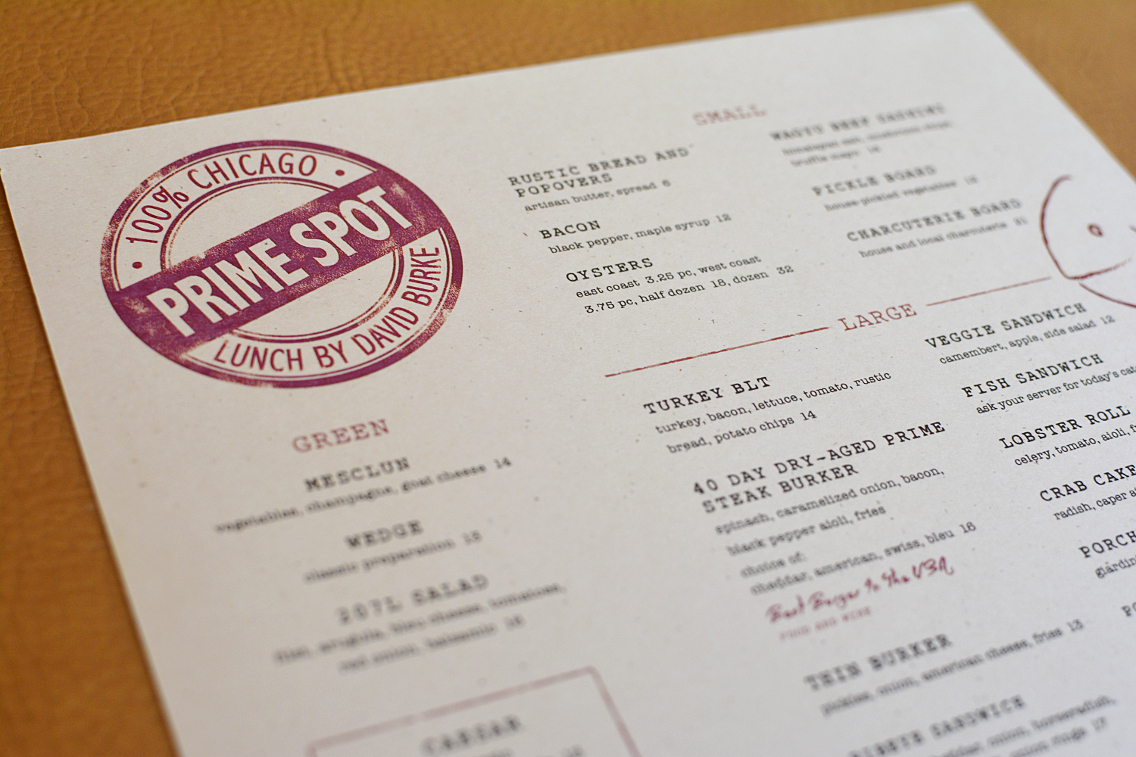 Hubby and I have been many times to David Burke's for dinner but quickly discovered how much we had been missing out by not sampling their lunch menu as well.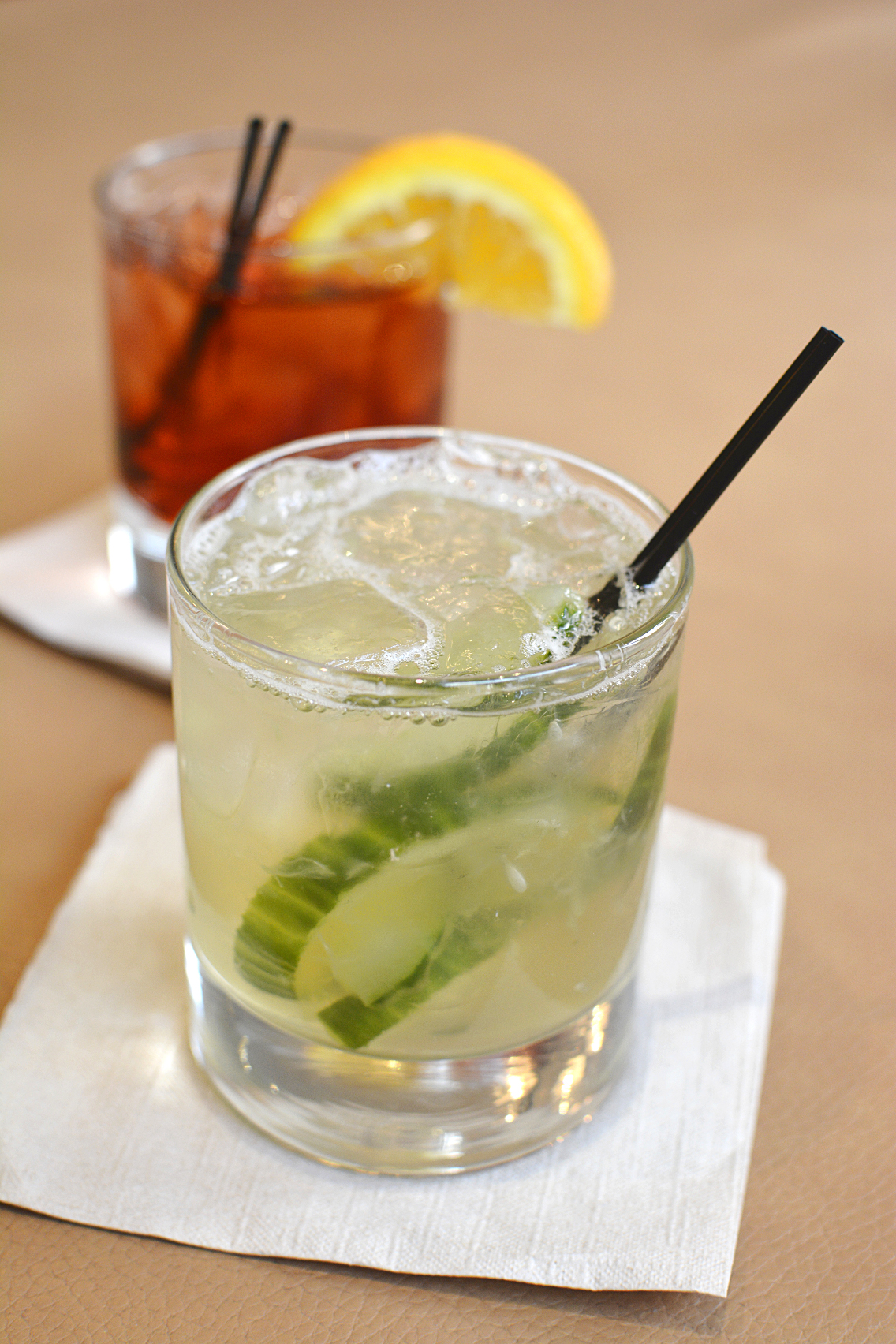 I LOVE DB's cocktails — I haven't had a bad one yet! So on our lunch date, I opted for the Well Thymed Antidote of ransom gin, thyme syrup and cucumber. It has a cool, refreshingly invigorating flavor that makes me dream of summer breezes and relaxing vacations.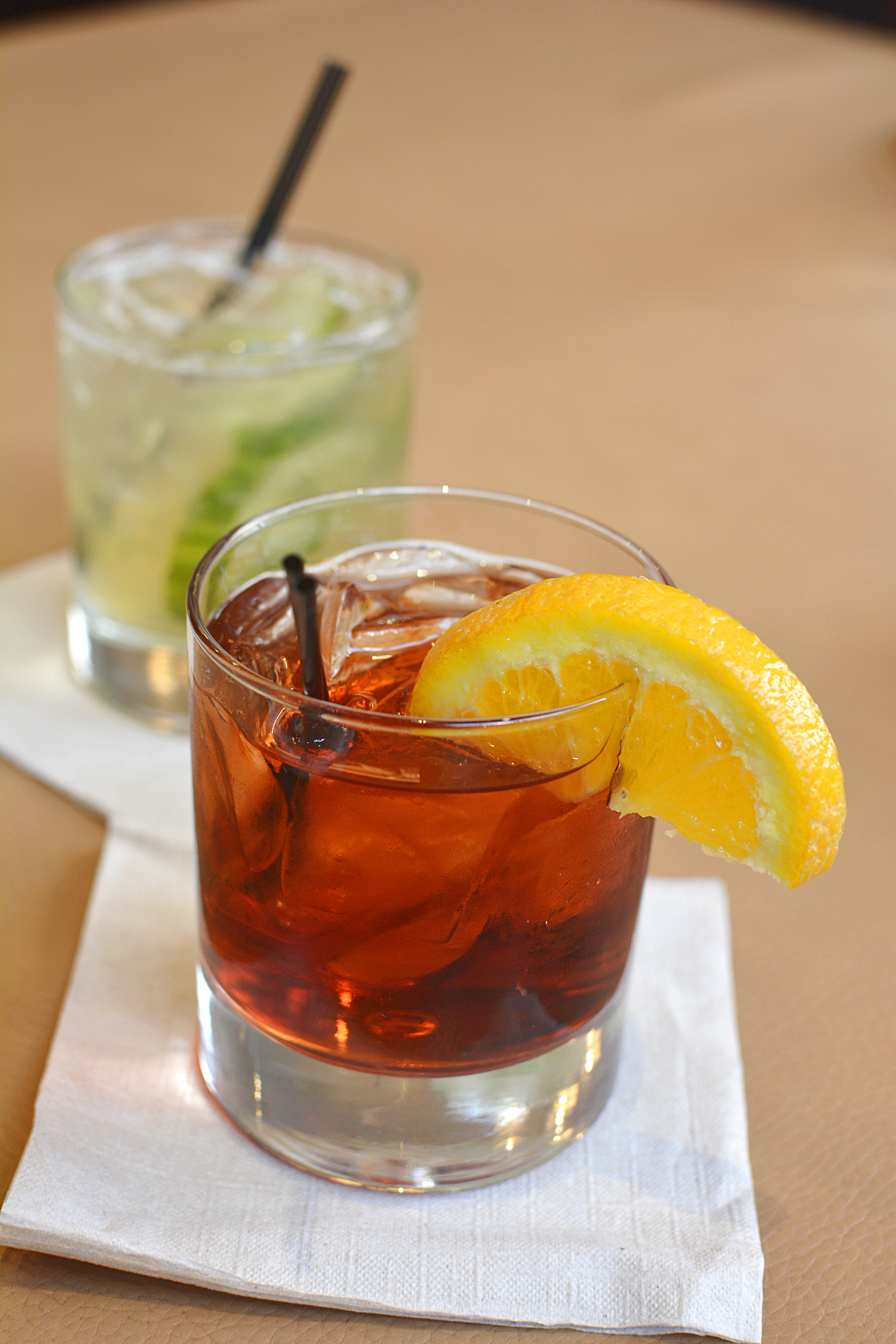 DB also offers a robust selection of barrel aged cocktails (rare to find anywhere at a lunch spot) so Hubby opted for their classic barrel-aged Negroni: campari, beefeater gin, dry vermouth.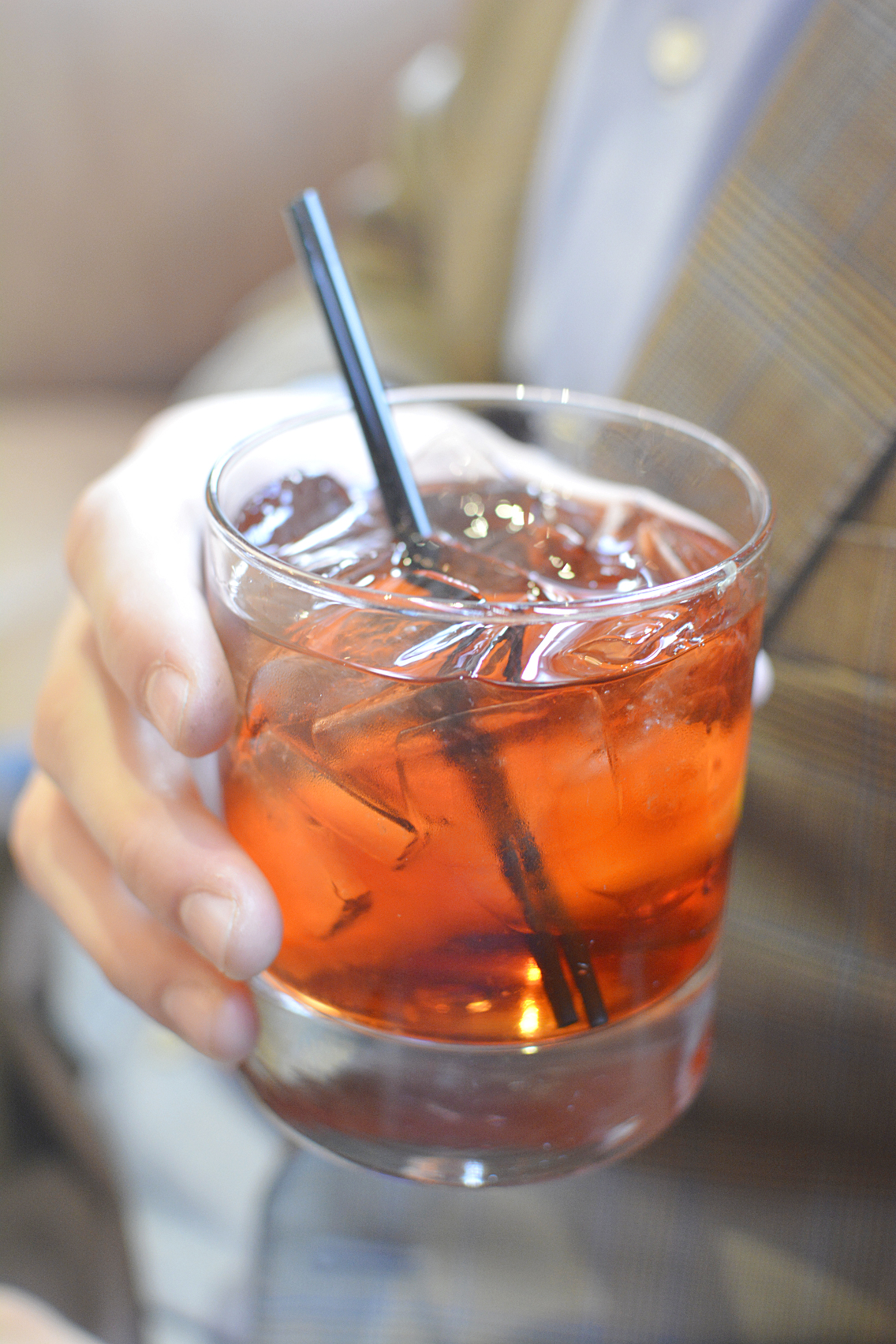 **CHEERS**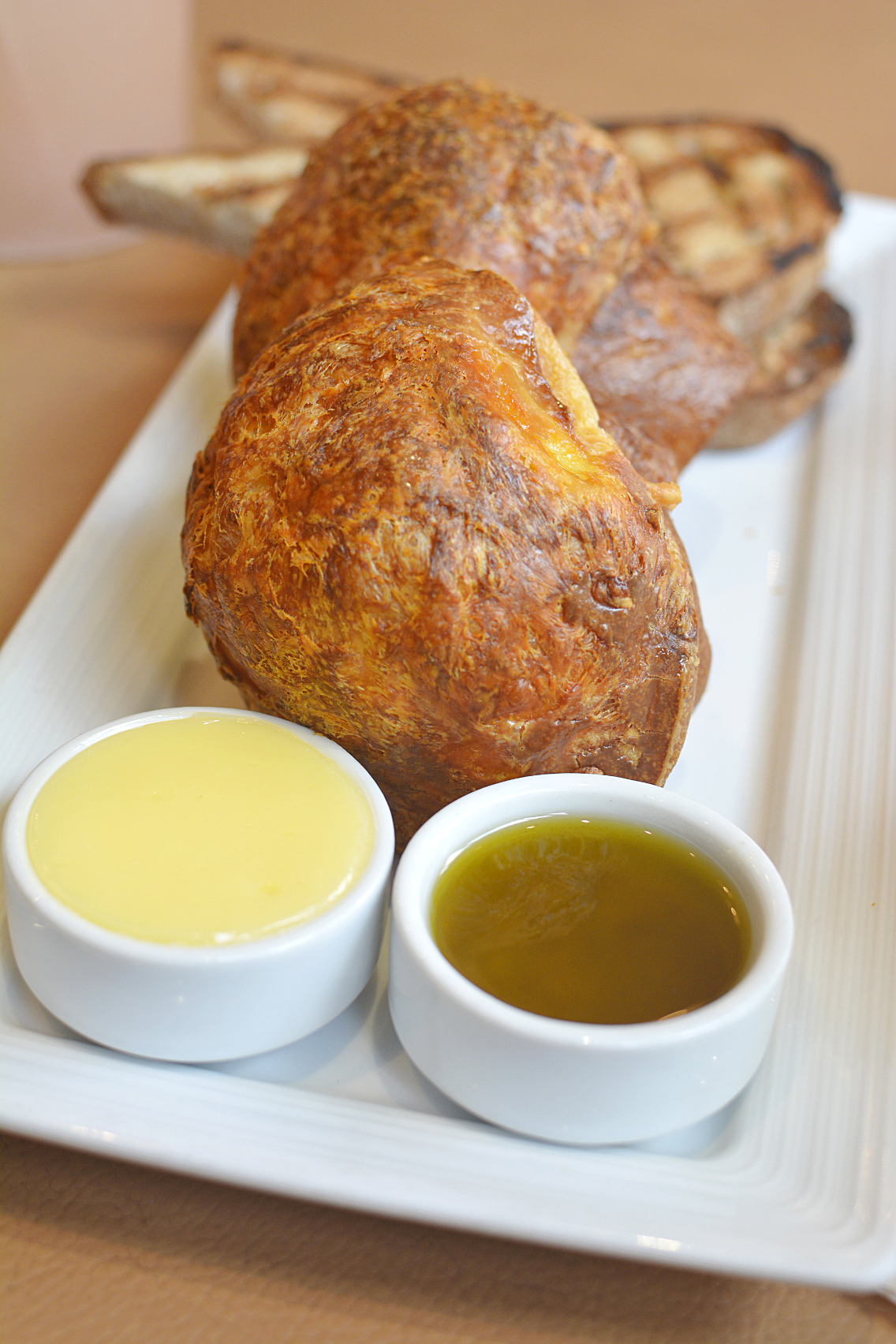 The first thing you need to know about DB's menu is how badly you need to order the Rustic Bread and Popover plate. Giant, cheesy popovers and thick-cut slices of rustic bread… seriously, the carb-loading is worth it!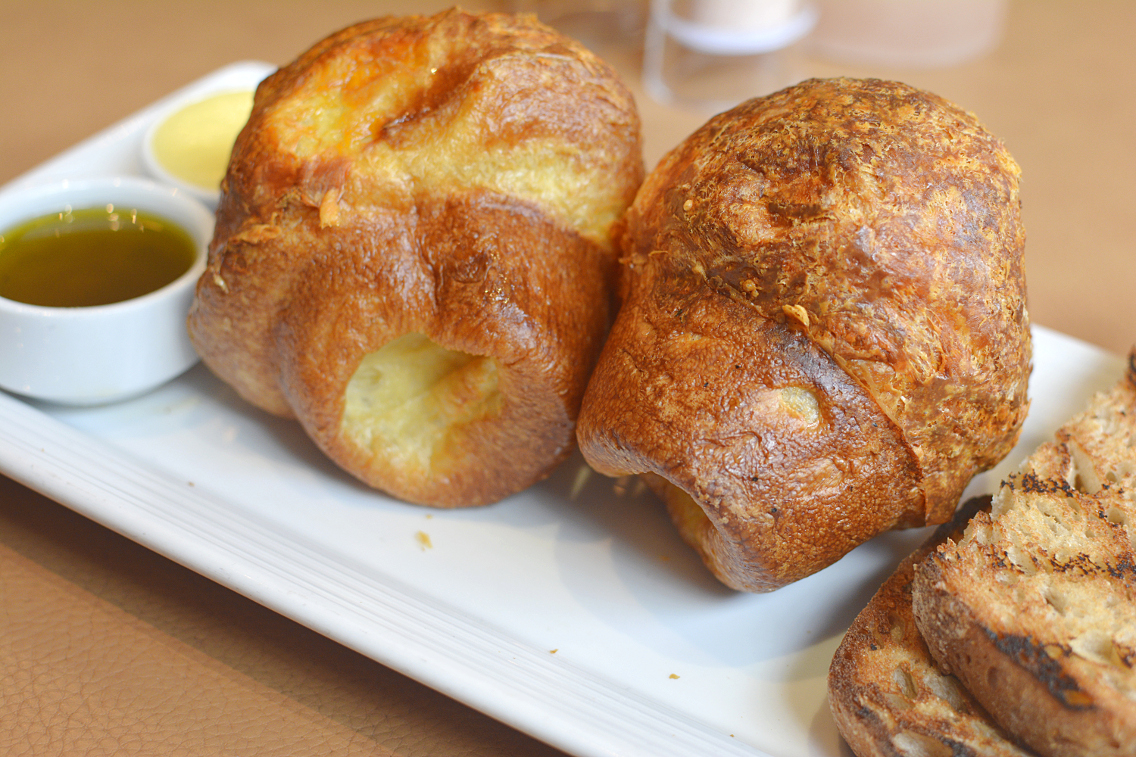 The popovers are airy, but with a flaky crust and springy density that's incredibly satisfying to tear into.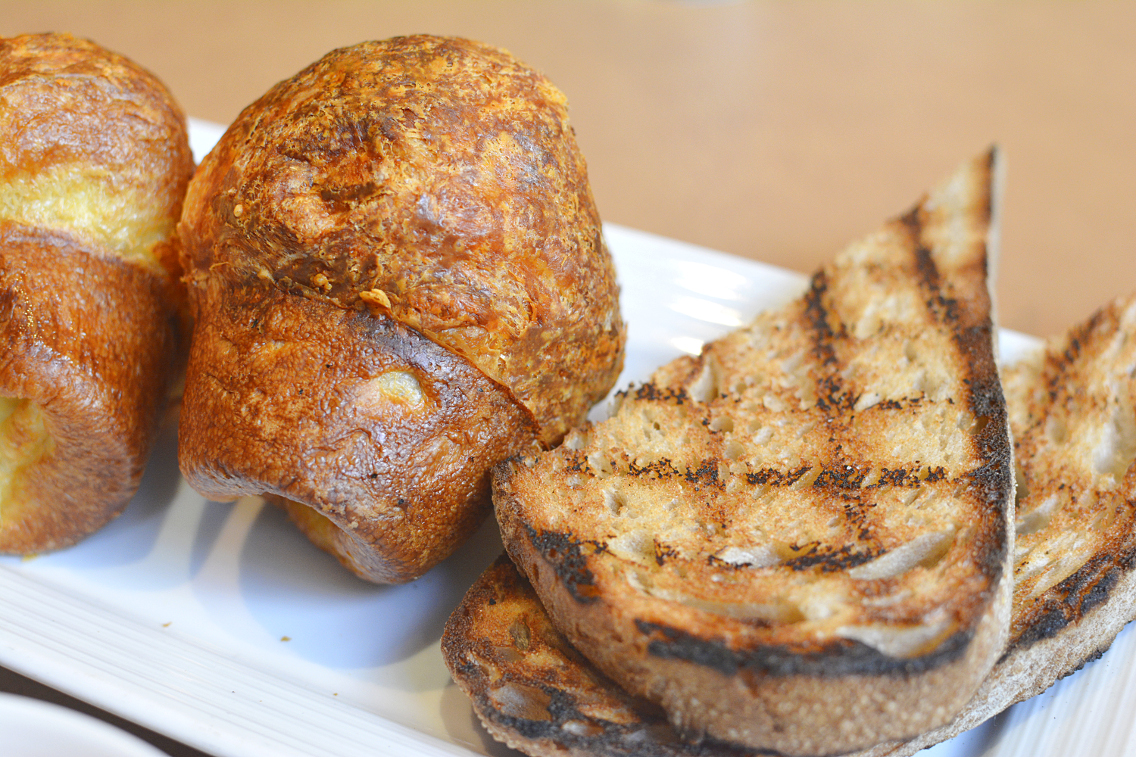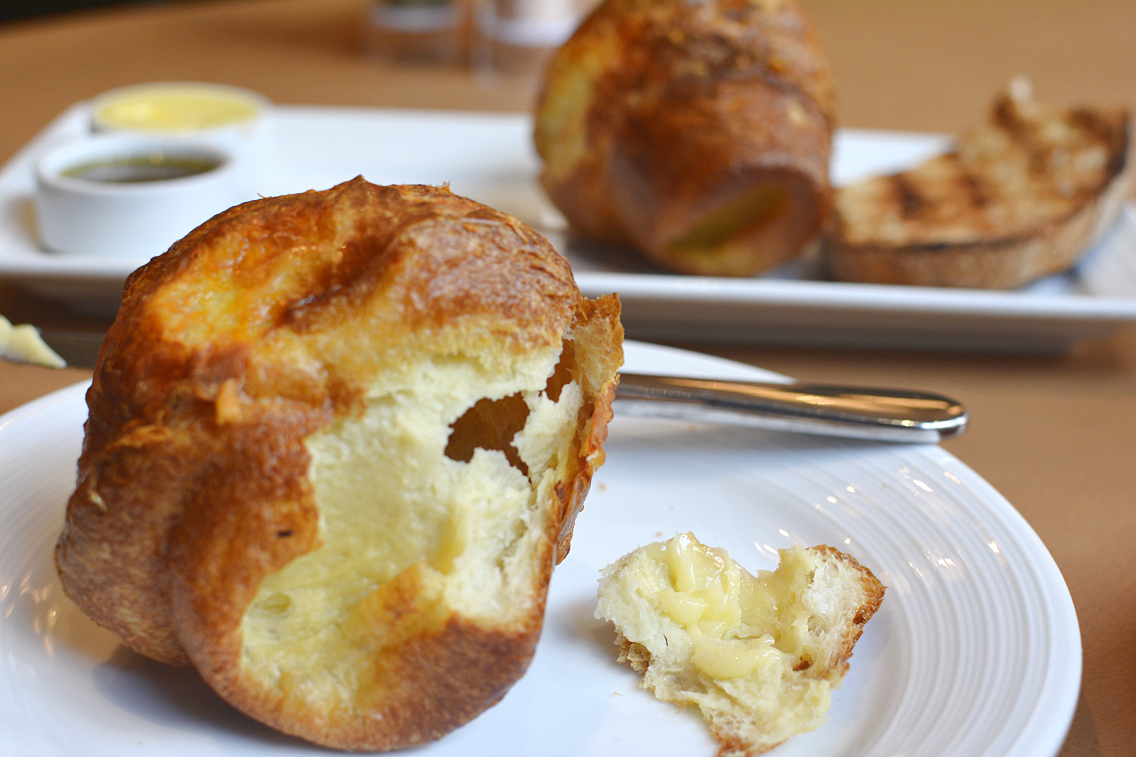 These were just made to be slathered in fresh butter and olive oil!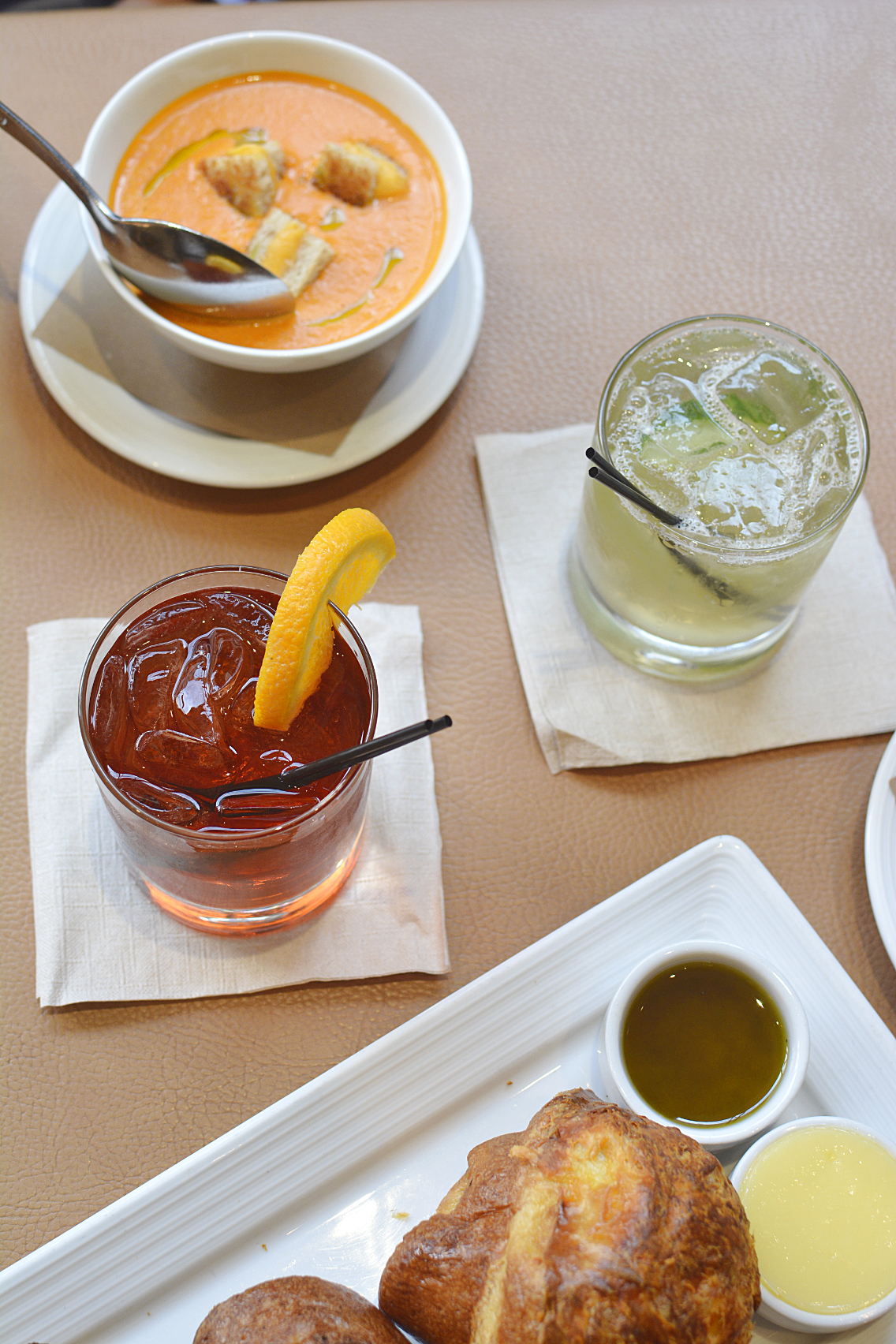 Next we moved on to our first course…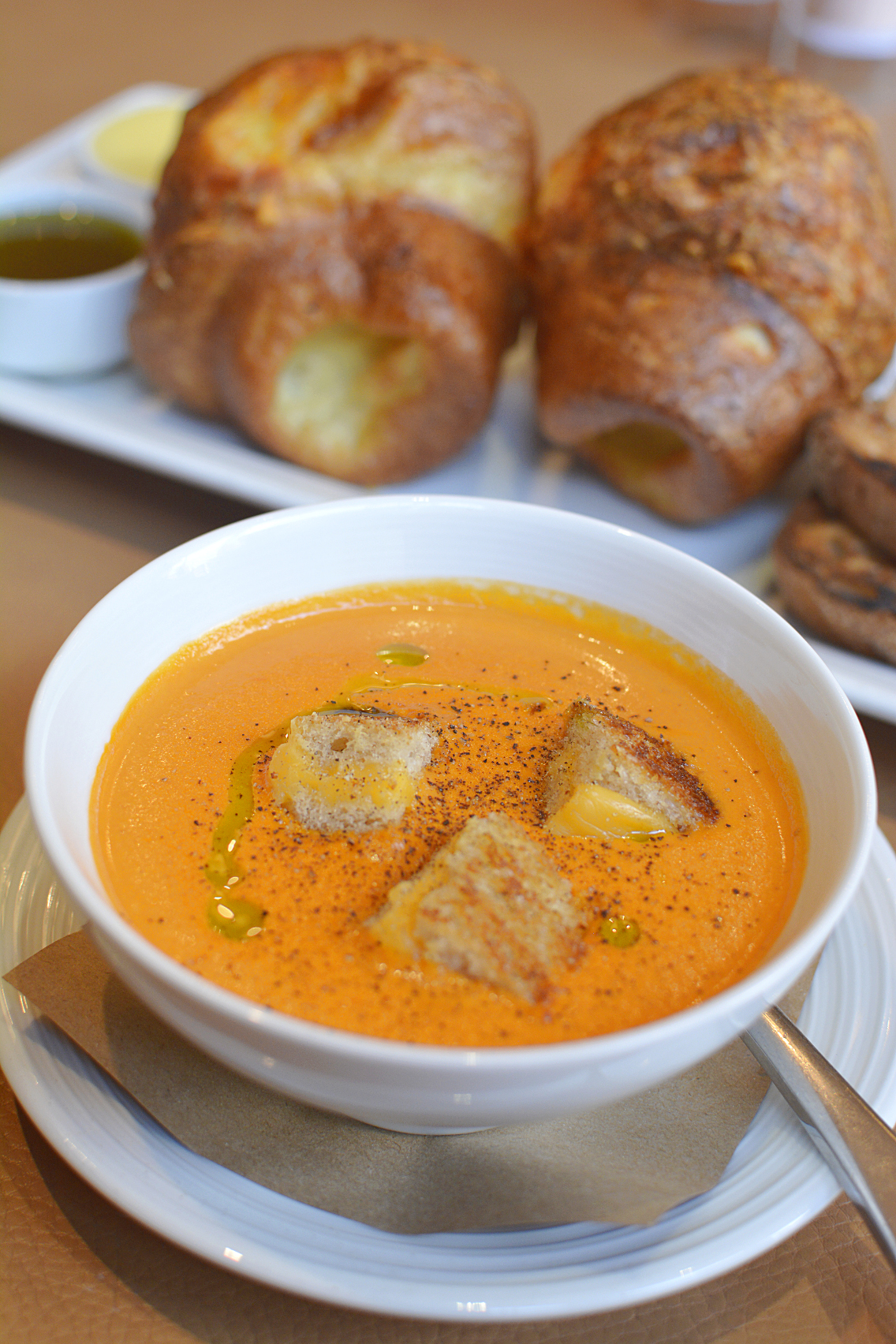 This is a brilliantly conceived bowl of good 'ole American comfort food: Tomato Bisque topped with generous Grilled Cheese Croutons.
Did you know the world could be this delicious? Though I've heard of Grilled Cheese croutons in tomato soup (and most self-respecting lunch venues in Chicago offer this crowd-pleasing combination in one reiteration or another) I'd never tried it before this sexy little bowl.
I can't tell you how ADDICTED I am now!
The tomato bisque itself was one of the best I'd ever tried, with a rich, true tomato flavor kept simple and smooth. But the ooey, gooey grilled cheese croutons? Now that's where this bowl really won me over! You wouldn't think three "croutons" could make a soup so unbelievably satisfying but these do. They SO do.
And just to own up to the truth so you know I'm not just selling this soup to you — I missed the flavors so much, I ordered a grilled cheese and tomato soup for lunch THE VERY NEXT DAY in hopes of capturing some delicious memories of this bowl. It didn't work.
DB you have a monopoly on gourmet grilled cheese and tomato soup and I will happily taste test any and all new versions you make of this recipe. Just sayin'…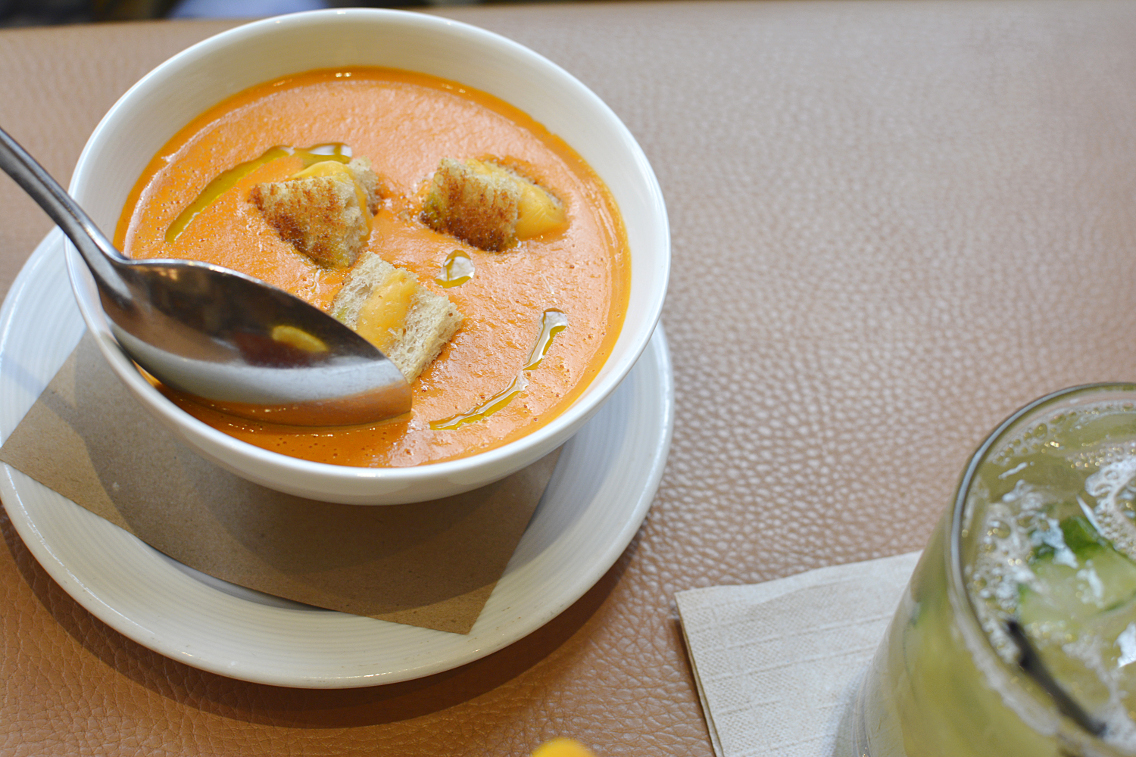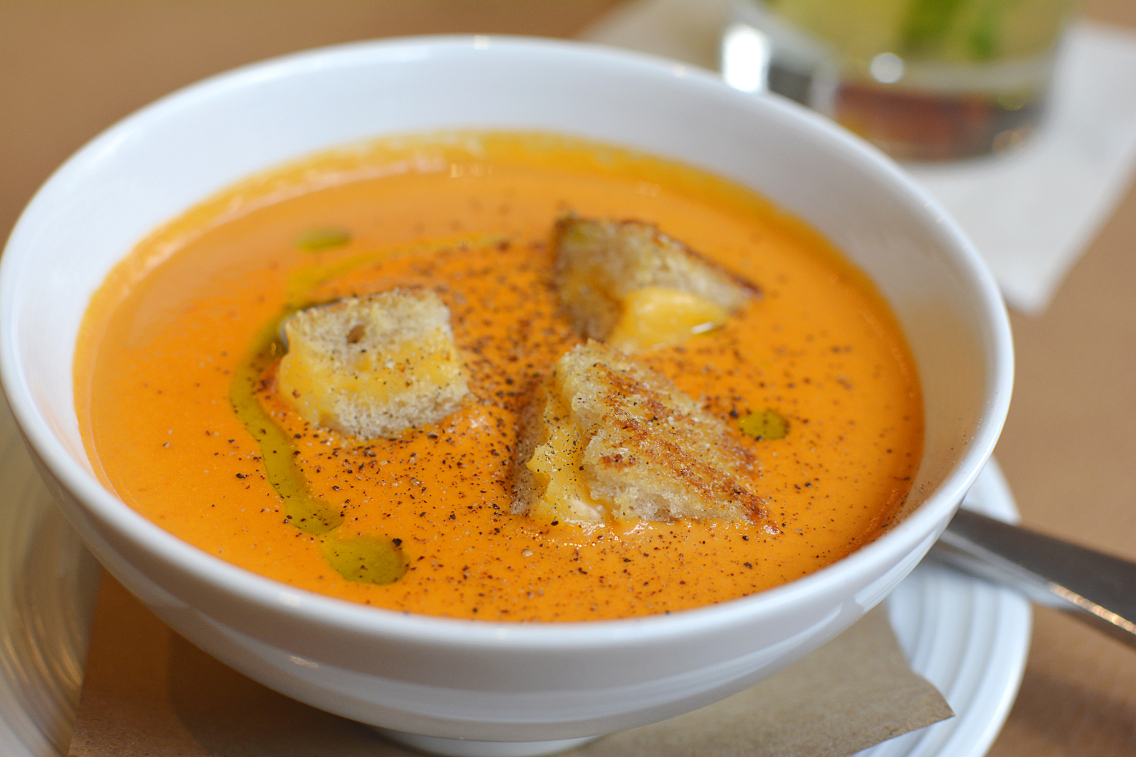 So, so very sexy…
Next up came our ENORMOUS entrées!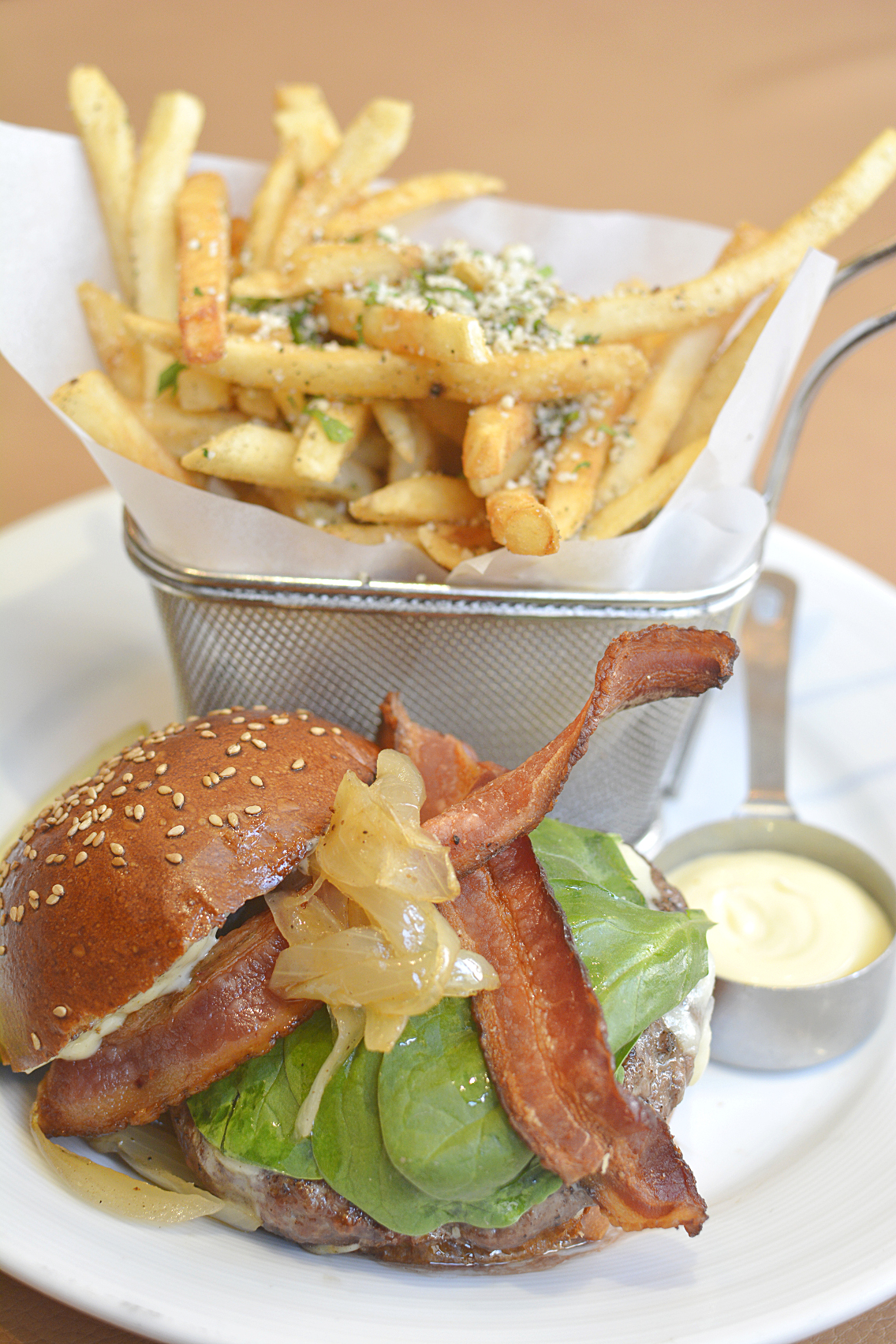 For his meal, Hubby opted for this mega "burker", David Burke's adorable take on a burger. This is the 40 Day Dry-Aged Prime Steak Burker topped with spinach, caramelized onion, bacon, black pepper aioli, and cheddar. All served with DB's legendary Black Pepper Fries (more on those in a minute).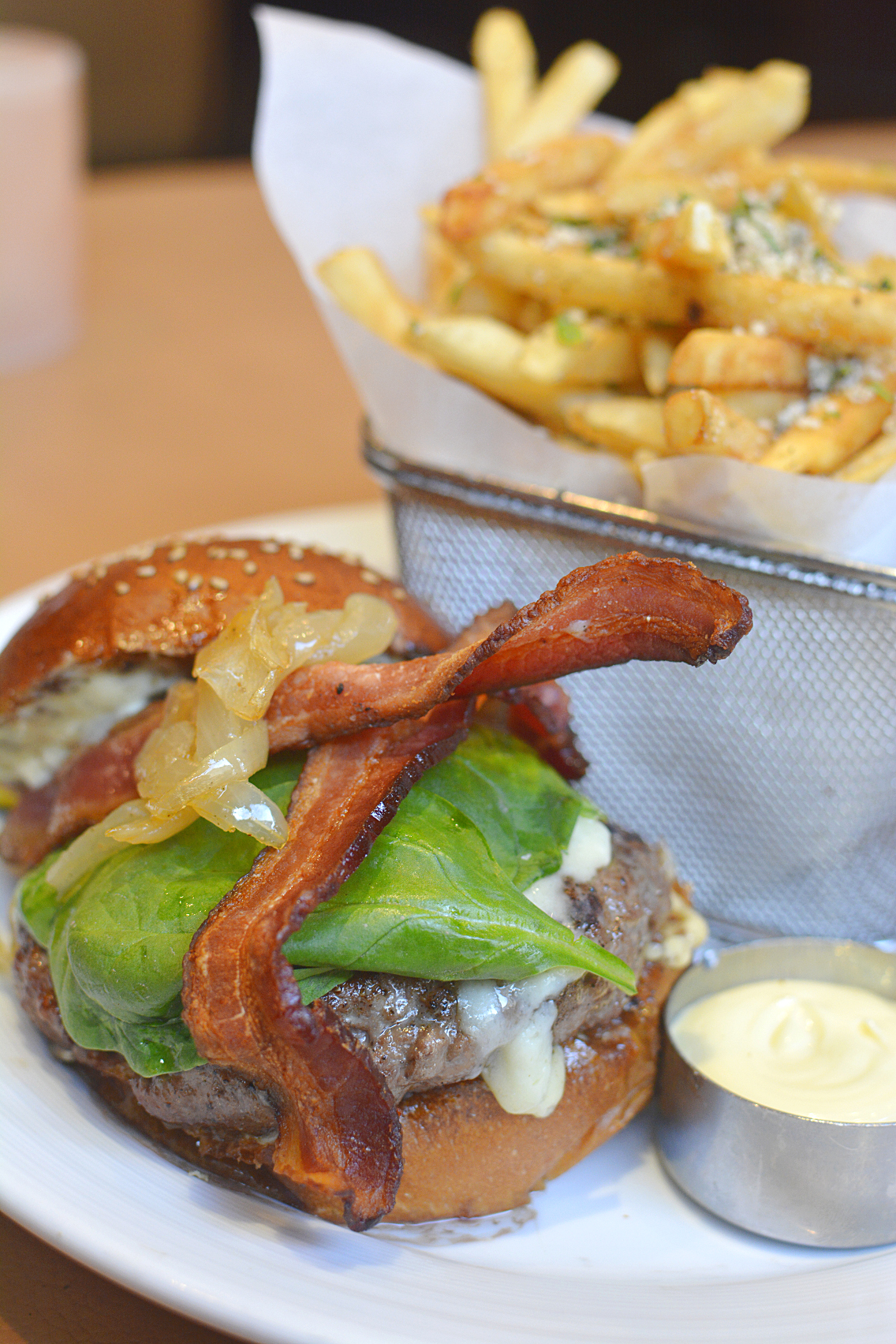 A succulent and robust burger, Hubby declared this the "beefiest tasting burger" he'd ever tried. The dry aging brings a complex depth of earthiness to the beef, making this a very unique burger. Food + Wine even named this the "best burger in the U.S."!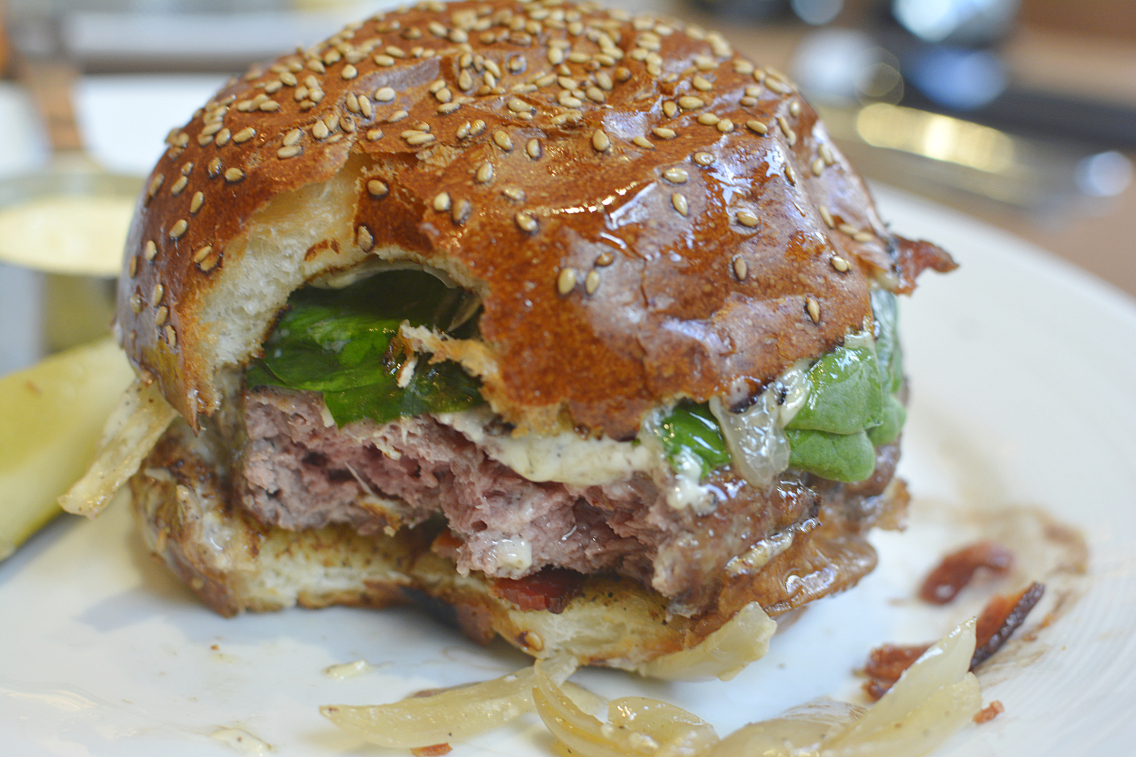 And it's also no surprise that Hubby wouldn't give me the chance to shoot a nice shot of the desecration — he was too busy chowing down.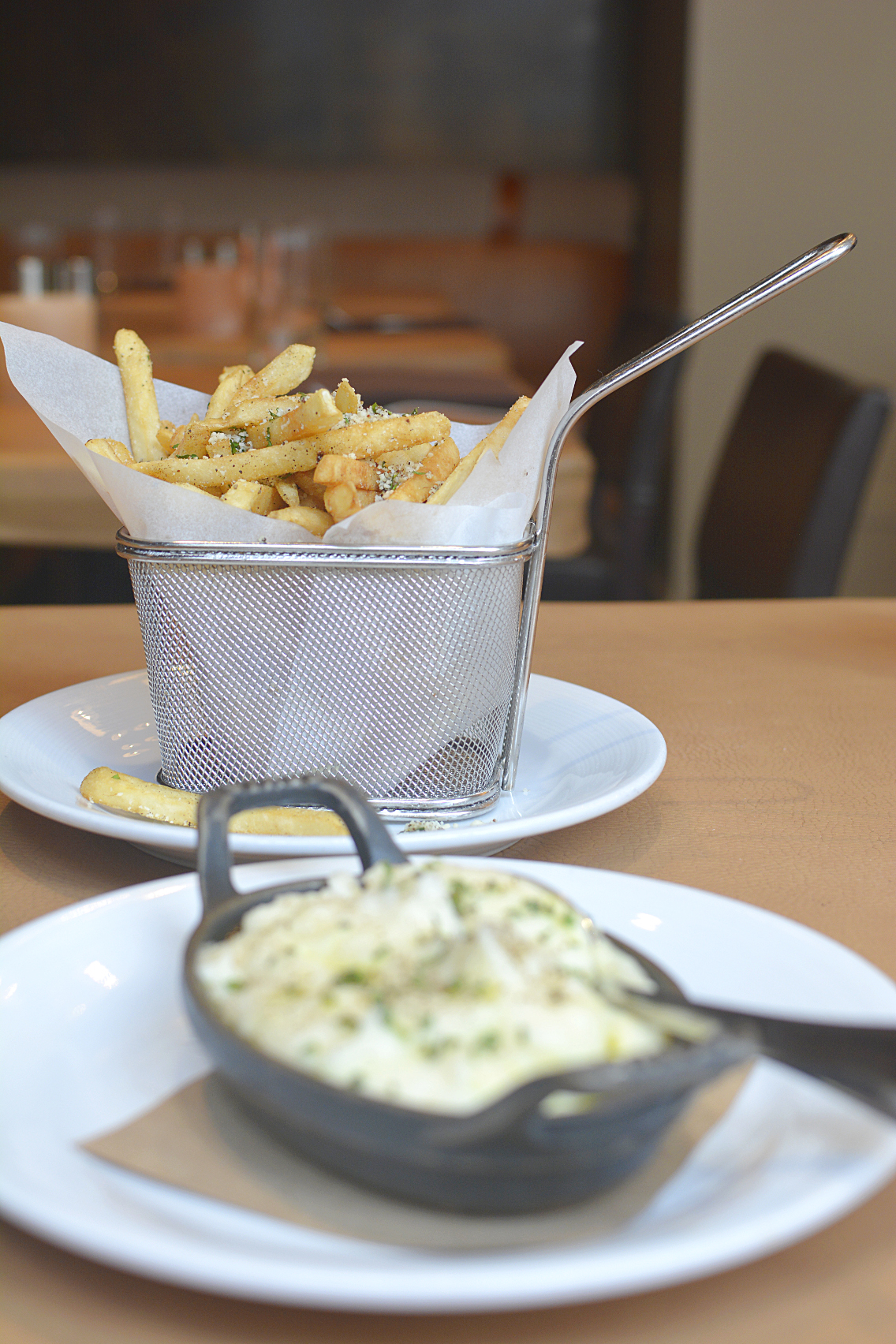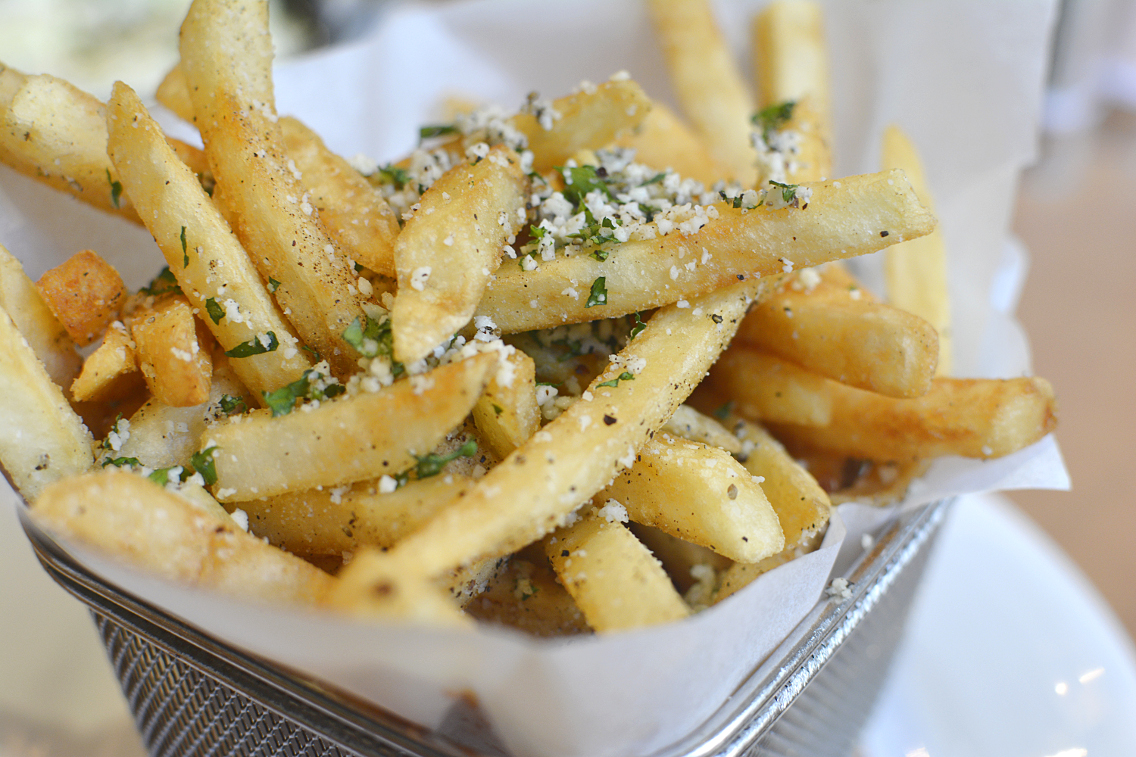 These are DB's Black Pepper Fries — simple, delicious and FLAVORFUL. These don't have too much of a zing so if you aren't a pepper fan, don't be deterred! The toppings of herbs and cheese really make the potatoes sing!
Full warning though: these GET ADDICTING!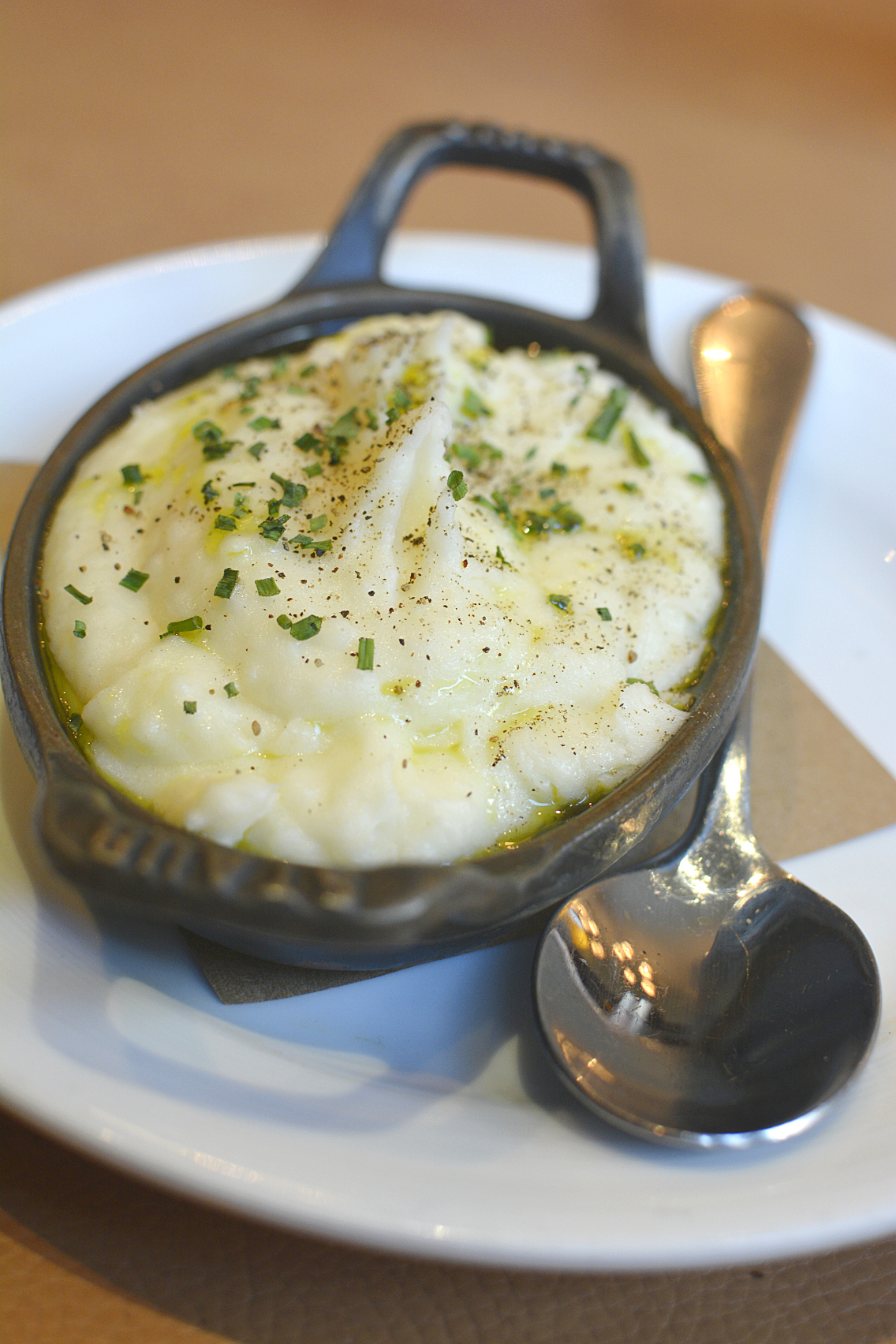 We also opted for a side of basil whipped potatoes — an airy concoction all drowning in bright basil oil! The next time I whip up my famous mashed potatoes, I'm drizzling (DOUSING) them in basil oil. There's something about the herby complexity of the basil mingling with the light-as-air potatoes that is a culinary match made in Heaven.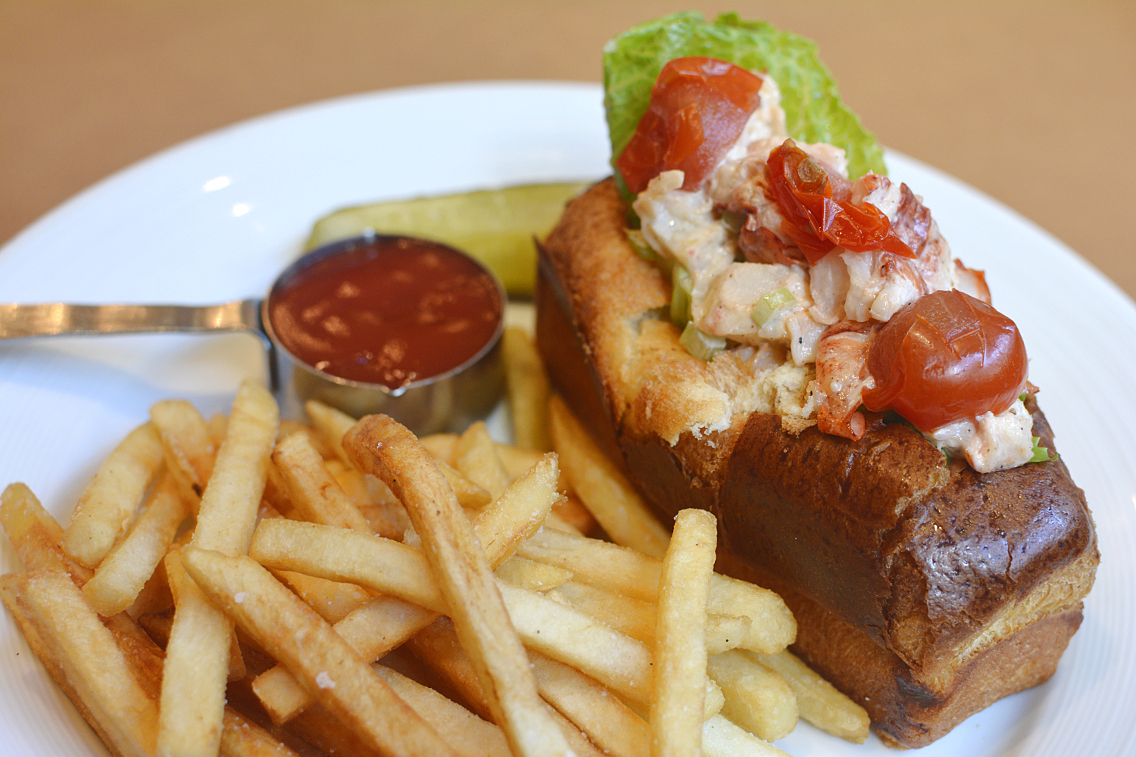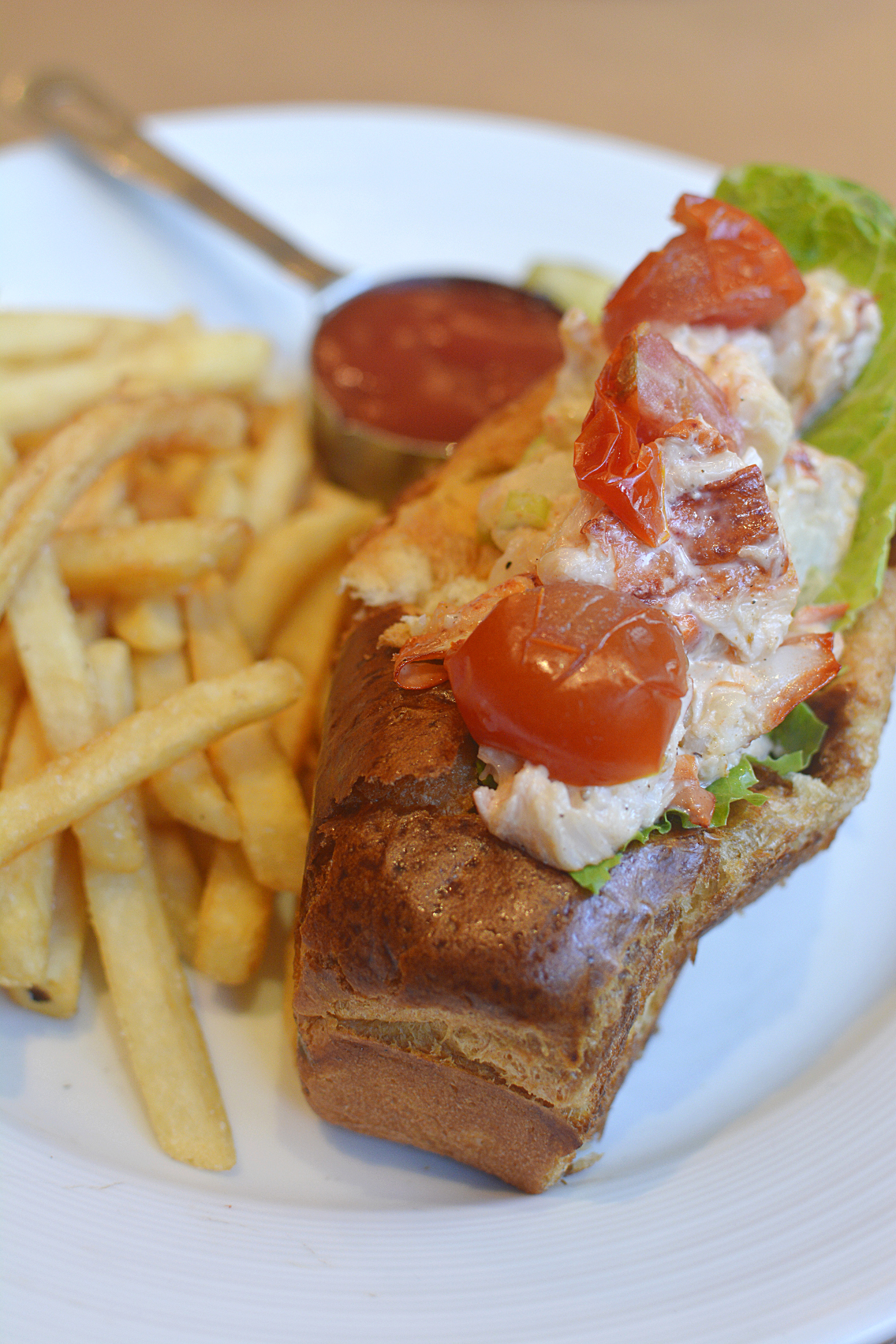 I ordered one of my favorite lunch dishes, the Lobster Roll! DB's version is a classic but includes the crunchy addition of celery in the lobster mix. As opposed to my favorite piping hot lobster roll at RL, this version is served cold.
A cold or hot lobster roll is a matter of personal preference but I honestly crave BOTH. This particular dish is perfect for once the weather warms up and you're searching for a cooling sandwich with marine freshness.
Oh and don't start talking to me about the size of those lobster chunks… they were ENORMOUS!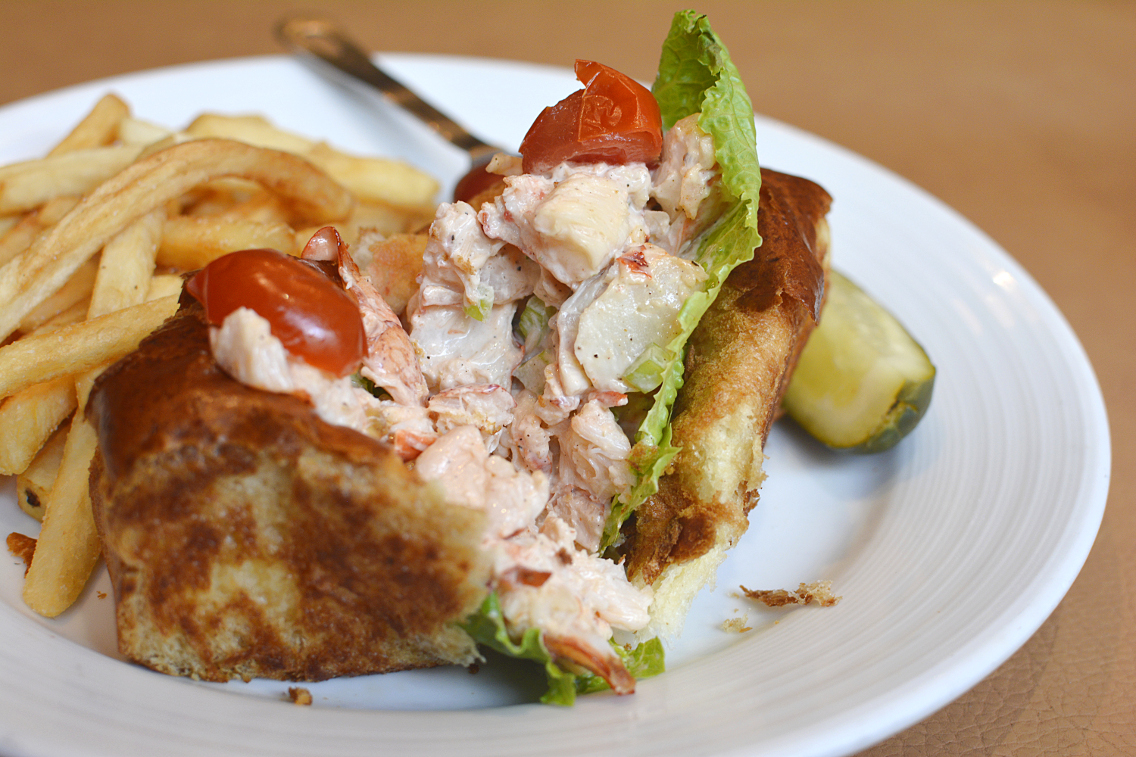 And quickly demolished!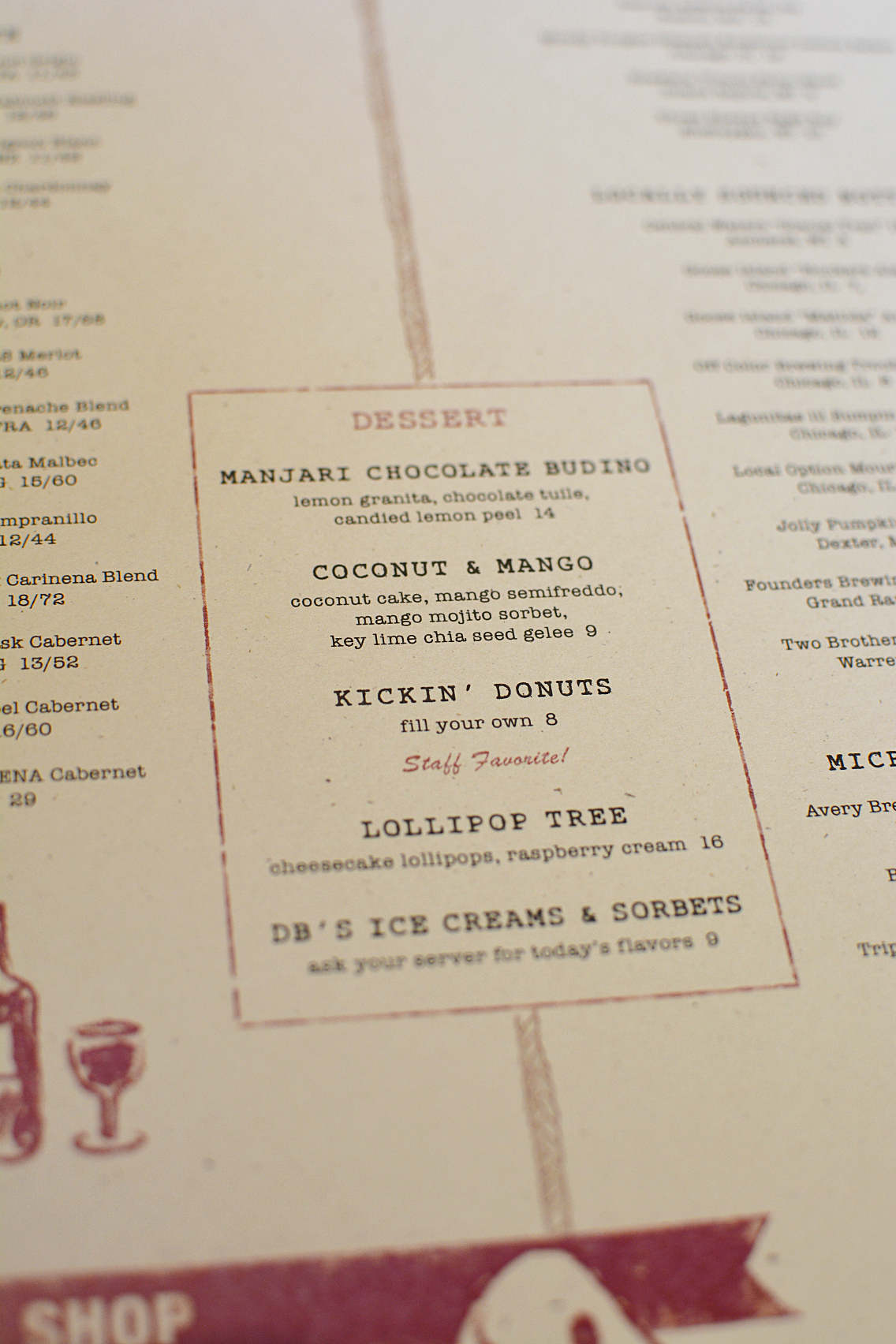 But you know I don't forgo dessert (especially with so many delicious options available)…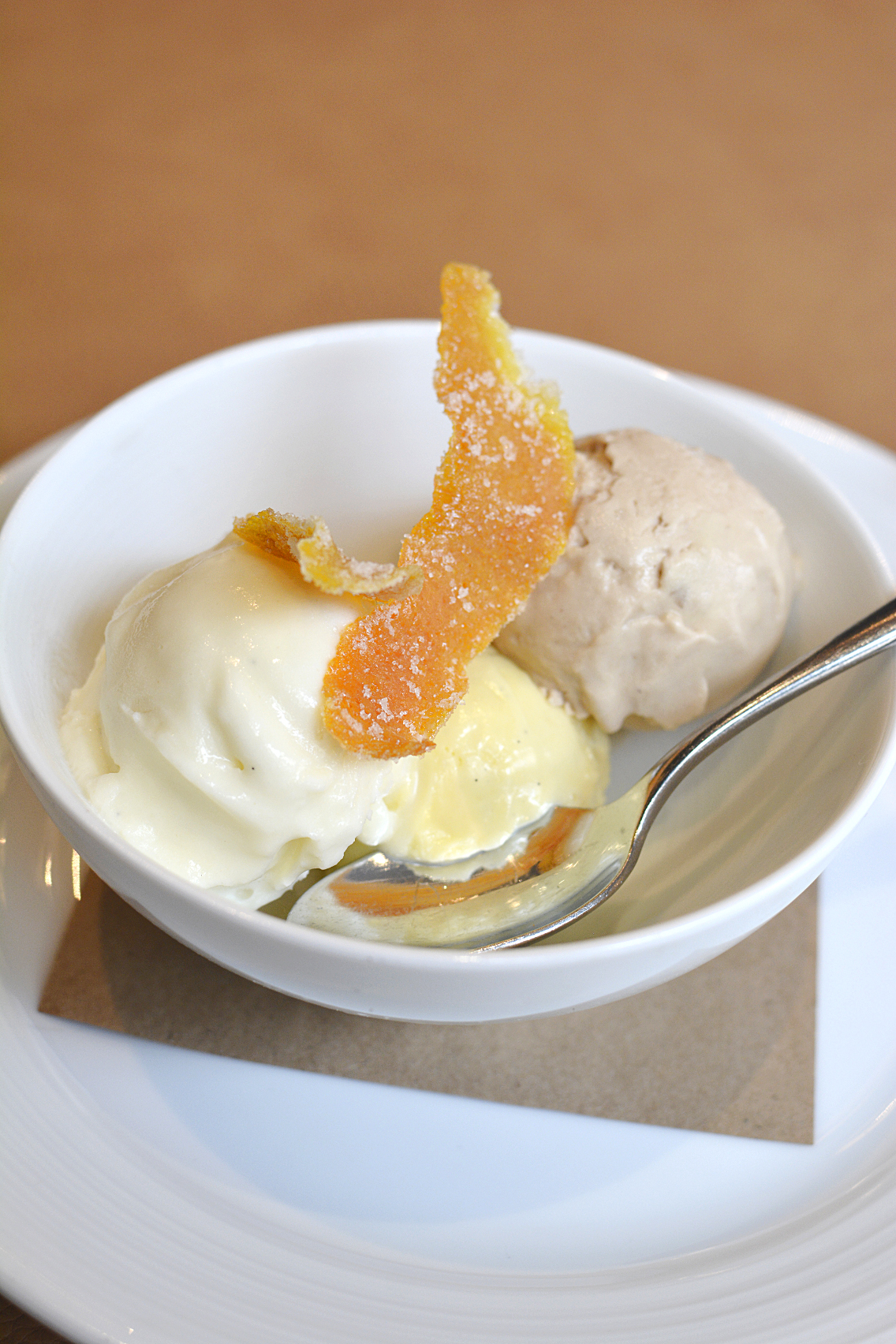 Hubby and I shared two desserts together: this was our heaping bowl of housemade ice cream with roasted vanilla, nutella and coffee flavors which swirled together into the most sinful combination.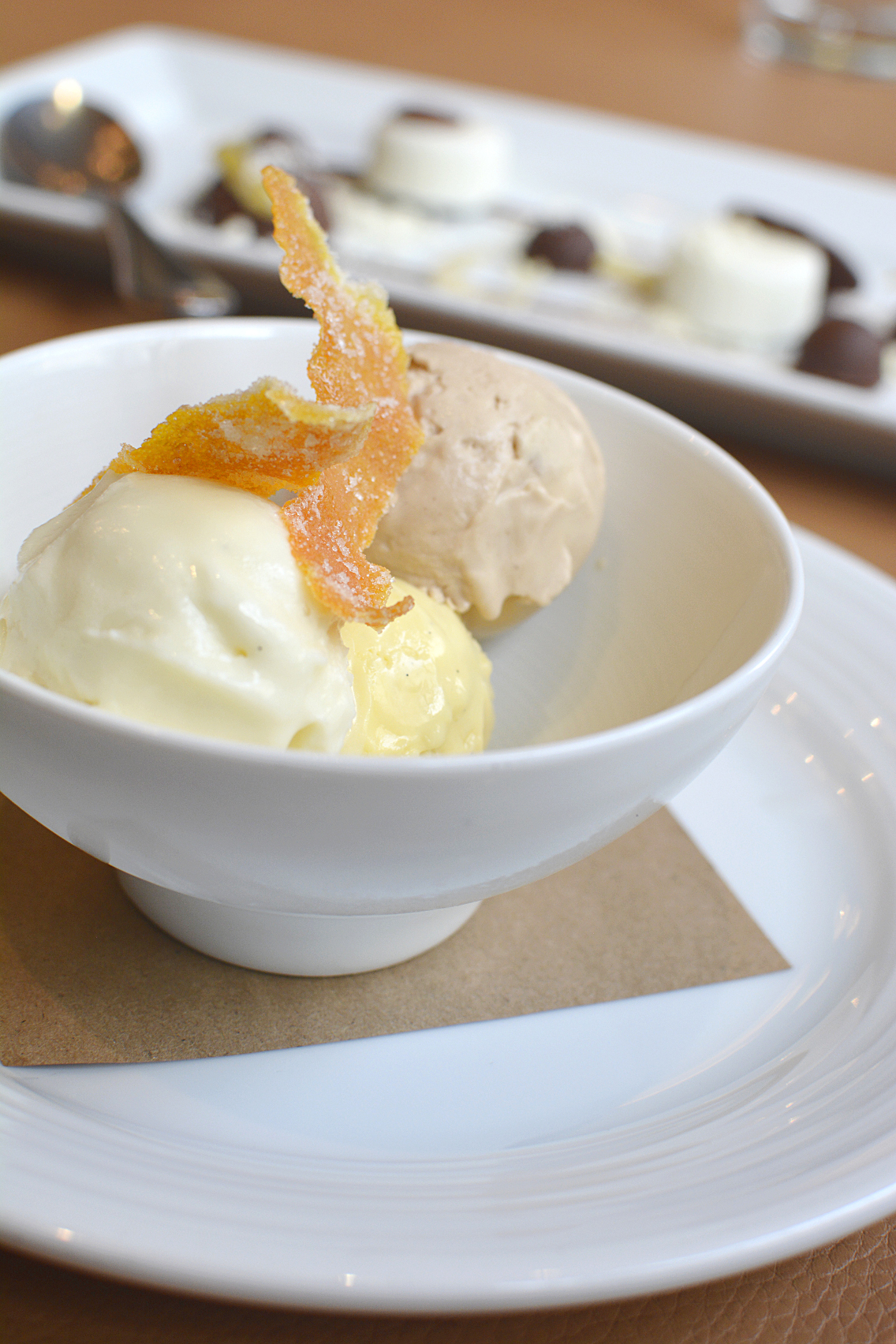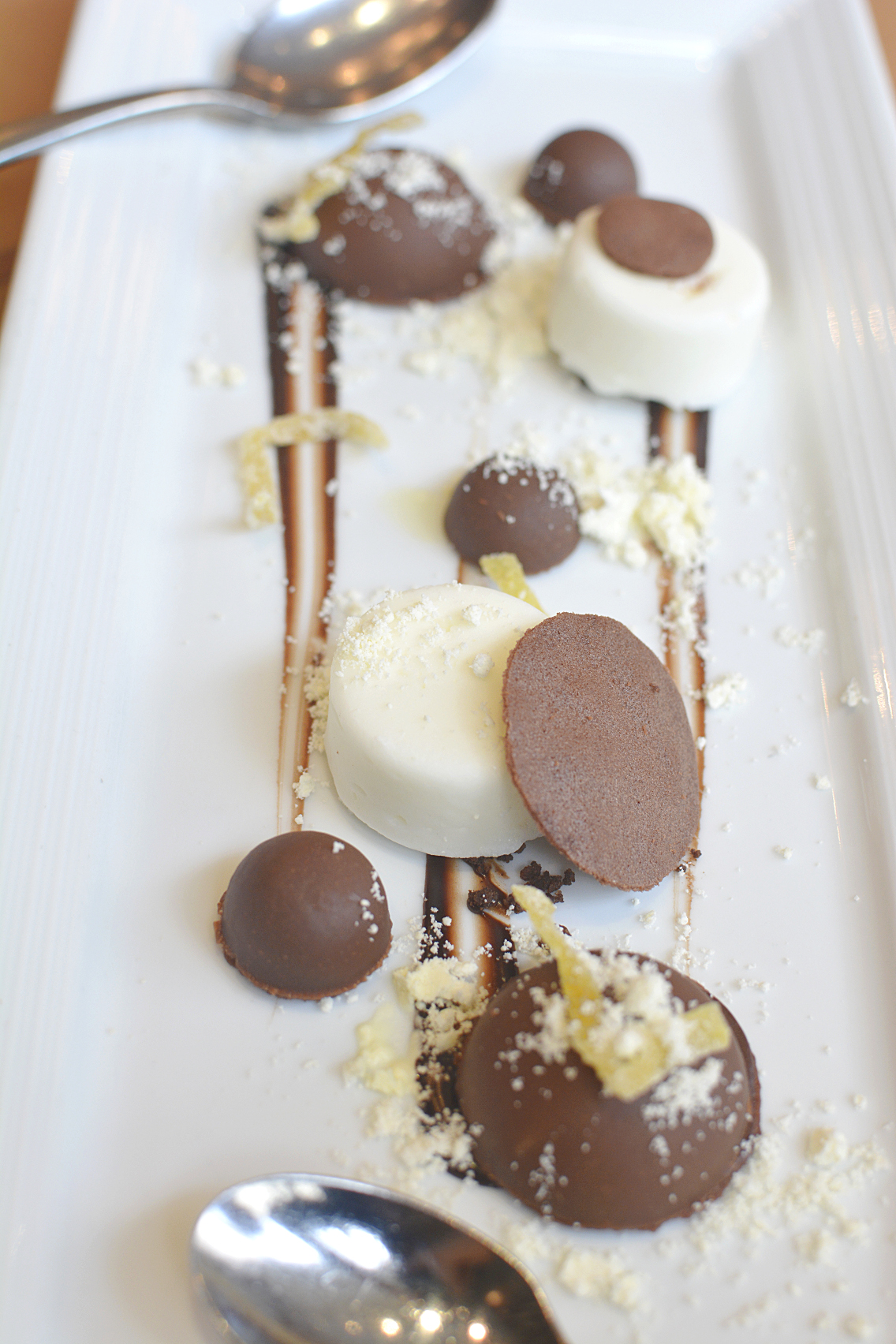 But then we also sampled this beauty of a dish: Manjari Chocolate Budino completed with lemon granita, chocolate tuile and candied lemon peel.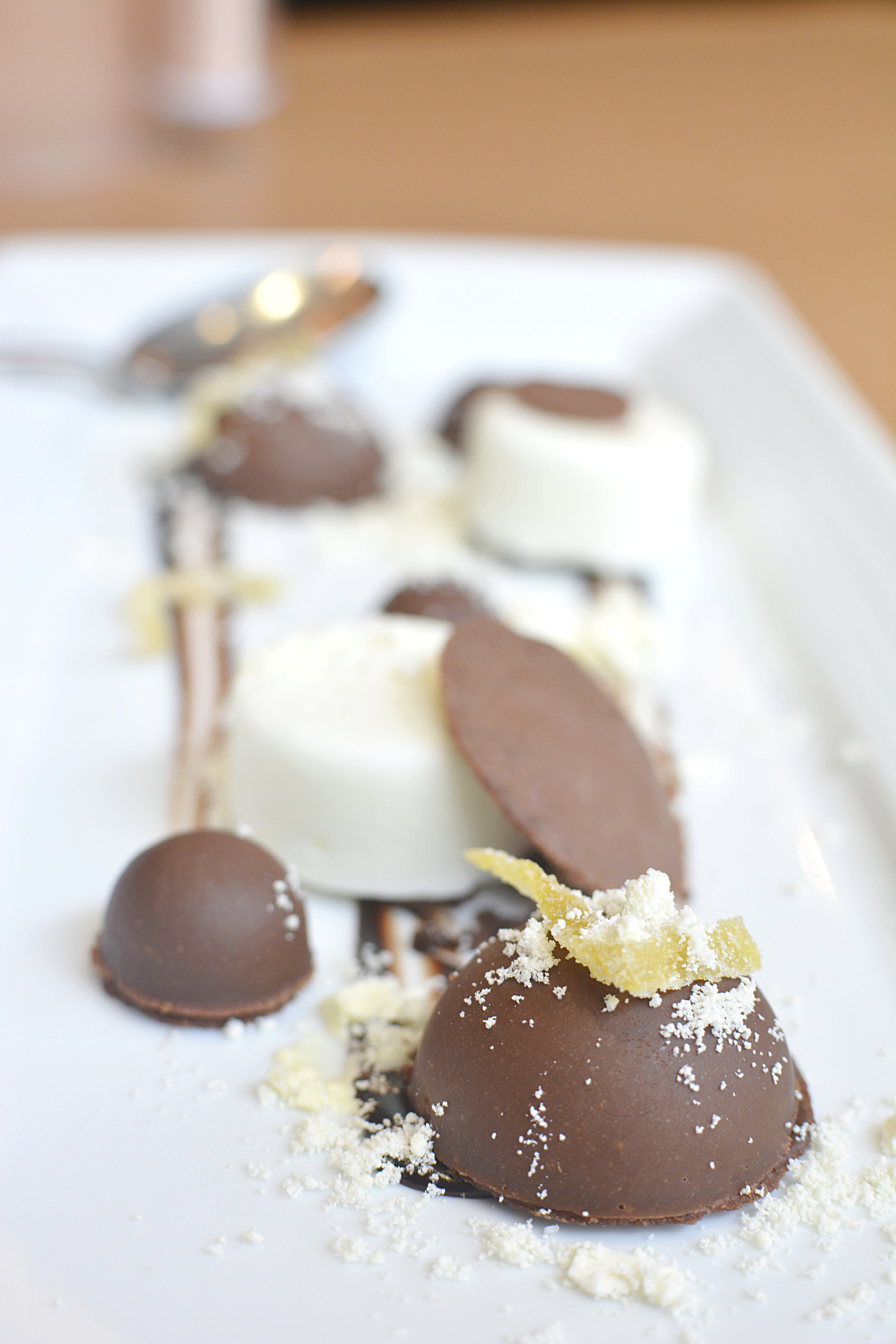 These budino pack an INTENSELY satisfying chocolate flavor that pairs brilliantly with the brightness of the tart lemon granita. Hubby particularly enjoyed this dish, being a huge fan of both chocolate and lemon.
Few lunch spots can boast an experience that drips in gourmet luxury like David Burke's. Everything from the ambiance, to the presentation, to the menu selection is brilliantly conceived but in a way that feels accessible and down-right American.
Go for the tomato bisque with grilled cheese croutons — you won't regret it (just don't tell me, I don't need another excuse to fixate on that soup even more)!
And for those of you on a budget, sign-up for Gilt City Chicago! They offer great deals on restaurants all around the city and run specials for David Burke's often. It's well-worth snagging one of their lunch deals when they're available!
Disclosure: I received a complimentary meal to facilitate this post. Review and all opinions are my own.