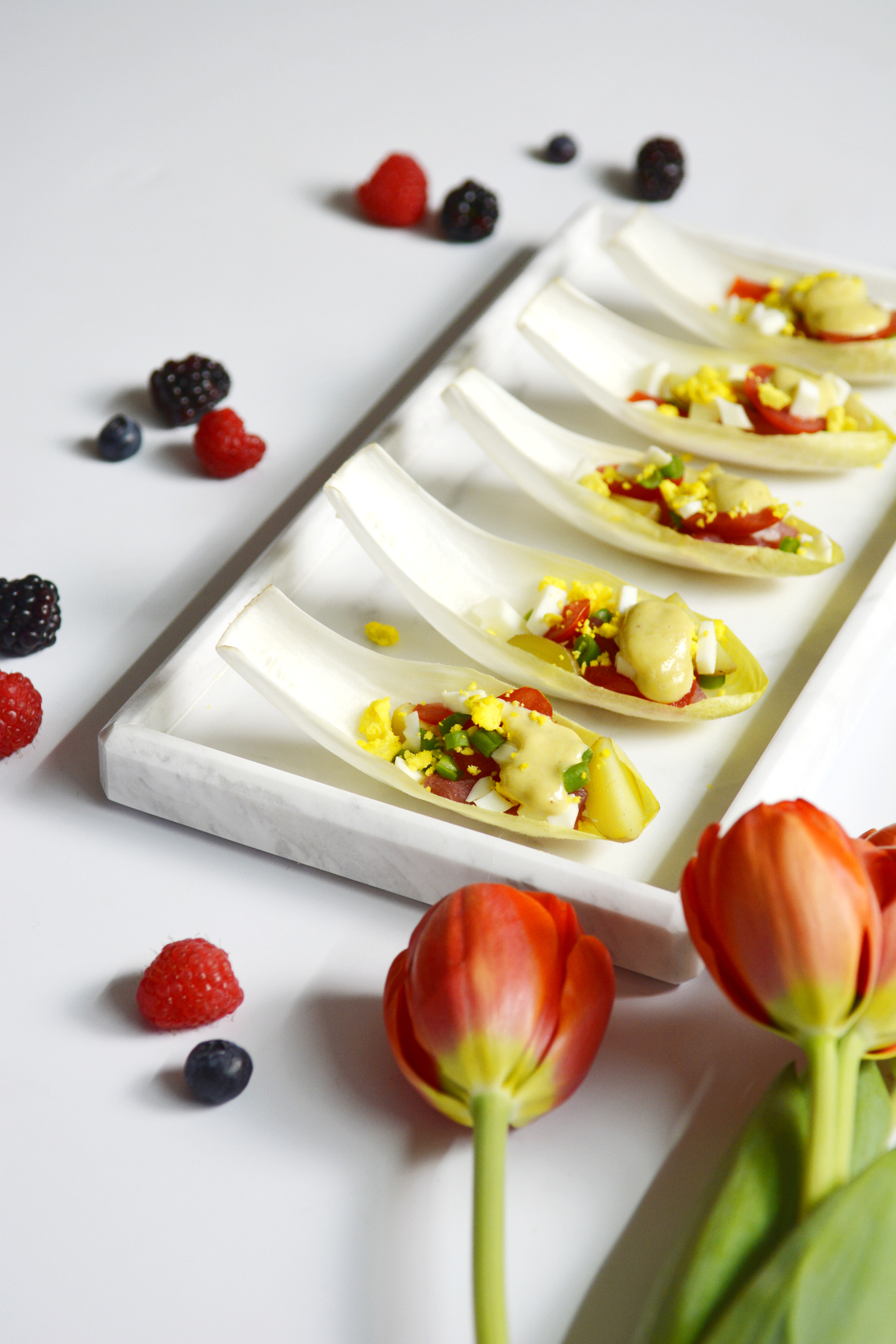 When I first visited France in high school, I stayed with a wonderful family in Grenoble who introduced me to the magical world of Niçoise… that aloof, tangy and oh-so-French salad that quickly became one of my favorites.
In fact, I'd say ever since my first bite years ago, I've been hopelessly addicted! Over the years, I've tried a lot of different variations and incarnations of this traditional salad. I've had ones with every kind of dressing from lemon-shallot vinaigrette to tarragon-infused olive oil. I've made Niçoise salad lettuce wraps ever since Alton Brown gave me the idea with this recipe. I've even made a Niçoise Frittata (still working on developing the flavors in this more).
But there was one incarnation I have always wanted to tackle — Niçoise Appetizers!
I've always wanted to try my hand at converting this delicious, crowd-pleasing salad into a delectable nibble to serve at parties. But I wanted to make something really fresh so I swapped out the more traditional tuna for raw, sushi-grade tuna. I also developed a dijon-mustard dressing similar to the one my homestay family in Grenoble made for their Niçoise but added wasabi paste (to bring in more Asian flavors) and sriracha for a real KICK! The results will blow you away!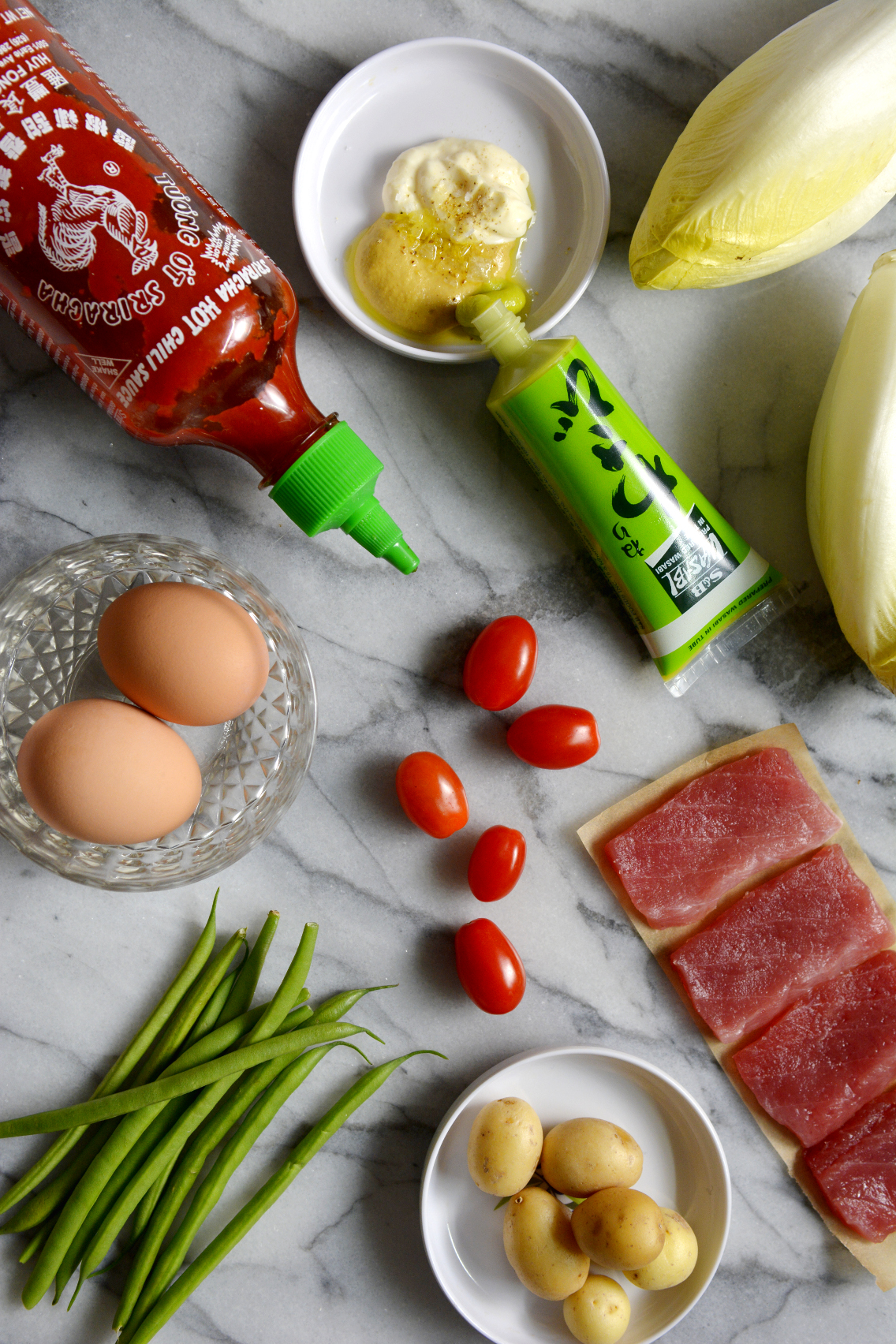 Niçoise Endive Bites
Make 12 – 16 Appetizer Bites.
2 Large Endive Heads
1/2 Pound Fresh Sashimi-Grade Tuna, Diced
Handful of Baby Potatoes (the size of grapes)
Handful of Grape Tomatoes
Handful of Haricots Verts (French green beans)
2 Hard-Boiled Eggs (Easily made in the microwave with this)
Handful of Niçoise Olives*
Mustard Niçoise Dressing
2 Tbsp Dijon Mustard
2 Tbsp Mayonnaise
2 Tsp Olive Oil
2 Tsp Wasabi Paste (found here)
1 – 2 Tsp Sriracha
Salt & Pepper, to taste
Bring a medium stockpot of salted water to a boil. Add your petite potatoes and cook for roughly six minutes. Then add in your haricot verts and boil for another three minutes or so (until the potatoes are cooked through and the haricot verts are softened). Drain and set aside to cool. Next take the endive heads and begin separating the leaves to use as your appetizer "bowls". Trim the edges and wash thoroughly. Set aside.
Next we CHOP! Dice up the raw tuna and hard-boiled eggs. Chop up the grape tomatoes and cooled potatoes. Then thinly slice the haricots verts. Next whisk together all dressing ingredients and adjust seasonings to taste.
Now you're ready for assembly!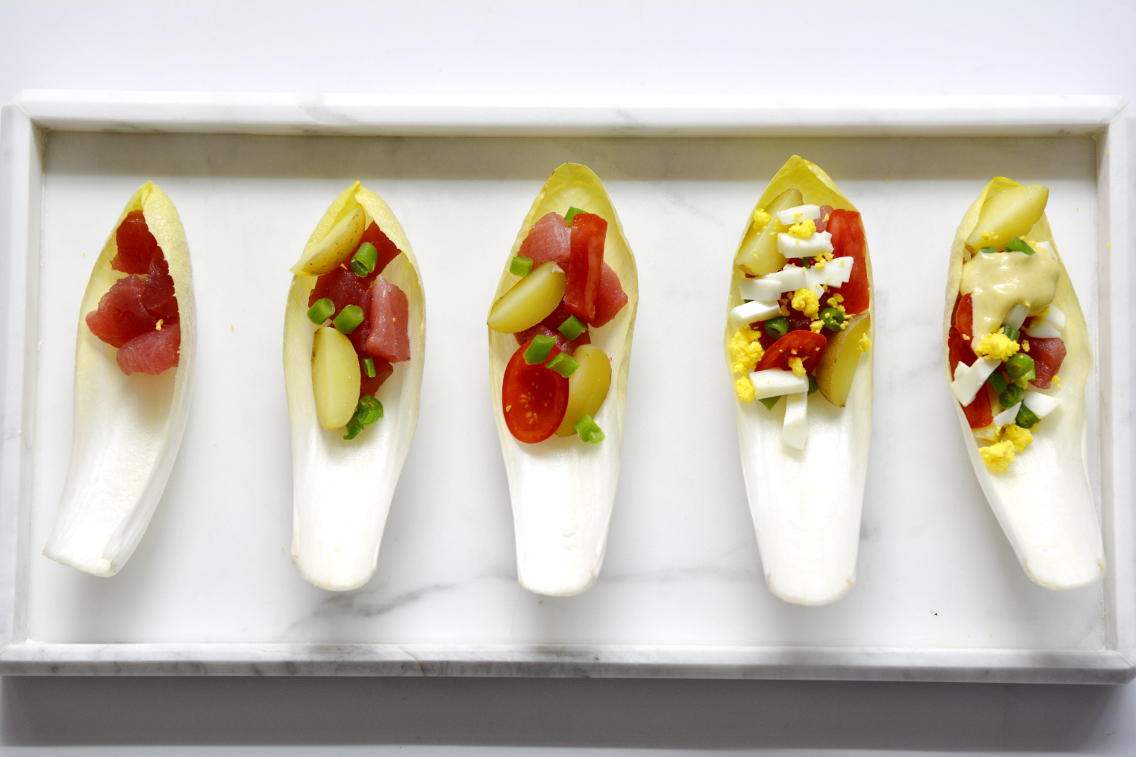 ASSEMBLY: The key to filling endive leaves is to layer your heaviest ingredients first then top with lighter ones. For these endive cups, I first layered the diced tuna, then the boiled petite potatoes, chopped haricots verts and grape tomatoes. Then sprinkle on a generous garnish of chopped egg and drizzle your dressing over all the ingredients.
*I omitted the niçoise olives since the store was out (L'HORREUR!) but be sure to top your endive spears with minced olives to get that truly authentic niçoise flavor.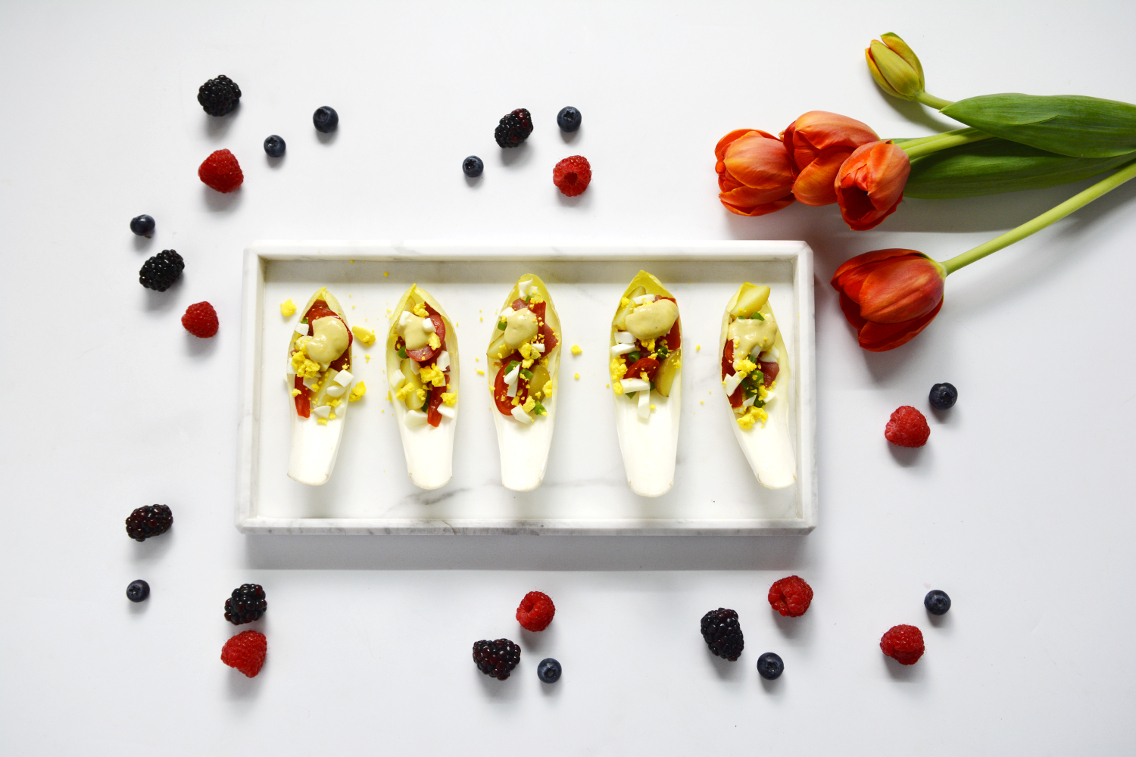 And voila! A colorful appetizer that's a fun new-take on one of my very favorite salads!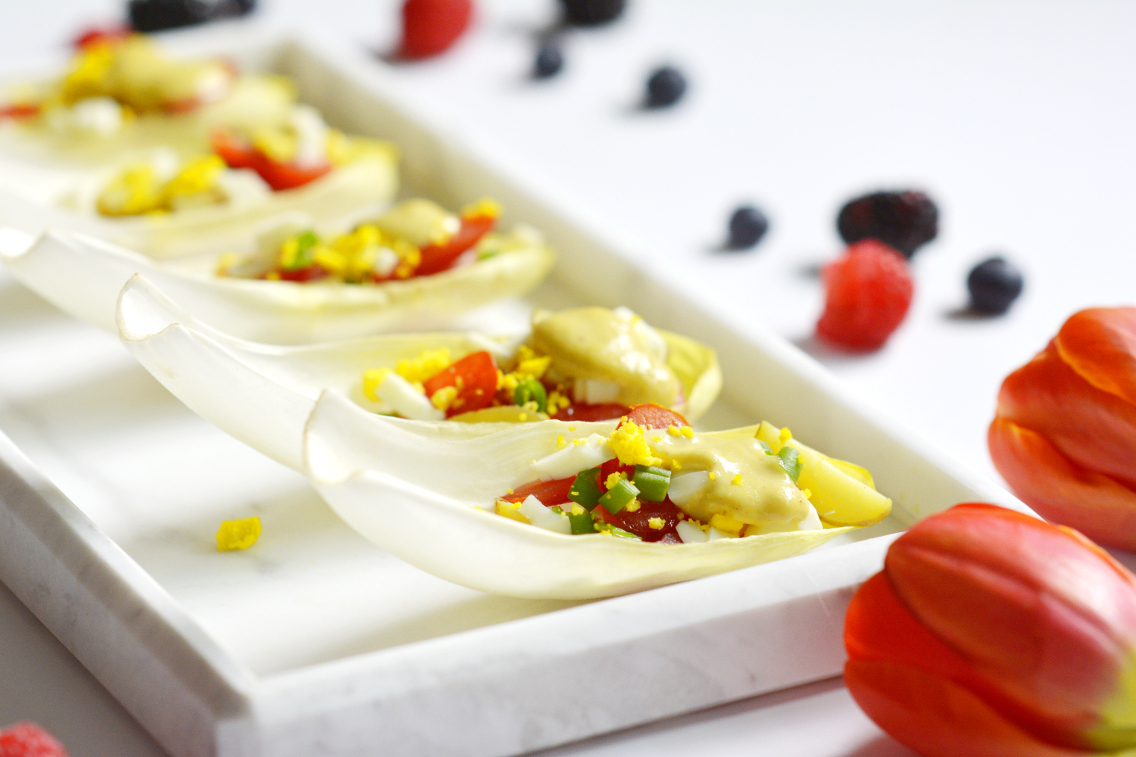 PRO TIP: Are your endive "bowls" not standing up very well on their own? Are they rolling around and falling, dropping their delicious fillings… all… over? Shaving the bottom of the endive "bowl" gently with a paring knife allows you to create a flat surface for your "bowl" to stabilize on. Sneaky and effective!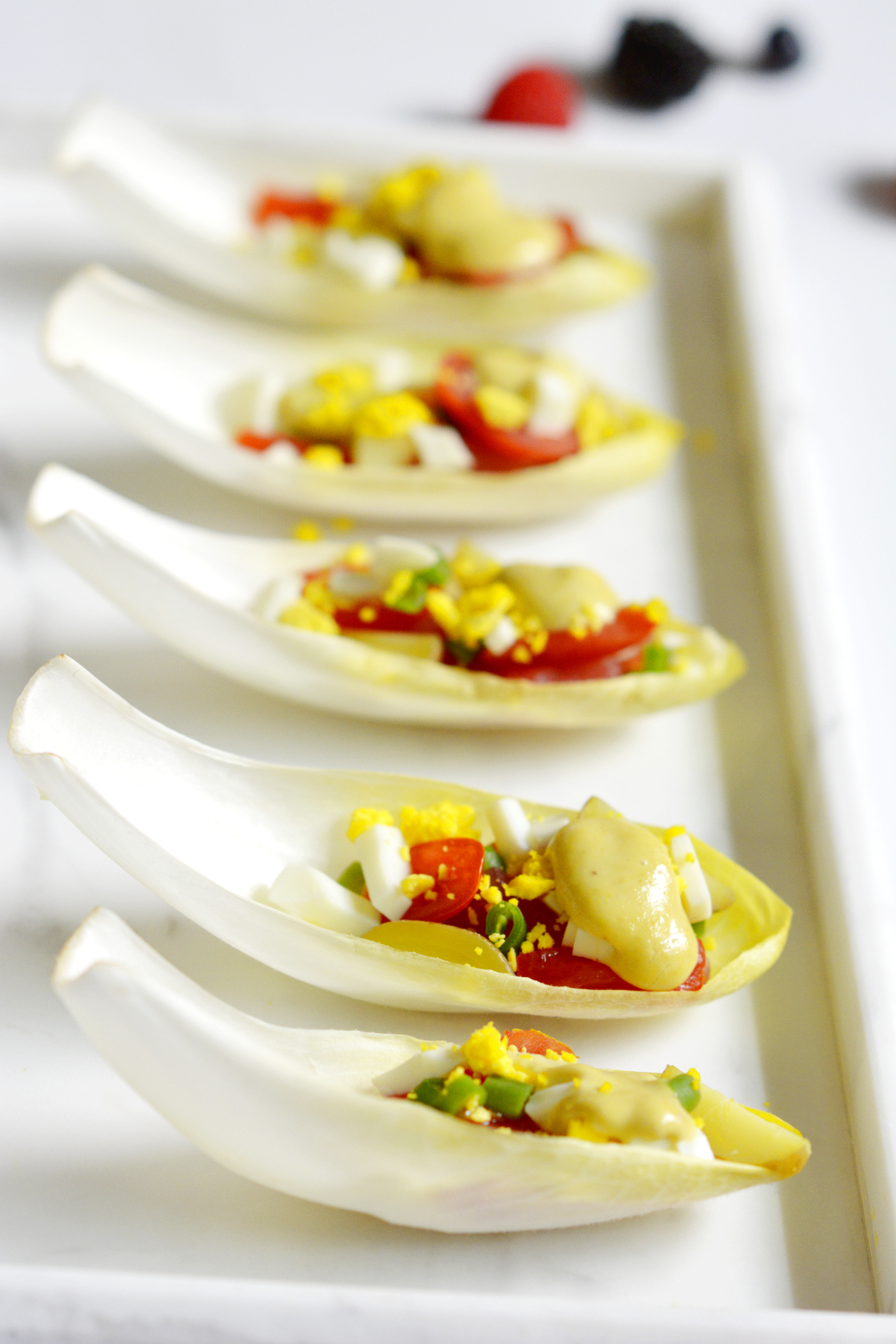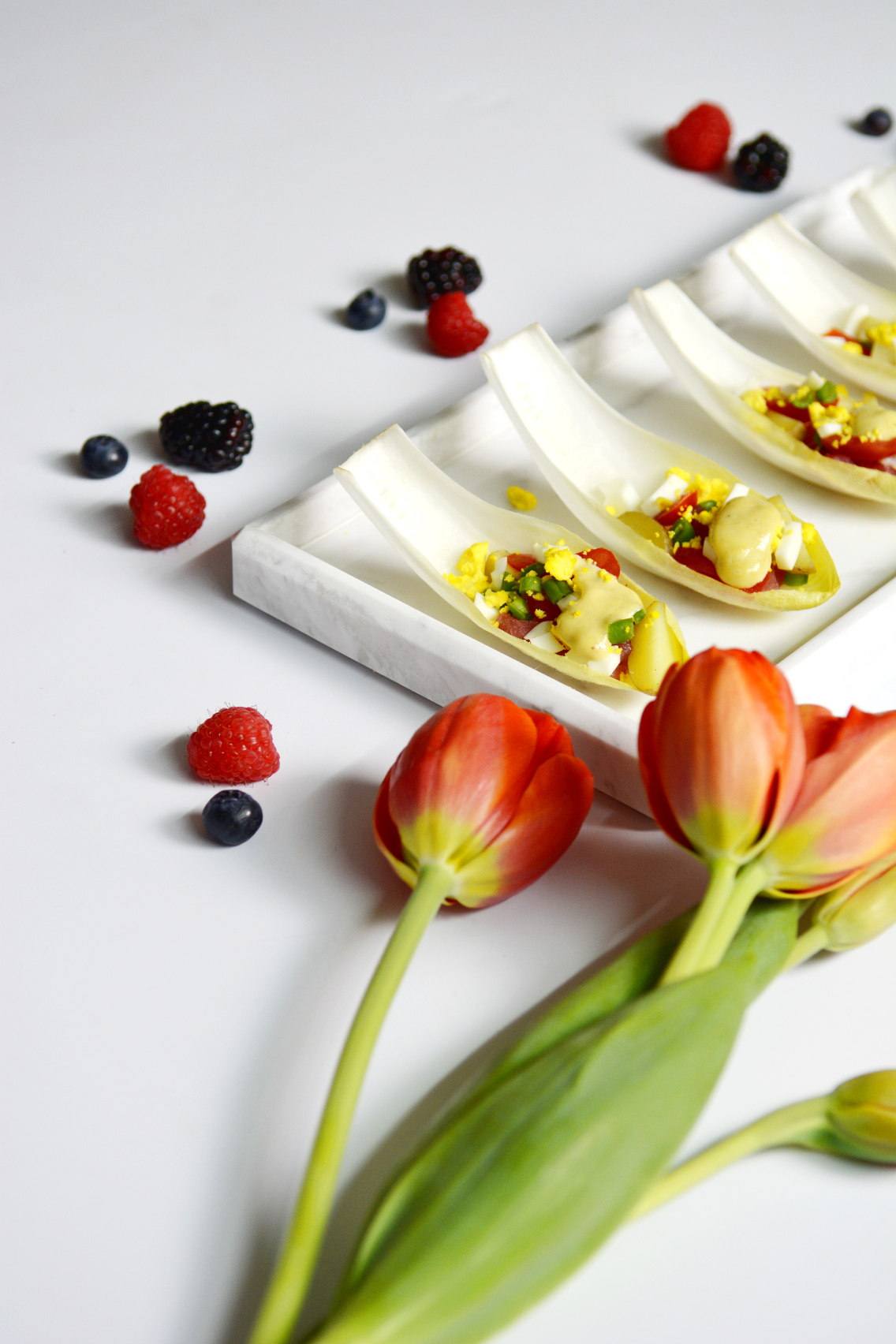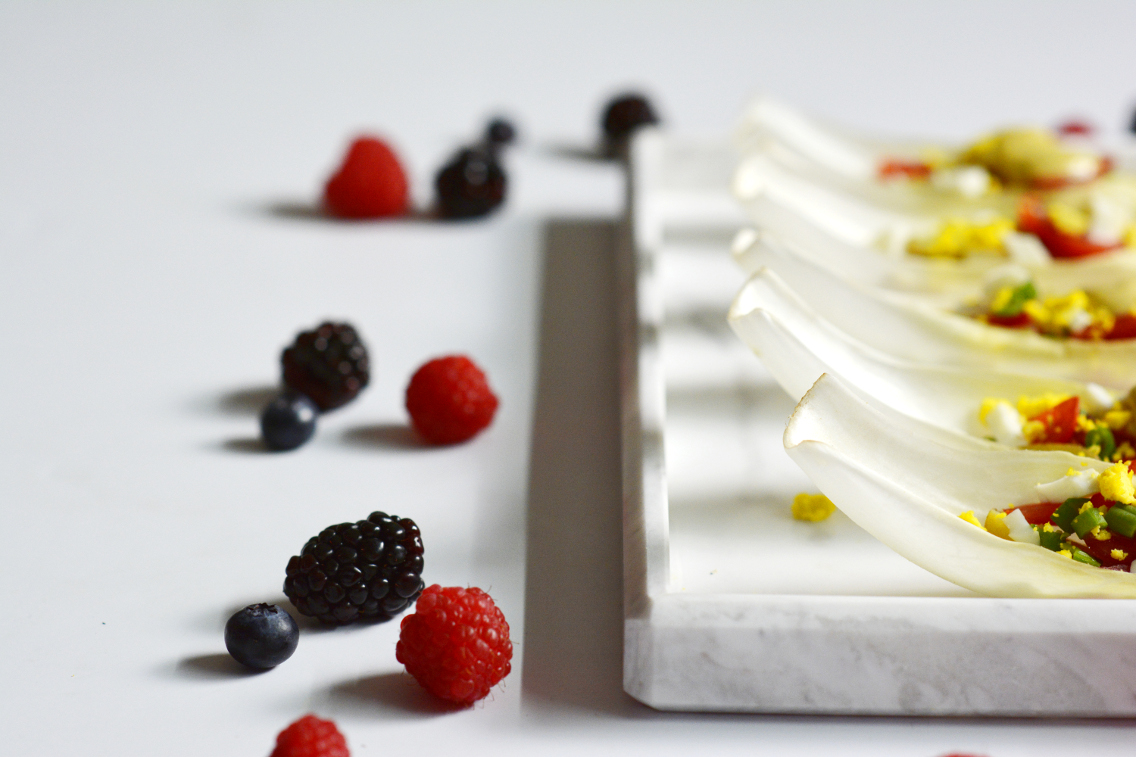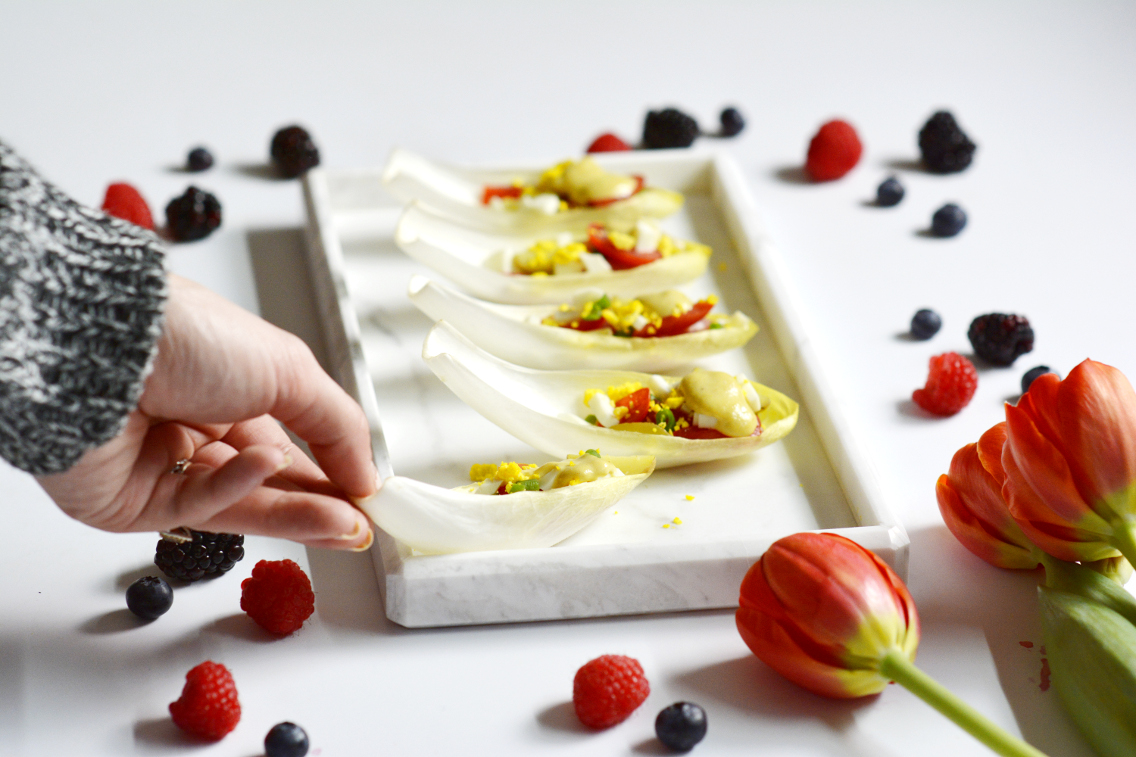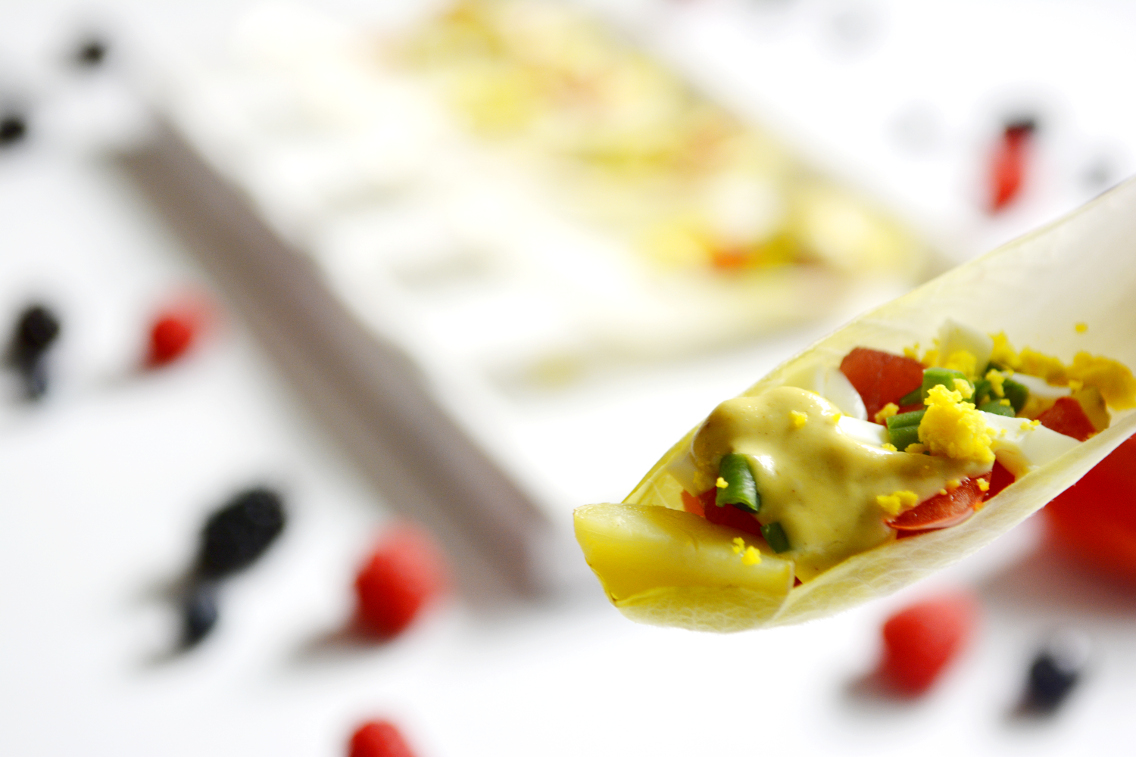 Be sure to use the #sedbona hashtag on your endive bites!