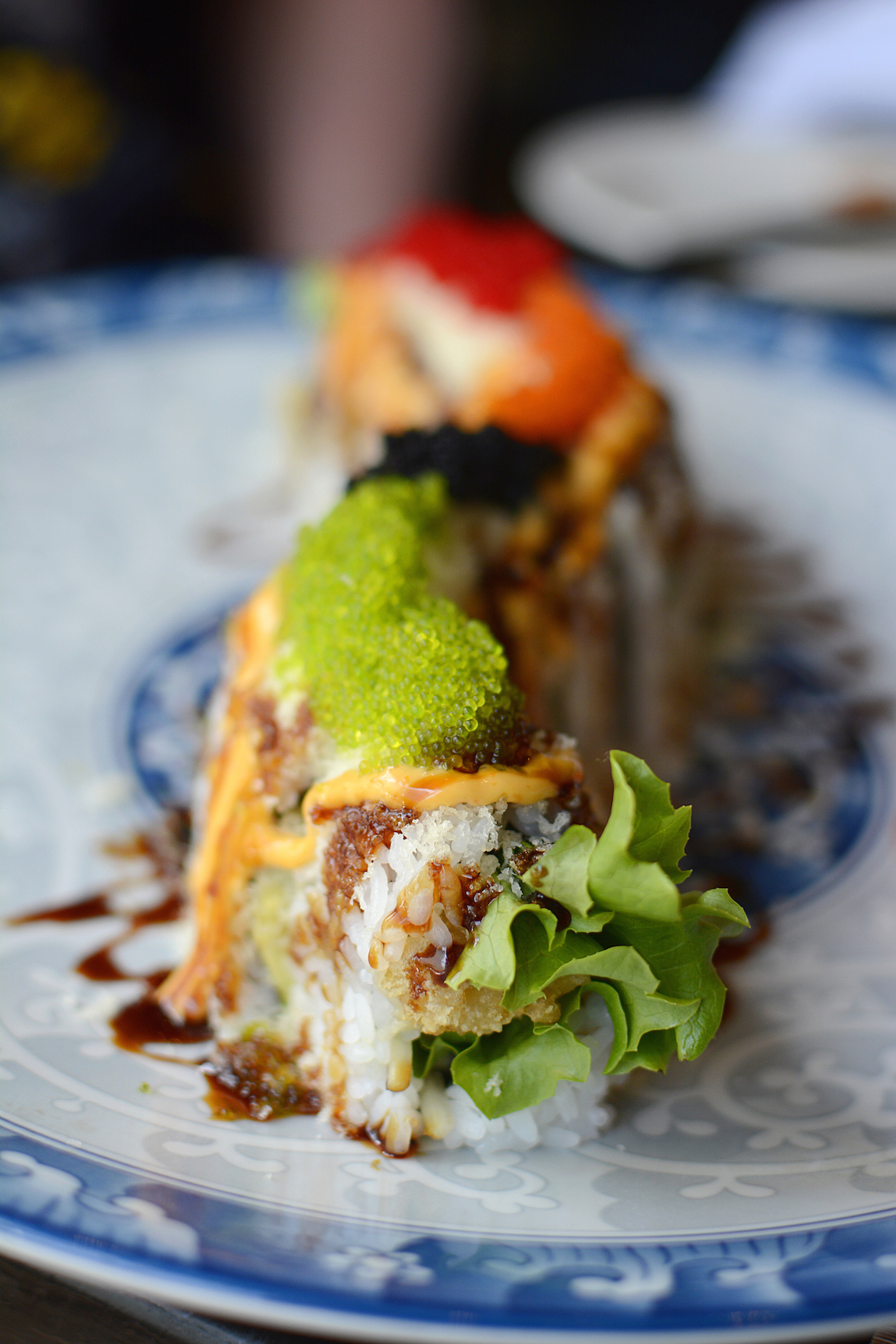 Those who know me know I will go a long way for a good sushi roll.
Sushi is definitely one of those foods that if you love it, you LOOOOOVE it. You pine for it. You dream about it. You obsess. You make pilgrimages. Obviously.
So when Starr asked if I wanted to make a sushi pilgrimage up to Evanston to check out Koi, I gave her one of those "what do you think looks" as I raced out to my car and reved the engine, urging her to GET IN THE CAR ALREADY!
Because… well,… sushi!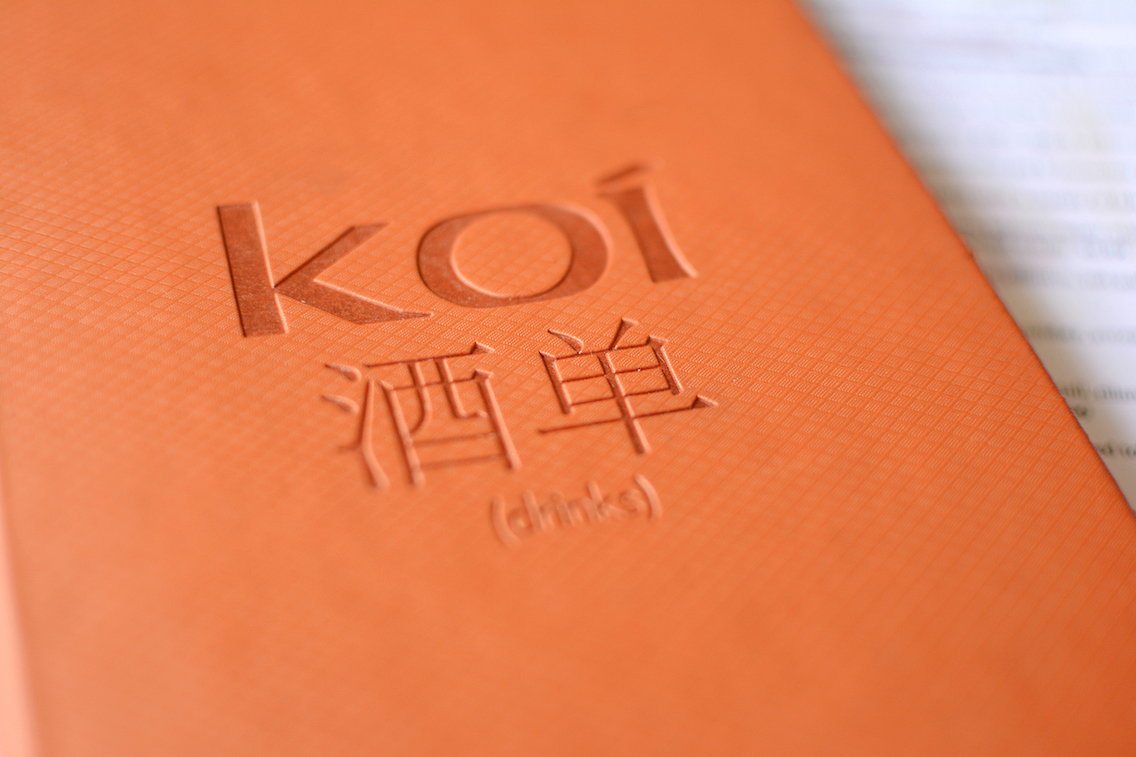 As close as Evanston is to Chicago, I actually haven't made the journey in years and I was shocked at how much had changed since my last visit.
Koi is perfectly situated in the main square with beautiful floor-to-ceiling windows that convert to an open-air dining space in summer.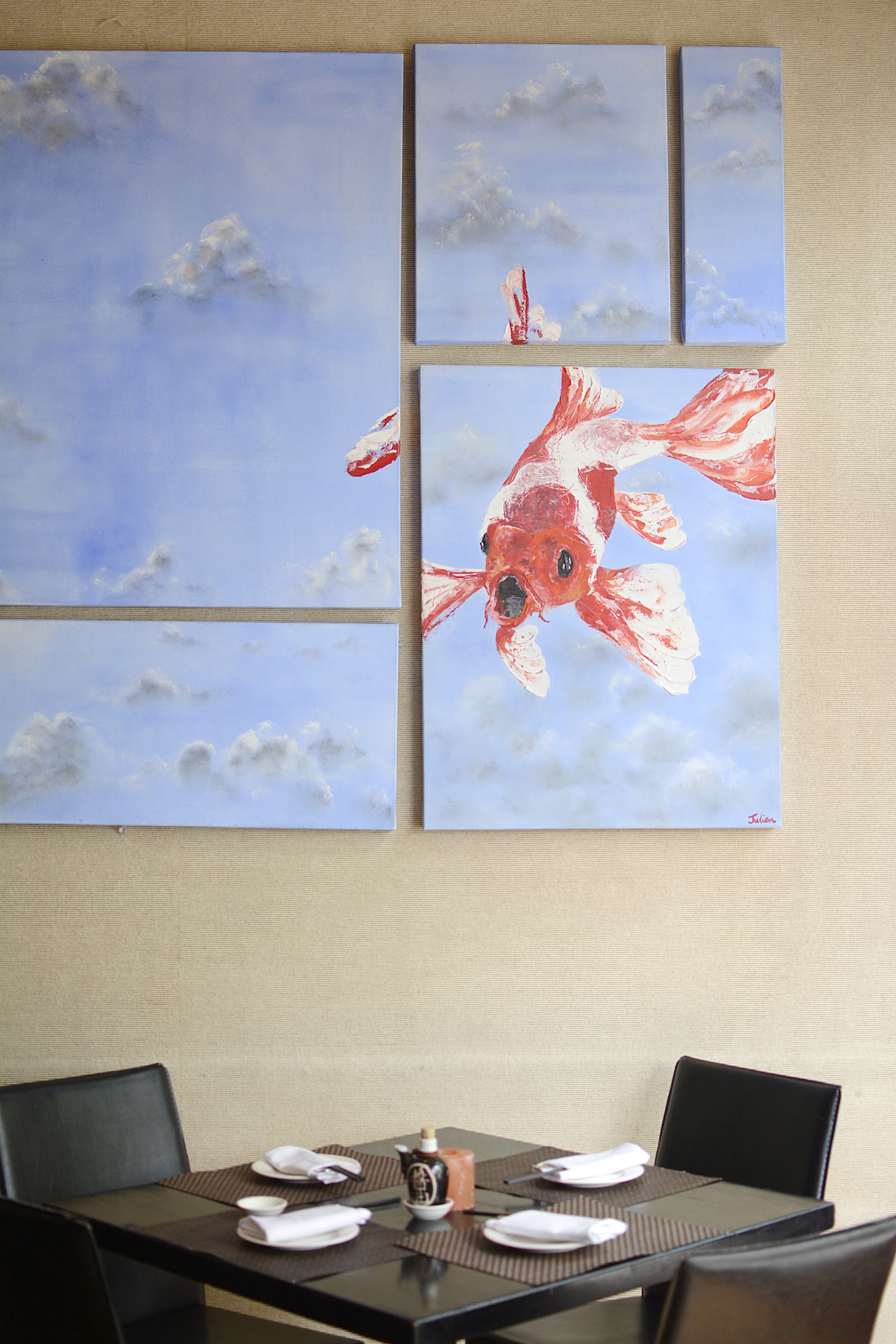 We found ourselves a cozy spot, narrowed down our menu choices, and waited…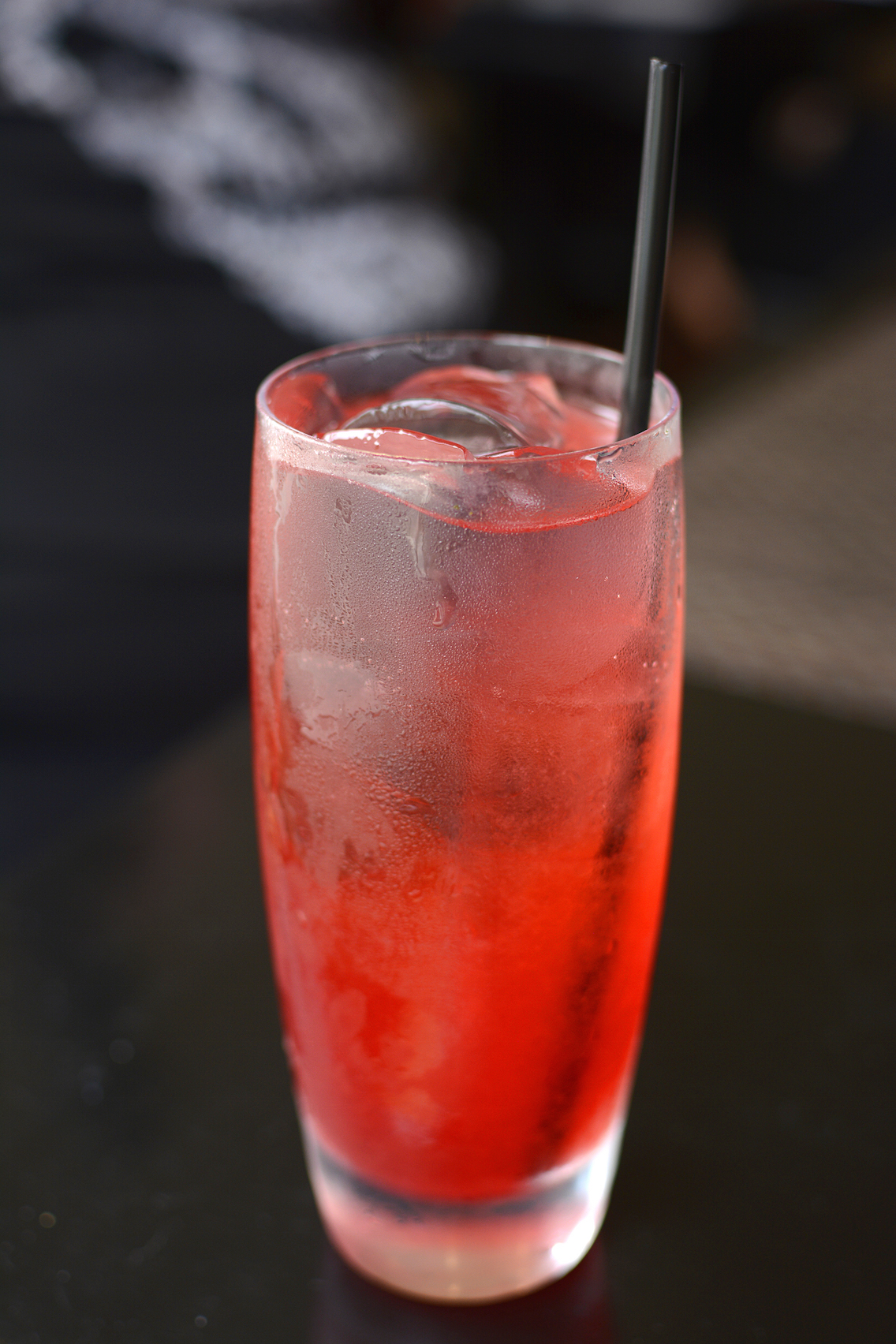 First came drinks! Starr ordered this lovely Hibiscus Tea.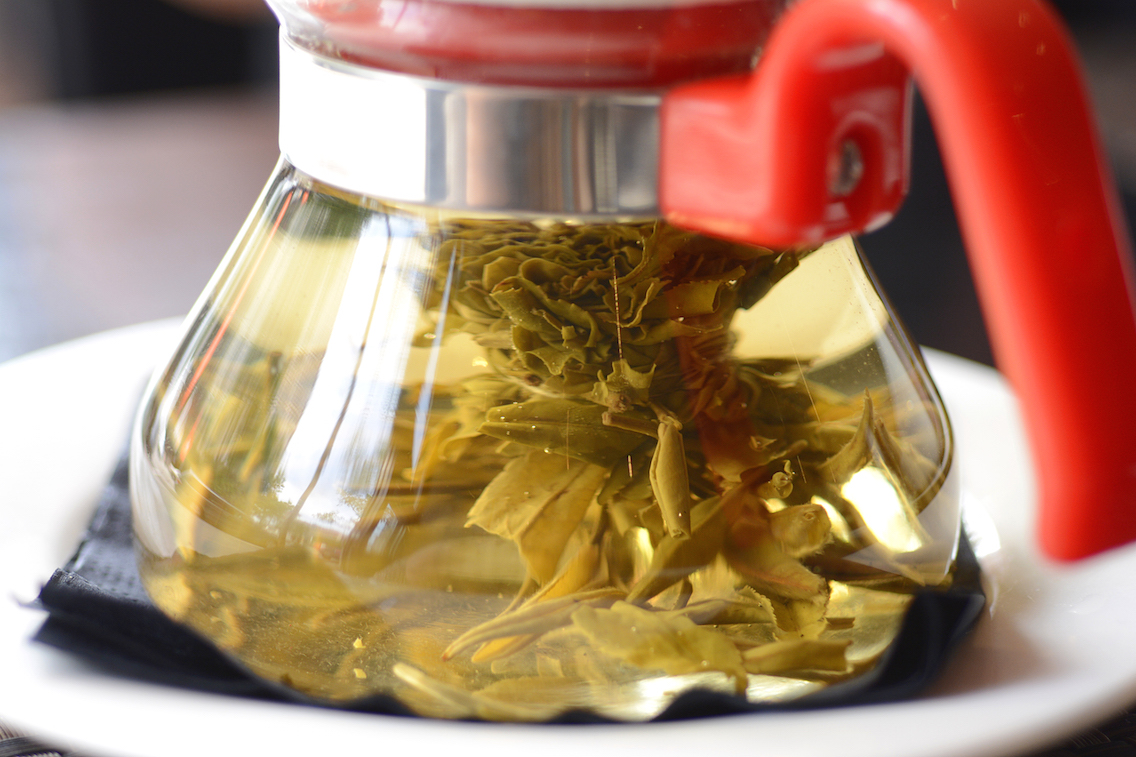 While I opted for traditional jasmine tea which came in the cutest glass tea-pot, offering a beautiful view of the tea blossom inside.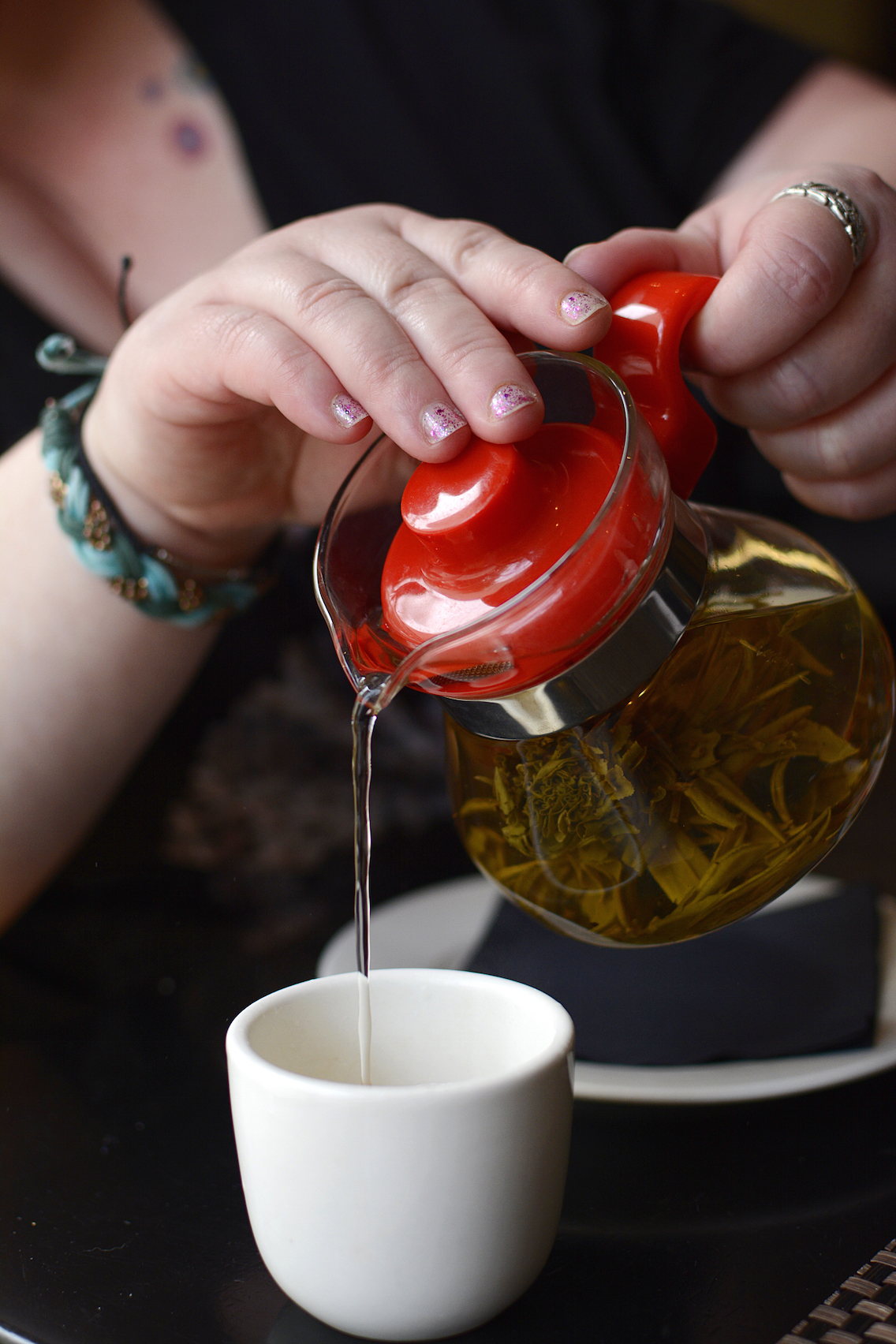 **POUR**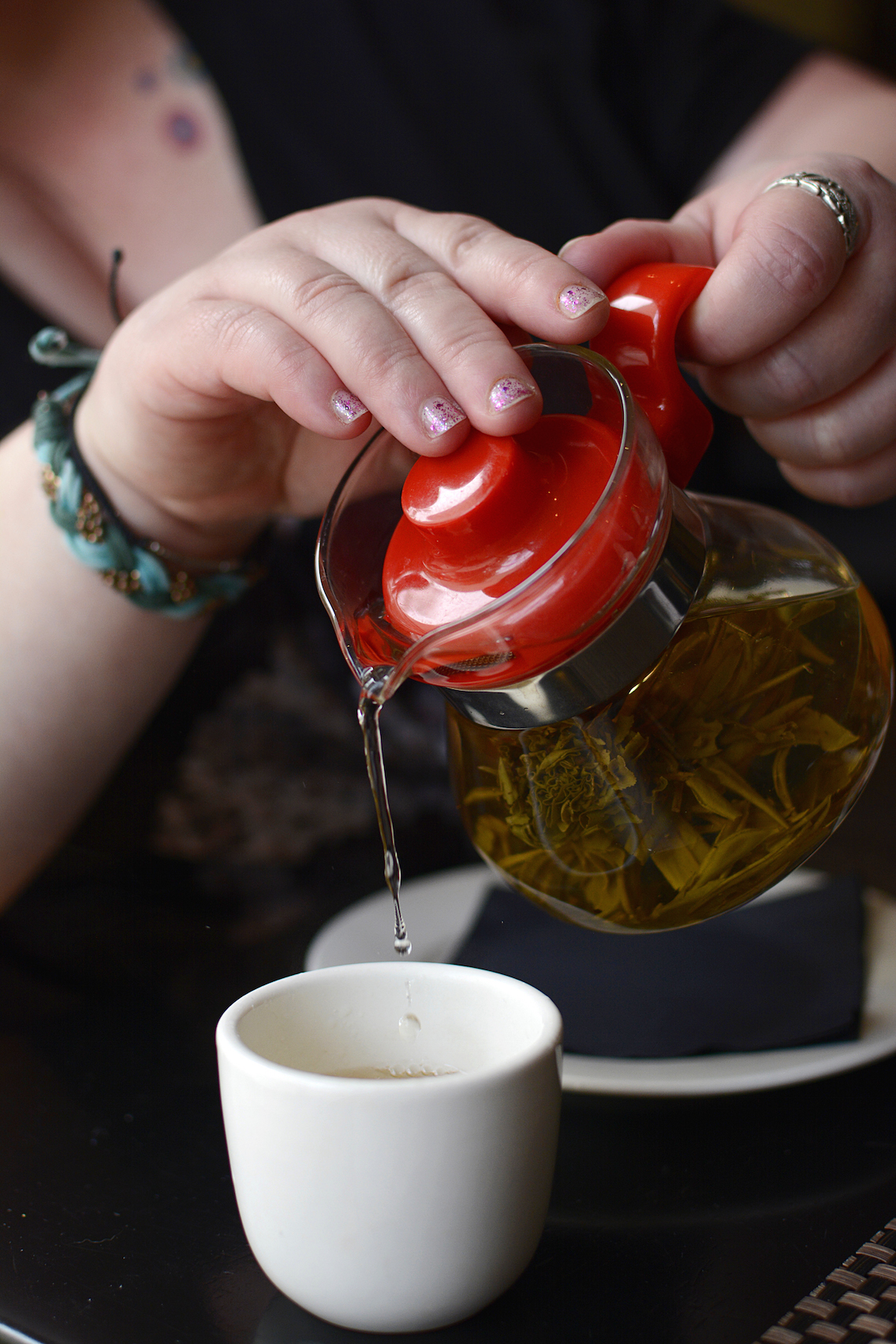 My father spent a lot of his business career in Asia so most Asian meals I eat need to include hot tea on principle. Yes, even in summer.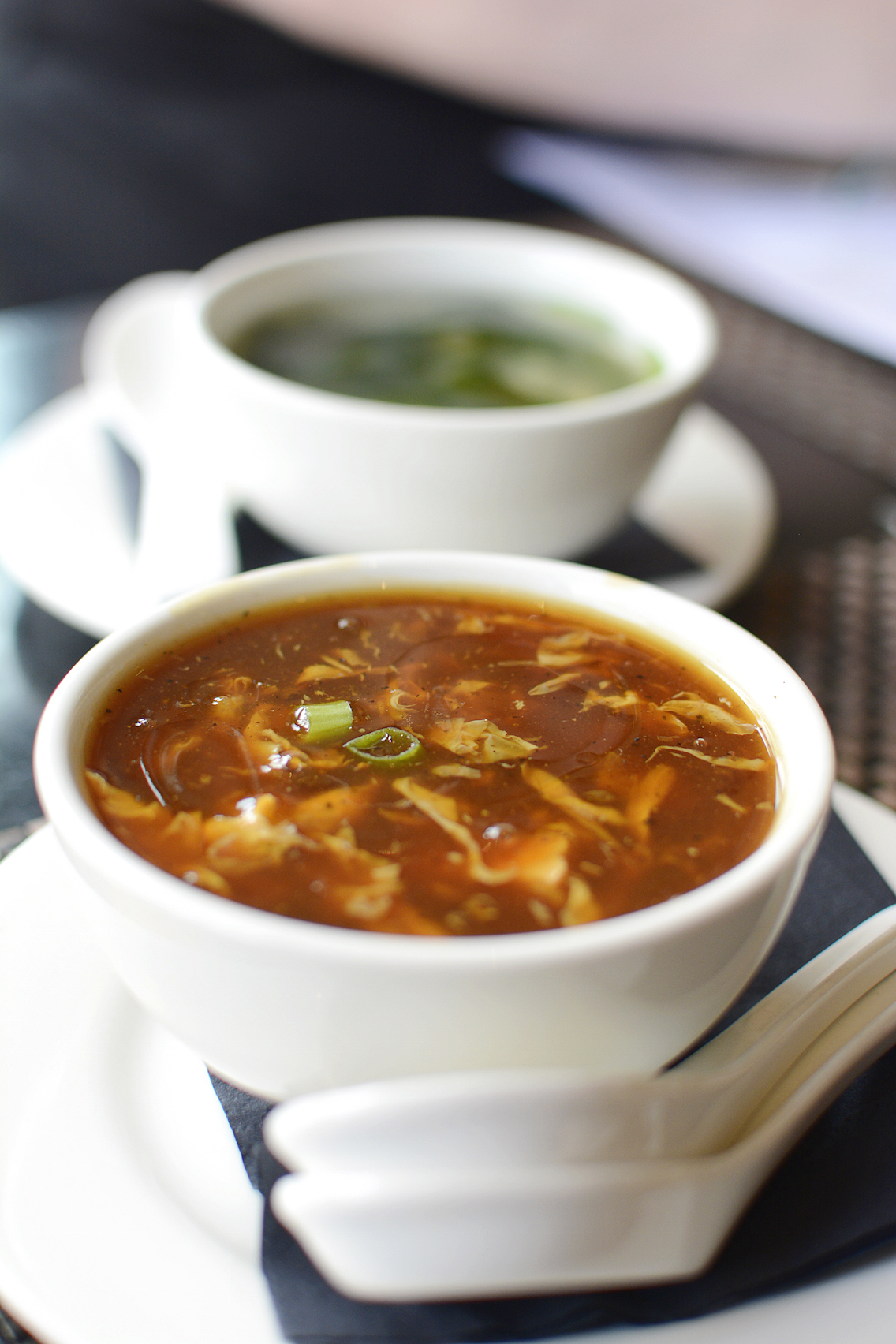 We started out with these Hot and Sour and Miso Soups.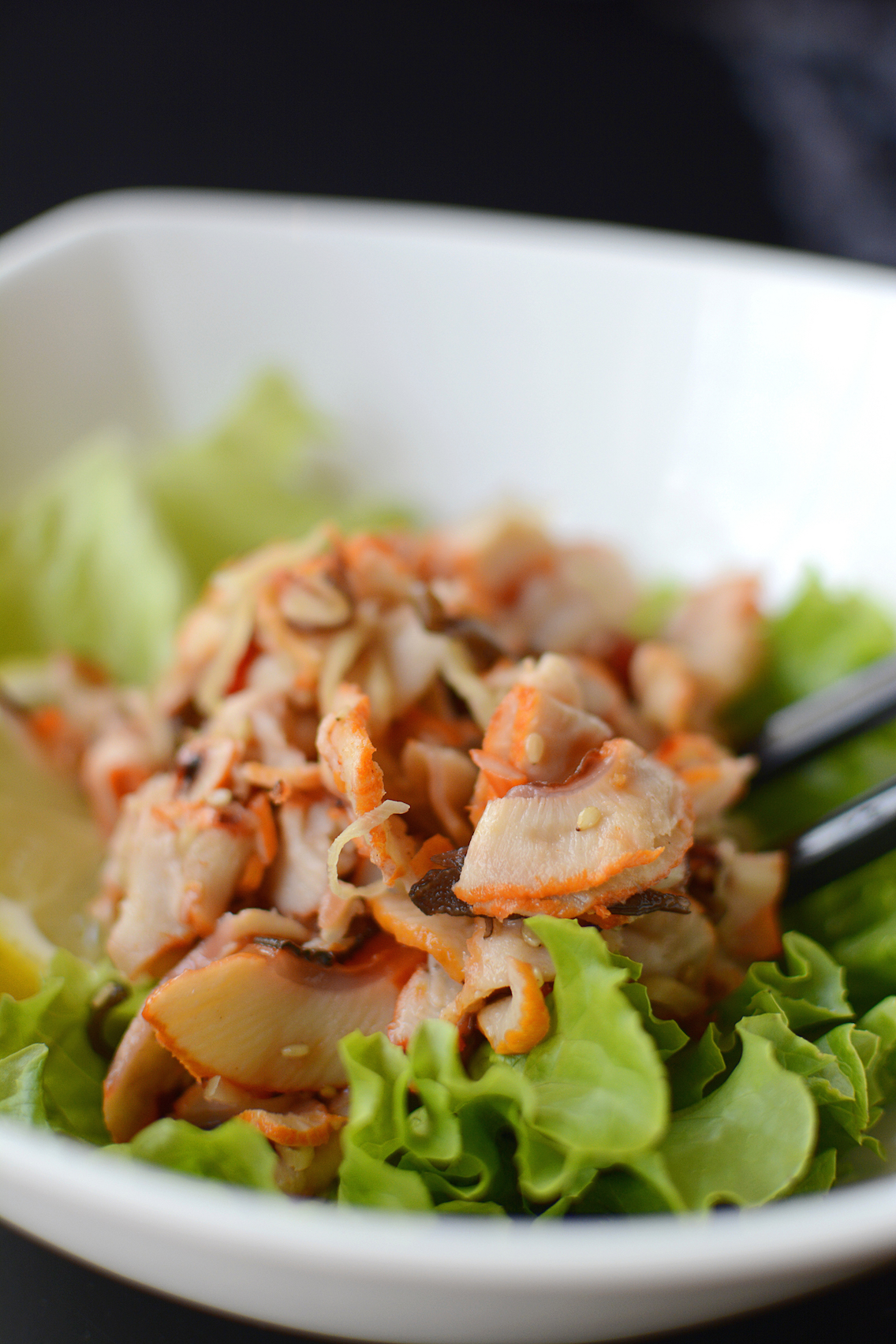 Then moved on to this unique Octopus Salad with Soy Vinaigrette Dressing.
The vinaigrette made a beautifully pungent compliment to the thinly shaved octopus. In terms of texture and flavor, this is one of the most distinctive octopus dishes I've tried.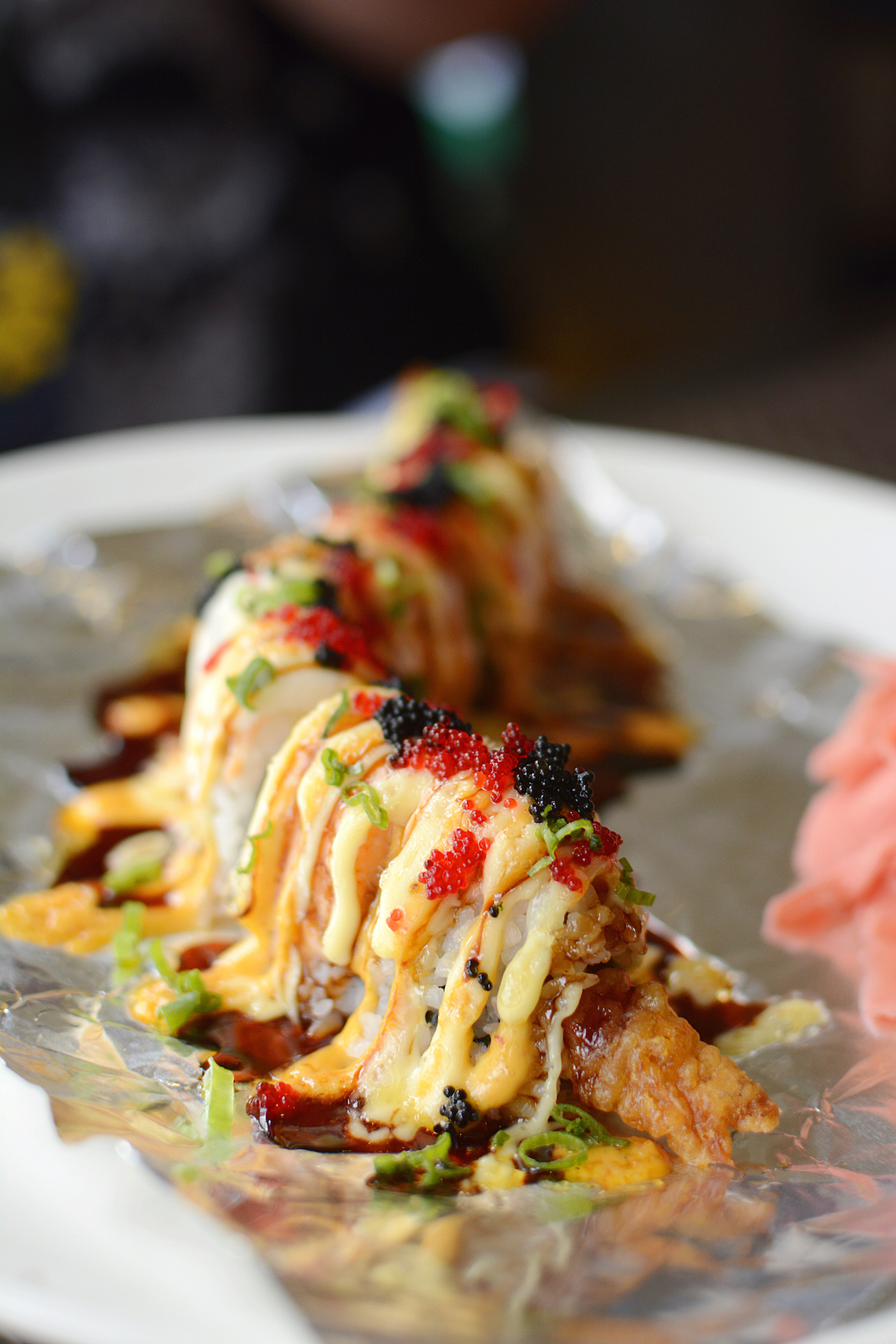 But finally the legendary sushi rolls arrived!

This is Koi's stunning Dragon Fire Maki: shrimp tempura topped with salmon, super white tuna, tobiko, green onion, spicy mayo, and unagi sauce, then baked and served warm.
For those of you weary of the phrase "warm sushi", put your fears aside! This is the type of sushi roll I dub 'American comfort food' and for good reason — this shrimp tempura roll is dripping in delicious flavorful sauces and the surprising pop of tobiko on top creates the perfect finishing crunch.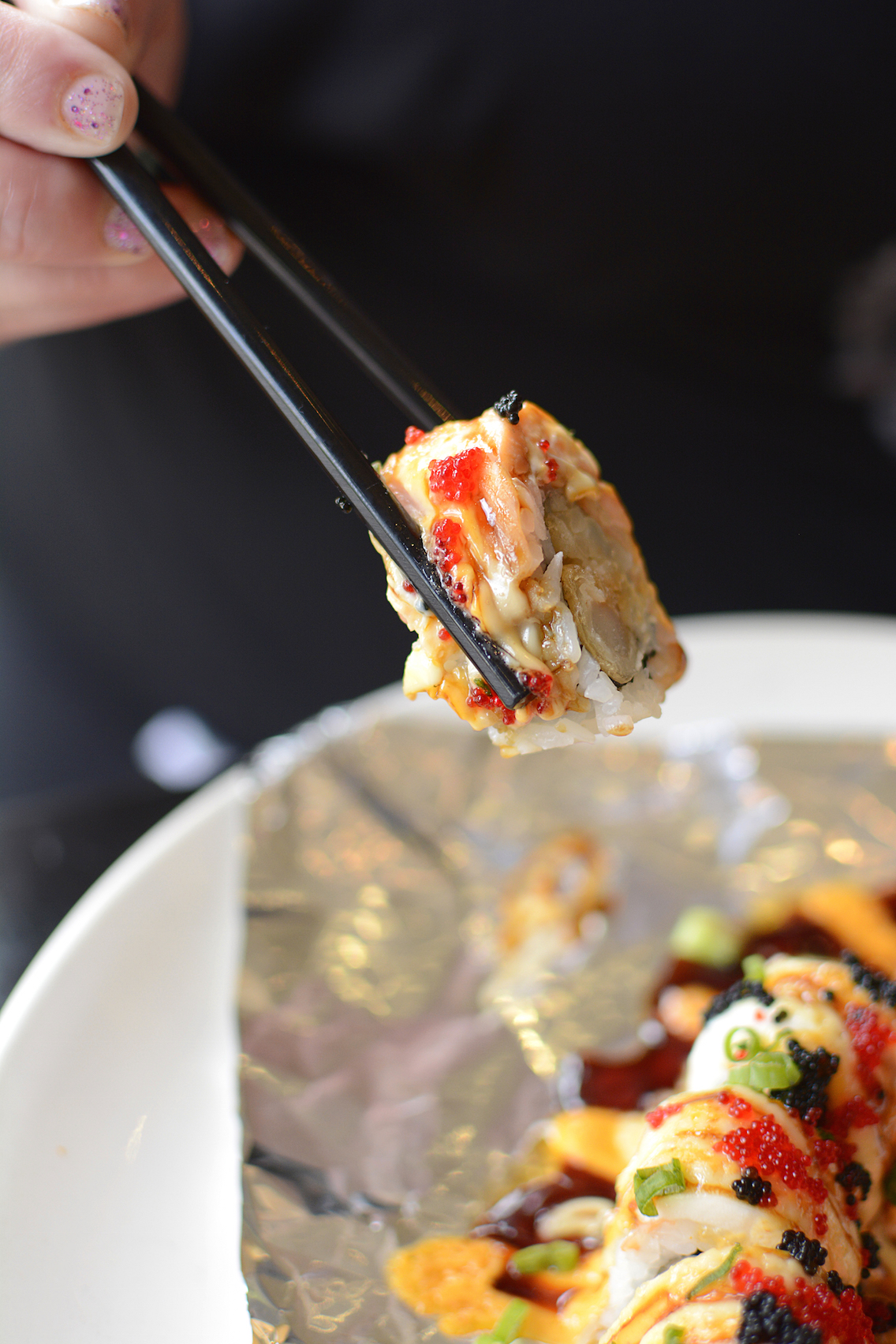 Ohhhh, so delicious!
But then this beauty arrived!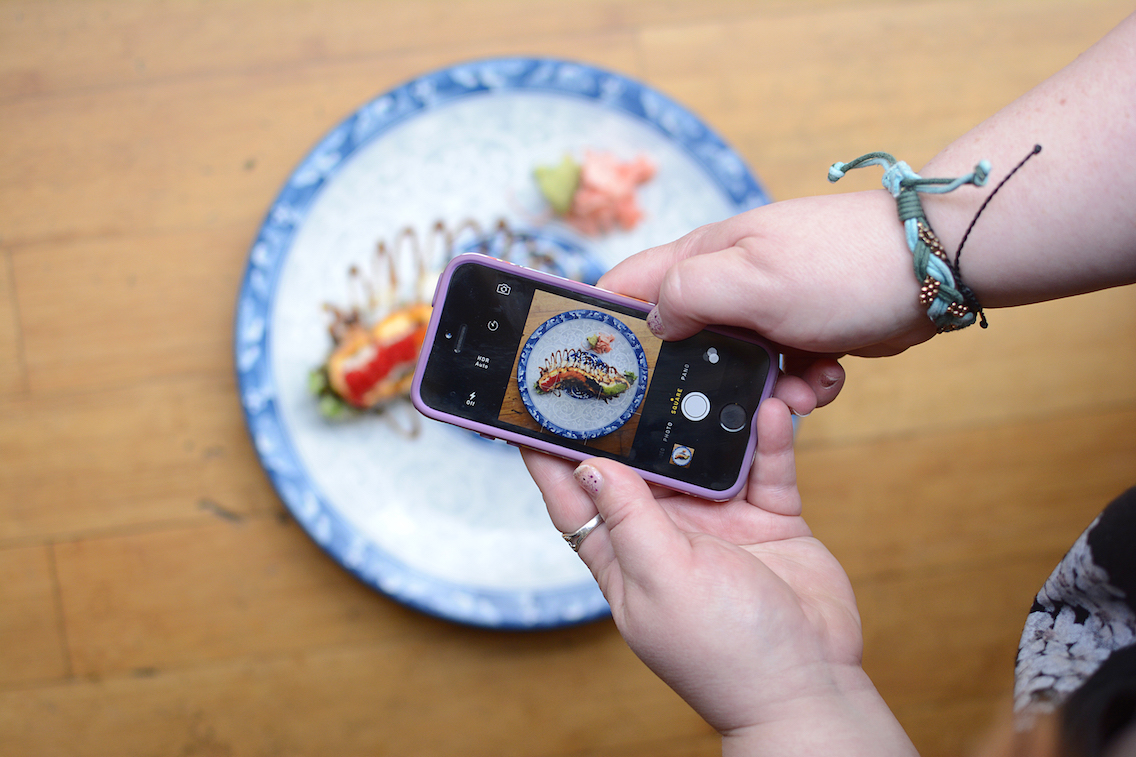 Talk about a dish that deserves to be Instagrammed!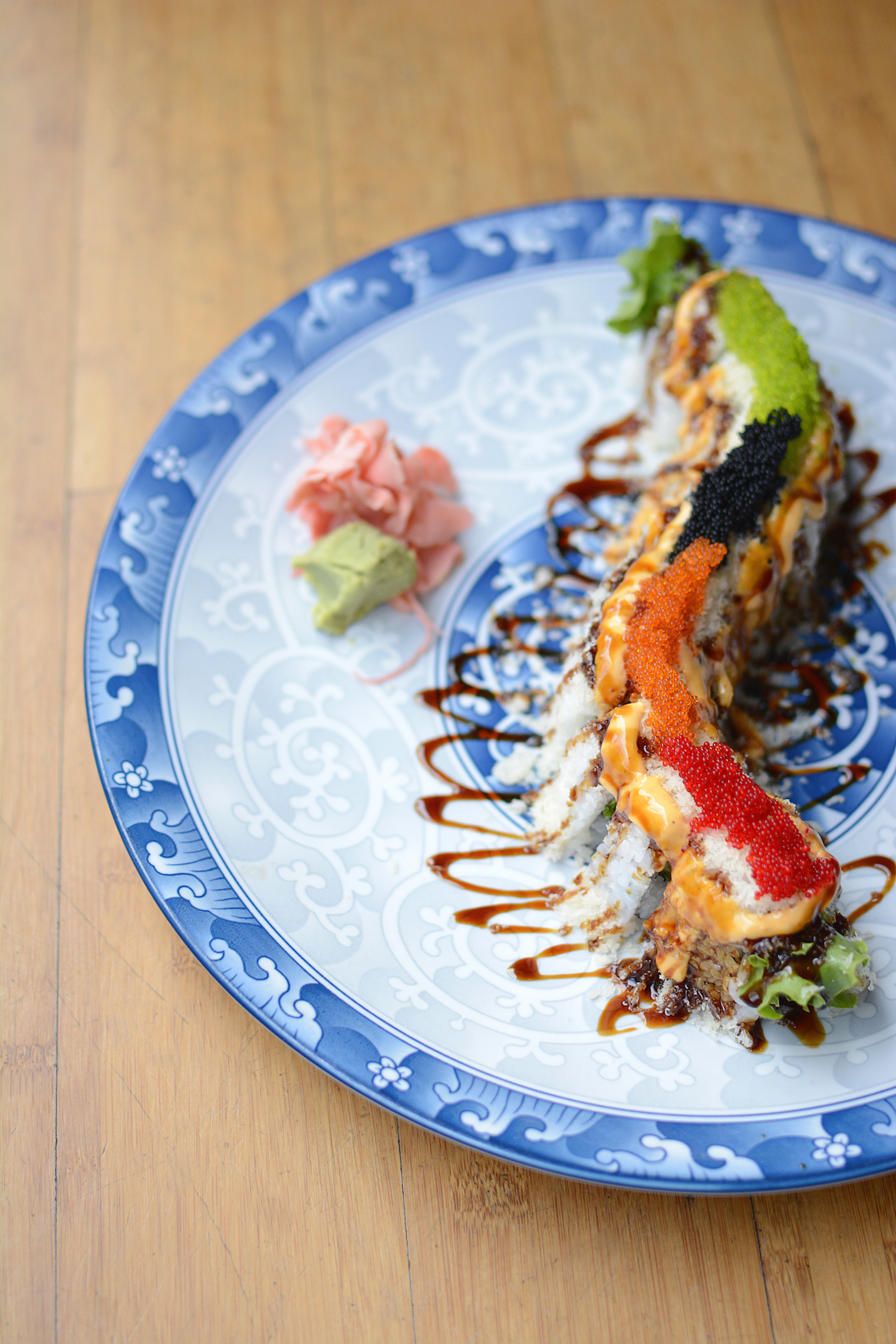 Meet Koi's famous Lobster Maki!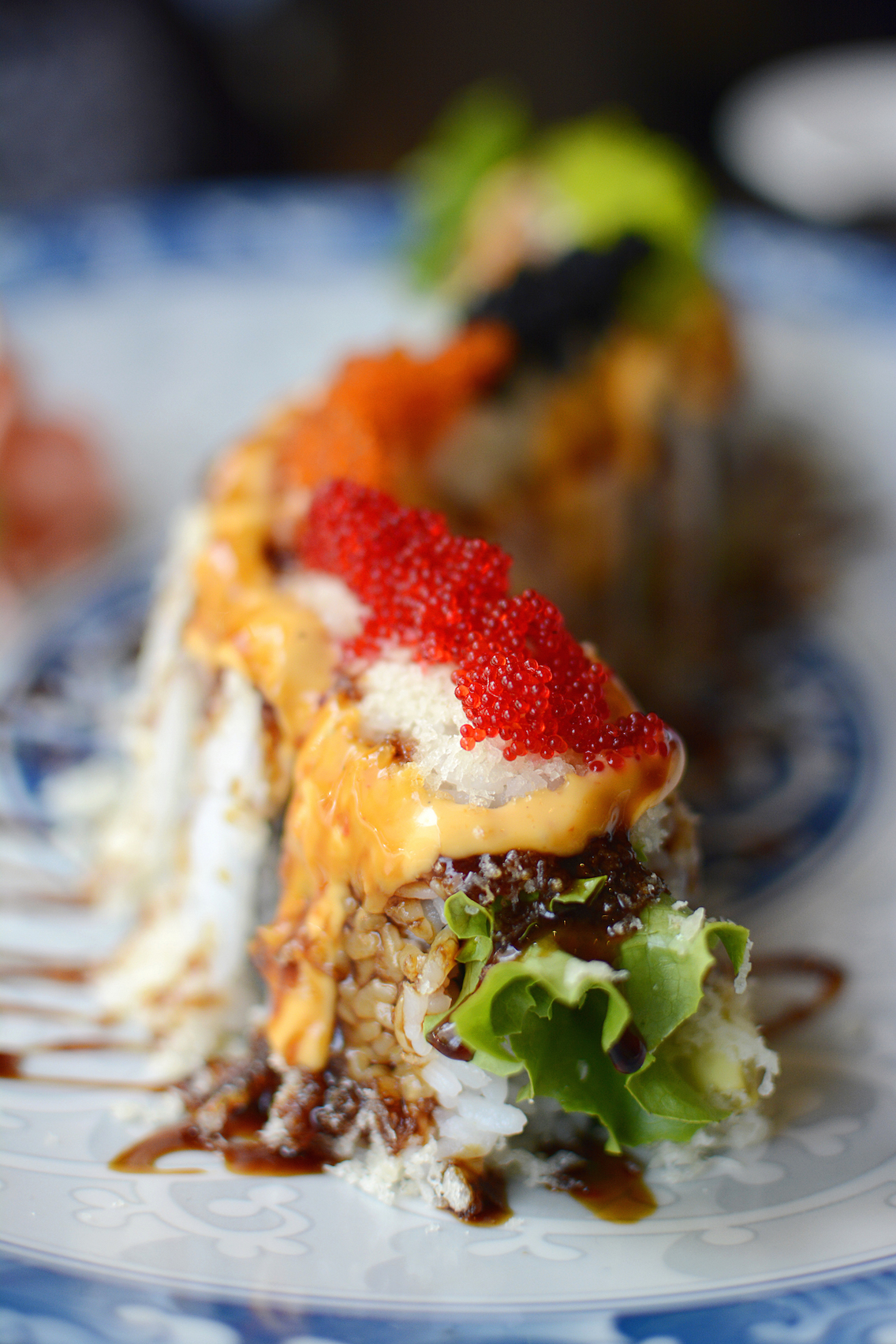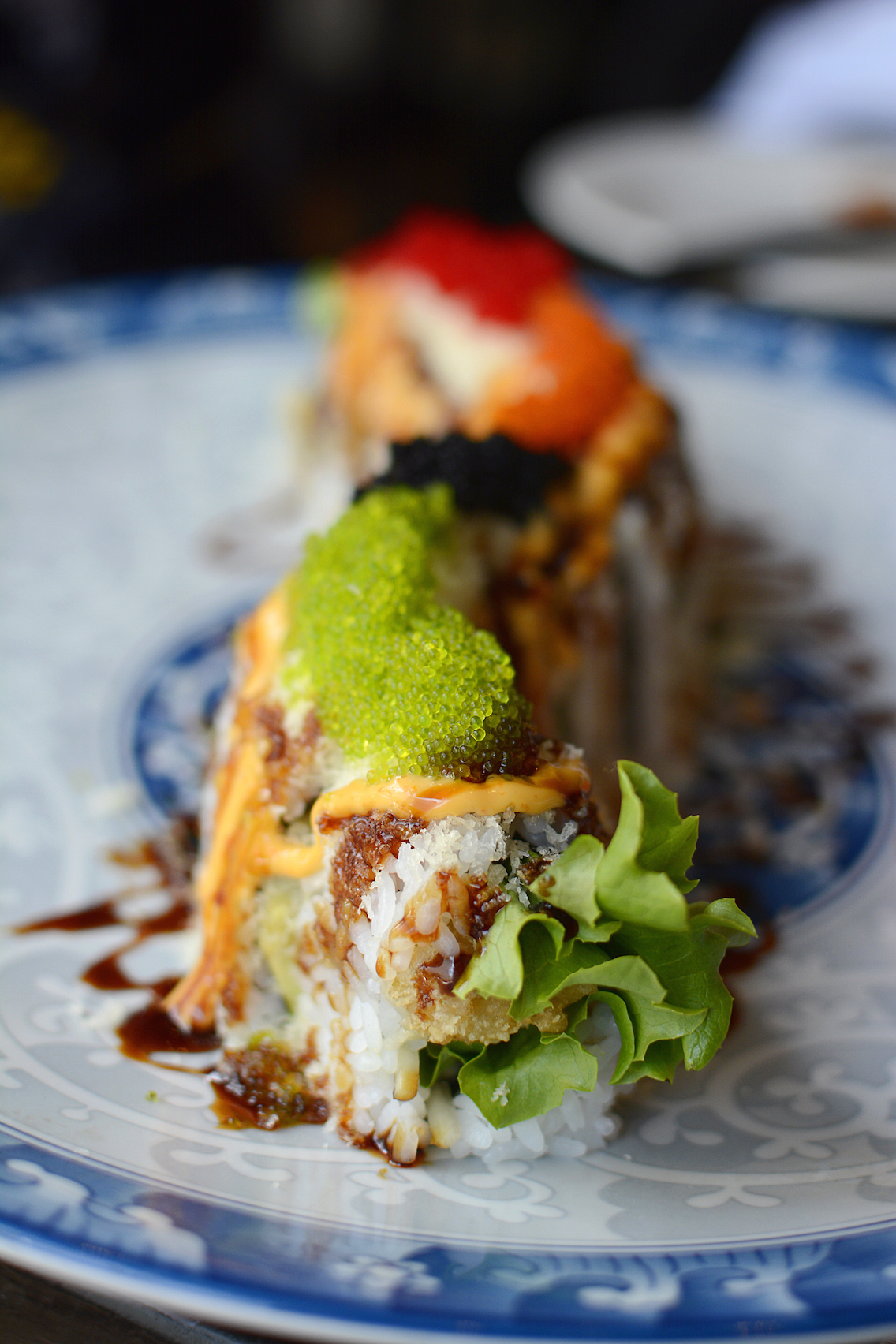 Tempura fried lobster, cucumber, avocado, and lettuce topped with unagi sauce, spicy mayo, and FOUR (yes, FOUR) different kinds of tobiko.
This roll is quite literally a rainbow of sushi maki nirvana being both decadent (thanks to the lobster) and yet light (thanks to the healthier fillings of avocado and lettuce). It's a brilliant combination and superbly unique.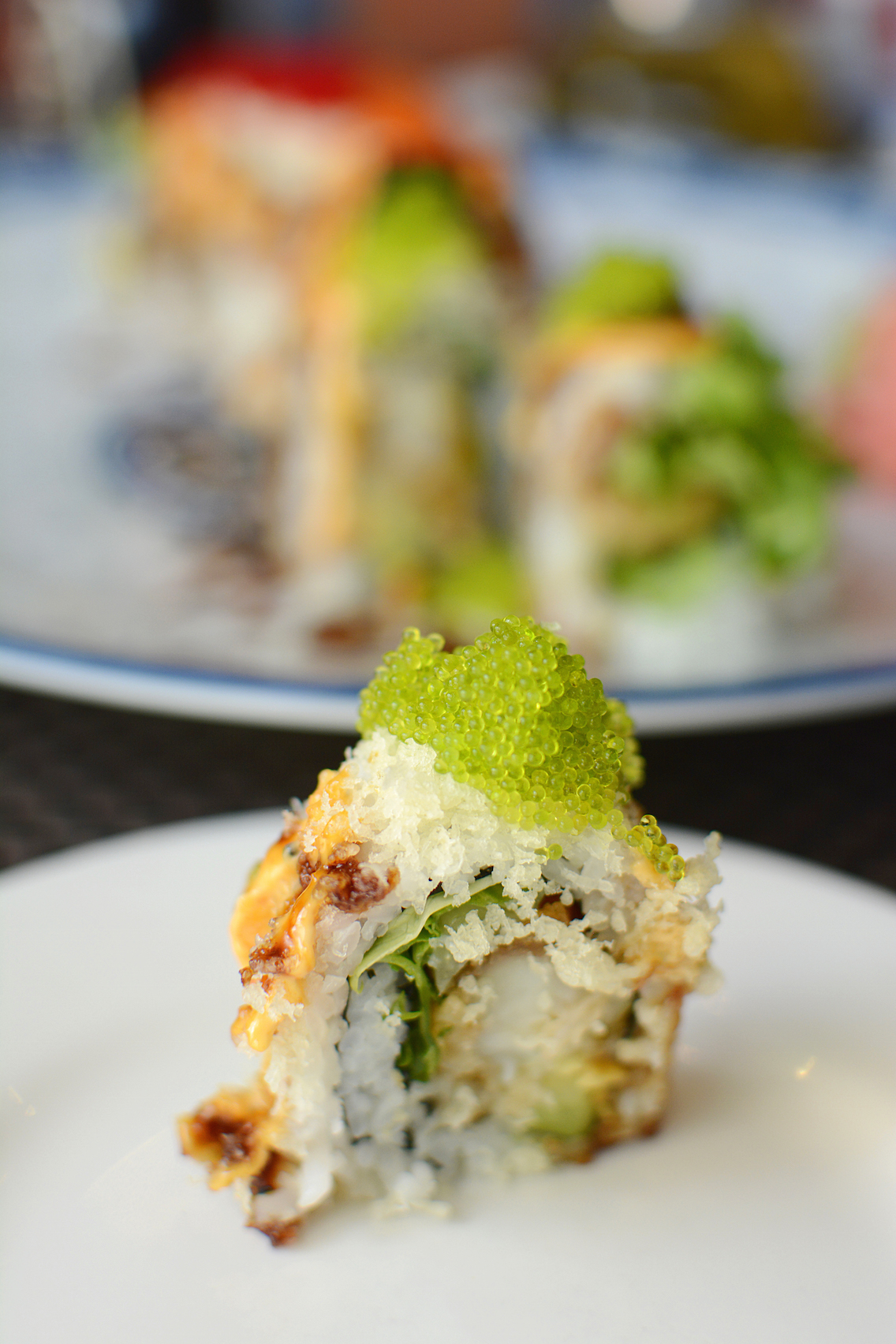 Not to mention addicting!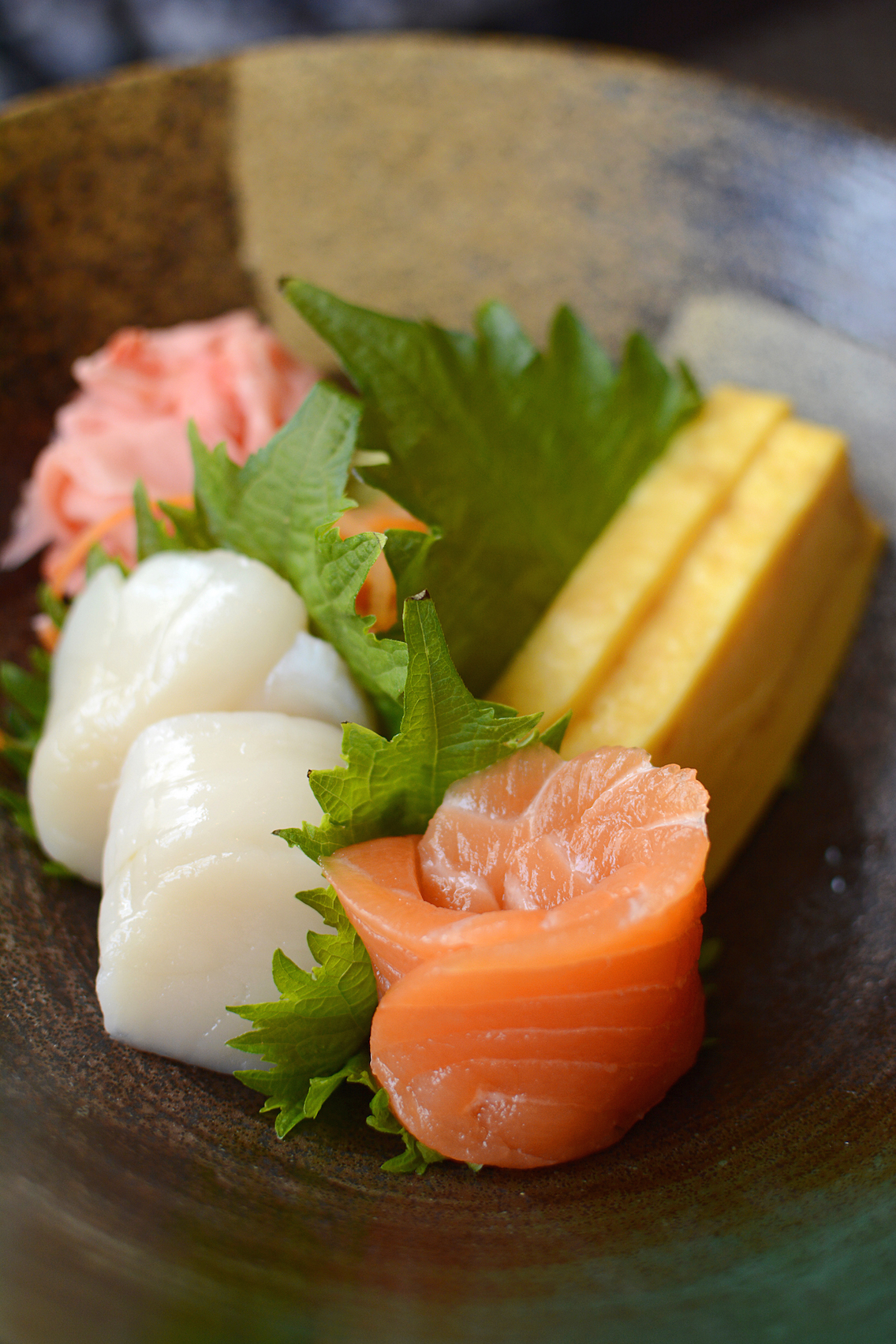 We also ordered a few pieces of sashimi for good measure (I always order sashimi at a new sushi restaurant — it's a good way to judge the quality of the fish and presentation).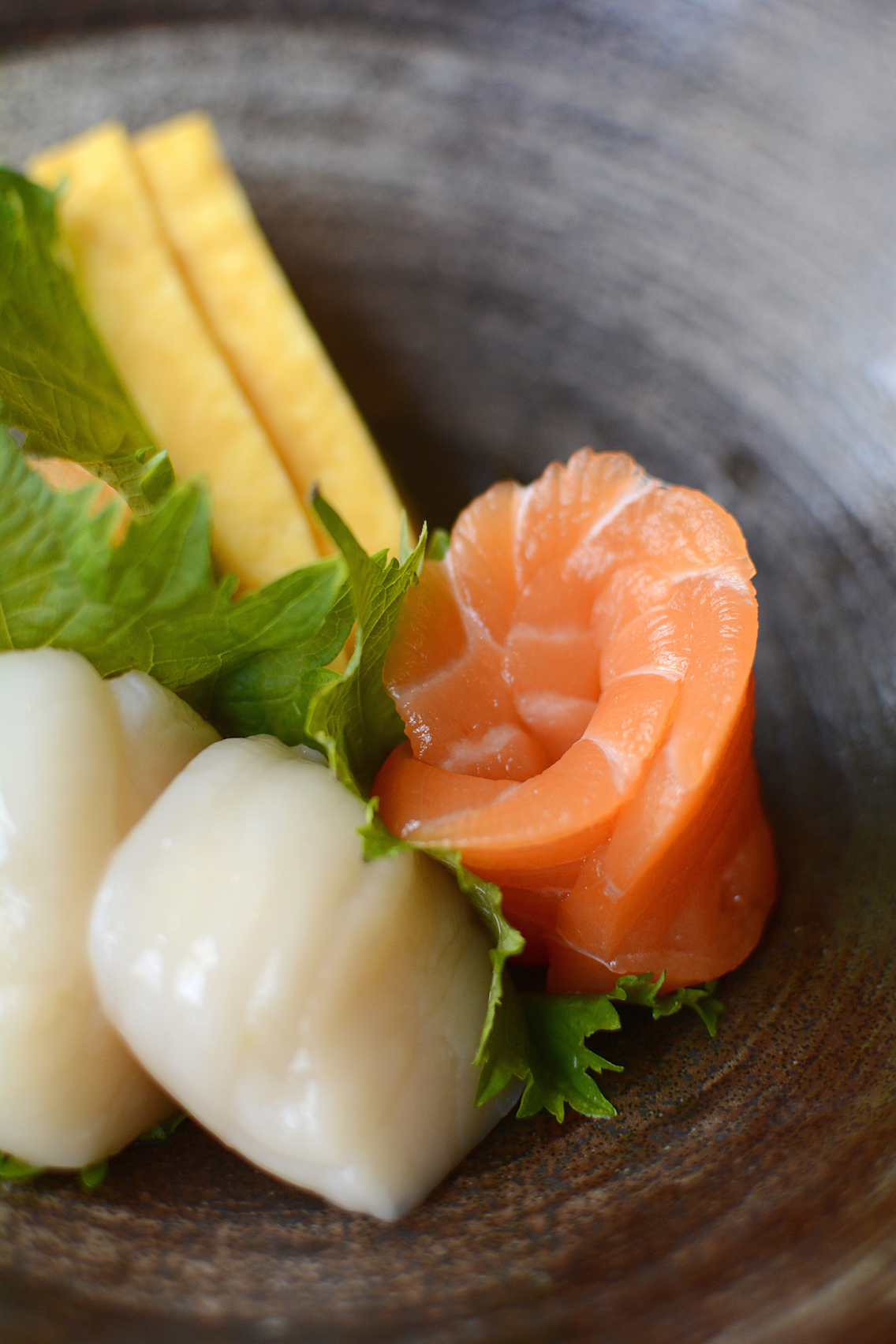 We ordered Hotategai (scallops), Namasake (salmon) and my personal favorite, Tamago (sweet egg omelet). Each piece was superbly presented but the scallops were the real surprise for both Starr and I. They were sweet and silky with no fuss.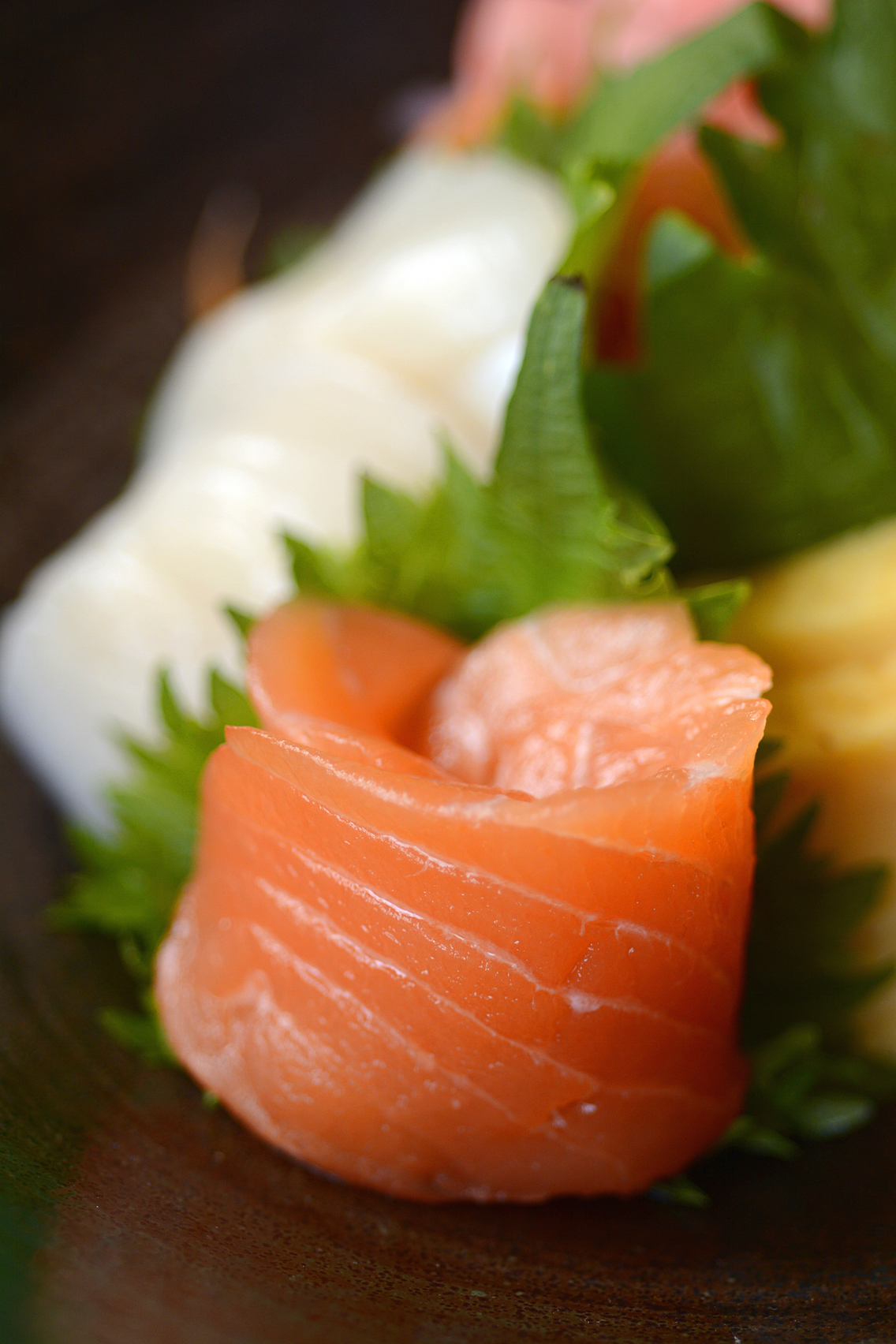 And I'm a sucker for a good cut of namasake!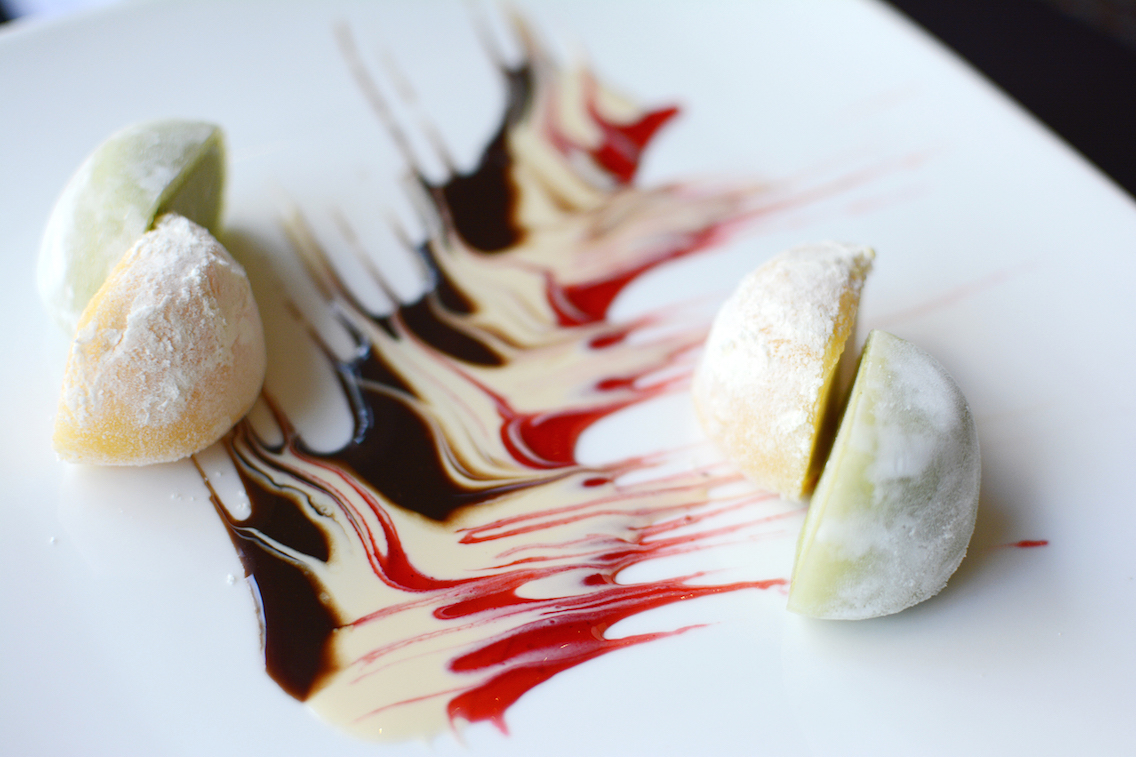 But you know that even after an epic sushi feast, Starr and I couldn't resist the allure of the desserts!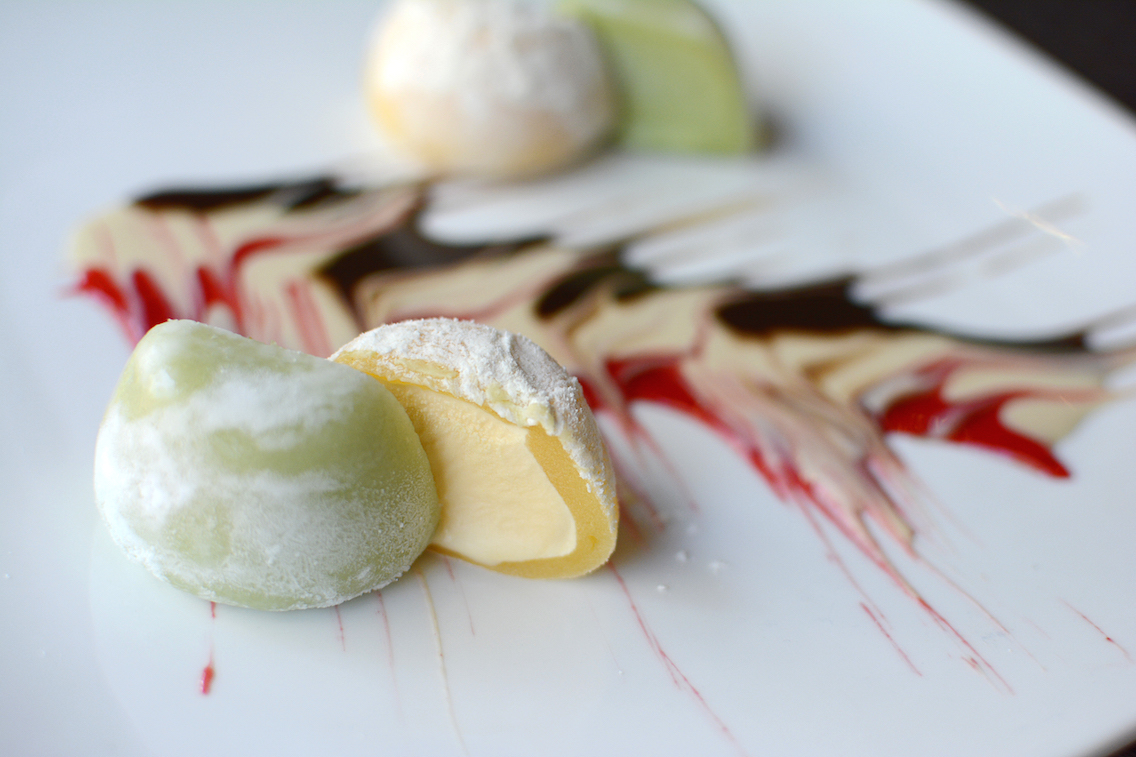 We tried both Green Tea and Mango Mochi which came on a lovely platter of chocolate, vanilla and raspberry sauces.
Have you tried mochi before?
If you haven't, run don't walk!! My favorite way to describe mochi is that it's like a gummy bear enveloped a ball of creamy ice cream. It's a brilliant Japanese dessert (knowing how much I love green tea ice cream) and one I never ever pass on.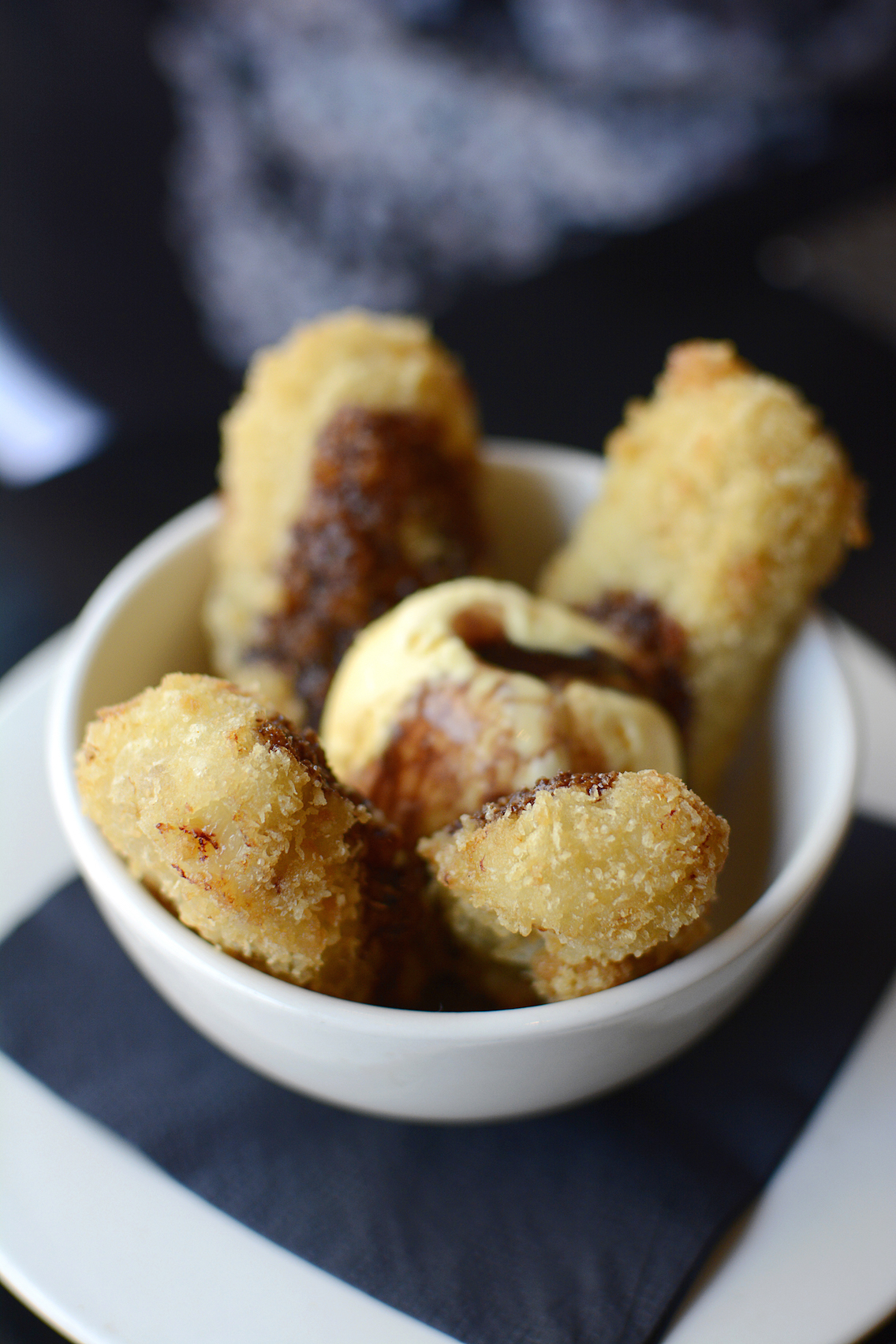 But this Asian-fusion dish was the real winner!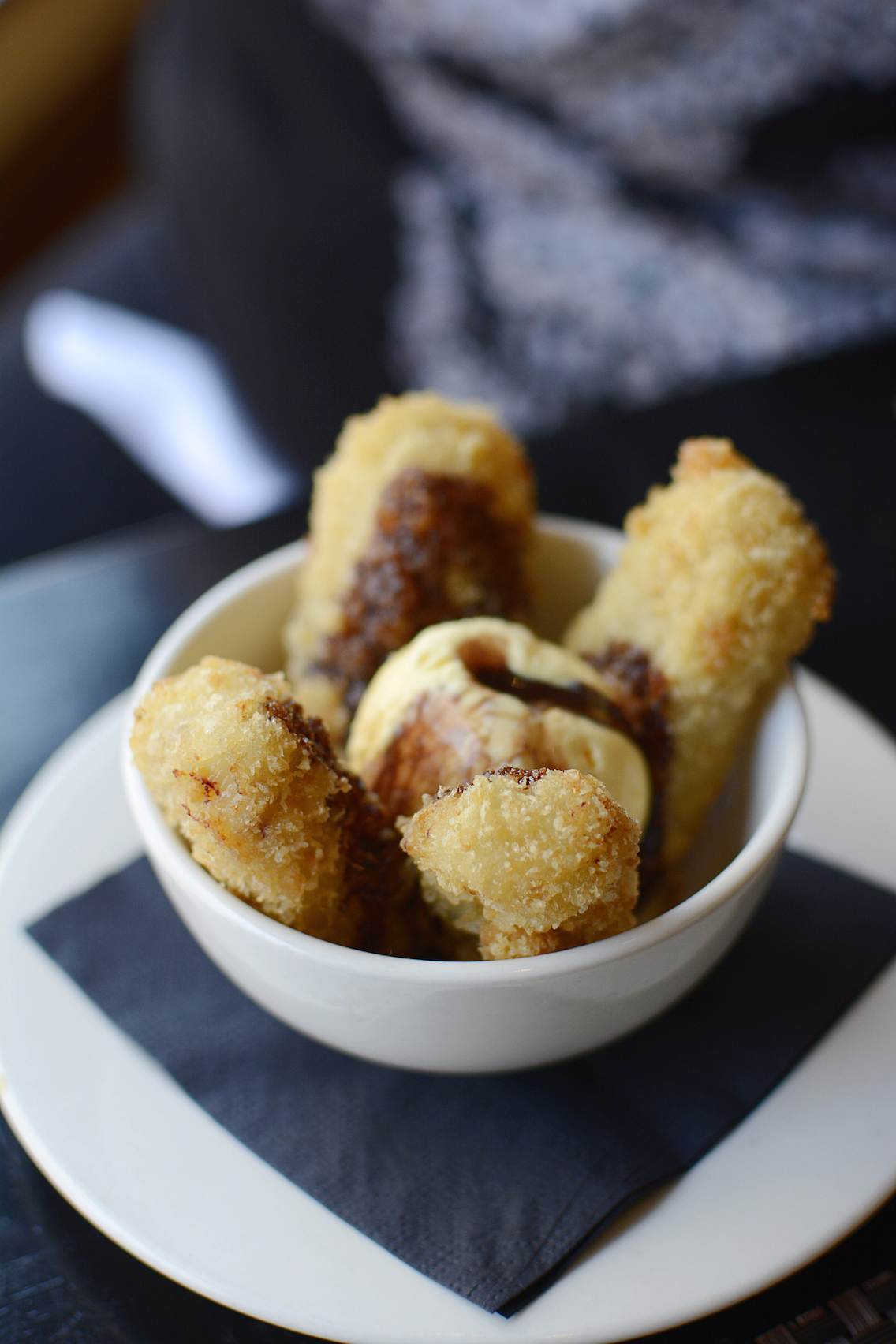 Tempura Battered Bananas served with ice cream and chocolate sauce?
I must have found my way to Heaven!
The sweetness of the bananas compliments the crunchy crust and once you scoop a bit of creamy ice cream and chocolate sauce on top you're practically drooling all over yourself. It's a simple dish with serious gourmet implications! And such a fun take on a more traditional banana split dessert.
Looking to get out of the city and go on a sushi pilgrimage of serious food porn proportions? Add Koi to your must-visit list — just be sure to go on an empty stomach!
Disclosure: I received a complimentary meal to facilitate this post. Review and all opinions are my own.