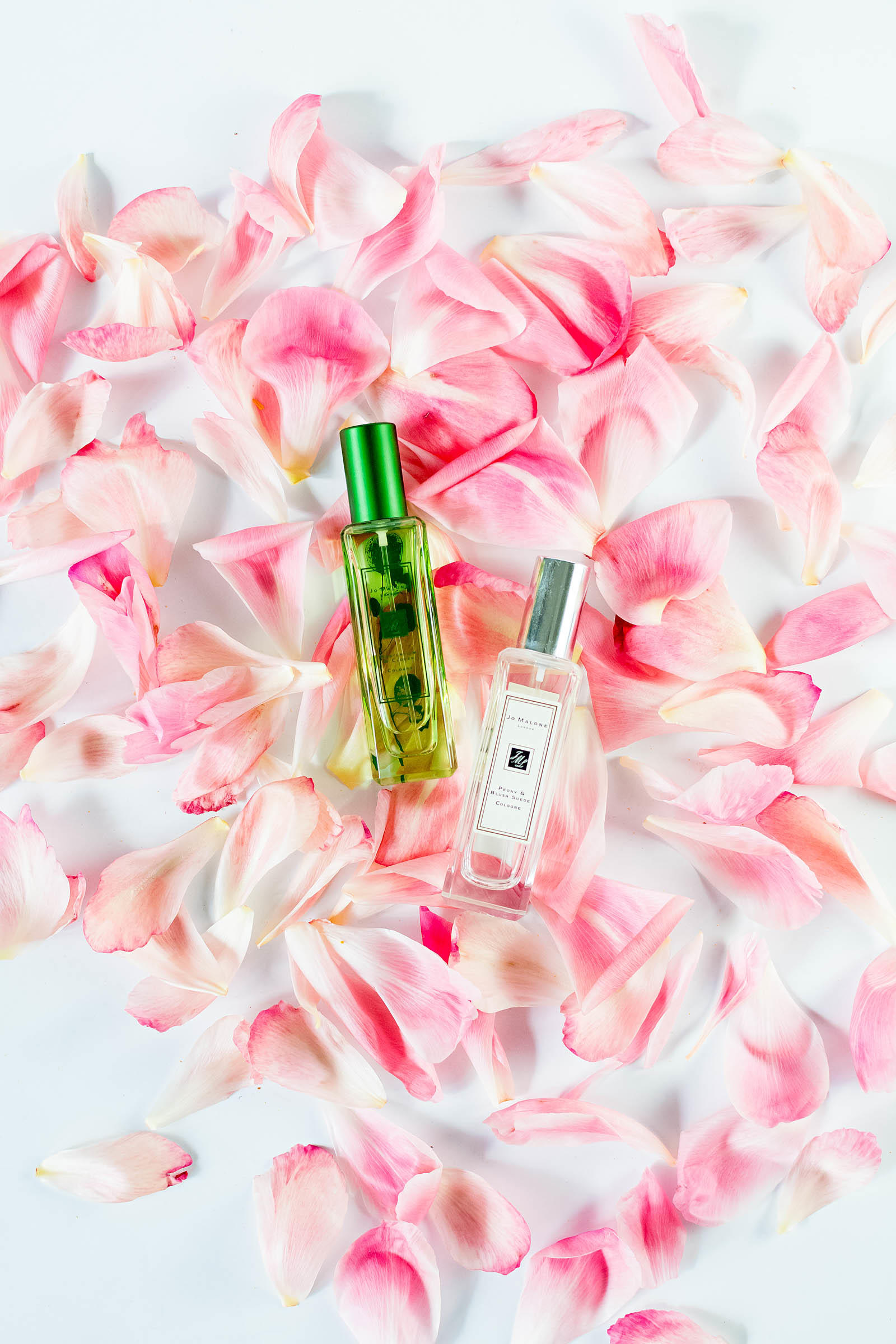 At this point I feel like it should almost be a joke how much I talk about Jo Malone. Like I should probably just start writing a book devoted to their unique scents and colognes because I just love them that. much.
I mean, I've easily written more about Jo Malone than any other brand here. And I wear it almost exclusively, having been a loyal and devoted customer for years. And no, I promise you I wasn't paid to say that… I really, really mean it.
The truth is I get SO MANY compliments from strangers wherever I wear their scents, it's hard to imagine I'll ever wear another fragrance brand. On multiple occasions (no joke!), I've had an uber driver ask me to pull up a link to the perfume I was wearing on their phone so they could instantly buy it for their girlfriend (this most often happens when I wear English Pear & Freesia I've noticed). I've had women interrupt me during a lunch with friends to ask me what scent I was wearing. I've had cashiers ask me, CTA bus drivers, even toddlers (ha, I seriously can't make this up).
It happens frequently enough that I KNOW it's not just my delightful natural aroma… it's definitely my unique Jo Malone colognes.
I often describe Jo Malone colognes as familiar and yet different. Many of their fragrances smell like more traditional colognes at first but then morph into something with far more depth and story as they dry down. And the number of strangers who've randomly asked me about my cologne tells me that most people are just an intrigued by these unique scents as I am.
So for years I've seen my Jo Malone cologne collection as a legitimate investment. An investment in a "vanity apothecary" or arsenal of colognes ready to suit any occasion, any mood, or any season.
See, Jo Malone colognes are beautiful and unique by themselves but they're also designed to be layered with one another. Mix one distinctive cologne with another and you get something EVEN more unique. And intoxicating. And guaranteed to be different from anything anyone else around you is wearing — unless of course you run into a kindred spirit who combines two of the same Jo Malone colognes you do (this is exactly how Jill and I became best friends — wearing the same [retired!] perfume combination).
This means that a modest collection (say, 3 – 5 bottles) of Jo Malone cologne can offer you dozens of combinations to play around with and to switch up as it suits your mood. You really feel like an apothecary set free into a wild, British garden, obsessively mixing your ingredients in an effort to strike gold — fragrance gold, that is.
And it's this evolution — this fragrance evolution — that I find most interesting about Jo Malone colognes. I'm never done exploring or experimenting with them. And because they are so distinctive and yet layerable, I can evolve my scents as I myself evolve over the years, discovering new favorites over and over as my tastes and palettes change.
So without further ado, here are the combinations I've been LOVING since my last post in September:
More of My Favorite Jo Malone Combinations:
Peony & Blush Suede is one of my all-time favorite Jo Malone scents — it's a musky floral fragrance finished with a smooth suede note that's beautiful to wear on its own. But combine it with this year's limited edition Nasturtium & Clover (from the Jo Malone Herb Garden) and you get one of the most wearable and long-lasting cologne combinations I've yet discovered. The enchanting, earthy notes from the clover and nasturtium really bring out the suede in the peony cologne. It's both feminine and unexpected — the peony notes are still intoxicatingly evident but in a way that feels less cliché and more spell-binding.
If you have a chance to try these two together before the Nasturtium & Clover cologne sells out, I highly recommend this blend! It's been my favorite combination lately — well, at least until Hubby pointed out how quickly I was going through my Nasturtium & Clover bottle… now I'm saving this magical combination for special occasions.
If you want to feel wild and free and yet somehow refined and tame at the same time, try this combination and prepare for the inevitable adventures that will follow!
Come July ALL I ever want to wear is Jo Malone Red Roses. July rose-season here in the Midwest and Jo Malone's multi-layered rose scent is one of the most unusual and true rose fragrances I've found. I wear it NON-STOP for weeks during the hottest days because I find it less cloying in humidity than most other floral fragrances.
But mix all those rose notes with this year's limited edition Wild Strawberry & Parsley (also from Jo Malone's Herb Garden) and you get one of the most intriguing summer scents I've ever concocted! The tart bite of the strawberry mingling with the soft, seductive rose makes a heady yet light fragrance that feels sultry and playful at the same time — such a perfect mixture for summer parties!
Of all the combinations I've ever tried on my skin, this is one of the longest lasting too, meaning when the humidity rises and I inevitably begin to sweat, I at least smell good doing so…
If you're looking for a summery combination with serious DEPTH, try this blend!
I could wear Wood Sage & Sea Salt solo happily for the rest of my life. It's the sort of haunting scent that lingers with you for days, intriguing you with its understated yet rich, salty notes.
But combine it with this summer's limited edition Nashi Blossom (previously reviewed here) and you get one playfully sophisticated scent that takes my favorite woody cologne to a far more whimsical place.
The bright, floral notes from the Nashi Blossom warm up the woody, salty notes from the Sea Salt cologne in a really distinctive way — I can't ever remember smelling a combination quite like this. There's just something about this blend that I can't put my finger on. It lingers in a really subtle yet somehow still powerful way. It's enchanting and delightful while still being grounded in the salty reality of the English seashore.
If you're looking for something powerful yet playful to wear for evening cocktails on the patio or for a really important presentation at work, try this combination and be ready to SLAY!
The most refined combination I've yet discovered!
Lily of the Valley & Ivy is a limited edition cologne from last year's Rock the Ages collection. Inspired by the elegance of the Georgian period (think Jane Austen-inspired gardens), this fragrance also happens to be Jo Malone's first highlighting my favorite flower, lily of the valley (which I carried on my wedding day). On its own it's a beautiful, water-drenched floral scent rounded out smoothy with the ivy notes.
But mix in the tea-inspired Earl Grey & Cucumber and you discover the seductive mixture of teas blended with florals. The heavy bergamot notes from the Earl Grey counter-balance the wateriness from the cucumber and lily of the valley in a way that can't help but evoke a sunny afternoon tea service.
If you want a combination that'll take you back in time (or just fuel your Anglomania), try this classic, British combination… that is, if you can get your hands on a bottle of the now sold-out Lily of the Valley & Ivy cologne.
Which combinations sound most enticing to you? Have you discovered any new favorite combinations lately?