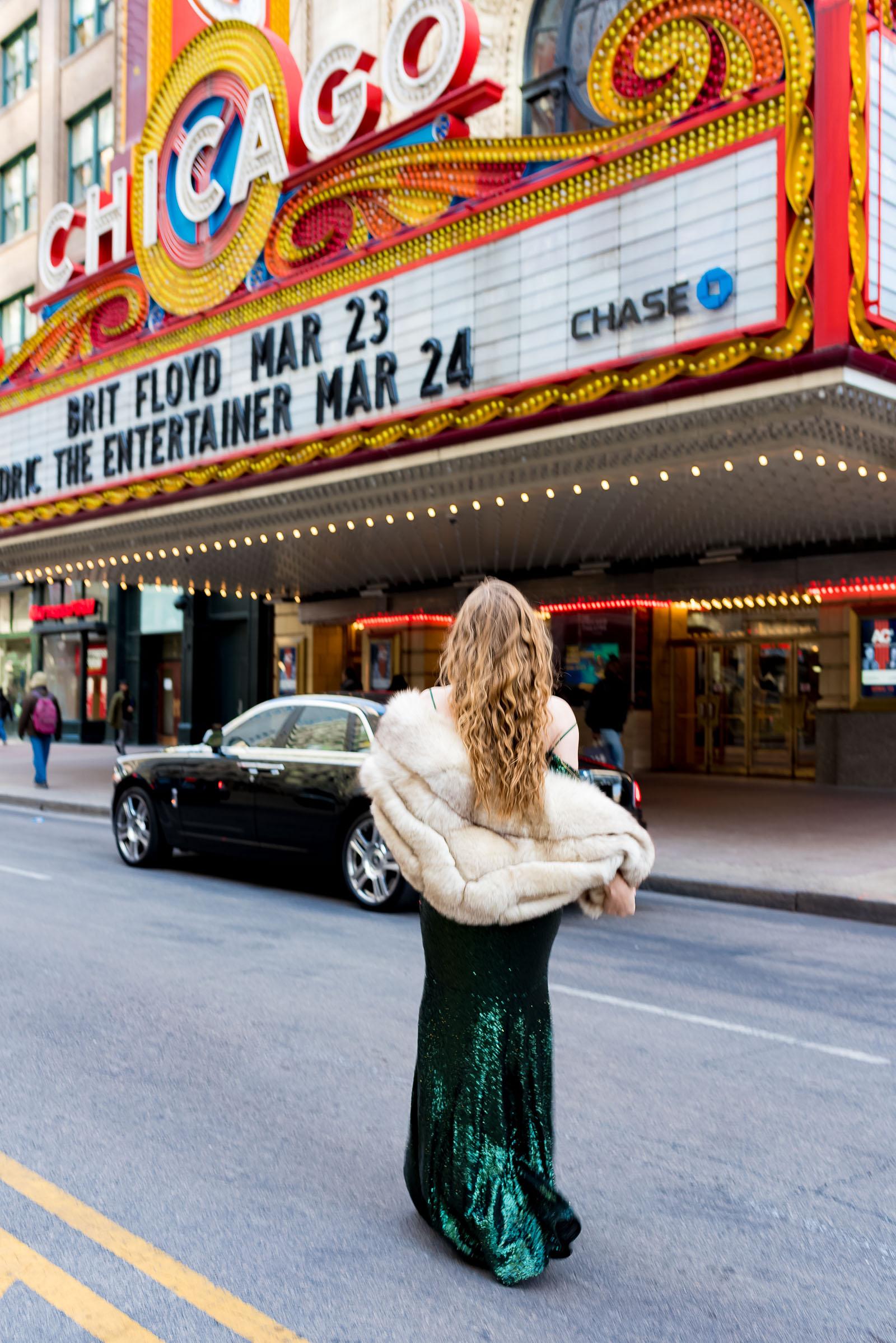 Oh, Chicago, you beautiful city, you.
I just love my hometown and I truly love living here. But for the past four years, what I've enjoyed most about Chicago is SHARING my hometown with all of you here on the blog. Whether it's a new hole-in-the-wall restaurant, an exciting event, or a really cool photoshoot location (or just one massive Travel Guide), I love sharing this beautiful city with you.
So last month when one of my favorite Chicago hotels, The Peninsula, asked if Ali and I wanted to explore Chicago in their new, signature green Rolls-Royce Phantom VIII, I just about jumped out of my seat.
Touring my favorite city in one of the world's most luxurious cars?
Yes. Yes, please!
(HOLY CRAP PINCH ME)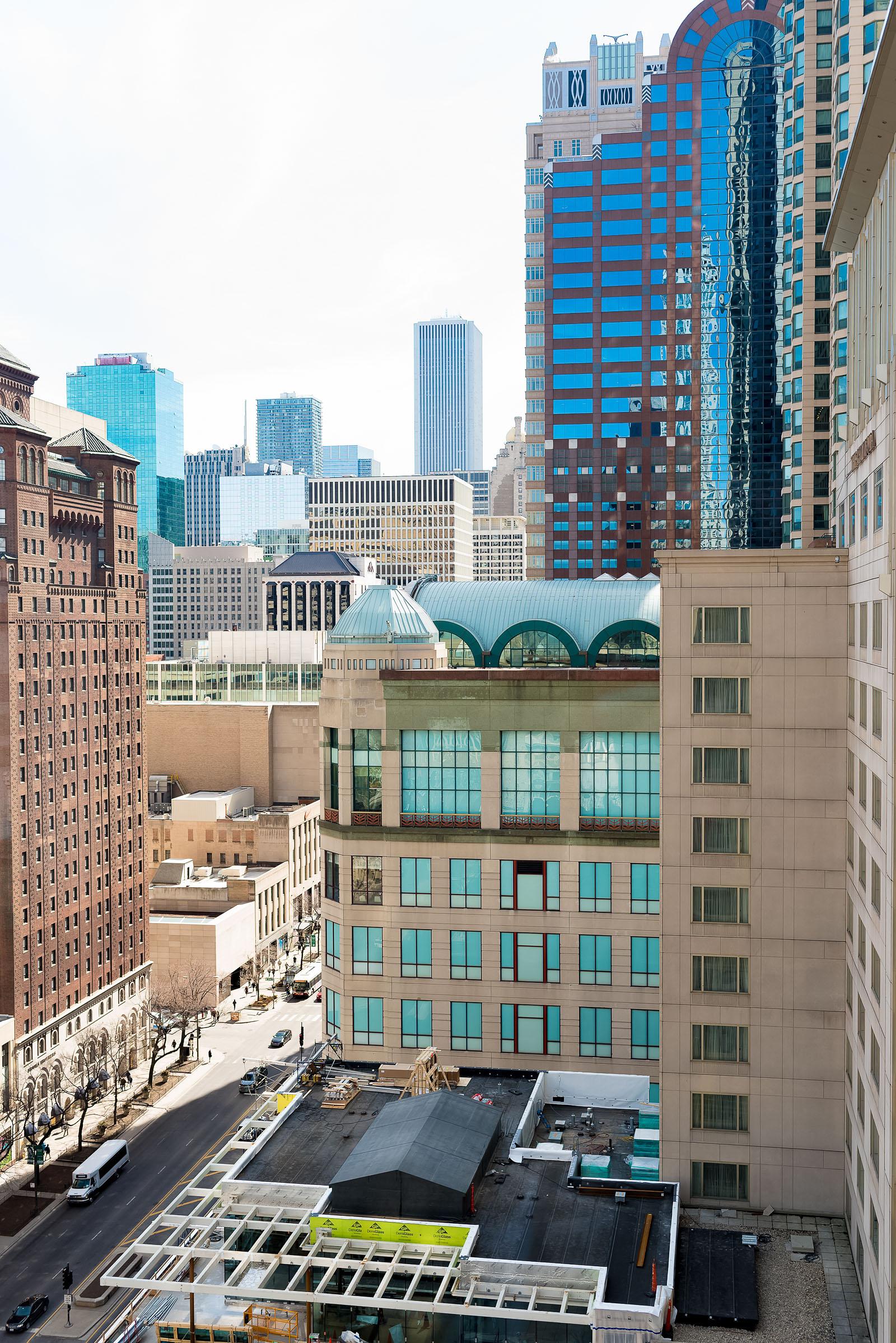 You've long known of my affection for The Peninsula here in Chicago. It's the first hotel I ever really fell in love with — everything from the stunning architecture to the insanely kind staff to the killer pastries has me coming back time and time again, year after year.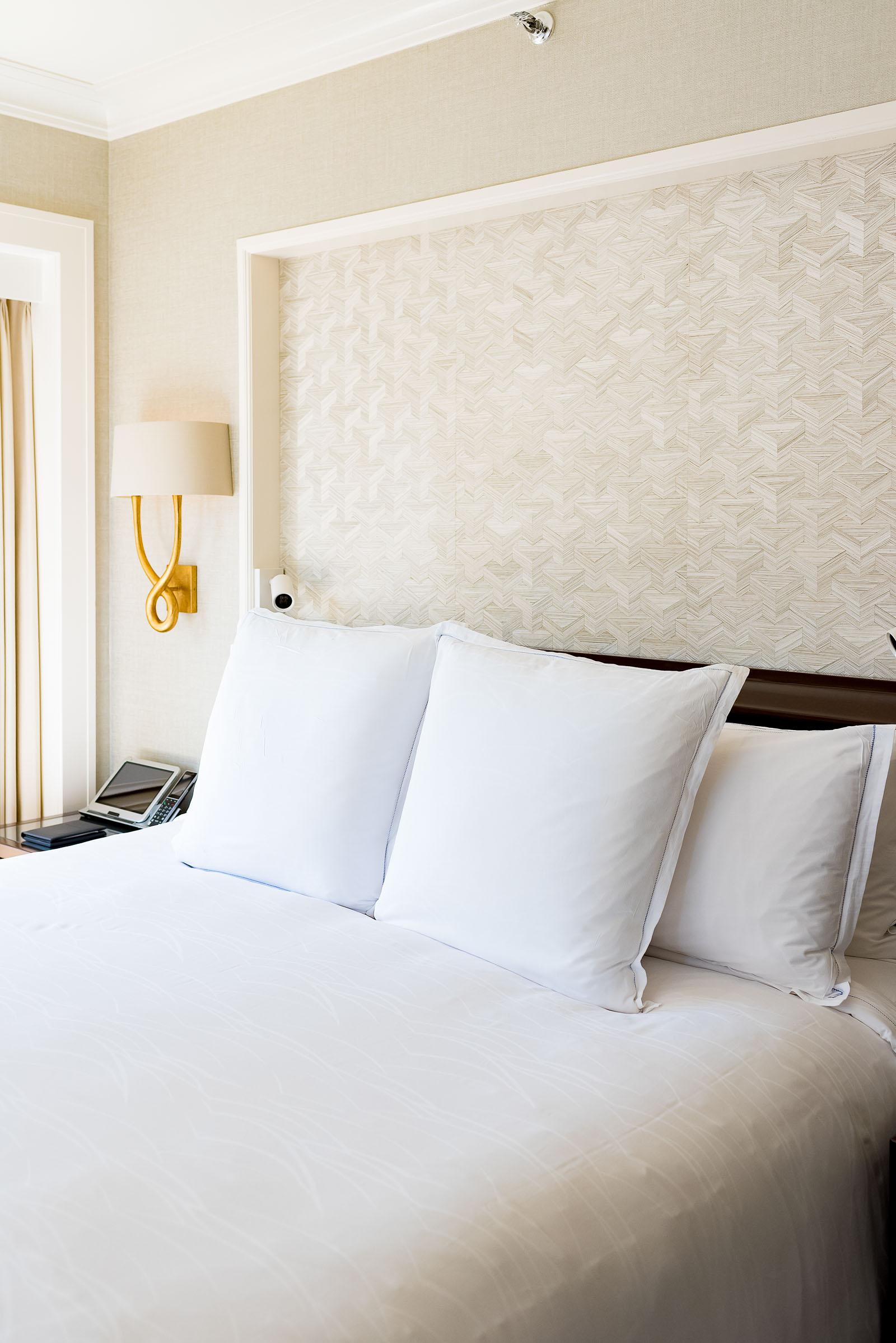 And the rooms… don't even get me started on how luxurious the new updates are!
Last summer I had the chance to stay in one of the new suites for a girl's staycation and it was absolutely incredible. Especially ordering room service from the in-room iPad!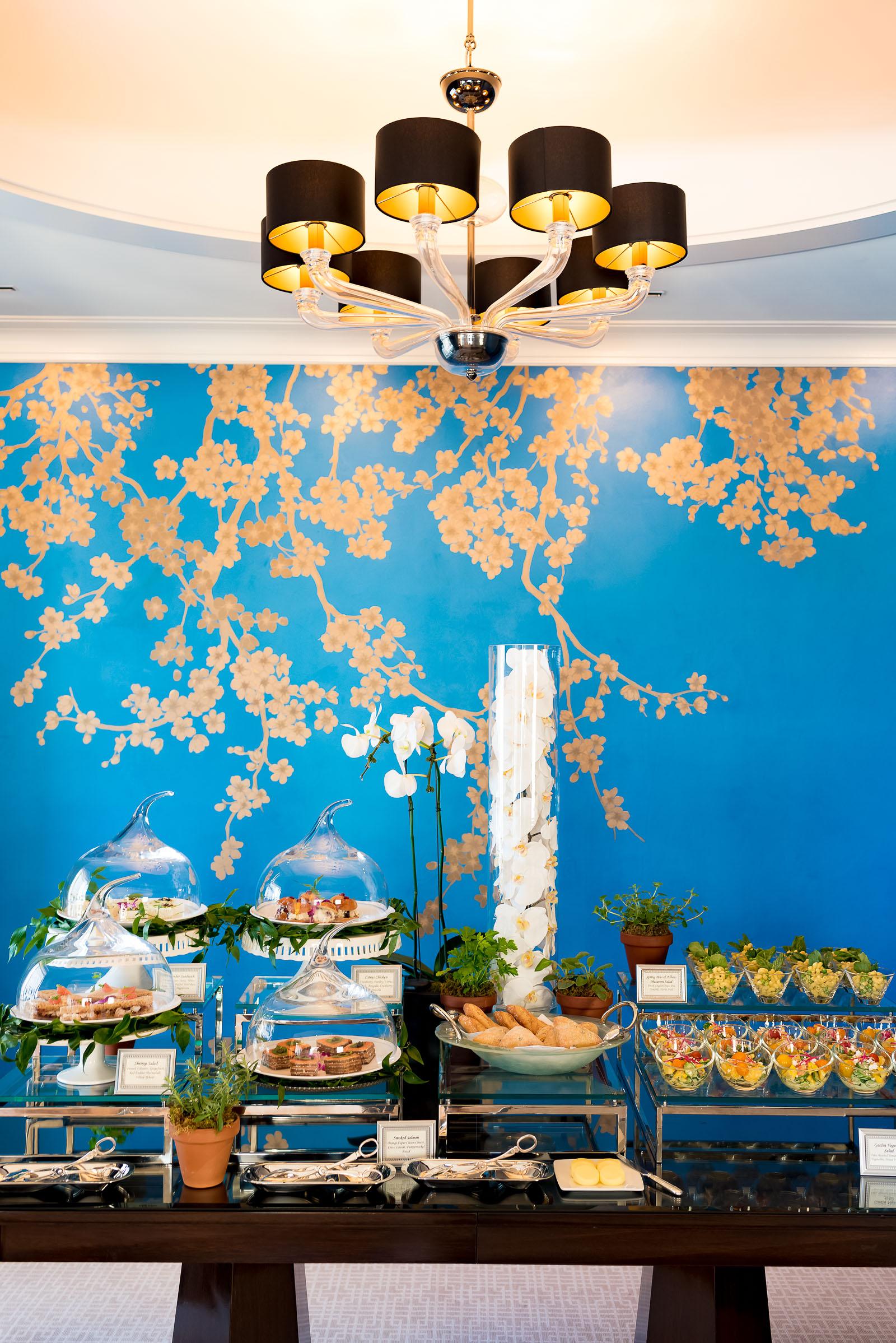 Needless to say, The Peninsula has long been the standard for luxury in Chicago — proven in each and every perfectly executed detail of the hotel.
And ever since the 1970's when The Peninsula purchased the largest fleet of Rolls-Royce cars ever produced (until The Peninsula broke their own record with their order for Rolls-Royces in 2006), these two luxury brands have had an incredible partnership bringing one-of-a-kind, world-class experiences to guests around the world.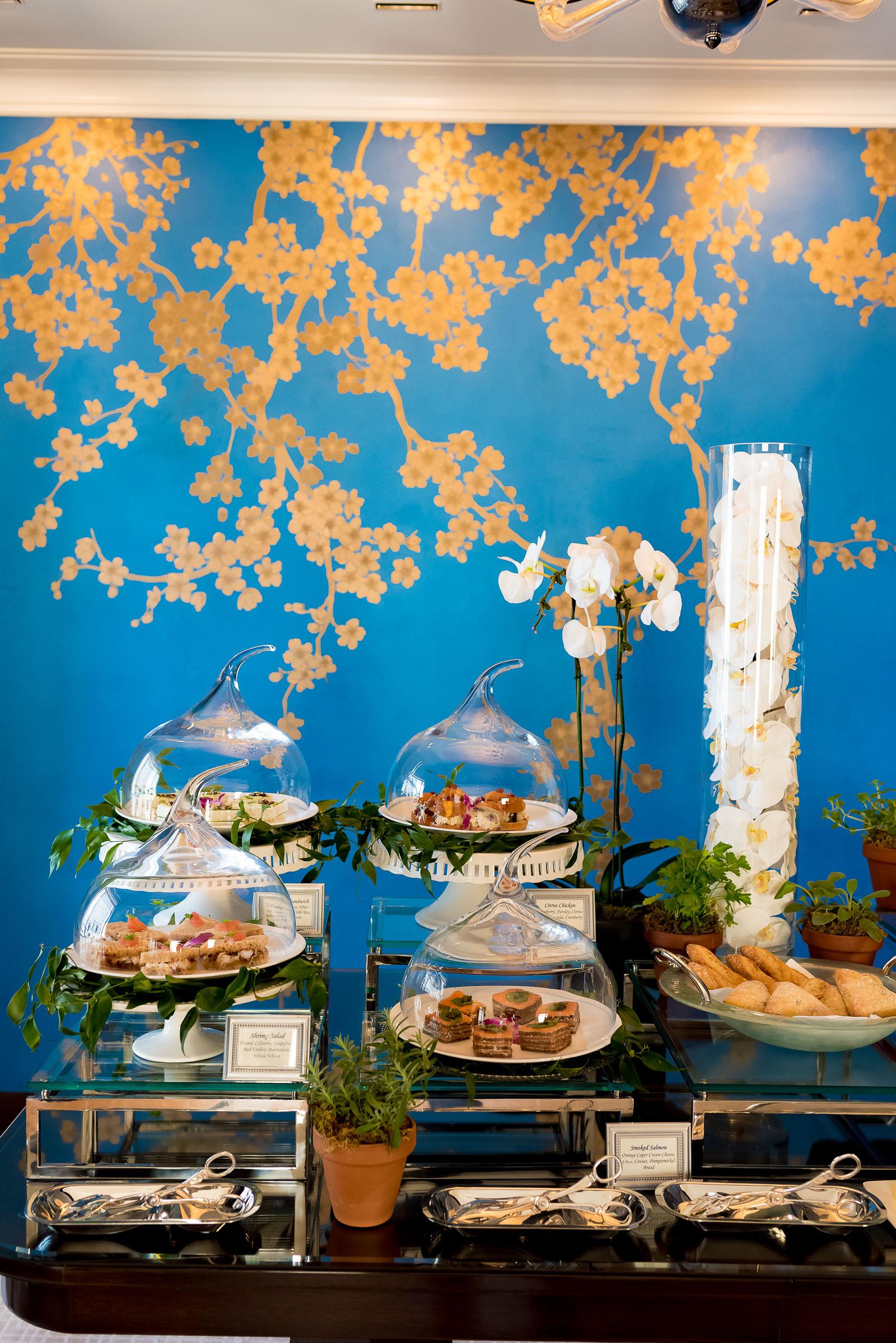 And, as of two weeks ago, the Peninsula Chicago is offering a new, very special package for those wanting to experience the best of Chicago AND Rolls-Royce: Chicago By Land, Air, and Water!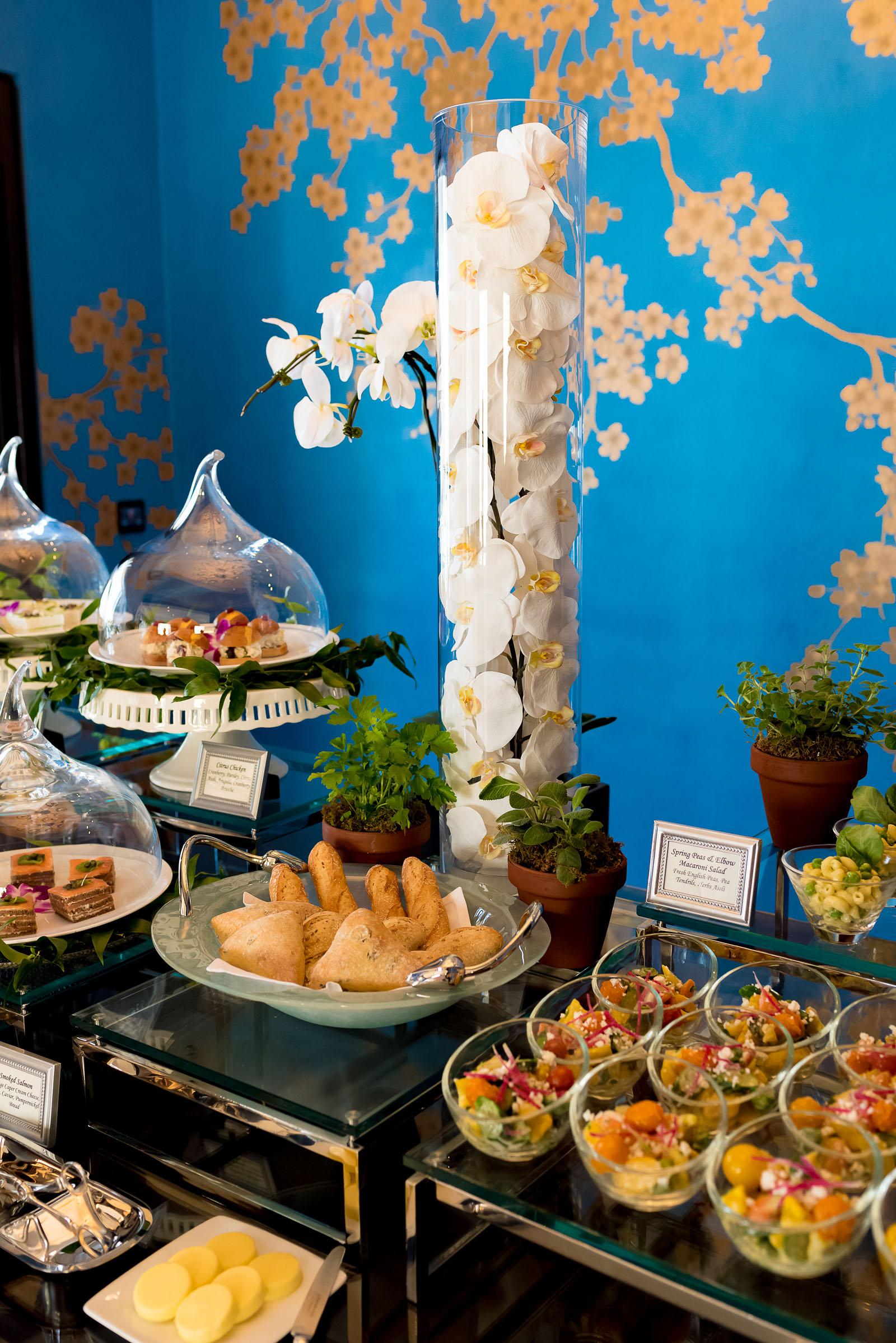 Guests are given the V.I.P. Chicago experience like you've never seen!
First you'll explore Chicago with a personalized tour in a Peninsula Rolls-Royce. Then you experience the city from above with Chicago Helicopter Tours. And finally you'll finish the day at sea enjoying a lovely cruise on the Lady Grebe with appetizers and canapés like these! Oh and then dinner at The Lobby that evening.
Talk about the PERFECT Chicago day.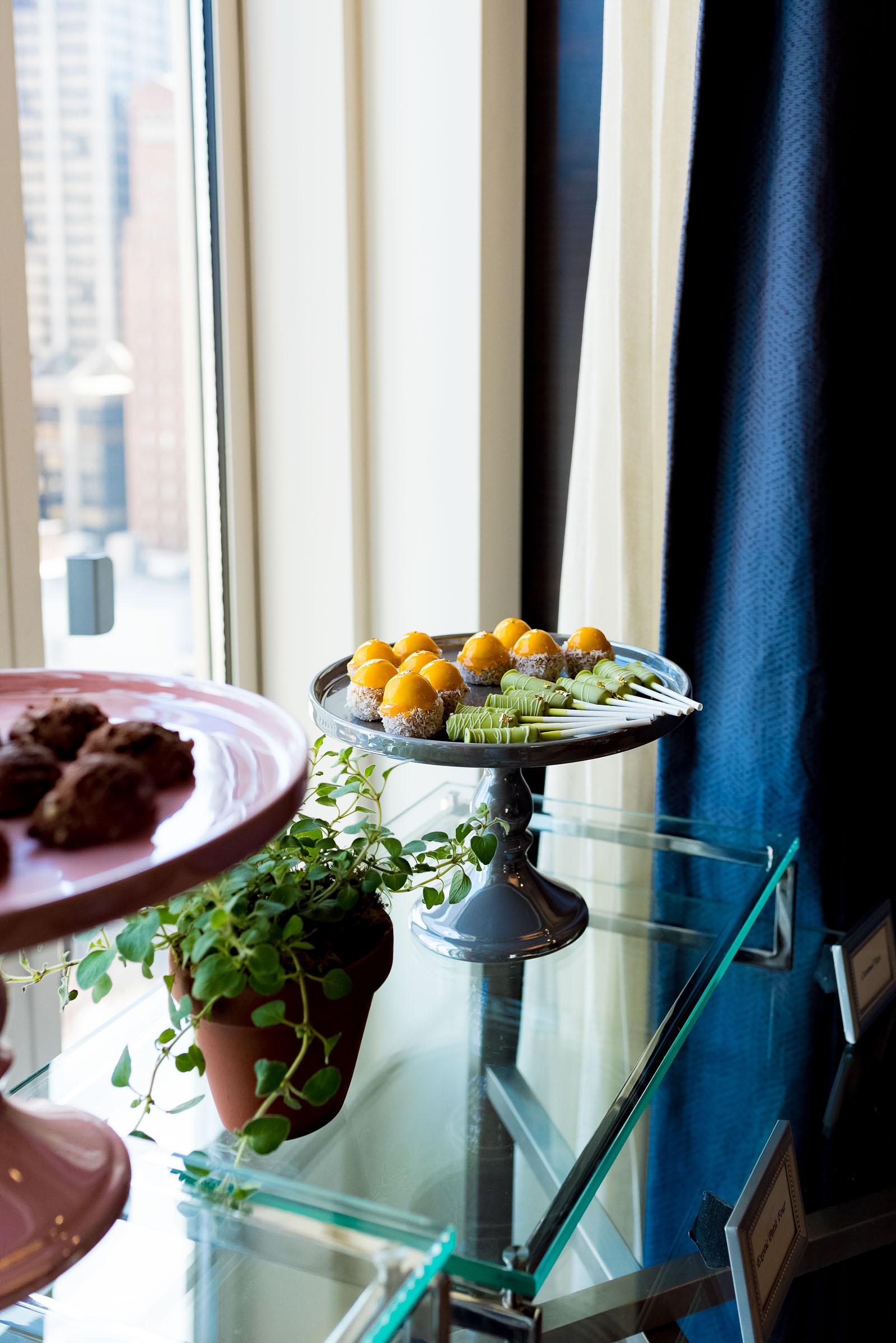 But it's one thing to read about it. It's another thing to actually experience Chicago with The Peninsula and Rolls-Royce!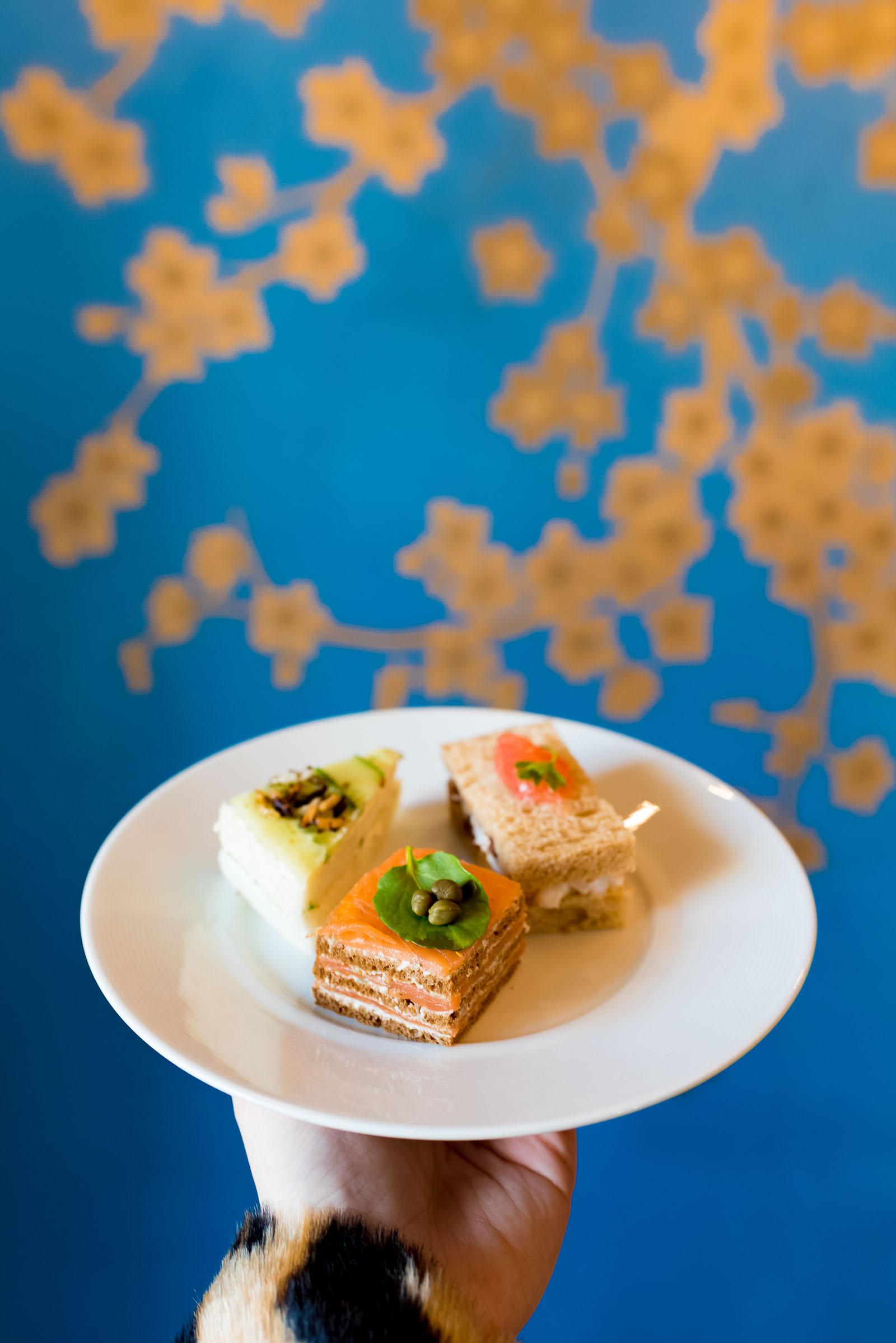 We started out our adventure with some nibbles including quite a few of my favorite afternoon tea sandwiches.
(Personally I think this smoked salmon sandwich is one of the best afternoon tea nibbles in all of Chicago!)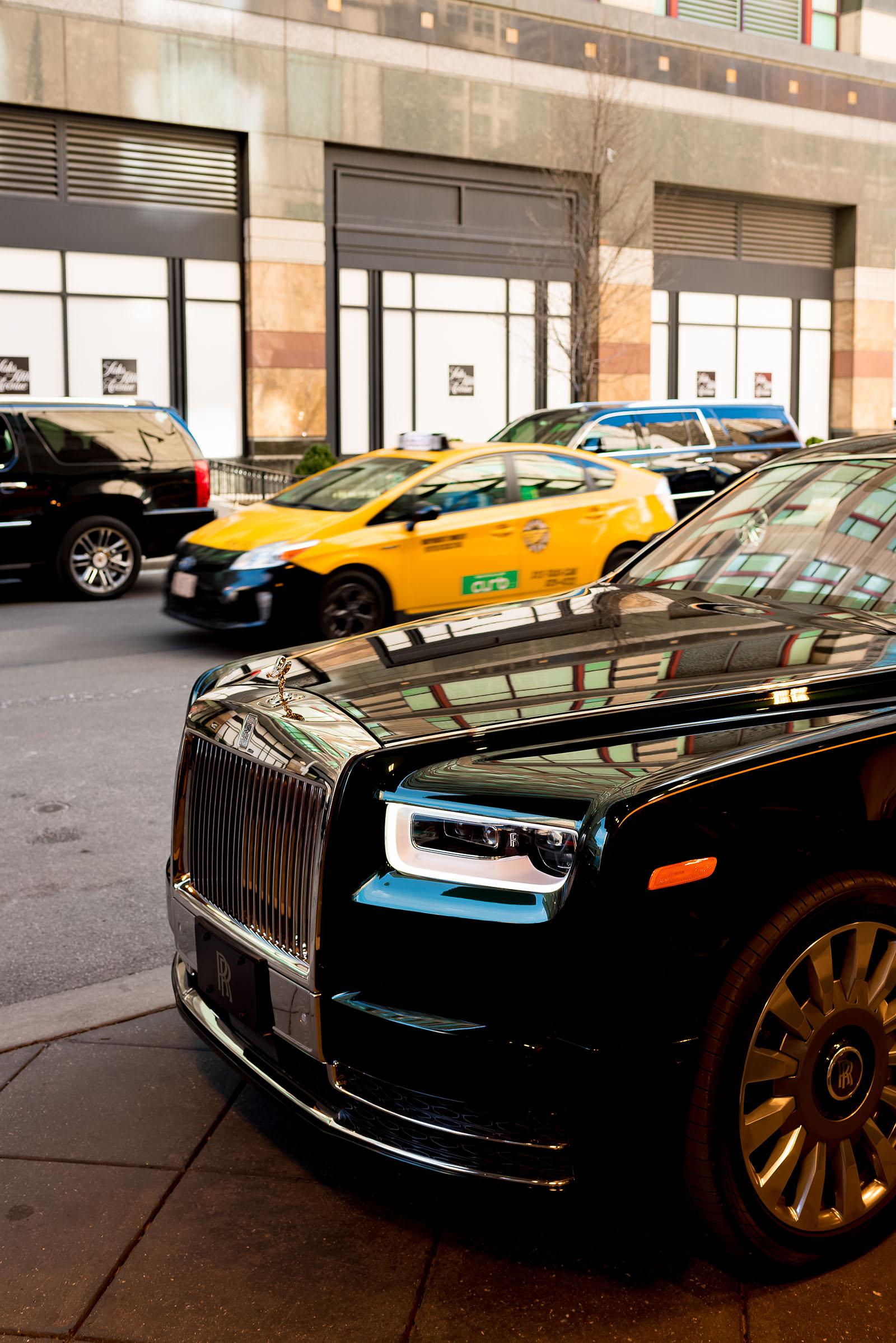 Then it was time to meet the Peninsula's newest baby…
The Rolls-Royce Phantom VIII.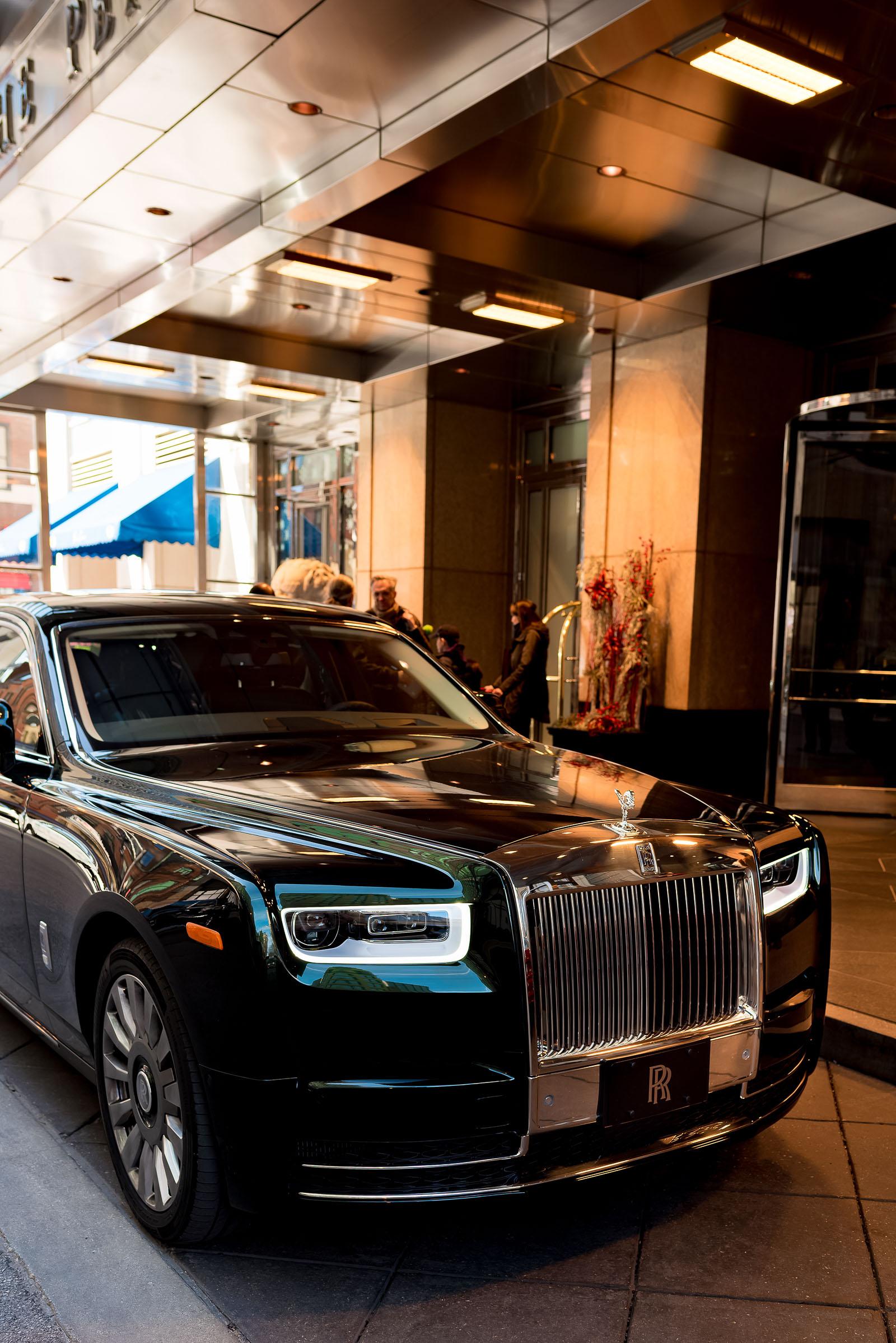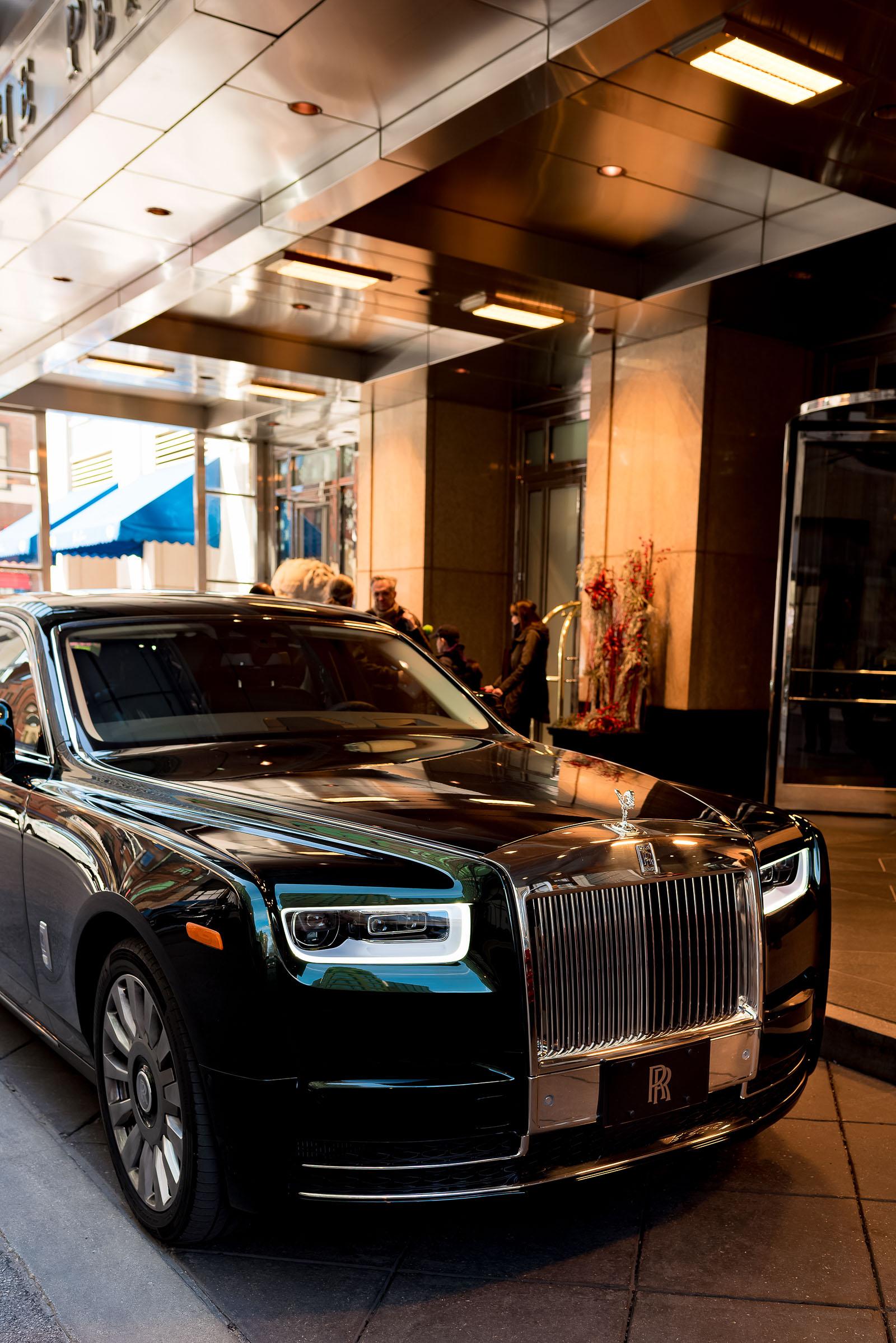 First debuted in 1925, the Rolls-Royce Phantom has become synonymous with ultimate luxury.
Just look at this beauty of a car!
I especially love that it done in The Peninsula's signature dark green hue — so very Bogart!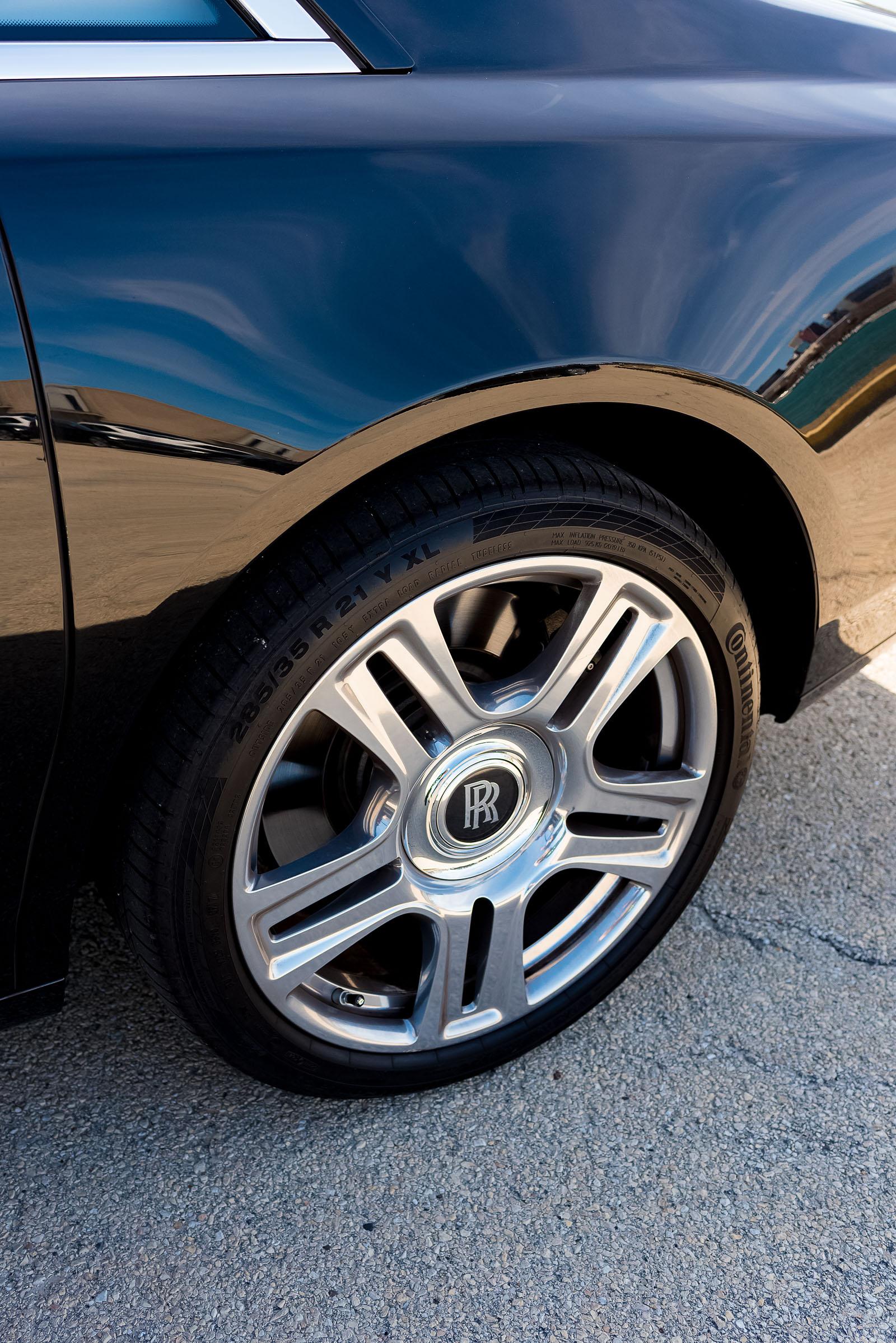 Every detail on this car is magnificent, with signature RR monograms found everywhere (and which, naturally, can be personalized with your own monogram instead).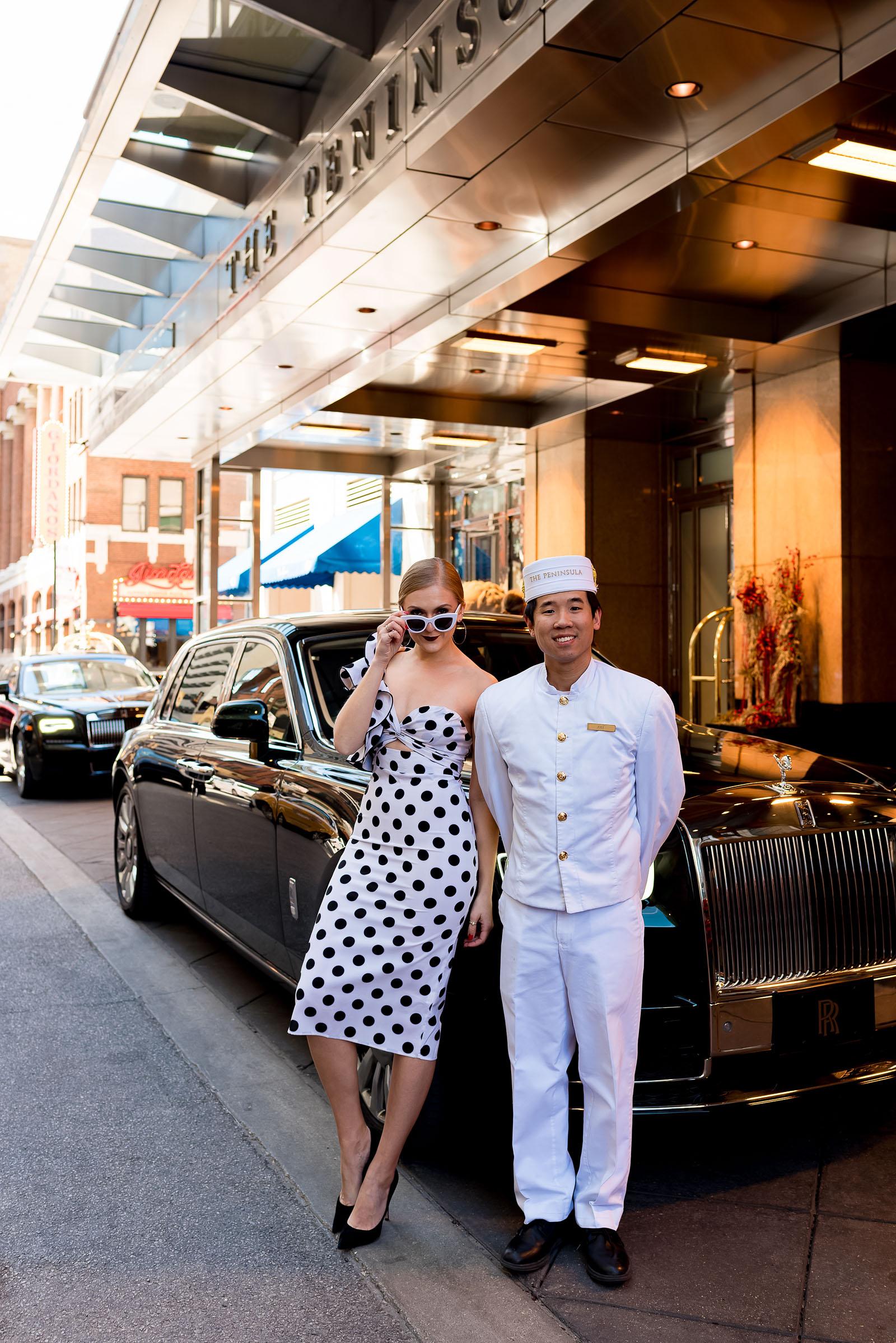 Ali and I couldn't resist the urge to shoot with our Phantom even before we stepped inside (the hotel entrance was just too good of a backdrop!).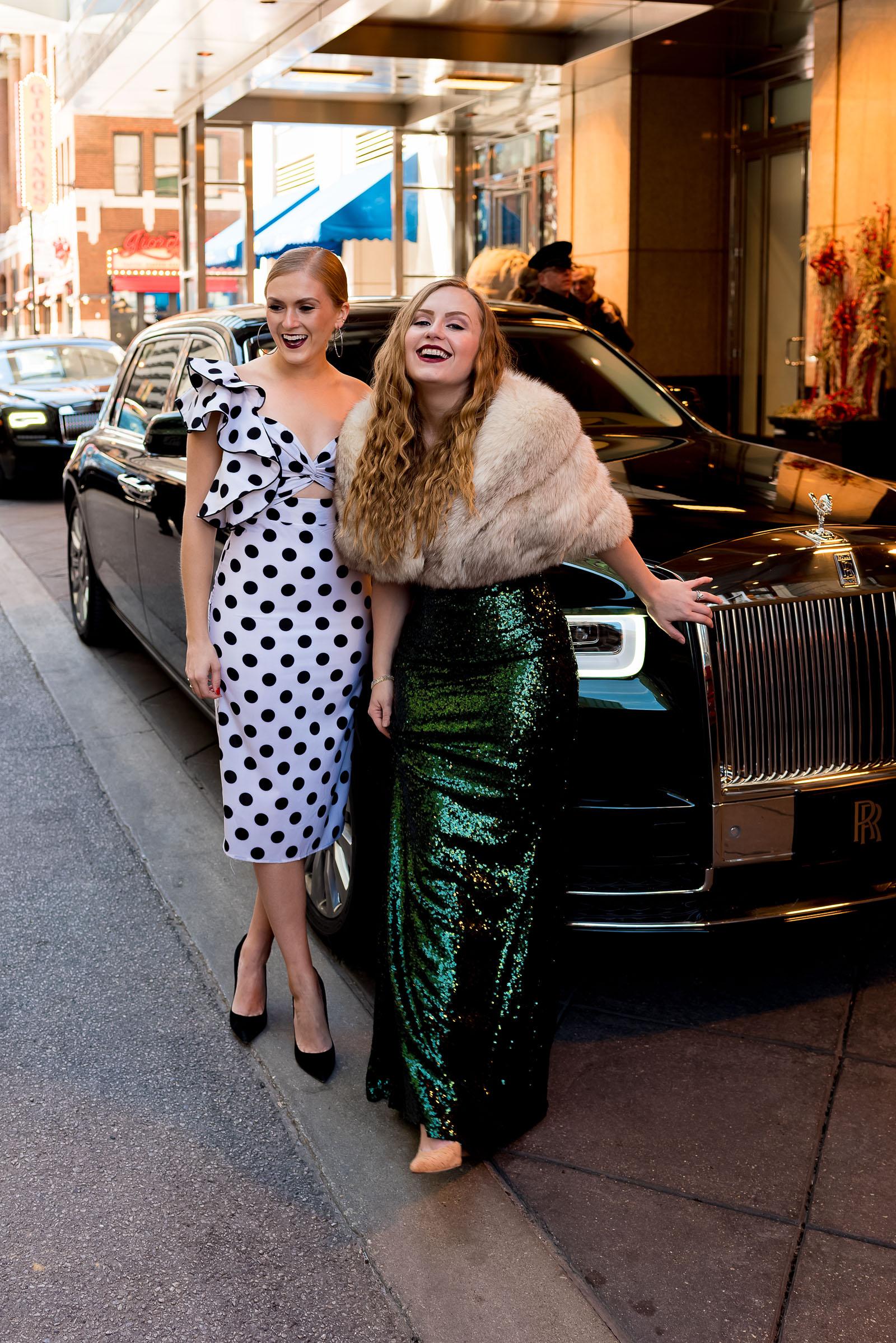 Then we were ready to start exploring Chicago!
Stepping into the Rolls-Royce Phantom VIII is one of those experiences that's hard to put to words.
Stepping into it with a full-length sequin dress though? No words…
Just pure, luxurious magic.
Each seat has a foot rest (controlled by a panel next to the passenger window), massagers, heaters, an iPad television and control system (control the music, browse the internet… anything your heart desires really!), and plenty of luxe finishes…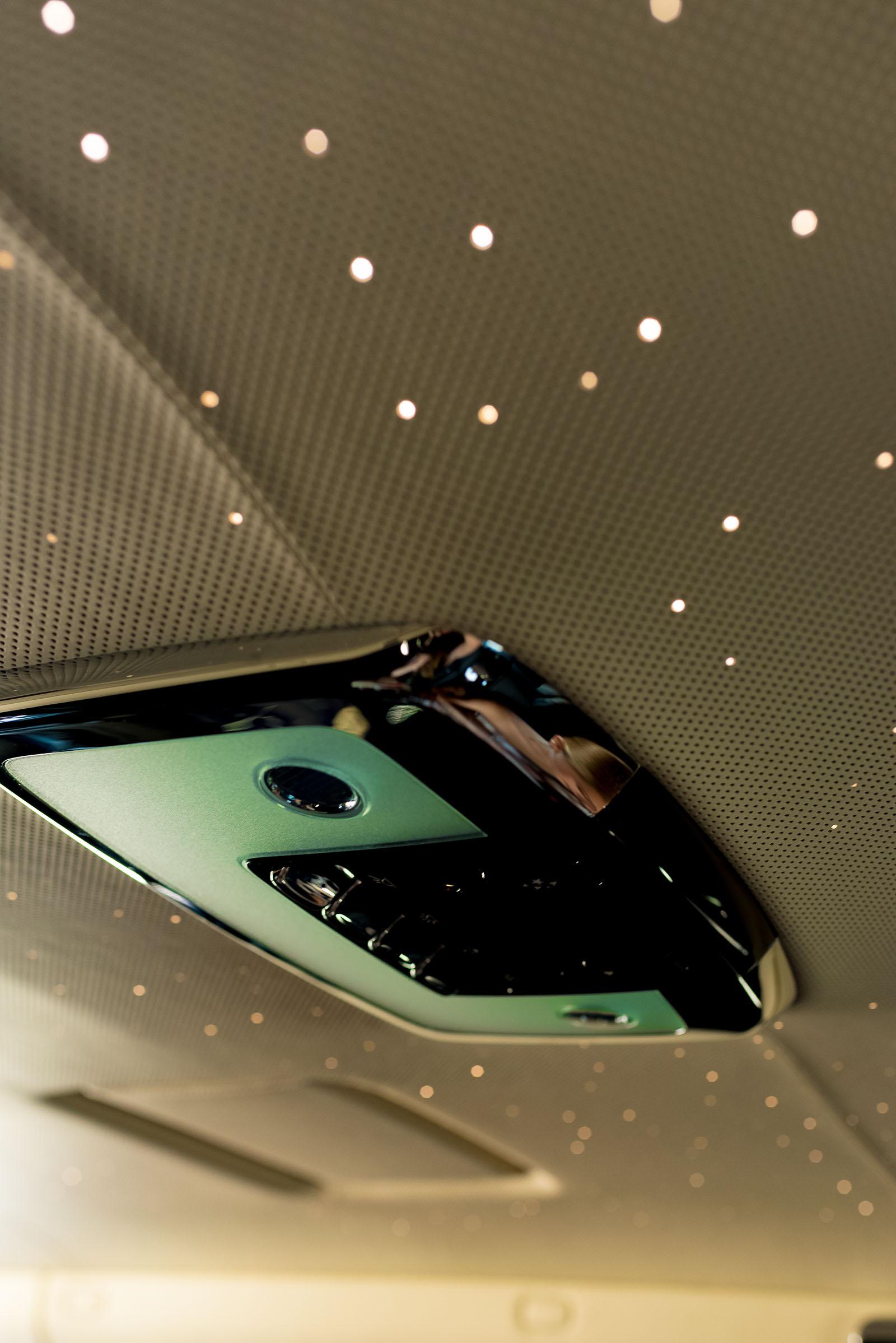 including my favorite detail: the starry sky!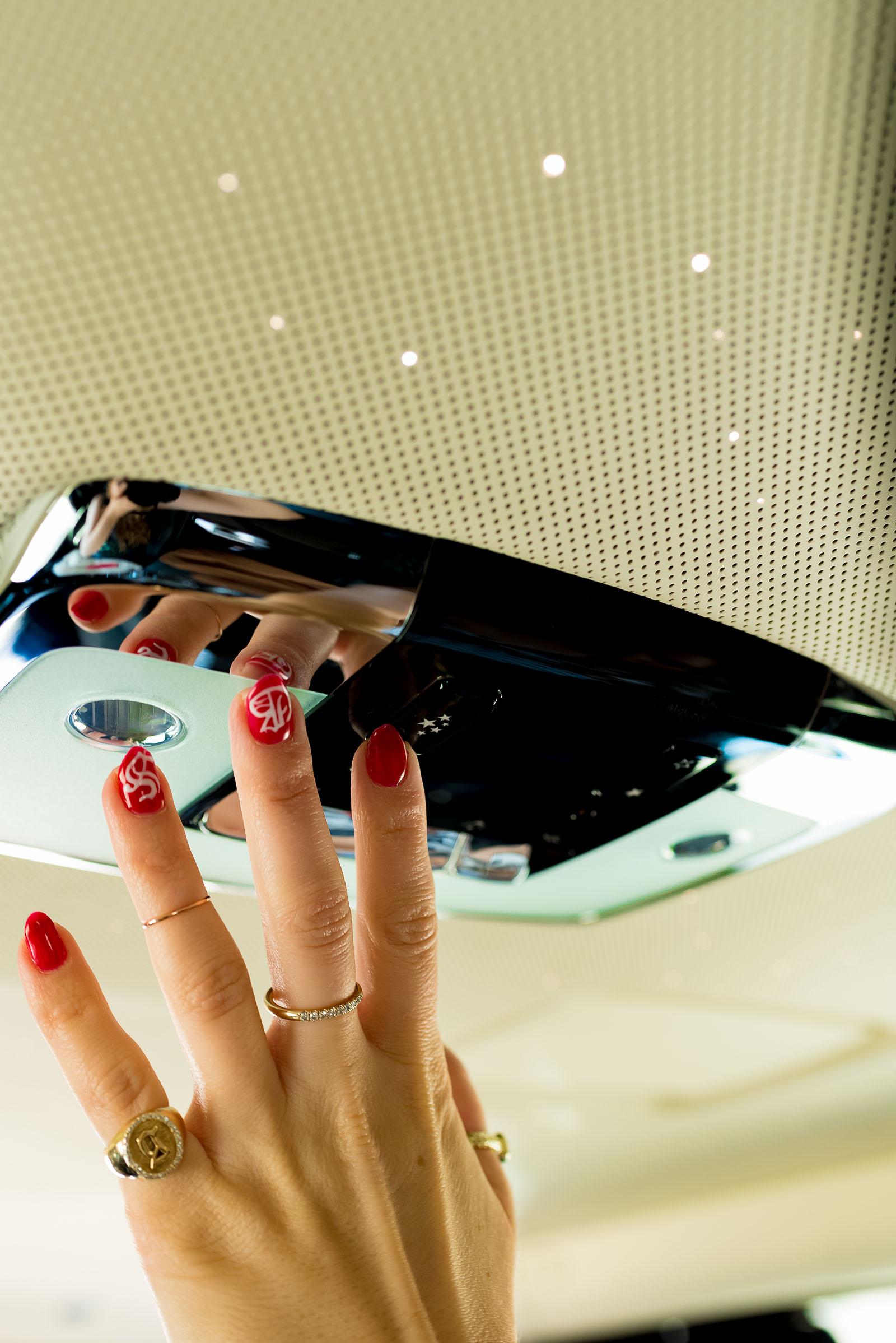 Controlled by its own "star button", one push and your car instantly becomes a magical starry night.
Just be sure to close the curtains to enjoy it in private darkness on a sunny day. Can you imagine how romantic it would be to drive home from a dinner date in the back of a Phantom like this?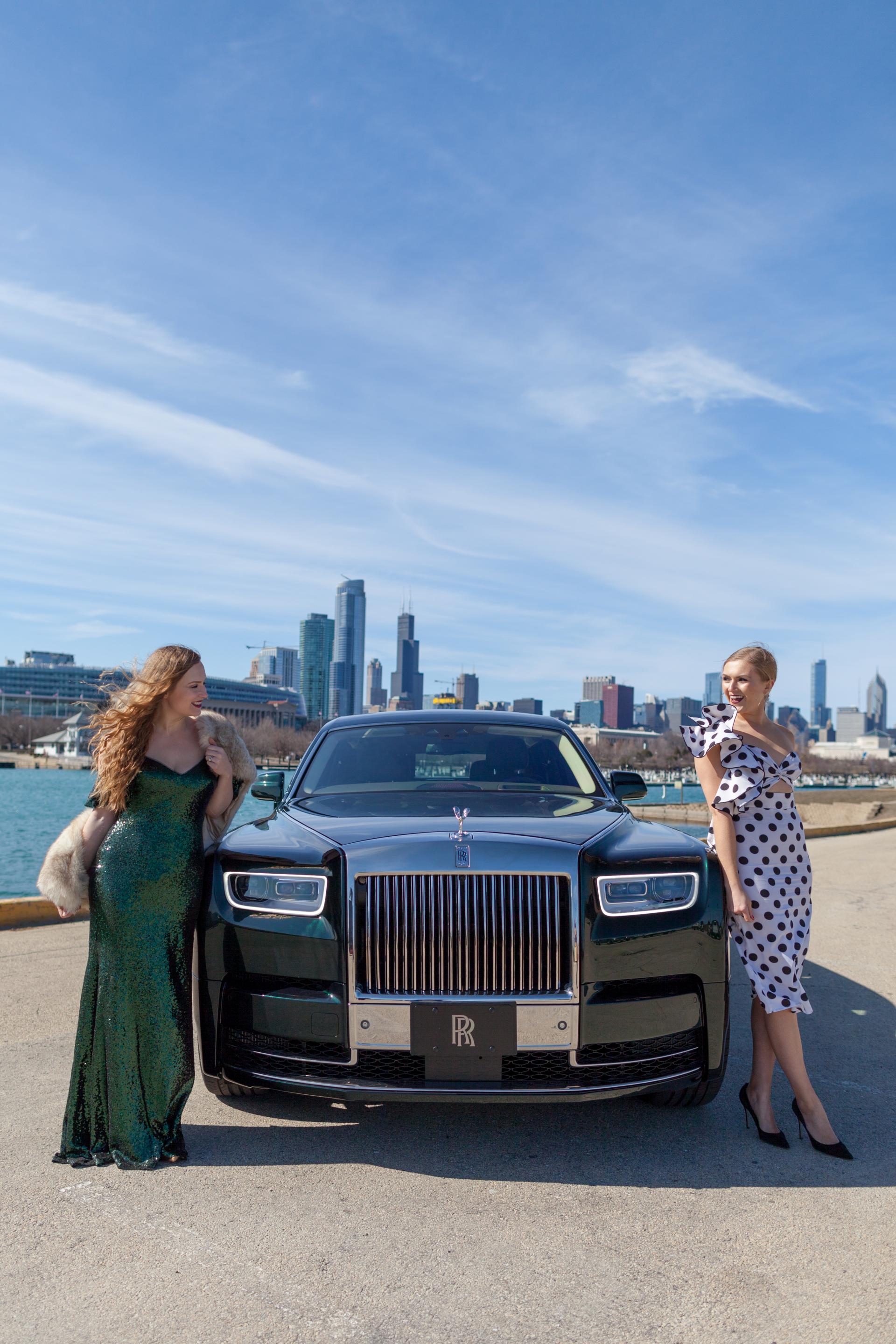 Photo Credit || That Car Clique
Ali and I drove all around Chicago in this Phantom VIII!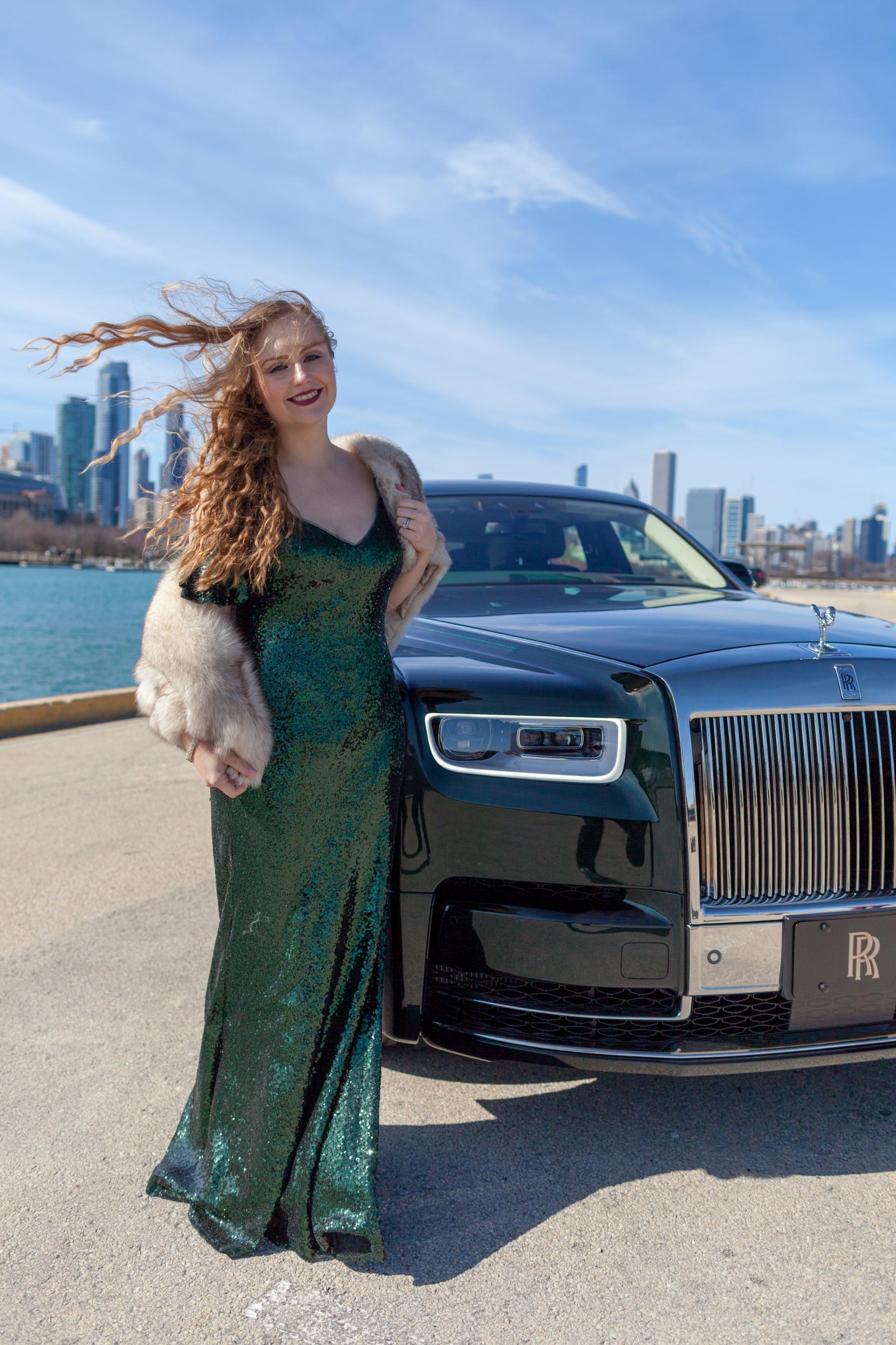 Photo Credit || That Car Clique
Stopping at one of my favorite photoshoot locations in Chicago (the pier by the Adler Planetarium) to shoot some skyline views with the Rolls-Royce team too.
Photo Credit || That Car Clique
Needless to say I felt like a movie star next to this car…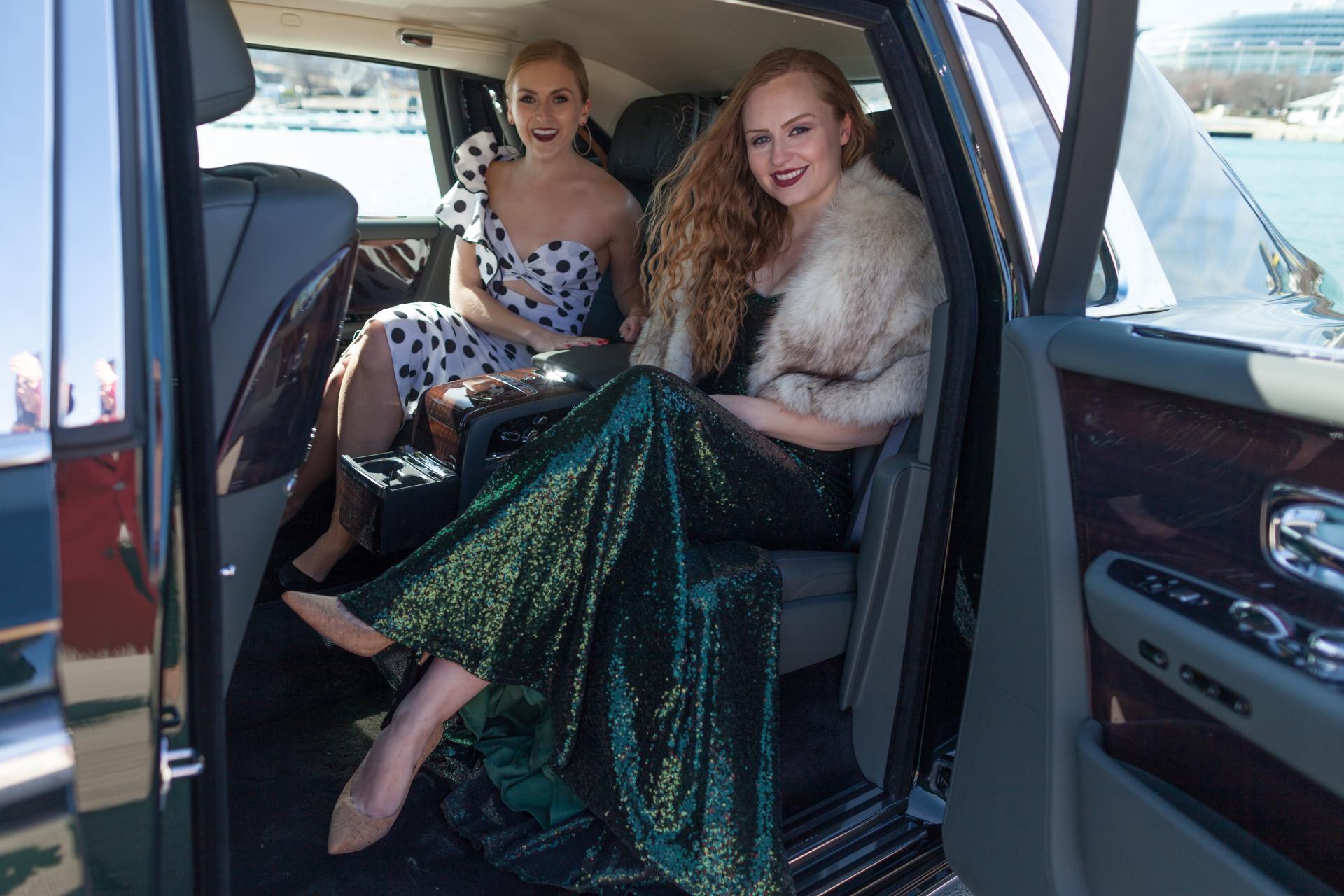 Photo Credit || That Car Clique
And never wanted to get out.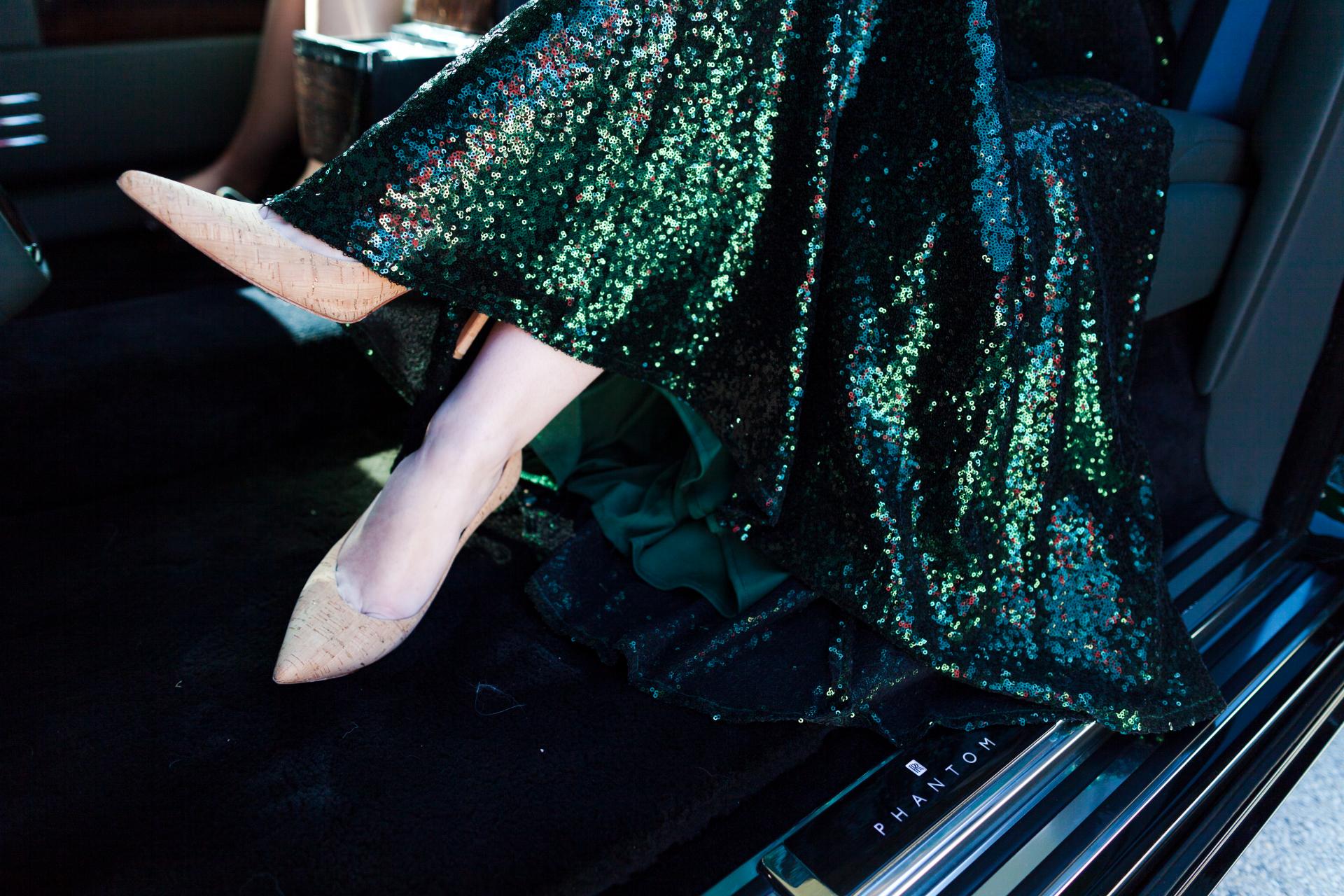 Photo Credit || That Car Clique
Can you blame me?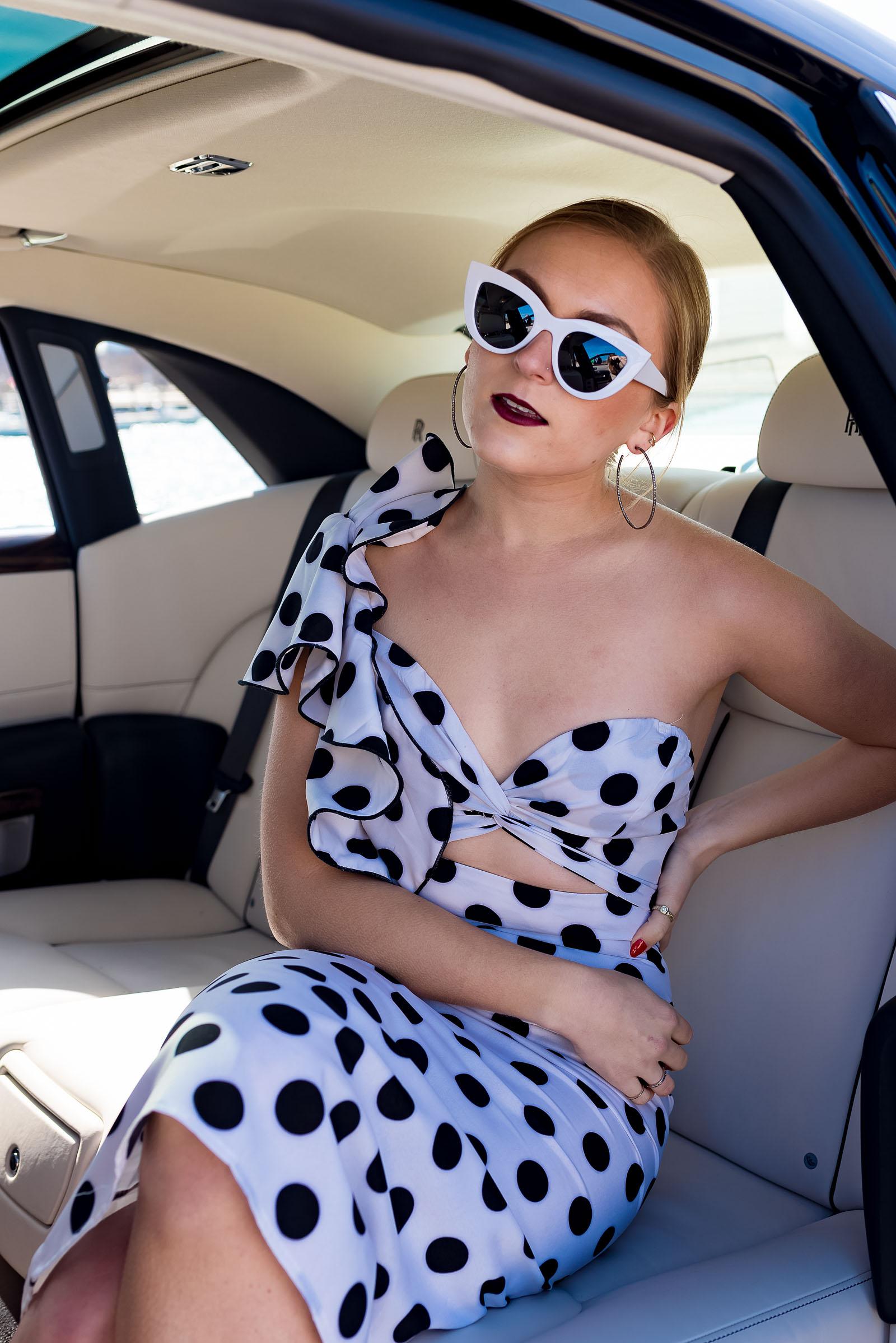 Most of you know I shoot with fellow photographer and blogger Ali a lot and I think these Rolls-Royce shots I got of her are some of my favorites yet!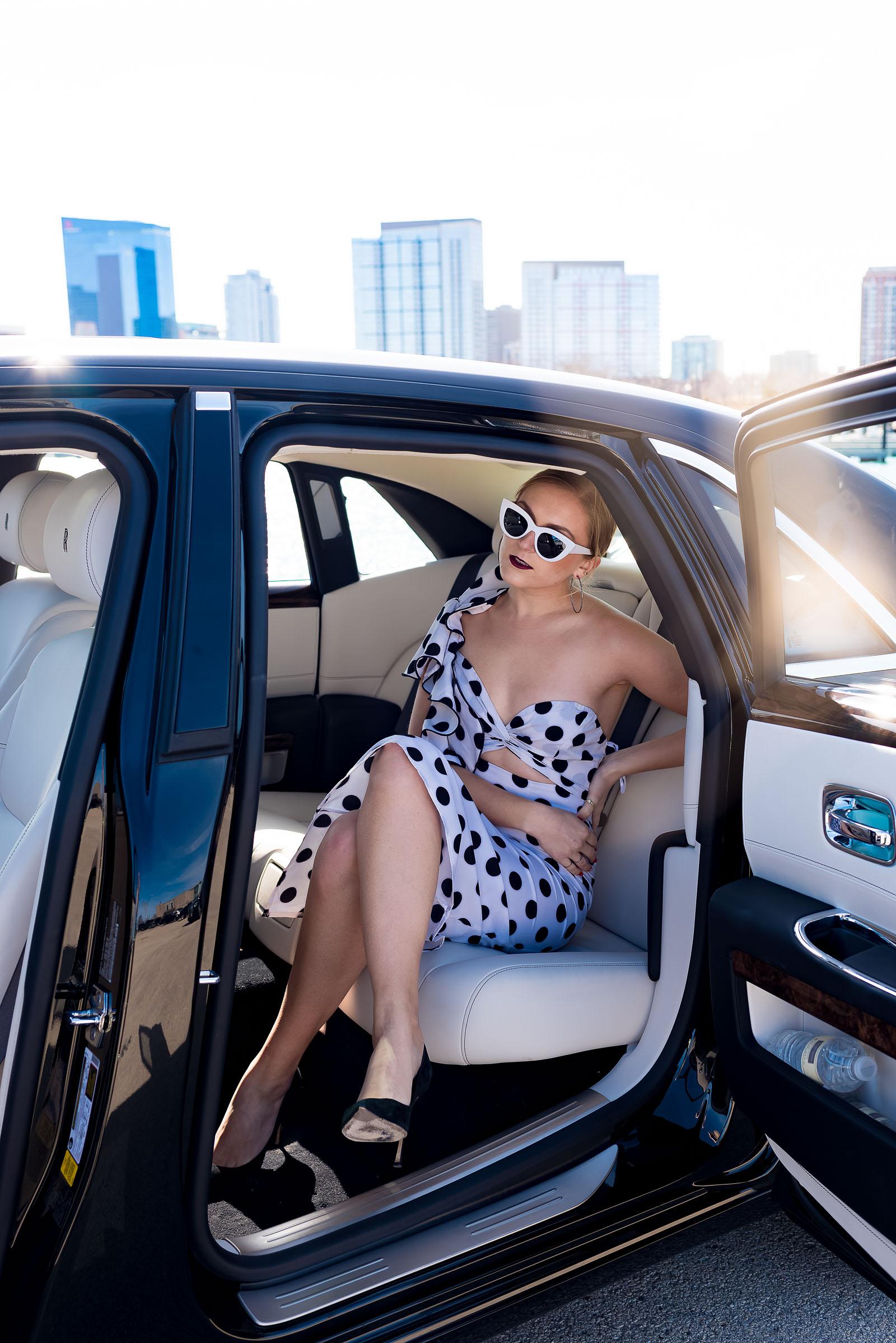 Between her killer polka dot dress, this sexy $600k car, and the beautiful city skyline behind, we couldn't have asked for a better shooting location!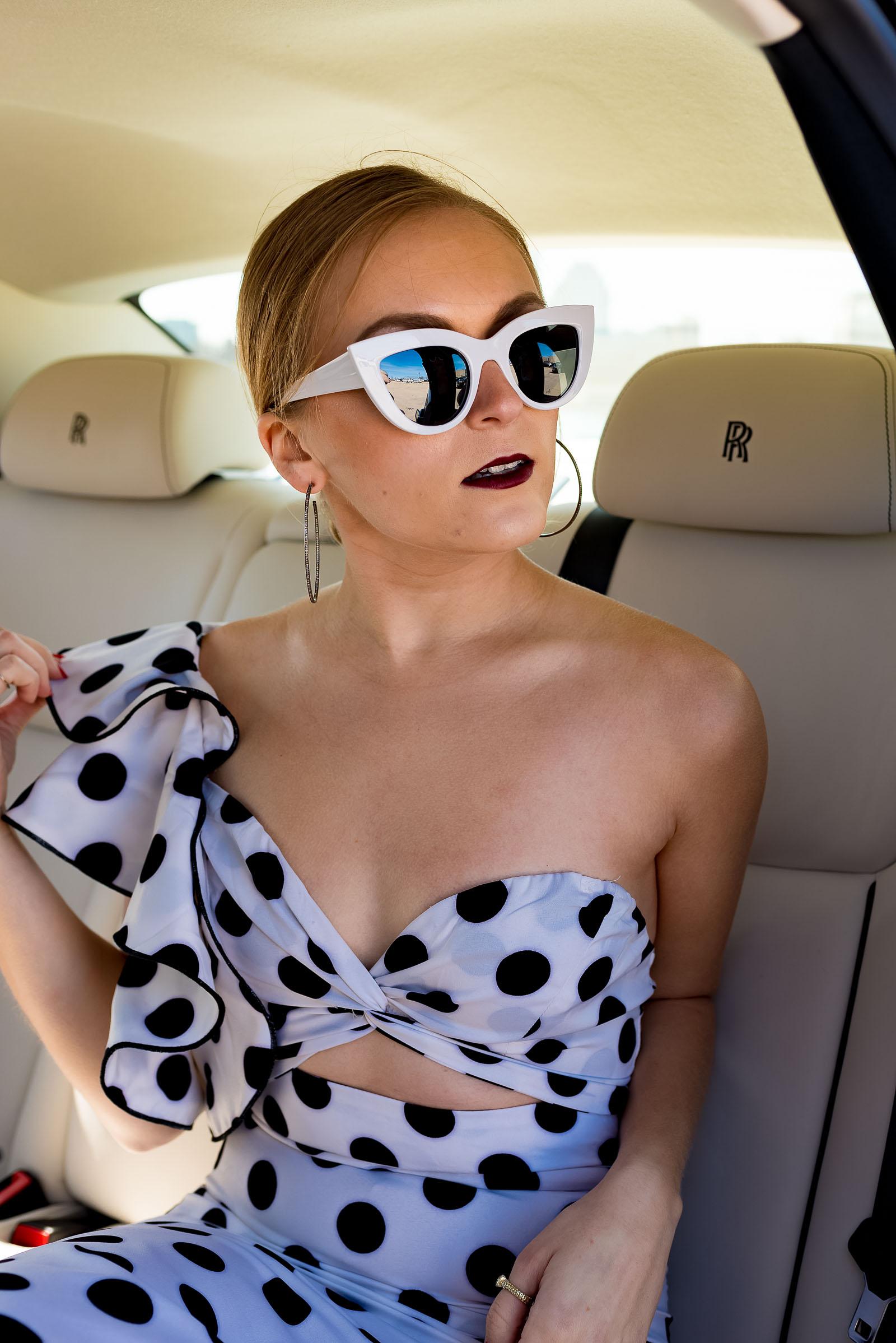 (P.s. you can snag these sunnies for $10 on Amazon!)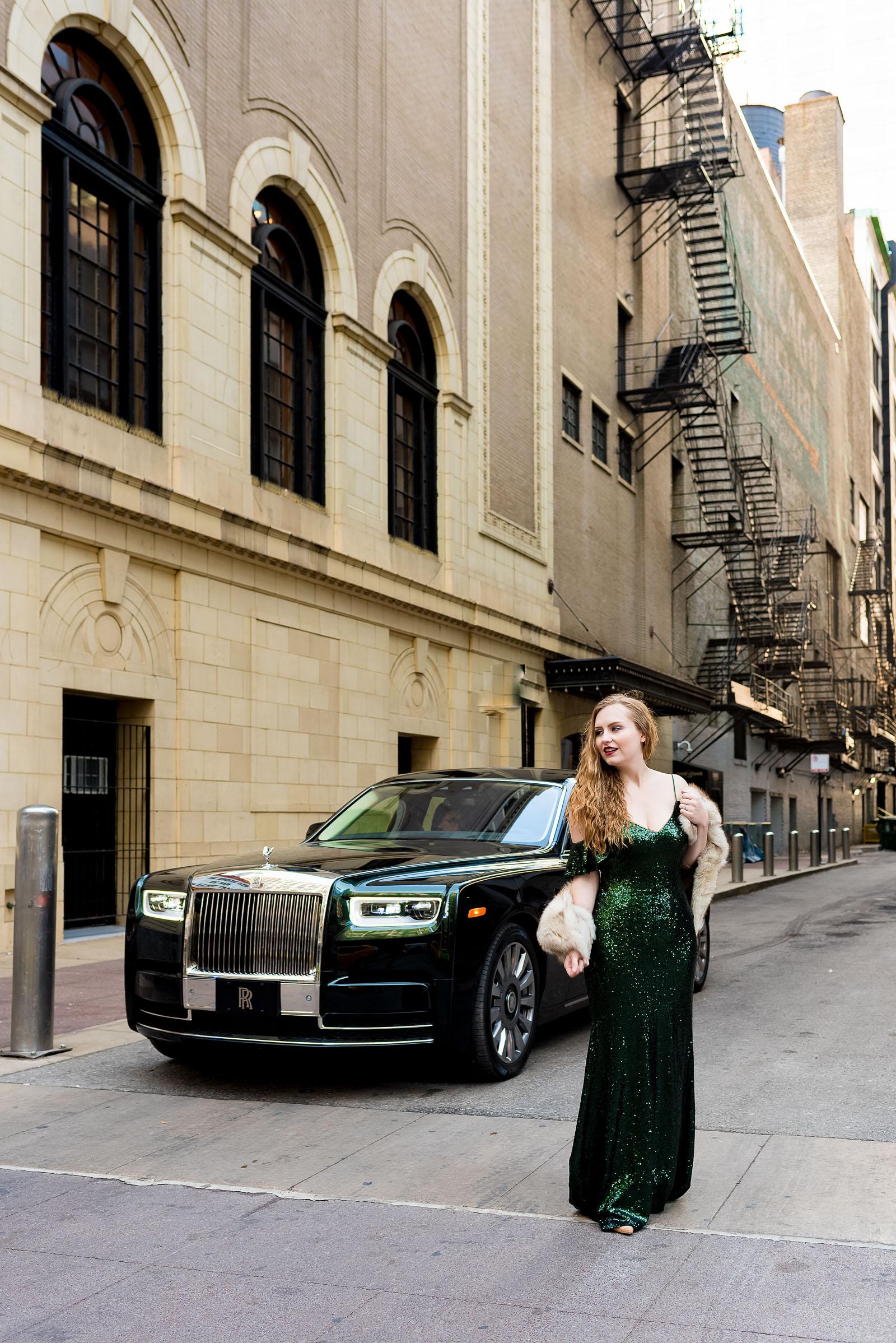 We continued to explore the city with our Rolls-Royce Phantom, getting looks and jaw drops from literally EVERYONE we drove by…
And even occasionally stopping traffic altogether…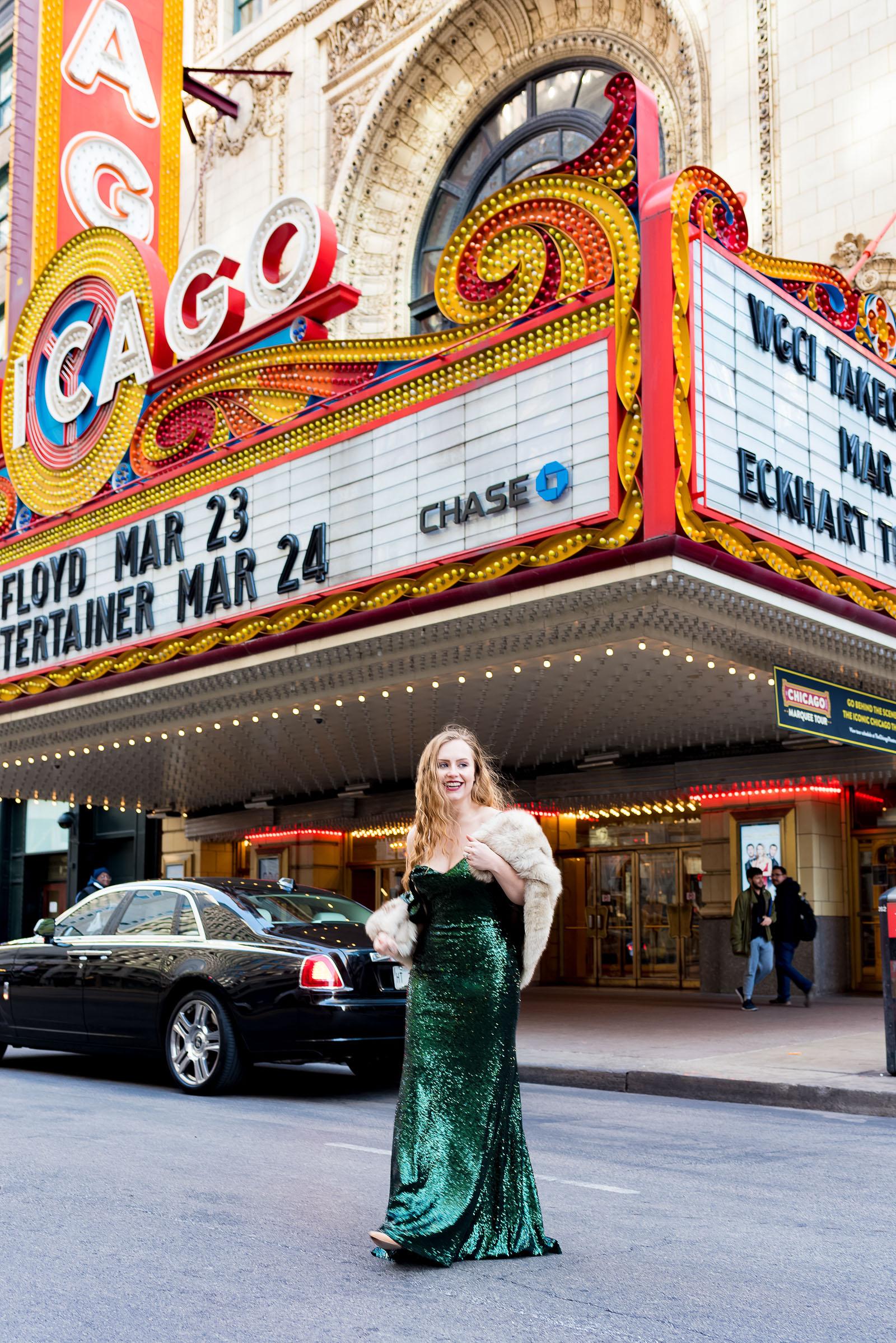 at some of Chicago's most iconic spots!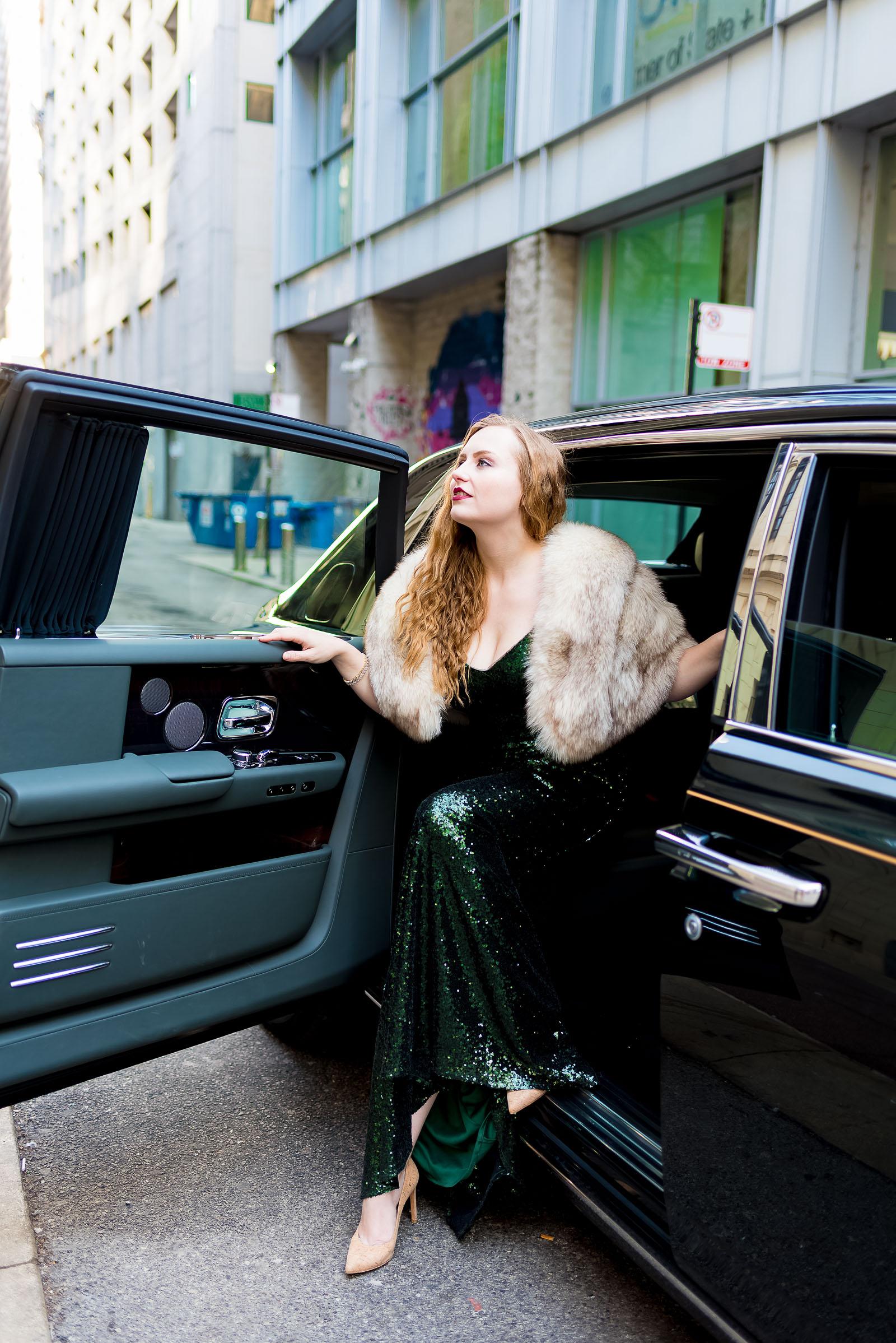 It really is impossible for me to put this experience to words.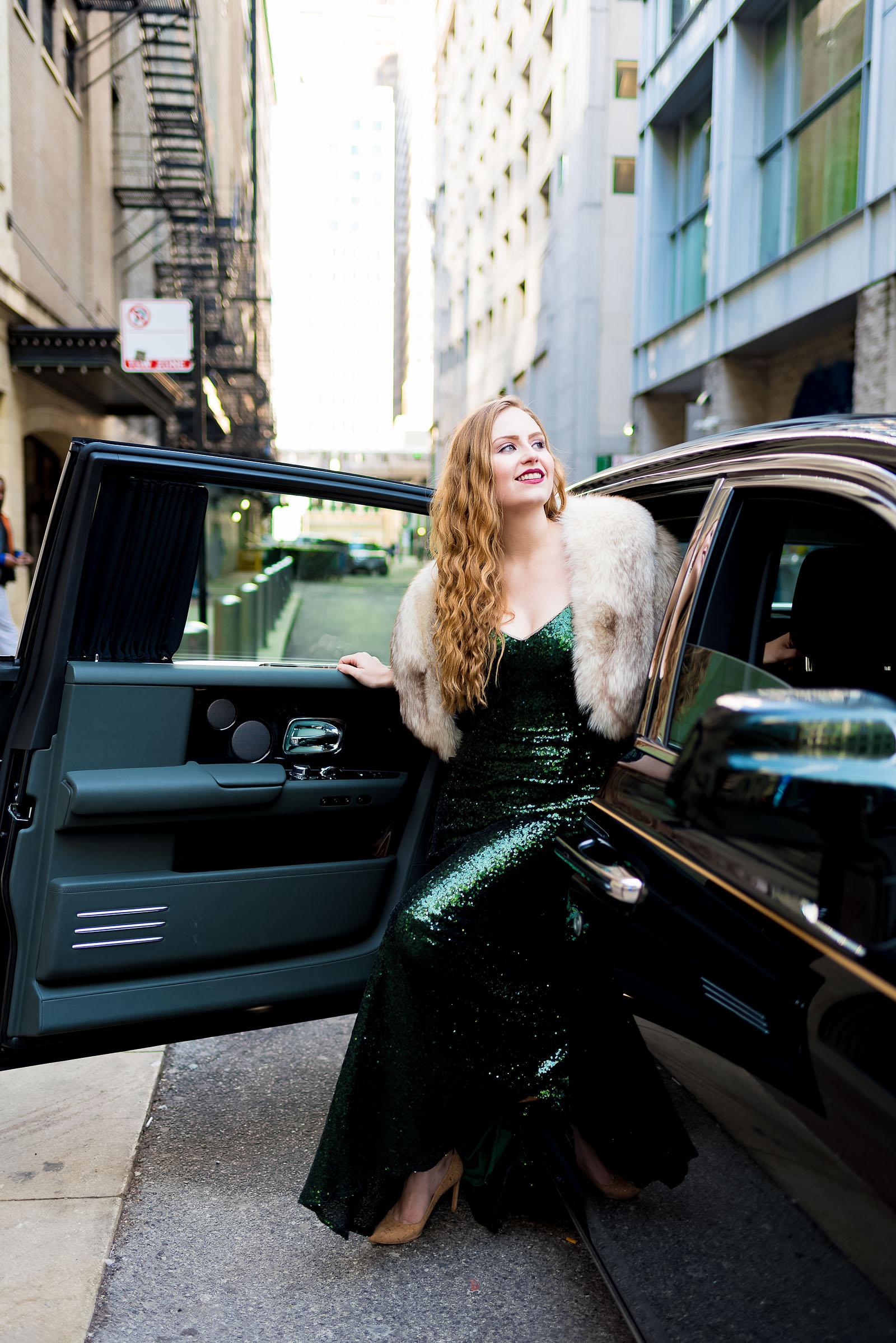 How do you even begin to explain an experience like this? This was by FAR the most luxurious car I've ever ridden in — every detail perfected, every comfort thought of.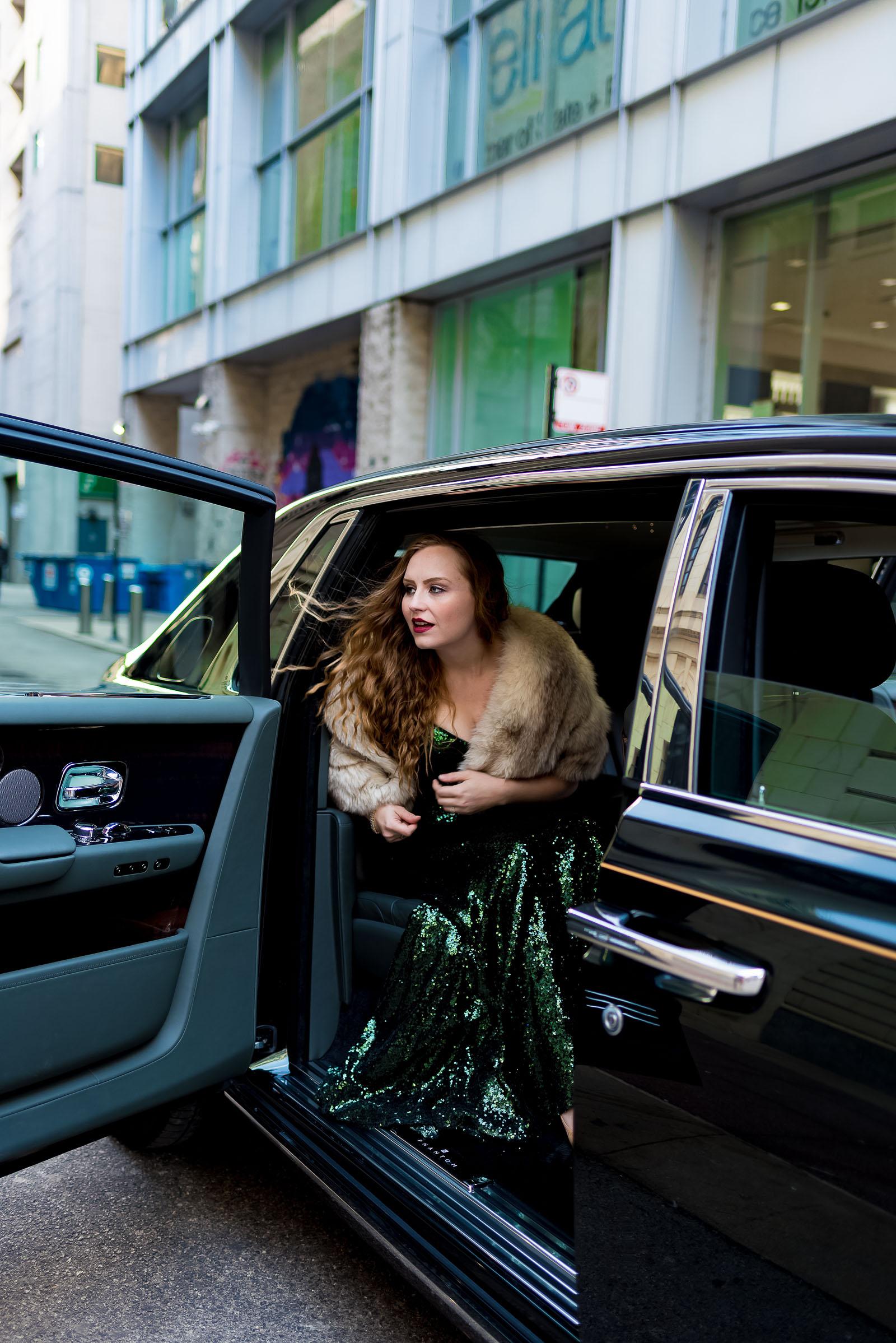 In a way, the Rolls-Royce Phantom feels like stepping into another world: your own private spa, theater, bar, office, and lounge all in one.
Complete with a starry sky above.
To say this shoot and tour of Chicago was a dream come true would be an understatement. I doubt I'll do something so luxurious for a LONG time. And I have to say finding the right dress to match this gorgeous Phantom was one of the most fun challenges I've had in a while!
SHOP THE LOOK:
Dress – Theia || Fur – Vintage (from my Nana) || Jewelry – Vintage || Lips – Huda in 'Showgirl'
Photos courtesy of Ali of Those White Walls
My Theia dress could not have been more perfect for the occasion. And, since it's priced under $300, it's a much more affordable black tie gown than most on the market. And the green could not have matched the Phantom more perfectly.
What a day exploring Chicago!! I truly cannot thank the Rolls-Royce team at the amazing team at The Peninsula for letting us have an opportunity to explore Chicago with their new Phantom. It's an experience I'll remember for a lifetime!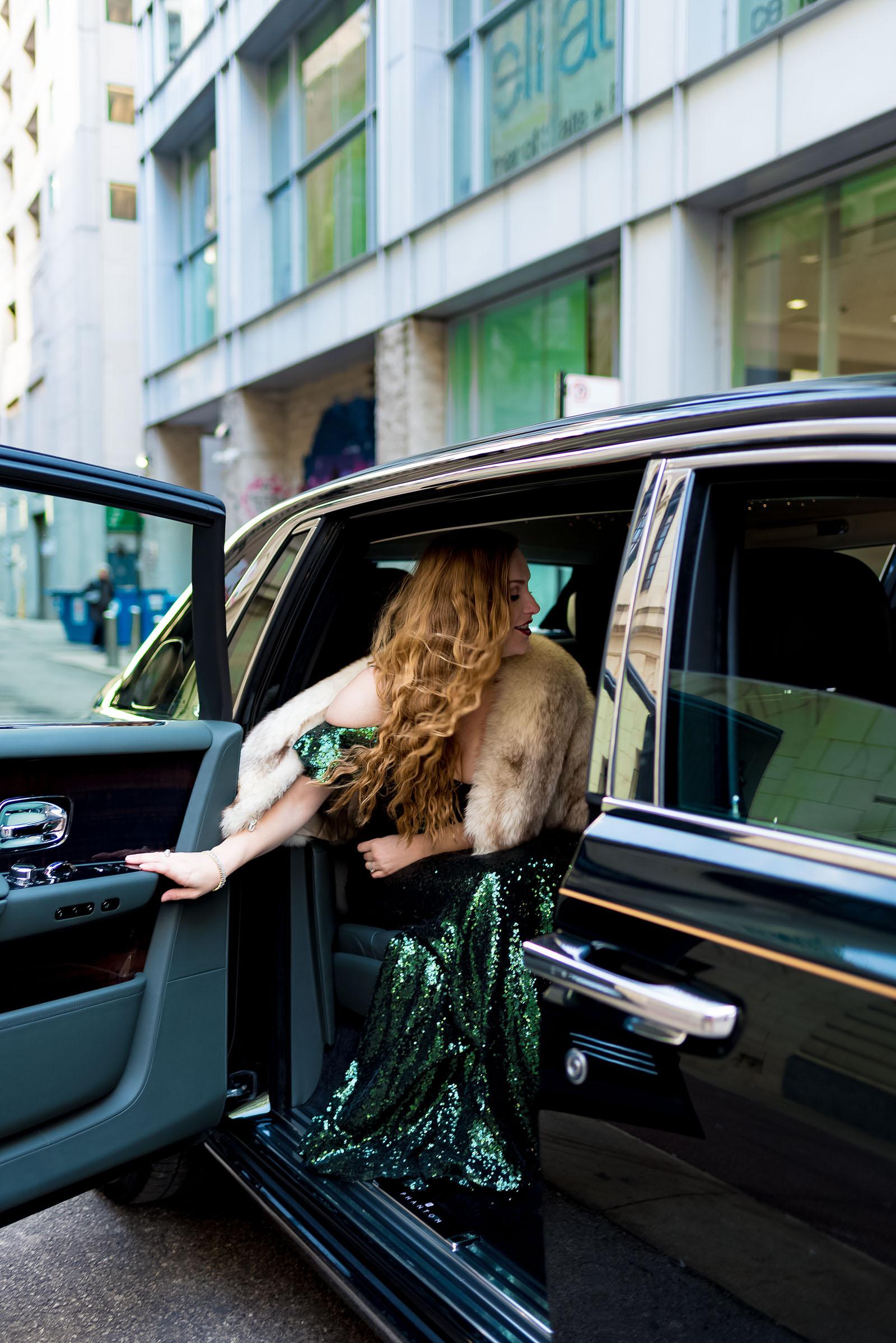 (P.s. be sure to check out my favorite blooper from this shoot too!)
Disclosure: This experience with Rolls-Royce and The Peninsula was complimentary to help facilitate this post. Review and all opinions are ALWAYS my own.