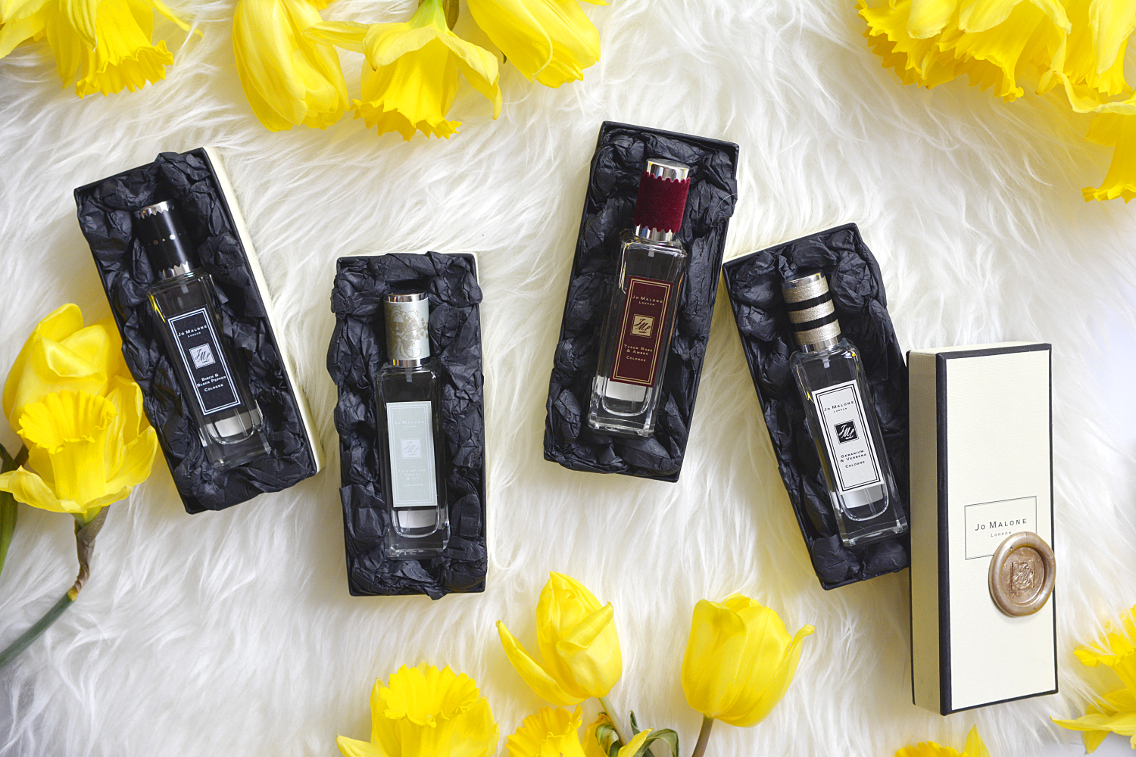 Earlier this month I confessed to my egregious obsession with Jo Malone cologne.
Their unique brand of colognes are designed to be layered with one another to create custom scents to suit your mood and personality making the process SERIOUSLY fun too! I feel like a scent mixologist each morning as I layer different cologne profiles and learn how each ingredient integrates with the others.
What can I say? I'm hooked!
Most especially to Jo Malone's ever-evolving pantheon of limited edition fragrances.
Every March Jo Malone releases a limited edition cologne collection available for only a few months and all inspired by a different theme. In 2012, the collection was called 'London Blooms' and featured one of my all-time favorite scents White Lilac & Rhubarb (a romantic yet earthy scent that reminds me of the tale of Alice and Wonderland). In 2013 the collection was based on several famous British desserts and included one of Jo Malone's most delicious scents: Bitter Orange & Chocolate. Last year the collection was themed off of the infamous London Rain.
This March, Jo Malone released their most exciting limited edition collection to date: Rock the Ages. Inspired by five famous ages in British history (Tudor, Georgian, Edwardian, Victorian and Modern Day), each cologne in the collection evokes its distinctive age through a reinterpreted scent bottled for the modern woman.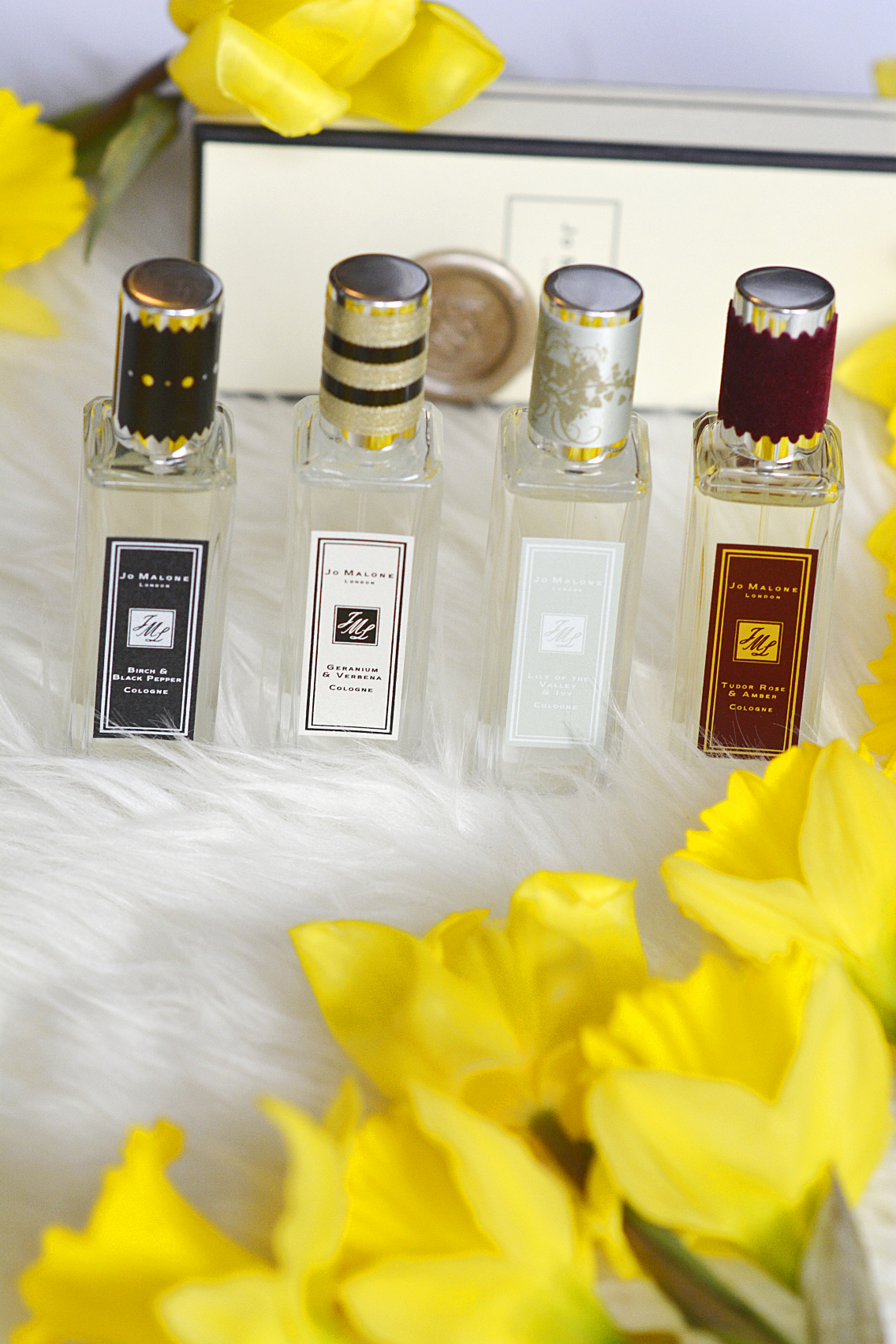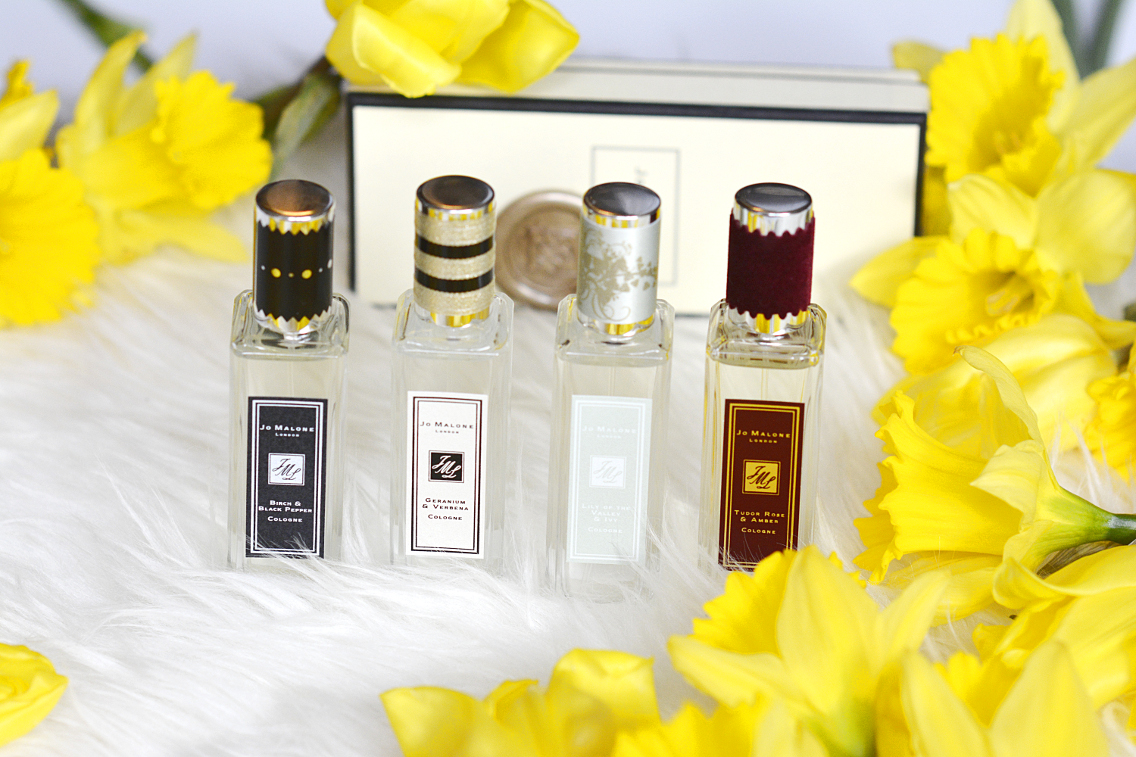 The history buff in me could not resist the allure of this year's collection but, to be honest, I wasn't sure whether or not I would actually like the scents. If we're being realistic, most periods in human history didn't produce the sort of smell you would want to bottle and sell.
Just sayin'…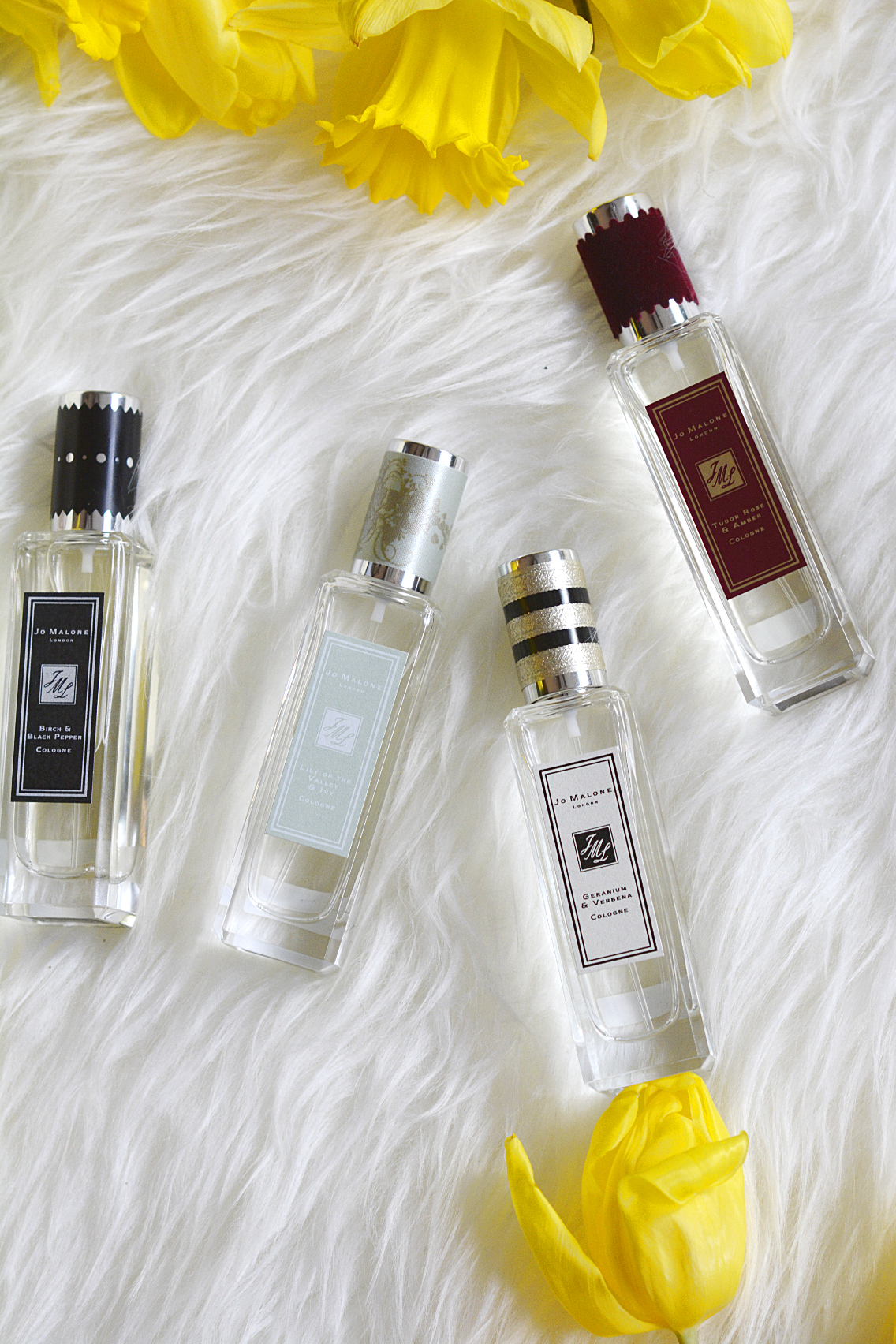 But the impeccable packaging and Jo Malone's excellent reputation for crafting scents you never knew you'd like in the first place won me over.
Jo Malone Rock the Ages
Pomegranate Noir
Since the Victorian era scent is one I already own and have previously discussed here, I opted to try the remaining four colognes in the collection.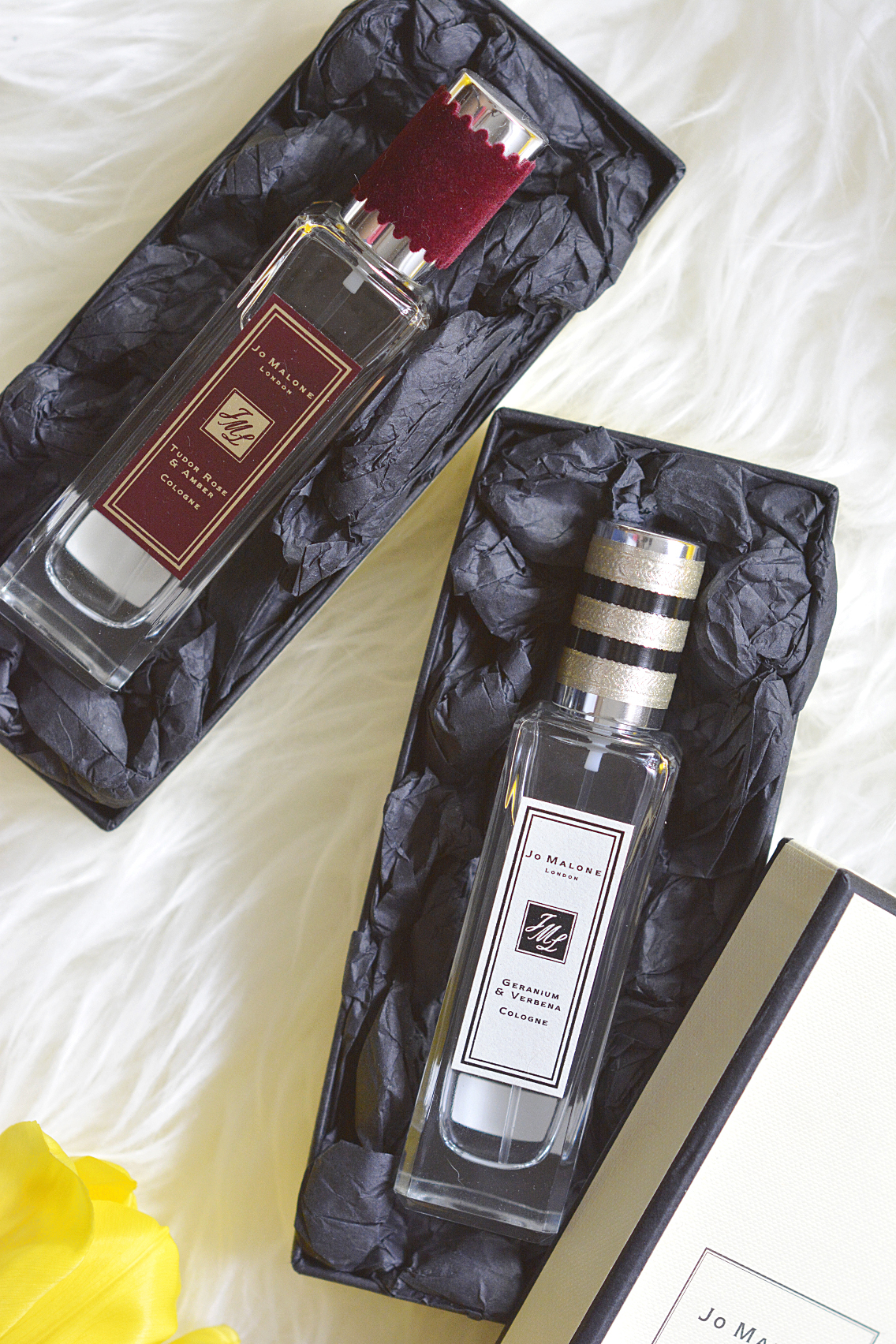 Tudor Rose & Amber
The Tudor Rose & Amber cologne "evokes the bloody and turbulent Tudor era. The fragrance contains Damask and Tudor rose as well as ginger in the heart, a spicy beginning of pink pepper and clove and the base of golden amber, patchouli and white musk." This scent is positively intoxicating but not as cloying as you might expect from a Tudor-era fragrance. The clove and ginger notes balance beautifully with the rose (a heraldic symbol from the Tudor age) but in a way that feels very accessible. This scent lasts FOREVER on my skin too (a major plus)!
Blend this scent with Blackberry & Bay, a tart fragrance that adds a wild fruitiness to the amber notes and be ready for your next adventure!
The Edwardian scent of Geranium & Verbena is without a doubt my favorite from the collection. Inspired by "the aristocracy of the Edwardian period. This fougère fragrance of garden parties contains notes of bergamot, basil and verbena in the top, geranium, neroli and coumarin in the heart, and vetiver, patchouli, vanilla and cedar in the base." This clean scent is filled with bright herb notes making it invigoratingly unisex — it smells even better on Hubby than it does on me! I love the versatility of this scent and it's almost caffeinated powers to help jolt me awake in the morning.
Blend this with my favorite Wood Sage & Sea Salt (discussed at length here) for a salty, mineral finish that feels clean, natural and modern.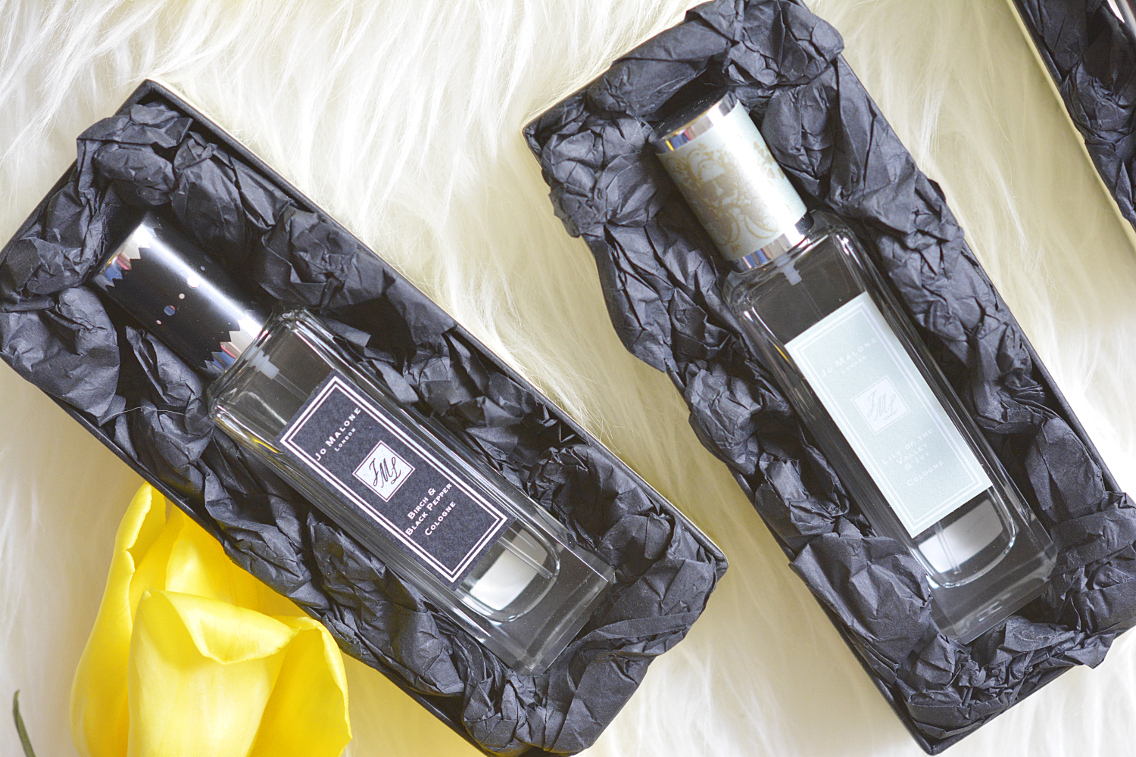 Birch & Black Pepper
The modern age is represented in the most unusual cologne in the collection: Birch & Black Pepper. Evoking the complicated contrasts of modern Britain, this scent bridges "tradition and punk culture. It opens with accords of mandarin, cardamom and black pepper. Patchouli and birch are in the heart, followed by the base of gurjum, vanilla and ink." My first reaction to this scent was disappointment — while being heralded as the best in the collection, alone on my skin this scent becomes cloyingly woody and flat. It wasn't until I started mixing this cologne with the others in my collection that I began to appreciate its versatility.
This scent is very masculine but blended with feminine Orange Blossom (discussed at length here), it becomes a complicated aroma of woody florals that I've been surprised to find myself wearing religiously ever since I first discovered the combination.
And finally comes the Georgian fragrance of Lily of the Valley & Ivy, "inspired by the era of pastel tenderness, green landscapes, gardens and ivy-covered fences. The fragrance opens with green ivy, pink grapefruit and sparkling black currant, with a delicate floral heart of lily-of-the-valley and narcissus and the base of beeswax, amber wood and white musk." I love any scent with ivy and lily of the valley so I fell hard for this Jane Austen-era blend and expect to be wearing it non-stop in May (during the heart of lily of the valley season here in Chicago).
Blend this scent with the elegant citrus notes in Earl Grey & Cucumber to evoke a fragrance reminiscent of afternoon tea in a warm, sunny garden.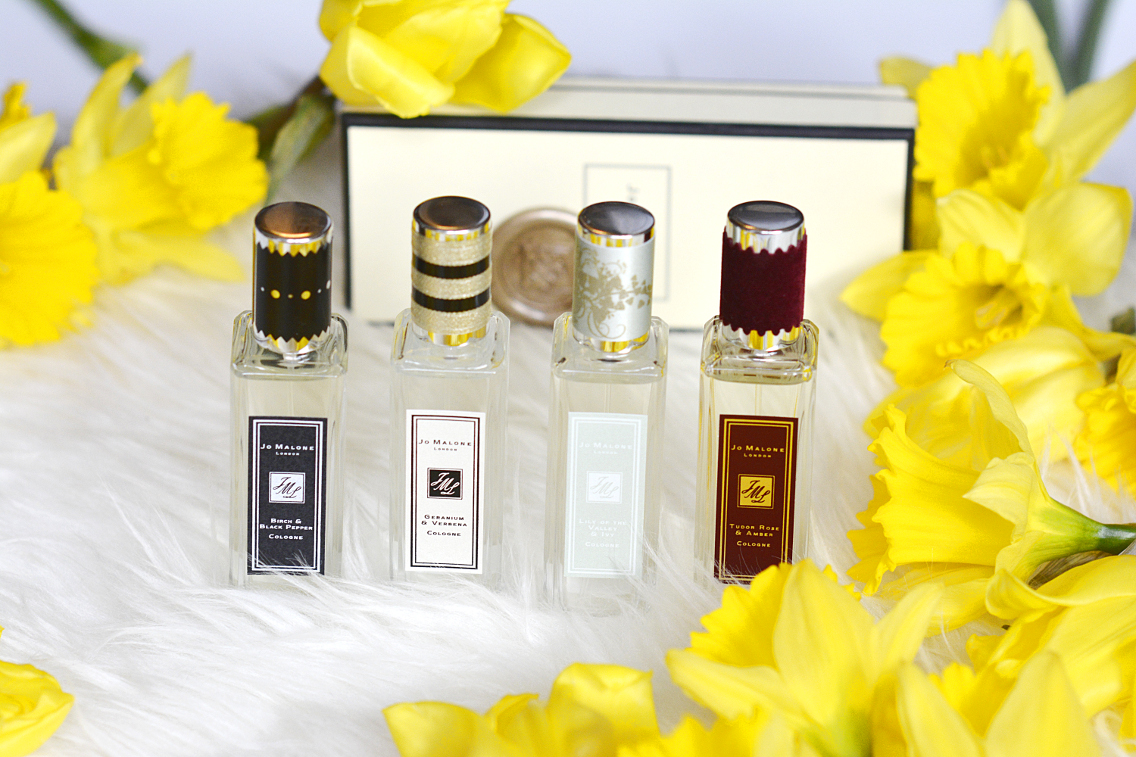 Each limited edition collection always comes in beautifully designed bottles but this year's collection of velvet trims, golden ribbons and brocade silks is without a doubt my favorite to date. They are each tremendously handsome and luxurious in their own right and look positively spectacular sitting on my vanity.
Be sure to check them out soon — once the bottles are sold out they are retired permanently and you'll be left trolling eBay for half-used bottles (a fate none of us wants to be faced with).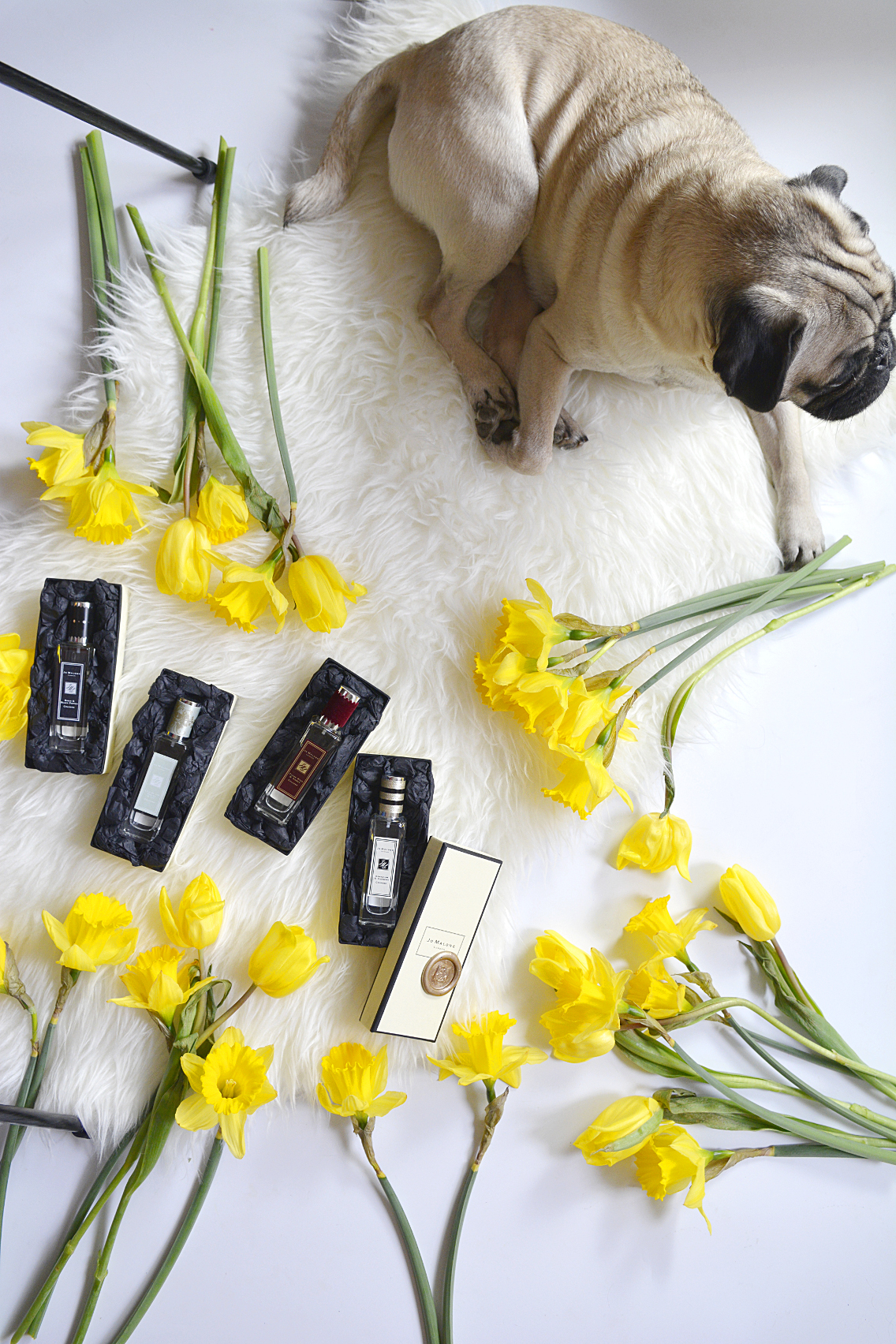 And finally… Can we all give my assistant Apollo a great big thank you for his ever-present help shooting this post? Without his enormous lumpy shadow creating such dramatic ambiance, I doubt I would have captured these mysterious fragrances in all their historical glory properly!
Now tell me, which Rock the Ages scents sounds most appealing to you?