There are few hotels I've been to in my life that are more gorgeous, more breath-taking, and more memorable than today's hotel in Mérida, Mexico.
Otherwise known as a tropical paradise given a European twist.
A rich, luxurious oasis in one of Mexico's most beautiful and SAFE cities… Mérida!
This hotel is a magical place.
A place of dreams…
A stunning hacienda-turned-boutique hotel filled with the most beautiful tile work, lush palm trees, jaw-dropping chandeliers, and prettiest bedrooms you'll find in the entire world…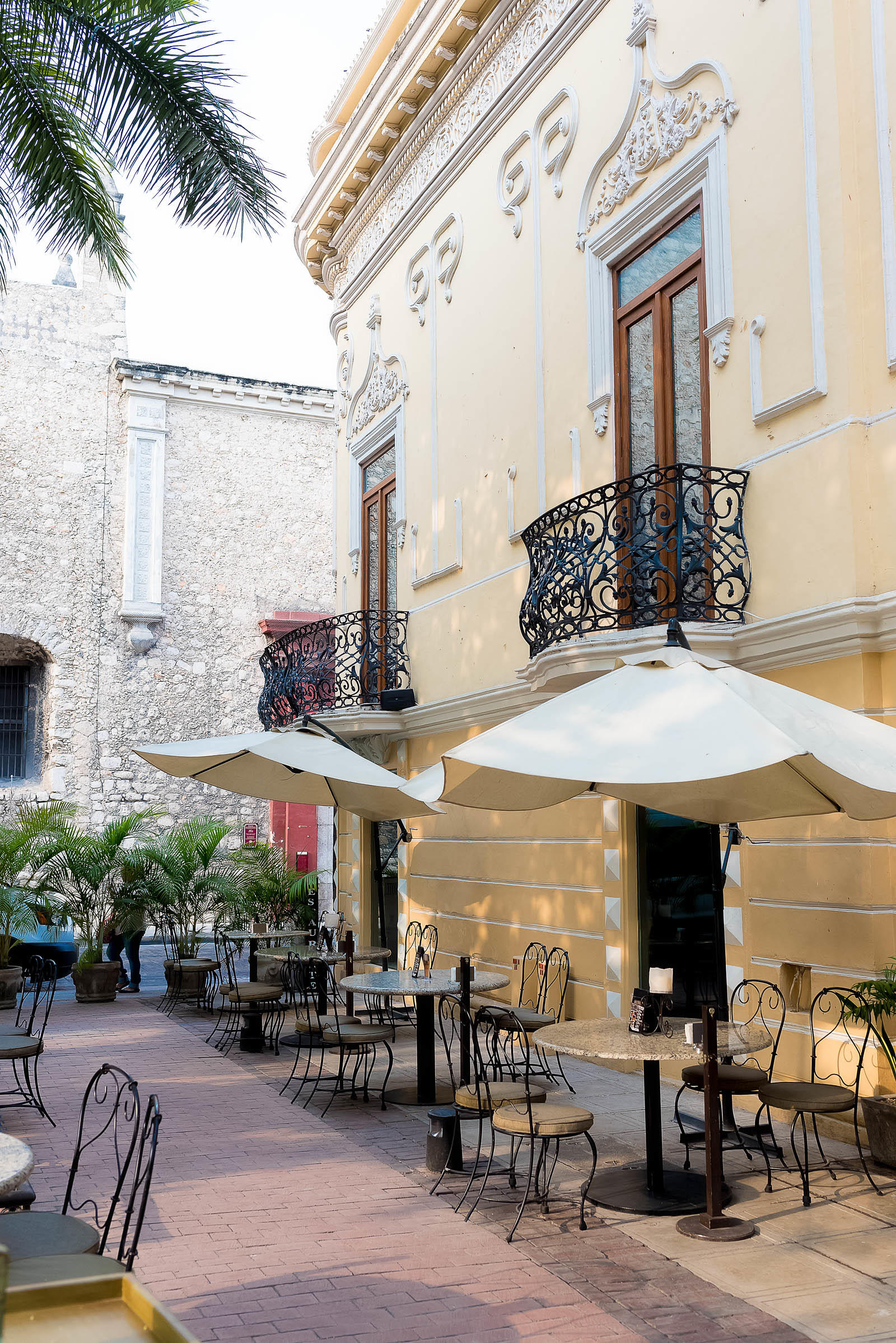 This hotel really is a little slice of 19th century Europe in the middle of the Yucatán.
Actually all of Mérida feels like a little slice of Europe in Mexico, really. There's even an avenue that's designed after the Champs-Élysées where you'll find one of my other favorite spots in Mérida. But Mansión Mérida's location, tucked right next the Cathedral, is just about as perfect as you'll find in the entire city.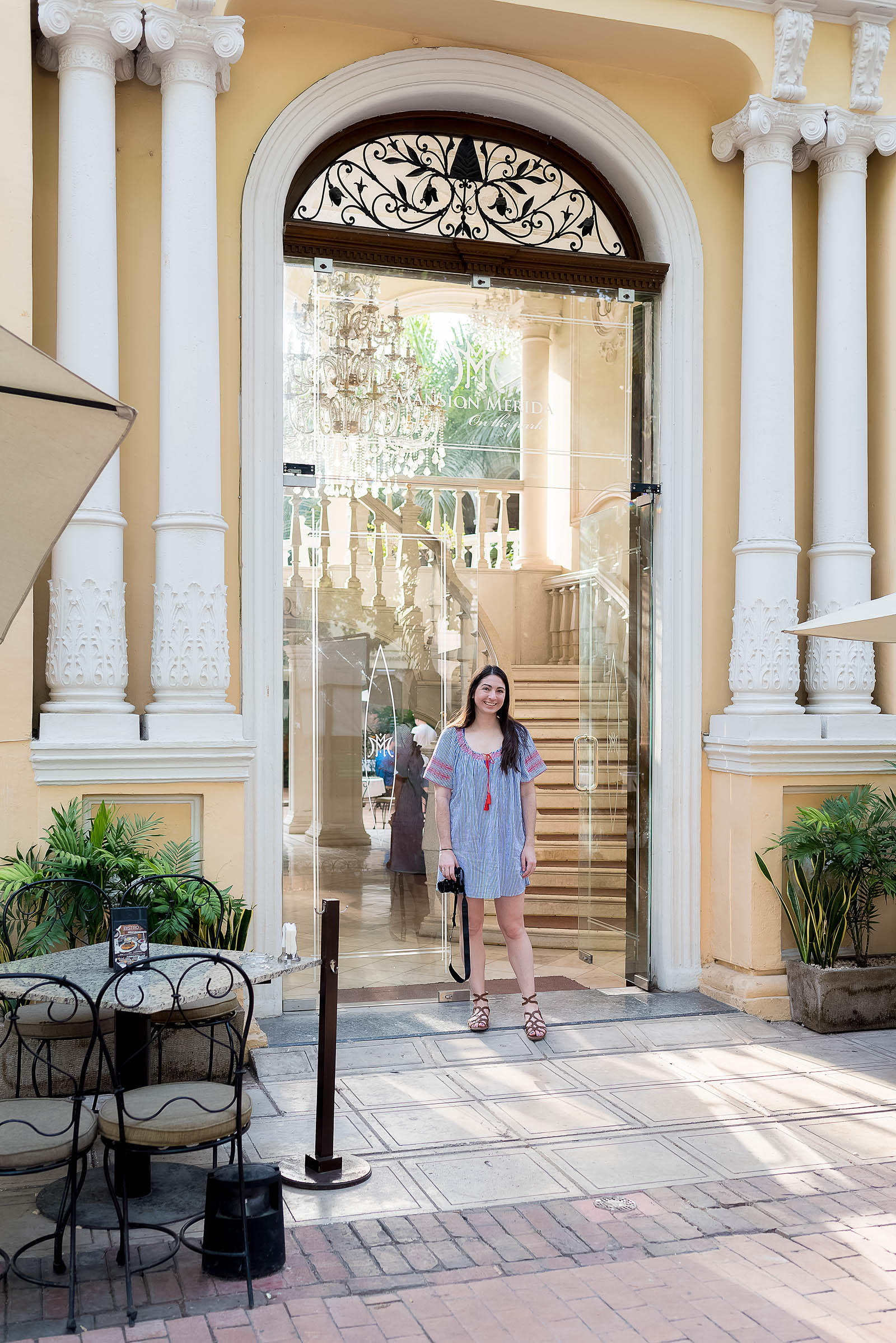 Care to step inside this Mexican oasis?
(Hi, Erin!)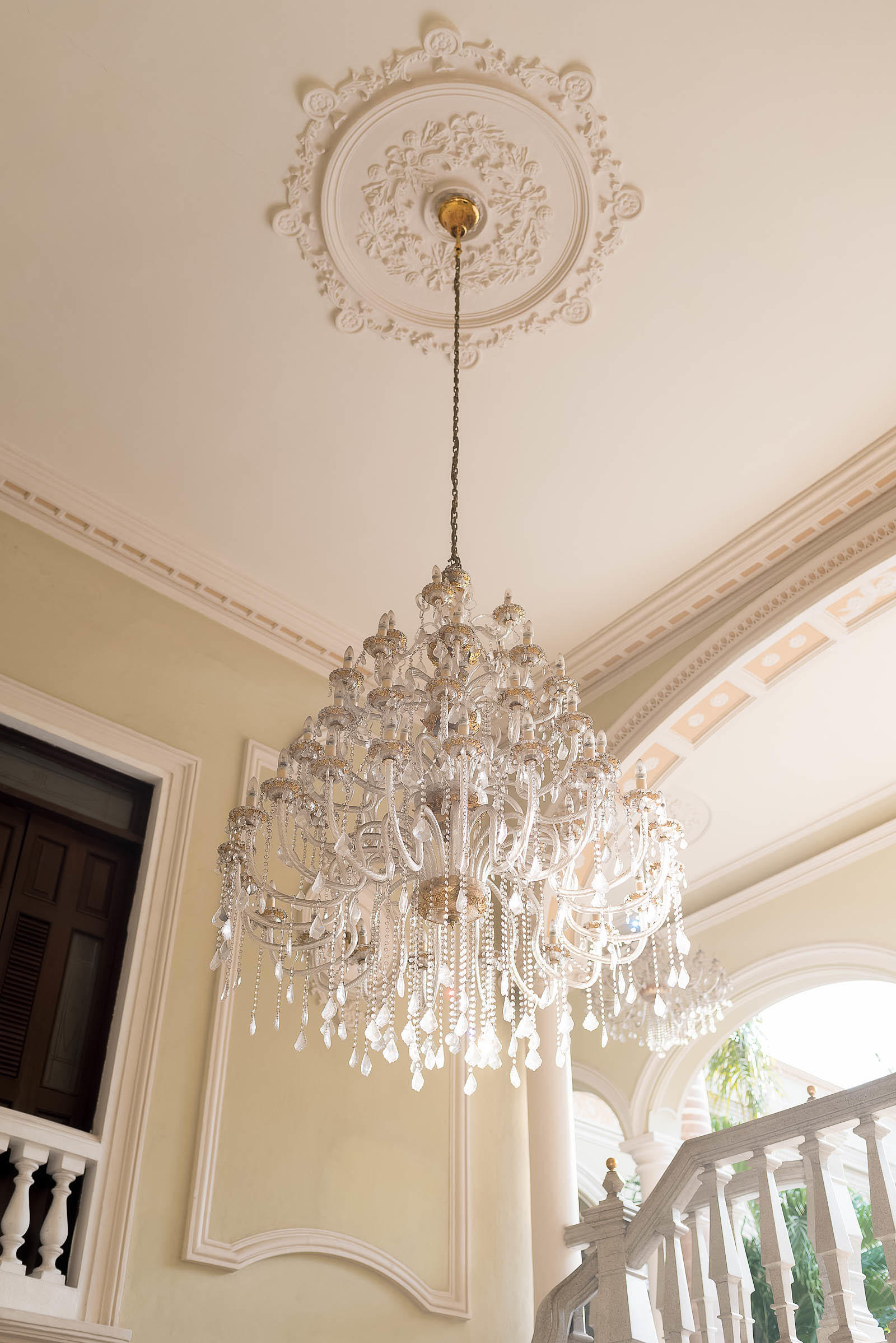 The first thing you'll notice is the hotel's incredible chandeliers from Venice.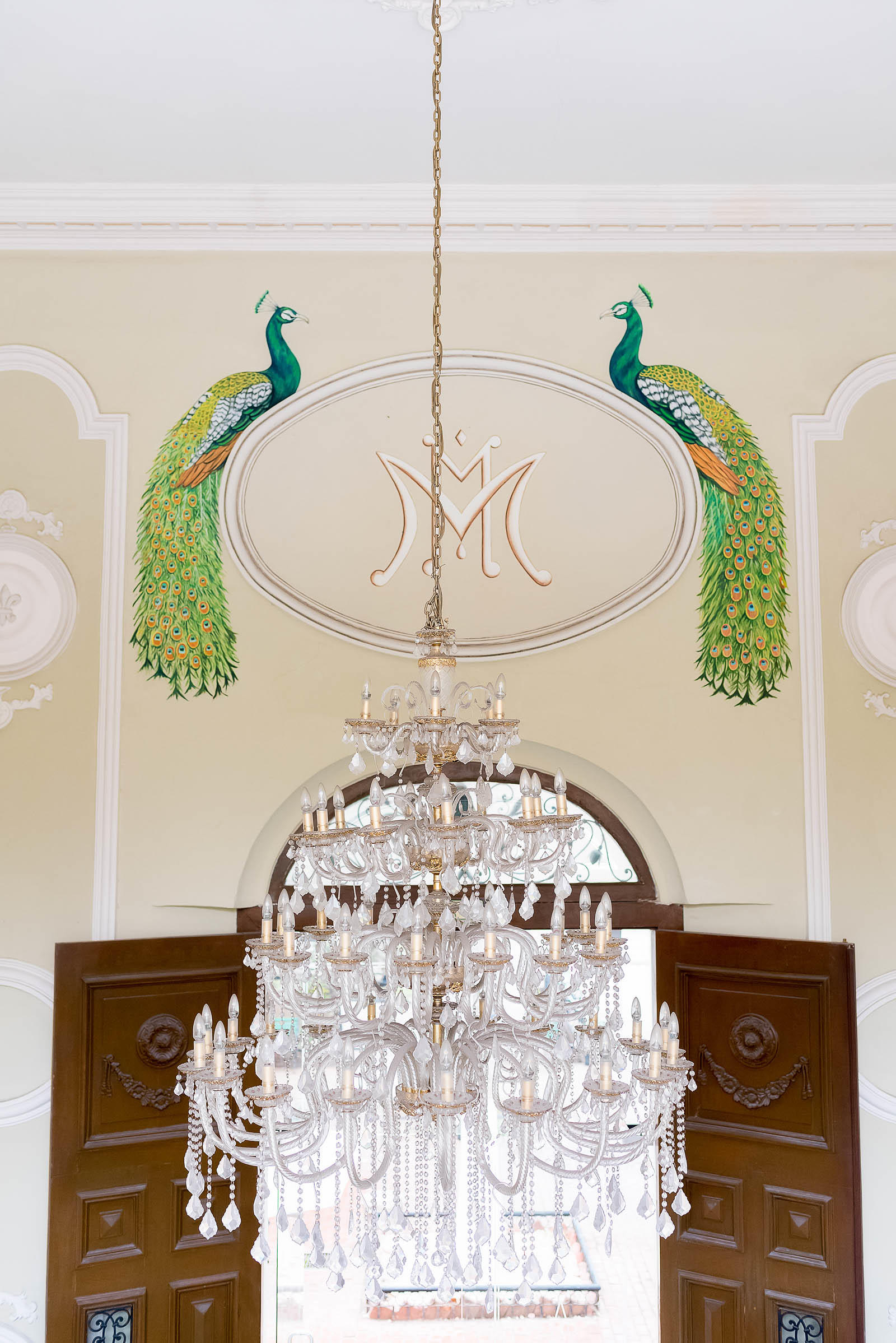 They're impossible to miss,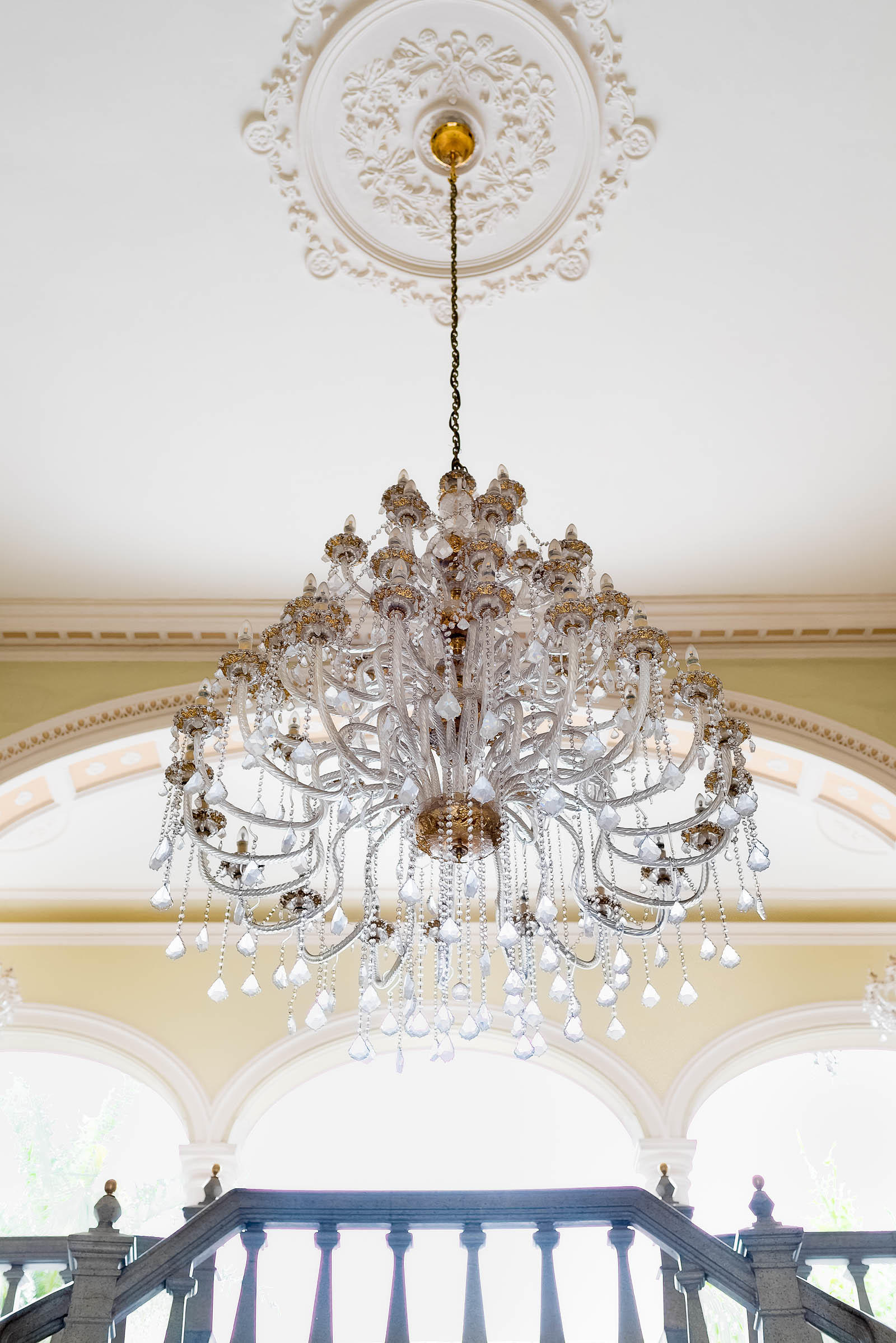 And absolutely stunning to see.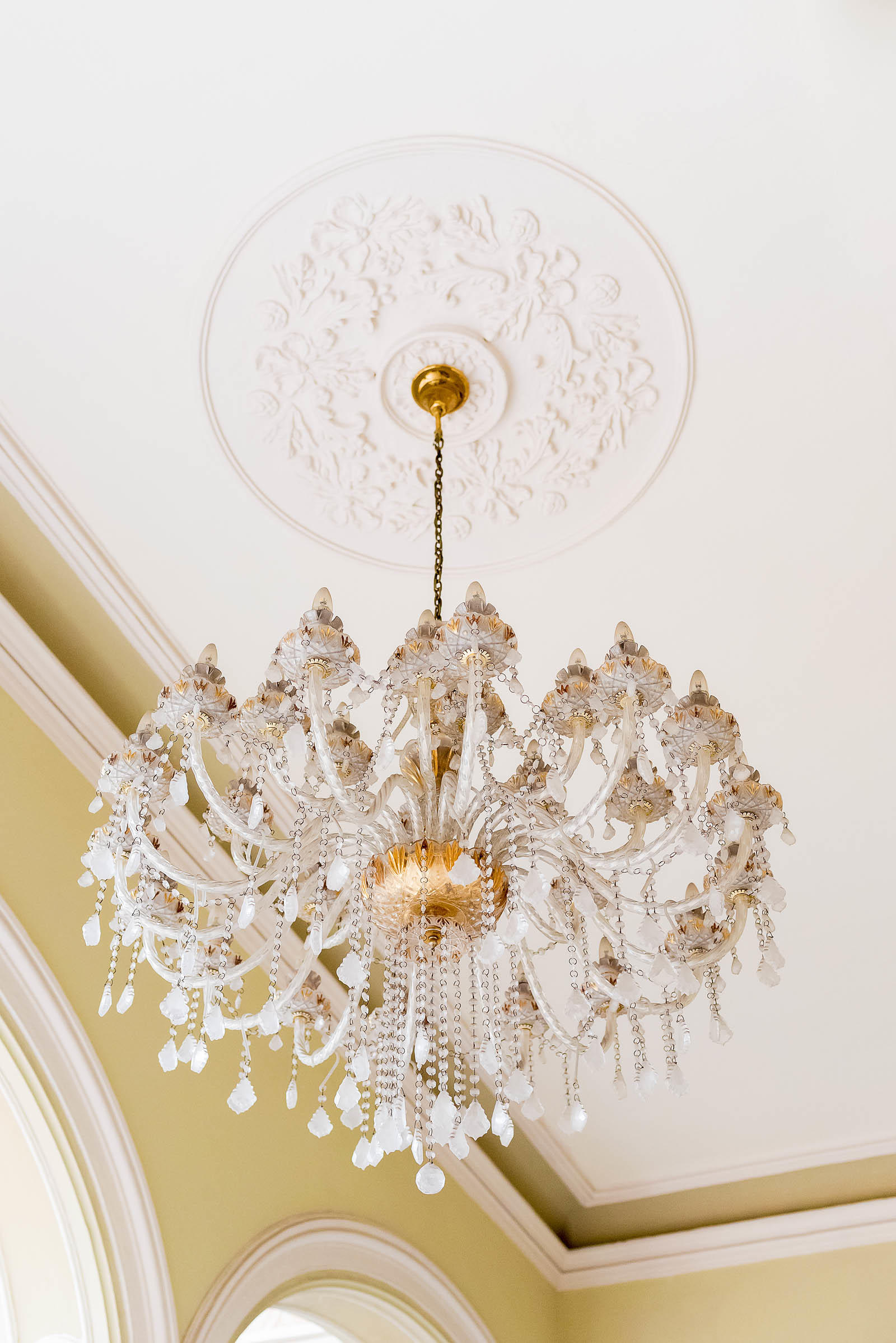 (Not to mention shoot).
But the entire hotel is absolutely incredible. Top to bottom, room to room.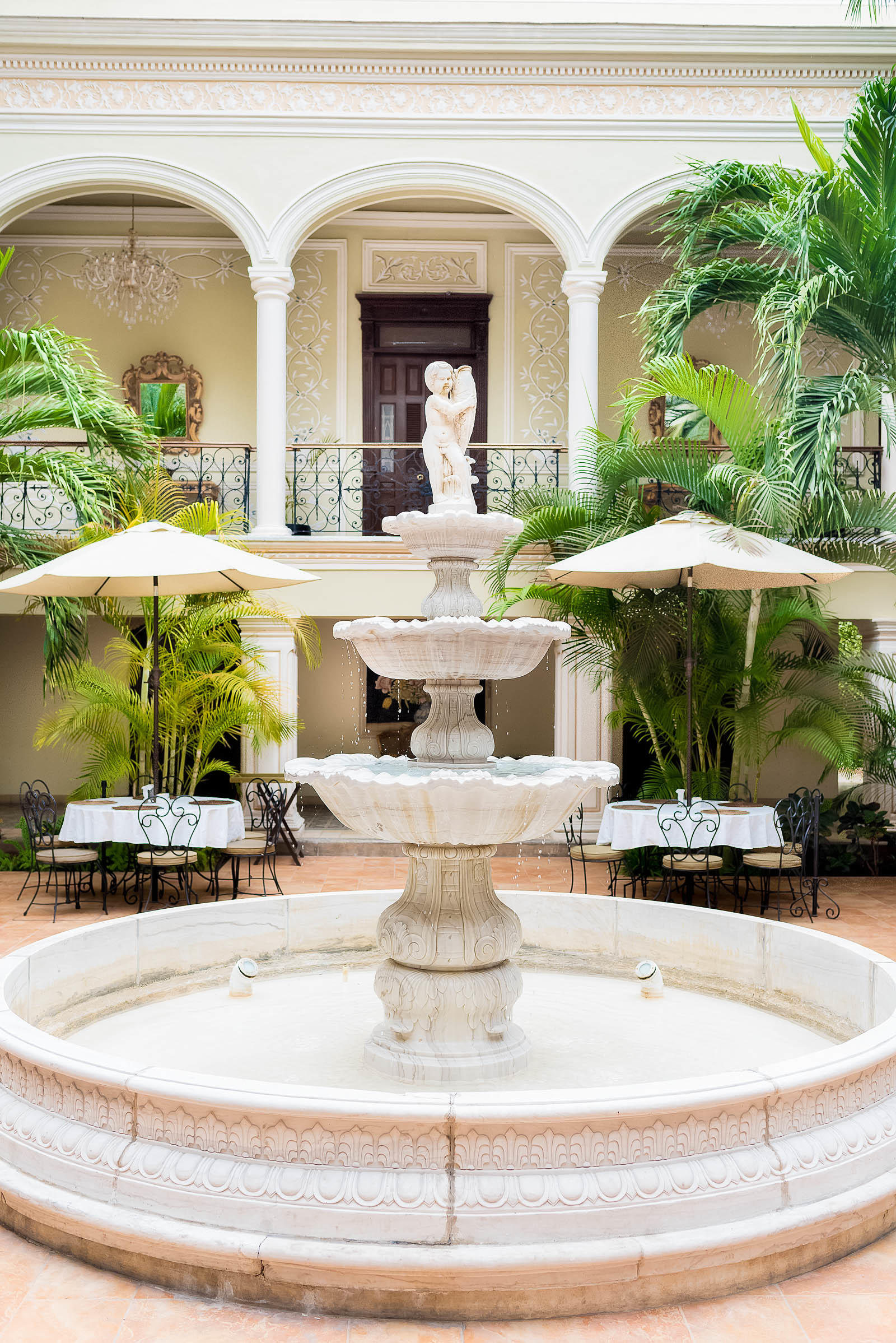 It's set up like a traditional Mexican hacienda building with a large open atrium in the center of a square compound. with a fountain in the very middle for good measure.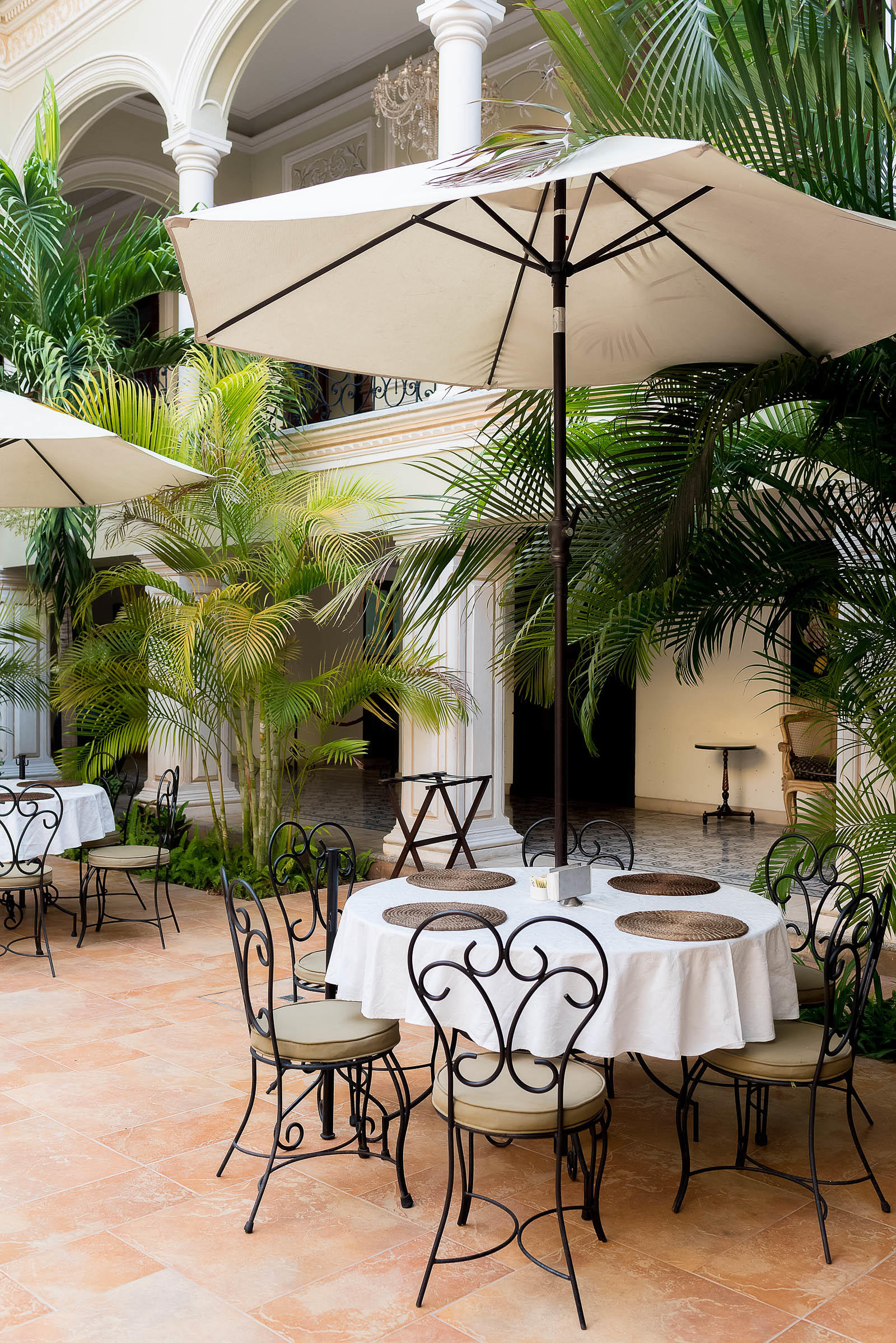 The atrium is full of lush vegetation and palm trees, as well as some tables and chairs to enjoy it from.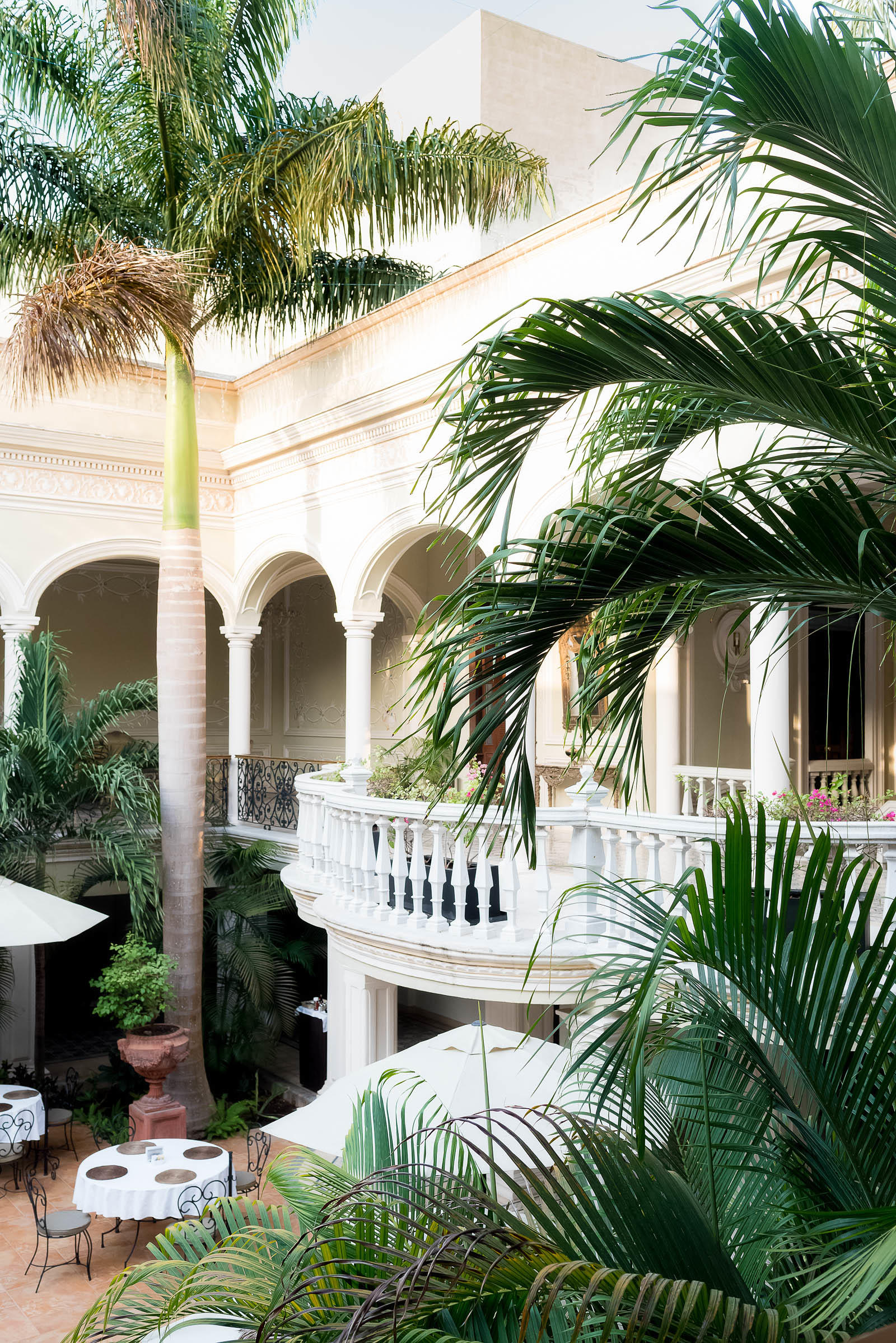 It's such an incredible view to wake up to each morning, stepping out your bedroom door and being greeted with this scene (Mansión Mérida only has 14 rooms in the entire hotel).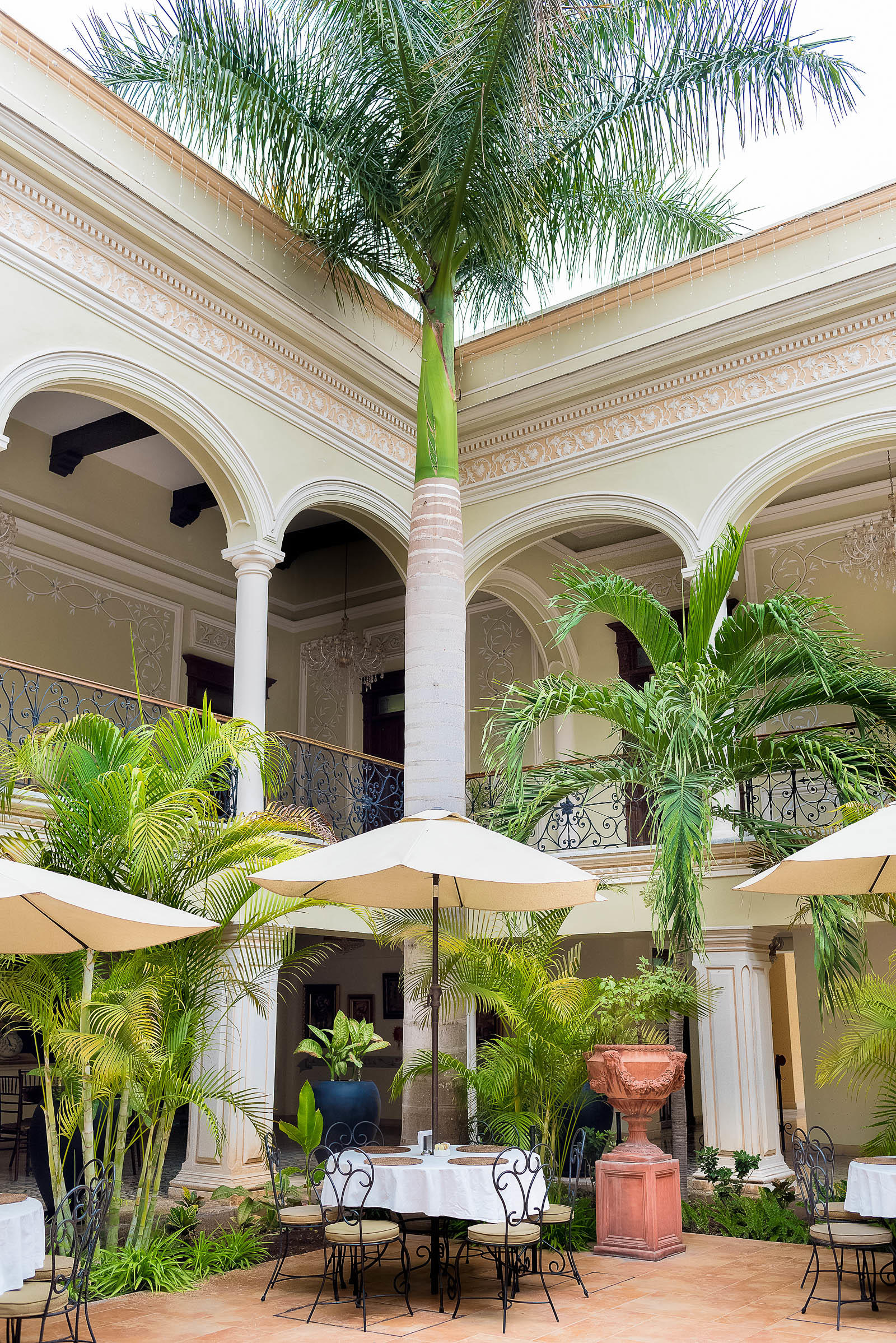 And every morning it made for the perfect breakfast spot to relax at before our shooting adventures each day (to Ek Balam, Chichen Itza, Valladolid, and Izamal).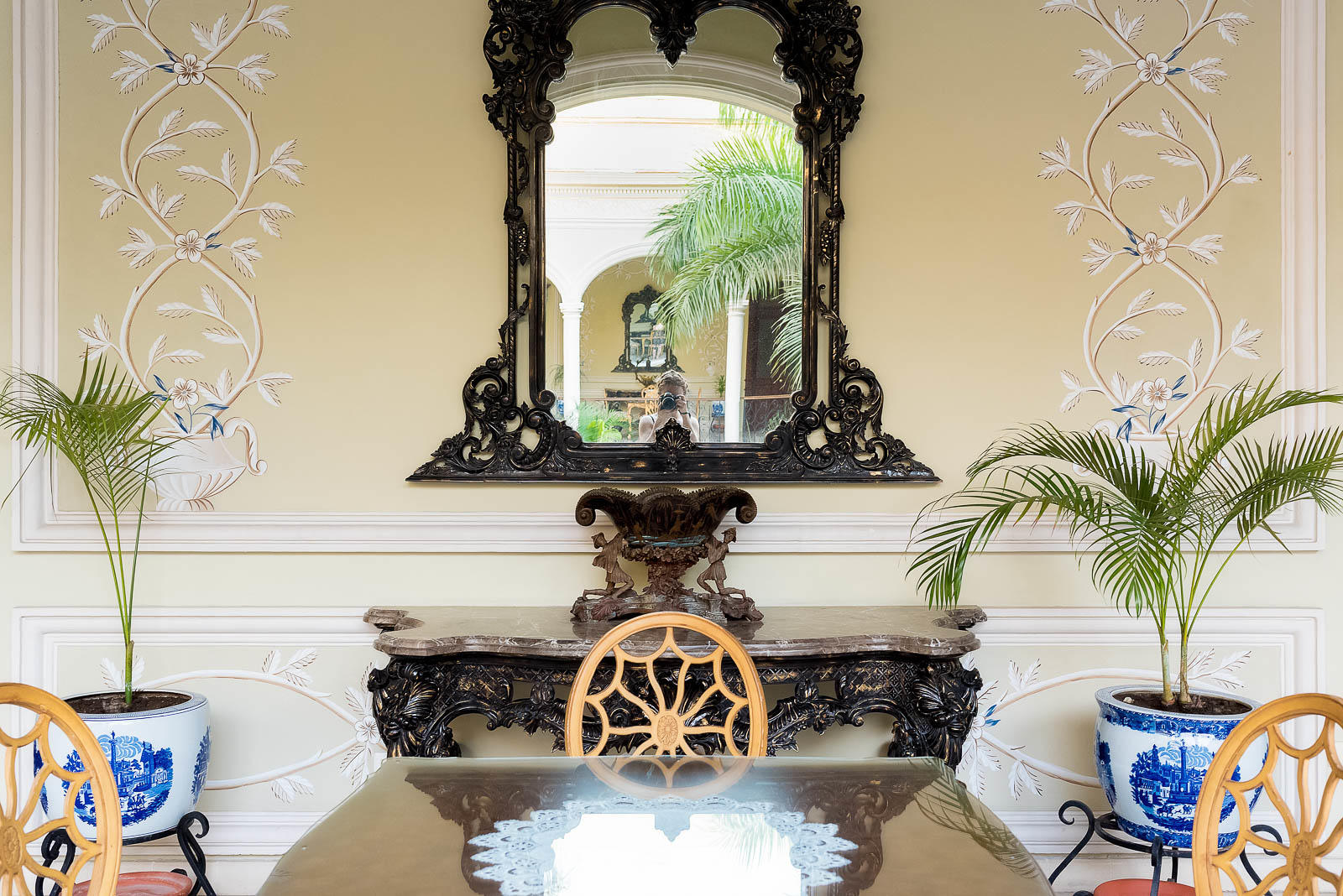 But I think it's Mansión Mérida's decor that really had me swooning during our stay.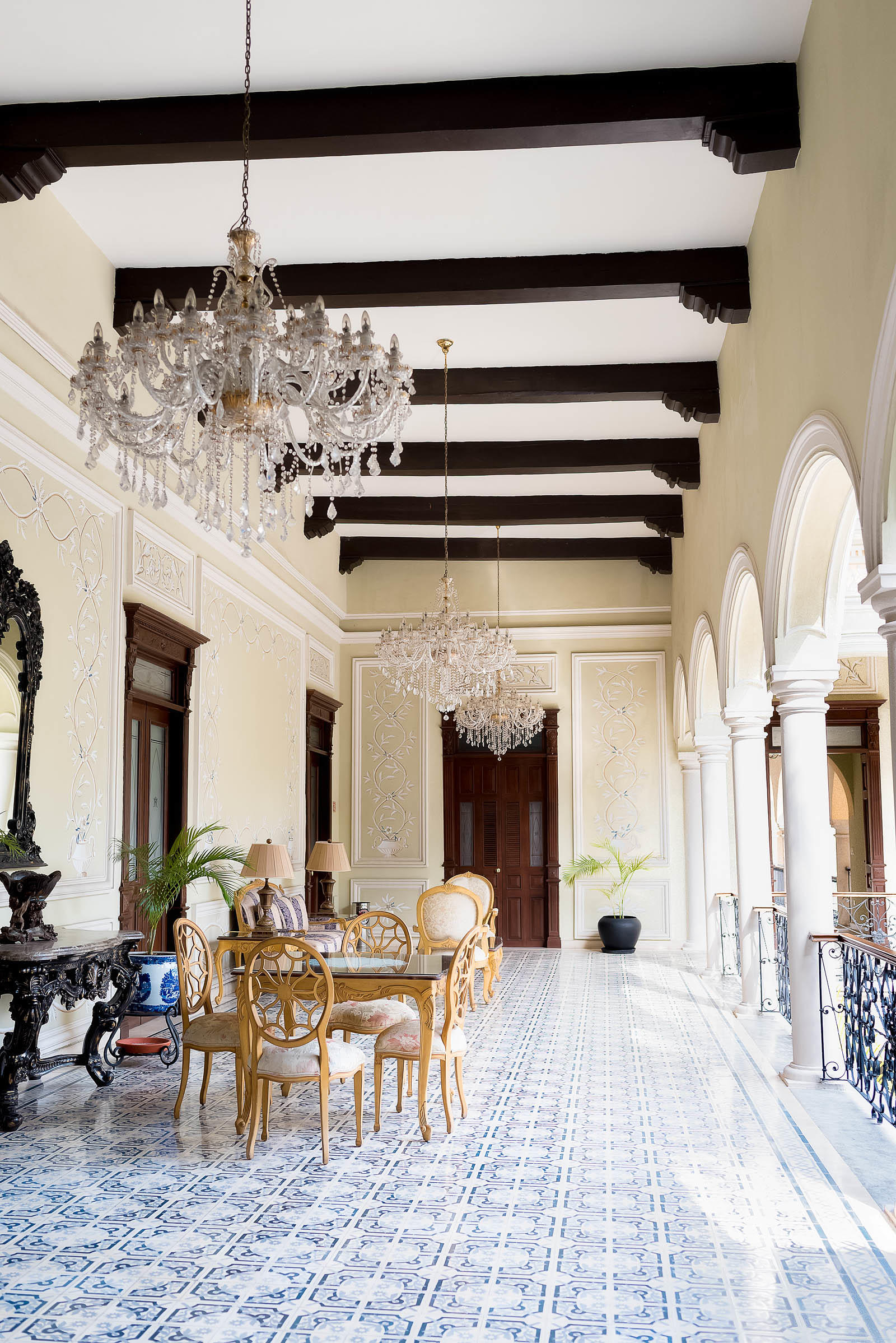 The verandas have incredible furniture and tile work.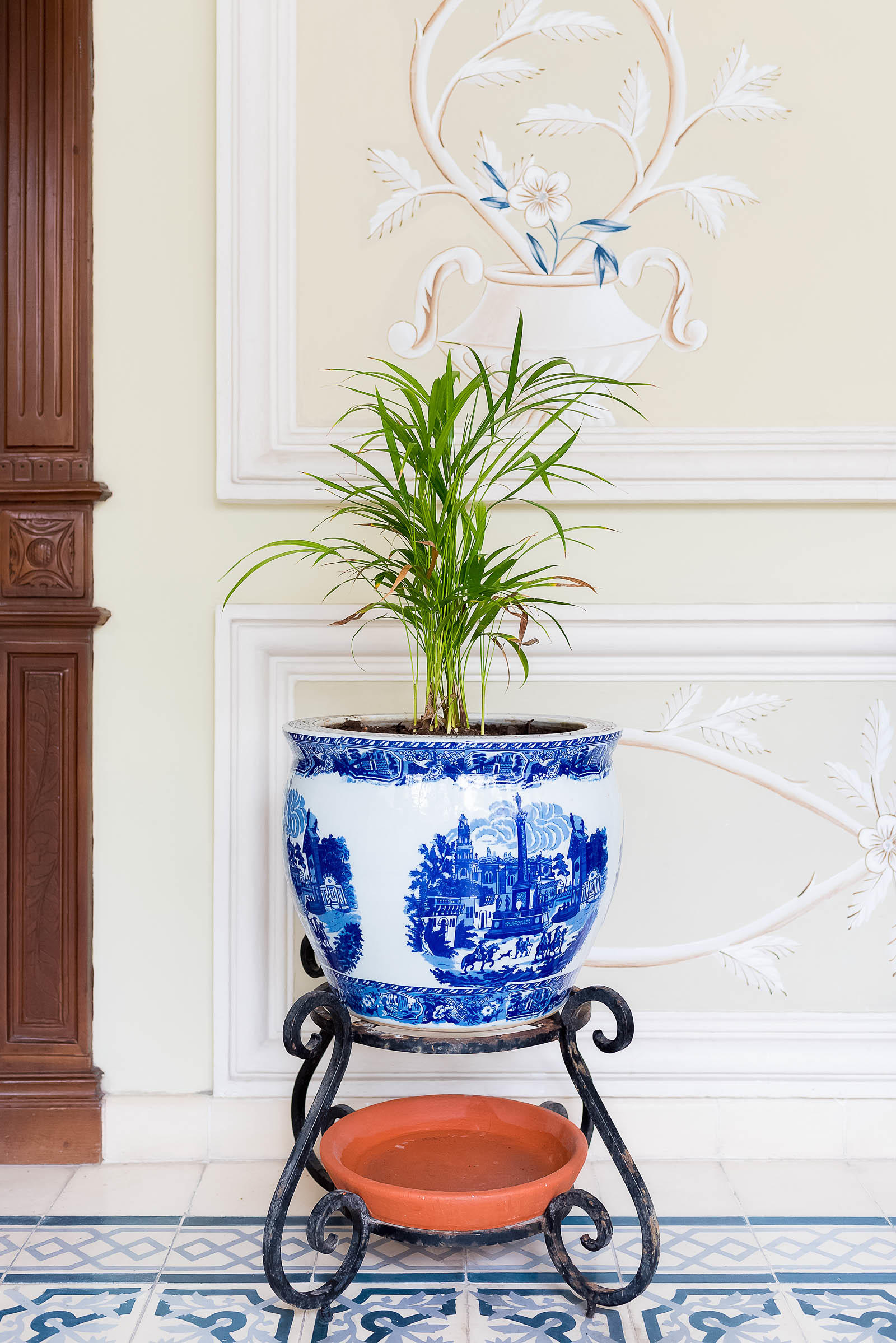 With plenty of pots of plants scattered around too.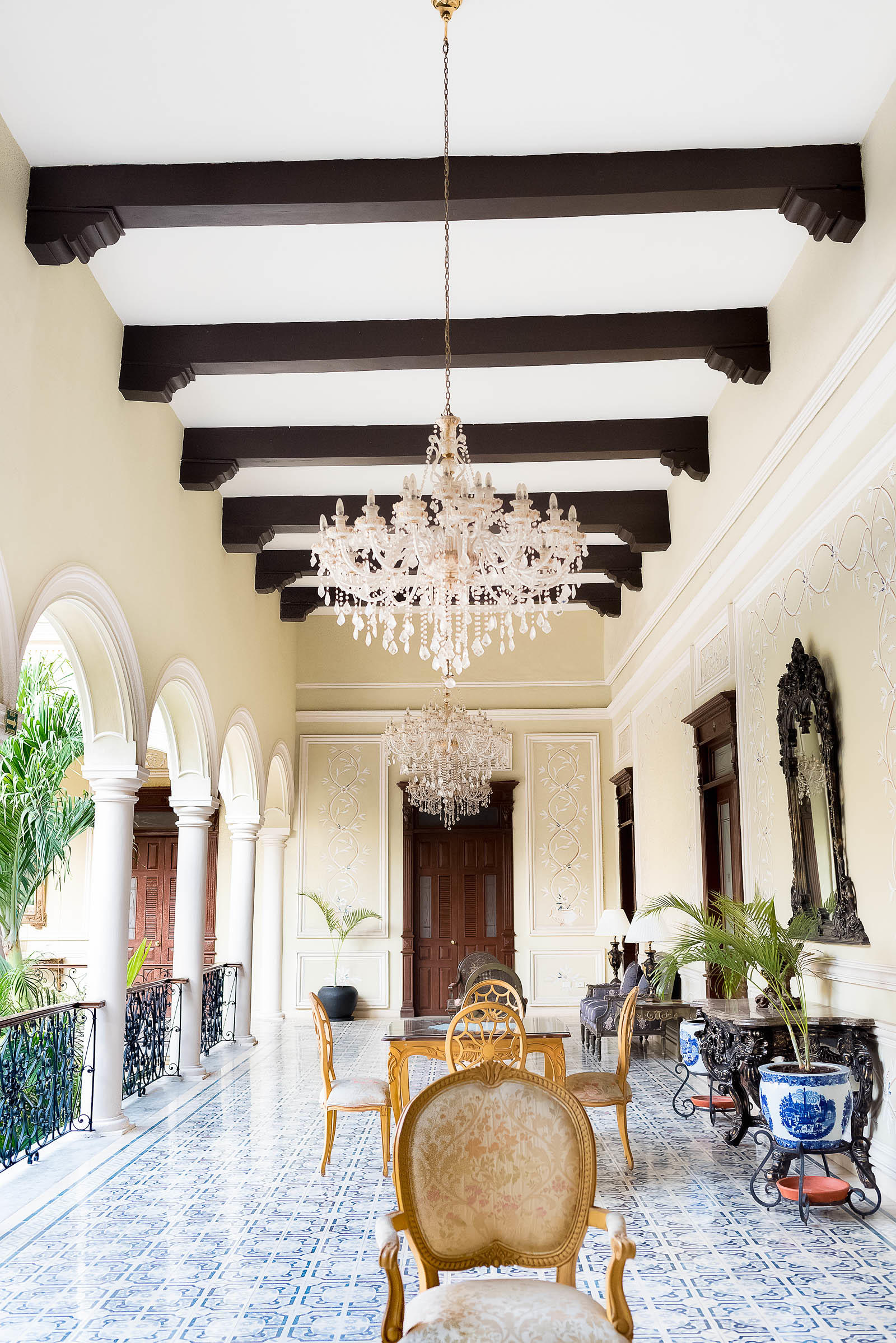 I could wander these magical hallways for a lifetime…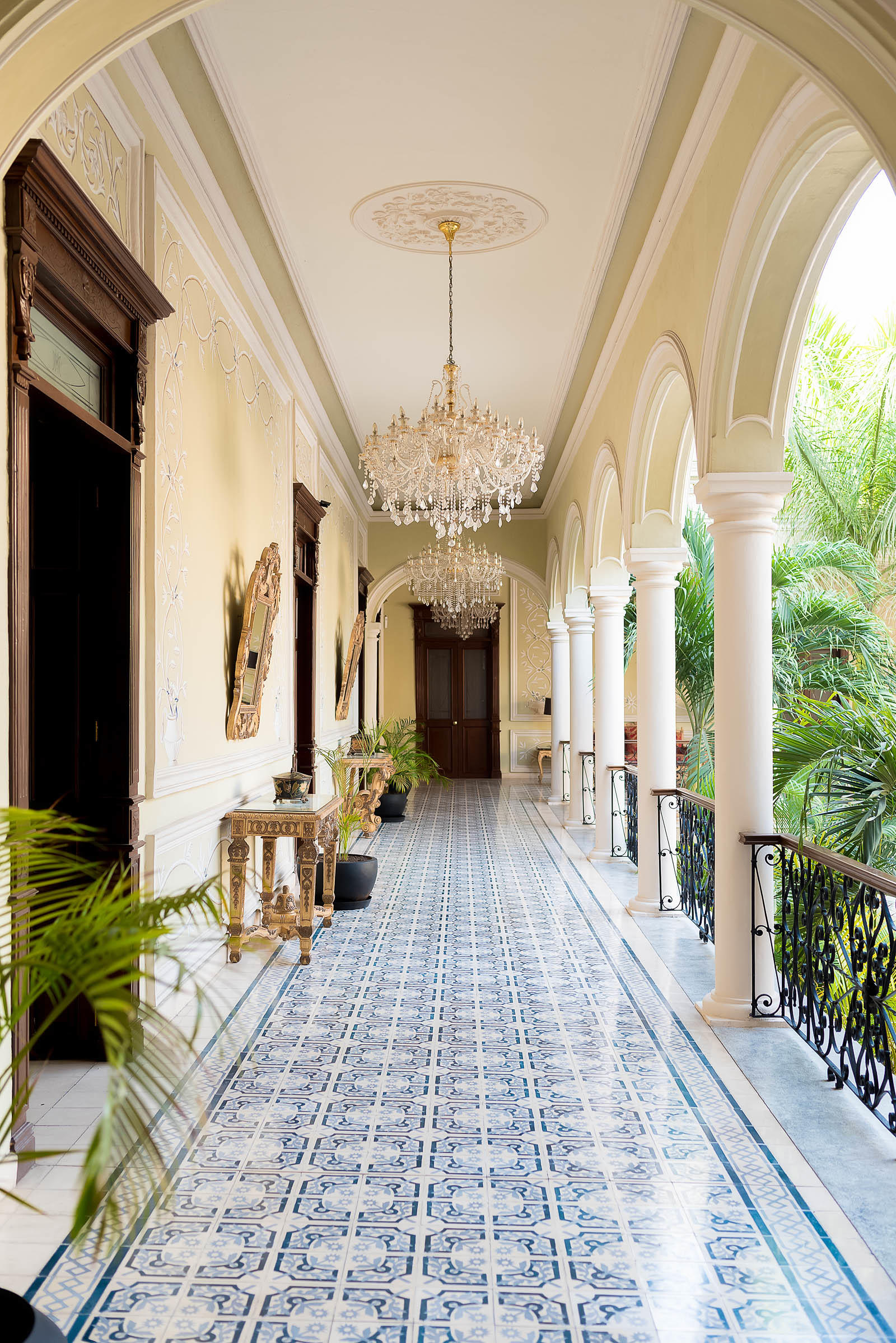 Couldn't you?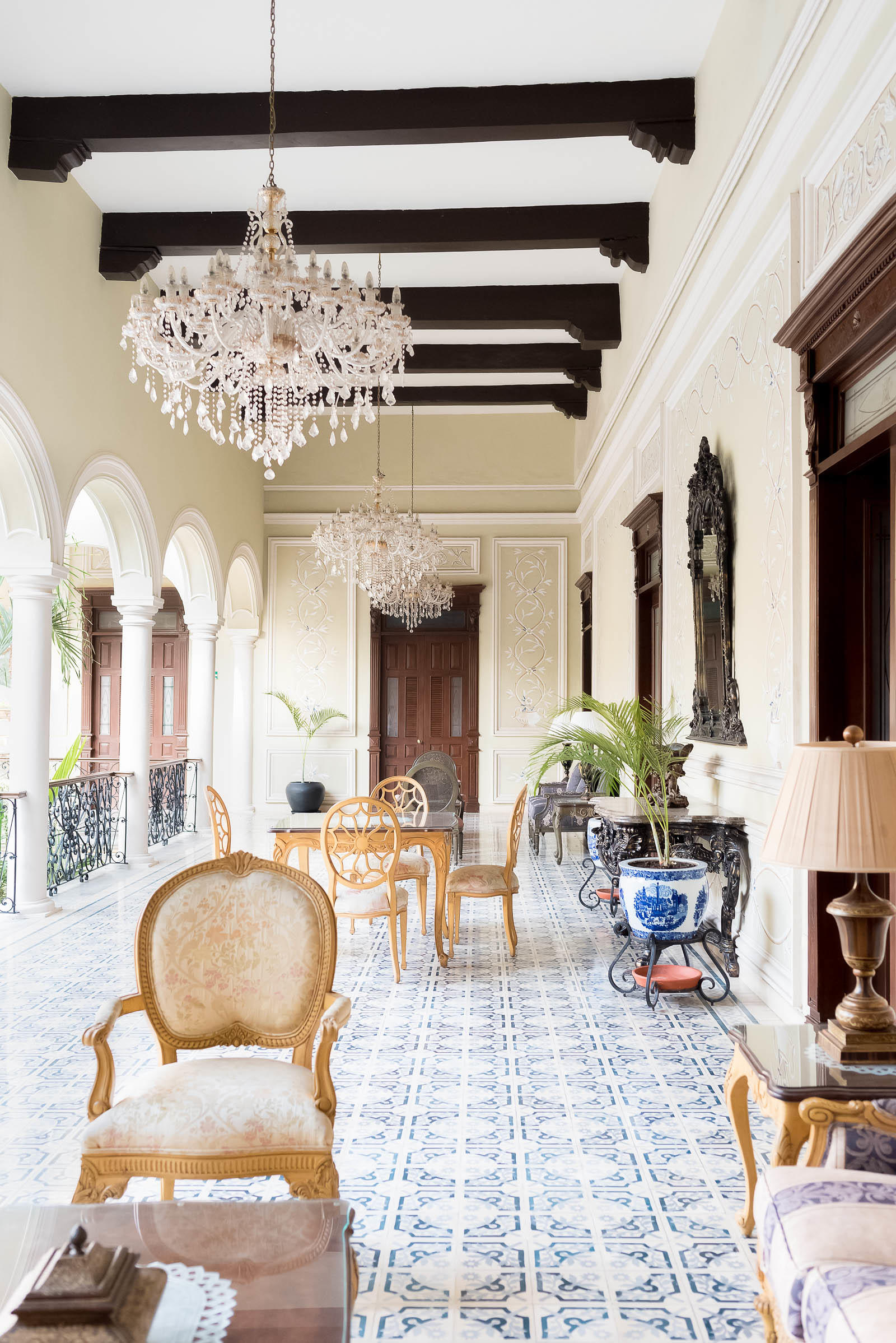 I found them absolutely charming — such a slice of beautiful Europe in the heart of tropical Mexico.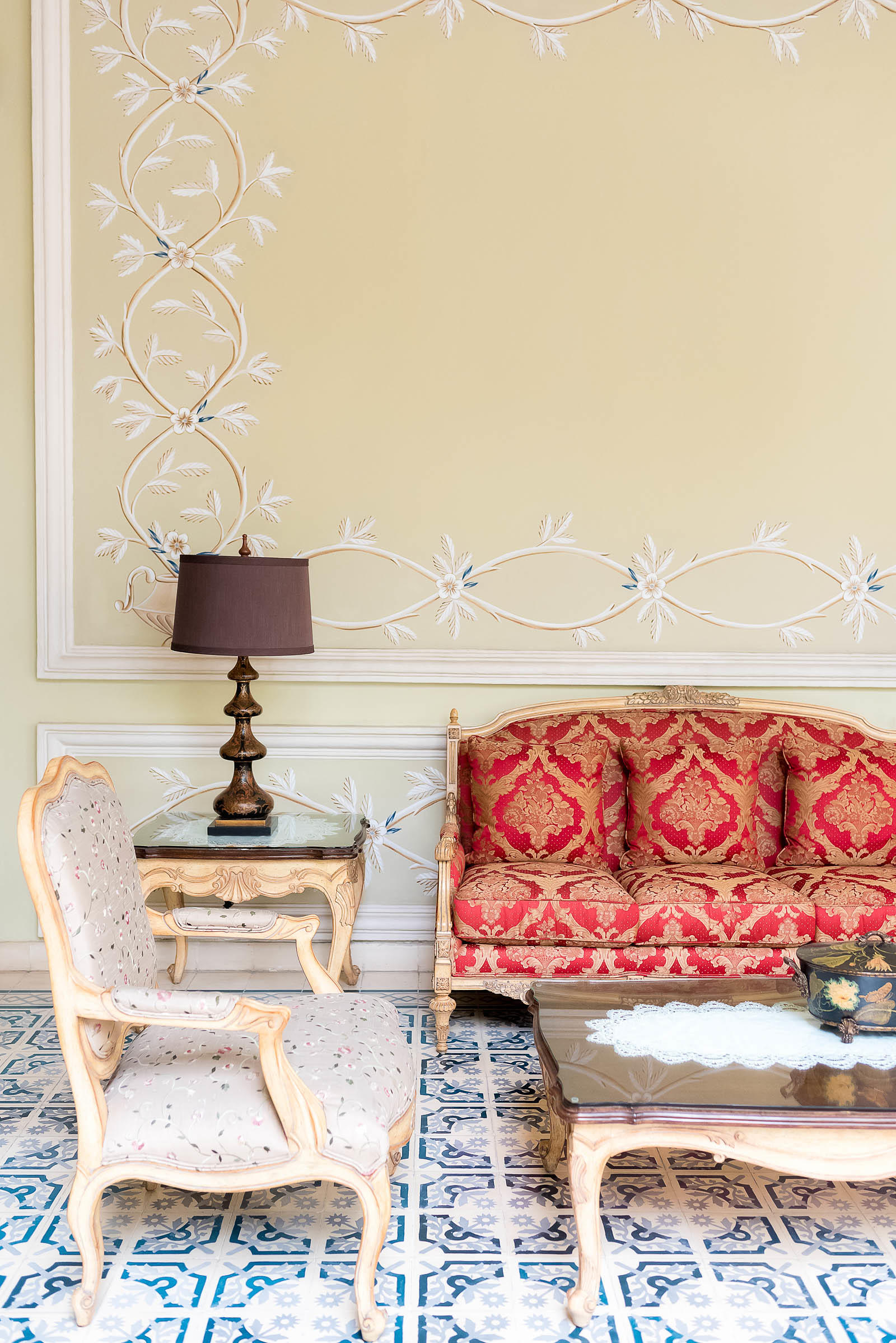 Not to mention inspirational…
(I wouldn't mind finding a red brocade couch like this for myself…)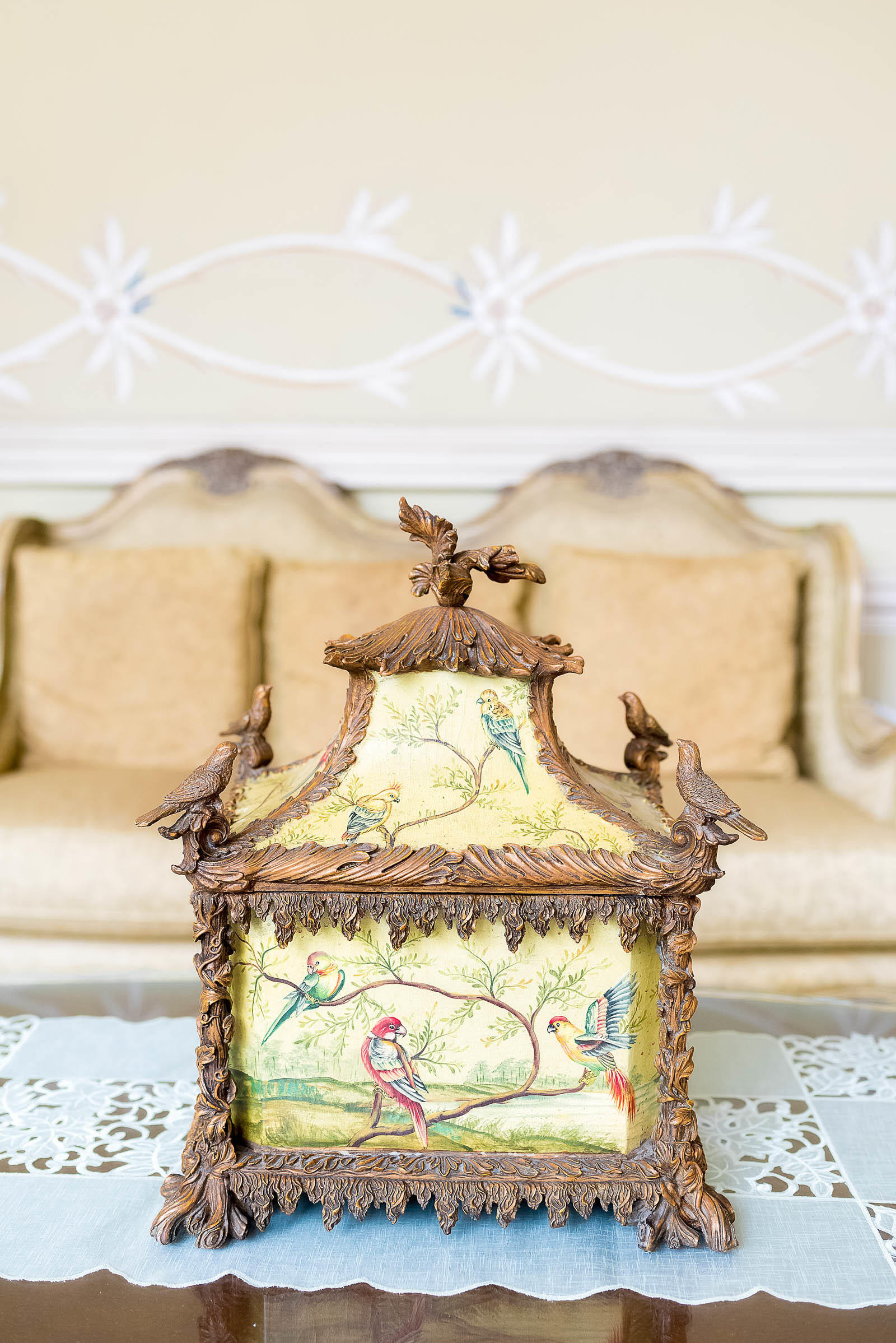 And the ample chinoiserie details are particularly swoon-worthy!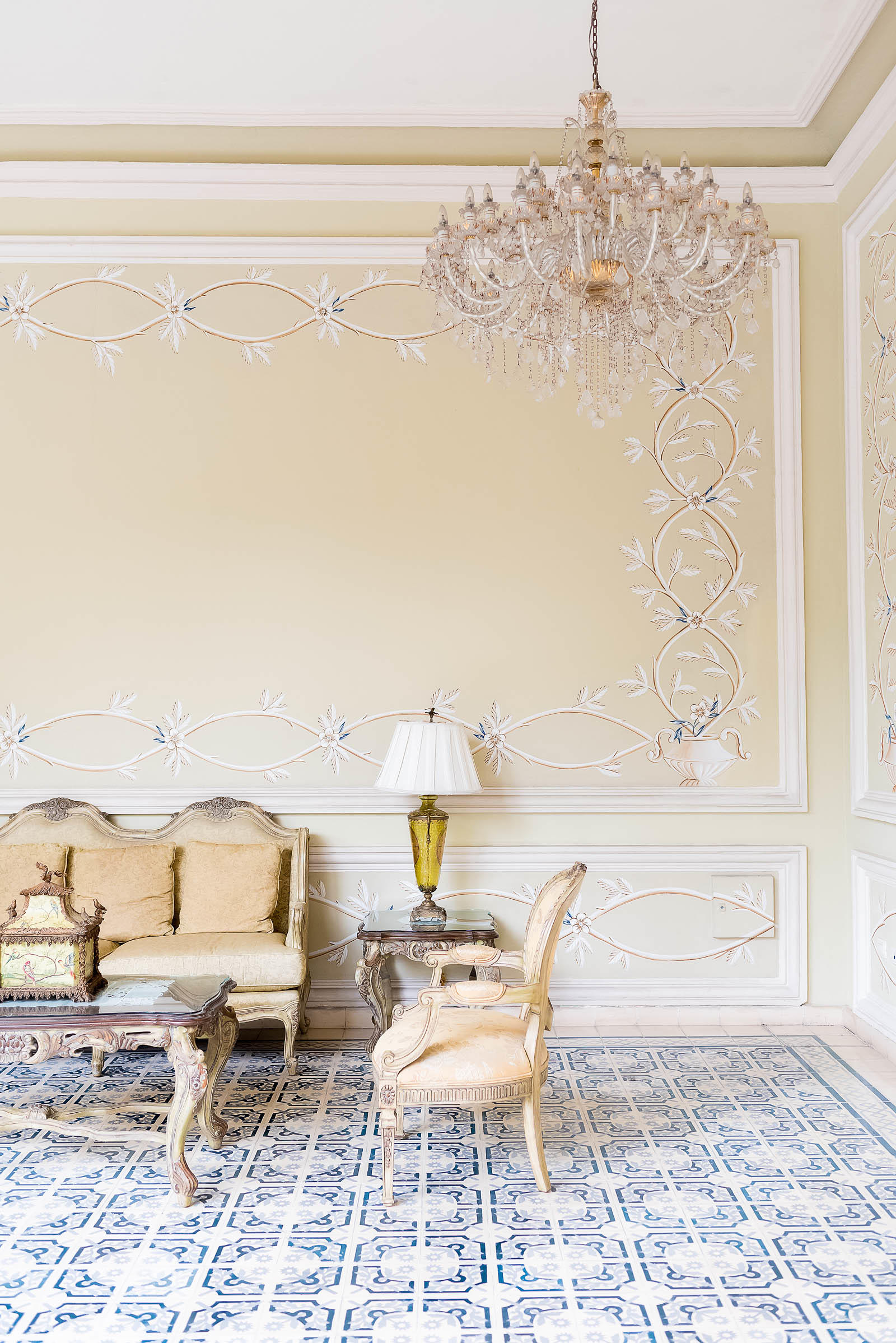 As are the unique tables and settes around.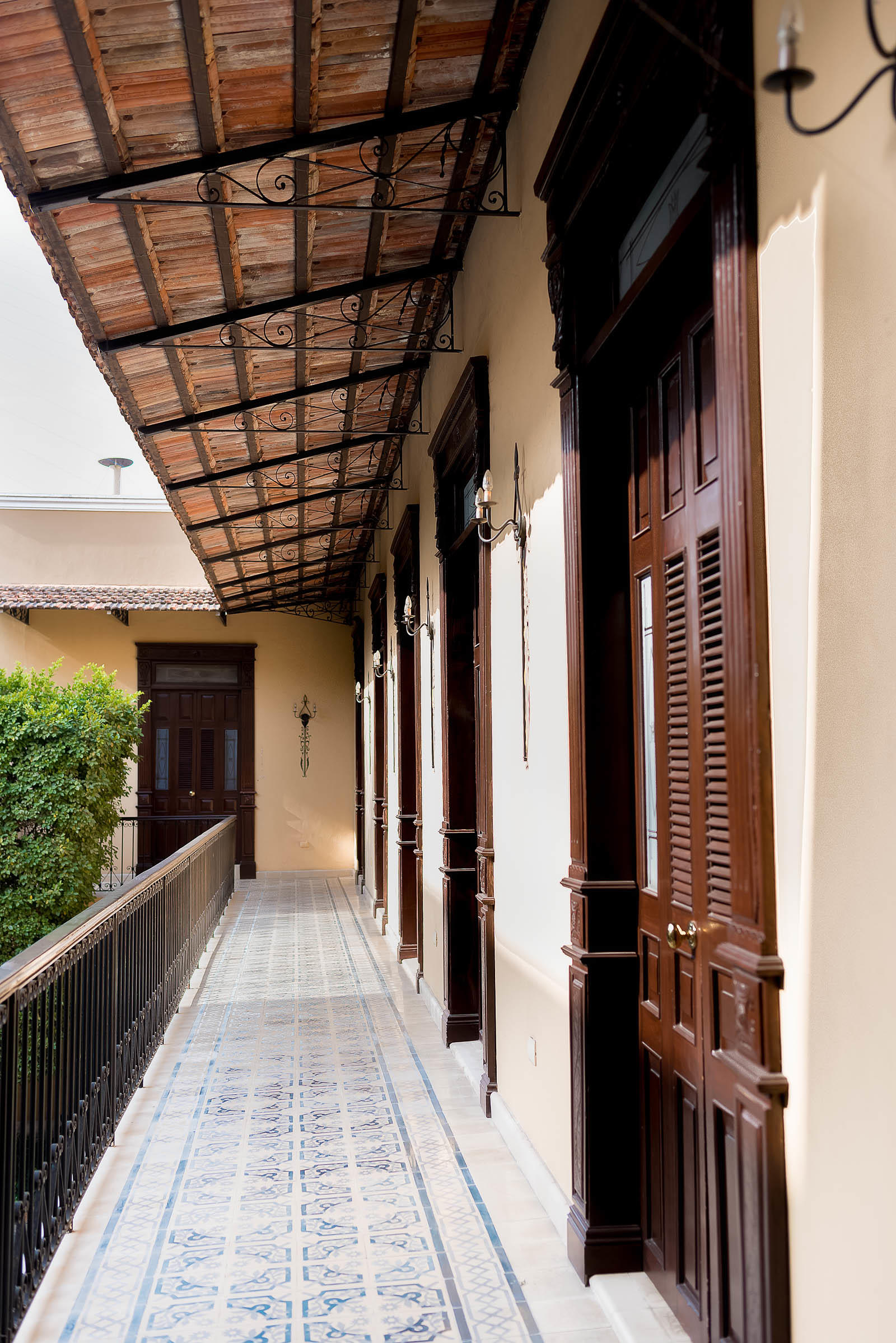 It really goes without saying that every corner of the hotel is truly breath-taking.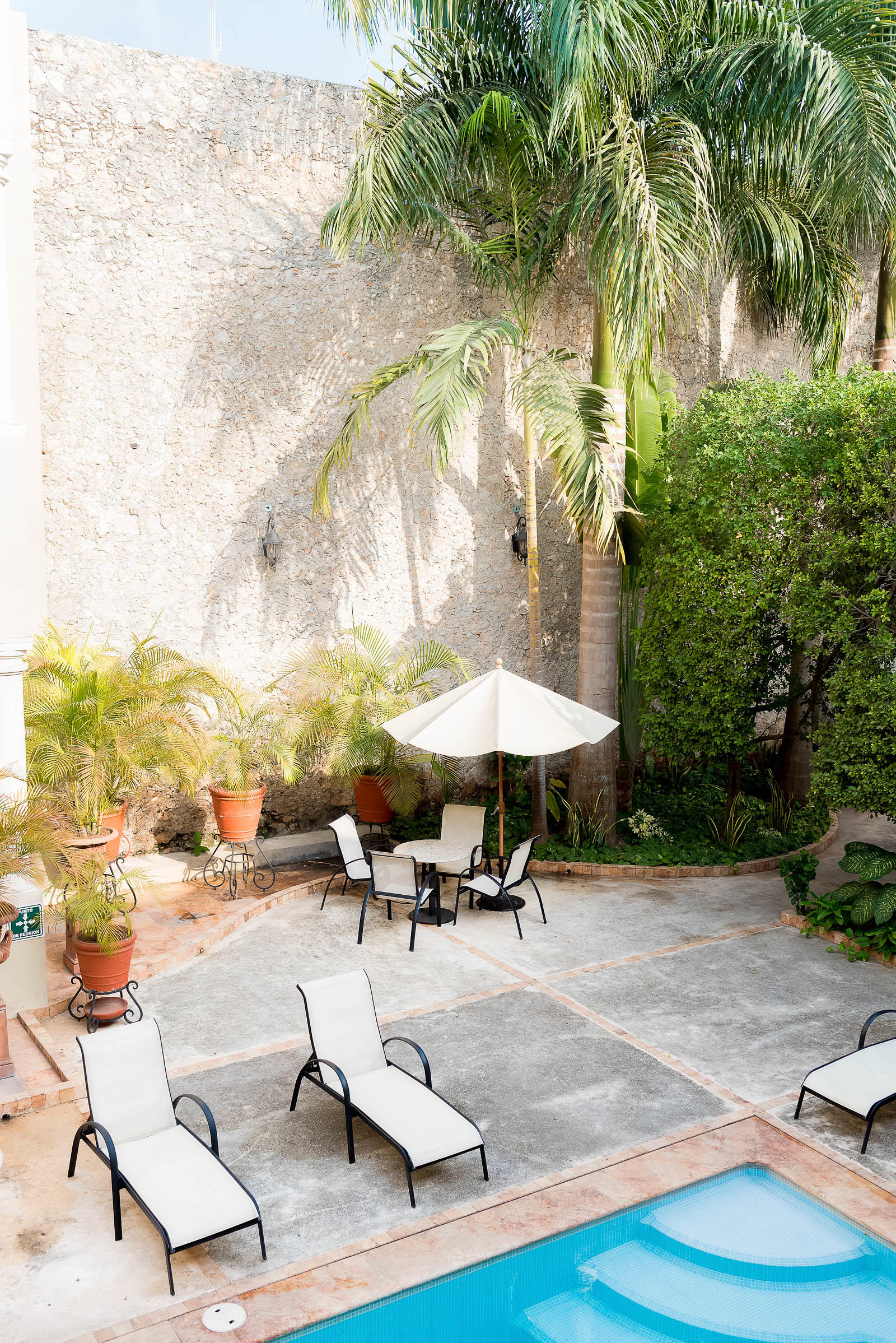 Everything from the lush pool area,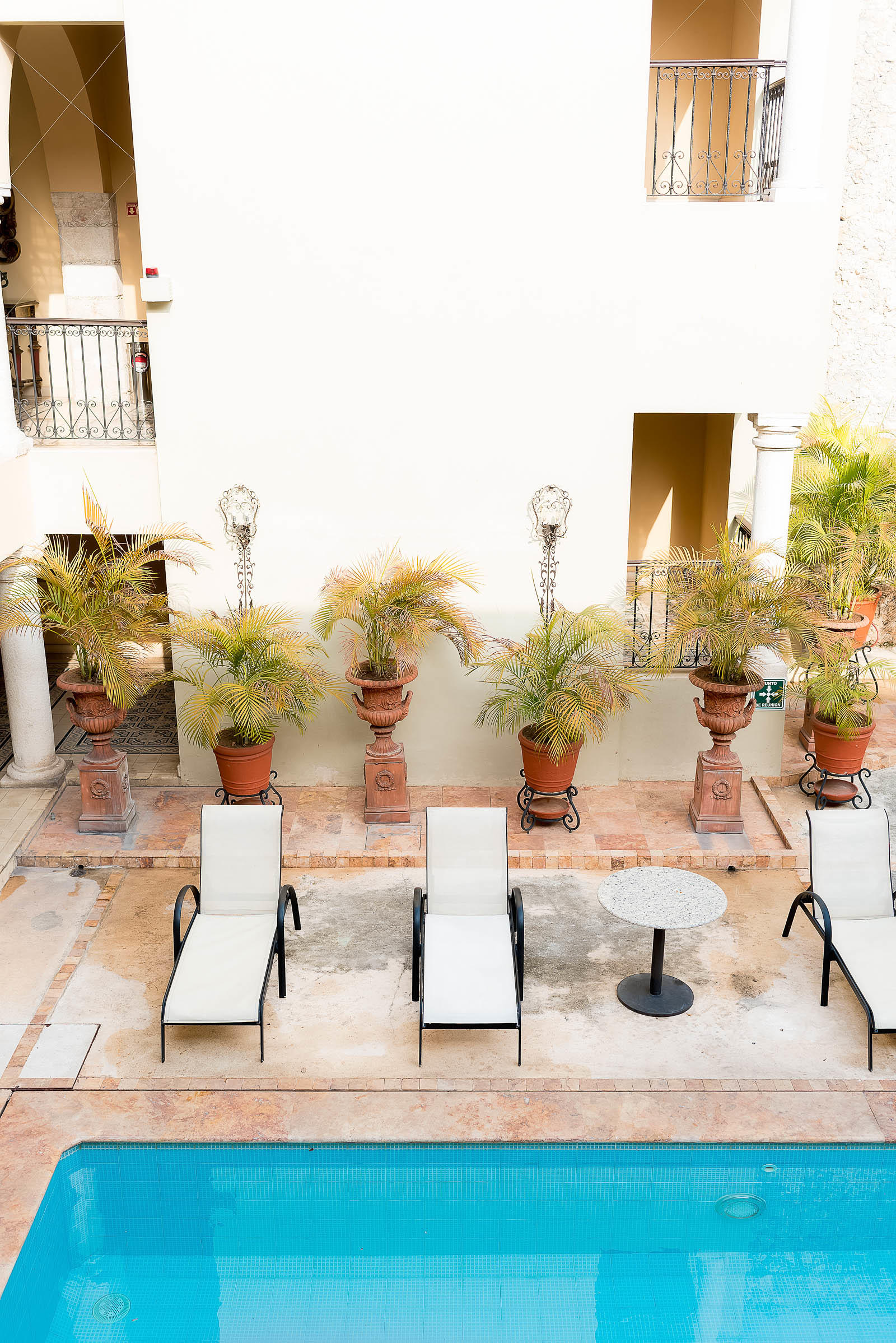 which I totally wish I was lounging at right now…,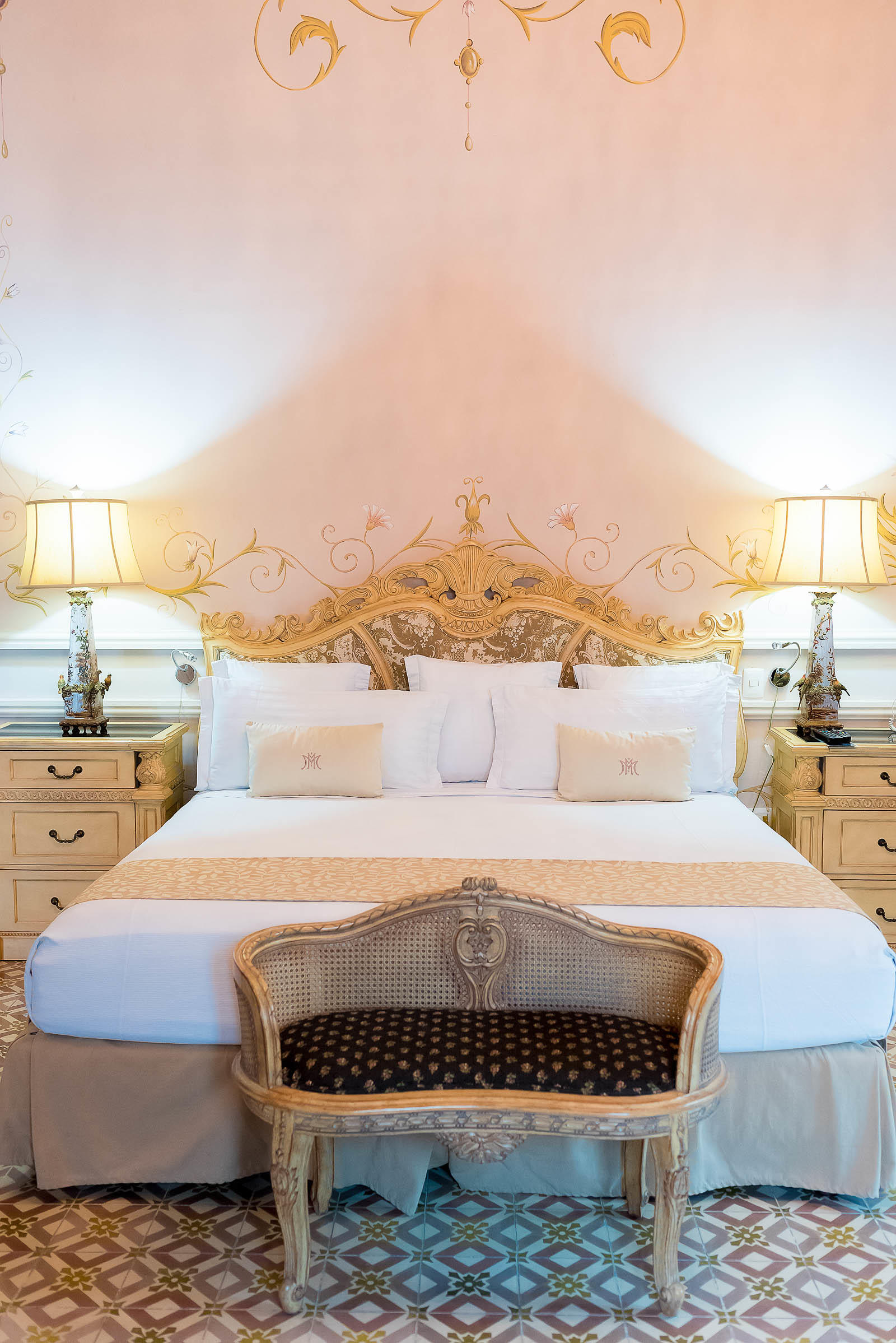 to the European bedrooms that really make this hotel so unique.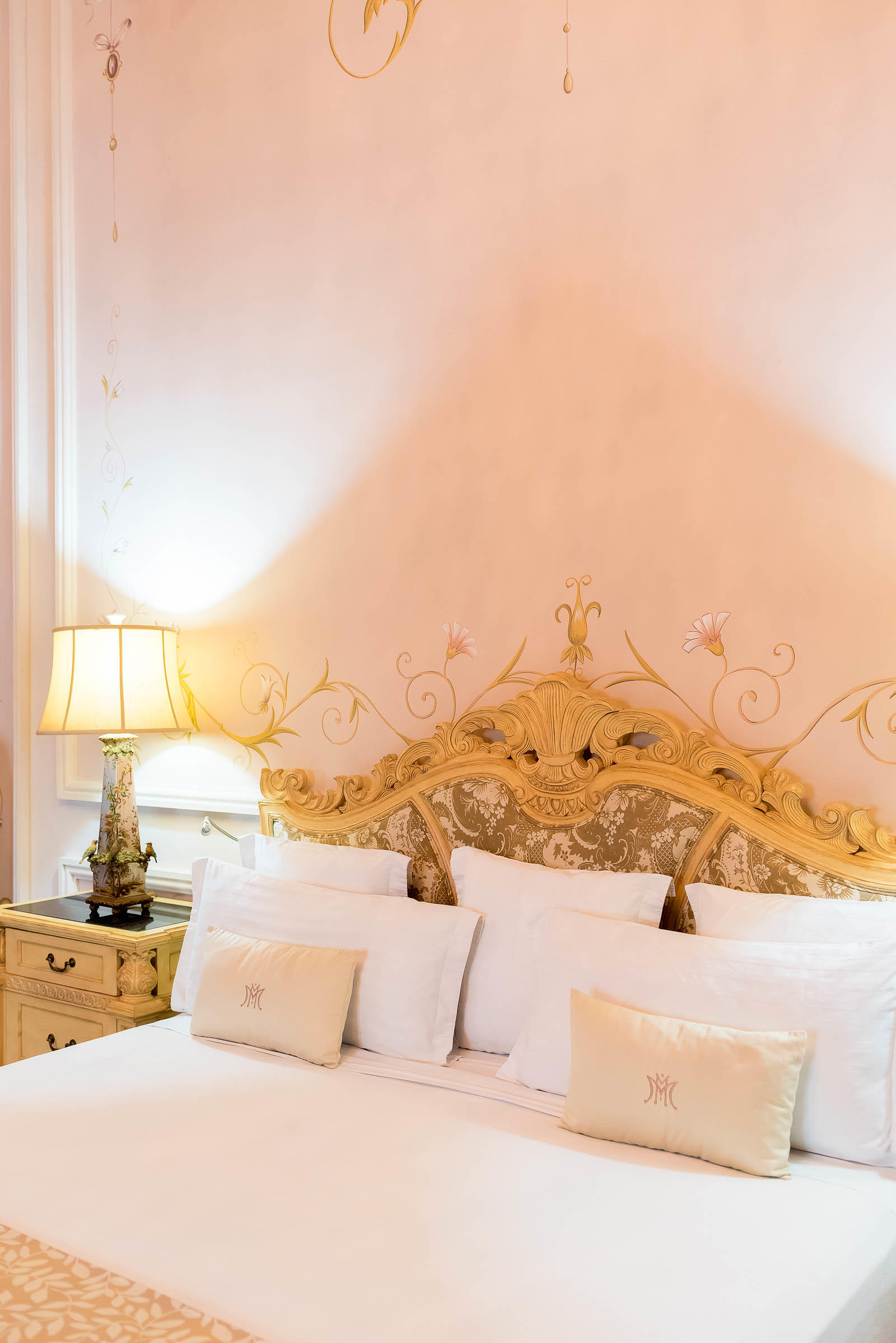 Each bedroom has a different theme and color-scheme.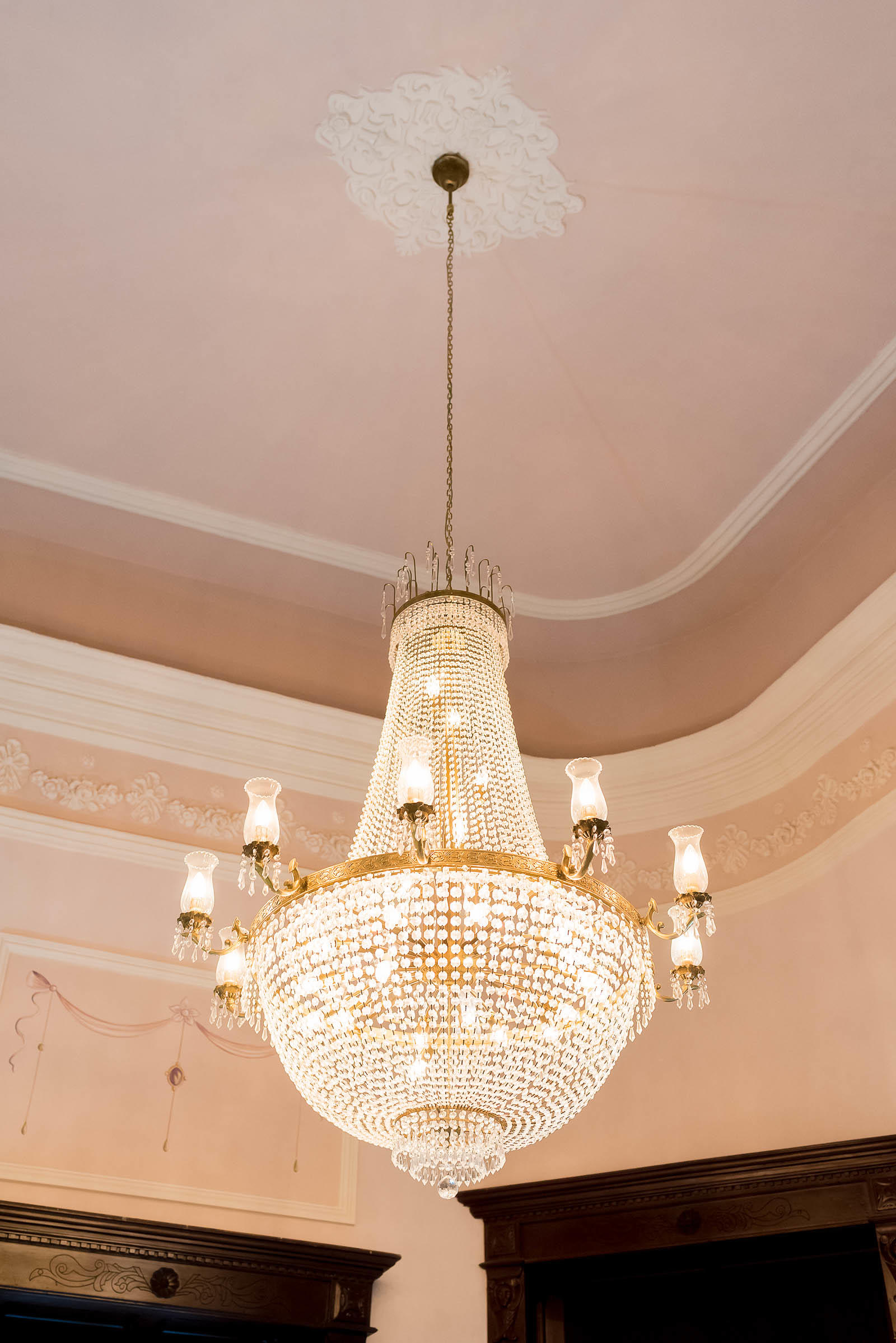 Not to mention its own unique chandelier, as well as beautifully ornate furniture to match the whole room.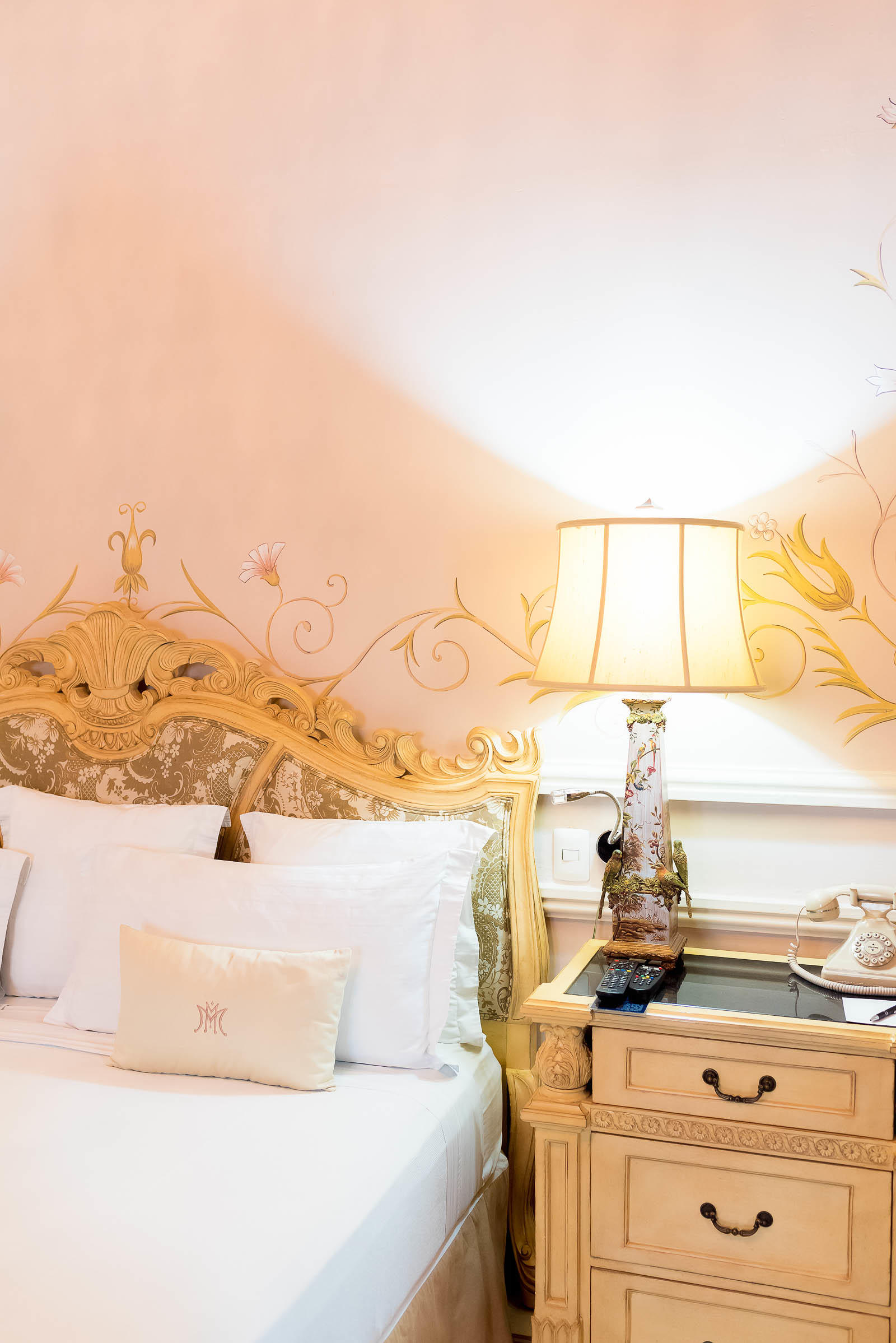 Aren't the details positively stunning?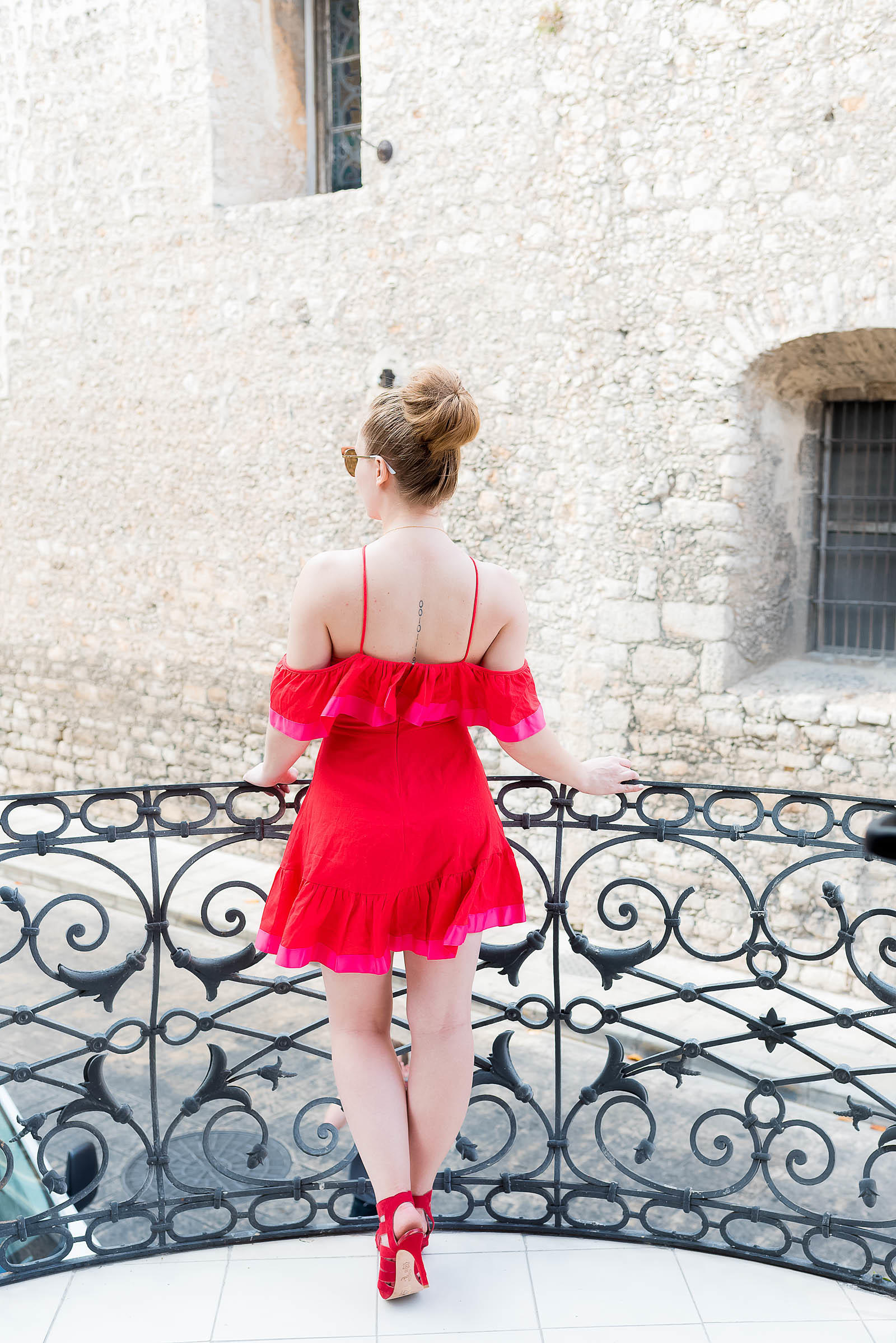 The largest suite also has its own balcony overlooking the Cathedral… how romantic, right?
(Find outfit details in this post).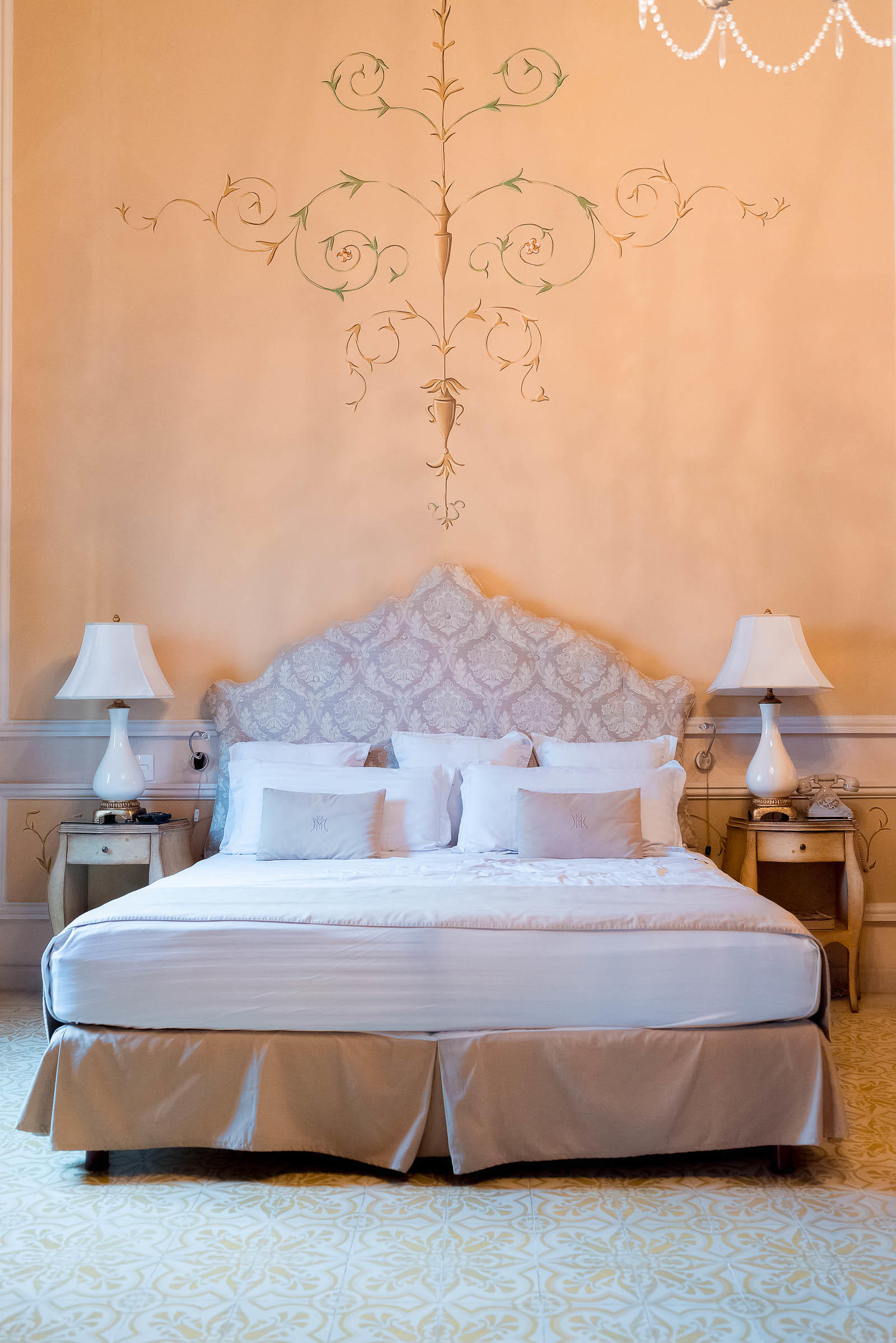 But I was honestly smitten the most with my own room.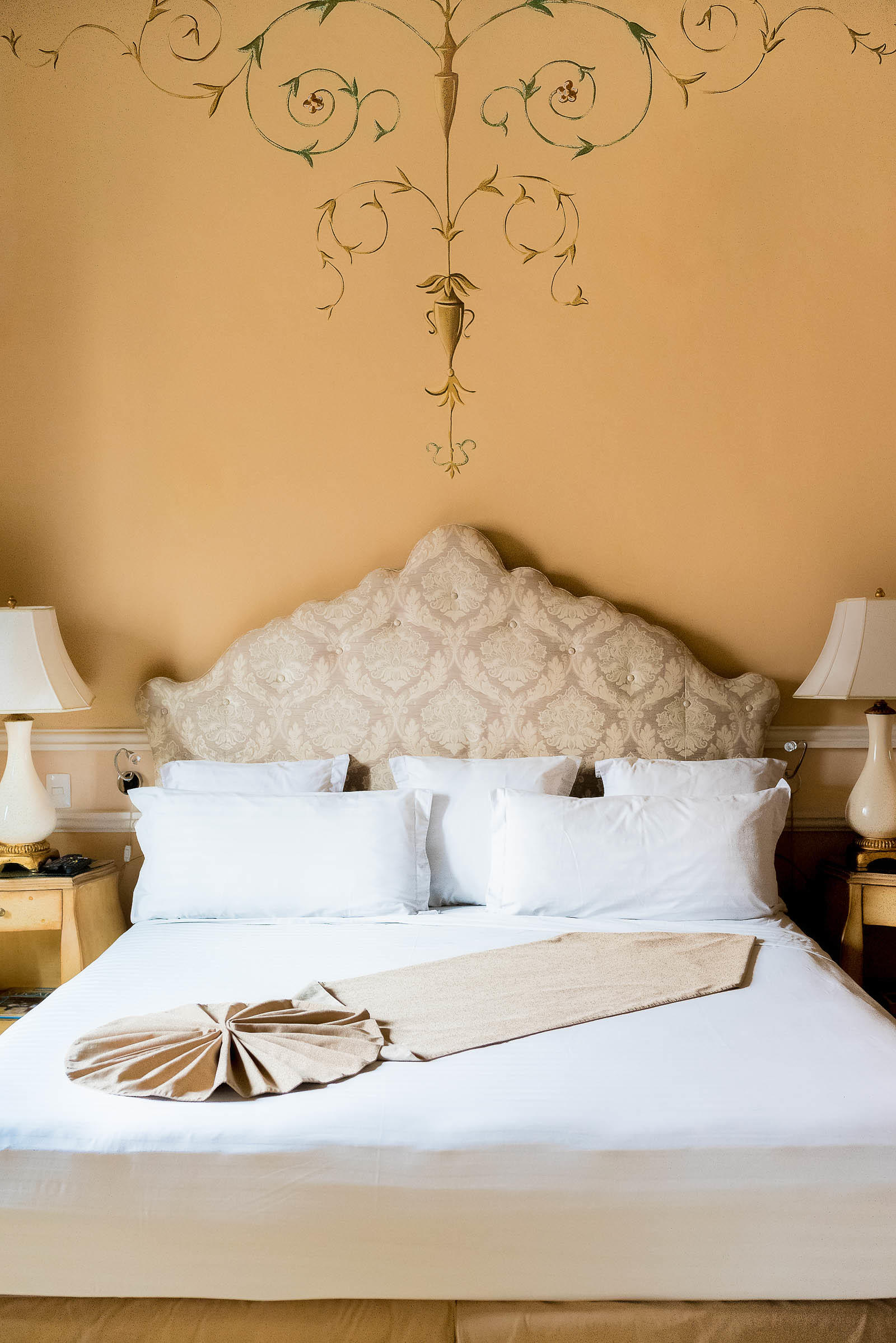 Outfitted in beautiful golds, peaches, and greens, it's easily the most glamorous bedroom I've ever slept in.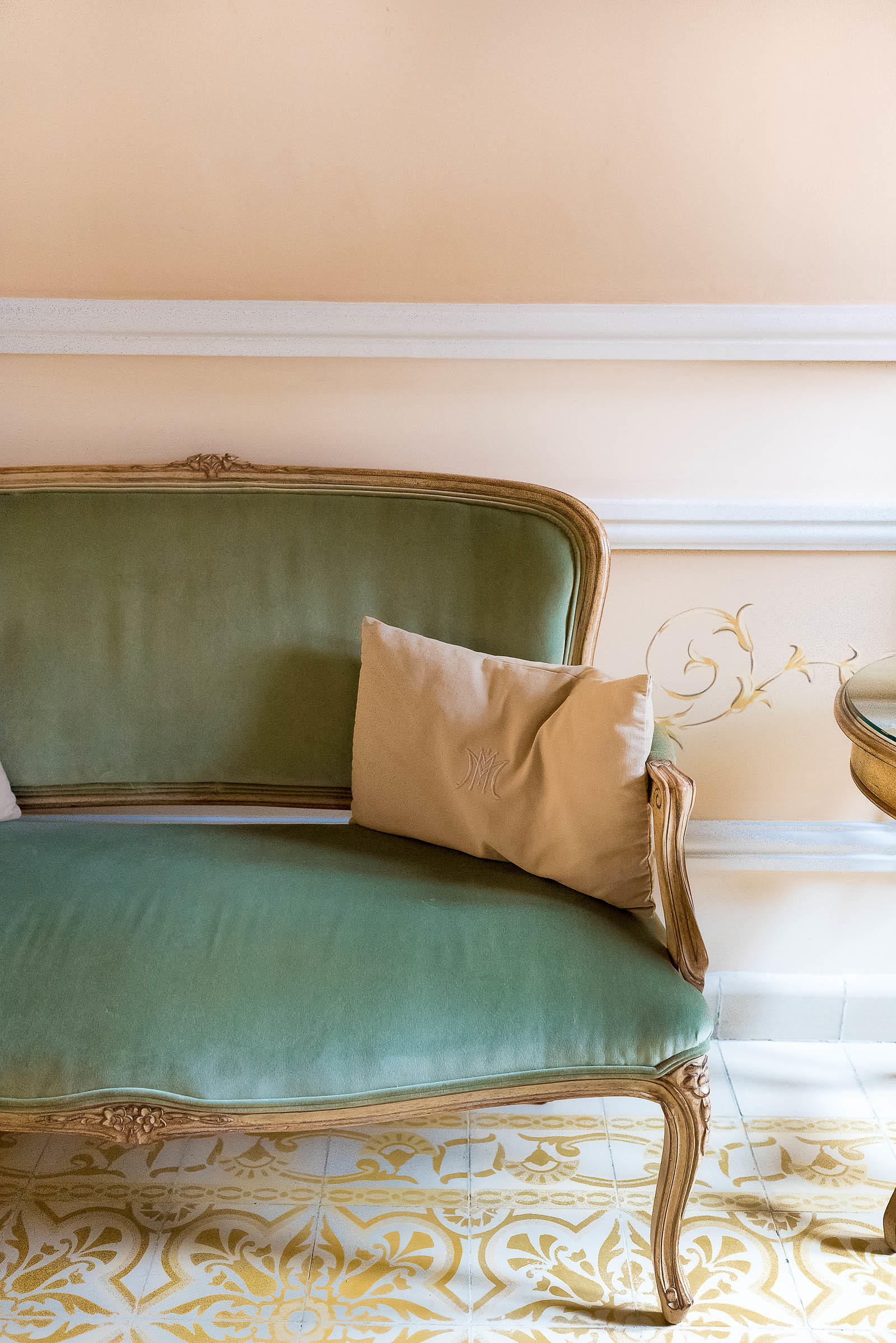 But maybe that's just because it's the only bedroom I've ever slept in with a chandelier overhead!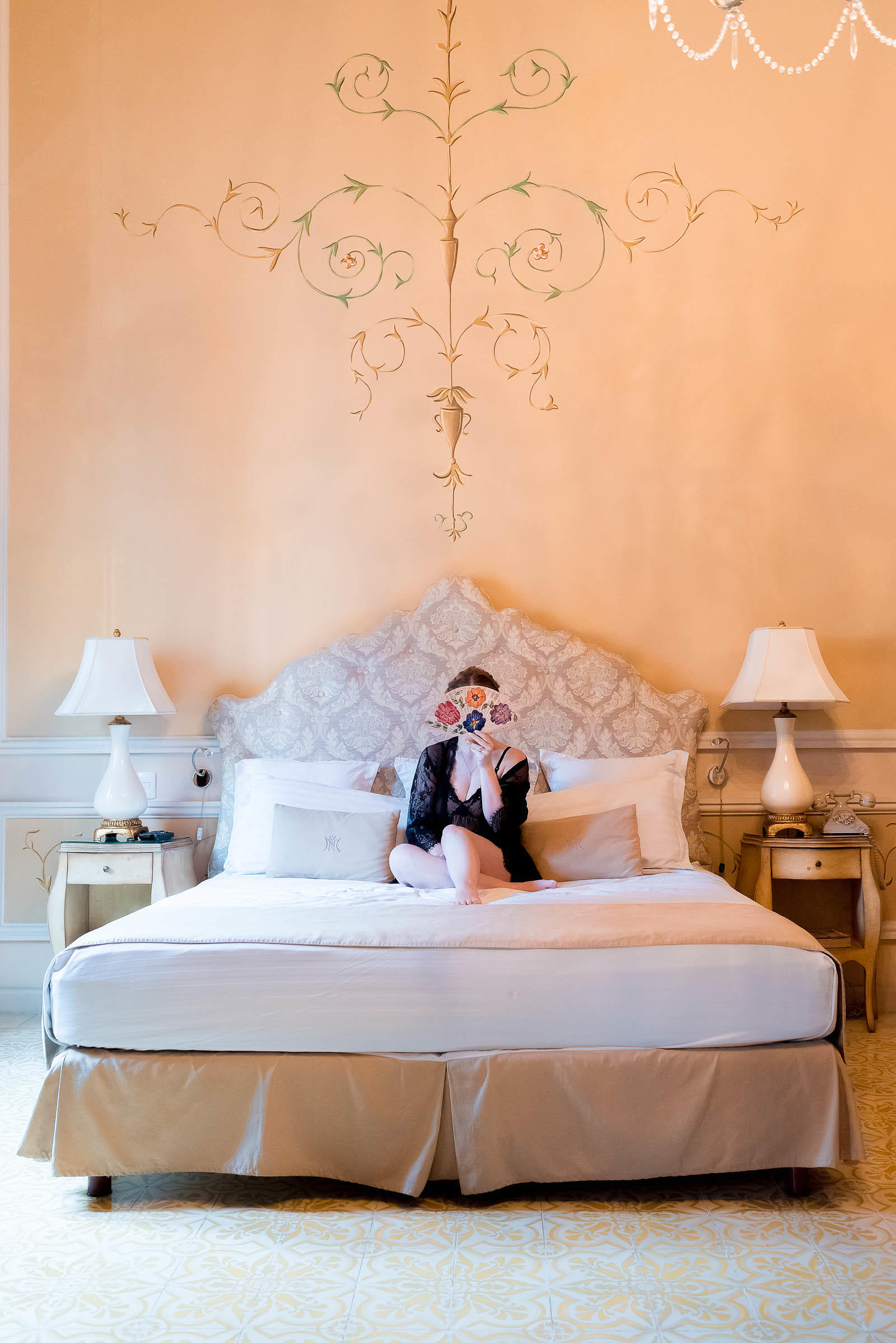 Waking up here every morning was magical…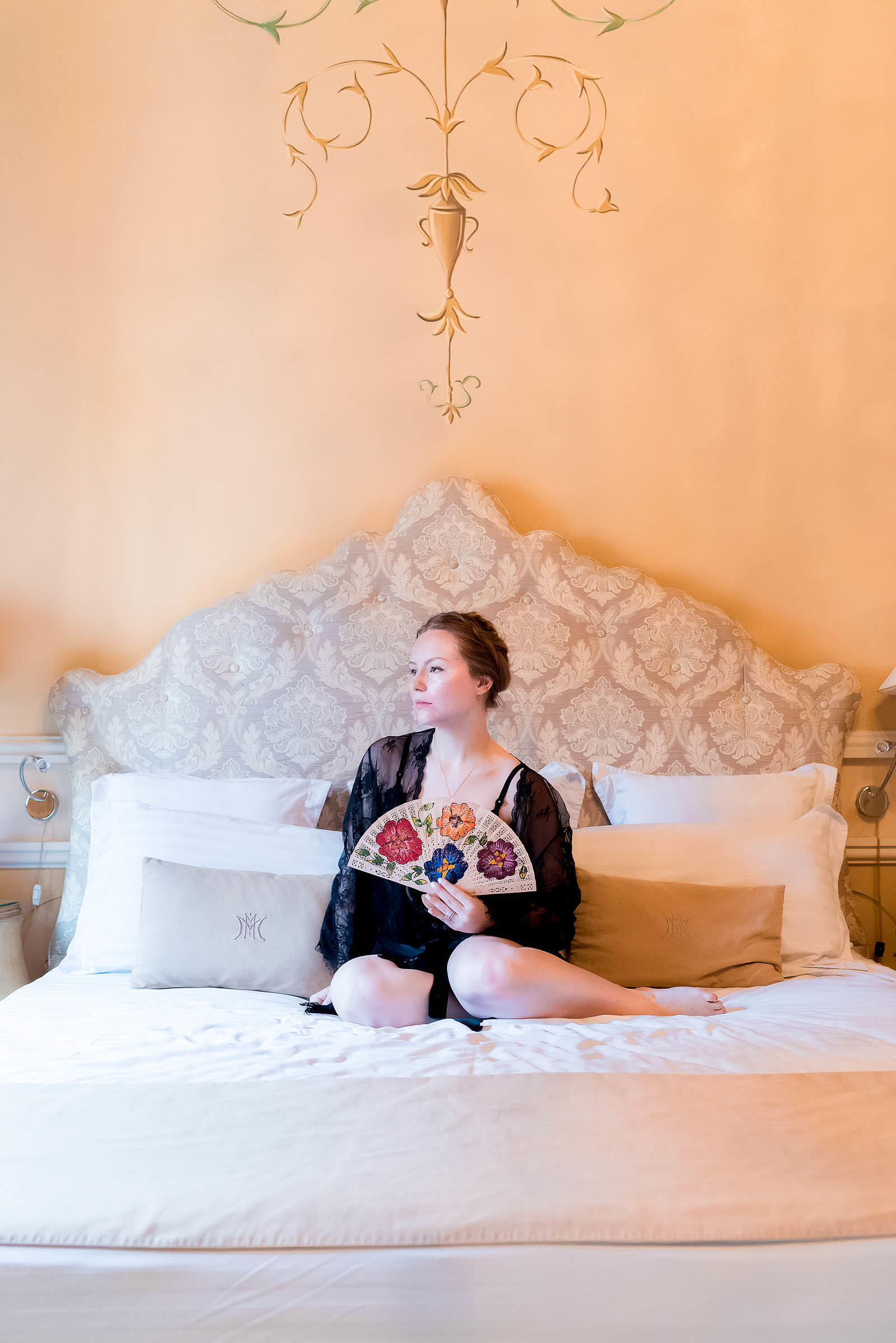 Like I was a real-life princess…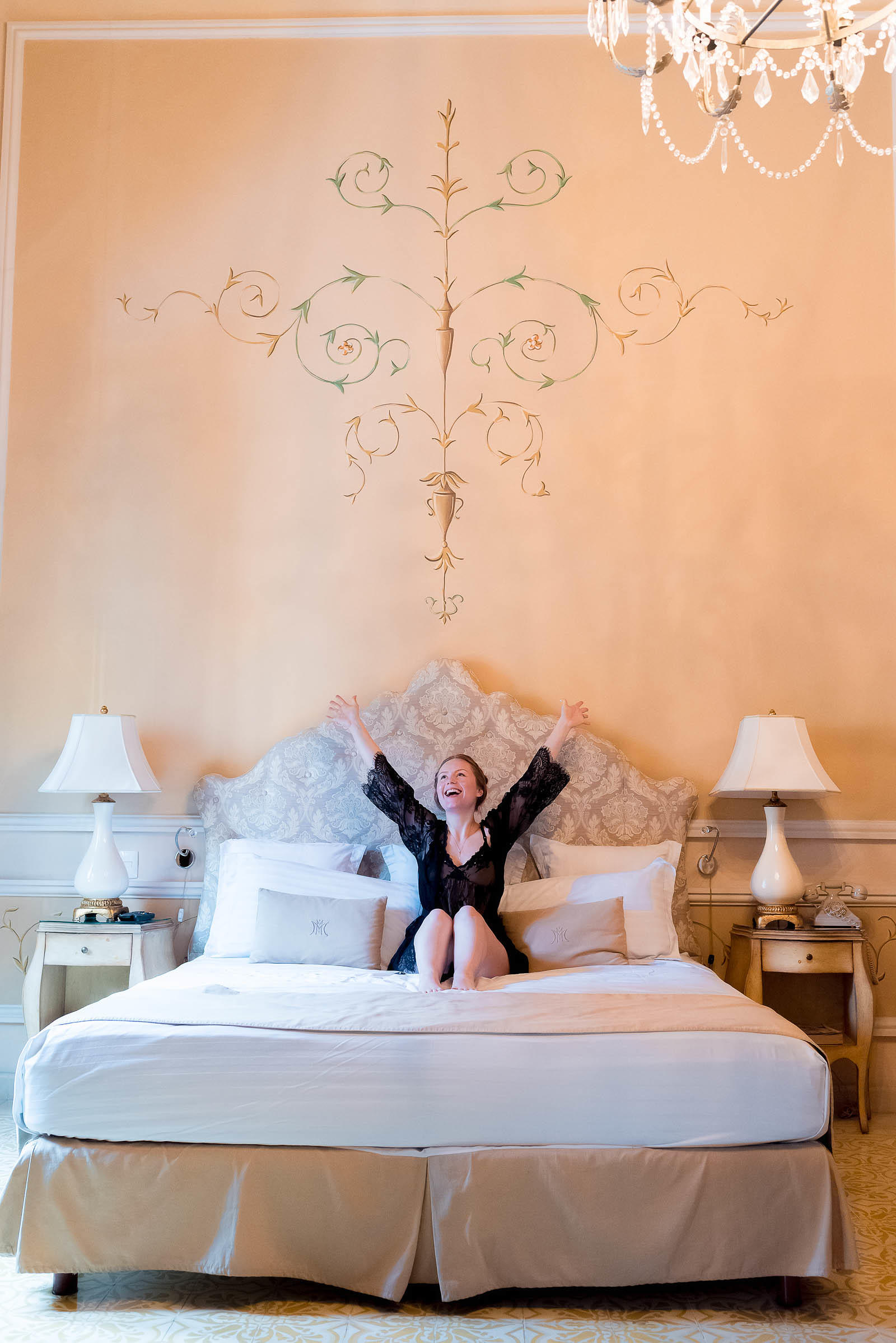 Only dorkier…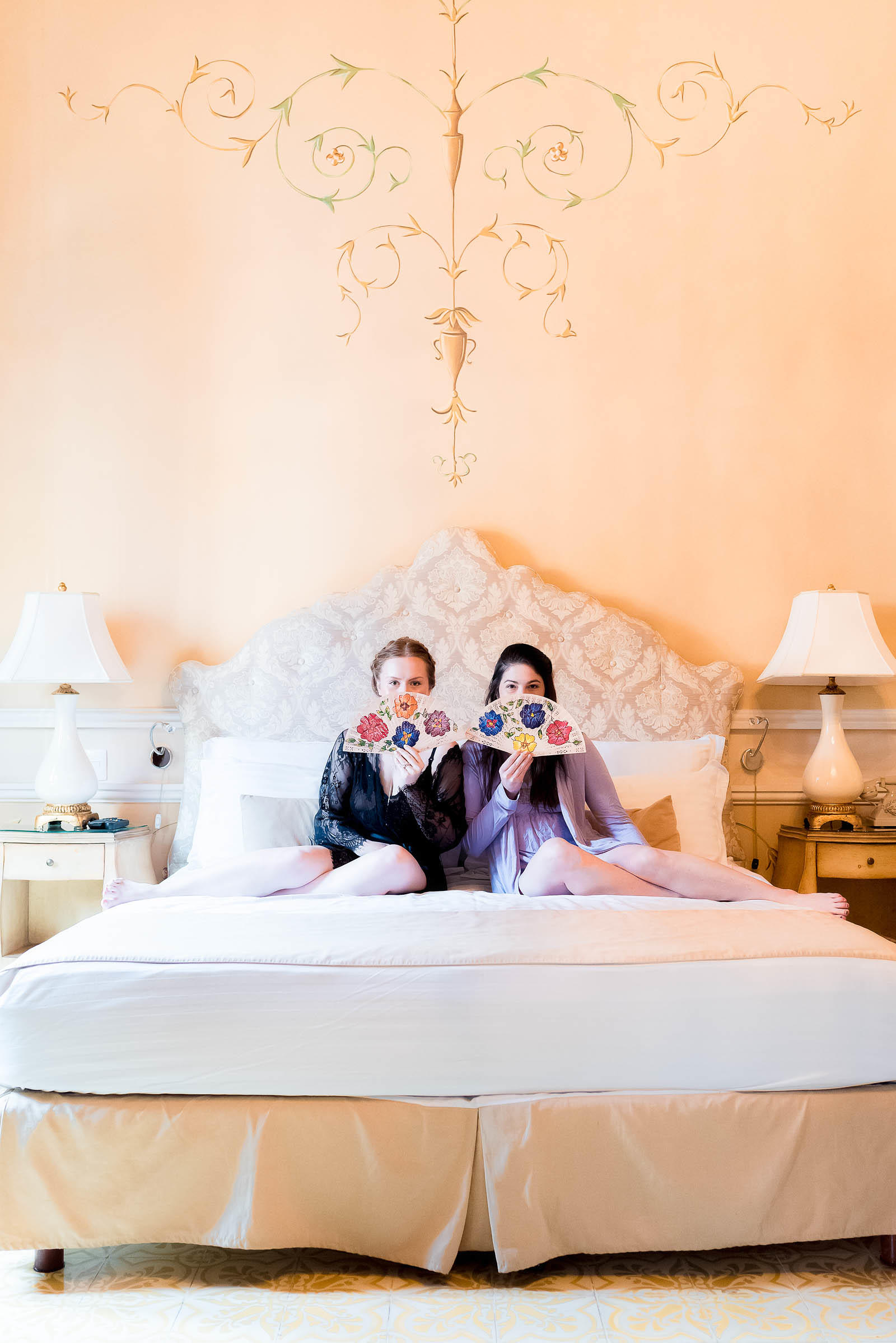 Erin and I couldn't resist the urge to have a photo shoot in my room our first morning in Mexico.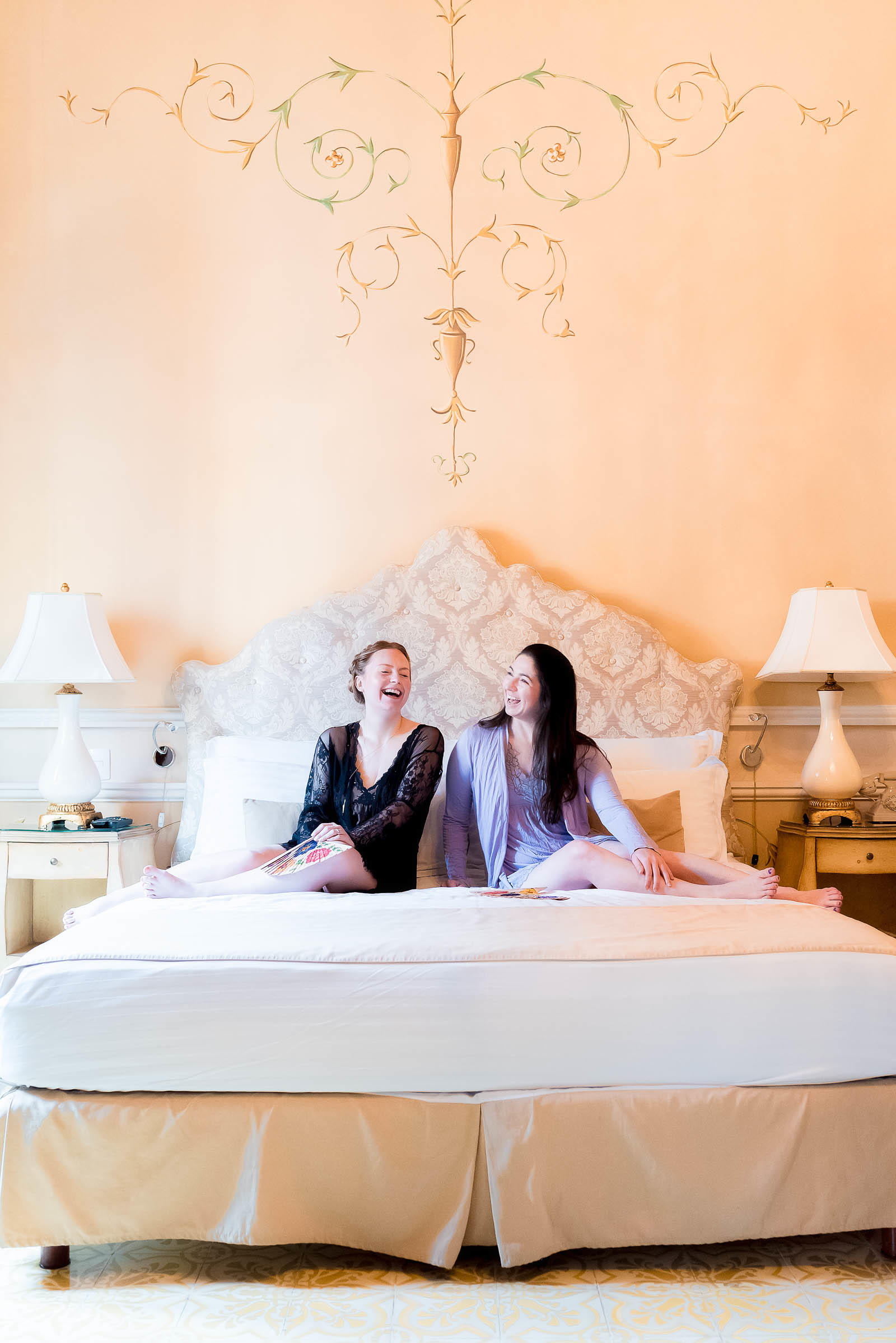 Even if 90% of the shots looked like this because we were too jet-lagged to take ourselves seriously!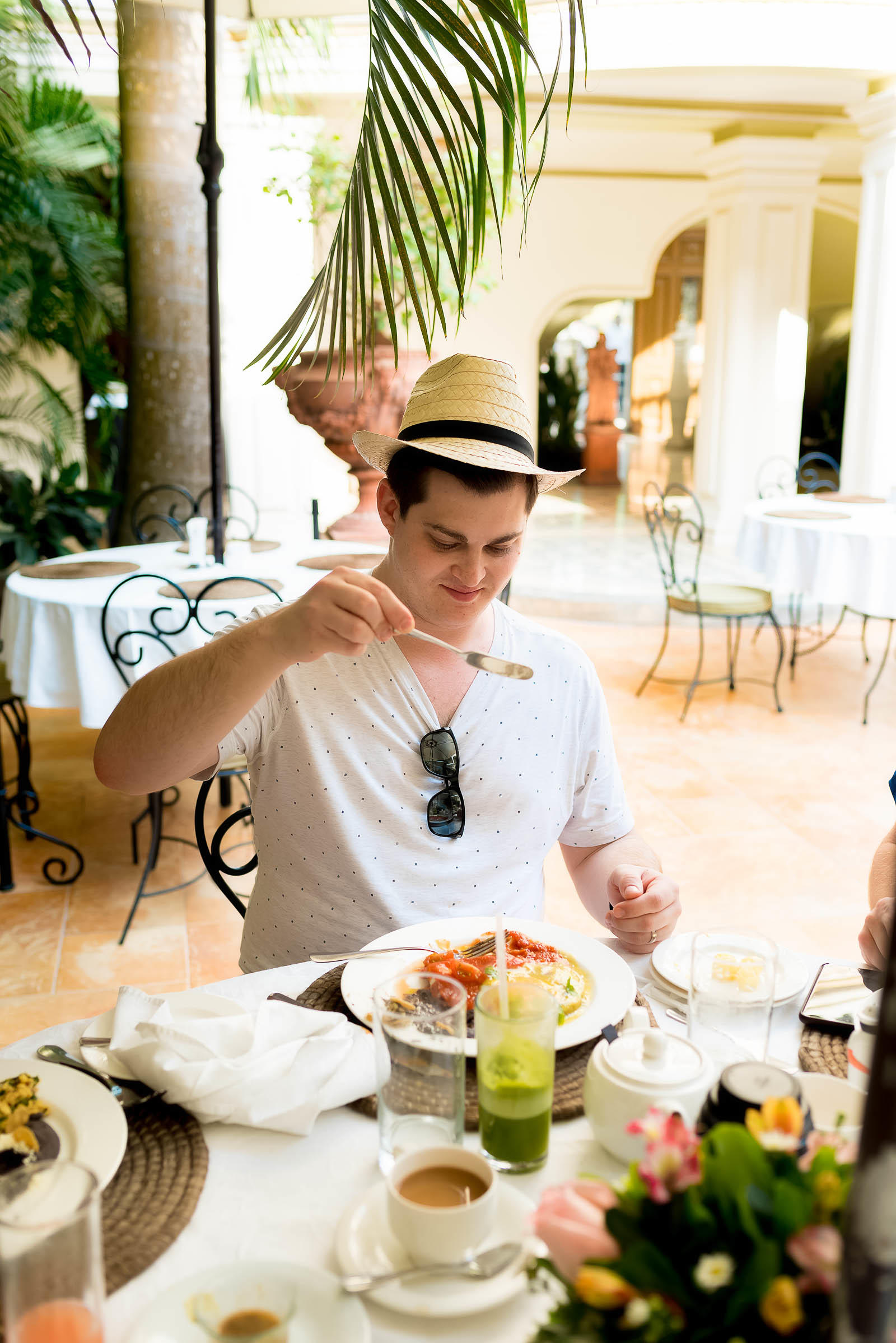 Now as a self-defined foodie I would never ever recommend a hotel that didn't serve killer food.
When you're traveling you'll almost always inevitably eat at your hotel for at least one meal. So it better be a good one.

Luckily Mansión Mérida has some insanely swoon-worthy food to dive into.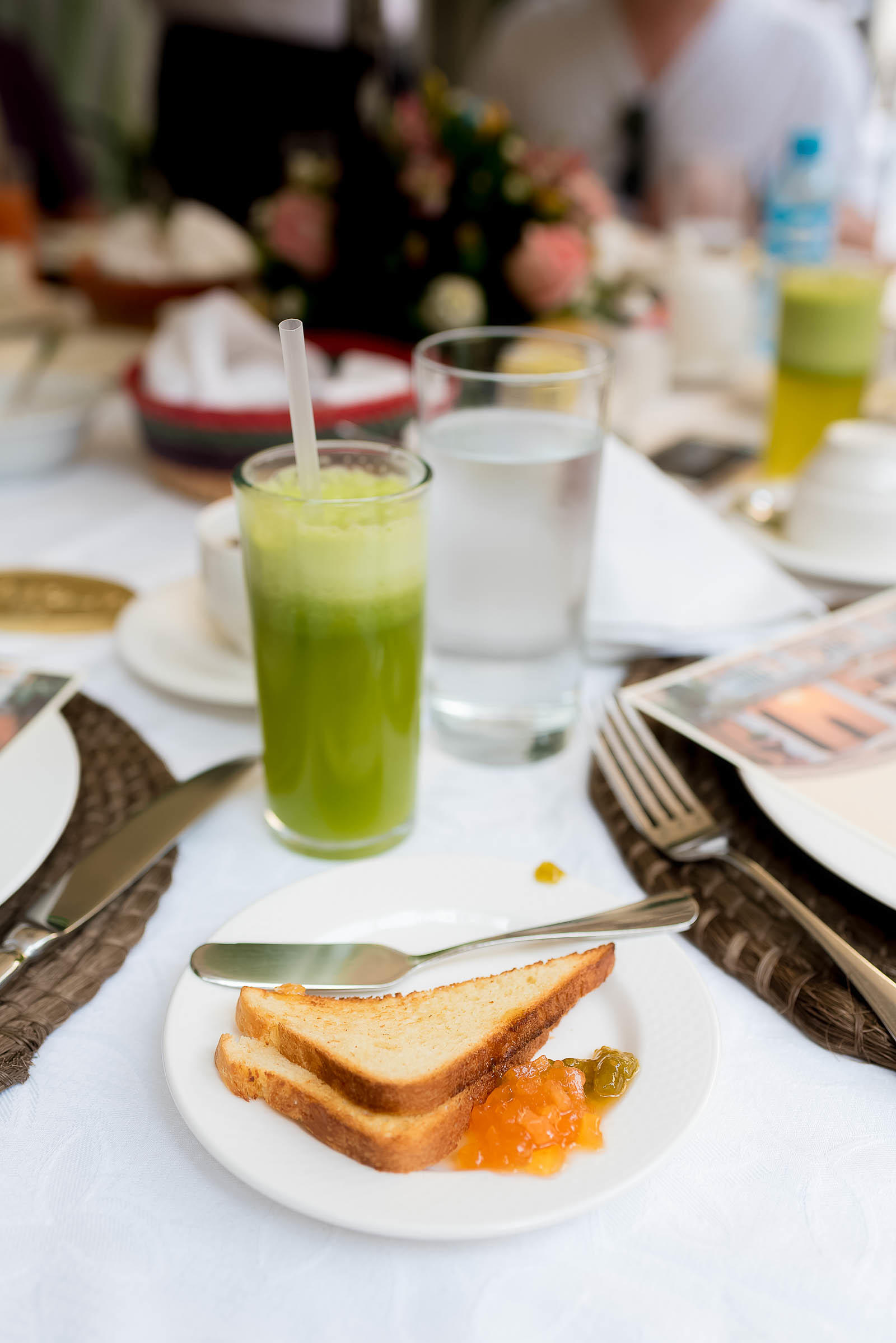 We ate here every morning for breakfast and not once did the menu disappoint.
There was house made guava jam,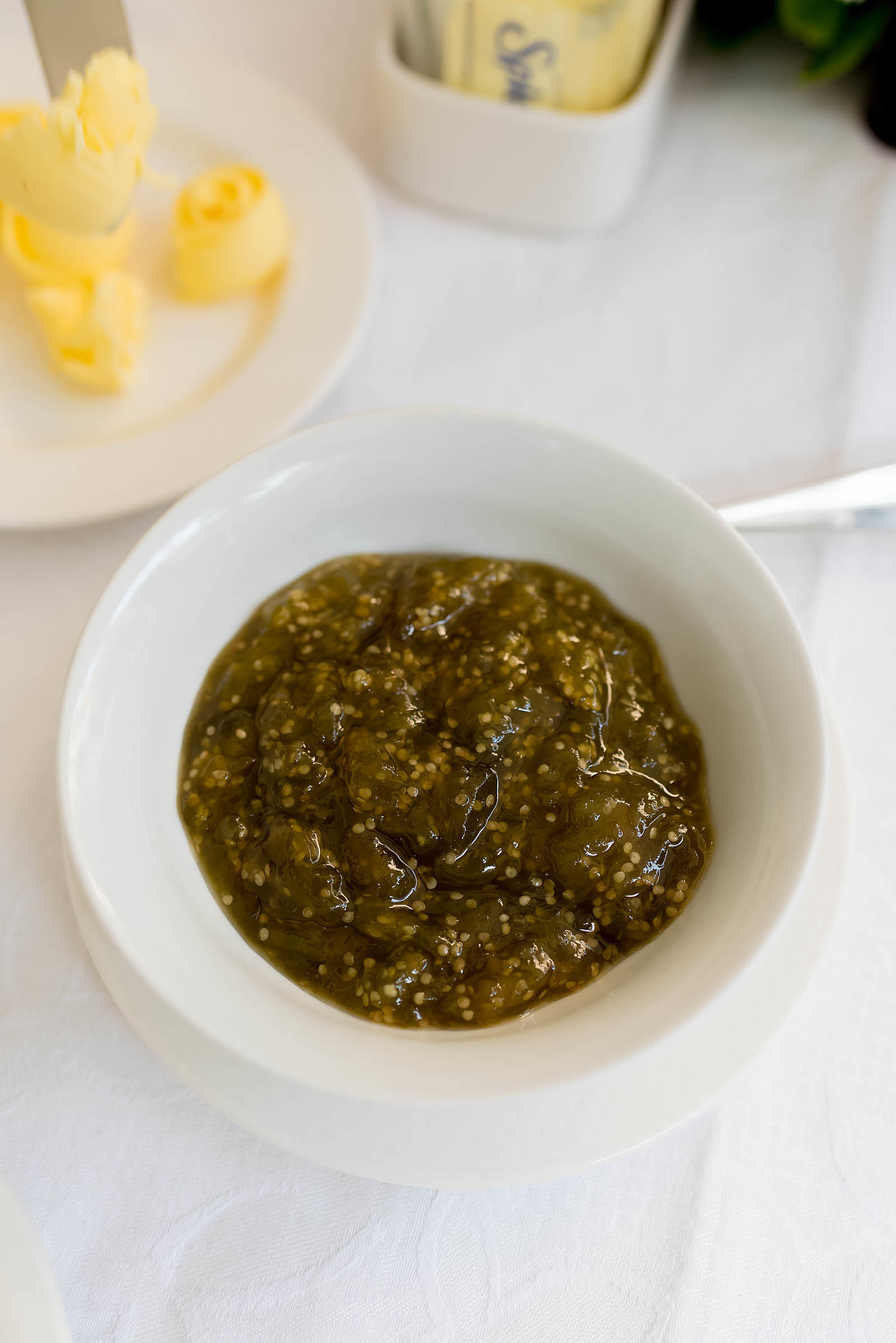 and chili jam.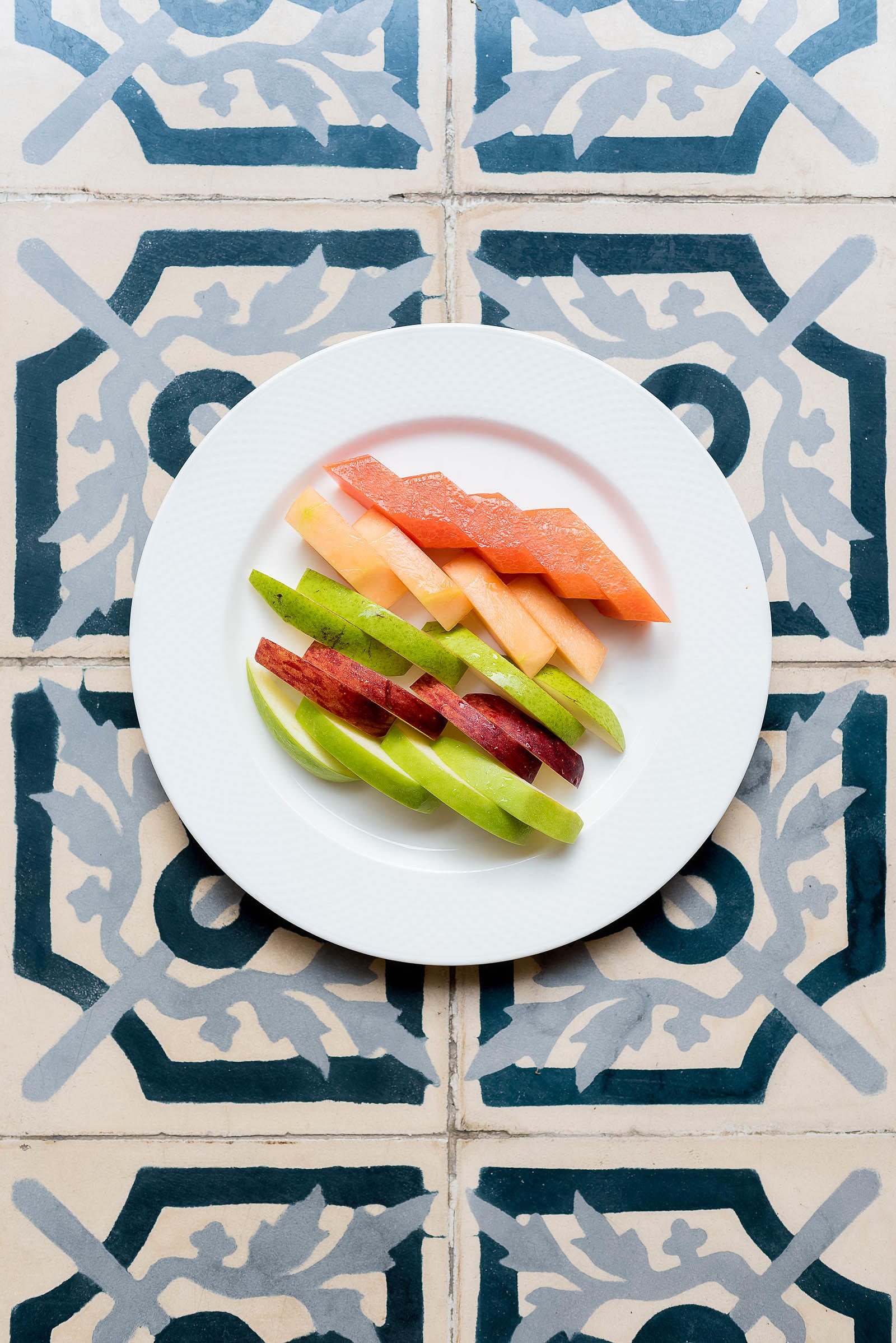 Platters of delicious fresh fruits,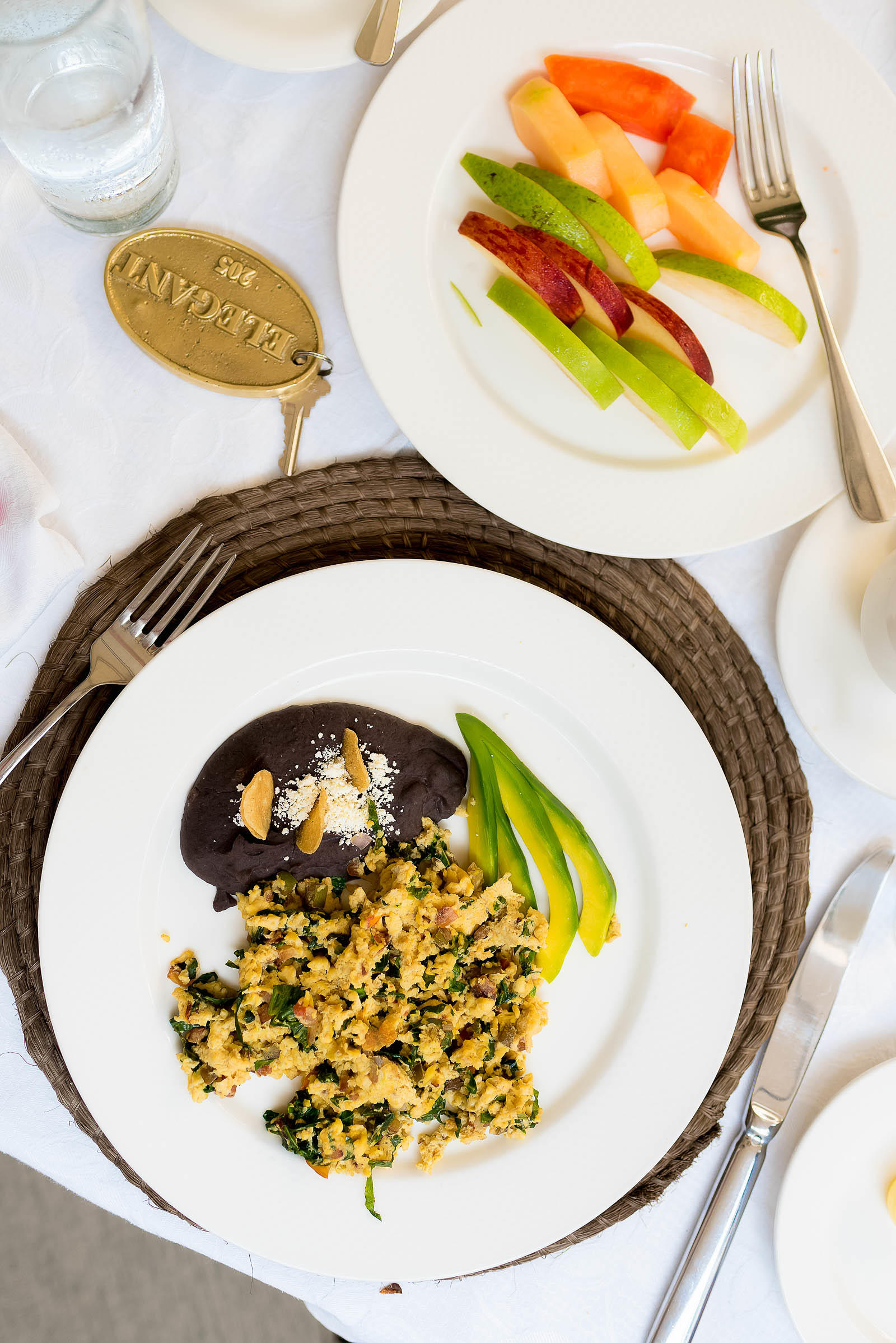 and a wide selection of delicious, Mexican breakfast dishes.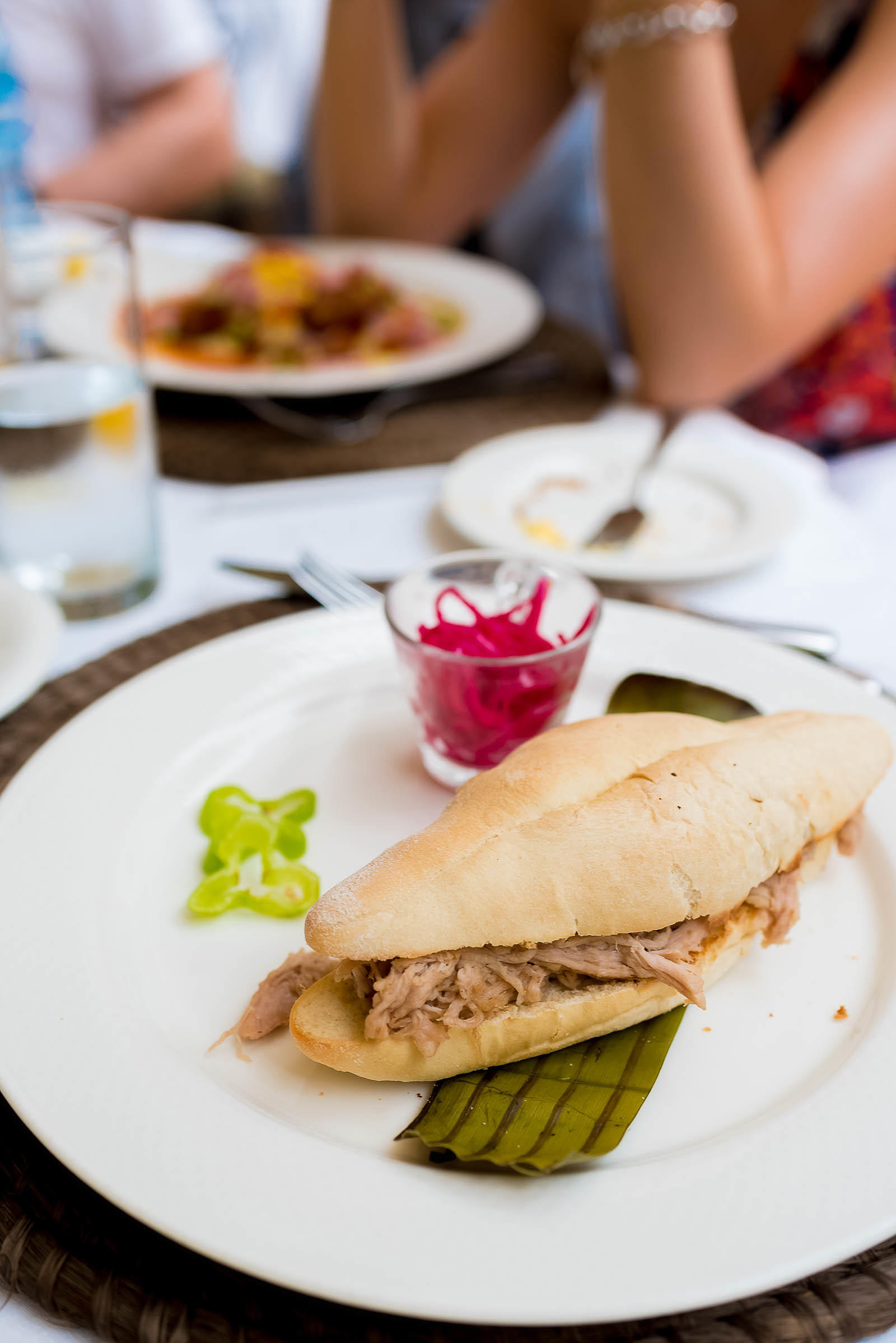 Like Cochinta Pibil (one of the 17 Foods You Must Try in the Yucatán),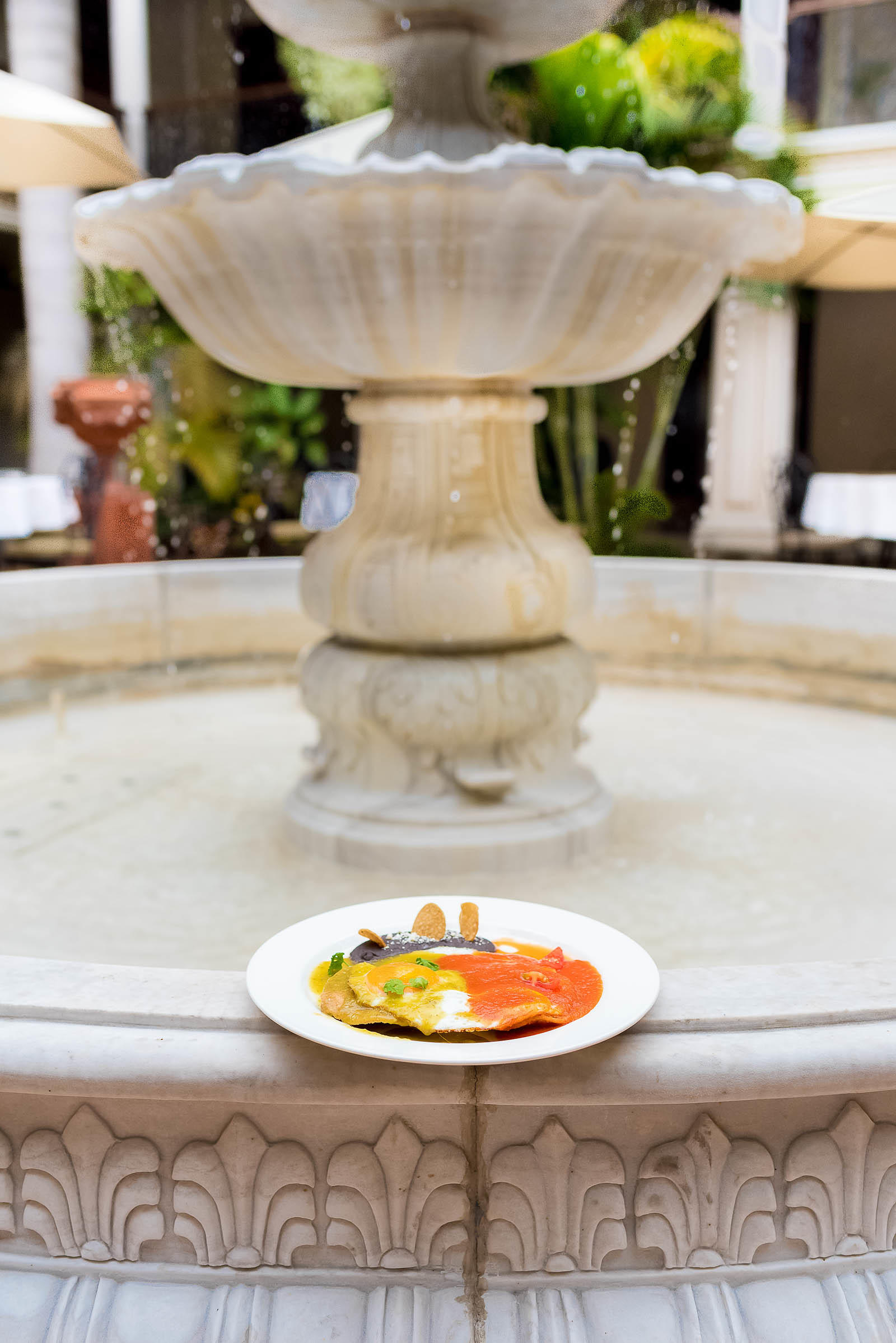 or my personal favorite (and a dish I was introduced to at Mansión Mérida),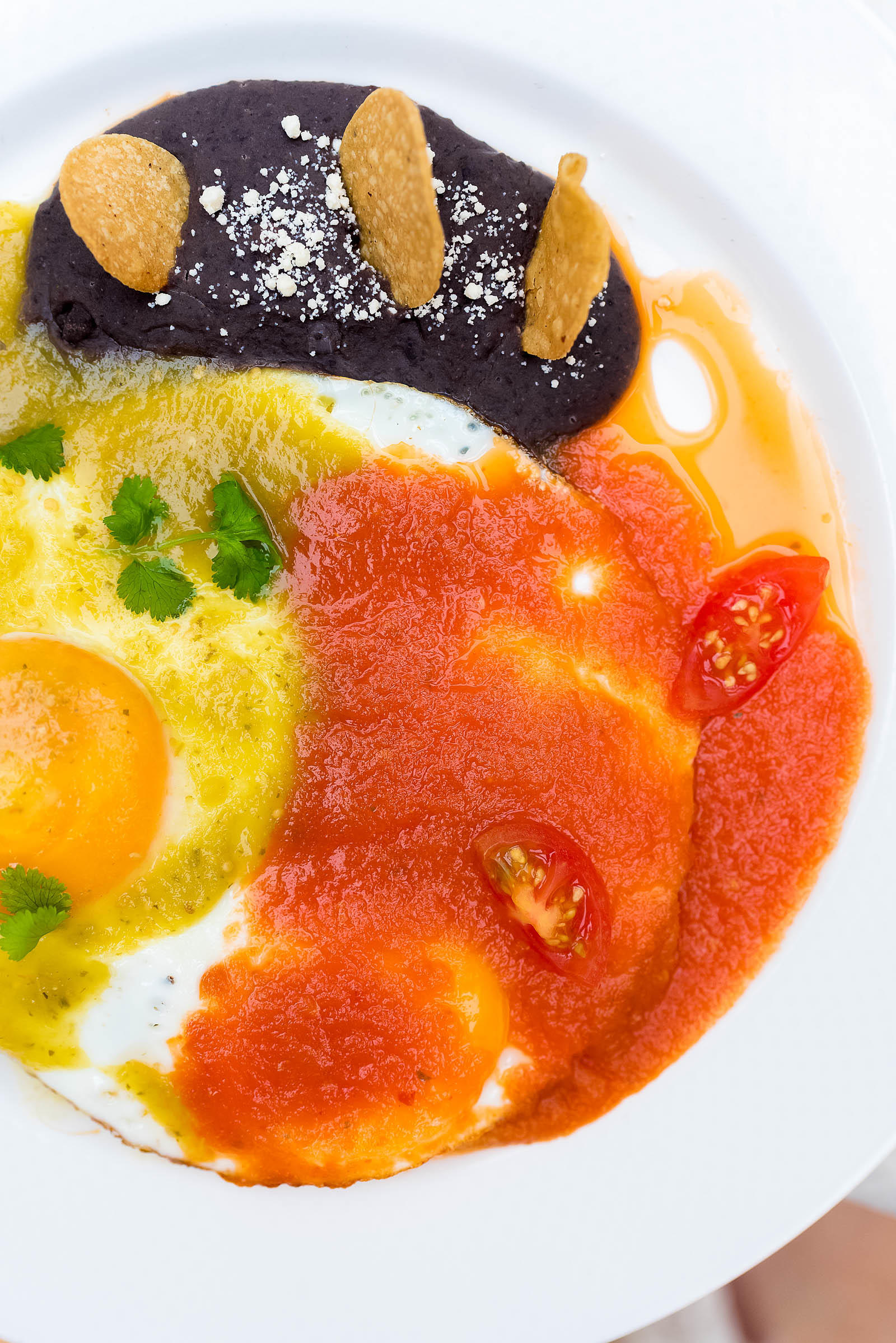 Divorced Eggs!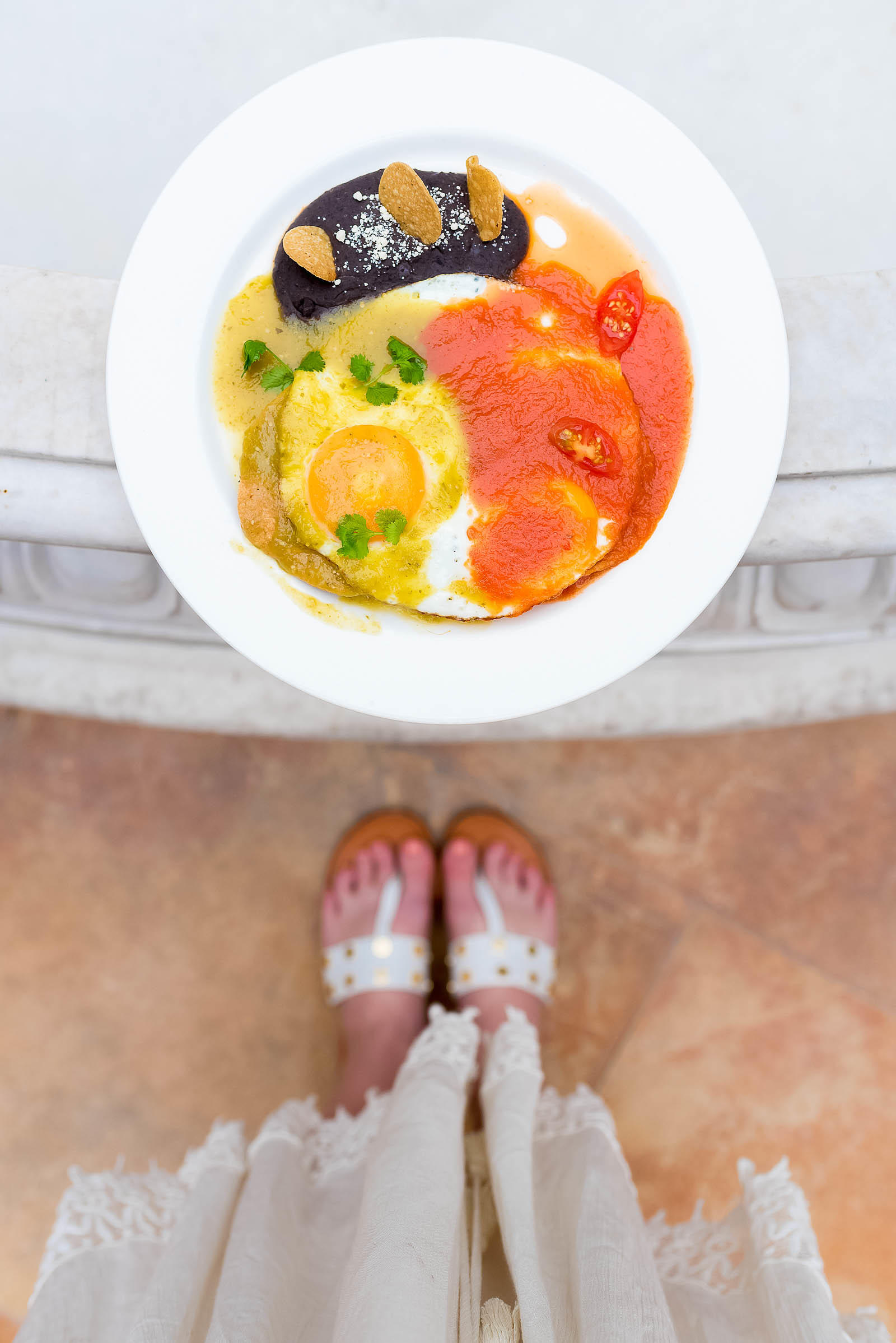 This dish is an addictive fried tostada topped with over-easy eggs and doused in red and green salsas. Served with black beans.
If I had to name the NUMBER ONE breakfast dish I had last year, this simple dish of Divorced Eggs would absolutely win gold.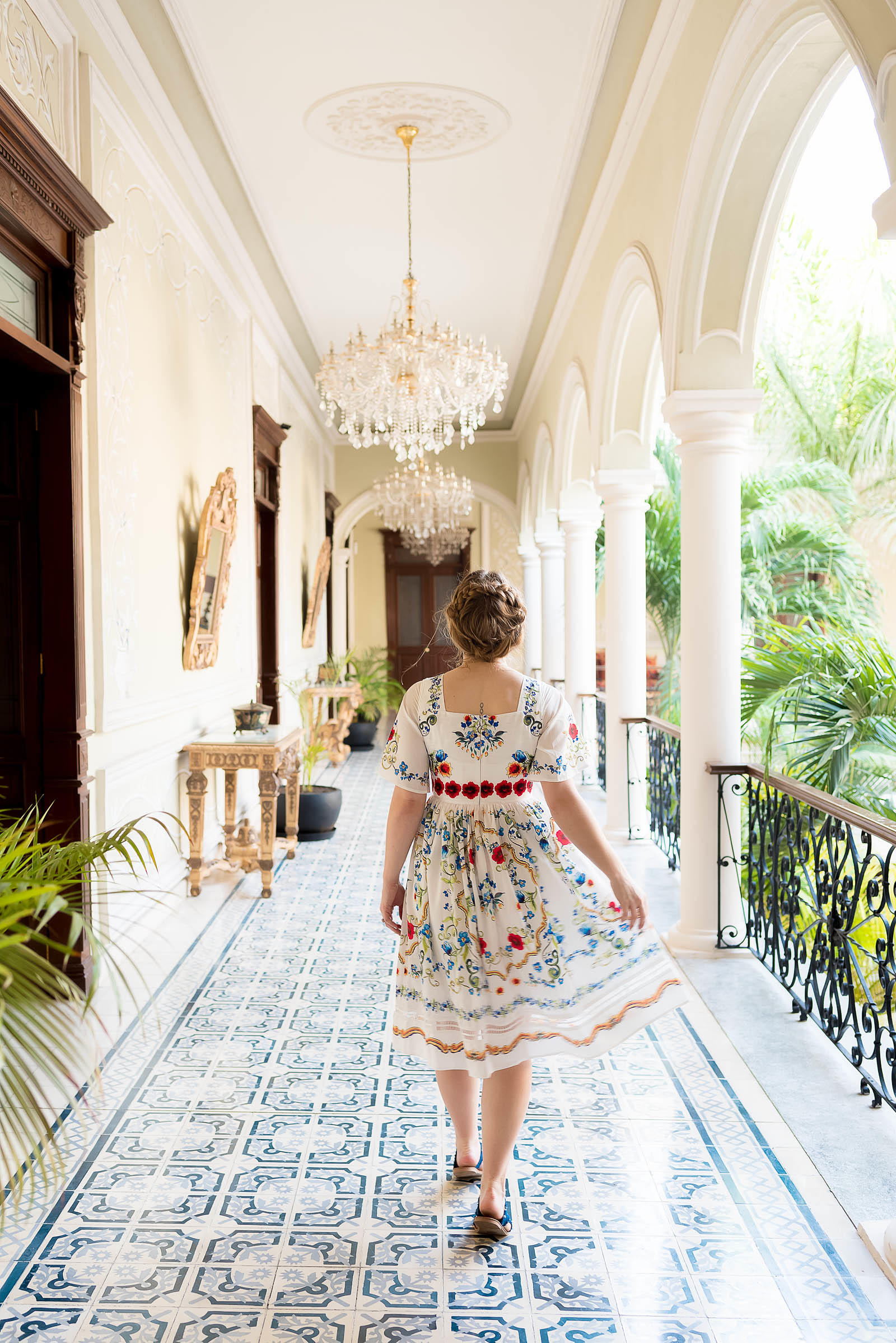 Needless to say we immediately made ourselves at home (and Seth, Erin and I all vowed to bring our spouses here soon — the hotel is too romantic NOT enjoy with a significant other!).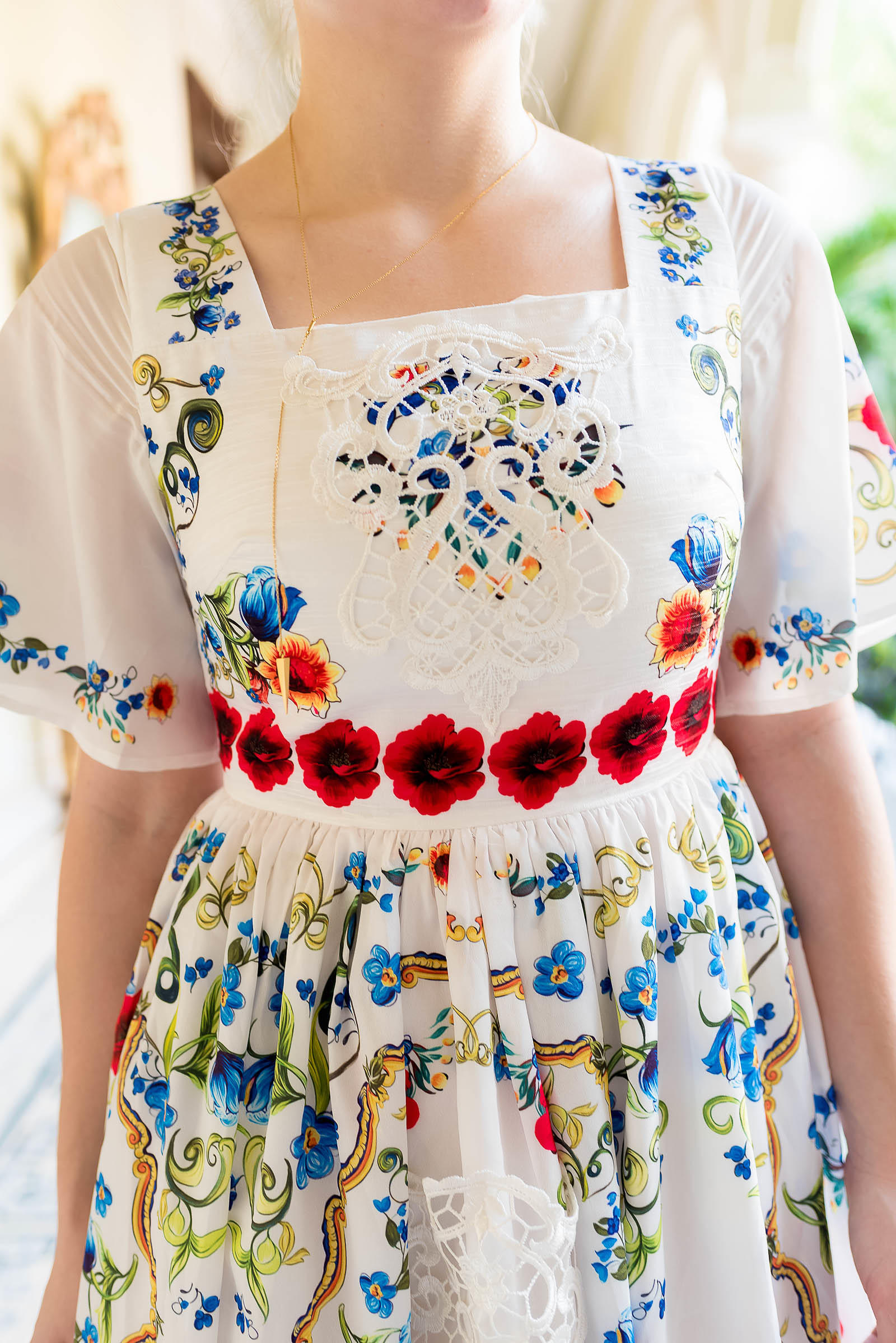 Naturally I couldn't resist to shoot a few looks around the hotel either.
Wasn't this dress a perfect match for the decor?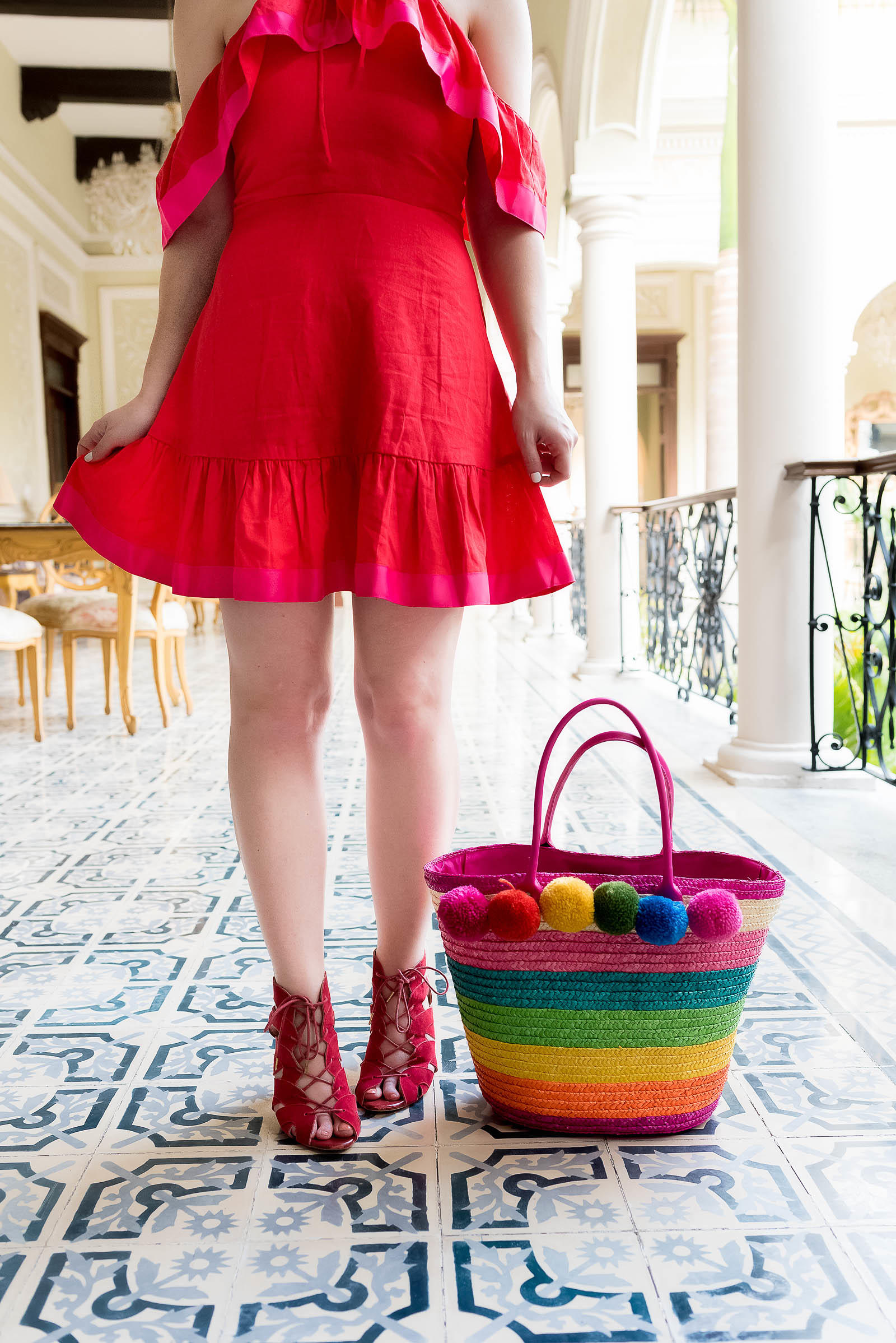 All the beautiful tile flooring really made my accessories POP in the photos too!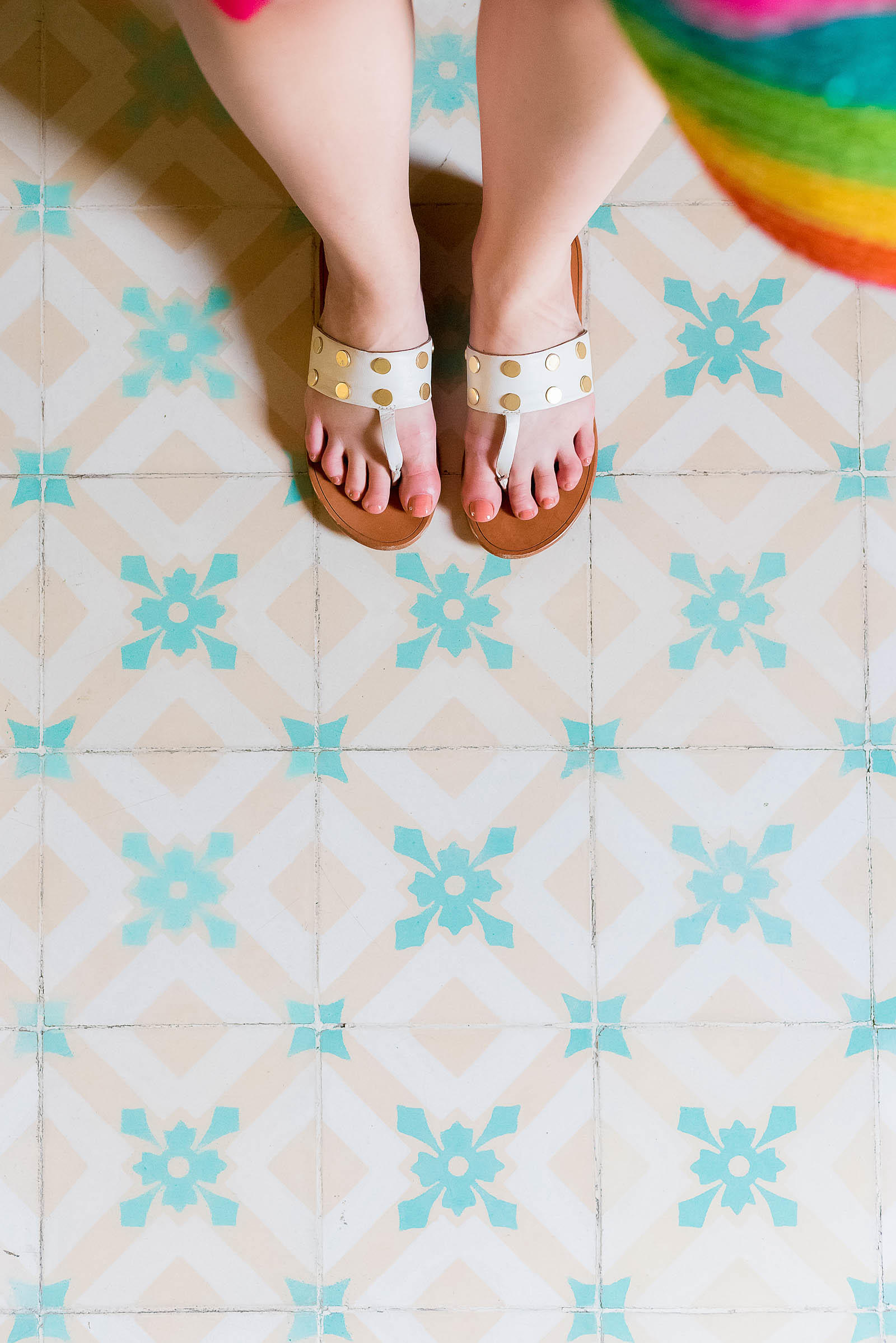 But perhaps my FAVORITE "outfit shots" from our stay were my shoefies.
Shoe selfies. Shoe-fies. Shoefies.
Shoefies are really all about shooting a photo that expresses, from a top down perspective, what a cool space you're standing in.
And these gorgeous floors were just itching to be shot…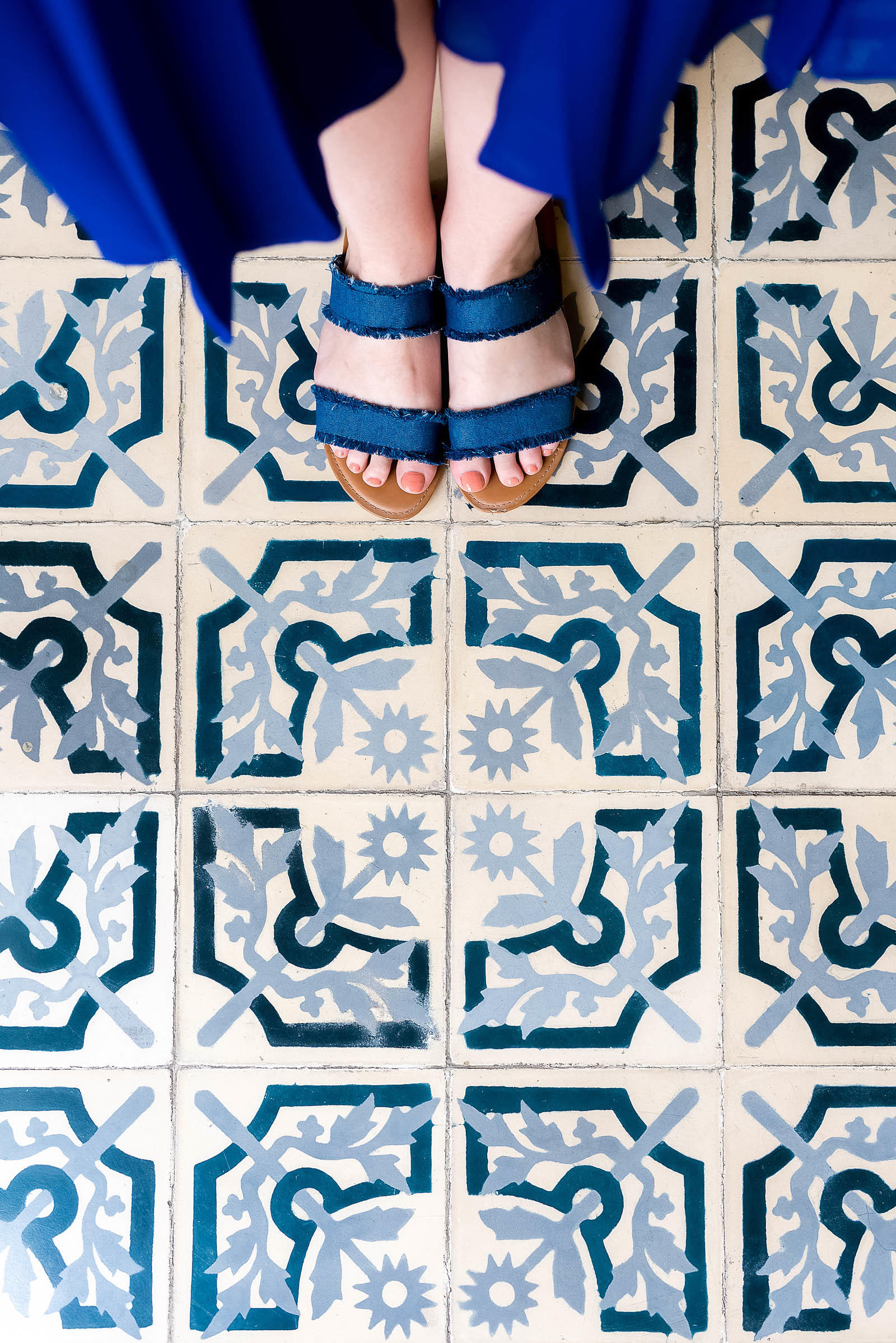 I may have taken quite a series of them during our stay…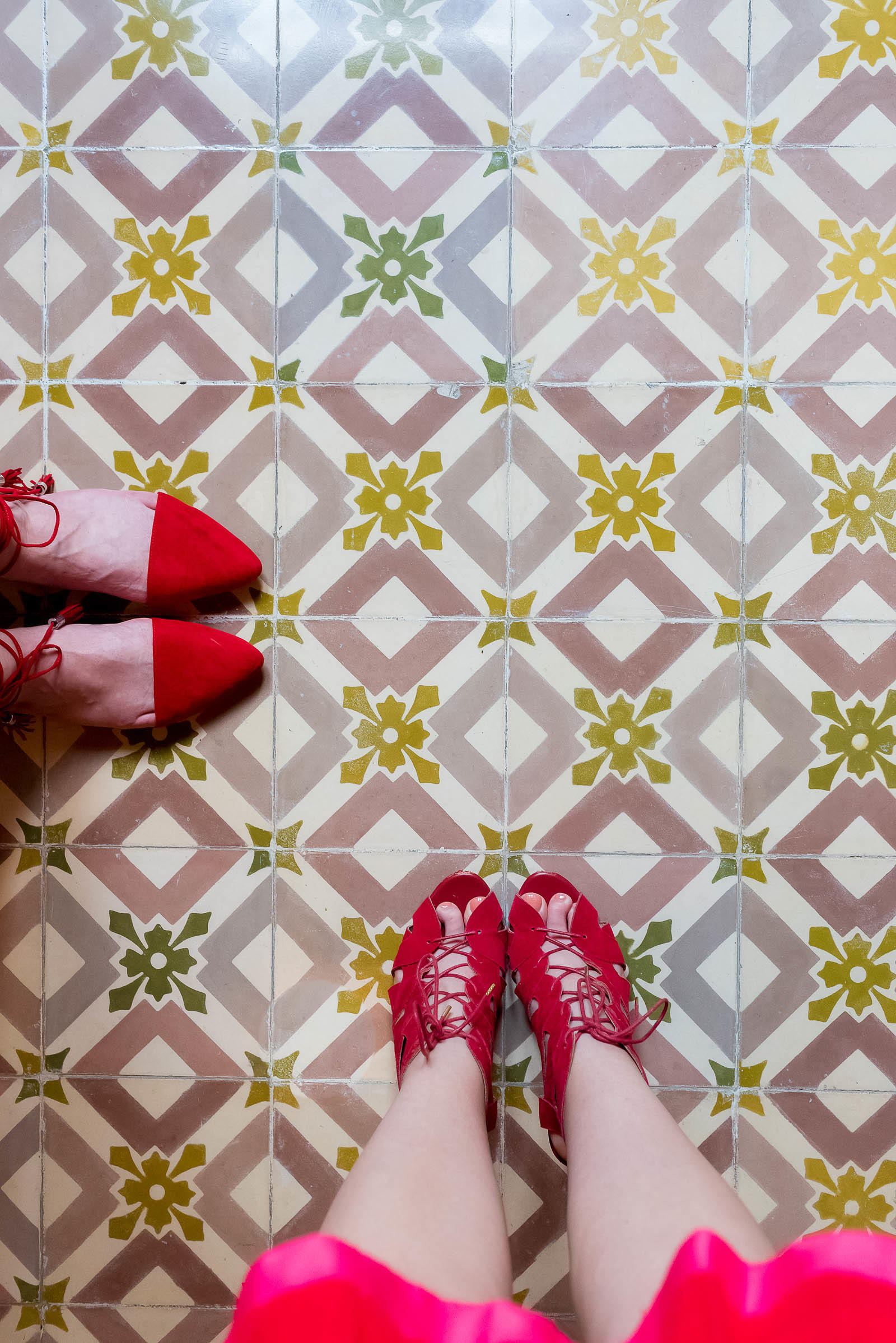 Even coercing Erin to do one with our red shoes!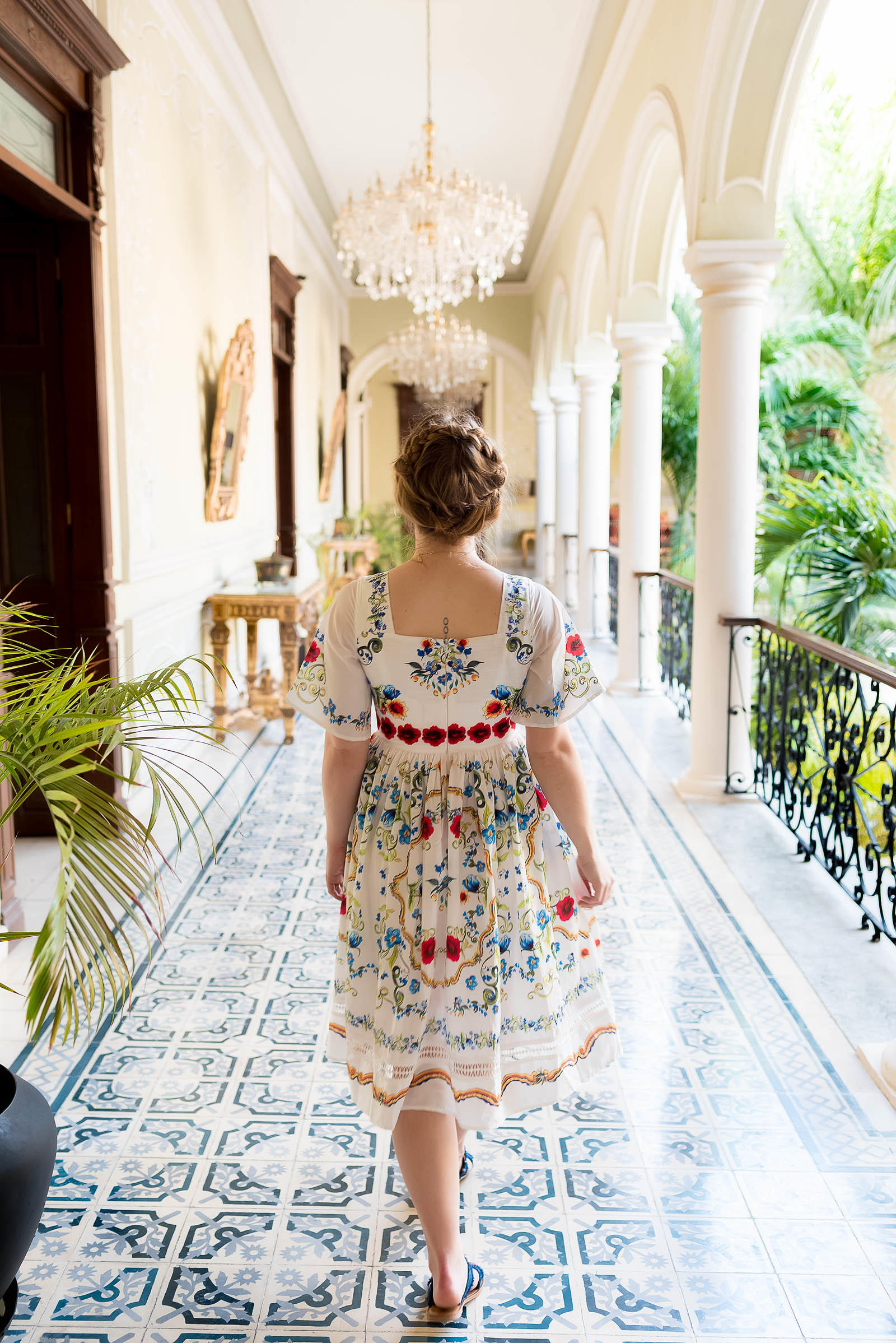 To date Mansión Mérida is by FAR the most enchanting, magical, and AUTHENTIC hotel I've ever stayed at. I'm just itching to take Hubby back there for a little romantic getaway soon…
Book your swoon-worthy stay at Mansión Mérida HERE!
Disclosure: I received a complimentary stay at Mansion Mérida through the Mexican Board of Tourism to facilitate this post. Review and all opinions are ALWAYS my own.