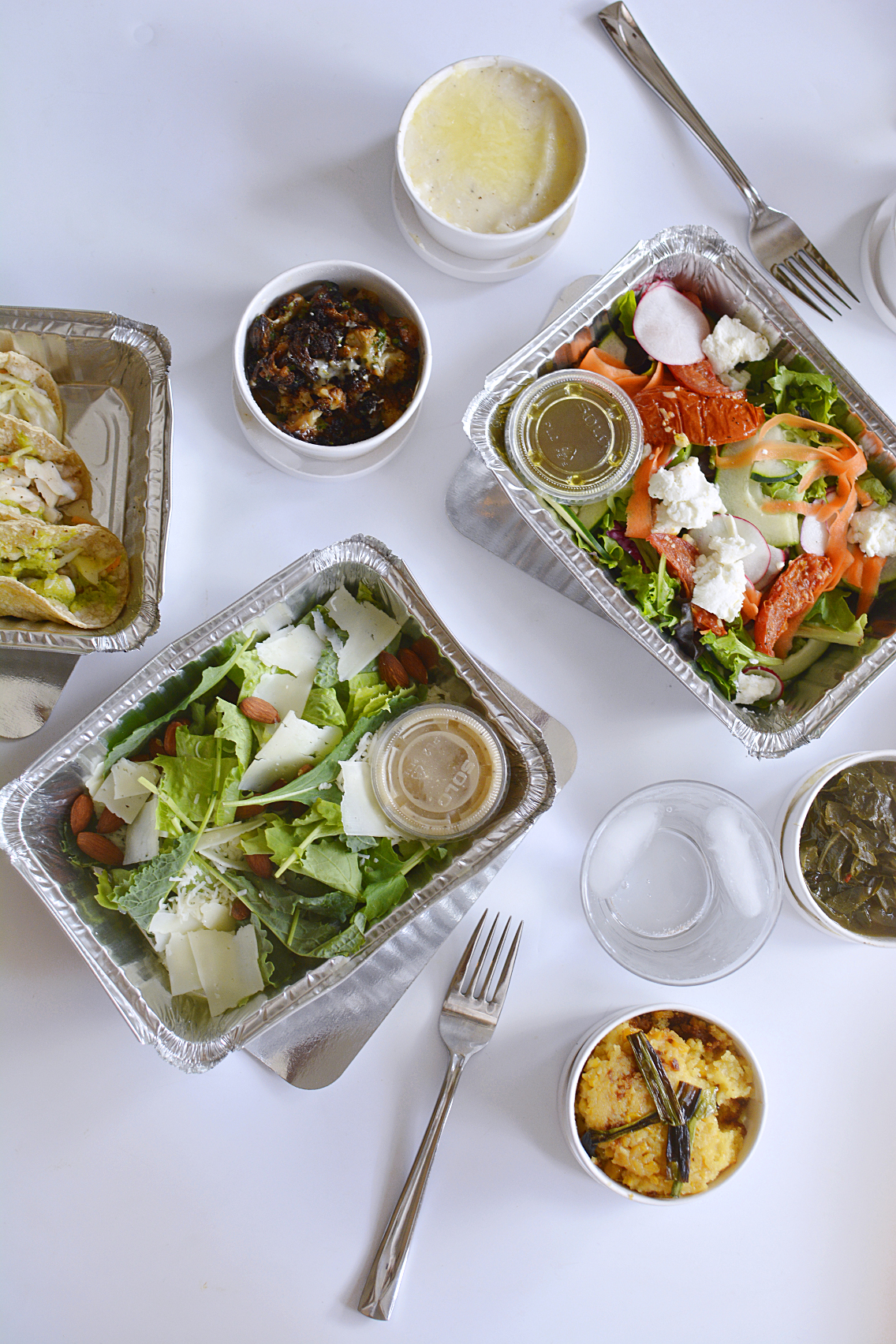 As much as I love venturing out into the city and exploring exciting new restaurants, sometimes my schedule makes it hard to get out of the house. The best part about Chicago's legendary food scene is not only that we have so many incredible options, but many of them (even the fanciest) deliver!
One of the newest restaurants to launch delivery this year is DMK Restaurant's County BBQ — a southern-style smokehouse offering up everything from brisket-smothered mac 'n cheese to hickory smoked ribs and… wait for it… killer kale & romaine caesar salads.
Yes, kale salads.
At a BBQ joint.
Welcome to Chicago.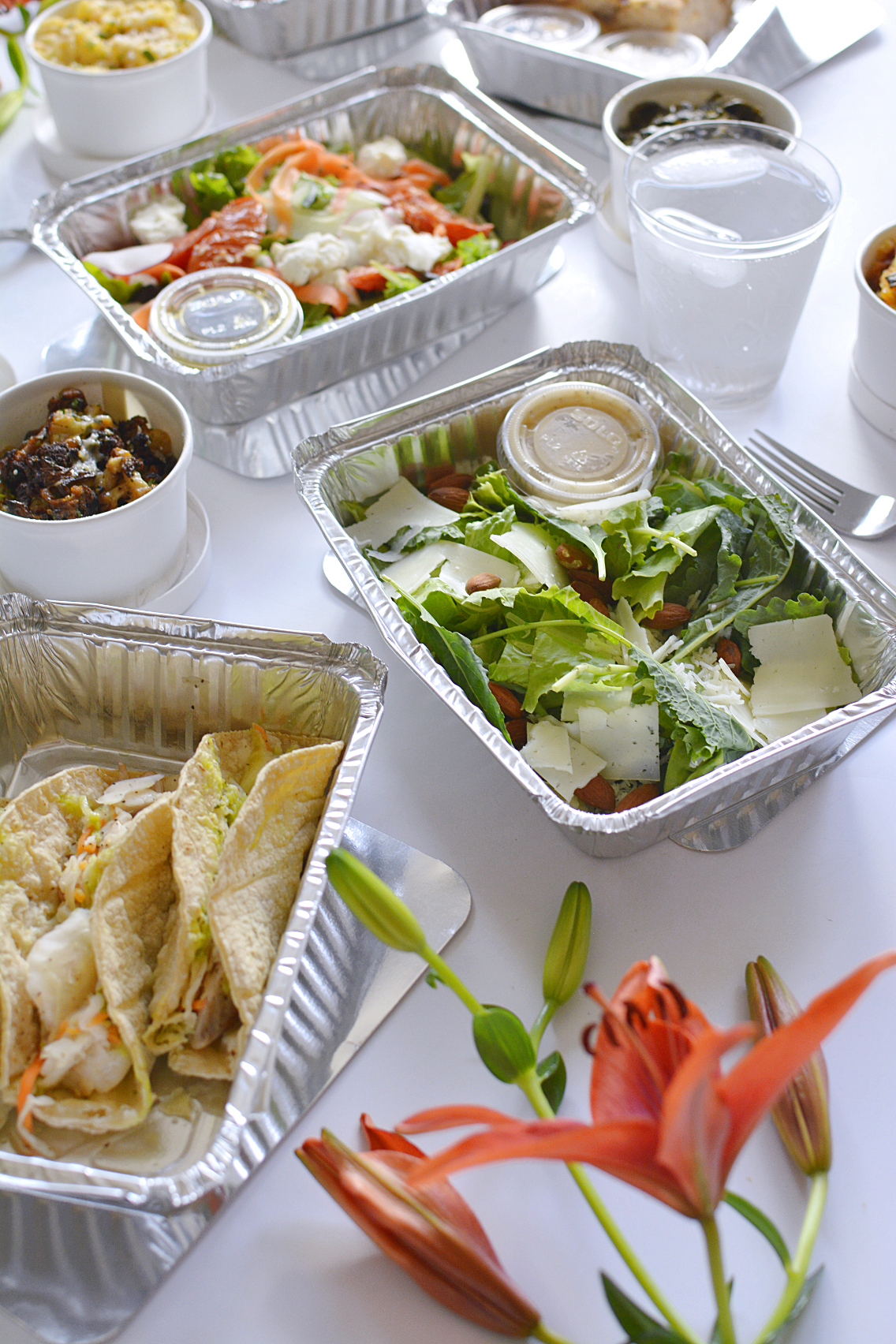 One particularly busy day, Katharine and I were in the midst of marathon rounds of editing and shooting when we realized we were famished. Being unorthodox eaters eager for adventure (especially adventures devoured on the couch), we decided to order some of County BBQ's lesser-known lunch options including not one, but TWO salads.
From a BBQ joint.
Let the adventure begin!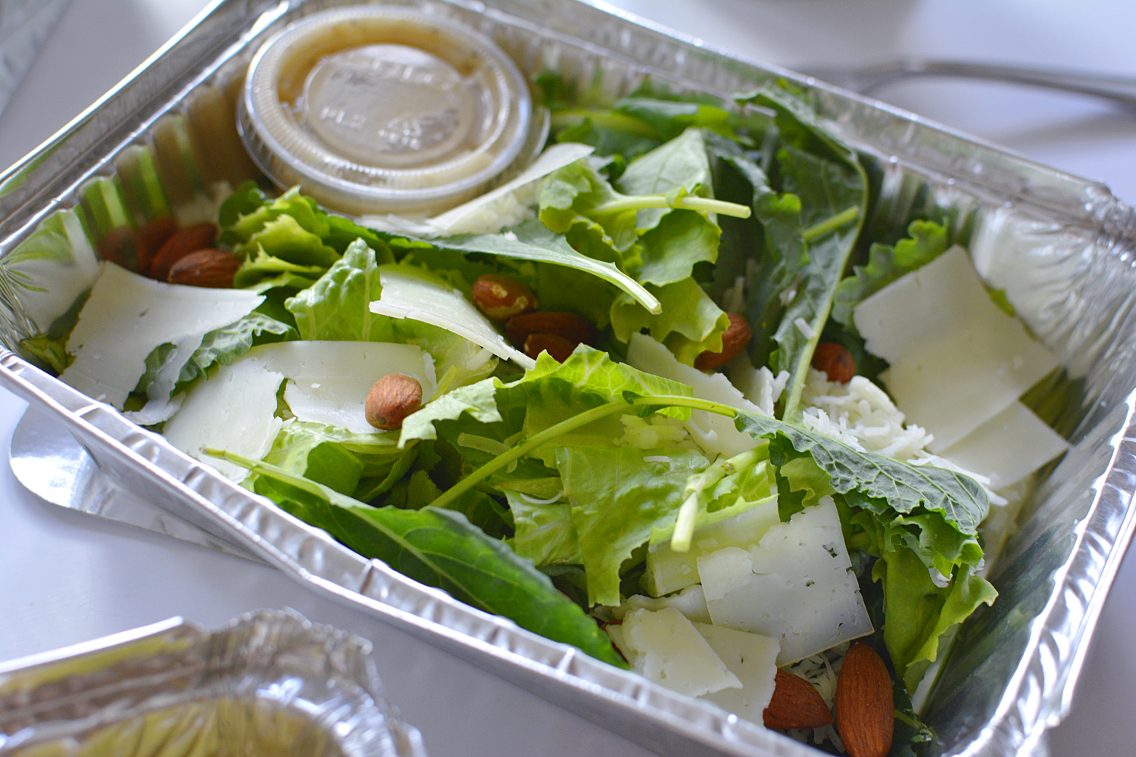 First up is my personal favorite — the kale & romaine caesar salad. Mixed with thinly-sliced manchego and almonds and finished with a satisfyingly salty Caesar dressing, this salad packs a surprising flavor PUNCH.
Despite the fact that I doubt most BBQ joints south of the Mason-Dixon have even heard of kale, this urban remix on the classic caesar is insanely addictive and had me laughing at the irony of falling in love with a kale salad at a spot best-known for its BBQ brisket.
But in fairness, I'm going through a prolonged addiction to most kale salads and you'd be surprised at how hard it is to get a good one delivered!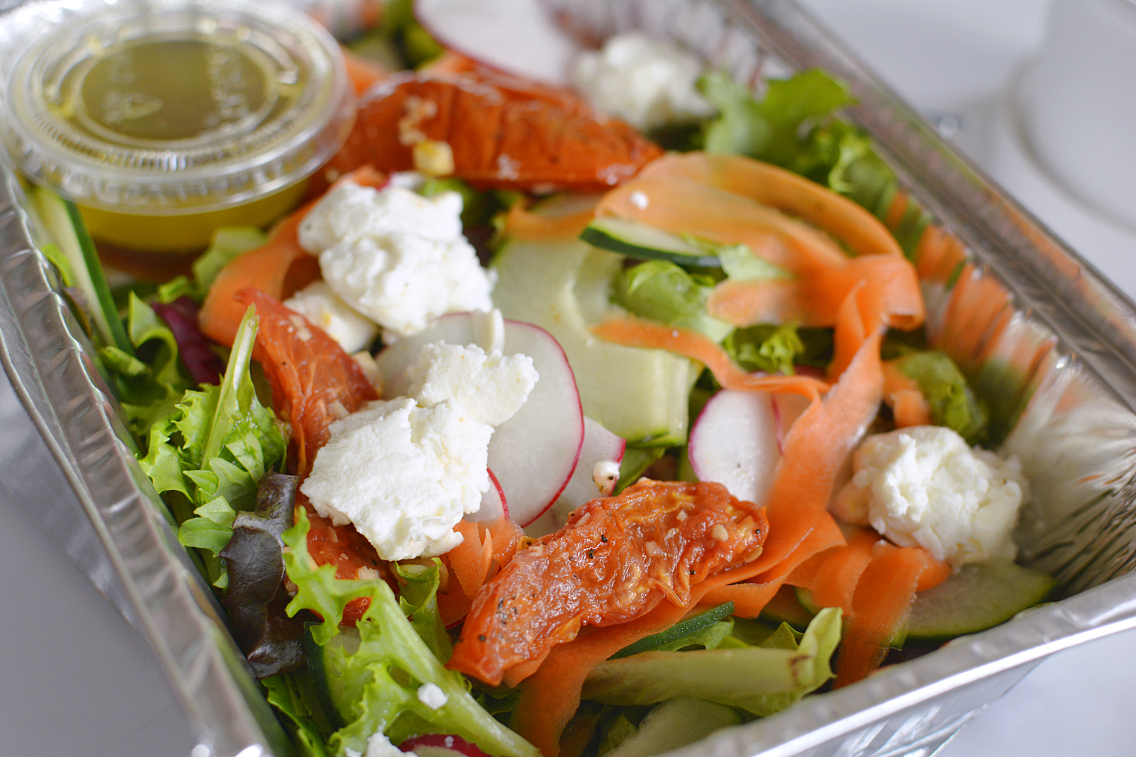 Up next came County BBQ's unique-spin on a simple garden salad: the Field Greens Salad. Spring mix lettuce smothered in goat cheese, oven-dried tomatoes, carrot, radish, cucumber and sherry vinaigrette?
This isn't your grandmother's sad side salad.
It's an ingenious blend of delicious components that prove definitively that BBQ joints aren't just for meat-eaters!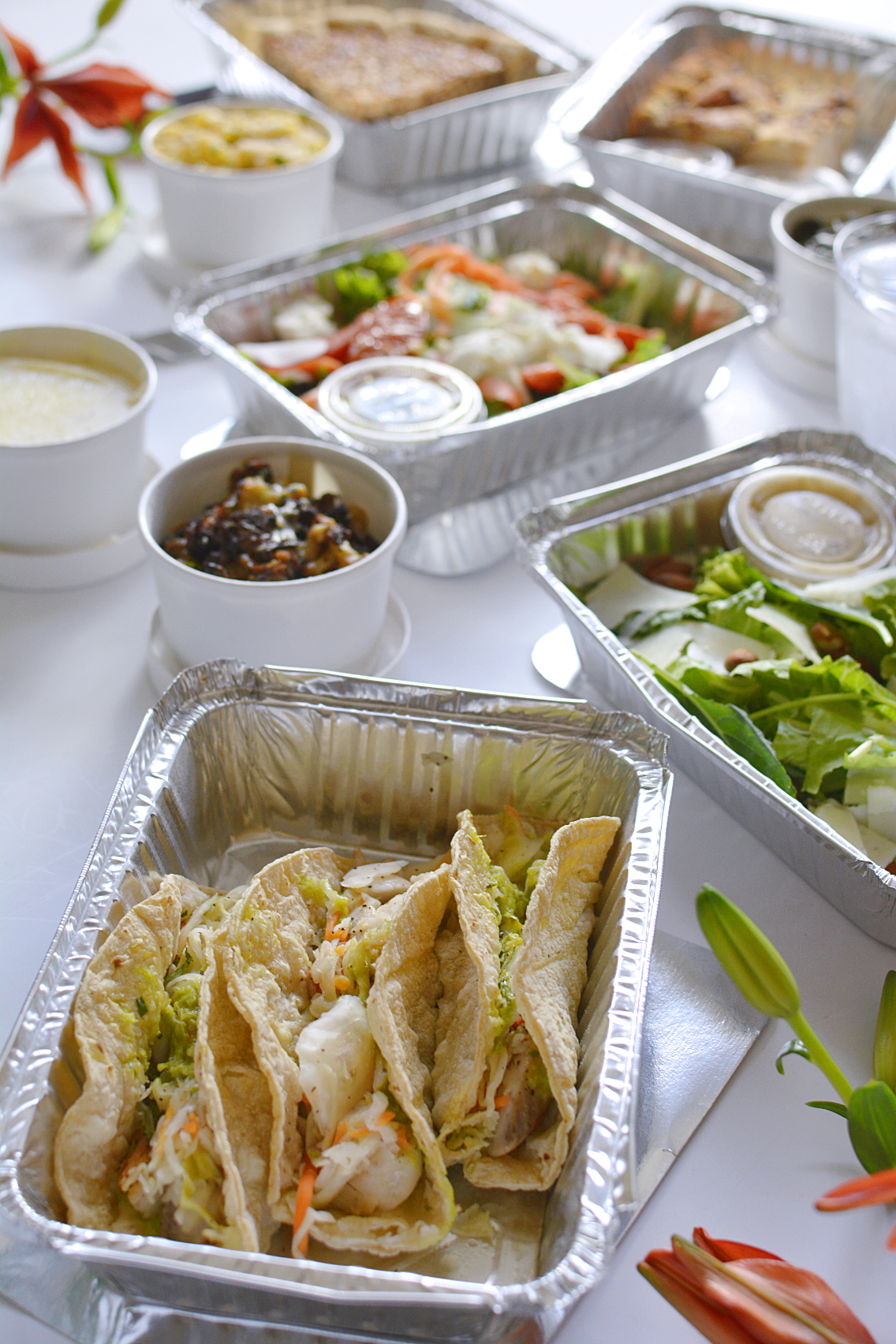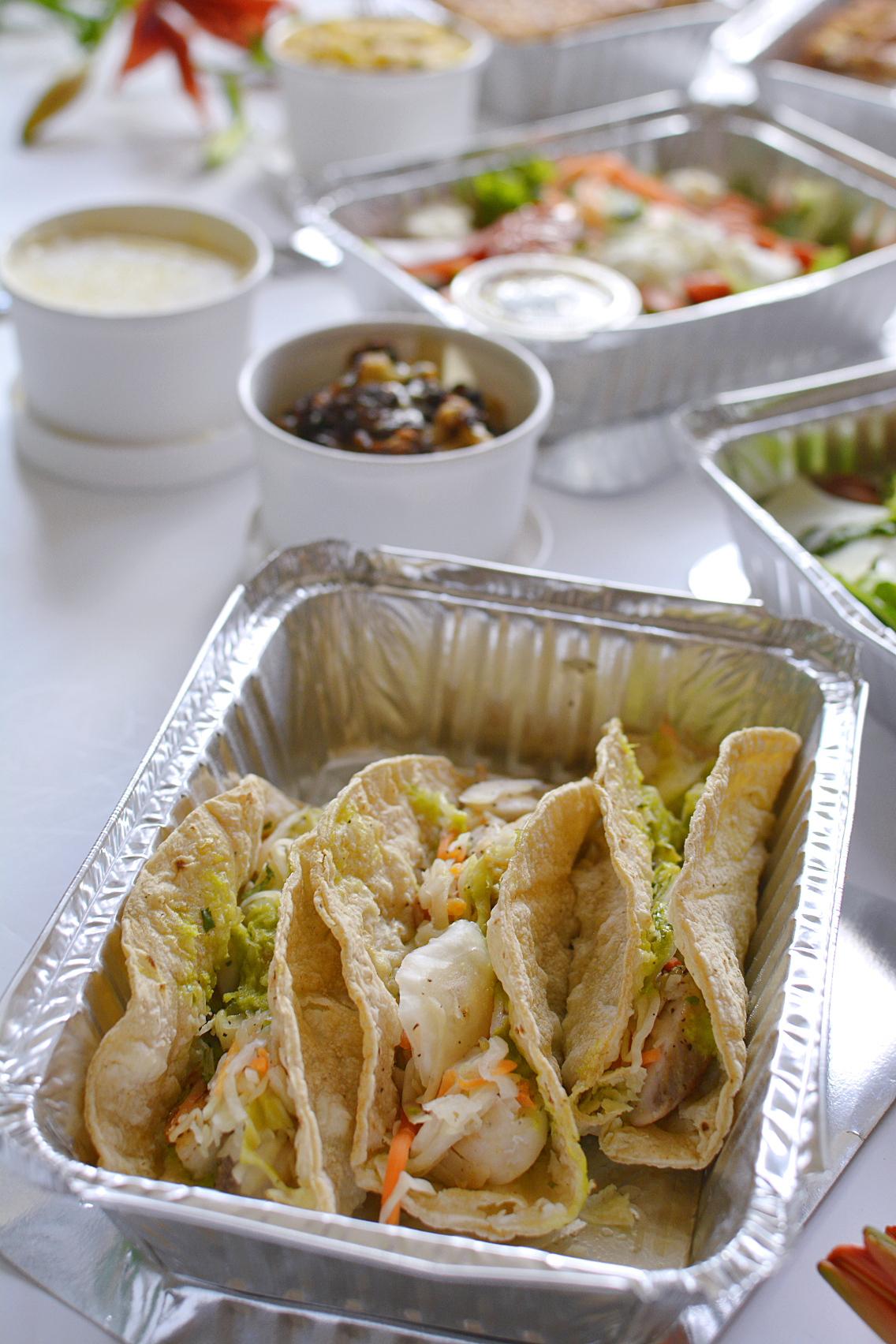 Katharine and I split these juicy chef's special fish tacos oozing with fresh avocado and zingy slaw. Since the fish isn't fried, these tacos feel light and fresh instead of heavy and greasy. Exactly the lunch fuel I need for my marathon work schedule!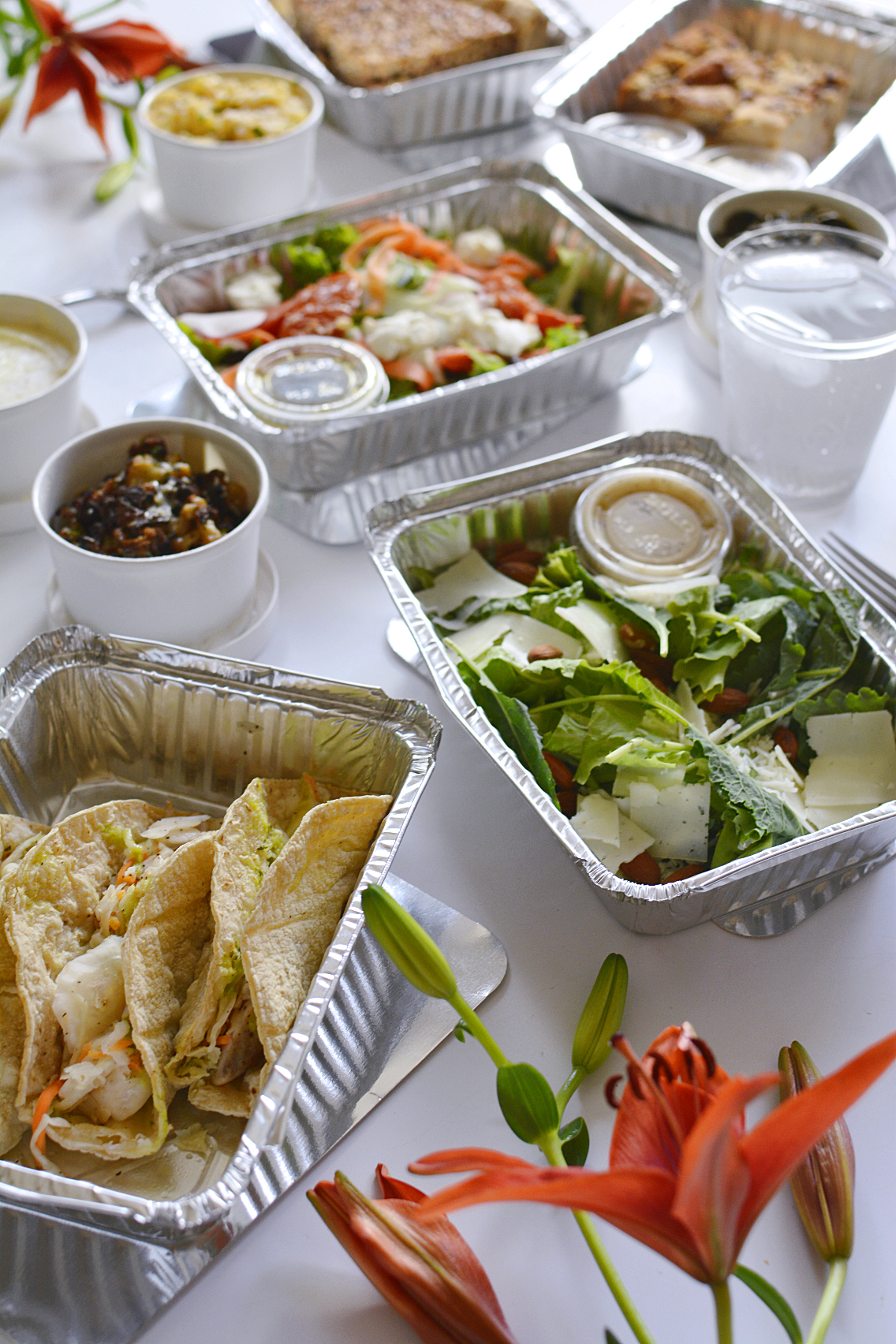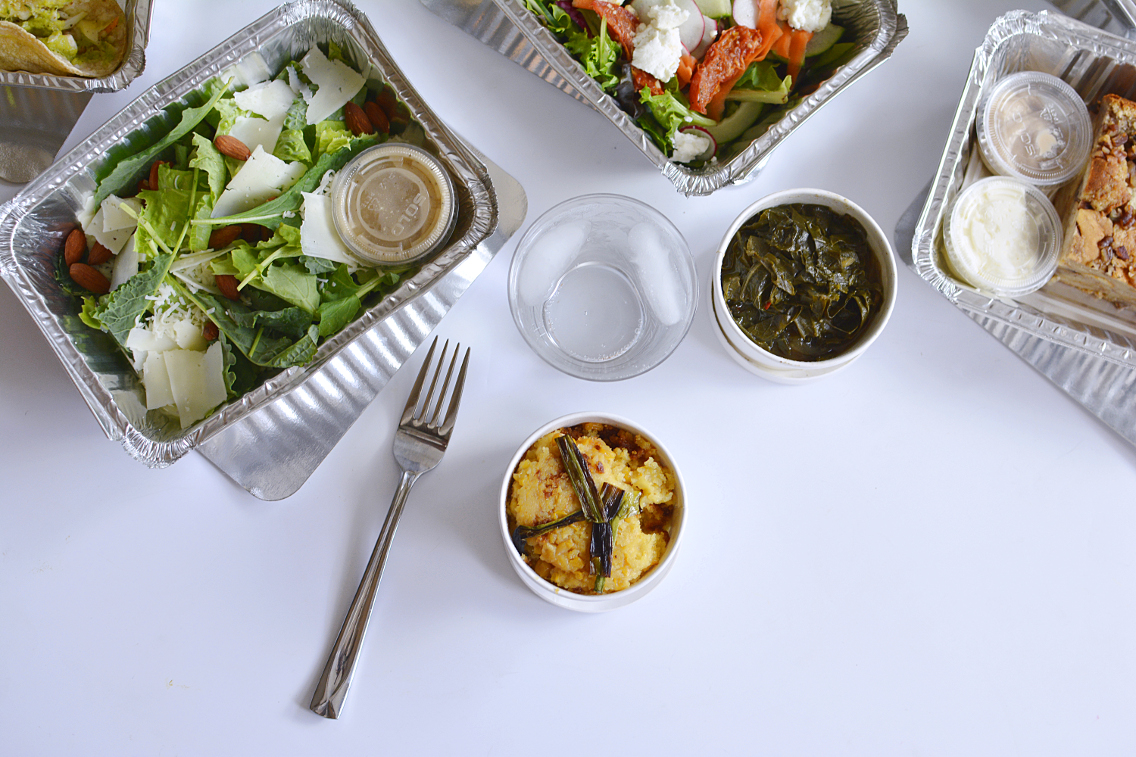 But no BBQ meal is truly complete without a myriad of deliciously executed side dishes and it's in these humble looking containers that County BBQ's true southern comfort food expertise really shines.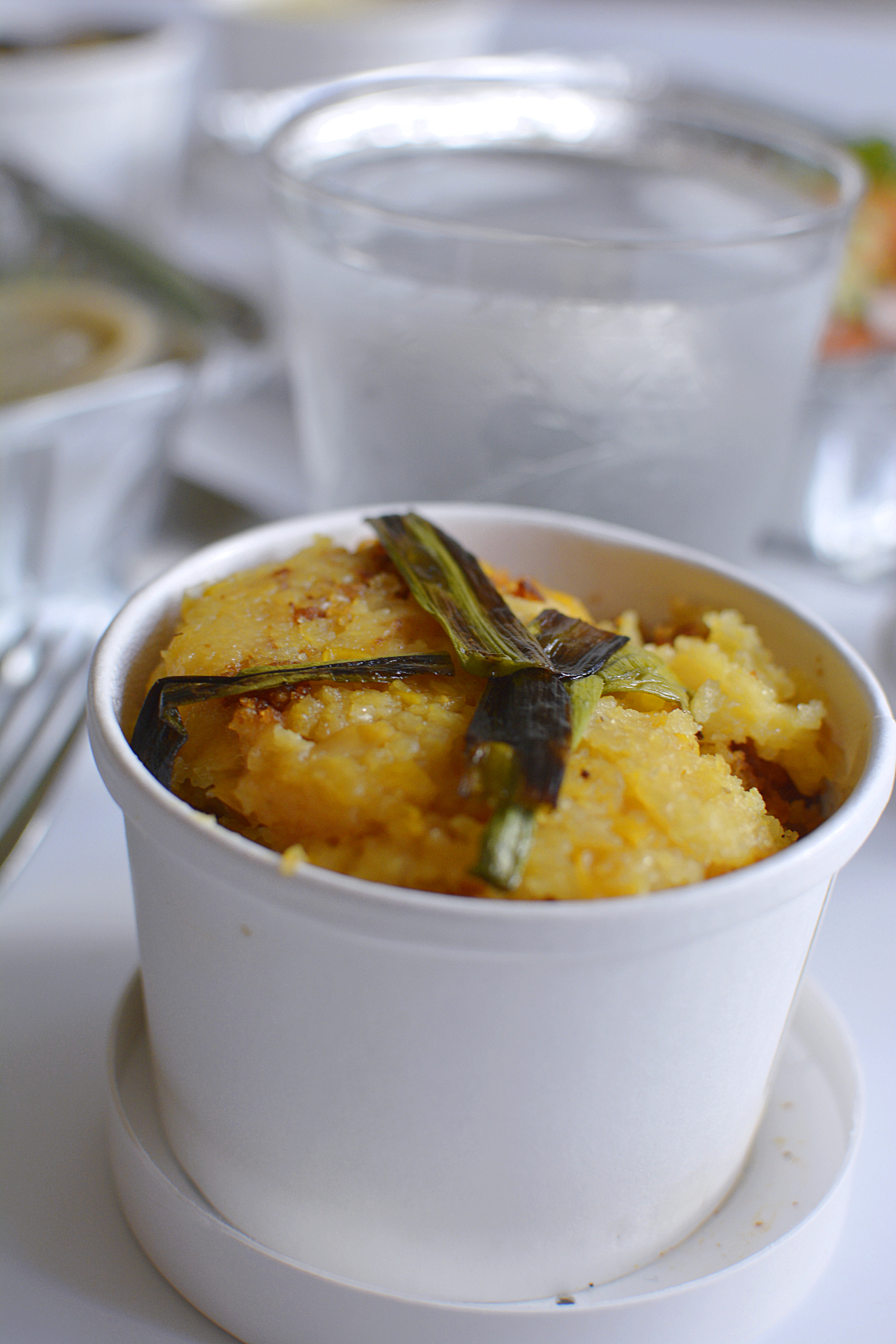 The corn pudding is the perfect blend of sweet and savory, melding bright golden corn with a moist, slightly sweet cake that rounds out all of the saltiness in the other dishes.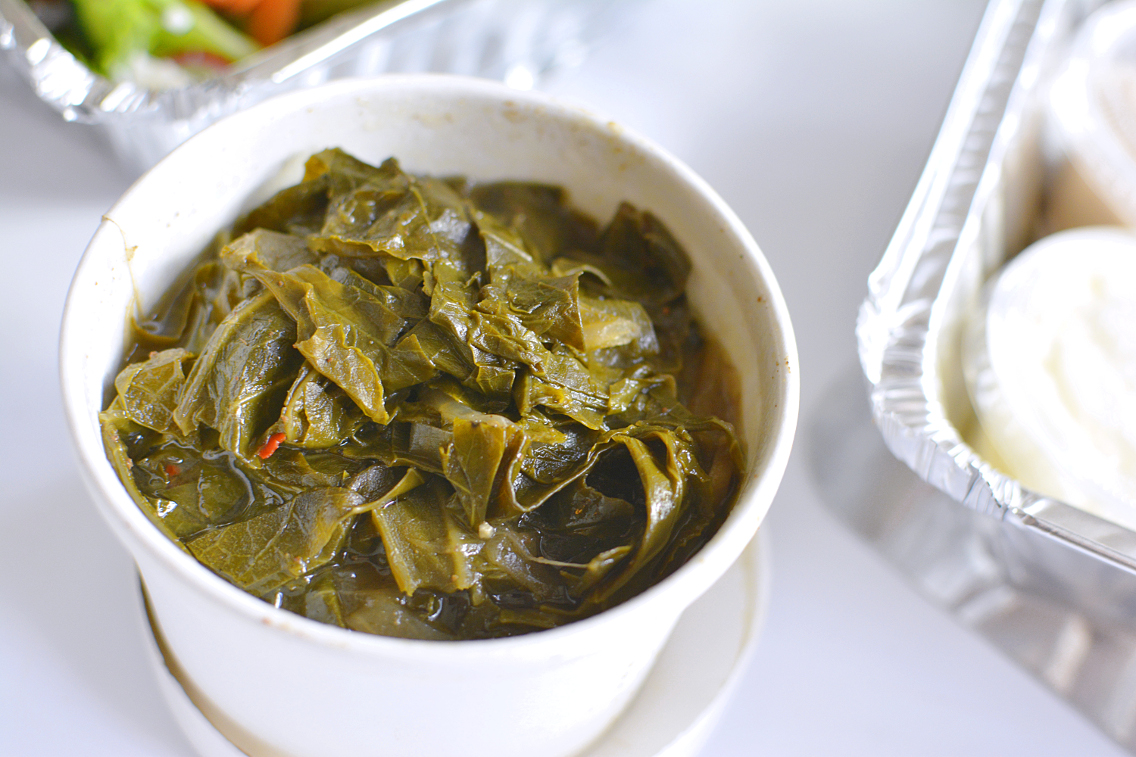 And naturally you can't have a southern meal without some good ole collard greens! And cheese-topped grits which I apparently devoured before shooting… along with County's delicious blackened cauliflower with Parmesan and Cajun spices.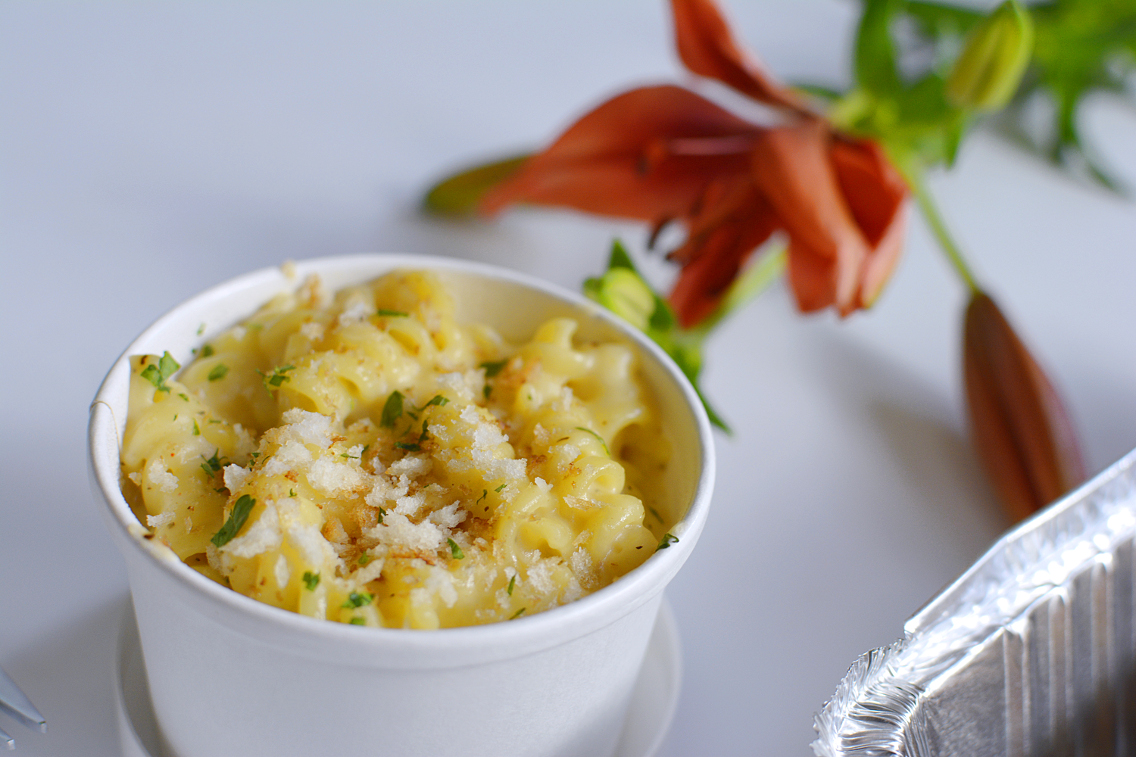 And ooey-gooey mac 'n cheese. I love mac 'n cheese made with spiral noodles — the sauce can really sink into the pasta and give a cheesy burst in your mouth after every bite.
Exactly what all mac 'n cheese dishes should strive for!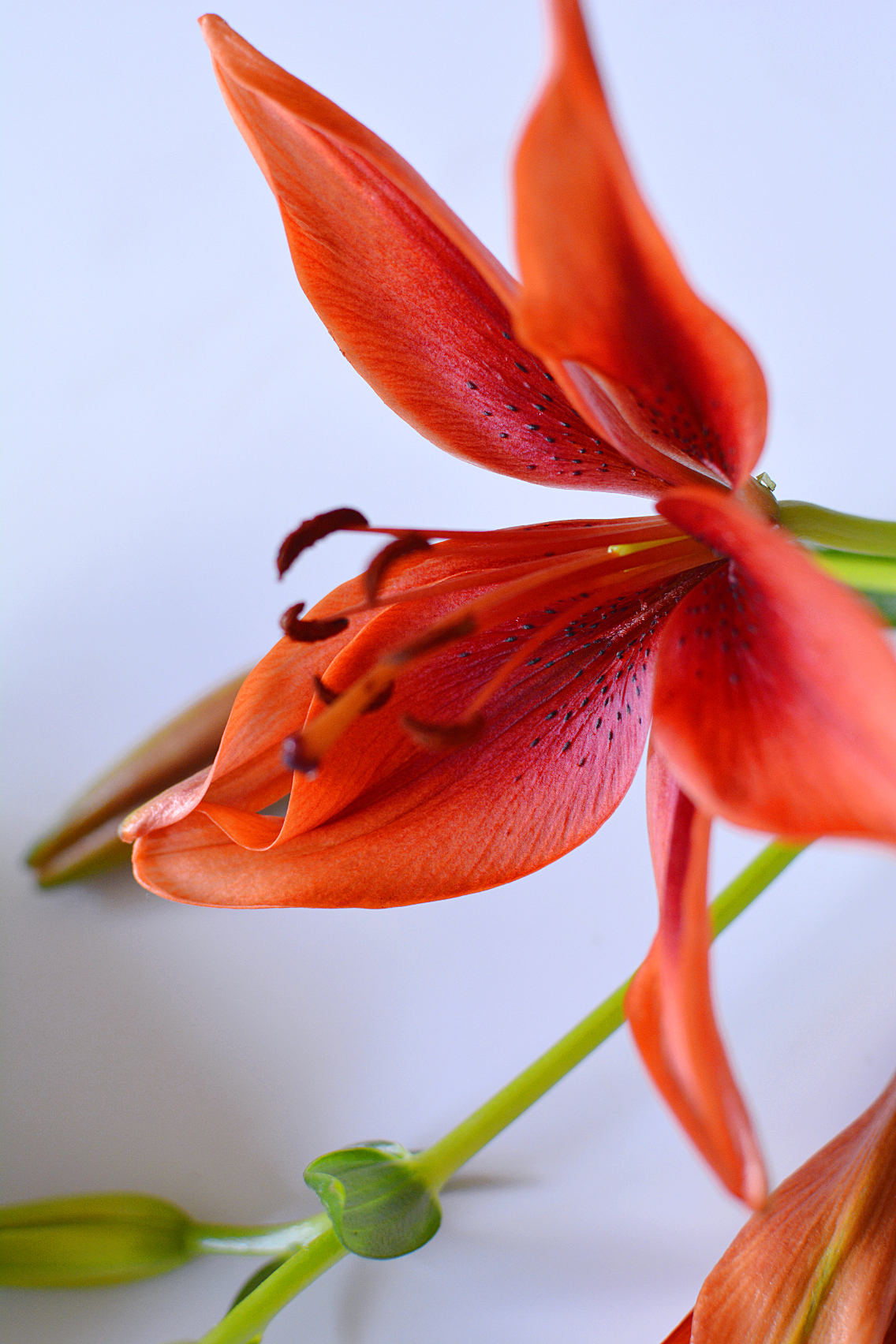 But you had to know I couldn't resist County's down-south desserts either!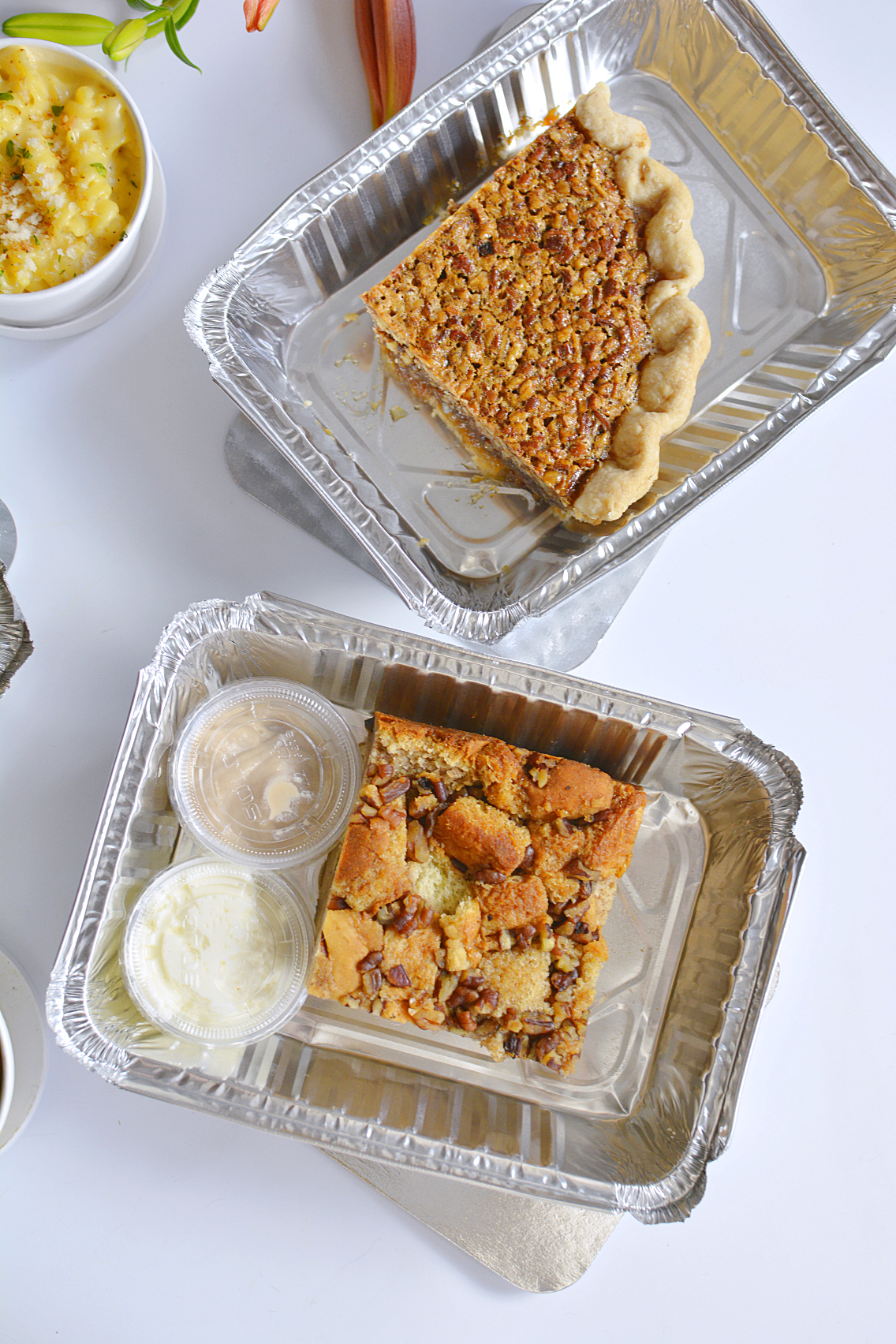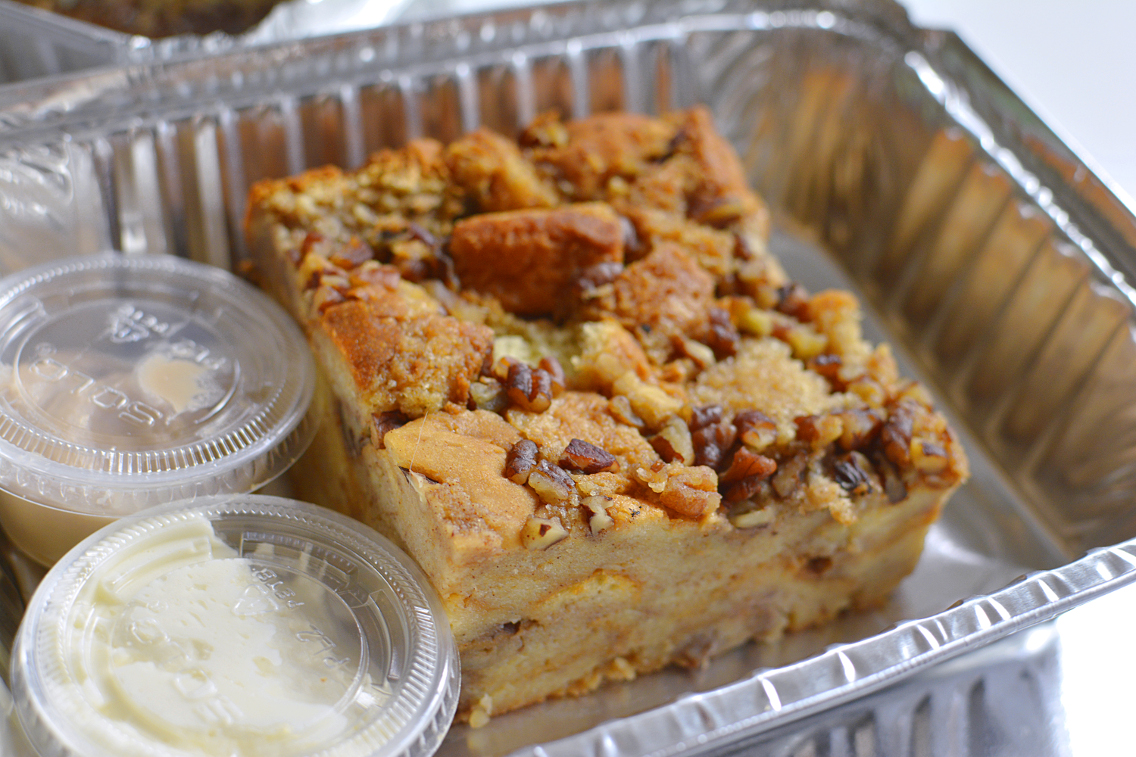 For lunch we tried County's Bread Pudding with Bourbon Banana — a sinfully dense and sweet pudding topped with roasted pecans. The flavors were beautifully balanced but my favorite part of this dessert was the whopping portion size — it was my dinner dessert that night as well!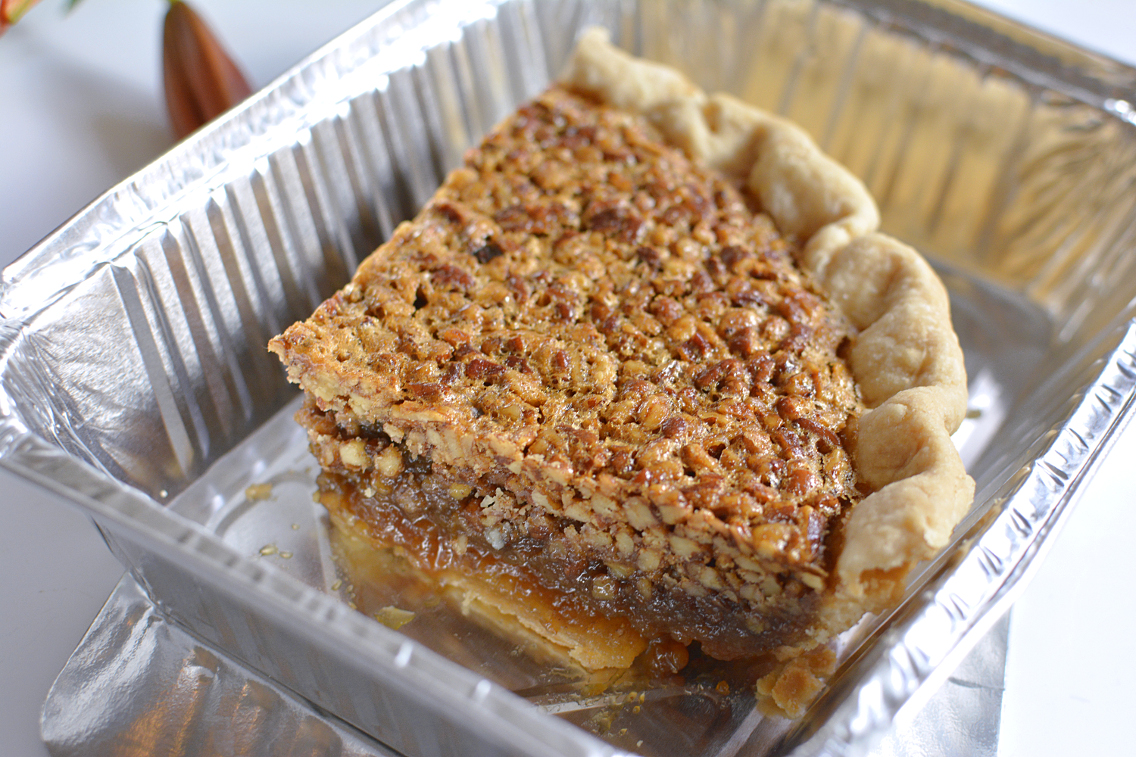 But truthfully, there is no surer way to my heart than a simple, no fuss Pecan Pie! Baked by Scafuri Bakery on Taylor Street (open since 1904), this is as perfectly traditional as pecan pie gets in Chicago. I wouldn't dare venture to say that it's better than my Southern grandmother's home-baked pecan pie, but as far as delivery pecan pie goes, this is without a doubt my new favorite!
And, being on Grubhub, County BBQ makes it a little too easy to indulge in southern comfort food from the comfort of my own home. But at least they offer a surprising number of light, healthy dishes in tandem with their heavier options — bikini season is mere weeks away, after all!
Disclosure: I received a complimentary meal to facilitate this post. Review and all opinions are my own.