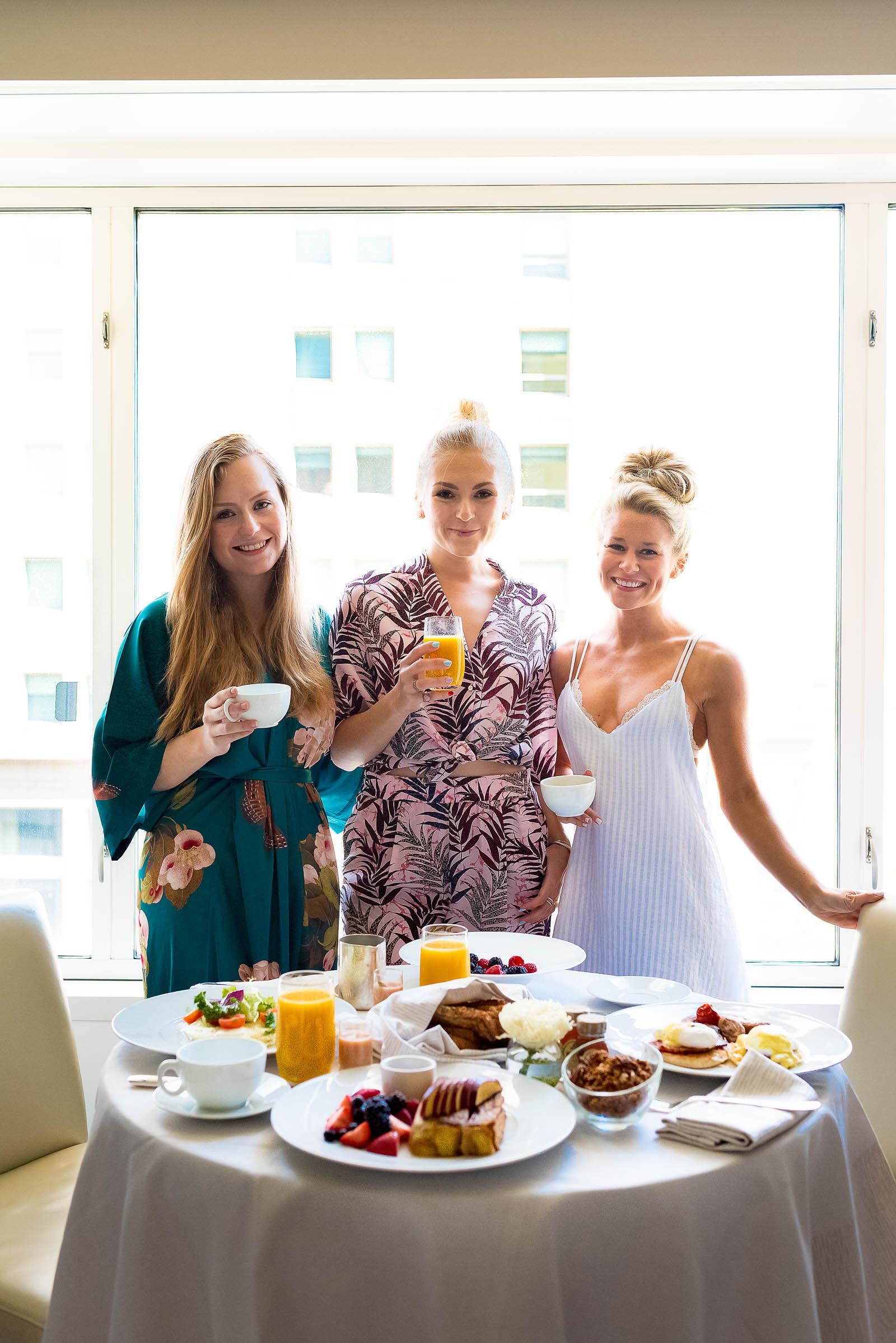 I say it loud and I say it proud — Chicago is one HELL-UV-AH CITY!
It's home. A home full of delicious restaurants, world-class museums, great tourist attractions, and plenty of free places to enjoy in the warmer months.
It's an enigmatic city bustling with life, constantly evolving with the times… constantly changing.
And — I'll be honest — it beats the hell out of the high-humidity and garbage-filled streets of NYC I schlepped through last month.
Sometimes all a girl needs is a great night in her home town with some of her favorite girls. Like a staycation at one of Chicago's BEST hotels. Or, better still, how about a staycation at THE BEST Chicago hotel?
Last month I met up with some of my favorite Chicago girls Ali, Caitlin, and Olivia (remember Ali & Olivia from Snowball back in January?) for a true girl's getaway at my favorite hotel in all of Chicago… The Peninsula.
Which was just this week voted Chicago's Best 2017 Hotel by Travel + Leisure. And after our luxurious stay, I completely understand why!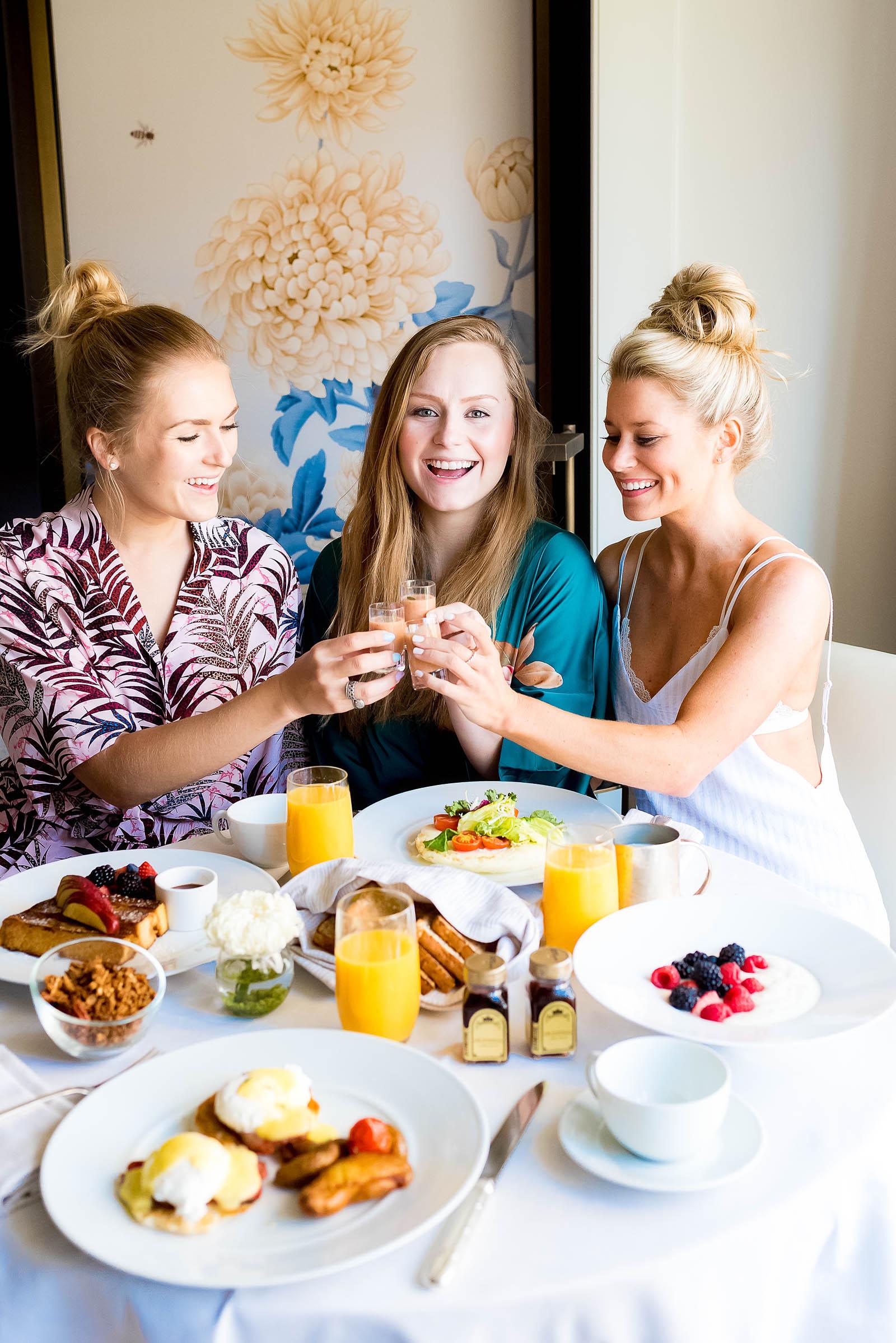 I've shared my love for the Peninsula here in Chicago many times on the blog.
But long before I ever blogged or did hotel reviews of any kind, I was still a frequent Peninsula patron. Because it's the unparalleled best.
It's where I go for afternoon tea every holiday season. It's where I like to sip patio cocktails in summer, ice skate 6 stories above Michigan Avenue in winter and get the best couple's massages I've yet found in Chicago at the Spa.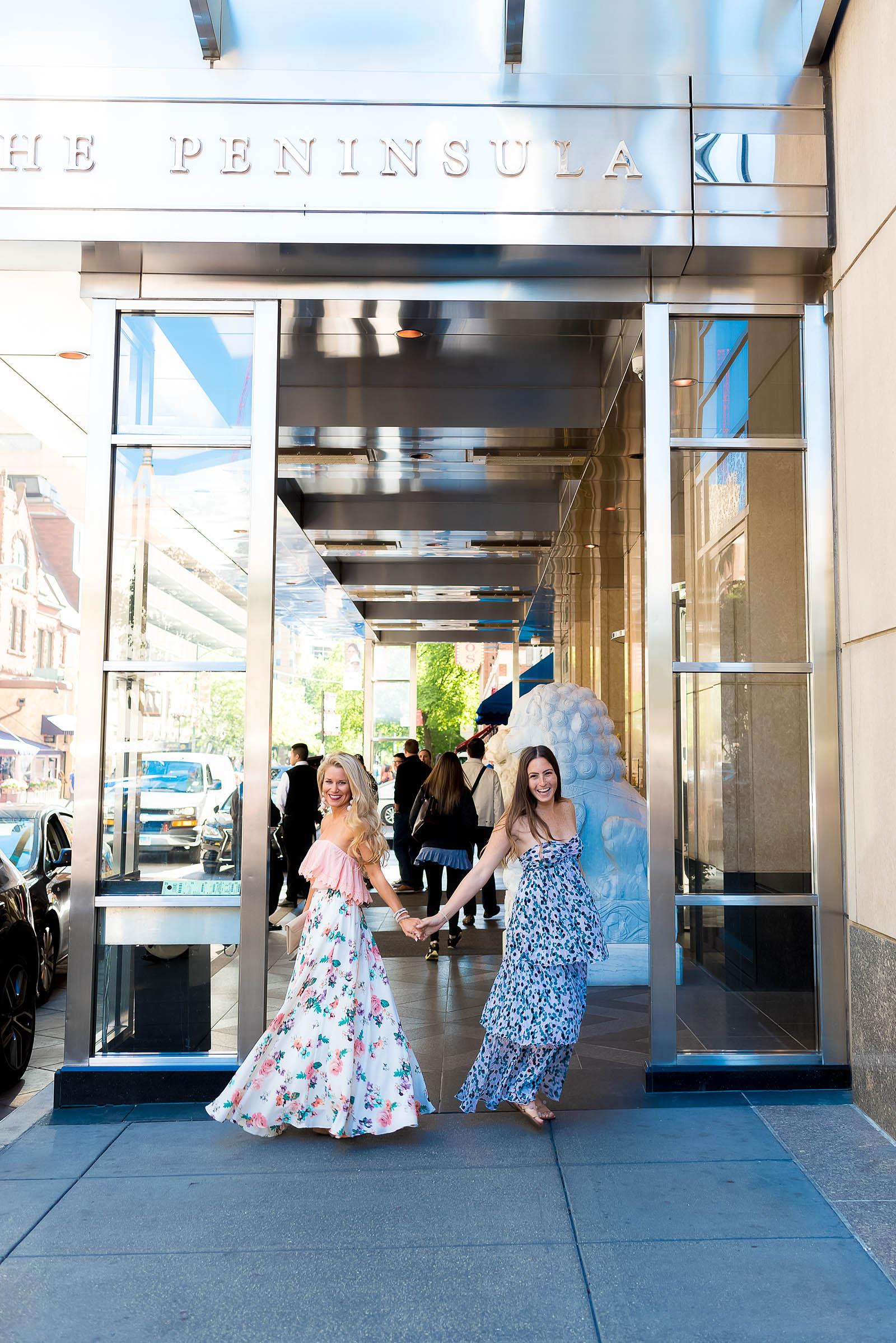 And for one night we took over the Peninsula Chicago and had a staycation to rival staycations anywhere!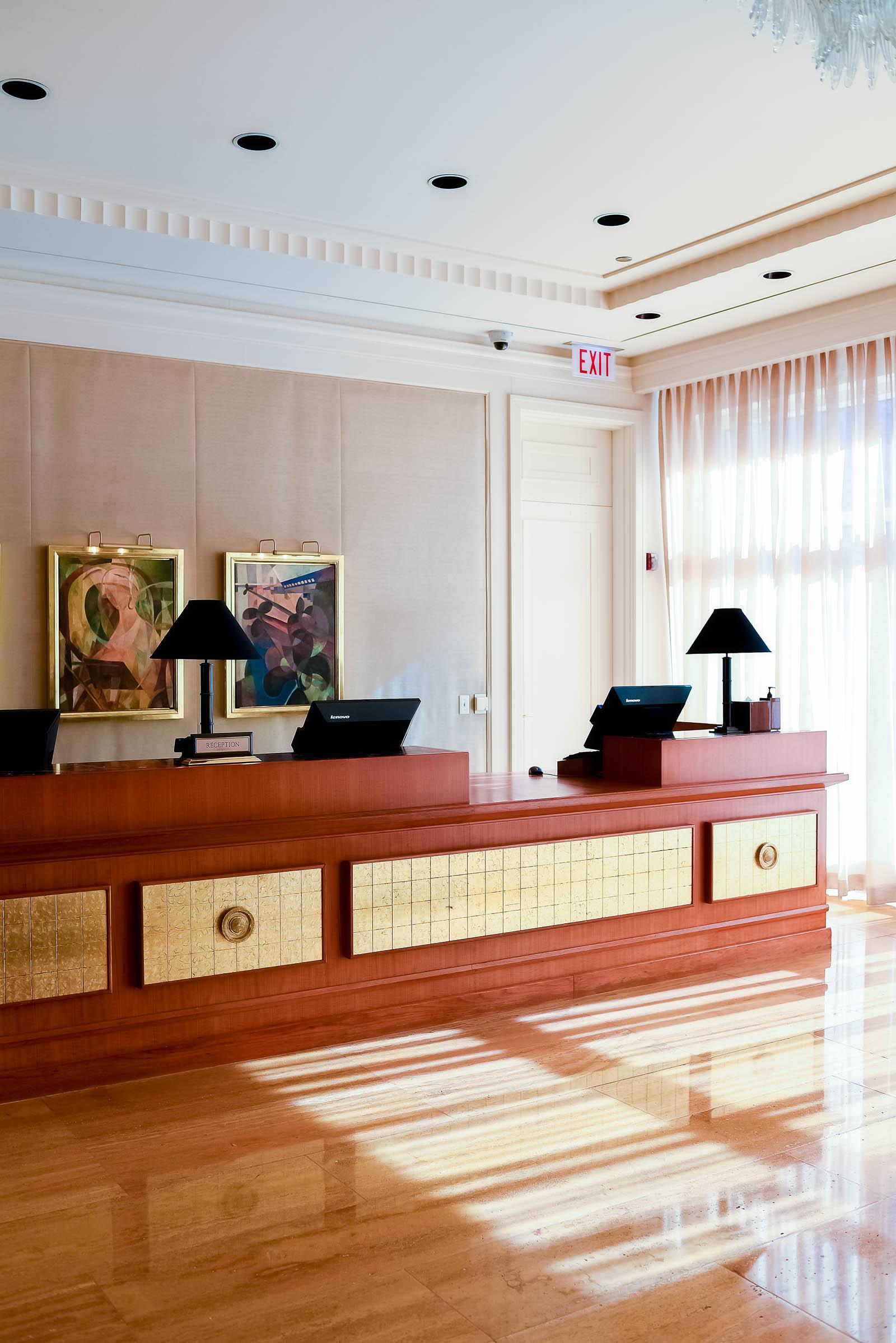 First things first we checked into the sixth floor Lobby and got our room keys.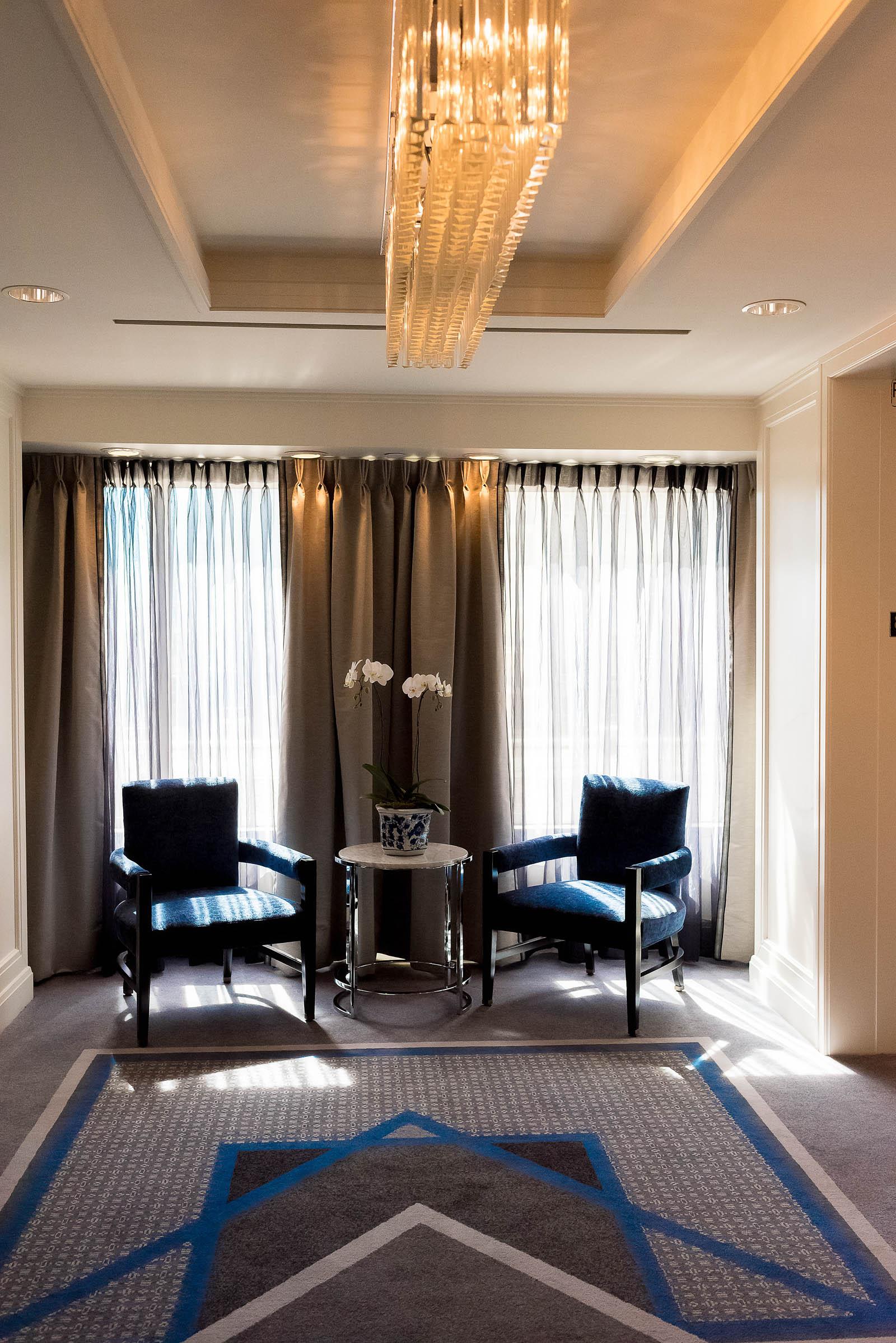 And headed up to our gorgeous compound of rooms on the 9th floor…
THE ROOM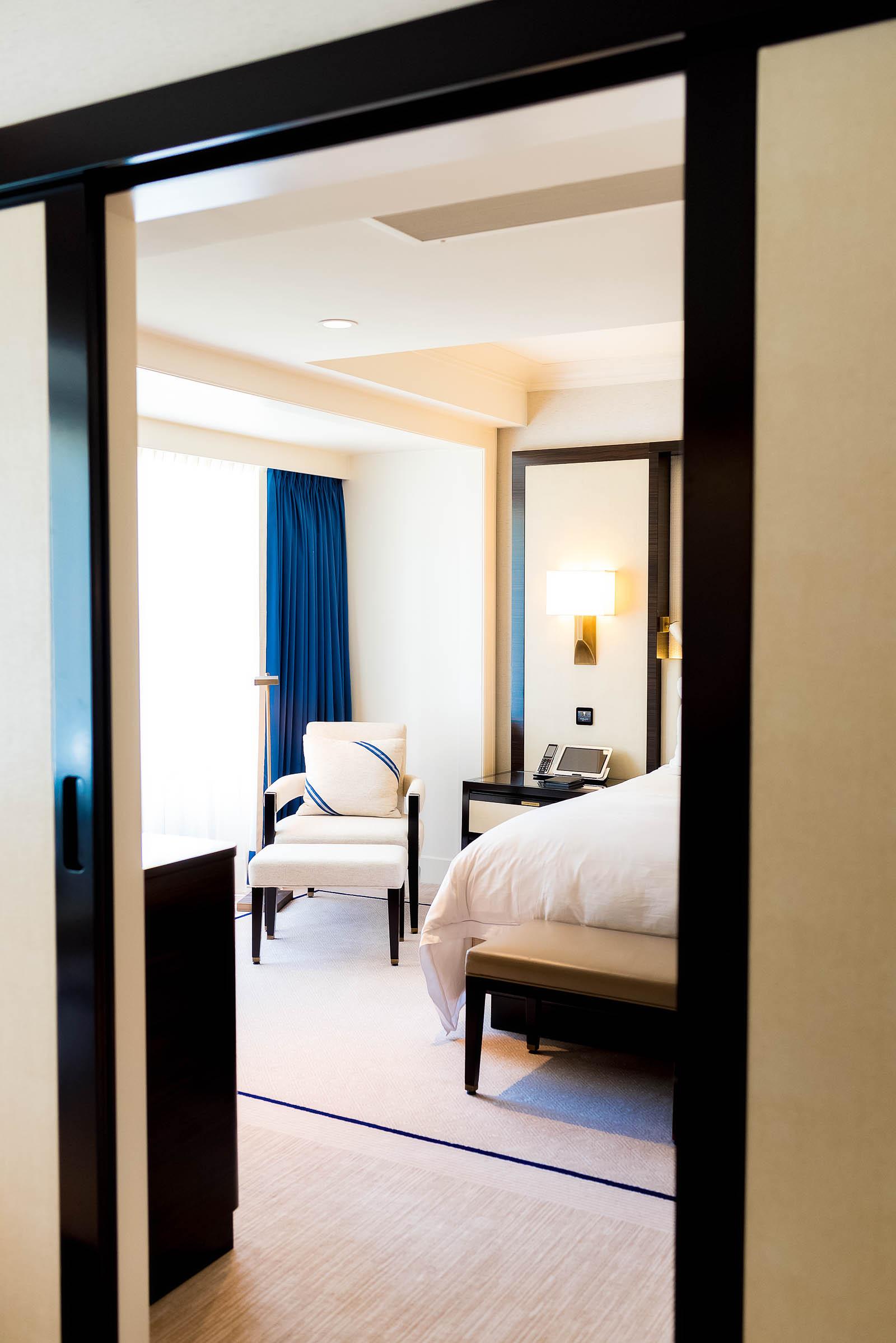 For the four of us we stayed in a compound combining a large, newly renovated suite with a smaller room adjoining.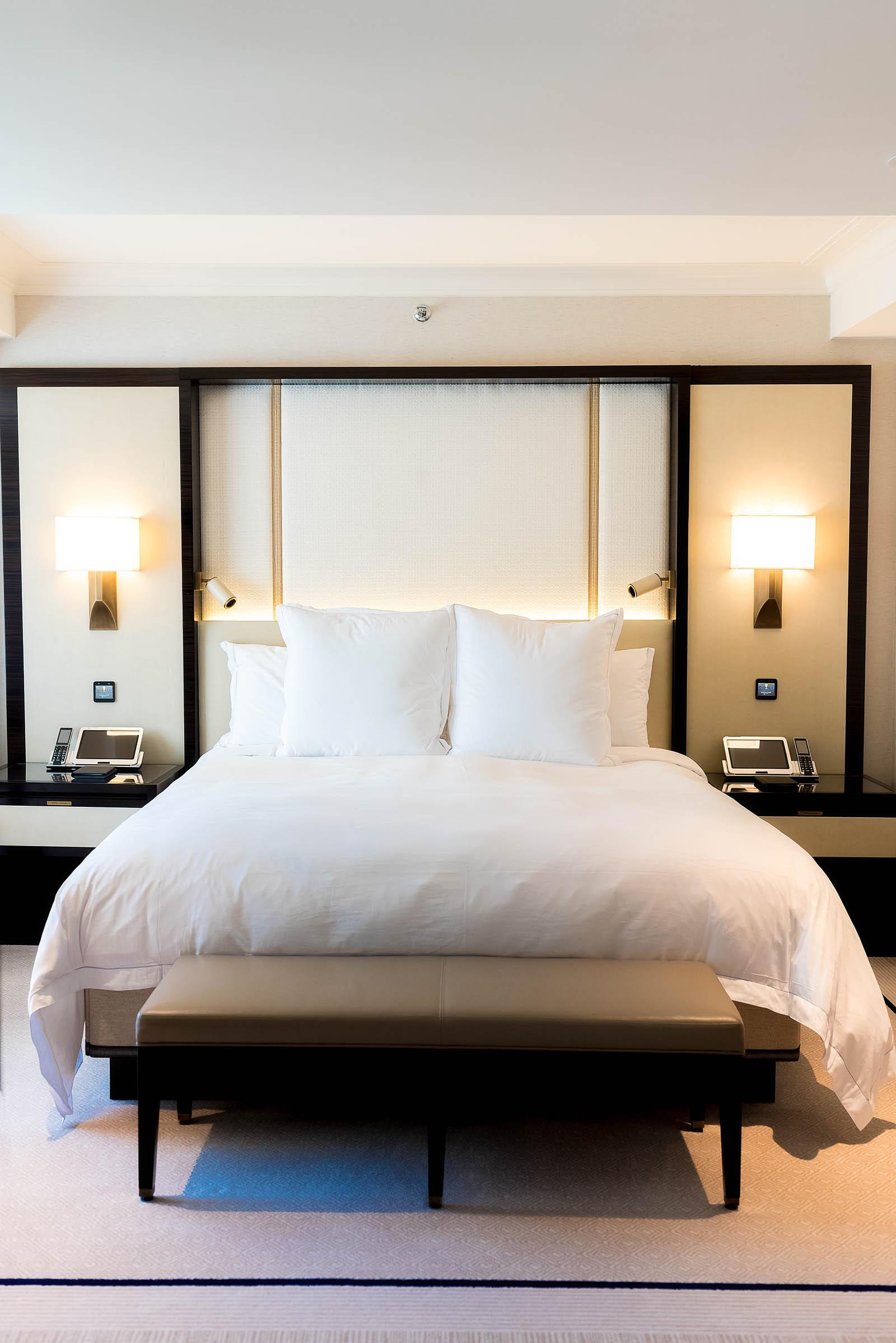 The beds were beyond plush and cozy. We couldn't resist the urge to melt right in once we'd unpacked!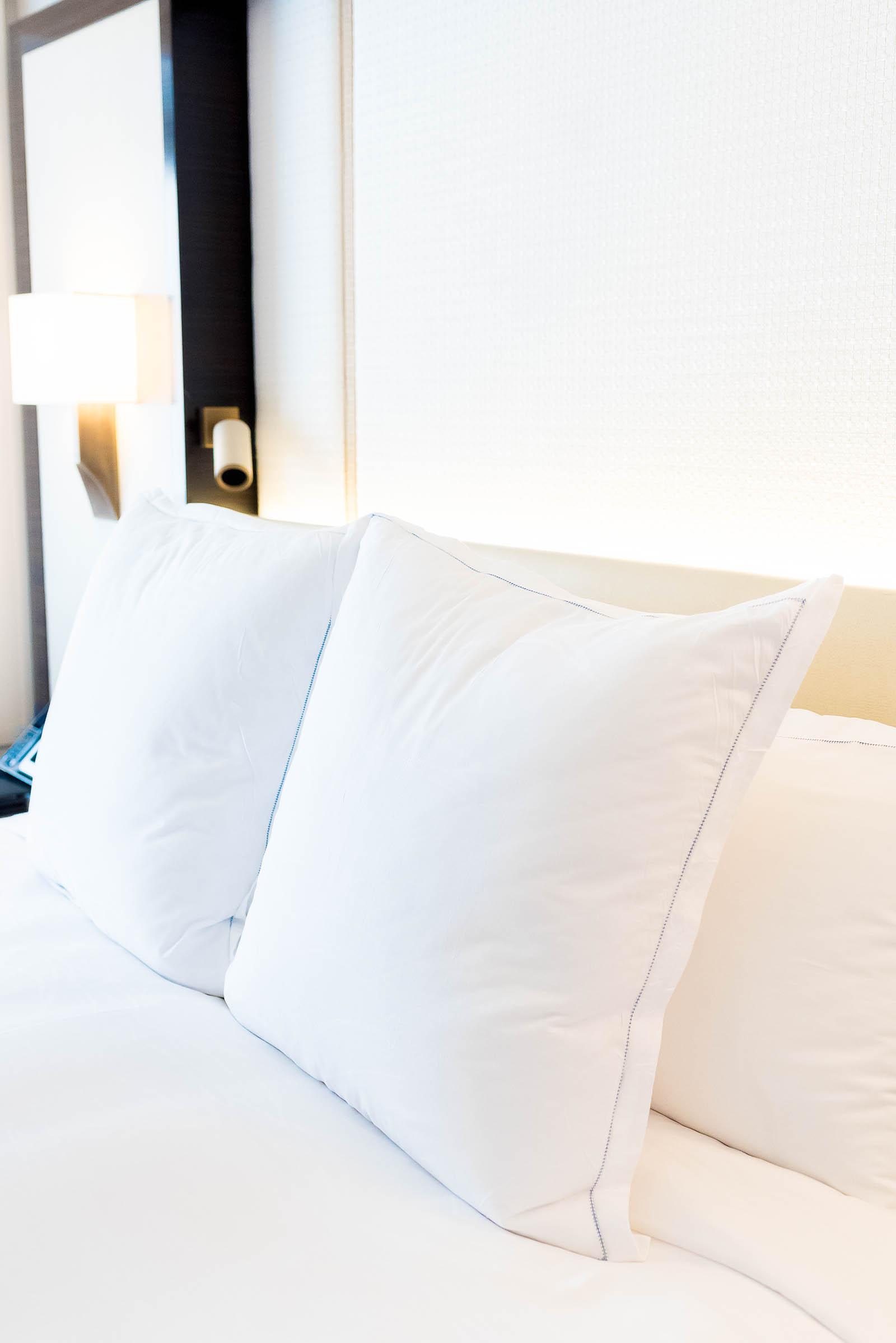 I tend to be quite picky with hotel pillows but these Peninsula pillows completely passed the test — not too soft, not too firm, and freshly scented.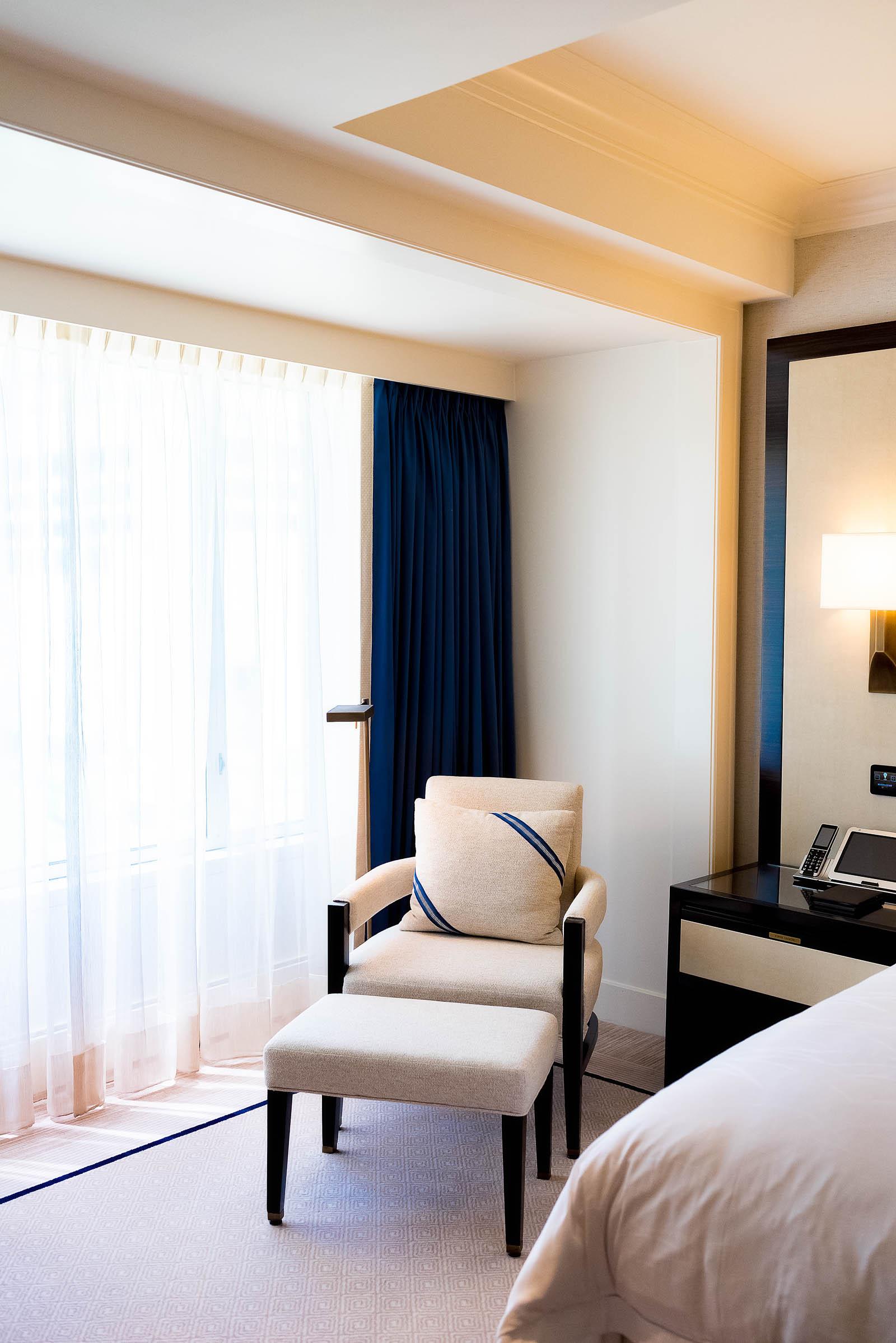 All the newly renovated rooms are designed around the Peninsula's chic blue and cream color scheme which is so tranquil and beautiful!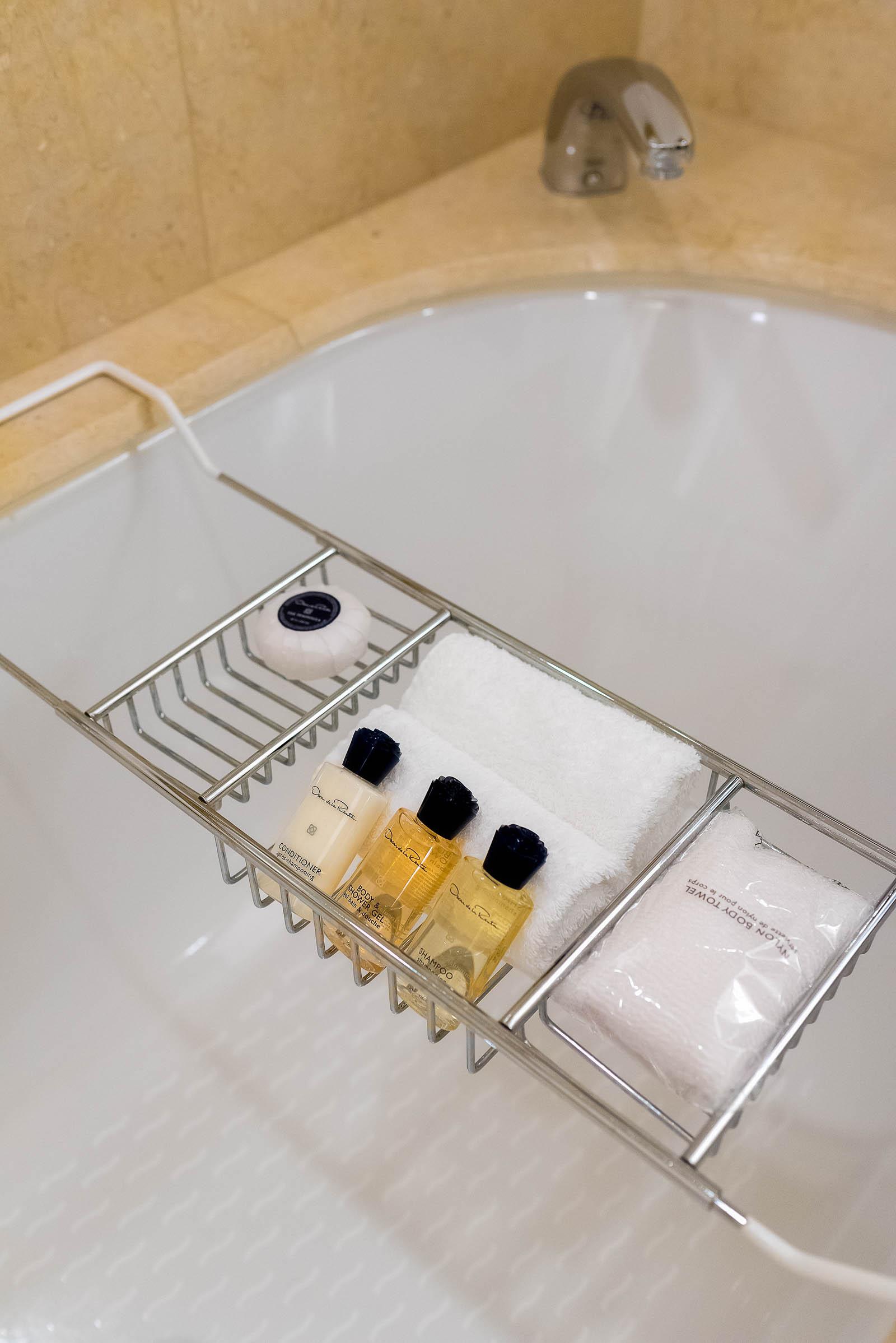 And the bathrooms were enormous and filled with Oscar de la Renta toiletries (such a luxurious little perk!).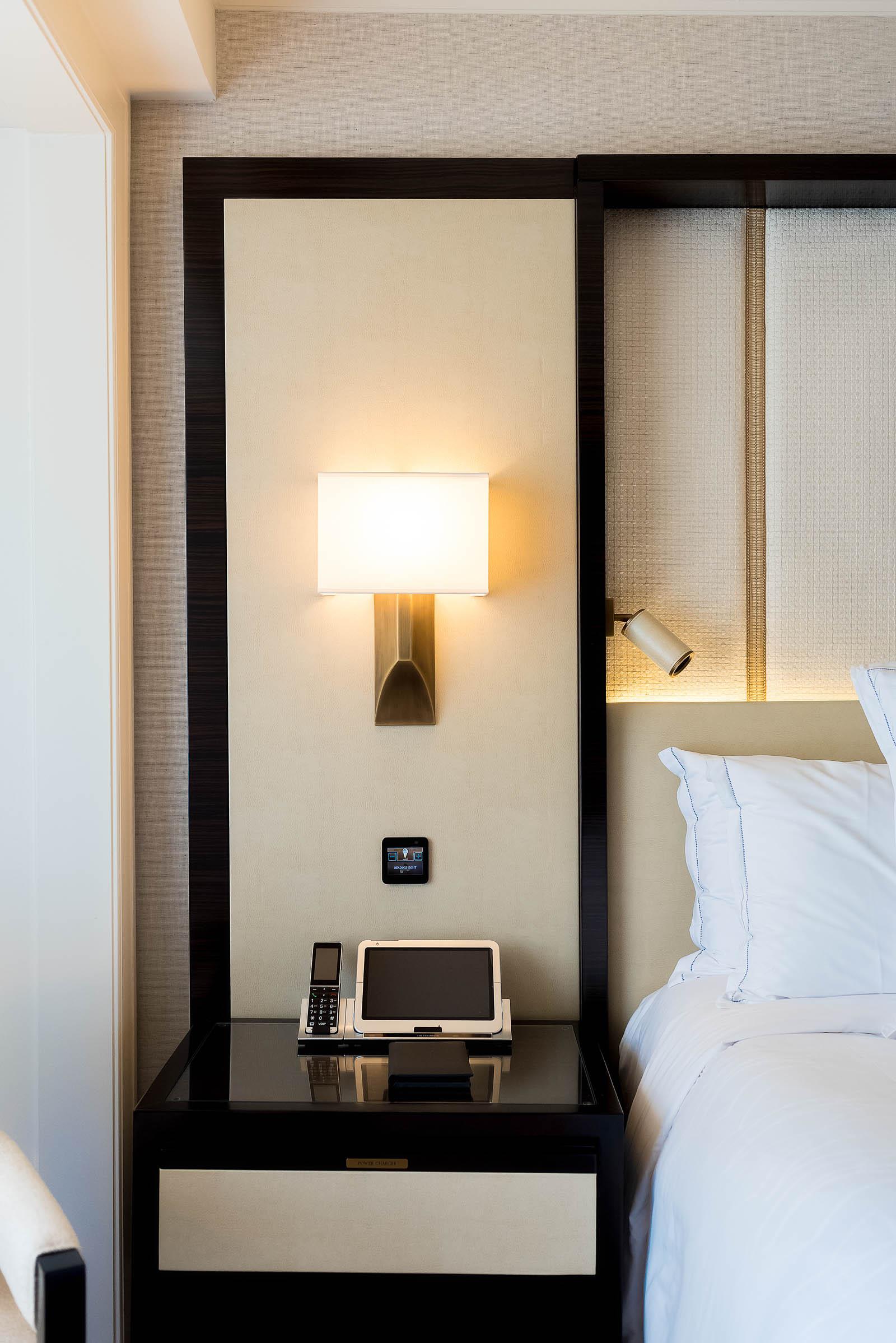 Not to mention loads of fun, modern amenities like touch pads in place of alarm clocks, light switches, and locks.
You can literally sit in one spot and change the tv station, the light intensity, the temperature, order room service, schedule a spa service… pretty much everything your heart desires can be done before you've ever stepped out of bed.
Which begs the follow-up question: Why don't I have one of these installed in my apartment?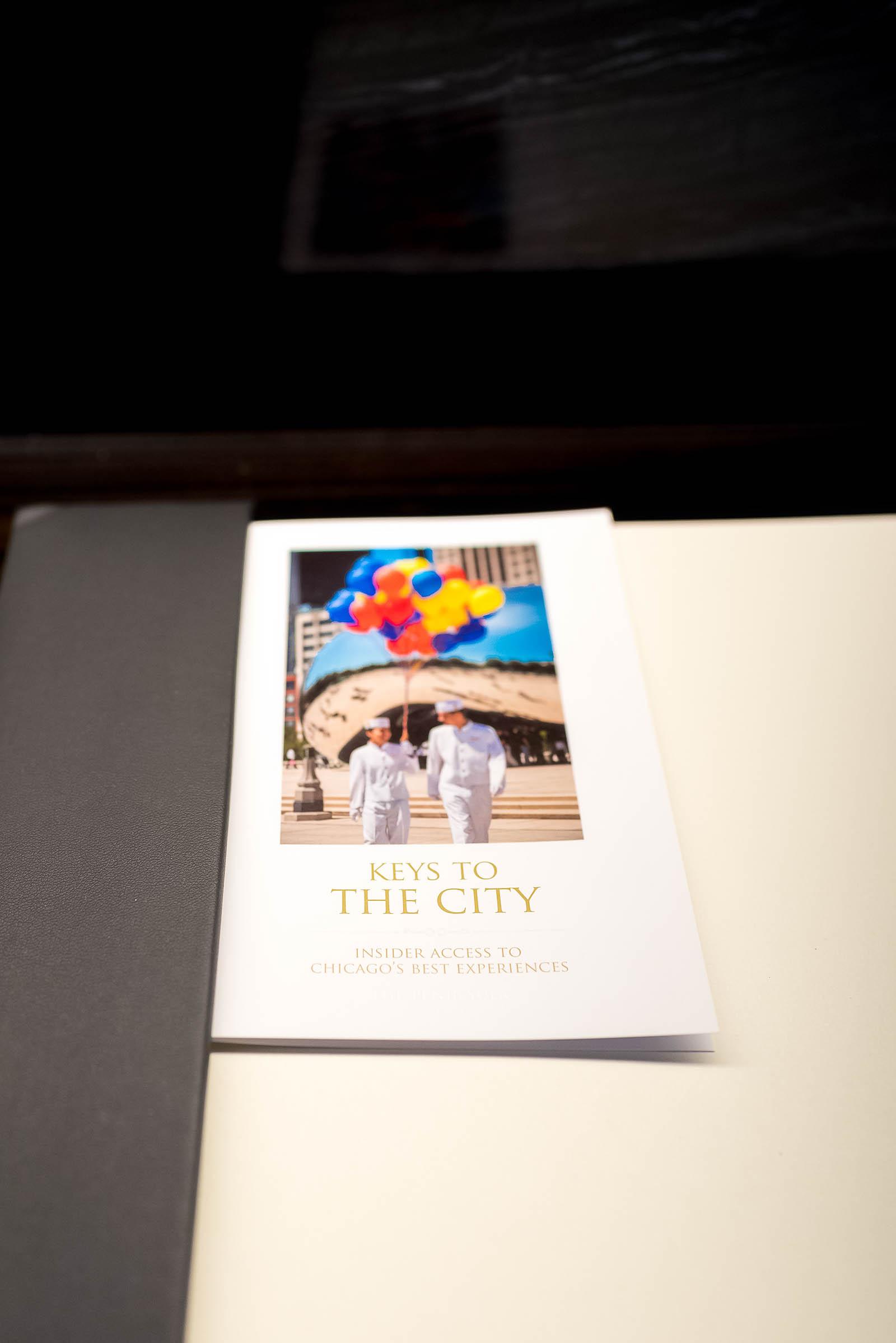 The Peninsula also leaves guests great guides for insider tidbits into the city. I highly recommend checking out their suggestions!

The lounge area of our suite was the most impressive part though.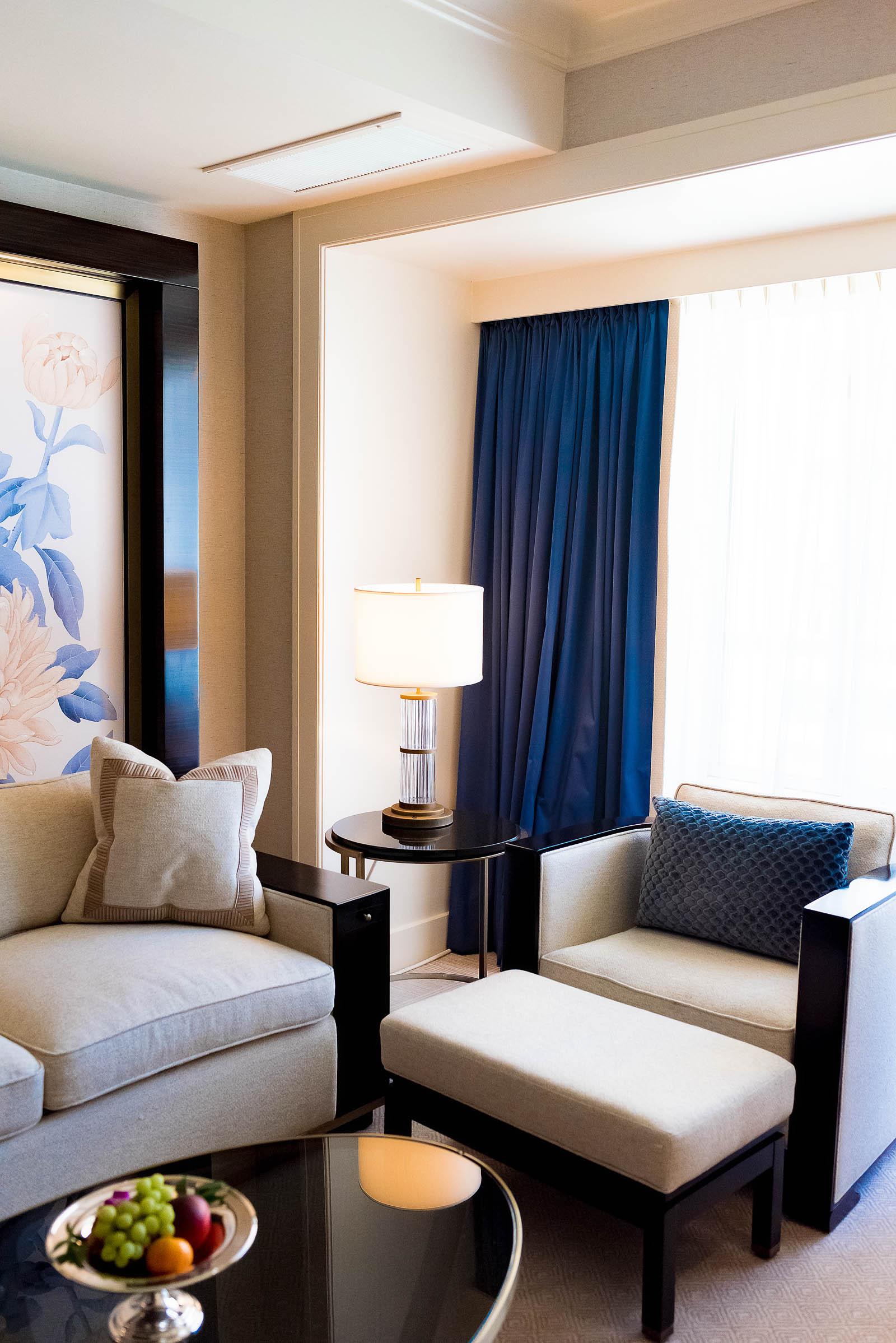 It's a comfortable yet swanky space with plenty of seating (perfect for staycations — you never know who may drop by to say hello).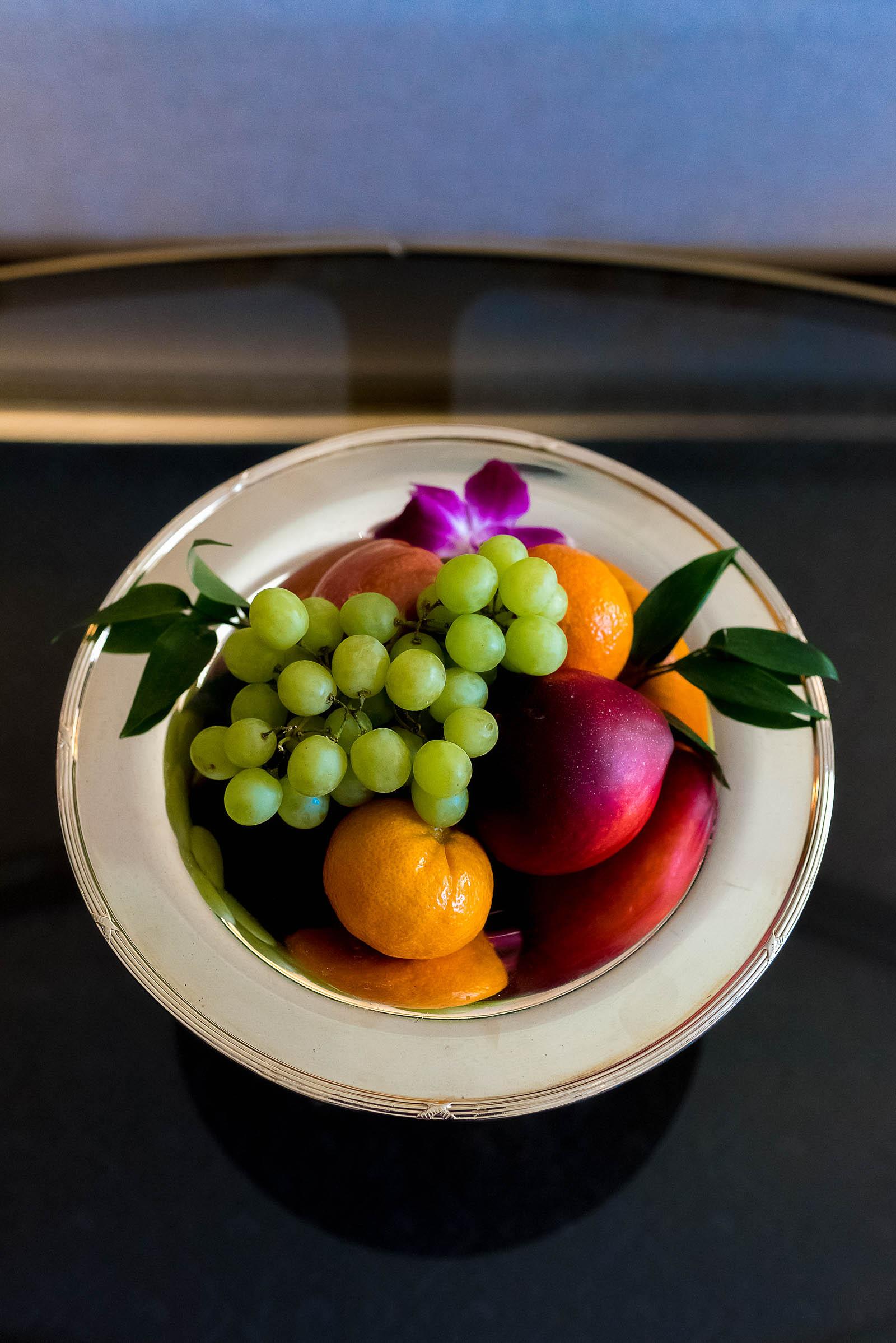 We were all immediately drawn to this generous fruit bowl too which we demolished in 20 minutes flat (after shooting our room of course).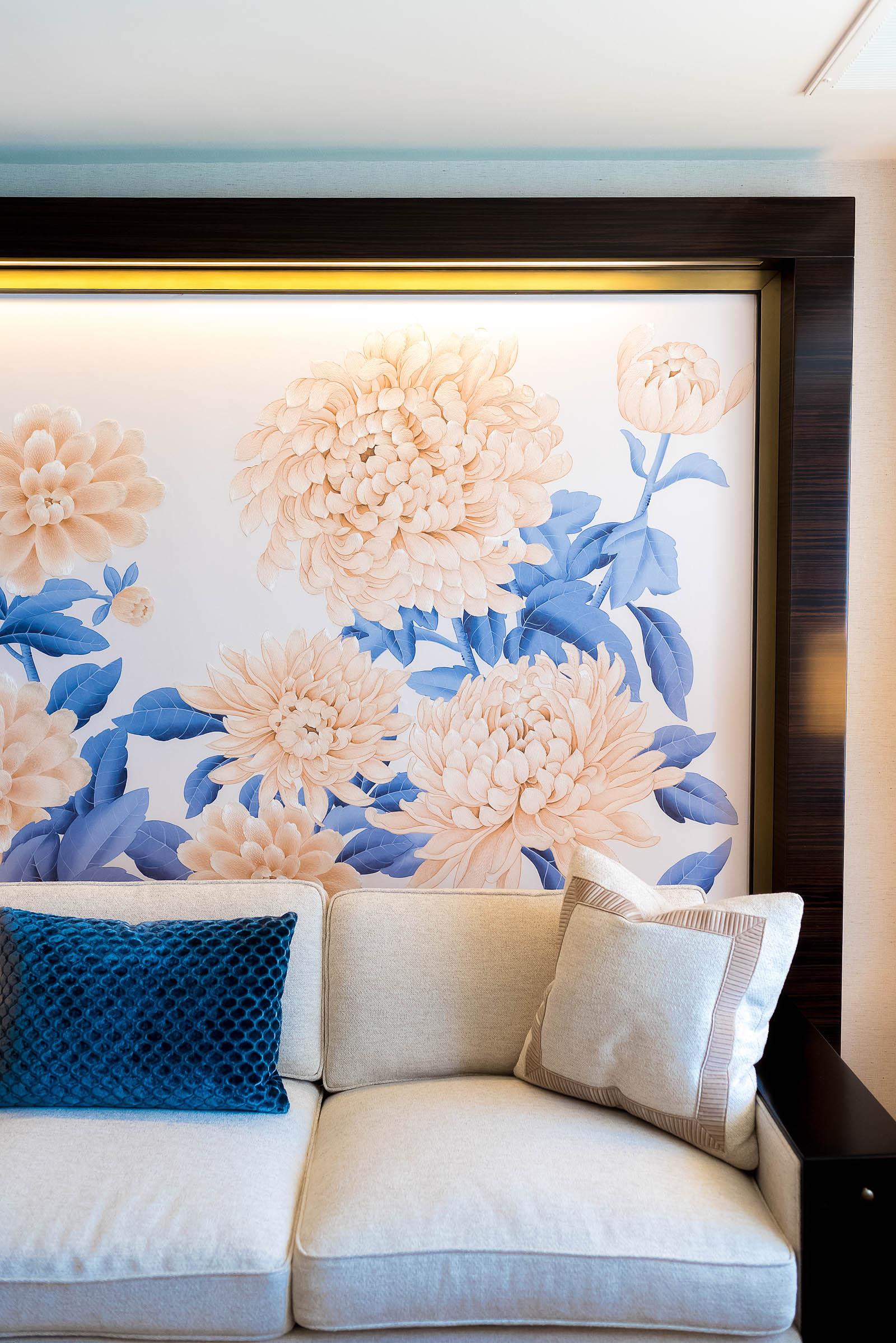 But the best part is this stunning mural, added as part of the Peninsula's room upgrades last year.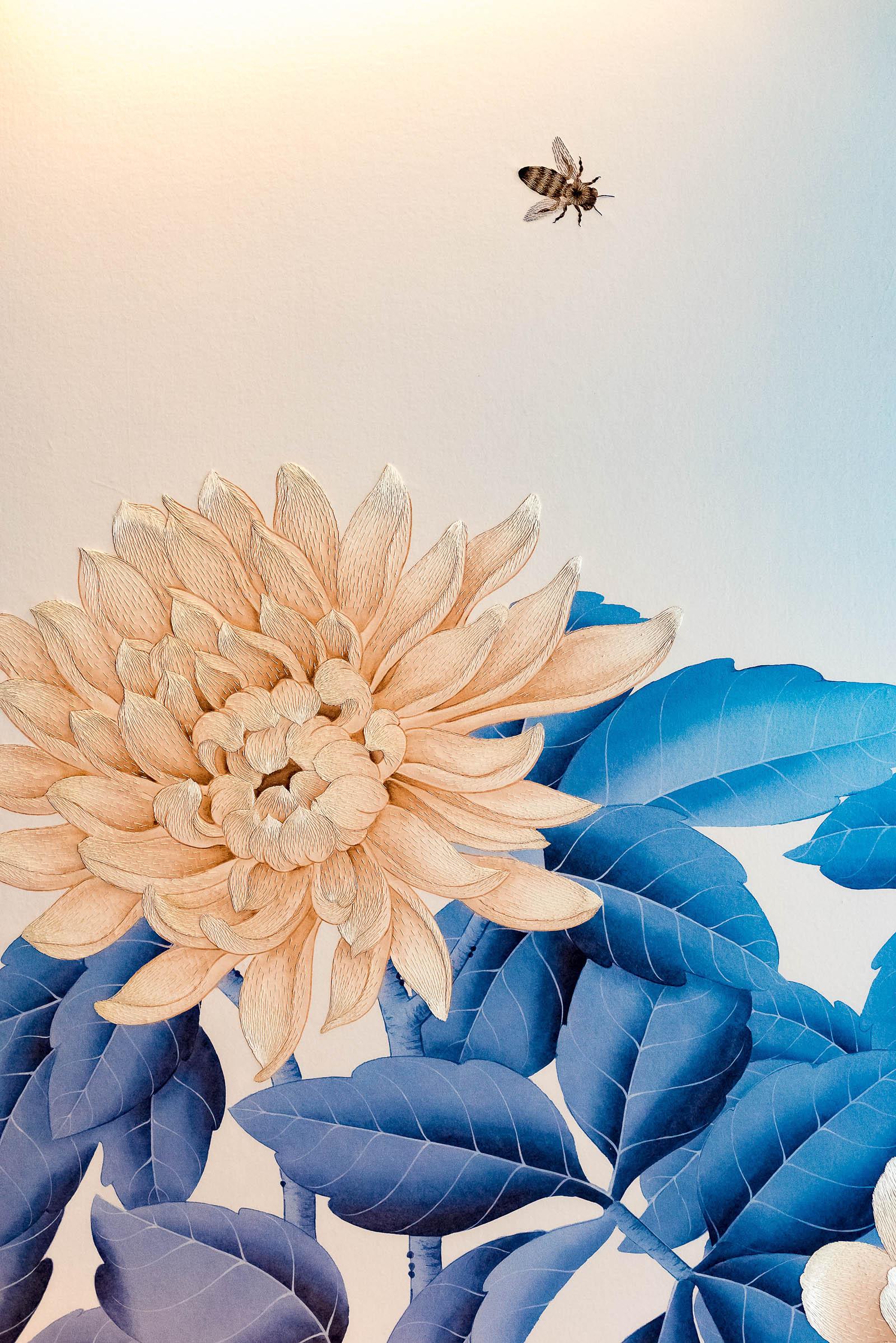 It combines floral prints associated with Chicago in an embroidered pattern that takes over almost an entire wall of the room!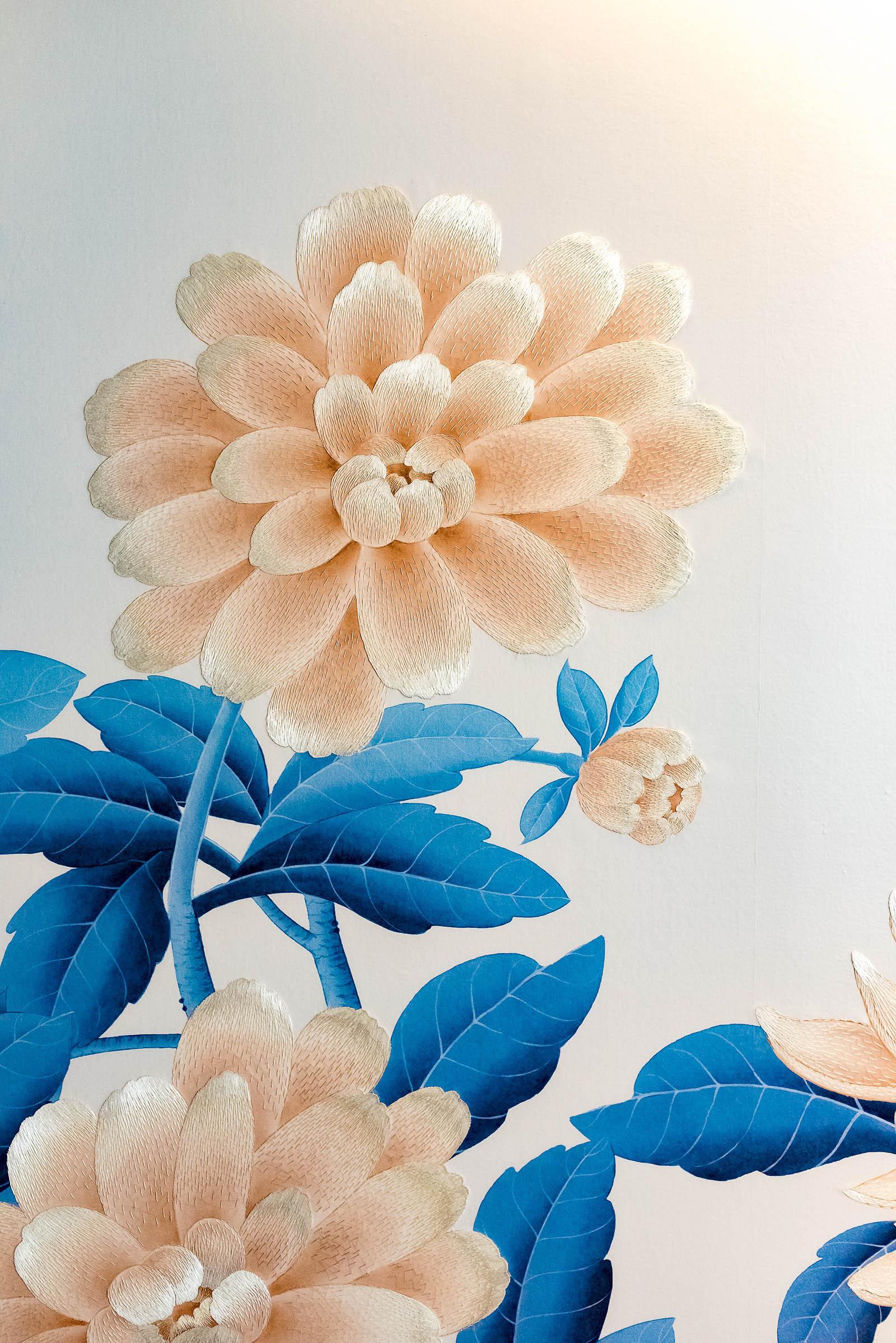 It's fun to run your fingers along the embroidery — even if just to appreciate the level of detail that went into its design!
THE WELCOME
I have to be honest here, I've NEVER been welcomed at a hotel quite as luxuriously as we were welcomed into the Peninsula.
Boxes of Vosges Chocolate Truffles waited along with…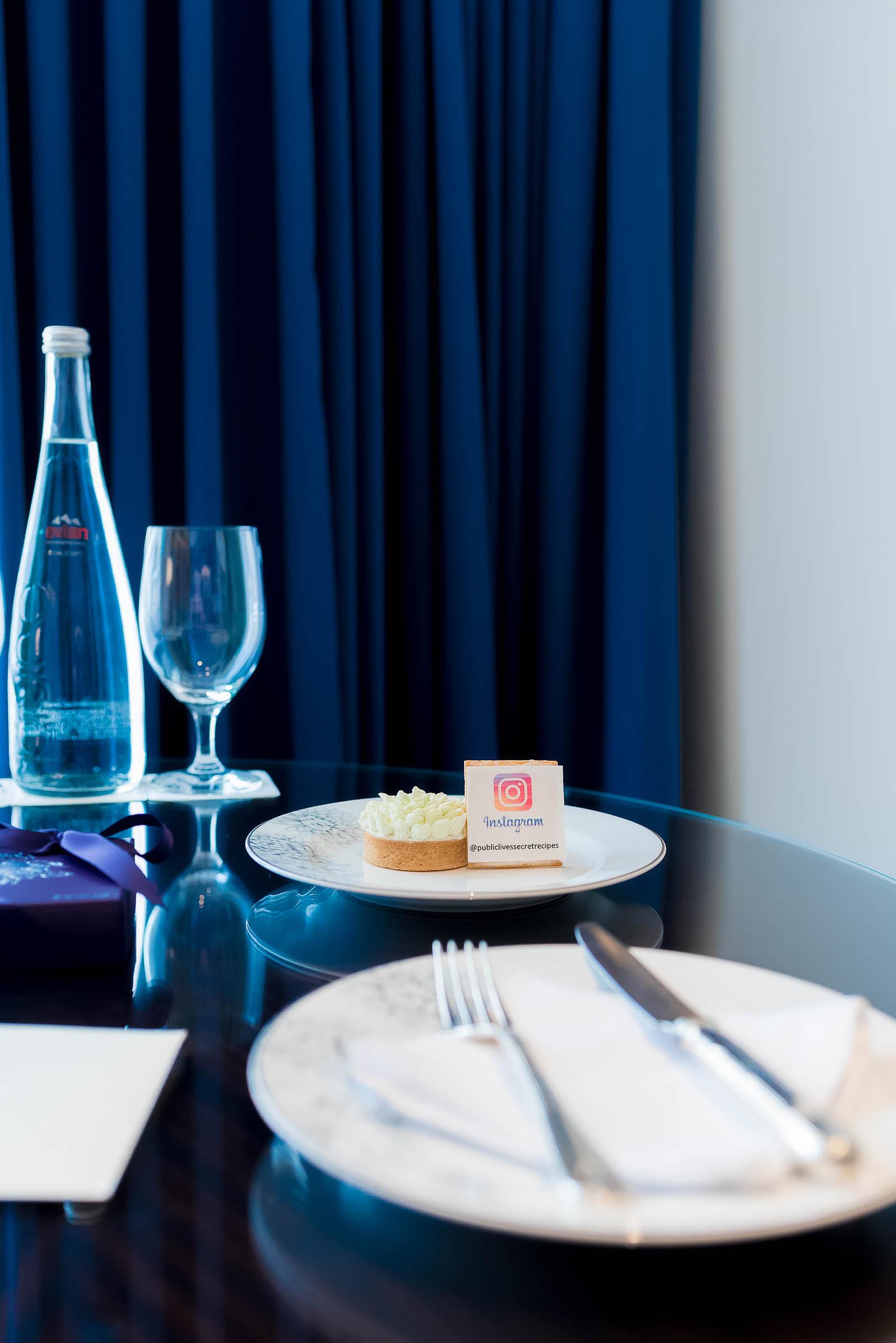 Personalized Instagram pastries for each of us!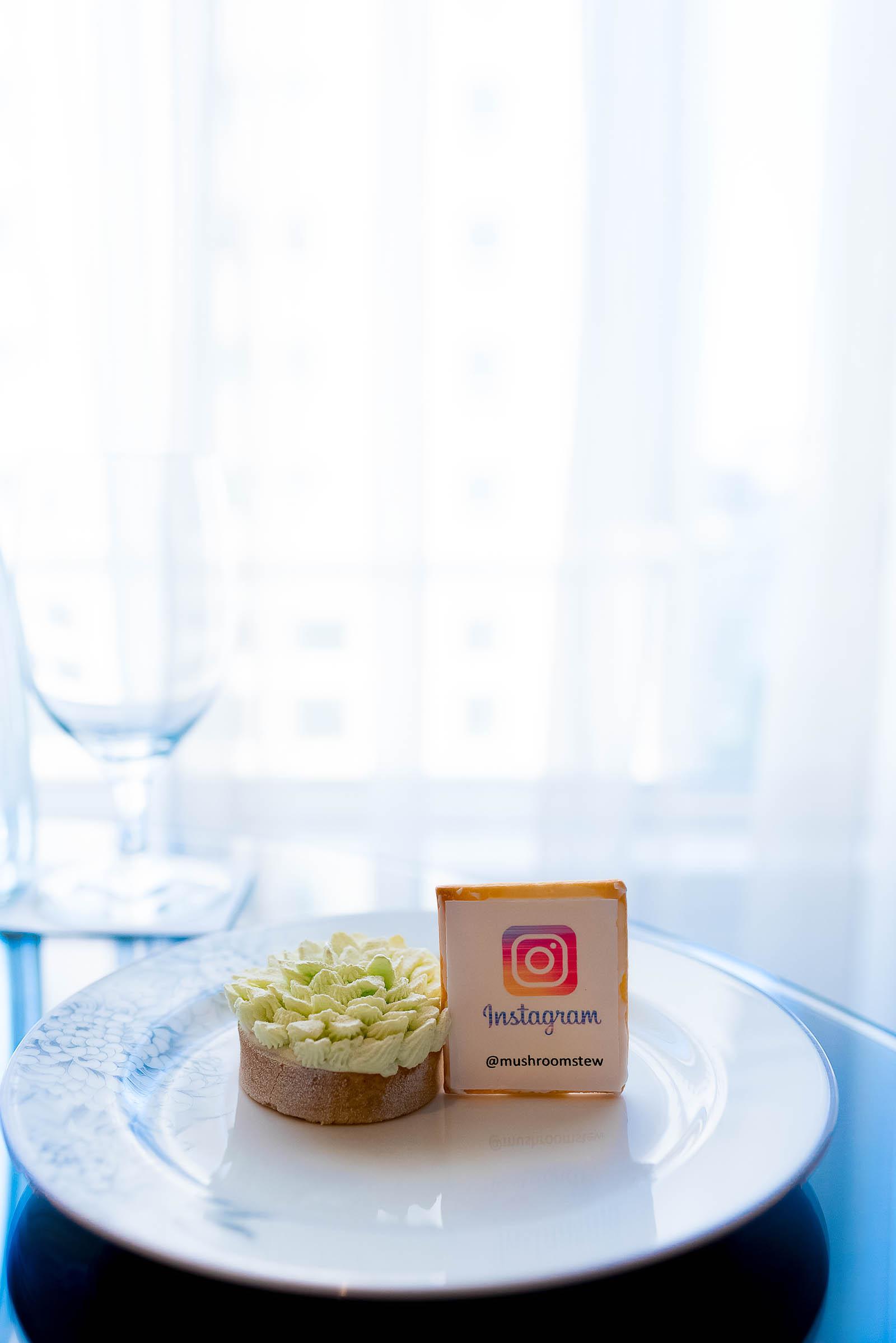 I have to say… my Instagram handle was delicious…
And such a yummy way to start our staycation while enjoying our amazing view of Michigan Avenue and the historical Water Tower!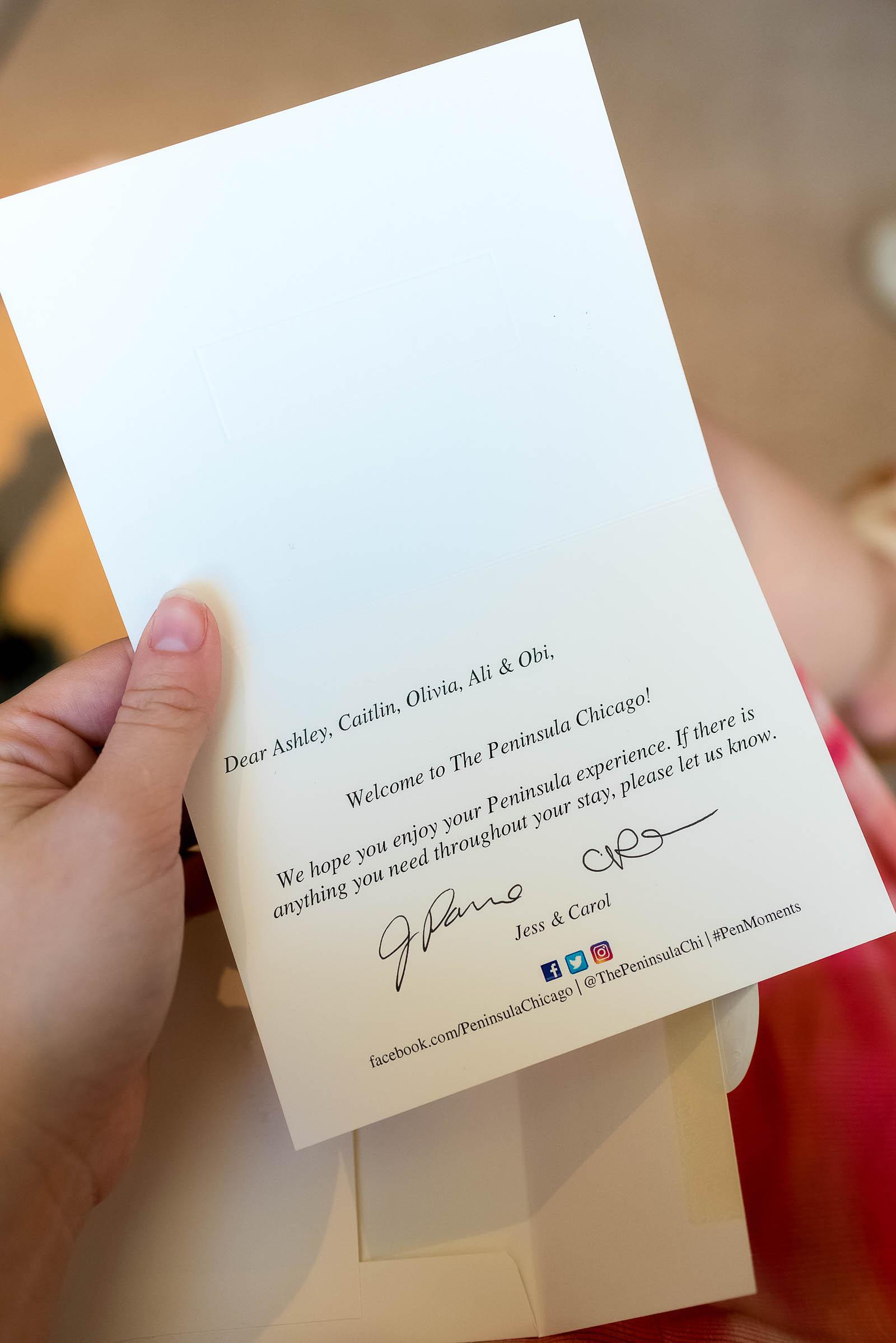 But in case the sweets weren't enough we were welcomed by personal notes from the Peninsula team…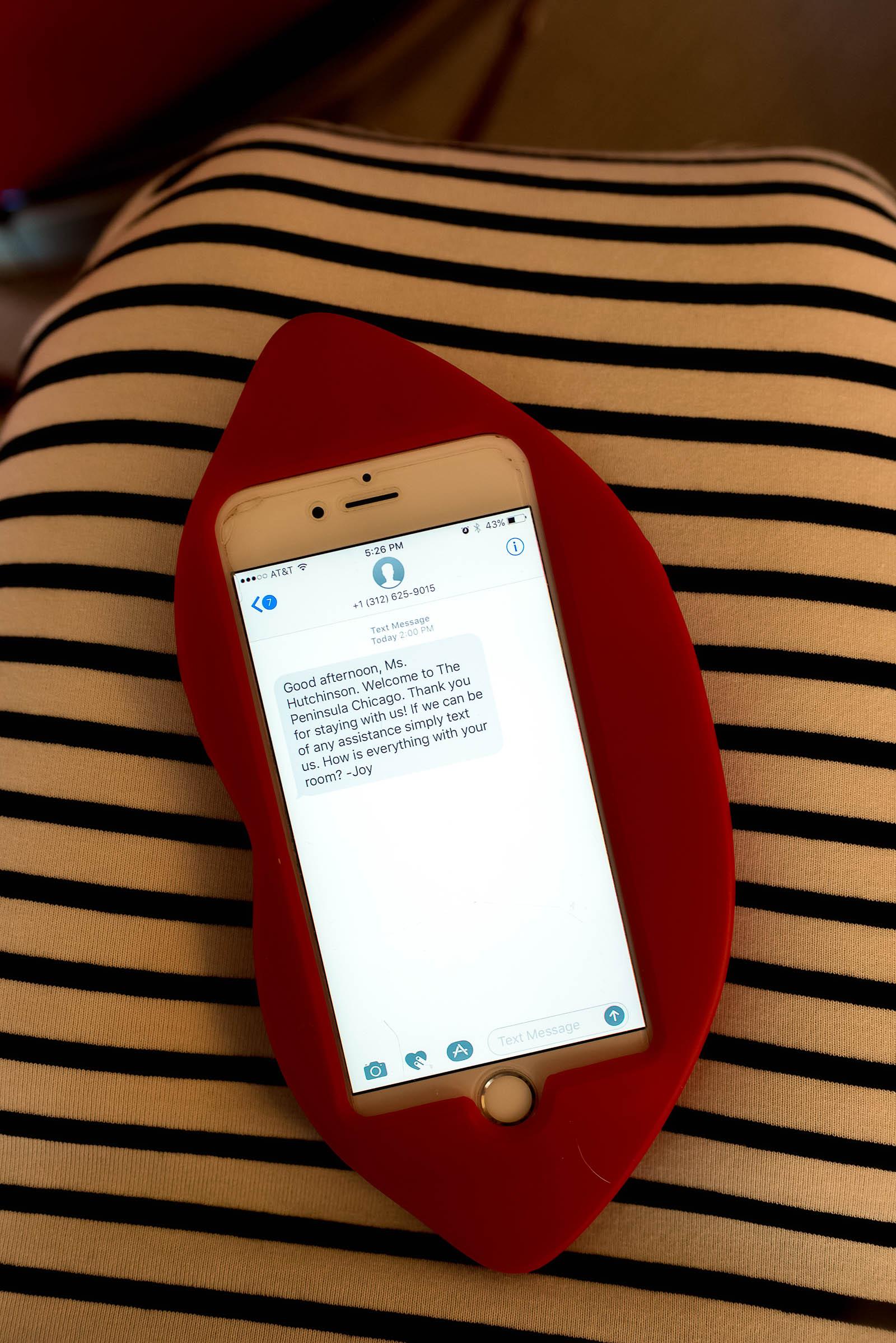 And a friendly text message from their front desk reminding us that anything we needed could be arranged via text message too. This came in VERY handy later that evening when I got a rough headache and their kind team delivered two Tylenol pills in a bow-topped gift bag to my room within 7 minutes of my text.
Luxurious service doesn't get any better than that!
THE PET-FRIENDLINESS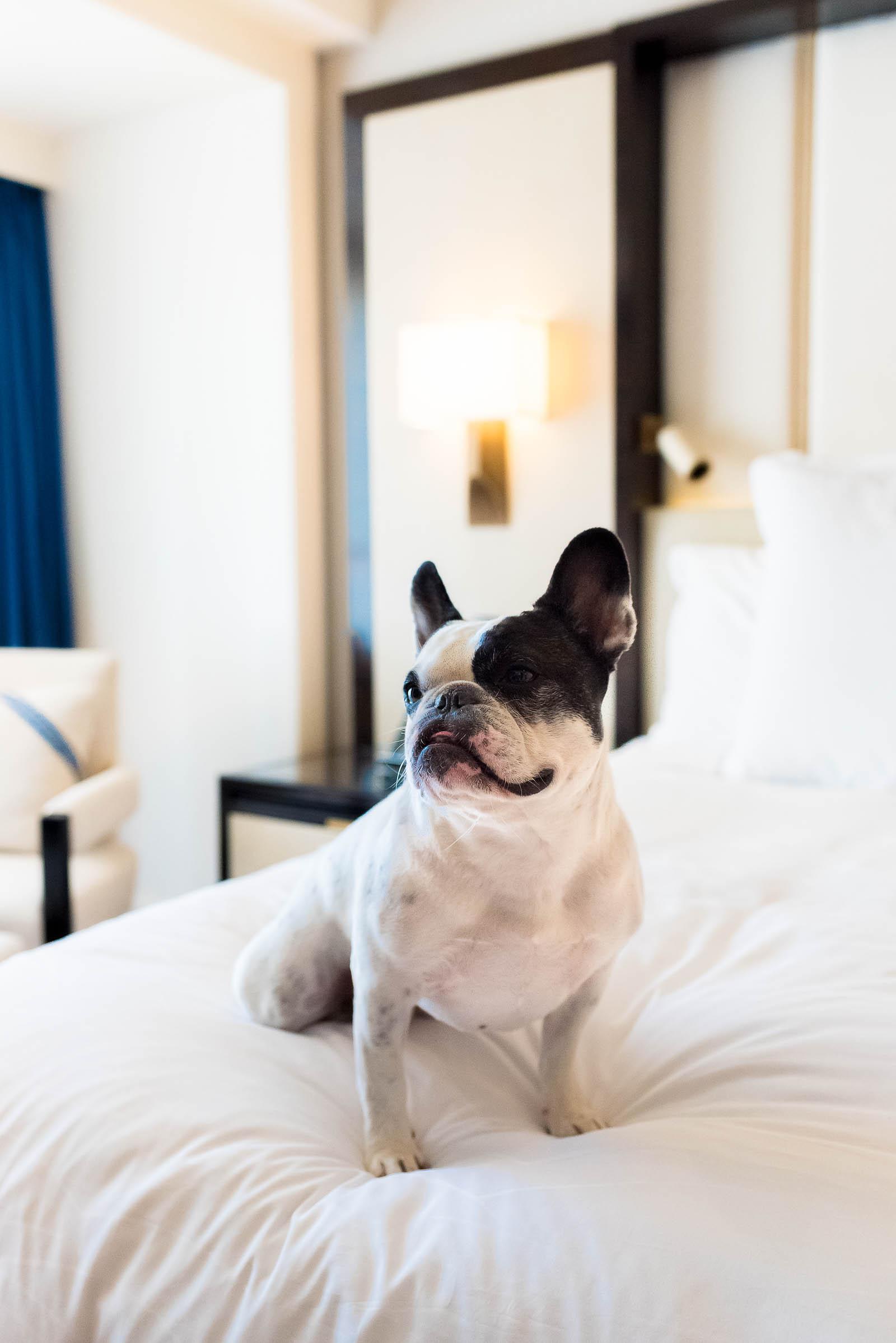 Well, I lied to you.
I told you this was a girl's staycation which was the truth. But we did have one male spending the night with us too!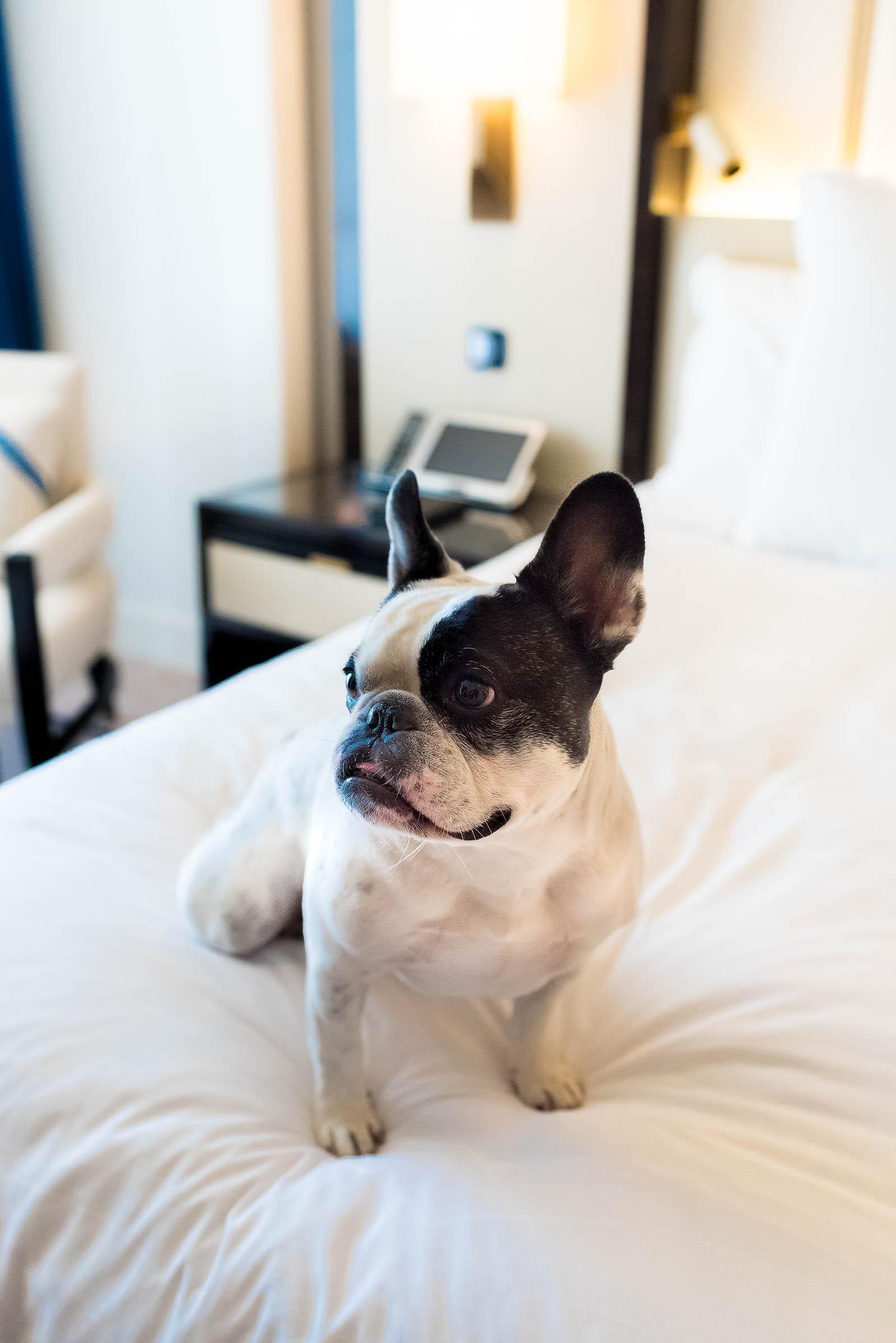 Our guest of honor: Obi!!
Obi is Ali's sweet and loving French Bulldog and we brought him along to help us experience the pet-friendly amenities of the hotel (obviously)!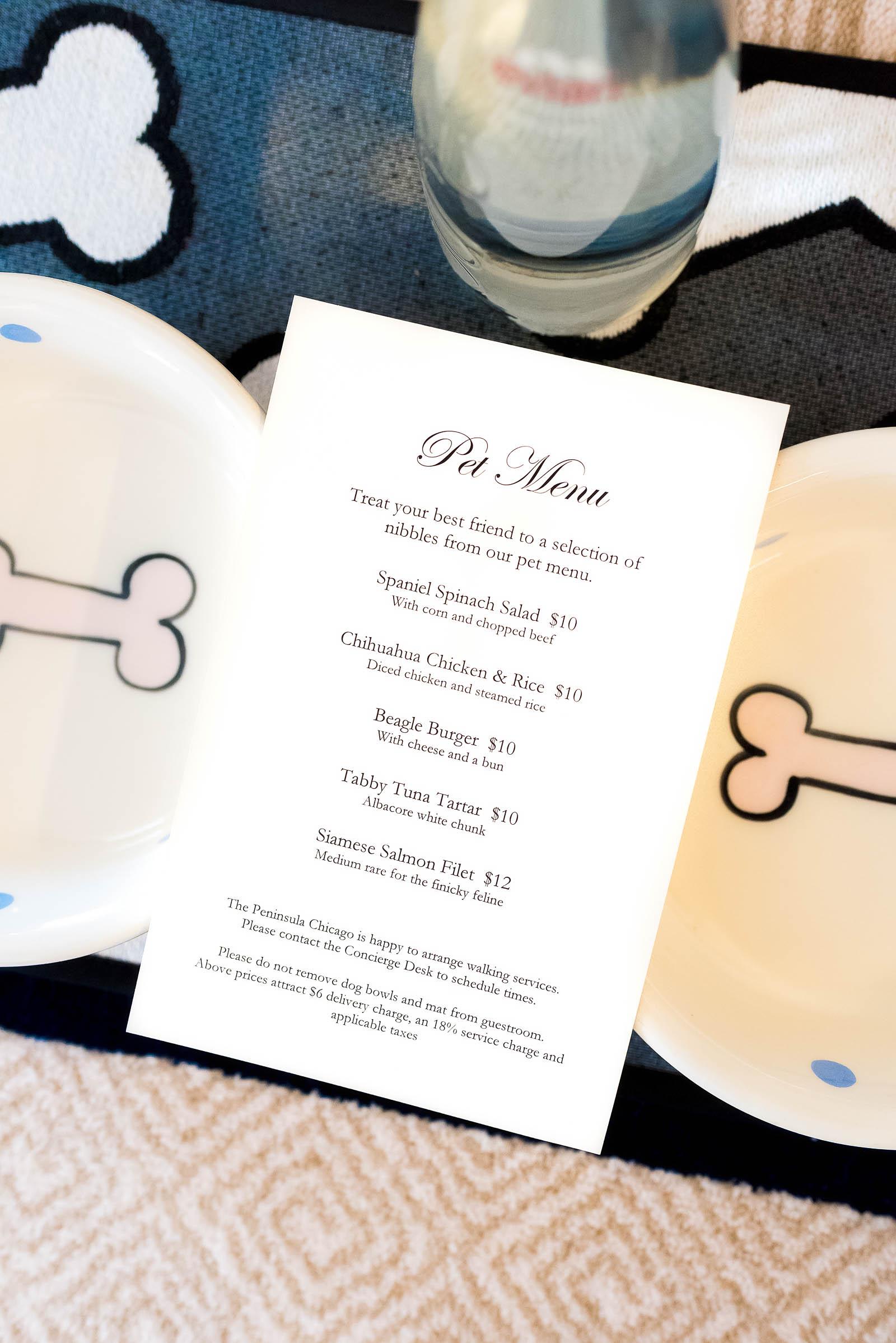 Which were amazing!
Upon our arrival two dog bowls, a bottle of chilled Evian water, and a pet menu were waiting for Obi.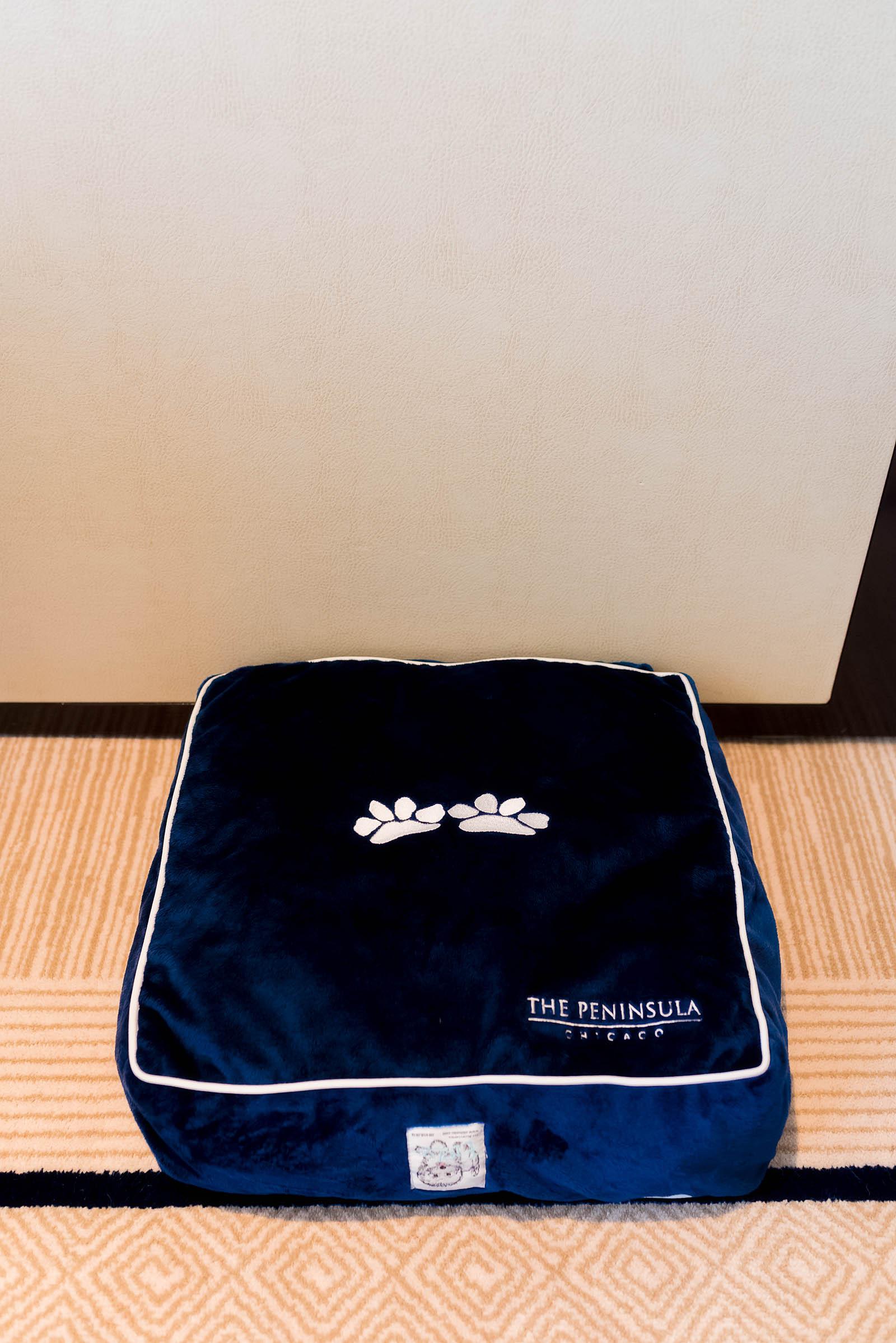 As well as a properly sized dog bed (the Peninsula team made sure to note Obi's weight and give us a perfect sized bed for him!).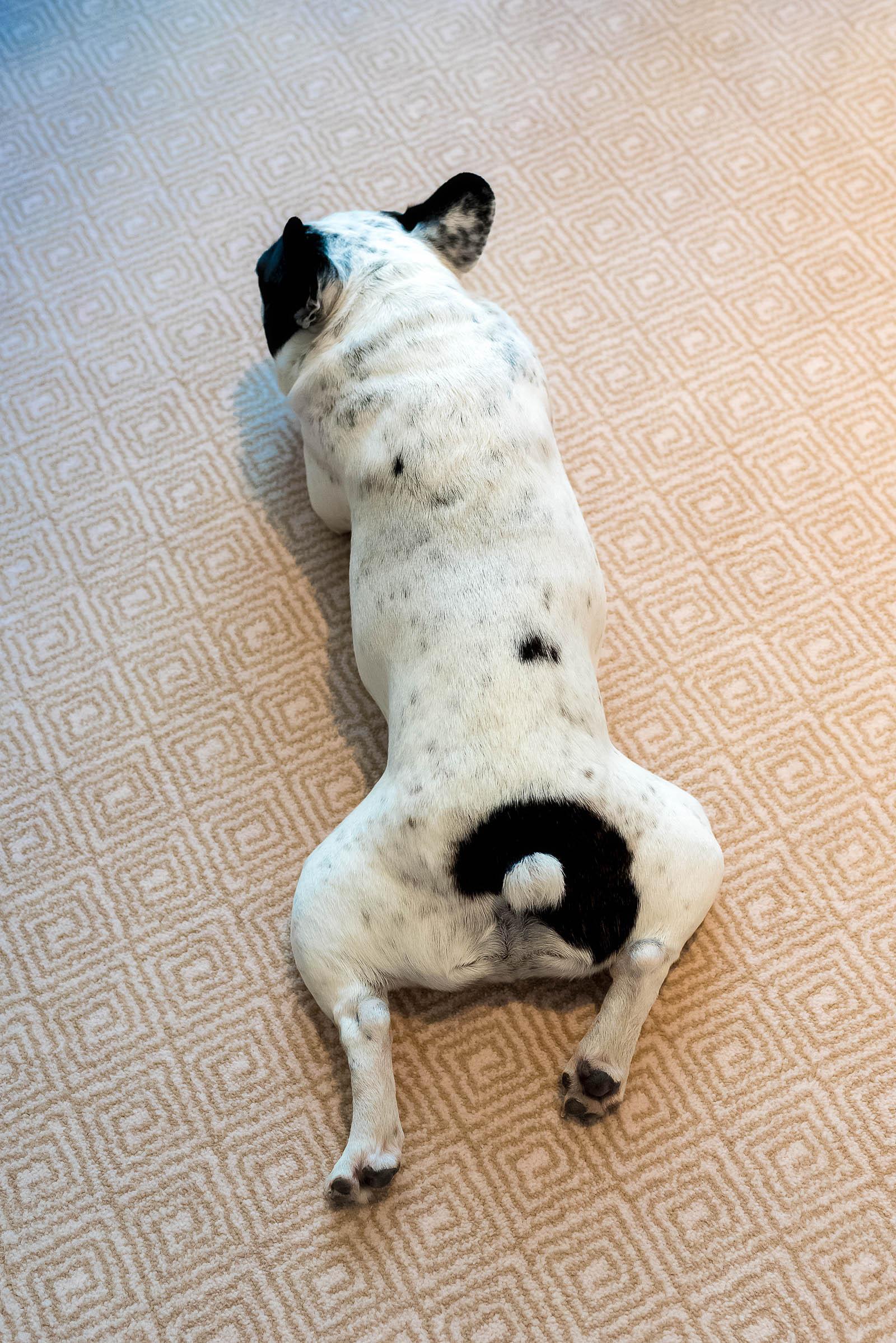 Needless to say Obi immediately made himself at home.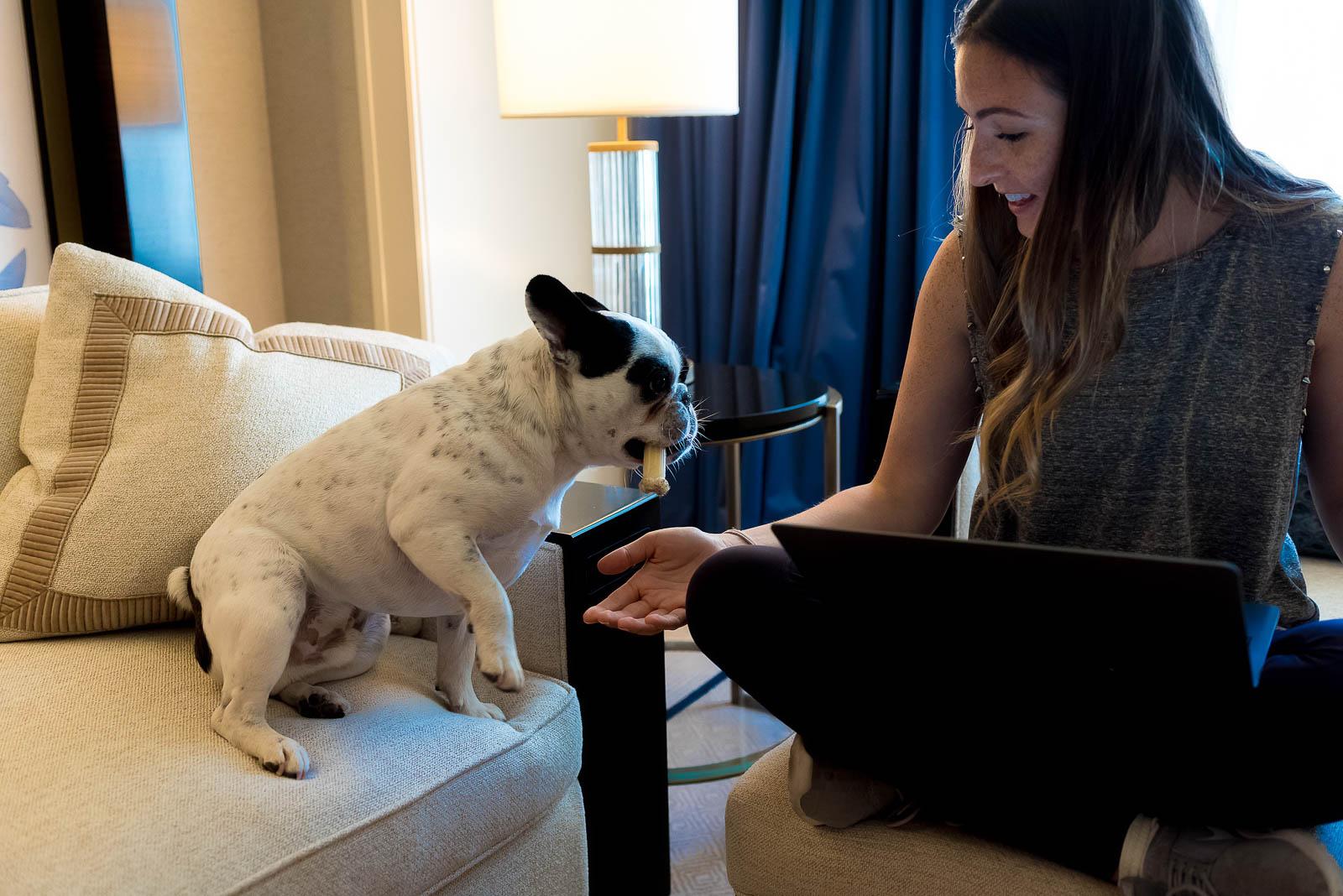 (though he made sure to check up on all of us periodically. Such a good pup!)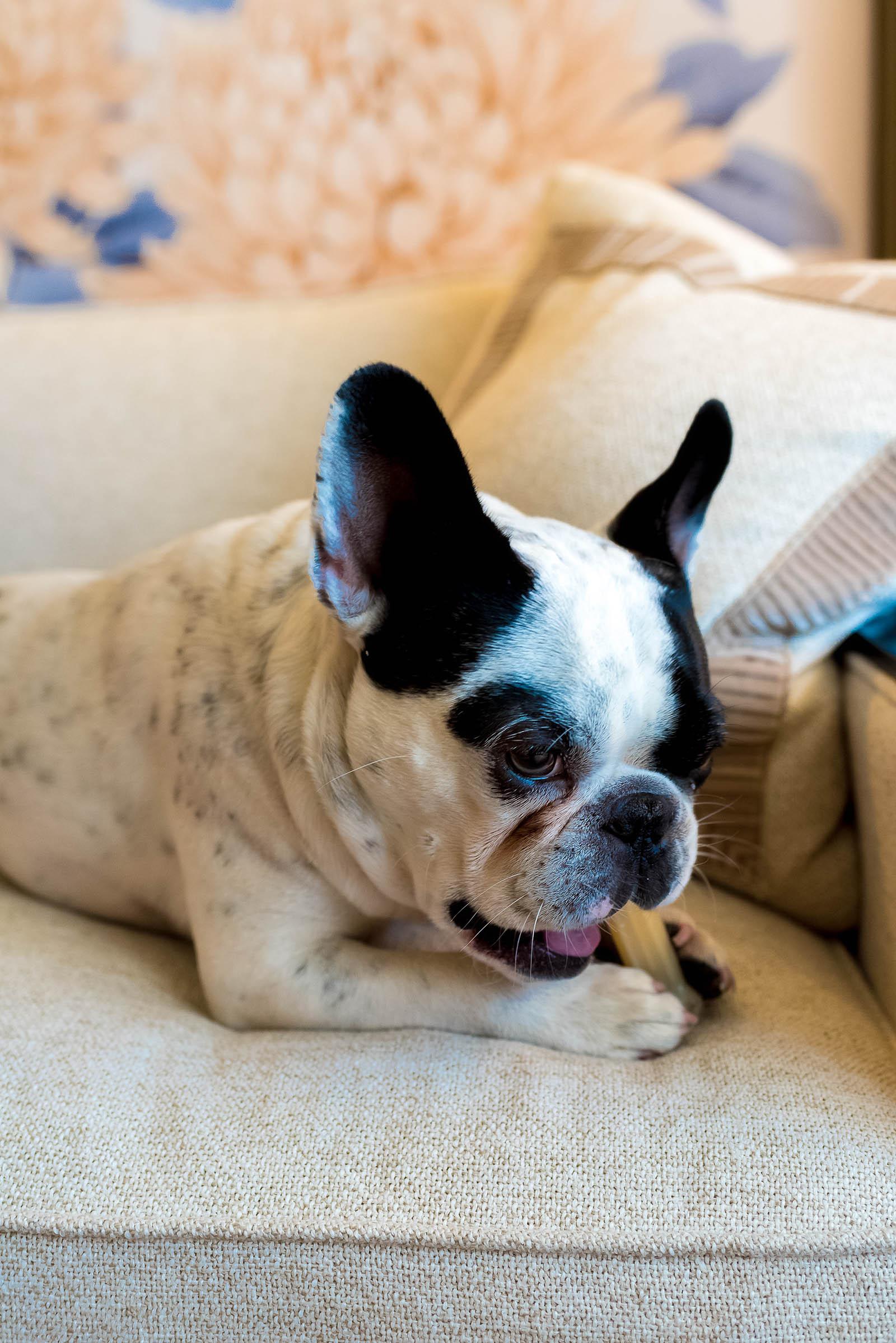 Before eventually settling onto the couch with one of his favorite toys.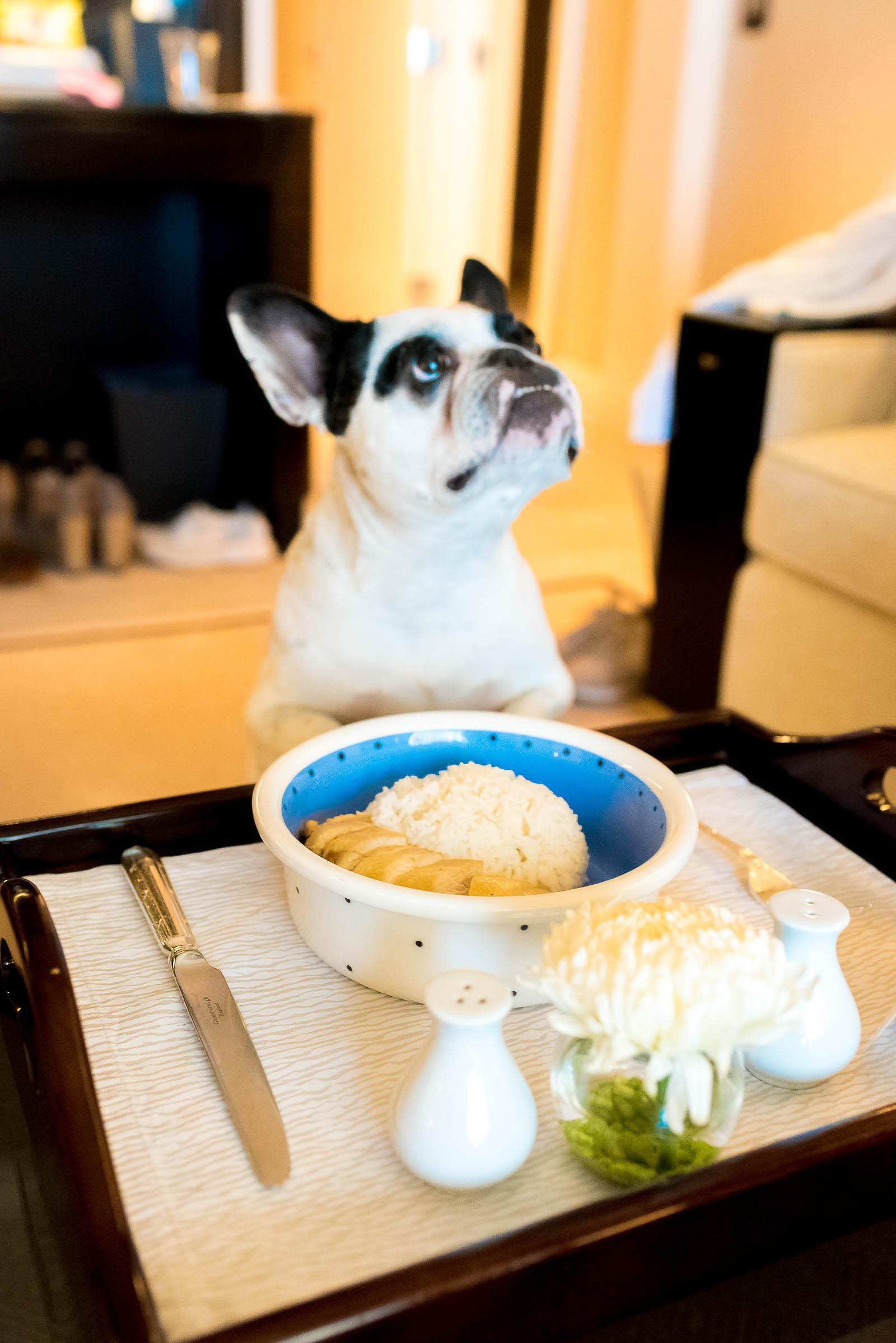 At least until his dinner came!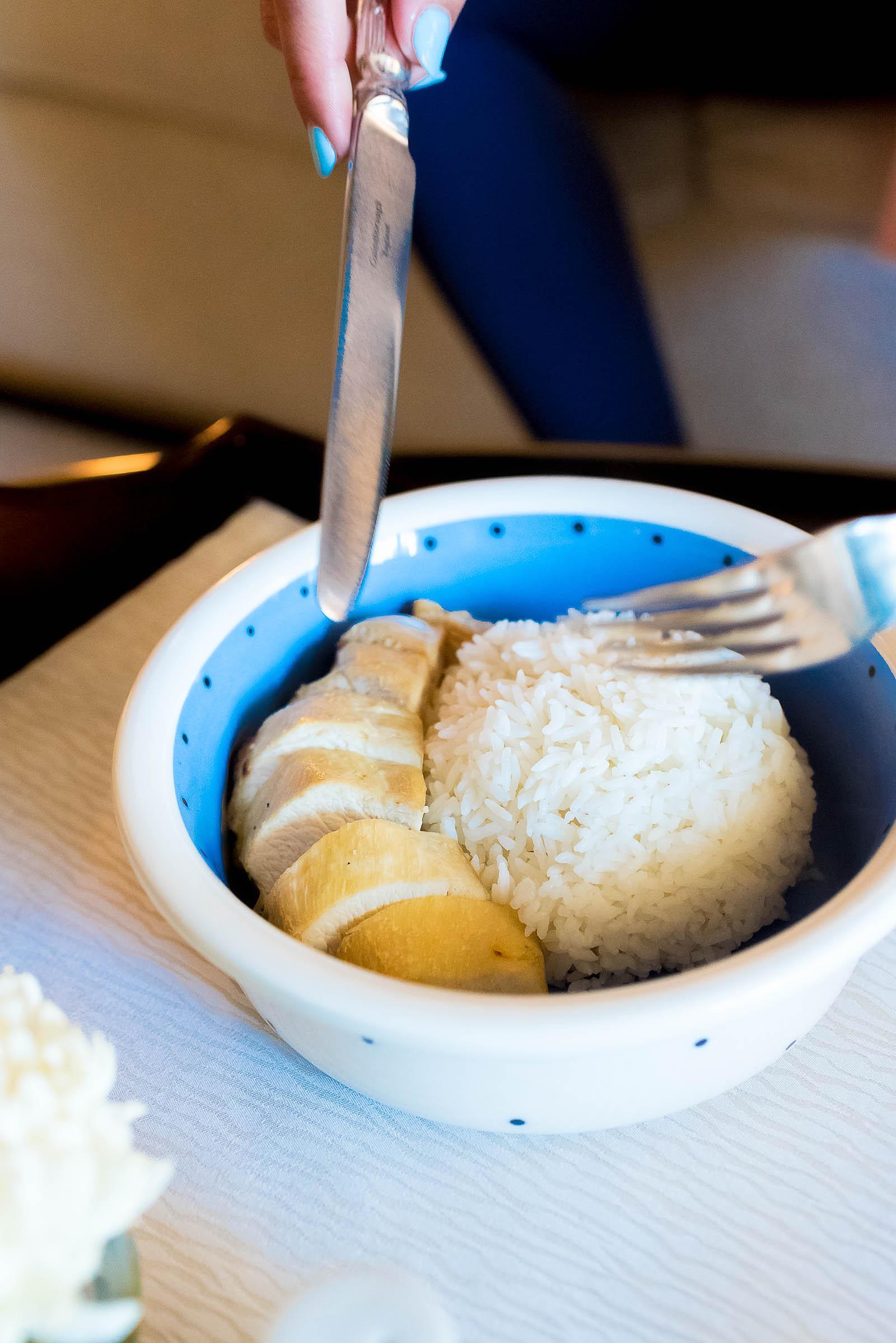 We ordered chicken and rice for him and the meal was delivered within 25 minutes of ordering.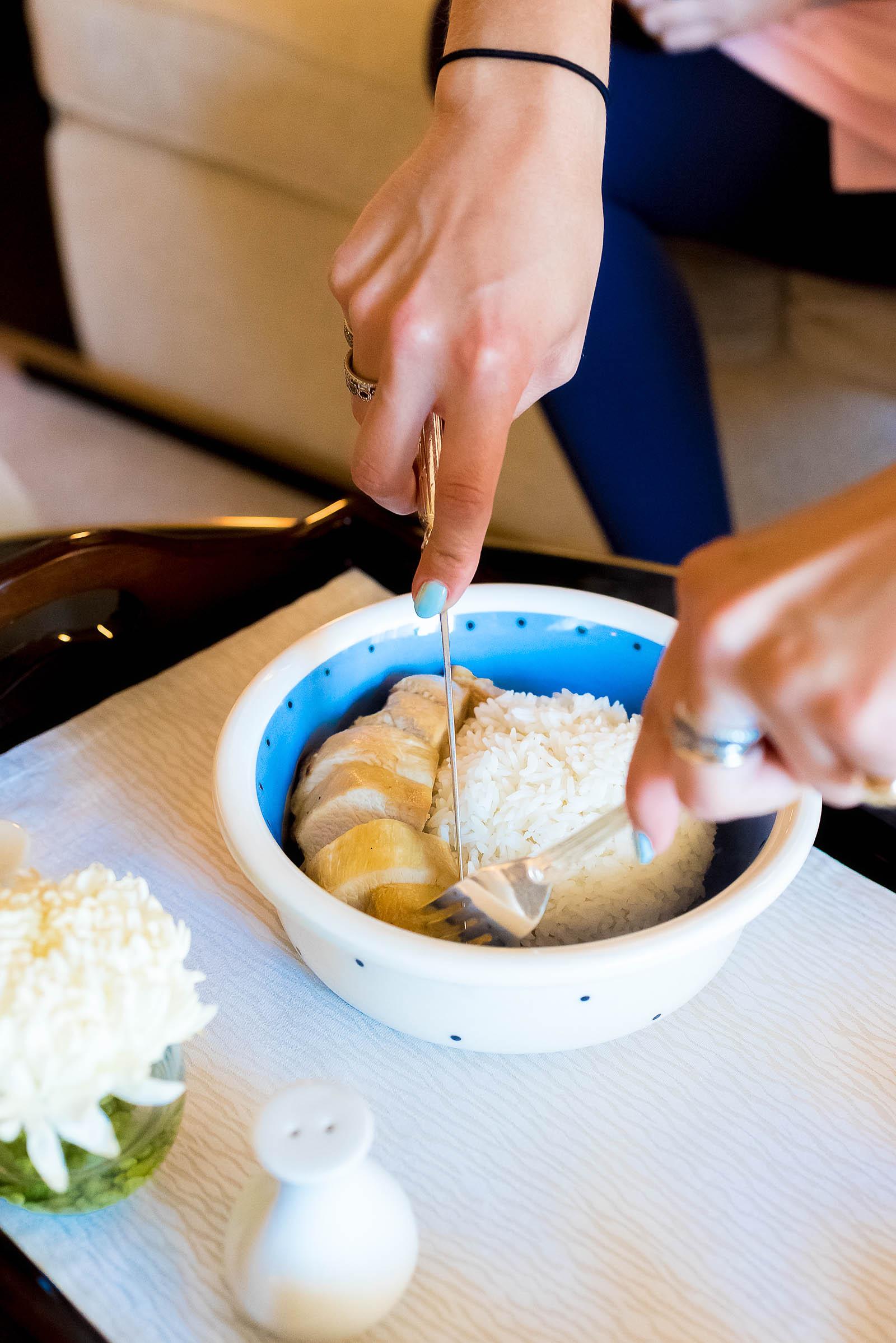 And it was MASSIVE! Easily enough food for 2 or 3 meals (though Obi certainly disagreed… he thought it was a light pre-dinner snack).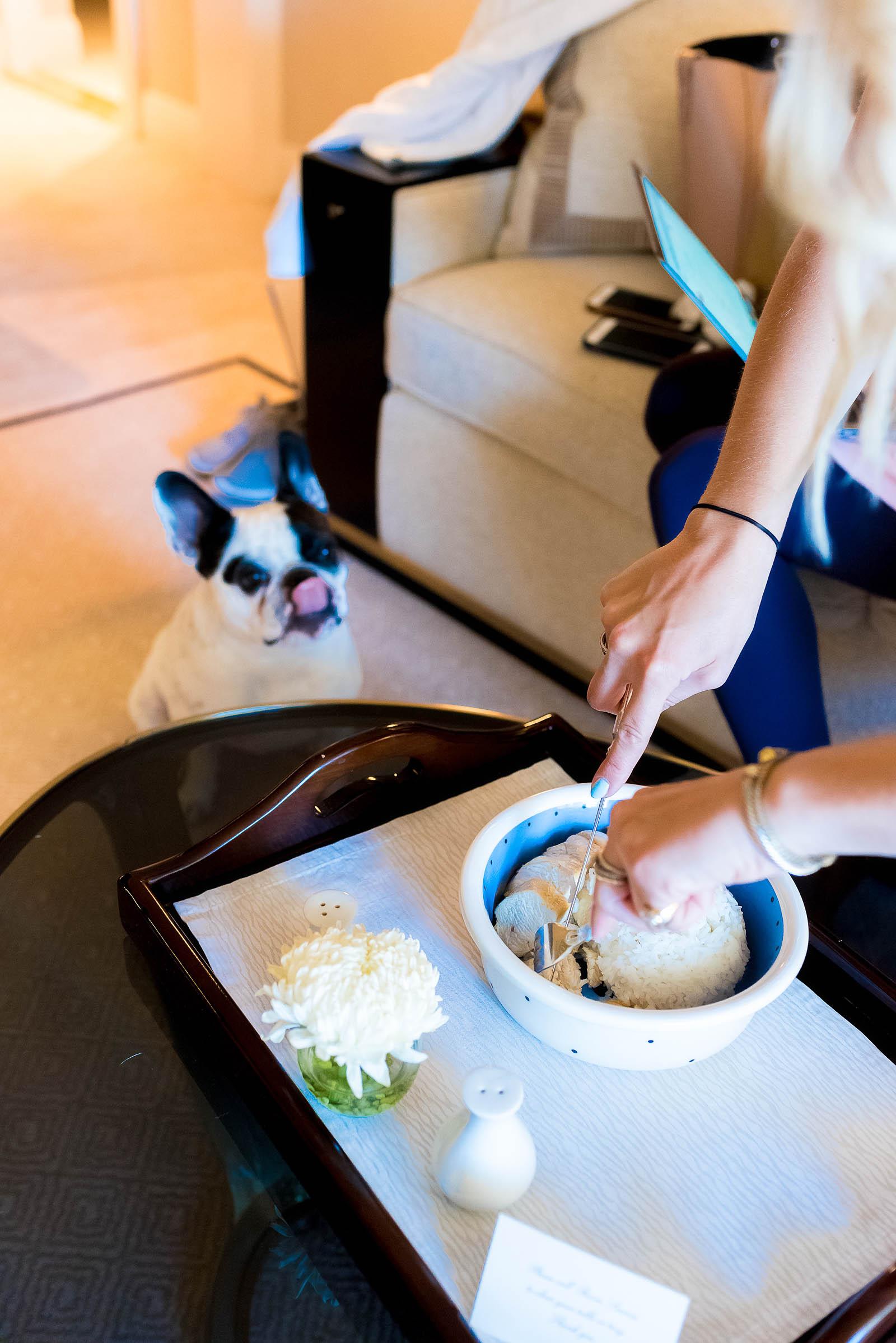 Waiting patiently for Ali to cut his dinner up into smaller pieces…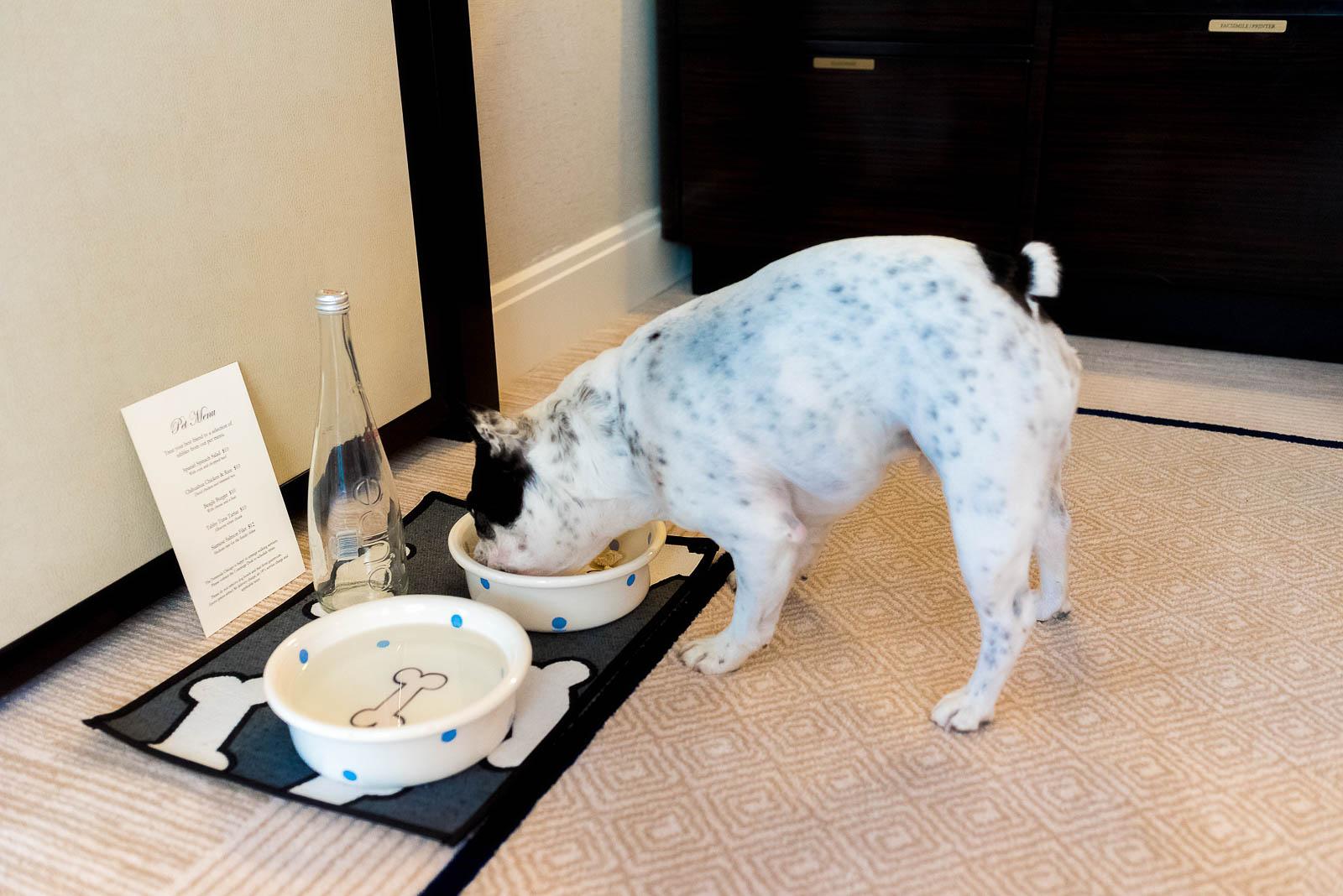 Before immediately face-diving into the bowl and downing his dinner in 3 minutes flat.
I think it's safe to say he LOVED it.
THE FOOD
DIM SUM AT SHANGHAI TERRACE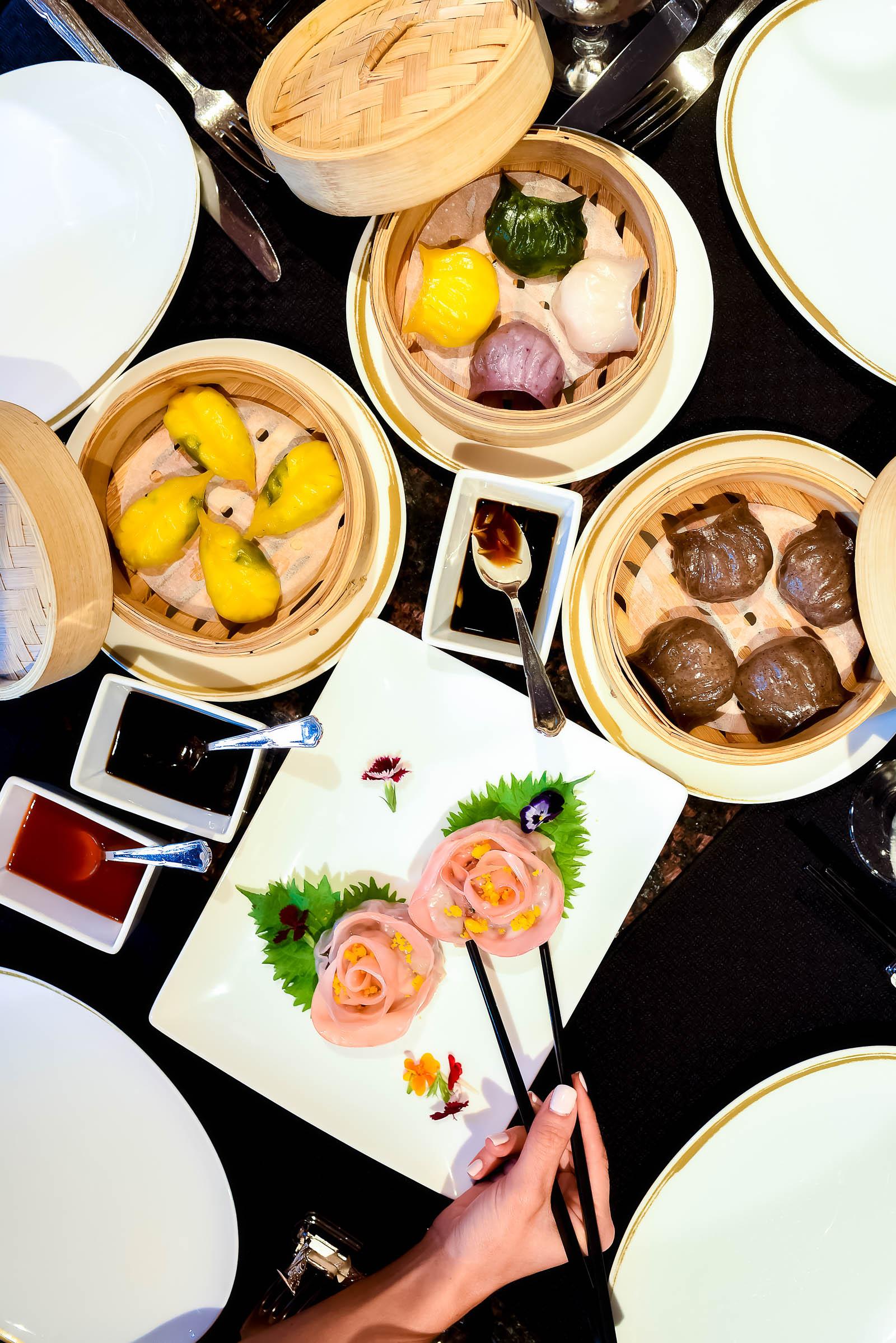 Luckily the human food is just as drool-worthy!
For dinner we started out with dim sum appetizers at my favorite spot, Shanghai Terrace after spending our afternoon relaxing by the Peninsula Pool. I'm planning a separate post for this meal because it was THAT good but undoubtedly this photo speaks for itself.
DINNER IN THE LOBBY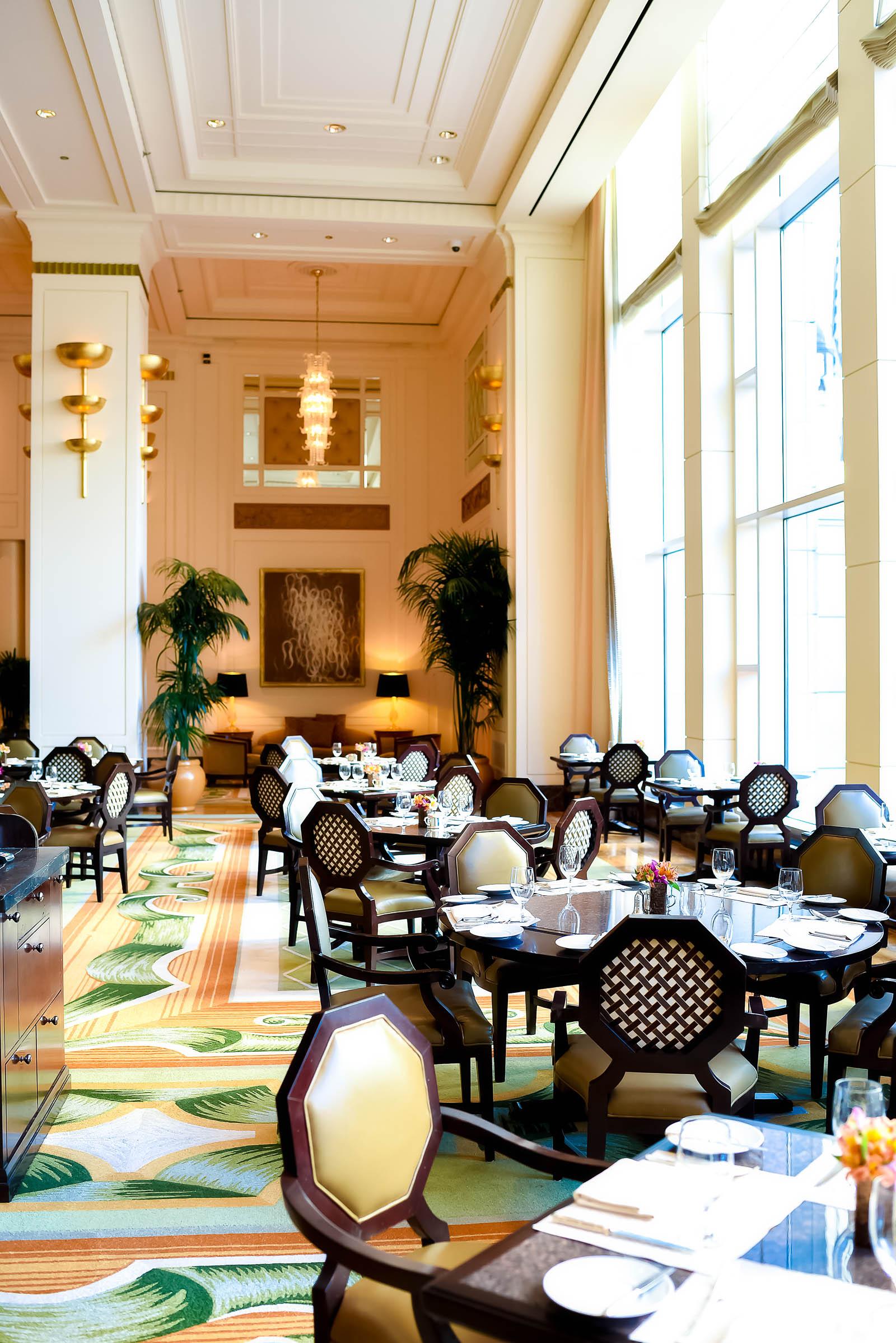 But our dinner in the Lobby proved to be one of the best meals I've had in Chicago in a long time!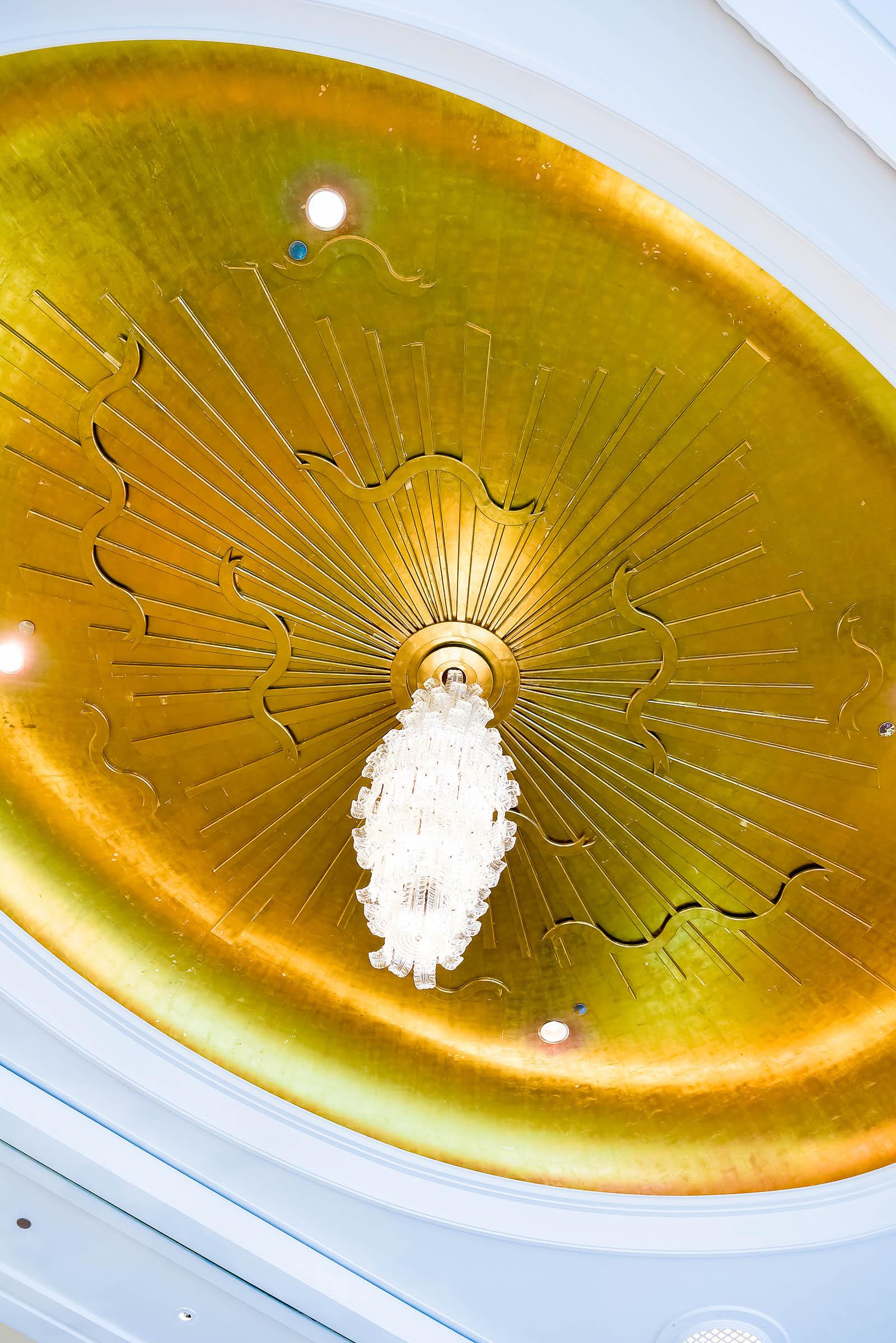 I come to the Lobby often — for brunch or afternoon tea usually — but never tried their incredible dinner options until our staycation and have since been kicking myself for not trying it sooner.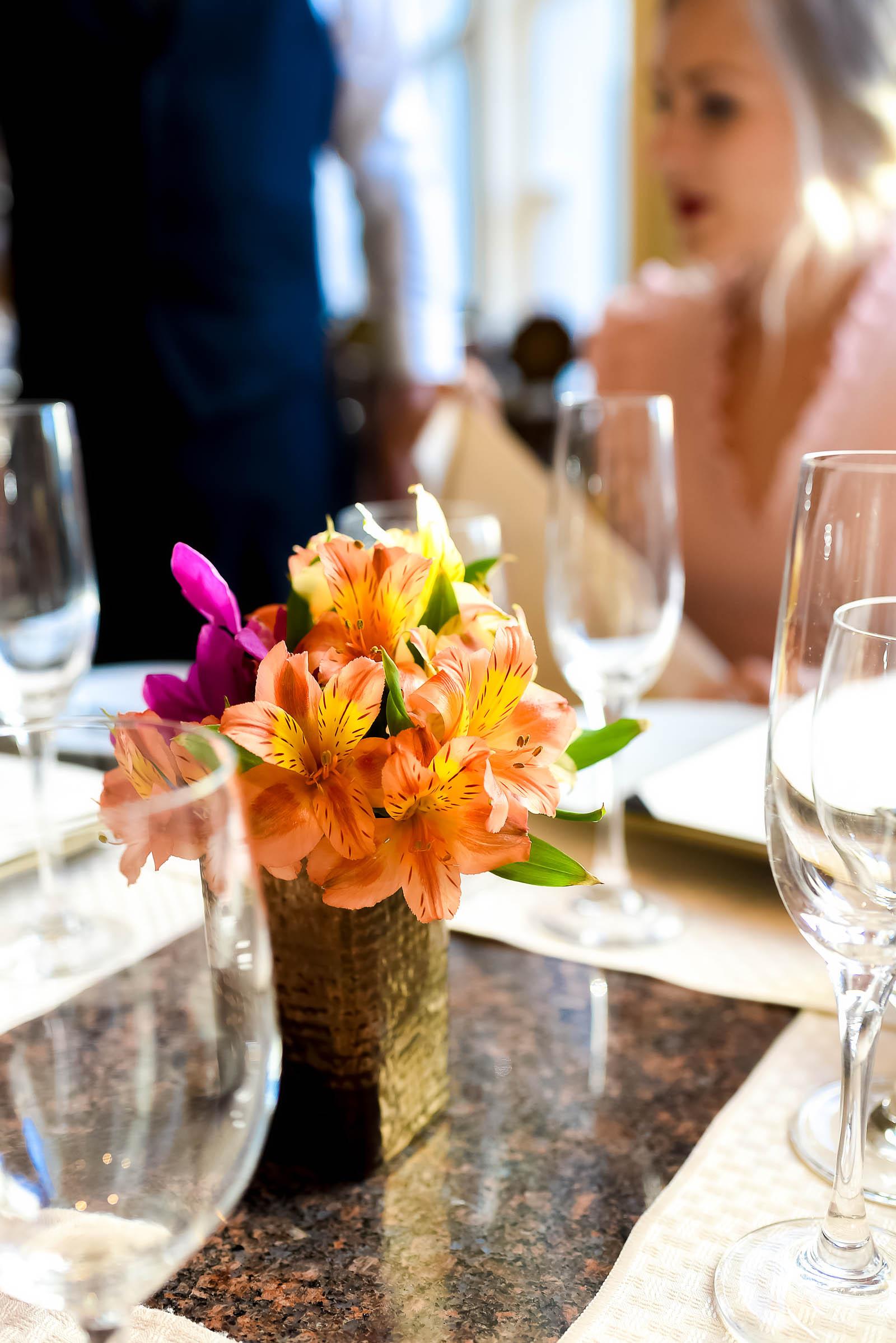 We grabbed a large table by the impressive, two-story windows…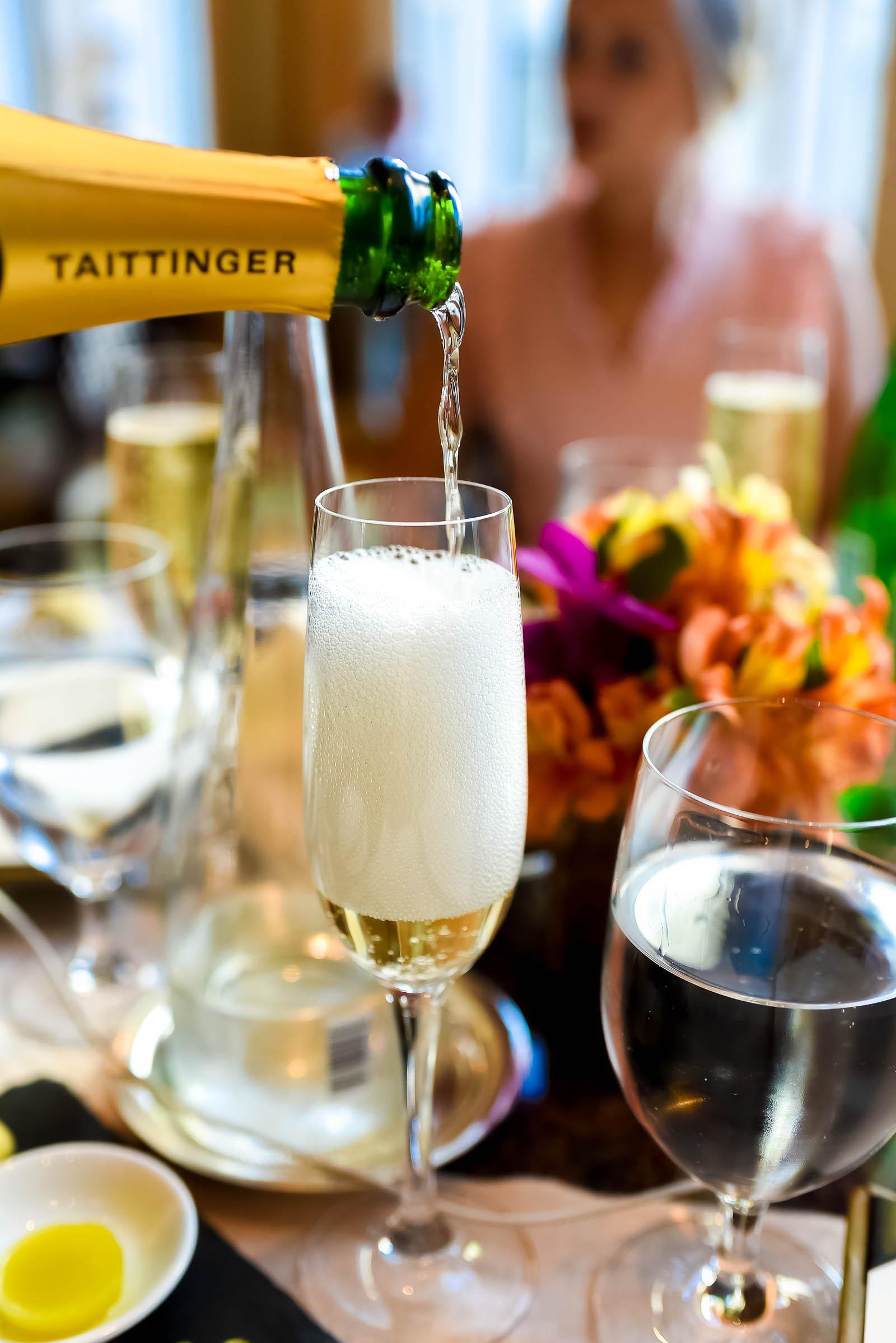 and were immediately greeted with glasses of bubbly.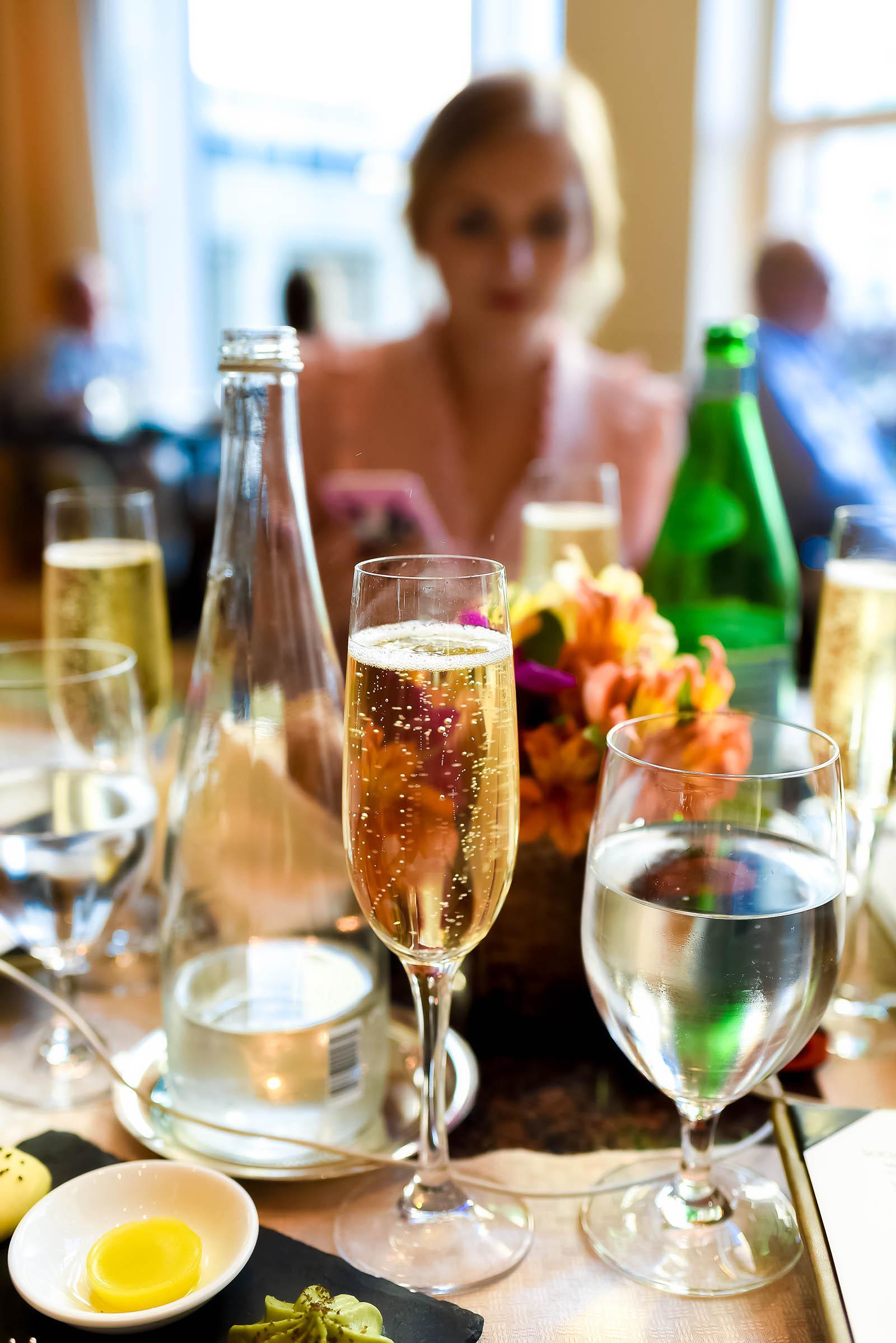 **CHEERS**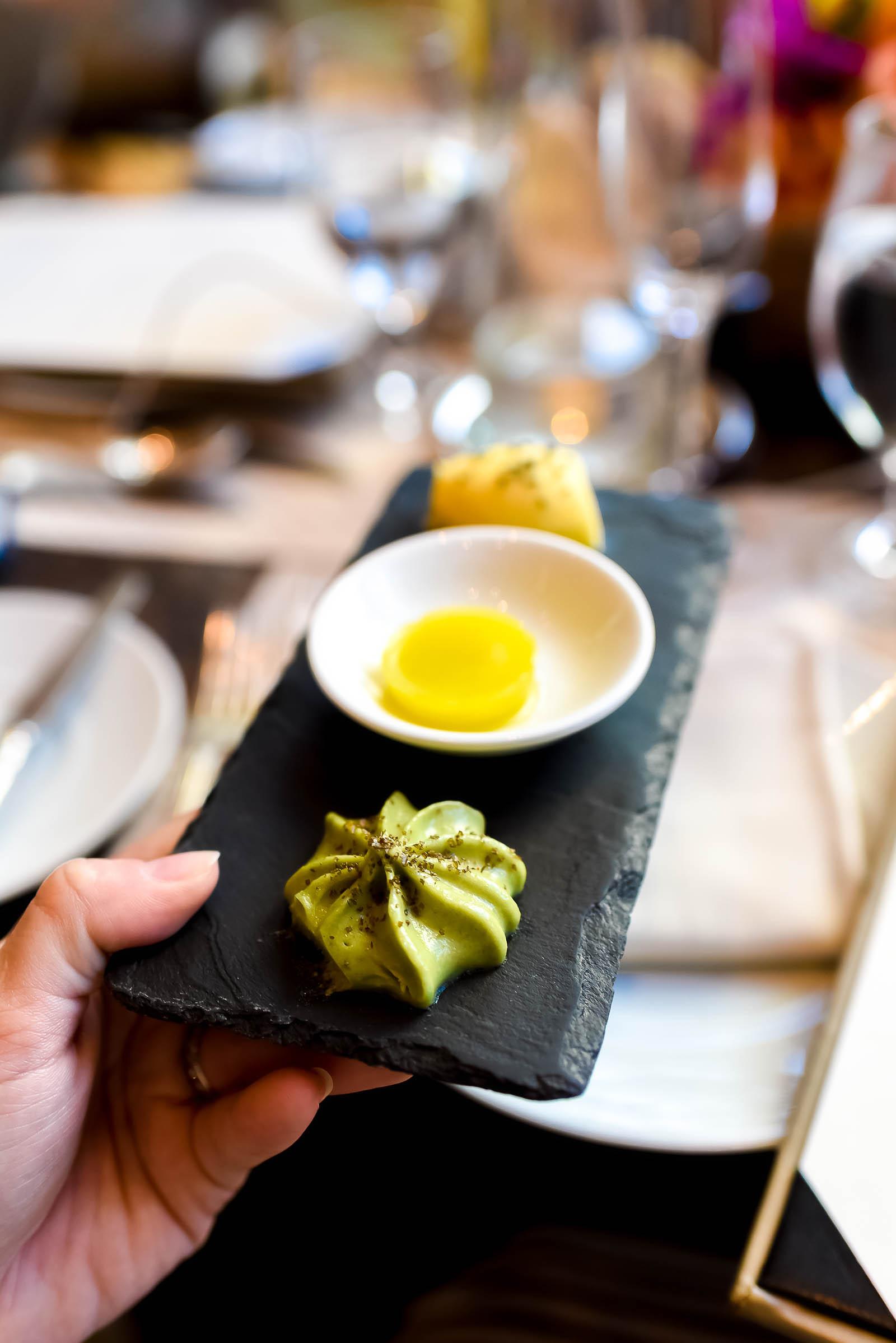 Then our meal marathon commenced! Starting with these divine dippers for our bread.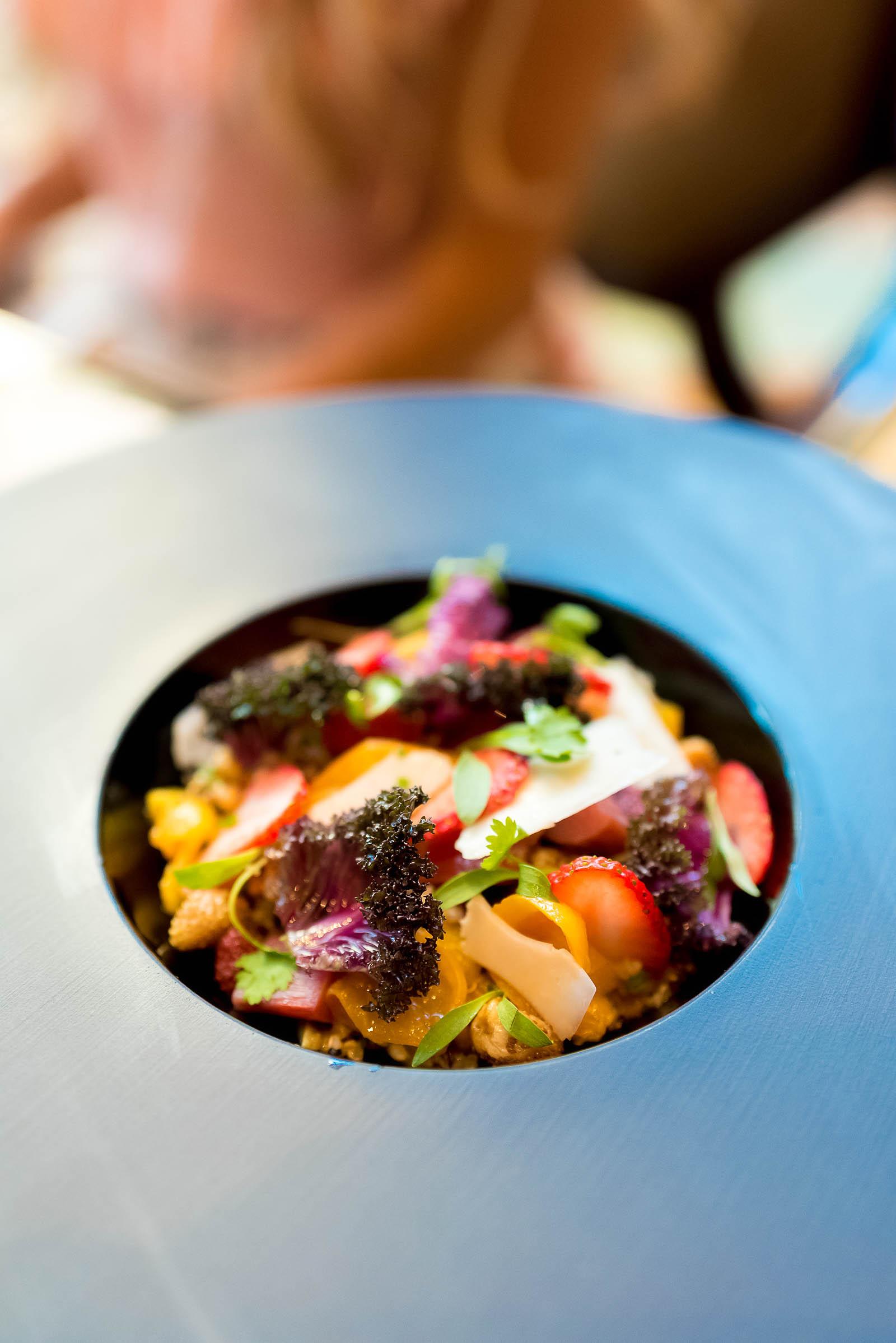 Then this 'Anson Mills' Heirloom Grain Salad of farro, quinoa, bulgar, wheat berries, purple kale, pickled strawberry, preserved stone fruit, and green almond in a confit green garlic vinaigrette.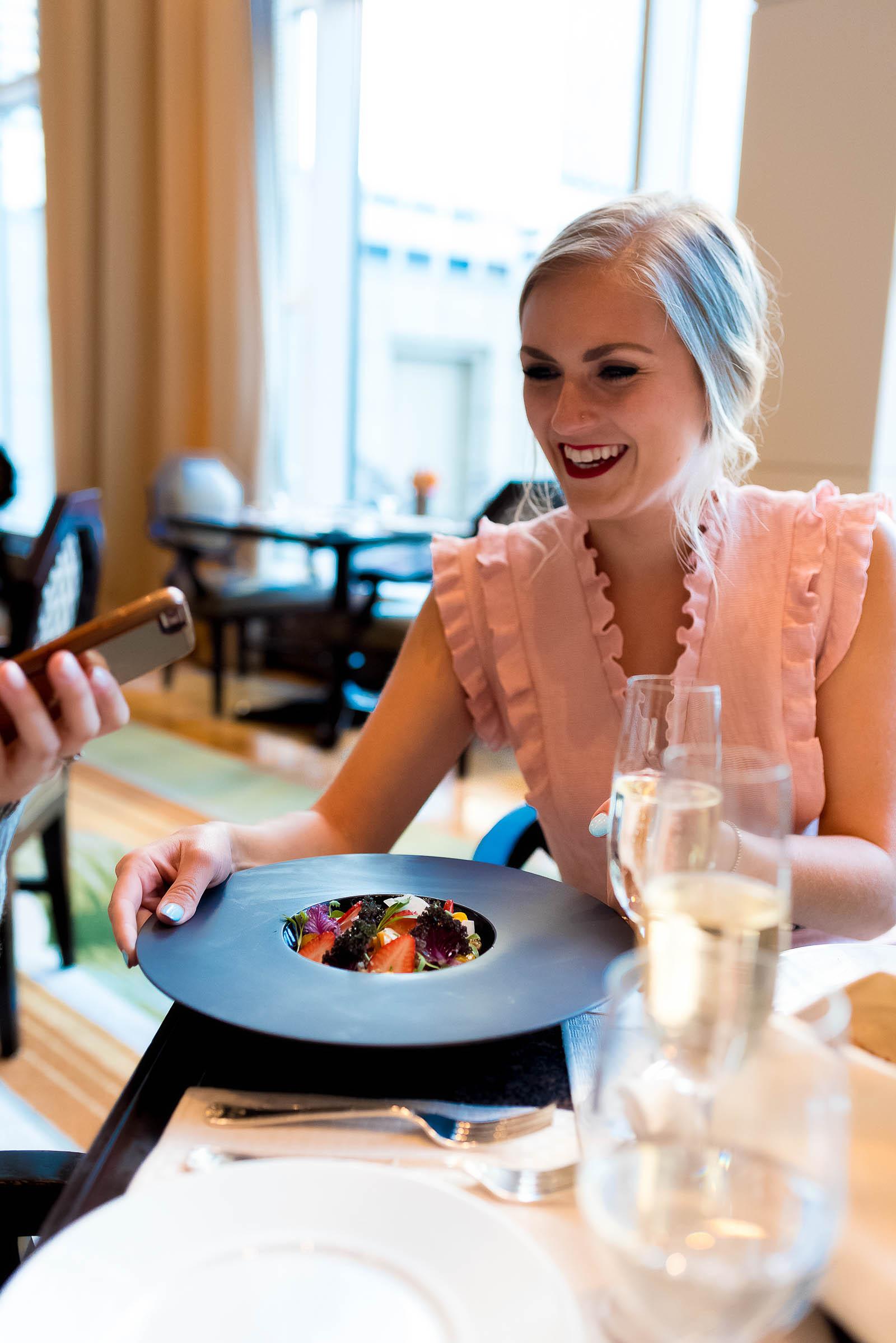 Which we promptly fought over… the flavors were so fresh and delicious!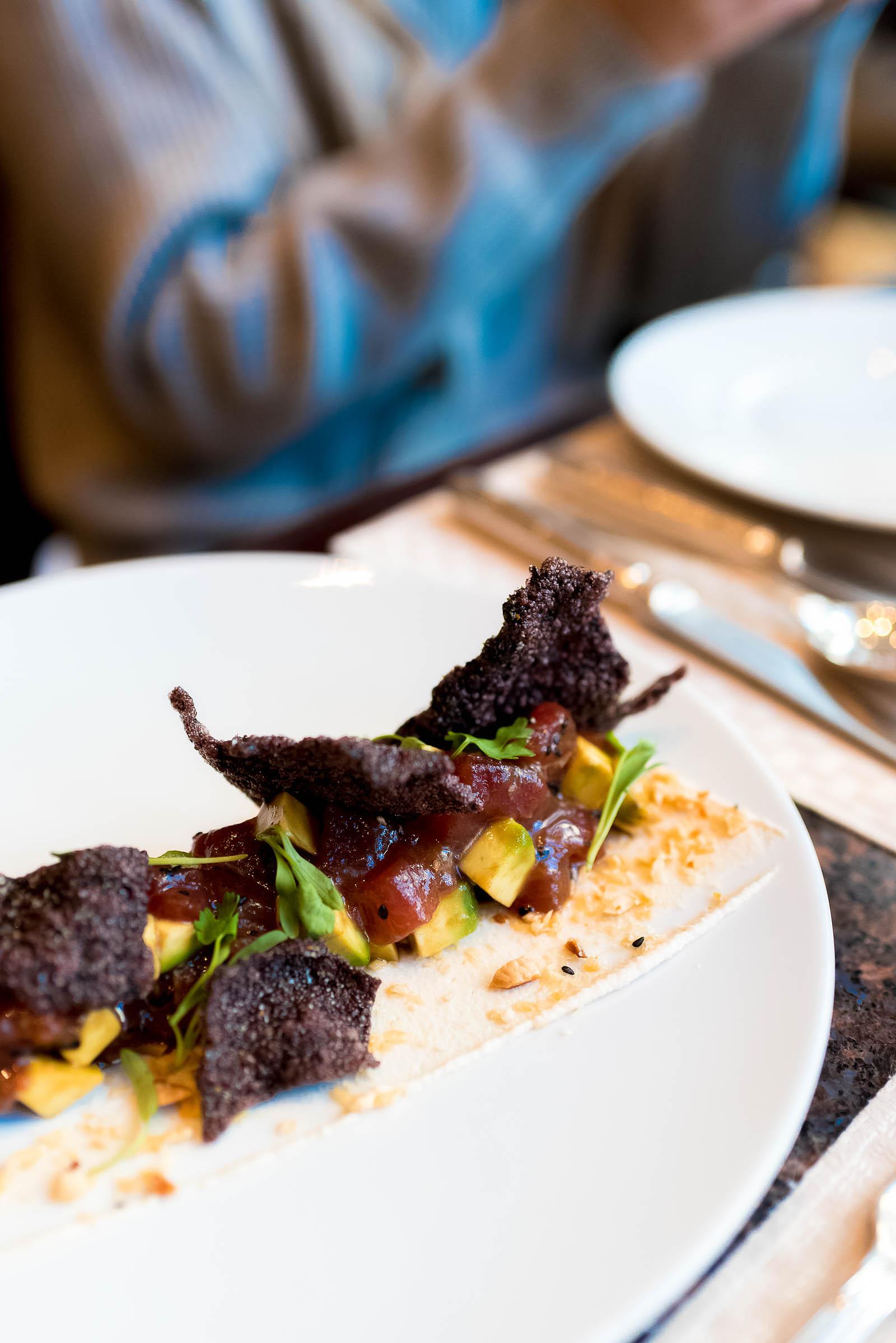 Next we sampled this Tuna Tartare with ponzu, almond, and avocado.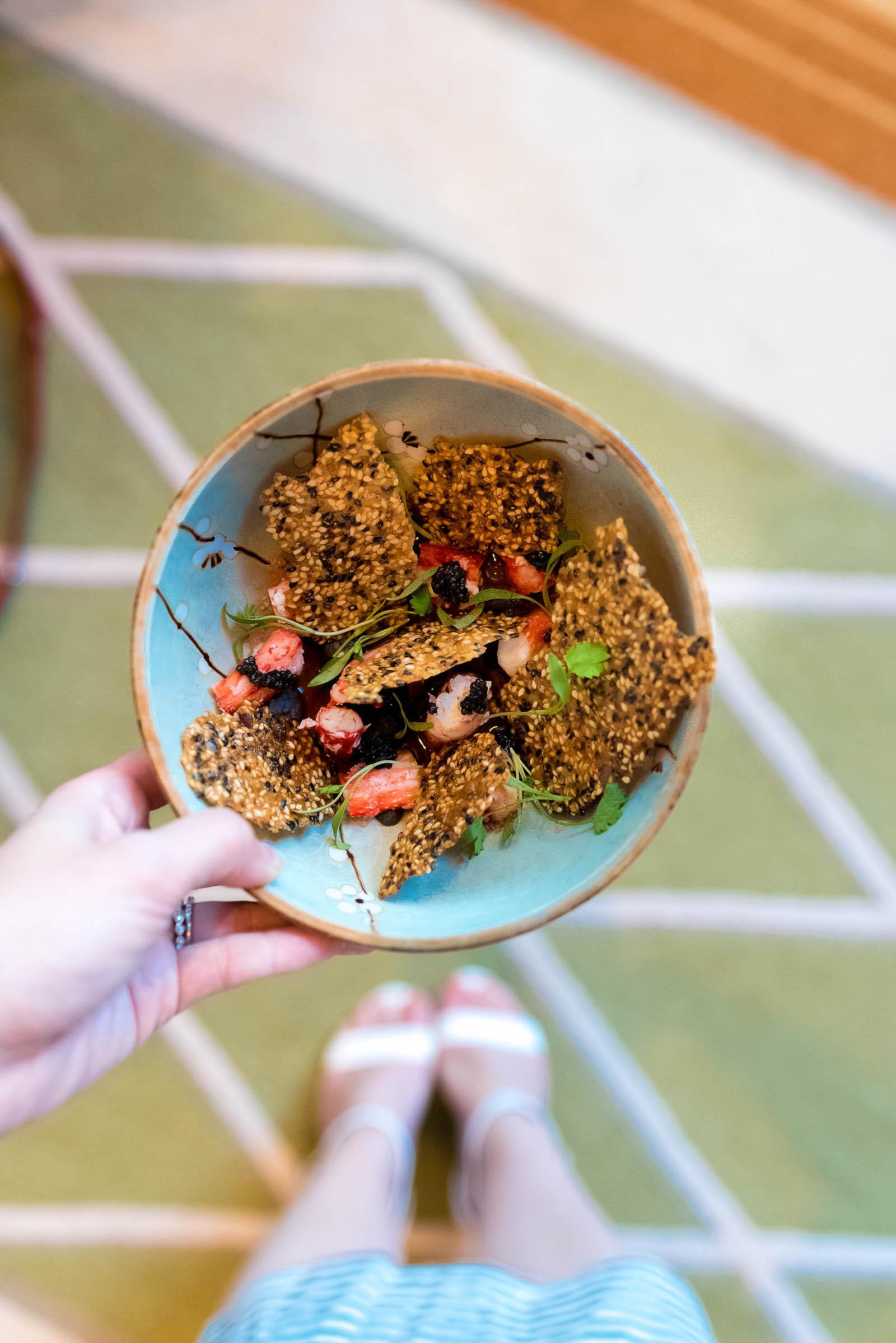 And this amazing King Crab with sesame nougatine, black sesame emulsion, and american caviar.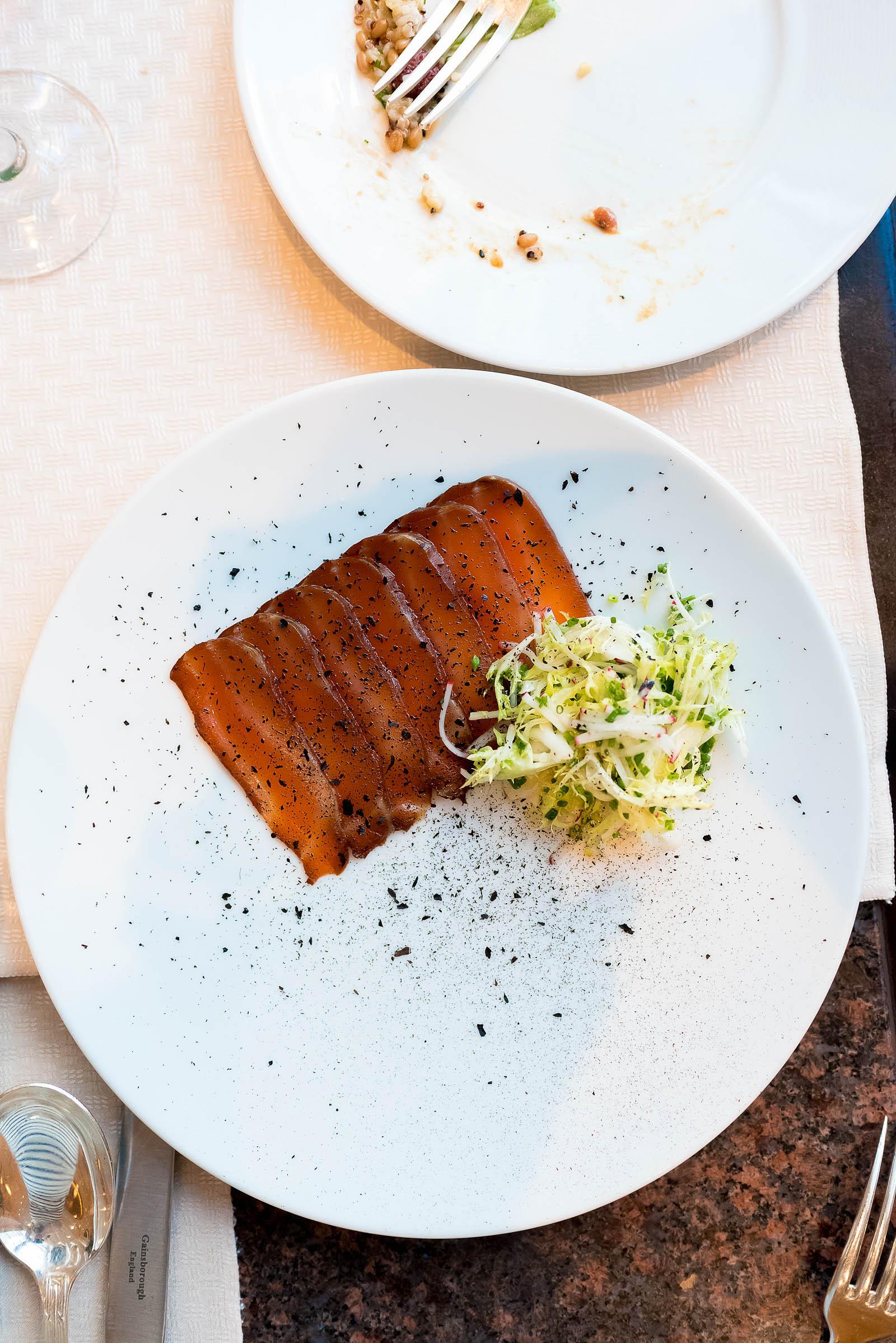 Next came this magnificent plate of in-house smoked salmon.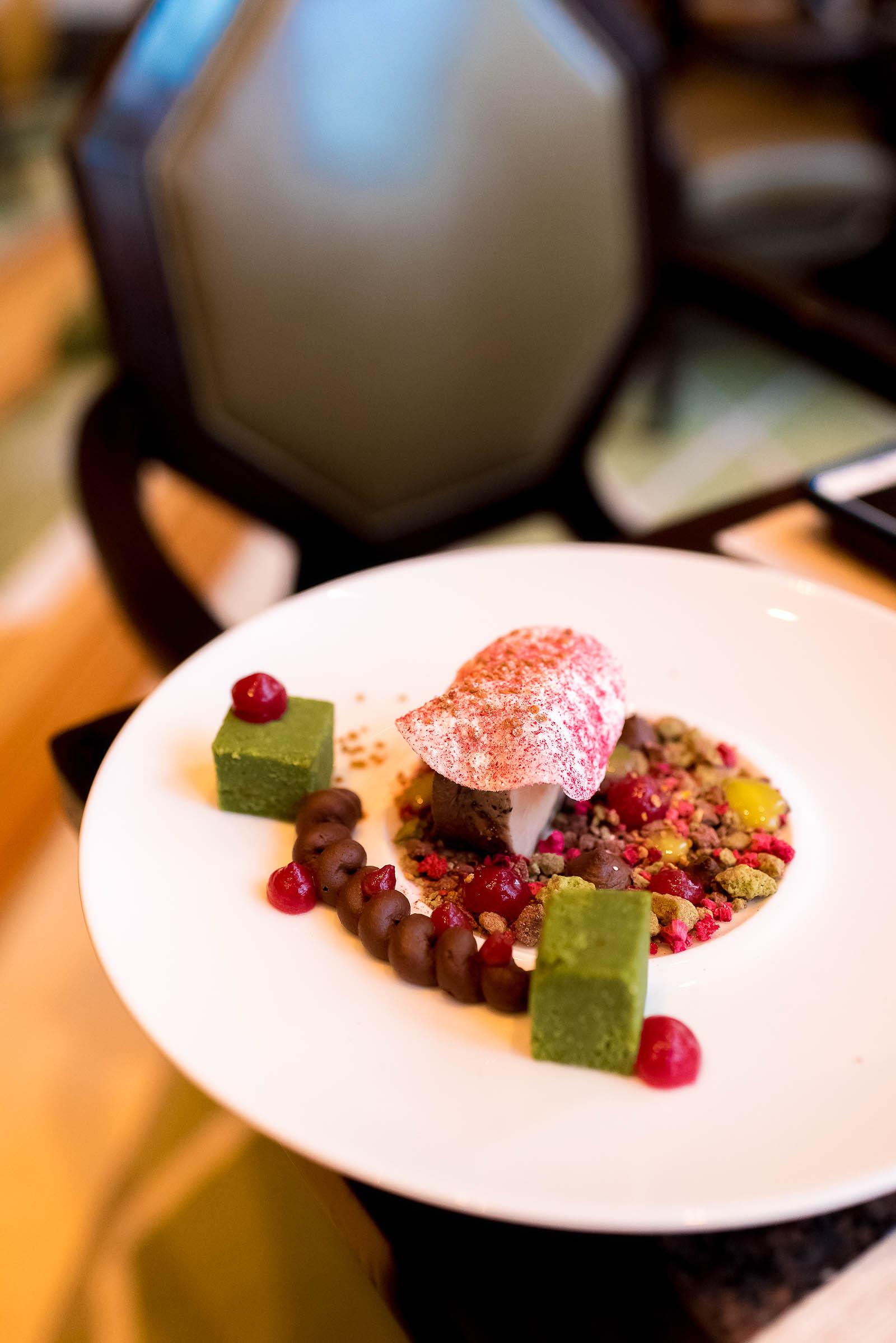 Followed by this Foie Gras Torchon with pistachio, Nordic bread, and chocolate raspberry notes. Isn't this plate a RIOT of color?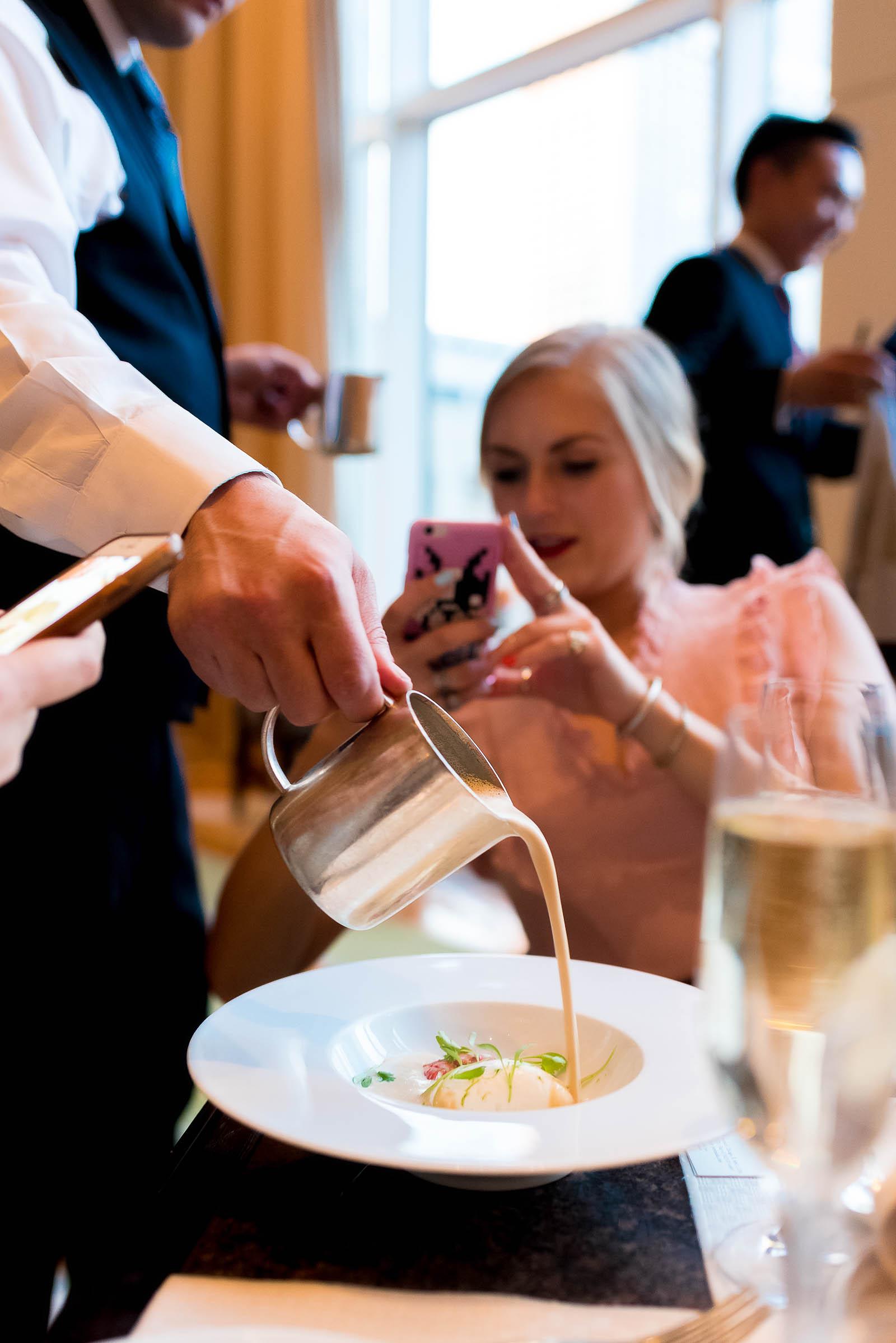 Next came our soups of Lobster Bisque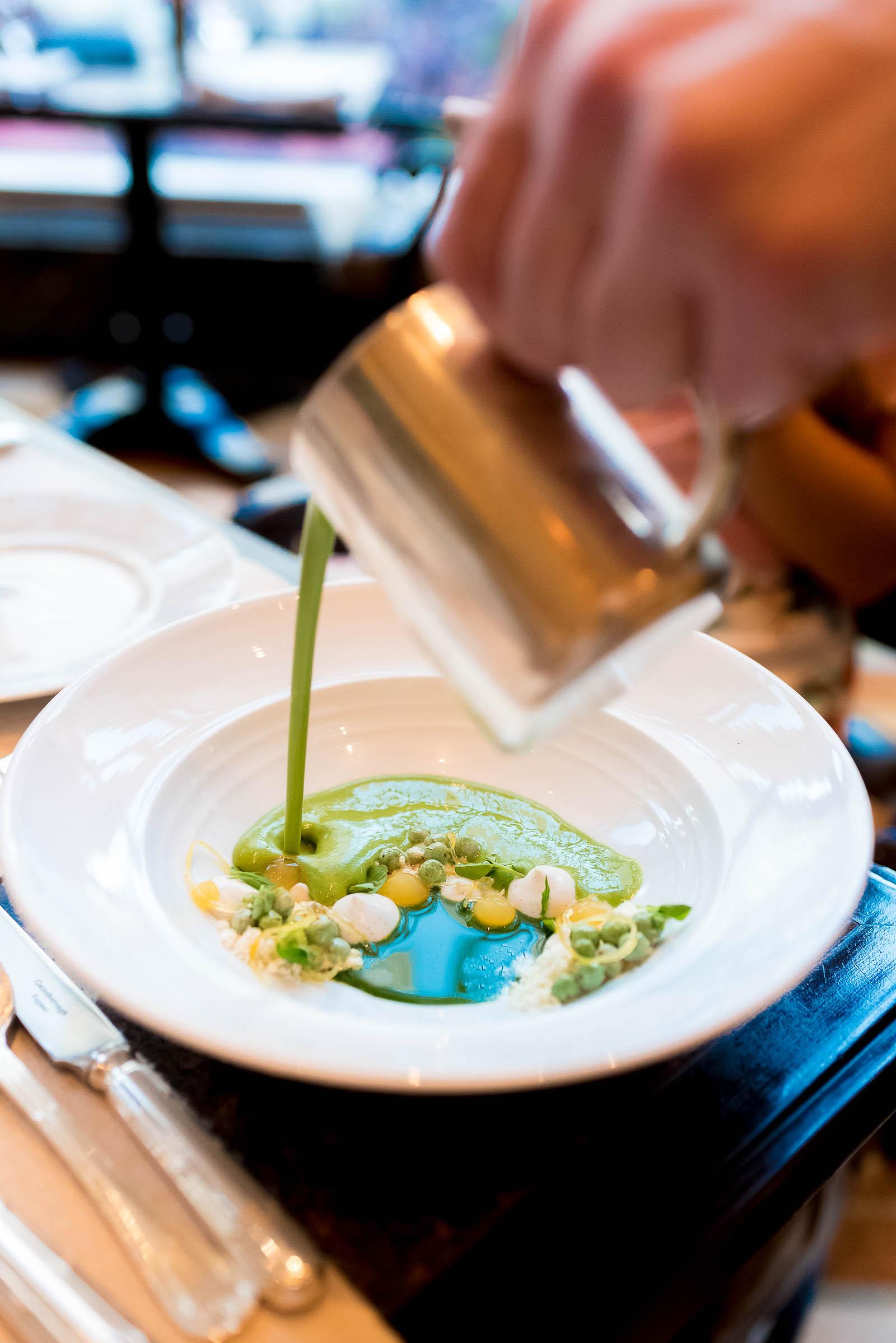 and Spring Pea. Both were light and silky, as all perfect summer soups should be.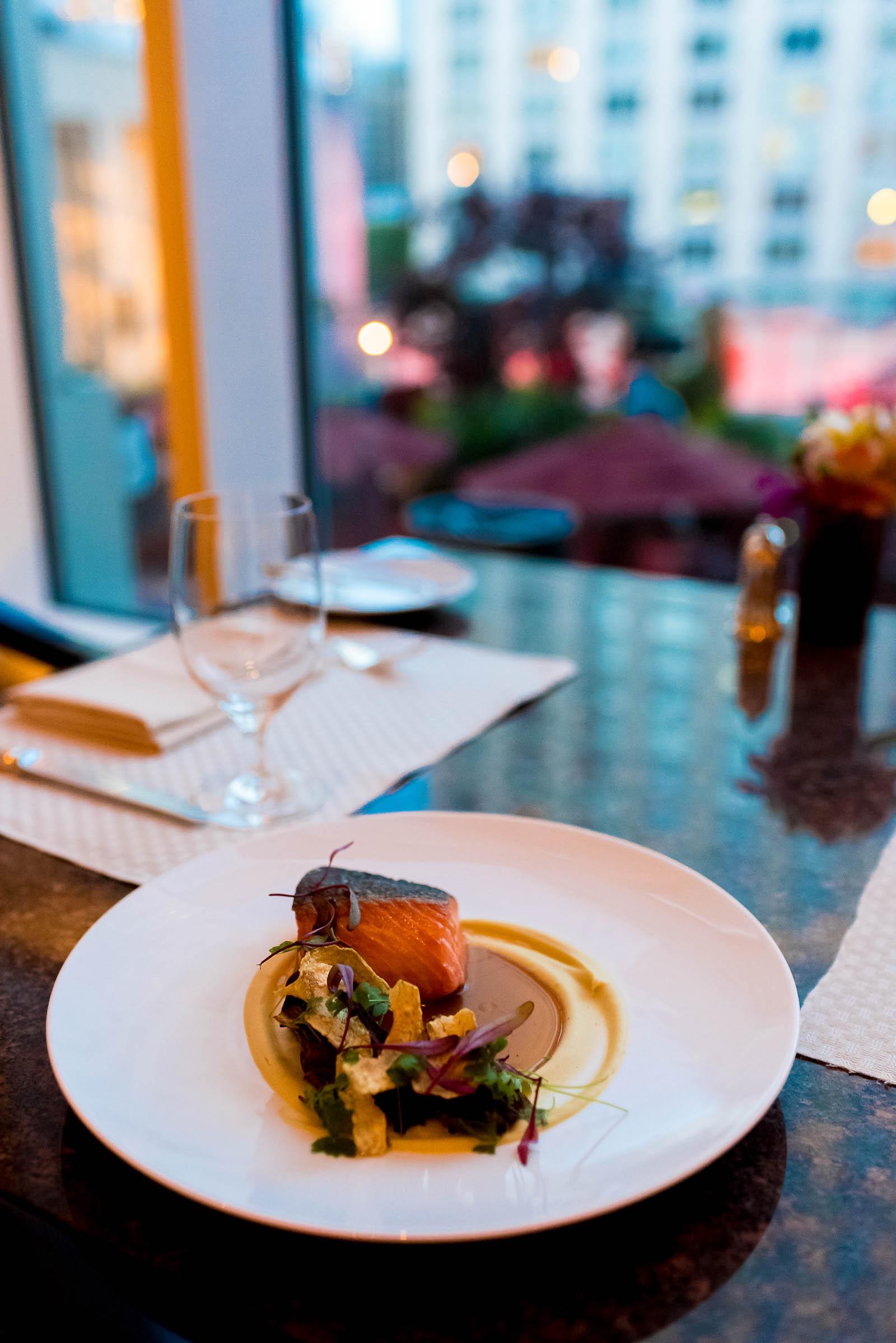 Then our entrées arrived!
We sampled the Duck Breast, the Pea and Shiso Agnolottii, the Seared Diver Scallops, and the Black Truffle Risotto — all which were impeccably presented and absolutely delicious.
Sadly I didn't get very many shots of our entrées (what can I say, plunking down 5 luxurious dishes in front of four VERY hungry women doesn't lend itself to food photography).
But I did get this shot of my personal favorite, the Crisp Skin "Ora King" Salmon. Served with artichoke emulsion, roasted baby artichokes, and artichoke chips in a salmon bordelaise, it's easily one of the most scrumptious salmon dishes you'll find on Michigan Avenue.
Caitlin also ordered a side of the Truffle Mac 'n Cheese which was… in a word… AMAZING. If you order nothing else, order that! You won't be disappointed.
We finished off our meal with a few spectacular desserts despite not having any room for more food.
My personal favorite? This Coconut panna cotta with cranberry-pomegranate gelée topped with almond ice cream!
MORNING ROOM-SERVICE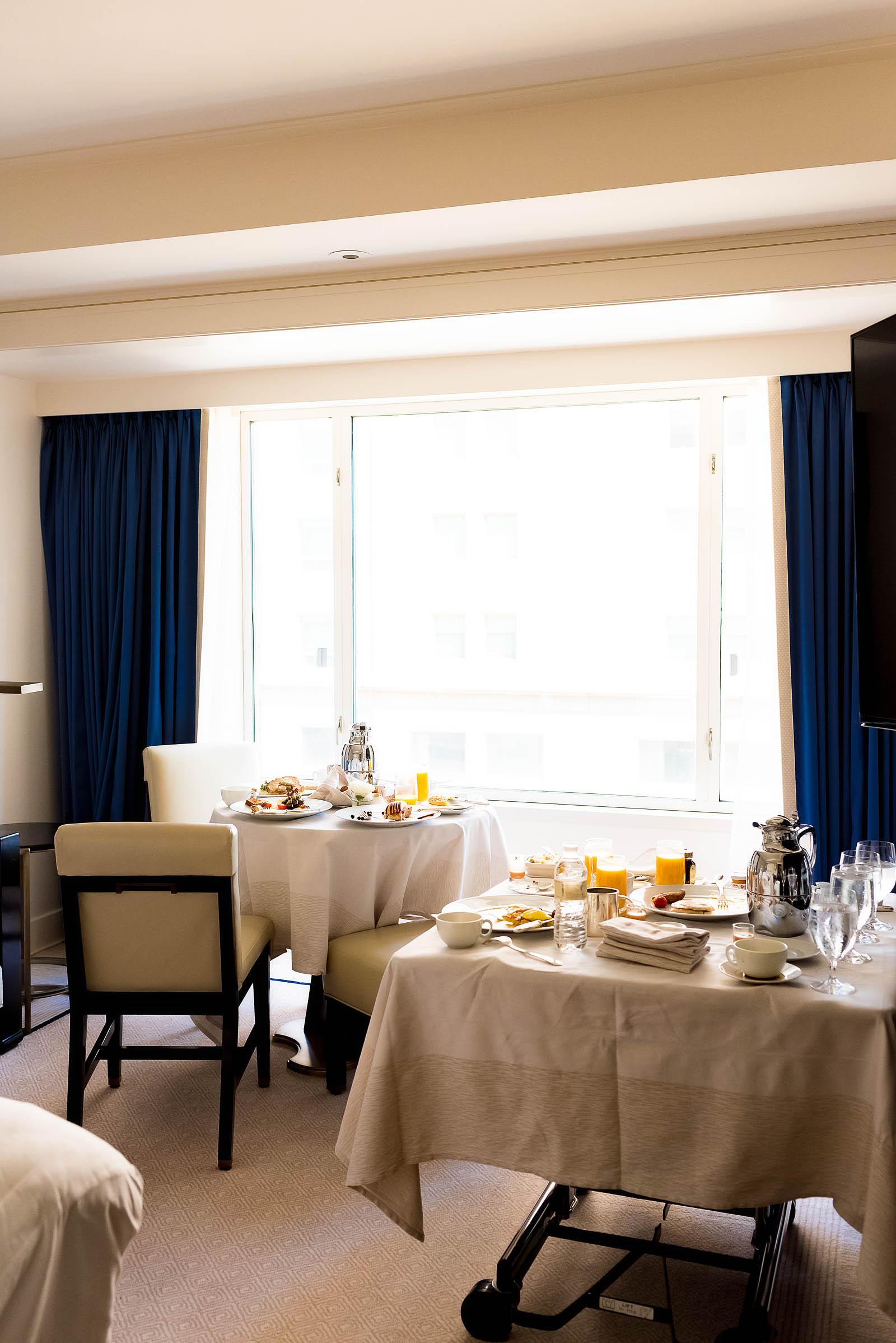 After staying up late working, laughing, and perhaps enjoying a little more champagne we slept soundly in our Peninsula beds only to be greeted by this delicious sight first thing the next morning!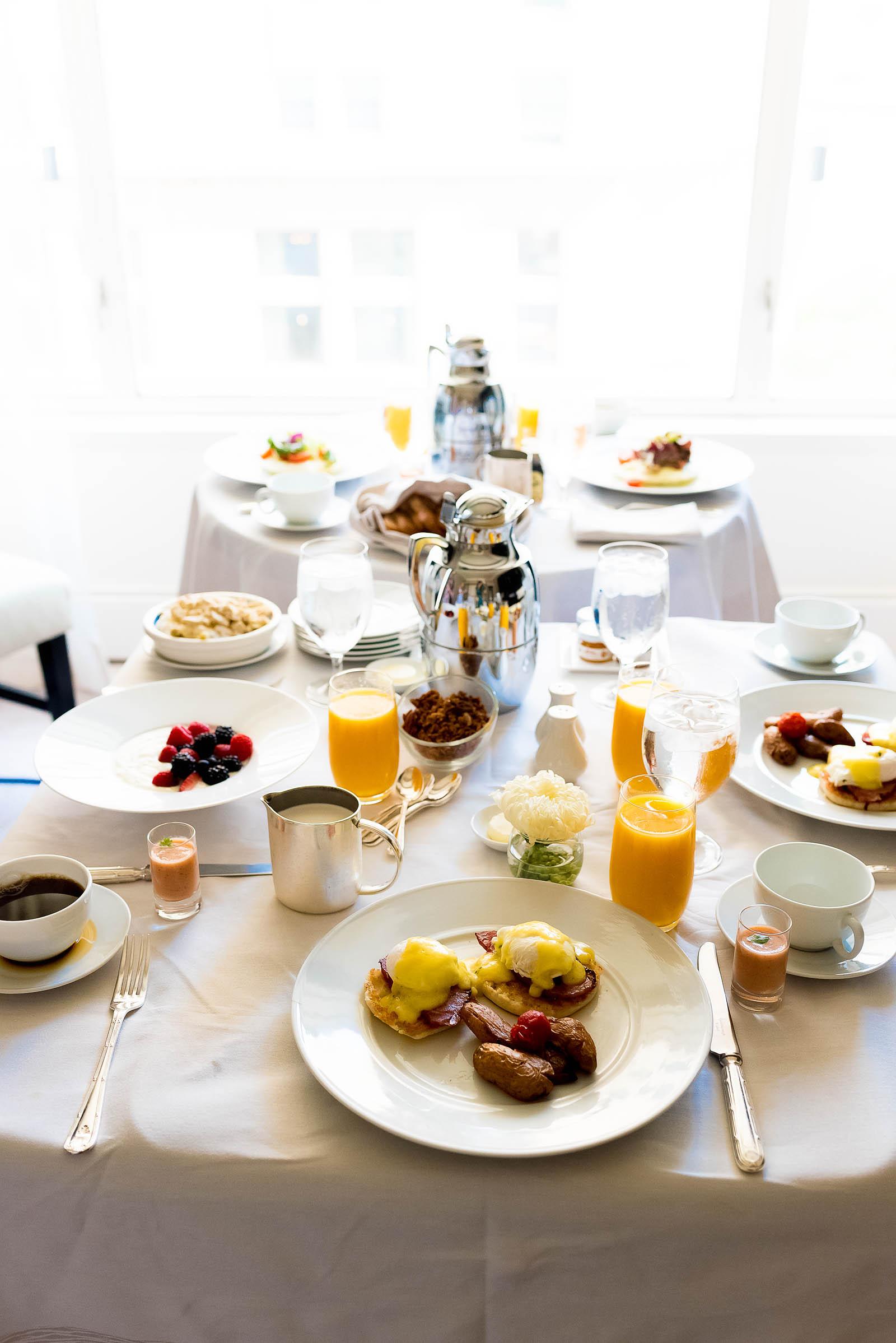 I've enjoyed some delicious room service breakfasts in the past but none quite like this.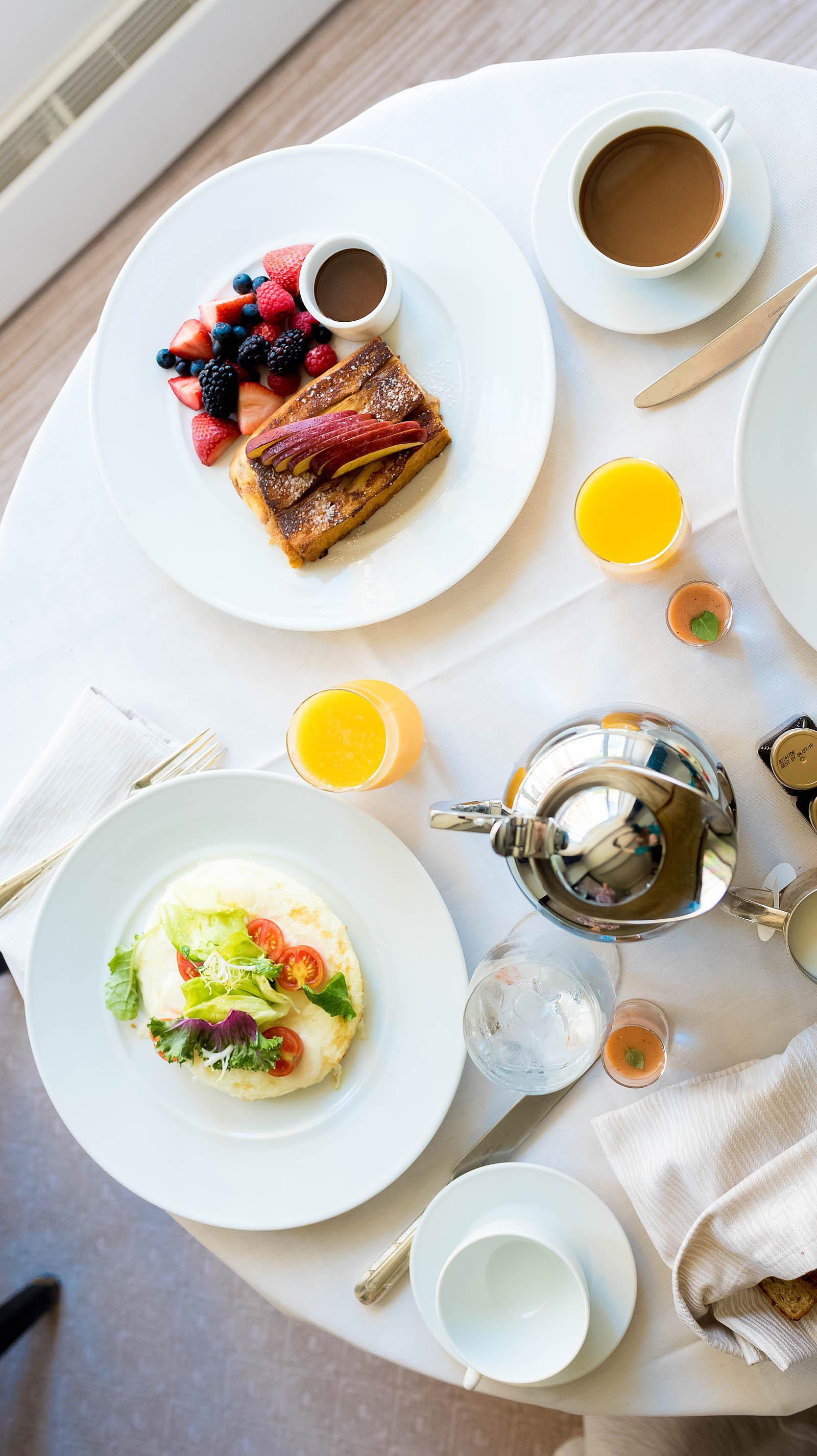 It was literally a feast for the eyes as well as the palate!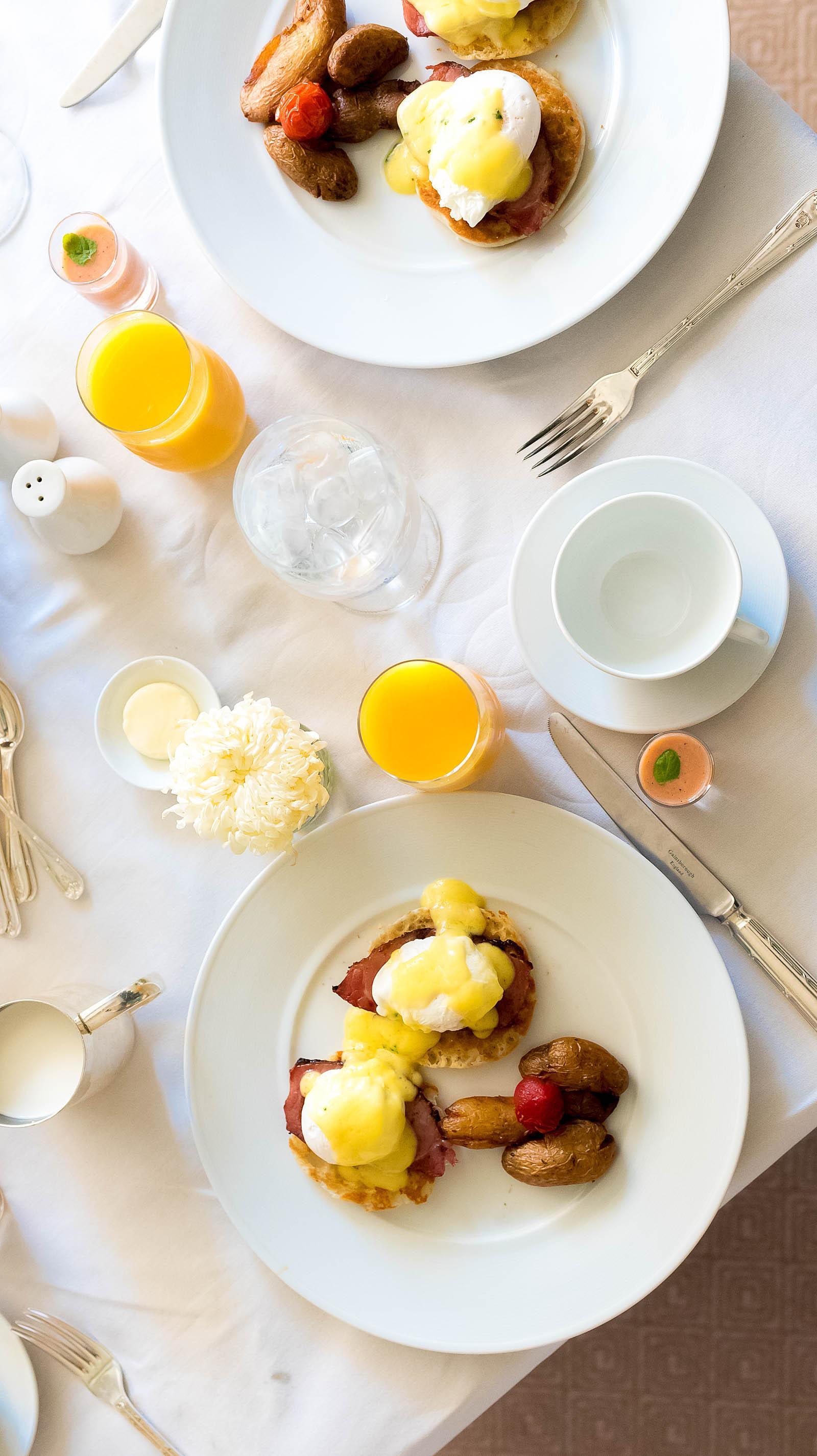 We sampled Benedicts…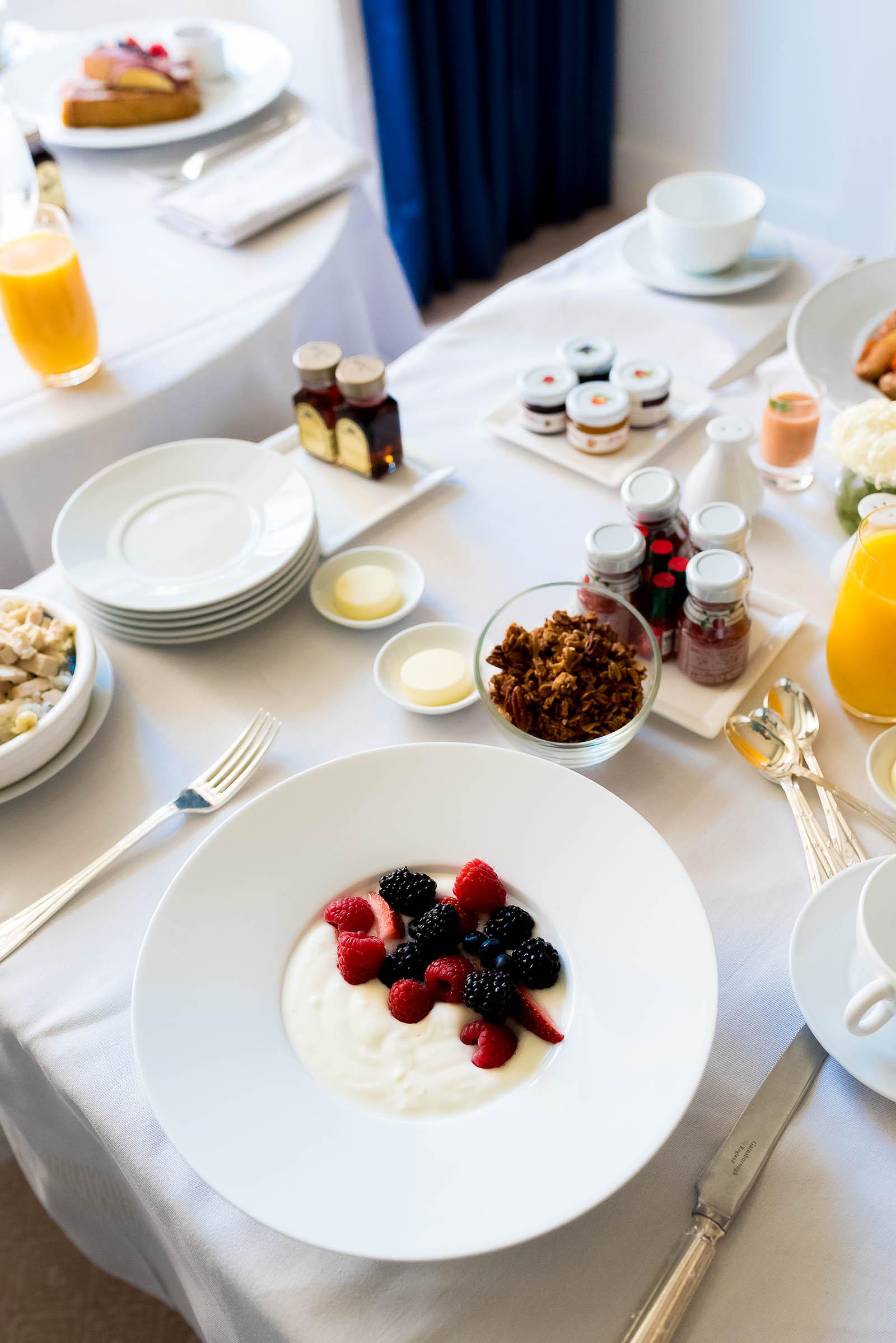 Yogurt & Granola Bowls…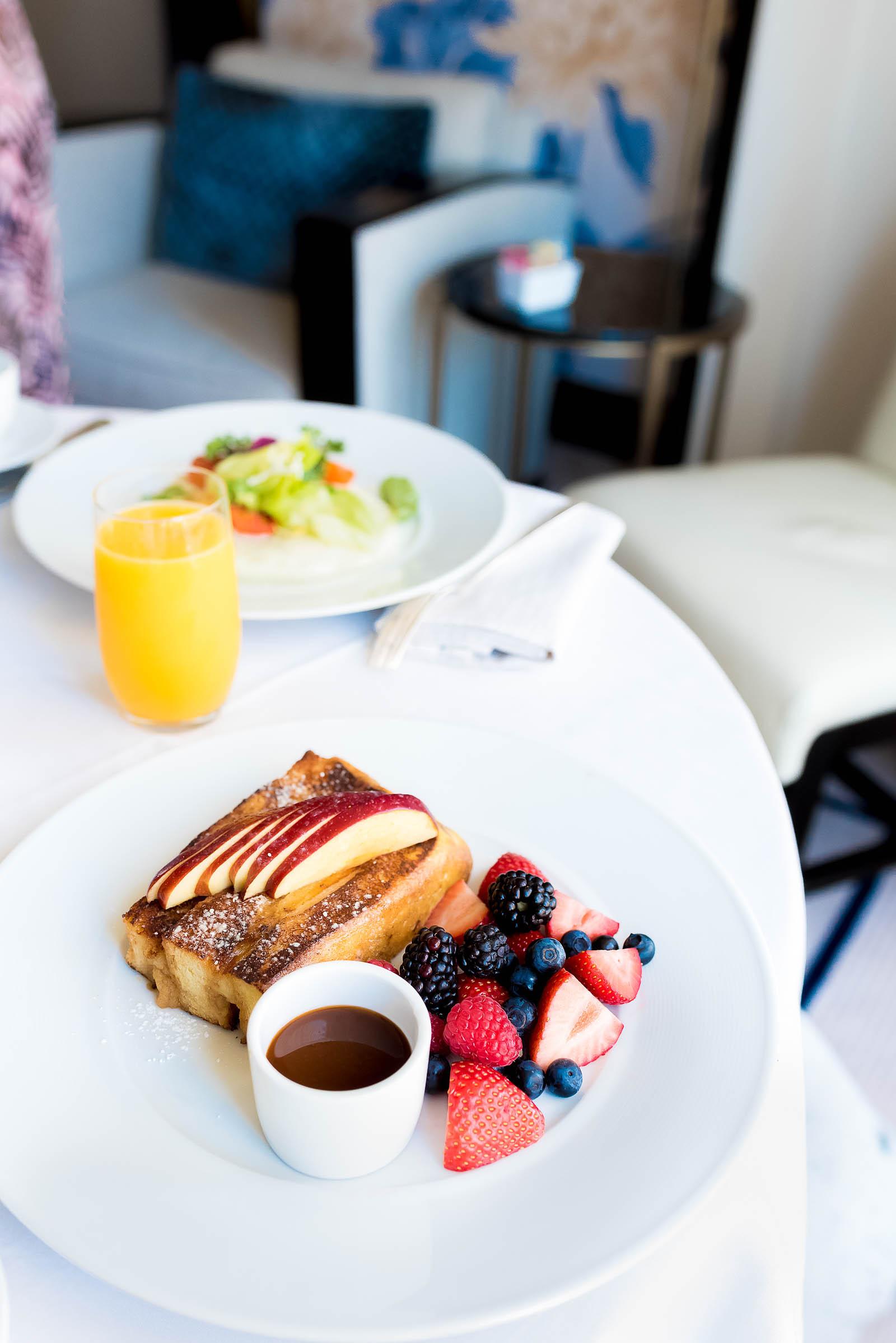 French Toast…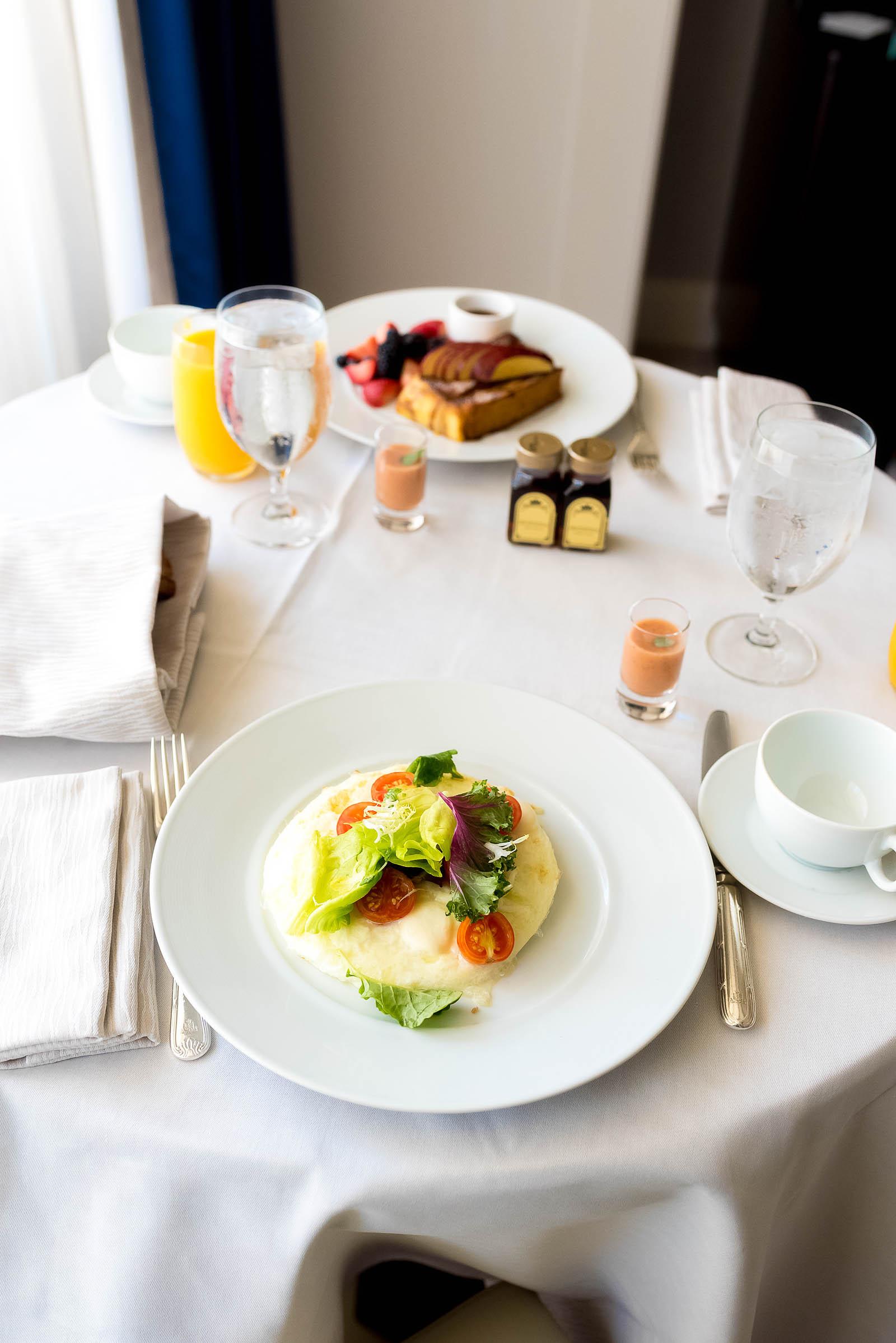 And my personal favorite…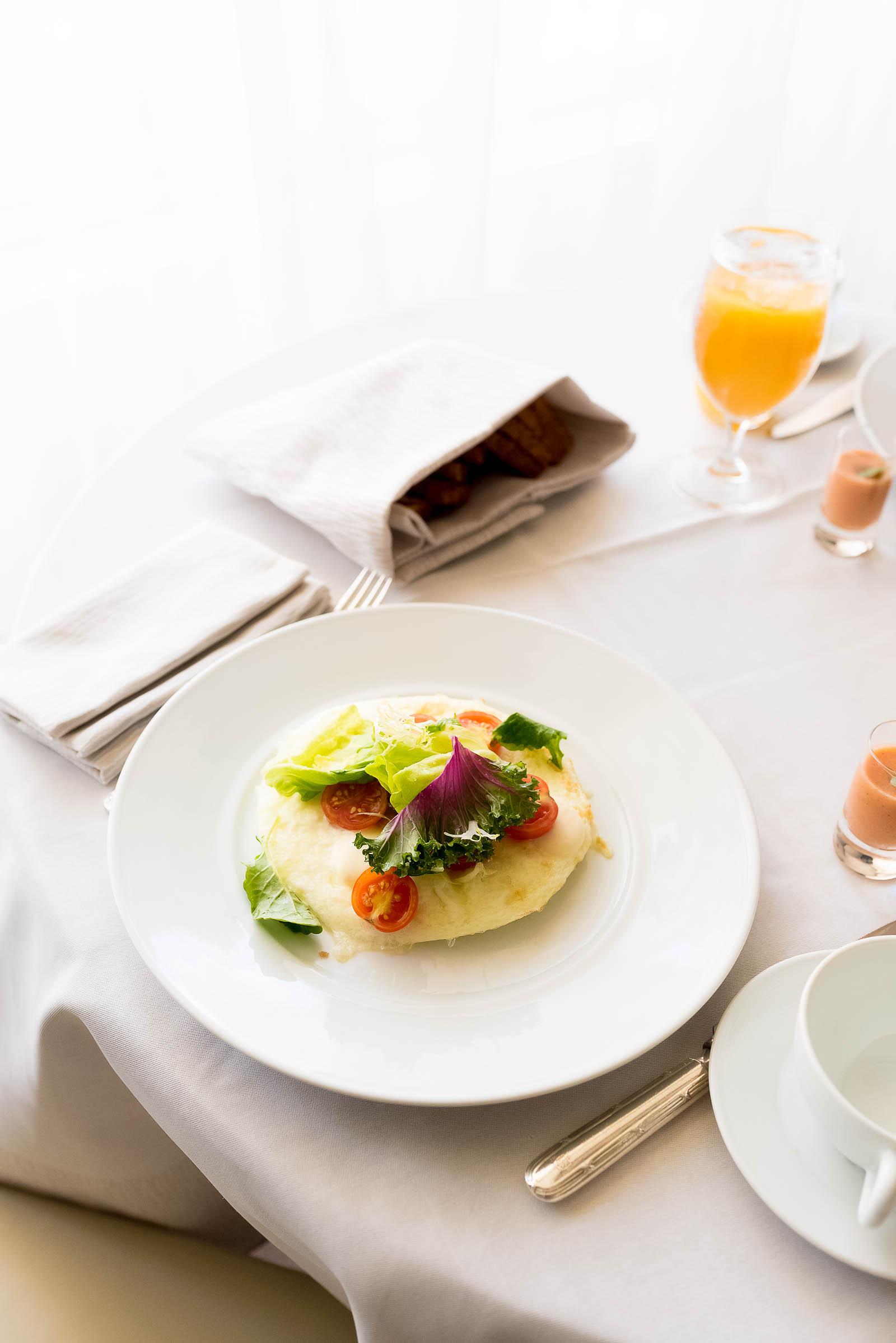 the egg-white frittata!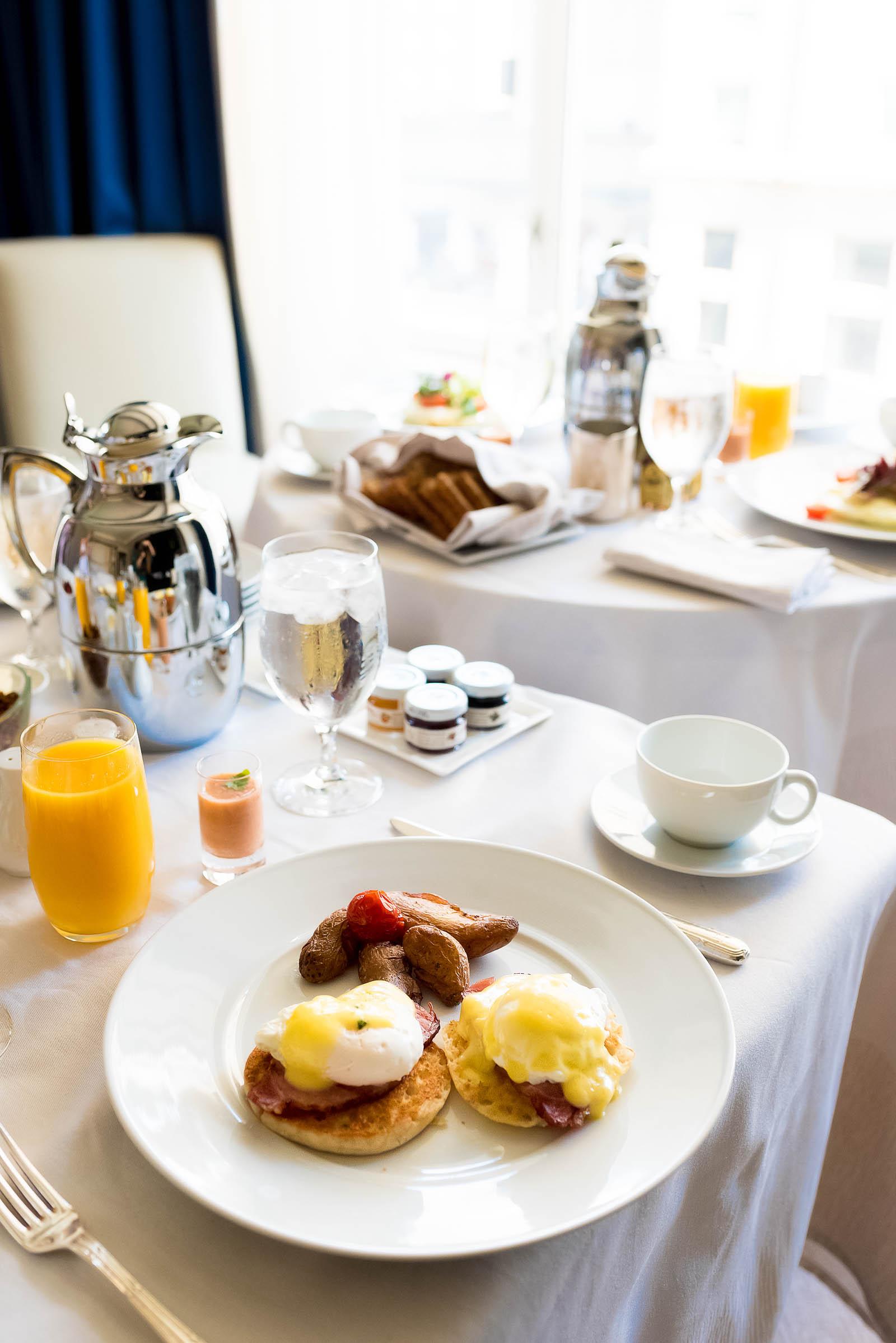 Though the eggs benedict was a close second!
Even Obi couldn't help but drool over the spread (they brought him more chicken and rice for breakfast which he gobbled up moments after this shot).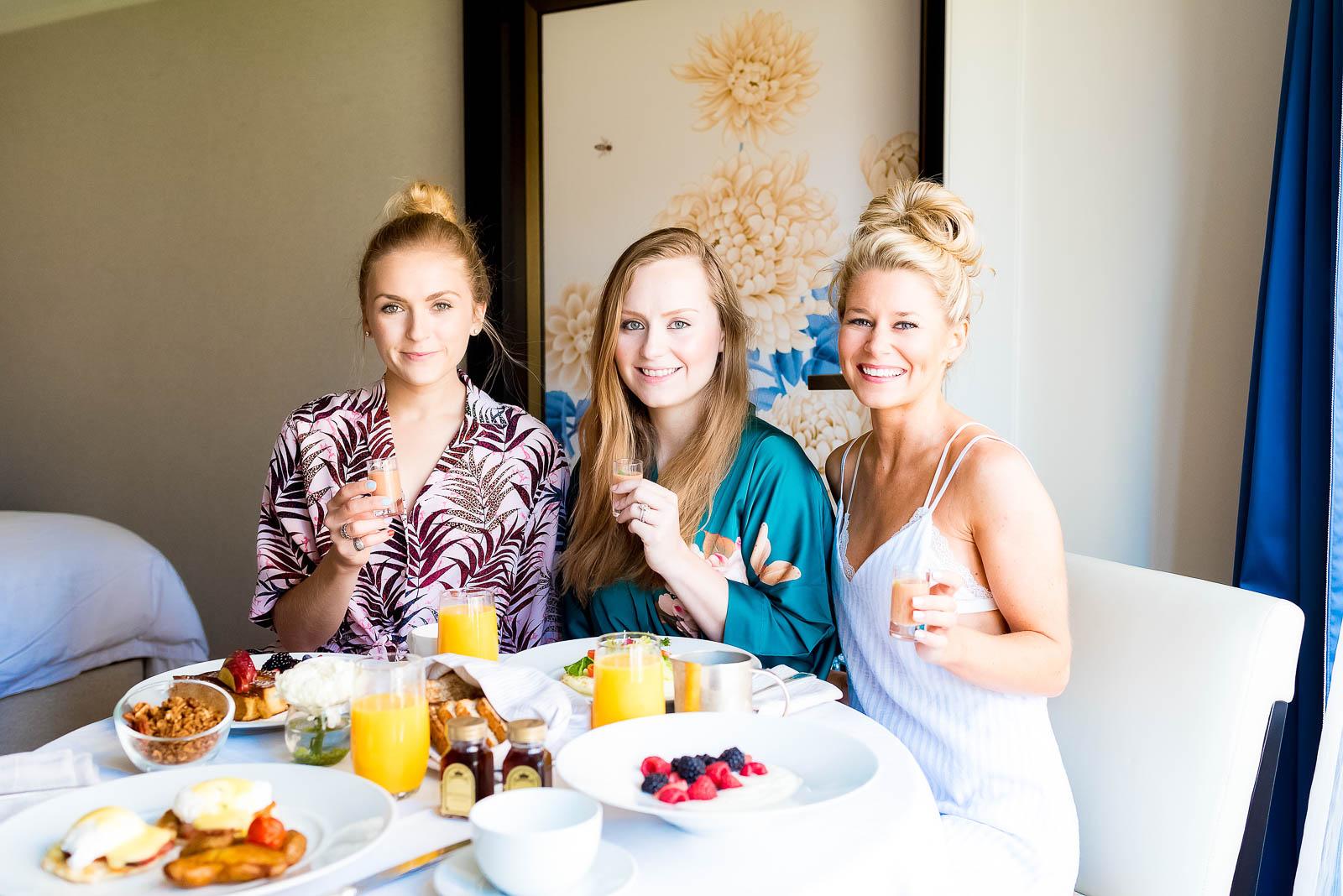 But the best part was sharing the spread with these wonderful girls! If only I could wake up like this every day…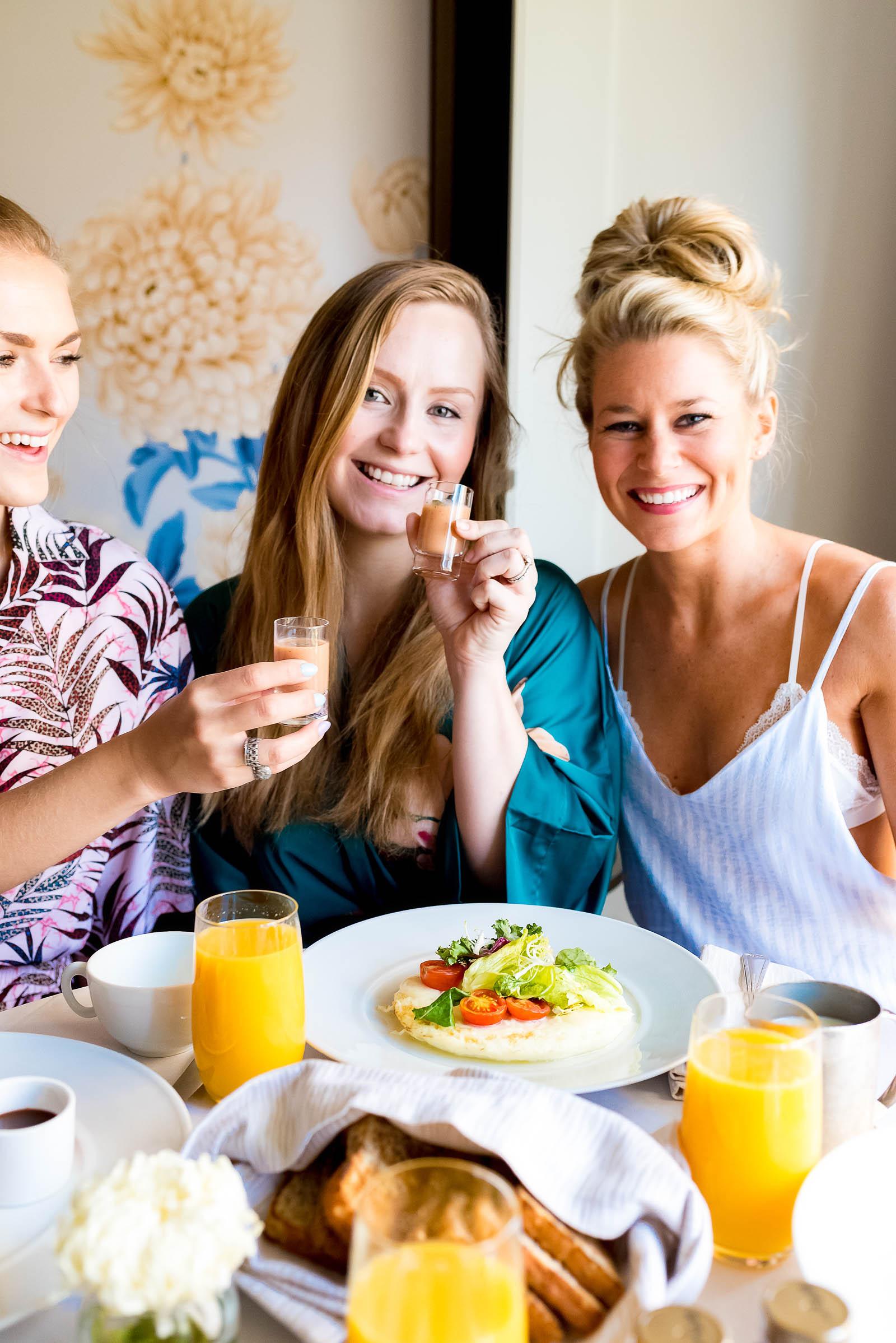 My favorite part was the tiny amuse bouche fruit smoothies that came with our breakfast in little shot glasses.
And which we promptly…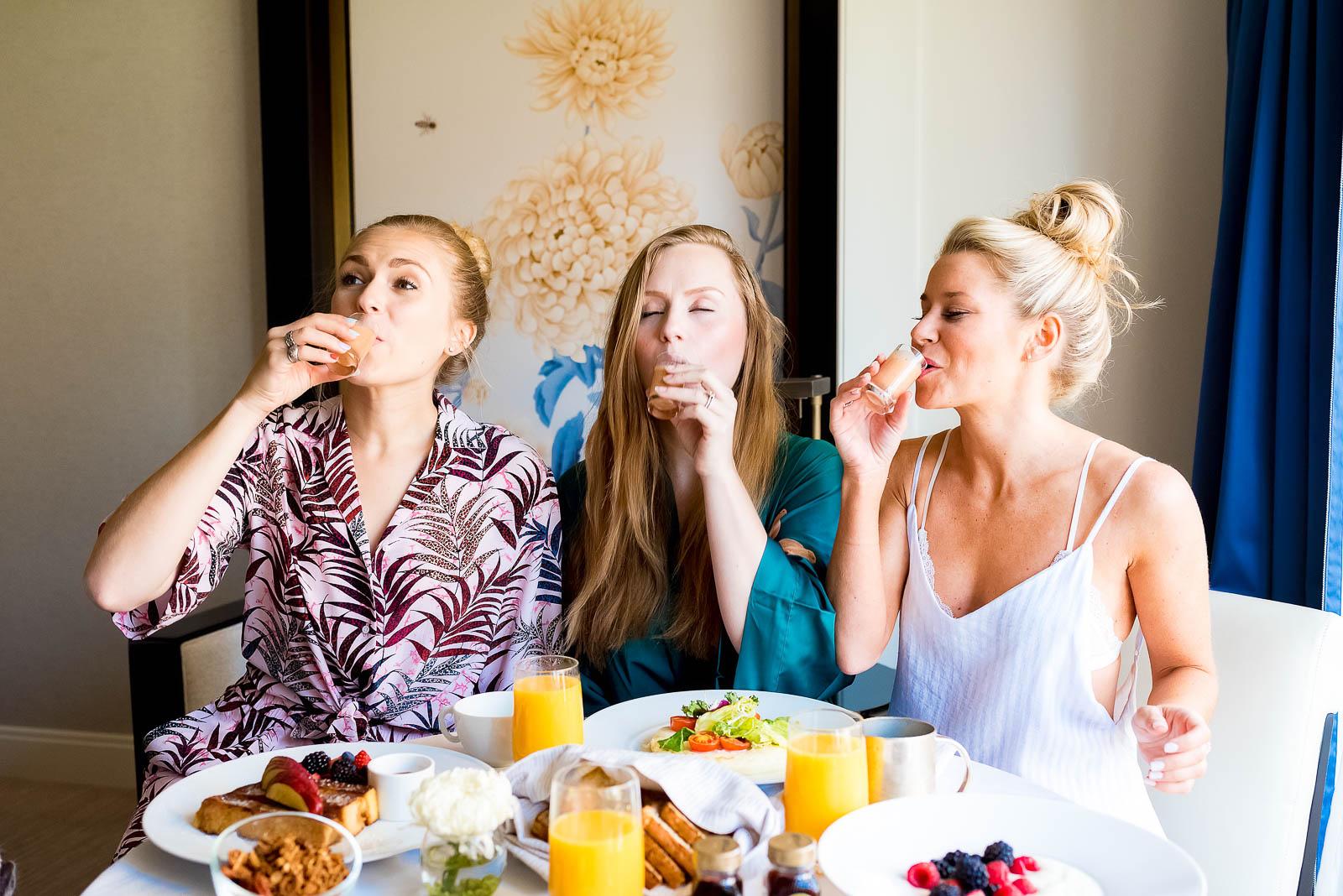 and ridiculously…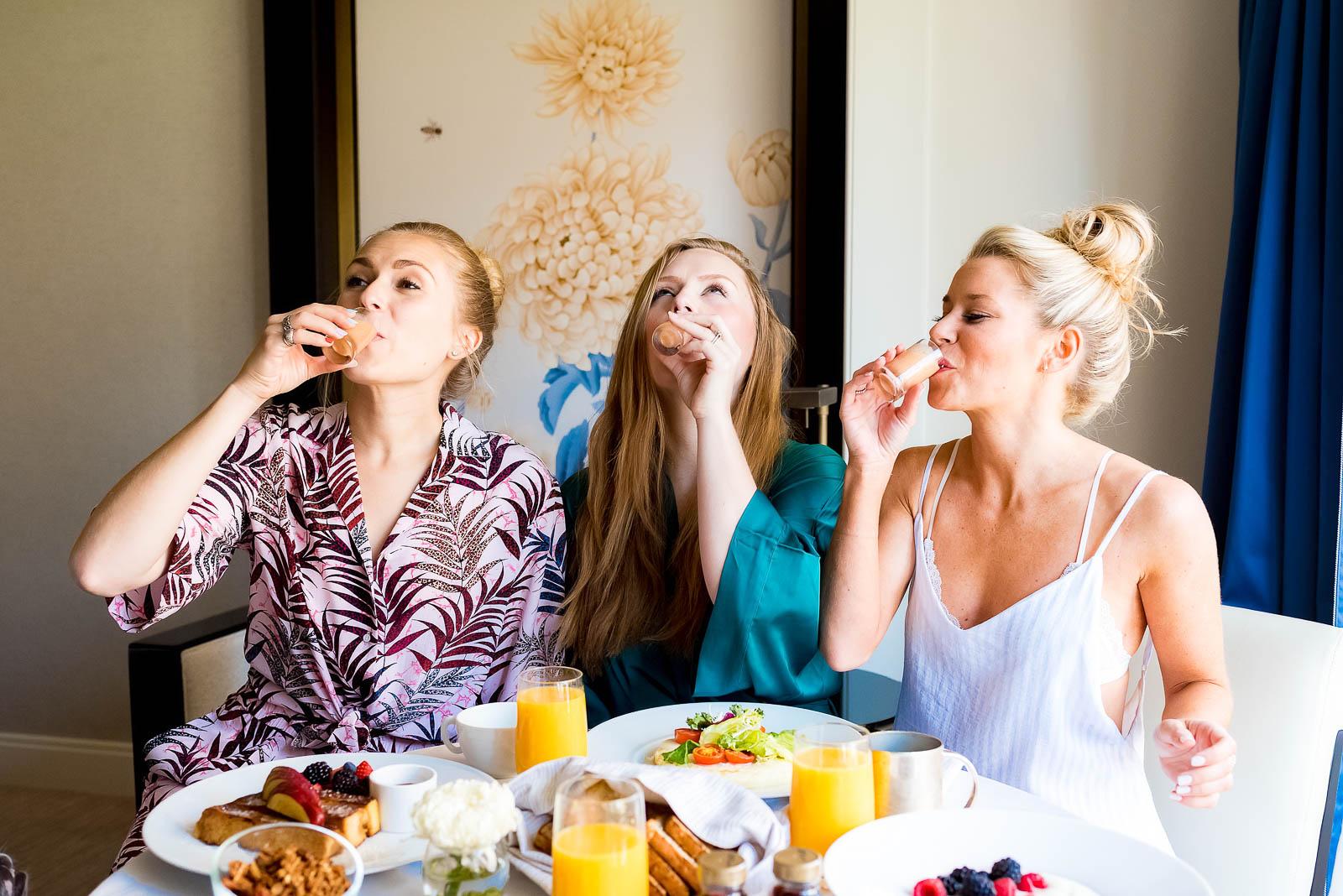 downed like the true ladies we are.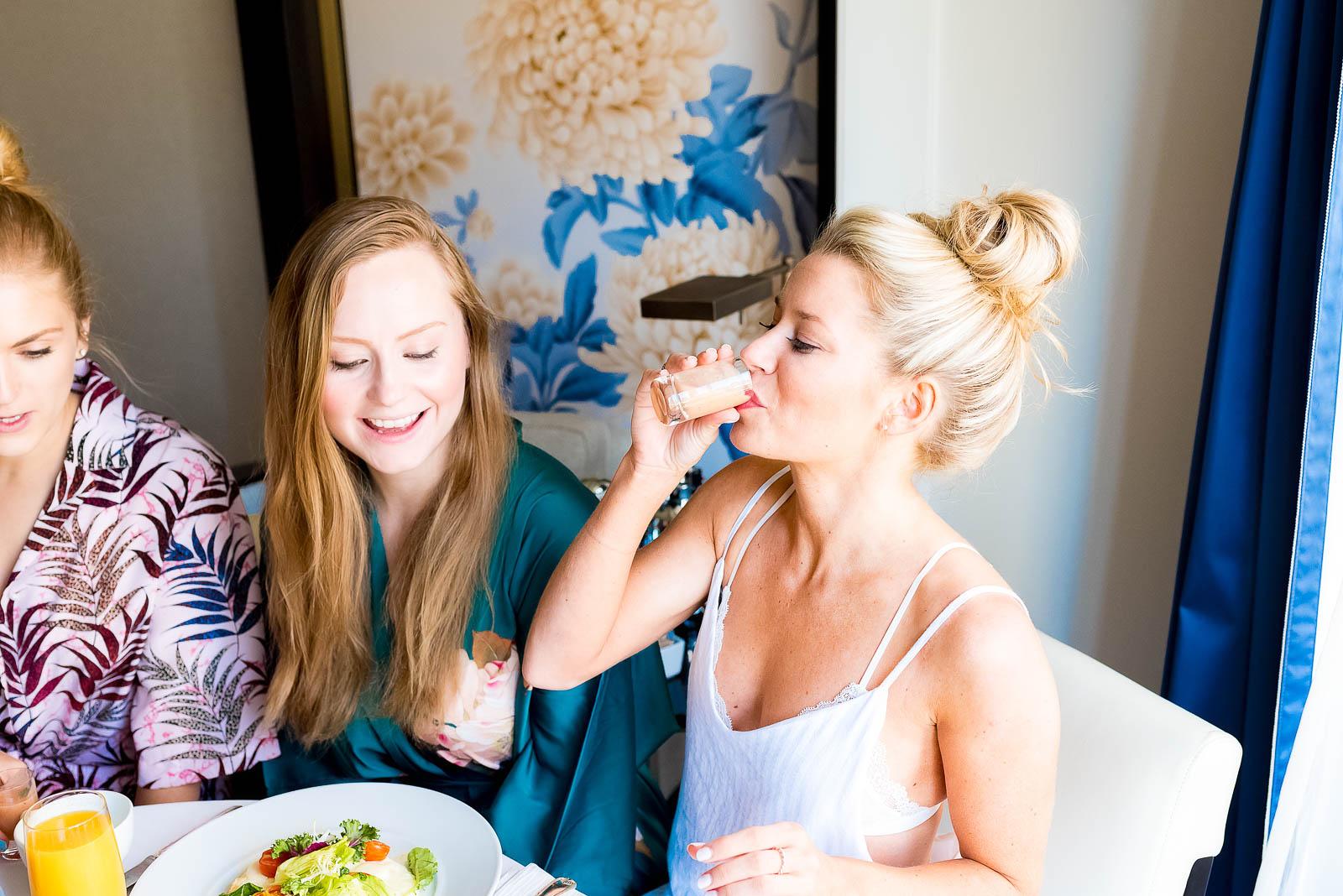 Olivia naturally being the most photogenic of us…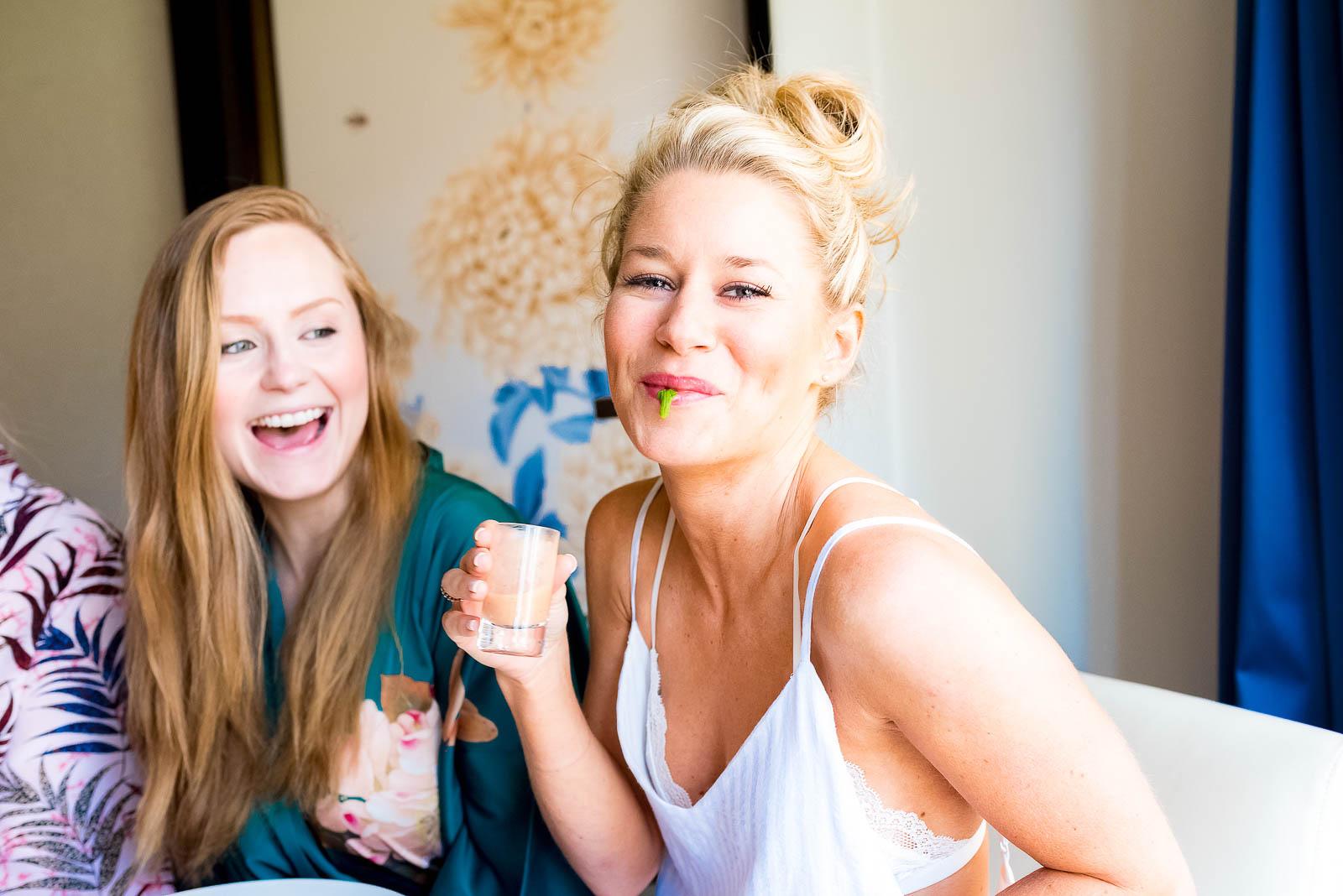 and the most ladylike!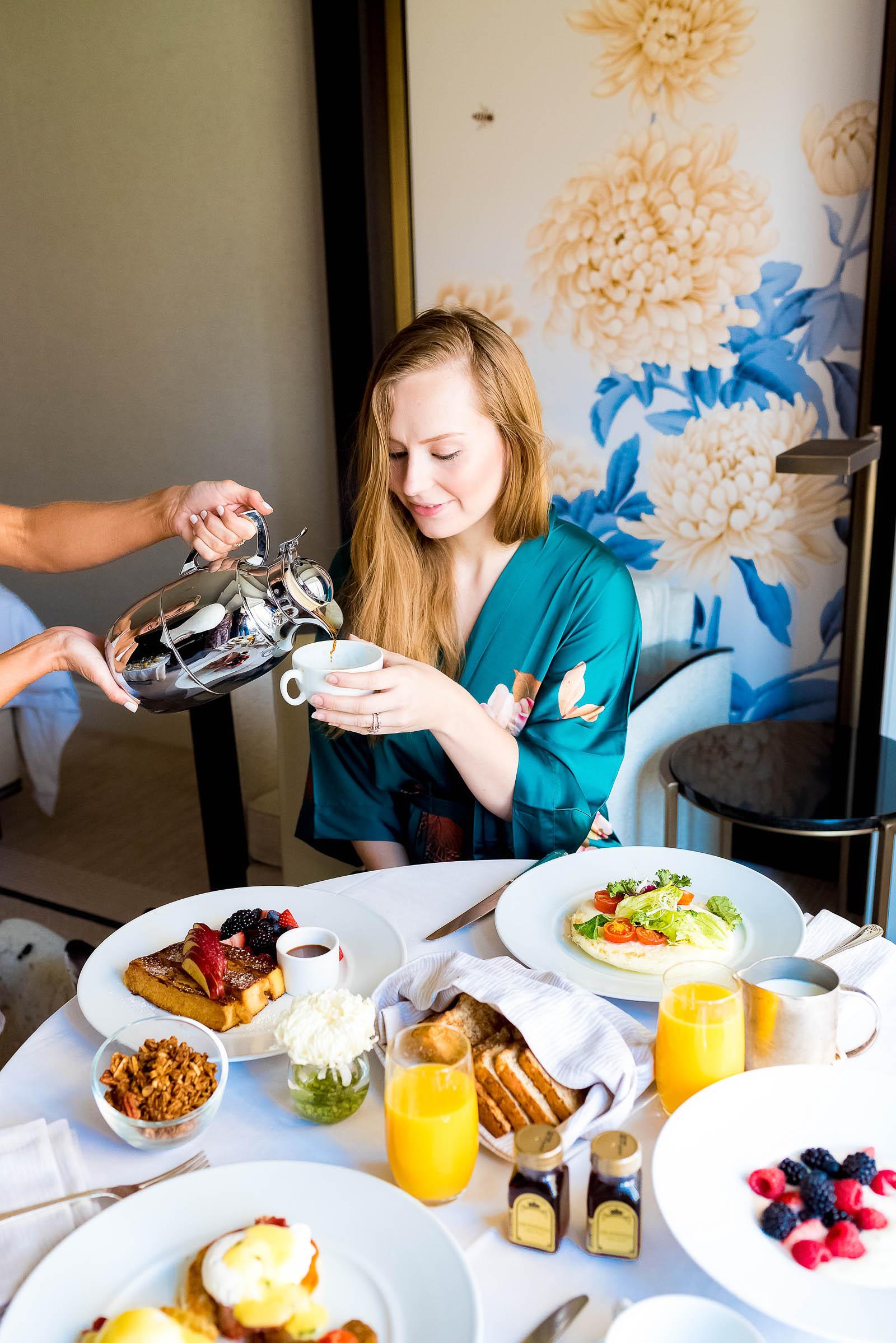 I've never woken up to quite so delicious of a spread with such wonderful company.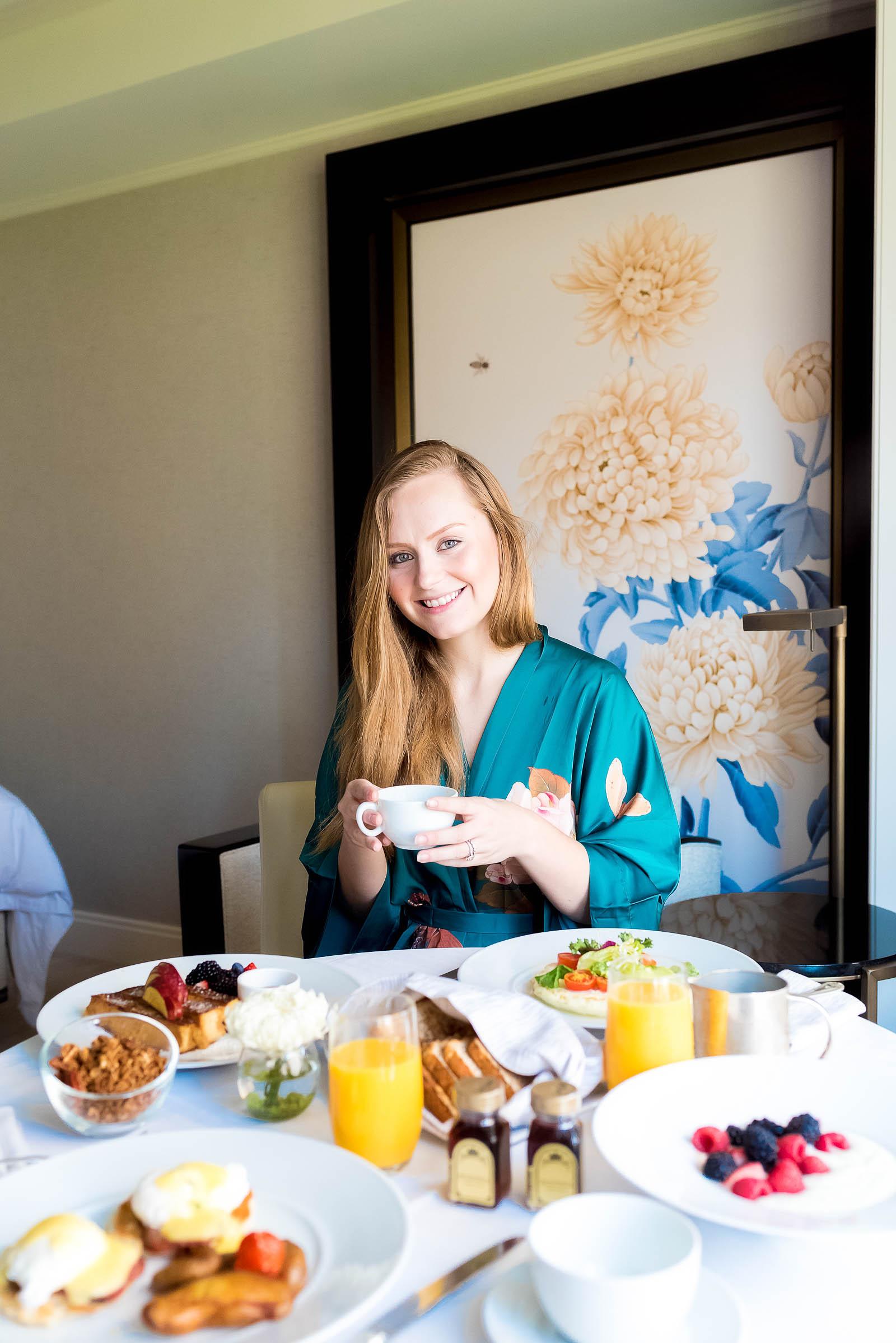 I suppose that's the magic of a true girl's staycation though, isn't it? Stress-free pampering with your girls, good food, and luxurious surroundings. A killer room-service breakfast spread and a 9 am photoshoot with brilliant John Philp are just a bonus!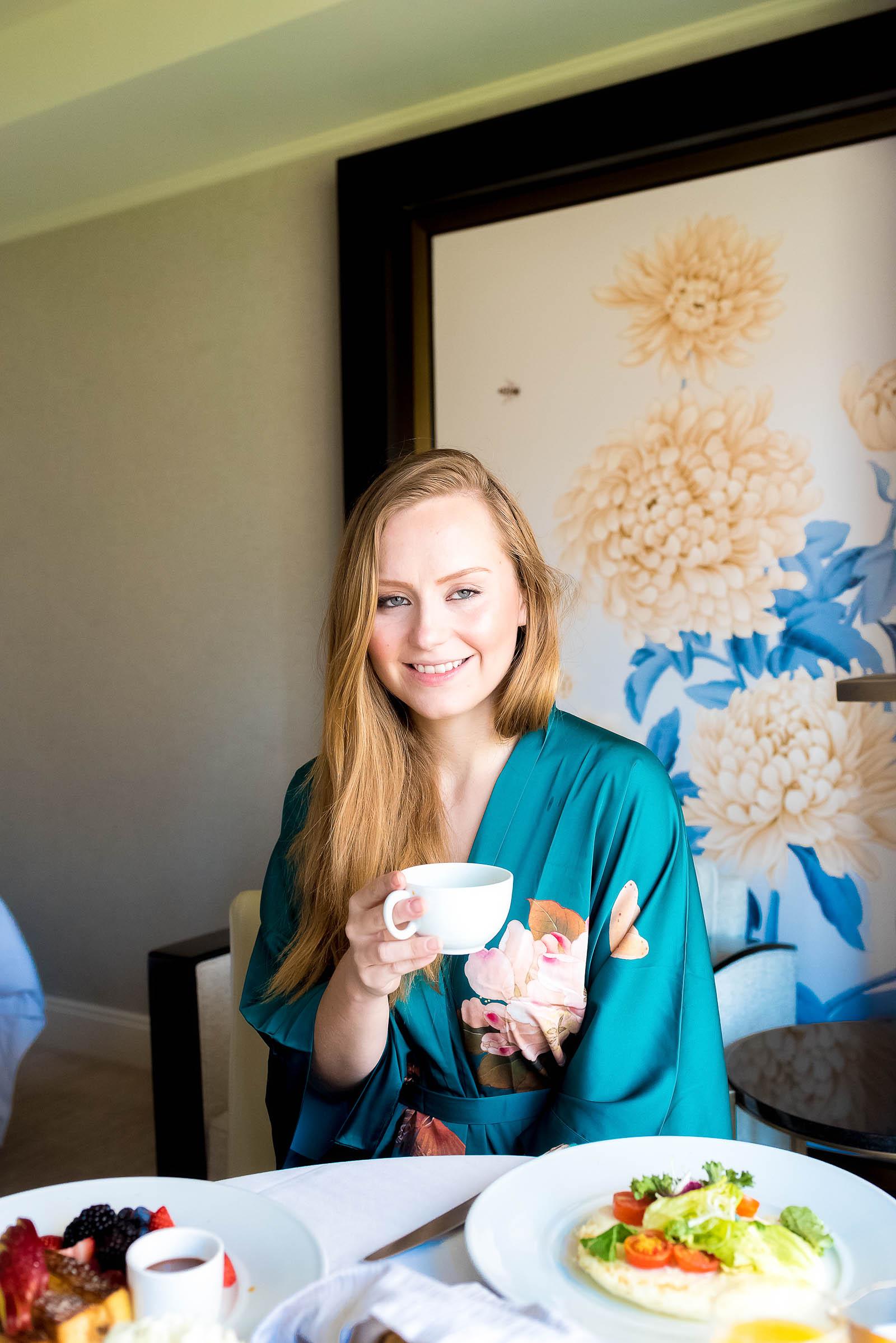 Thank you John for shooting these wonderful pictures of all of us and for helping us eat our way through this delicious spread!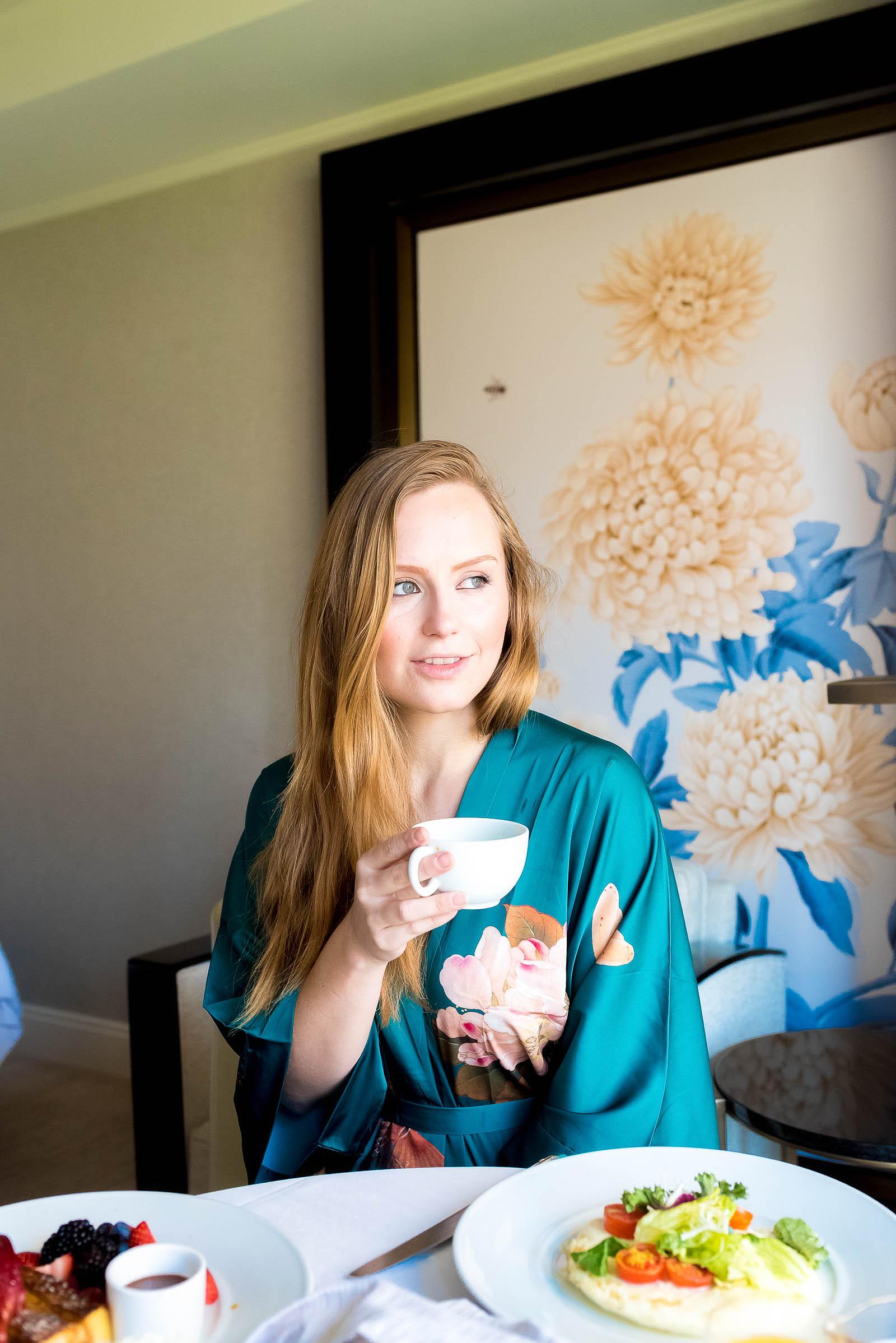 I am so humbled and grateful to have such wonderful souls in my life and even more grateful to be able to celebrate with them with such a luxurious staycation!
A marvelous, heart-felt, EPIC, and tear-filled thank you to the team at the Peninsula for hosting us last month. Your hospitality, kindness, and attention to detail are unparalleled and your food will always have a very special place in my heart and stomach.
Thank you Peninsula Chicago! No other Chicago hotel I know better deserves to be Chicago's best!
Disclosure: This post was produced in partnership with the Peninsula Hotels. Review and all opinions are ALWAYS my own.