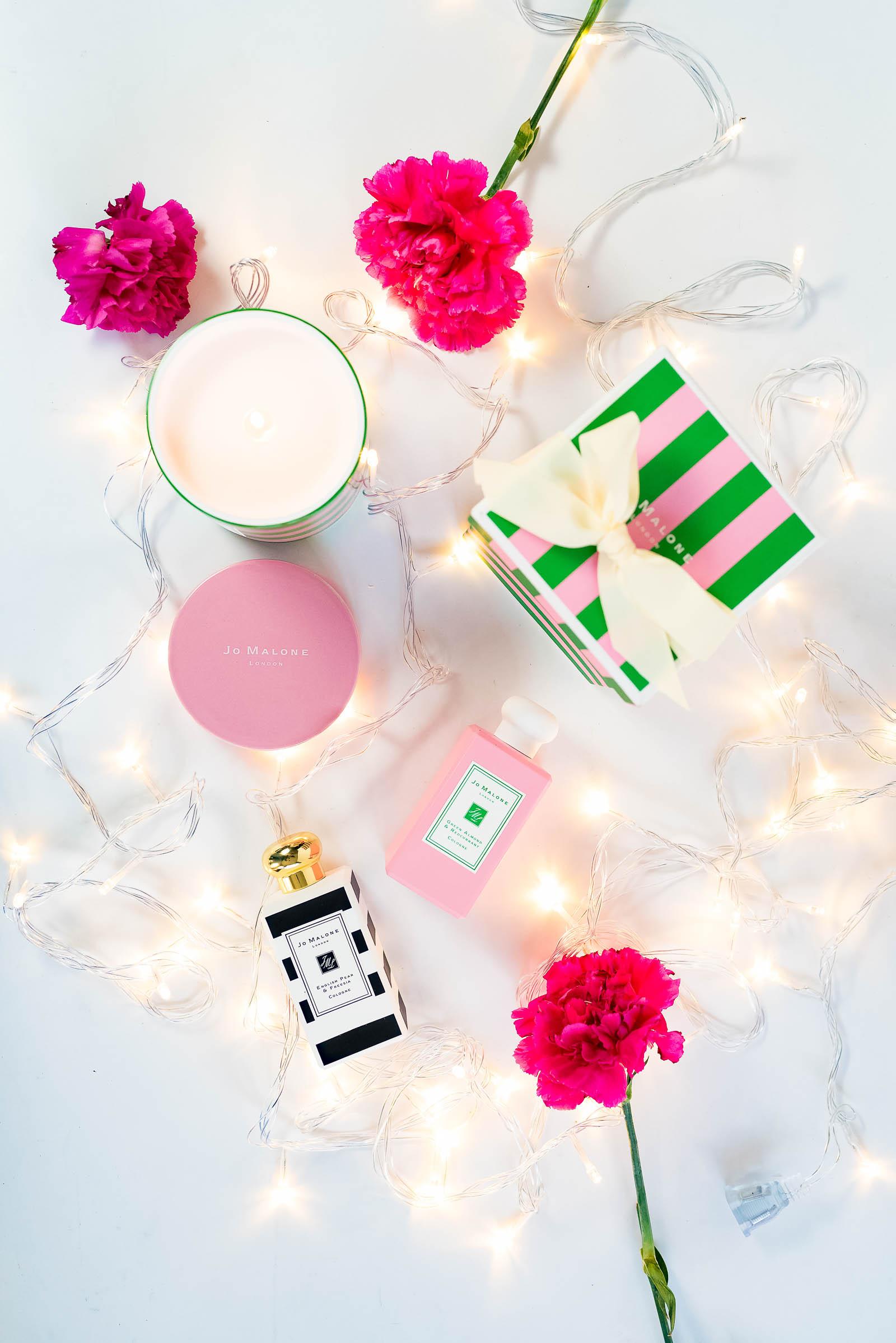 When it comes to getting in the holiday spirit, one of my absolute favorite ways has been with scent.
One whiff of an evergreen candle and you can practically FEEL Christmas.
And last Christmas, my all-time favorite perfume company Jo Malone released their very first Christmas cologne, Orange Bitters.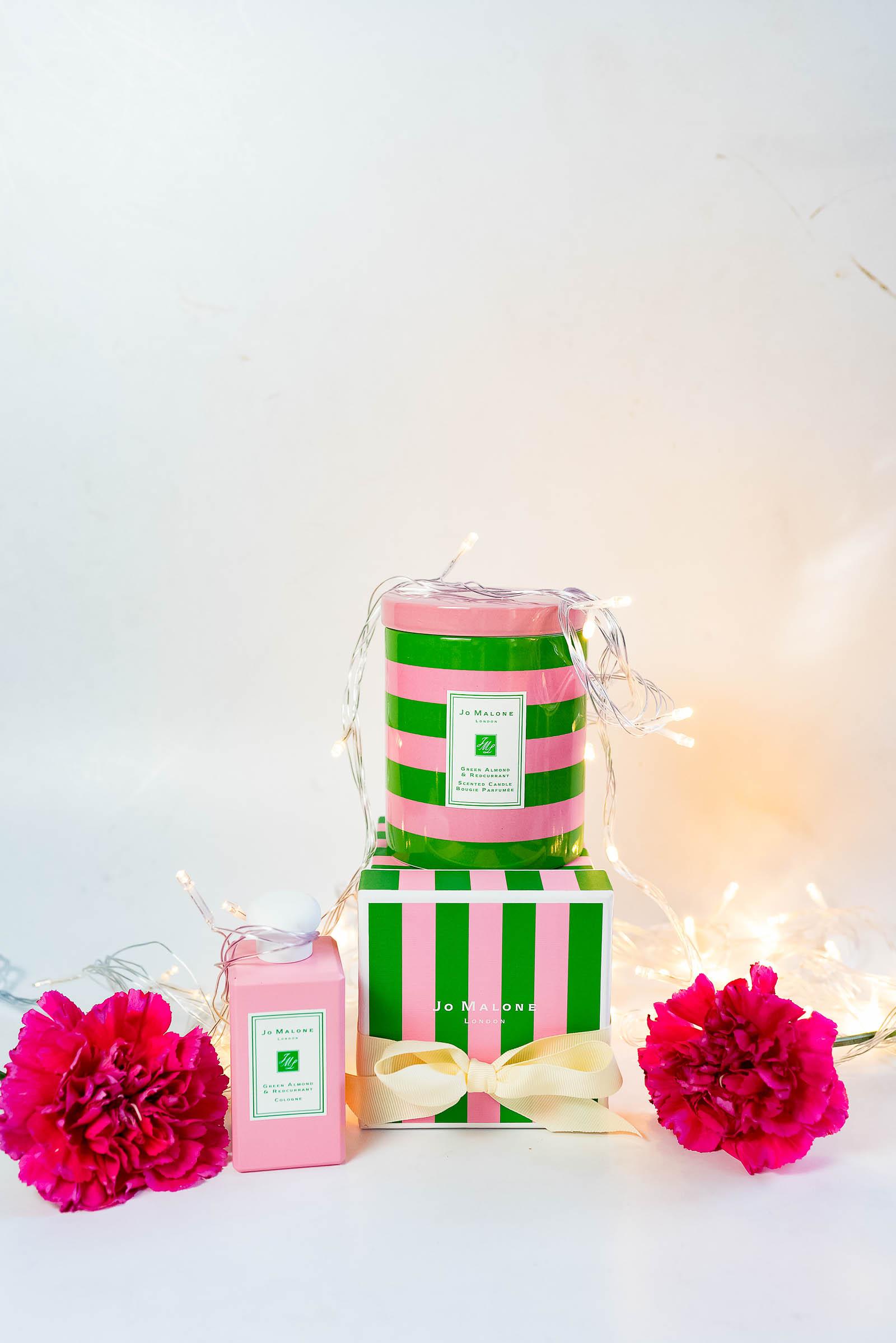 I devoted an entire blog post to it because I loved it's sultry, spicy but still fresh scent.
And I LOVED that Jo Malone was now delving into Christmas scents. Most years they release several special edition collections and I'm so thrilled they've finally added some festive collections to the mix as well.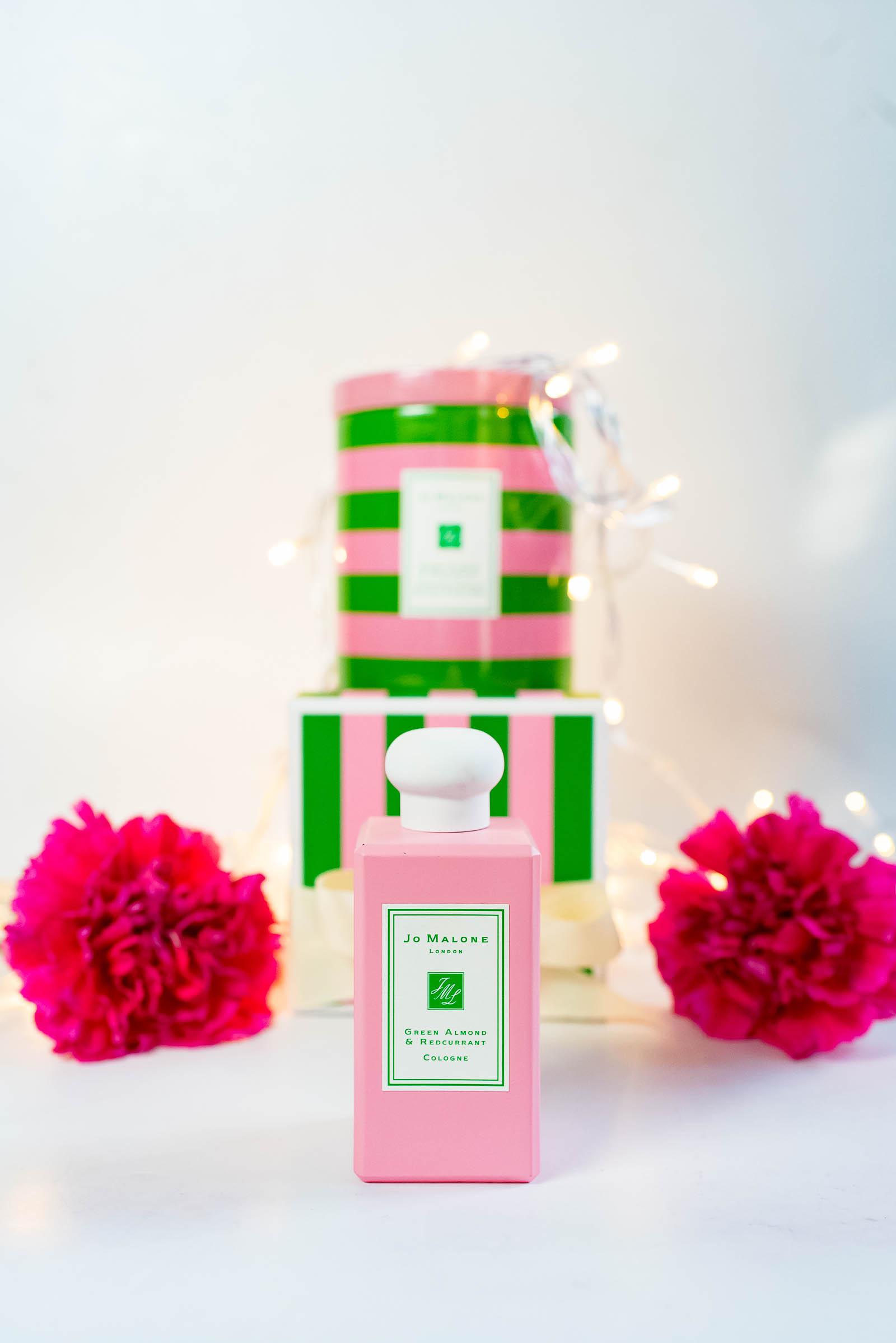 But last year Jo Malone disappointed me. Two of their special edition collections didn't have ONE scent I was even remotely interested in. Until their English Oak collection this fall that is.
And this Christmas they've completely reaffirmed my faith in the brand with their newest holiday collection scent…
Jo Malone Green Almond & Redcurrant.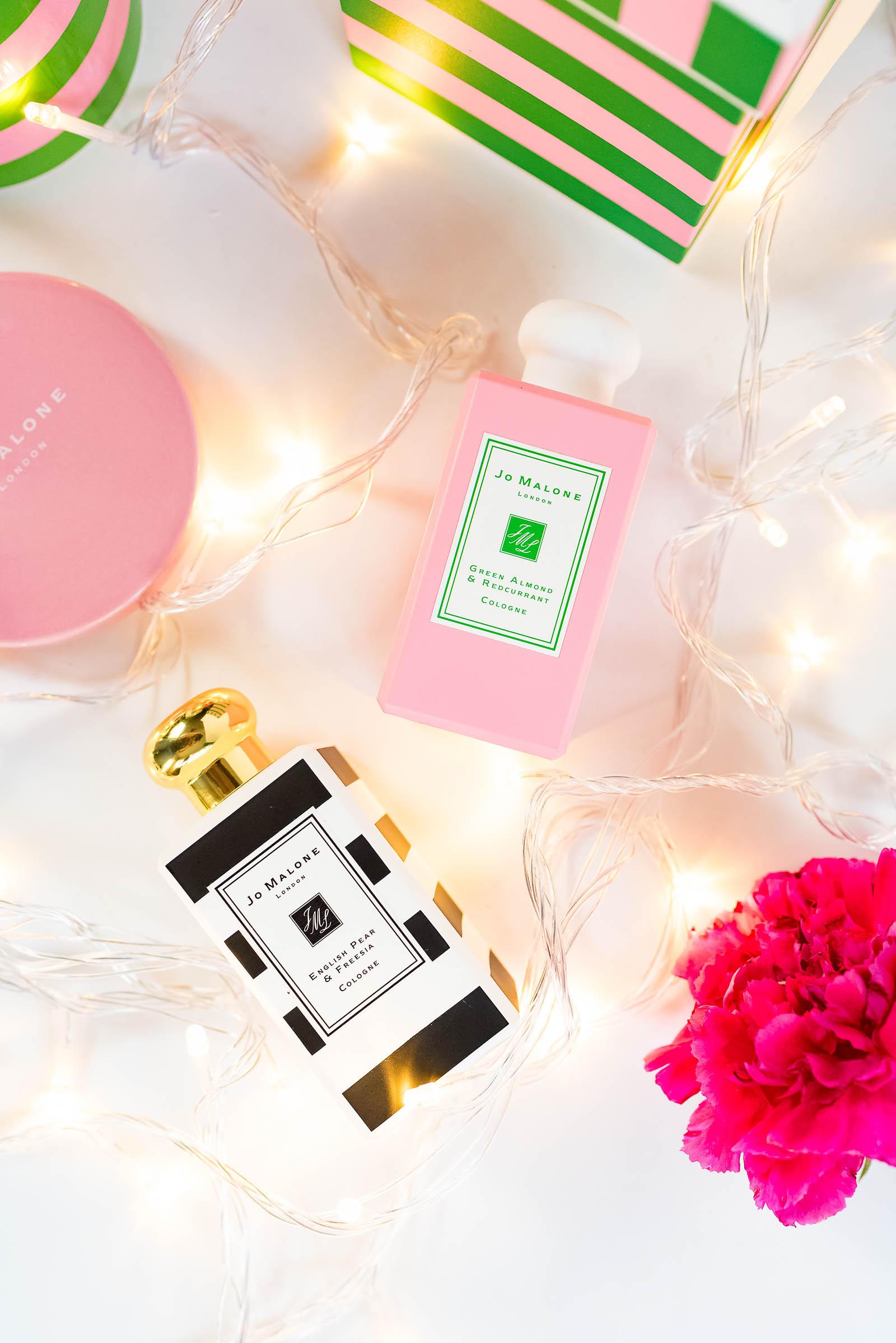 Green Almond & Redcurrant is one of the most interesting scents I've come across in years.
It's theoretically a unisex scent (when my husband wears it, it's INTOXICATING), though I suspect the Pepto-pink bottle makes it more of a "feminine" scent than Jo Malone's other unisex scents like Wood Sage & Sea Salt.
The main scent notes are red currant, green almonds, and creamy sandalwood.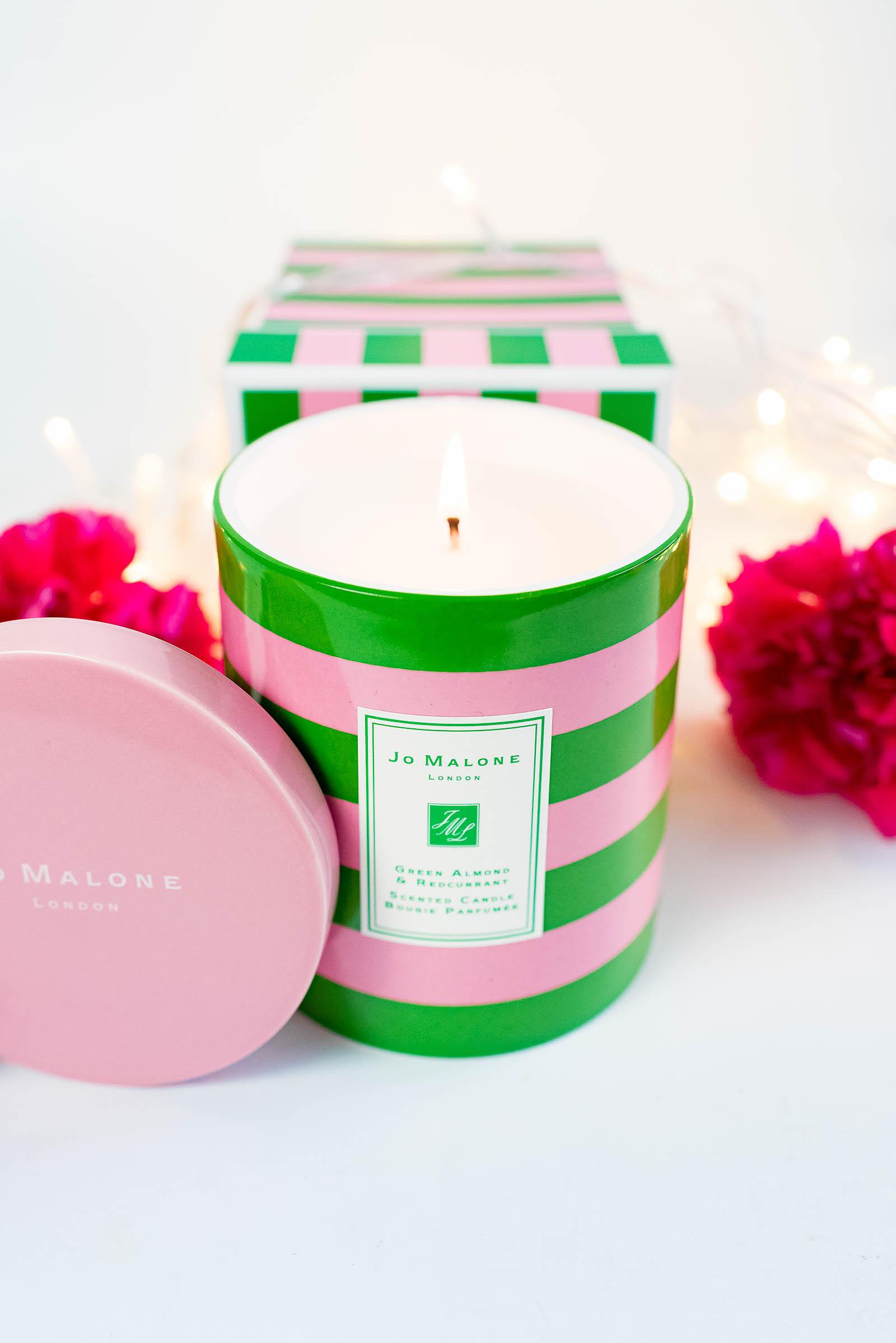 But how does that actually smell?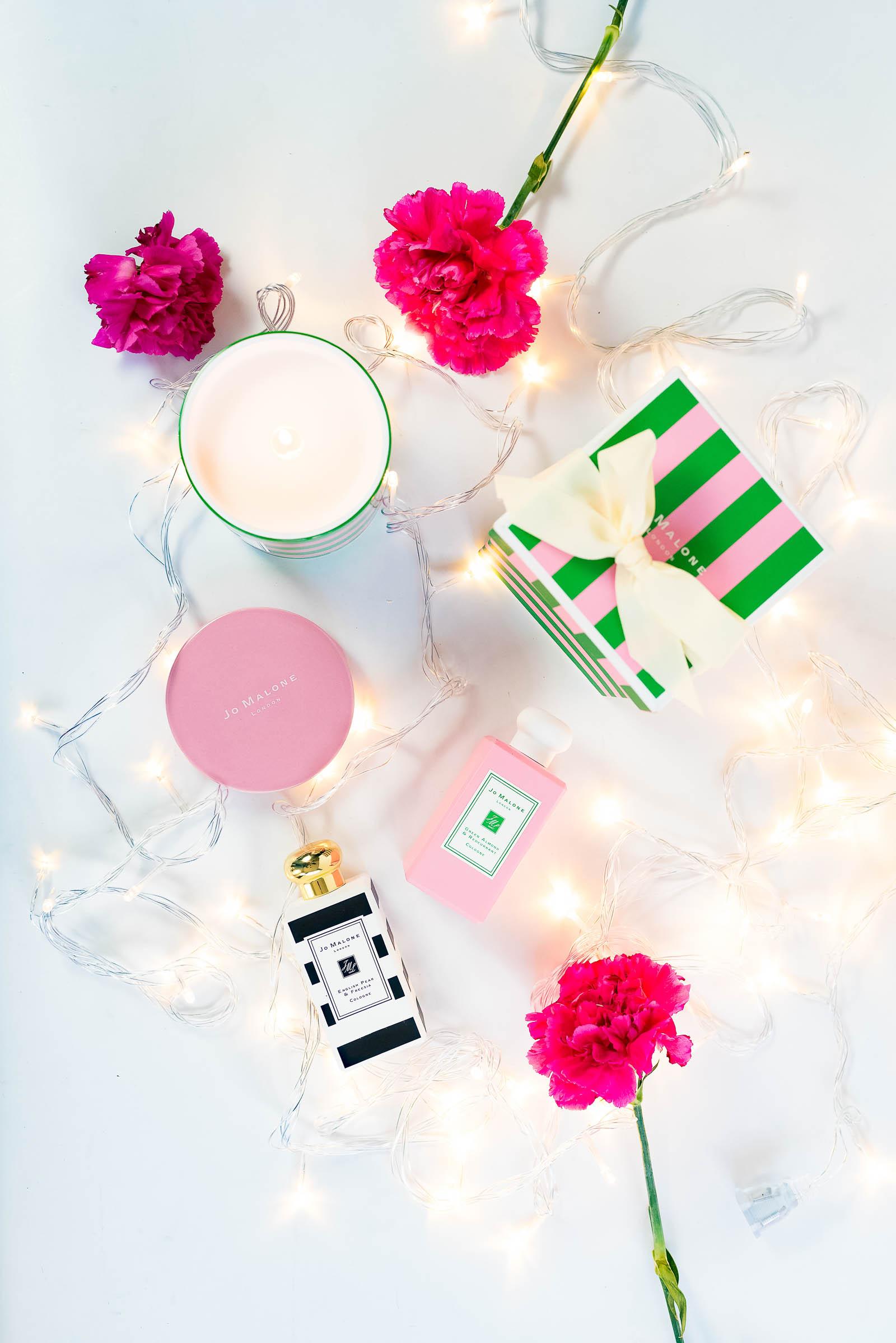 Green Almond & Redcurrant starts out very light and floral almost. As it dries down the green almond really comes out — it's a truly addicting fragrance note being subtly nutty (though not in the cliché "Nutcracker nutty" way many holiday scents have) and yet very green and fresh too.
The redcurrant just subtly sits under the creamier notes as a zippy finish.

And it's sooooooooo reviving to smell.
It's a truly OBSESSION-WORTHY scent!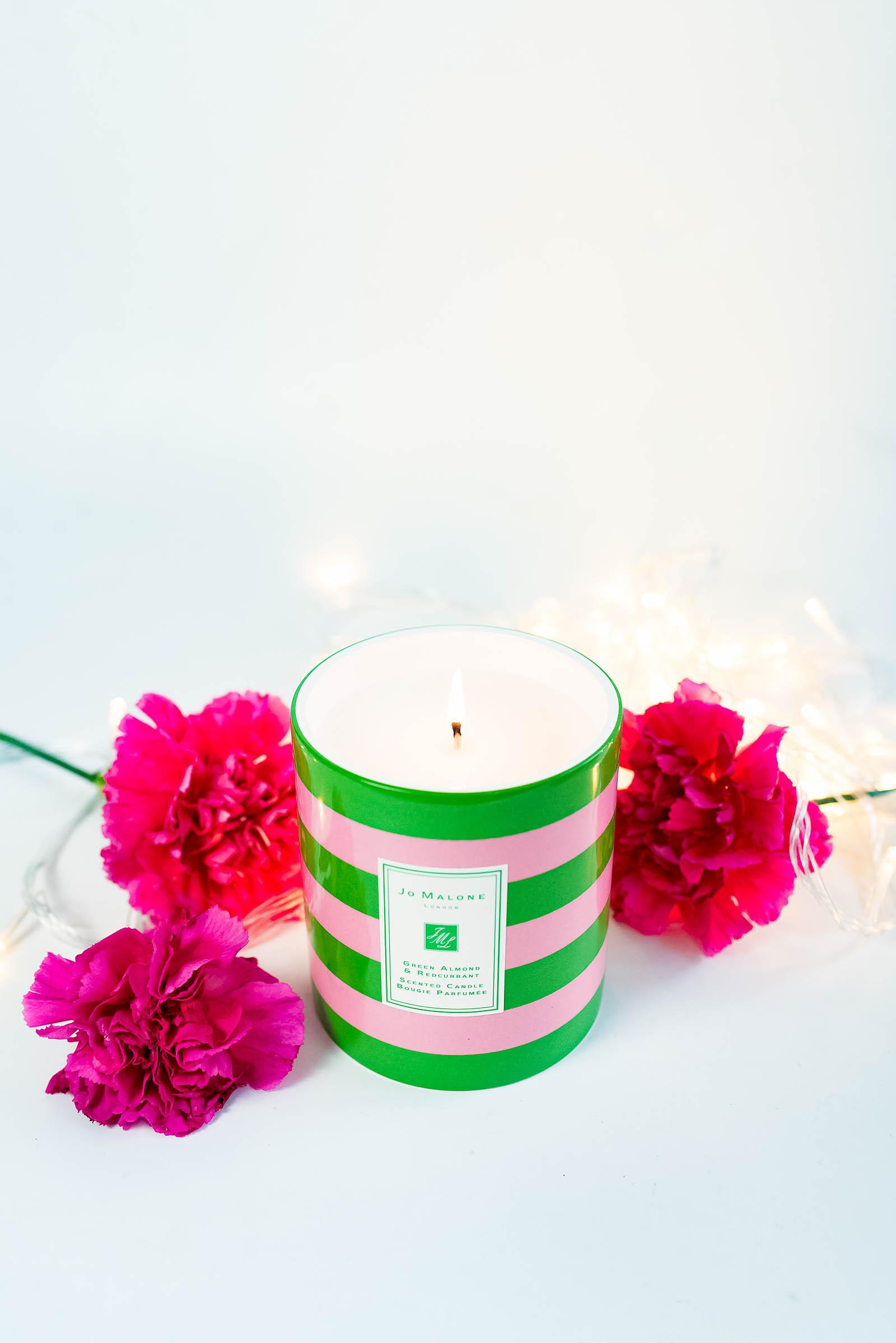 And so addicting after I bought the cologne I immediately snapped up the candle too.
I've been lighting it for special occasions only so far and just about every guest we've had while this candle is lit has asked about the scent.
It seems to have everyone entranced.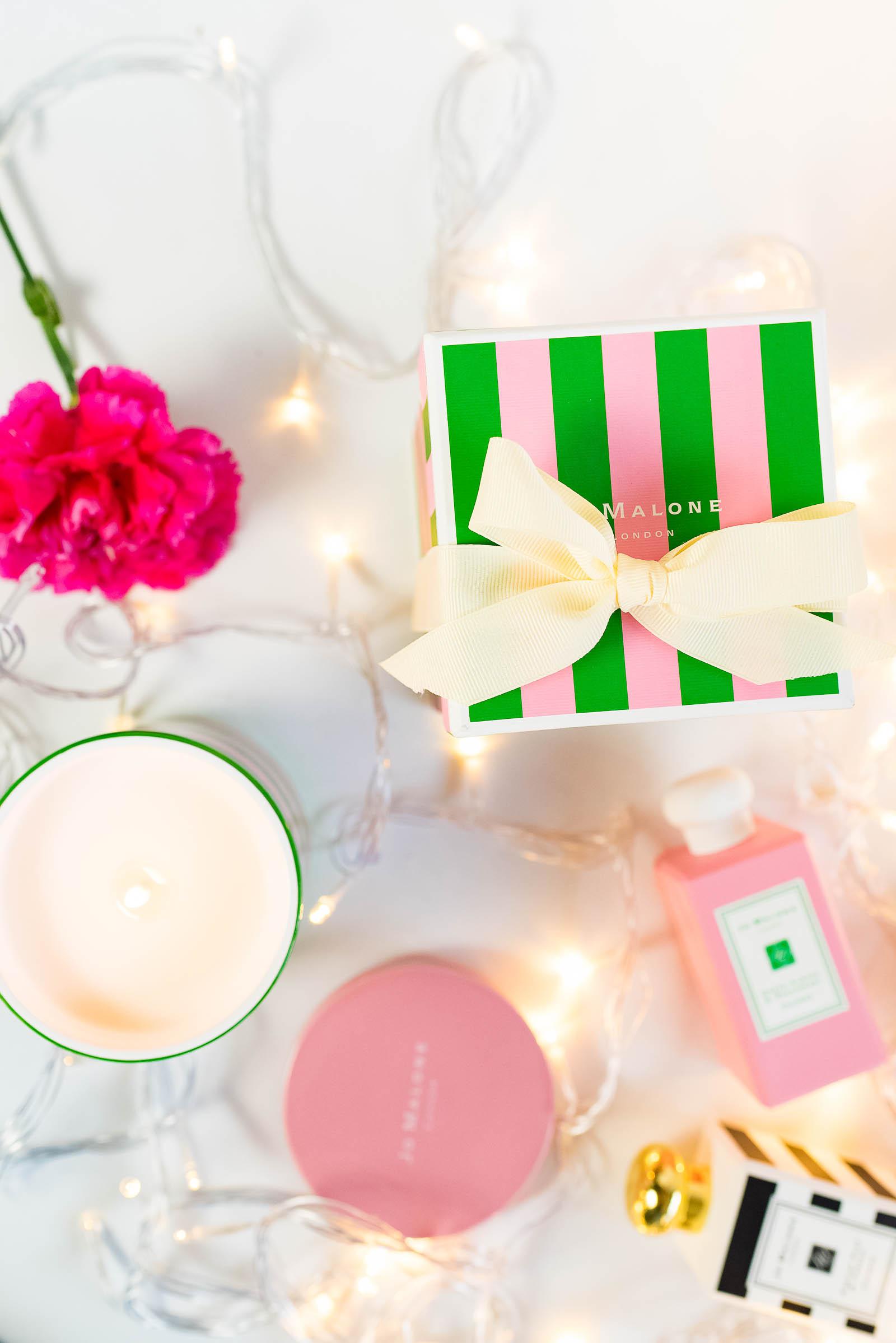 Because it's such an innovative scent.
It's different from anything you've probably smelt before.
And far more interesting.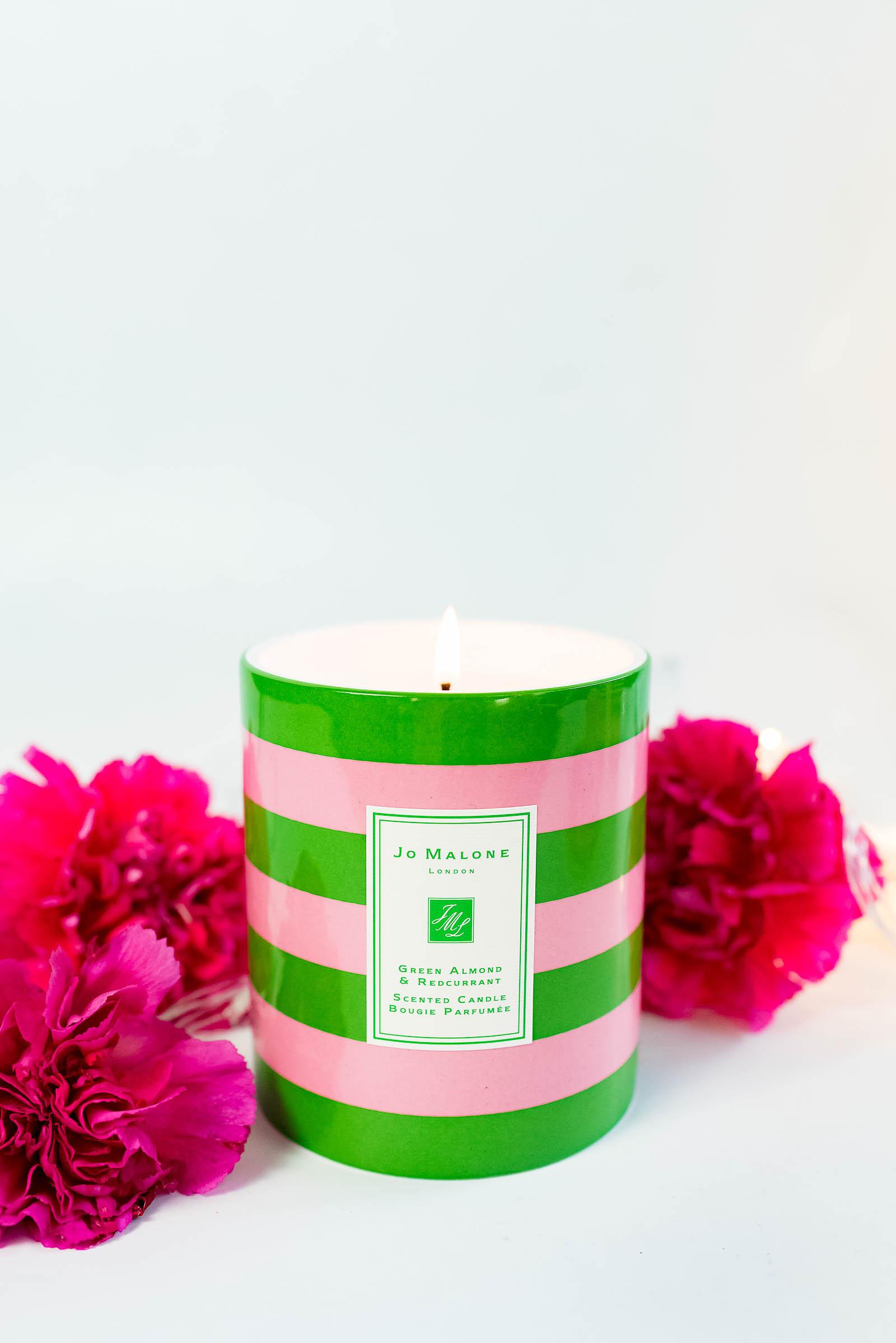 That must be why the cologne sold out everywhere in just a few short weeks, huh?
Literally — you can't currently get the cologne anywhere! Hopefully it'll be restocked for the Christmas shopping rush in another week or two though because I have a few friends who I know would love this scent for Christmas too!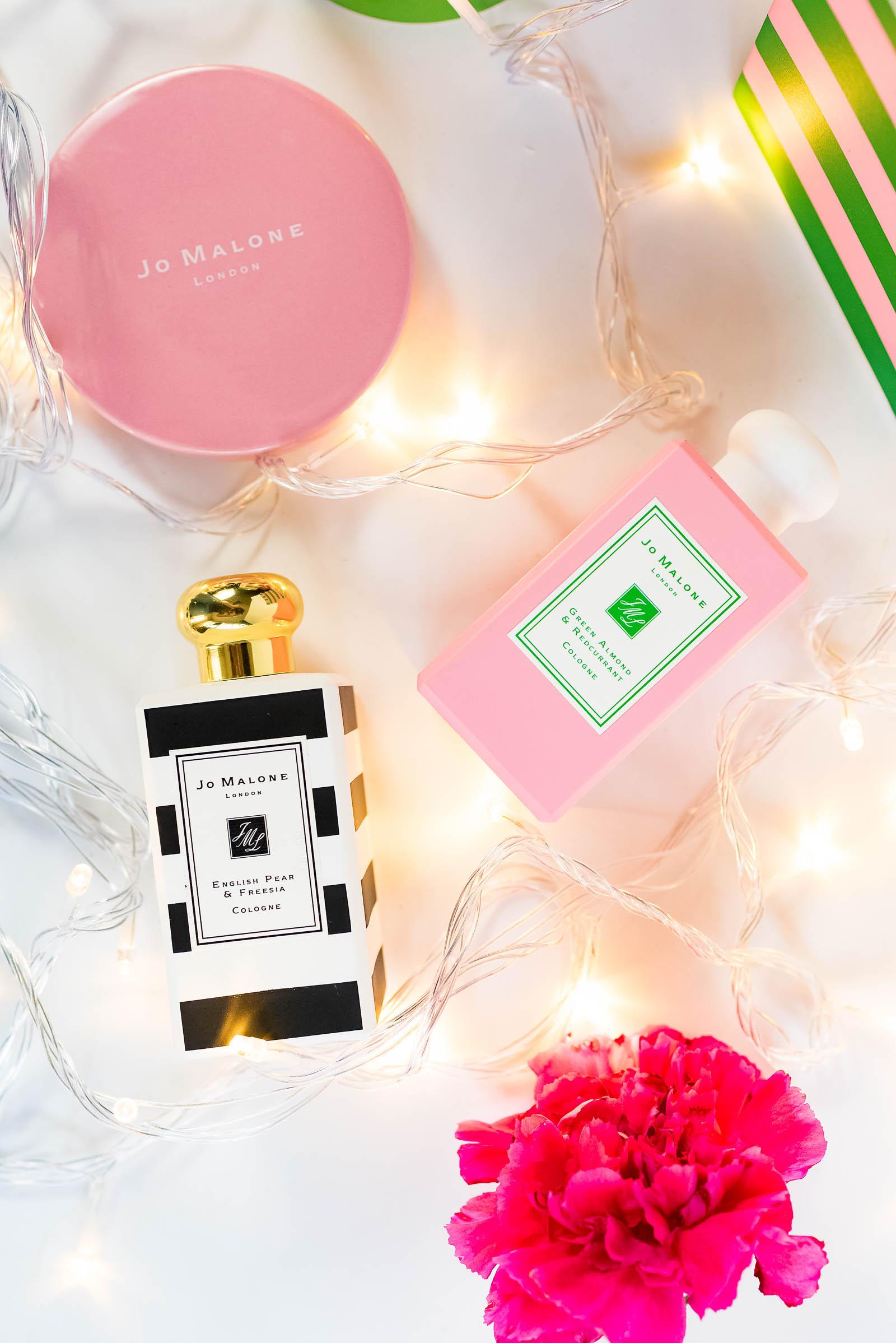 Luckily Jo Malone also kept another tradition from last year's holiday season too! And it's luckily still in stock…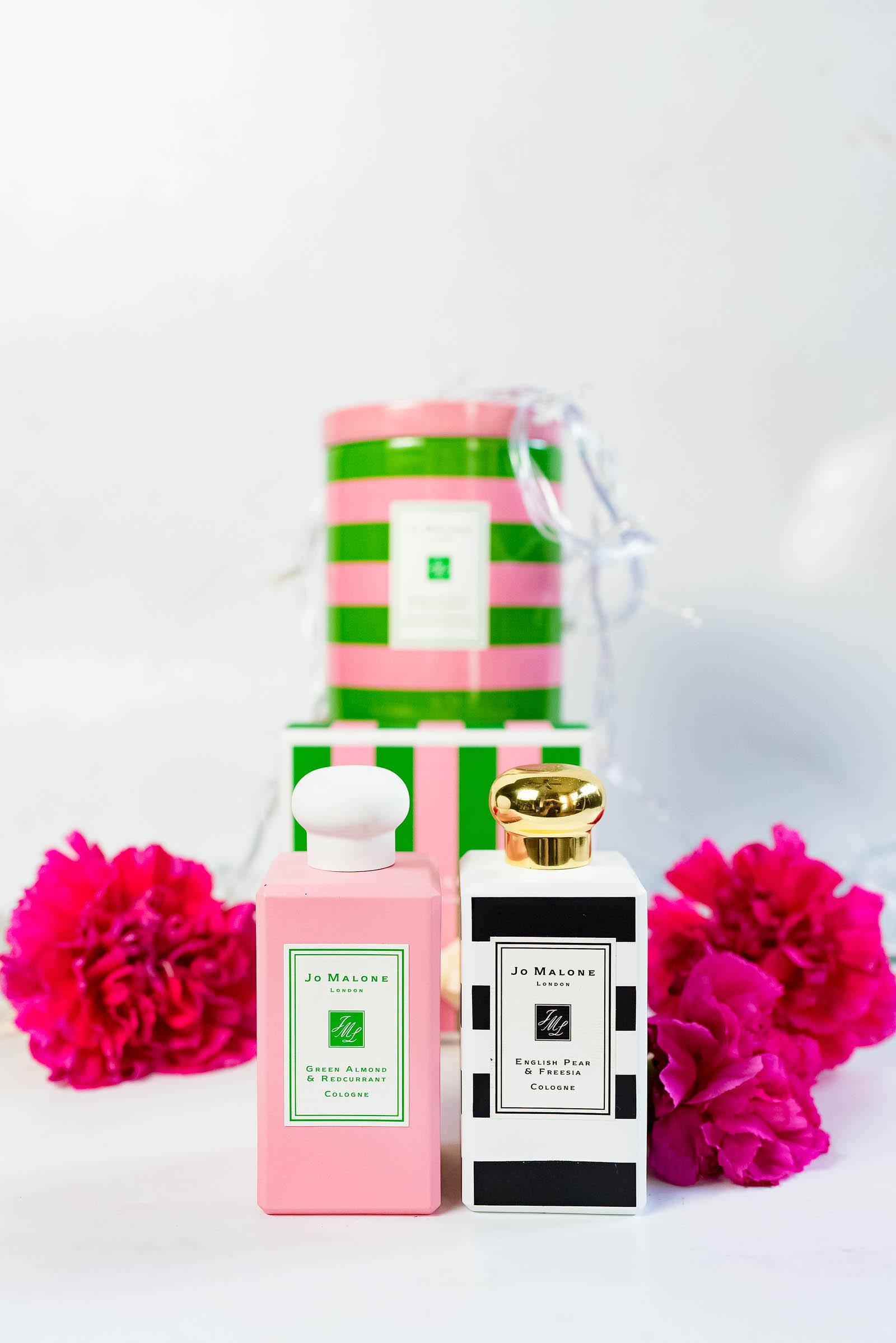 They've begun reissuing their most popular fragrances in limited edition special bottles!
Last year it was their enigmatic holiday scent Pomegranate Noir (what I used to consider my Christmas fragrance before Orange Bitters and Green Almond & Redcurrant) in a beautiful green, striped bottle.
This year it's one of my favorite scents (and the scent I get asked about MOST often by strangers… especially Uber drivers), English Pear & Freesia in a stunning graphic striped monochrome bottle.
Luckily I was starting to run low on my supply so I was able to snap up this special bottle for my collection too!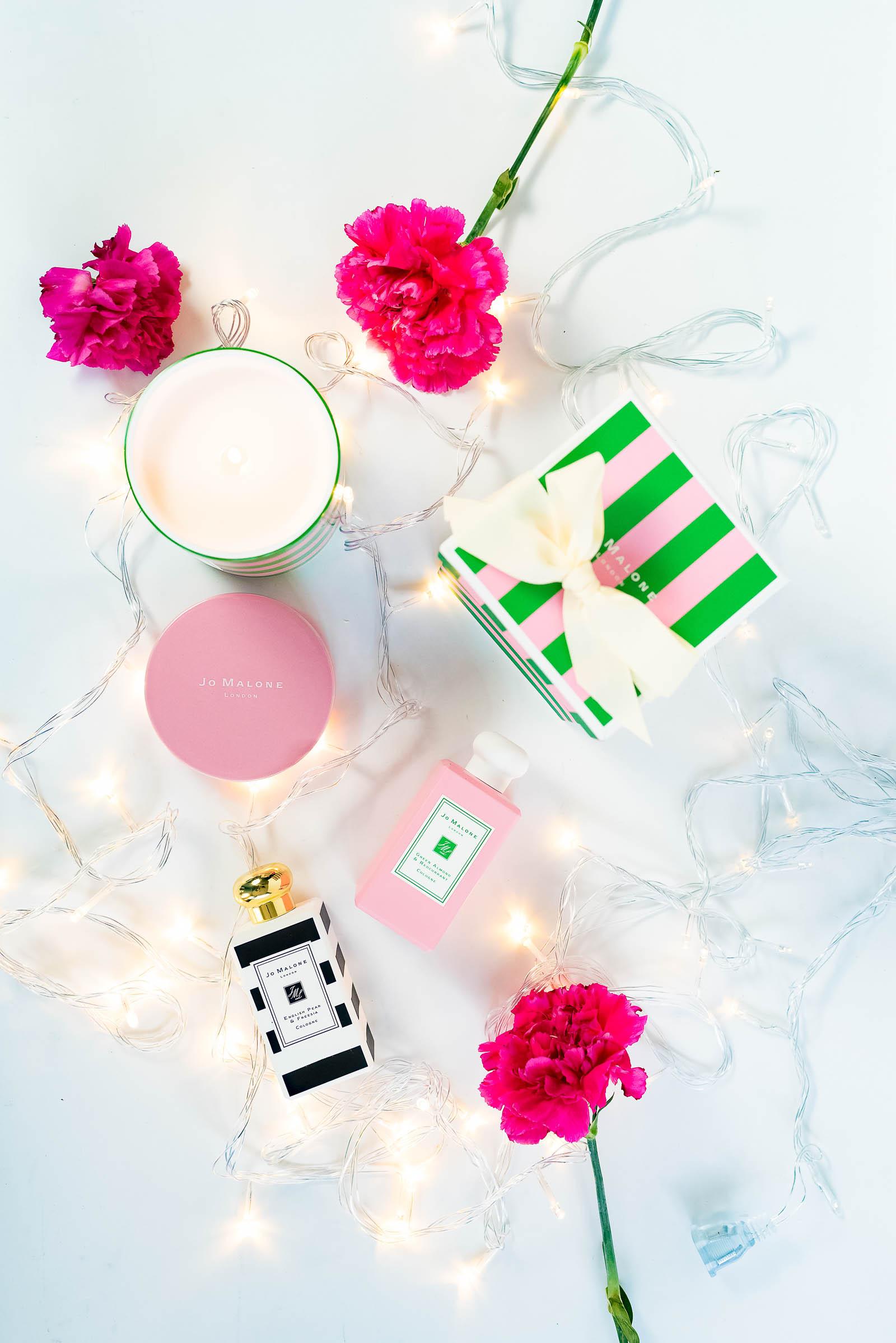 Needless to say, this year's Jo Malone holiday collection has me beyond obsessed and hungry for anything and everything Pepto-pink!
Happy Holidays!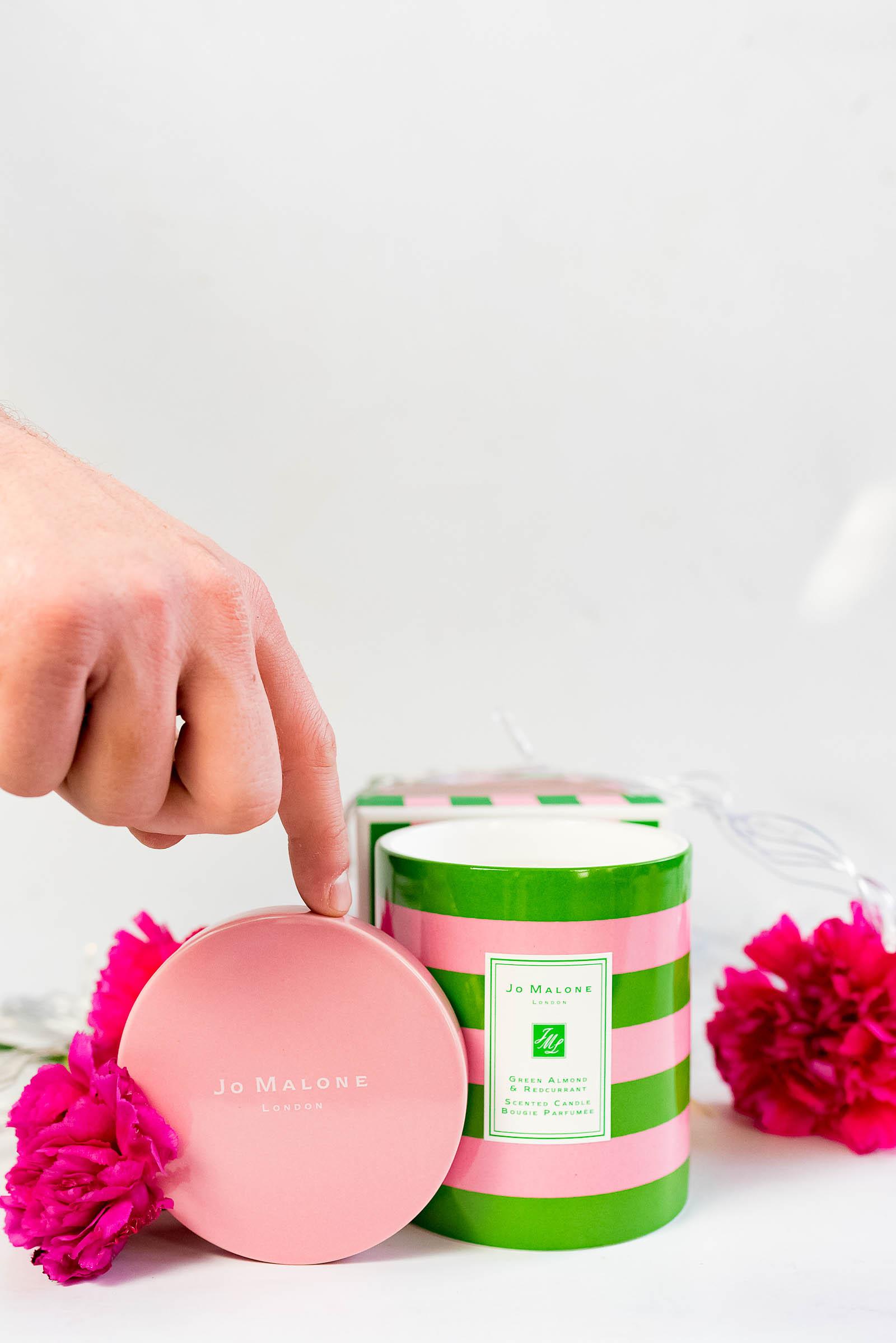 (P.s. A HUGE thank you to Hubby for assisting me behind-the-scenes of this shoot. He always helps me get things just right!)