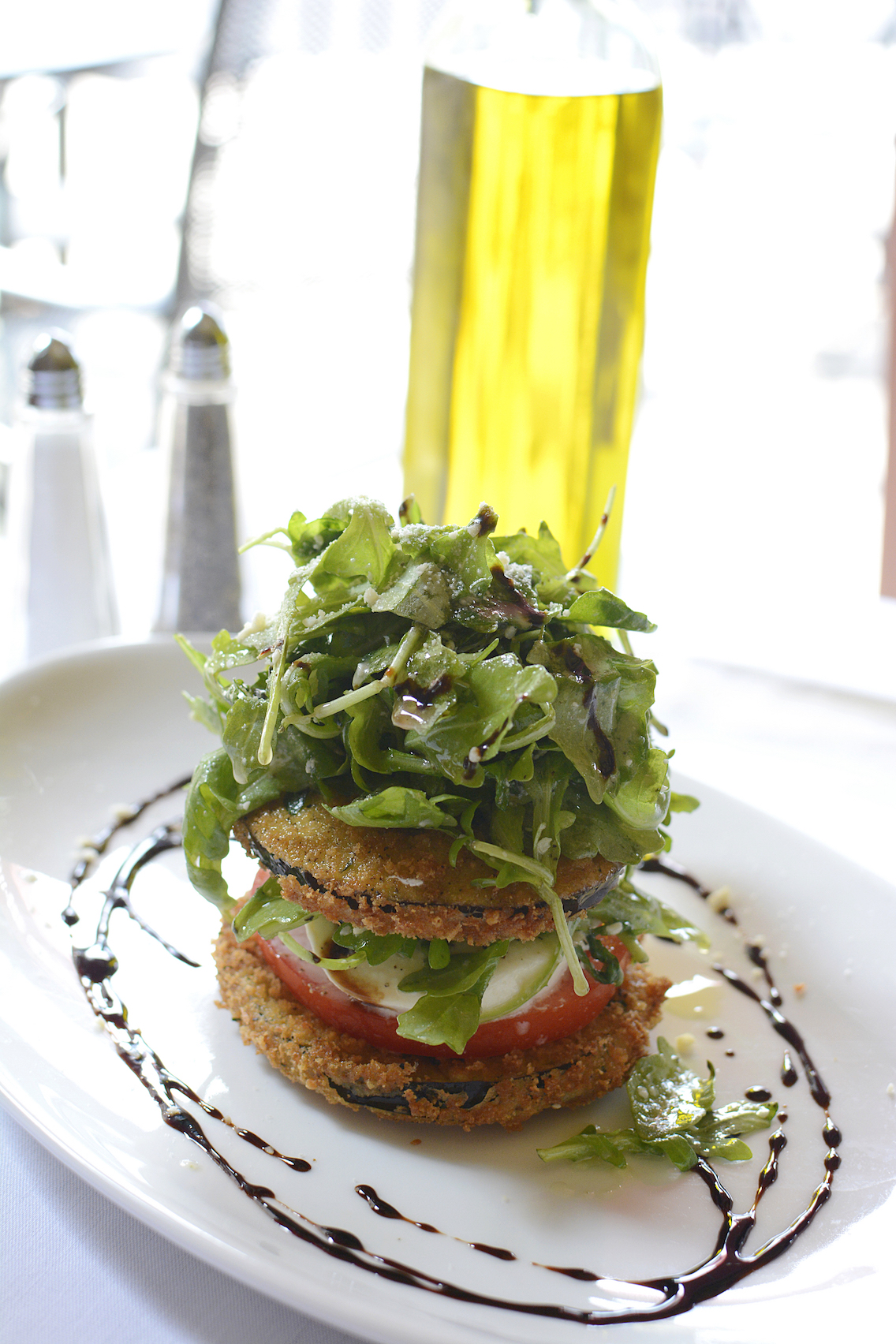 Nestled within the über-trendy West Loop is an unassuming, hidden mecca for classic Italian dishes so exquisitely prepared you'll be kicking yourself for not taking the plunge sooner.
Kicking yourself!
I'm of course talking about Viaggio — a family-owned restaurant with a killer reputation (don't believe me? The proof is in their glittering Yelp! reviews).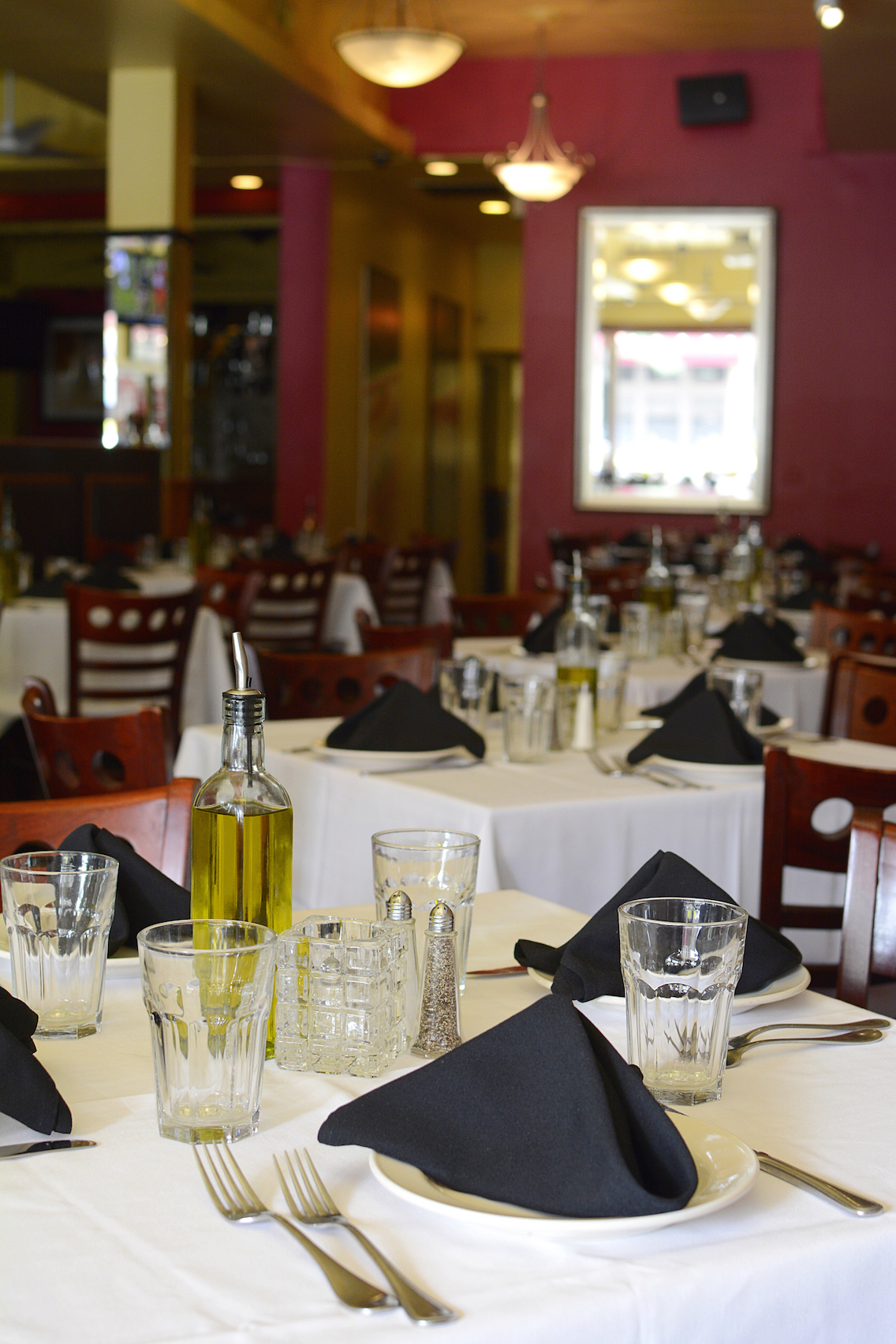 The space is comfortable and unpretentious — Hubby and I found it such a breath of fresh air from all the du jour fad restaurants one street over on Randolph.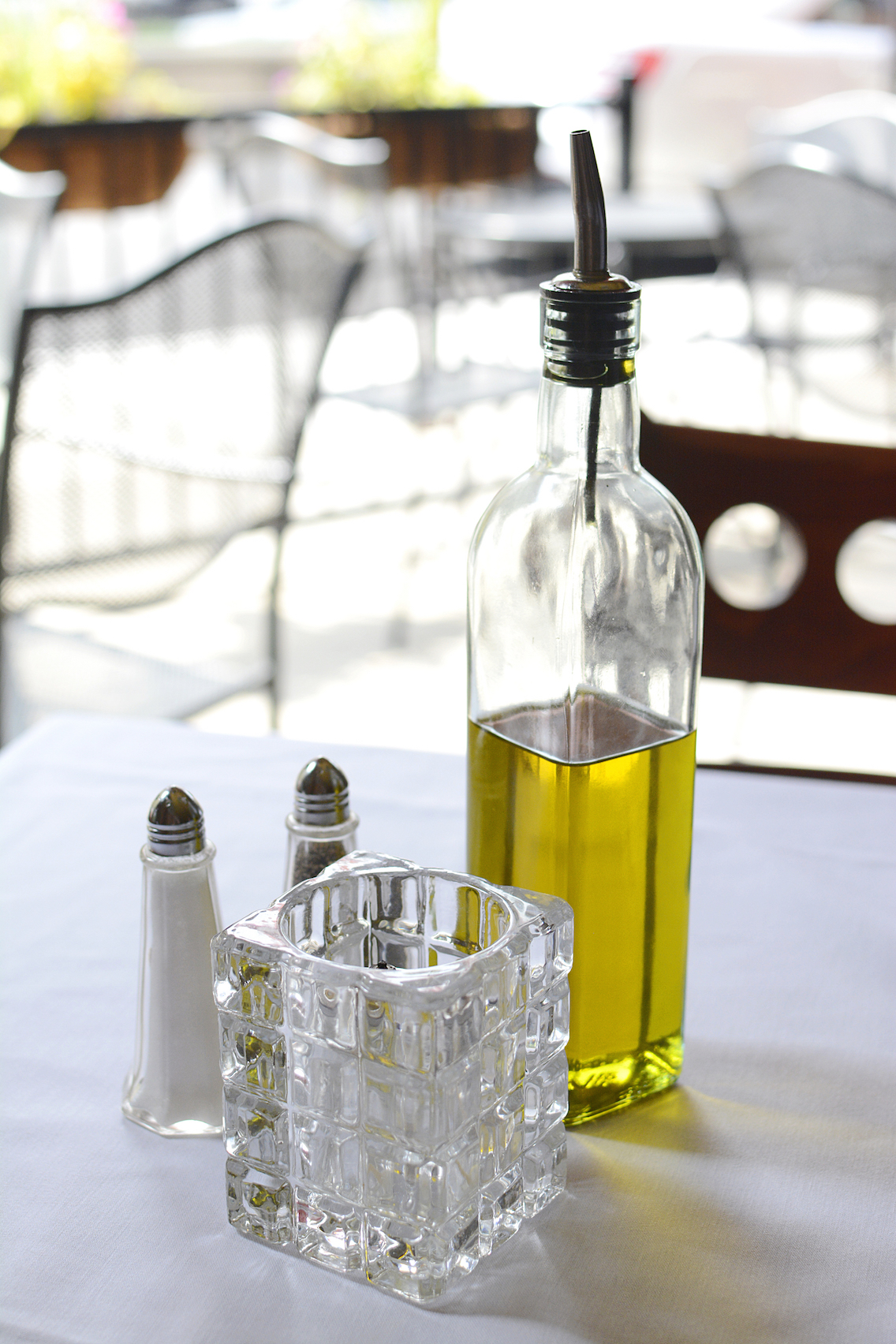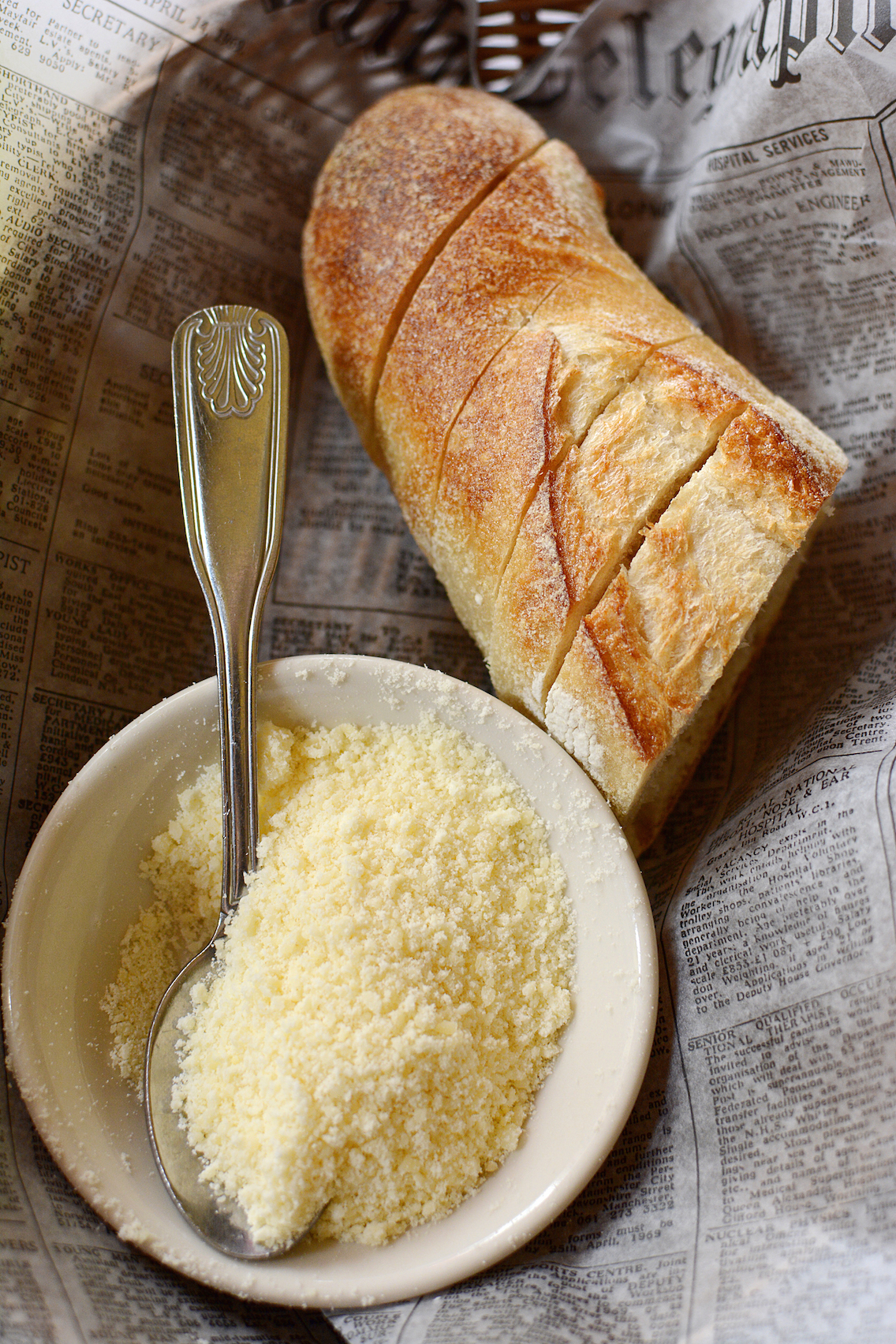 If there's one truth about restaurants, you can always judge their quality by the bread they serve and Viaggio's was some of the best I've had all summer: crusty, rich, and served with plenty of parmesan for umami. Heaven!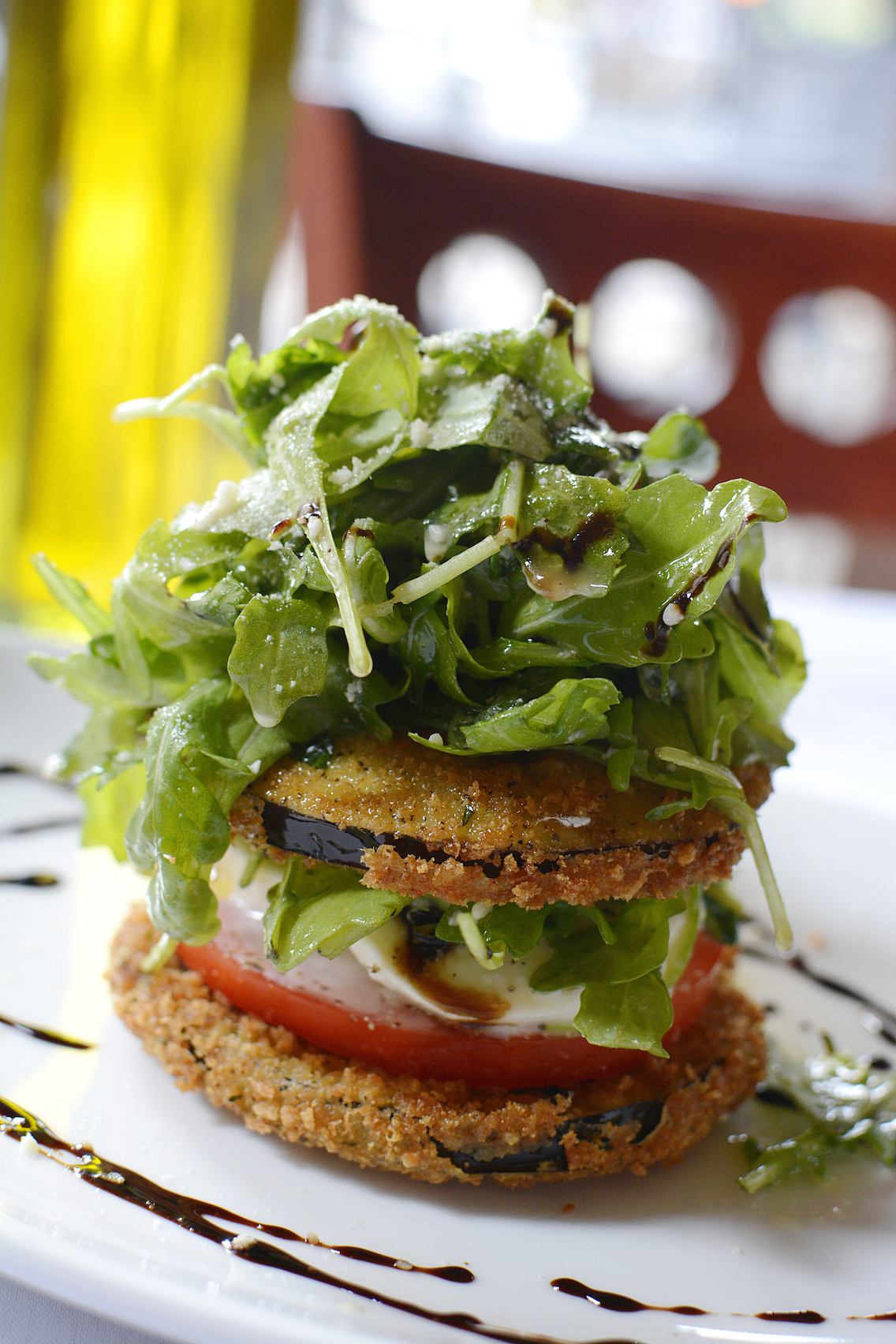 Now if there's one dish Viaggio is known for (besides their meatballs), it's this legendary Eggplant Stack.
Fried eggplant simply stacked with fresh mozzarella, beefsteak tomatoes, and peppery arugula all harmonizing together the way you WISH most eggplant parmesan dishes would.
Generally speaking I don't particularly care for eggplant — I love it when it's prepared properly but I can't tell you how many times I've been disappointed by an order of eggplant here in Chicago (hello, soggy!).
Viaggio's eggplant is crispy and rich in flavor. And when you bite into it with the tomatoes, creamy mozzarella, and all the herby flavor from the arugula… well, you may just hear gondolier's serenading around you. It really is that delicious!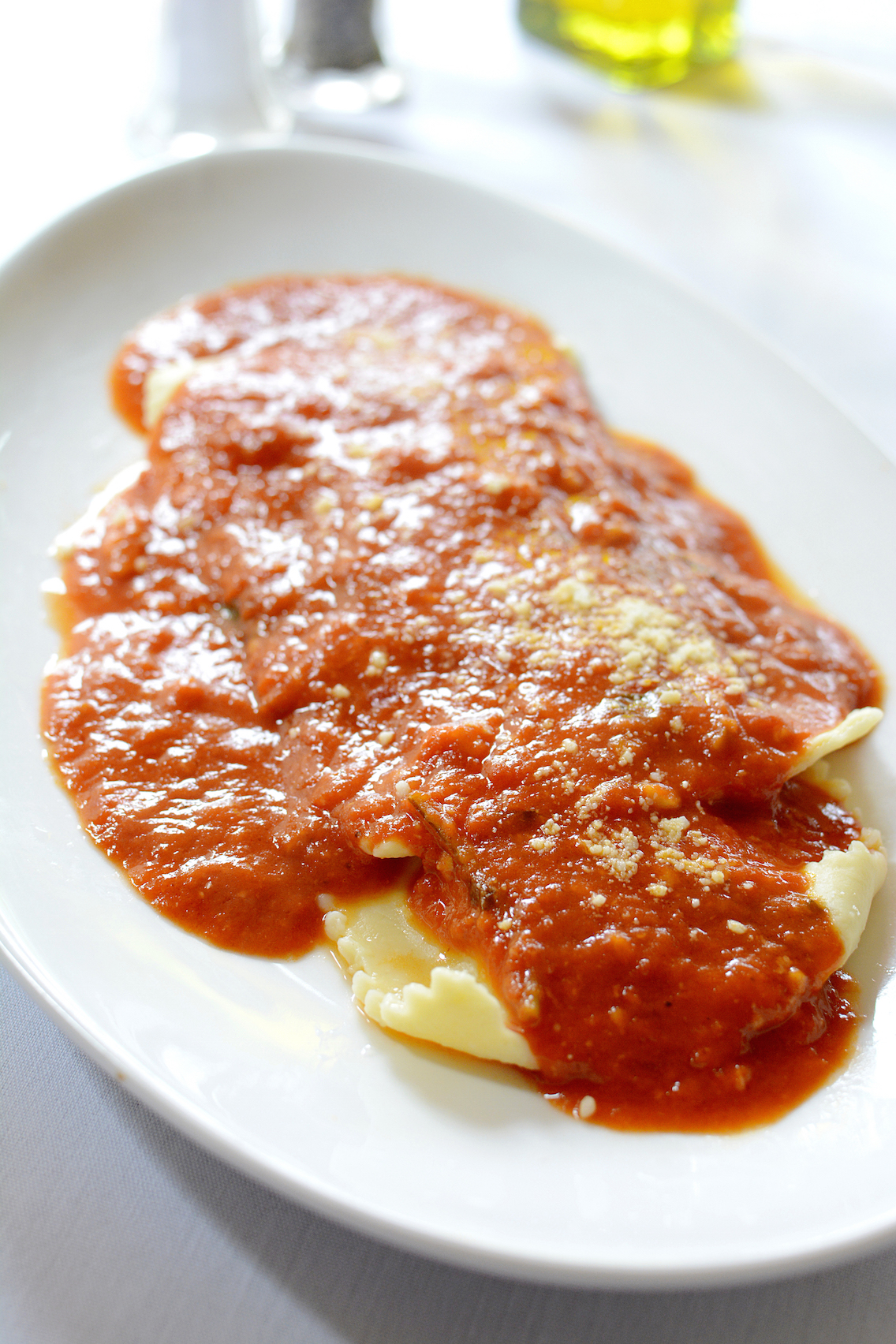 For our entrées Hubby opted for his favorite Italian comfort food: Cheese Ravioli.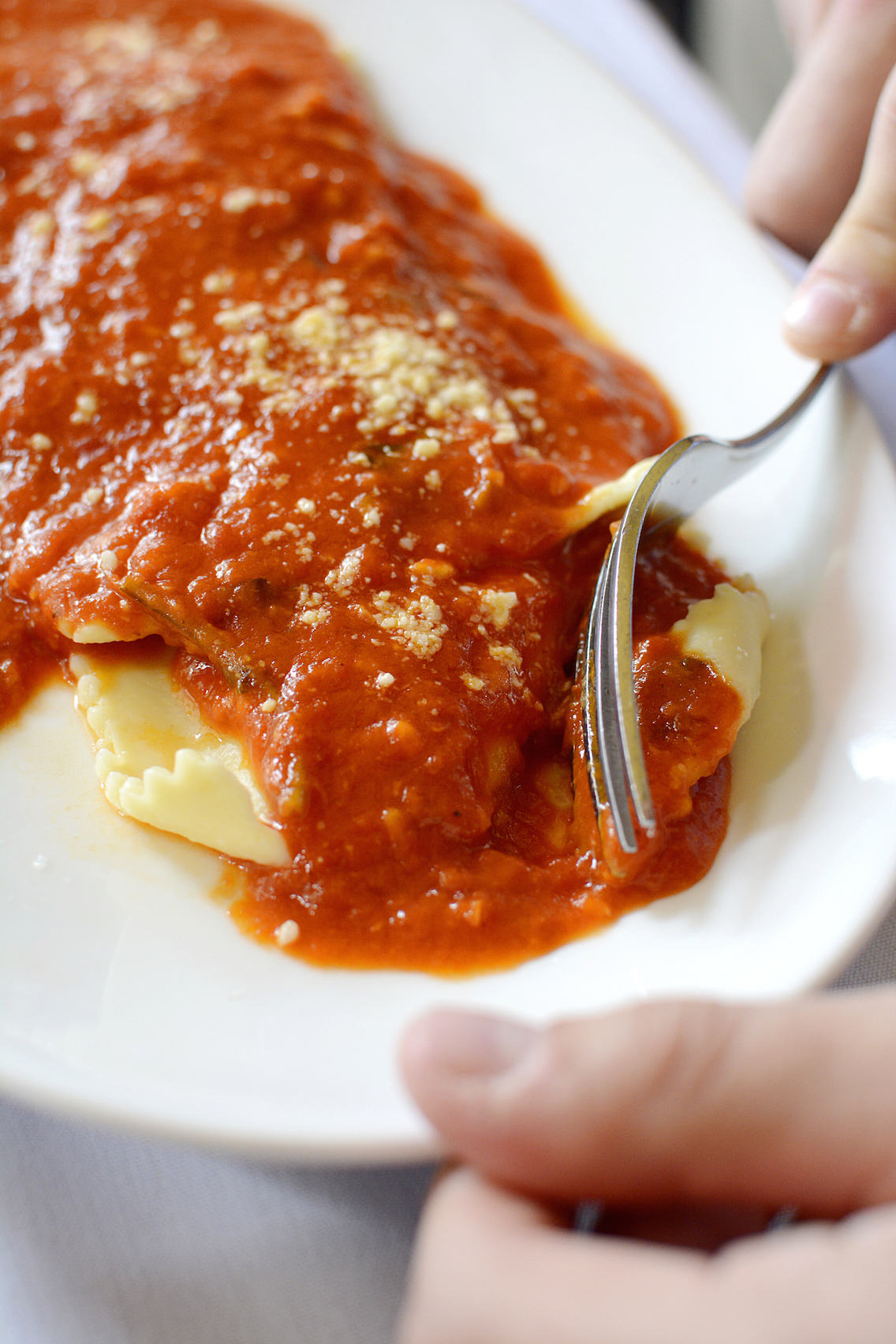 Served with fresh marinara this is a simple dish prepared to perfection. The sauce was zingy and bright…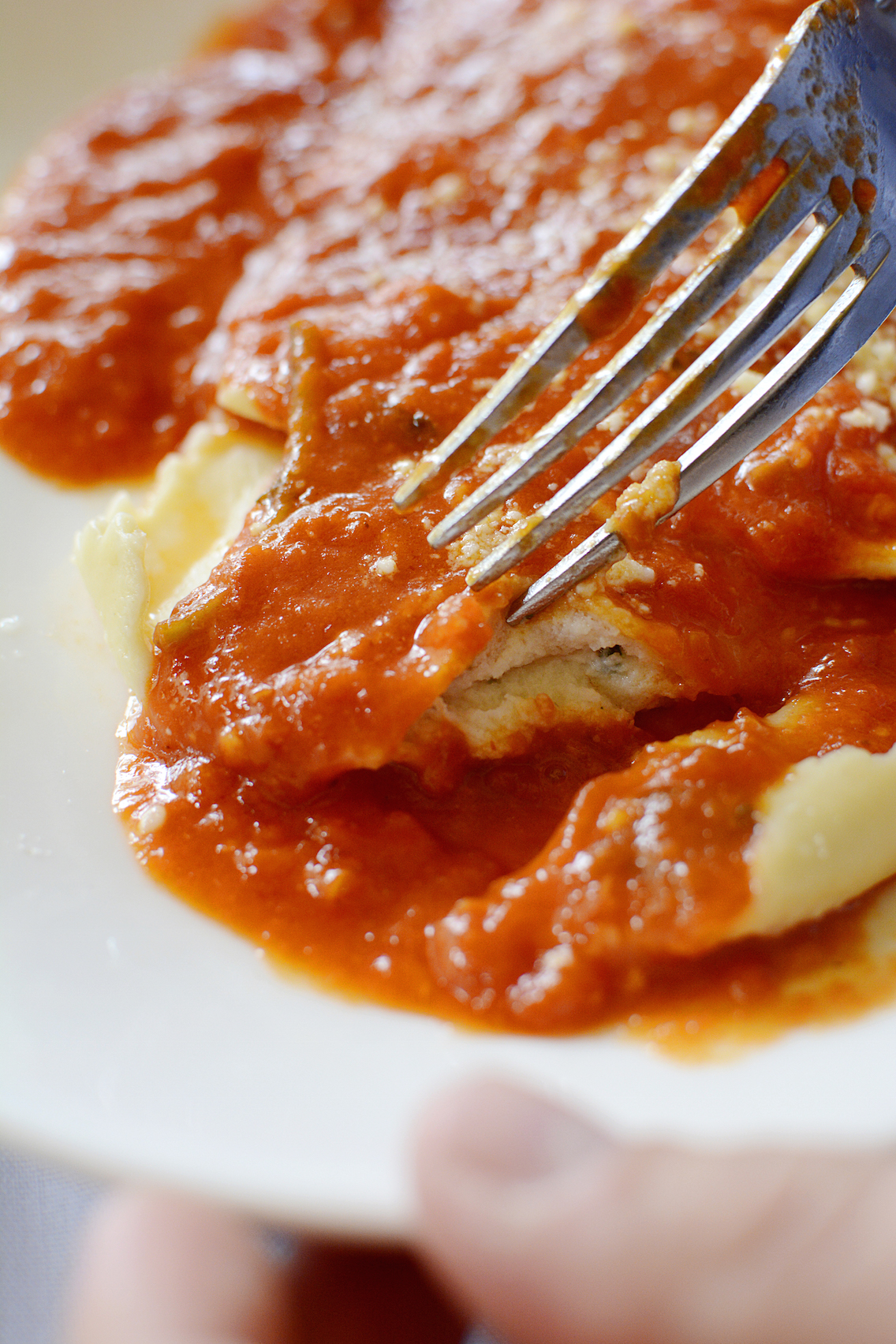 And the cheese filling was rich and robust — not lost in the pasta and sauce like so many other ravioli dishes.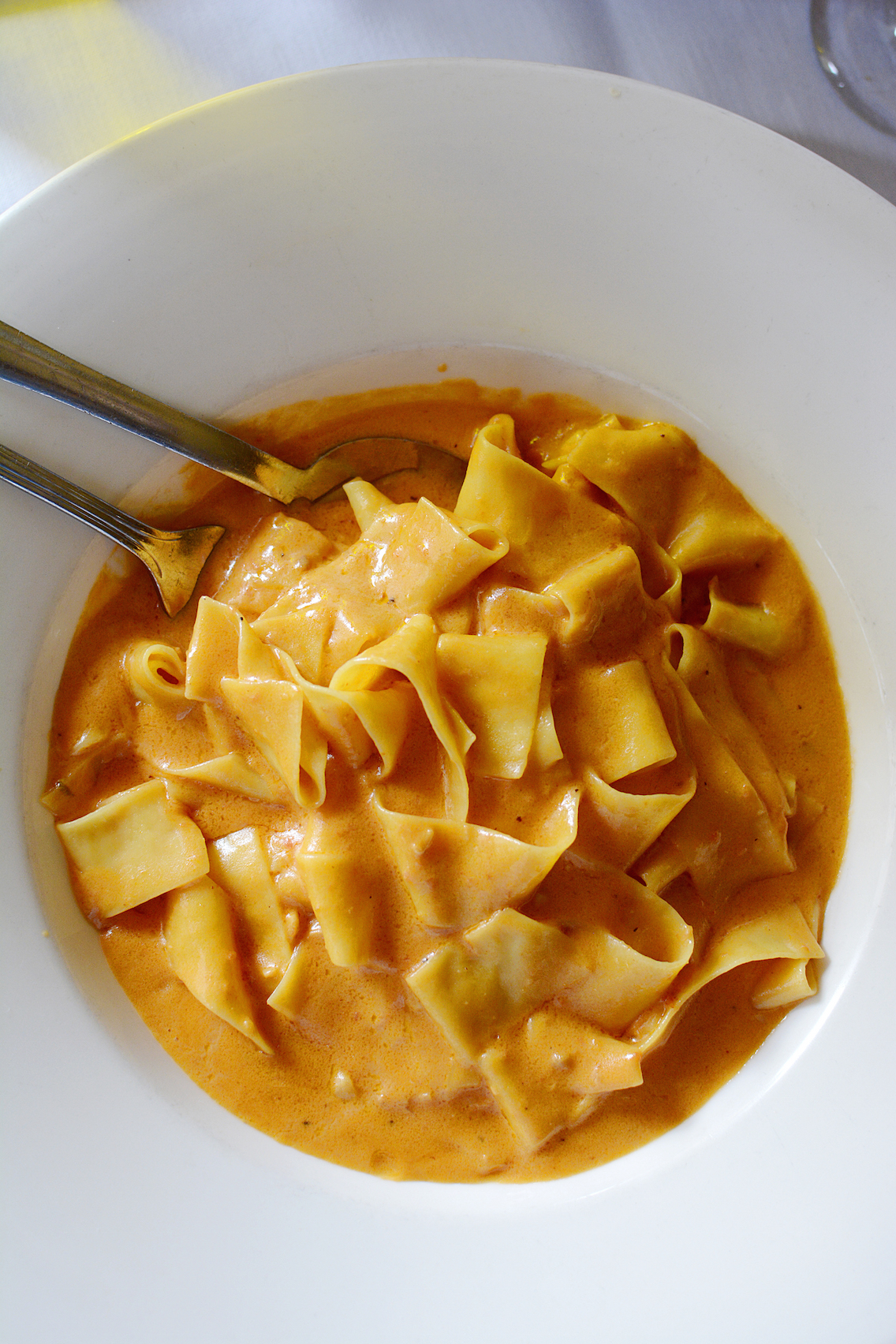 As a self-proclaimed vodka sauce addict, I've known my fair share of disappointments. Vodka sauce in concept seems so elegantly simple and yet SO MANY restaurants will try and serve you a creamy marinara called vodka sauce.
I can't believe how many restaurants forget the vodka — its such an important component of vodka sauce (it is in the name, after all)! The alcohol forces the tomatoes to release so much flavor that would be lost otherwise — it's so easy to tell when it's been forgotten!
So for my entrée I opted to try Viaggio's vodka sauce with pappardelle pasta and held my breath…
But, WOW!
Finally a restaurant that knows how to prepare vodka sauce right! The acidic bite is rounded out beautifully with the cream to form the kind of comfort food pasta dish I'll be craving throughout the fall and winter (DANGER: Viaggio is available for delivery on DoorDash — my skinny jeans are going to HATE me).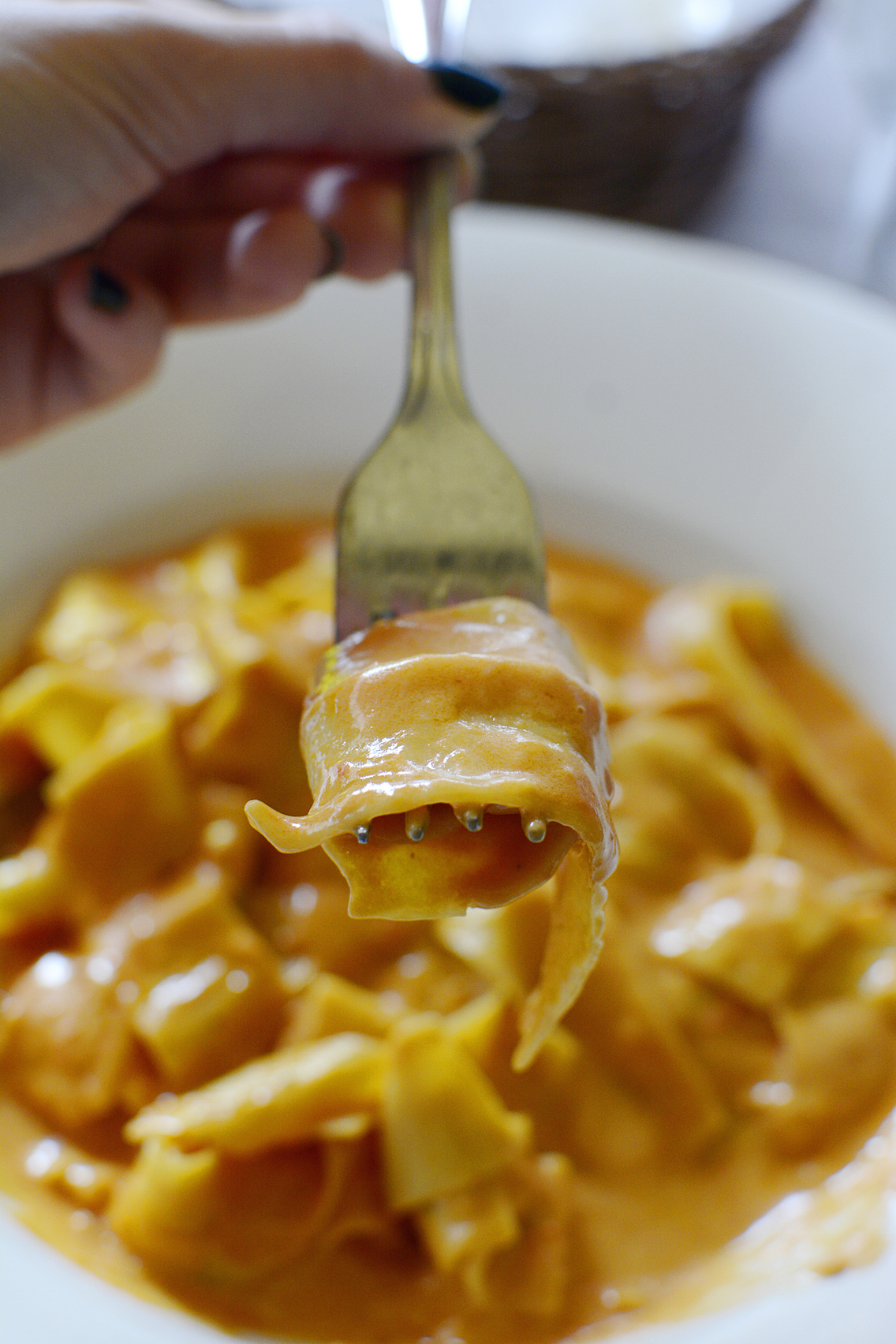 Care to try a bite?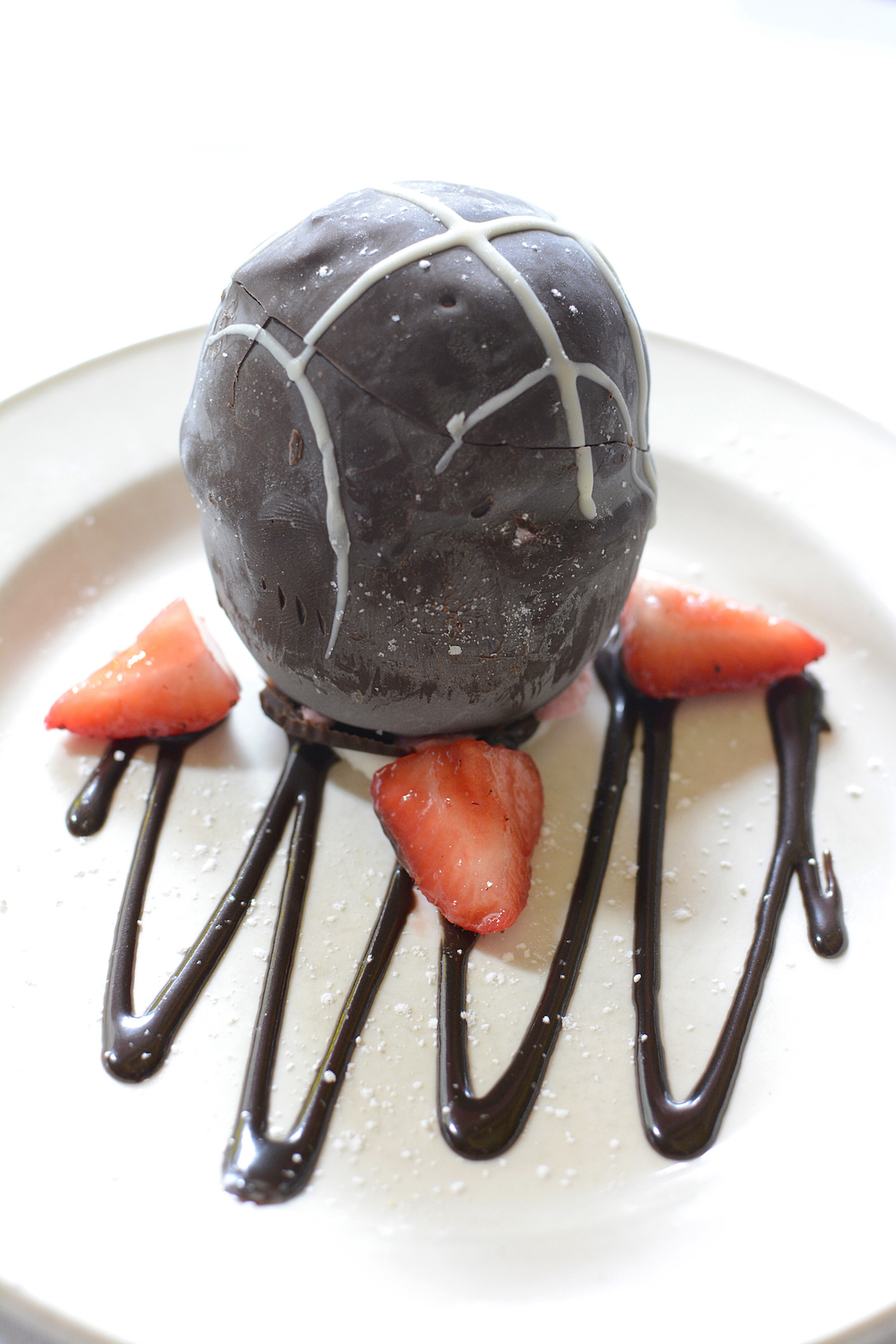 And despite stuffing ourselves to the brim with food, Hubby and I still couldn't resist the allure of Viaggio's desserts.
Particularly this Spumoni Bomb Explosion.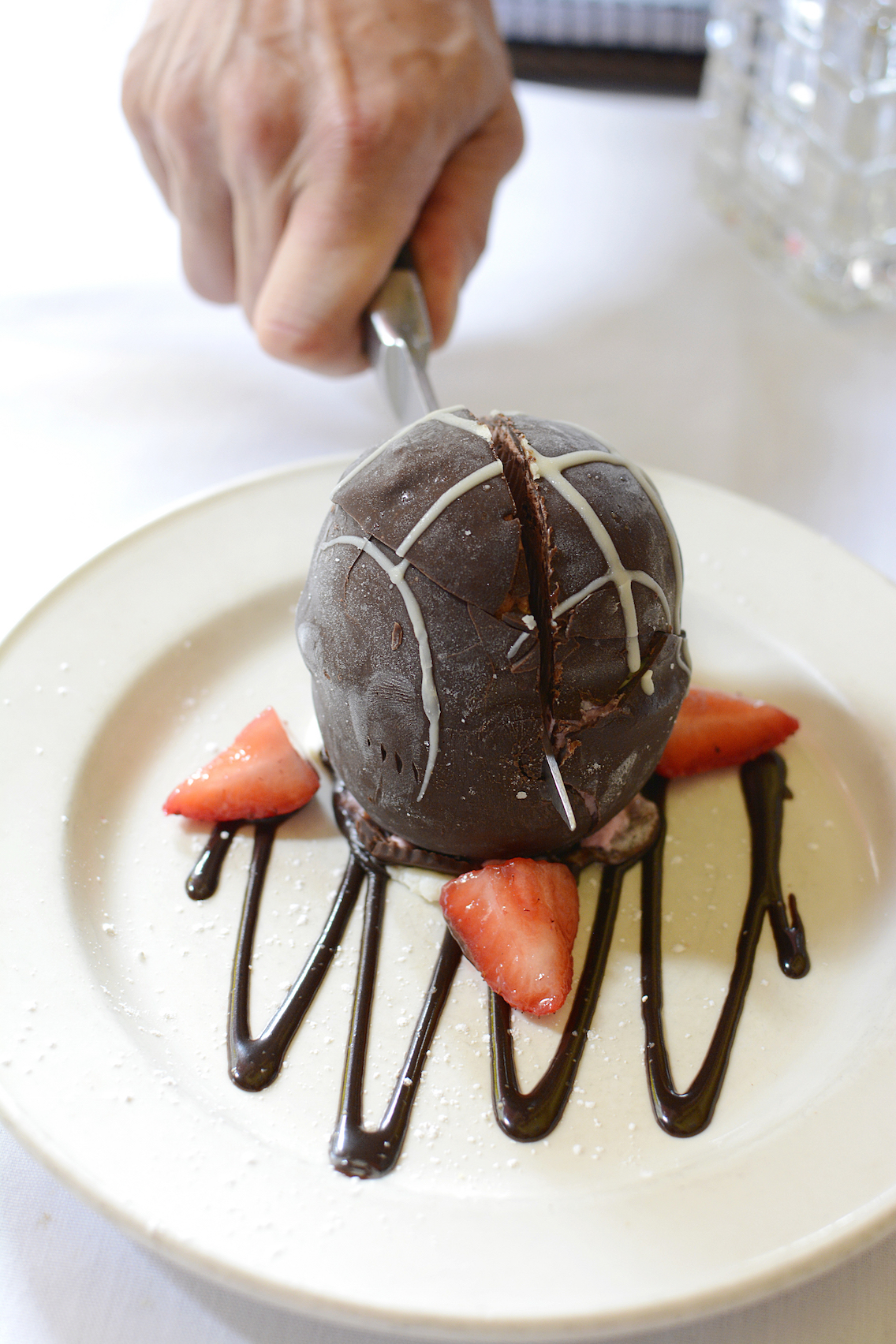 Simple on the outside, this chocolate ball hides a delicious secret…

A stacked filling of spumoni ice cream (chocolate, pistachio, and cherry)!
Be still my spumoni loving heart! Creamy, rich, and oh-so-photogenic, Hubby and I consumed this dish mere moments after these photos were taken. It's was so. good. And gone in a flash!
Next time you're in the West Loop looking for a high-quality meal that will exceed your expectations without breaking the bank, grab a seat at Viaggio, order the eggplant stack, and be prepared for your tastebuds to be serenaded with a sweet Italian culinary tune you won't find anywhere else.
Hubby and I will be back very soon, Viaggio!
Disclosure: I received a complimentary meal to facilitate this post. Review and all opinions are my own.