"Christmas, my child, is love in action. Every time we love, every time we give, it's Christmas."
— Dale Evans
SHOP THE LOOK:
Coat – Vintage via Etsy (similar) || Sweater – Asos || Leggings – Amazon || Bag – Chloé Mini 'Drew' (budget-version)|| Booties – Sorel || Socks – Wigwam || Gloves – Vintage (similar) || Headband – Amazon || Lips – Burberry Beauty Kisses Gloss in 'No. 109 Military Red'
Photos courtesy of my sister Emily
It's Ugly Christmas Sweater Day next Friday!
Are you ready for it???
Ugly Christmas Sweater Day may be my favorite holiday of the year.
Because despite how poised and elegant I often look here on the blog, I'm a huge dork in reality.
I love dressing well, obviously.
And I love dressing UP.
But I have a secret love for extra kitschy things like ugly christmas sweaters that I'll problem never grow out of.
Especially ugly christmas sweaters featuring pugs. I've only worn one for the last three years straight (2016 || 2015 || 2014)!
And one time a year I let this kitsch-side of myself out to play. One time a year — on Ugly Christmas Sweater Day — I can truly feel like I'm representing the playful side of my wardrobe.
Don't have your 2017 Ugly Christmas Sweater picked out yet? Here are a few of my absolute favorites this year: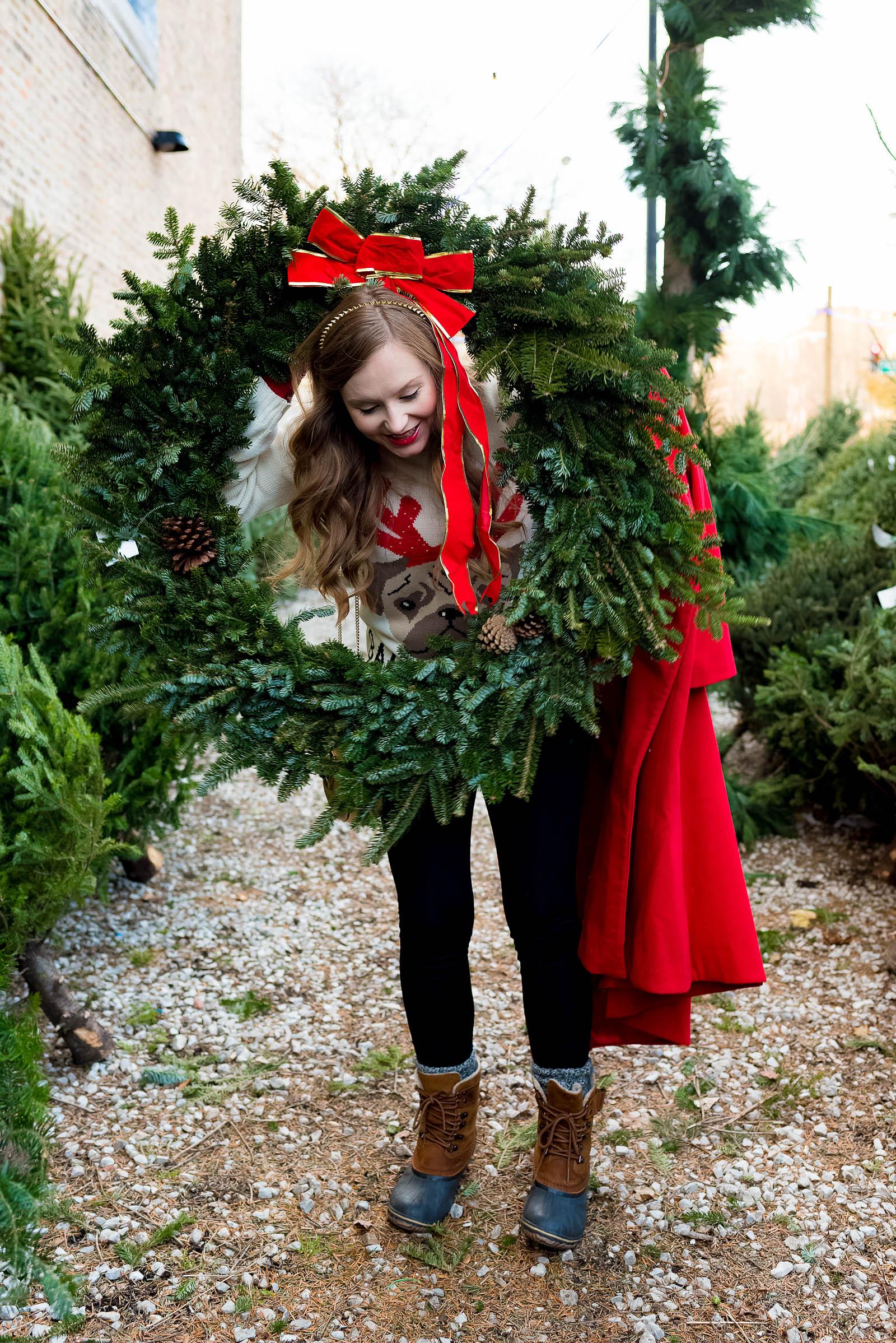 And just to end this post on an even sillier note, this shot is what happens when you try to be cute and stick your head through a wreath for a shot and instead fail miserably, ruining your hair style in the process.
#bloggerproblems