Since March I've been writing a monthly "What I'm Into" series to showcase all the cool, fun, and random things I've been enjoying behind-the-scenes.
It's become one of my favorite posts to write each month if only because I find so many interesting things that I really want to share with YOU but struggle to fit into themed editorials. And it's crazy how, 5 posts later, each monthly installment feels so different from the last! I've shared everything from fancy Christian Louboutin nail polish, to fresh lily of the valley blooms, to hilariously-unnecessary-but-so-necessary feather quill writing pens.
But this month's "What I'm Into" may just be my favorite yet! This month I'm sharing three of my ALL-TIME favorite finds. The sort of finds I'd put into a yearly round-up in a heartbeat because they're just THAT good. Finds I've used behind-the-scenes for YEARS and am finally sharing with you today.
So what are we waiting for? Let's dive in already!
Perhaps my favorite candle of all-time!
Don't let the name fool you — this candle isn't JUST for hippies and stoners, I assure you. In fact, it's easily one of the most sophisticated scents I've ever come across, not to mention one of the most alluring gender-neutral scents I've discovered. Sexy, peppery, earthy, raw, and especially beautiful to light in the summer season — one whiff and you'll quickly understand why this simple little green candle has assented to cult status among fashionistas.
While the price of this candle can be hard to swallow, the power of it will WOW you. Lighting this for just 20 minutes FILLS our home with scent. The throw of this tiny candle is amazing.
I snag mine at Arch Apothecary here in Chicago but you can find Malin + Goetz at Bloomingdales and Barneys too!
Concord Grapes
The last week of July has always been one of the most exciting weeks for me! It's when stores and farmer's markets here in Chicago finally start carrying Concord Grapes.
Named after Concord, Massachusetts, concord grapes are significantly tarter and less sweet than other grape varieties. And their texture feels completely different to bite into, with the fruit being a firm, clear, ball with seeds in the center that are fun to nibble into. Concord grapes were always one of my favorite fruits to enjoy as a child.
Truth is, I don't know why I always get so excited to see concord grapes hit shelves but I do. Every late summer, I can't help myself from buying multiple cartons and diving into them with a glass of wine like it's my job…
Nail polish is one of my favorite things (you had to know that considering how many I've showcased here on the blog over the years). And one of the coolest things I've ever discovered is matte top coats. While traditional top coats leave nails shiny and glowy, matte top coats leave them looking like velvet. It's the easiest way to stretch out a nail polish collection — one color given a matte finish ends up looking like a totally different color all-together making any nail polish a 2-for-1!
I especially love matte finishes near the end of summer when I get tired of traditional manicures and pedicures and want something different. Since I don't have the skills or patience to delve into more sophisticated nail art, matte finishes are a great alternative for someone like me!
My favorite matte top coat is by Chanel but unfortunately it's currently unavailable but hopefully will be back in stock again soon! If you see it, BUY IT! It goes so quickly in and out of stock. But I've been using this cult, matte-effect nail top coat for years and haven't found any formula that's better at making my crappy at-home manicure look professional and unique!
Until this past month I've NEVER tried a skin cleansing brush. I know, I know — HOW have I waited this long?? I've been a devoted Philosophy Microdelivery Peel addict since 2008 and was convinced NOTHING could replace it when it came to buffing and scrubbing my face without being TOO aggressive. Well, until this little brush showed up at my door!
With multiple settings and brushes you can interchange, this is one serious skincare tool! So far I've used it for 3 weeks (without using my Microdelivery Peel just to ensure I wasn't experiencing false results) and love the way my skin has been glowing. I use this everyday (instead of once a week like my peel) and find that my skin looks a tad bit cleaner. Going forward (once I'm done with a month-long trial), I'll probably use this everyday in conjunction with the peel once a week for a really clean and exfoliated complexion. I strongly suspect this may turn into a SERIOUS winning combination for my skin which is hilariously dry and yet still fabulously prone to breakouts.
Looking to investigate these skin cleansing brushes yourself? Mine is actually in the Nordstrom Anniversary Sale for a GREAT price. It's only been 3 days since the sale launched and this brush is already back-ordered so if you're on the fence, order it at the sale price and try it before it's completely sold out! I've been seriously impressed with the improvement in skin texture this has given me and always like to find a great deal on a product I love too!
Blue & White Enamel Mug (similar)
Most mornings I have a pretty strict ritual — make the bed, walk the dogs, and make my morning cup of coffee in my Chemex. I rarely ever deviate from this routine but like to keep it interesting and refreshing by finding fun mugs to sip my morning java in. I know mugs are a simple thing but I often find the simplest things can bring us the MOST pleasure in life.
I bought this lovely blue and white enamel one YEARS ago from Madewell. It's long been a favorite but lately I've slowly become obsessed with all my blue and white dishes all over again (these plates too). There's something about this classic, refreshing combination that works so well at invigorating me on a summer morning.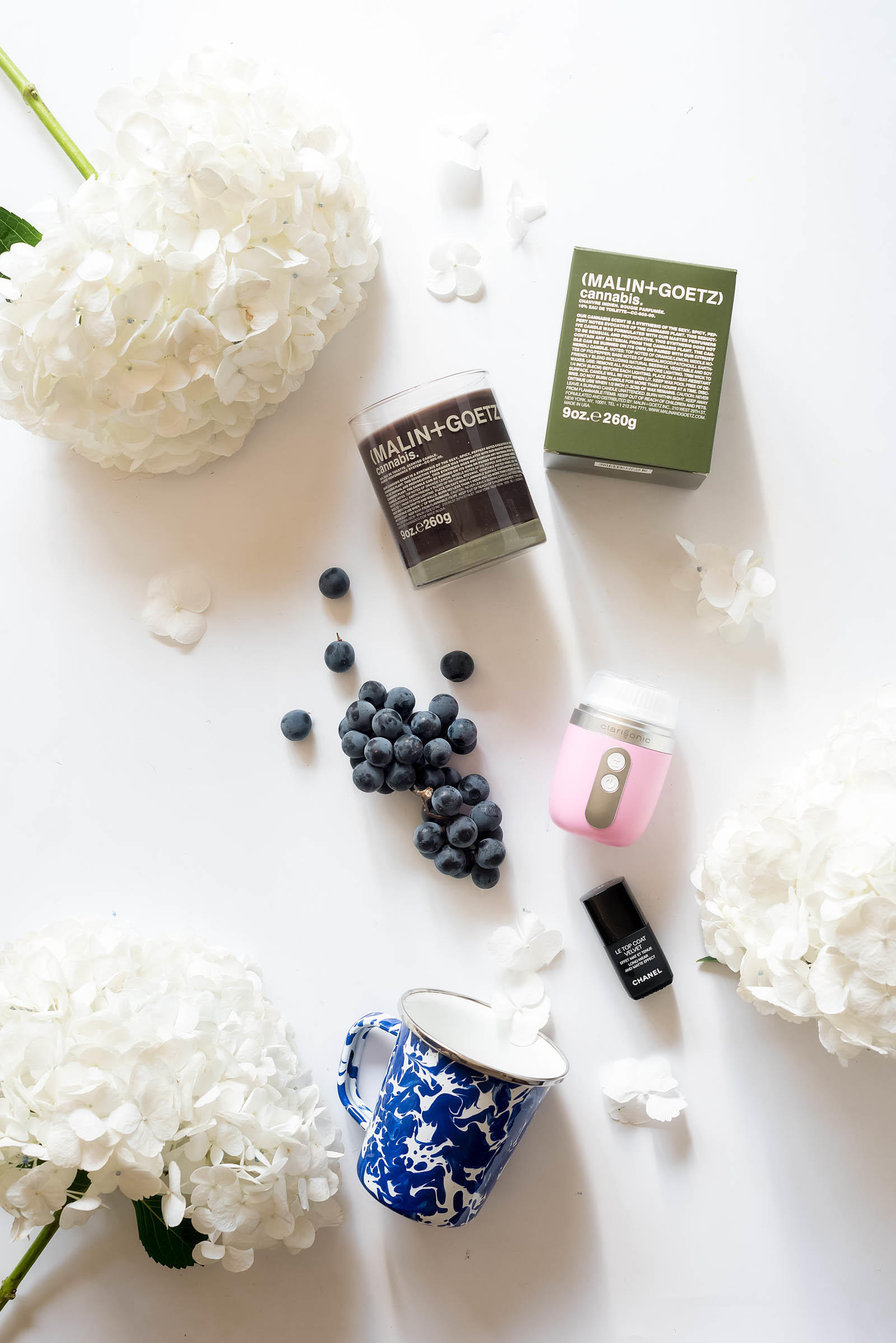 What are YOU into this July?