Every now and then…
On those truly rare occasions…
You meet a restaurant you fall MADLY, WILDLY, and ECSTATICALLY in love with.
The sort of place where every bite entices you more. The sort of menu that has you wanting to try absolutely every dish. The sort of place you happily gamble on your order at because you intuitively trust that anything they serve you will be ground-breaking, magnificent, and well-worth the risk.
The sort of restaurant like Kitsune Restaurant and Pub.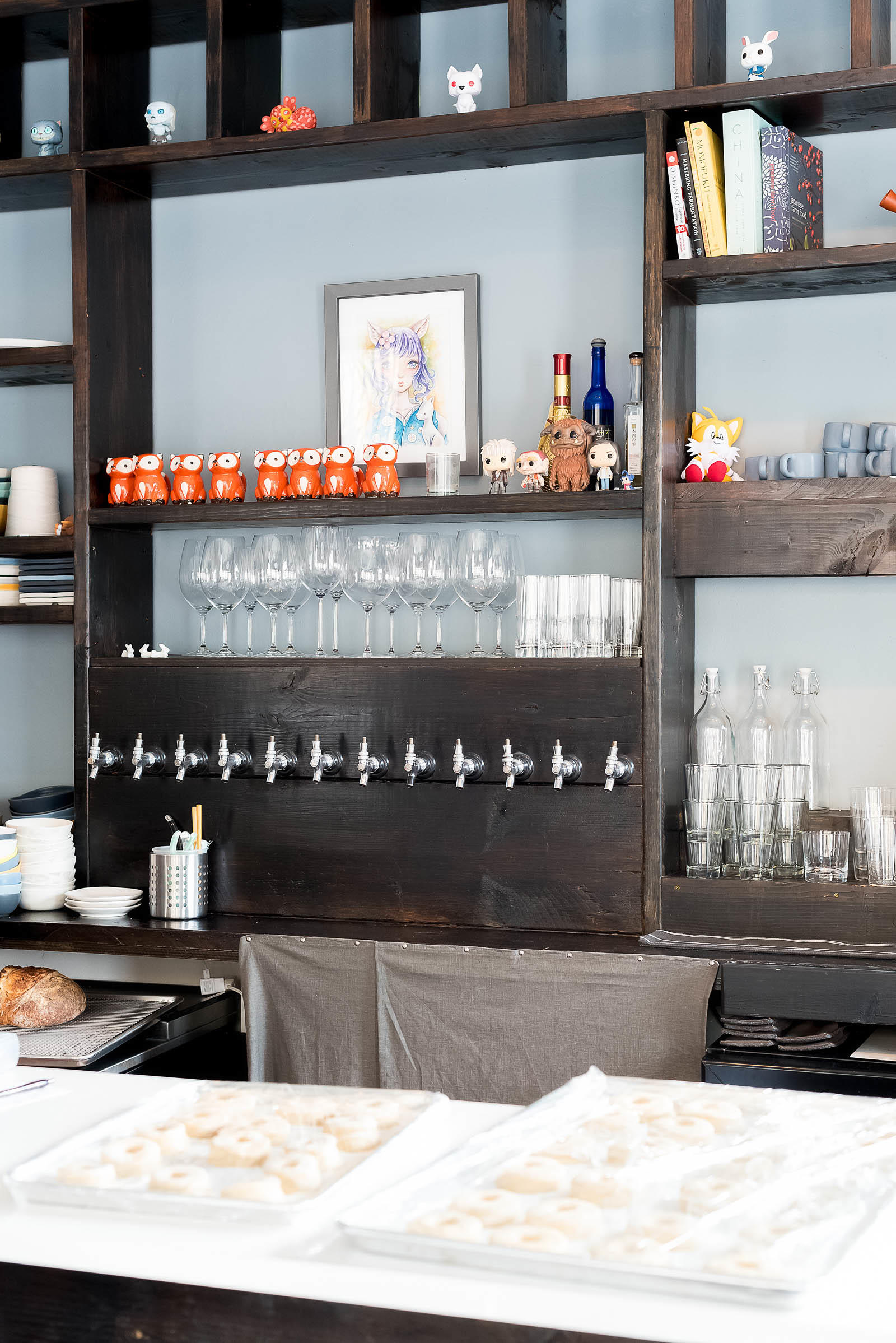 Located up in North Center in an unassuming corner space, you'll discover one of the most innovative, japanese-inspired restaurants ever to hit Chicago.
The sort of place you'll take your friends, neighbors, and family to just so you can watch them fall as in love with it as you have. The sort of place you'll want to return to time and time again. The sort of place that's just THAT good.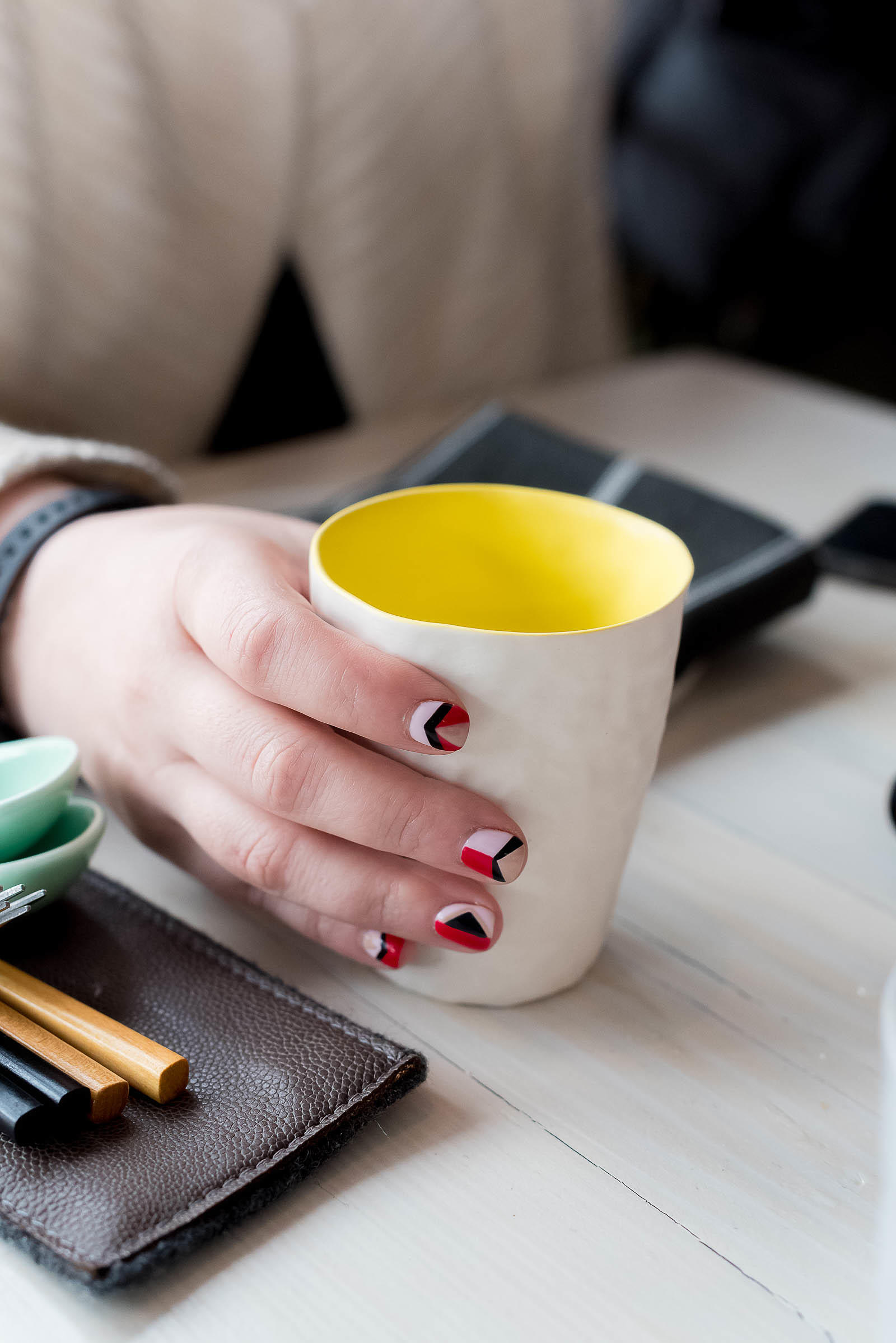 I was lucky enough to try Kitsune with two of my absolute favorite foodies: Katie from Always Hungry Chicago and Erin of 312 Food. All of us were itching to try the dishes we'd heard so much about and especially because it gave us the perfect luncheon to celebrate Erin's birthday with.
Foodies should have spectacular food on their birthdays after all! Especially at exciting new-to-us spots that leave us in a starry-eyed food coma after…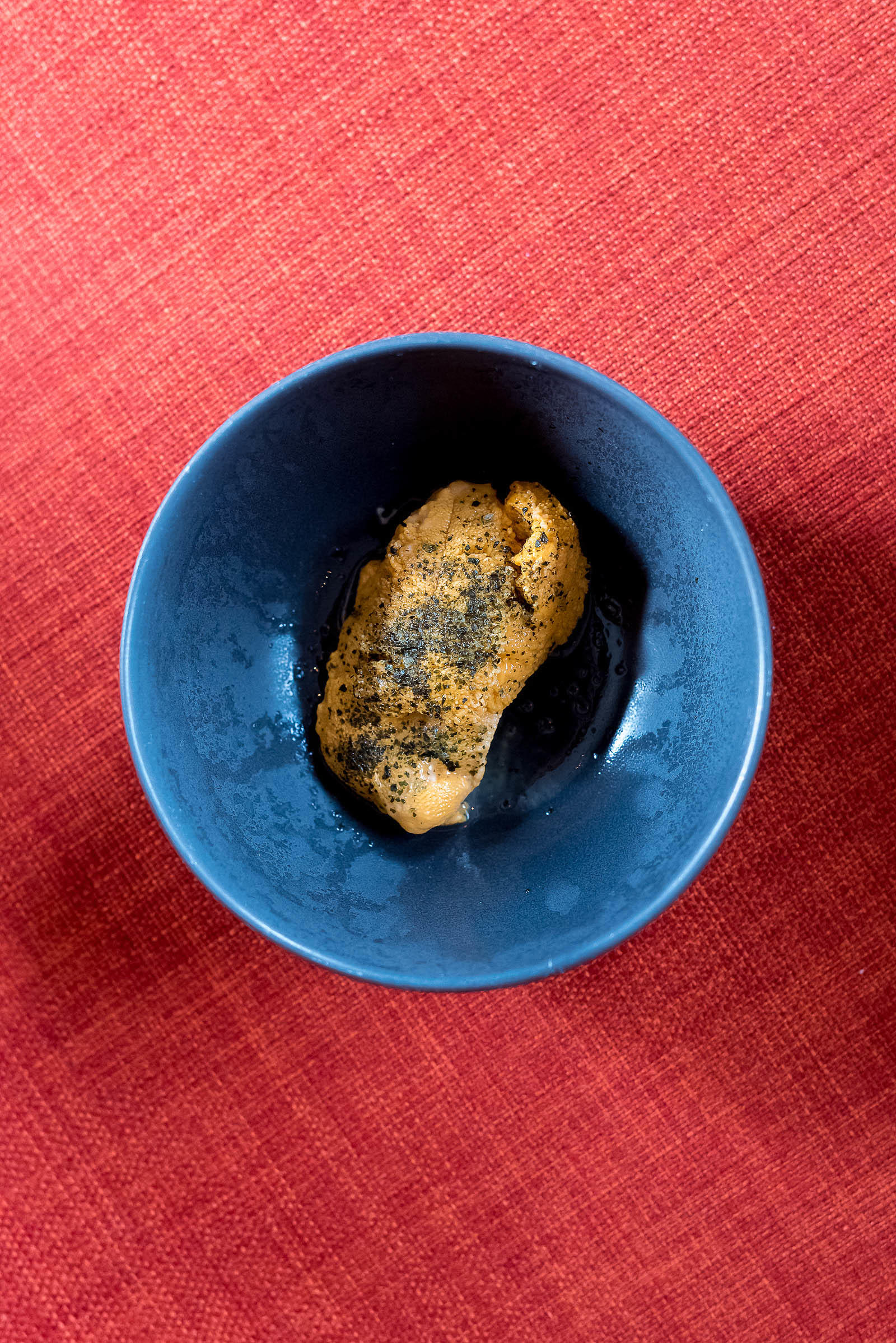 We started with a very Japanese serving of fresh uni.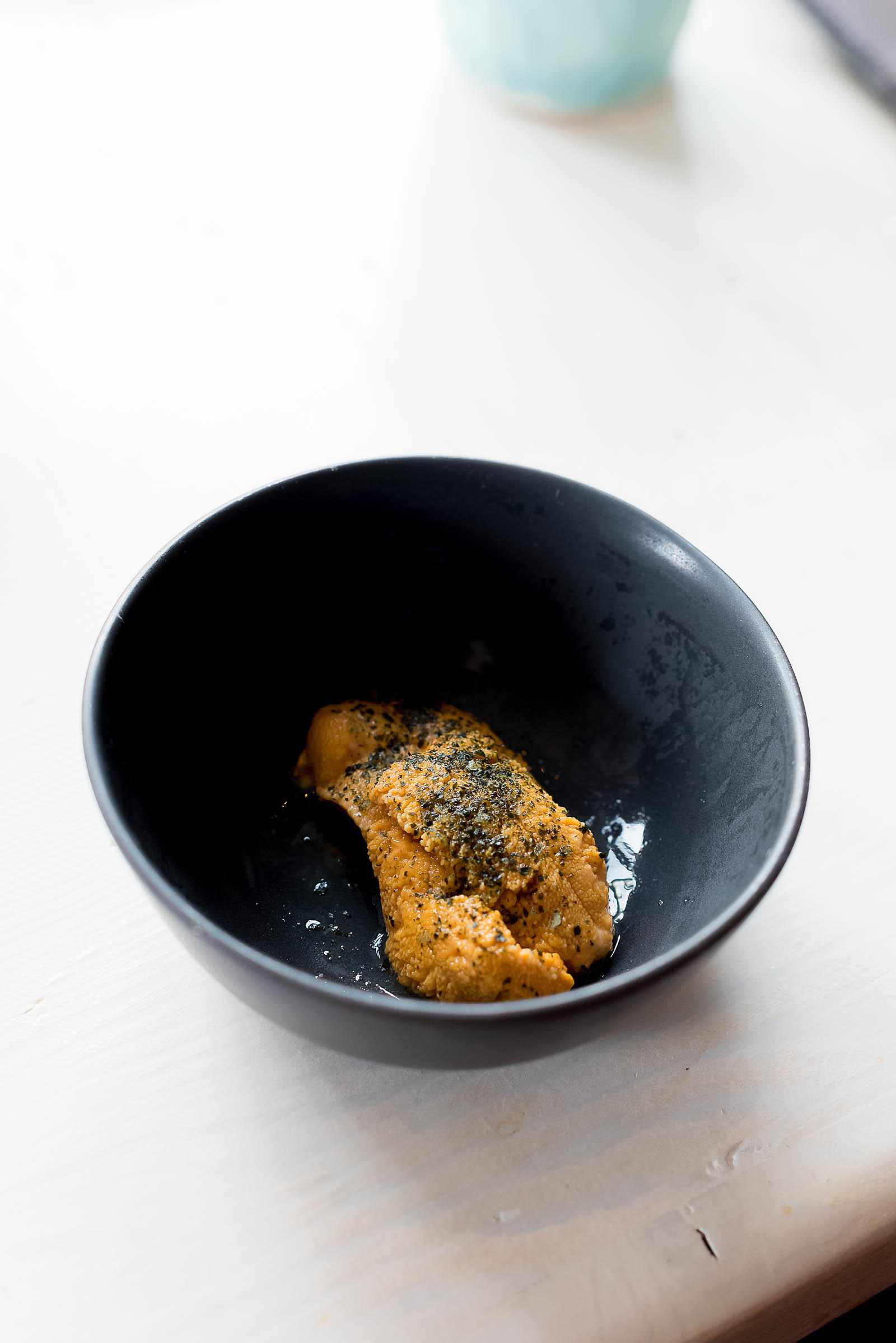 Prepared with Yuzu, the uni bite has a creamy, distinctive flavor. If you've never had uni, Kitsune's is certainly the place to try it at — it's very approachable in the way it's presented and small in portion size so it's not TOO intimidating for uni amateurs.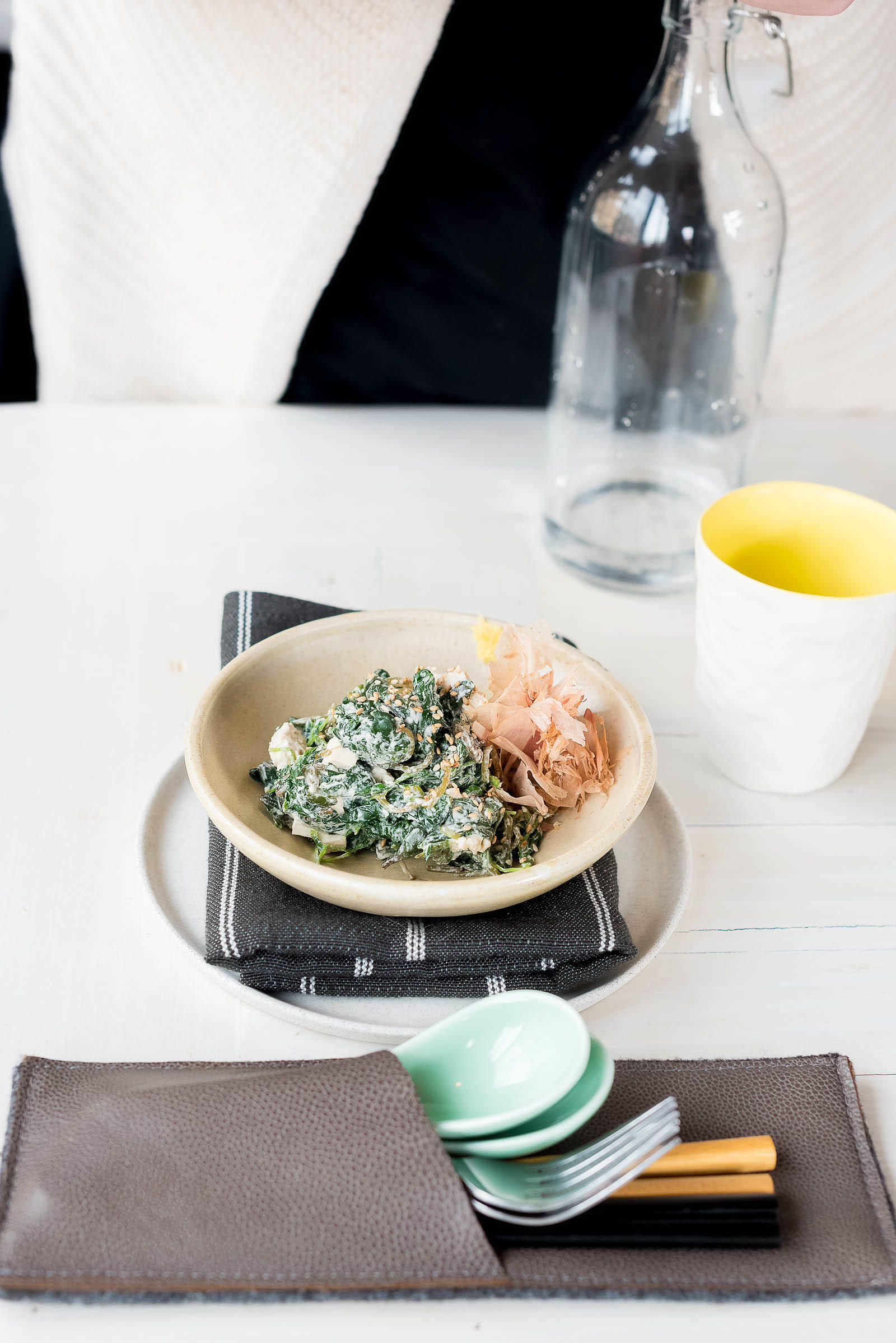 And it paired beautifully with this innovative Gomae salad.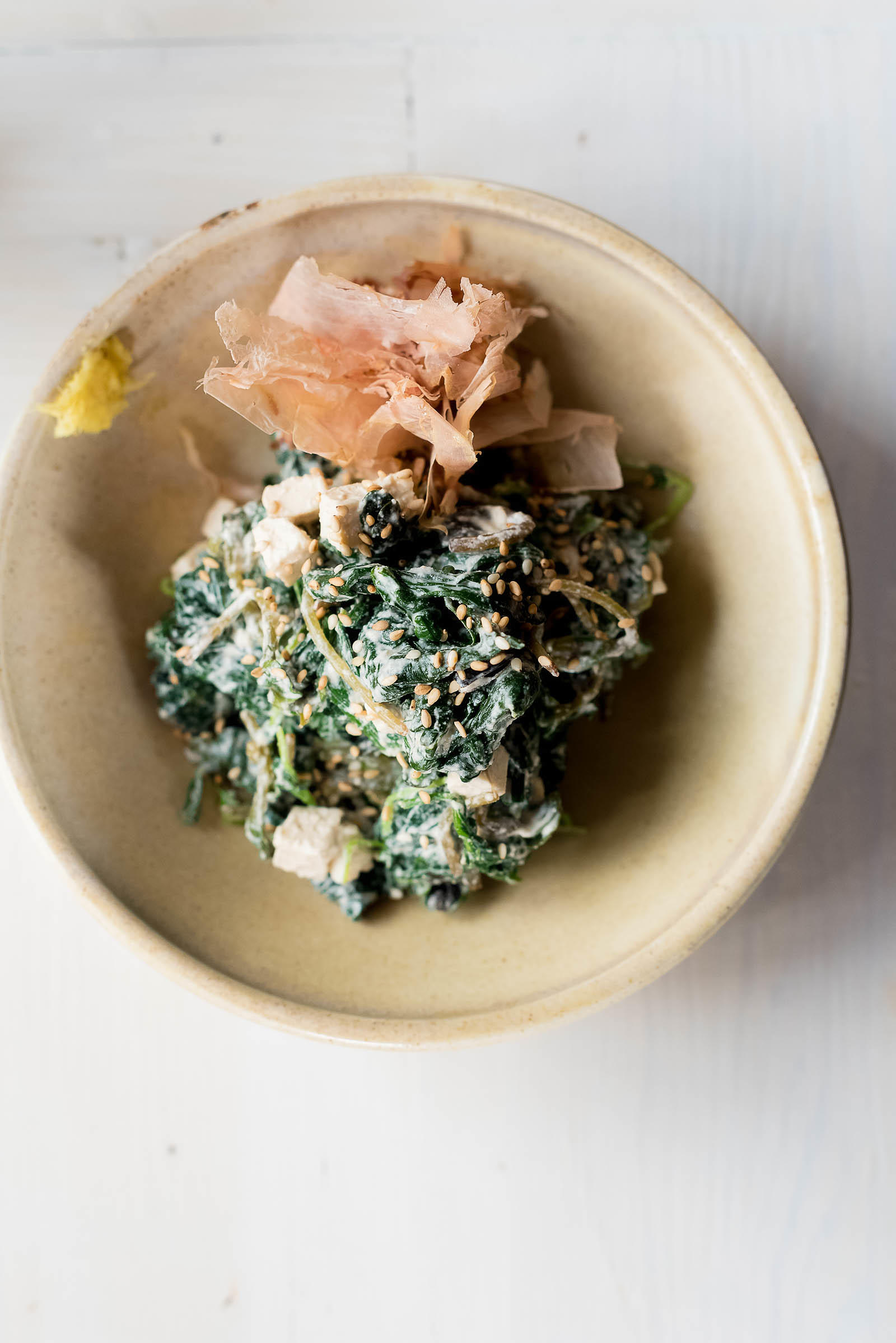 Gomae is a prepared salad of blanched spinach and served with katsobushi and fresh ginger. It makes for a smooth, fresh bite, especially coupled with the pungent fresh ginger served on the side.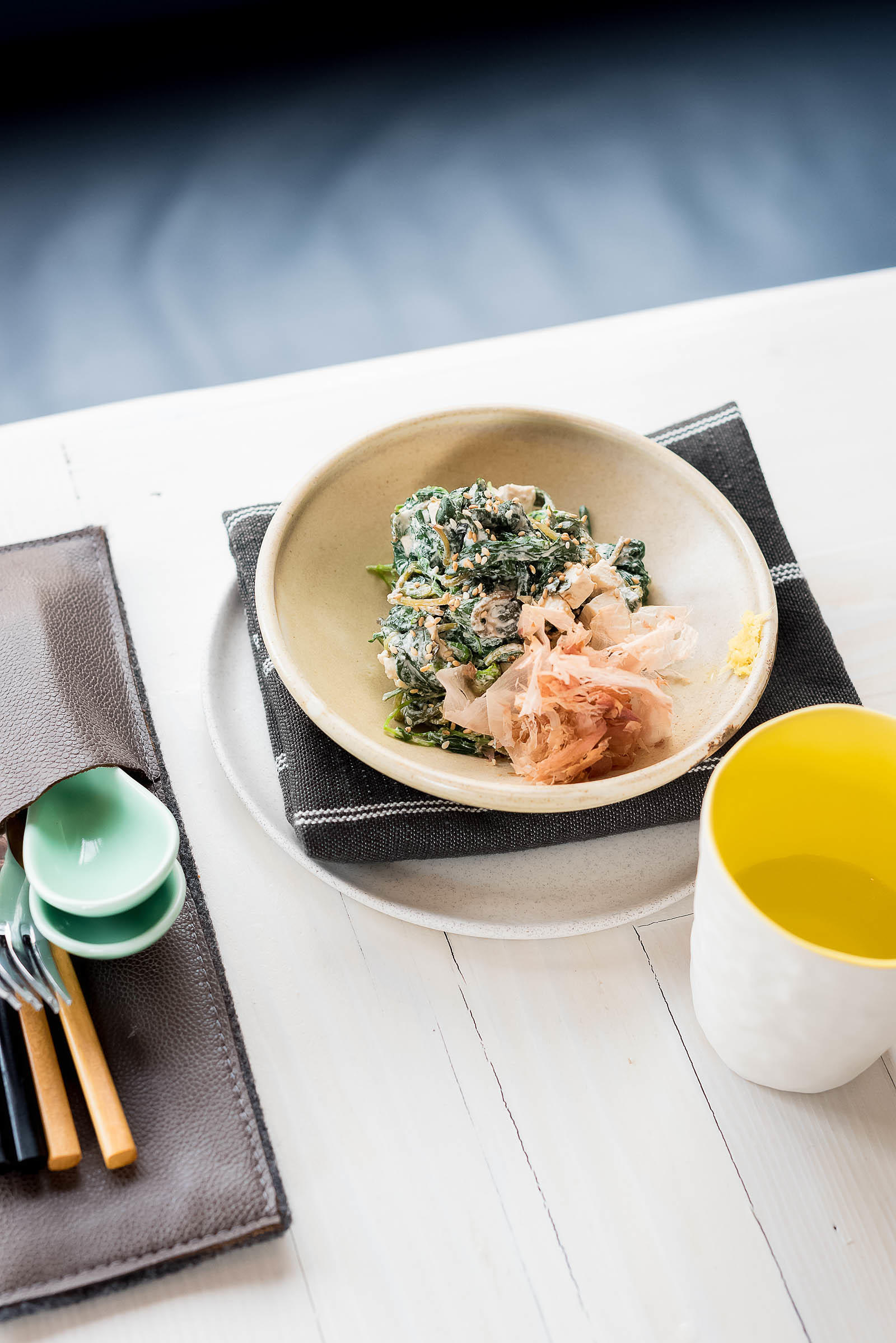 If you've never had gomae salad, it's a delicious side dish to compliment to all the other dishes at Kitsune.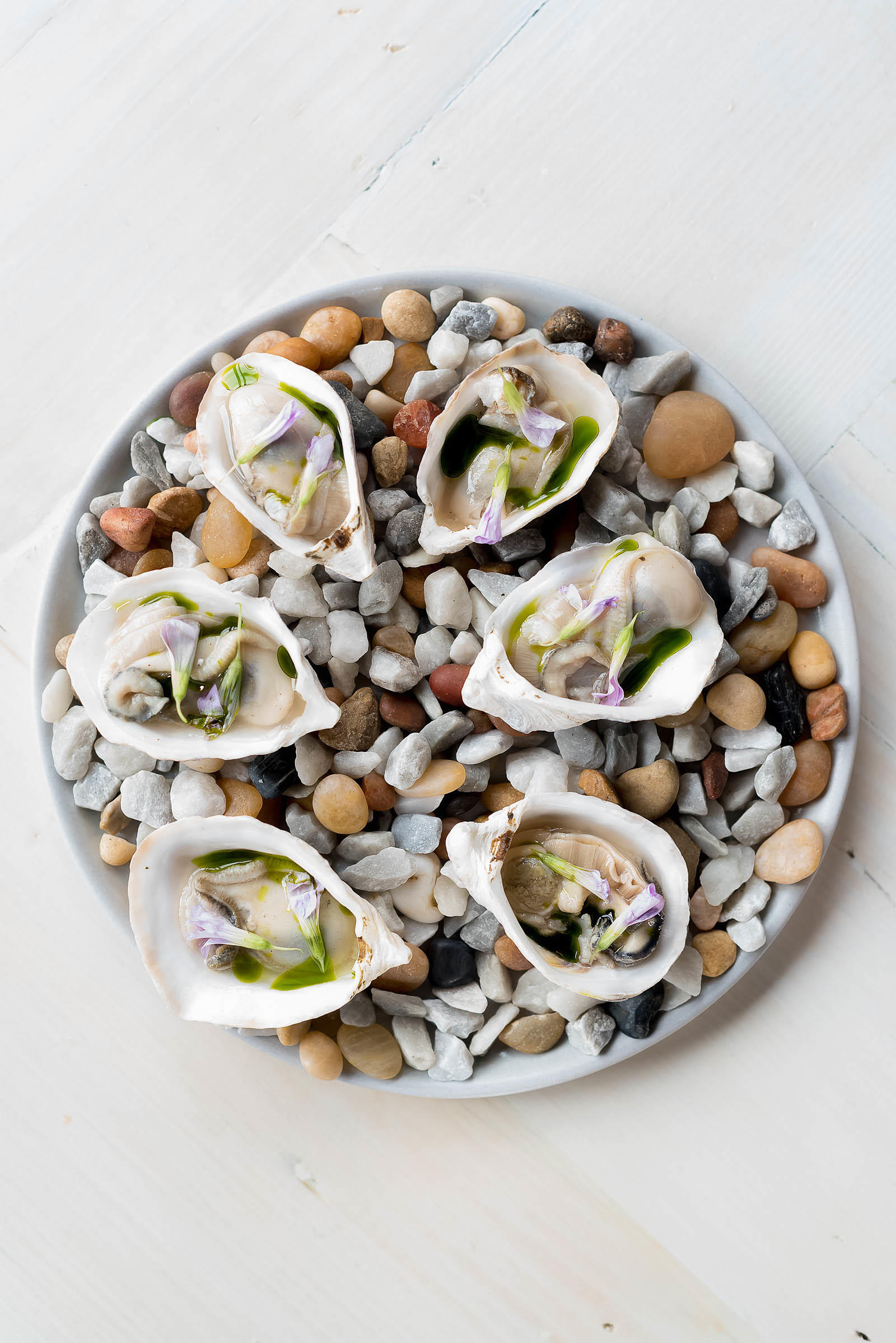 Especially these SPECTACULAR oysters with rice wine mignonette and flowers.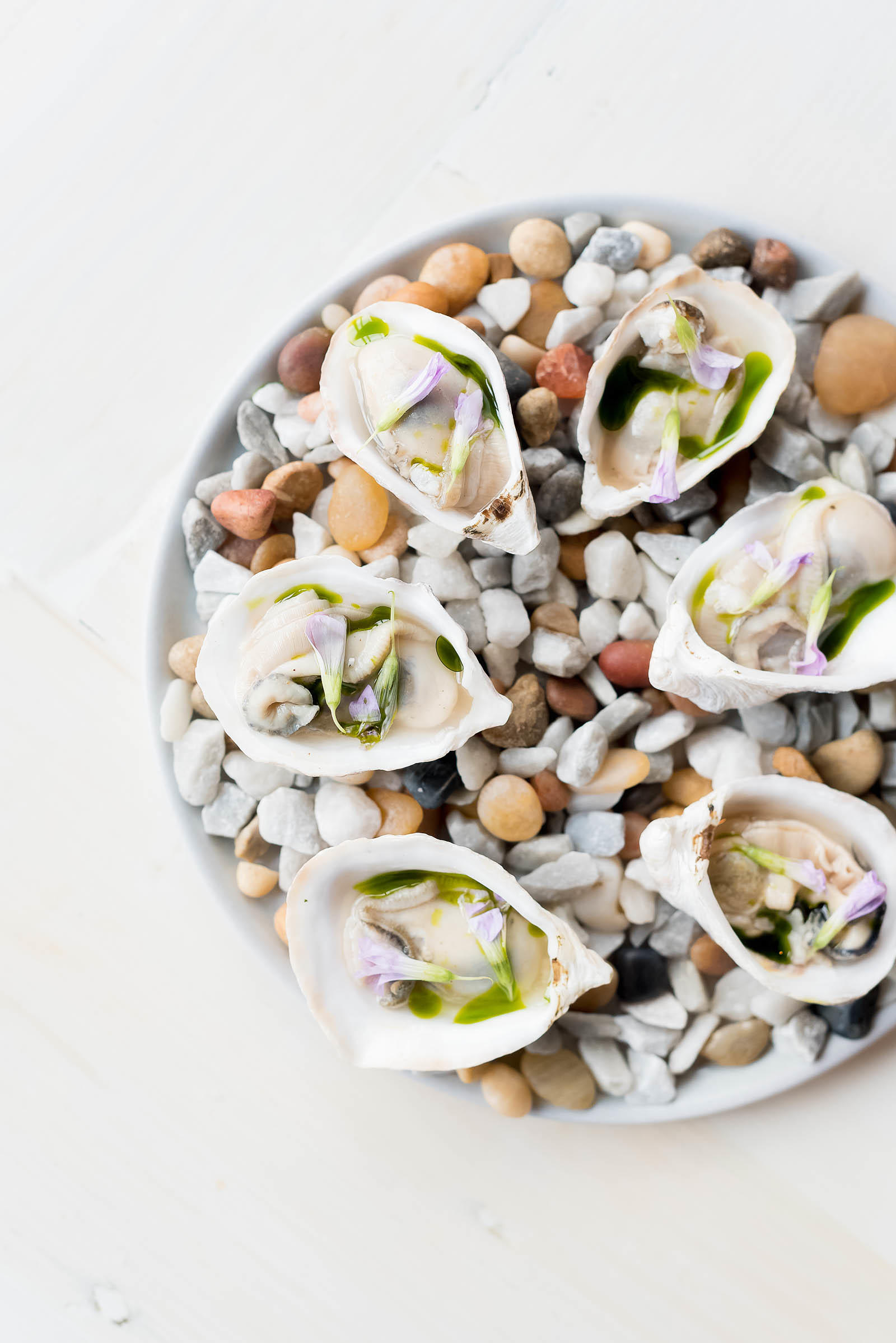 Kitsune prepared their oysters with a lightening-fast blanch in boiling water which cleans them beautifully before being served. Those of you afraid of shell pieces and sediment in yours oysters NEED to try these. The quick blanching preparation makes these plump oysters smooth and creamy in texture with a stunningly delicious finish and no unpleasant surprises.
When topped with the beautiful mignonette, they're given a perfect tart finish to their inherent smoothness.
Bottoms Up!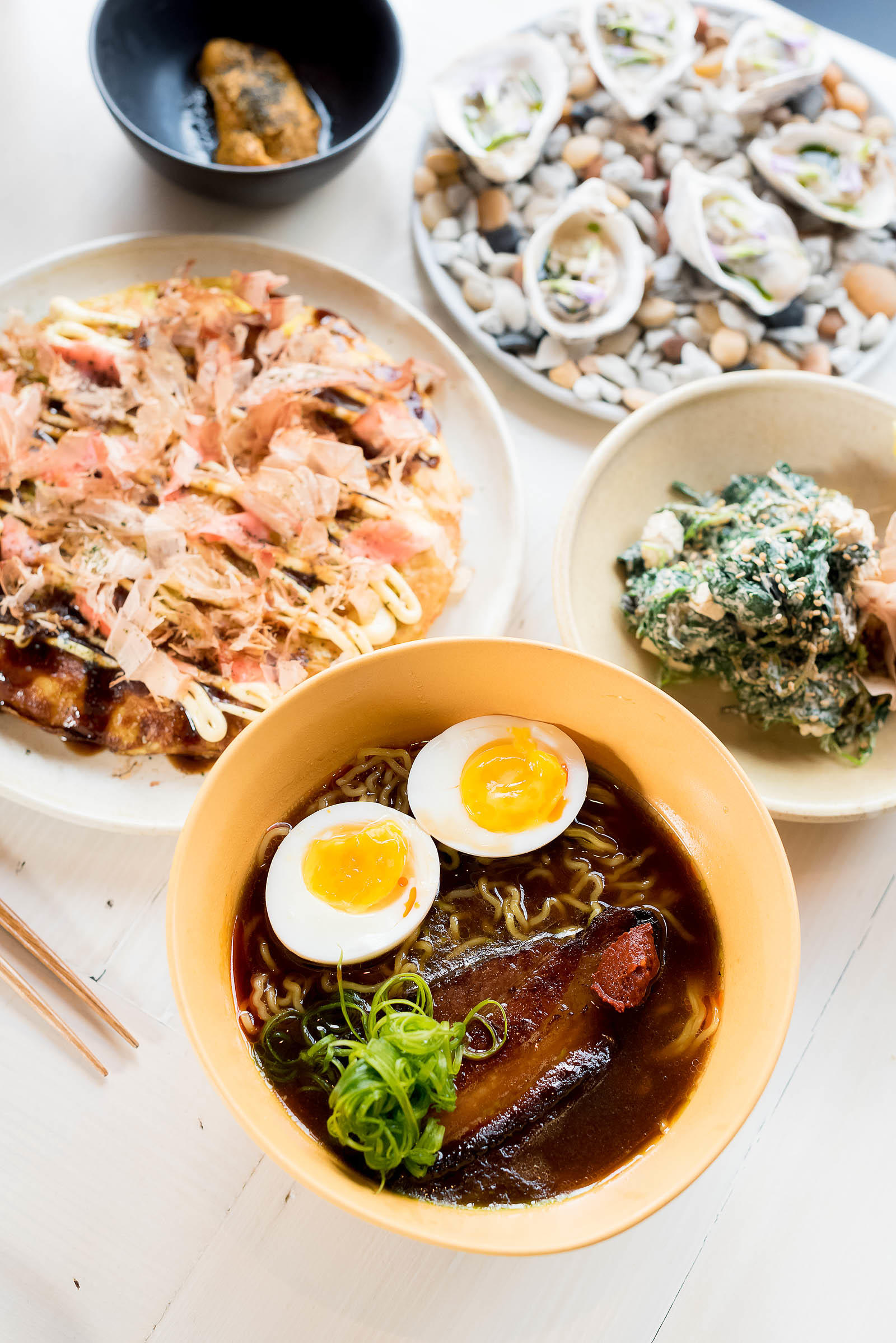 But our entrées proved to be just as delicious.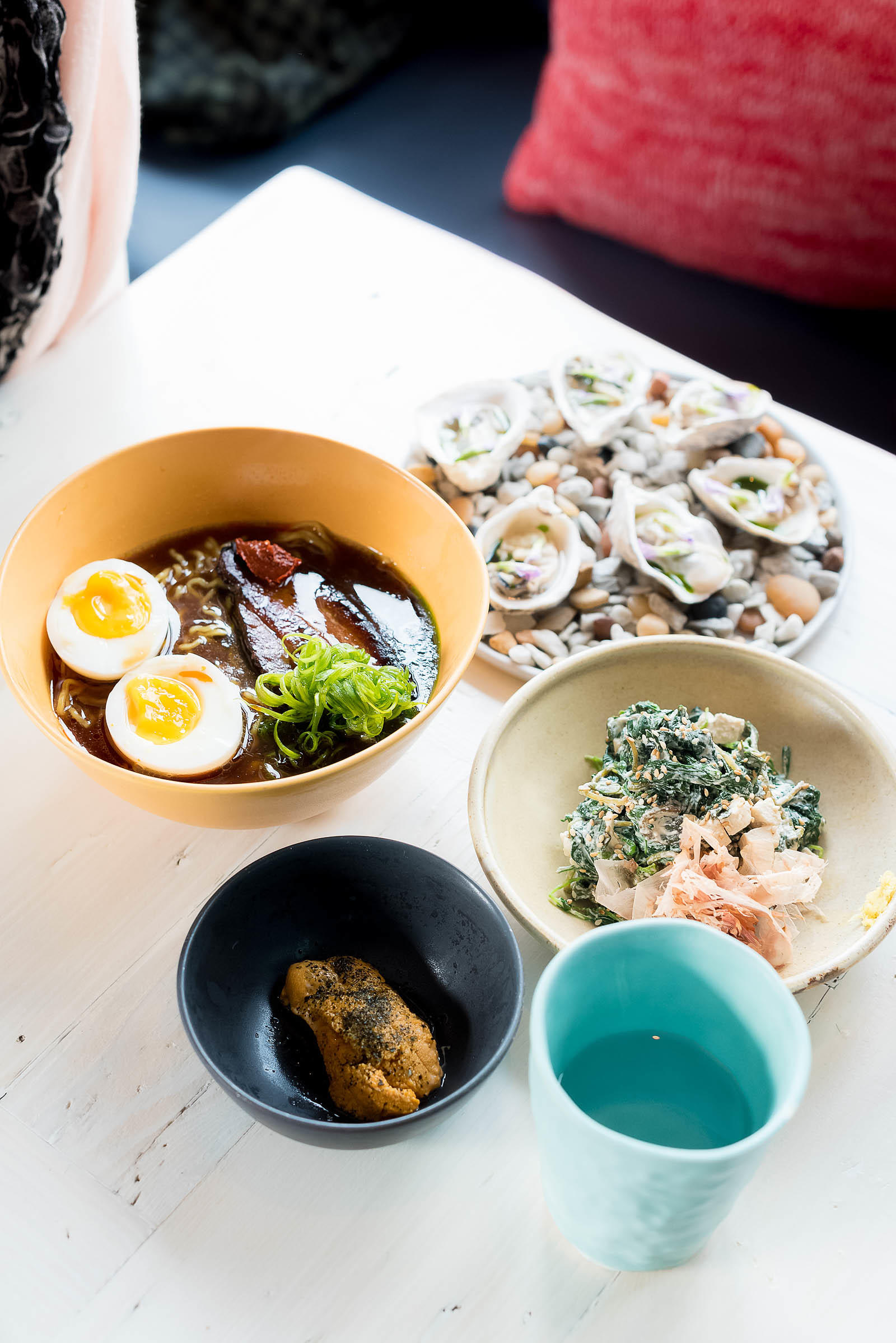 And such a stunning presentation when served all at once (as foodies we LOVE a giant table smothered in dishes).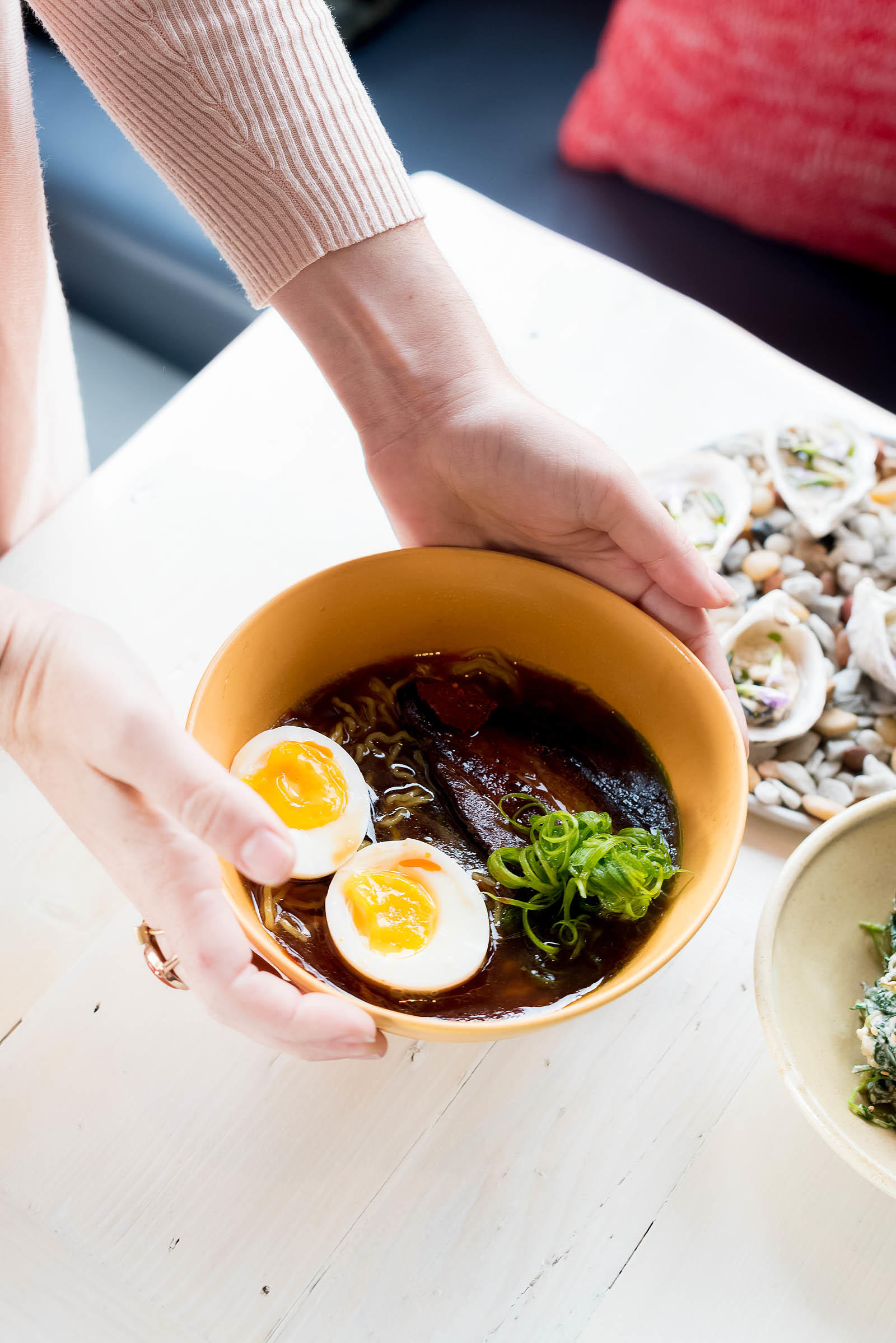 Starting with this warming bowl of Tonkotsu ramen with egg, pork belly, house chili sauce, and green onion.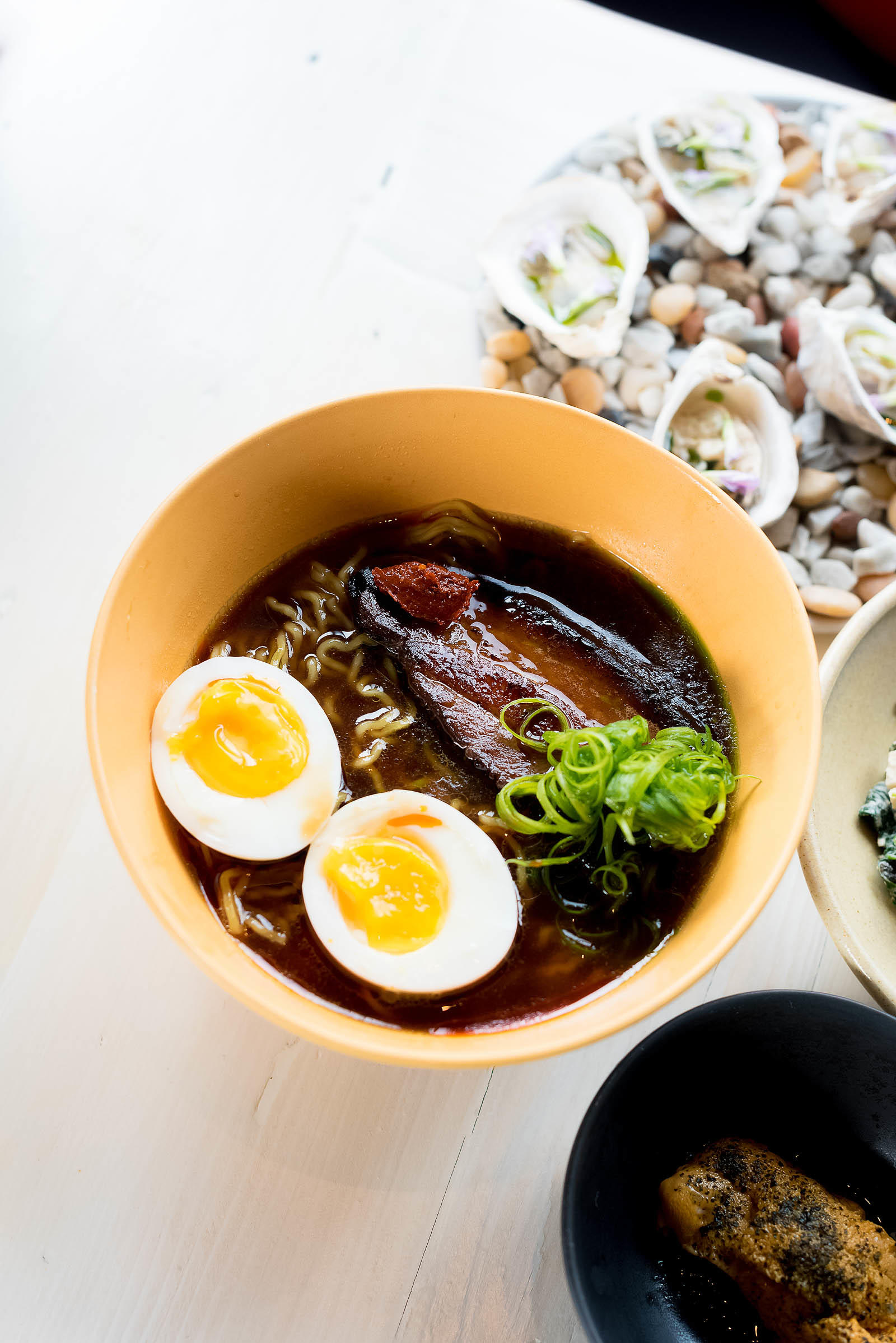 It's one of those soul-warming soups that will heat you from the inside out, especially on a blustery Chicago winter day.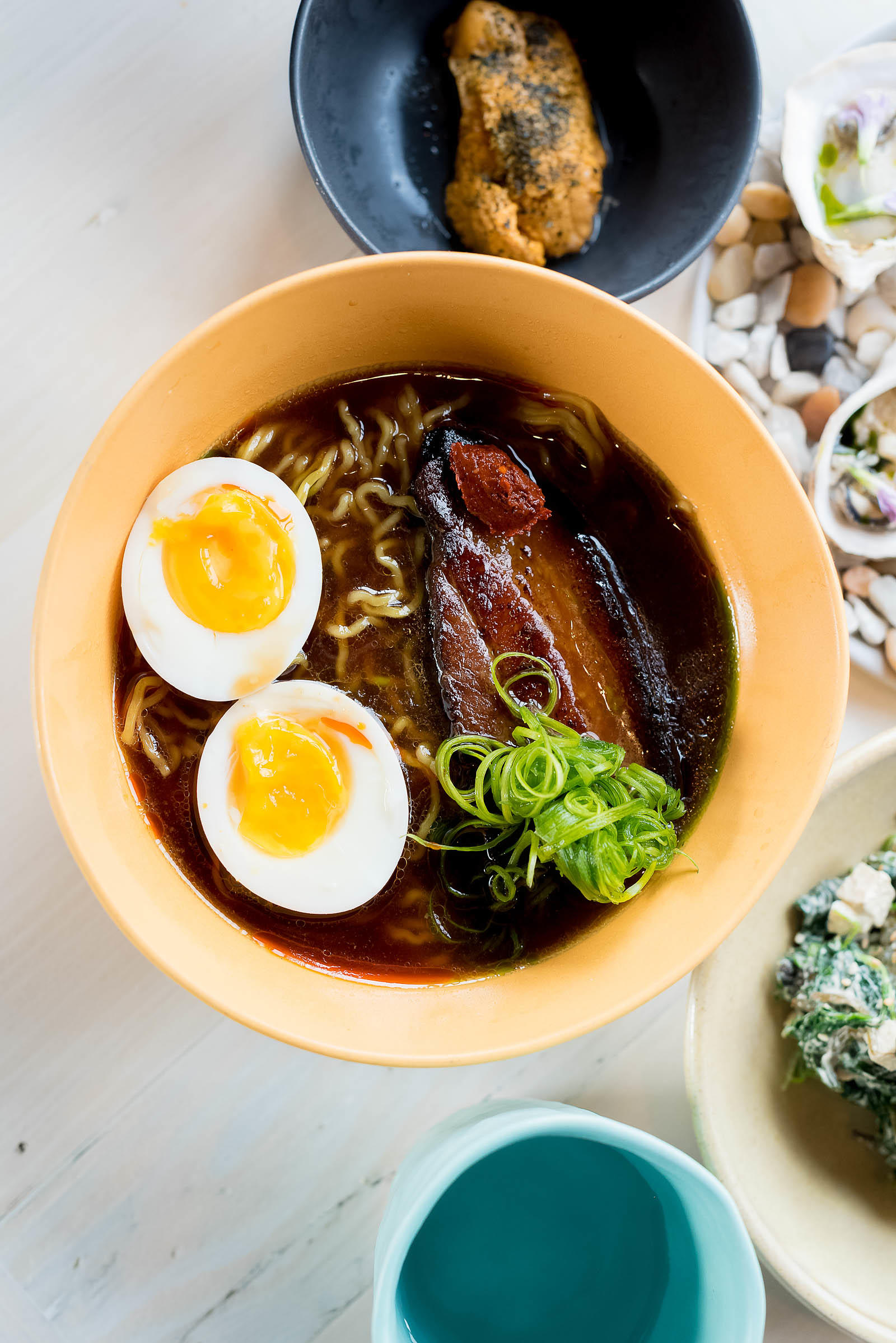 Isn't the presentation alone positively stunning?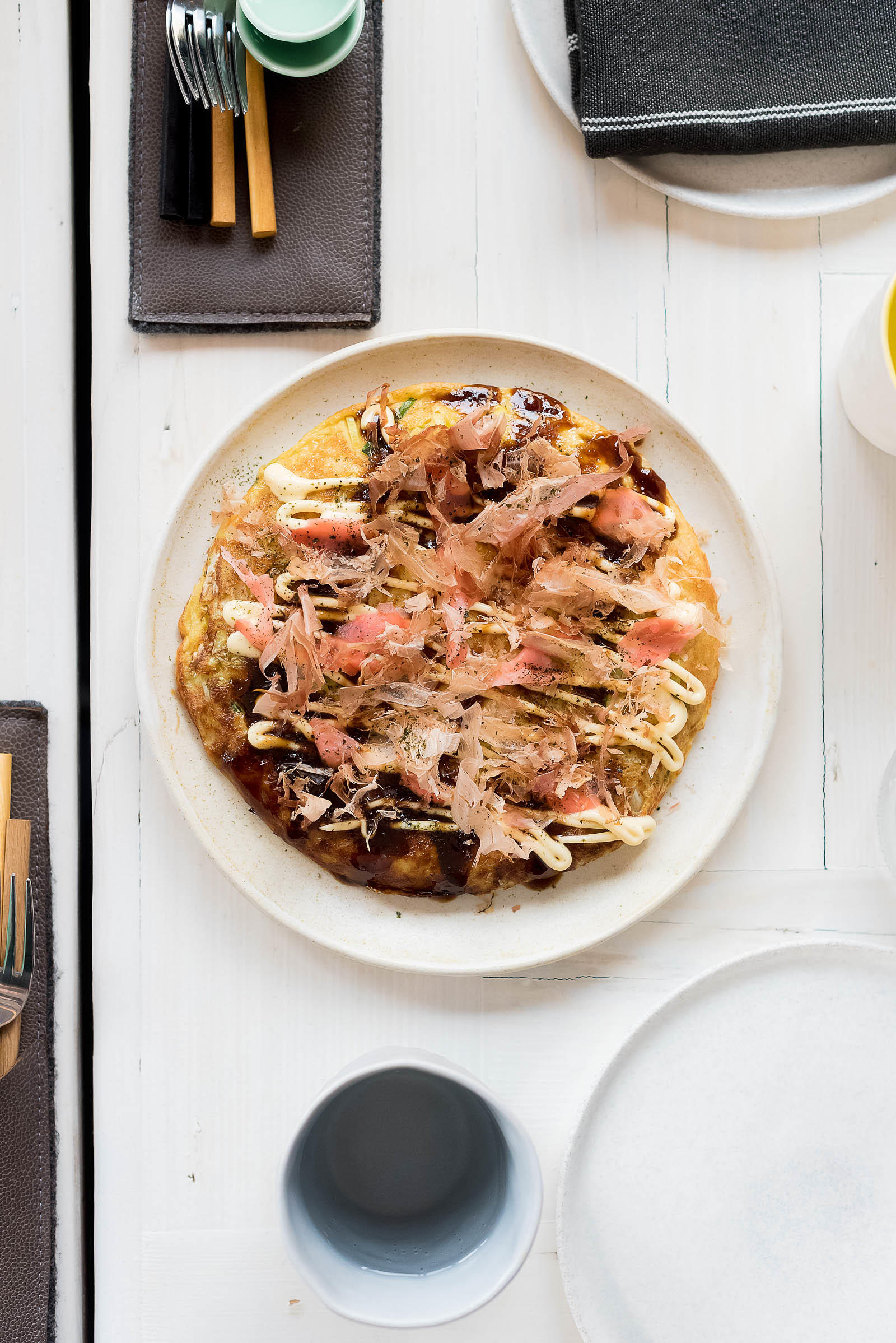 But my FAVORITE dish of the entire meal was the one this completely unknown-to-me dish. When it was set on the table I had NO idea what it was (though the smell was intoxicating!).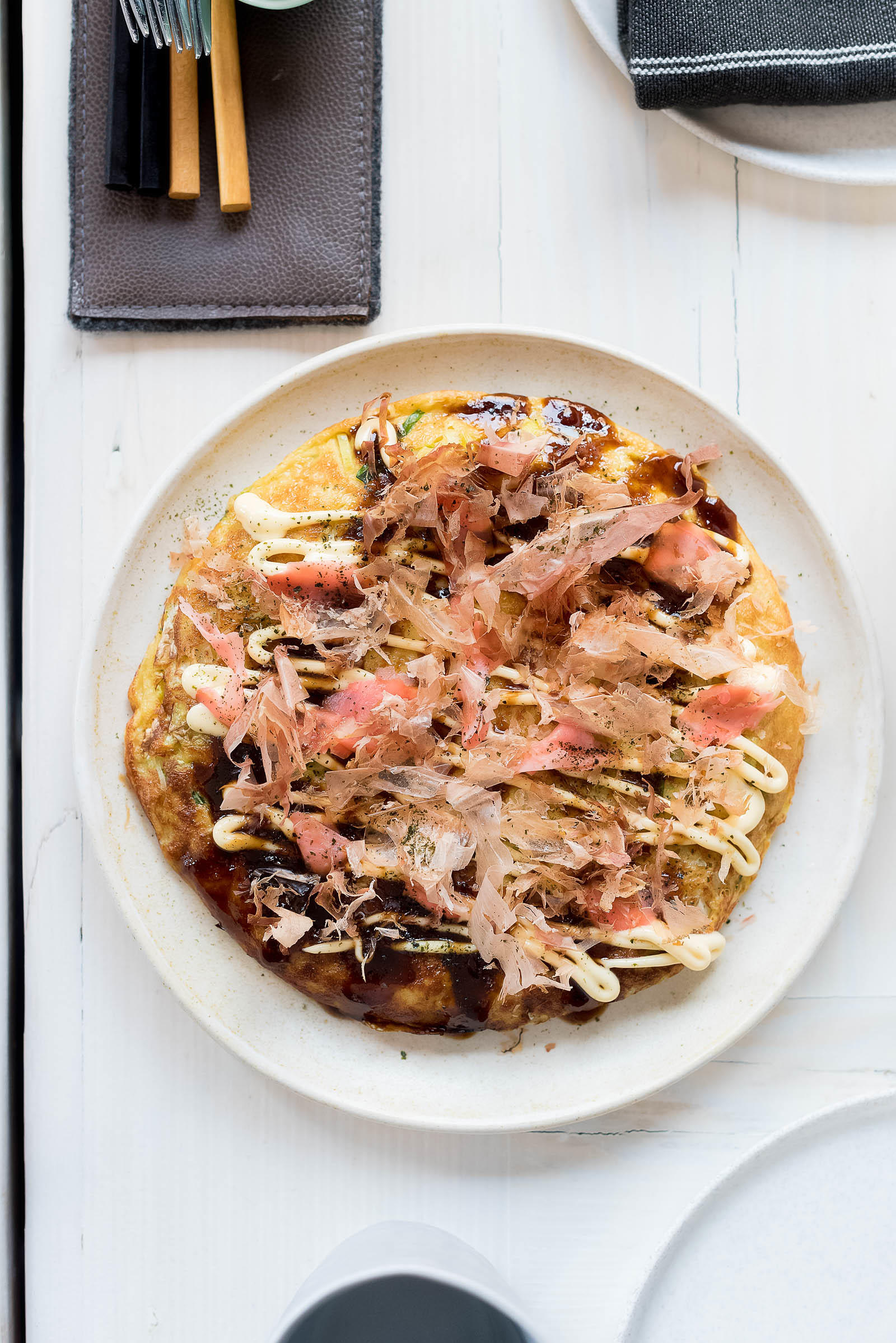 This is Kitsune's Okonomiyaki with pickled ginger and katsobushi. Which made for one of the single-most delicious dishes I've had in a VERY long time.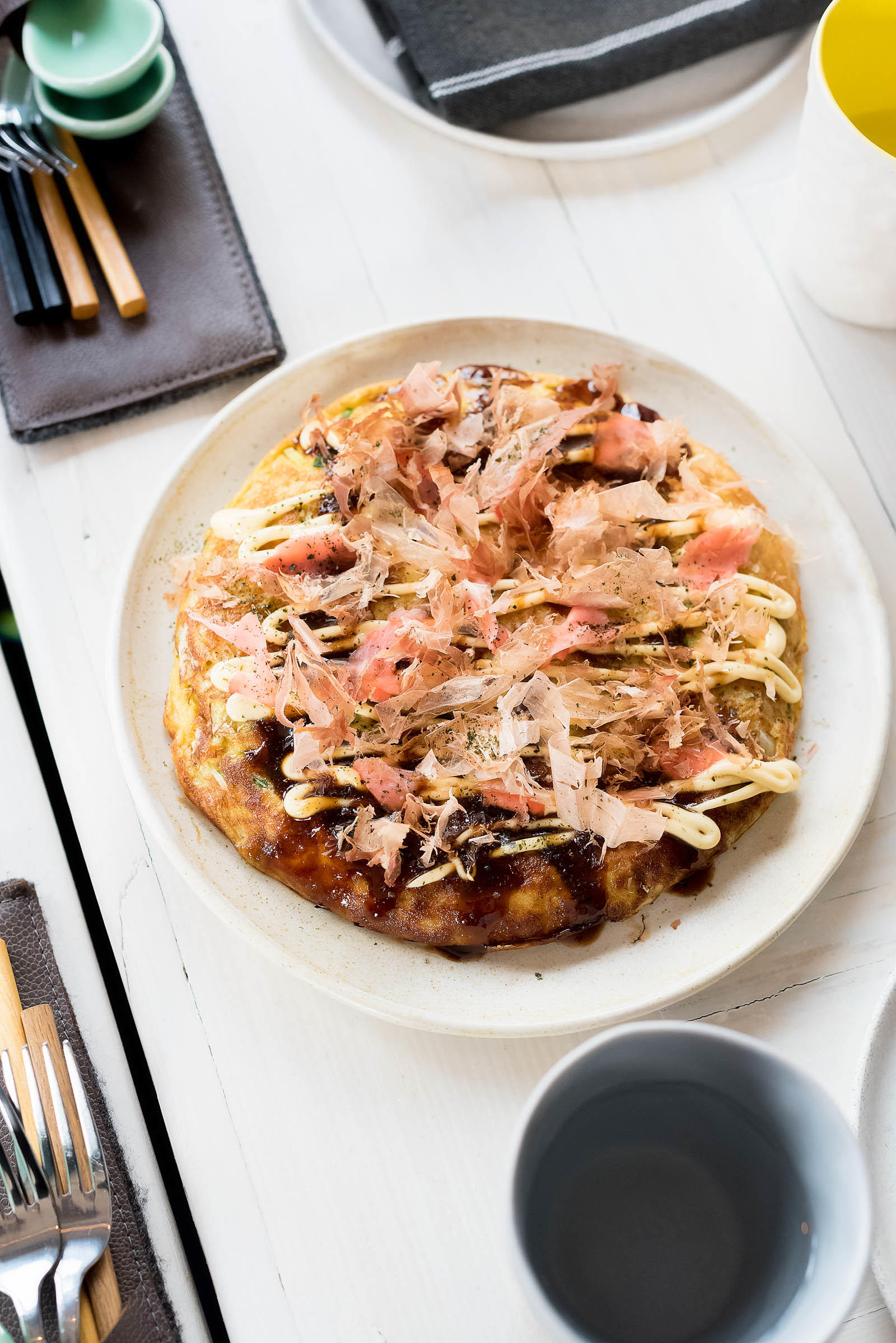 Okonomiyaki is a Japanese savory omelette whose name is derived from the words okonomi meaning "how you like" and yaki meaning "grill". Typically topped with a variety of ingredients, Kitsune's take was innovative yet approachable.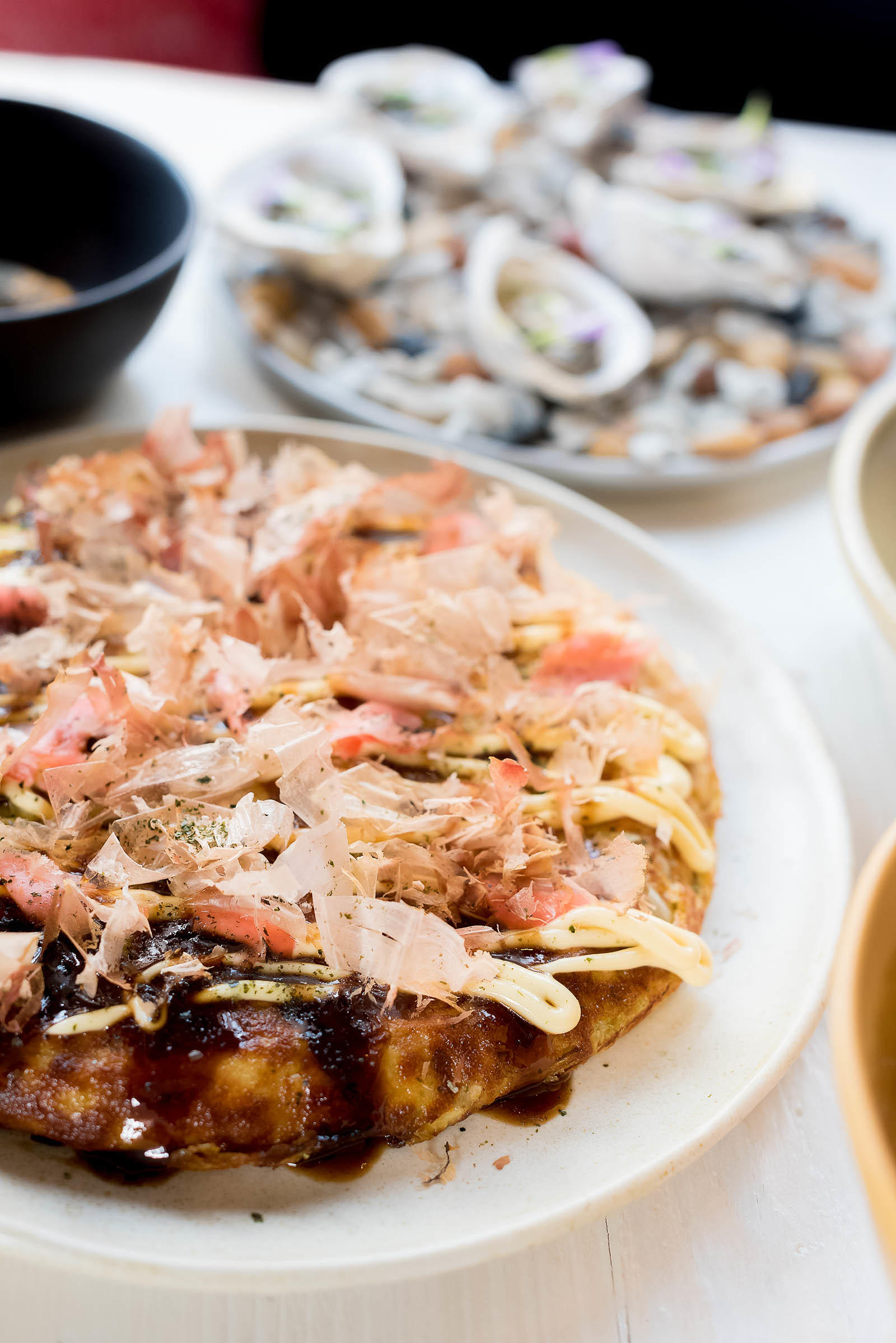 It's a savory omelette smothered in delicious umami-laced sauces and a variety of textures.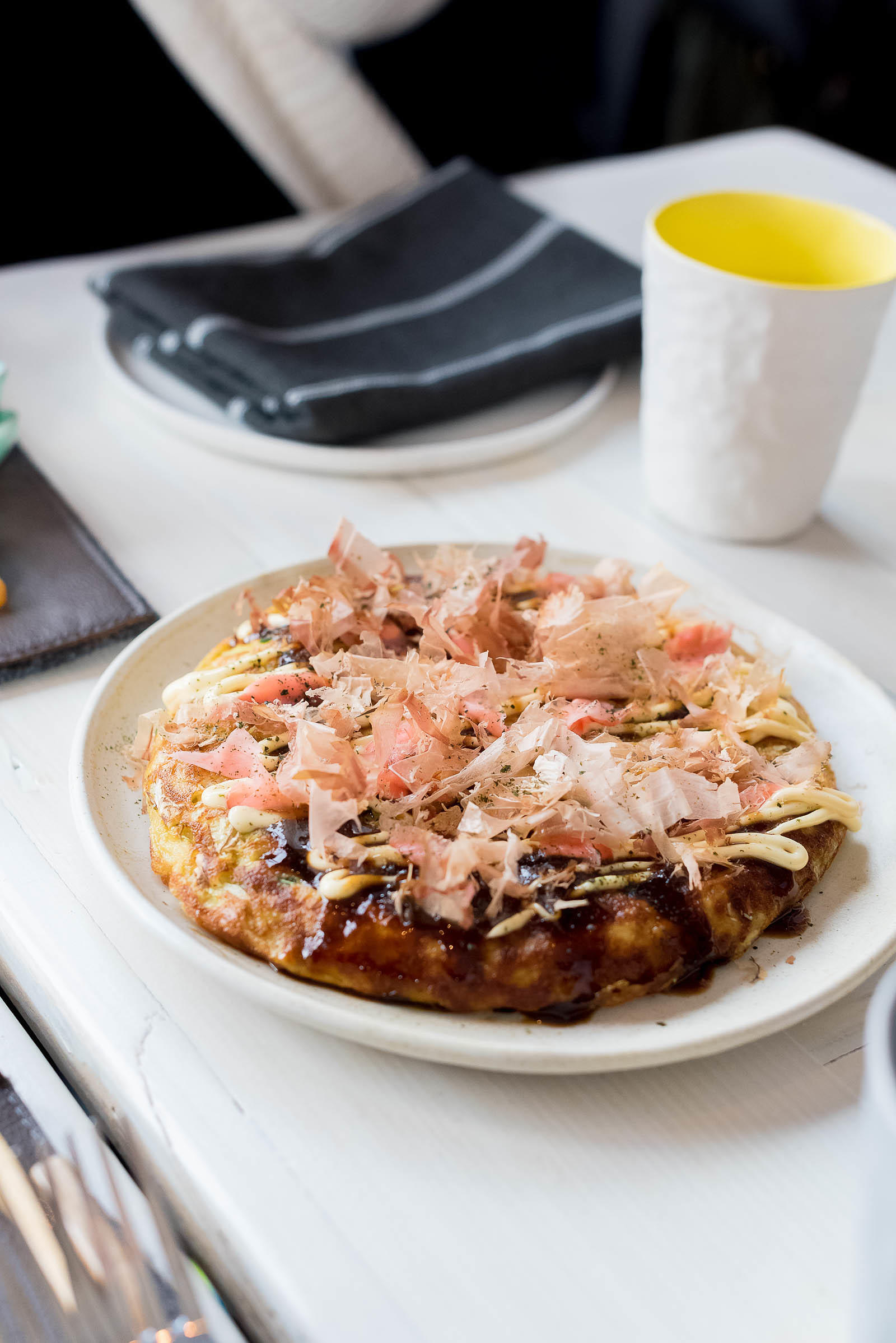 And completely worth ordering, even if it doesn't sound even remotely delicious to you. Because it is SO sinfully good!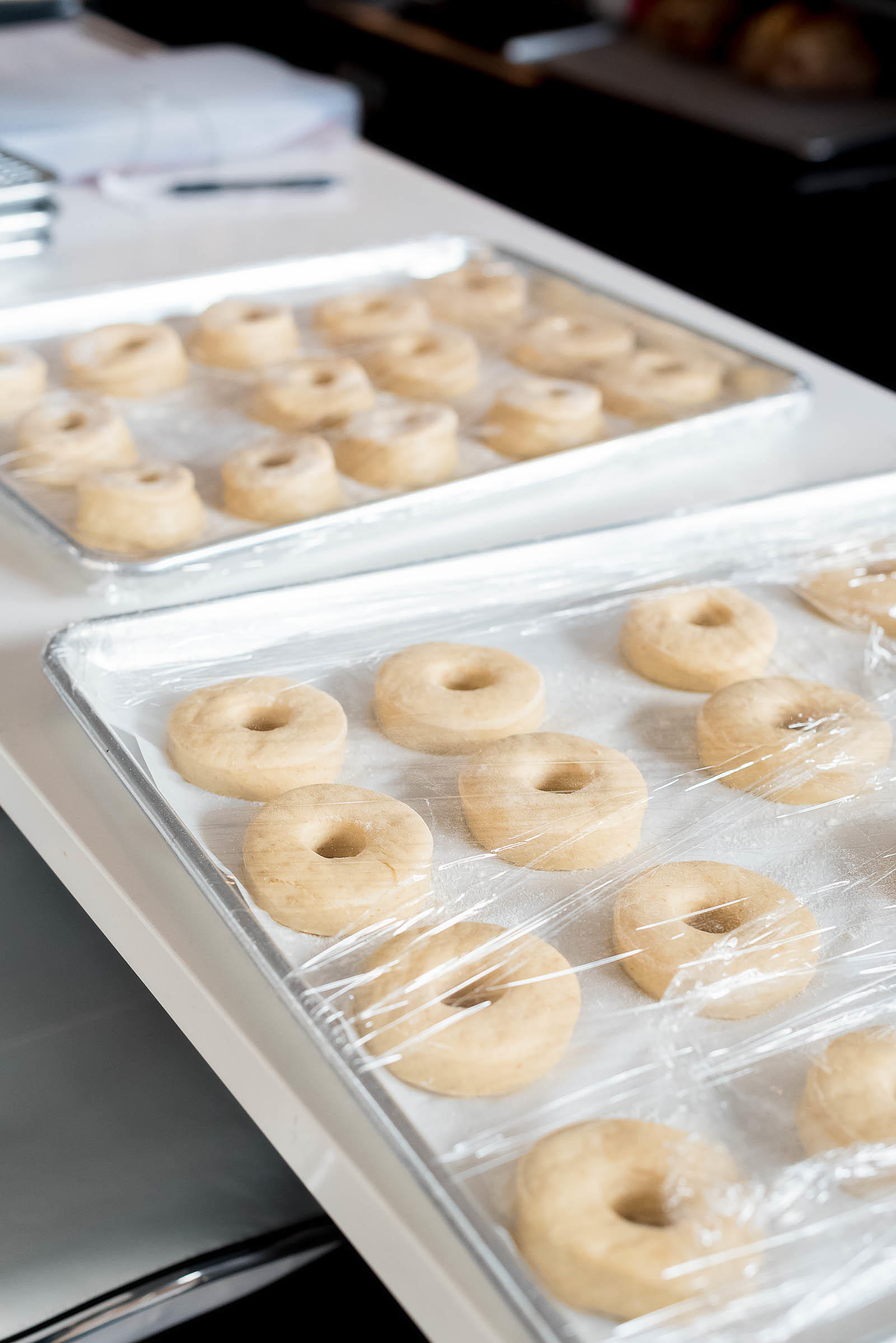 Since Kitsune actually opened their restaurant just for the three of us we unfortunately missed out on these Japanese whiskey glazed doughnuts which were proofing while we ate.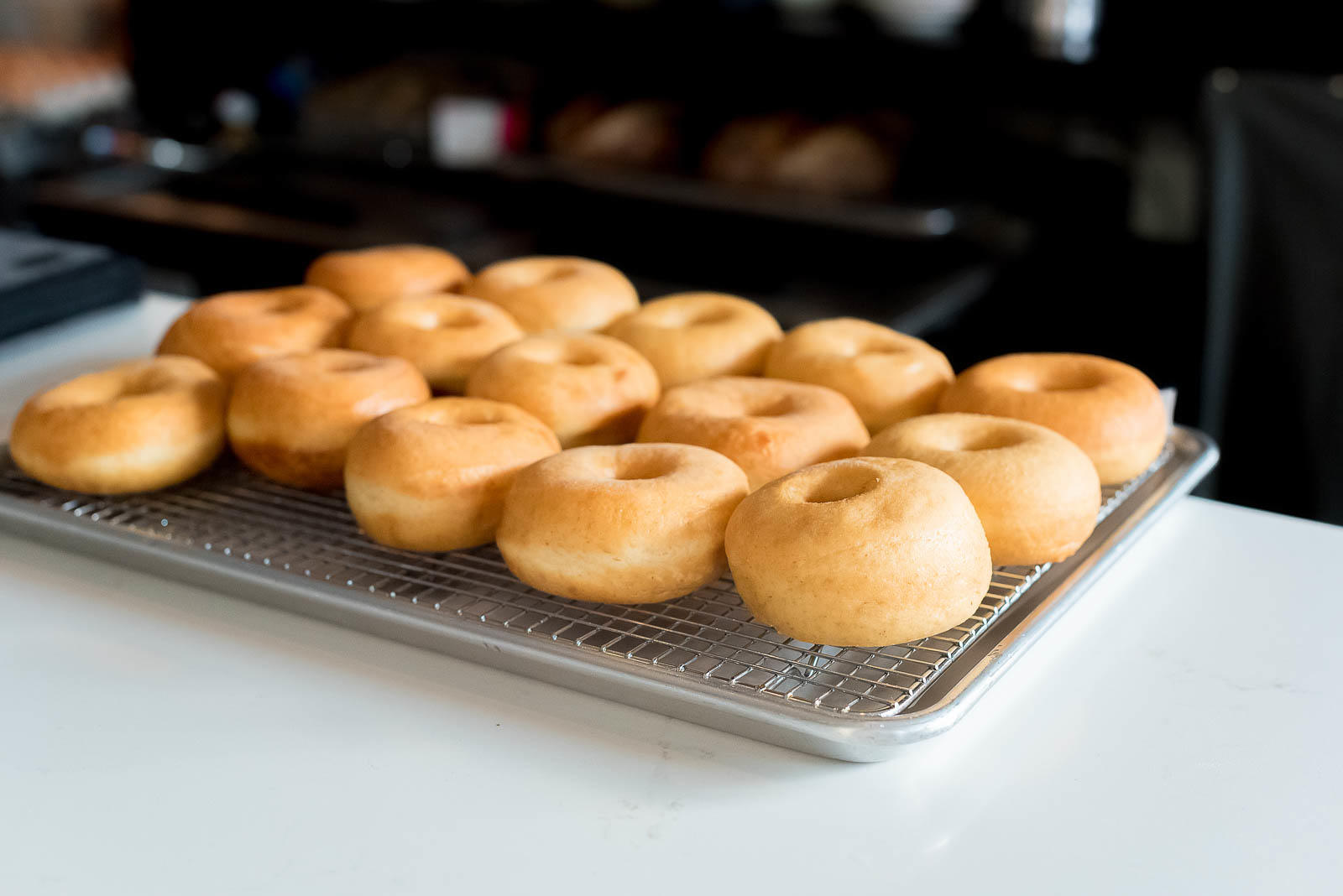 But you HAVE to know we'll be back VERY VERY soon for these too. I mean, just LOOK at them.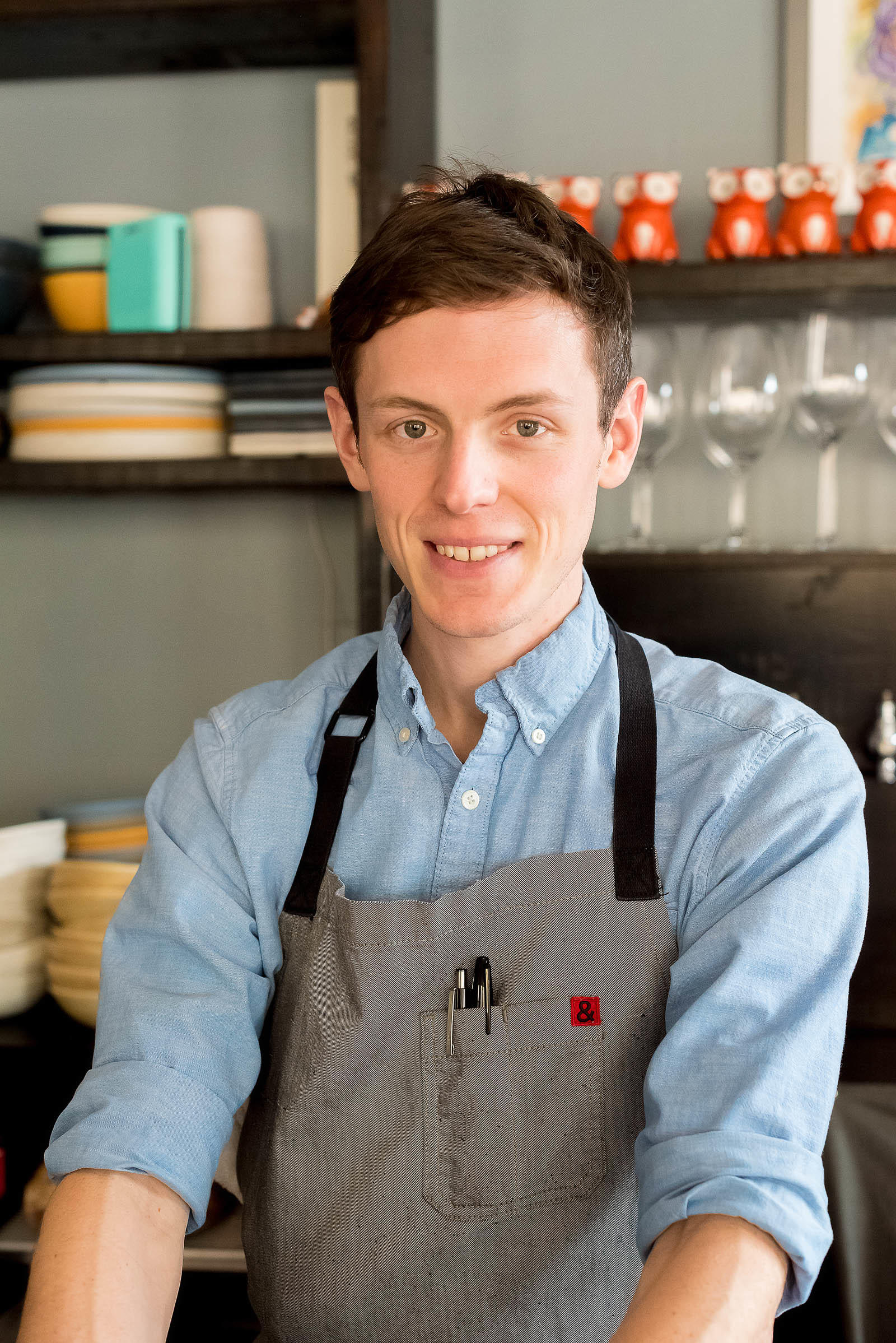 Everything about Kitsune from the intimate atmosphere to the shockingly simple, addictive food WOWed us. But most especially the kindness and passion of Kitsune's staff (including brilliant young Chef Justin Behlke).
You have to know we'll be back to Kitsune as soon as possible. If only because we have SO many more delicious dishes on the menu to try and SO many more people we want to bring along to experience them with.
Disclosure: I received a complimentary meal to facilitate this post. Review and all opinions are my own.