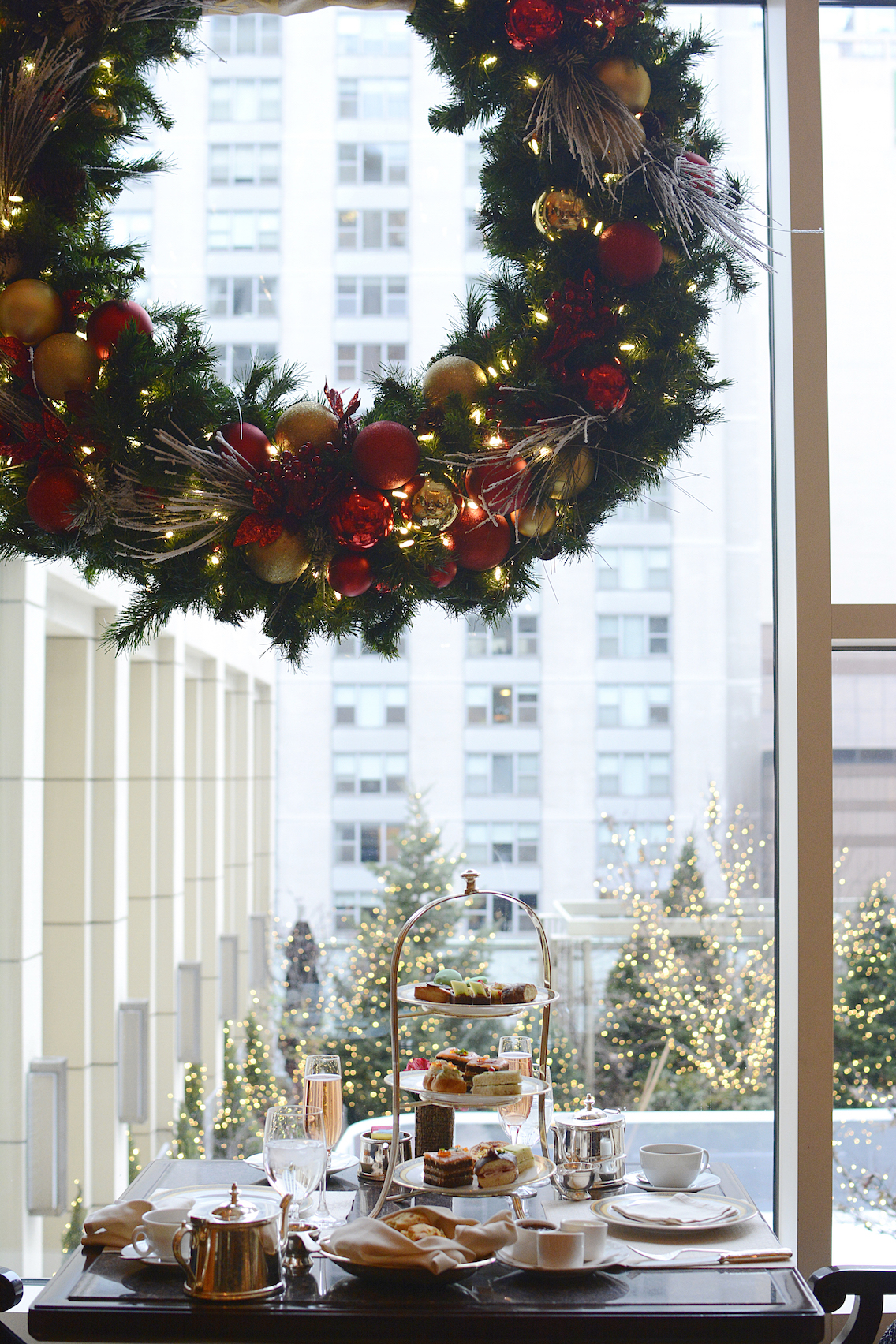 Since starting this blog I've met many incredible kindred spirits but none who share my love for all things Christmas quite like Anna of Noir Friday. Last Christmas we bonded over our mutual love for all things twinkly, sparkly, and festive over lunch by the RL fireplace so this year we decided to go ALL OUT with our holiday cheer.
While Anna and I were daydreaming about everything we wanted to do for the holidays (like drink mulled wine at the Christkindl Market), I gushed about how much I love having afternoon tea at the Peninsula. It's been a holiday tradition of mine for the last four years — no one does more opulent decorations or serves more deliciously festive nibbles — and, since it's the Peninsula, the service is unparalleled.
So when Anna mentioned that she'd NEVER been for holiday tea, I knew I had to introduce her holiday-loving heart to my festive ritual.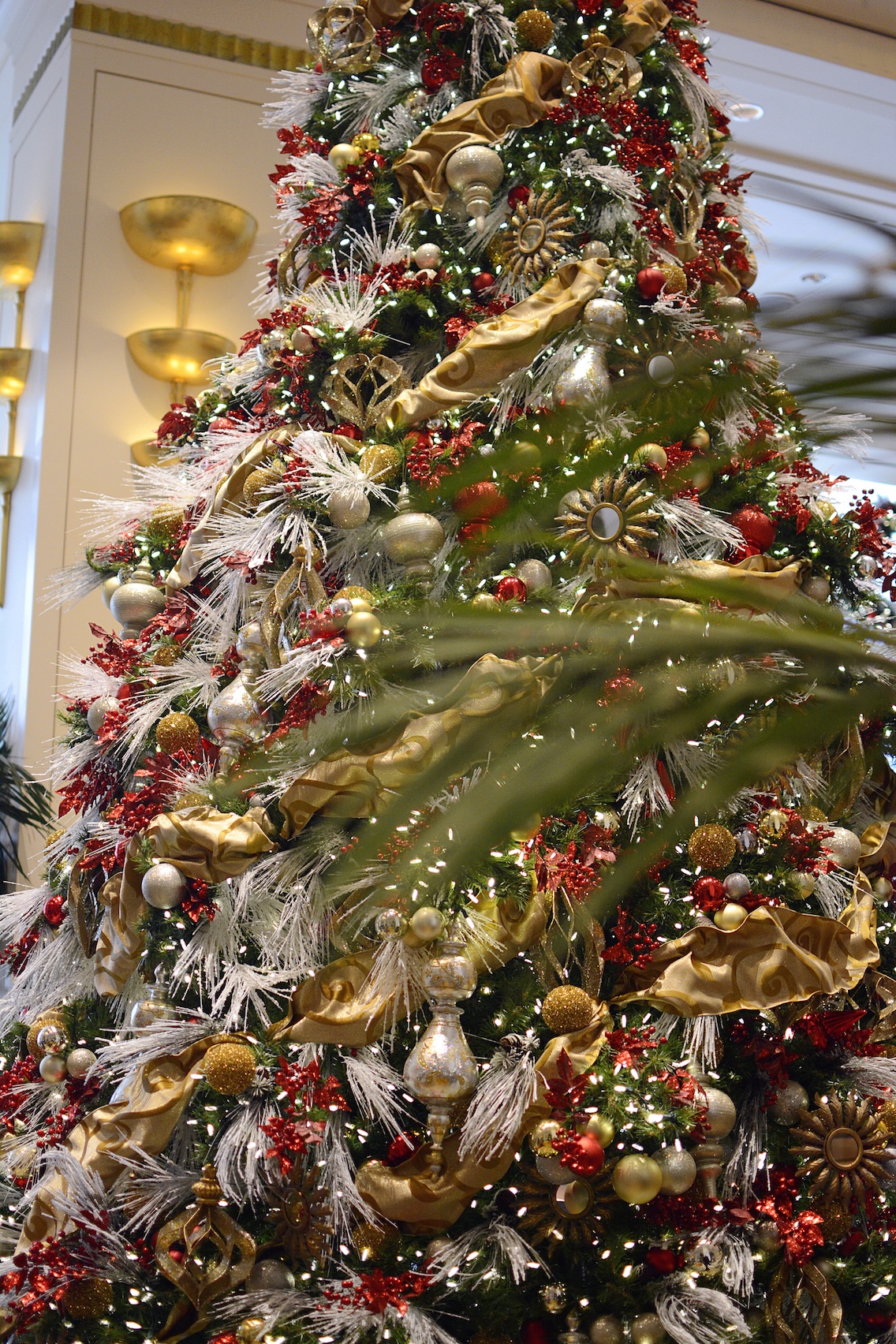 Every year I'm amazed at the decorations the Peninsula does — even just walking through the Lobby fills you with inspiration!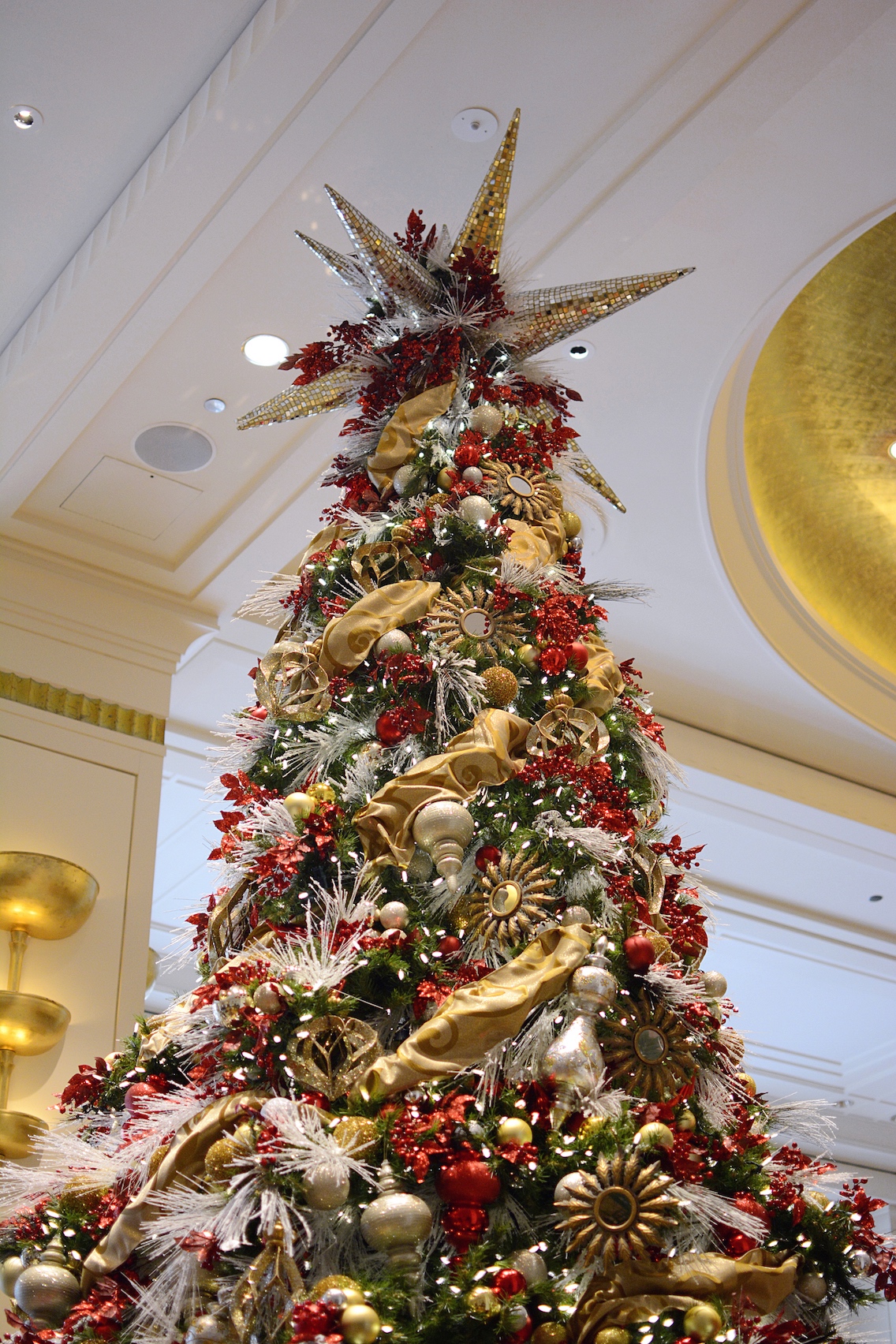 This year's 2015 Christmas tree is a decadent mixture of silvers, snowy whites, golds, and scarlet reds.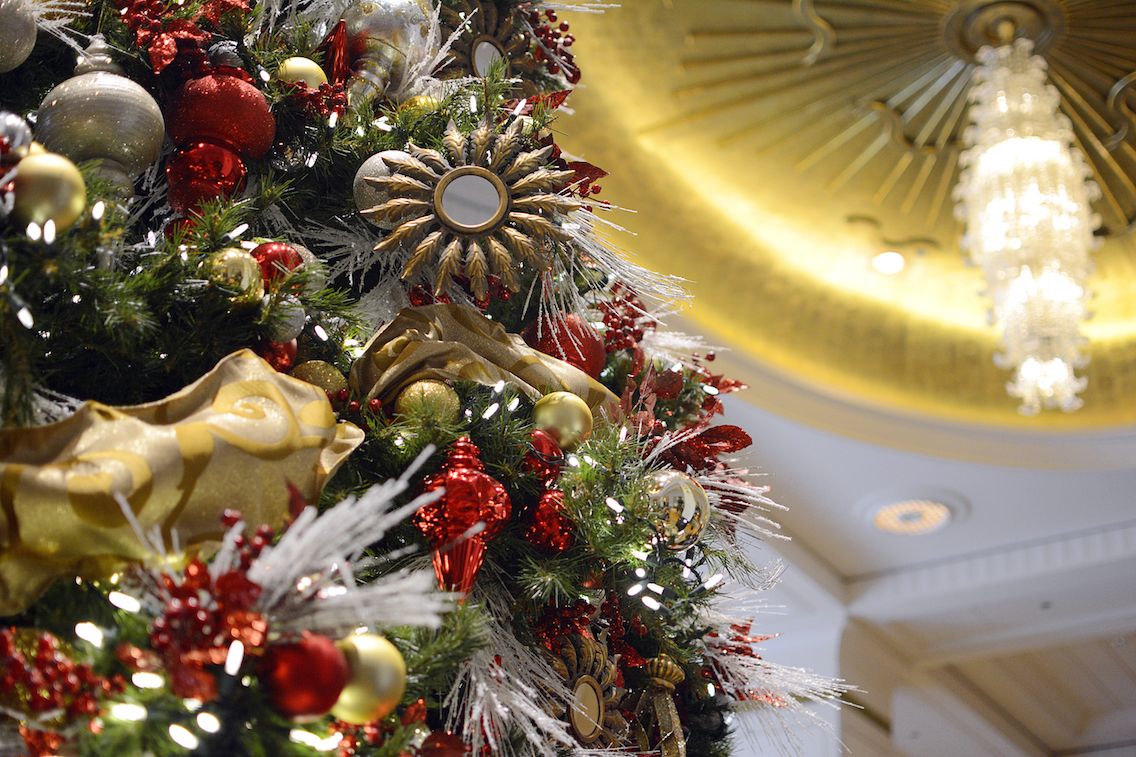 I especially loved all the sunburst mirror ornaments hanging from the tree — they added MEGA sparkle!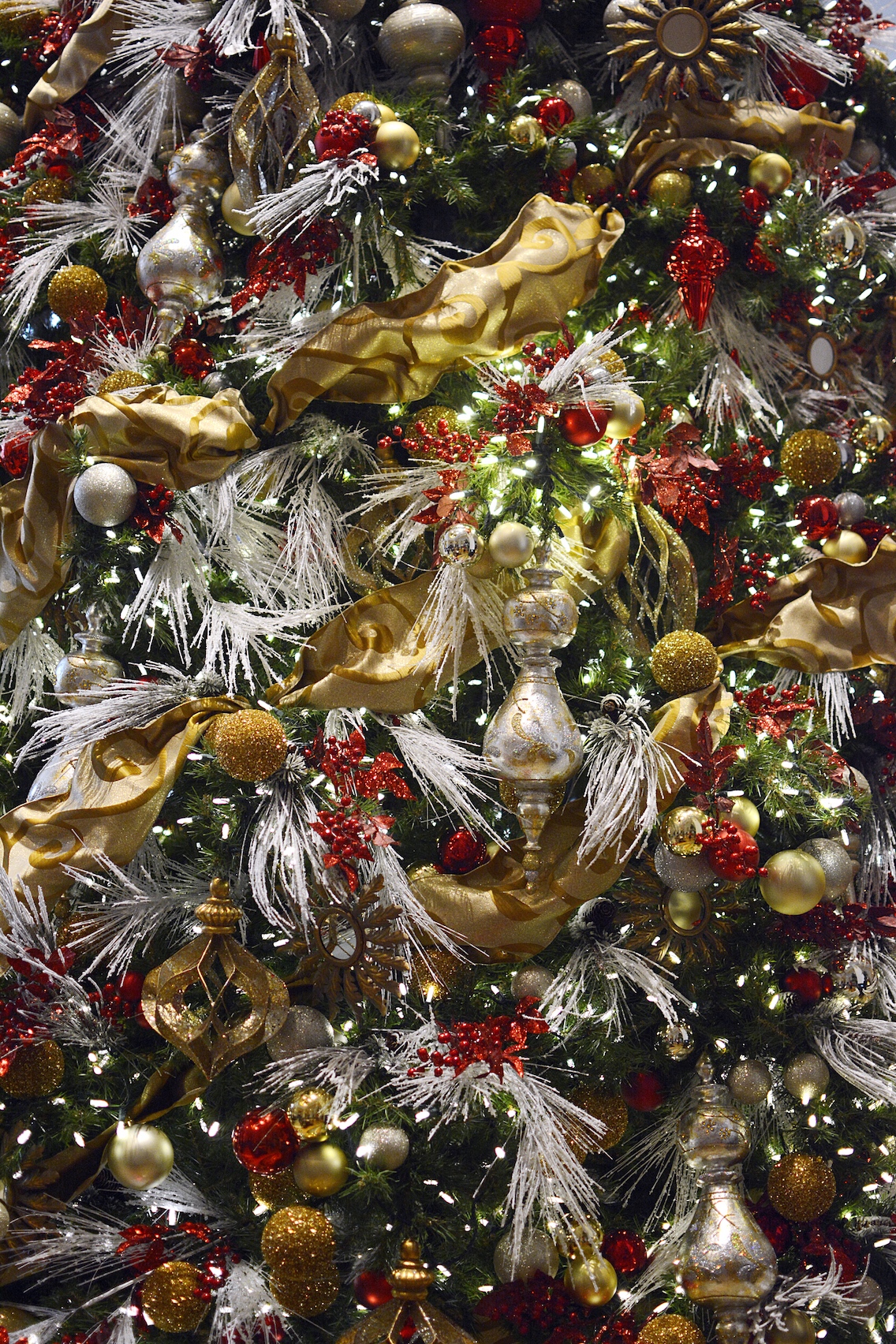 Isn't is just magnificent?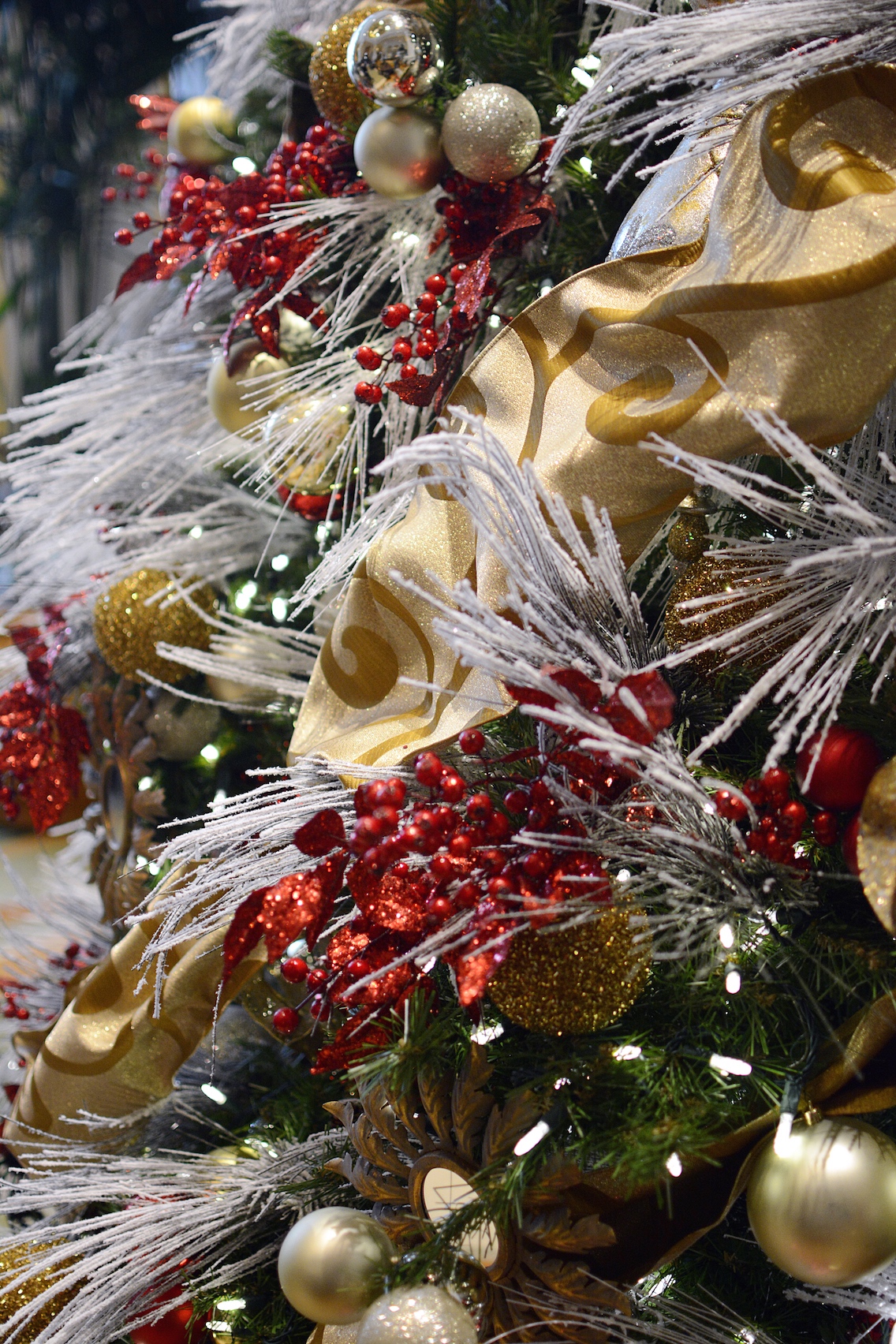 This year's tree may very well be my all-time favorite (and excellent inspiration for my own holiday decorations next year).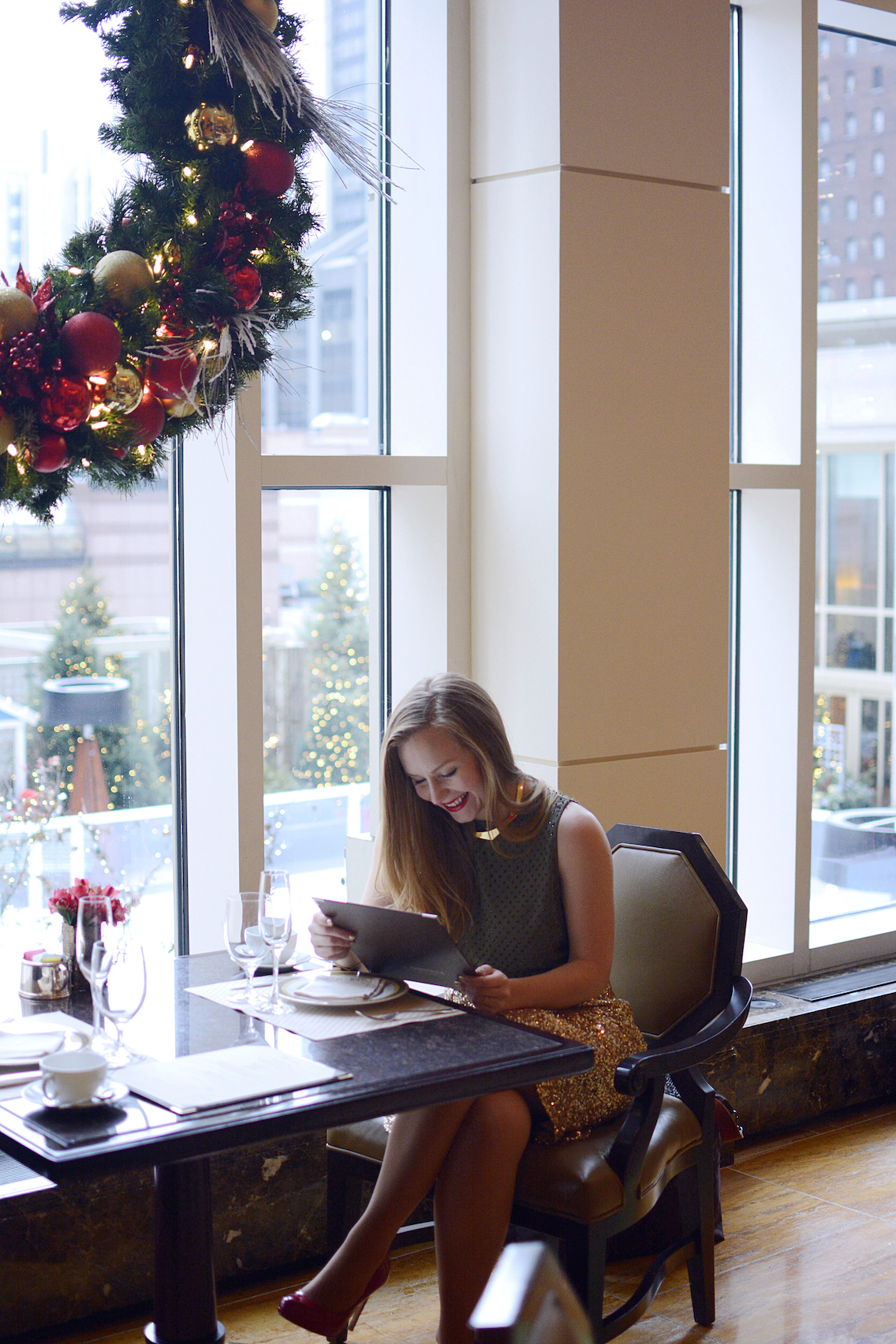 At tea time, Anna and I settled into a cozy spot along the windows and promptly began salivating — we'd spent the afternoon shooting at the Peninsula's 4-story-high ice rink and had worked up a monstrous appetite!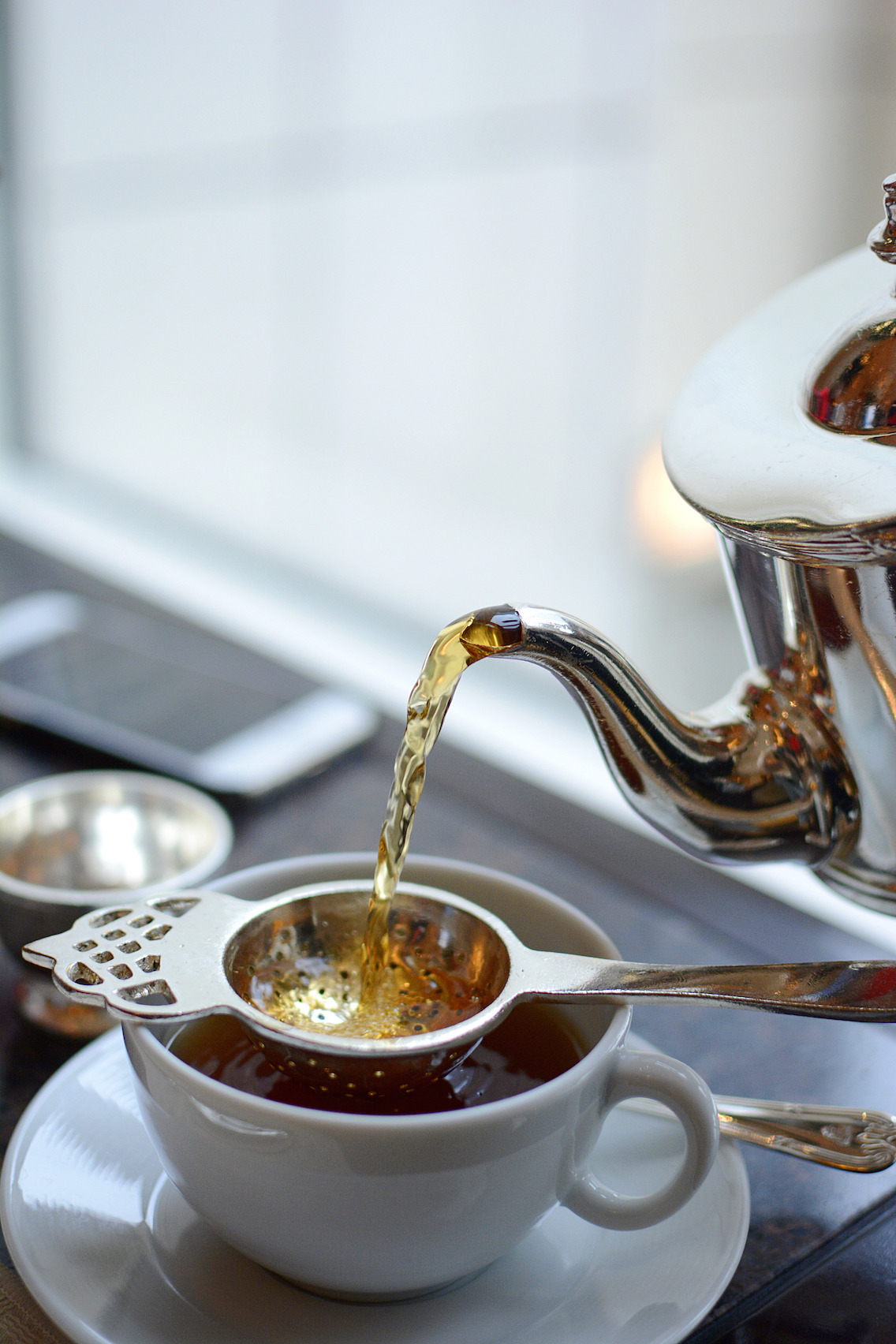 The first and most important component of any afternoon tea service is of course the tea itself. I'm partial to the orange jasmine black tea — floral, fragrant, and zesty enough to compliment all the rich food that would follow.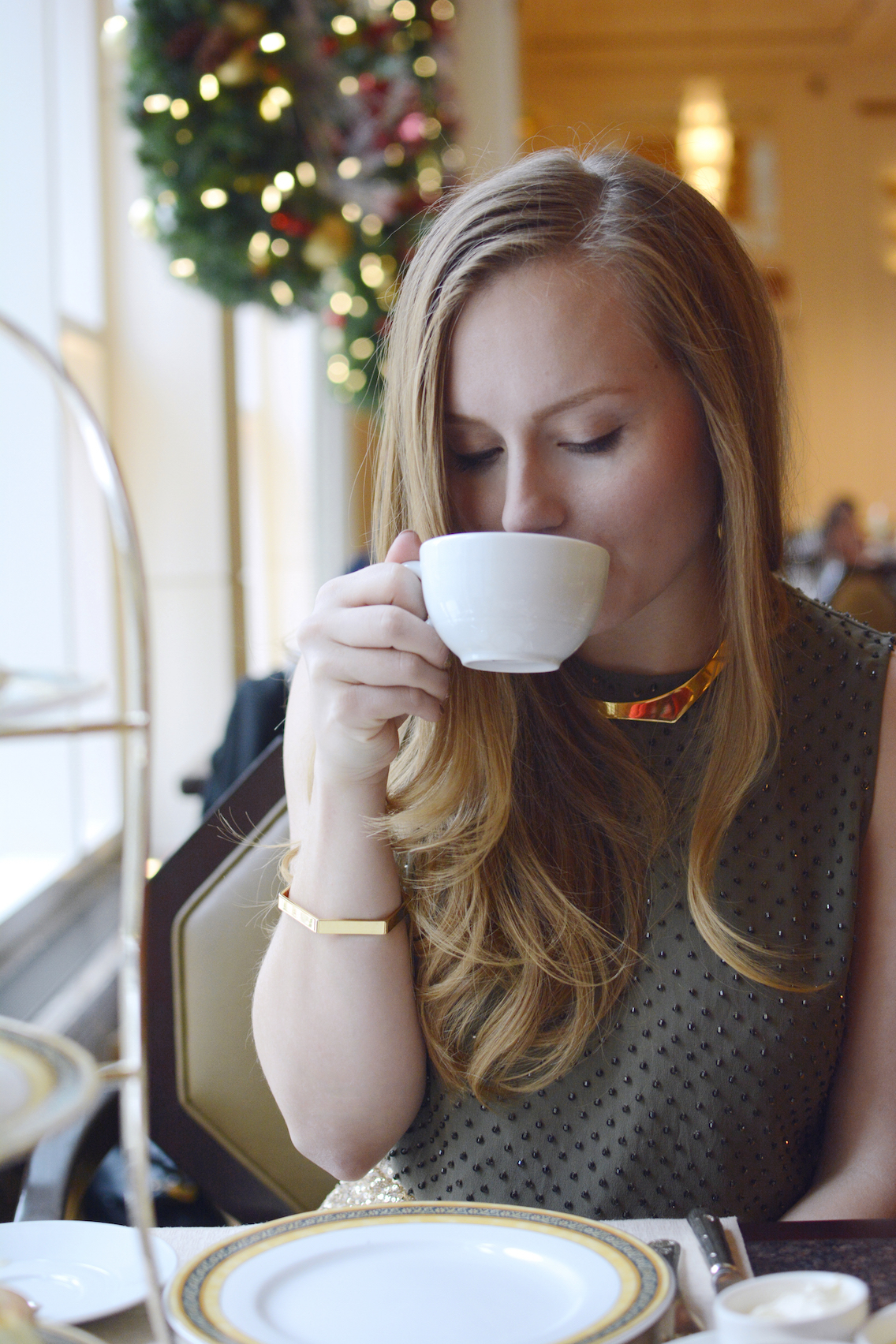 Mmm, there's nothing like that first warming sip of tea.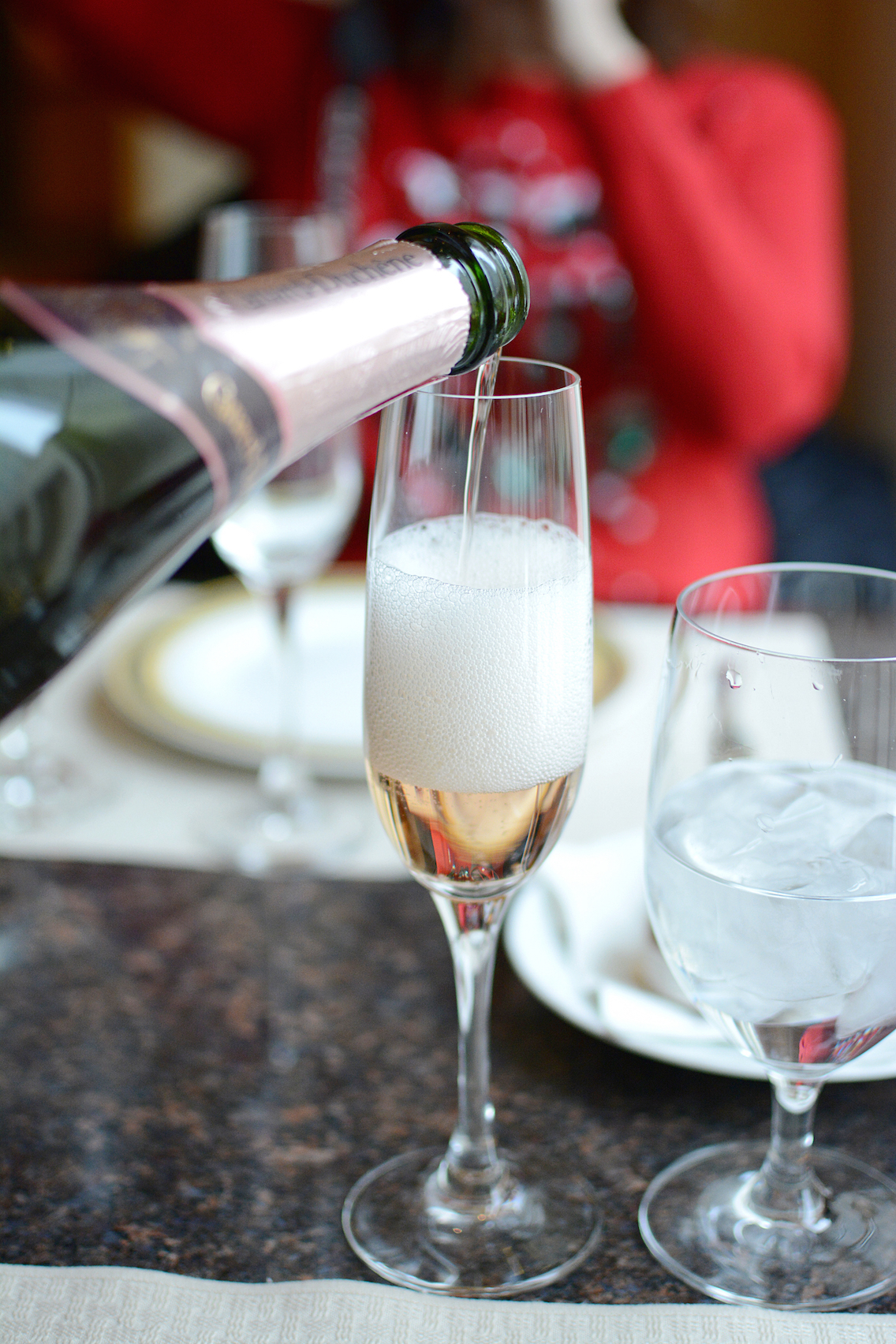 But being the champagne lovers we are, Anna and I couldn't pass up a glass of brut for our meal too.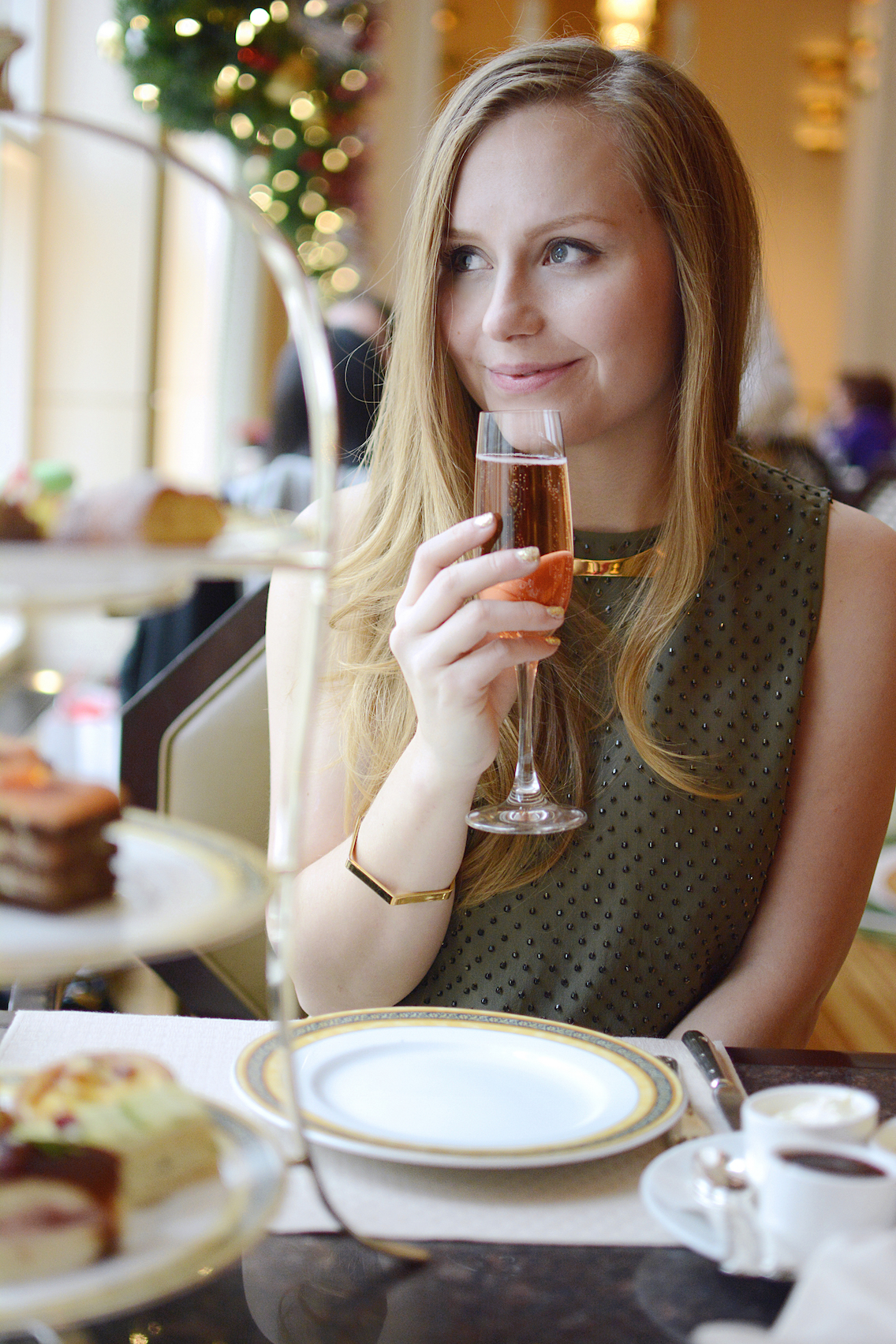 Happiness really is a good glass of bubbly, don't you think?
P.s. You can see more of my outfit in yesterday's sparkly post!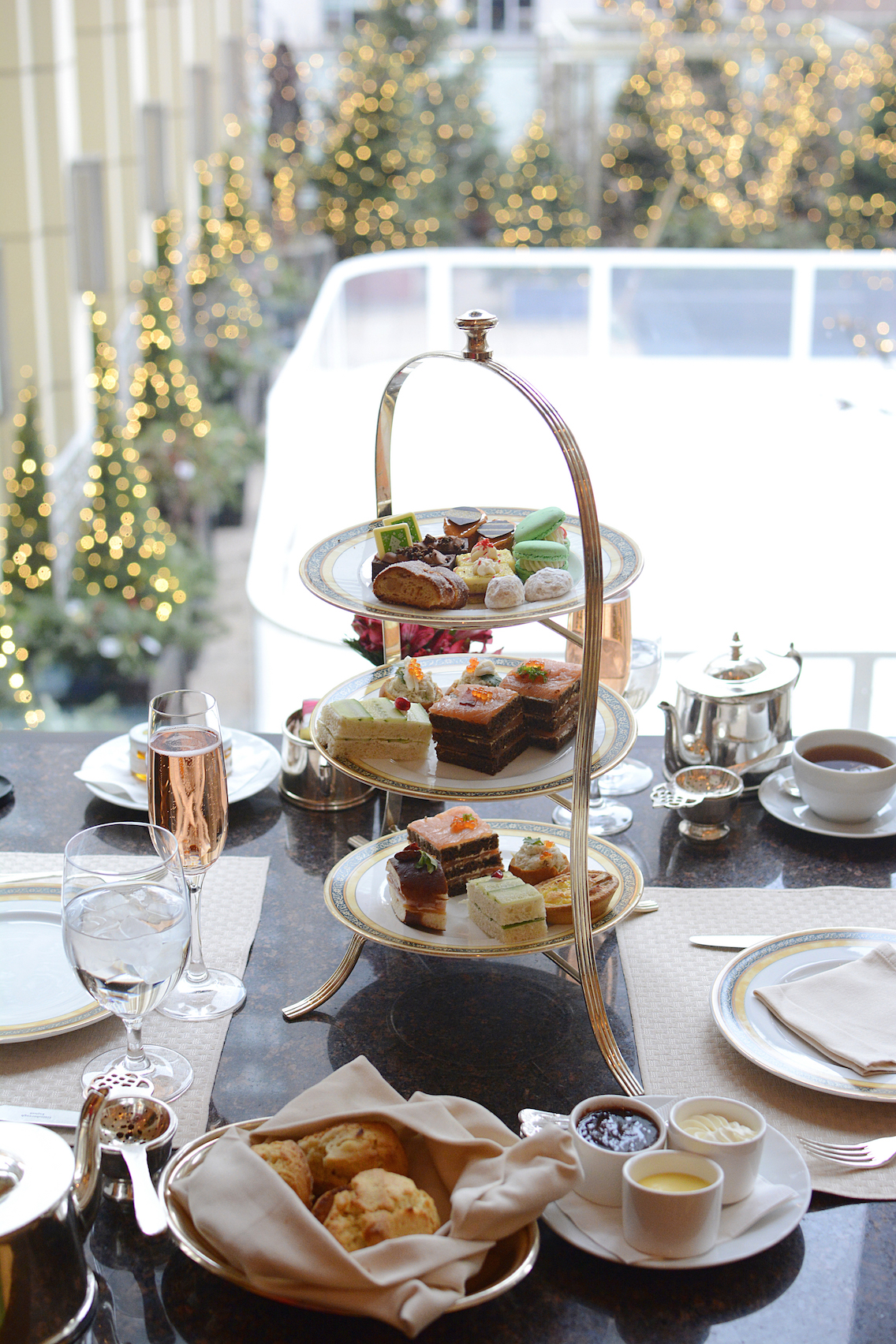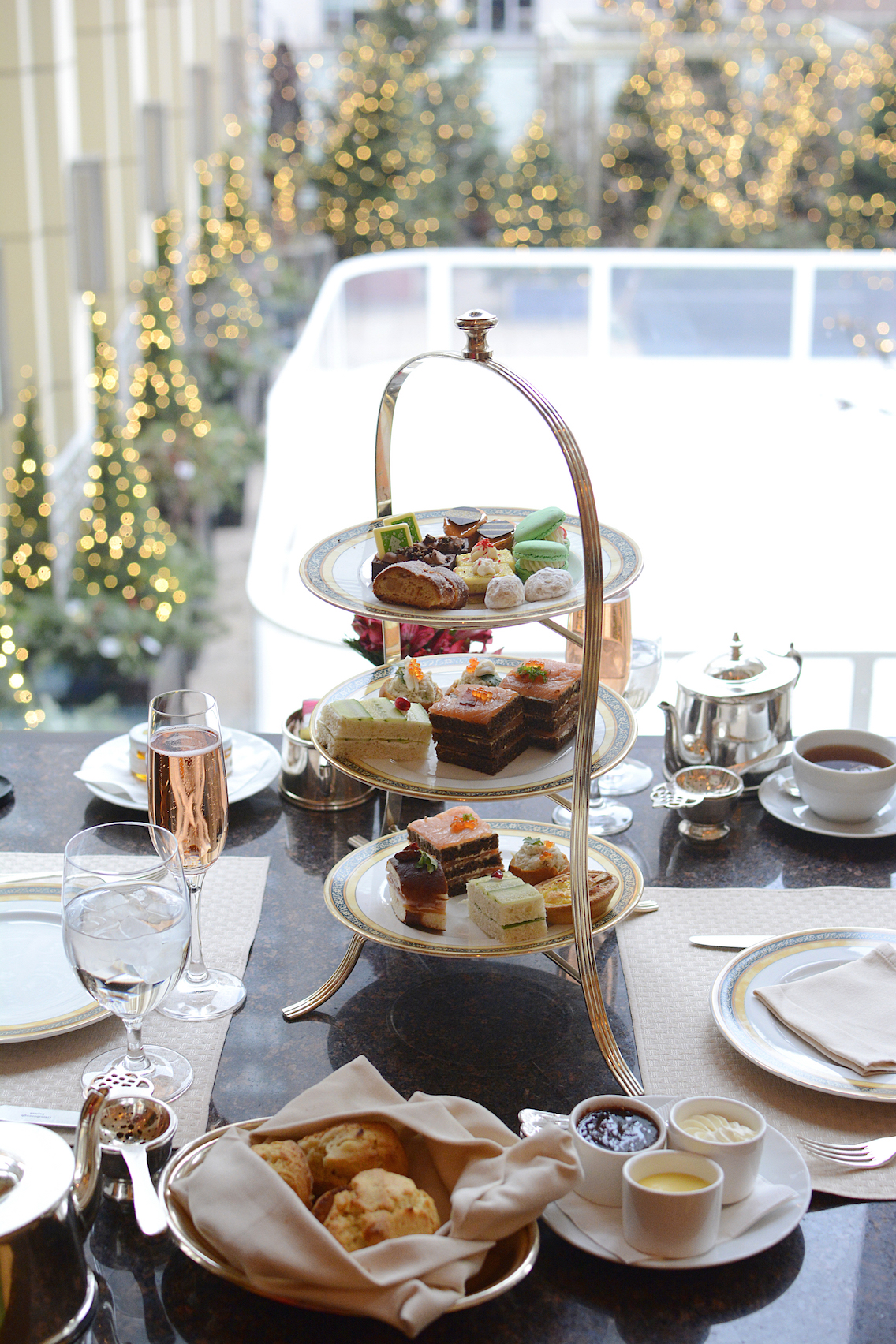 Then our festive feast arrived!
The afternoon tea service itself makes for an incredible display (and even better photos)… especially with the stunning ice rink on the patio below.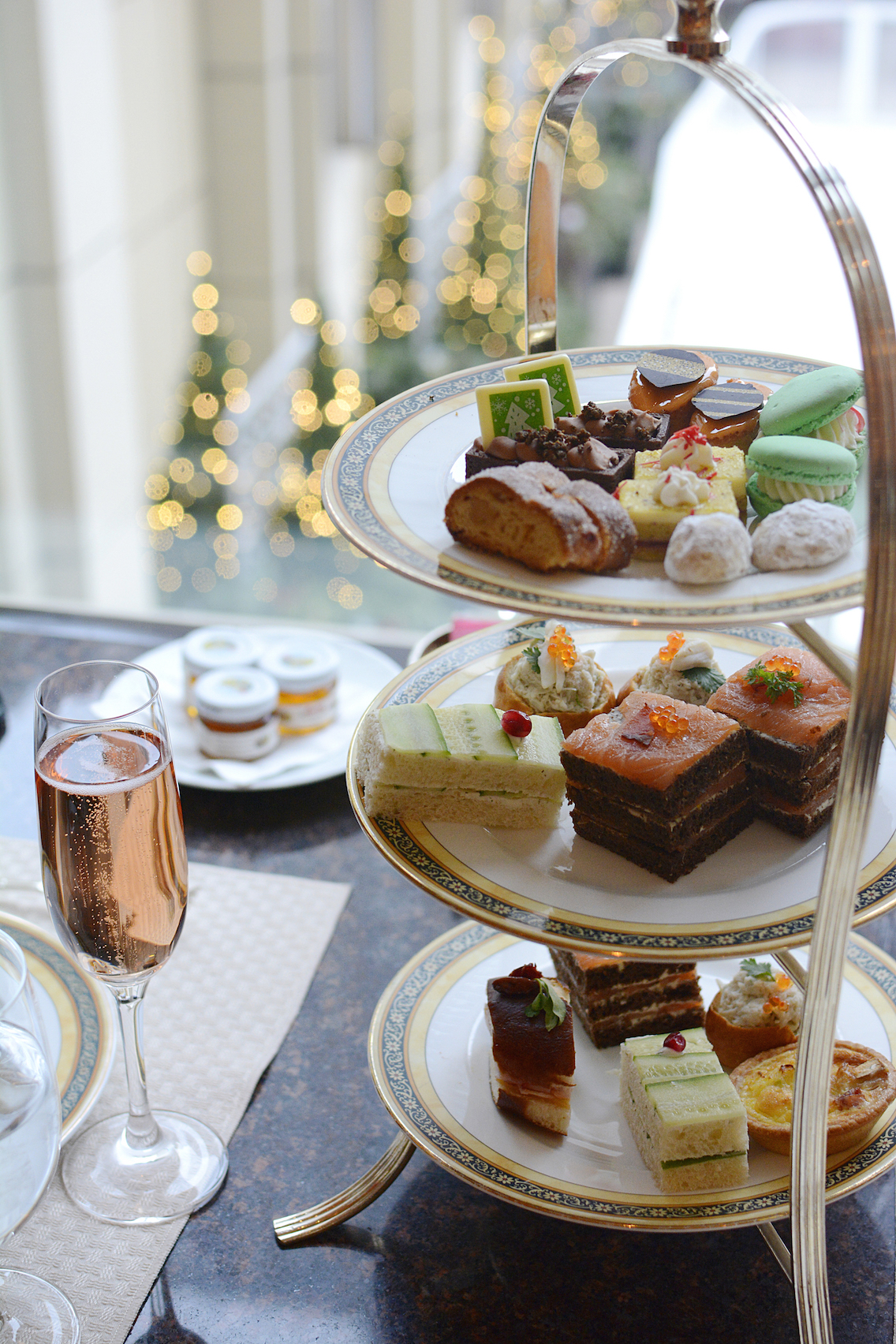 Doesn't this just make your mouth water?
Between you and me, I really need to stop writing food posts first thing in the morning — it makes me so HUNGRY!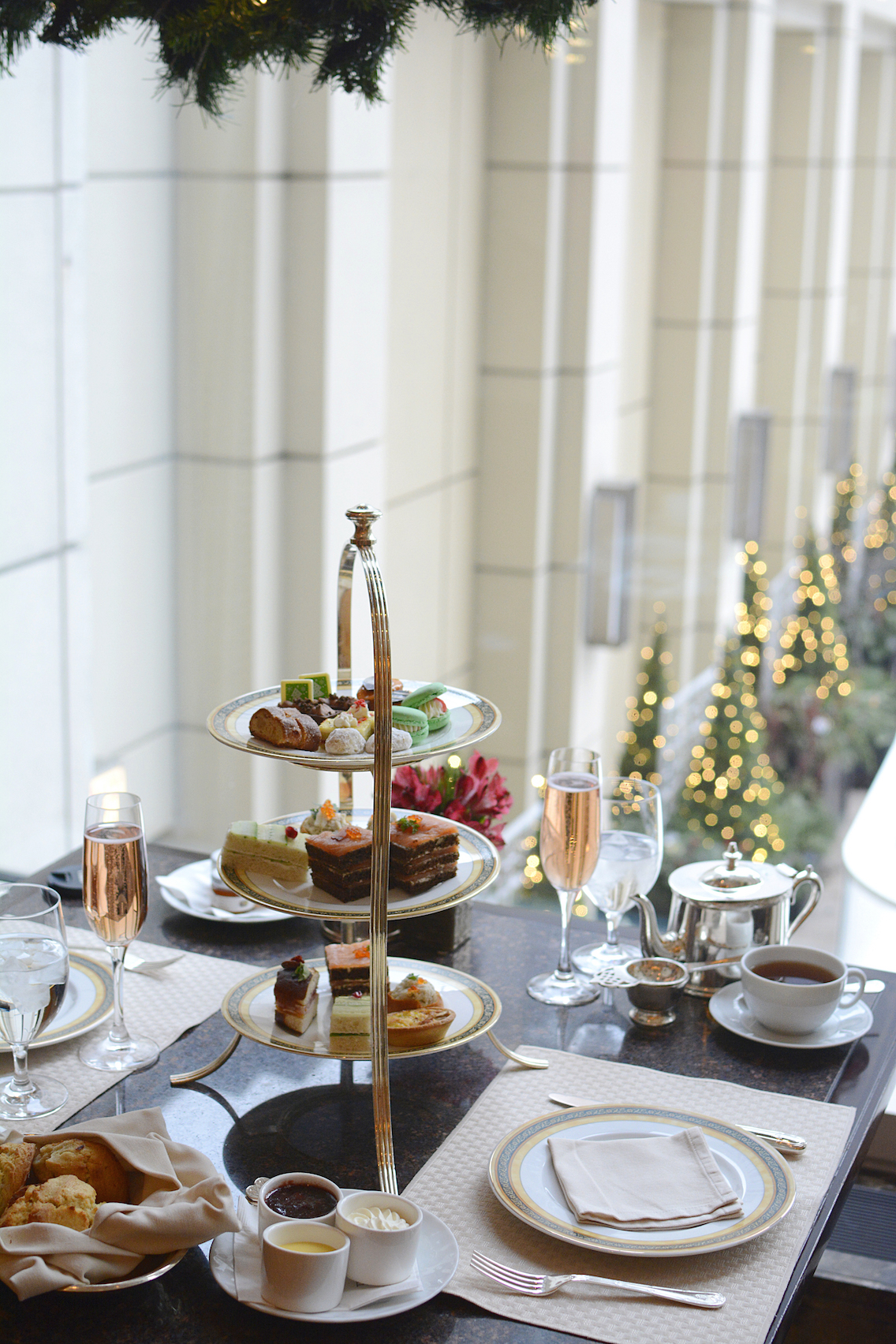 So very, very hungry…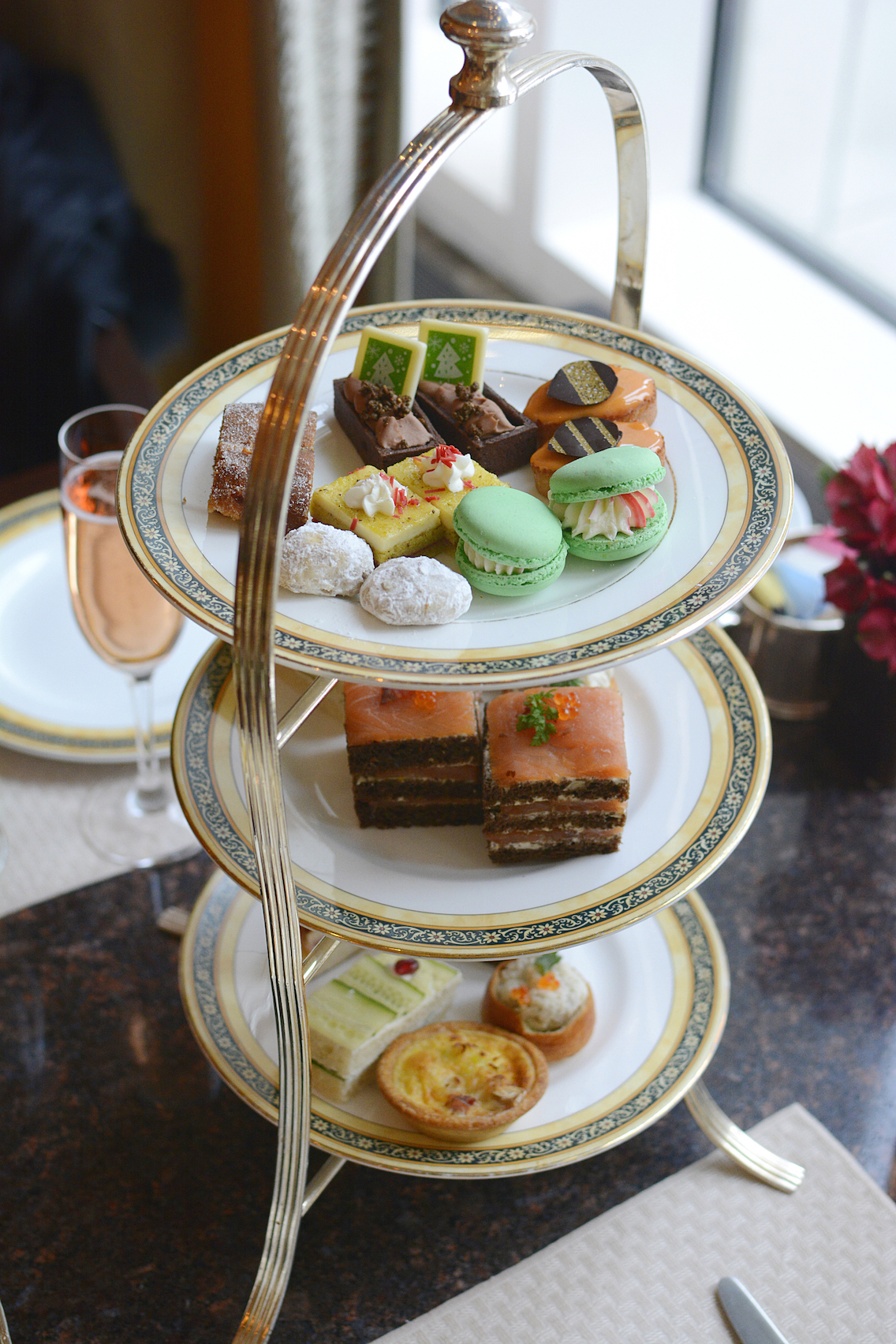 Wait, where was I?
Oh, right…
The Peninsula's three-tiered display contains two tiers of savories and a top tier of sweets.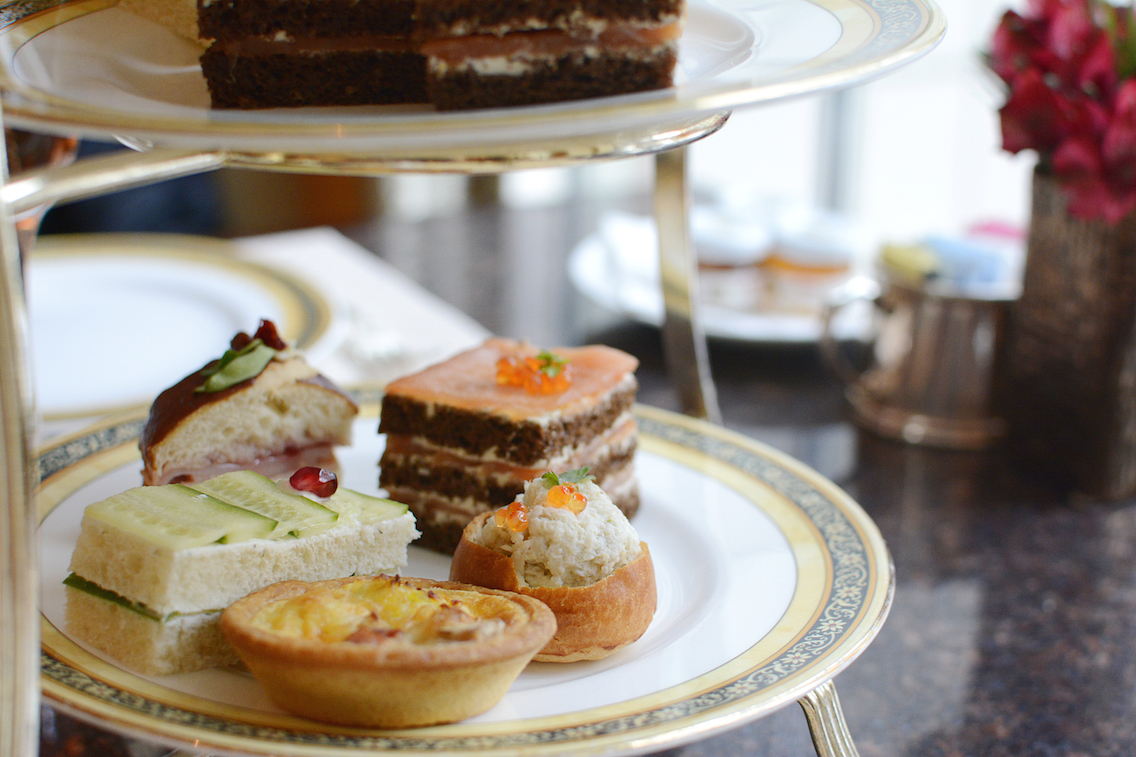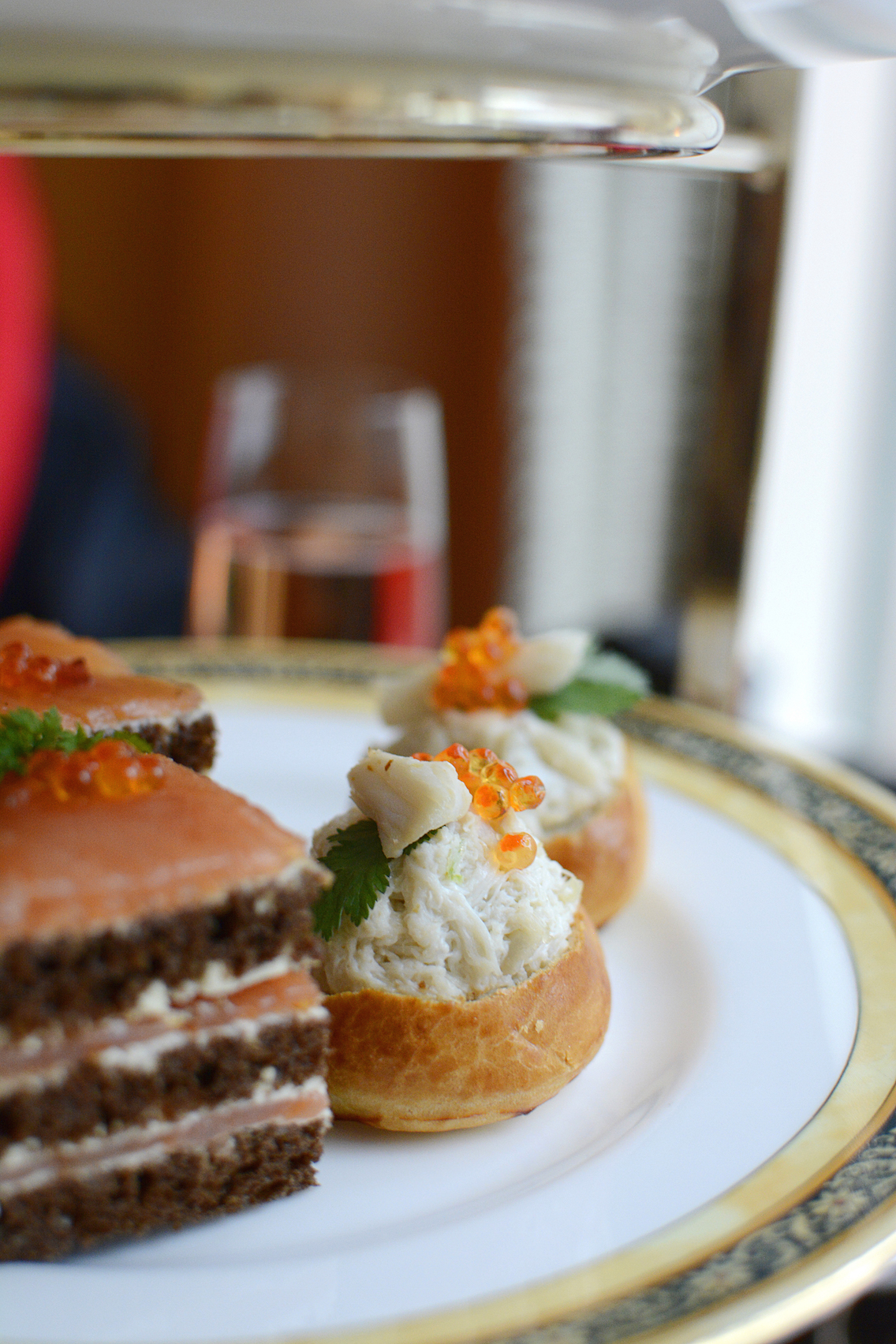 The bottom-two-tiers of savories featured:
Smoked salmon sandwiches with orange cream cheese, caviar, and beet cured salmon on pumpernickel,
Cucumber sandwiches with dill cream cheese and rosette garnish on white pullman (remember when these made my "Best of 2014" list?),
Crab salads with coriander-lime aioli, caviar, and cilantro on adorable petit brioche buns,
Turkey and smoked mozzarella sandwiches with mascarpone-apple jelly, cranberry, arugula, and candied pecan on pretzel bread,
Ham and Brie Quiche with leeks and petit herbs.
It was an impressive spread — especially considering how many seasonal ingredients Peninsula incorporates into their menu. In the last four years I've gone I've never had EXACTLY the same selection.
Anna and I dove right in starting with this turkey sandwich for Anna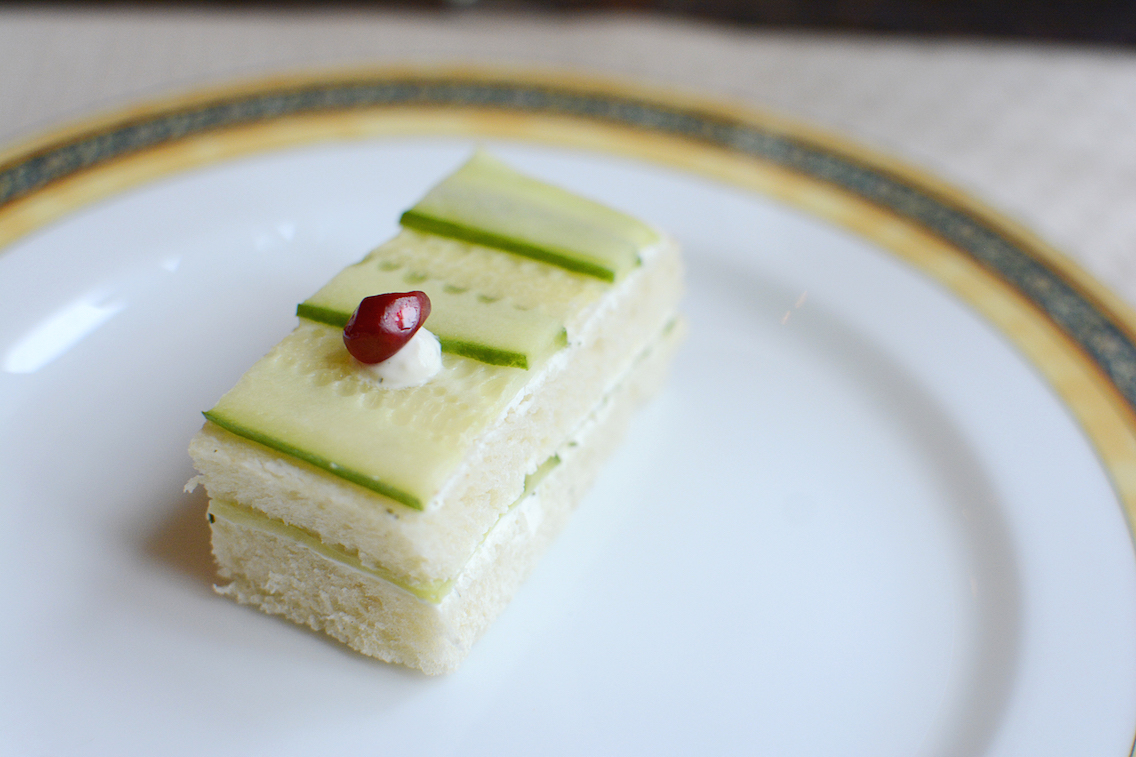 and this heavenly cucumber sandwich for me.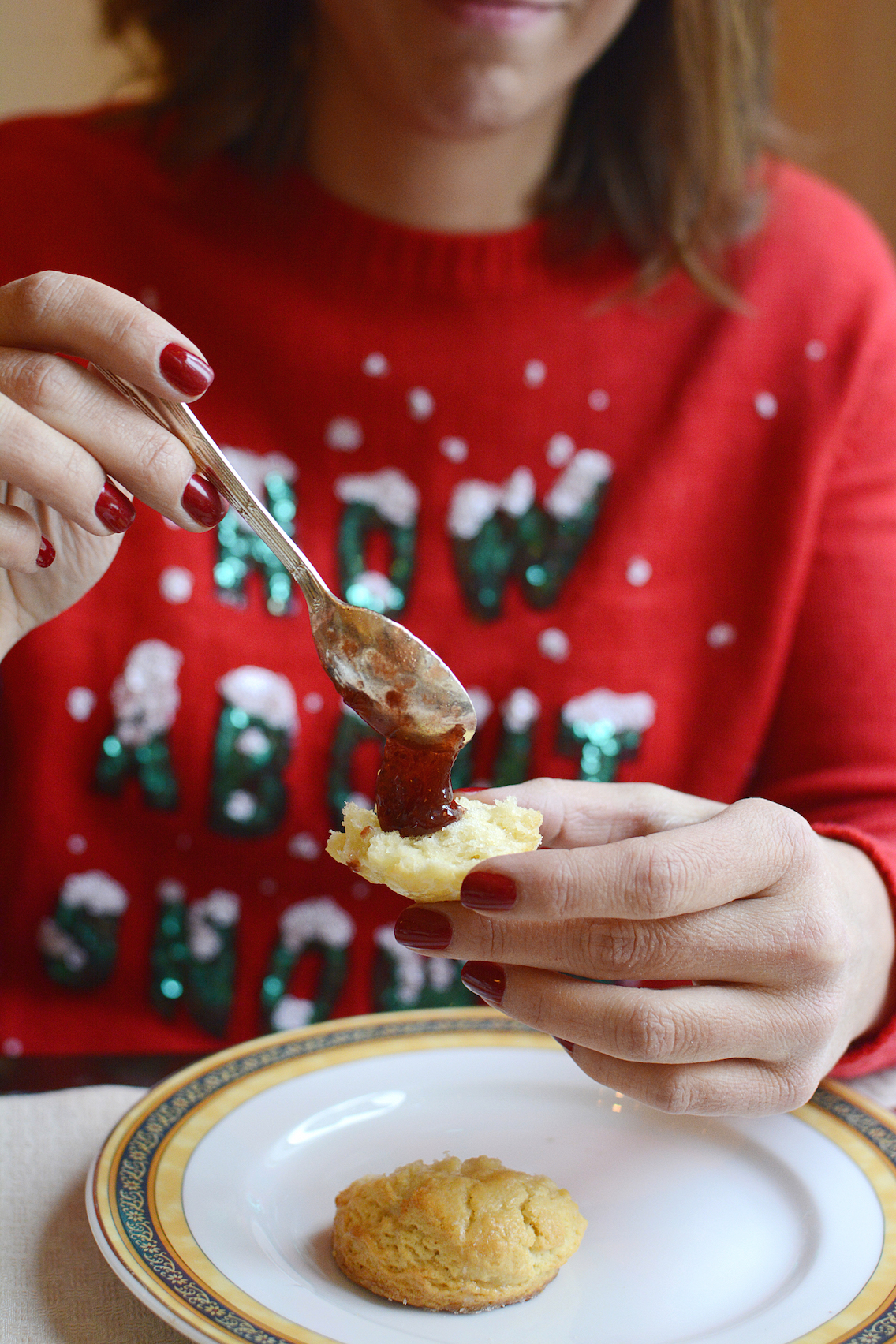 We also immediately pounced on the fresh, warm scones with strawberry preserves and clotted cream.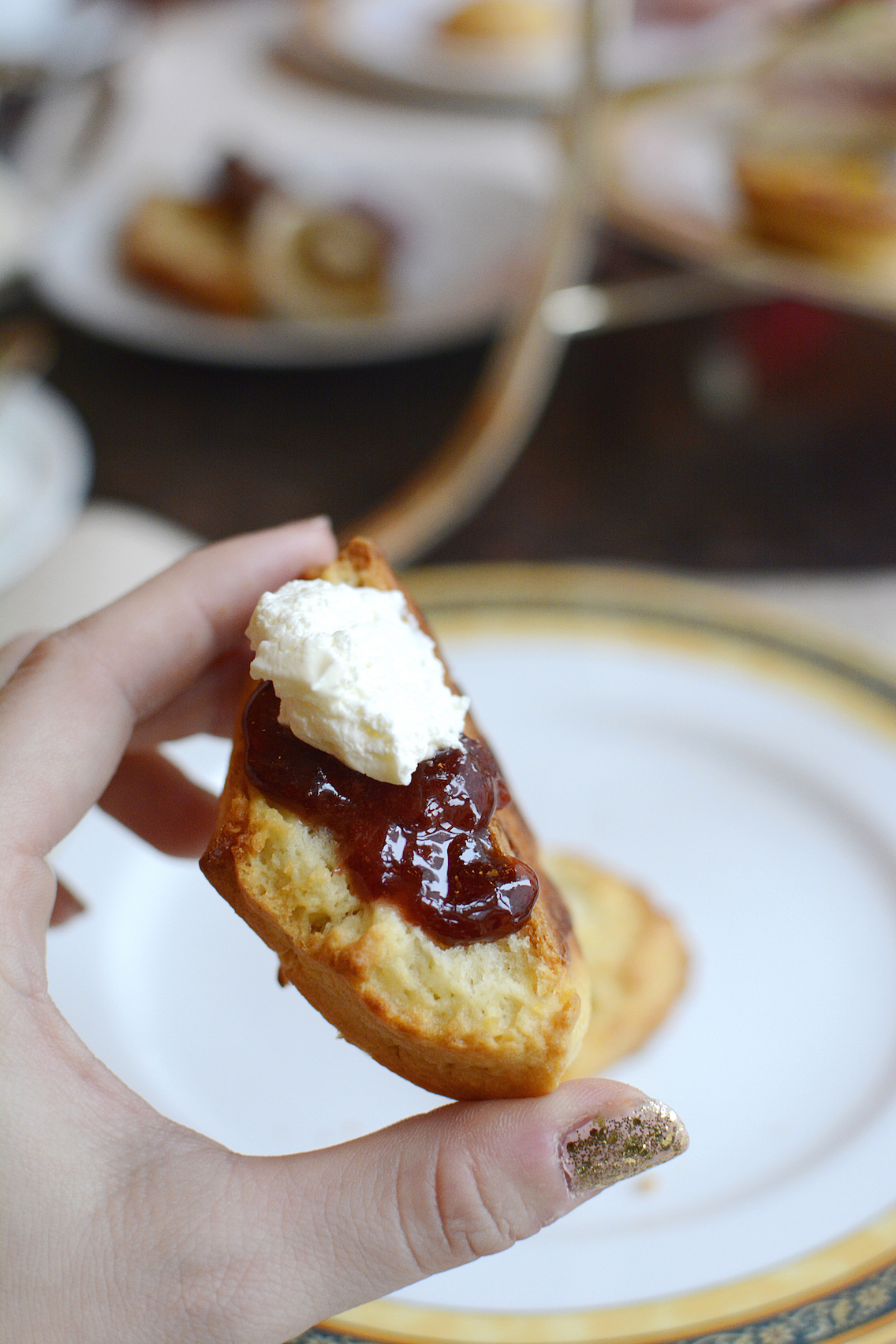 So pillow-y and yet rich in flavor…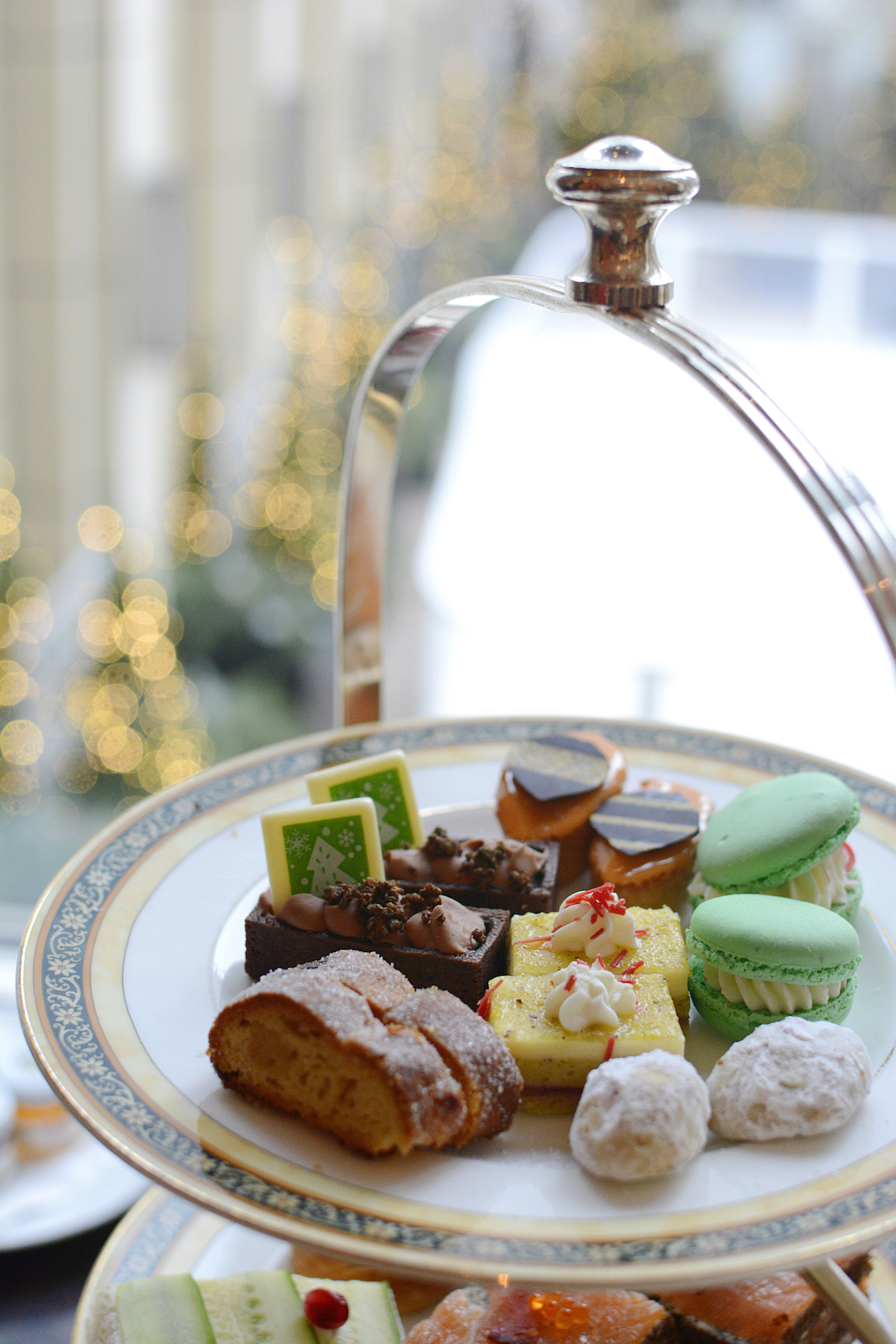 But the top-tier of the afternoon tea service is BY FAR my favorite being the deliciously decadent dessert tier!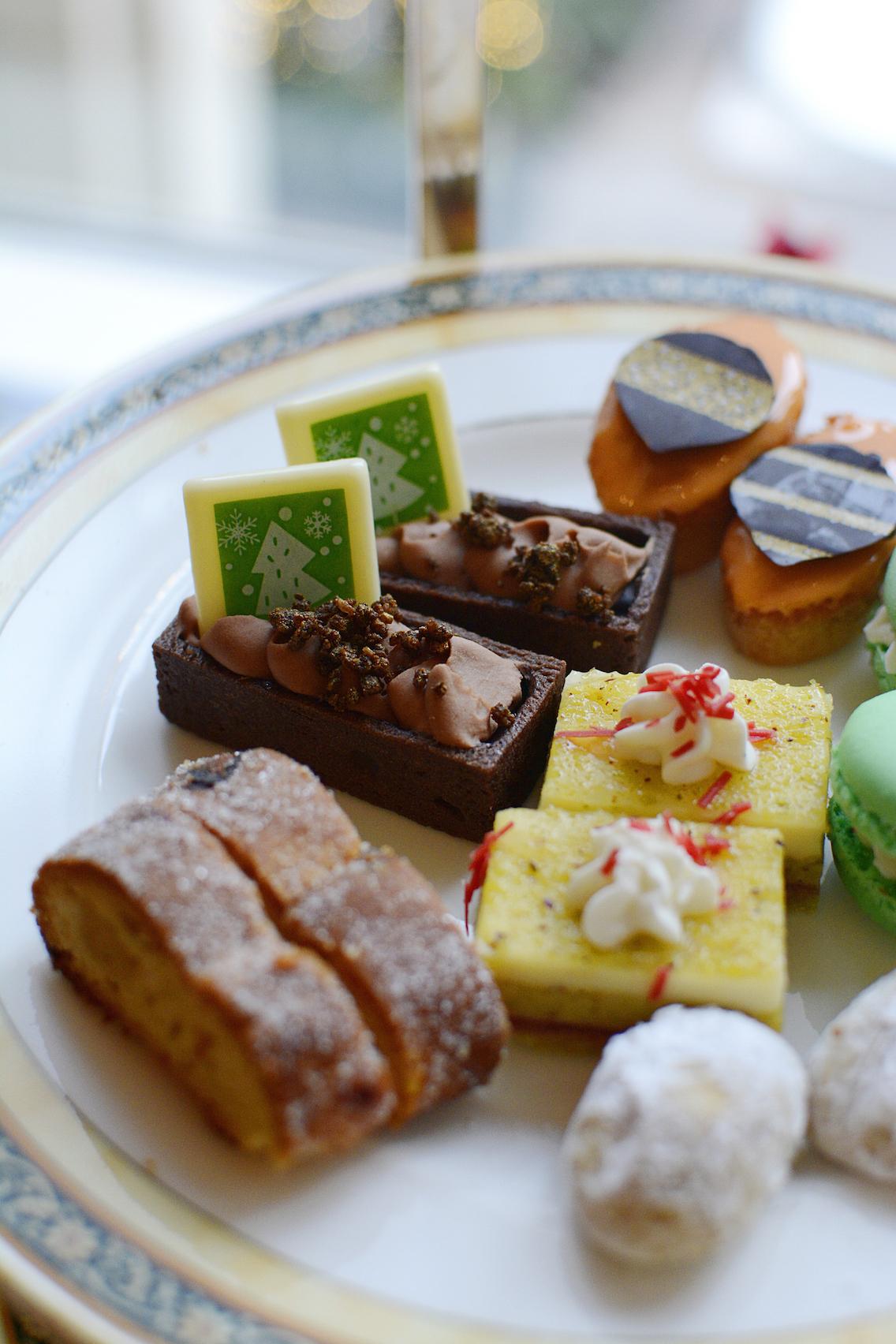 This year the Peninsula's spread included Spiced Orange Financiers, Peppermint Macarons, Nutty Cookies, Classic Stollens, Sacher Pistachio, and Chocolate Crumble Tarts.
Each was excellent but the nutty cookies (very similar to my grandmother's snowball cookies) and peppermint macarons won us over the most.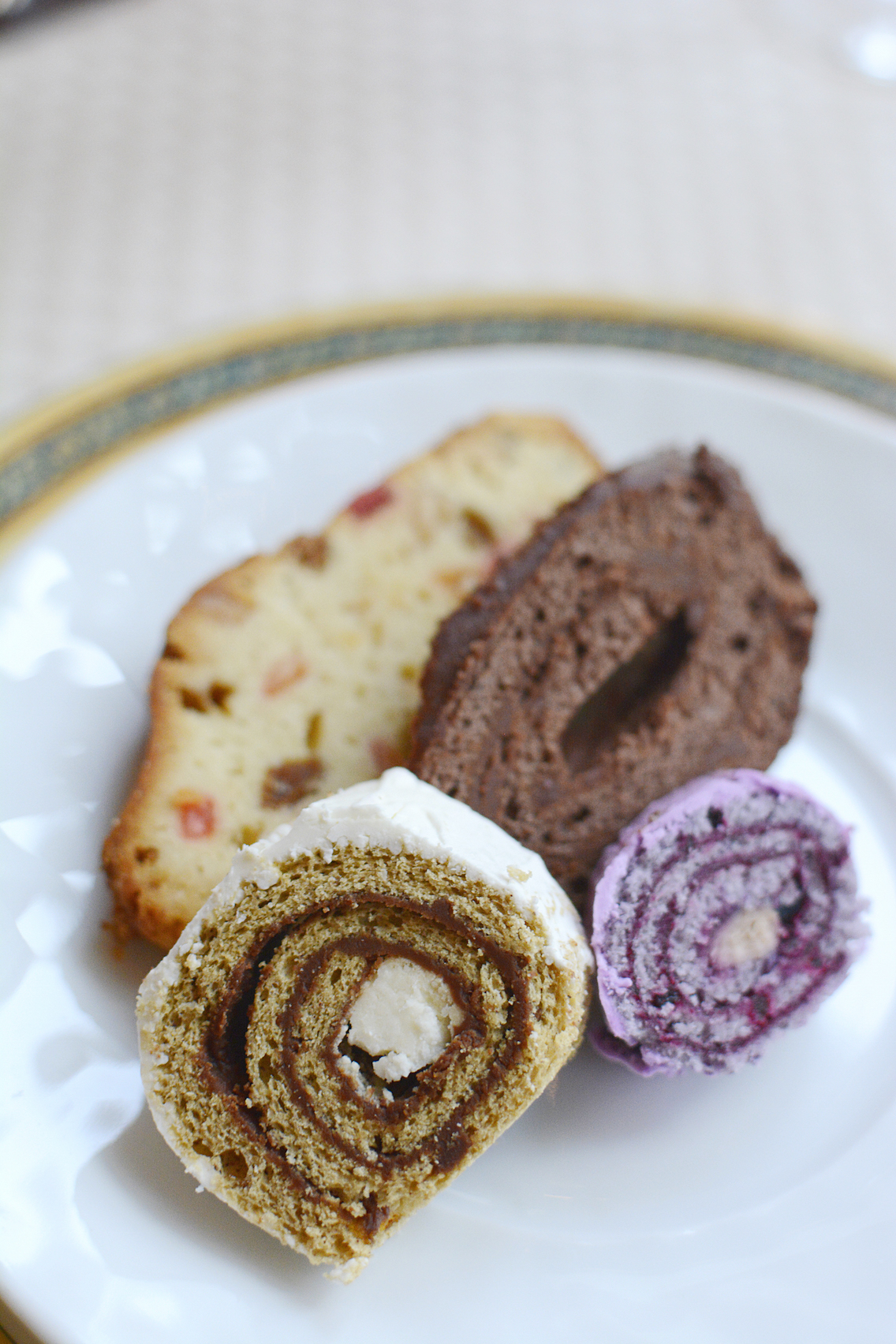 And despite being absolutely stuffed, when this delicious selection of pinwheel holiday desserts arrived, we gobbled them down too!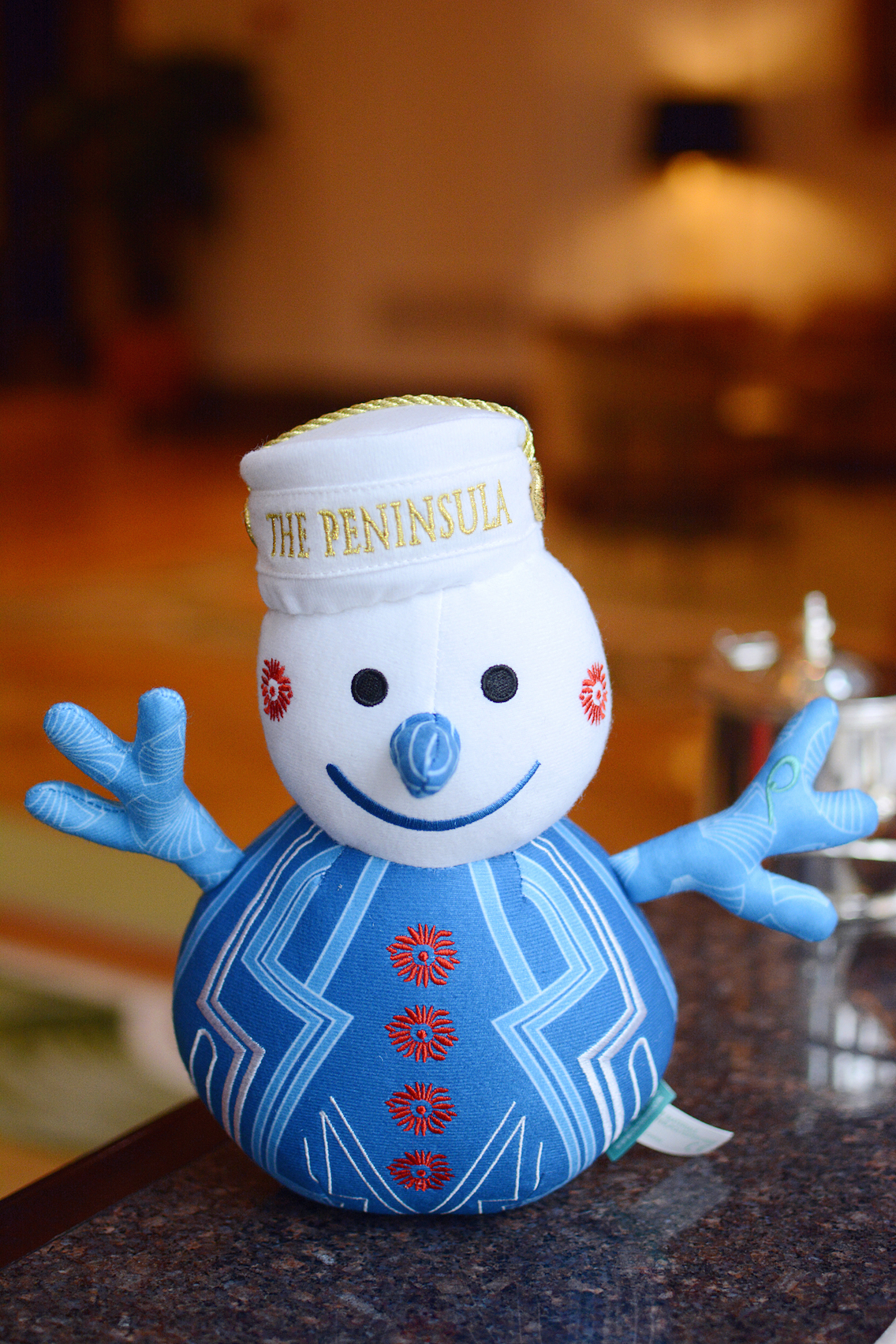 Here in Chicago, no one brings the British tradition of afternoon tea to festive life more than the Peninsula. It's a magical experience made even more special by the incredible staff — they treat you like family all while attending to absolutely every luxurious detail.
Every year I go I fall even more deeply in love with the experience and hope to continue the tradition for many years to come!
Looking for a great last-minute gift? This year Peninsula also started their adorable Snow Page campaign! Symbolizing the festive spirit, Snow Page is the Peninsula's holiday ambassador brought to life as a stuffed Papinee toy. Each Peninsula hotel has their own unique, limited edition Snow Page inspired by local culture (Chicago's clever design incorporates the four stars of our city flag) with only 300 toys produced for each of the 10 hotels. All profits from each Snow Page purchase will be donated to the Make-A-Wish Foundation® and, as a holiday bonus, some also contain golden tickets with various Peninsula experiences (including a hotel stay) as prizes! It's the perfect local last-minute gift (but if you win a golden ticket, you'll be bringing me with, right?)!
Disclosure: I received a discounted meal to facilitate this post. Review and all opinions are my own.