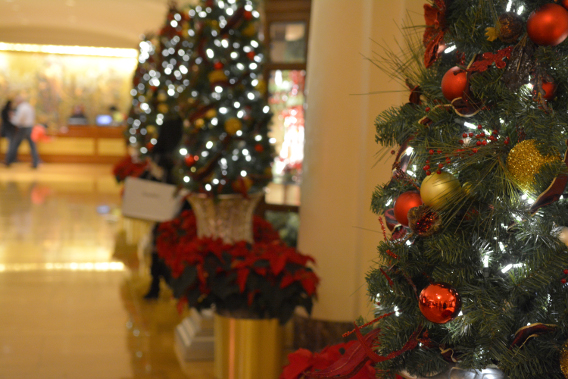 When it comes to celebrating the holidays in Chicago, it doesn't get more refined yet festive than enjoying a spot of afternoon tea at the Peninsula with a posh friend or two. The famous hotel serves their afternoon tea in their main Lobby, offering a gorgeous view over their Shanghai Terrace (complete with ice skating rink!) and the holiday mayhem of Michigan Avenue far below. So I grabbed my dear fellow anglophile Katharine, dressed in a stretchy dress (necessary given the quantities of food we were about to consume), and tried my hardest to not whistle English carols as we made our way to the Peninsula. We were ecstatic to try their holiday offerings but be sure to book your reservation well in advance as their holiday tea is incredibly popular and hard to book a table for last minute!
Each year the Lobby gets exquisitely decked out for the holiday season with opulent silver vases of Amaryllis flowers scattered everywhere and jolly wreaths decking out the three-story windows.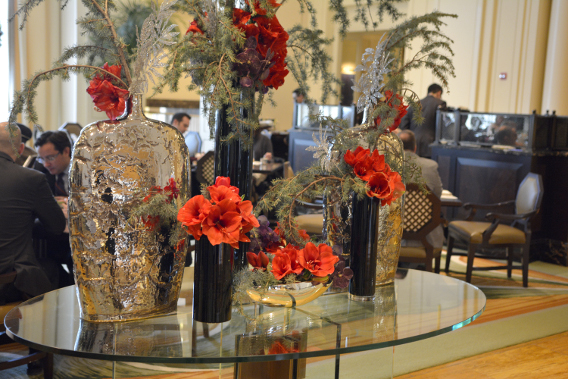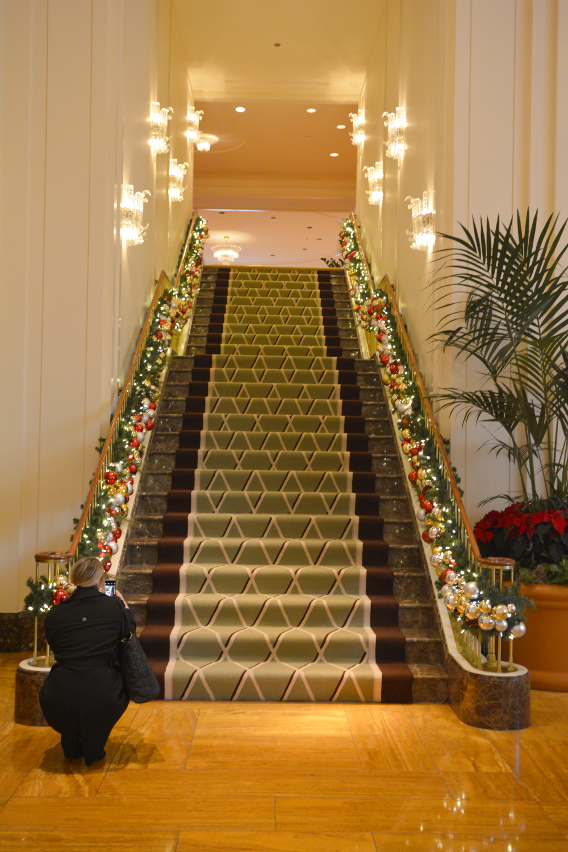 Katharine and I found the Lobby stairway covered in hundreds of gilded bauble ornaments and took turns shooting photos of it.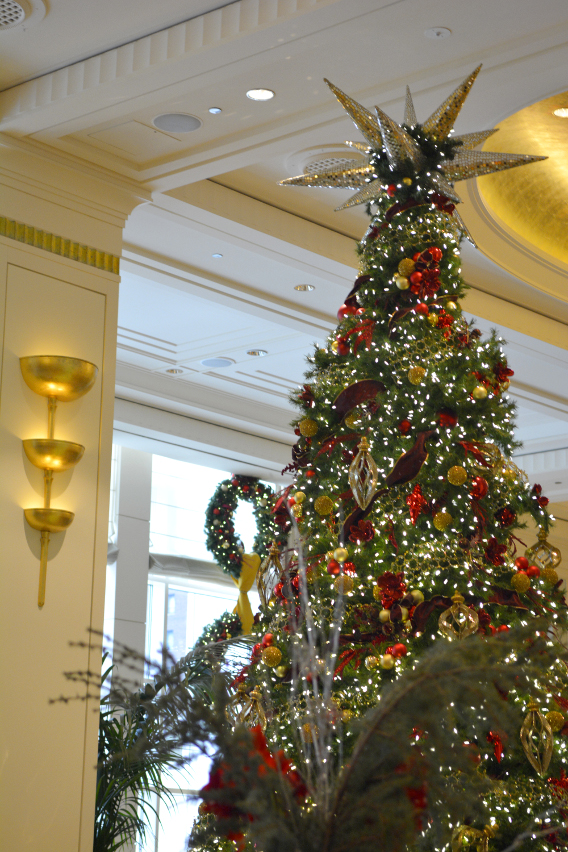 But the main attraction and center of attention in the Lobby is the massive central Christmas tree.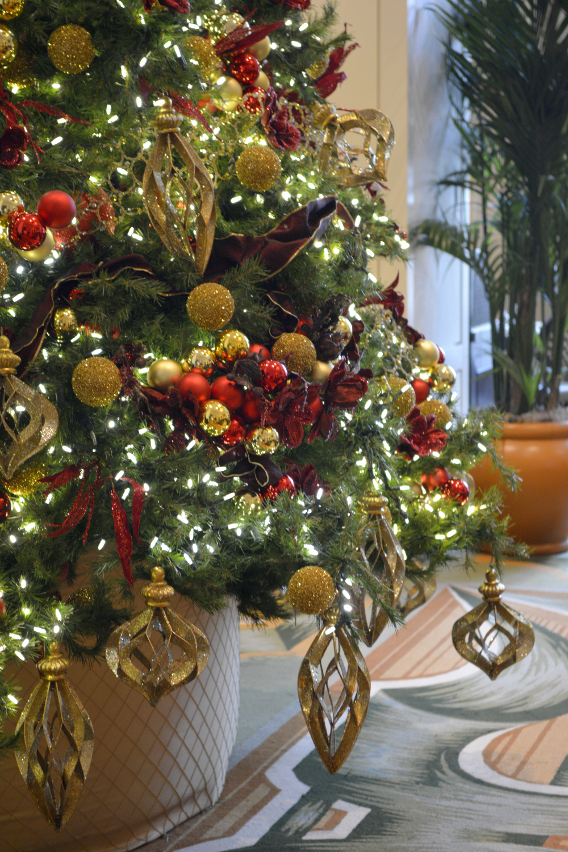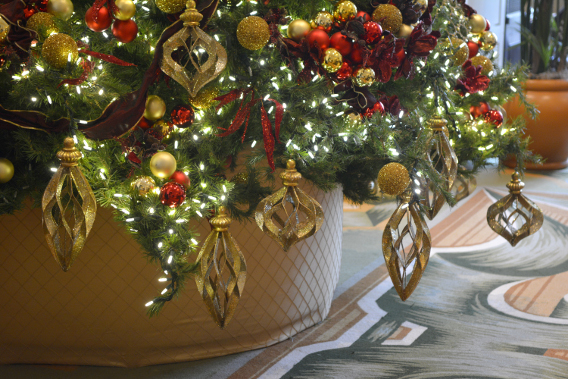 Dripping in opulent ornaments, glittery feather picks, rich burgundy ribbons and twinkling lights, this is one magical Christmas tree!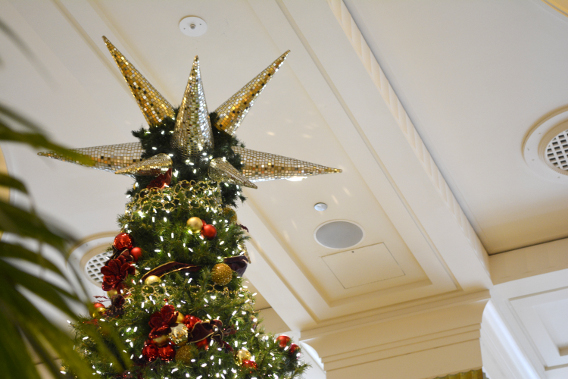 And at the very top, this wonder is crowned with its very own striking sequined starburst — a really unique sculptural element that puts the little crown on the top of our tree at home to shame.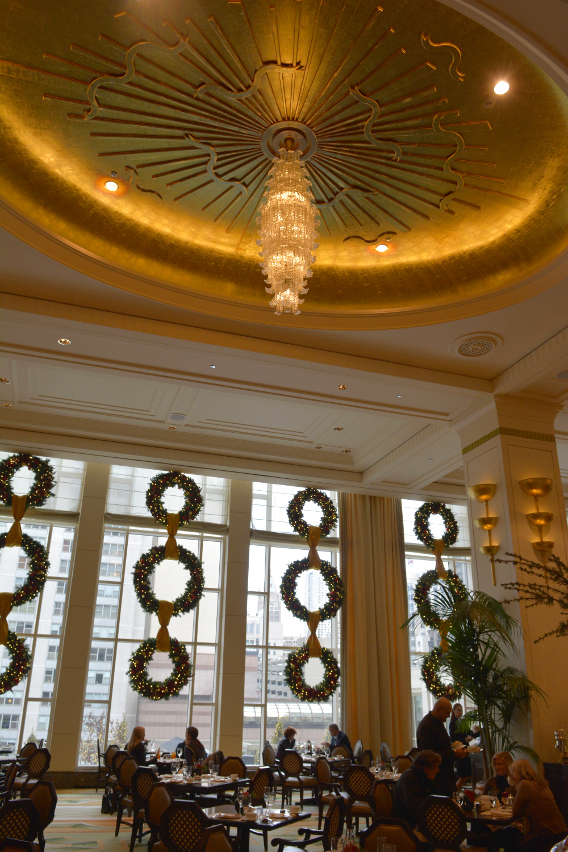 The Christmas tree top sunburst echos the elegant Lobby ceiling chandeliers…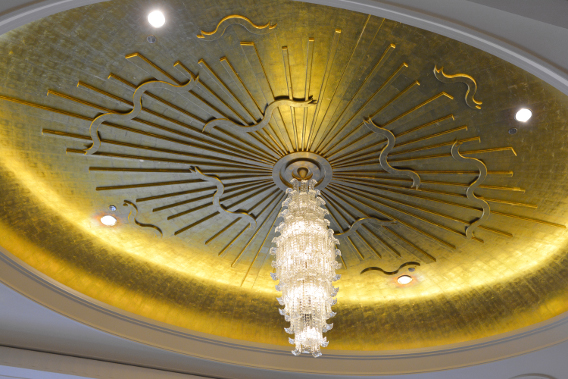 which are embossed with their own starburst pattern. The whole effect is truly magnificent and certainly worth stopping by to see, even if you can't stay for tea!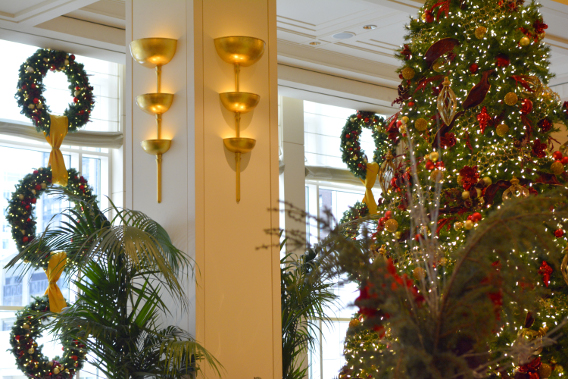 Just look at that gilded opulence — exactly what you would expect for holiday tea at one of the finest hotels in the city.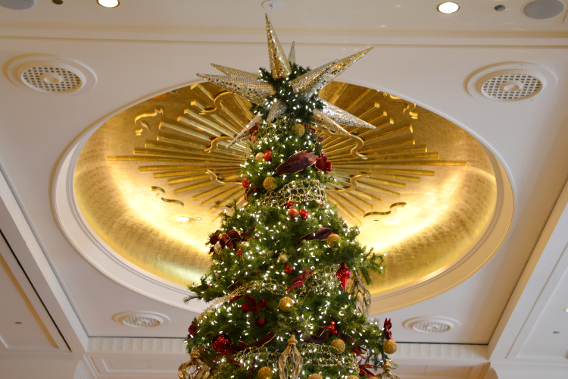 It's absolutely vital to take a photo of the splendor before sitting down for tea.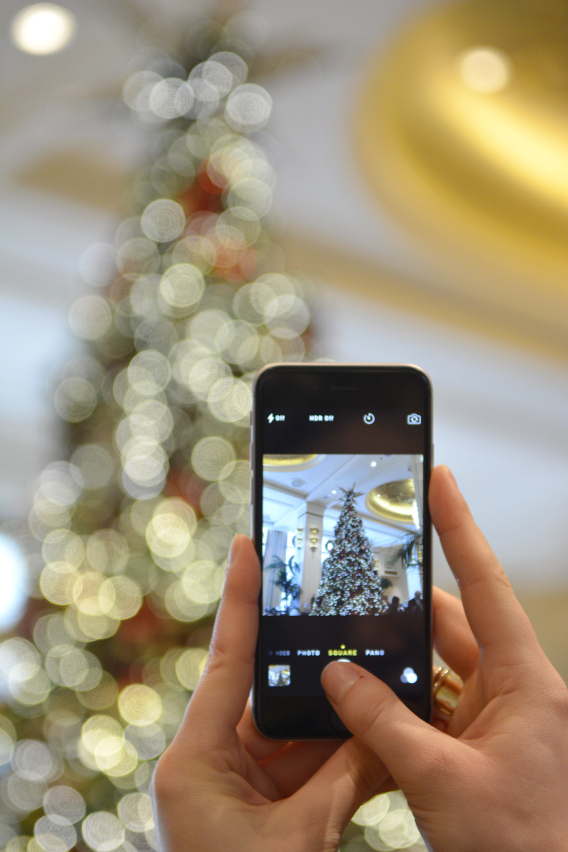 Or two…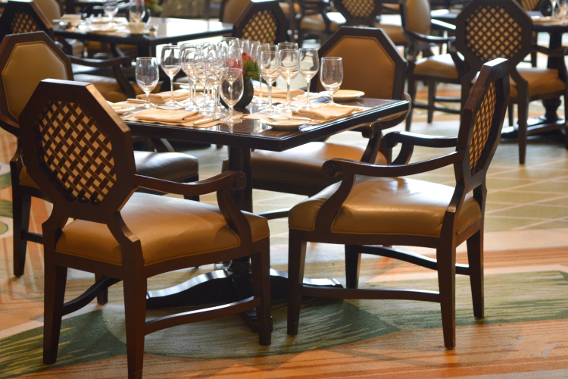 The tables are elegantly set, each with their own "holiday" themed vase of flowers.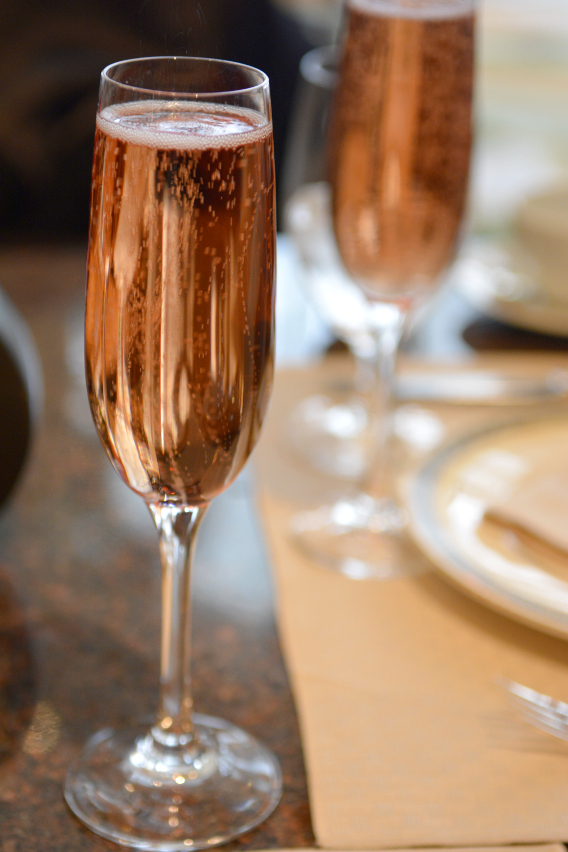 As any two self-respecting, self-employed women taking a Thursday afternoon off for some seriously needed "posh girl time" would do, we started off our meal with, not tea, but Rosé Brut!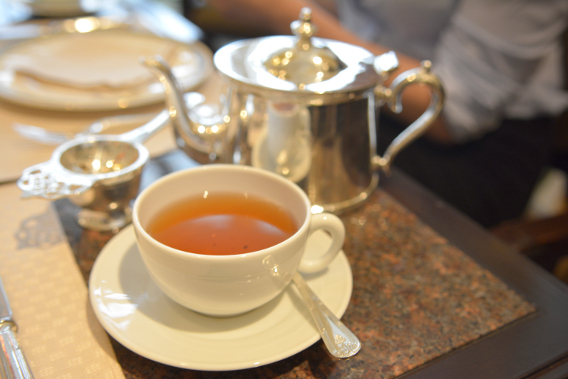 Of course we did order tea as well since it would be sacrilegious to forgo this vital portion of any afternoon tea date. I always opt for my favorite at the Peninsula: orange black jasmine. A divine marriage of intoxicating floral jasmine and bright citrus-y orange to compliment the delicate food and energize for the on-coming food coma I would have after the meal!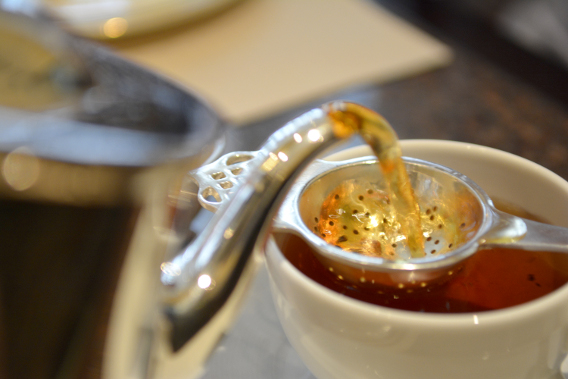 (To an anglophile, there really is nothing sexier than the elegant pour of freshly brewed tea out of a beautiful silver tea-pot.)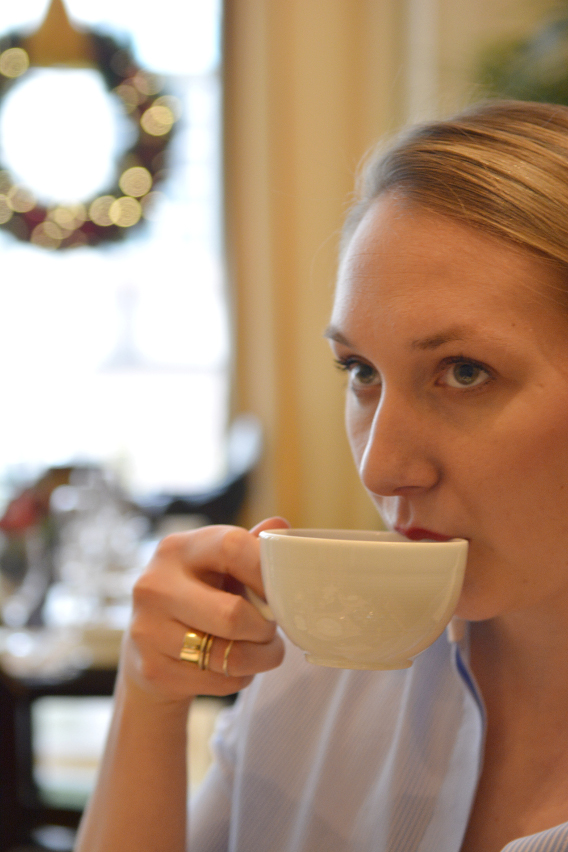 That first sip of afternoon tea will inevitably gently sweep you off your American feet and transport you magically across the pond to a place of elegant refinement.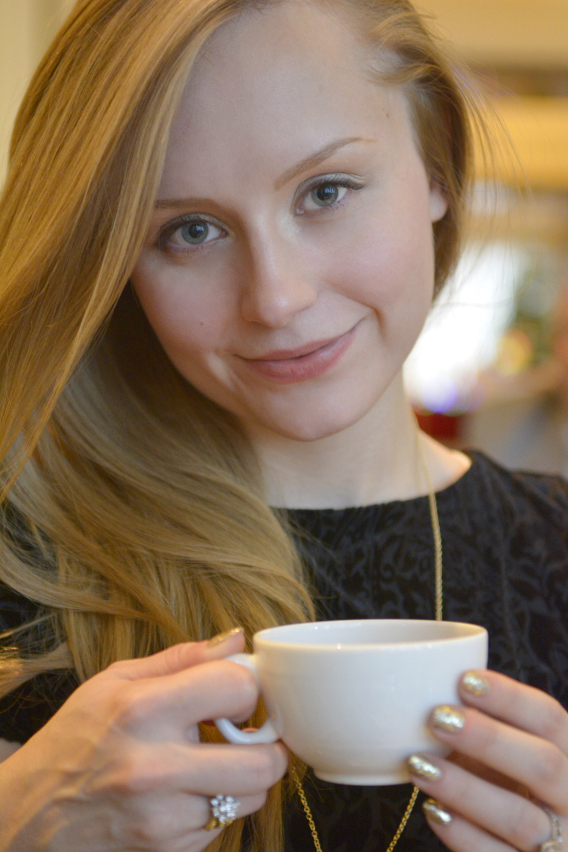 But despite being in the name, afternoon tea really doesn't have as much to do with tea as it does with the delicious accompaniments. The first requirement is that all food be served on a three-tiered tray, sandwiches on the bottom, desserts on the top (just as they do at the Kensington Palace Orangery in London where coincidentally Hubby and I tried our first afternoon tea together back in 2011).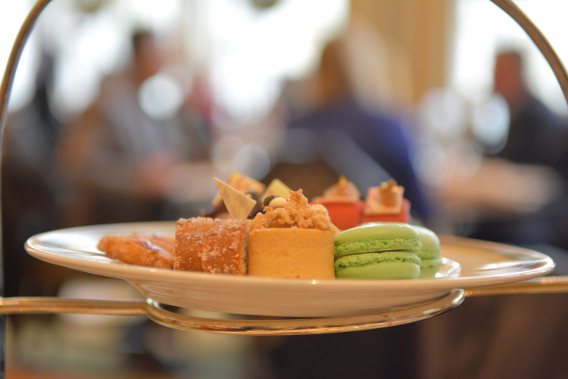 Ah, the dessert tier – the one you stare at as you work your way up to its climatically sweet finish of your meal. These pastries and sweets, being unfortunately at eye-level height, will stare you down throughout your entire meal caroling to you "eat me, eat me"!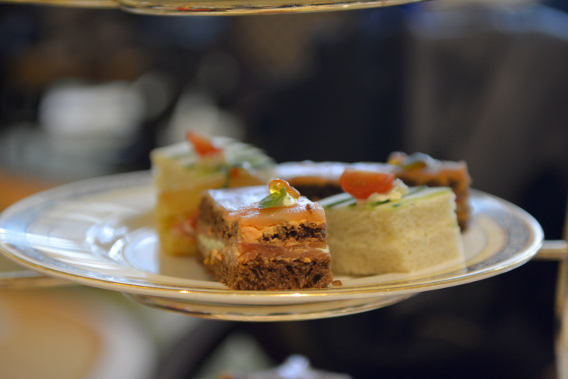 But customs must be observed! And so we began with the most savory tier of sandwiches…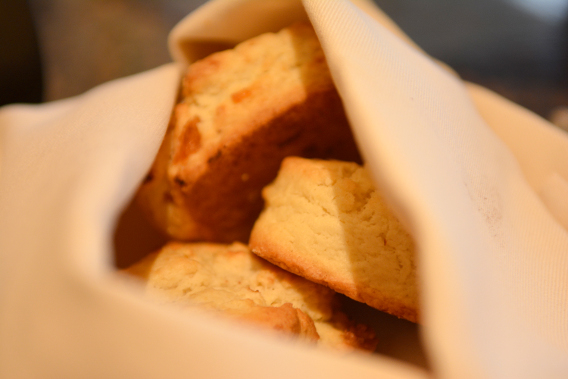 And deliciously warm, fresh-baked scones. These come served with airy lemon curd, rich raspberry jam and perfectly salted butter.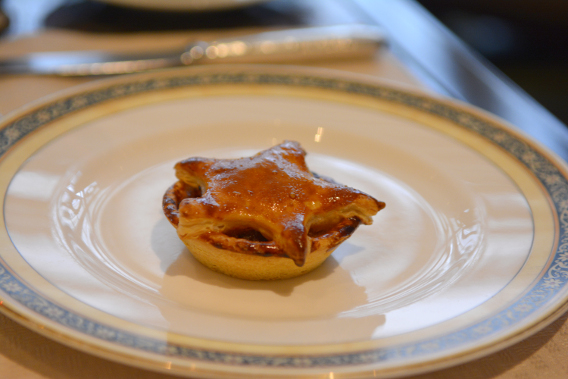 On to the savouries! Katharine started with one of the traditional mince pies while I…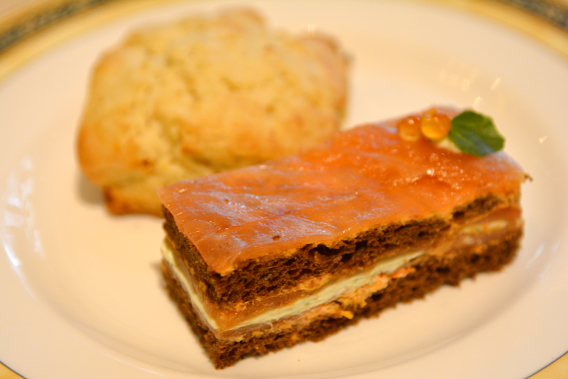 delved into my absolute favorite (usually on the menu year round), the smoked salmon sandwich with herbed cream cheese.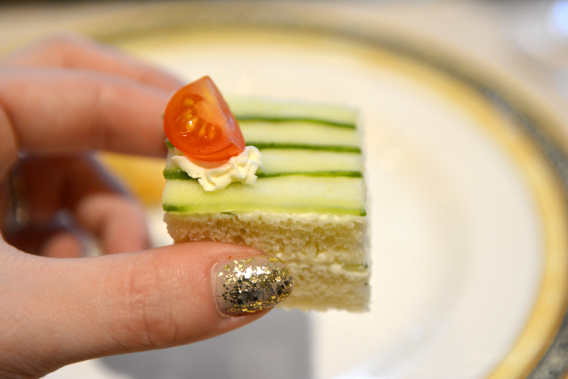 And the quintessential cucumber sandwich is an absolute requirement! Fresh, crisp and creamy — the perfect cool compliment to a pot of hot tea.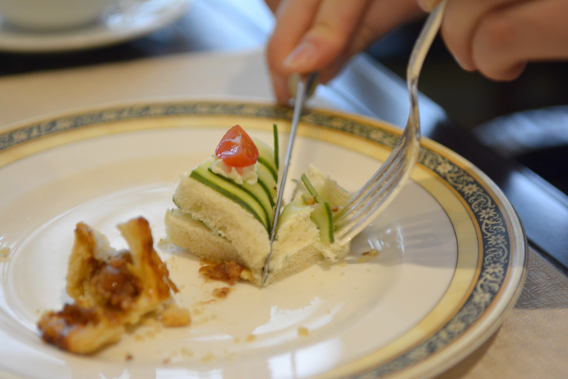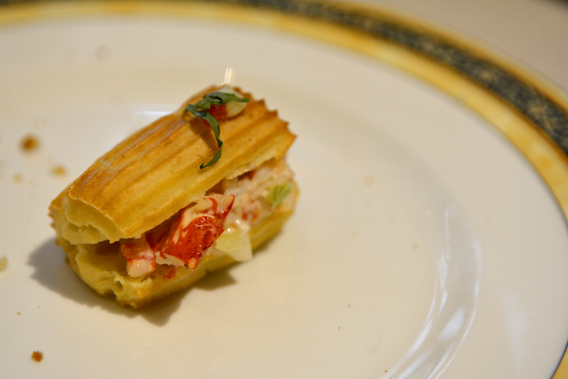 While the Peninsula changes their afternoon tea menu almost every month, they usually have at least one offering involving lobster or crab and I've yet to be disappointed with these opulent shellfish creations. My one complaint about this lobster roll was that it was too small: bite-sized? Yes. Ashley-sized? No.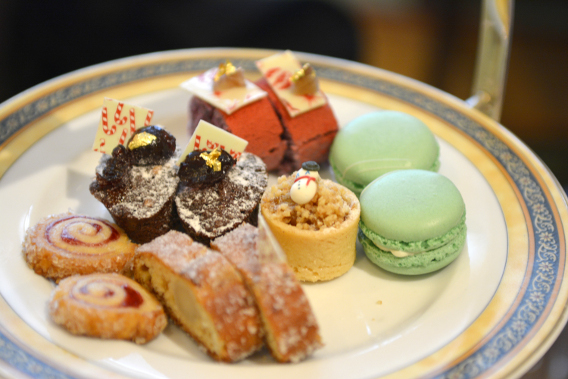 After devouring our savouries, trying to look as posh as possible with our little finger sandwiches, we finally made it to the crowning dish of desserts. Just look at the selection! Eggnog apple crumbles, raspberry jam rugalachs, pistachio macarons… do the holidays get any better than this? A far more refined version of your cliché holiday cookie platter.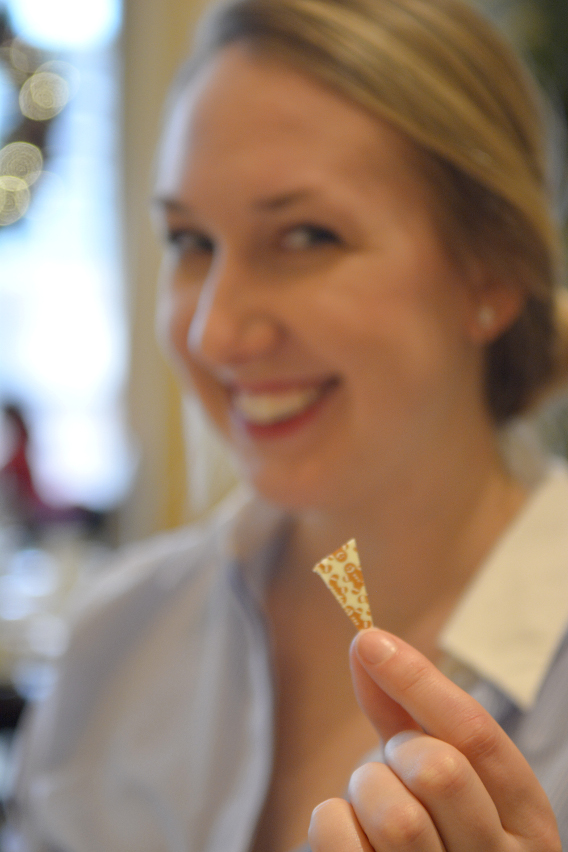 If I had to choose one thing I love most about afternoon tea at the Peninsula, it's their brilliant attention to detail. Just look at the intricate gingerbread motif on this small accent of white chocolate!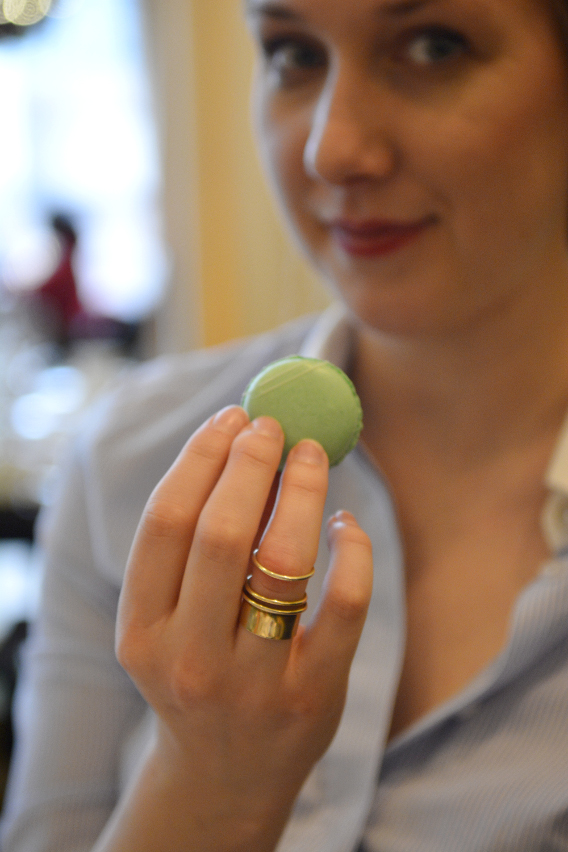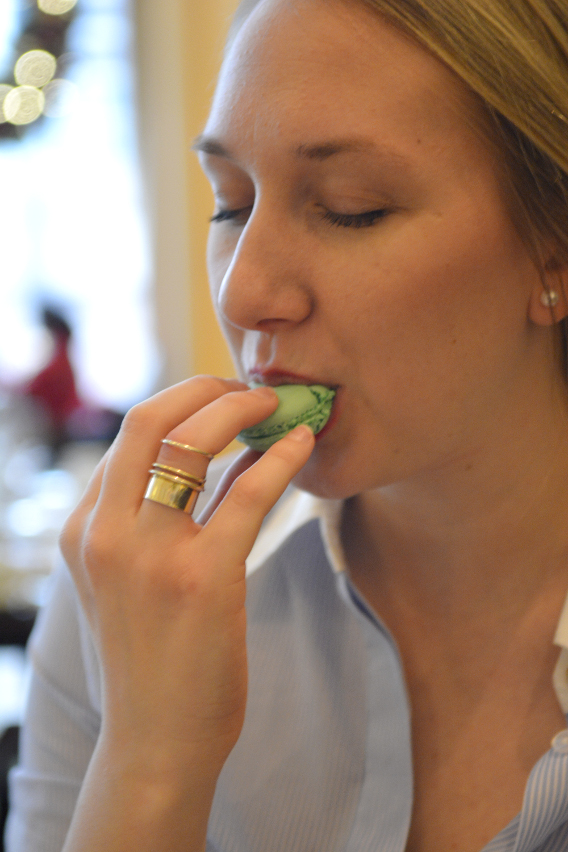 Mmmmm…. Marvelous Macarons!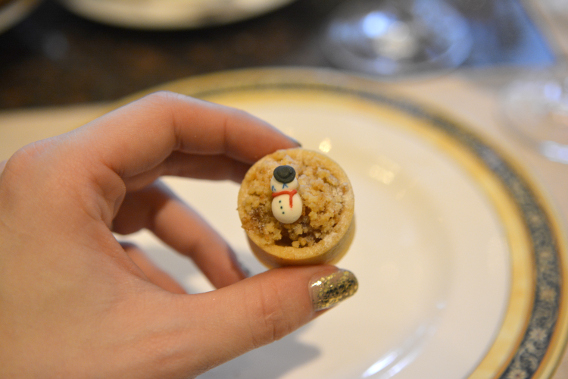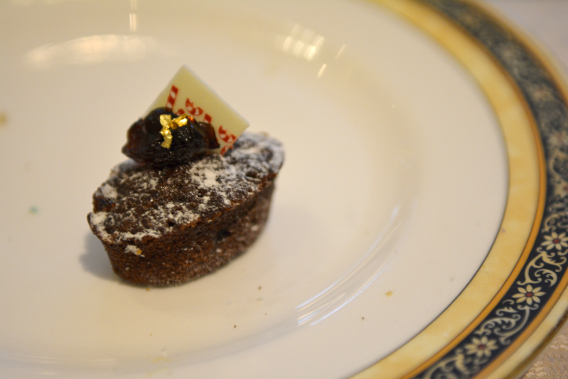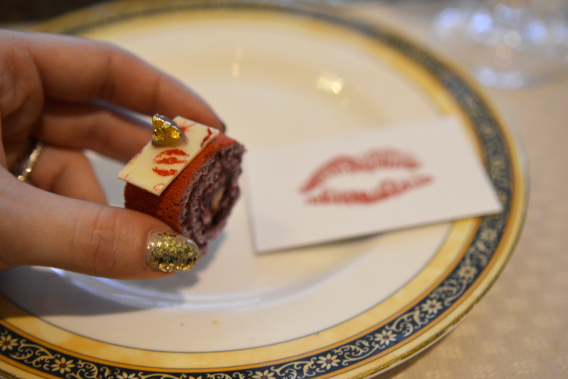 When I saw the adorable motif on the white chocolate accent of this red velvet roll, I couldn't help myself from pulling out my spanking new Sed Bona business cards: they have a similar kissing motif on the back!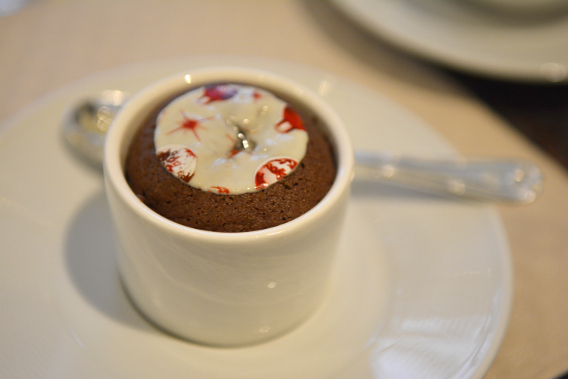 Near the end of afternoon tea, waiters bring around silver trays of a special 'dessert du jour' (a sort of "dessert roulette" where you never know what they will be bringing out that day). On our visit, they happened to be serving the best "roulette" I've tried so far: molten chocolate cakes in ceramic mugs.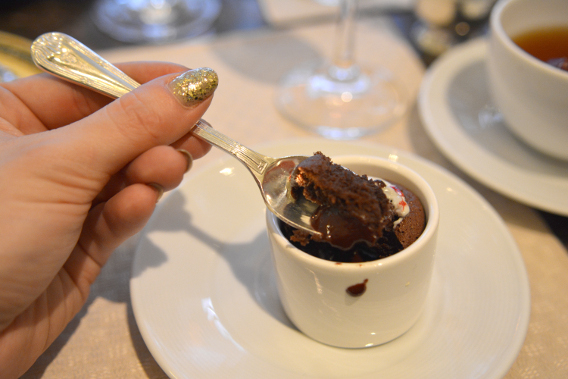 Just look at that rich, oozing, chocolately center!! Can you end a meal on a more perfect note? I truly think not!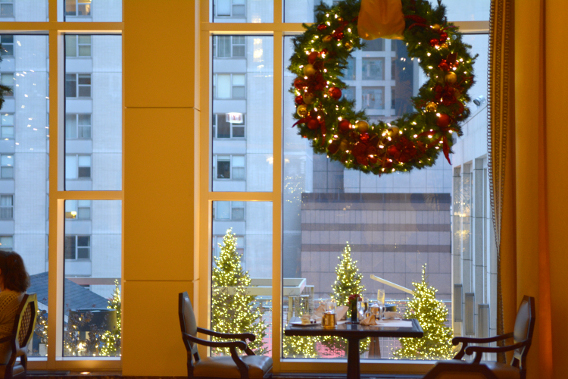 We stayed so long sipping tea and rosé and chatting about everything under the sun that the sun had literally set by the time we finished our meal! You can see the beautiful trees lining the Shanghai Terrace ice rink through the windows all light up for the evening and that brown building across the street is Neiman Marcus.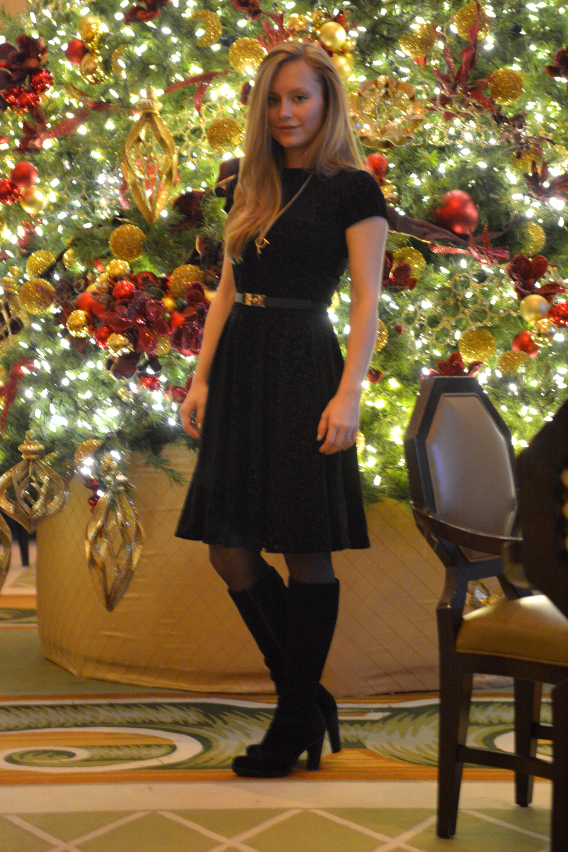 Dress – Lauren Ralph Lauren Black Velvet Fit & Flare (here)
Boots – La Canadienne 'Martine' (seen previously here, available here)
Belt – Topshop Gold Clasp (old, similar ON SALE here)
Necklace – Hobbs NW3 'Bugle' Pendant (ON SALE! here)
Nails – Chanel No. 559 'Frenzy' (here) layered with Essie 'Rock at the Top' (here)
It was an excellent day and a much-needed break from the chaos of Katharine and I's lives!