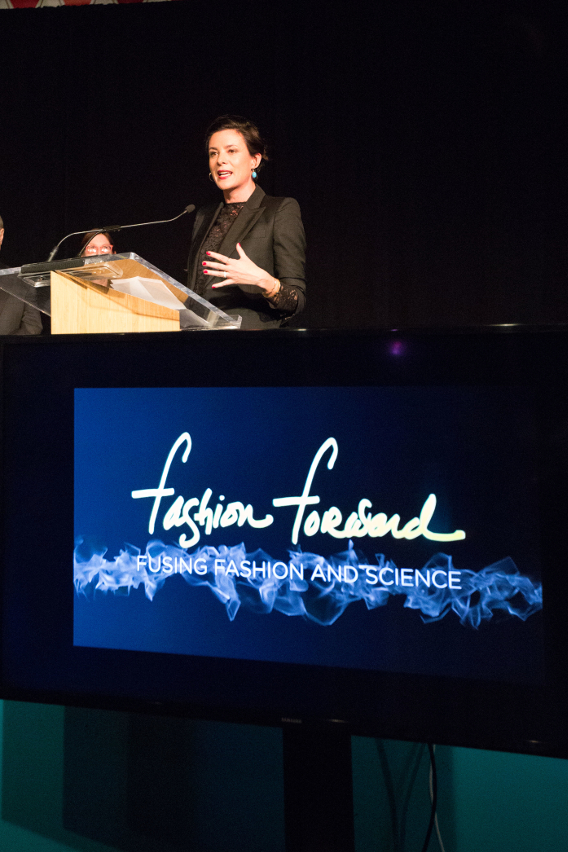 (Photo Credit: Jeff Schear/Museum of Science and Industry/Chicago)
Last week Garance Doré came to Chicago for the first time to accept the first "Fashion Inspiration Award" from the Museum of Science and Industry. It was an incredible thrill to meet such an inventive and ground-breaking blogger and the event raised more than $40,000 for the museum's annual fund.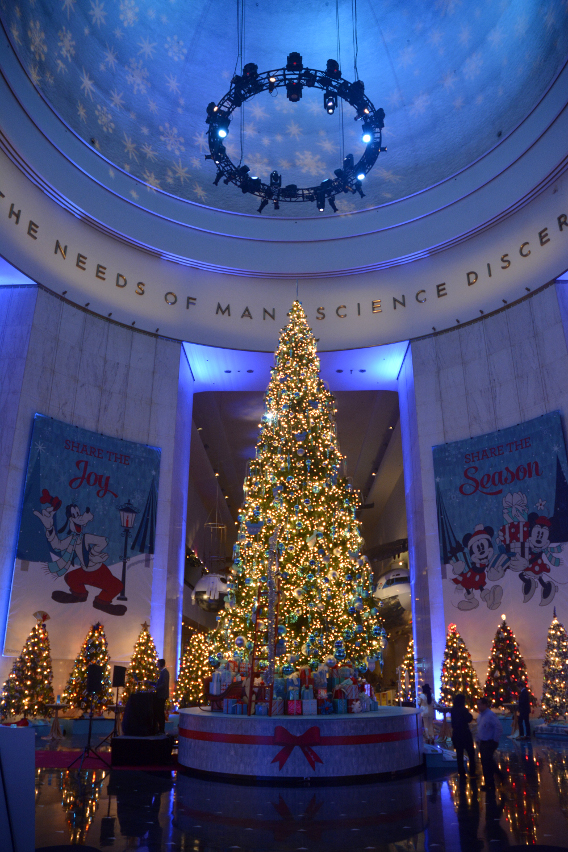 Years ago I attended a corporate event at the Museum of Science and Industry (MSI), so I knew the event would be a lot of fun as the museum allows you to wander through many of their permanent exhibits after hours. What I didn't know was MSI had just launched their Christmas Around the World event that same day! Hundreds of trees from different countries around the globe are showcased around the museum (the French tree even had a blue Eiffel Tower as its topper). It was a spectacular sight, with stunning twinkling lights everywhere.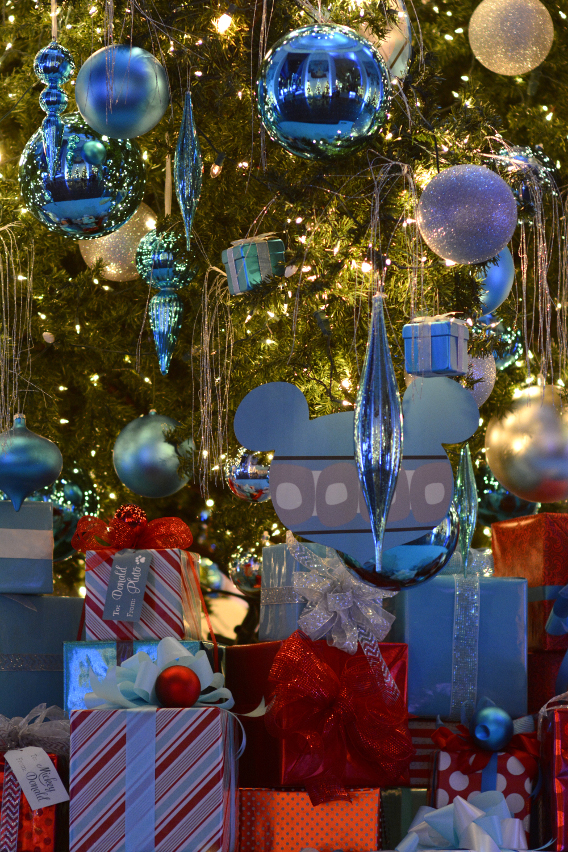 This year MSI has partnered with Disney for their holiday season so everywhere I looked I saw those characteristic Mickey Mouse ears (it was like being in Disneyworld again!).
As far as Chicago event venues go, MSI has some really fabulous futuristic touches that make it a unique yet swanky space — I can't think of a more perfect place to honor one of the most innovative fashion bloggers in the world!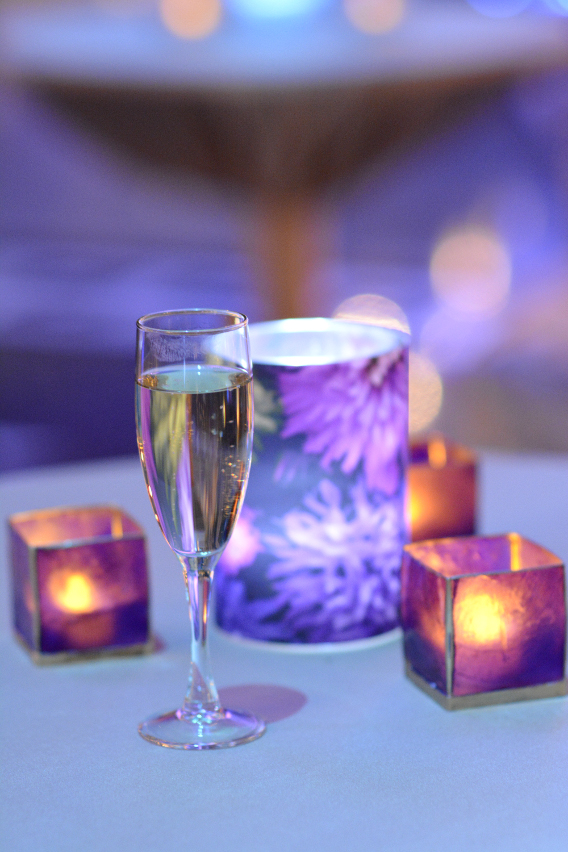 Before the awards ceremony, there was bubbly to be sipped…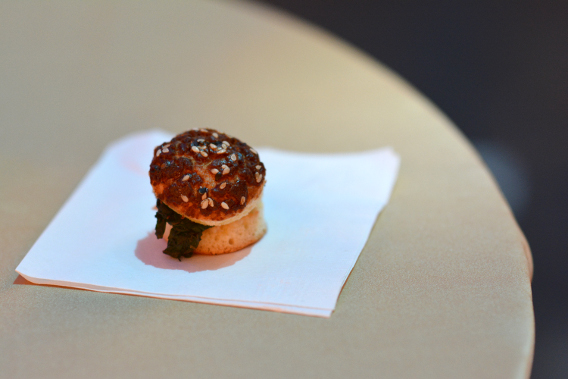 and yummy nibbles like this lobster roll…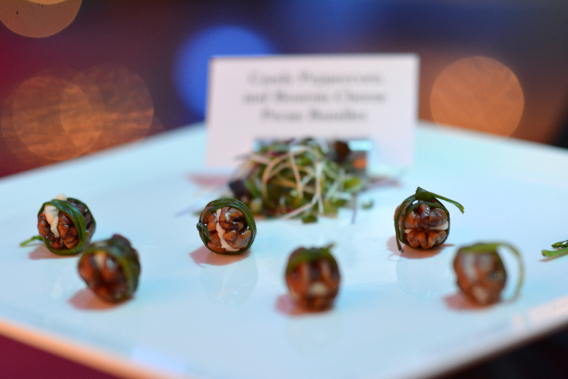 and these boursin-stuffed pecans.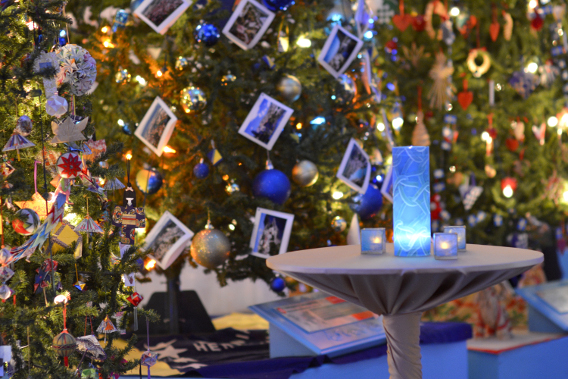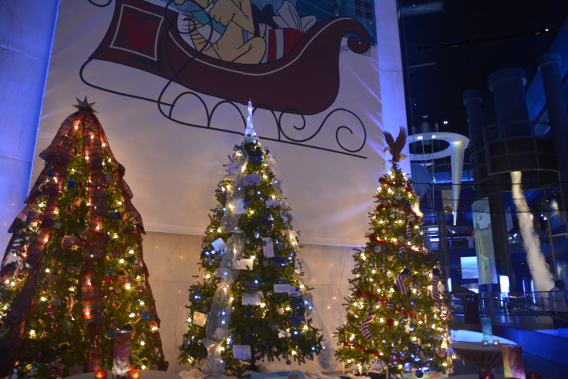 See the Eiffel Tower atop the middle tree from France?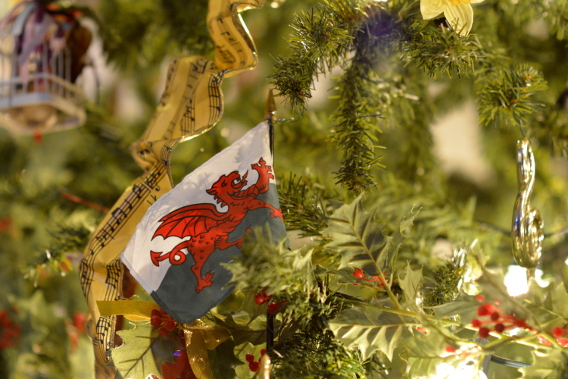 It was fun to wander through the newly decorated Christmas trees. I found this musical tree from Wales particularly charming.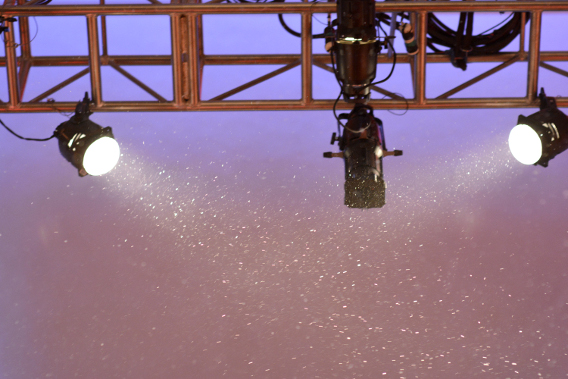 To complete the transformation, MSI even had snow machines above the crowd to sprinkle everyone in white flakes. In all honesty, since it was actually snowing outside that night, it took me a few glasses of champagne before I appreciated this particular detail.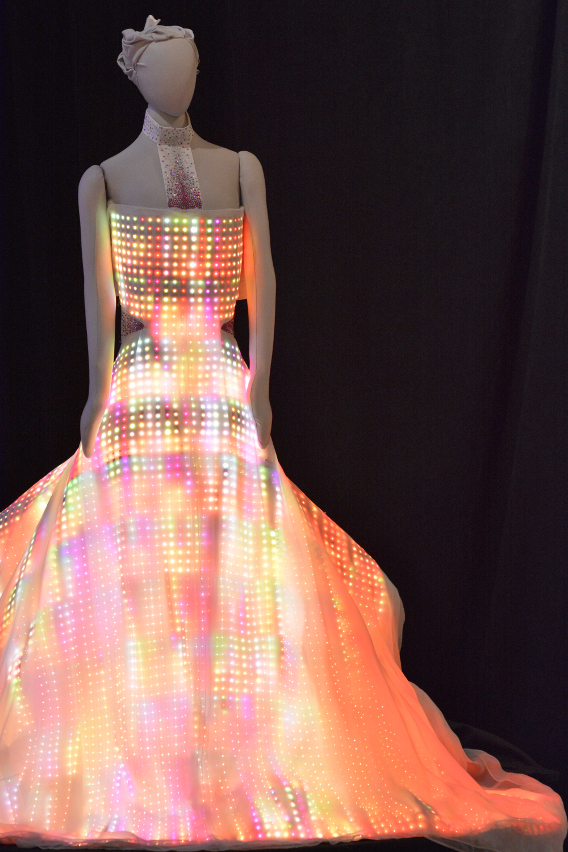 In honor of Garance Doré, MSI put on a one-night-only exhibit displaying the fusion of fashion and technology (the event was called Fashion Forward after all). At the entrance of the exhibit was this CuteCircuit Galaxy Dress, a stunning piece commissioned by MSI for their permanent collection. The gown is embroidered with 24,000 colored pixels making it the largest wearable display in the world!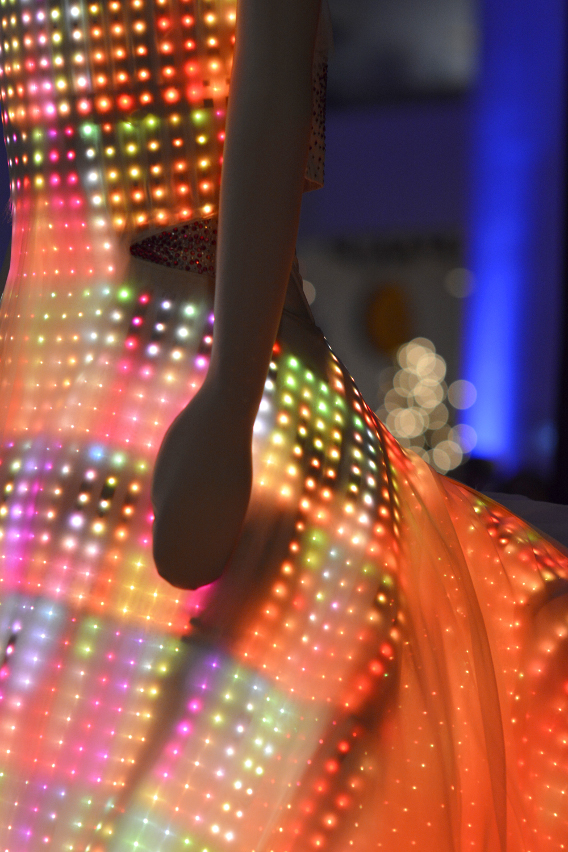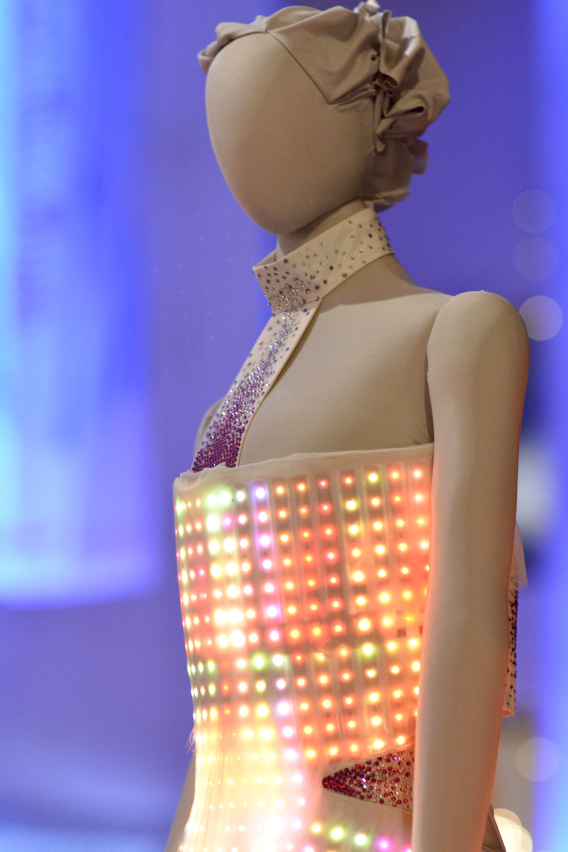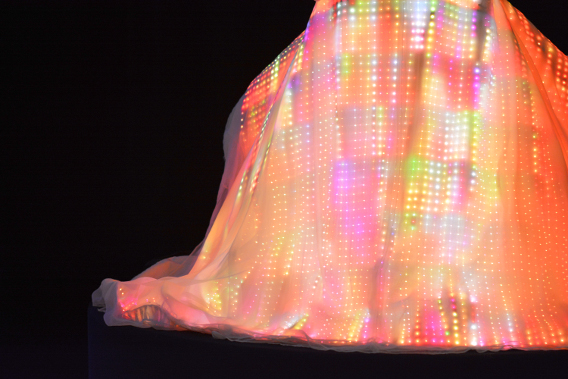 Thanks to the shifting pixels the dress never looks the same, it's patterns constantly changing under the layers of silk chiffon. Isn't it beautiful?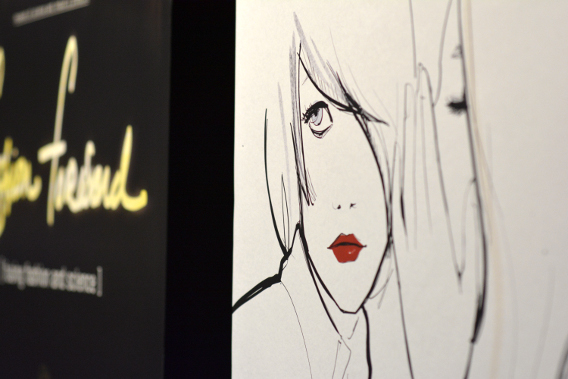 Upon entering the exhibit, you were first greeted by rows of Garance Doré's famous fashion sketches.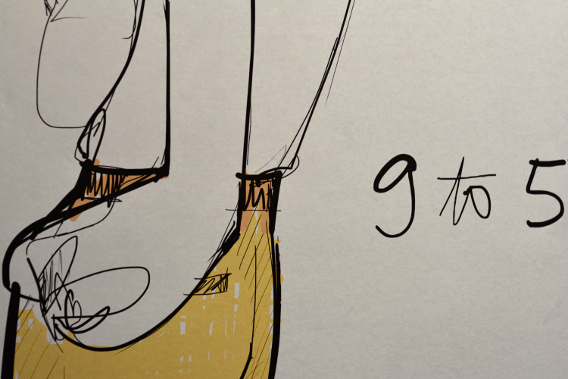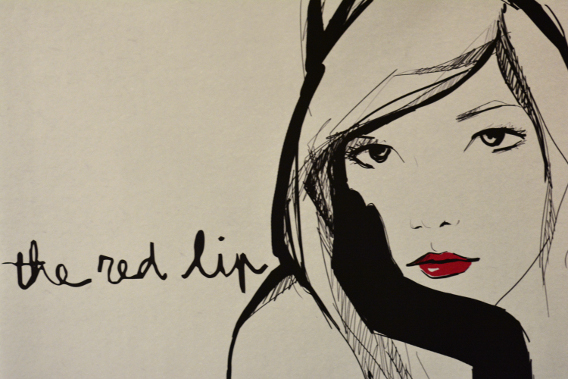 Being a fan of red lipstick (seen here, here and here), I naturally took to this sketch the most though they were all very chic.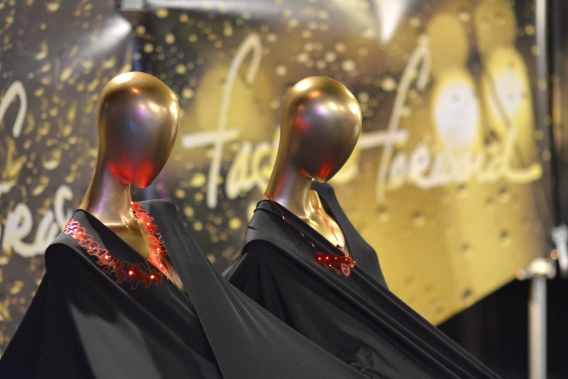 The exhibit itself showcased the future of fashion as we know it — celebrating "inventive genius" and talking about the fusion of clothing and technology in the 21st century. These LED necklaces from Anke Loh (in collaboration with Fraunhofer IZM) had a beautiful glowing effect that I would have loved to see on an actual person. I imagine wearing one of these could create a really beautiful color halo for evening events.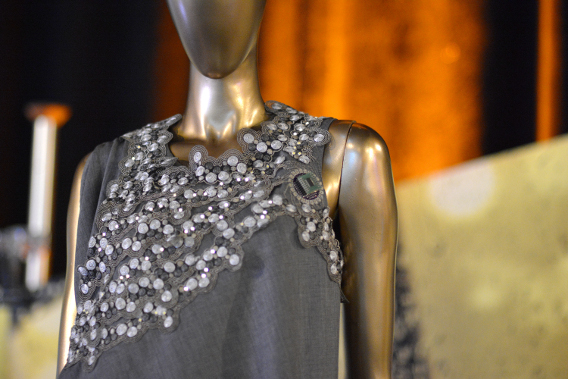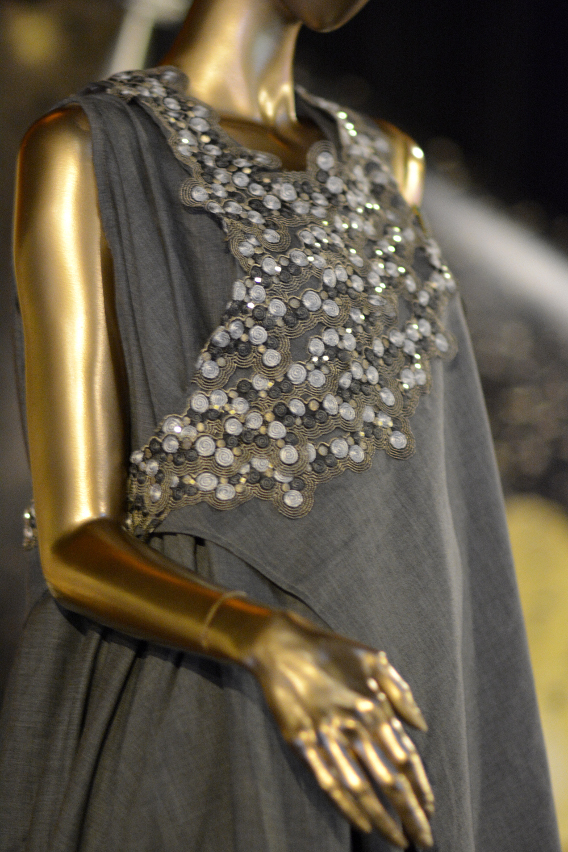 Diffus Design's Climate Dress is laced with hundreds of LEDs designed to monitor changing levels of carbon dioxide, promoting awareness of the air quality in any given environment.
Large monitors also displayed CuteCircuit's A/W 14/15 Show at New York Fashion Week (which you can watch here).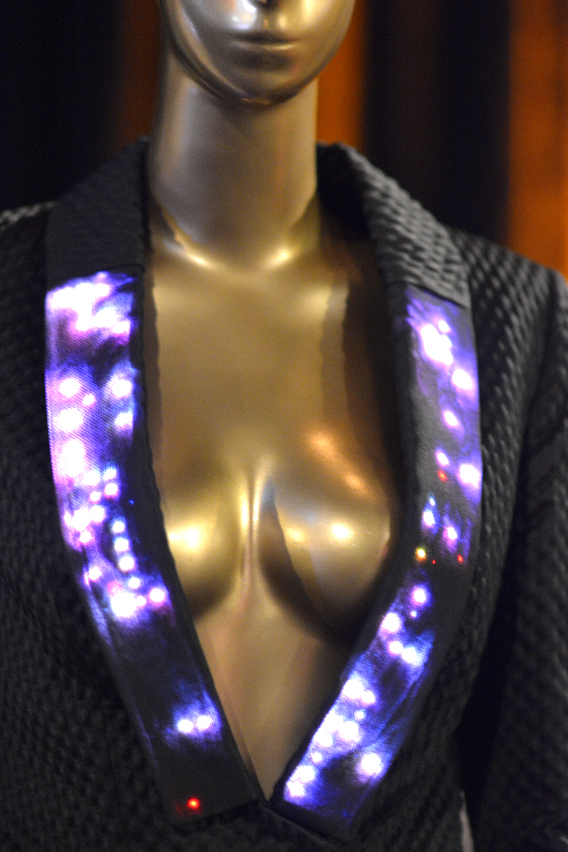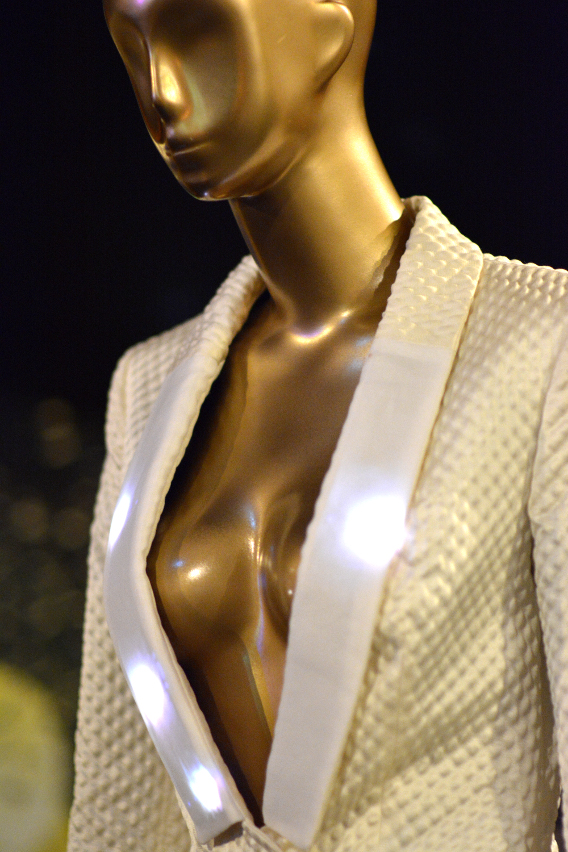 Their LED Tuxedos were so fun and a stunningly modern take on a traditional evening blazer. You can use the CuteCircuit iPhone App to display patterns, animations and movie clips on the lapels!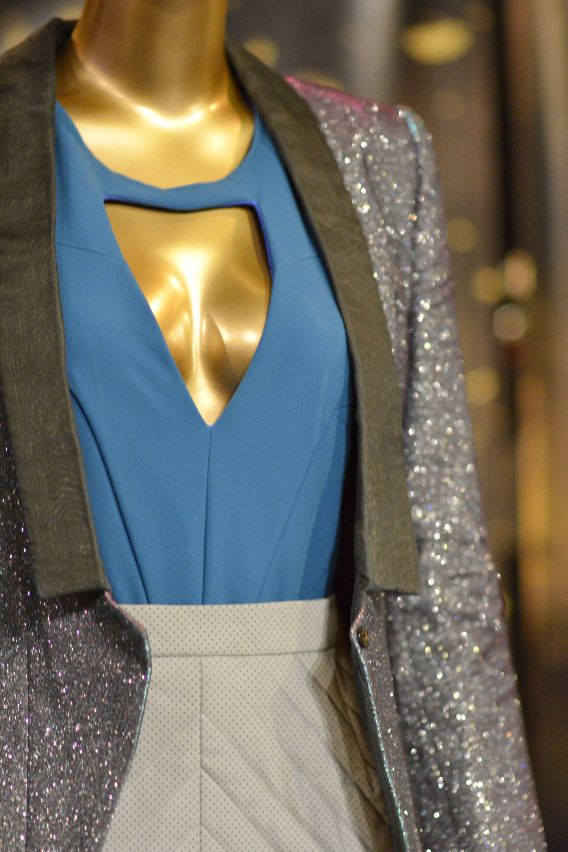 A reflective skirt that has a glowing rainbow effect in certain environments.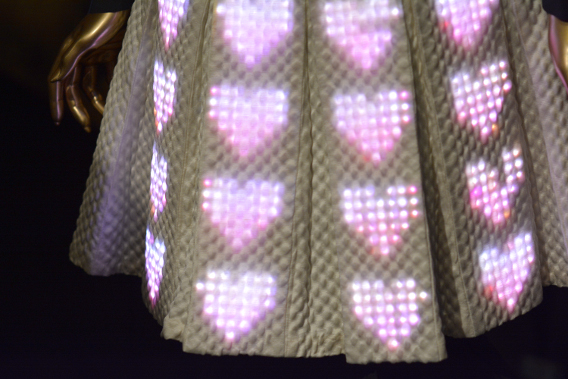 CuteCircuit's iMiniSkirt can also be customized with their iPhone app to display different patterns, animations or even tweets!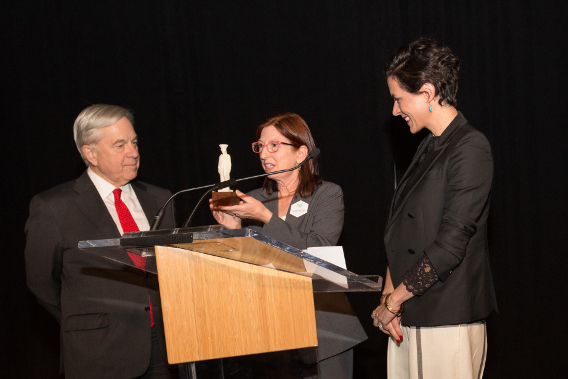 (Photo Credit: Jeff Schear/Museum of Science and Industry/Chicago)
Then the ceremony began! Garance was presented with the very first Fashion Inspiration Award and a trophy made from one of the 3D printers on display that evening (what a fitting, futuristic touch). After the ceremony, Garance mingled with the crowd for a bit and I was lucky enough to have the opportunity to speak with her. I mentioned yesterday how thrilled I was at the possibility of chatting with her and in person she is every bit as cool and fabulous as she comes across on her blog!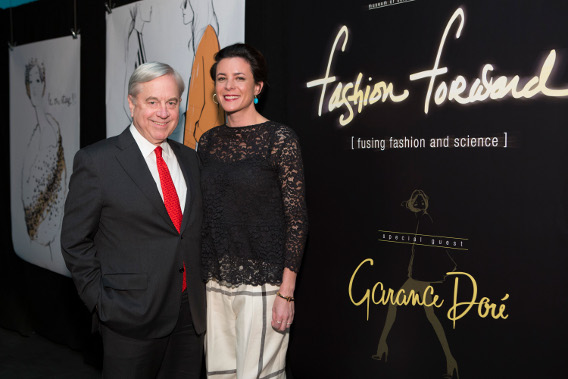 (Photo Credit: J.B. Spector/Museum of Science and Industry, Chicago)
Garance and MSI's President David Mosena posing together at the entrance to the exhibit.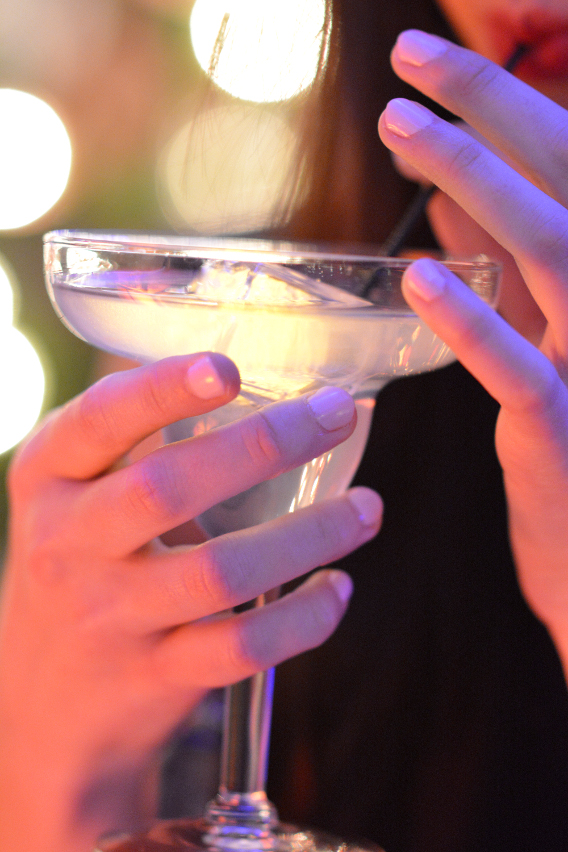 After the awards ceremony and a dance performance, we mingled around the museum's open exhibits. I met gorgeous blogger Olivia, from Fashion Olivia, who just so happens to work at Tiffany's (best job ever?). Read her lovely post from the event here.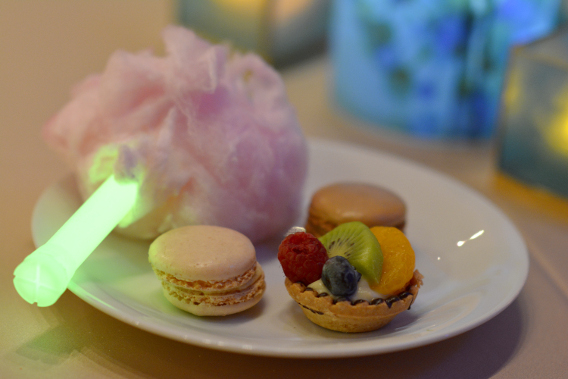 Then we found the dessert table — for some reason cotton candy just tastes better when served on a jumbo glow stick!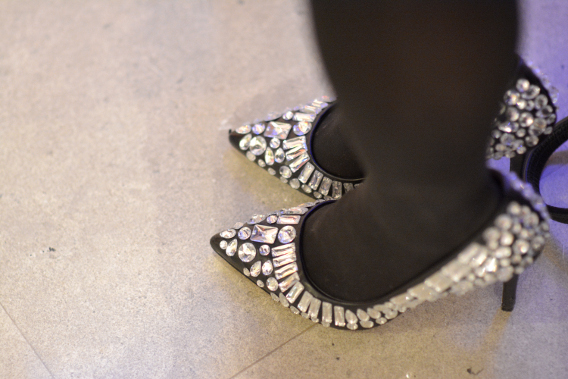 Nicole from Cedar & Rush's shoes were the perfect amount of sparkle for the holiday-season cocktail soirée. Find these beauties on sale here.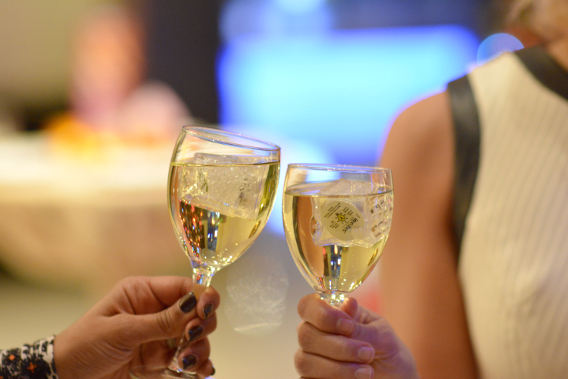 Nicole also introduced me to Chicago fashion blogger Zahra, from Love Zahra, (read her post from the event here). The two shared a wine toast complete with more light-up ice cubes.
*CLINK*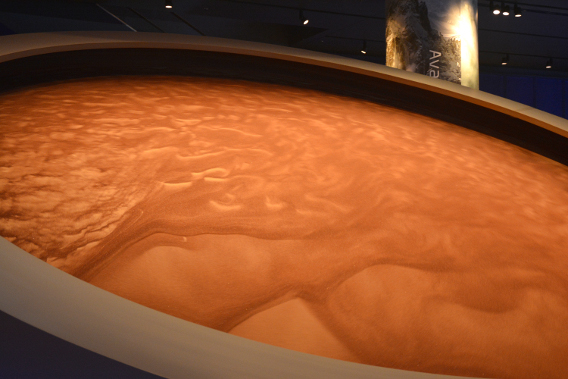 This giant exhibit is meant to display what happens during avalanches or "flows of granular material" and is often referred to as poetry in motion. There was a small control panel in front so you could command the speed the wheel spun and watch as the granular pieces formed different patterns depending on how fast the wheel was moving.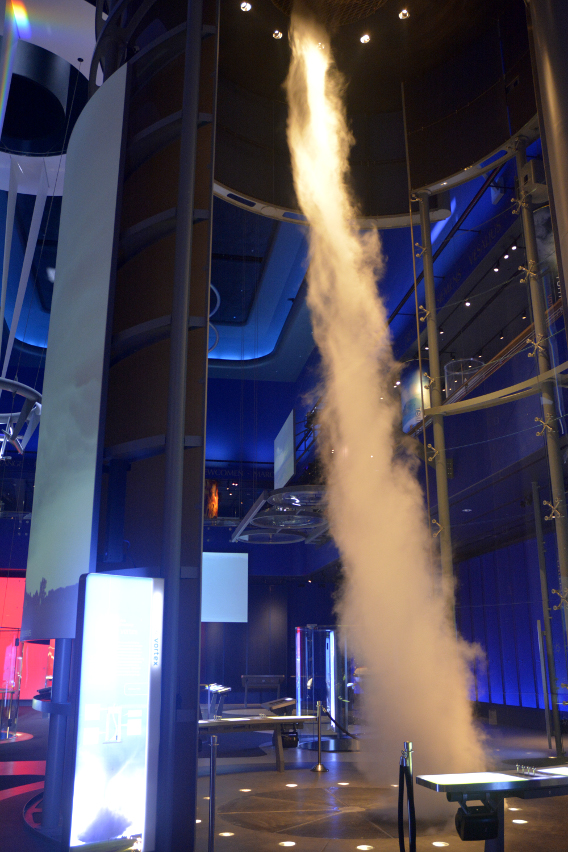 And how about a 40-foot man-made tornado?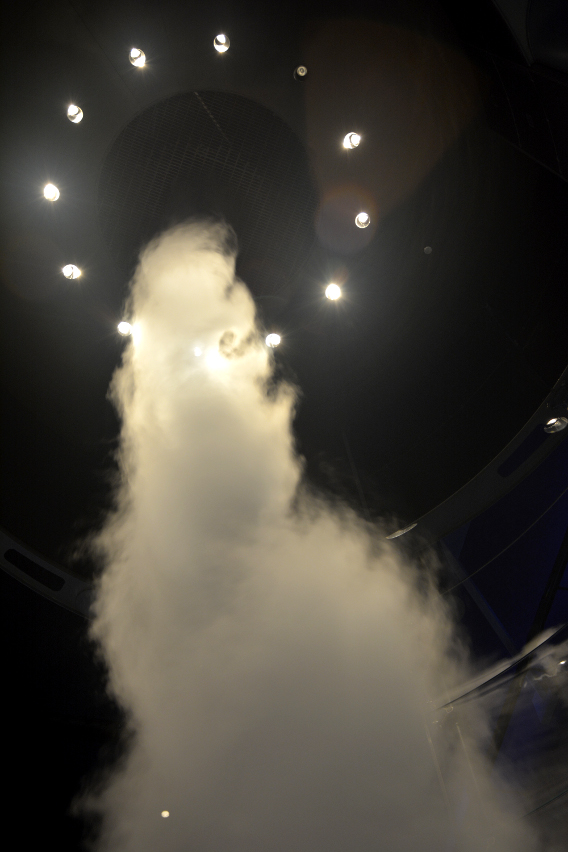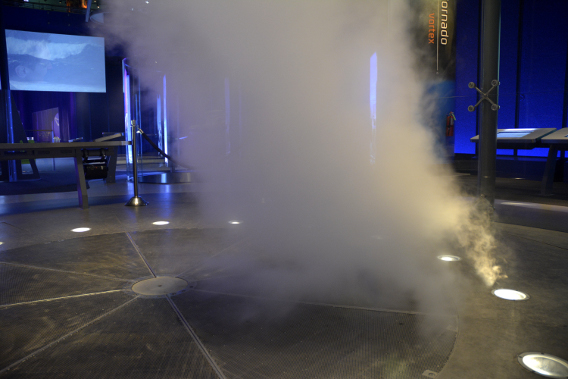 When you walk through the cool air swirls and swirls around you! It's quite an experience and my favorite photo from the evening was Garance's Instagram shot of her standing in the midst of this tempest.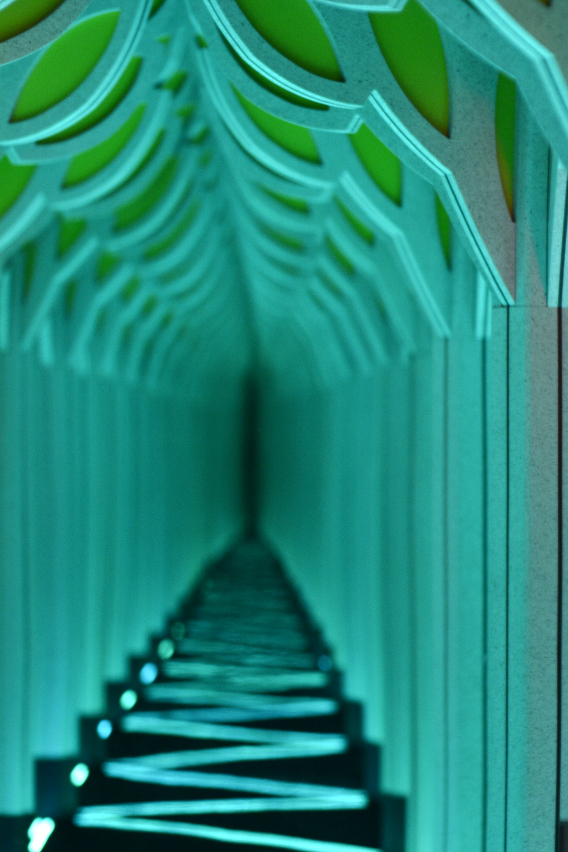 We also explored MSI's new Mirror Maze (something of a challenge once you've had a glass of bubbly or two). The shifting color patterns and optical effects were so fun to shoot!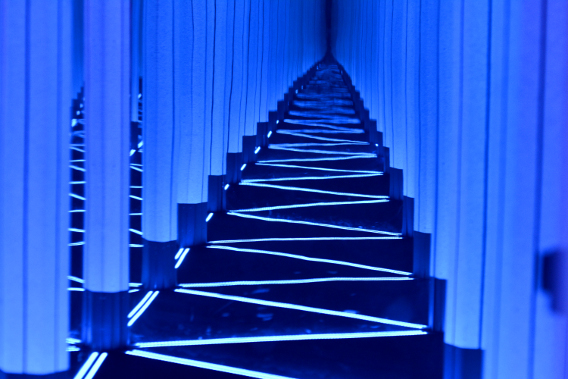 Thankfully there were some fingerprints on a few of the glass panels so we were able to find our way out! Otherwise I might still be there…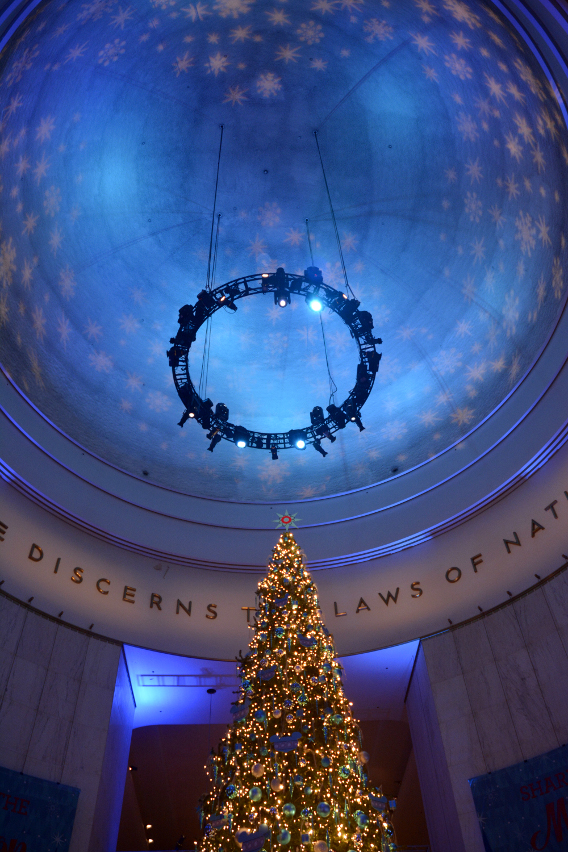 It was an unforgettable evening and a wonderful way to honor such an innovative blogger!
Disclosure: I received complimentary admission to facilitate this post. Review and all opinions are my own.