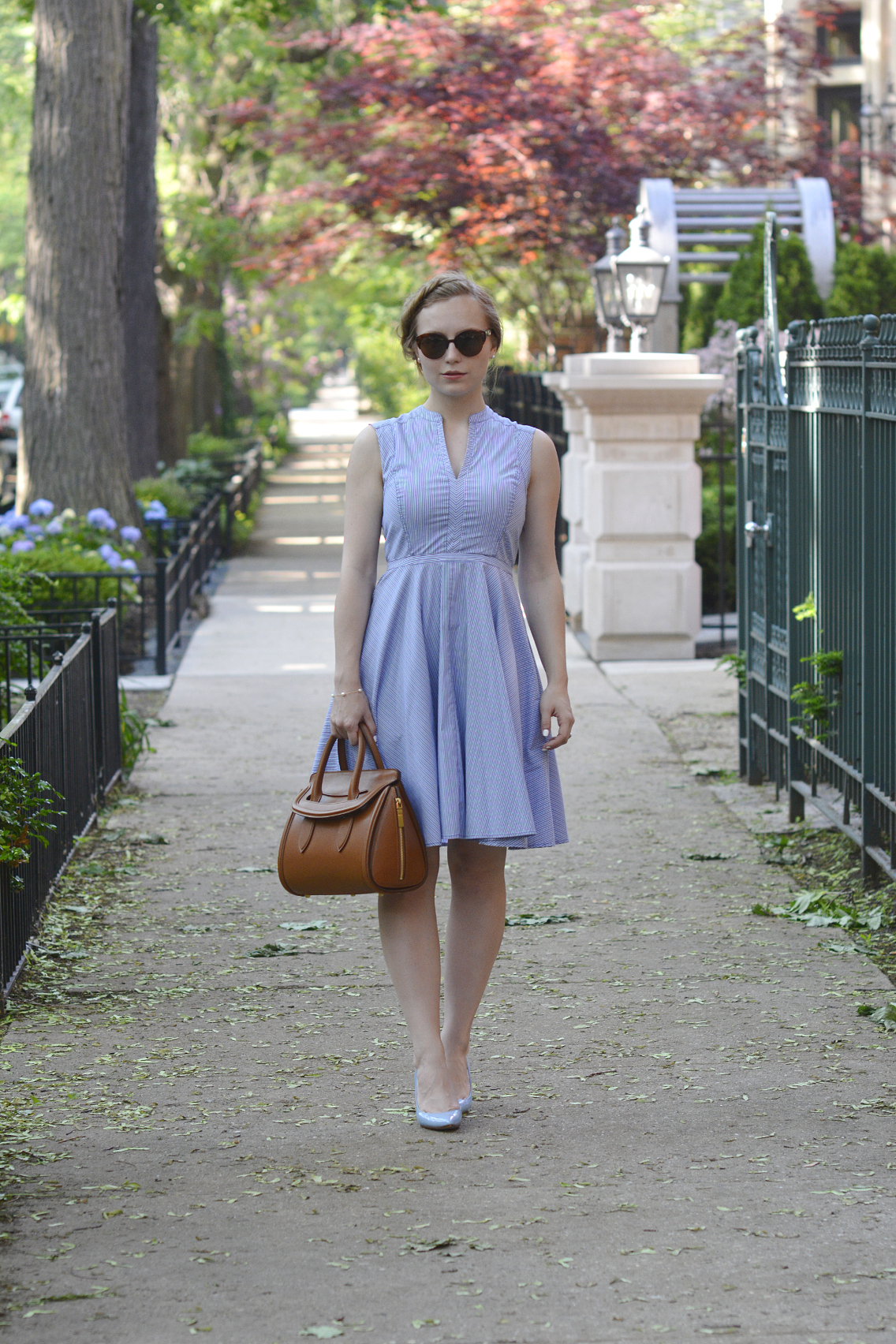 "It's a new era in fashion — there are no rules. It's all about the individual and personal style, wearing high-end, low-end, classic labels, and up-and-coming designers all together."
— Alexander McQueen
SHOP THE LOOK:
Dress – Tory Burch (similar: 1 / 2) || Purse – Alexander McQueen Small 'Heroine' (medium in black) || Heels – Dune London (similar) || Sunglasses –Topshop (similar) || Jewelry – Tiffany & Co (1 / 2) || Lips – Burberry Beauty in No. 1 Rosewood || Nails – CND VinylLux in Cream Puff || Hair – c/o BloHaute
It seems like summer has FINALLY arrived here in the Windy City (though I may be jinxing it by typing that). I can't tell you how liberating it is to pack away all my winter clothes and bust out some of my summer favorites like this dress! I've had it for three summers now and am pretty confident it'll be one of my favorites for years to come. The silhouette is simple, elegant and timeless. It's flattering without being revealing and so easy to dress up or down!
Maybe I should nickname summer the season of my little blue dress?
The cotton fabric is incredibly breathable too — an ideal weight for June when the summer humidity sets in.
But thanks to our insane humidity, summer also means I have to get smart about hair styles. My thick, frizzy mane makes most of my favorite hair styles impractical for summer. Who wants to spend thirty minutes on their hair only to have it fall flat after three minutes outside anyways? Last week I was treated to this beautiful braid by BloHaute, a hairstyling service that comes to your home! This is actually my second day after having my hair braided — the bottom portion became a little unruly so I twisted it into a bun to keep it off my neck.
And voila! Two days of humidity defying hair style! Take that Midwestern summer!