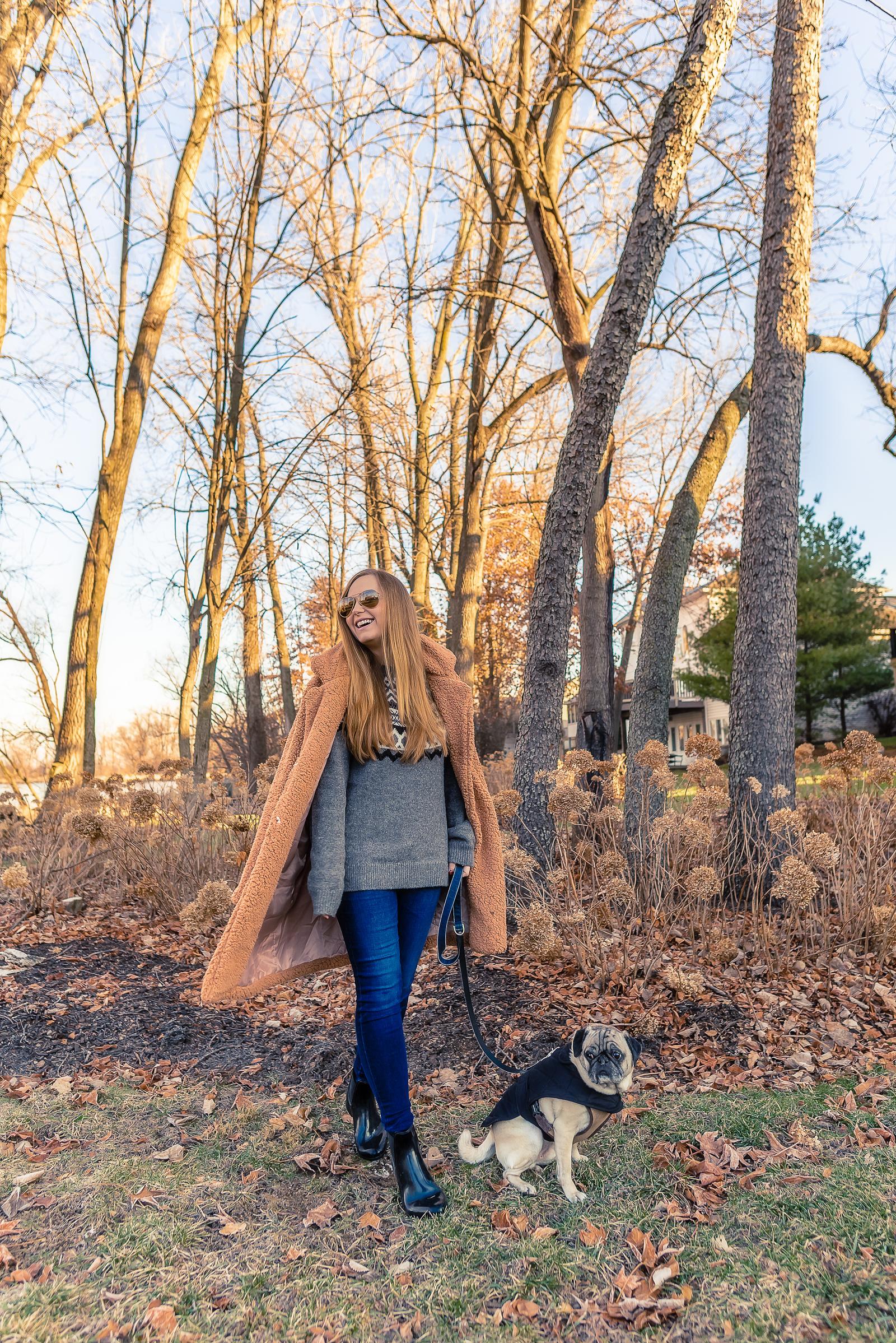 "My fashion philosophy is, if you're not covered in dog hair, your life is empty."
— Elayne Boosler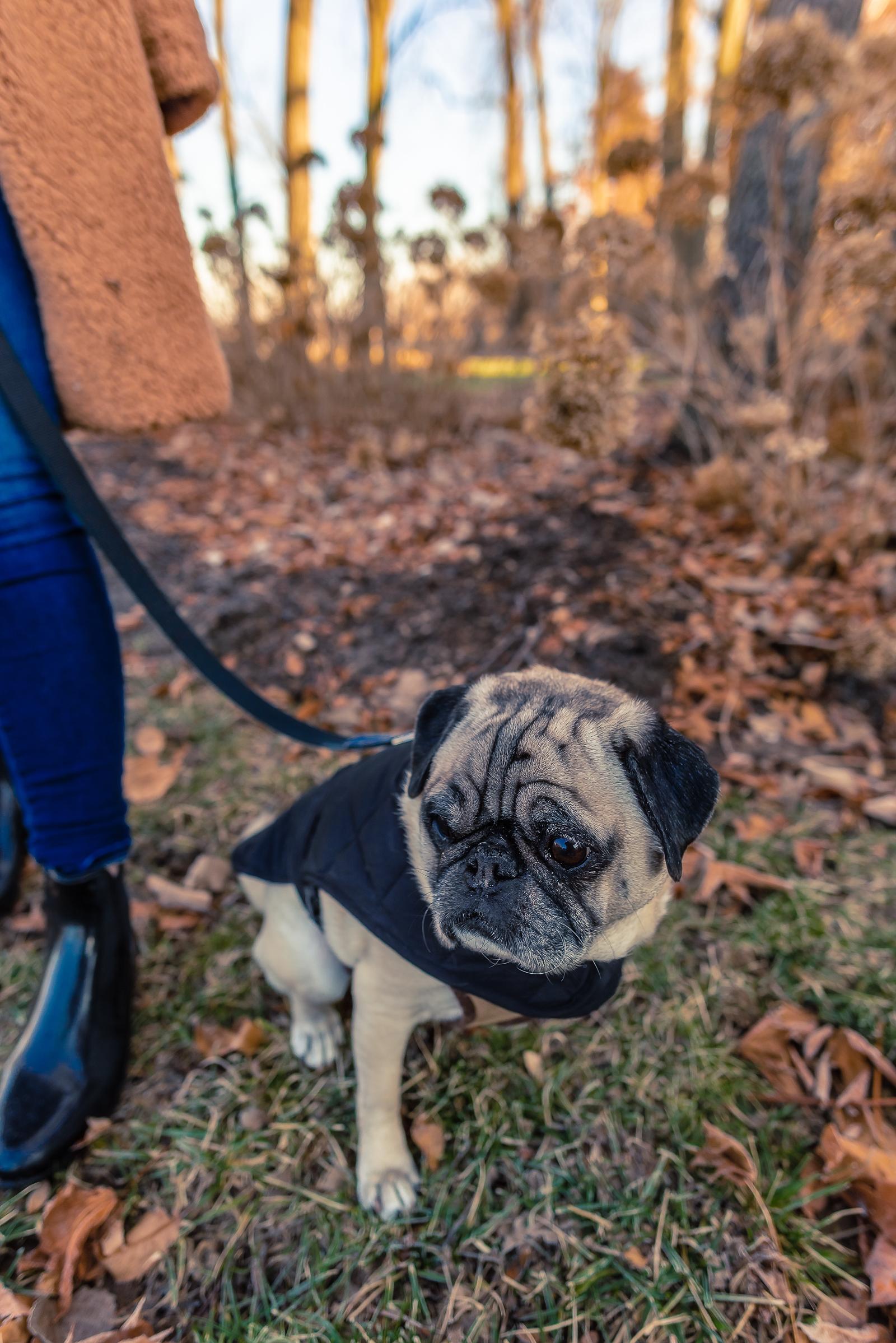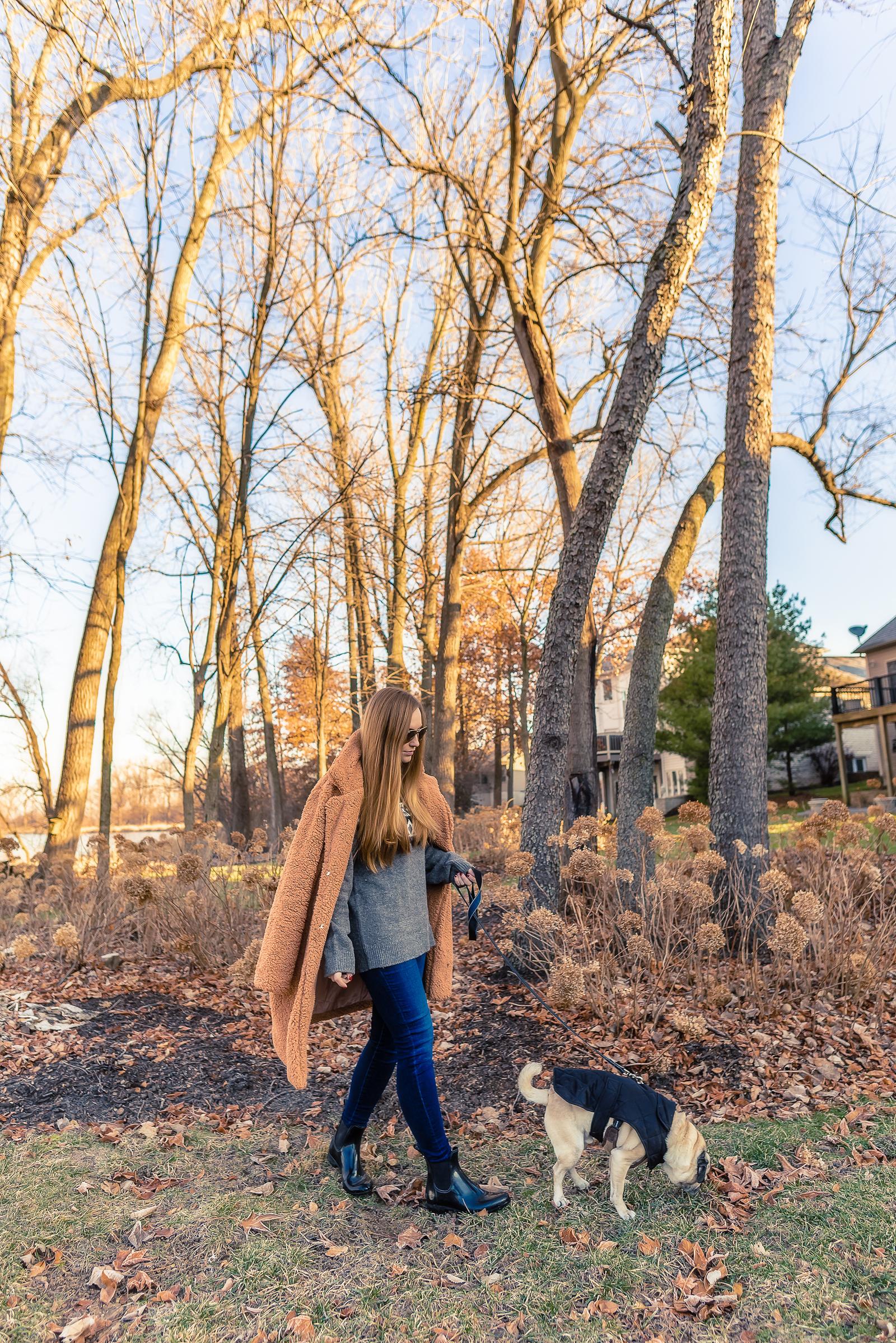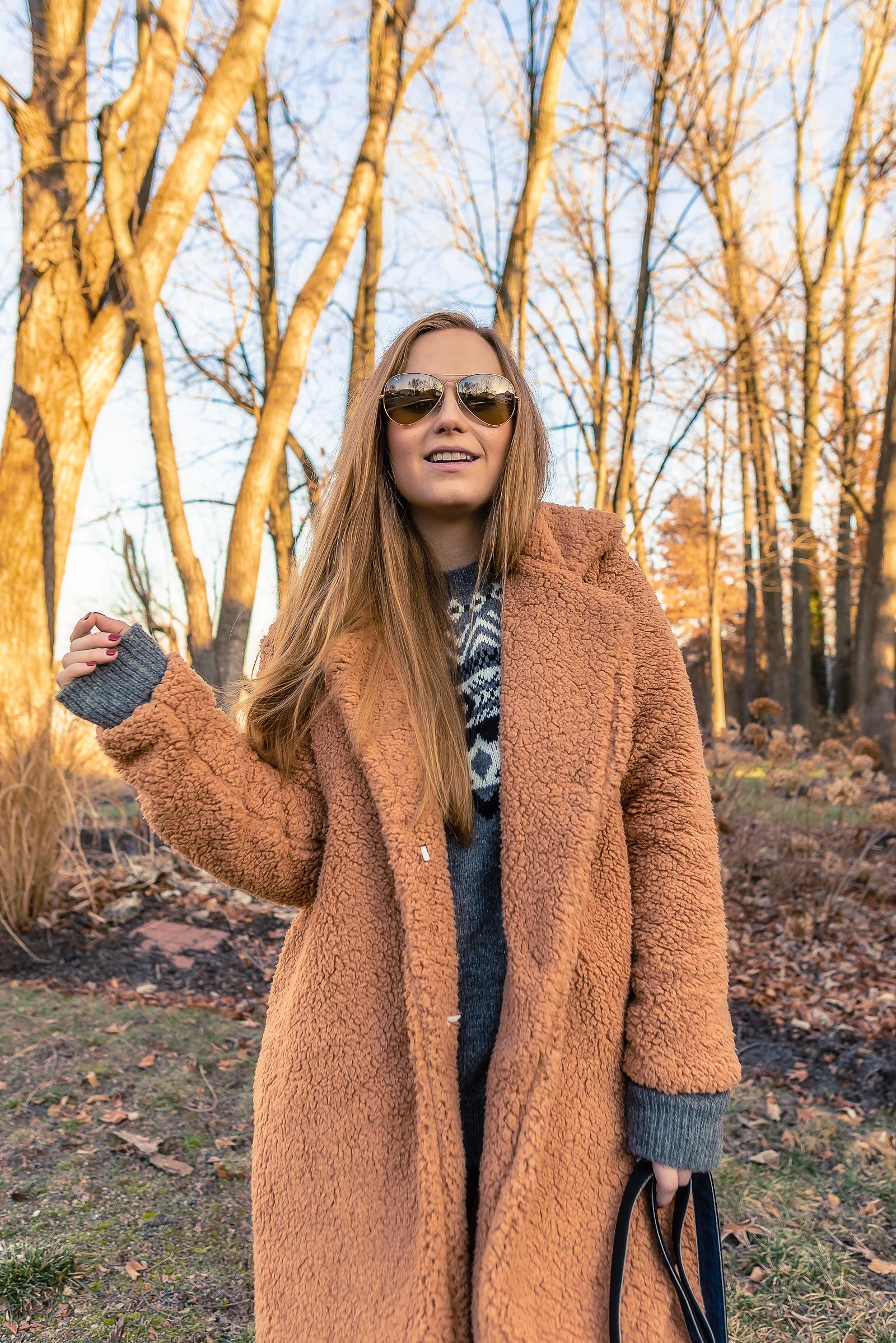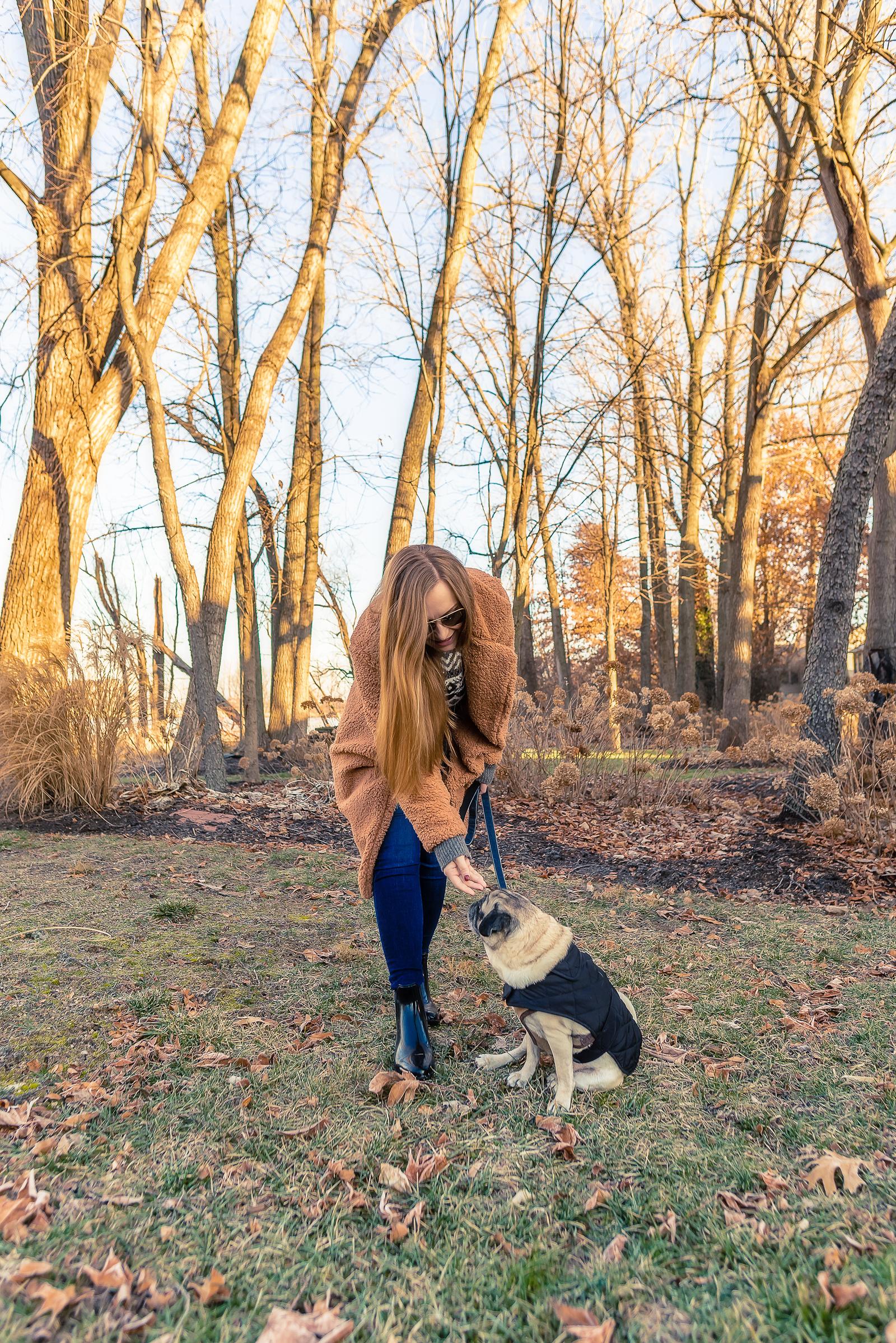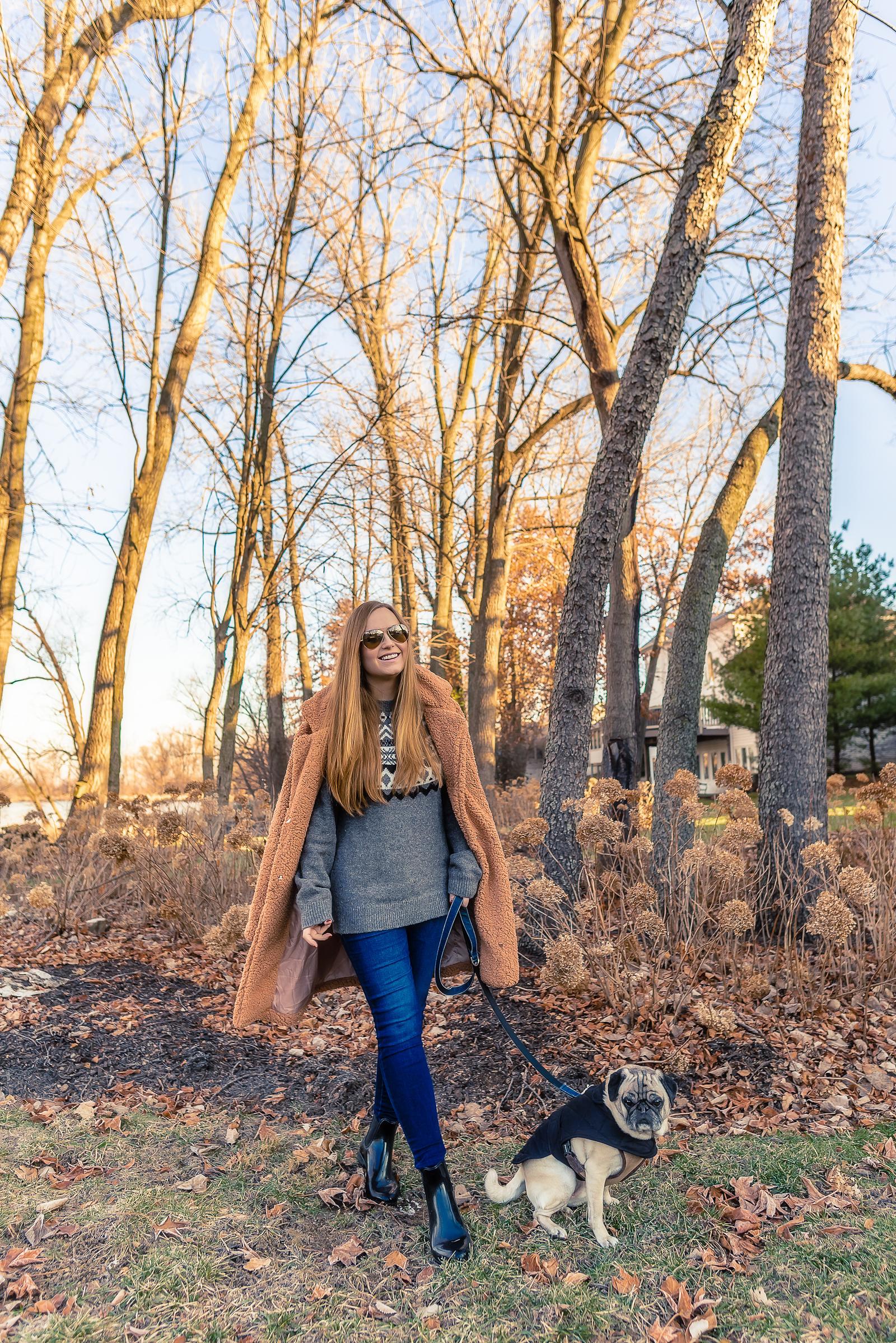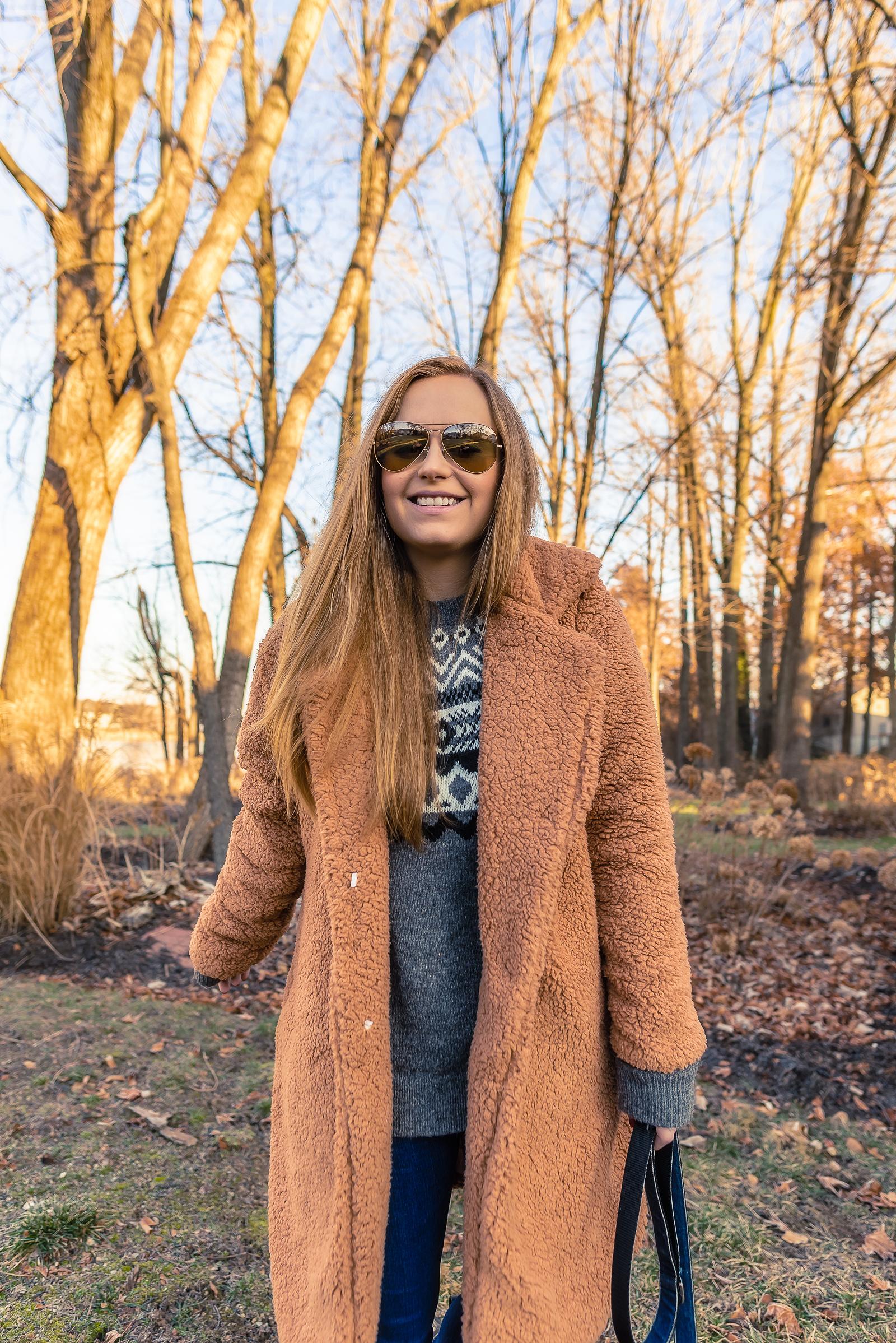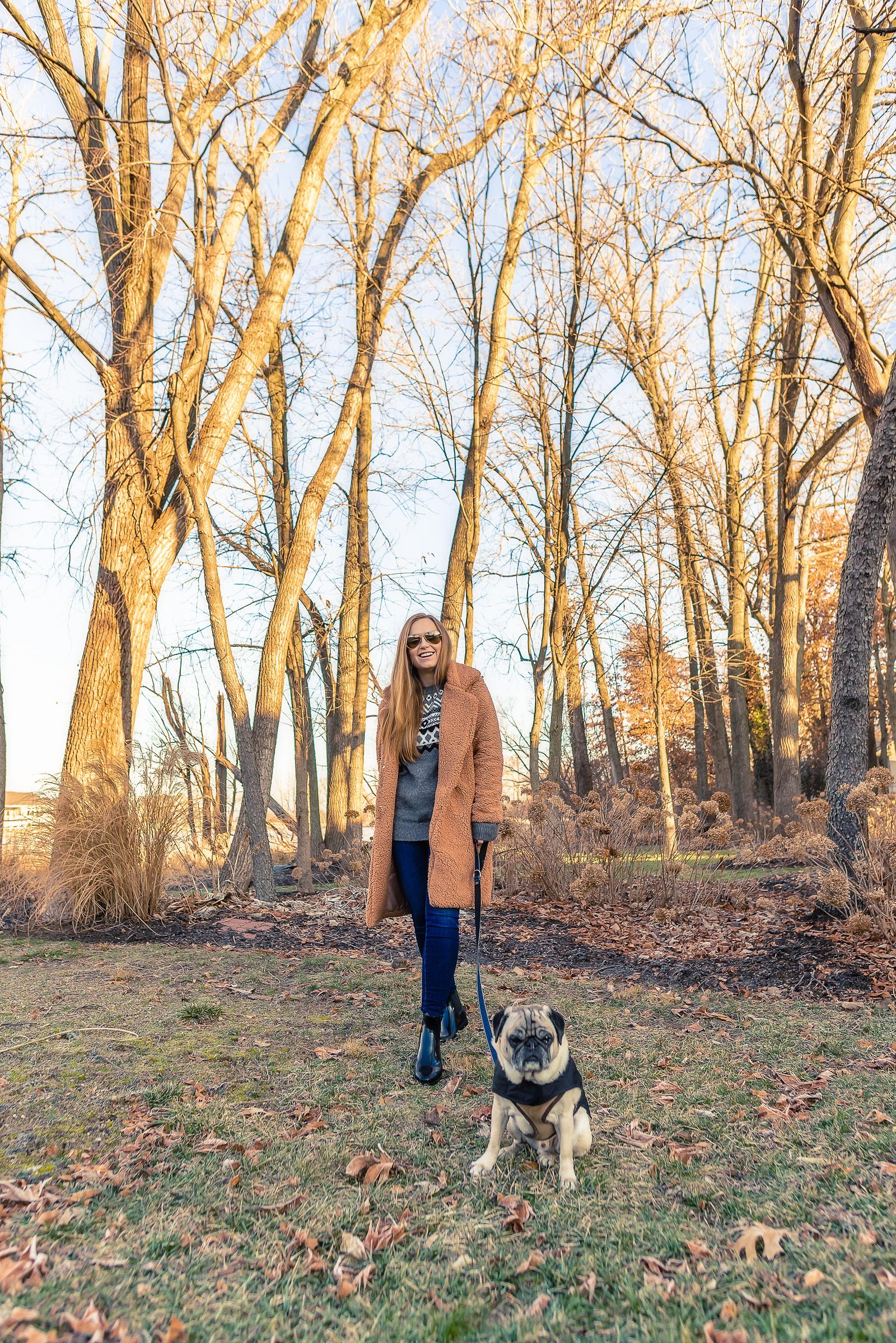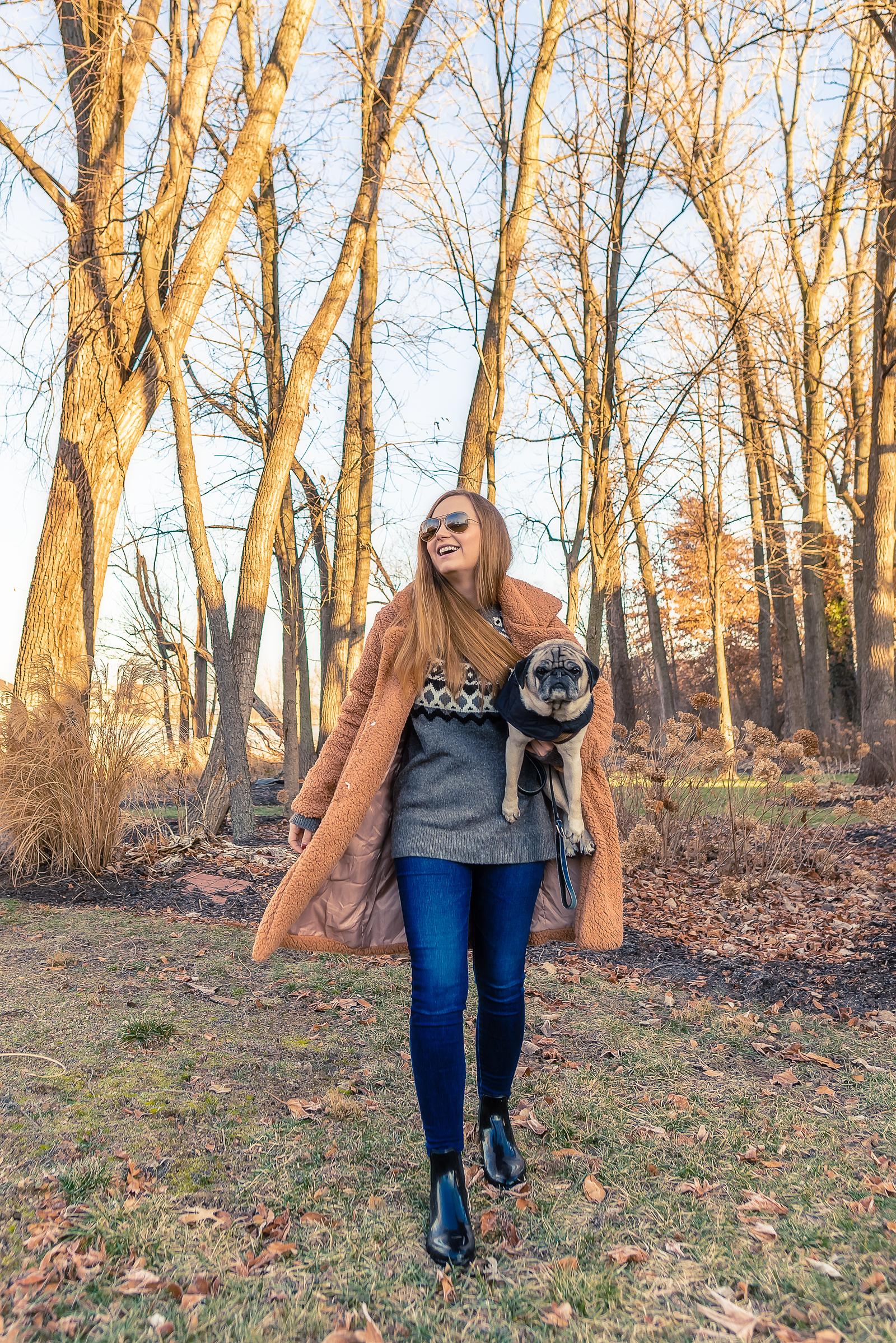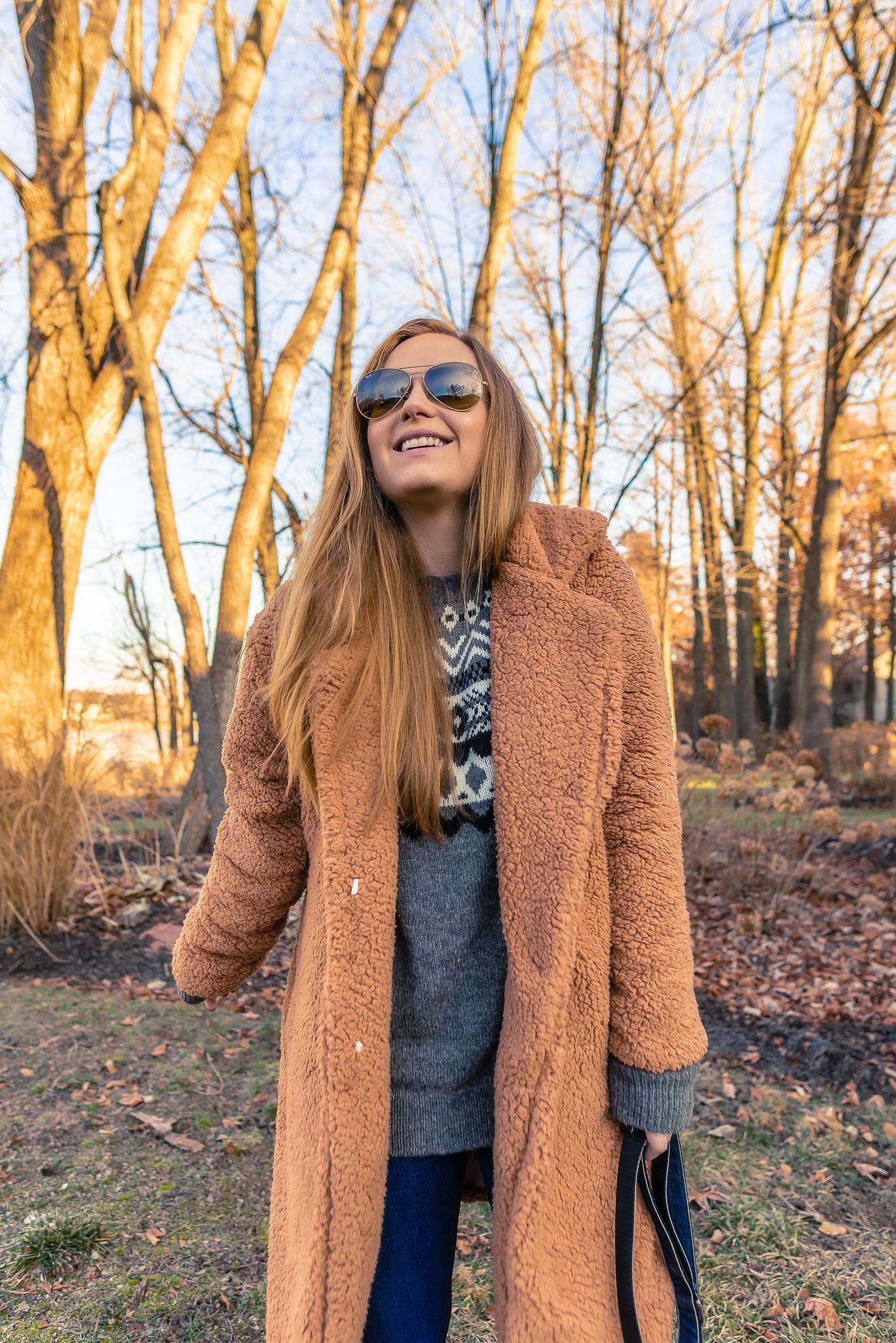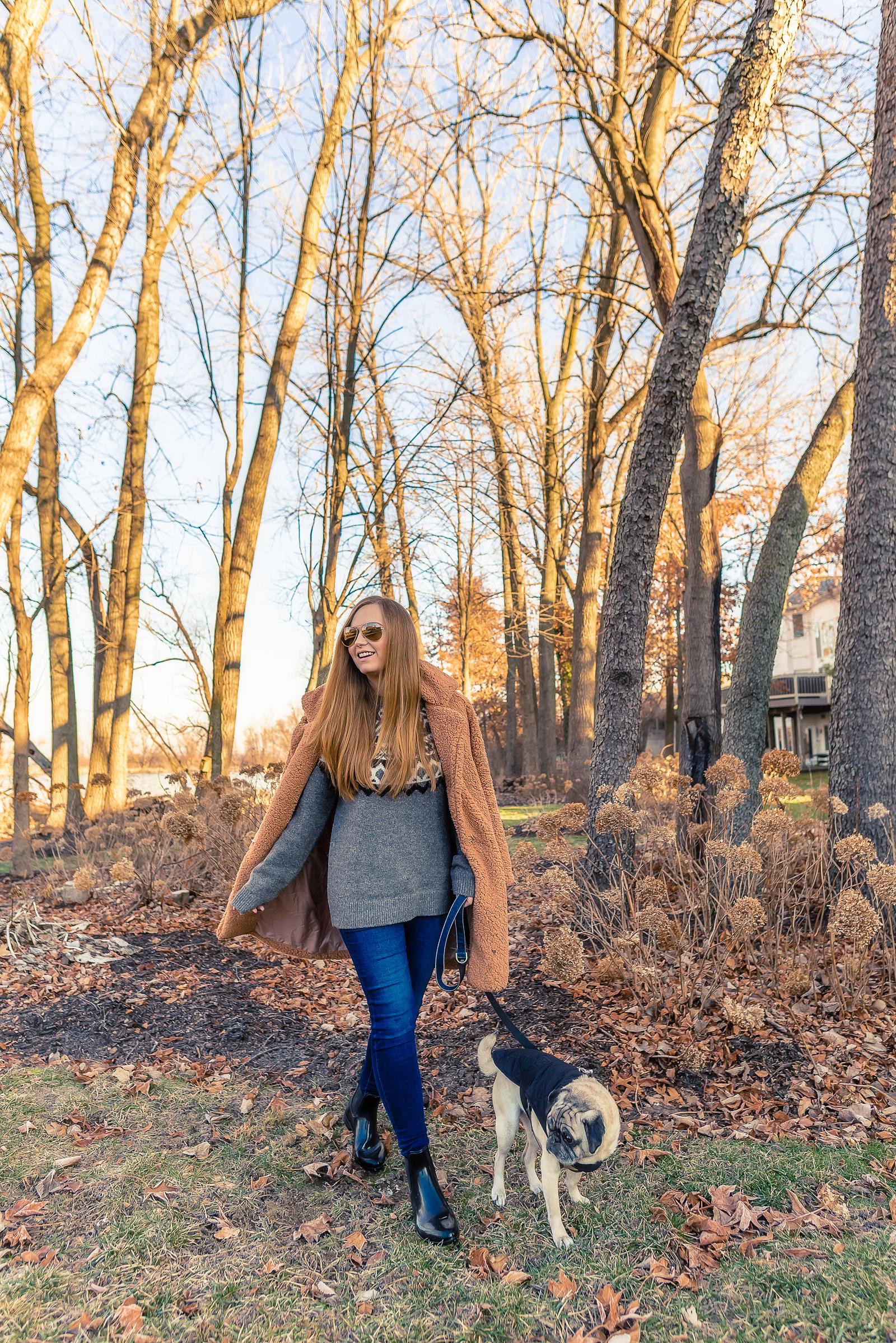 SHOP THE LOOK:
Coat – c/o SheIn (Only $31! Use code 1kerifa for an extra 15% off!) || Sweater – H&M (from the men's section, different color) || Jeans – c/o AG Jeans || Boots – Sam Edelman || Sunglasses – Ray-Ban
On Apollo:
Coat – Amazon || Harness – Puppia
Photos courtesy of my sister Emily
Chicago has been a rollercoaster this winter.
We've had warm days and we've had brutally-cold-almost-beat-coldest-day-record days.
And while it's been rough on us humans, I think it's actually been "ruff"-er on our pets.
Especially our dogs.
If your pup is anything like Apollo, the colder months are the worst of the year. Brutal winds, freezing subzero temps, icy sidewalks, and empty dog parks all inevitably lead to doggie depression, an affliction characterized by an unwillingness to play, eat food, or interact much at all.
It's the WORST to watch your pup go through a winter depression! But, after almost 10 years as a pug Mom (and over 7 as a Mom of two pugs with totally different personalities), I've amassed quite a few tricks to chase away the winter pup blues.
The trick is the keep them moving inside as much as possible and to make outside as comfortable as you can!
10 Ways To Keep Your Dog Healthy This Winter
---
1. Invest In Proper Gear
Proper gear in winter for your pup is non-negotiable. They need:
(a) a substantial coat (unless they're a husky). Something with insulation and/or sleeves is best. I've owned and used this puffer vest for three years now and cannot recommend it enough!
(b) proper booties. Deicing salt can be hard on dog paws, as can the snow and ice already covering the ground. Apollo absolutely REFUSES to wear booties and it's a shame. Who knows why he prefers cuts on his paws? But if your pup will wear them, invest in a pair of good booties with traction. If your pup won't wear them, see tip #10 on this list.
(c) a good harness. This is an essential for your pup year-round but is especially important in winter. DON'T leash your dog up to their collar for walks — if they fall or slip on ice, they can choke so easily! Invest in a proper harness and protect their throats, trachea, and your shoulder.
2. Play Dates or Doggie Daycare
These are KEY in winter. When the dog parks are empty in winter, it's important that your pup still gets plenty of time with other pups.
So find a friend with a pup and schedule a play date. It'll be good for your pup AND for you.
No friends with pups? Why not send your pup to doggie daycare? I've never sent Apollo myself but I have so many friends who do and swear by it. One 4-hour play session a week keeps their pups stimulated and happy. And usually doesn't cost an arm-and-a-leg either. Ever since Johnny passed in November I've been seriously considering sending Apollo to doggie daycare once a week just to take the edge off.
3. Puppy Stairmaster
One of the oldest tricks in the book! And one I learned from my first dog trainer during my first Chicago winter with Apollo.
Puppy stairmaster is the perfect indoor activity for a restless pup. And the concept couldn't be simpler. Find a large staircase, take a seat at the top, and throw down your pups favorite toy for them to fetch. Repeat until they're exhausted.
Not only is this a great way to get your pup some exercise indoors this winter but it's a great bonding experience for the two of you as well. And they get so many steps going up and down those stairs!
4. Salmon Oil
My secret weapon for keeping Apollo healthy from the inside-out in winter. Salmon Oil is rich in omega-3 and omega-6 fatty acids which support a healthy immune system, heart health, anti-inflammatory properties, healthy skin and coat and cognitive function.
When dry winter air makes your pet itchy, moisturizing shampoos will only do so much. Salmon only not only moisturizes their skin from within but it keeps their coat shiny and healthy throughout winter too.
5. Short Walks, More Frequently
Since pups can't stay outside as long in winter, give them more frequent, shorter walks instead. Changing a dog's walk schedule can be challenging (I don't know any dog who LIKES change), but shifting to a more frequent walk schedule, if your schedules allows for it, will help them adjust to the freezing temps and ensure that they have time to get ALL their business done. Even in subzero temperatures.
Whenever we can (and wherever there isn't ice on the sidewalks), Hubby and I like to take Apollo for little jogs down the street too. If he can only be out for 5 minutes without freezing, we might as well try and squeeze in as much exercise as possible, right?
6. Warm Towel Burritos
Hubby and I invented warm towel burritos during the BRUTAL winter of 2013 (we went for 3 weeks before the temperatures rose above zero).
How do you take your dog out when it's so cold? Especially if they won't wear booties?
Warm Towel Burritos…
Have a warm towel handy by the front door before you leave for your walk. As soon as you come back inside, wrap your pooch into the warm towel like a Chipotle burrito.
Not only will they love this (once they understand how cozy it is), but it helps immediately warm ears and paws which can get bitterly cold in seconds in a Chicago winter.
Hubby and I warm our towels year-round on a towel warmer — you see them in every bathroom in the U.K. and yet hardly ever in the States. It's a home luxury I don't think I could live without anymore!
But in the event that you don't want/have room for/can't afford a towel warmer, just toss your towels in your dryer for a few minutes to warm them up. It works like a charm!
The perfect chew toy if your dog gets anxious indoors.
Johnny used to get very anxious indoors in winter and these chews were a lifesaver. And unlike other hides and bones, antlers are naturally shed and therefor a much more humane chew option.
I buy mine from Finland — I've had mixed experiences trying to buy cheaper ones sourced here in the States. And maybe I'm just biased after my reindeer ride through the Arctic Circle of Finland, but these antlers are the absolute best quality you'll find anywhere in the world.
8. Weekend Trip
The easiest way to relieve your pup of winter depression?
Change the scenery.
And I'm not necessarily telling you to go on a 4-day road trip to a tropical beach either (but if you do, please bring me). Just getting your pup in the car can be enough to get them excited for the whole day!
And if your pups are anything like mine, a trip to their grandparent's house will ALWAYS get their tail wagging. So even if it's a short trip to visit family, make sure to bring your furry friend along for the ride.
9. Extra Cuddles
Winter can be a hard, depressing time for pups. Extra cuddles, love and play time in general can make a world of difference.
For you AND for them.
And since everyone, pups and humans alike, are frozen in winter, the extra cuddles will help keep you warm too. It's just sheer practicality!
As I already mentioned, deicing salt (the kind they POUR over sidewalks here in Chicago) will tear up your pup's paws. Especially smaller breeds like pugs!
So it can be really stressful when they refuse to wear booties. And Apollo absolutely REFUSES to wear booties. He will literally sandbag himself and expect me to pull him when I make him wear them. You wouldn't think a 20 lbs. dog could refuse to walk but they absolutely CAN.
So after some research, I came across this mushers wax, which is used to treat and protect paws of dogs in arctic climates.
It's a salve that looks like lip balm. All you do is rub it into each of their paws quickly before their walk (I keep mine right next to the front door so I won't forget), and it'll act as a shield against sharp ice and salt.
Apollo certainly doesn't love this stuff but I absolutely do. Ever since I've started using it in winter, he hasn't gotten a bad cut on his paws once!
Bonus Tip: If you salt your sidewalks in winter, be sure to use a pet-friendly salt!
What are some of your favorite ways to keep your pup healthy in winter?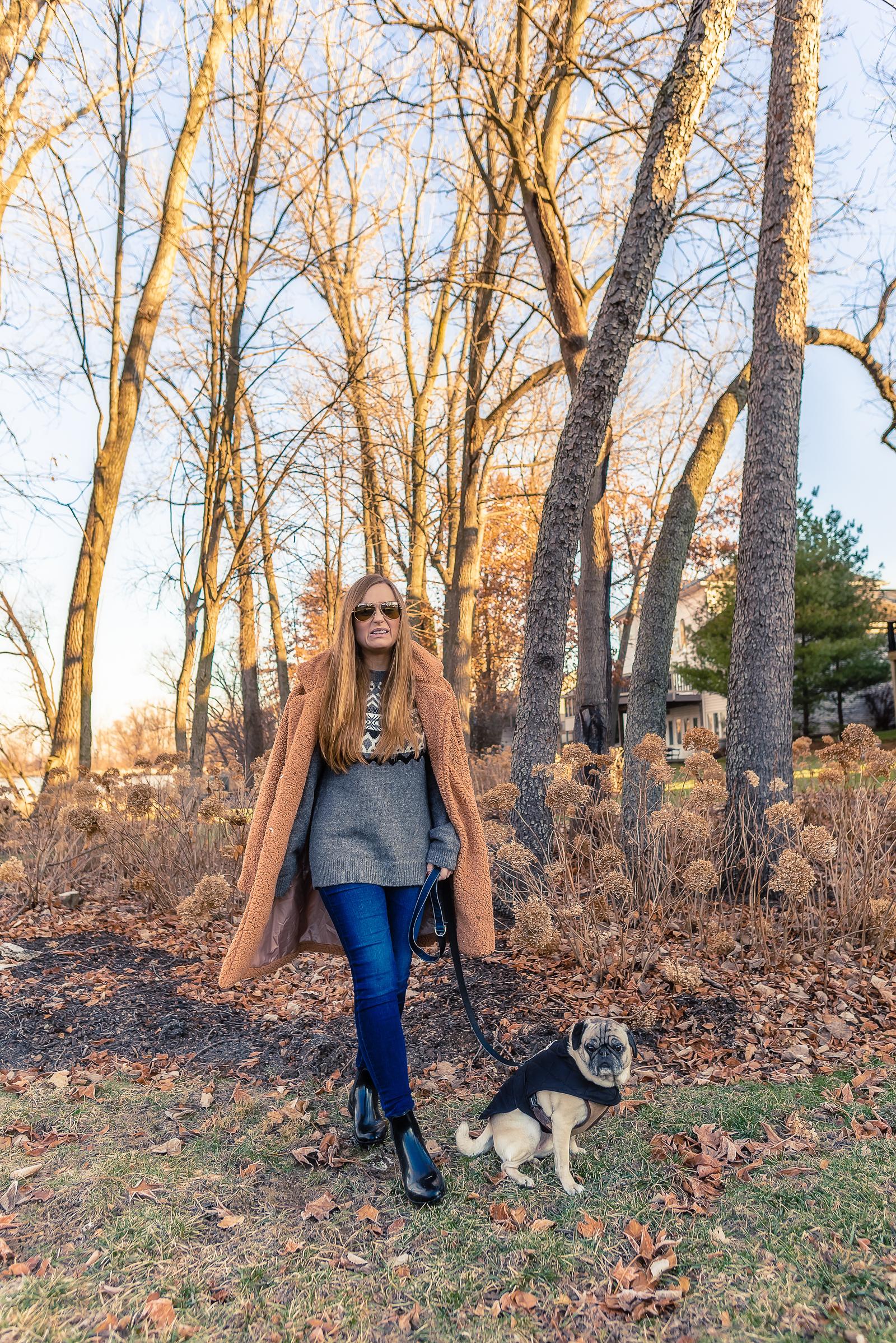 And because I can never resist a good blooper… here's my favorite from this shoot!