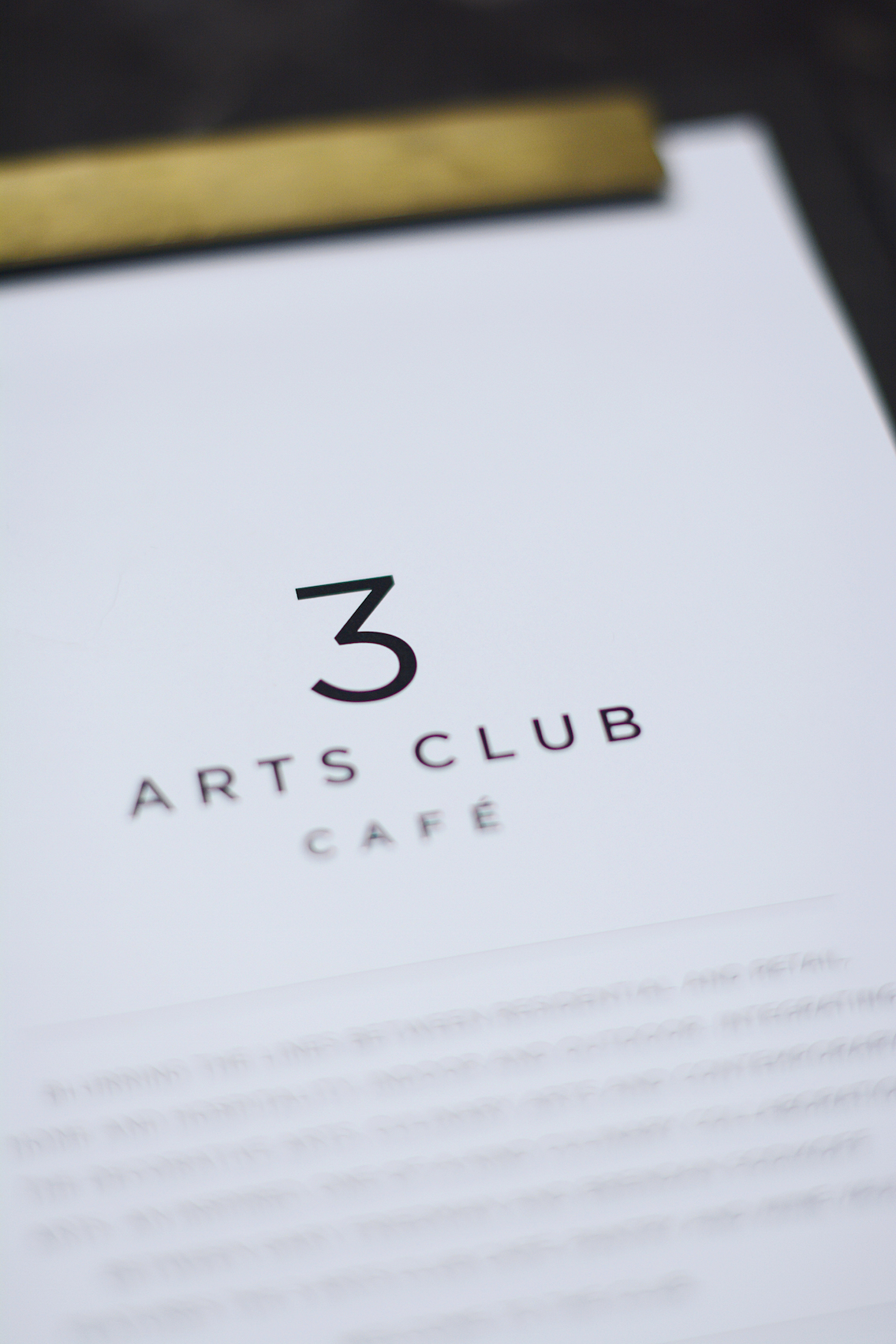 Of all the restaurant concepts to hit Chicago this year, my very favorite is actually located in a store.
Well, technically a Restoration Hardware showroom.
Opened at the end of September on a quiet Gold Coast street, Restoration Hardware's newest concept is as stunning as it is novel. Originally built in 1914, Restoration Hardware turned a run-down six-floor building into a showroom-meets-coffee shop-meets-restaurant that somehow still feels more residential than commercial.
It's an amazing idea that sells the RH aesthetic through room after beautiful room of carefully designed spaces all without a cash register in sight.
No joke — one step in here and you're likely to want to gut your entire house and start over from scratch.
And oddly enough, right in the middle of this home decor mecca is my newest favorite restaurant…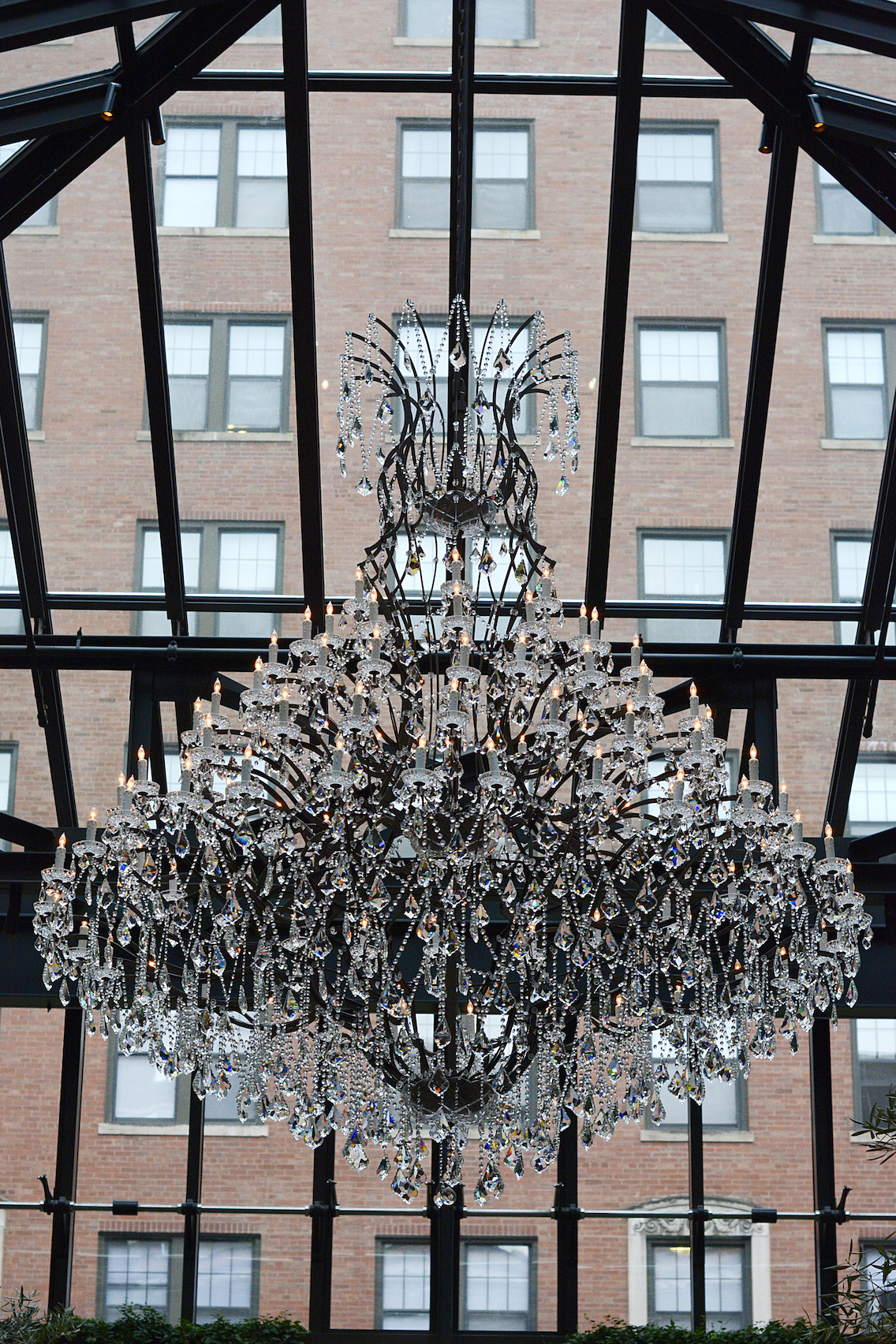 RH's restaurant, The 3 Arts Café, is set in a gorgeous glass atrium decked in chandeliers all swirling around a central fountain: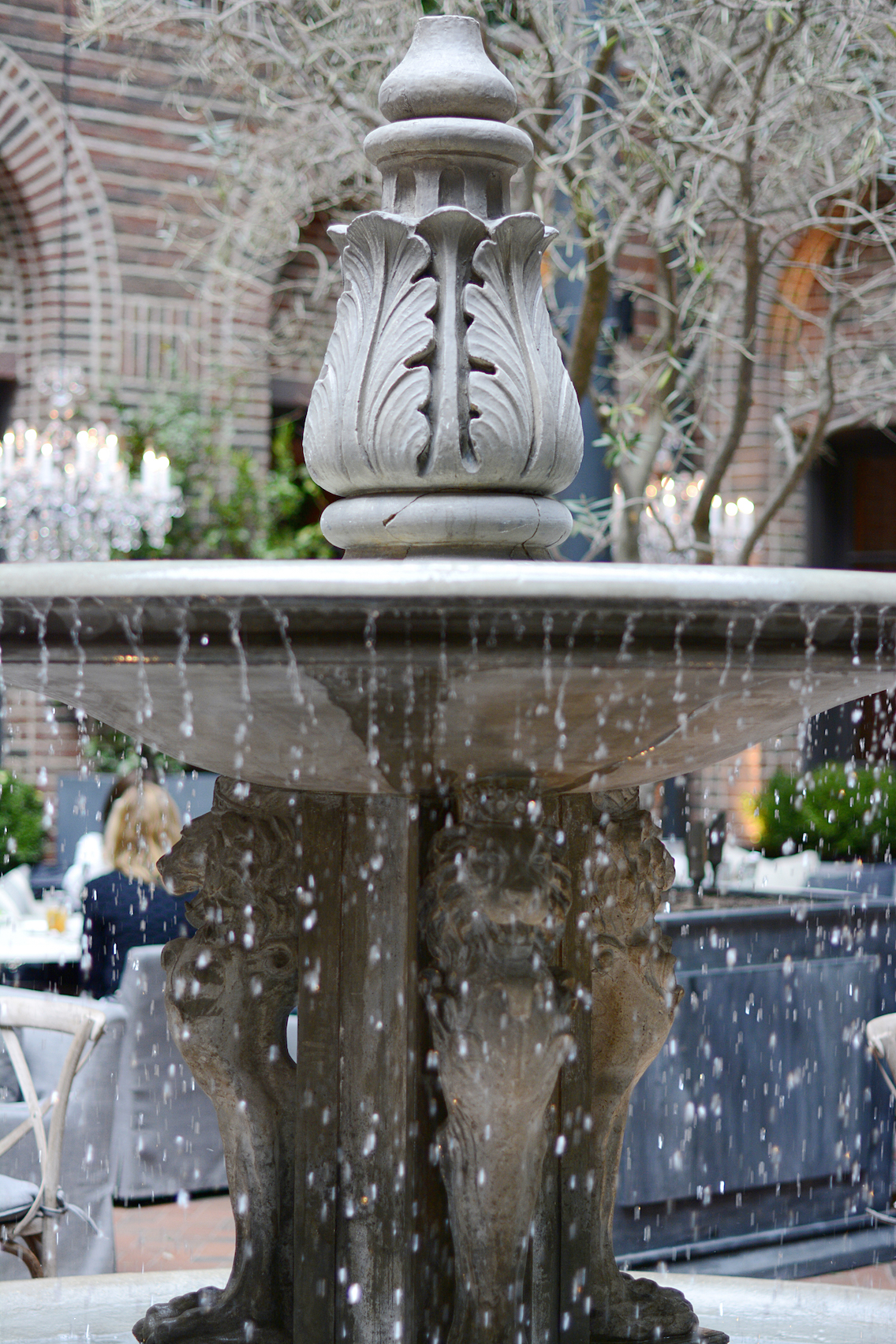 It's one of those beautiful spaces that draws you in through its simple majesty.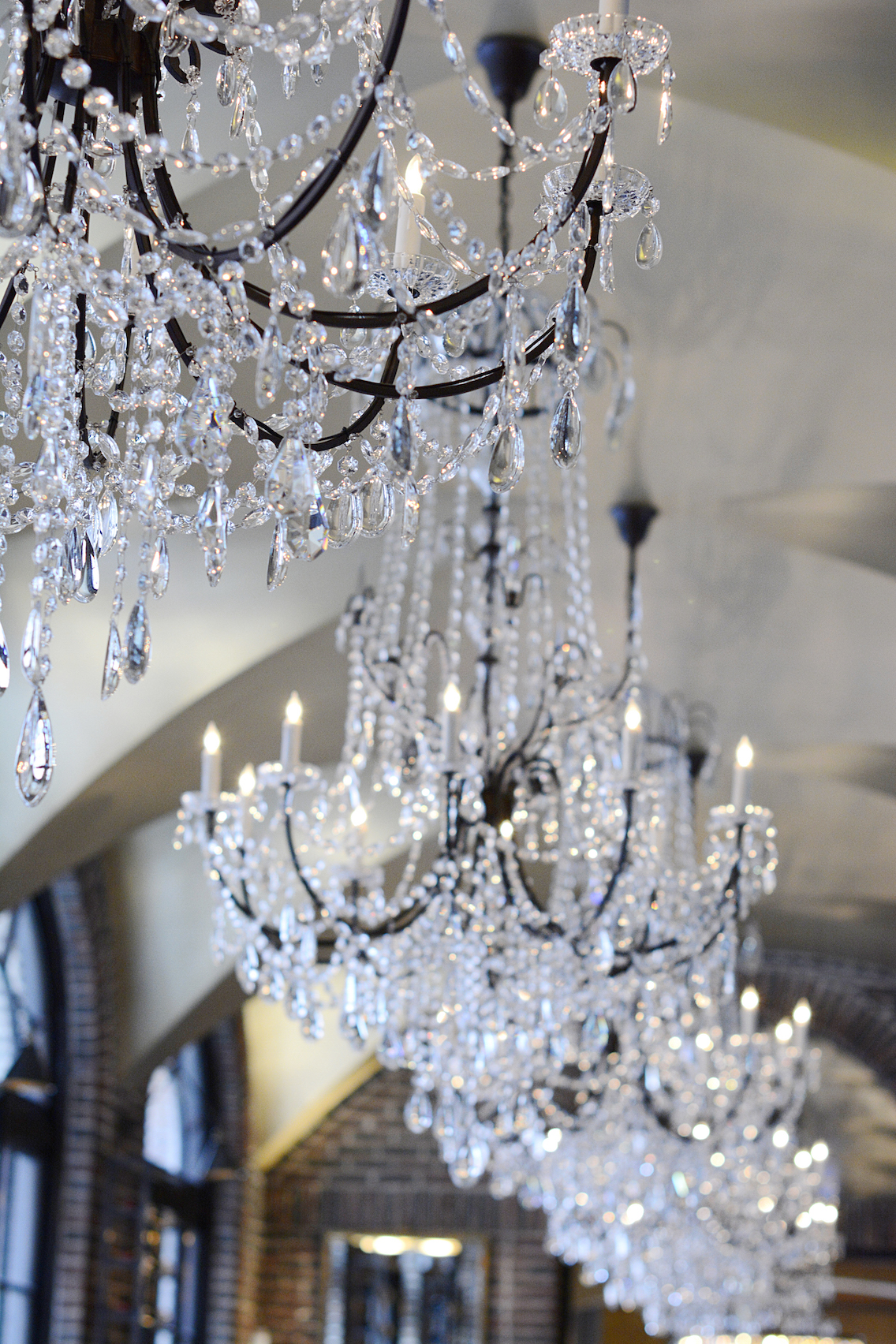 And perhaps the rows and rows of glittering chandeliers…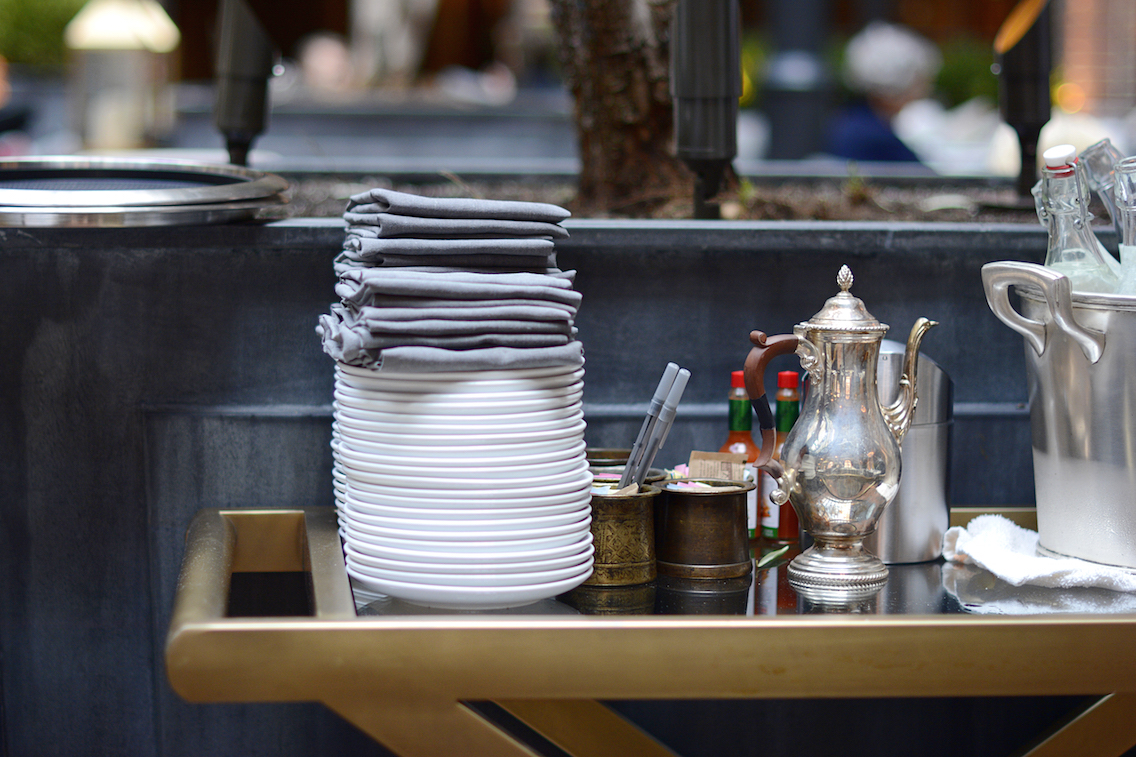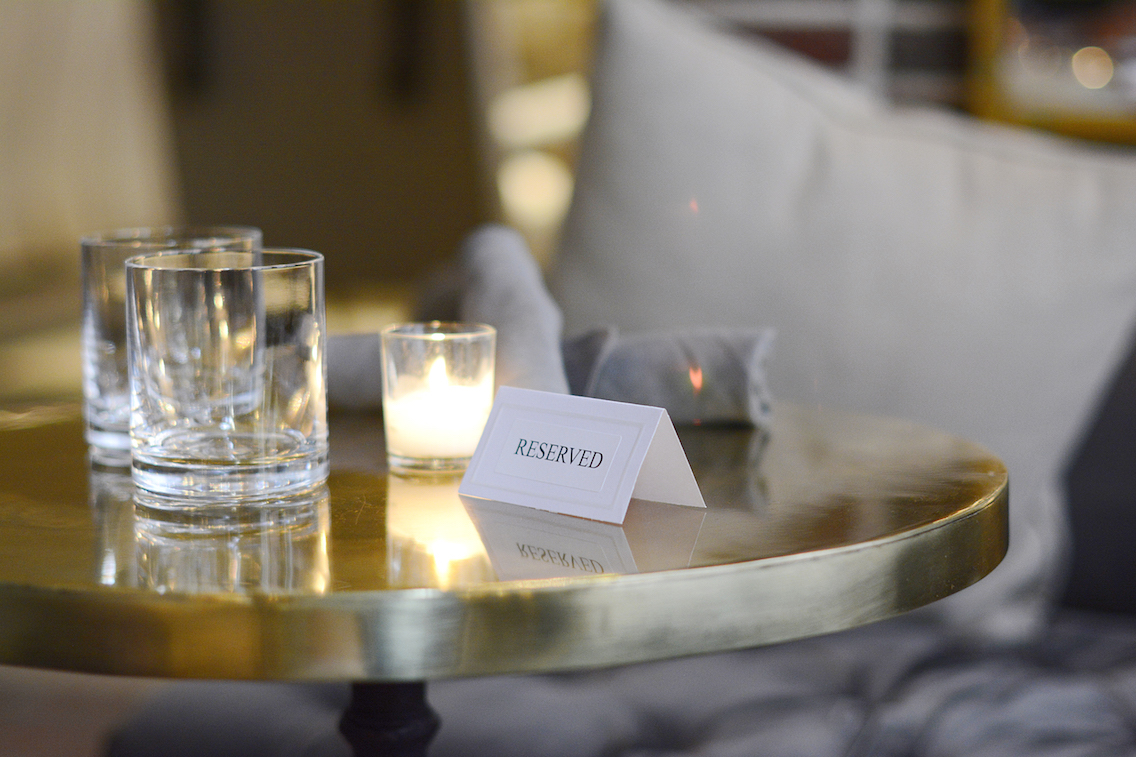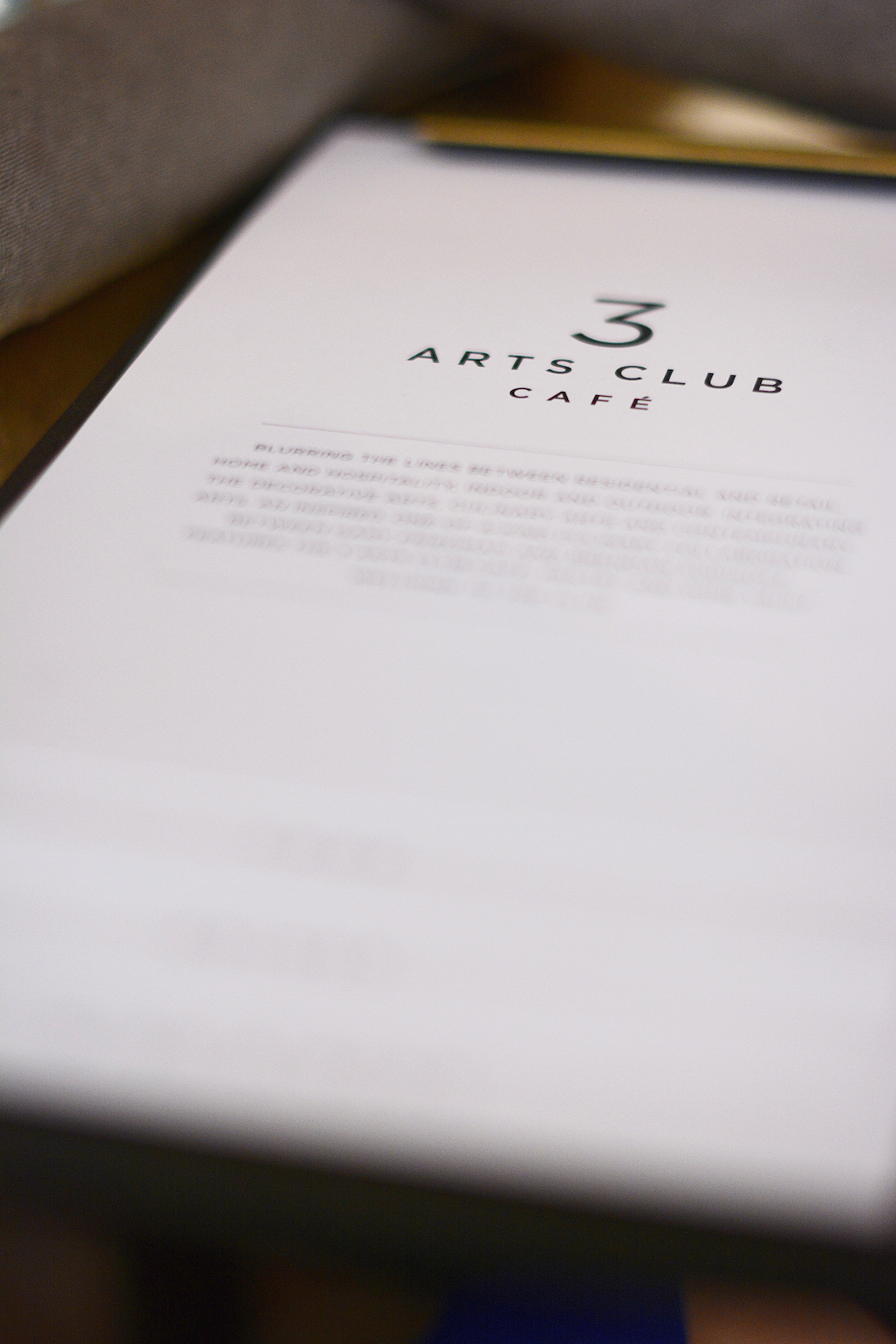 On our first visit, Jill and I were absolutely stunned by the space and couldn't wait to try the food! Since it's run by the same folks that run legendary burger joint Au Cheval, we had HIGH expectations for what our first meal would bring.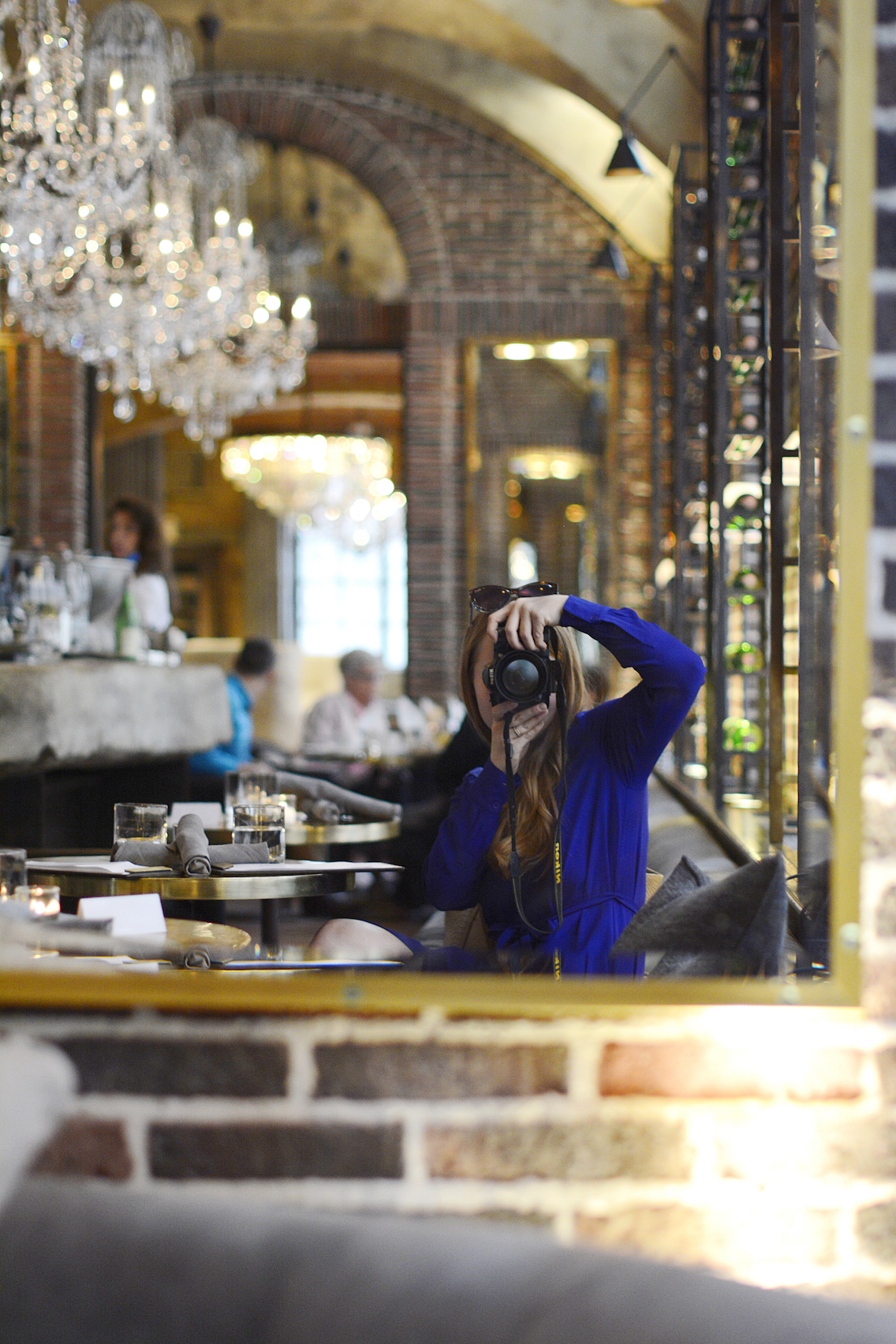 We settled into a cozy spot…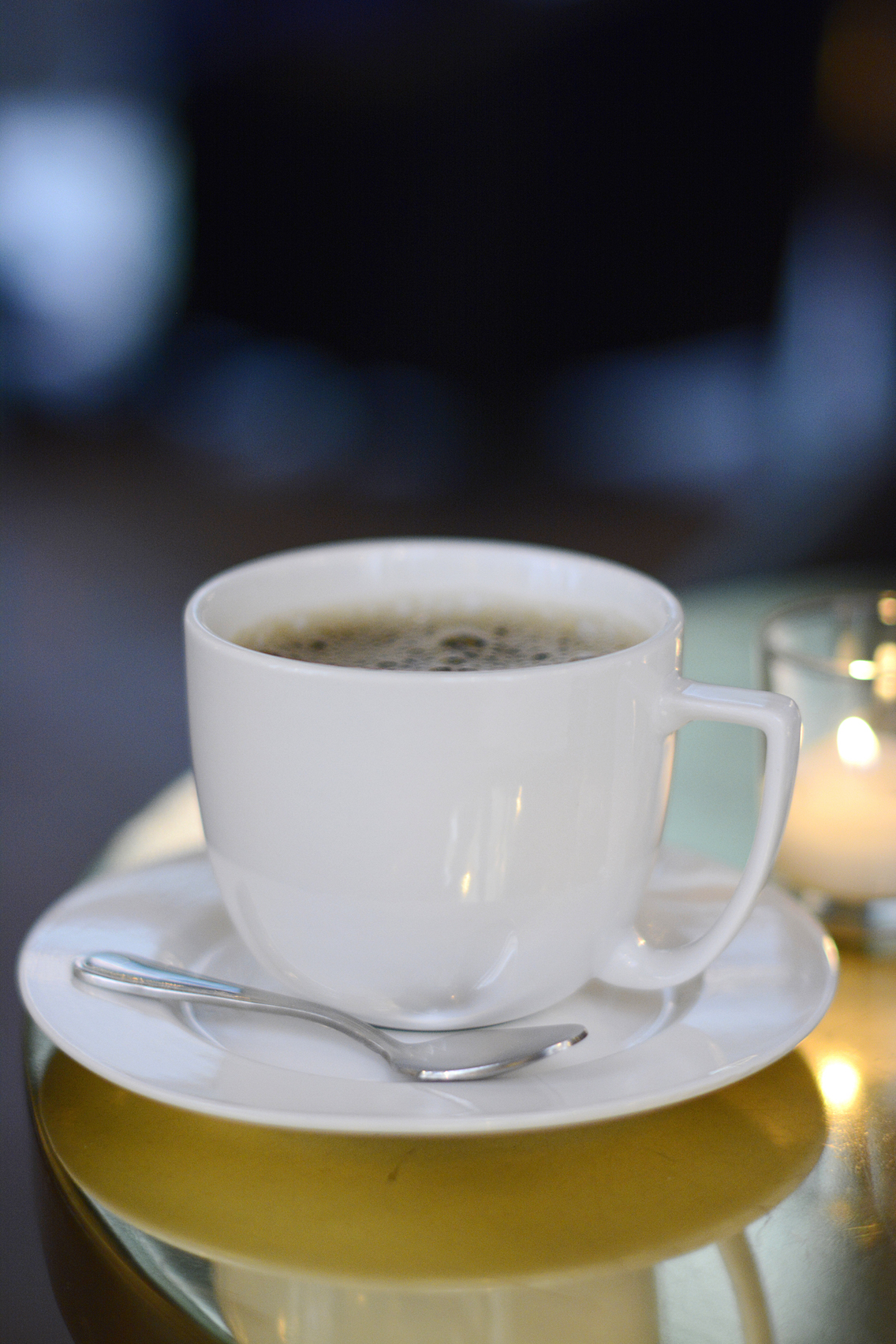 And sipped some much-needed coffee as we perused the menu.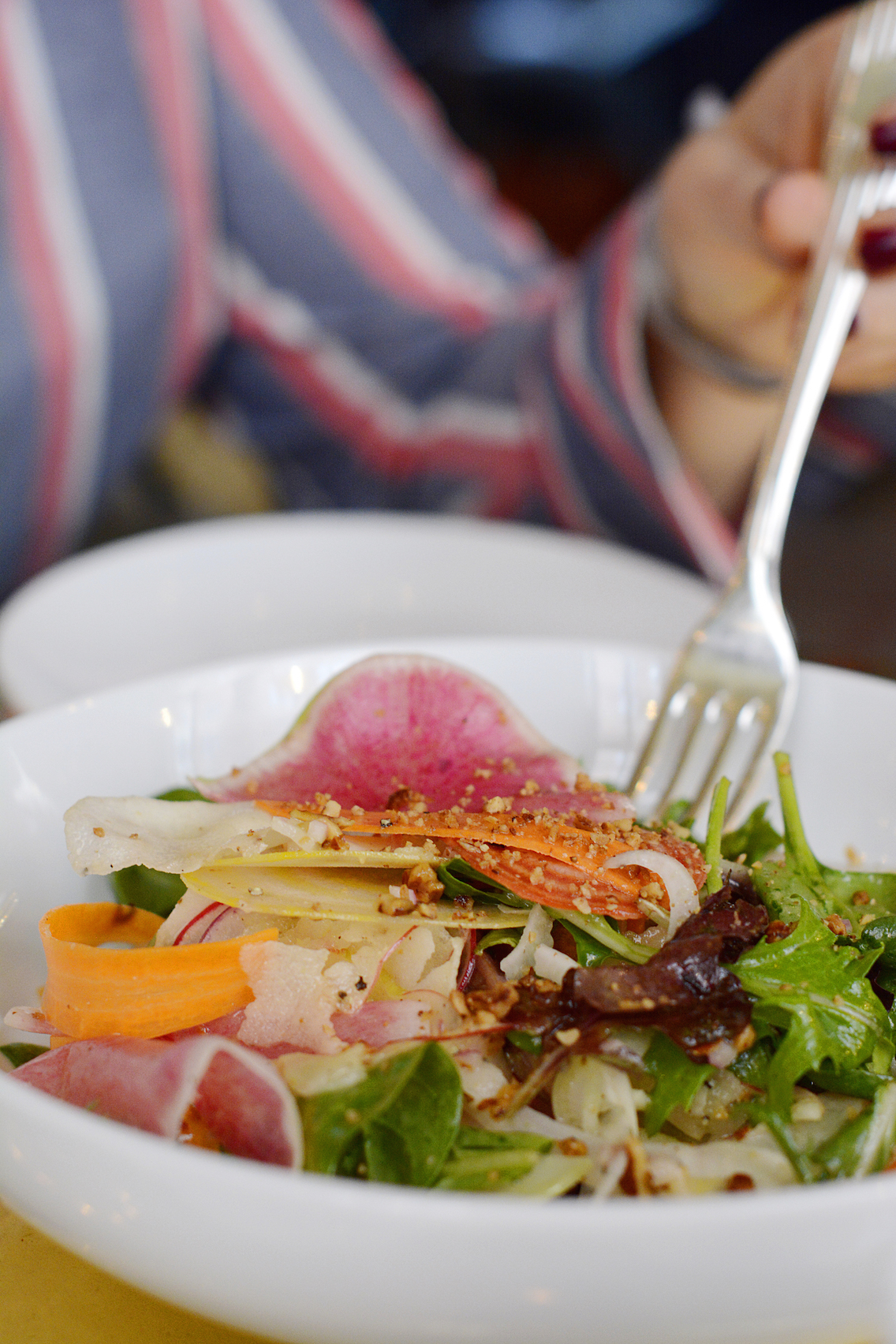 First we shared this enormous salad of root vegetables with grains and hazelnuts tossed in sherry vinaigrette.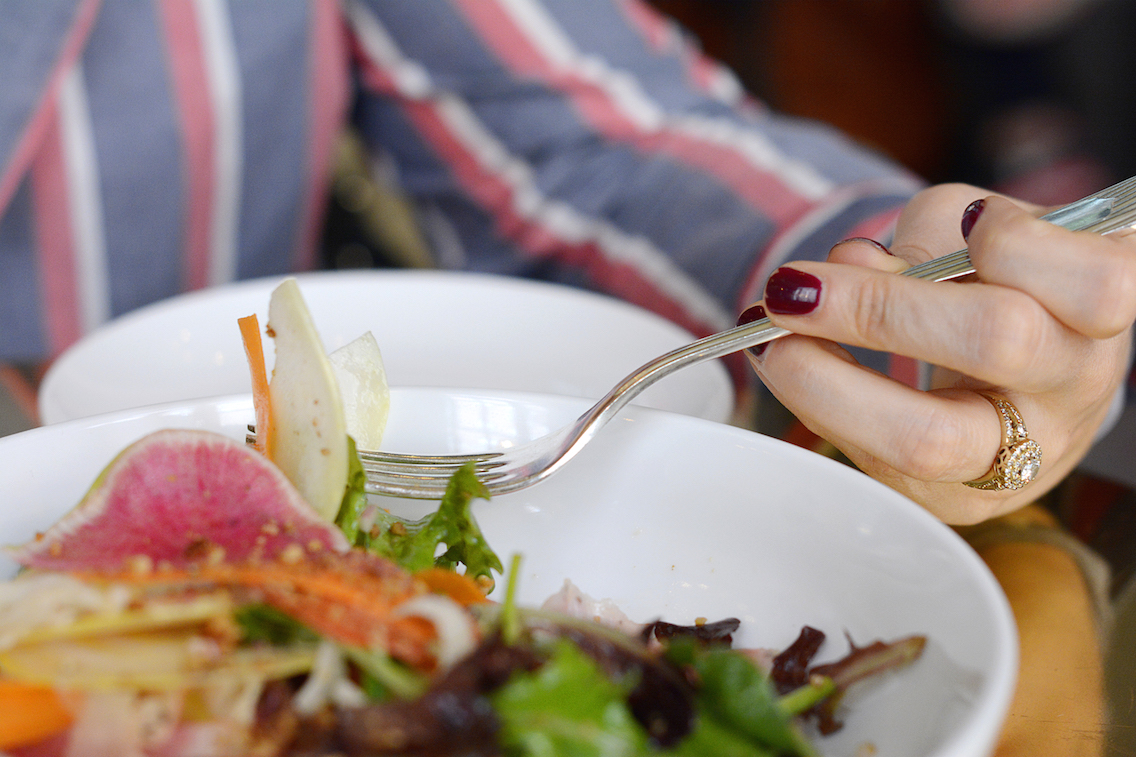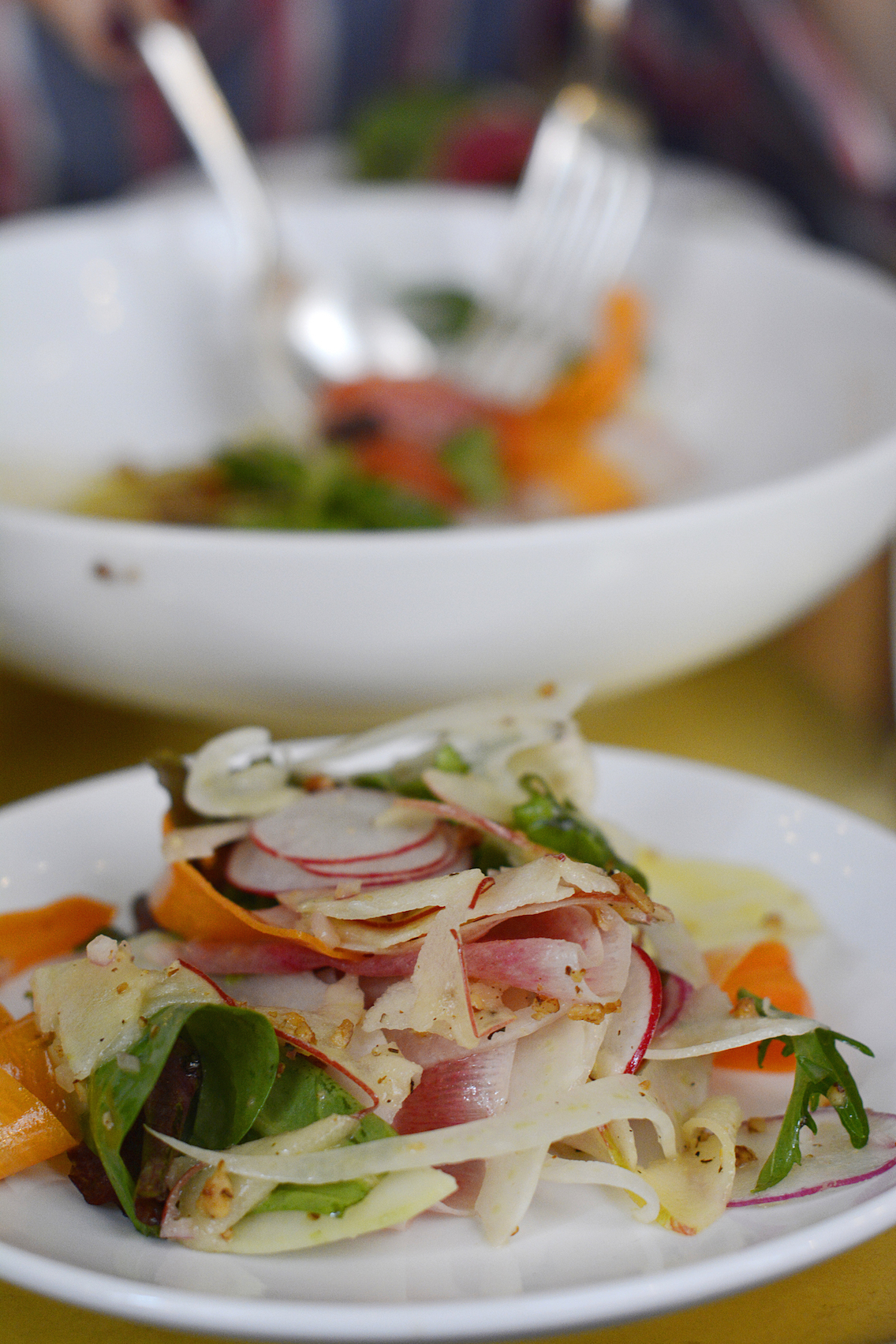 Simple & delicious… this is one perfect fall salad!
Bright and vibrant in flavor thanks to the freshness of the vegetables and the bite from the vinaigrette. I especially loved how all of the vegetables were cut into thin ribbons lending a lovely texture that felt almost as satisfying as pasta to eat.
But far more colorful!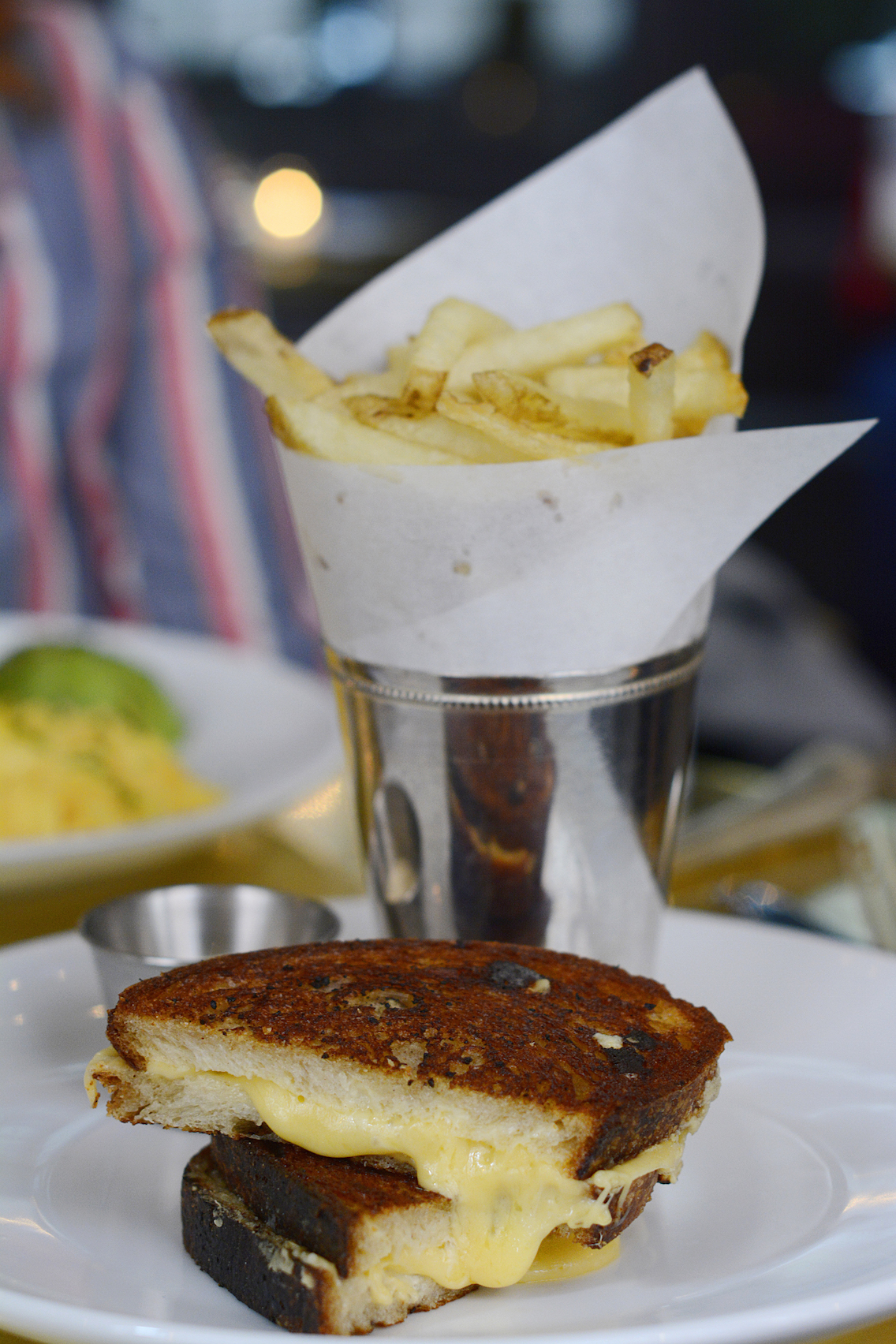 For our meals, we split this EPIC Grilled Cheese of cheddar and truffle butter on house-made sourdough.
Ooey, gooey and decadent! Everything you could want from a truffled grilled cheese made even more EPIC because you're eating it as you sit under an enormous chandelier surrounded by the glitterati of Chicago society.
I'm pretty sure life doesn't get any better than that!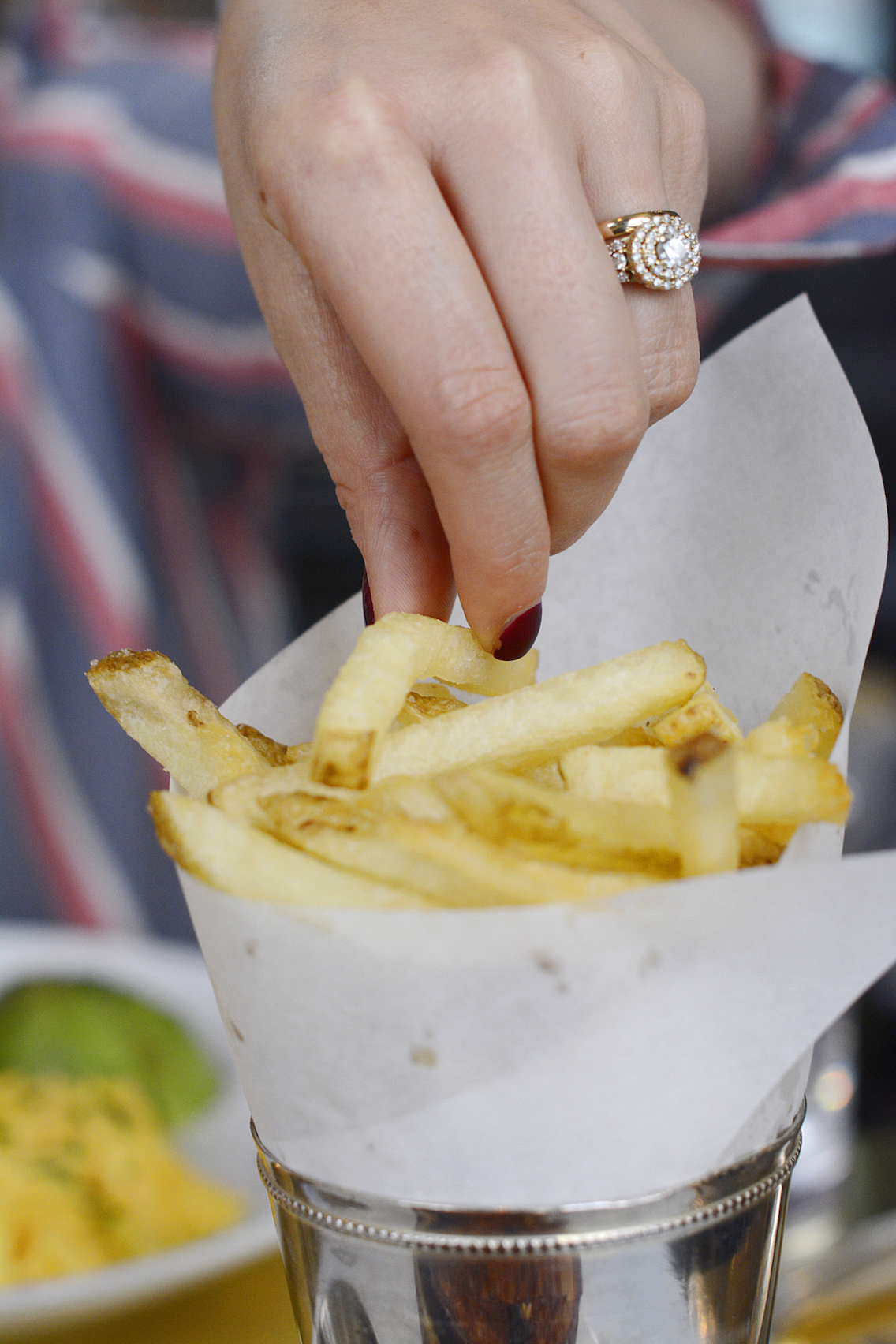 We also split an order of hand-cut fries with garlic aioli which we could. not. stop. eating.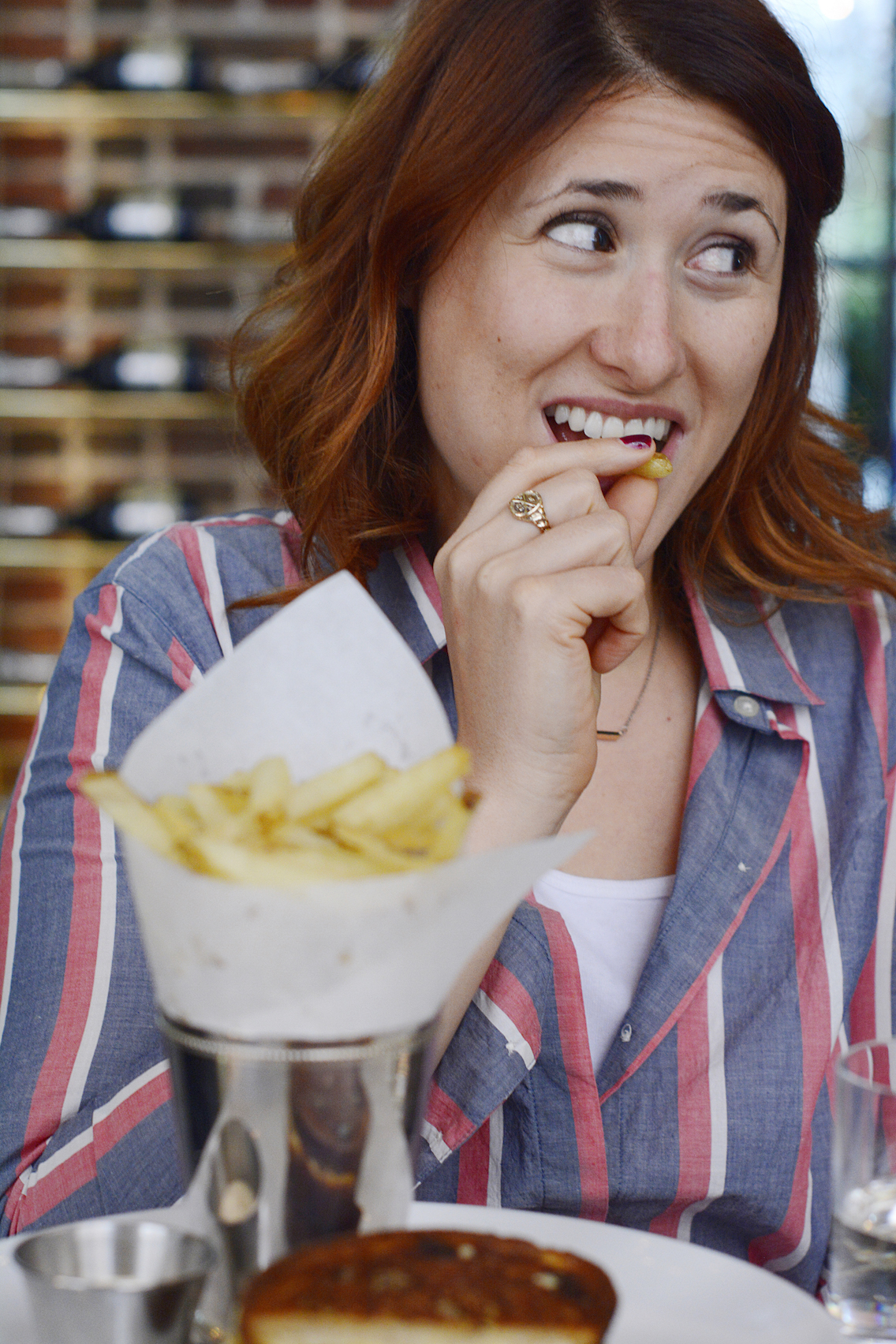 I caught Jill sneaking a few bites while I shot the food!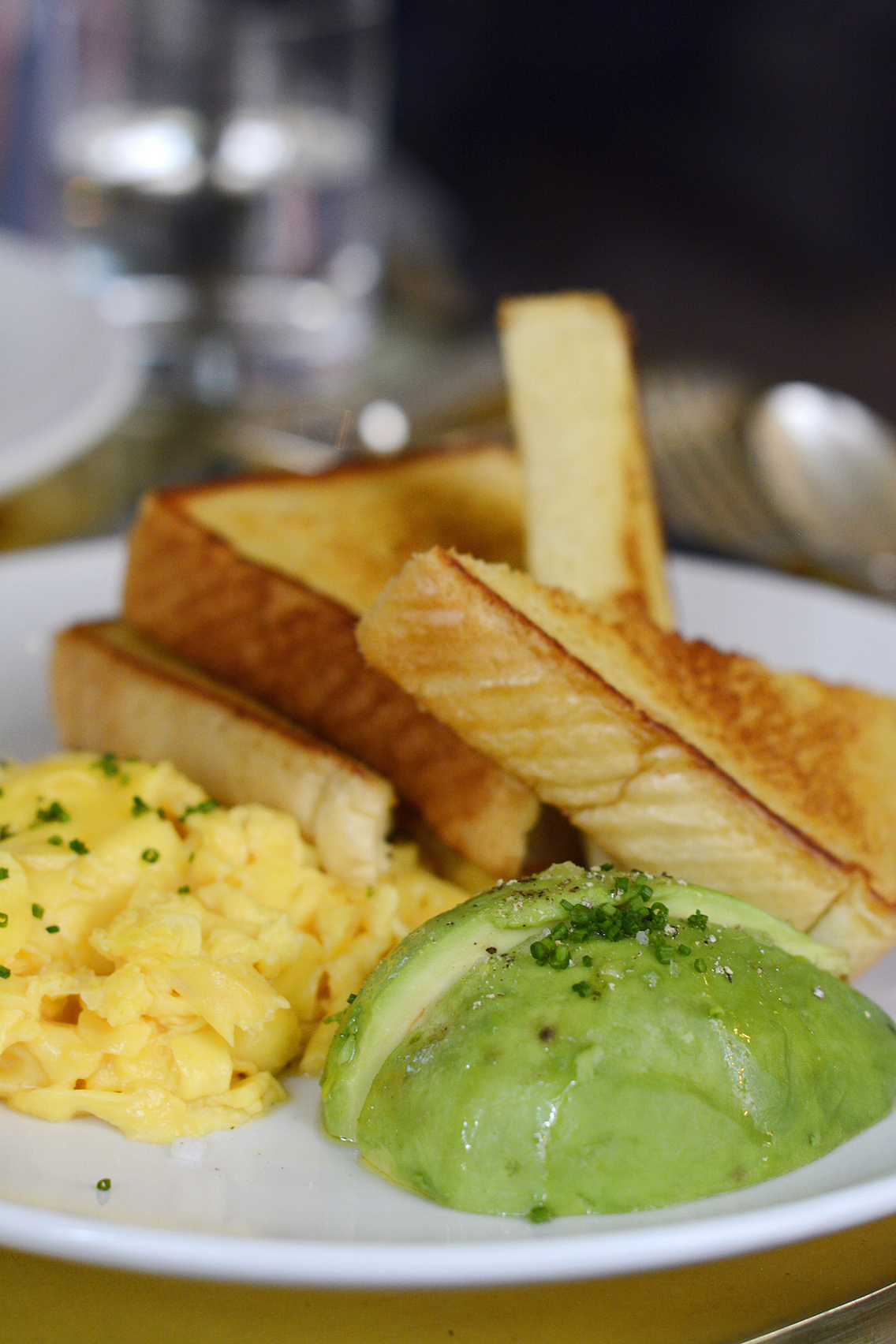 But my absolute favorite dish may very well be the simplest item on the menu — the RH Scramble.
Scrambled free-range farm eggs and crème frâiche served with chives, half an avocado, and plenty of buttery Texas Toast. Perfecting the art of scrambled eggs isn't easy. They must be creamy, almost cheesy, and light without being overly dry. Ideally, they should melt in your mouth when you take your first bite.
I think most of us would agree — it's hard to get scrambled eggs right.
But the 3 Arts Café has cracked the scrambled egg code. If you yearn for perfectly simple breakfast food served ALL DAY long then you NEED to add these scrambled eggs to your "must eat" list.
And you should probably prepare yourself for the possibility that after you eat these scrambled eggs, you won't WANT to eat anything else…
Ever…

After finishing our lunch, Jill and I explored ever nook and cranny of the showroom starting with the gorgeous rooftop patio!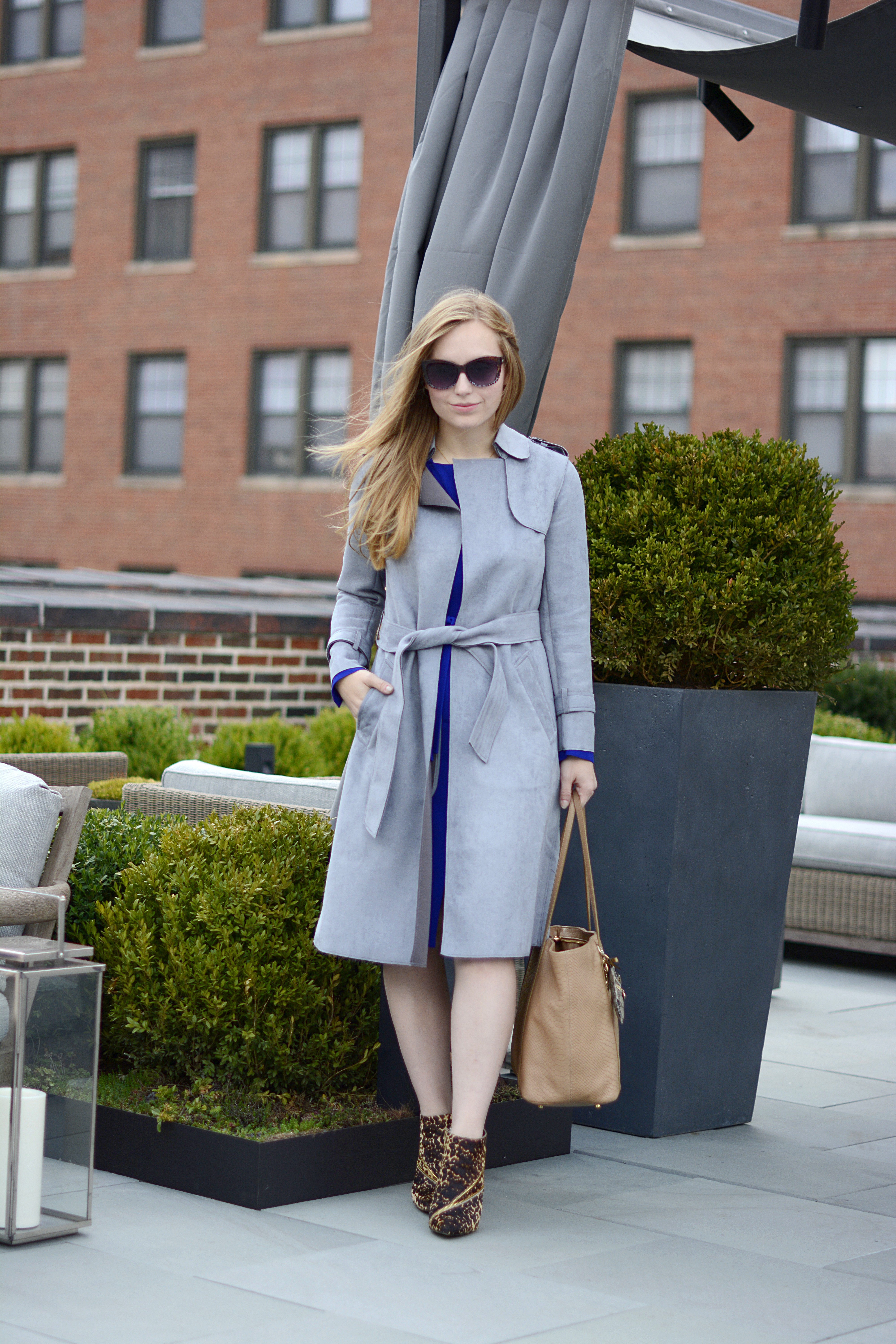 SHOP THE LOOK:
Trench – Choies || Dress – LK Bennett || Booties – Renvy (similar: 1 / 2 / 3) || Tote – Gigi New York 'Jessica' || Keychain – Gucci 'Pug' (similar) || Sunglasses – Le Specs (similar: 1 / 2) || Necklace – Etsy
Photos courtesy of gorgeous blogger Jill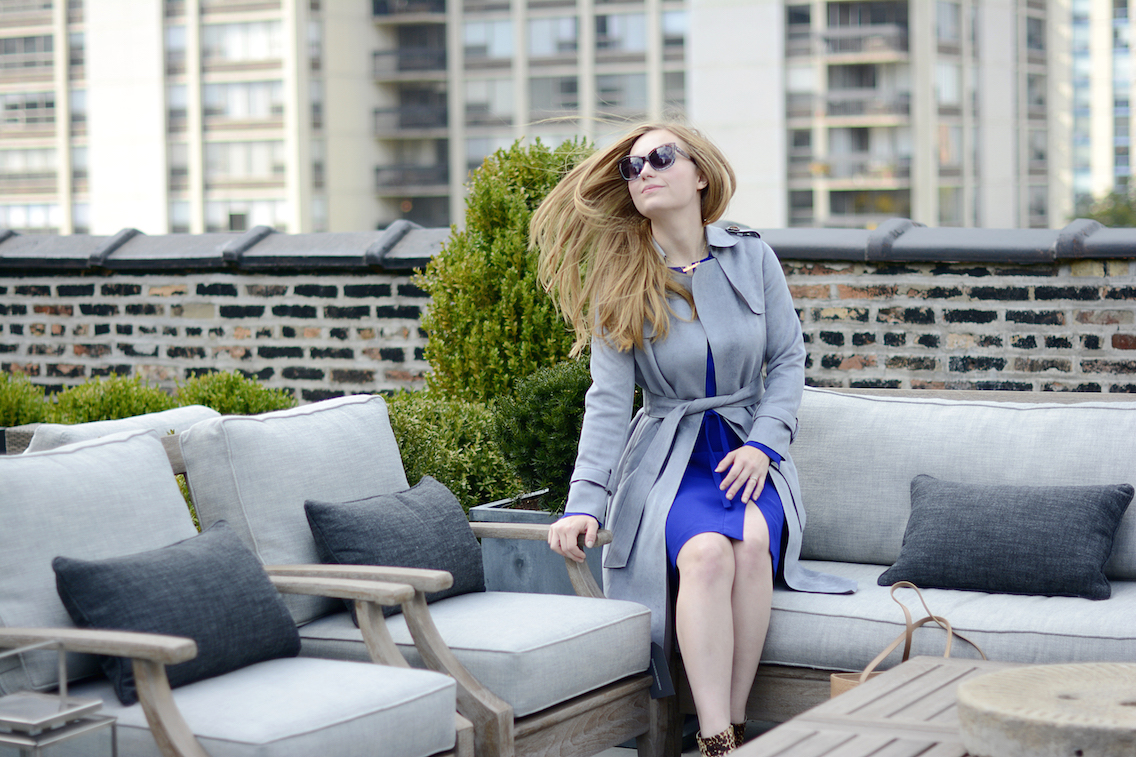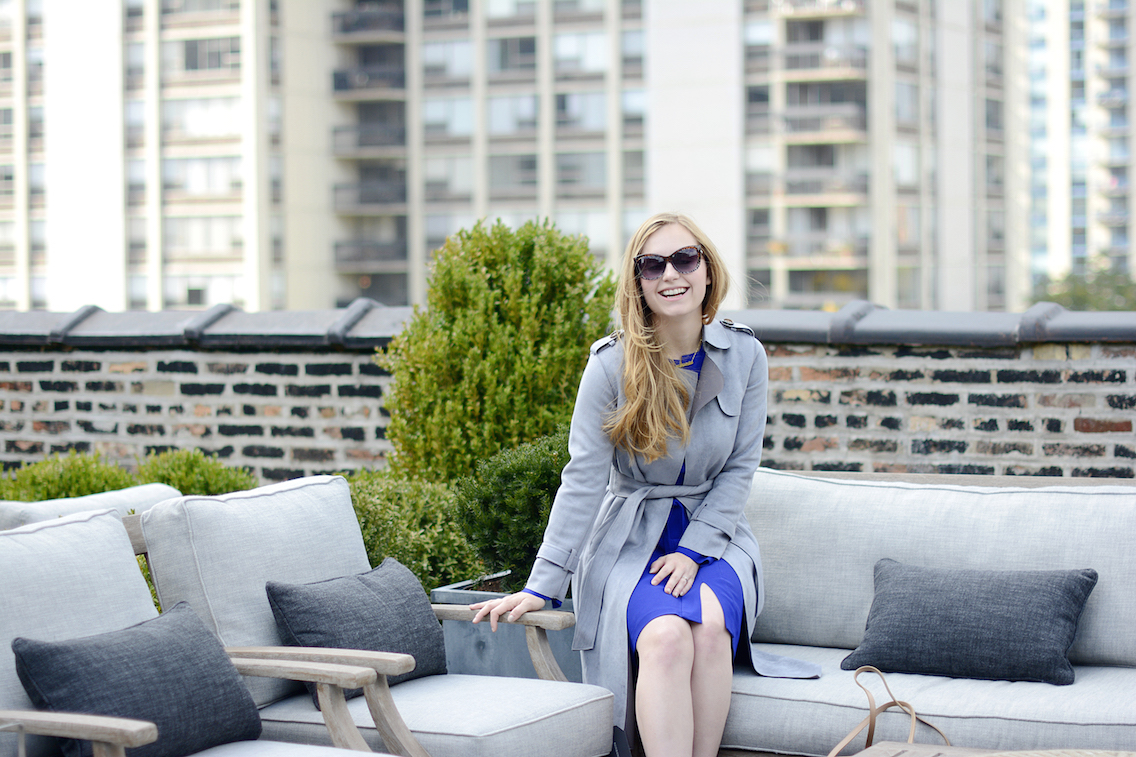 Isn't the rooftop gorgeous? With winter fast approaching we took as much advantage of the fresh air as we could.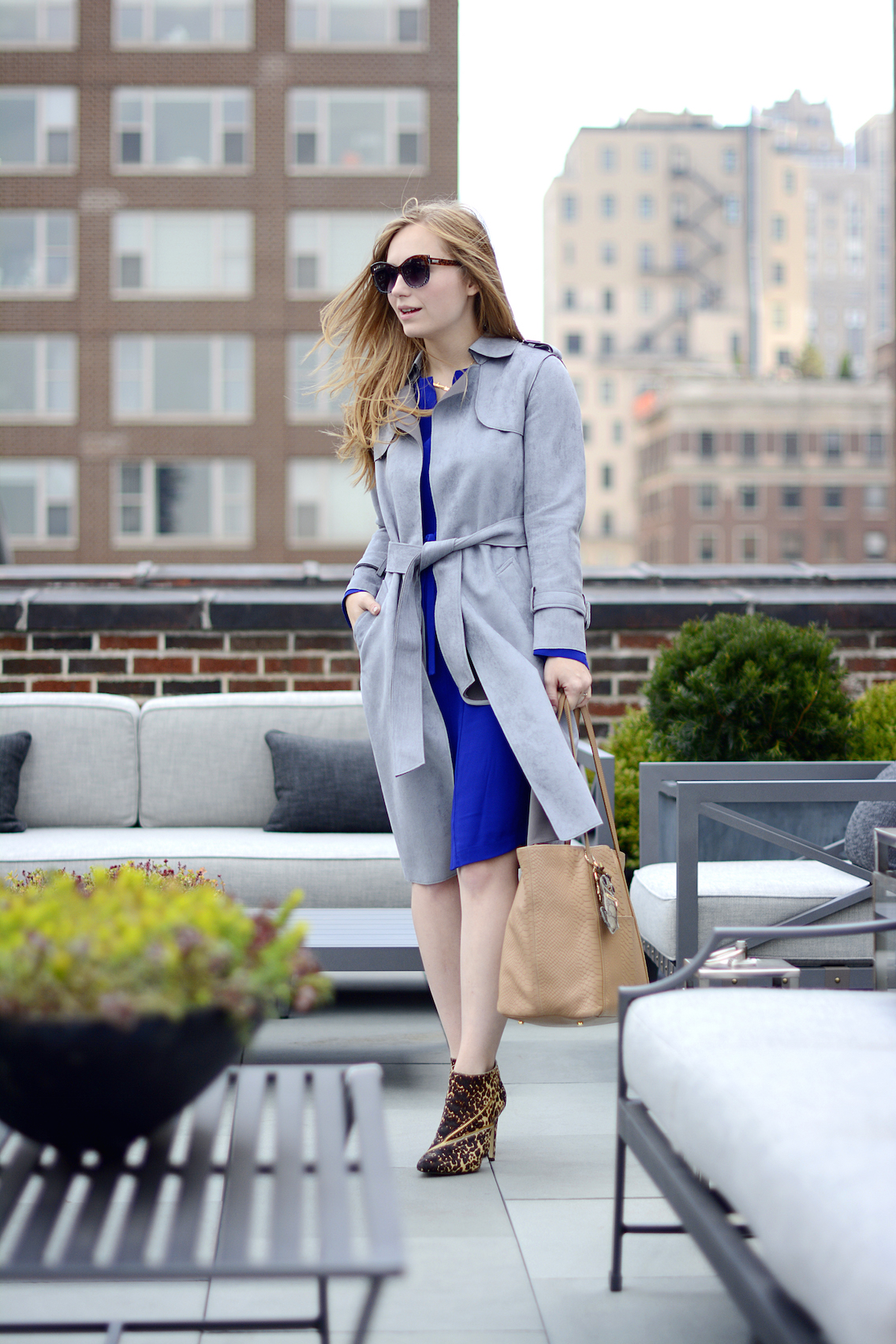 Taking a few necessary outfit photos for good measure.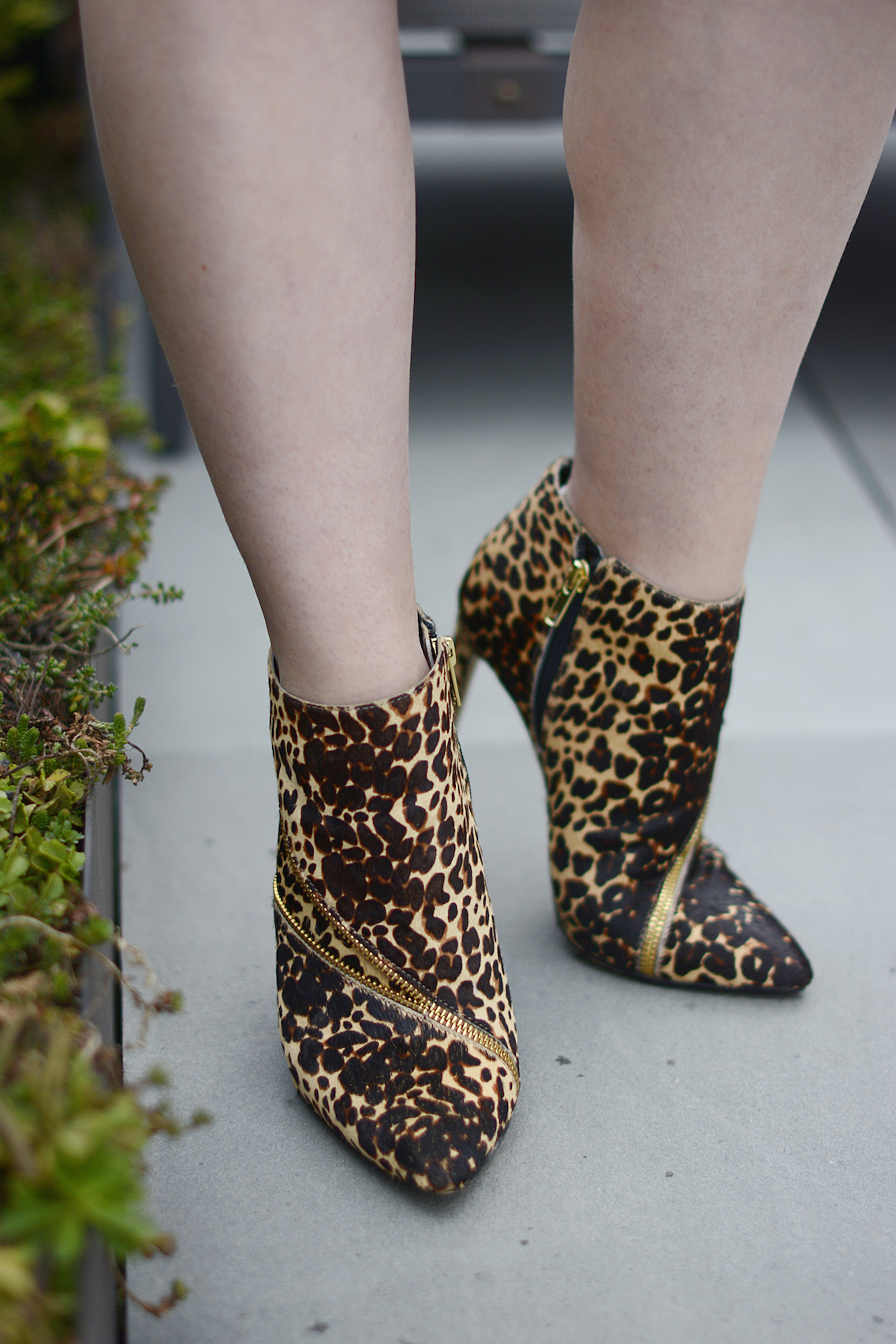 Who doesn't love a pair of fierce booties?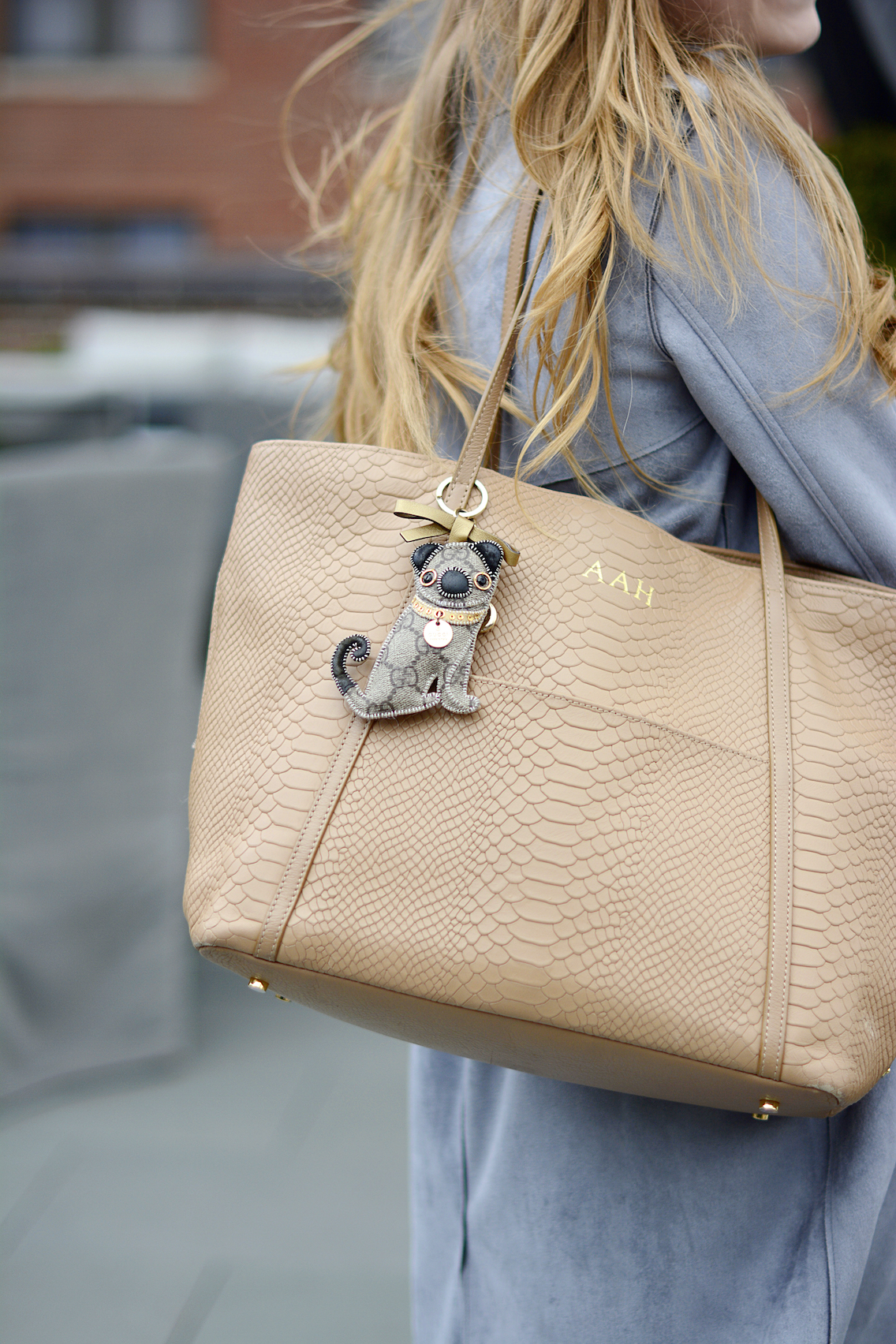 or a Gucci pug keychain?
and a personalized @Instagram necklace? I ordered this necklace after seeing Soo of Fab Foods Chicago wearing it to an event in lieu of a name tag. I loved the idea (and especially loved the idea of not having to wear a sticker name tag everywhere) and ordered one the very next day. It's a great gift idea for any social media lovers in your life too *wink wink*.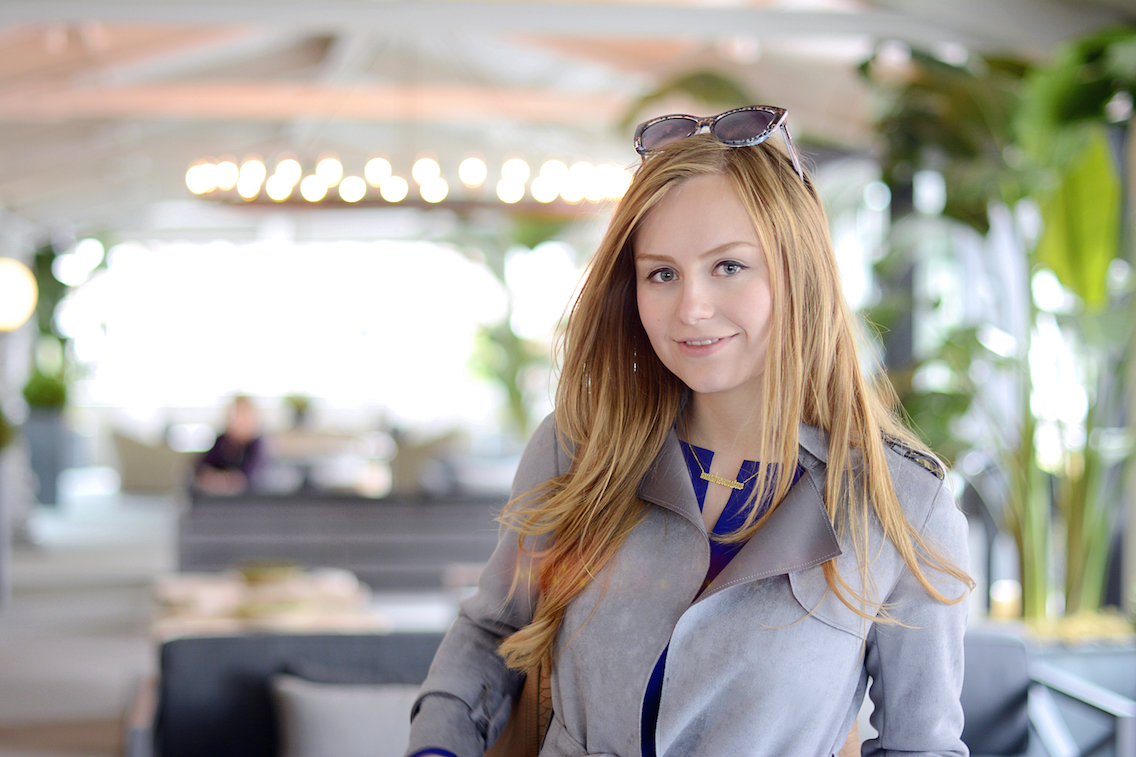 Once we finished soaking up the beautiful view from the roof, we explored the remaining four floors of showrooms.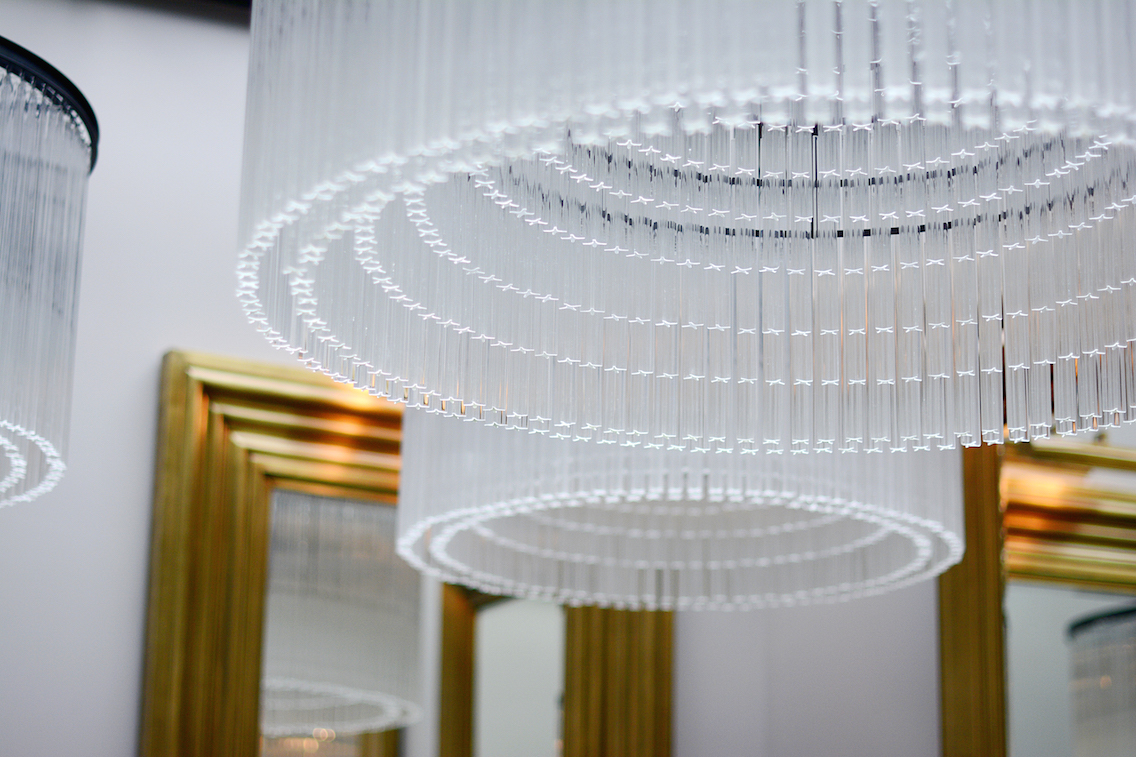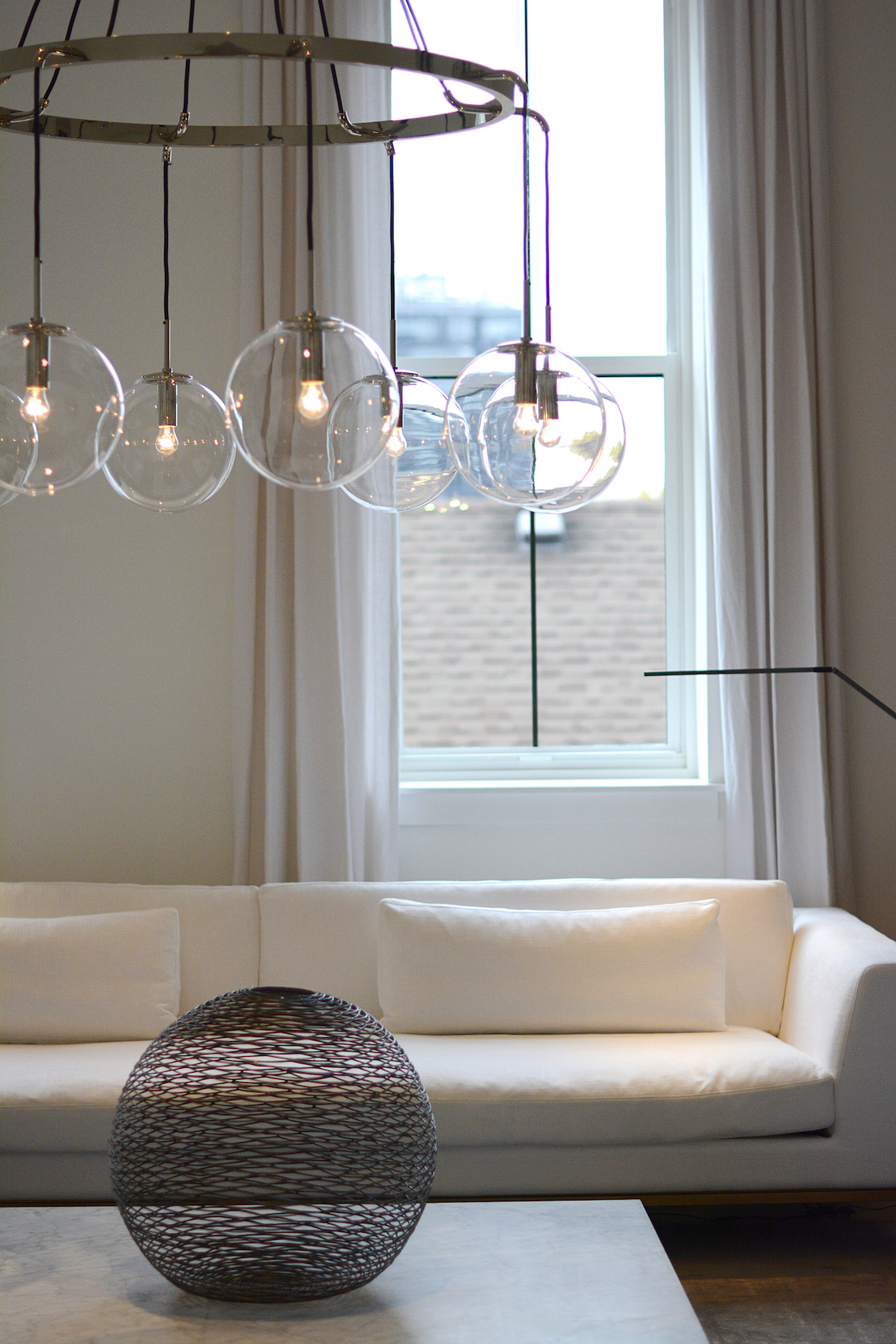 Each one decorated in the style of simple elegance that has long embodied the RH aesthetic.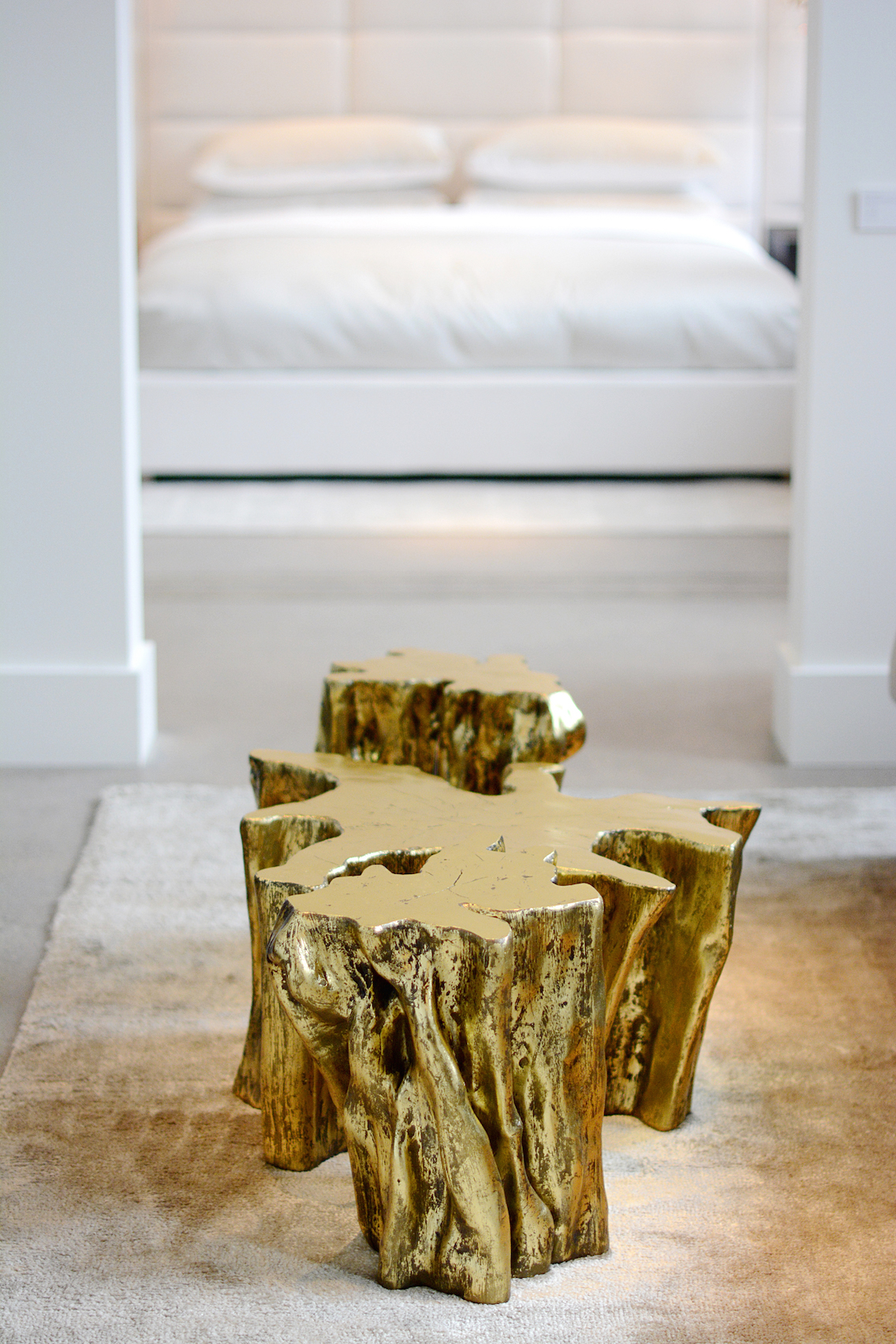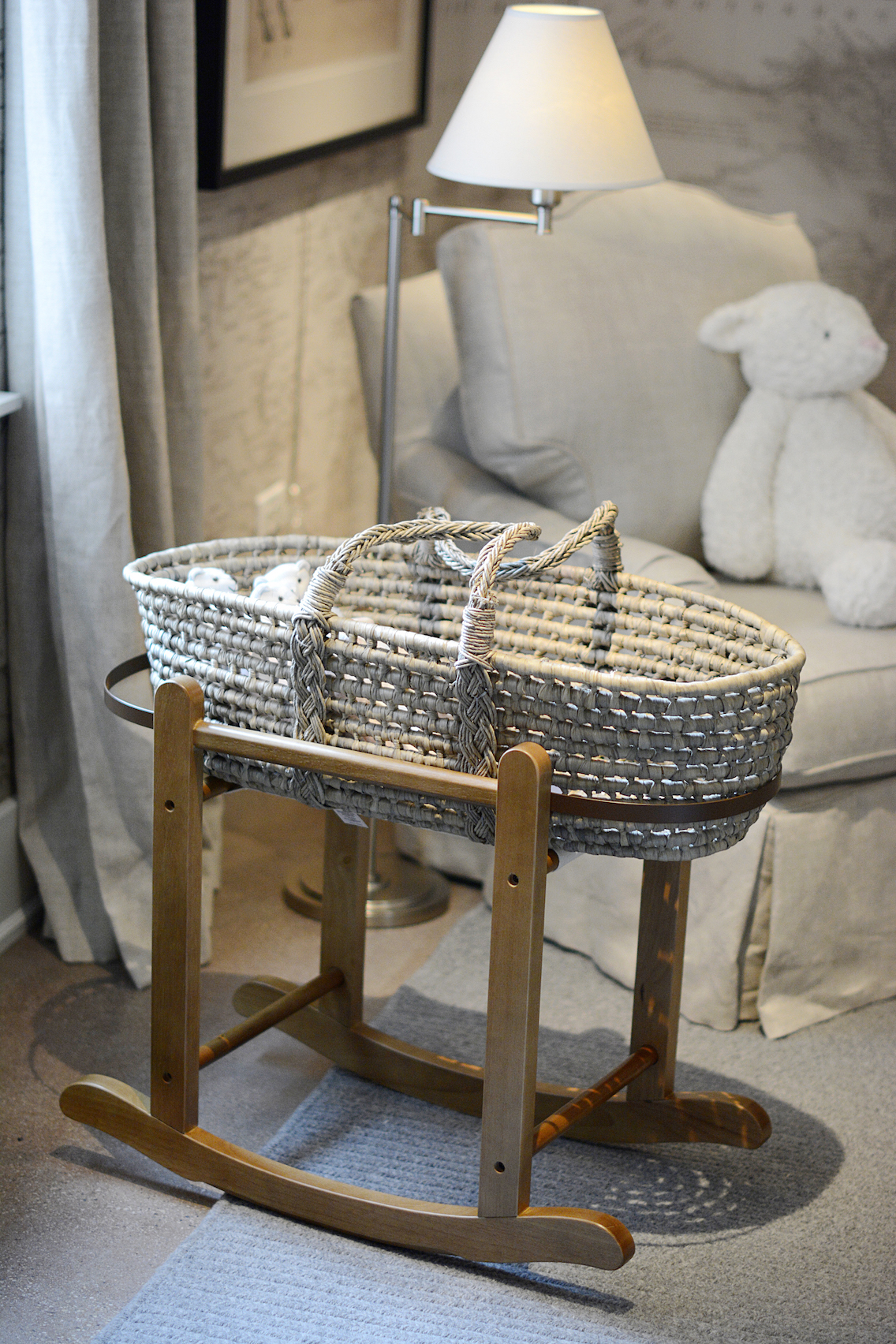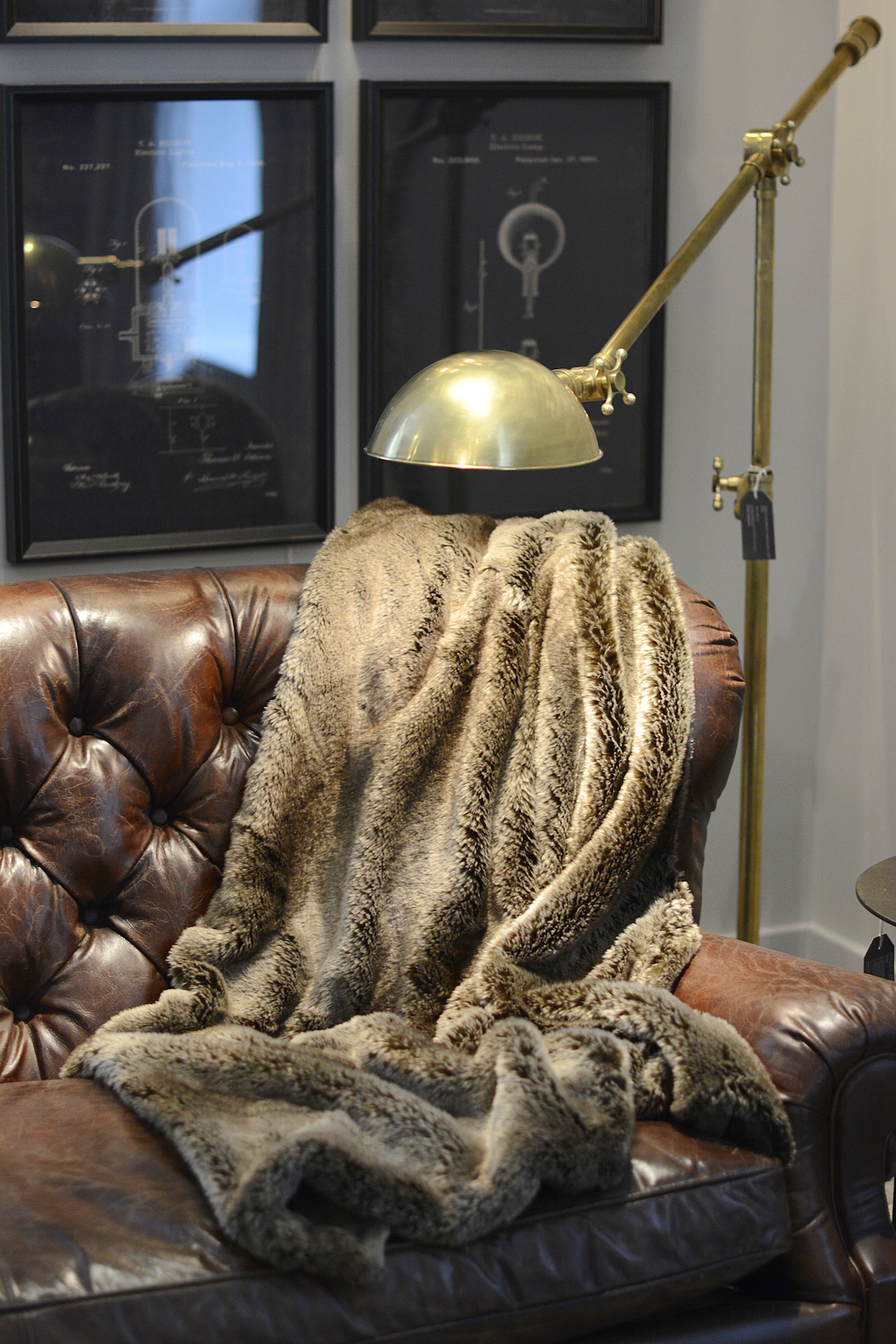 Their lighting fixtures are particularly entrancing!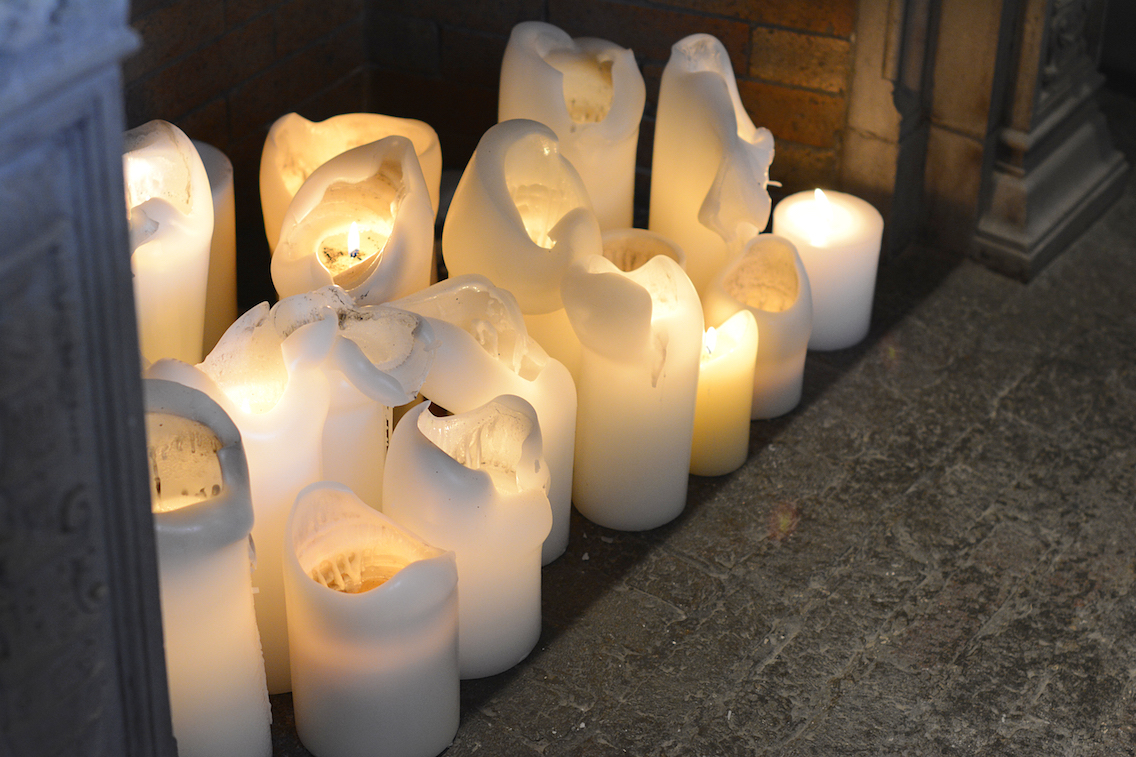 After my first visit with Jill I was HOOKED. I couldn't stop dreaming of those scrambled eggs. So naturally, later the very same week, I took Anna, knowing she would appreciate the beauty and elegance of the space (not to mention that it's perfect situated halfway between our two homes).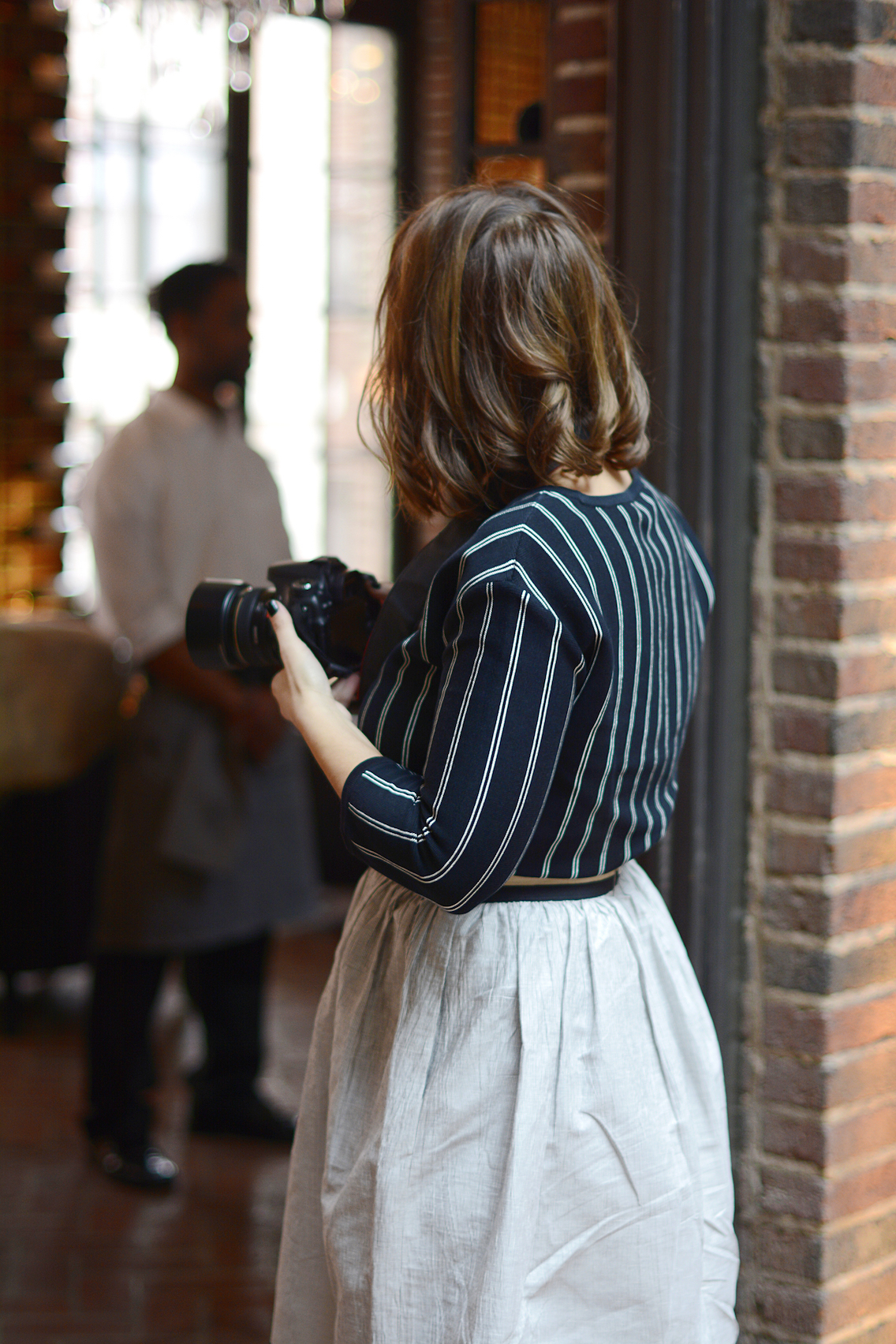 Just like Jill & I did, Anna instantly fell in love with the space and couldn't stop shooting while we are there (on a side note, her photography skills are getting SO GOOD! #veryproud).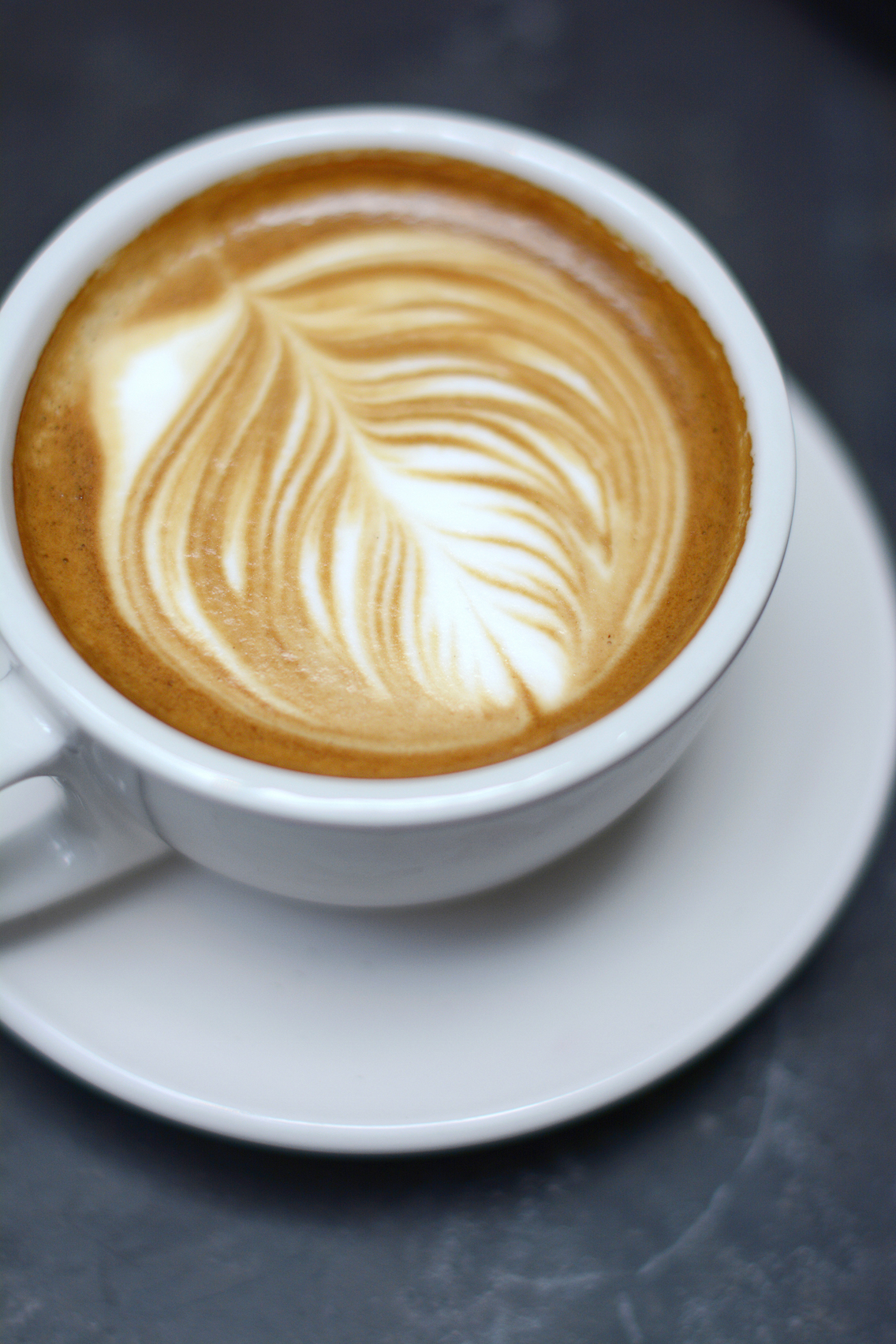 We settled down with a few lattes…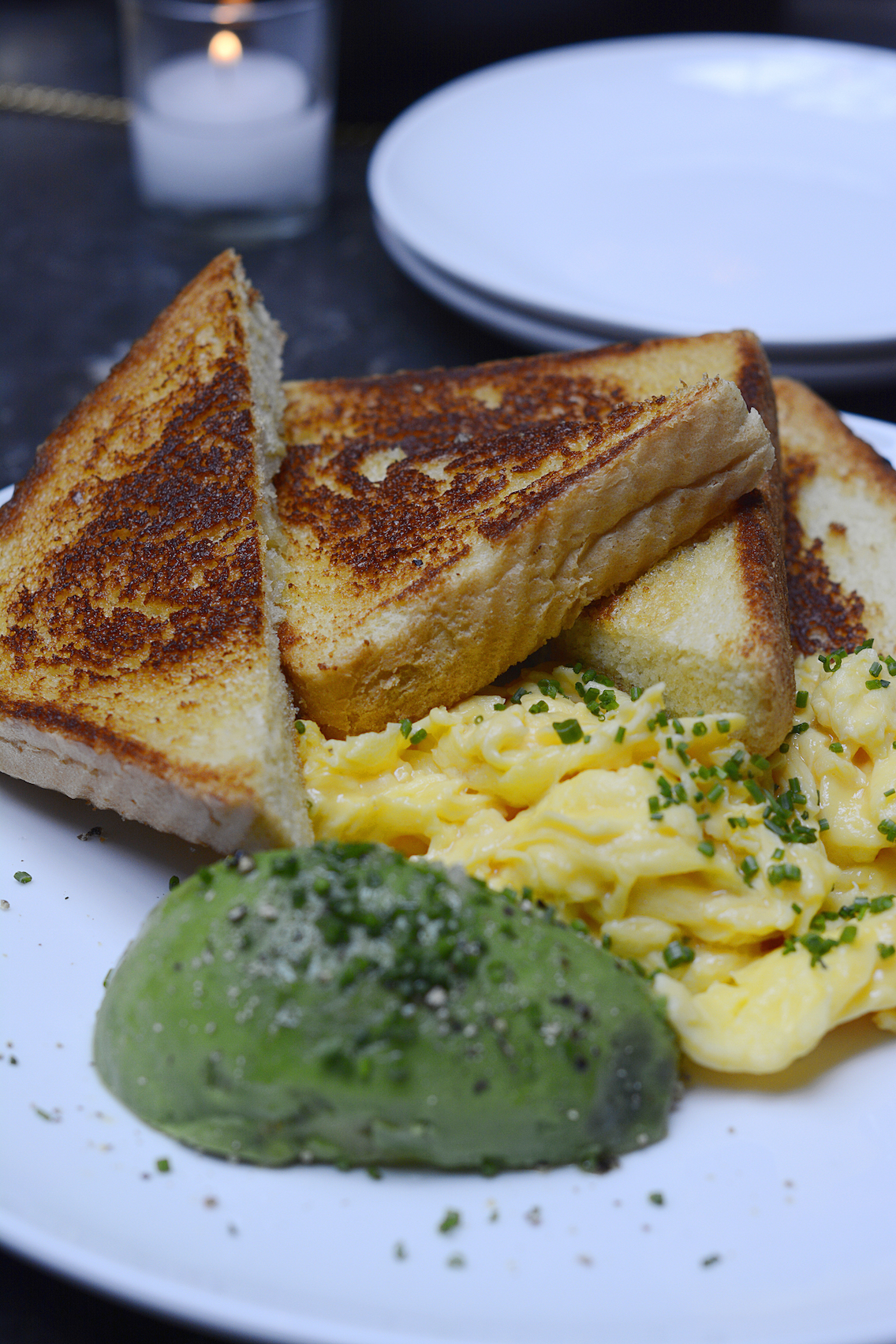 And of course after all my gushing (and jonesing), we first ordered a round of those EPIC scrambled eggs.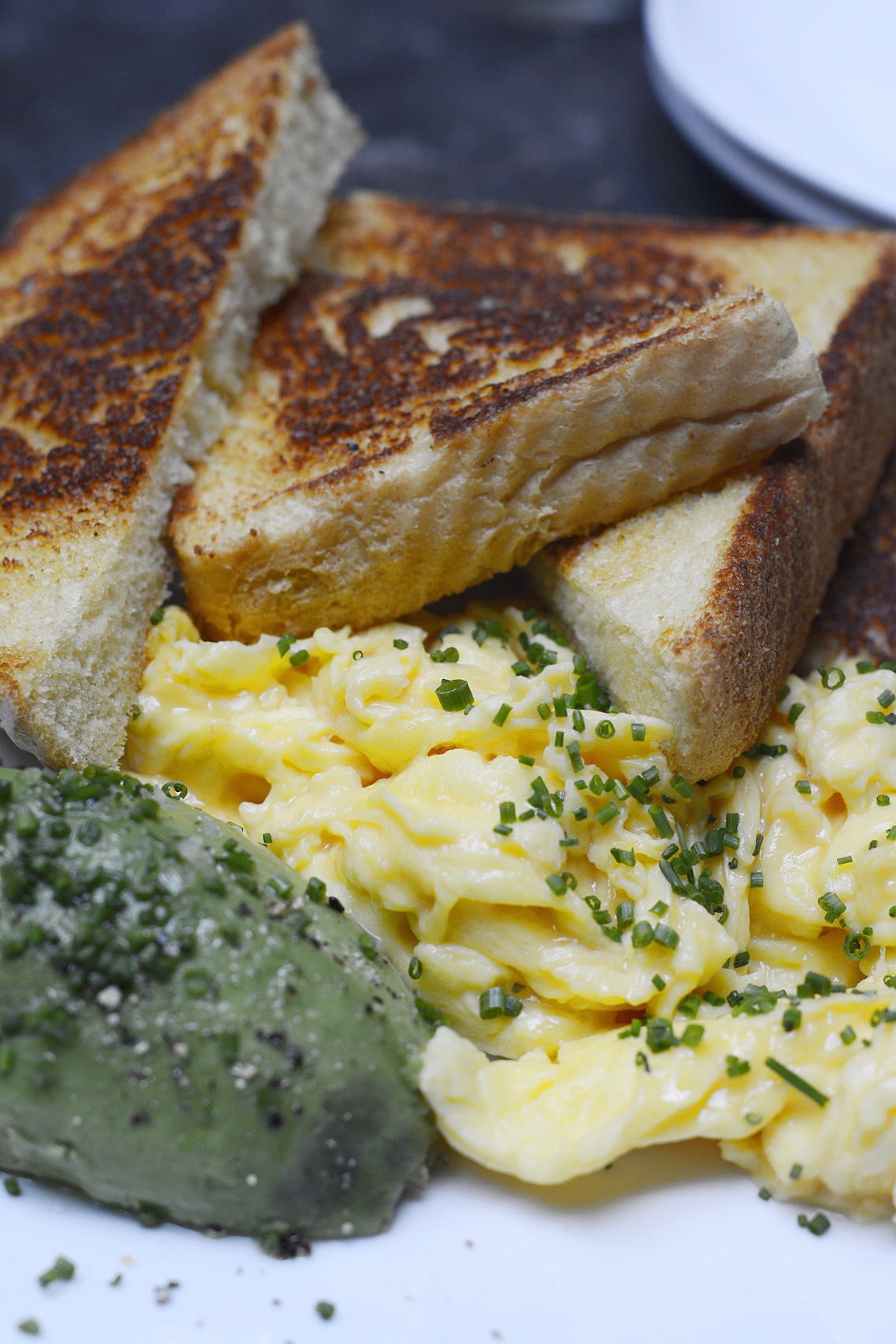 After her first bite Anna instantly understood my obsession. These scrambled eggs really will ruin you for all others!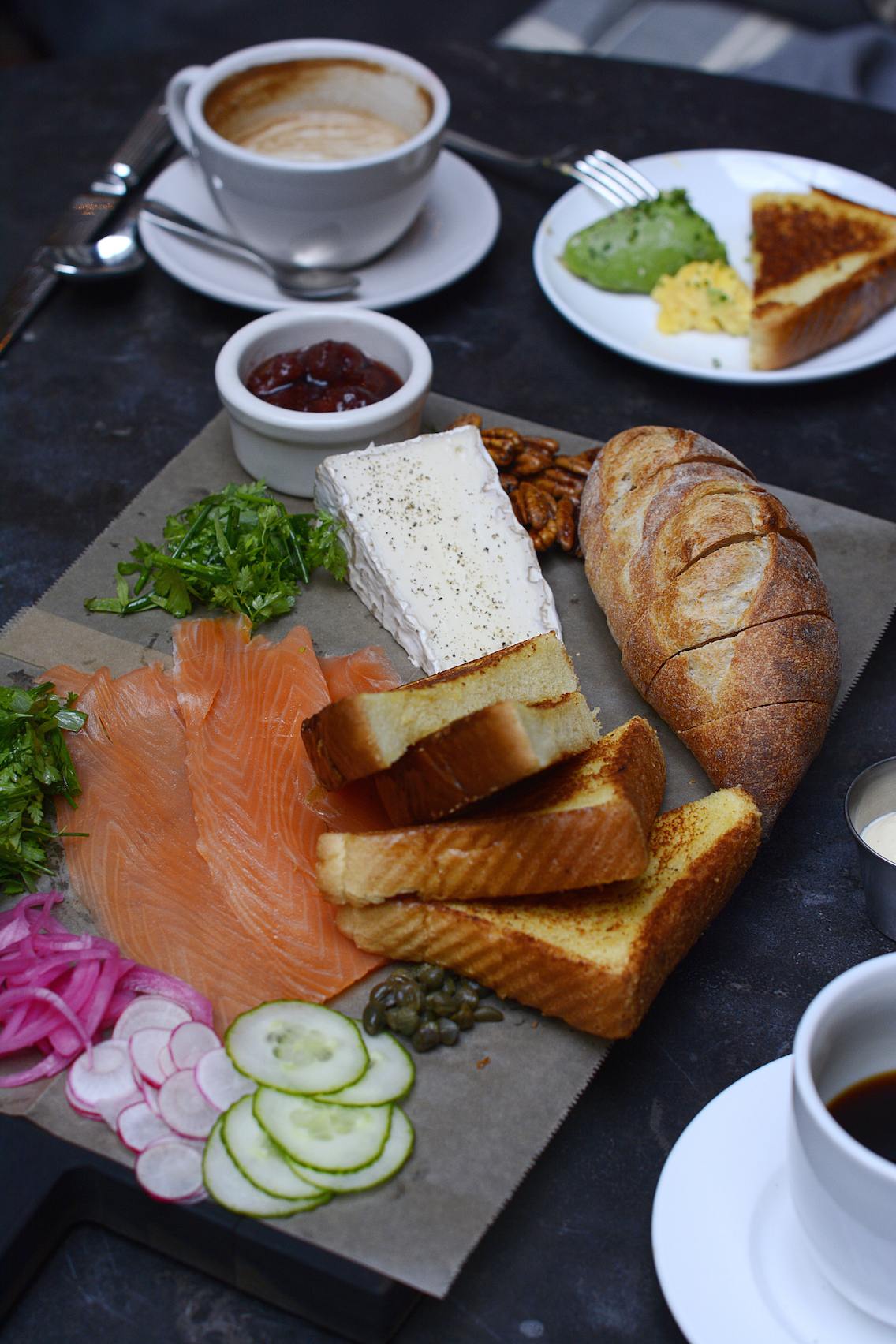 Then we ordered two plates combined onto one large one: the smoked salmon platter and the Délice de Bourgogne Cheese platter.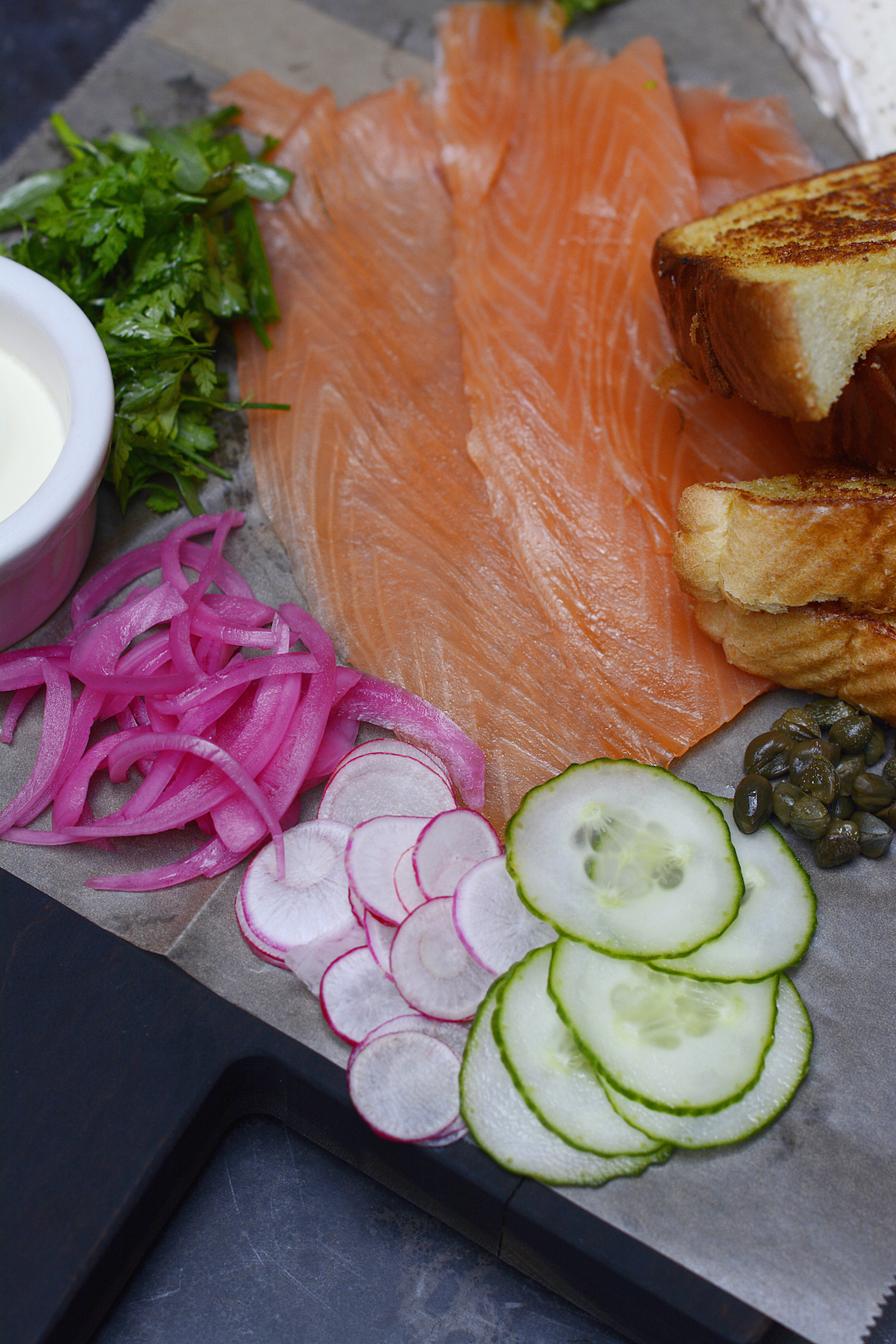 The smoked salmon comes with every accoutrement imaginable — everything from the same texas toast served with my beloved scrambled eggs to thin-sliced cucumbers and radishes, capers, pickled onions, and…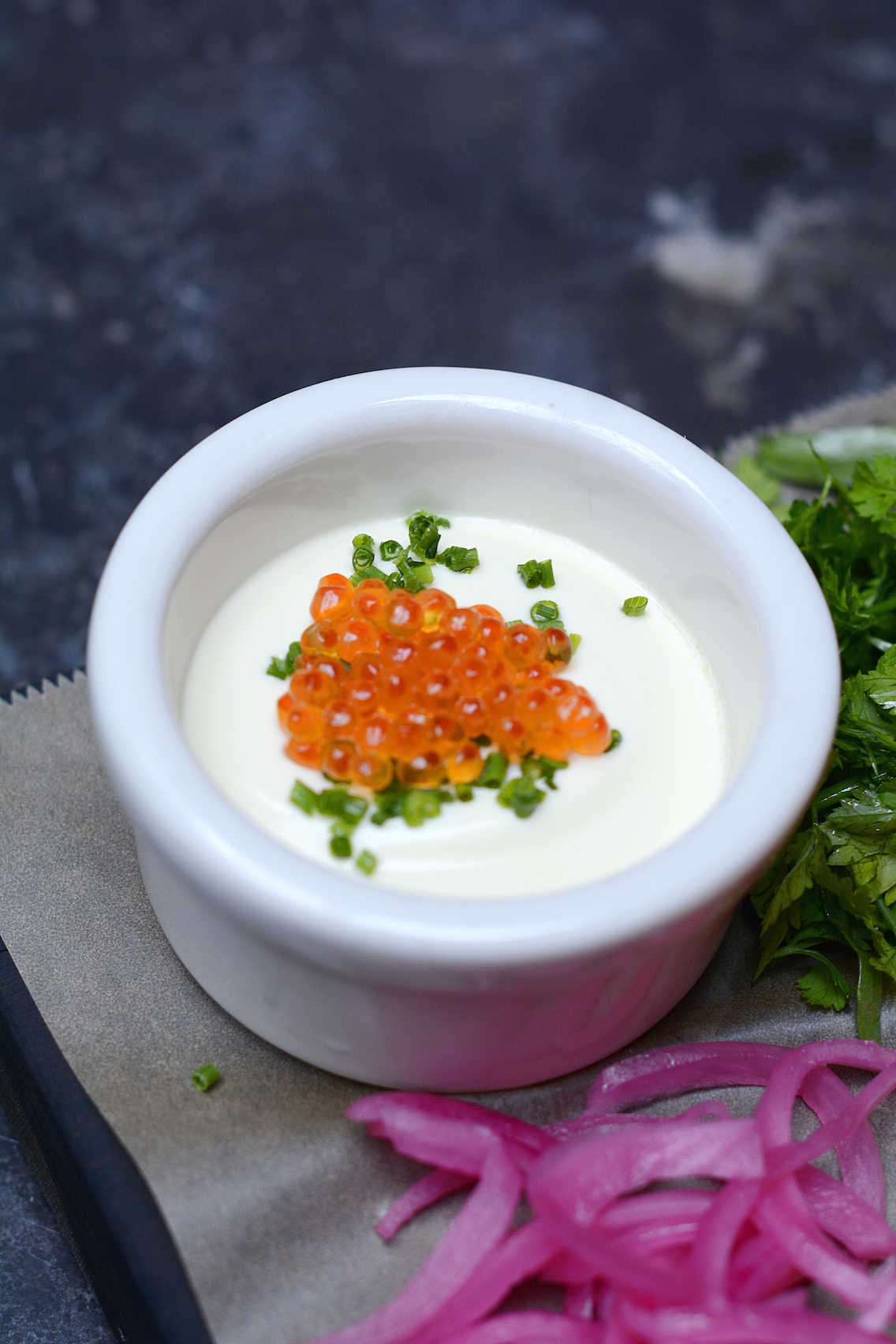 cream cheese with salmon roe.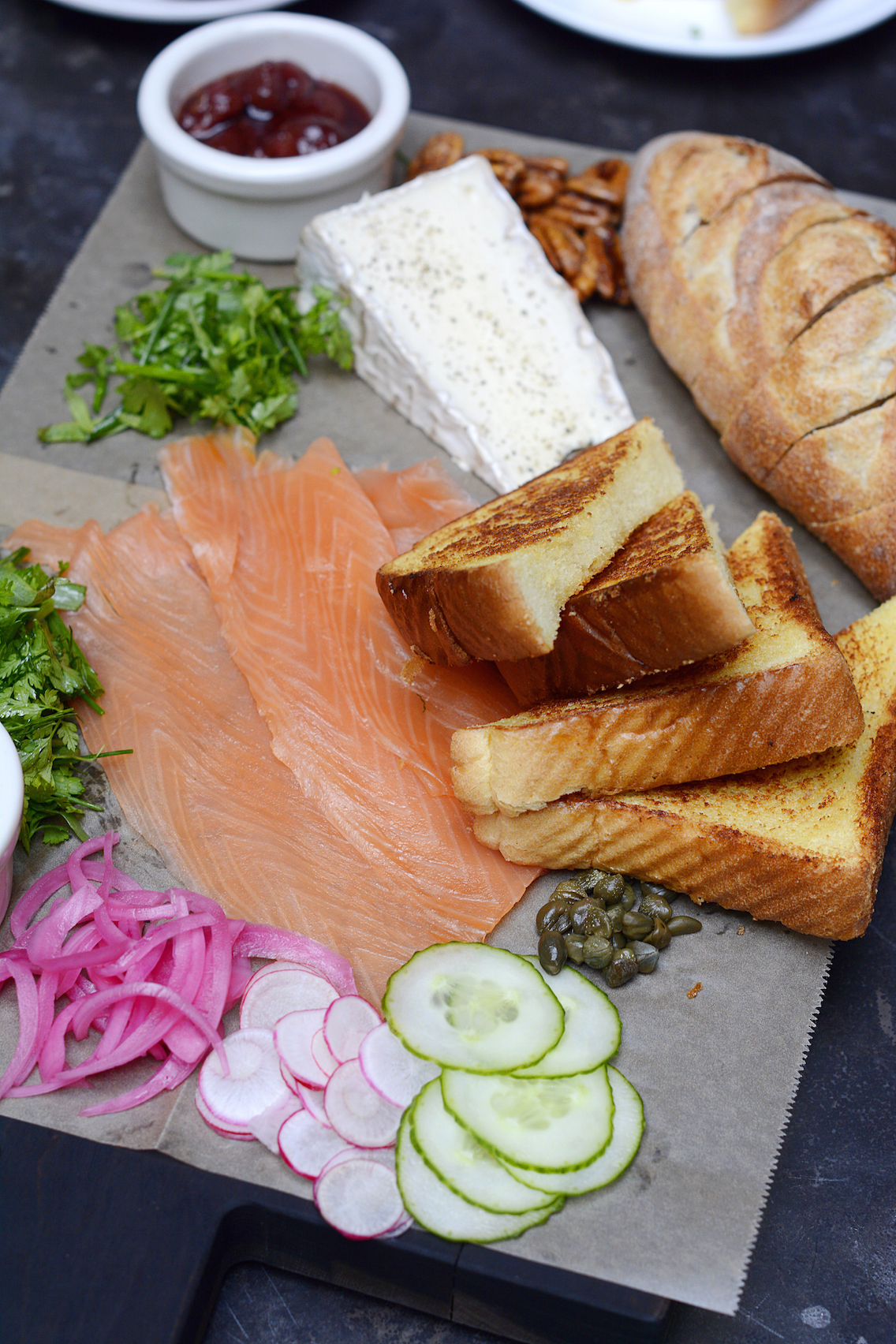 It's one magnificent spread!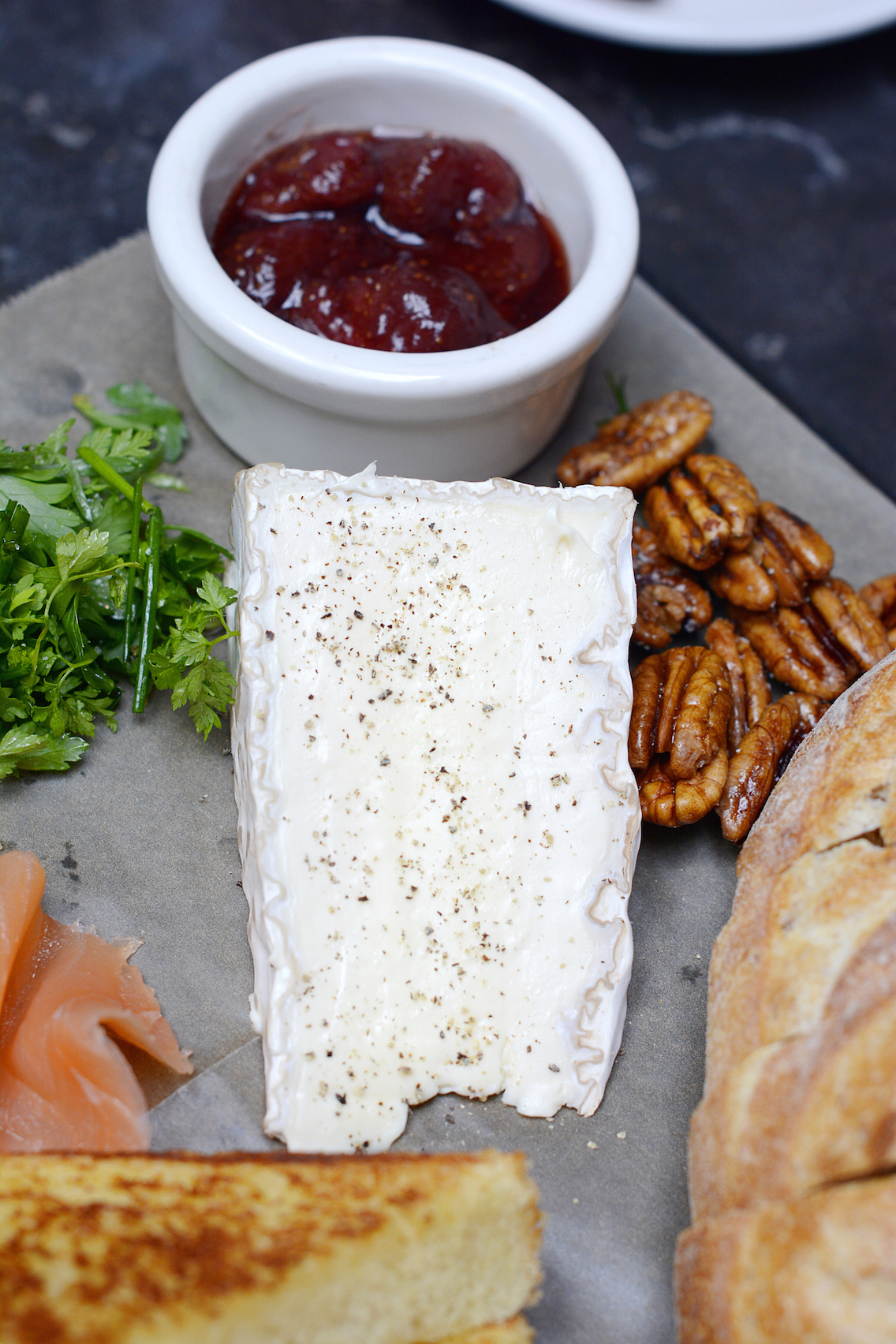 The cheese platter comes with an enormous slice of cheese, plenty of glazed pecans, a ramekin of fruit preserves, and…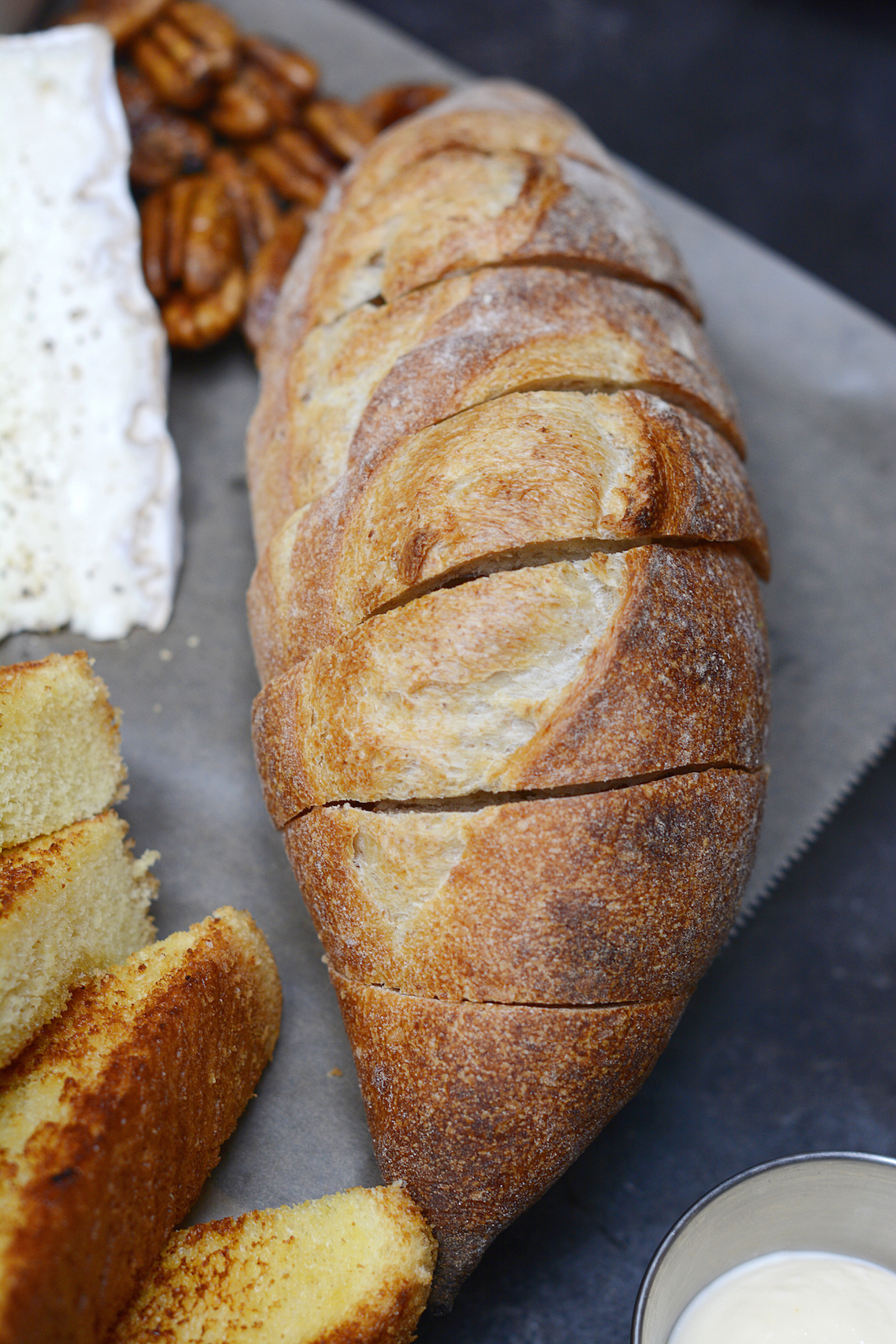 a fresh crusty baguette!
Looking for a perfect meal followed by some ridiculously inspirational interior designs? Chicago's new Restoration Hardware showroom is bound to become a new obsession… you'll probably run into me face-diving into yet another plate of scrambled eggs while you're there!