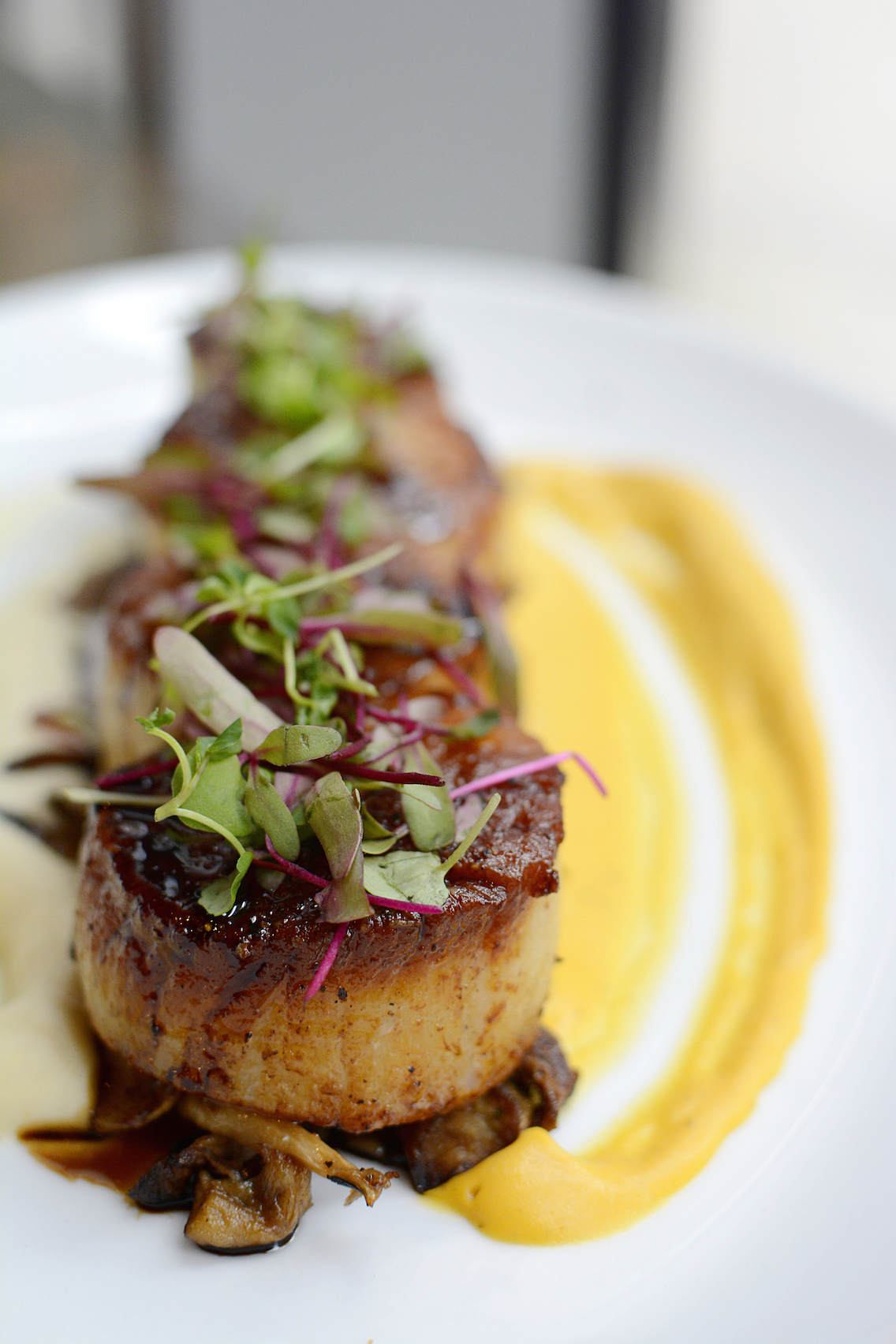 Few restaurants in Chicago can boast the success of Siena Tavern.
Opened by Top Chef fan-favorite Fabio Viviani in 2013, Siena Tavern has been cranking out innovative Italian dishes in a warm, welcoming environment ever since.
To date, it's one of my favorite restaurants in the city and one I've always wanted to feature here on Sed Bona (what can I say, I love to showcase the BEST food and it really doesn't get better than Siena Tavern).
So when they asked if I would like to come in with my dear friend Rachel to meet Fabio and sample the new fall menu, I practically leapt out of my chair from excitement.
See…
Siena Tavern doesn't only do delicious food. They do food that should reasonably be considered art. Their dishes and presentations are the kind of experience you want to have over and over again because everything is so distinctly delicious and impressively presented.
So what are we waiting for? Let's dive into their new Fall menu!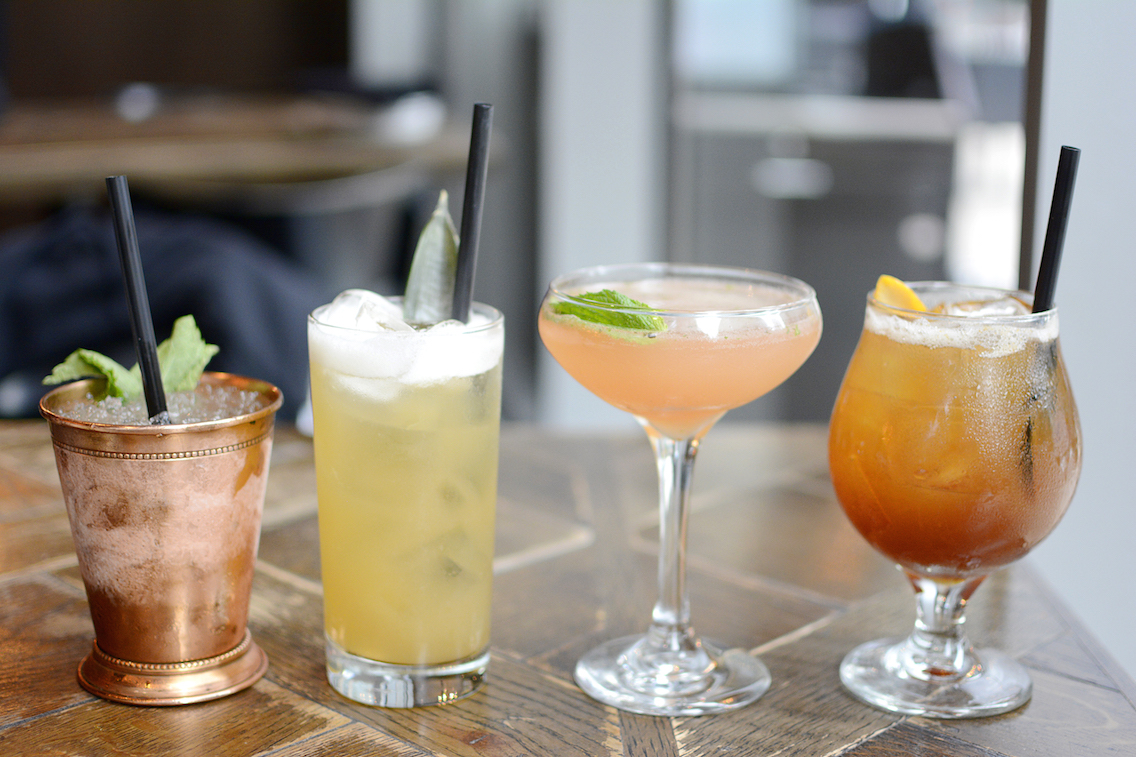 First up — Cocktails!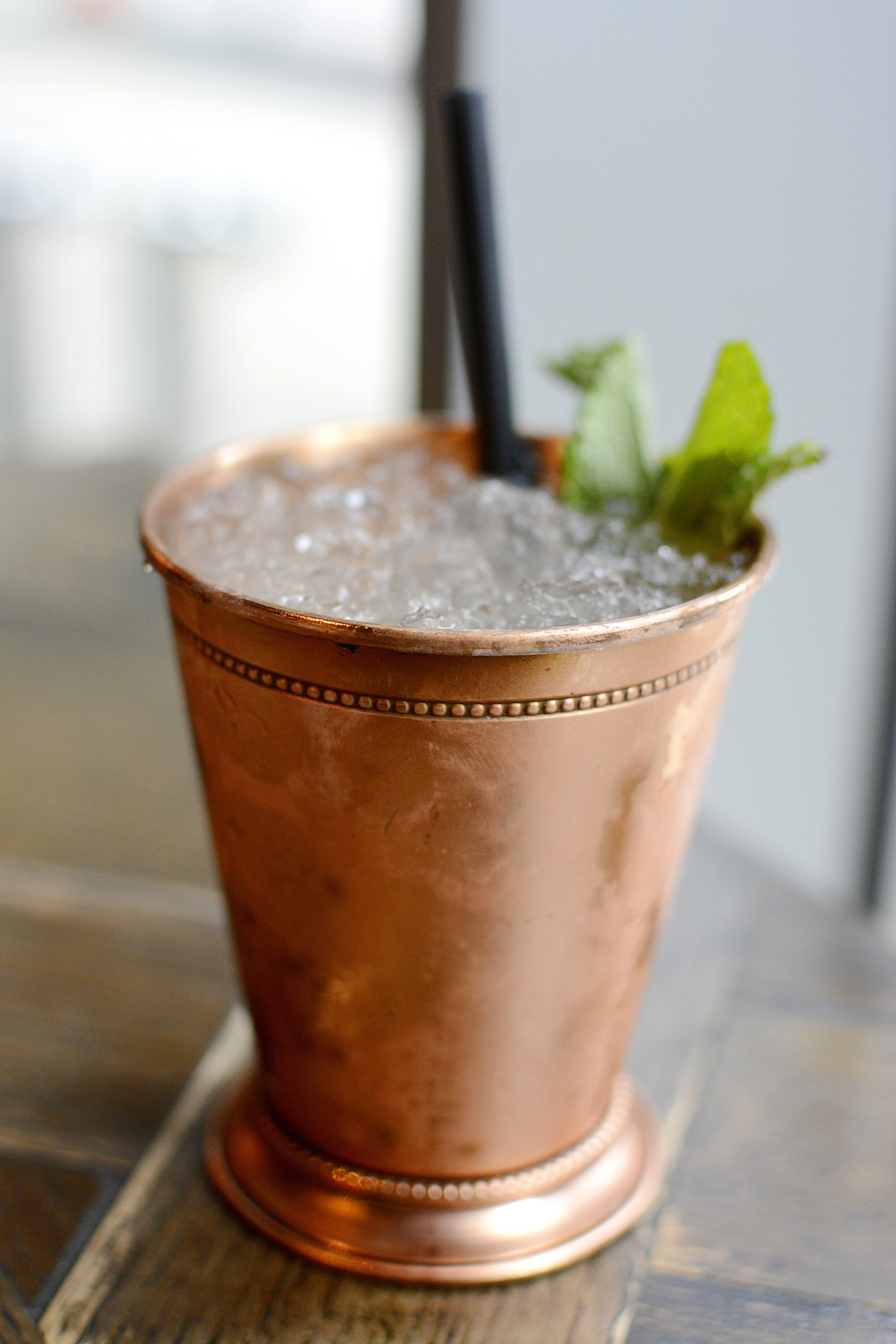 We sampled this bright No. 24 of absolut elyx, prosecco, cilantro, ginger, lime, and mint.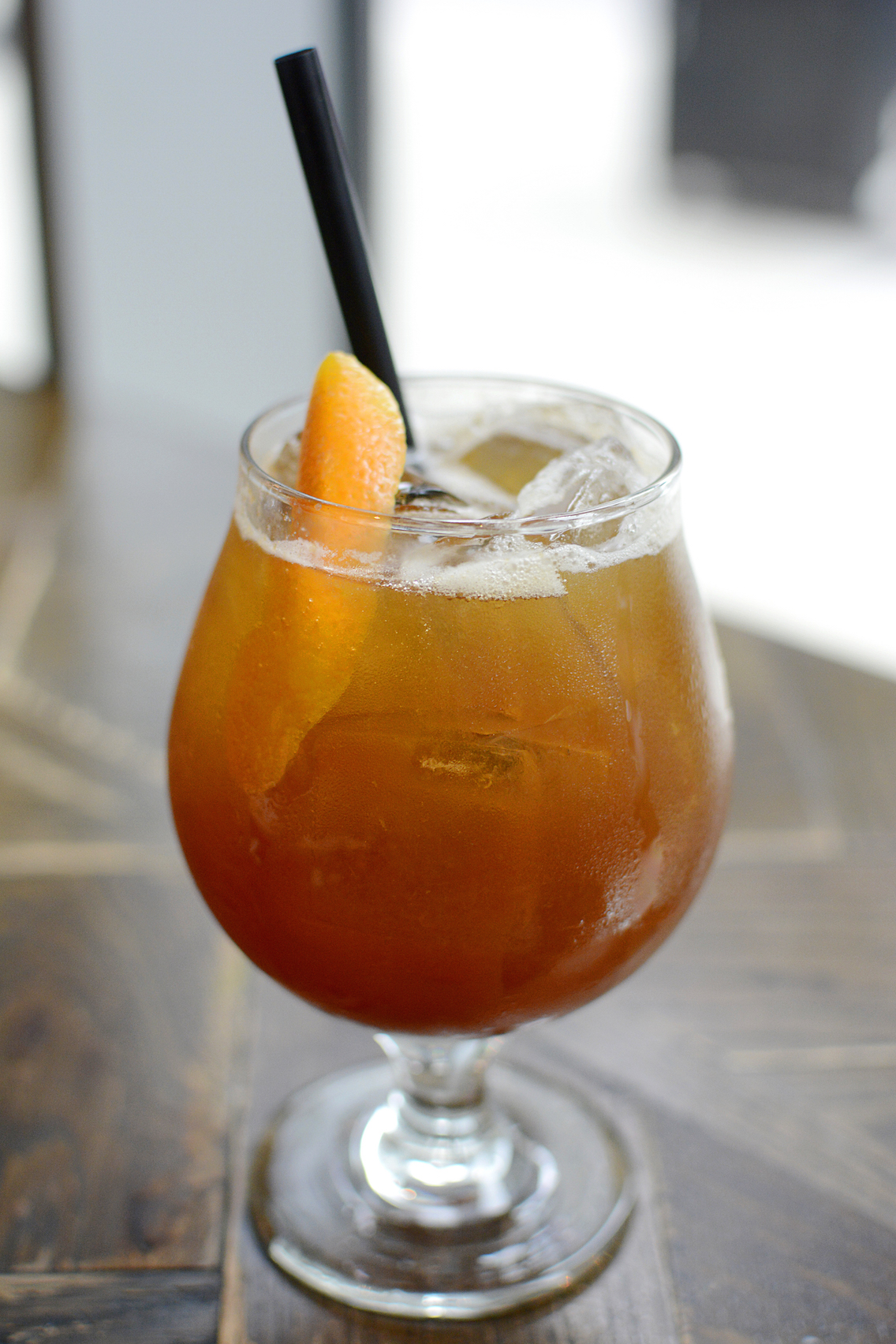 This addictively spiced No. 5 of maker's mark, allspice dram, averna amaro, ginger apple cider, lemon, cinnamon, clove, and bitters.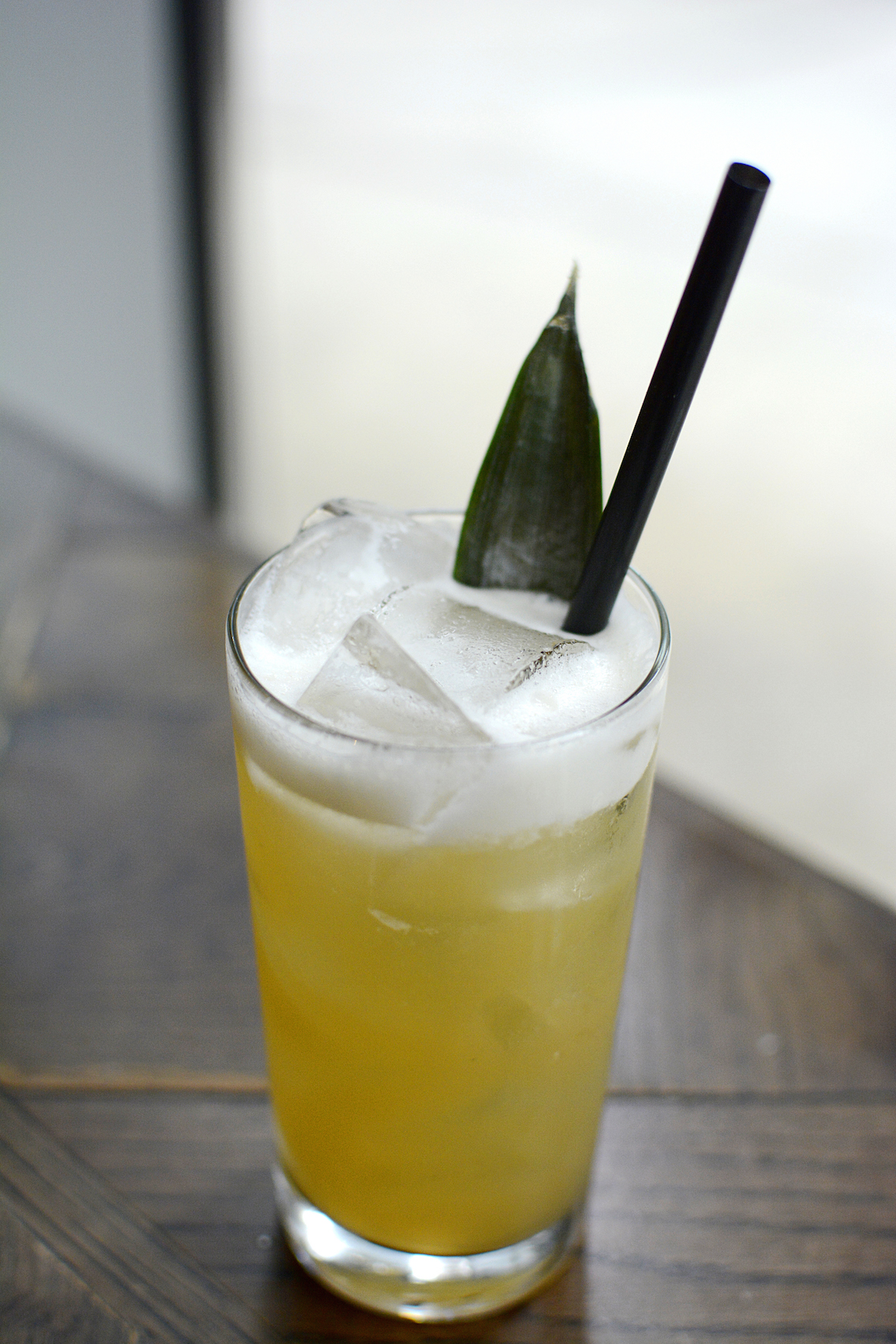 The simple but no less delicious No. 28 which is Siena's yellow collins.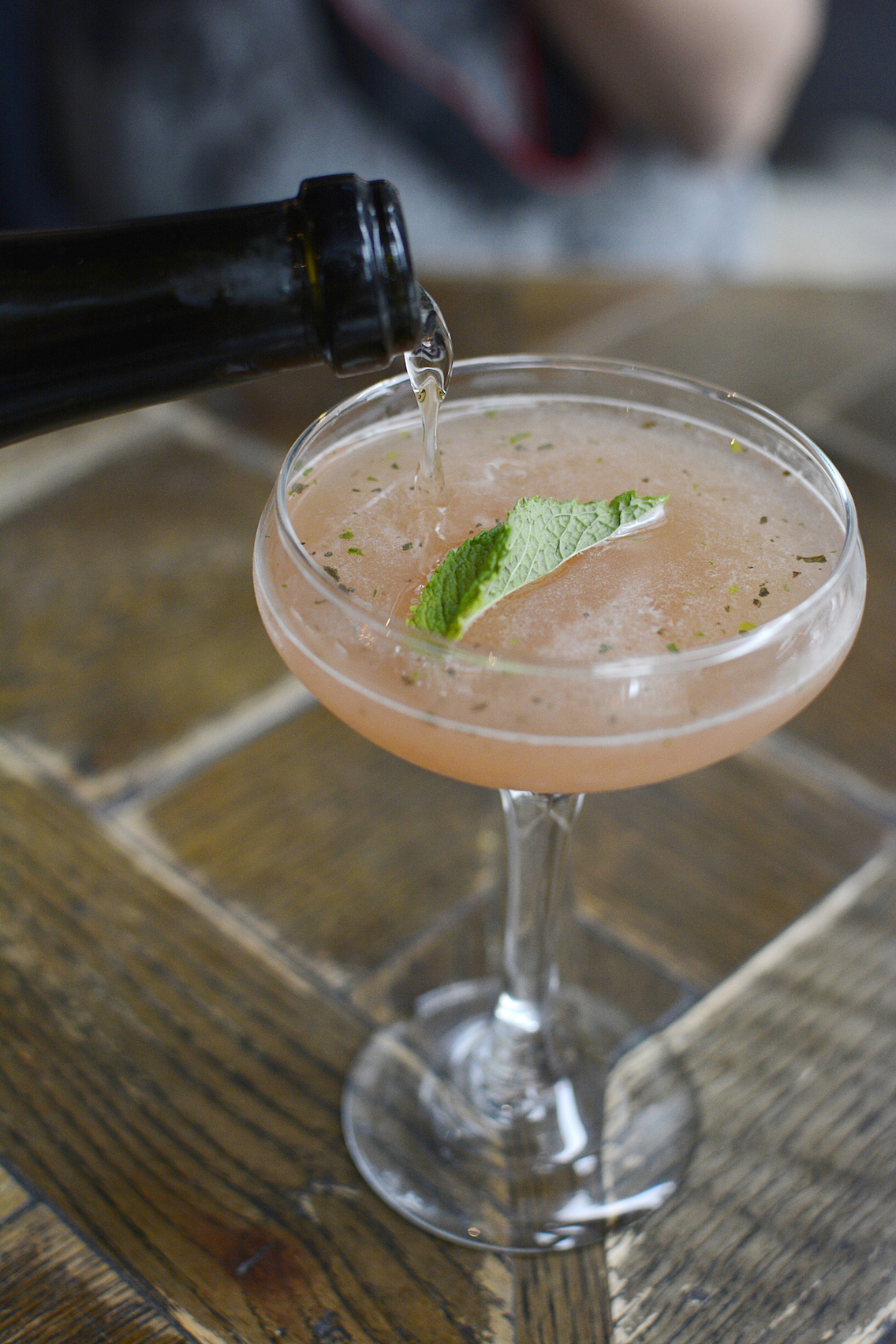 And this darling No. 27 of mount gay black barrel, grand marnier raspberry peach, lemon, honey, watermelon, and freshly poured prosecco.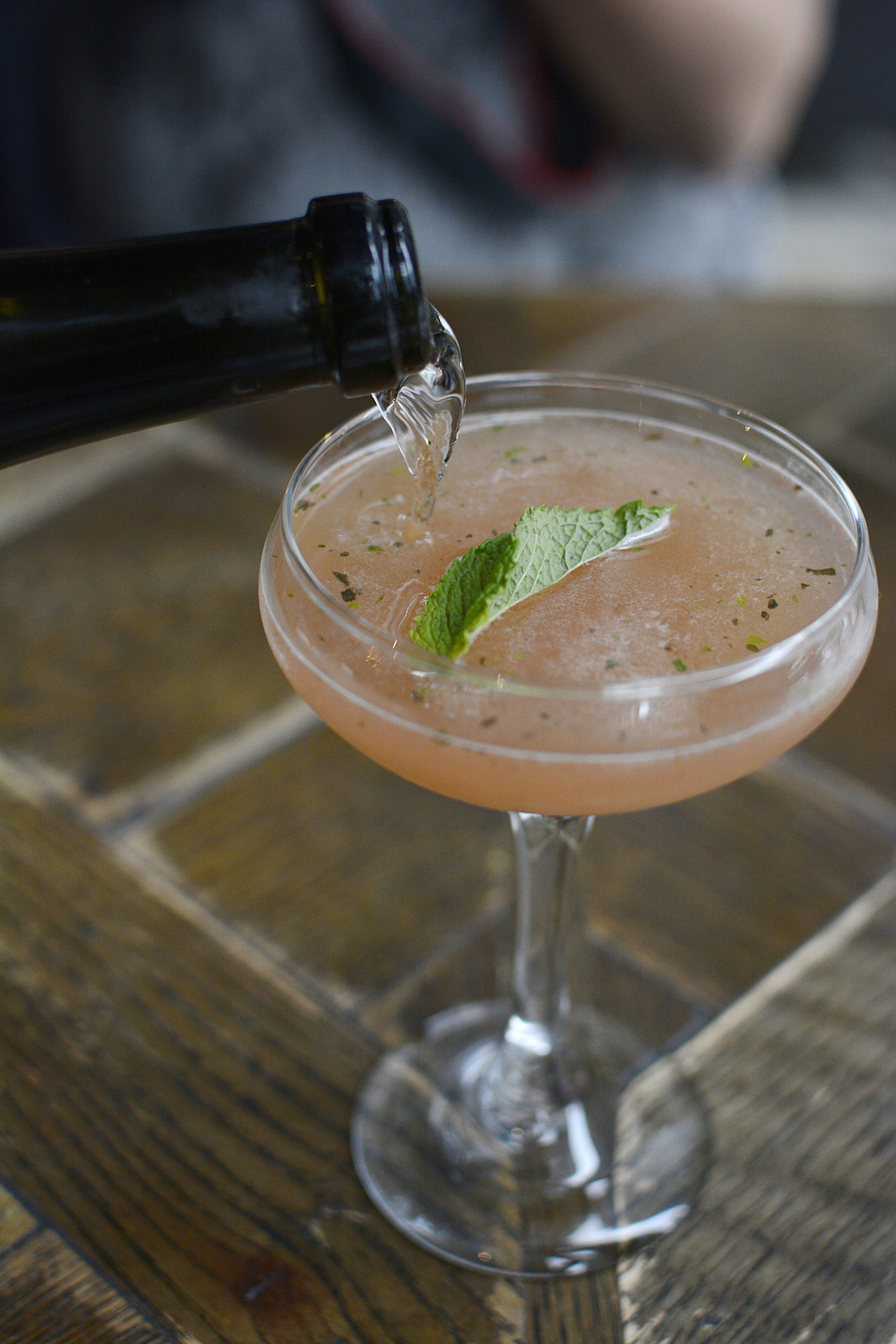 Isn't it beautiful?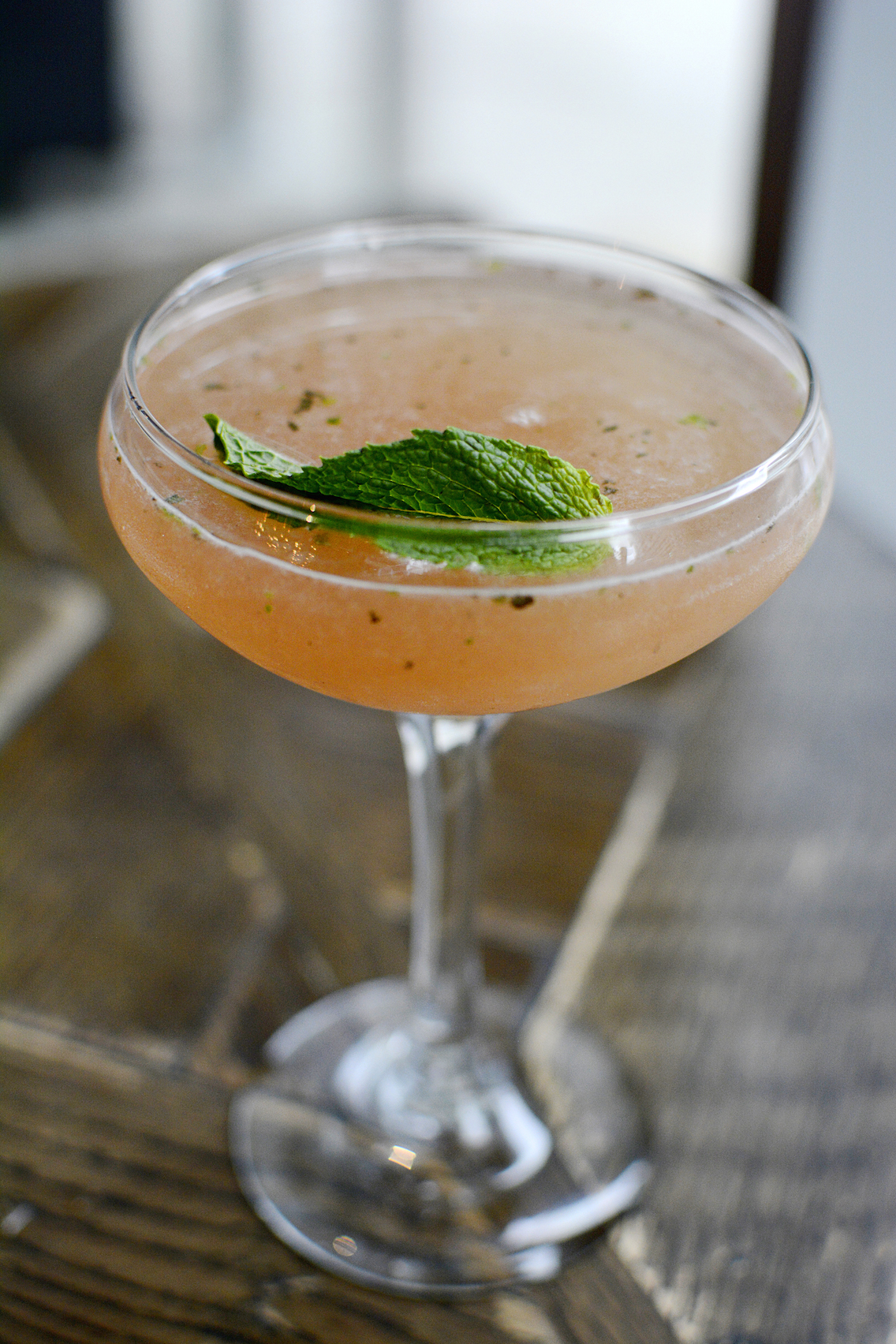 Not to mention tasty!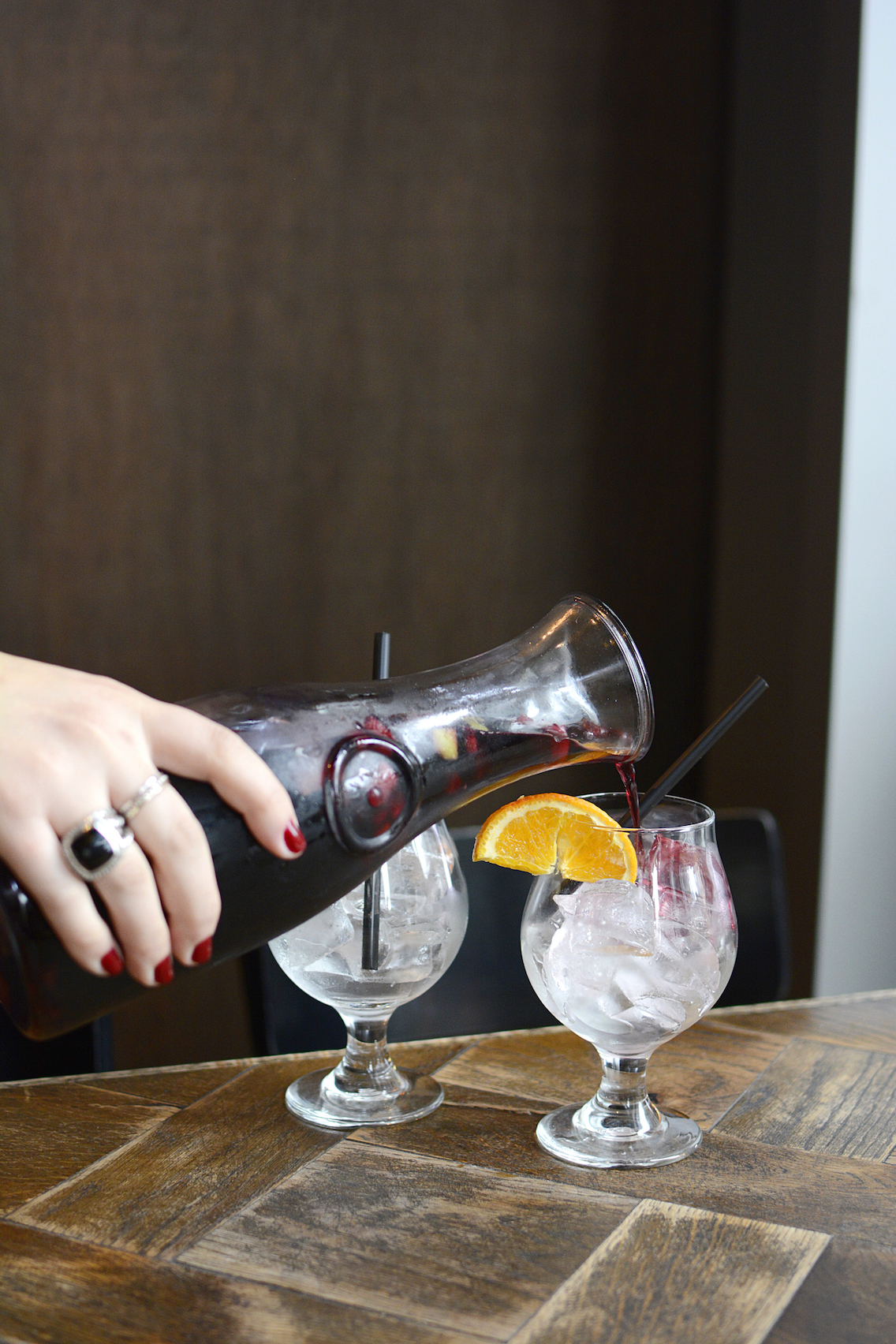 We also tried Siena's Sangria which is fresh and fruity with a good bite (my favorite thing to sip on their fun summer patio).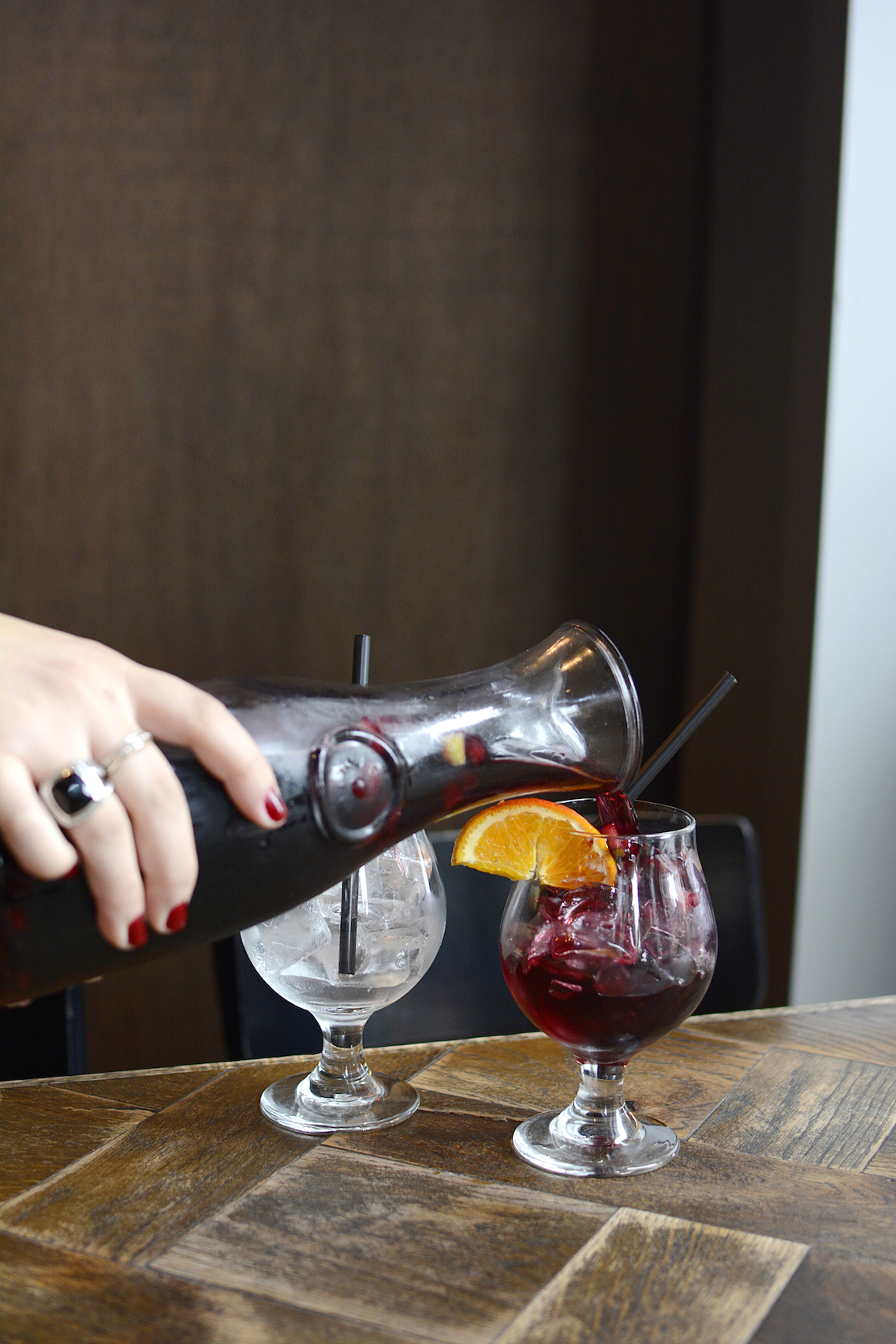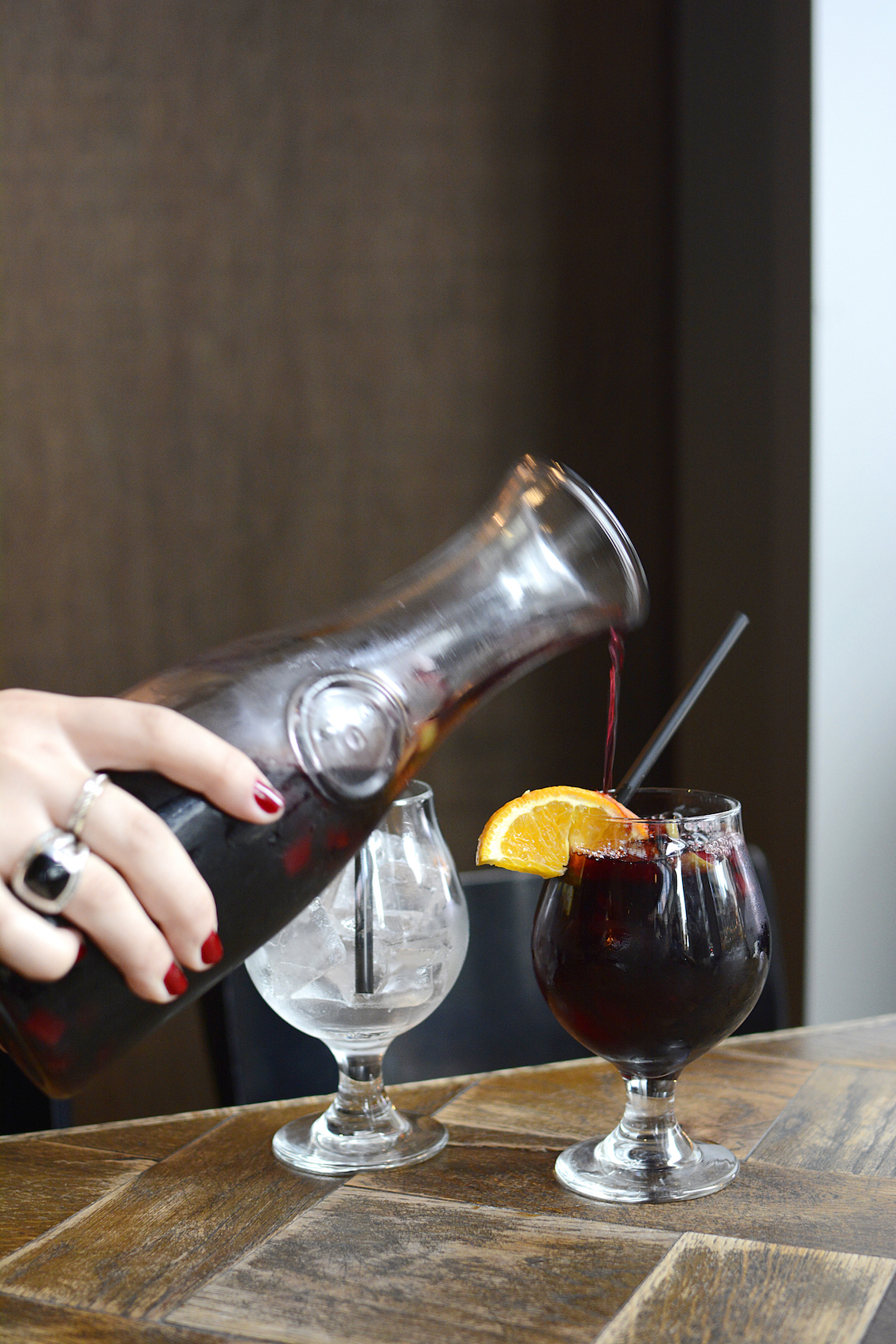 Care for a glass?
First up on Siena's new fall menu is this divine bowl of Butternut Squash Soup with truffled chestnut gremolata.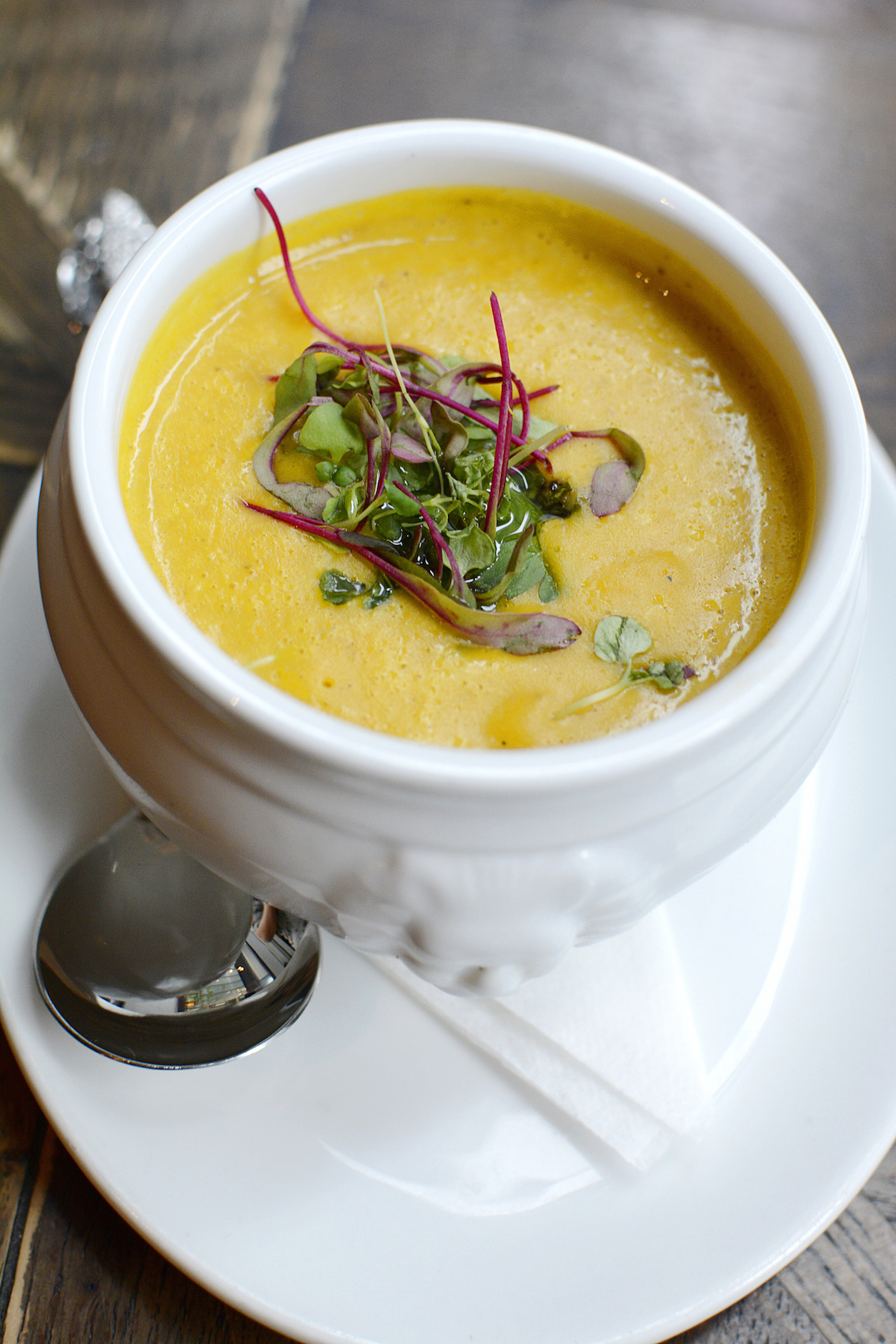 Now let me level with you (at the risk of being disowned by many of my friends)…
I DO NOT LIKE BUTTERNUT SQUASH. As a matter of fact, I made a point to avoid it in all foods until I was at least 22.
And until this bowl of soup, I've never ENJOYED butternut squash in any dish. However, despite being the star-ingredient of this soup, the warming elements from the chestnut and the roastiness of the squash combine together to create a delicious and oh-so-seasonally appropriate dish that had me eating spoonful after spoonful.
It's sweet but not too sweet. Bright without being overwhelming. It's a comforting soup for those gloomy fall days when you need a little sunshine (or at least need food that's the color of sunshine).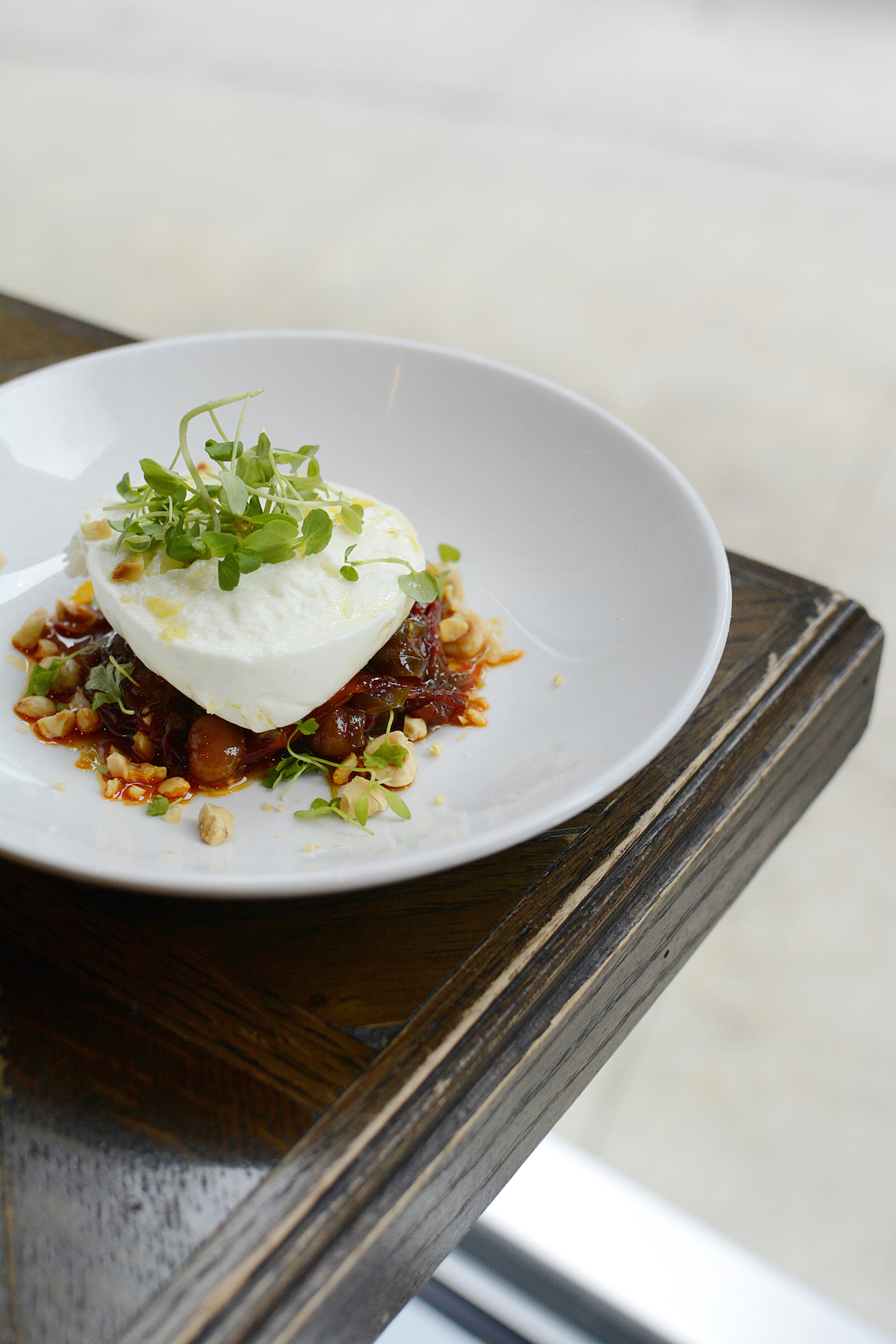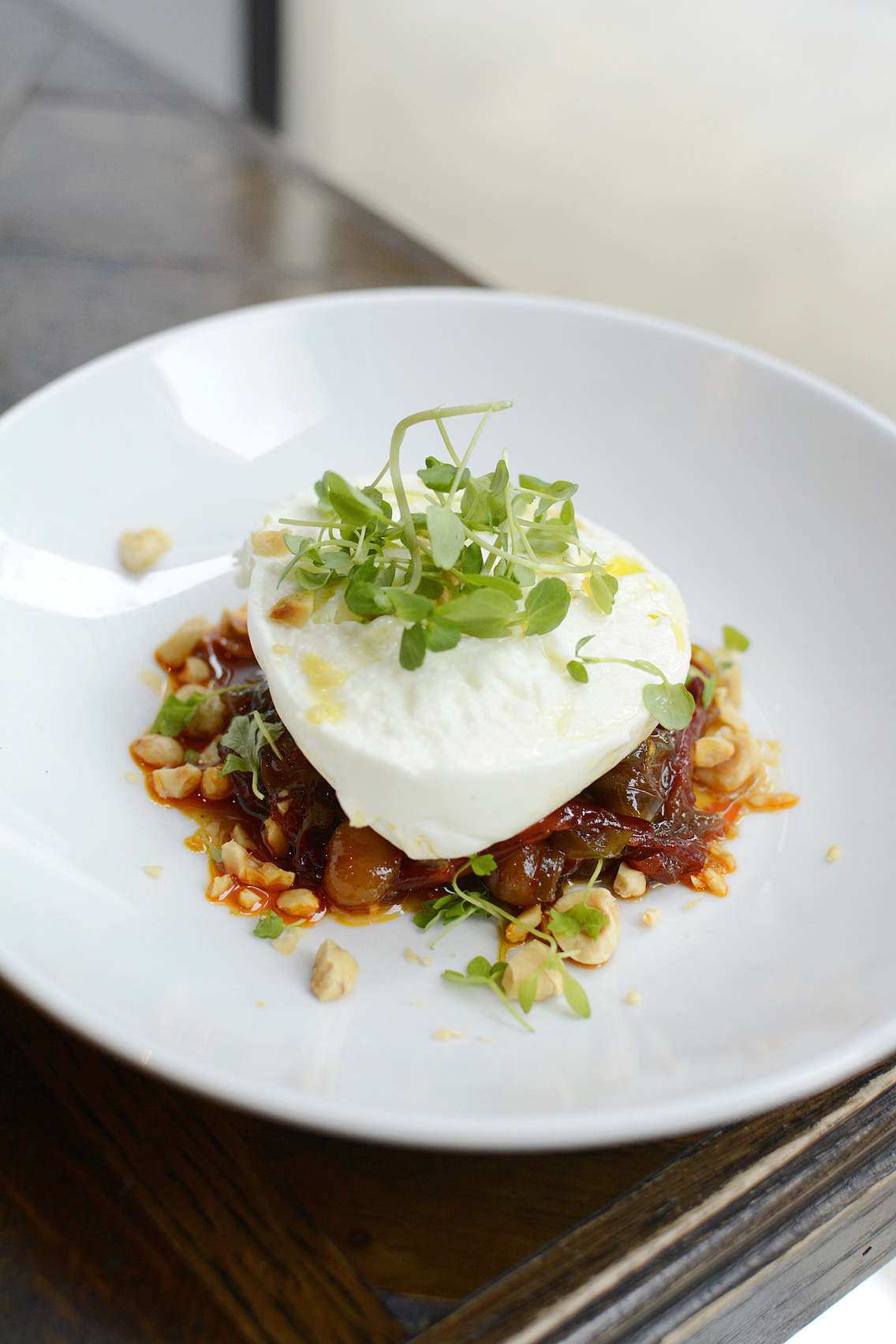 Next we sampled one of Siena Tavern's most exciting appetizers (but as a cheese lover, I am biased)…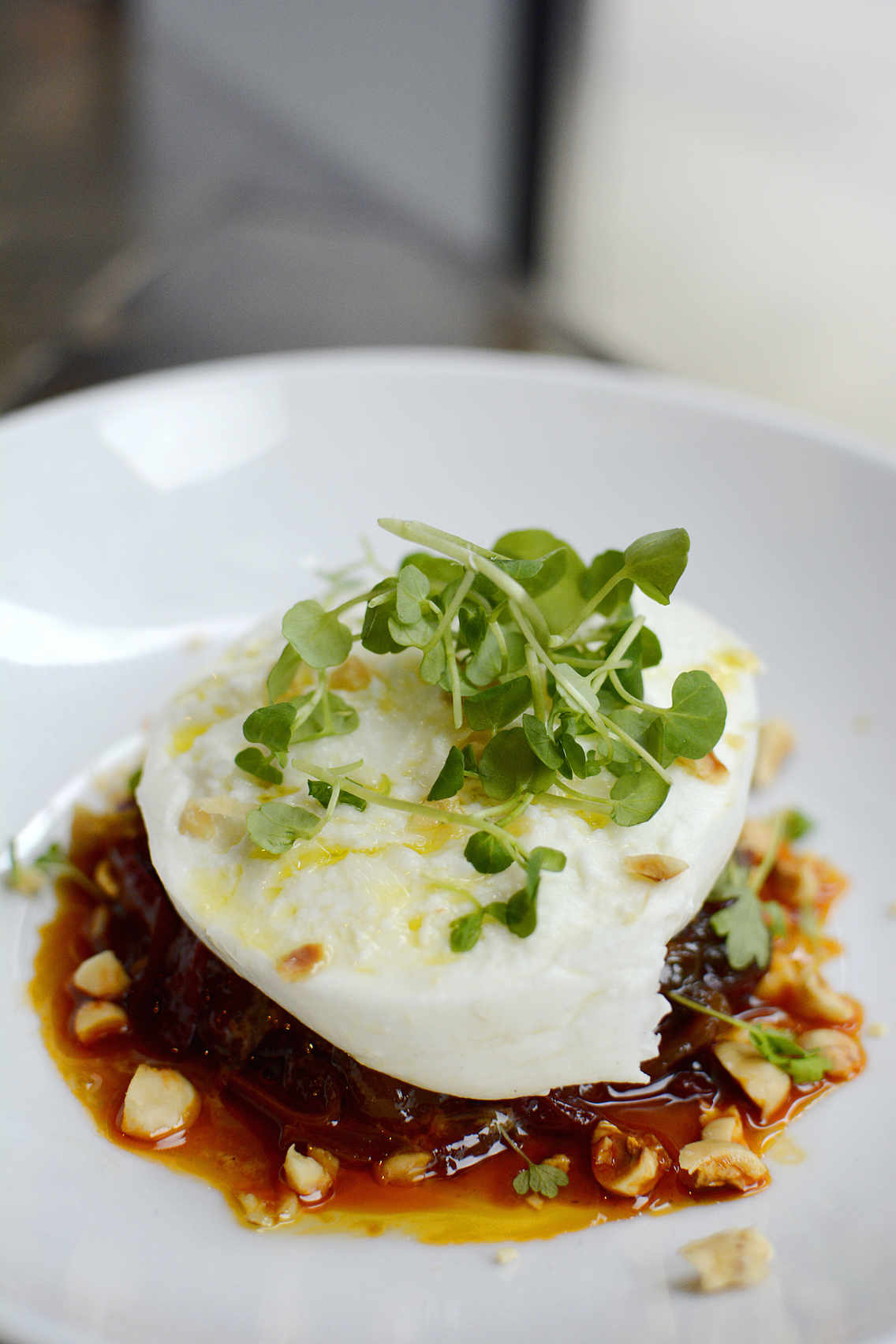 This pillowy Bufala Mozzarella with pepperonata and roasted hazelnutsl. With the bouncy, creamy texture you expect from all good mozzarella, this simple cheese is elevated to culinary perfection thanks to the beautiful hazelnut crunch and the roasted depth of flavor in the pepperonata.
Seriously addicting. Seriously perfect.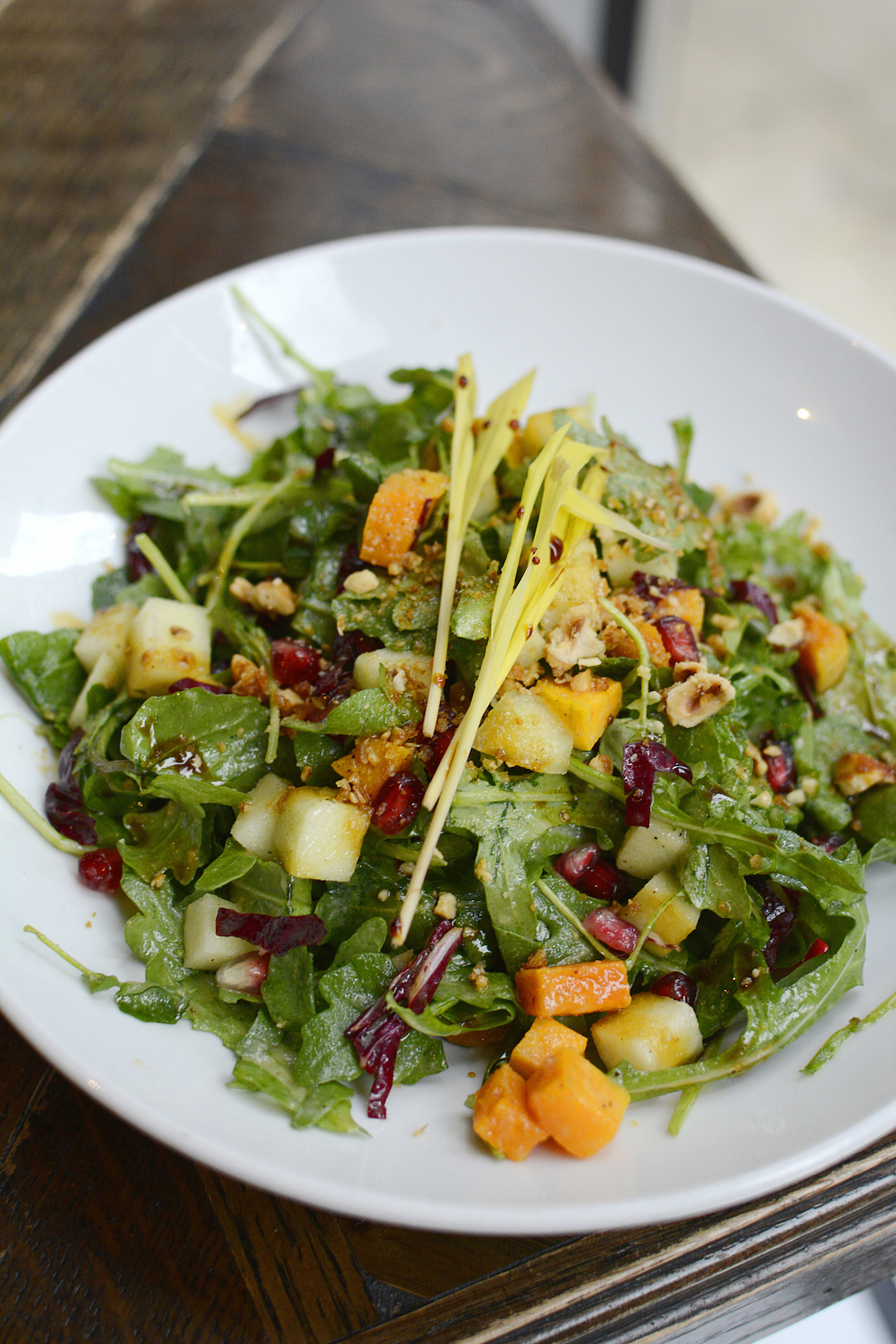 For our second course, we sampled this beautiful Harvest Salad of apple, butternut squash, pomegranate, candied hazelnuts, and corn sprouts all tossed in a housemade spiced apple vinaigrette.
The best thing about Siena Tavern is how much they make from scratch.
And when it comes to a simple salad like this one, a scratch-made spiced apple vinaigrette can make all the different between a salad and an obsession-worth dish that just so happens to be a salad.
Even the butternut squash can't deter me — I want to eat this salad every day now.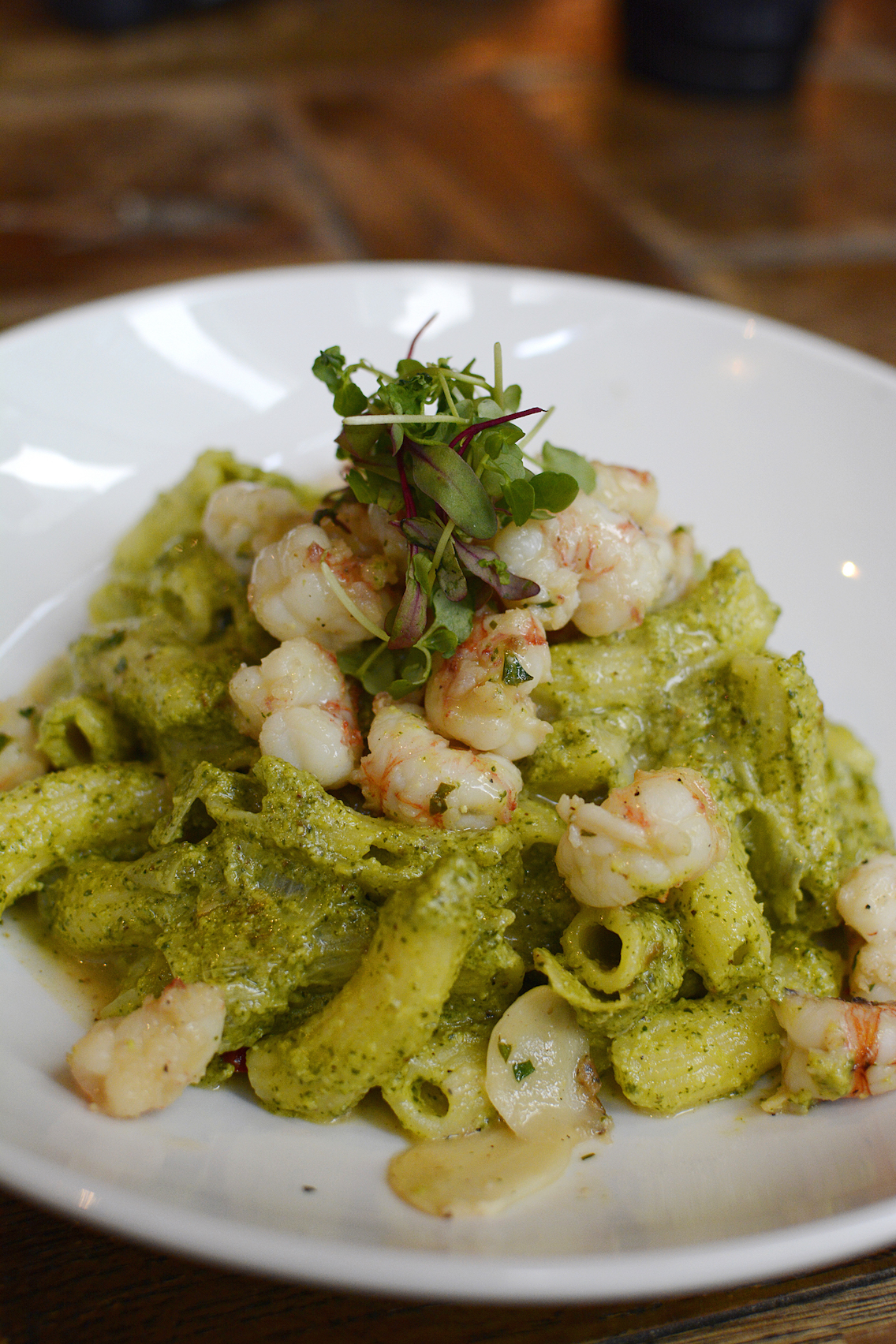 But once our entrées came, the real show began. And without a doubt, this divine pile of pasta was my favorite dish to try!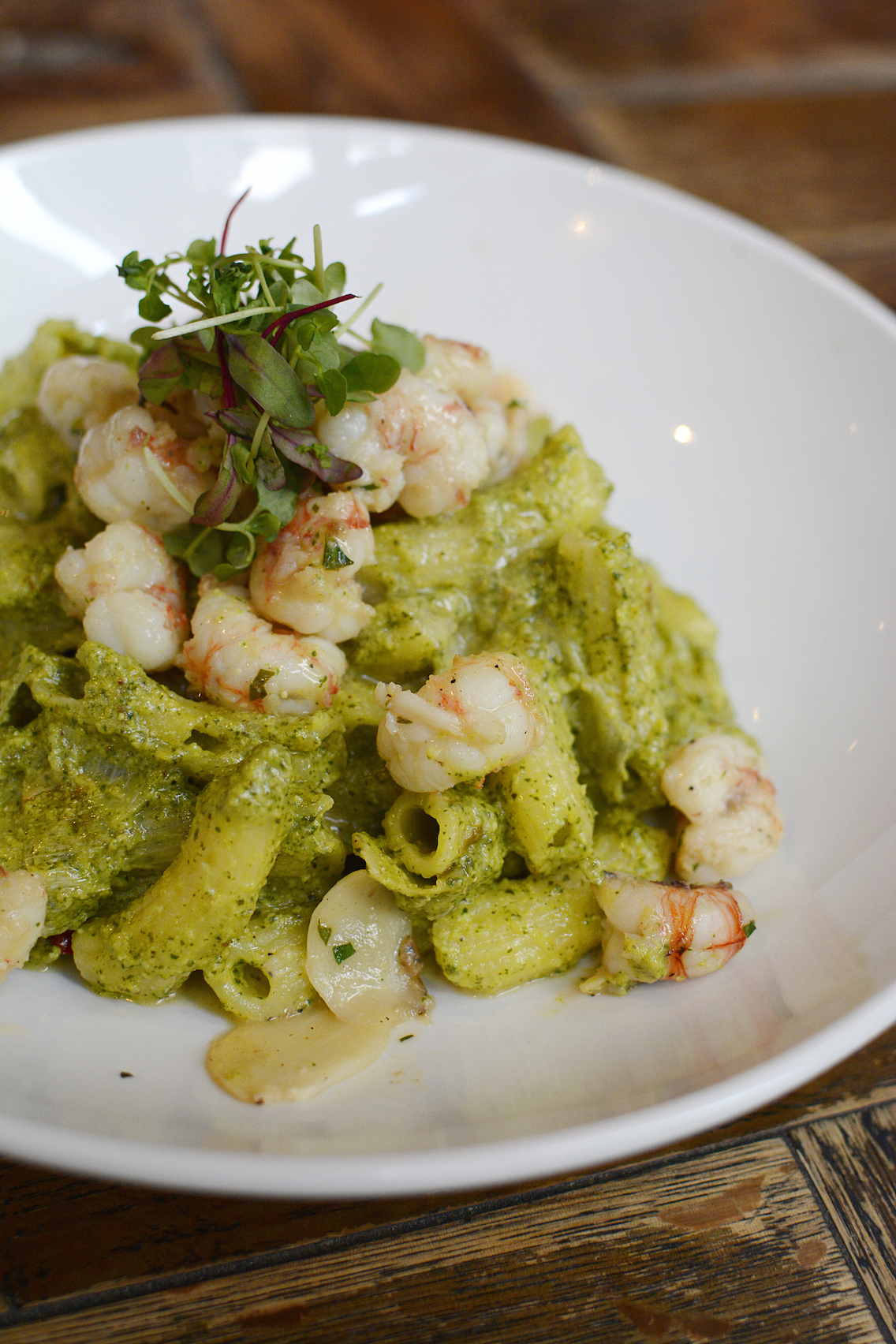 Siena Tavern's Rigatoni with rock shrimp, fresno chili, braised leek, pistachio pesto, and mint will quite literally change the way you look at pesto, pasta, and seafood.
The lemony bite from the pesto (and the cleansing mint), create a vibrant sauce that blends beautifully with the juicy shrimp and soft pasta. It's just one of those combinations that WORKS. And works beautifully.
It's the sort of pasta dish I secretly wish I could face dive into every day. No joke. It's a simple dish but an elegant one that will haunt you for weeks after with its delicious perfection.
It's beautiful, delicious perfection.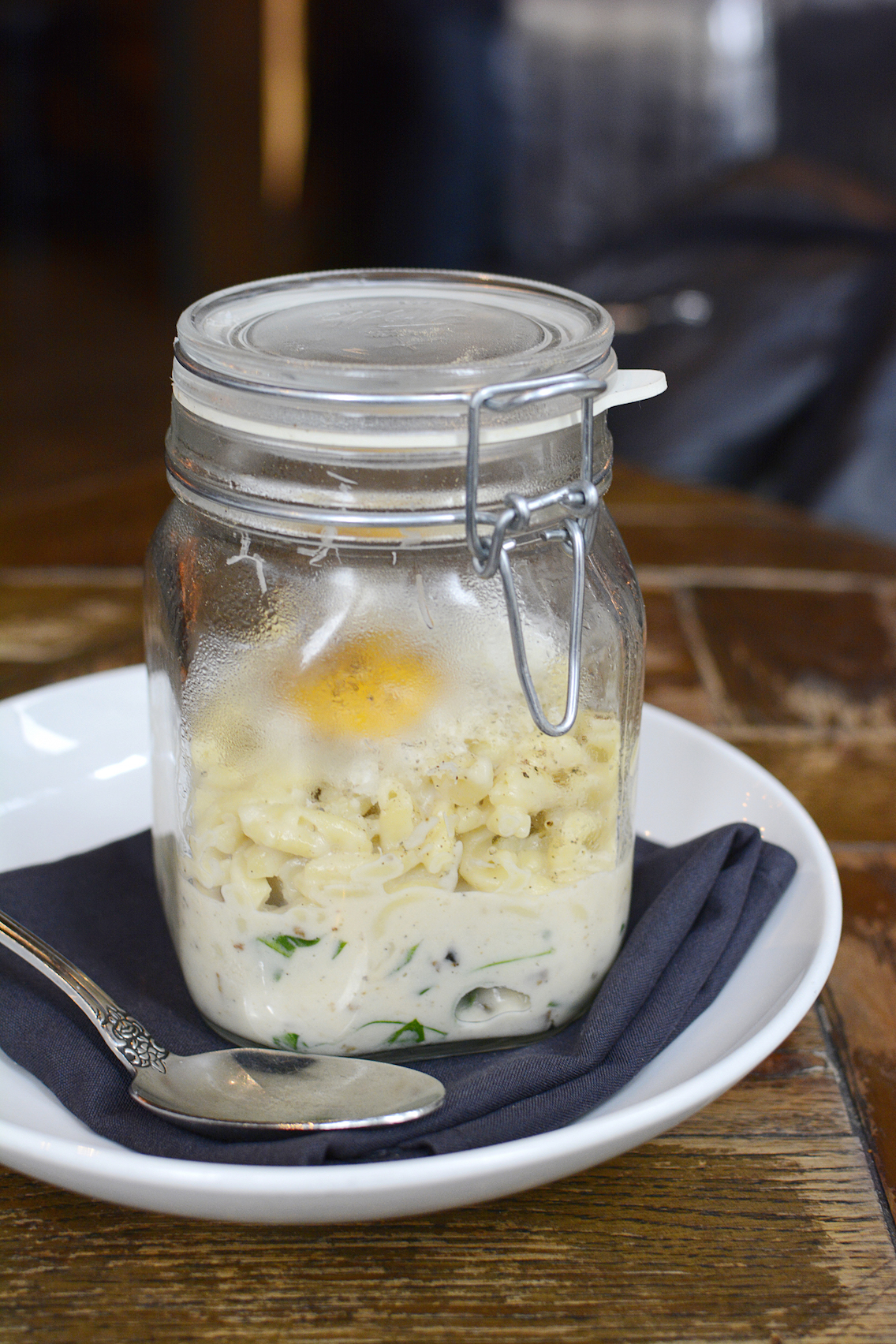 Rachel feels the same way I do when it comes to this other Siena Tavern pasta dish, "Carbonara in a Jar".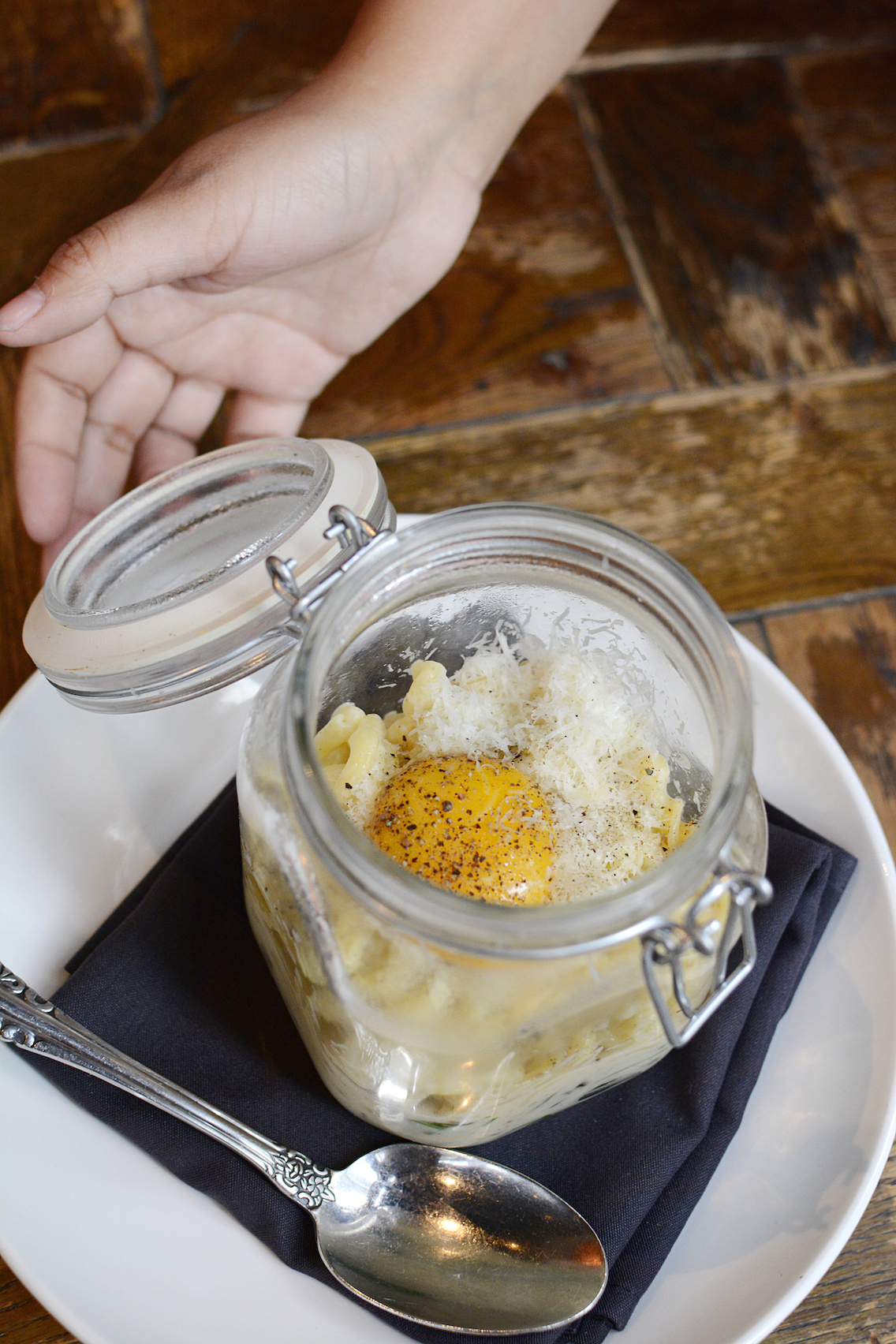 The jar is brought to your table with all of the ingredients stacked in the jar: gemelli pasta, crispy pancetta, parmesan cream, spinach, pecorino, and a fresh egg yolk.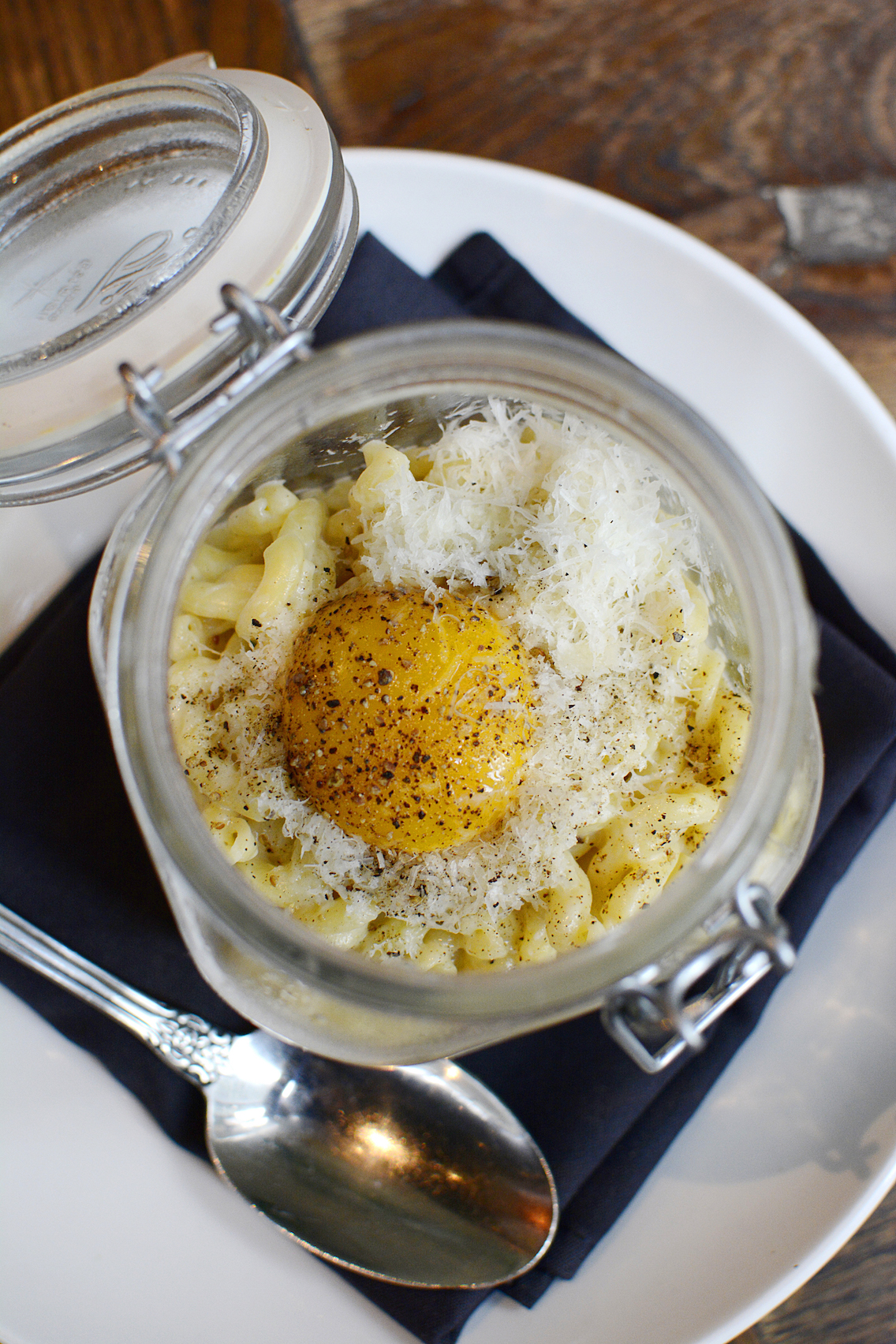 Yup, you read that right.
A fresh egg yolk.
Once the jar is brought to your table, the magic really happens…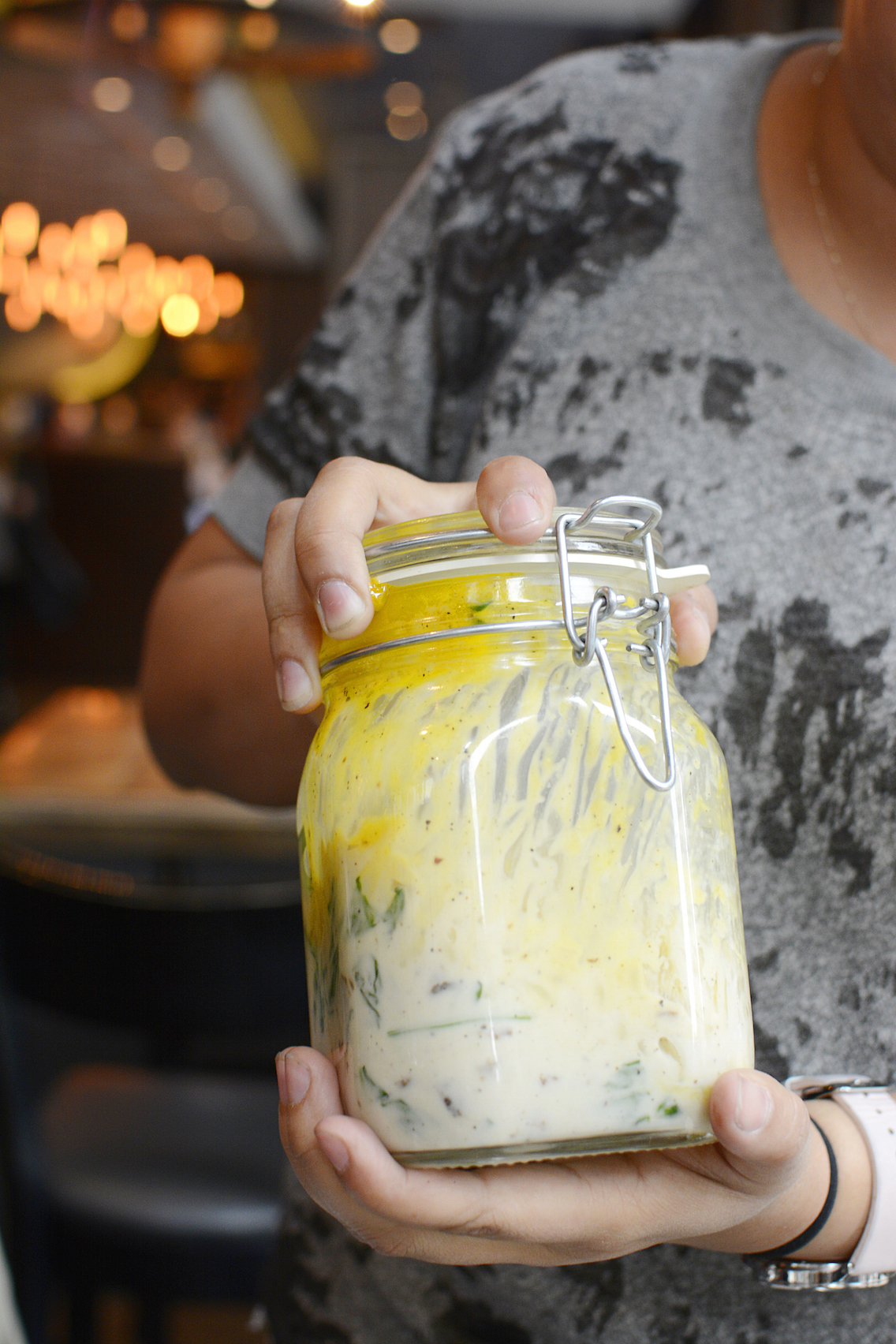 You vigorously shake the jar to combine and bind all of the ingredients.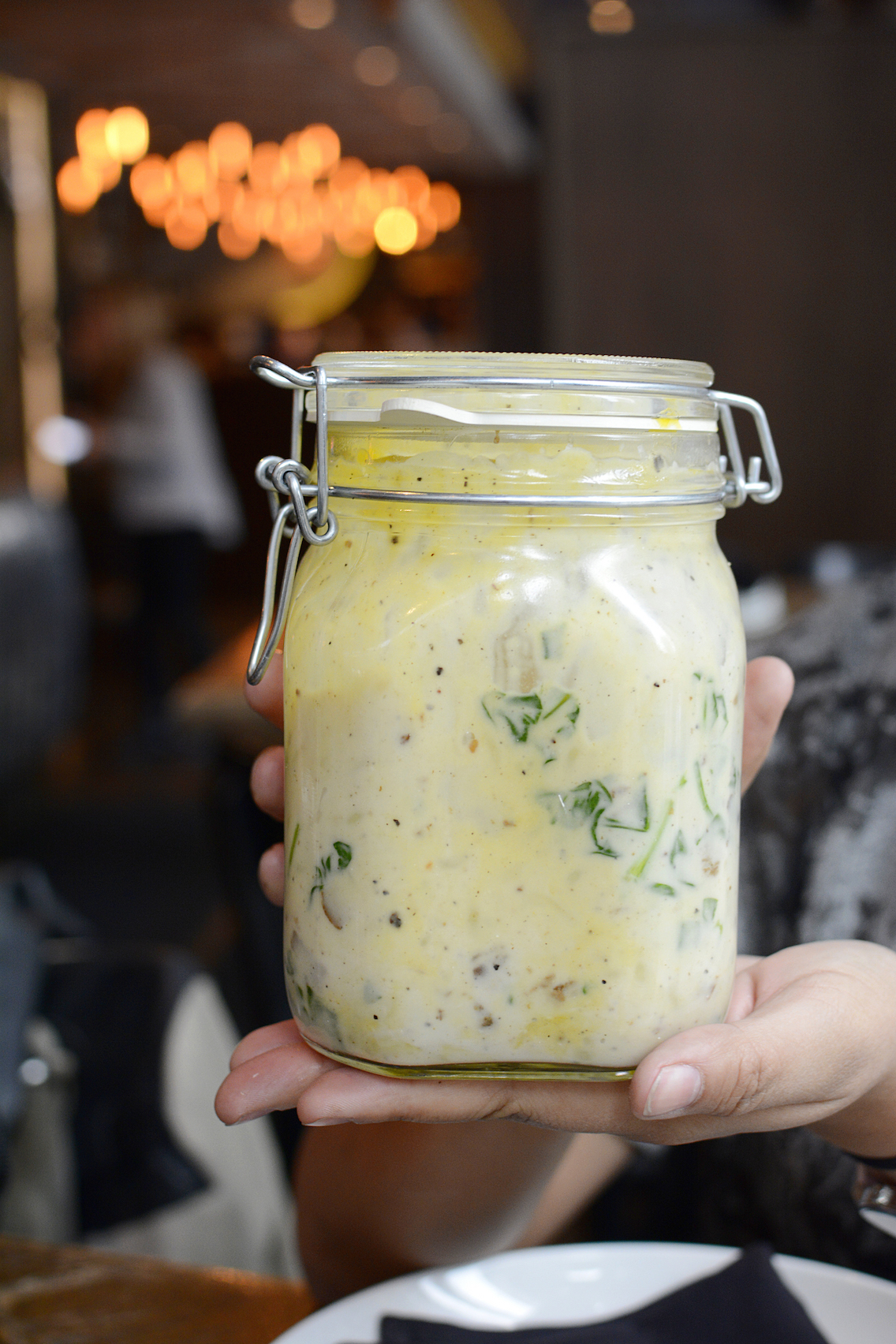 Voilà!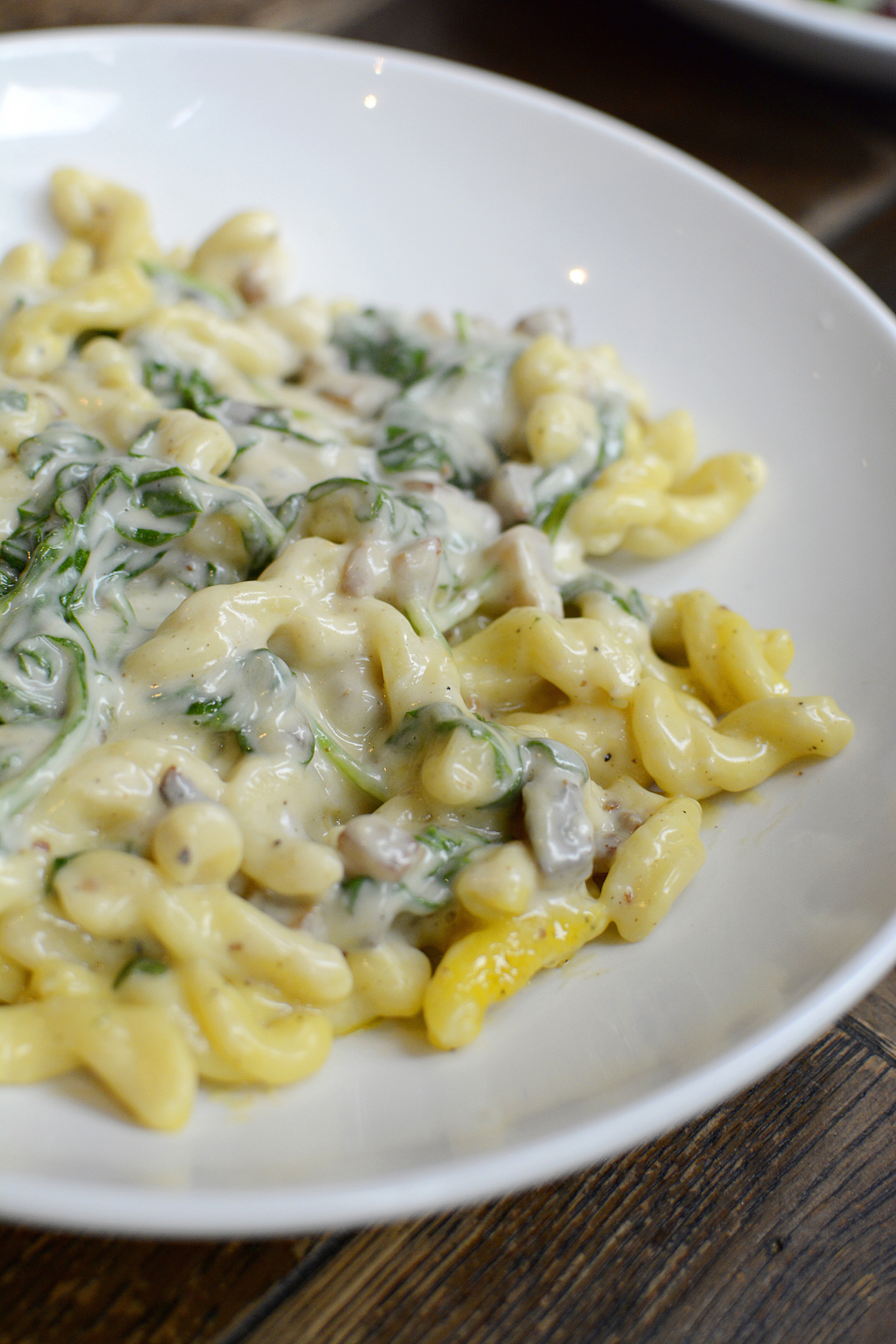 Siena Tavern's "Carbonara in a Jar".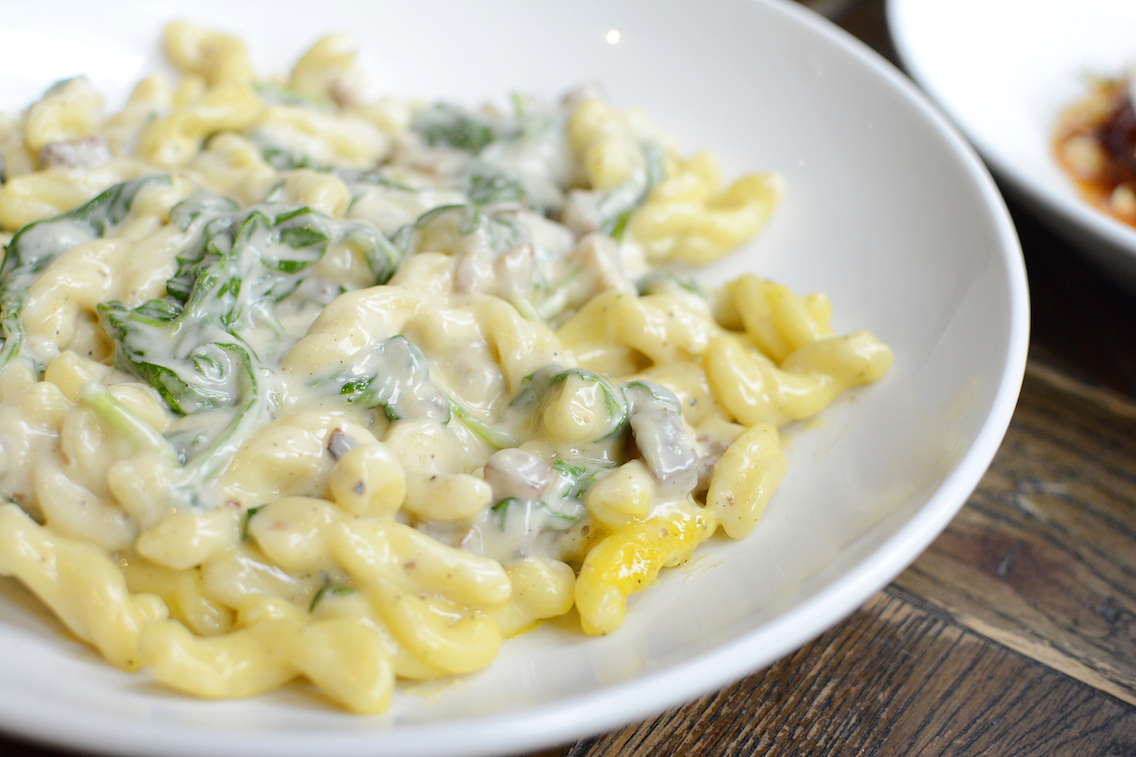 If you're looking for creamy, carby comfort food this fall, it's safe to say this carbonara will be a game-changer. Rich but not unnecessarily so and with a beautiful sauce that may just find you discretely licking the inside of the carbonara jar clean.
Discretely, of course — this is a fancy restaurant after all!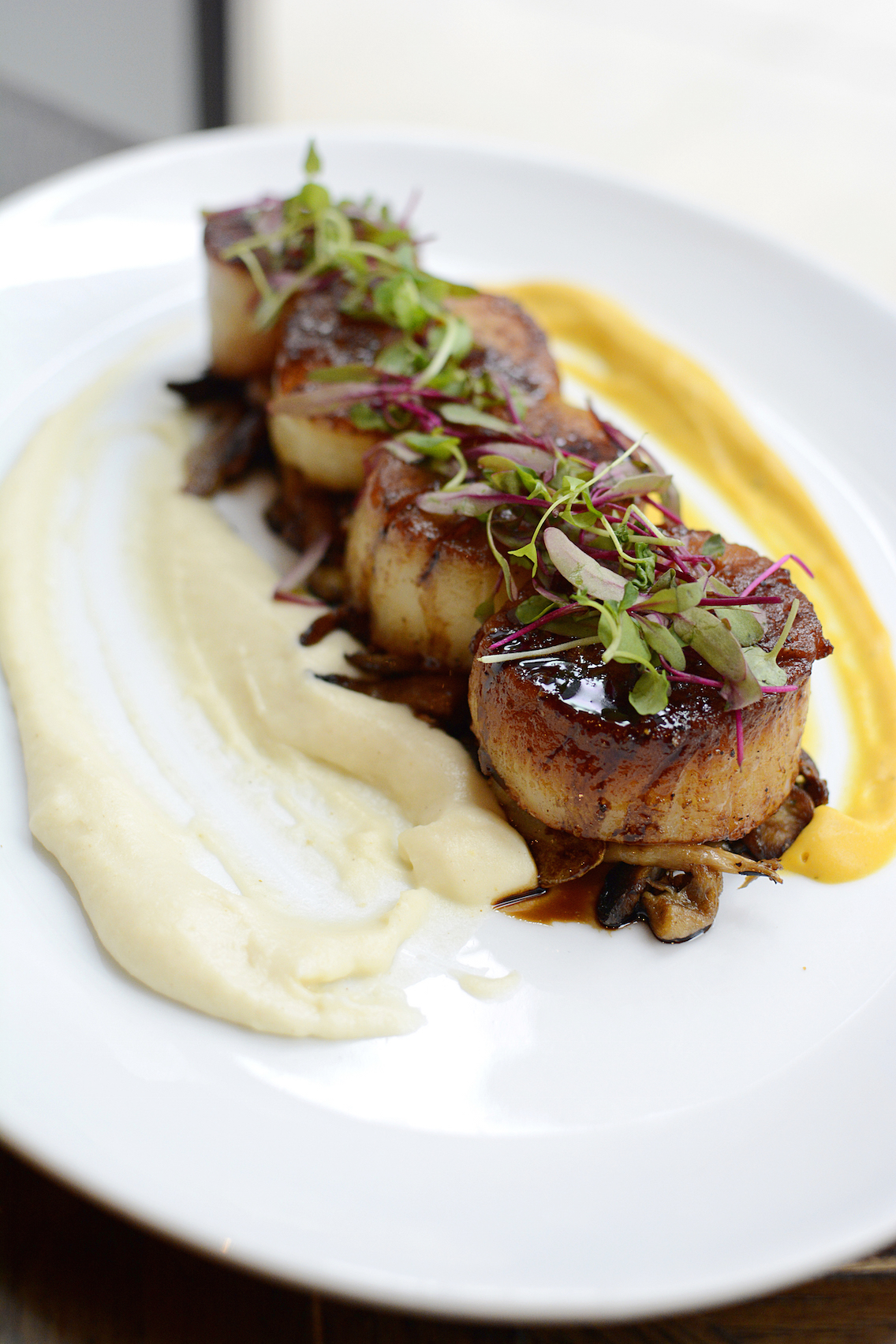 And nothing proves just how fancy Siena Tavern can get than this beautiful dish of Seared Diver Scallops!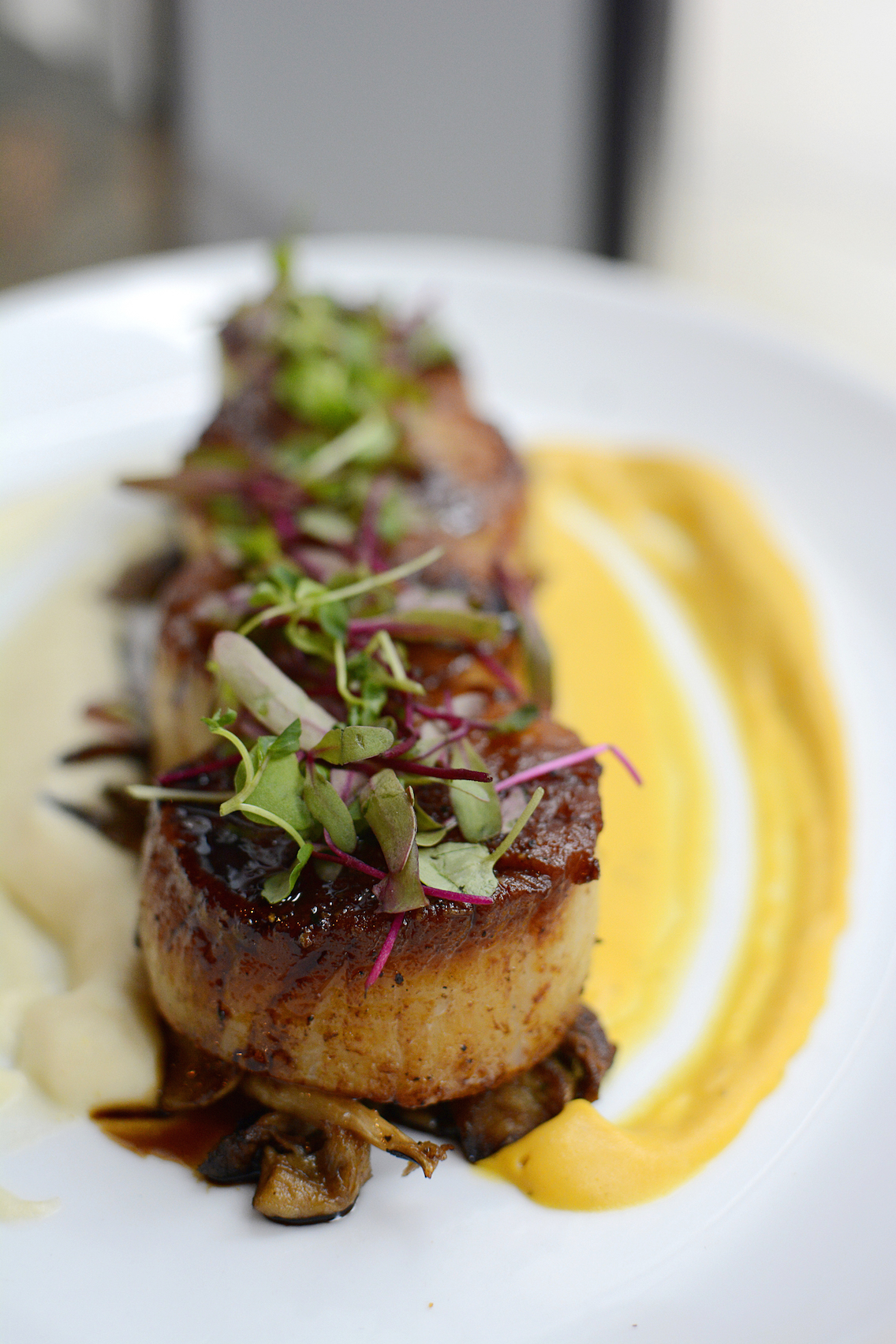 Served with butternut squash, parsnip, sautéed swiss chard, hedgehog mushroom, and a black pepper gastrique, this dish is art on a plate.
The presentation is spectacular and the flavors even more so. Each scallop has a perfectly seared crust encasing a juicy center that marries with the textures of the parsnip and squash purées in a really beautiful way.
If you want to make every table around you jealous, be sure to order these scallops (or the broiled salmon which is also spectacular to look at and eat).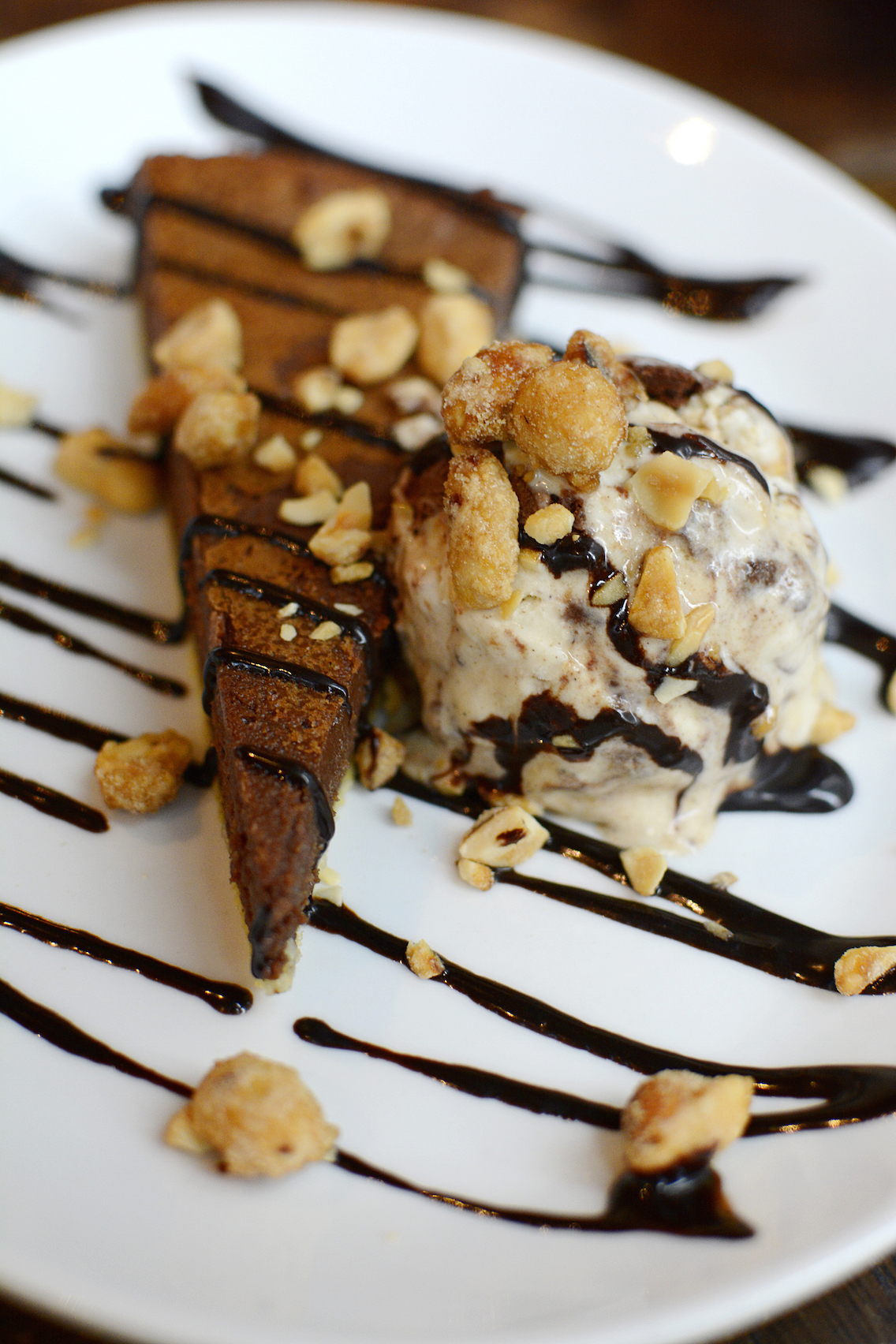 But isn't the best part of every meal the dessert?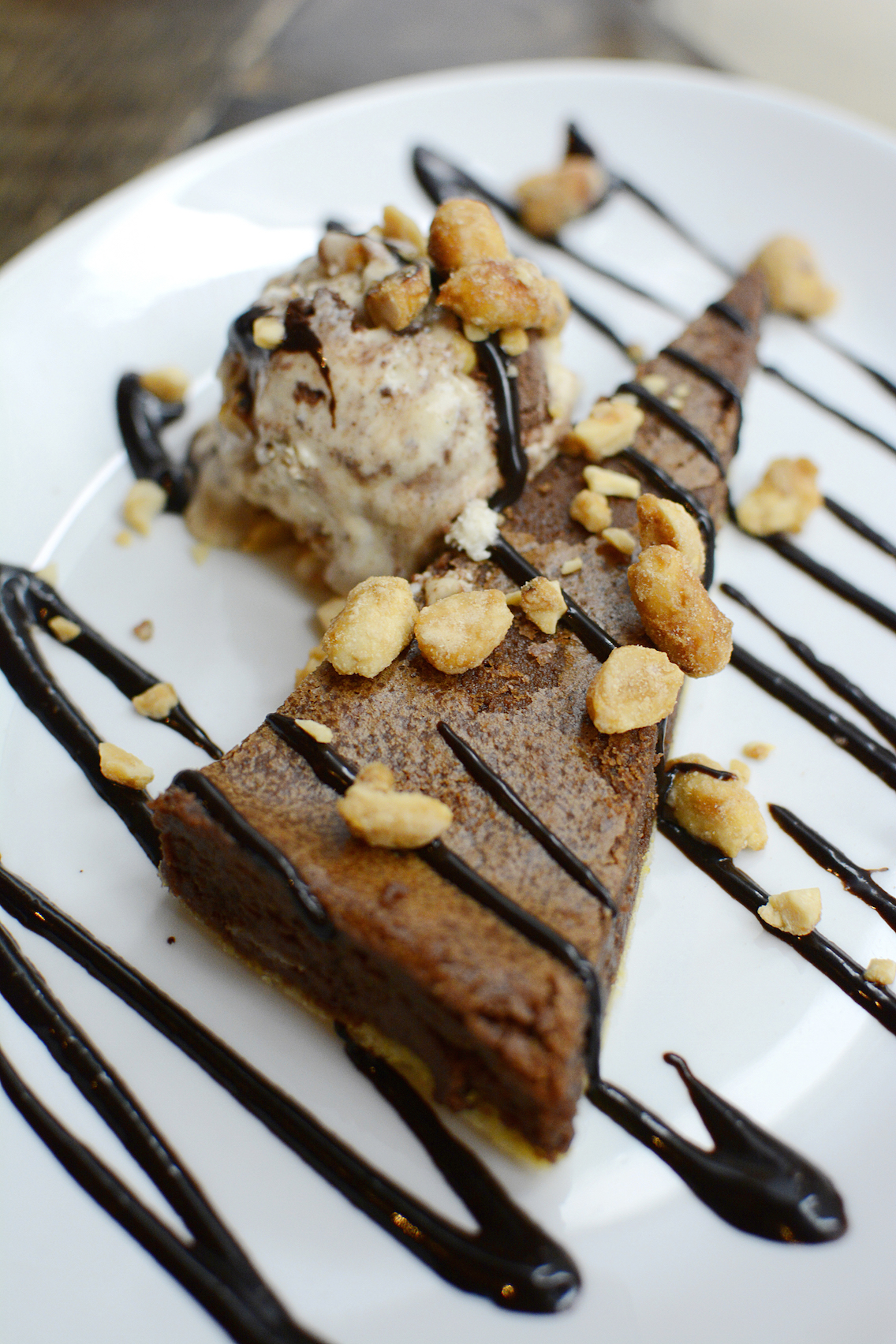 This is Siena's Warm Chocolate Butter Cake with brown butter peanut gelato and candied peanuts.
Now, as far as gluten-free desserts go, this is by-far one of the best I've had.
That said the texture of this cake is grainier than I usually like and a little lacking in the rich, chocolate flavor I want in a fall cake. But if gluten-free desserts are your thing, this dish certainly won't disappoint!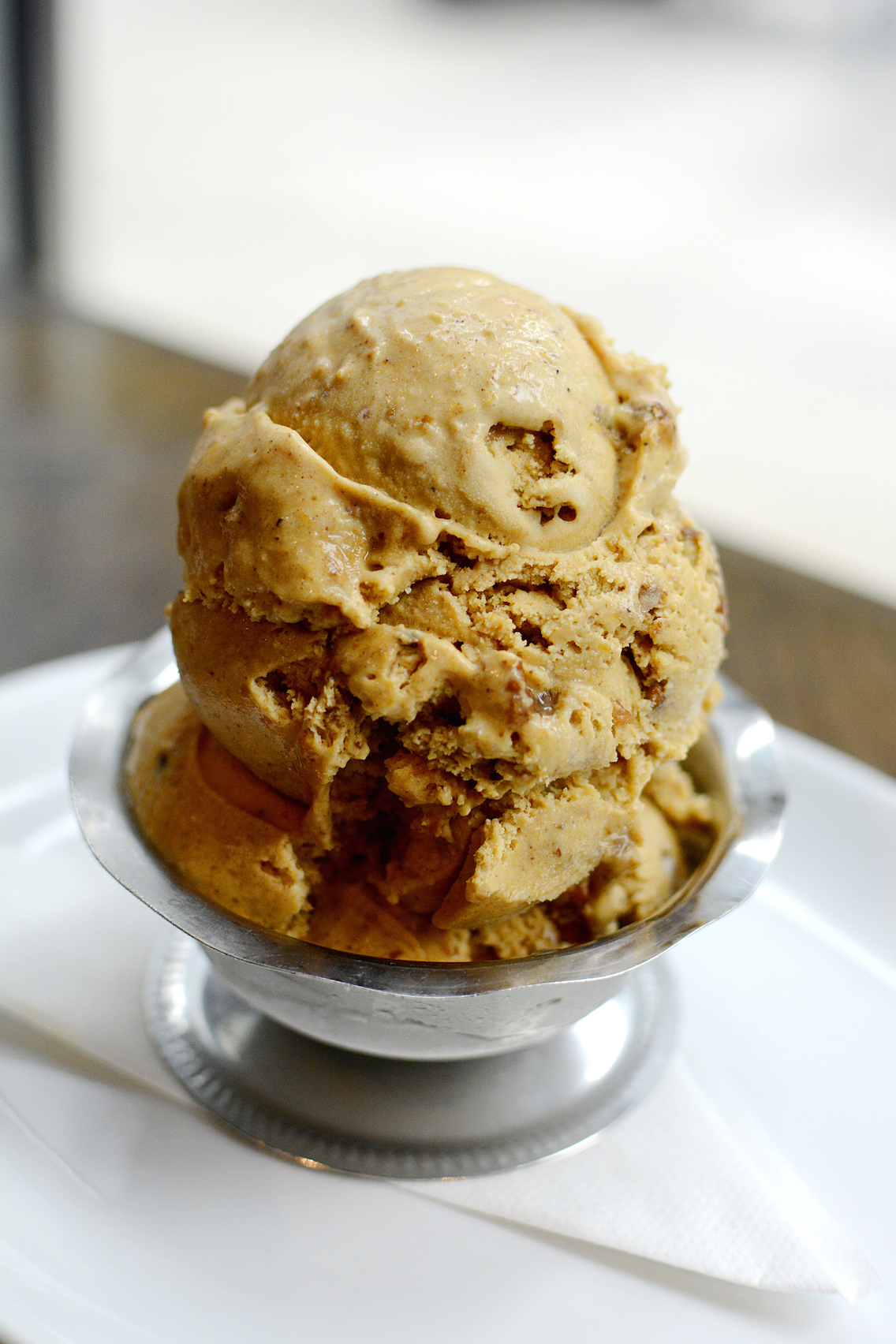 But, for me, there is only one dessert to order at Siena Tavern.
Their expertly spun and flavored house-made gelatos.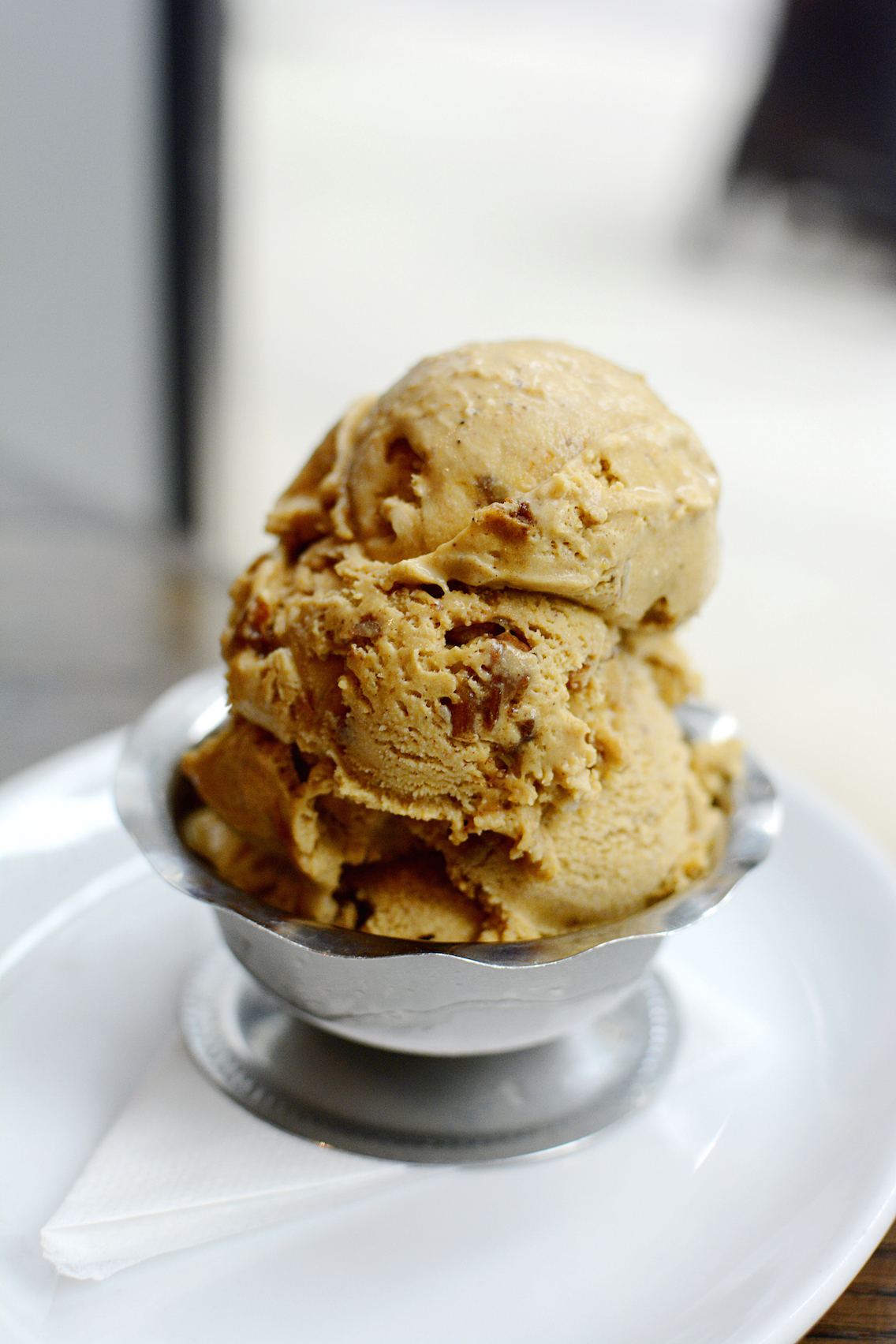 For fall, they have brought back their popular Pumpkin Pecan Gelato and WOW do I ever understand why they call it "popular" now.
Rich, creamy, spicy, roasty… all the flavors you crave in fall in one single gelato scoop.
This gelato may very well be the nectar of the gods as far as I'm concerned. It's obsession-worthy in the "wow, I want to apply to be your official gelato taste-tester and no, you don't need to pay me" sort of way. One scoop of Siena's gelato and you'll never want to leave.
In the words of Fabio Viviani, "it's better than the gelato in Europe". And as a connoisseur of European gelatos, I heartily agree (though perhaps more testing is needed? #wishfulthinking).
Just order the gelato and if you don't dare finish it, be forewarned — I may sneak up from under your table and eat every last bit (how dare you waste this perfect dessert!).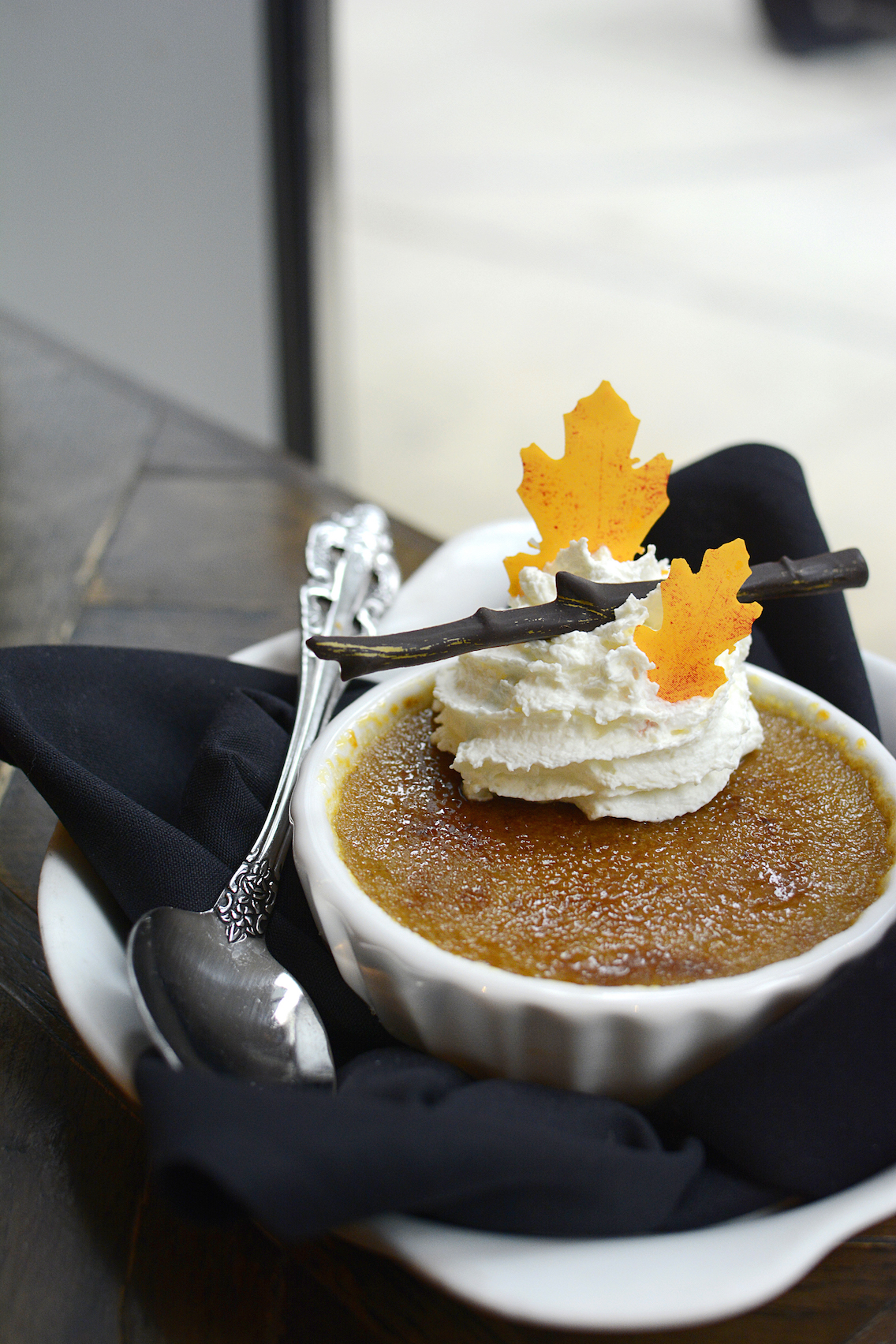 But Siena Tavern has really outdone themselves this fall with this stunning Pumpkin Creme Brûlée topped with caramelized sugar and spiced whipped cream too.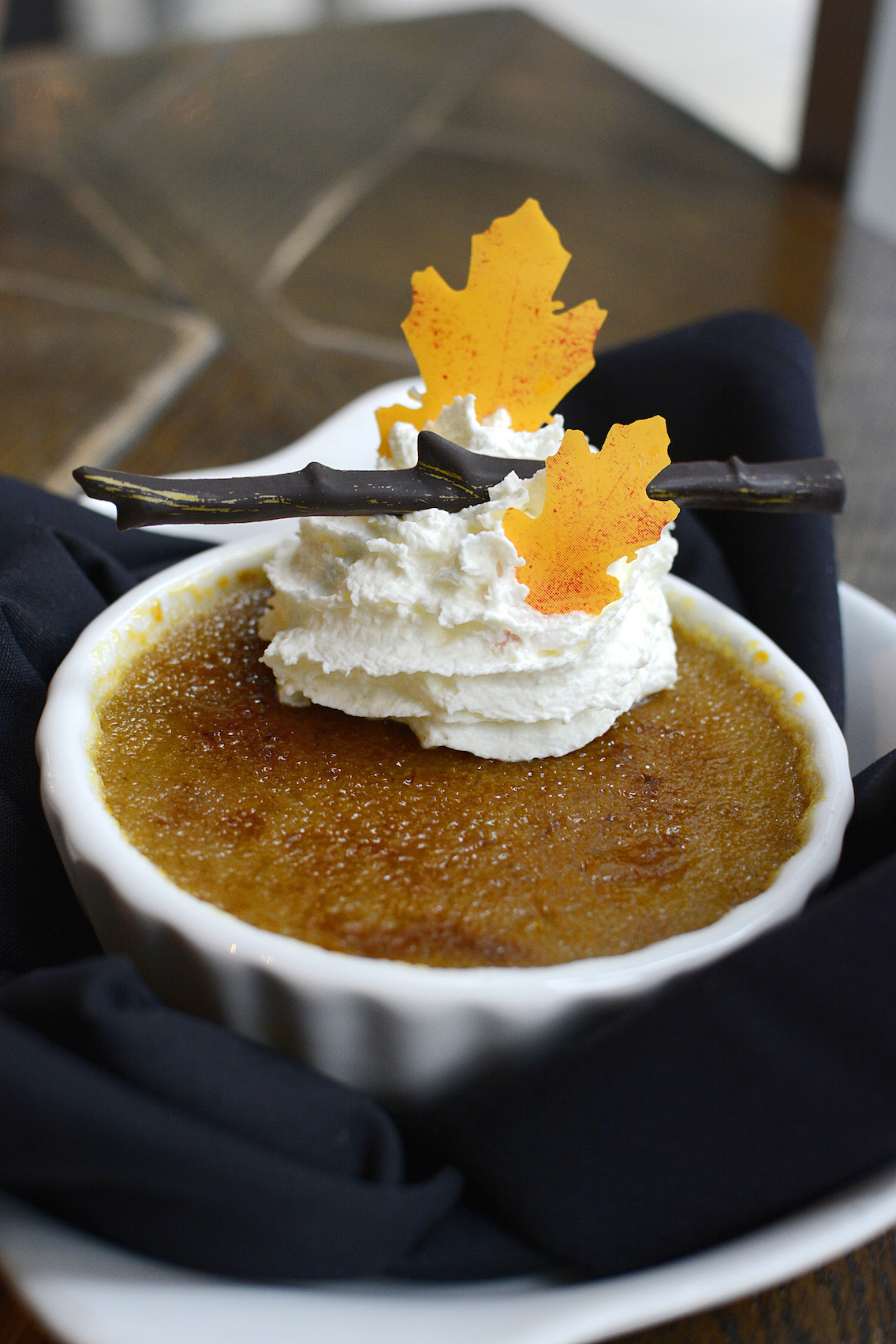 Isn't the sugar and chocolate work beautiful for the presentation?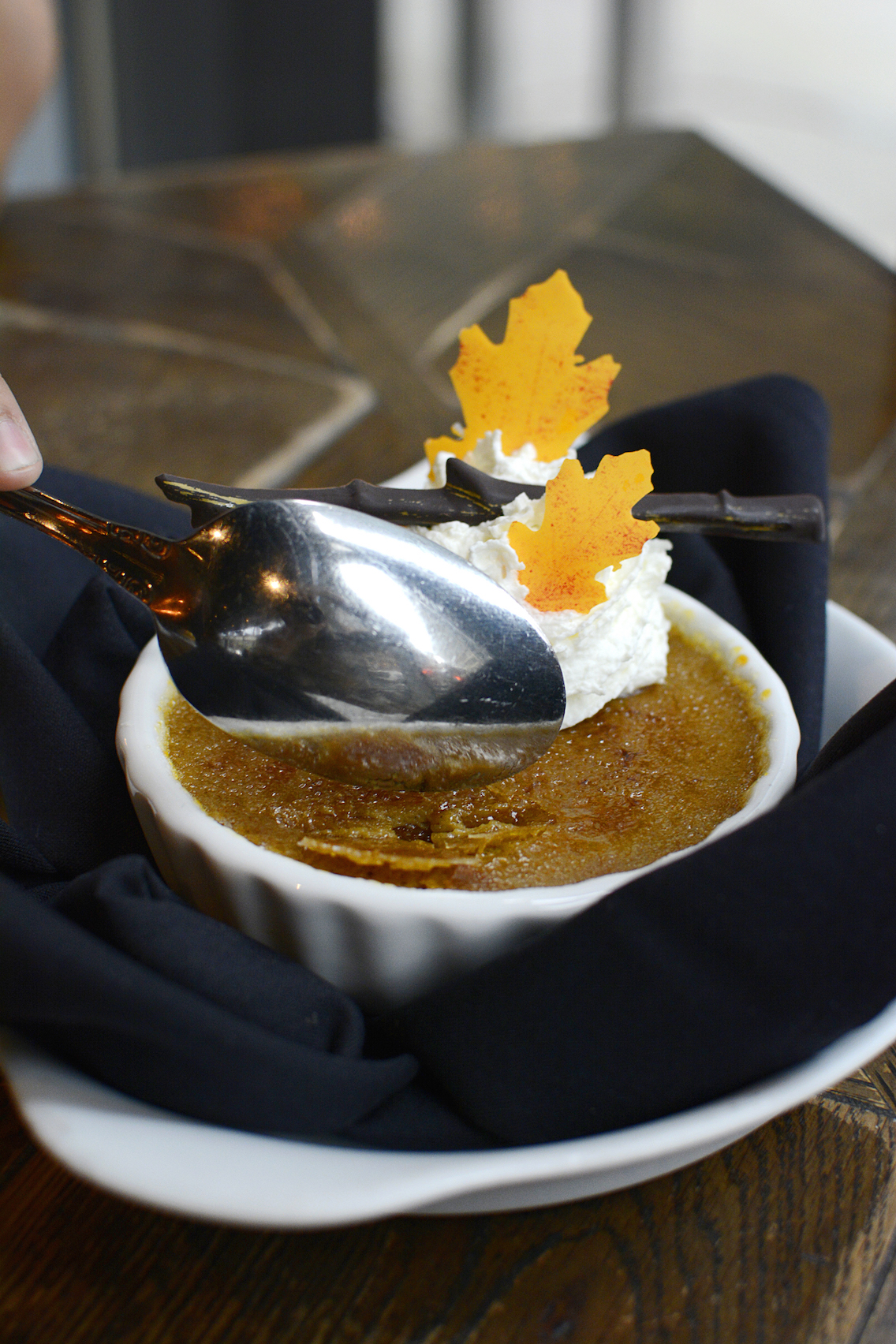 Care for a delicious fall spoonful?

Few fall menus have impressed me (i.e. had me screaming like a 14 year-old girl) more than Siena Tavern's. Each dish is curated culinary perfection, invoking the ingredients and flavors of fall in a way that feels unique and fresh and yet still oh-so-Italian.
You're a culinary mastermind, Fabio!
Disclosure: I received a complimentary meal to facilitate this post. Review and all opinions are my own.