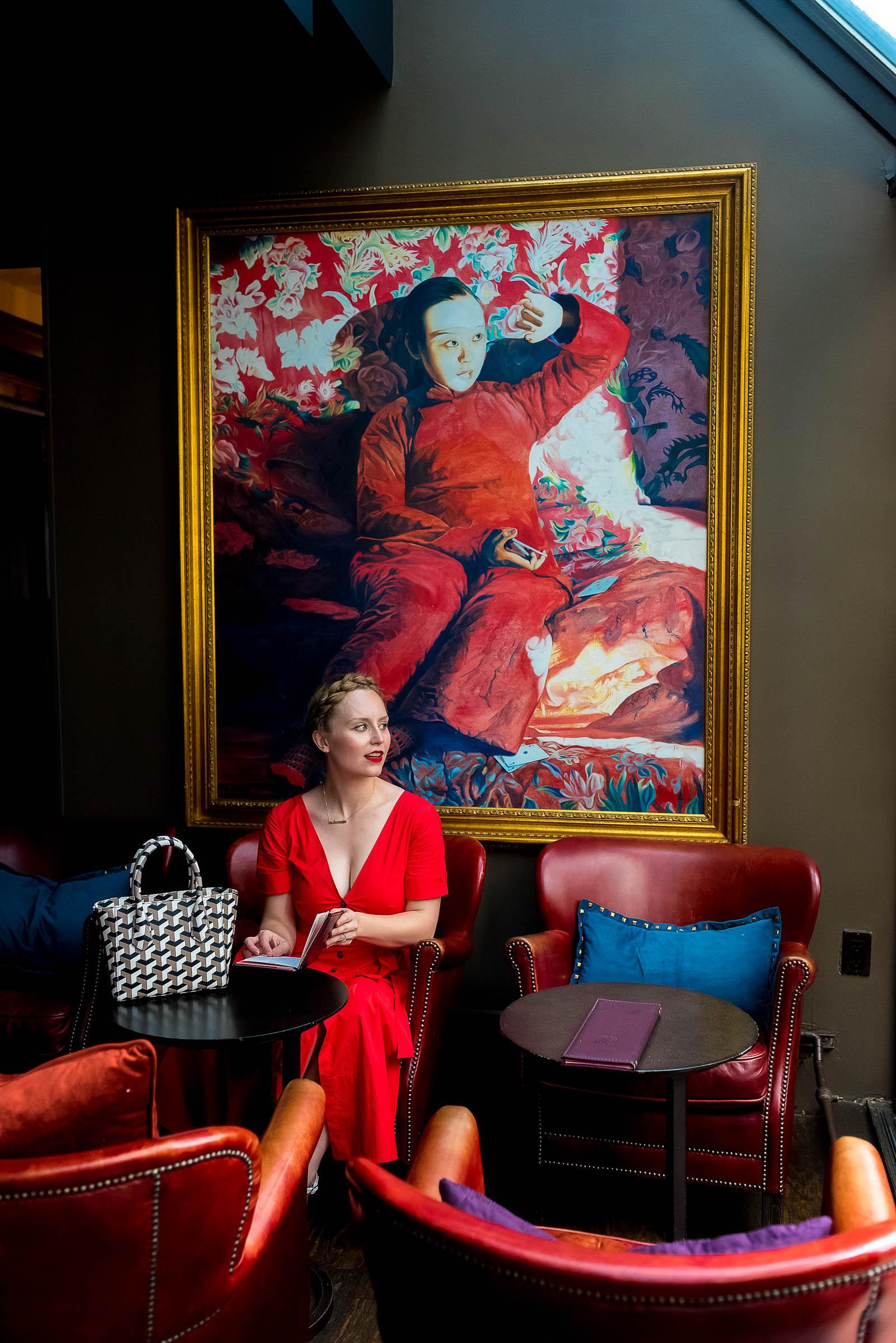 (Outfit Details Available in THIS post)
Well it's official — a week from tomorrow my family and I are jetting off to Amsterdam to celebrate my 30th birthday with a 10-day-long European extravaganza!
To say I'm excited would be an understatement.
And I'd be lying if I didn't admit that I've spent HOURS pouring over inspiration for the trip. Just like I did for our trip to London for my sister's birthday last year.
I've been to Amsterdam twice before in the past. It's the sort of city most people don't immediately gravitate to when they think of a trip to Europe. I remember I didn't have many expectations — if any — on our first trip there.
But Amsterdam is the sort of Old World European city that grows on you. The sort of place you arrive at and instantly become intoxicated with. The sort of place you want to stay and settle into.
Maybe it's the gentle tingling of the thousands of bicycle bells during the morning commute (most "traffic" in Amsterdam is bike traffic!).
Or the endless labyrinth of beautiful, old canals lined with 17th century Dutch architecture.
Maybe it's just the hot, syrupy stroopwafels you can find at the weekend markets.
Or maybe it's just the EXPLOSION of flowers you'll find at every corner.
But regardless of WHY, Amsterdam has long been my favorite city in Europe. I often say if there's any place I'd move across the pond, it'd be Amsterdam in a heartbeat. It's the sort of place I could happily spend the rest of my life at.
And for as long as I've had this blog, I've wanted to shoot and share this magical city with you and next week I'll finally be fulfilling that dream.
So without further ado, here are 5 of the things I just can't wait to do once we get to Amsterdam!
5 Things I Can't Wait to Do in Amsterdam
While not technically in Amsterdam (this painting is located in The Hague), I'll still include it since it's less than an hour train ride away.
I'm quite the avid art historian, having taking almost a dozen art history classes in college and fallen madly in love with paintings from all sorts of genres and ages. But I have quite a soft spot for Dutch portraiture and have had "seeing Vermeer's 'Girl with a Pearl Earring'" on my bucket list for YEARS. On our last trip to Amsterdam, Hubby and I took the train out to The Hague only to find out this painting was traveling in NYC so this trip I'm determined to ACTUALLY check this painting off my bucket list.
2. Cruise the Canals in a Private Boat
My family and I are still sorting out the details but at least one evening in Amsterdam we'll be devoting to a private cruise through the canals. Champagne, cheese, oysters, and Golden Hour light required!
I love the afternoon tea at the Waldorf Astoria in Chicago and have heard legendary things about the Waldorf's afternoon tea in Amsterdam too. So we're going on my 30th birthday and I can't wait to face dive right into the pastries!
Every single menu The Duchess has — be it breakfast, lunch, afternoon tea, or dinner — sounds mouth-wateringly delicious. And ever since I read this blog post by the Avantguardian, I've been itching to shoot this space for myself. We're set for a birthday dinner here our first weekend in Amsterdam and I can't wait to finally try it for myself!
One thing everyone must do on a visit to Amsterdam is try a fresh-made Dutch pancake. There are quite a few delicious spots around Amsterdam but Hubby and I have always preferred Pancake Bakery because it was the first place we ever had authentic Dutch pancakes at. I can't wait to bring my sister and Mom for a meal along the canals after we land our first morning.
WHAT ARE YOUR FAVORITE THINGS TO DO IN AMSTERDAM? I'D LOVE ANY AND ALL RECOMMENDATIONS!