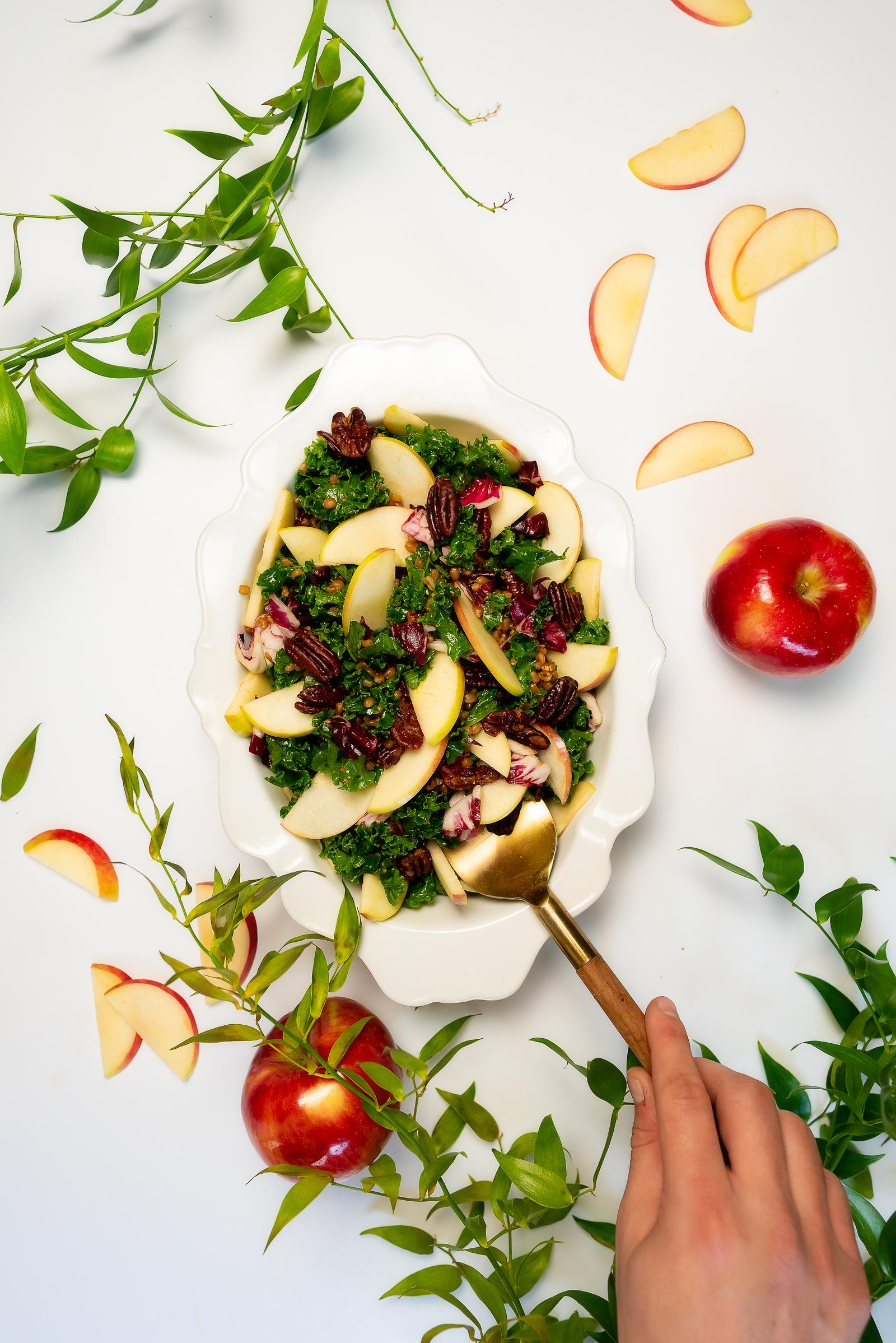 Despite the fact that we still officially have a month left of summer, around this time of year all I can think about is fall.
Can't you?
The kids are all going back to school. The farmer's markets are brimming with amazing produce. And suddenly our long, sunny days are becoming shorter and shorter.
But usually around this time of year, flavorful fall produce is still hard to come by. So when the folks behind the Rave apple approached me about trying their new variety which full-ripens in at the beginning of August (a full month before other varieties), I was intrigued.
A fully developed, flavor-packed apple in August?
Right.
(Next they'll come up with a pumpkin that ripens in July, right?)
But I was lucky enough to get one of the first shipments of this amazing apple variety to try out and now both Hubby and I are hooked.
Rave apples are one of the newest varieties of apples on the market (this is only their second year in commercial production!). Created by the apple development program at the University of Minnesota, Rave apples are a hybrid cross of honeycrisp apples and an unreleased variety called MonArk. Just like honeycrisps, they're sweet and juicy. But they also have a serious BITE.
As my Hubby describes it, "these are the jolly ranchers of apples". And they really ARE.
The tart yet sweet flavor and firm body make this apple one of my new favorites (even though it's season will end in about two more weeks). And it's perfect for early fall cooking!
I knew I wanted to develop a recipe that let that freshness of these apples show and so today's salad was born — a tart, tangy, textural mess of a salad that's light enough for the hot days of August, but still tastes like the crisp days of September.
You're welcome, fall-lovers!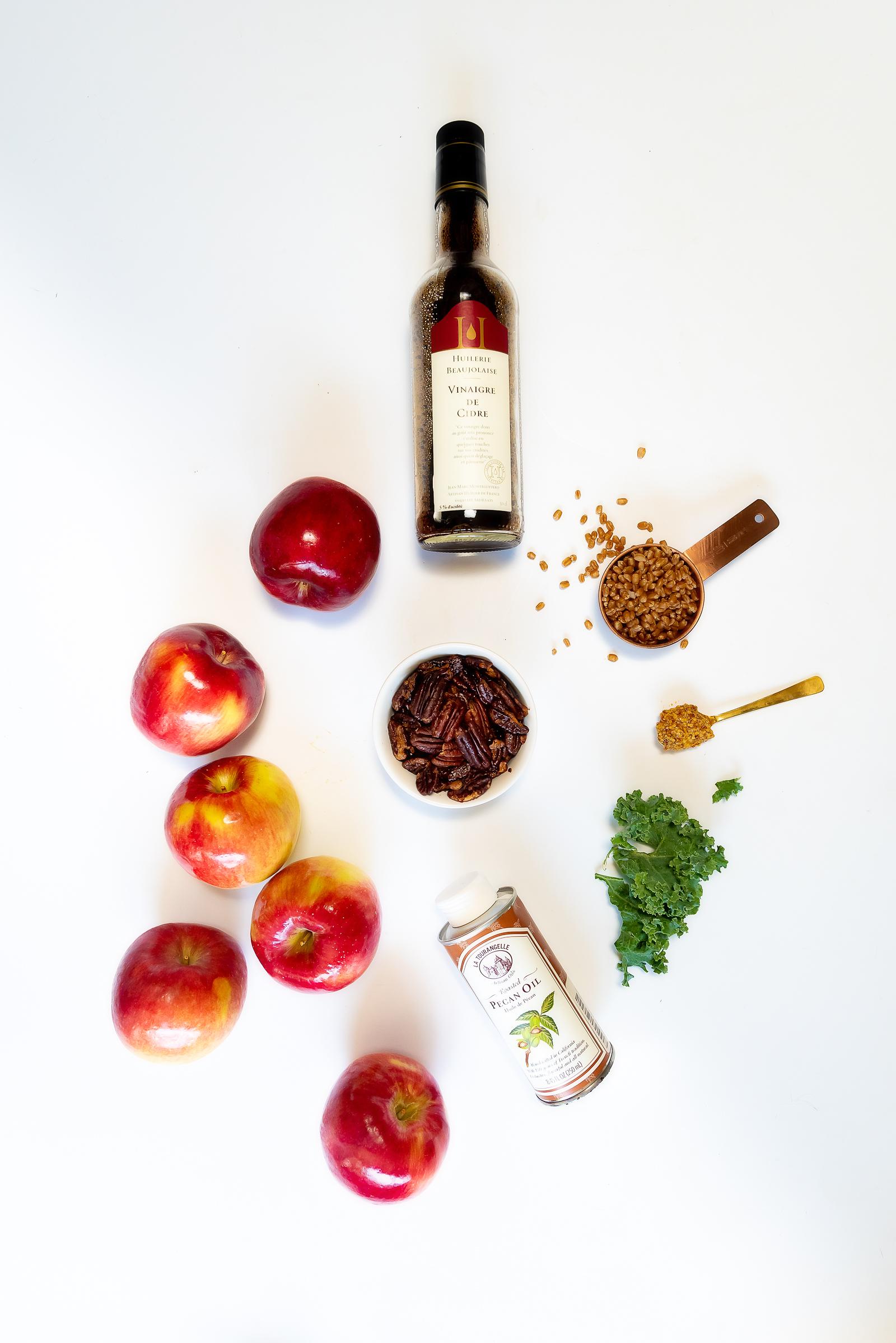 Early Autumn Apple Salad with Toasted Pecans
Yields 4 – 6 Servings
1 – 2 Rave Apples*
1 Fistful Kale, Washed, Dried, and Chopped
1/4 Red Cabbage, Thinly Sliced
1/2 Cup Wheat Berries, Cooked & Cooled
1/2 Cup Pecans (+ Butter)
1 Tbsp Pecan Oil**
1 Tsp Stone Ground Mustard
1 Tbsp Apple Cider Vinegar***
Salt & Pepper To Taste
Roast the Pecans:
Preheat oven to 350 Fahrenheit. Take a large baking tray (with an edge to prevent the pecans from sliding off during baking), add a couple pats of butter and put in the oven for a few minutes to melt. Toss in your pecans and roast in the oven for roughly ten minutes, shaking the tray to stir the pecans halfway through. Set aside to cool once fully toasted.
Make The Dressing:
With a small whisk stir together the apple cider vinegar and ground mustard. Slowly drizzle in the pecan oil as you're whisking to help emulsify the dressing. Add salt and pepper and set aside.
Assemble the Salad:
In large bowl, toss kale, cabbage, wheat berries, and toasted pecans together. Add dressing and toss to combine. Add apples and season with additional salt and pepper. Serve as a light meal or as a side dish for soup or grilled fish.
* Available only through September and can be difficult to find due to demand. If you manage to find them, stock up! You won't be sorry.
** If you don't have pecan oil, you can replace it with Olive Oil or Grapeseed Oil and add a few chopped pecans for flavor.
*** I use and religiously swear by Jean-Marc Montegottero's Cider Vinegar. I discovered it after the Publican cookbook (from one of my favorite Chicago restaurants), recommended it and Calamansi Vinegar as the perfect salad dressing vinegars. This vinegar is certainly an investment but a little goes a LONG way and will last you forever. I use splashes of either to finish my soups and sauces too, lending such a beautiful depth of flavor to my home-cooked dishes.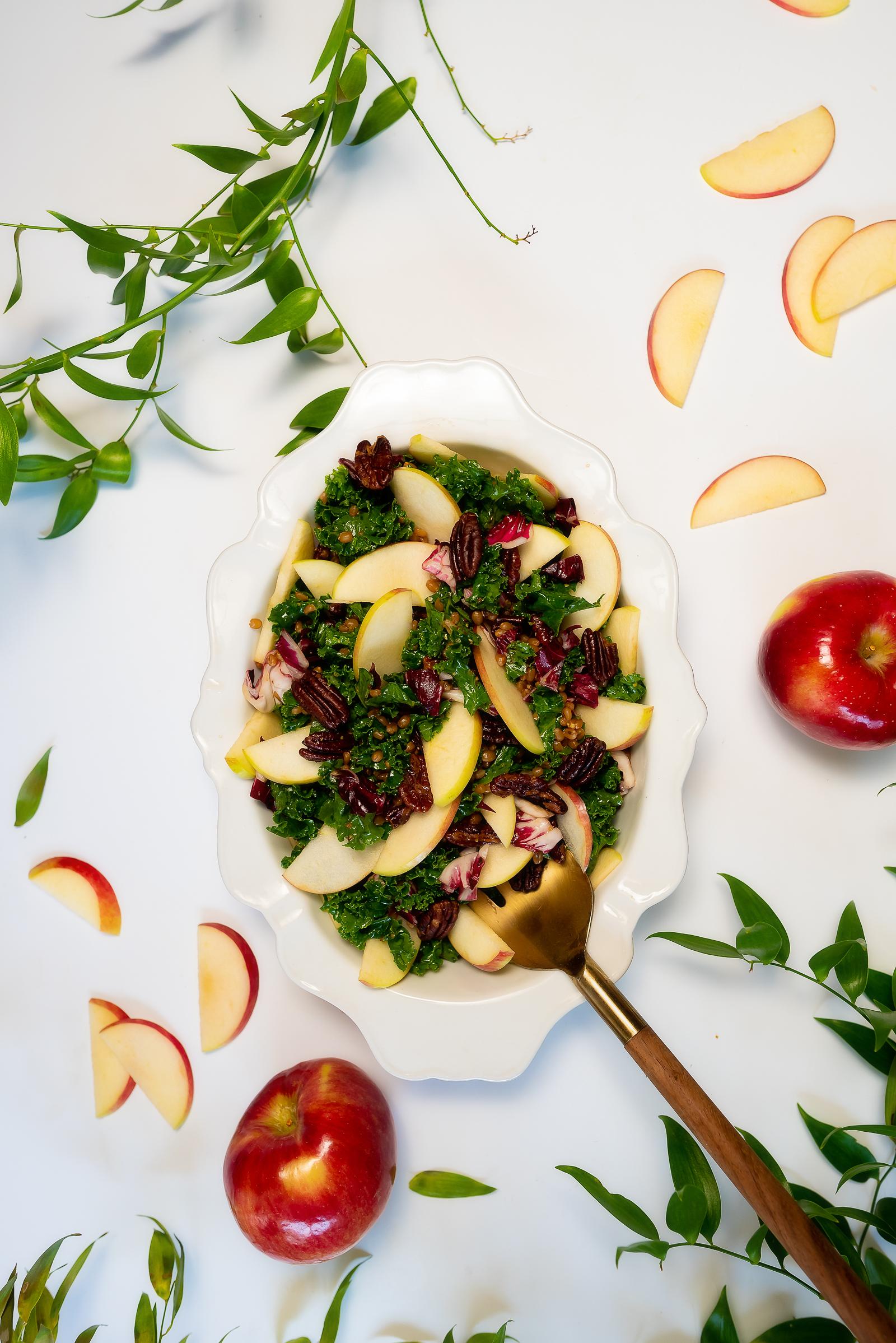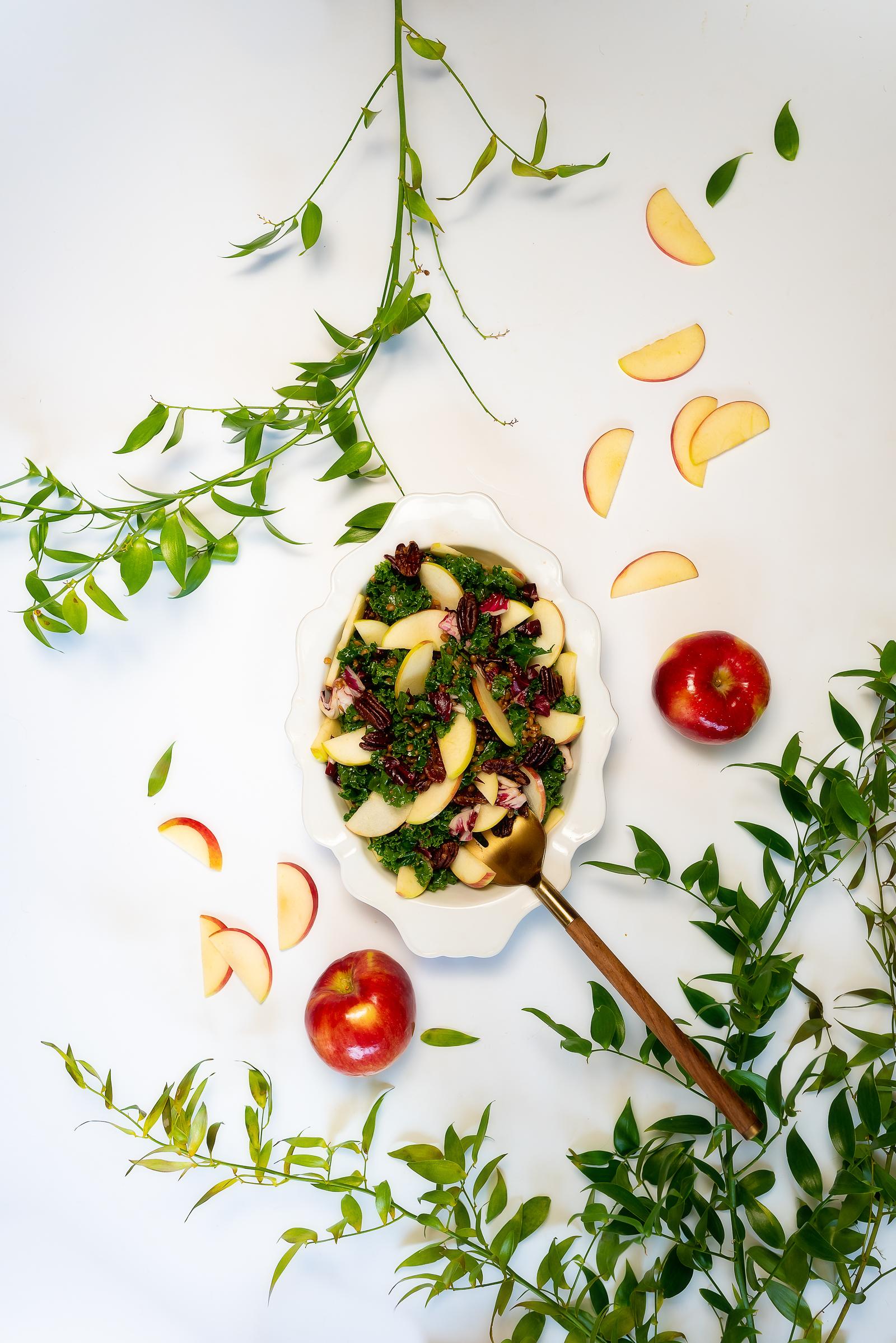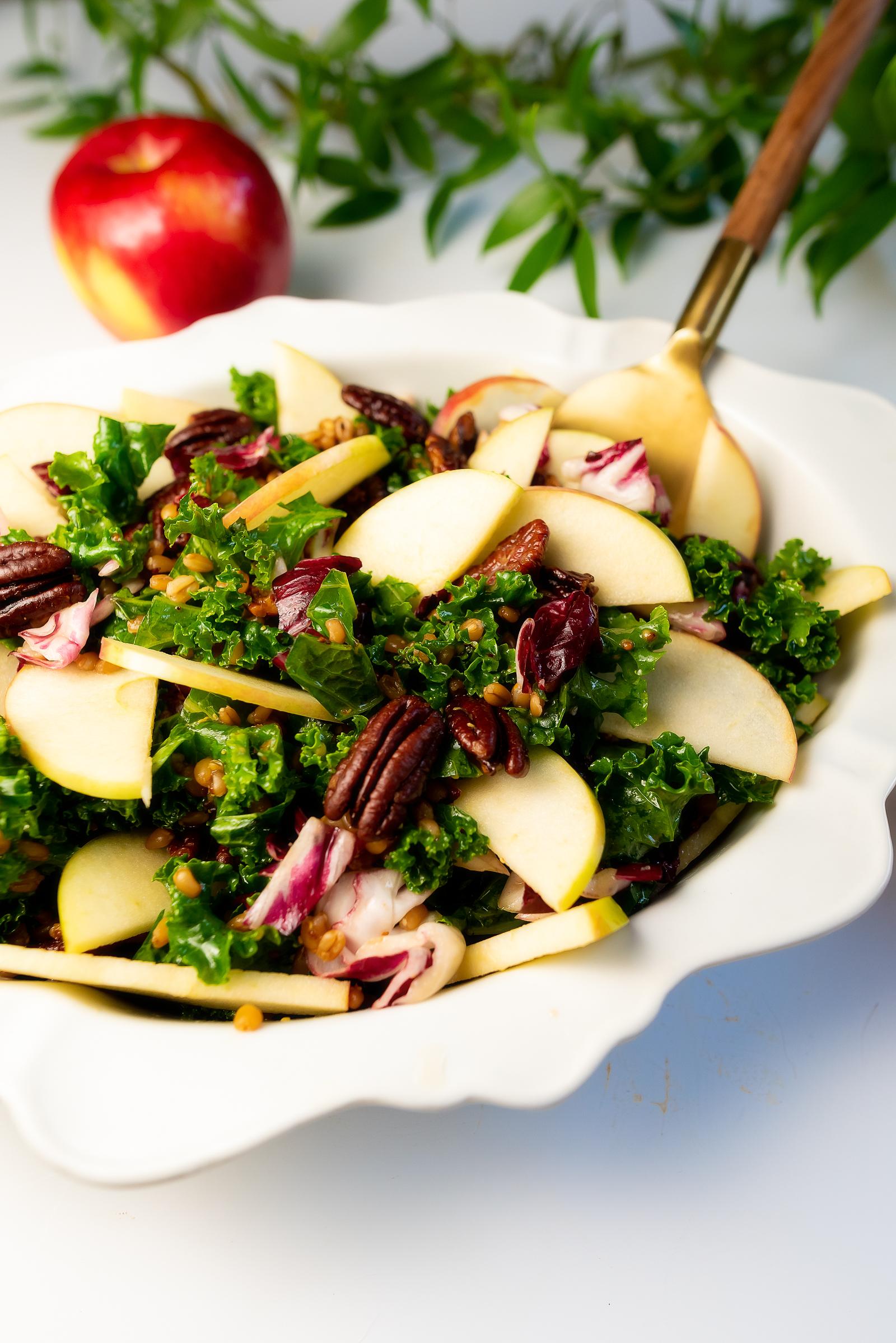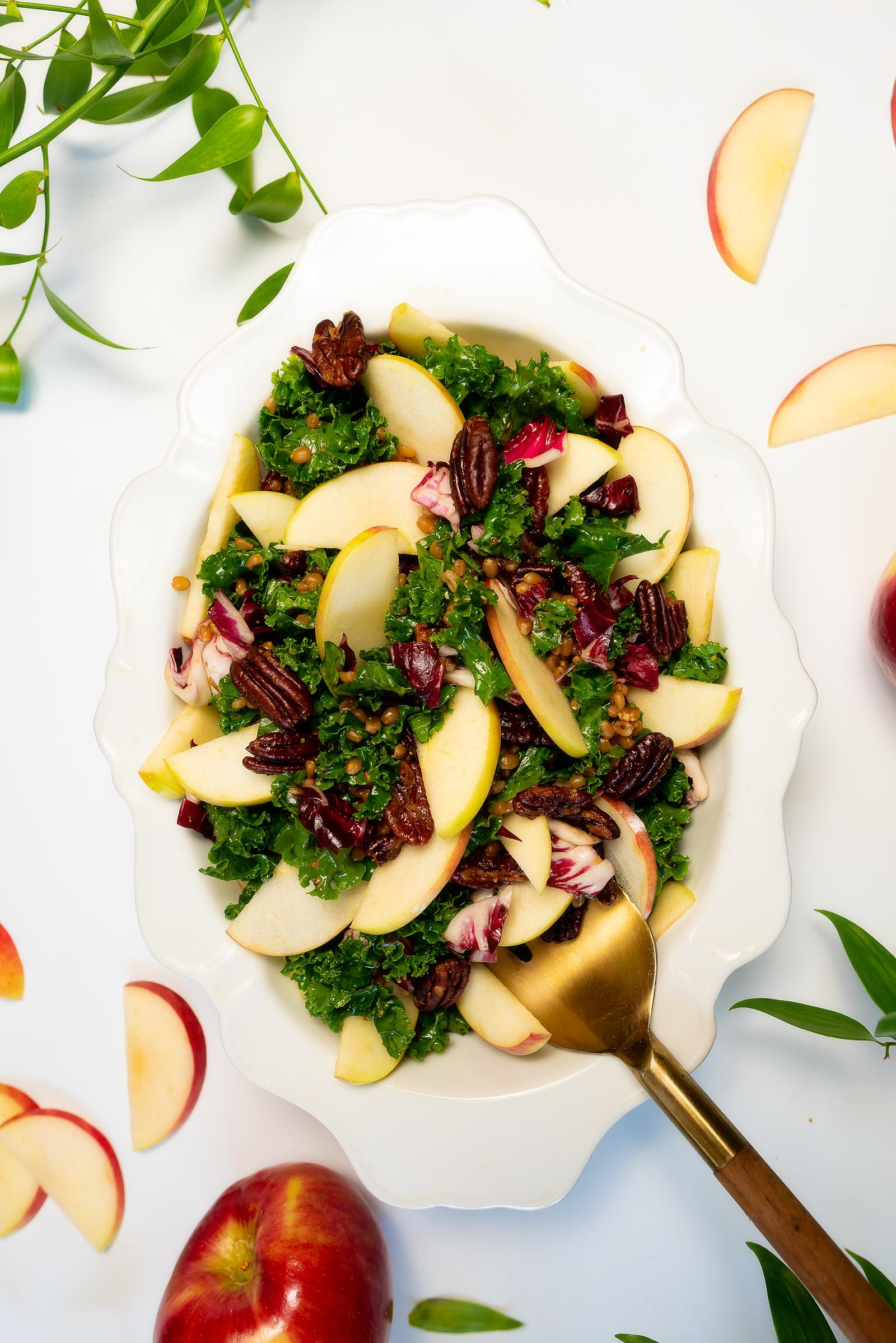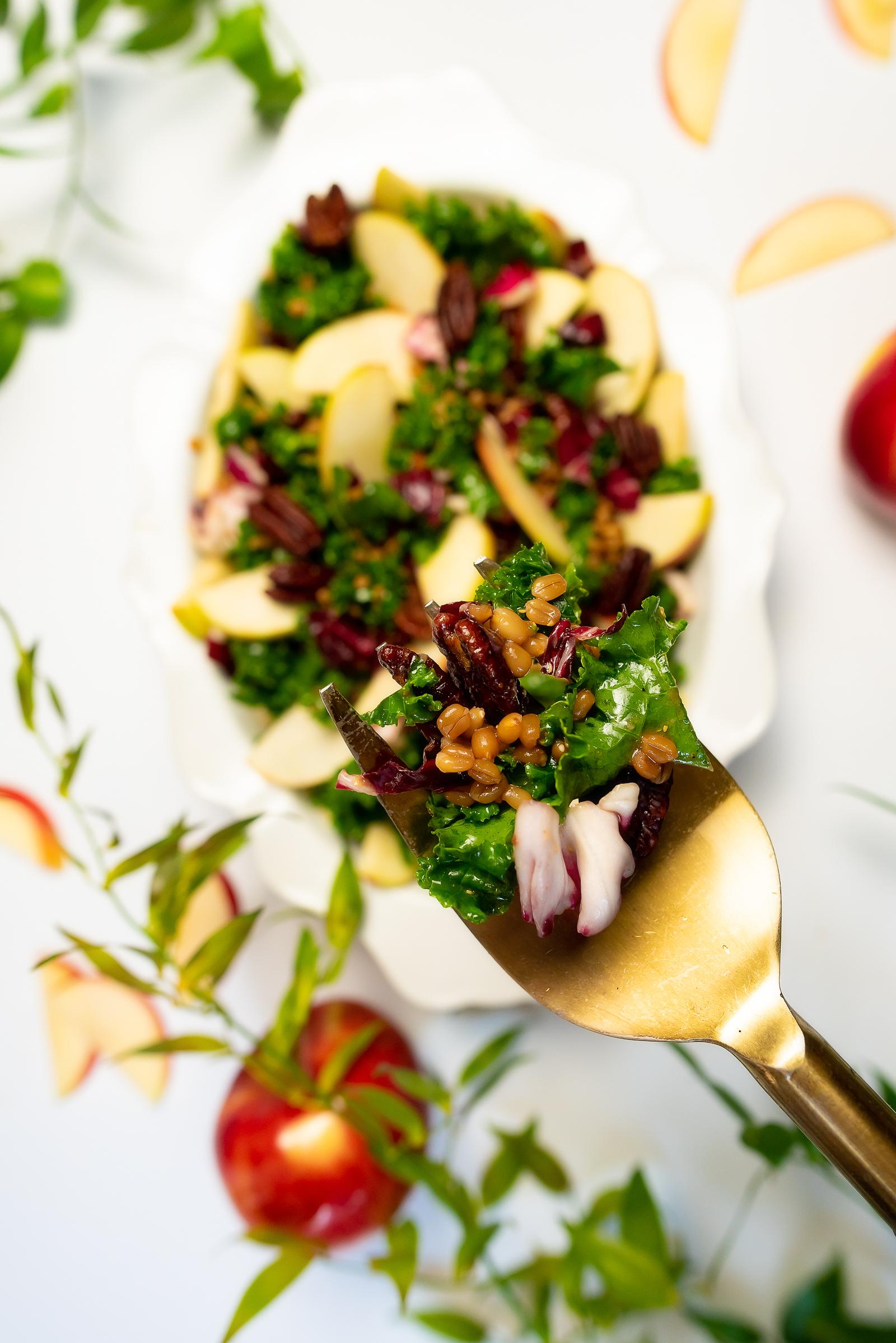 Don't forget to share your Apple Salad photos with the #SedBona tag on Instagram and Twitter!