"A lot of the time when I write about the person that I love, I feel like I'm writing about New York."
— Lana Del Rey
SHOP THE LOOK:
Dress – Saloni (ON SALE: 1 / 2 / 3) || Pumps – Asos || Bag – c/o Dagne Dover (my new favorite mini tote!) || Necklace – Etsy || Sunglasses – SheIn || Lips – Stila in 'Beso' || Braid – c/o Dream Dry
Photos courtesy of Jill of Hot Pink Style
My trip last month to NYC was a dream. Not only did I FINALLY have a reunion with one of my closest friends from the blogging world Jill (who moved to Salt Lake City just over a year and a half ago) but I also managed to eat my way across the ENTIRE city as well as doing 7 am yoga in Times Square for the Summer Solstice sunrise.
And I can't wait to begin sharing all our adventures with you.
But first I need to tell you about this ahhhhhhh-mazing dress. And yes, it completely deserves that exaggeration.
The moment I saw it I couldn't tear my eyes away.
And for weeks after it haunted me.
I searched and searched for a less expensive option (I love the venting design in the back and the beautiful buttons down the front) but in vain.
So days before leaving for NYC I caved and ordered this dress full-price. As a photographer and a creative director, I can't resist the urge to find the perfect pieces to wear to new destinations. And this red dress just SCREAMED Sed Bona in the Big Apple, don't you think?
But the price tag was hard to swallow. I give myself a very strict spending budget every month and this basically took it all up in one single purchase.
As we were flying to NYC I remember asking myself, "have I made a mistake?" Will I regret making such a big wardrobe investment for this trip? What if I trip in Central Park and tear it? What if the general smell of trash (ahhh, romantic NYC) permeates the fabric and it forever smells of filth after?
But my worries quickly disappeared the moment I put this dress on and started strutting the streets of NYC. This dress is a compliment magnet on a level I've never experienced.
Men, women, and even several children constantly stopped me in the street to tell me how fabulous this dress was. I felt so overwhelmingly beautiful and timeless every step I took!
Well, wardrobe karma always has a funny way of steering you in the right direction. Because not one day after we landed home from NYC, I saw this dress go on DEEP sale on Shopbop. I emailed their customer service to see if they'd honor the price reduction and they did!
So I got my dream dress at a huge discount AND got to strut around in it on the streets of NYC. What more can a quality-over-quantity lover like me ask for?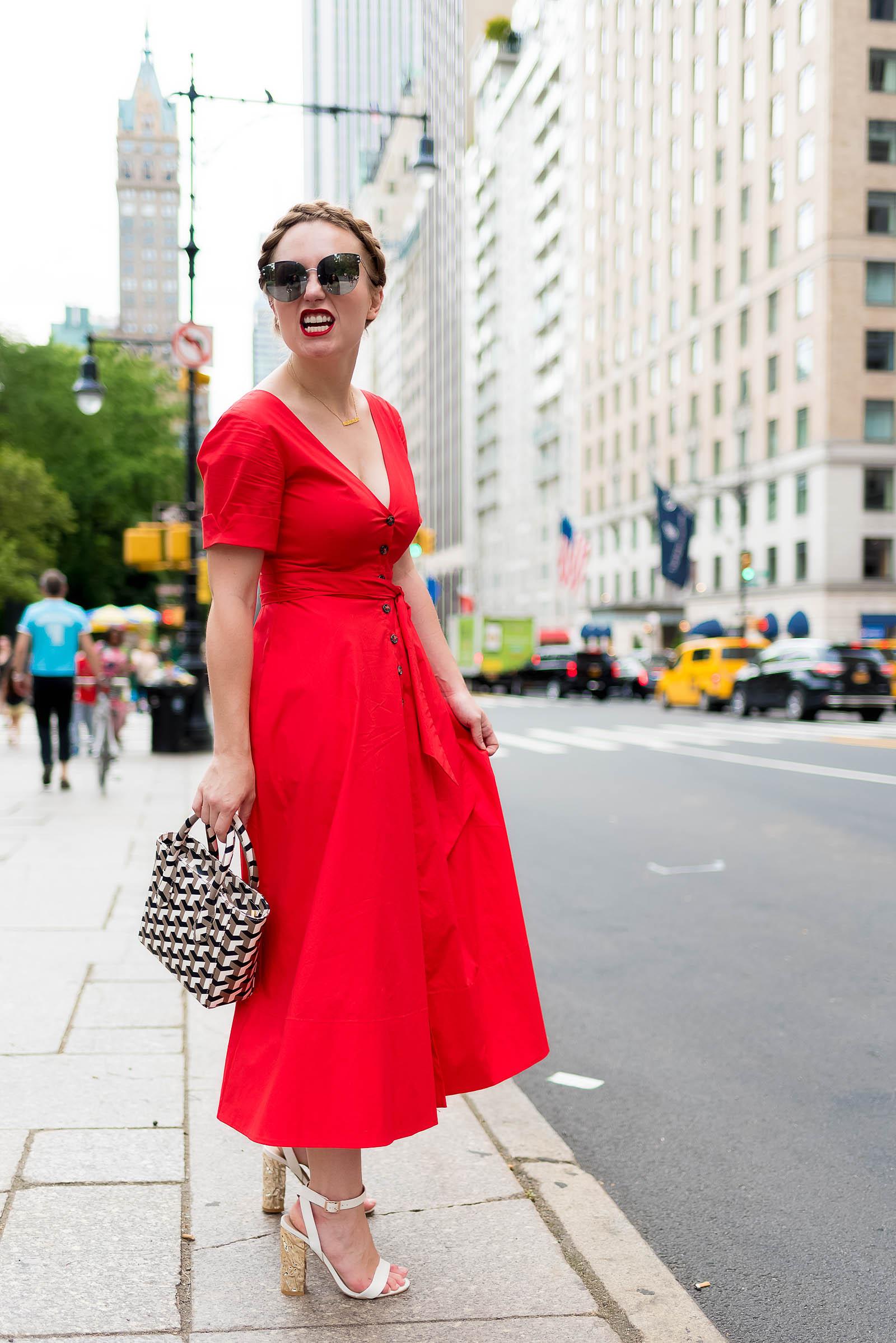 (And just so I don't let the compliments I got on this dress get to my head, here's a ridiculous blooper to end this style diary with! Seriously what was I doing in this shot? Hissing at poor Jill? Honestly, the camera can really reveal some bizarre moments from time to time.)