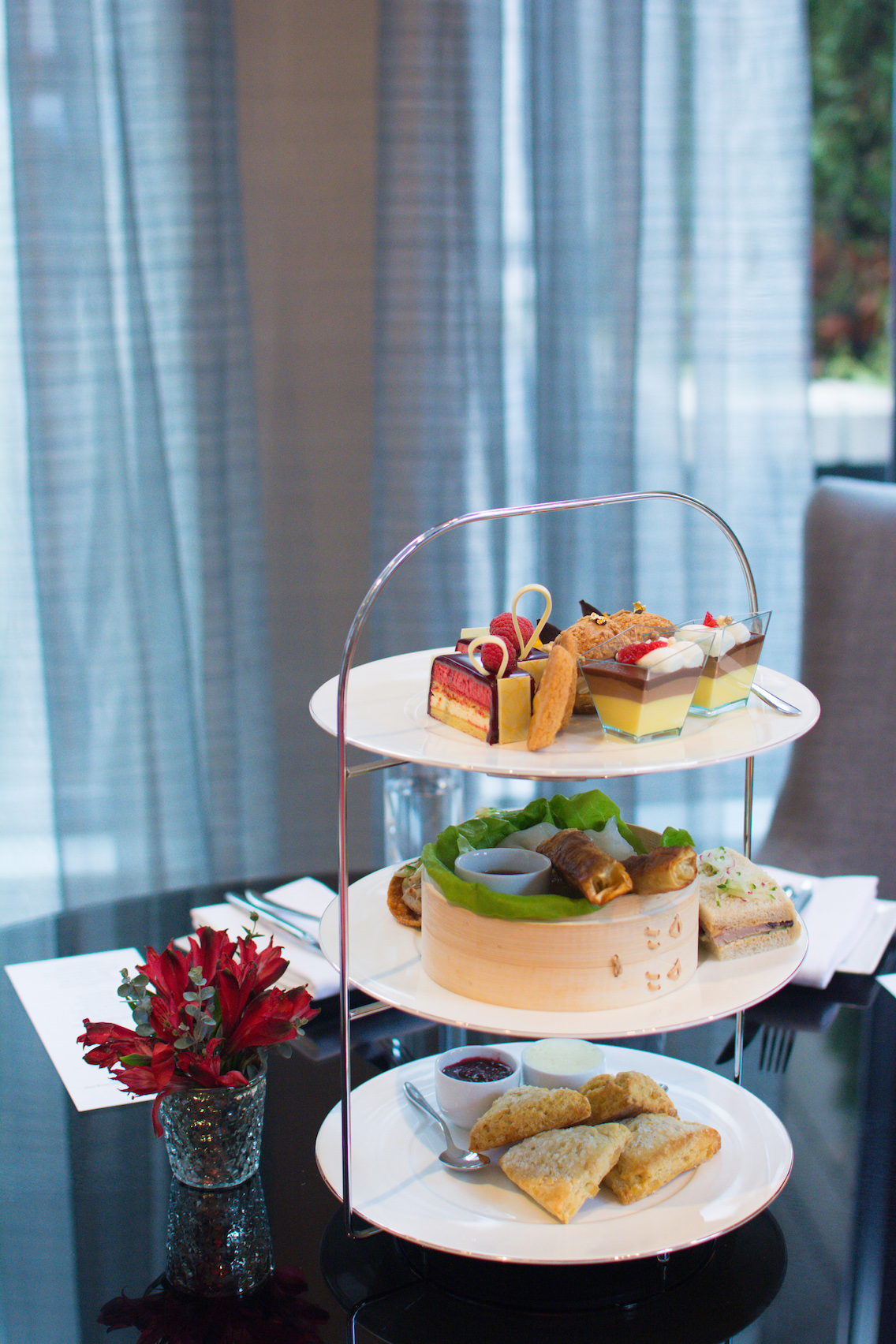 There are few experiences more deliciously refined than the ritual of afternoon tea.
Sweet and savory nibbles of all sorts nourish you between sips of aromatic tea — there's really nothing quite like it! It's a miniature culinary journey meant to awaken all of the senses and taste buds through a divine variety of flavor, texture, presentation, and DRAMA. What can I say? I'm addicted to afternoon tea.
And since today is Chinese New Year (Happy Year of the Monkey!), I can think of no better way to celebrate than with a special Chinese tea service created in collaboration with renowned pastry chef, Hsing Chen, at the Waldorf Astoria!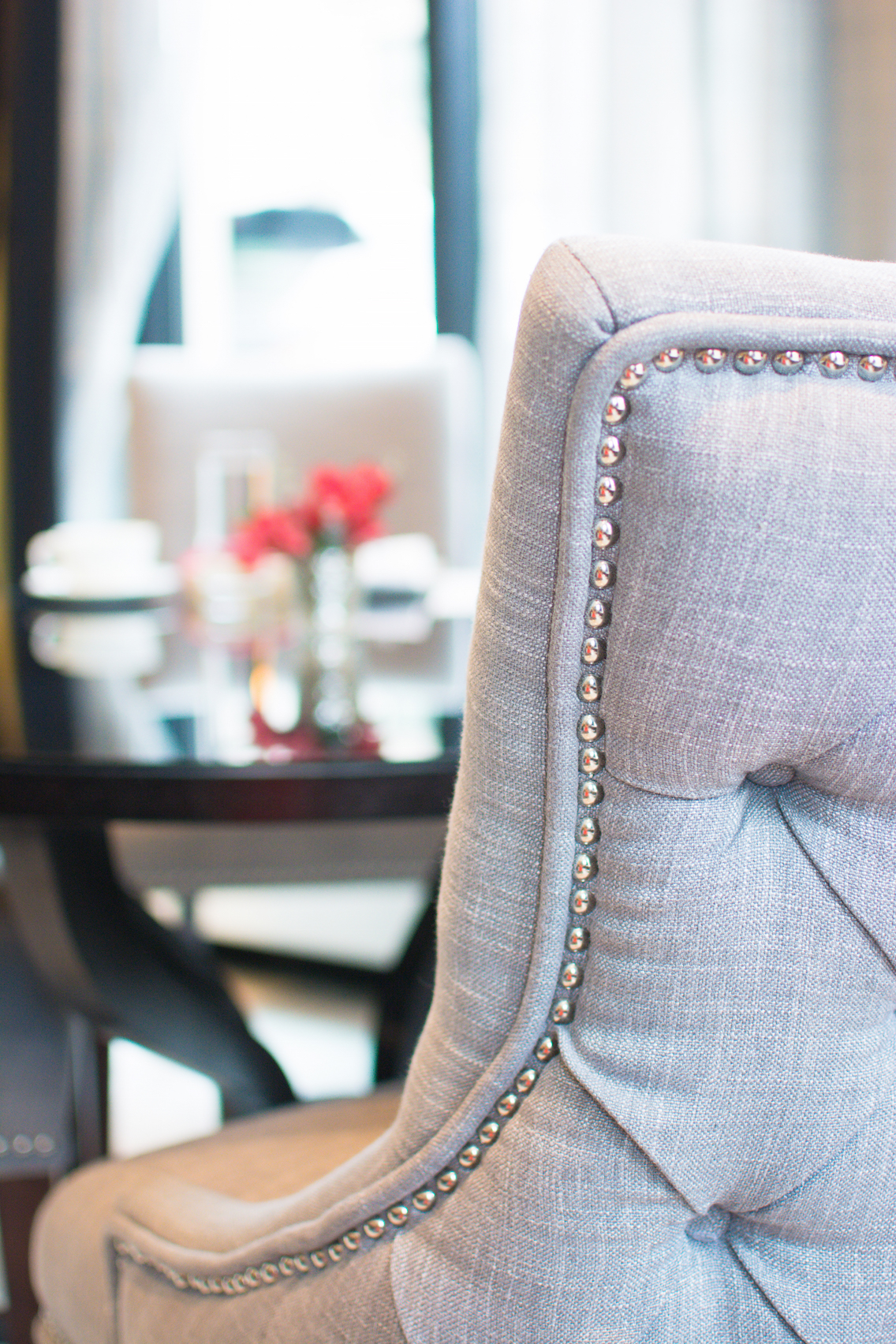 I've told you before about the outside grandeur of the Waldorf but it's the inside that will make your heart positively flutter — marble fireplaces, crystal chandeliers inspired by Coco Chanel's jewelry collection, and plenty of beautifully tufted chairs.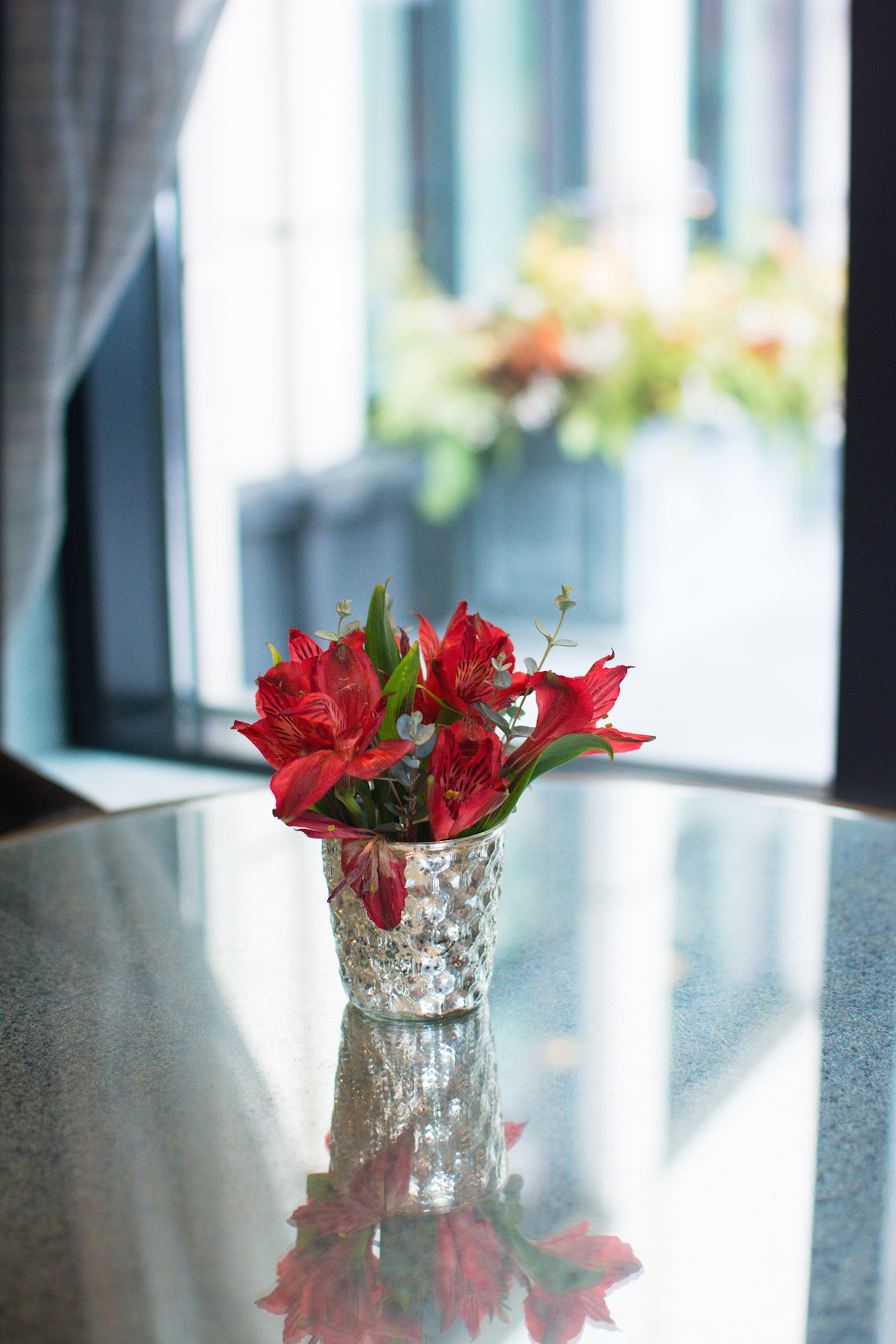 The new Waldorf tea service is served off to the left of the main lobby in a cozy nook offering a nice view of Walton Street and its many eager shoppers but without any noise pollution making it a perfect spot to stop and relax amongst the retail chaos nearby.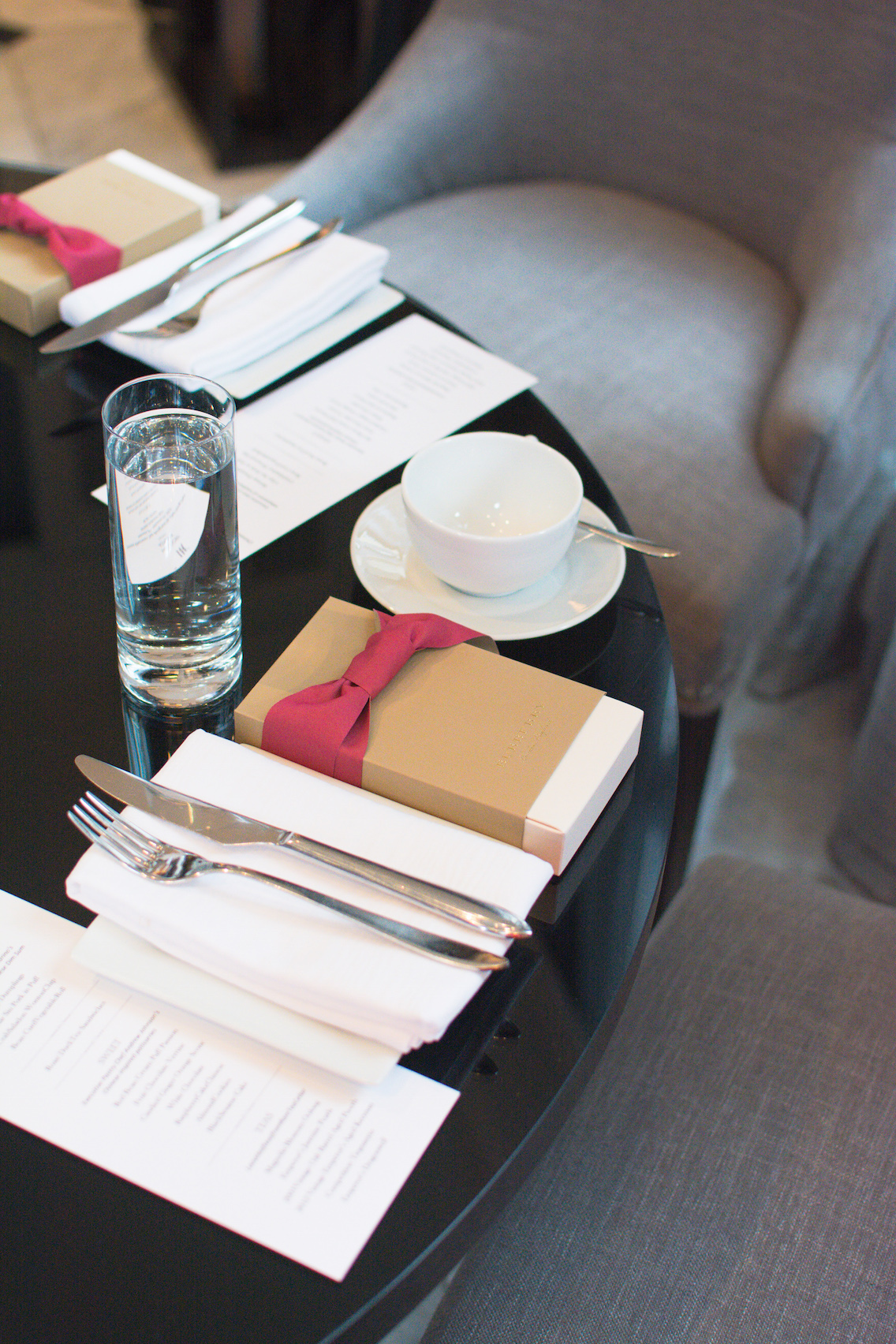 Anna and I found our table which was set with menus and a special little gift box from Burberry.

Doesn't the menu just make your mouth water?
Chinese dim sum lends itself beautifully to an afternoon tea service since most of the dishes are only a few bites and are meant to give you a variety of flavors to taste together.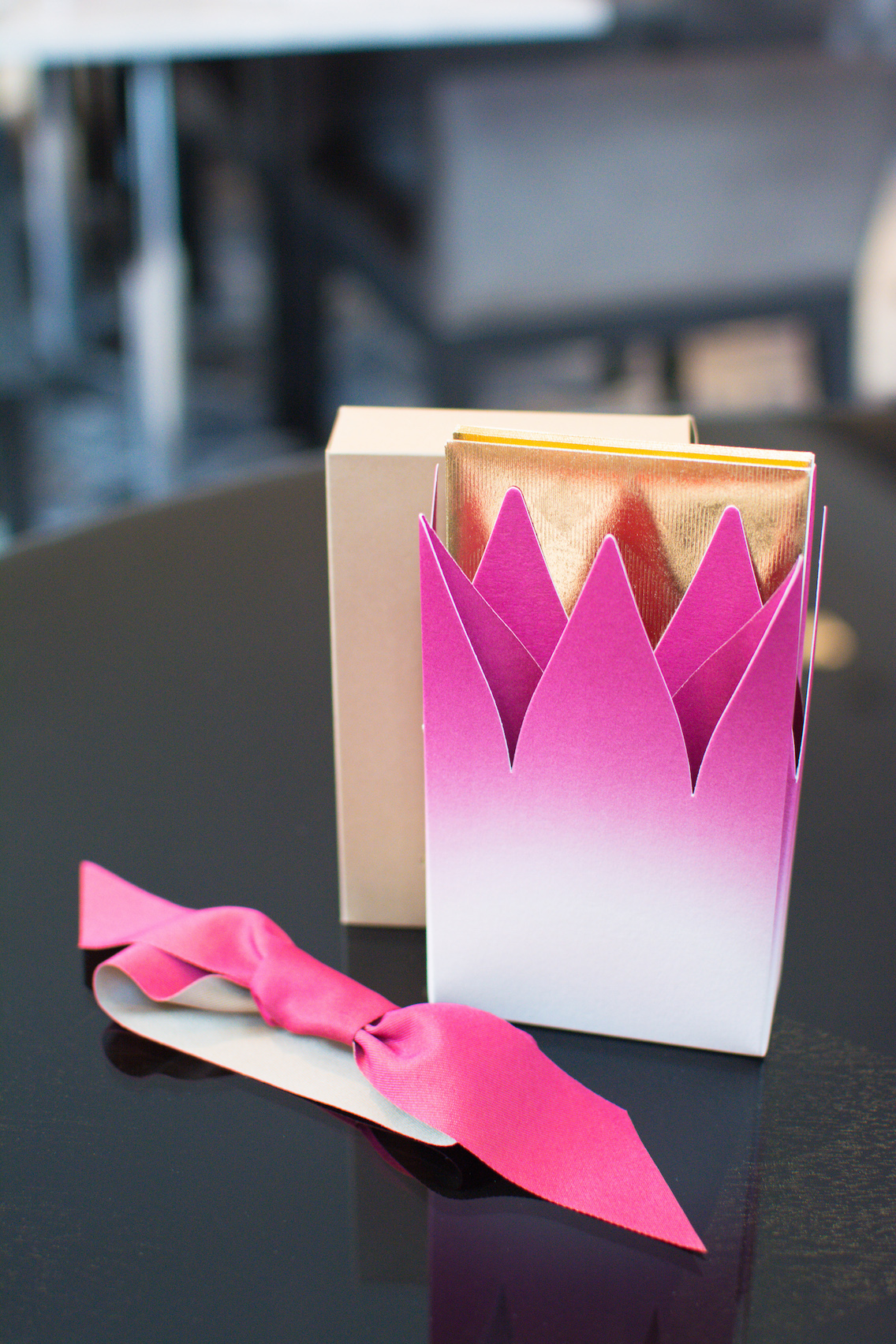 The Burberry gift was a beautiful, expanding lotus-style presentation box holding Burberry-plaid embossed gold envelopes (in place of red ones) traditionally handed out stuffed with money for luck in the Lunar New Year.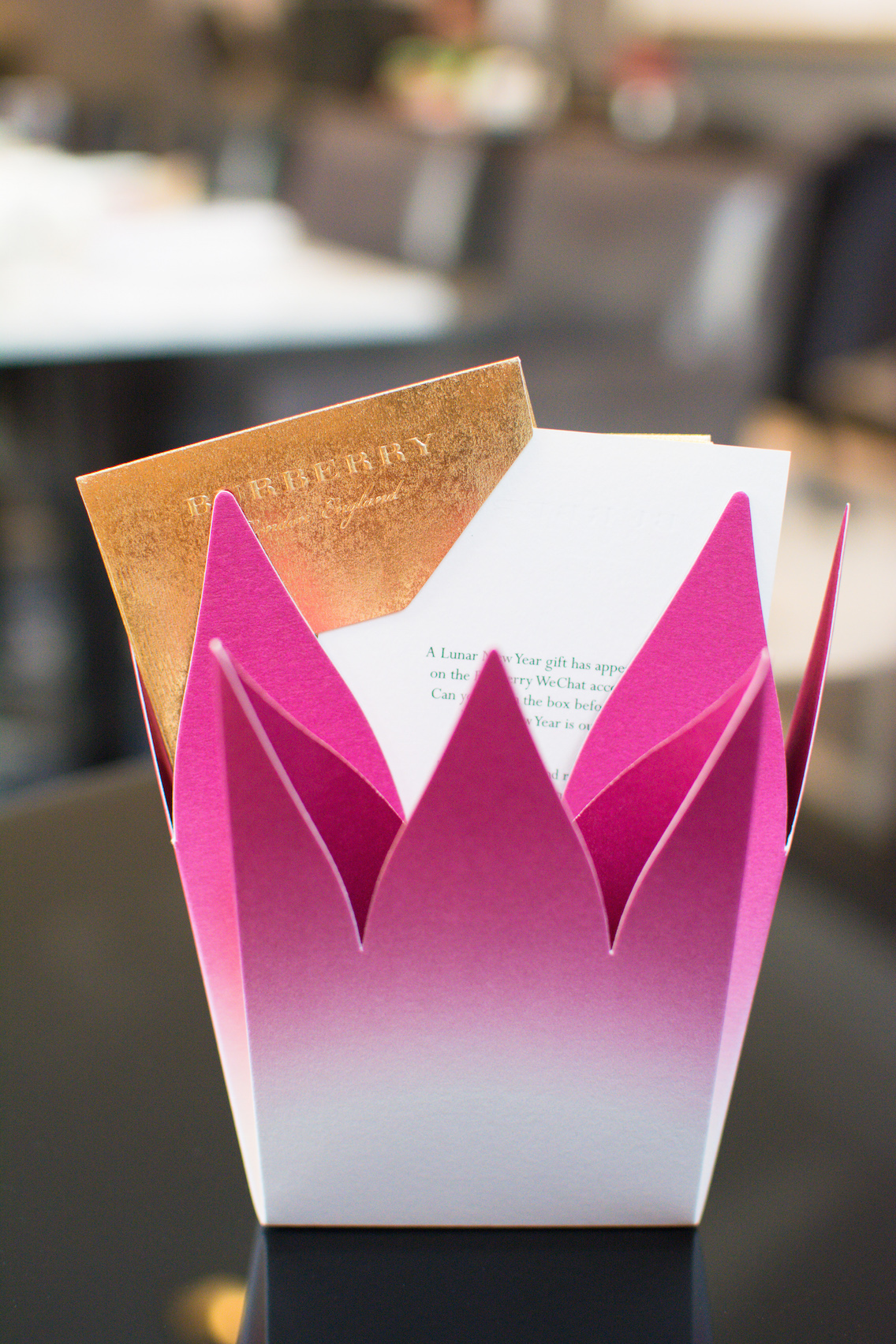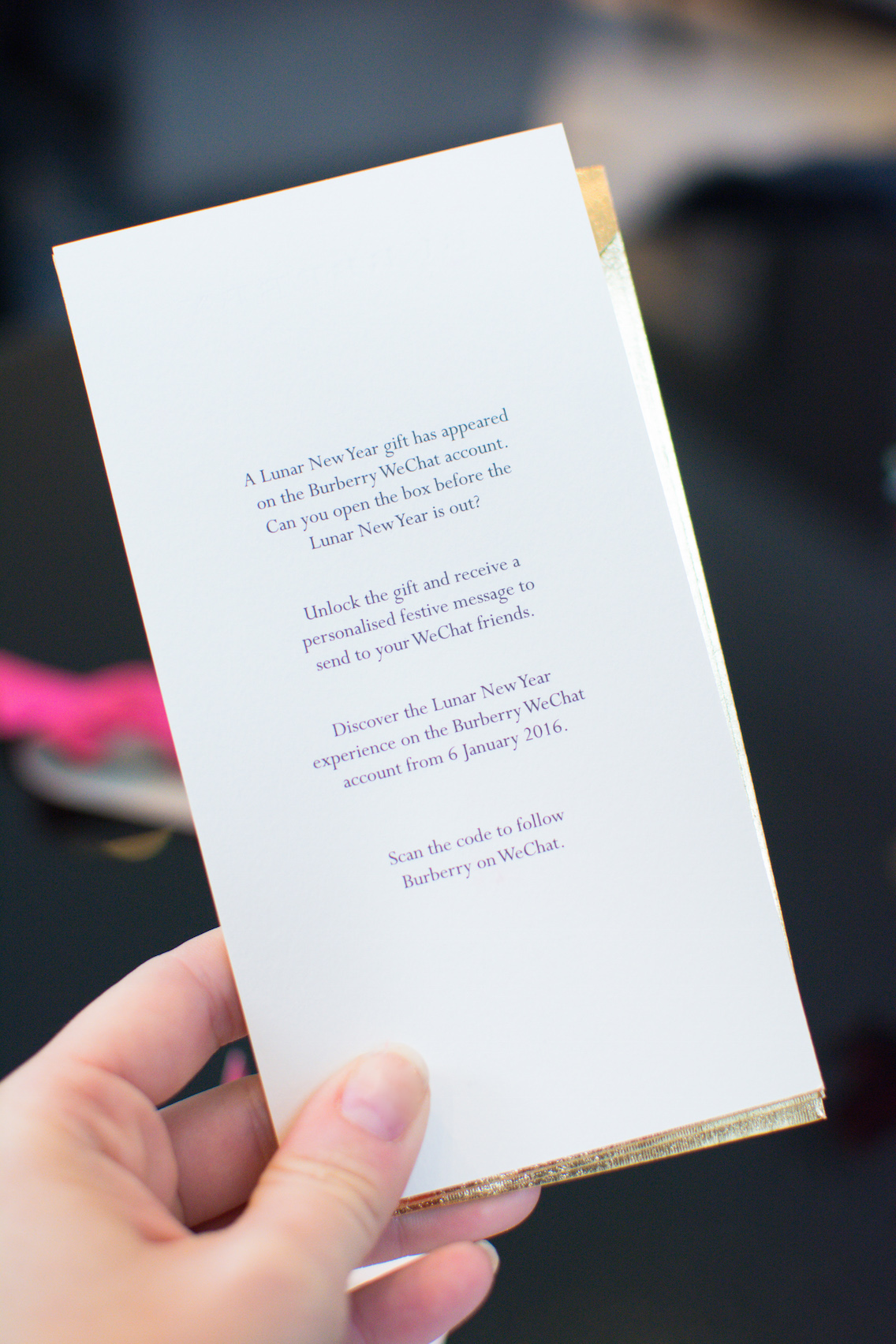 What a fun concept!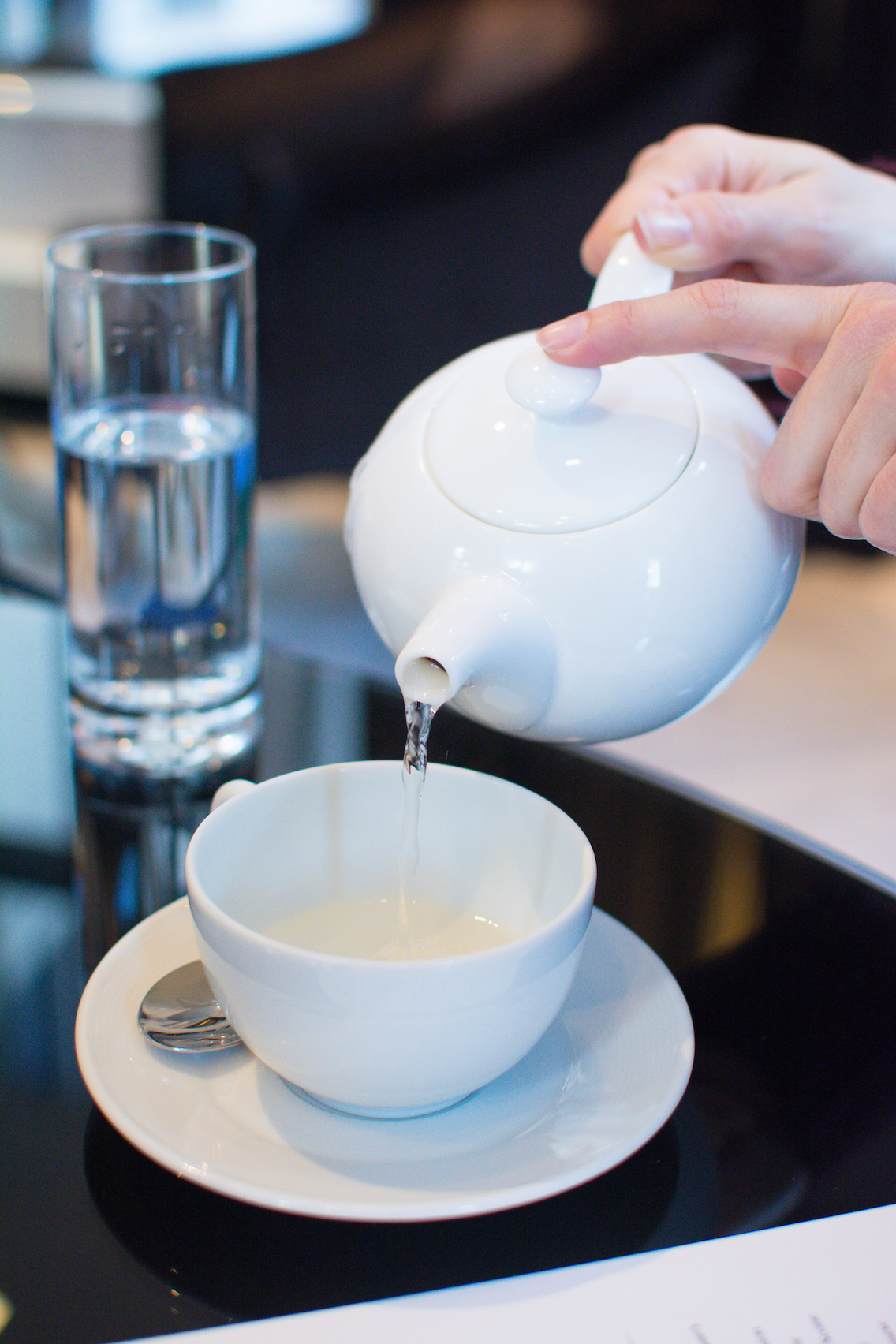 We poured ourselves a necessary cup of jasmine tea while we waited for our feast to arrive.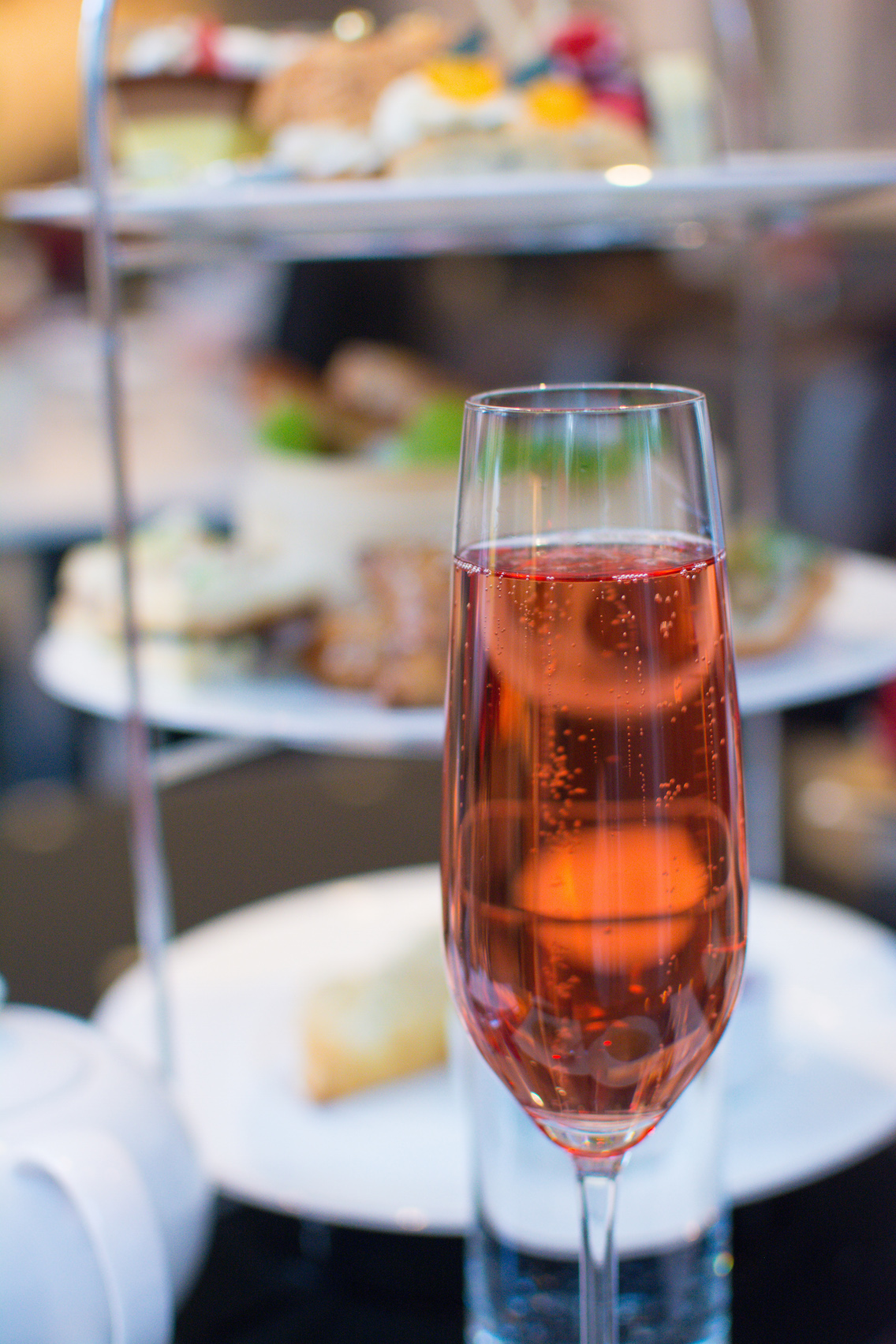 Possibly ordering a pink glass of bubbly for good measure too…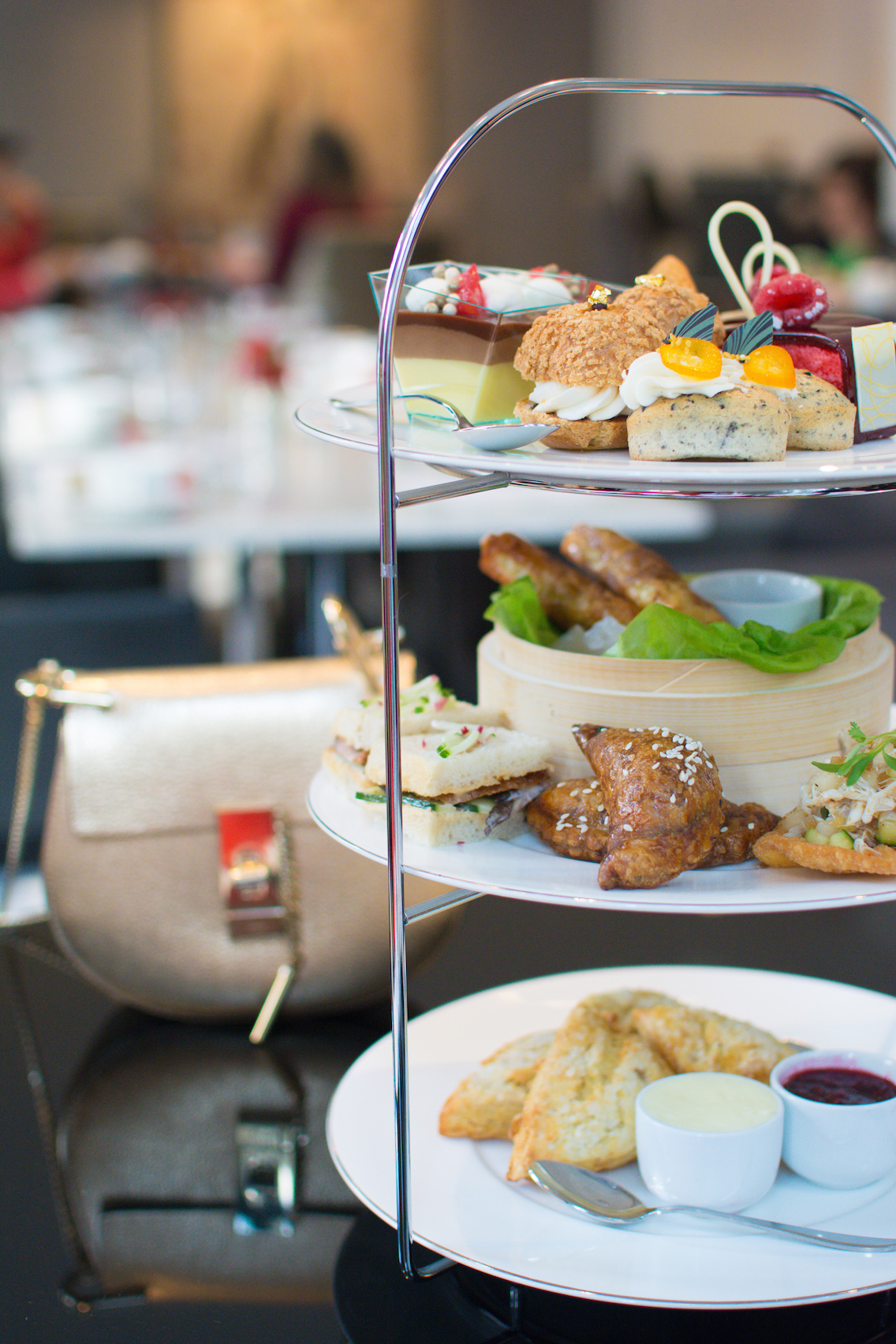 Then our food arrived!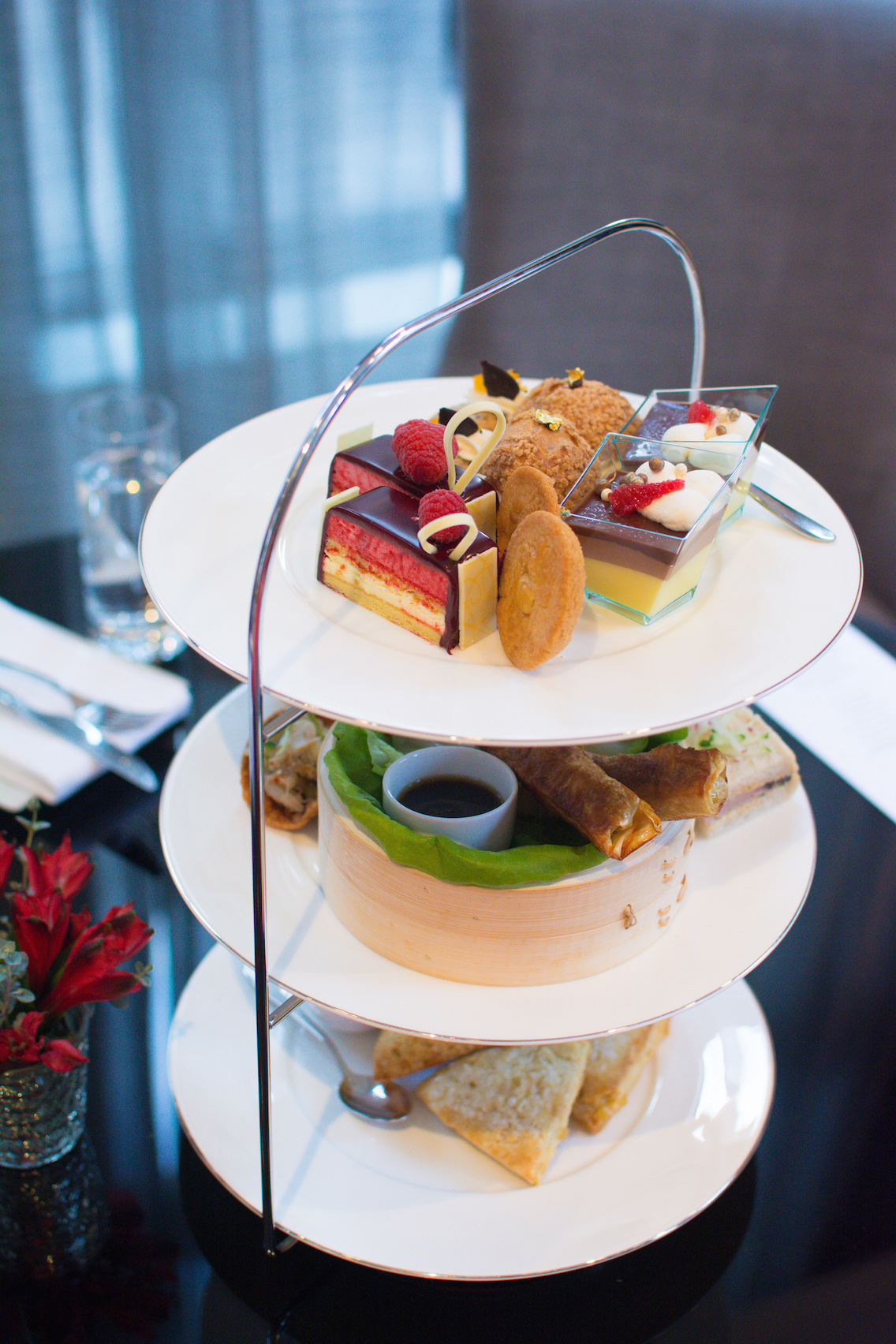 Such a bright and vibrant presentation.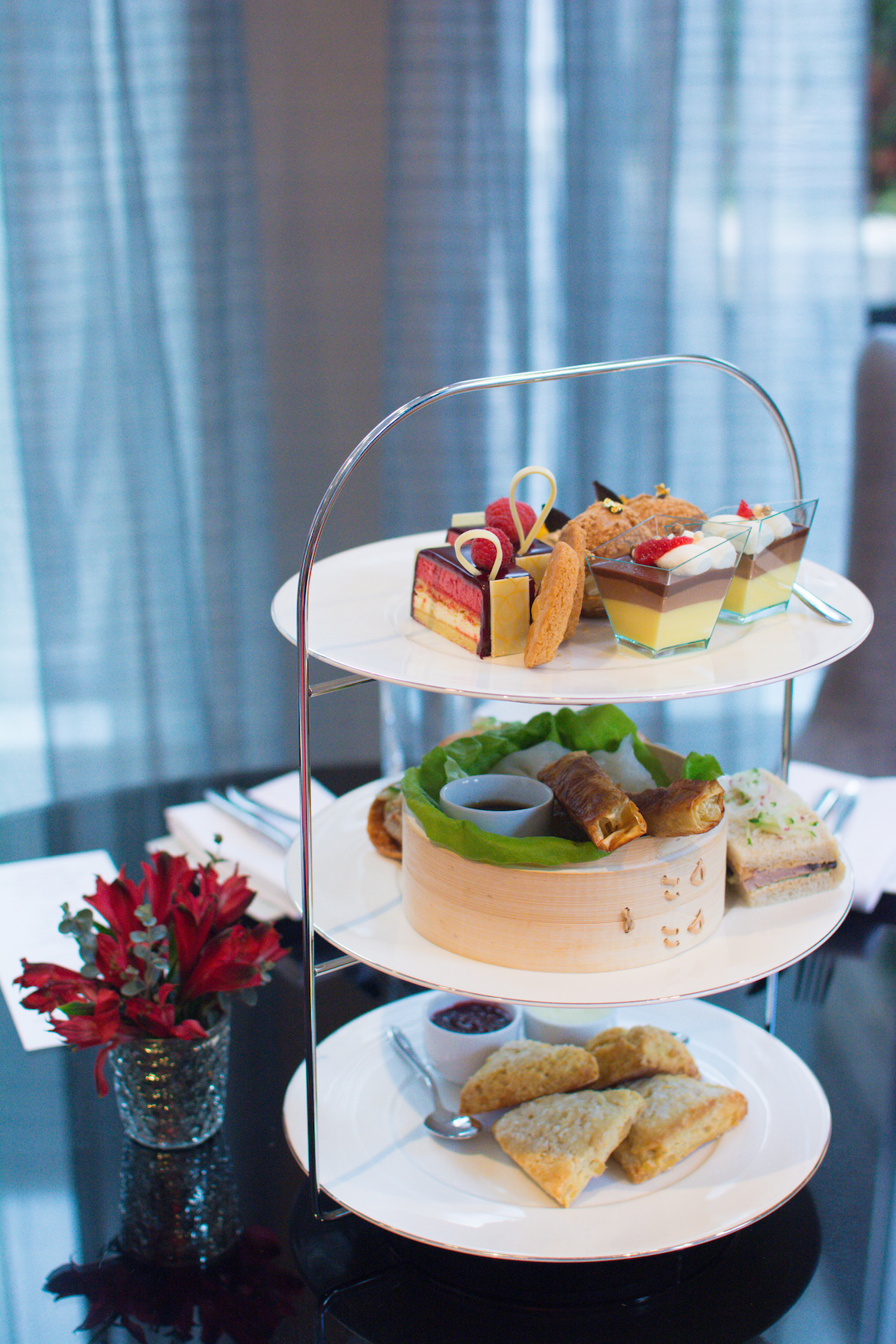 I selfishly wanted to dive right in the moment our waiter set it down but I restrained myself if only so I could shoot it to share with you. You're welcome.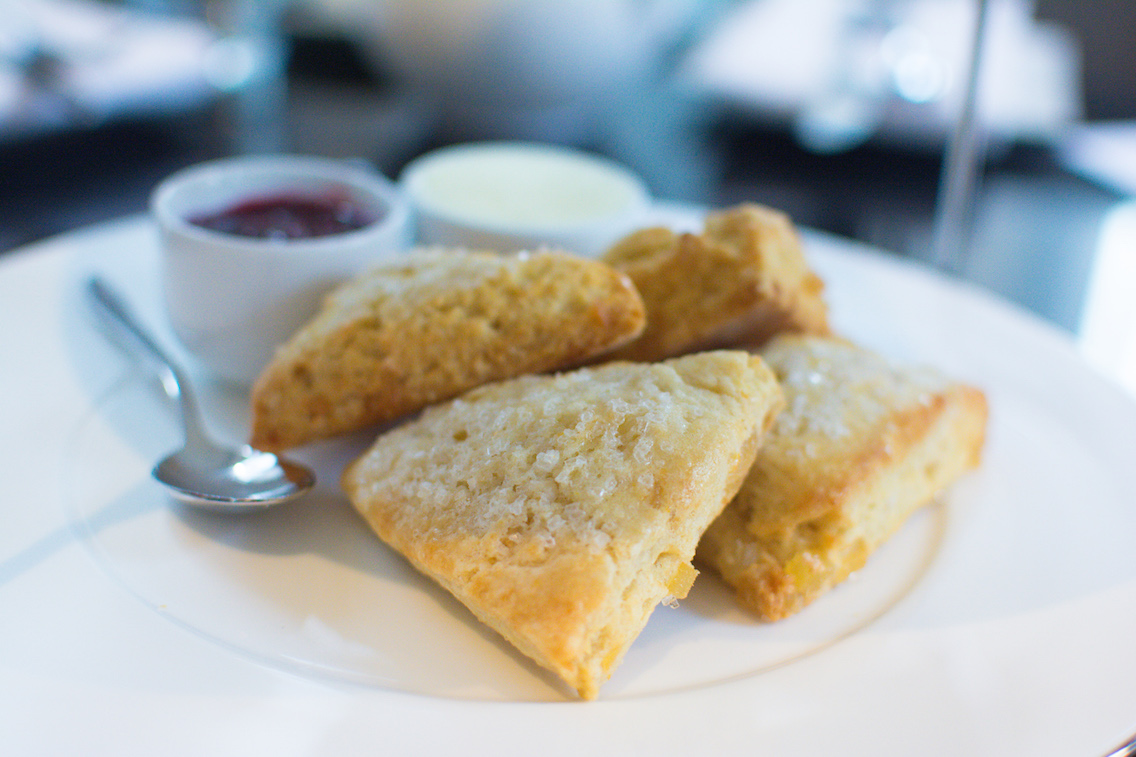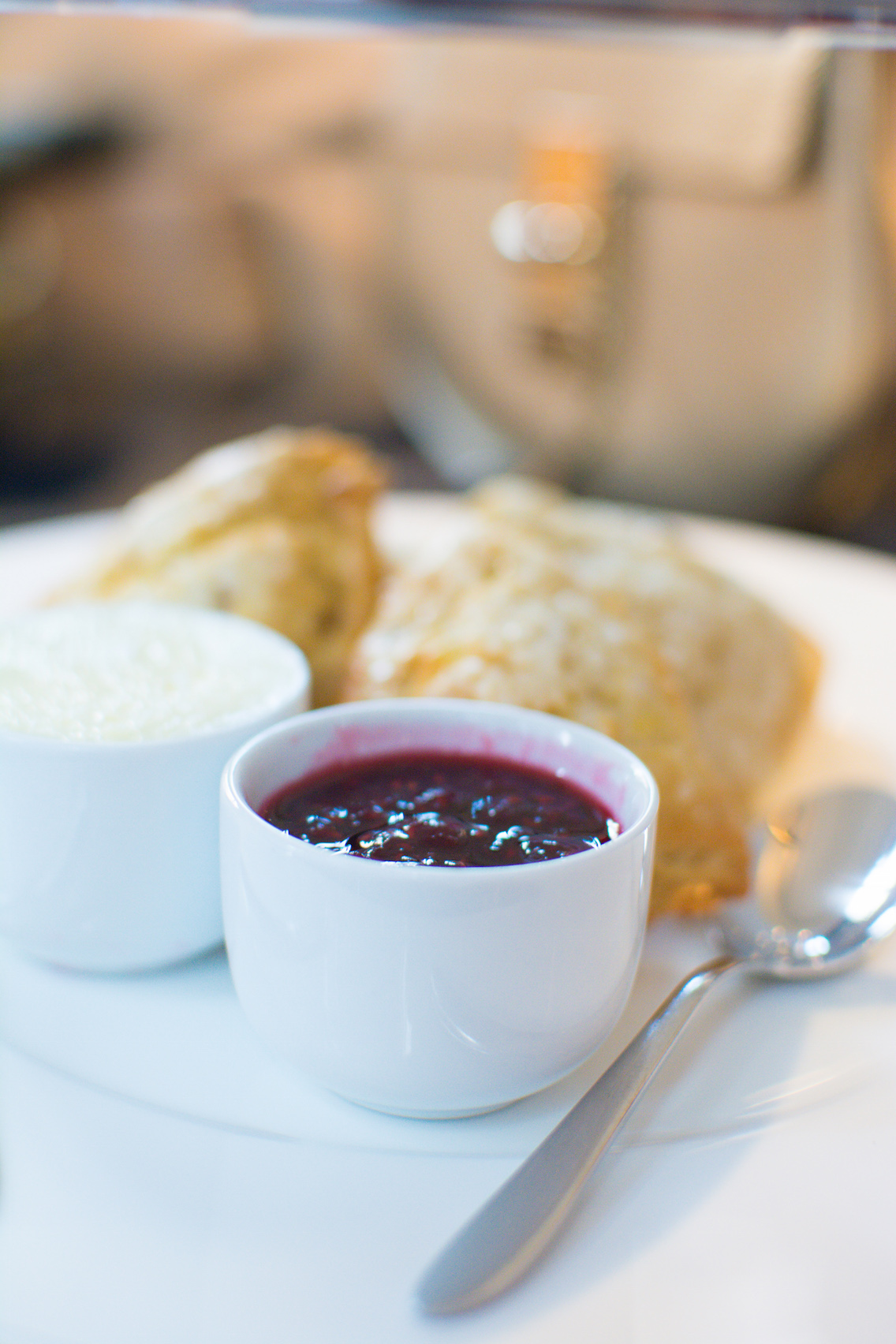 The bottom tier contained fluffy, sugar-crusted Candied Ginger Orange Scones. They had a spicy bite that perfectly coupled with the creamy butter and tart raspberry jam they were served with. And their texture just MELTED in your mouth…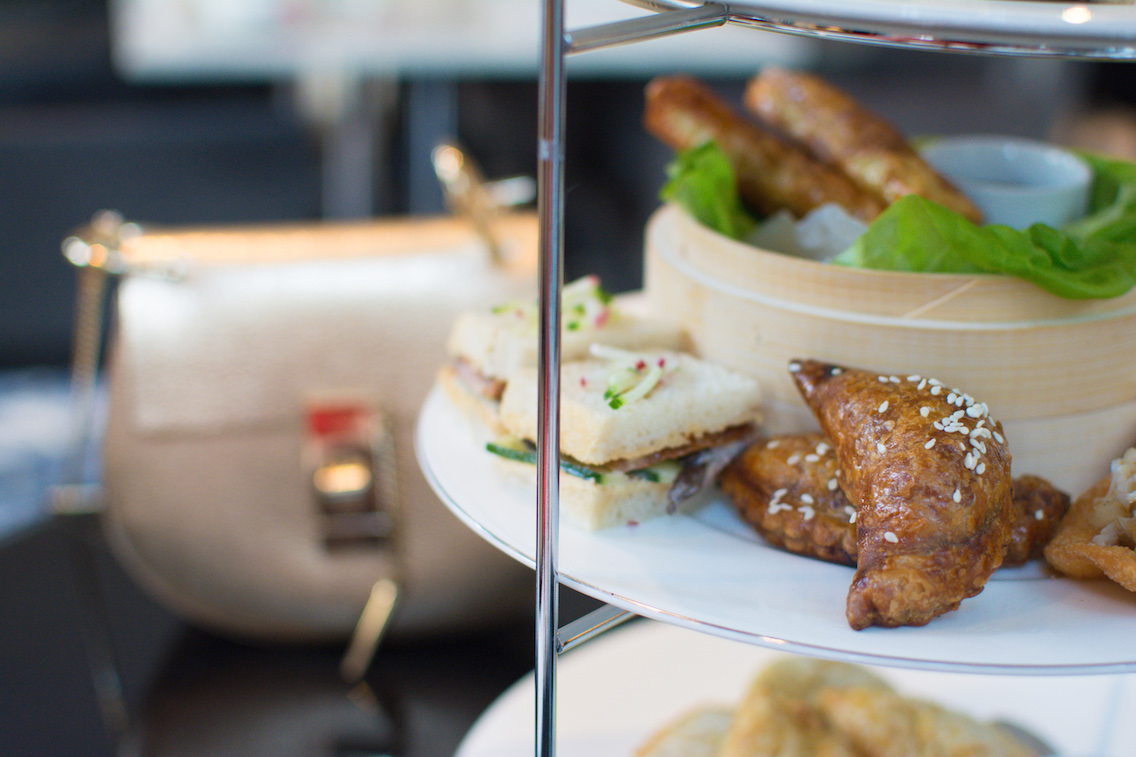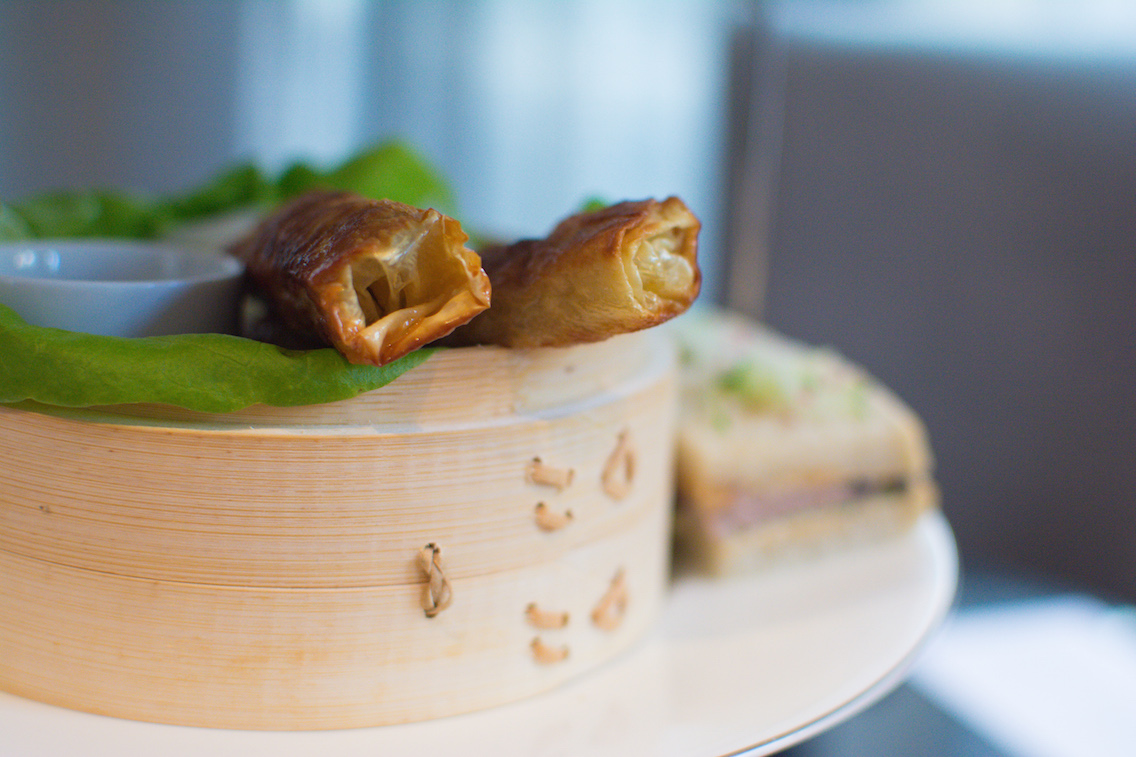 The second tier contained all of the savory pastries including Shrimp Dumplings, Bean Curd Vegetable Rolls,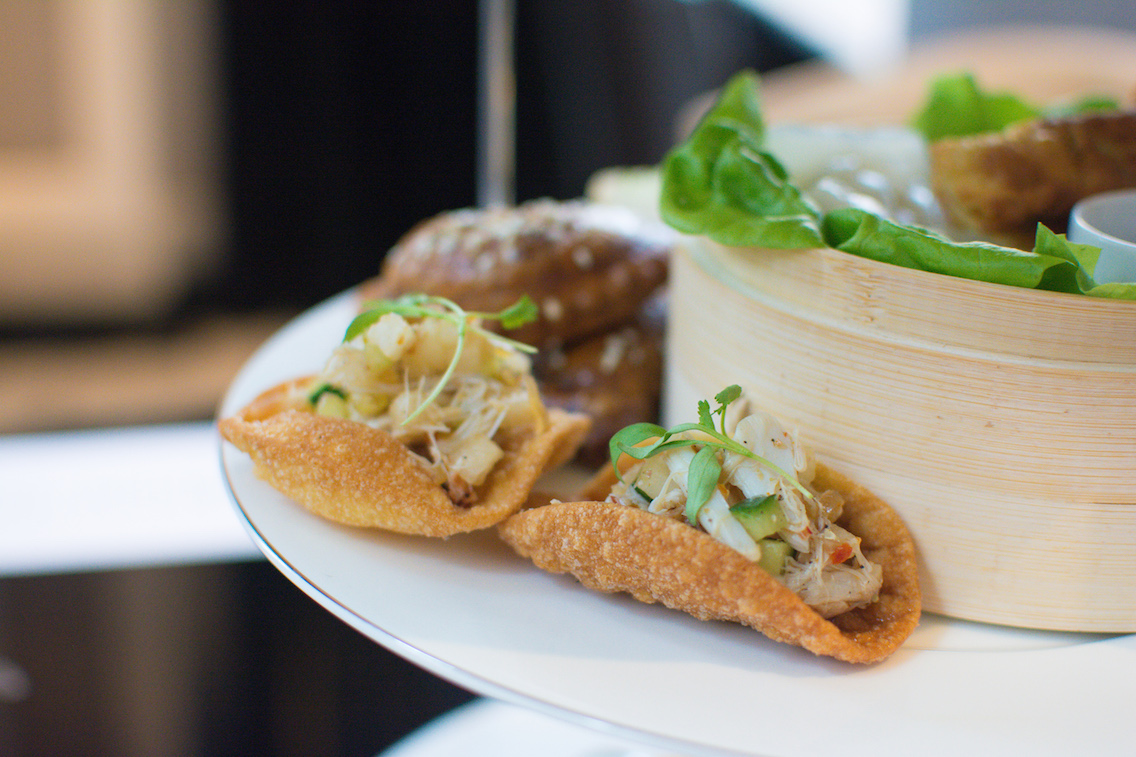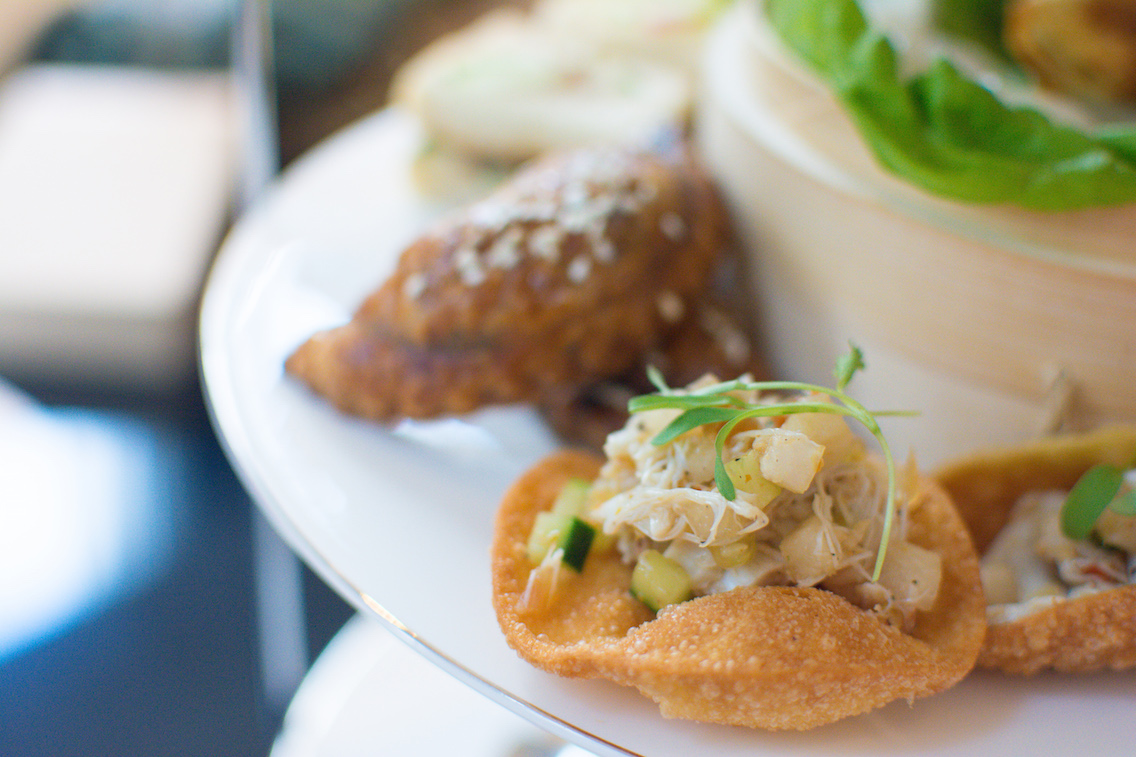 Crab Salad on Wonton Chips,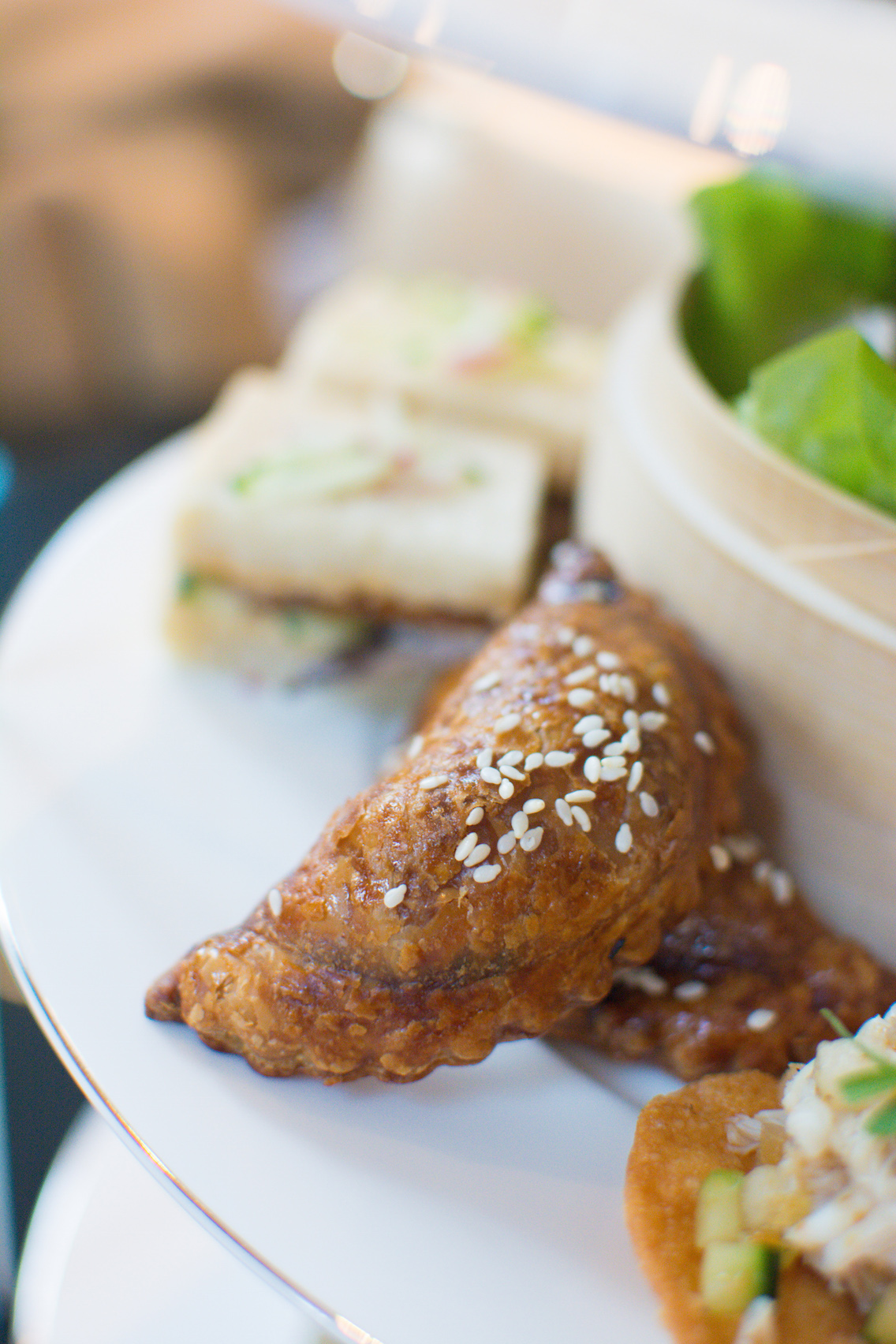 Char Siu Pork in Puff, and Roast Duck Tea Sandwiches. Each was a delicate bite of Chinese flavor — balancing crunchiness with saltiness to perfectly compliment the spicy sweet scones on the bottom tier.
My favorite bite had to be the crab salad on wonton chips though if only because I'm a sucker for anything served on a fried wonton. I mean, who isn't??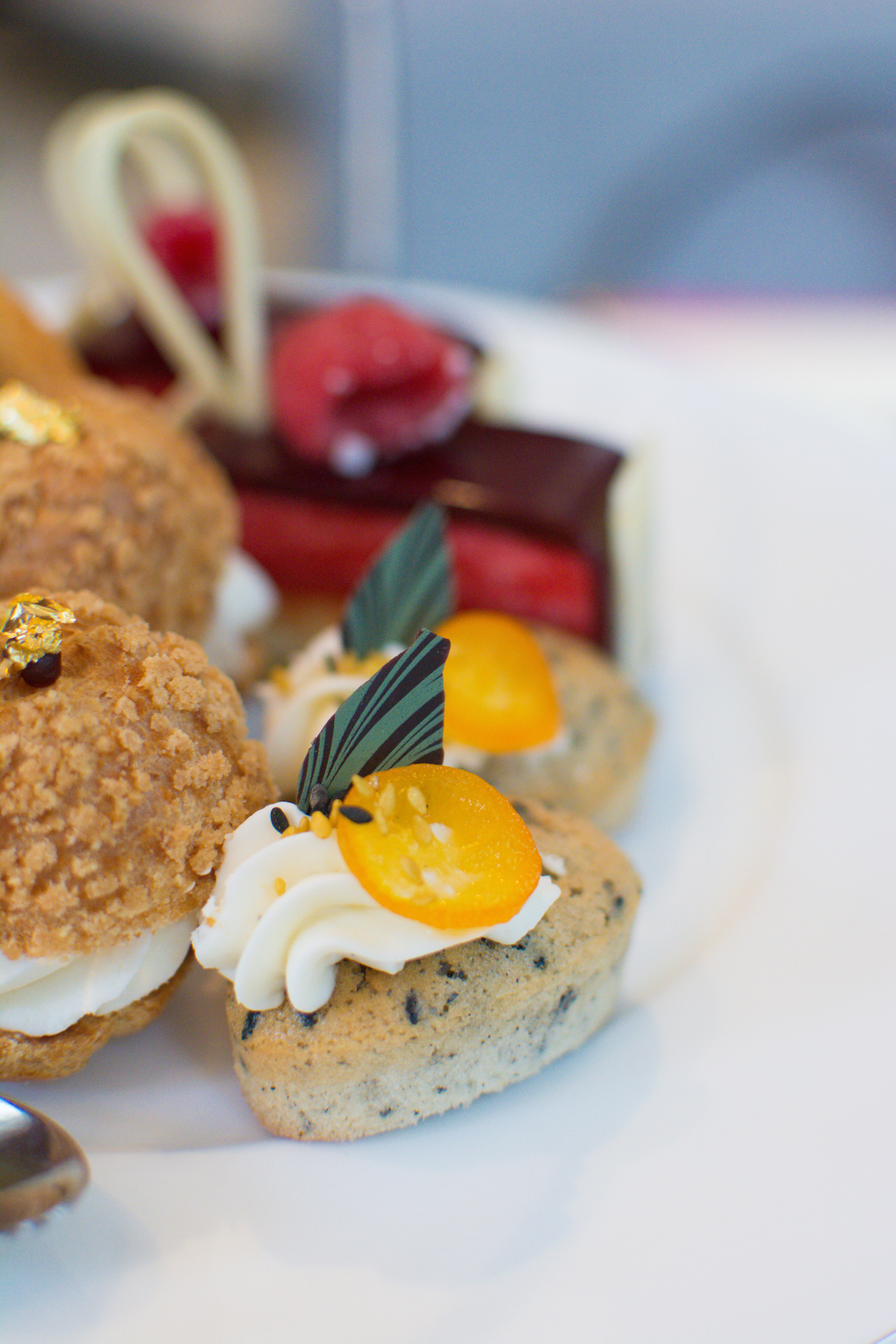 But then we came to my favorite tier — the tier to trump all other tiers — the beloved top dessert tier.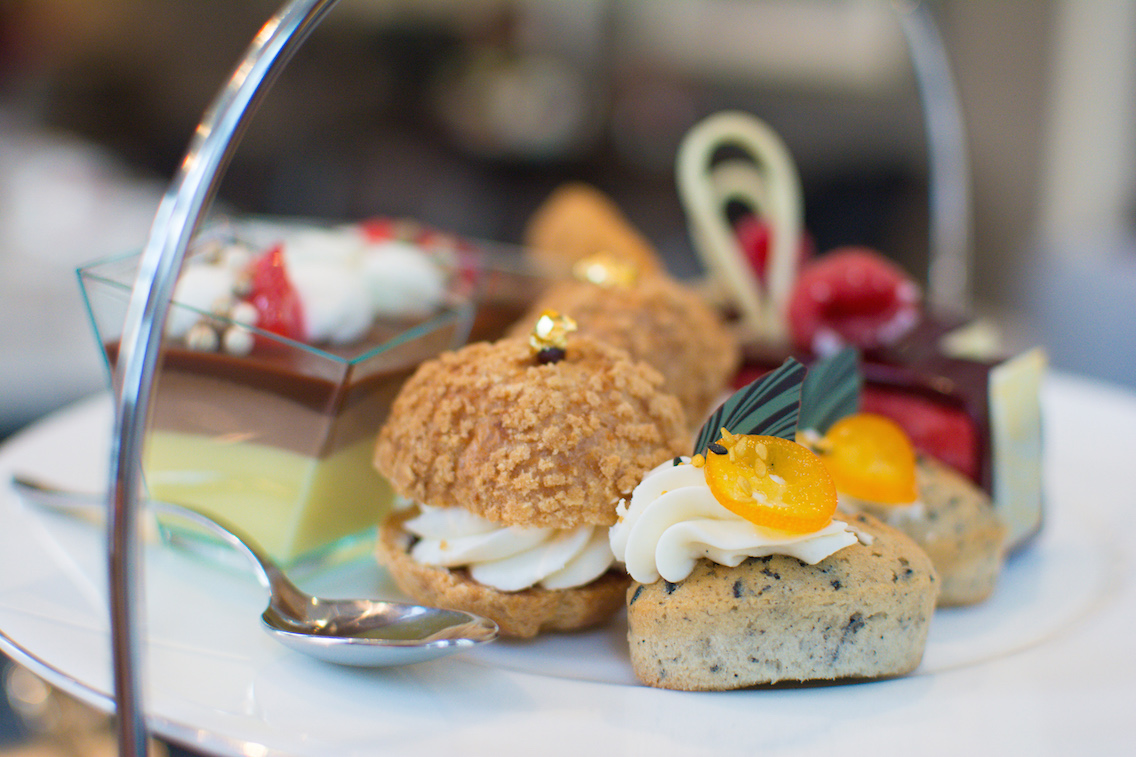 The Waldorf presented a magnificent spread including Black Sesame Cake,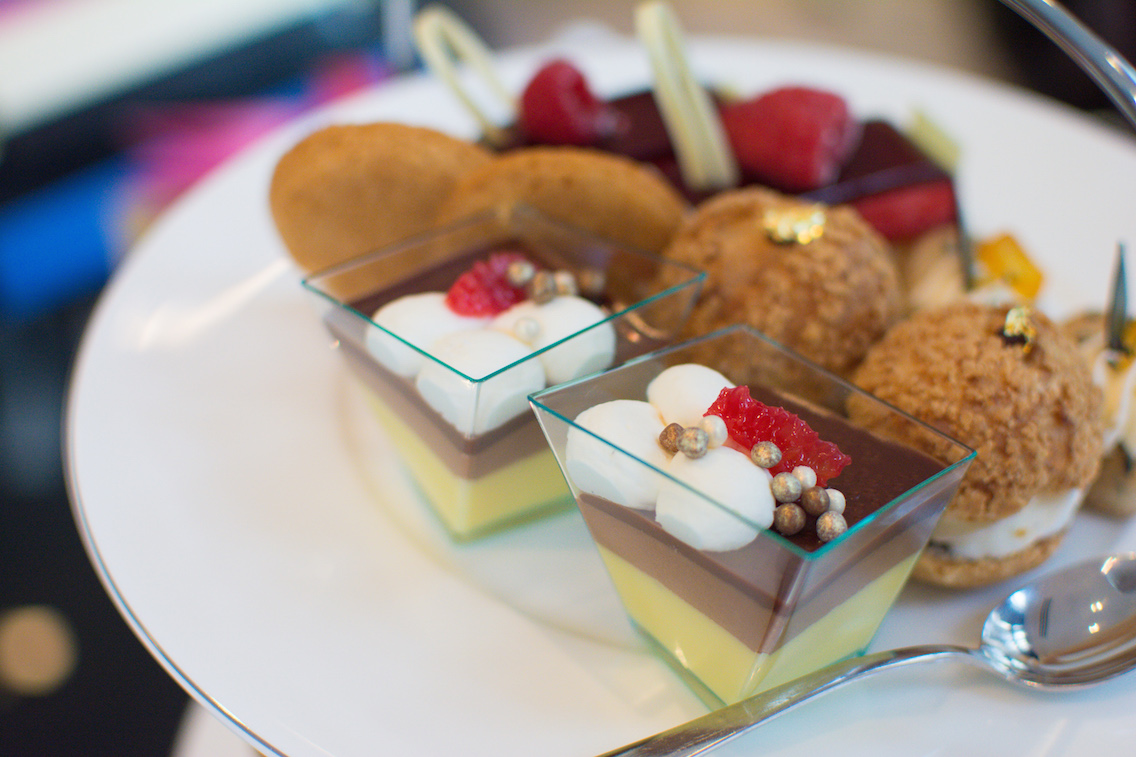 Fruit Chocolate Verrines,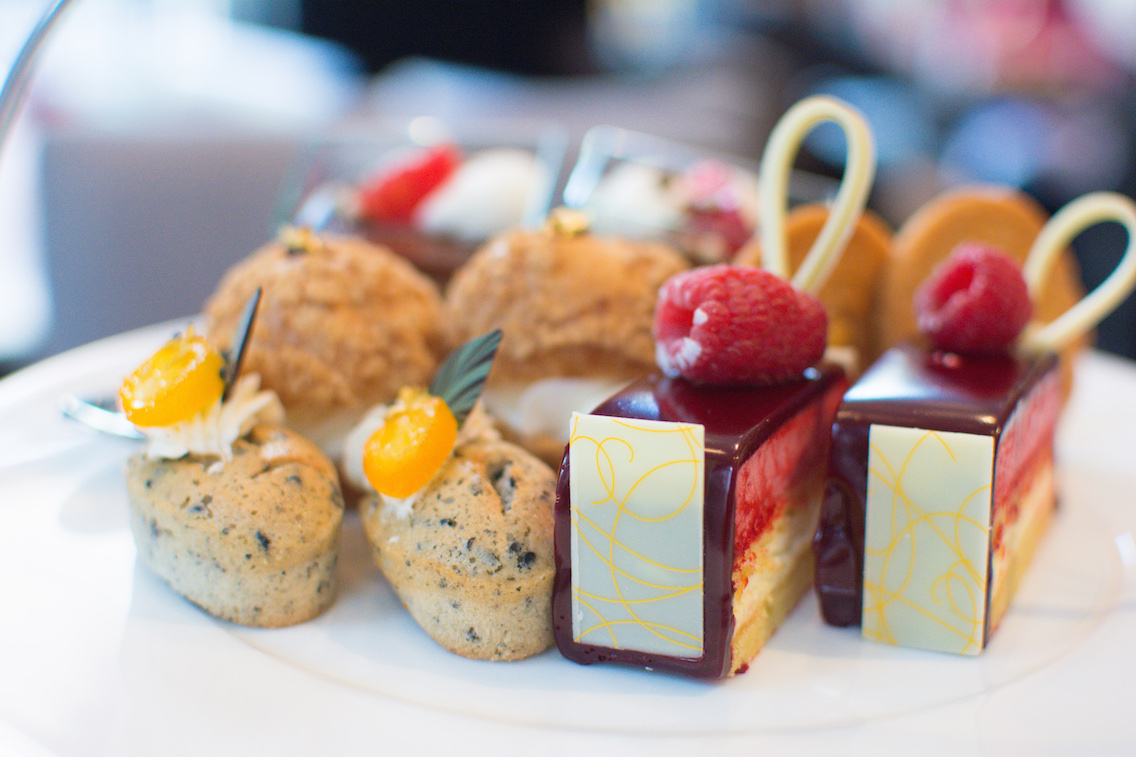 Chinese Raspberry Cakes,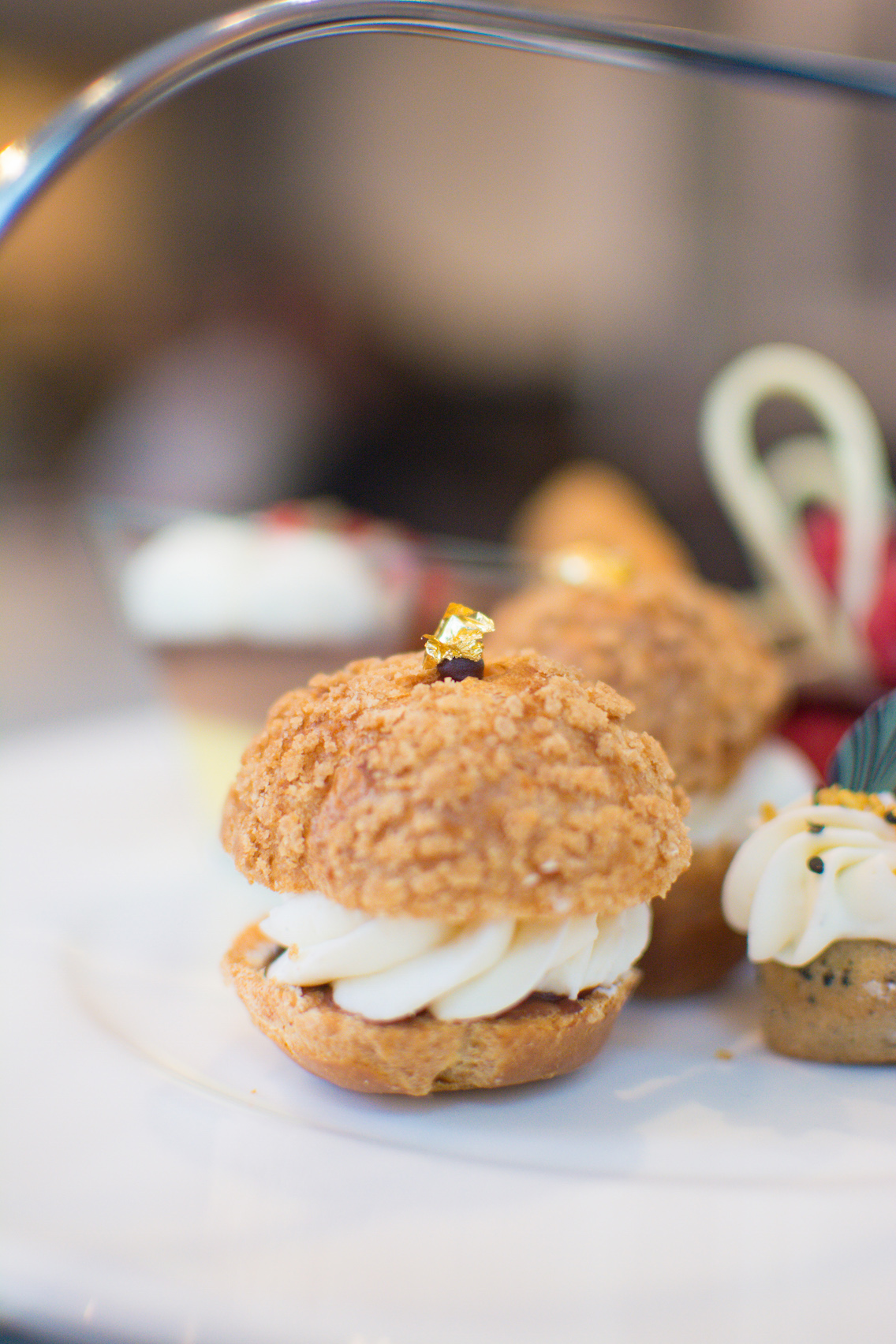 Red Bean Cream Puff Passions,
and these simply but oh-so-flaky-melt-in-your-mouth-goodness Almond Cookies.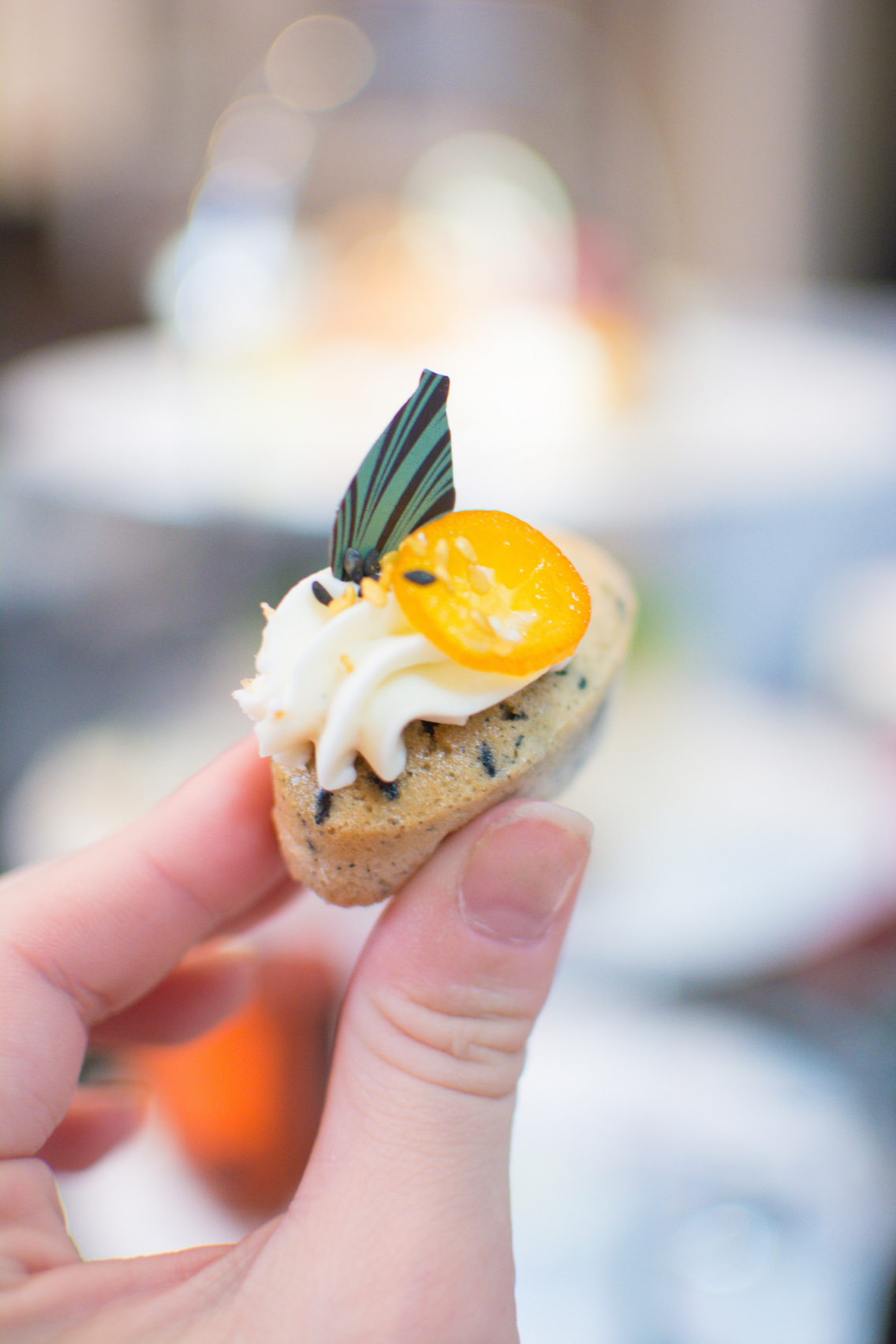 Each was delicious but the standouts for me were the Black Sesame Cake (such a unique flavor),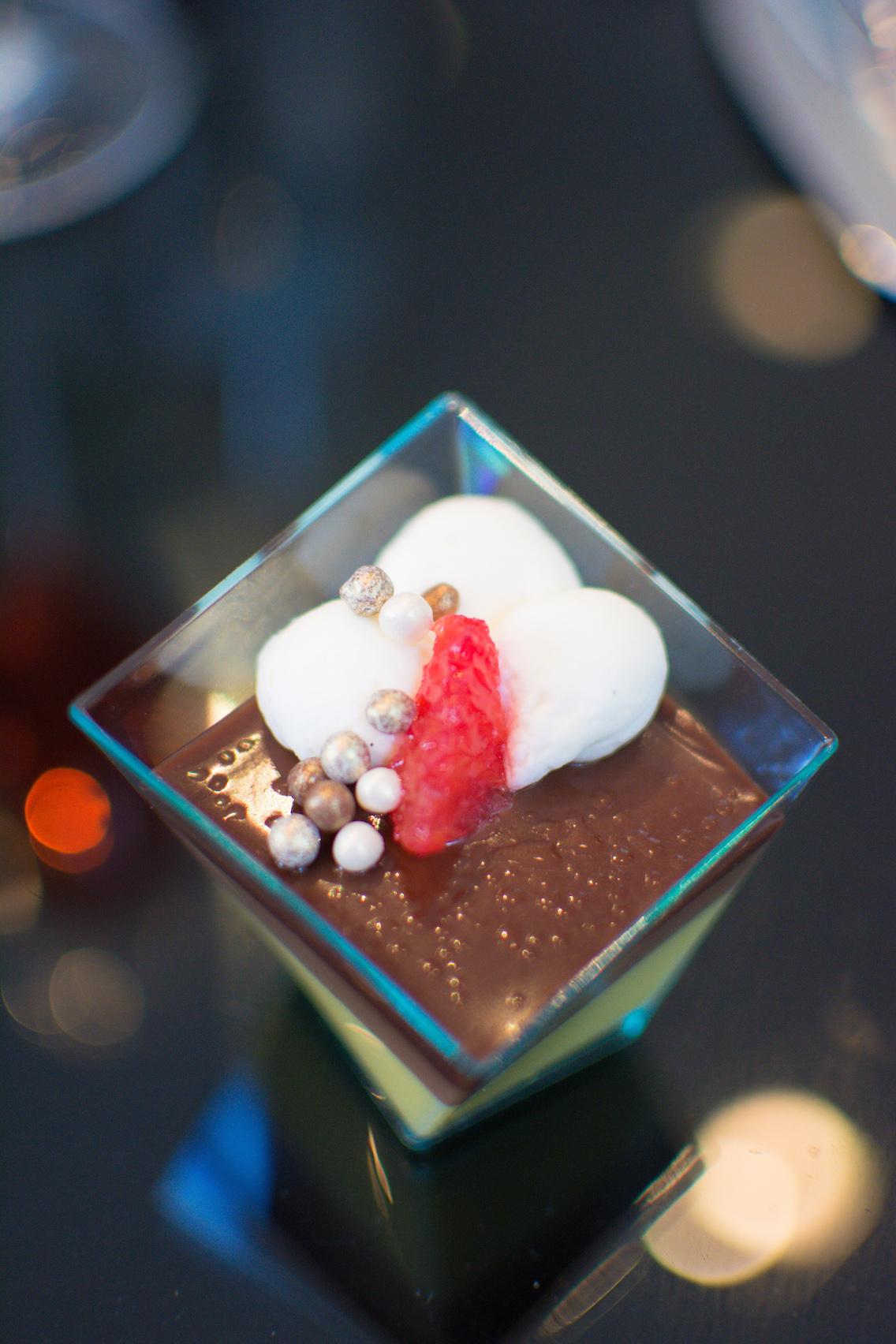 and this divinely creamy Fruit Chocolate Verrine. Almost pudding-like in consistency, this verrine had deep chocolatey layers and a bright raspberry flavor that was addicting and perhaps just a little TOO small in the portion size…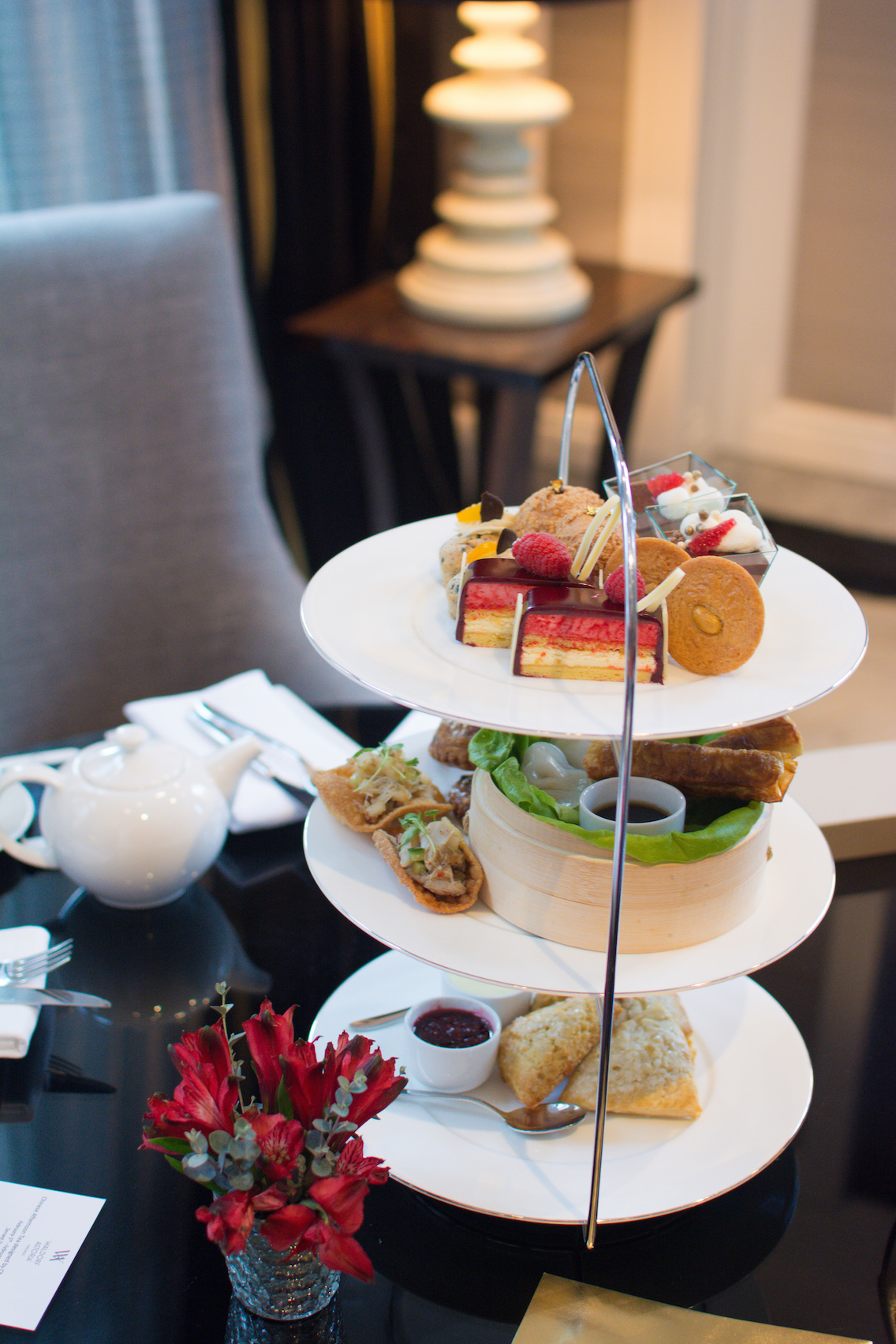 The Chinese tradition of dim sum is beautifully elevated for the Lunar New Year in the Waldorf's new offering of Chinese Afternoon Tea. It's a culinary marriage made in heaven and only available through February 15th (that's next Monday!). And since it's only $45 per person, it's actually one of the most budget-friendly options in Chicago too.
Happy Lunar New Year Everyone!
Disclosure: I received a complimentary meal to facilitate this post. Review and all opinions are my own.